The Road Trip Manitoba team is comprised of a group of enthusiastic travellers and creators, led by travel writer Brenna Holeman (she/her) who has adventured to over 100 countries but is incredibly proud to call Winnipeg home.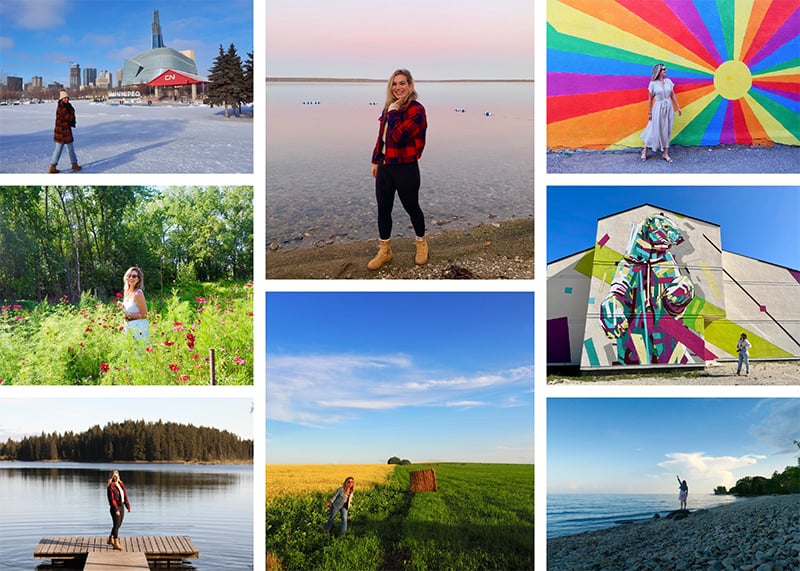 Brenna also writes at ThisBatteredSuitcase.com, a personal travel and lifestyle blog full of subjective opinions and recommendations. After leaving Winnipeg in 2002, Brenna spent the next 16 years travelling solo around the world, living in Copenhagen, Edinburgh, Osaka, Antigua, and London, England (where she achieved an MA in Creative Non-Fiction Writing). As well as being an editor and writer for Expedia UK for over seven years, she grew This Battered Suitcase to be one of the most trusted and respected travel blogs in the world. She has been featured in the CBC, BBC, Buzzfeed, Oprah Magazine, Elle, The Globe and Mail, the Financial Times, The Guardian, and many more. 
Today, she lives in Winnipeg with her baby boy and her dog, Dottie, and she plans on focusing on Manitoba travel as a solo mom. She has travelled all over the province for the past four years, from Churchill to Swan Valley to the Whiteshell, and she hopes to inspire others to explore the beauty of Manitoba. Now, joined by other travellers who have the same fondness for the province, she is eager to present the best of Manitoba to the world.
About the content
Manitoba is a big province for road-tripping. And while this website will indeed focus on popular routes in the province, we will also present what is great about every stop along the way. Expect detailed destination guides, reviews, itinerary ideas, and more.
Read! Enjoy! Share!
And if you have any ideas for what you want to see on this site, or would like to be a contributor, please get in touch.
Read more in the "Road Trip" family
Heading west? RoadTripAlberta.com will ensure you make the most out of your visit to Alberta!