Disclaimer: This page may contain affiliate links. Please review our full Terms and Conditions for more information and our Privacy Policy. Note that any pricing, operating hours, or other such information provided below may have changed since initial publication.
Compiled by the Road Trip Manitoba team
Last Updated July 15, 2023
Smack dab in the middle of Canada, Winnipeg is a fantastic city with no shortage of things to do. Previously overlooked for bigger Canadian hubs, Winnipeg, Manitoba is a city that is slowly making its way onto travellers' radars, and for good reason! The thriving cultural life, excellent dining options, and access to natural beauty are all reasons to visit. Whether you're an outdoors enthusiast, a sports fan, a lover of the arts, or anything in between, there's something for you in Winnipeg.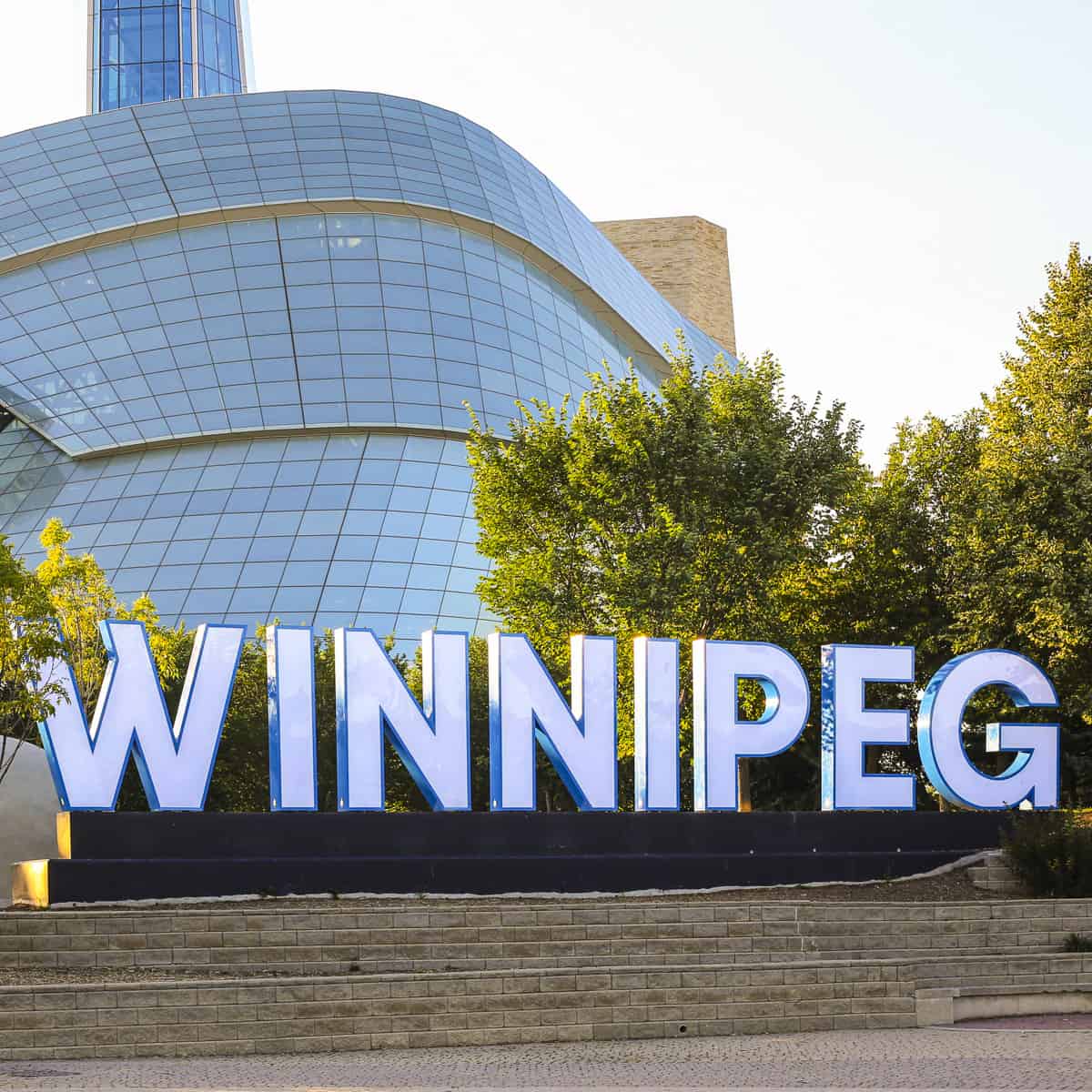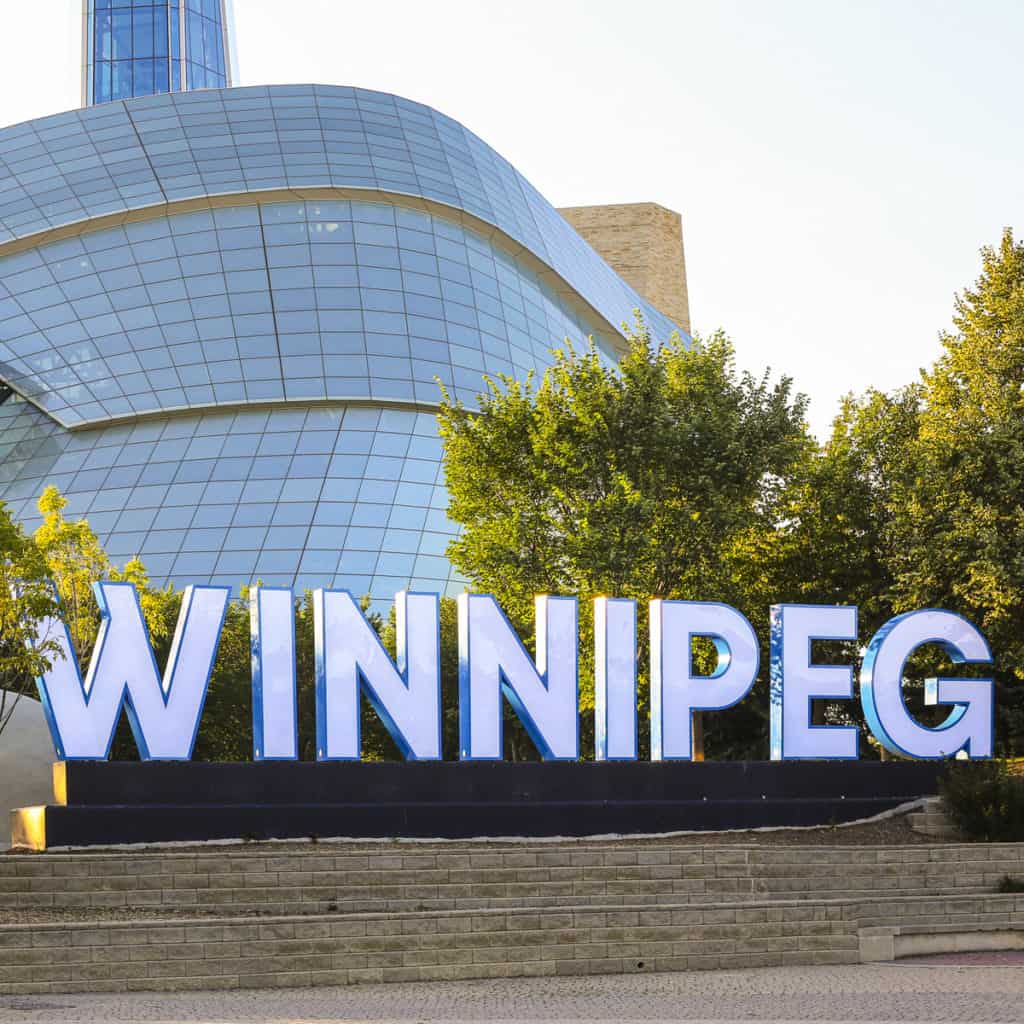 It's home to the Canadian Museum for Human Rights, the Assiniboine Park Zoo, The Forks Market, the Winnipeg Art Gallery, the Royal Winnipeg Ballet, the Winnipeg Blue Bombers, and the Winnipeg Jets. And while it would be impossible to fit all the things to do in Winnipeg into one article… we're about to try our best! Find out why we say Manitoba is where "Canada's heart beats".
About Winnipeg
Land Acknowledgments
Winnipeg is located on Treaty No. 1 the original lands and waters of Anishinaabe, Ininiwak, Anishininiwak, Dakota, and Dene peoples, and on the homeland of the Métis Nation.
Brief History
Found on the meeting of the Red River and the Assiniboine River, Winnipeg has a history that dates back many centuries; Indigenous peoples established settlements and homes on the land we now call Manitoba thousands of years ago. The name "Winnipeg" means "muddy waters" in Cree, and is named after Lake Winnipeg to the north. With a long history of fur trading, the city was incorporated in 1873, with the University of Manitoba opening in 1877. When the railway reached Winnipeg in 1881, the city began its first boom that lasted until 1914.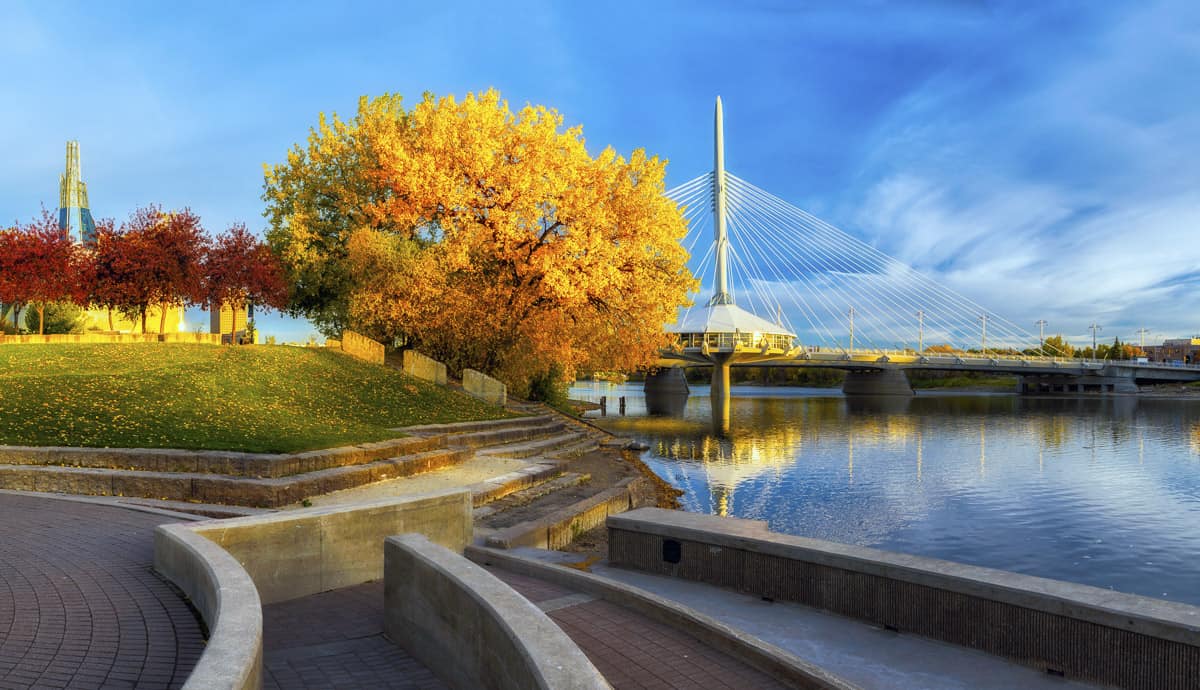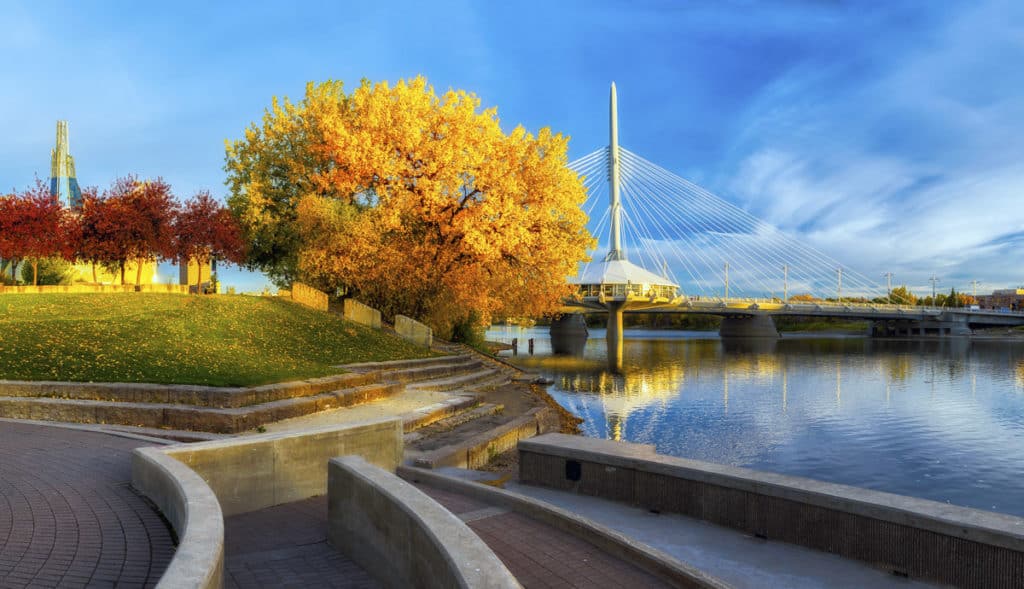 Slowly but surely, the economy started to recover, and by the 1960s, Winnipeg was once again a powerhouse in terms of Canadian industry and tourism. Today, it has a population of over 750,000, making it the 7th biggest city in Canada.
Where is Winnipeg?
Winnipeg is located in southern Manitoba, found at the meeting of the Red and Assiniboine Rivers. Located near the longitudinal centre of North America, it is the largest city in the Canadian Prairies and is the capital of Manitoba. It is found on the No. 1 Highway, approximately 575 kilometres from Regina, Saskatchewan and 700 kilometres from Thunder Bay, Ontario.
Winnipeg Weather
Well… they don't call it "Winterpeg" for nothing! Winnipeg is a city with all four seasons, and it's always best to check the projected temperature ahead of your visit in order to pack accordingly. Fortunately, Winnipeg gets approximately 318 days of sunshine a year, meaning even in winter, you get a lot of bright, cheerful days.
Spring can be rainy and still chilly, with temperatures ranging from highs of 11°C in April to 23°C in June. Be warned it can still snow in April or May!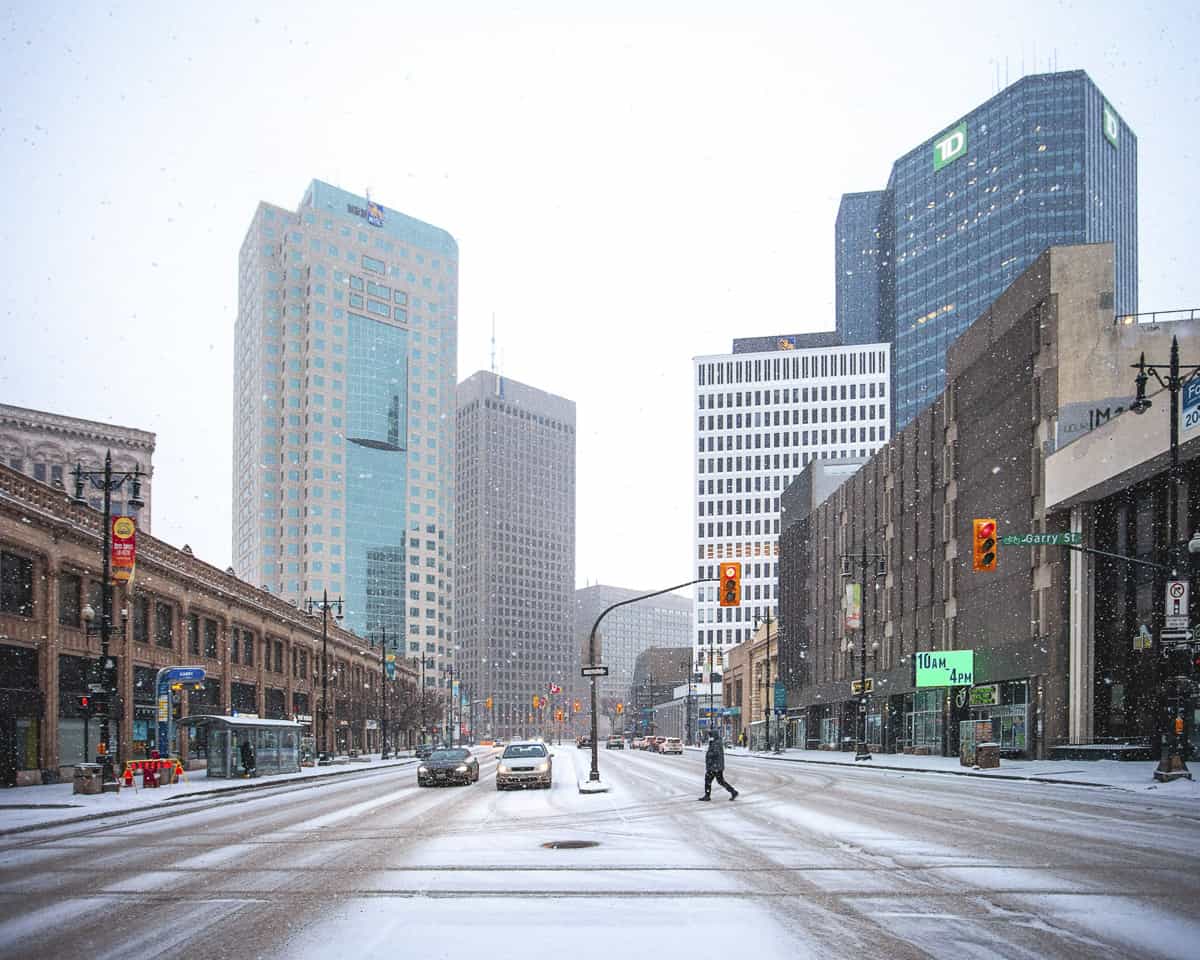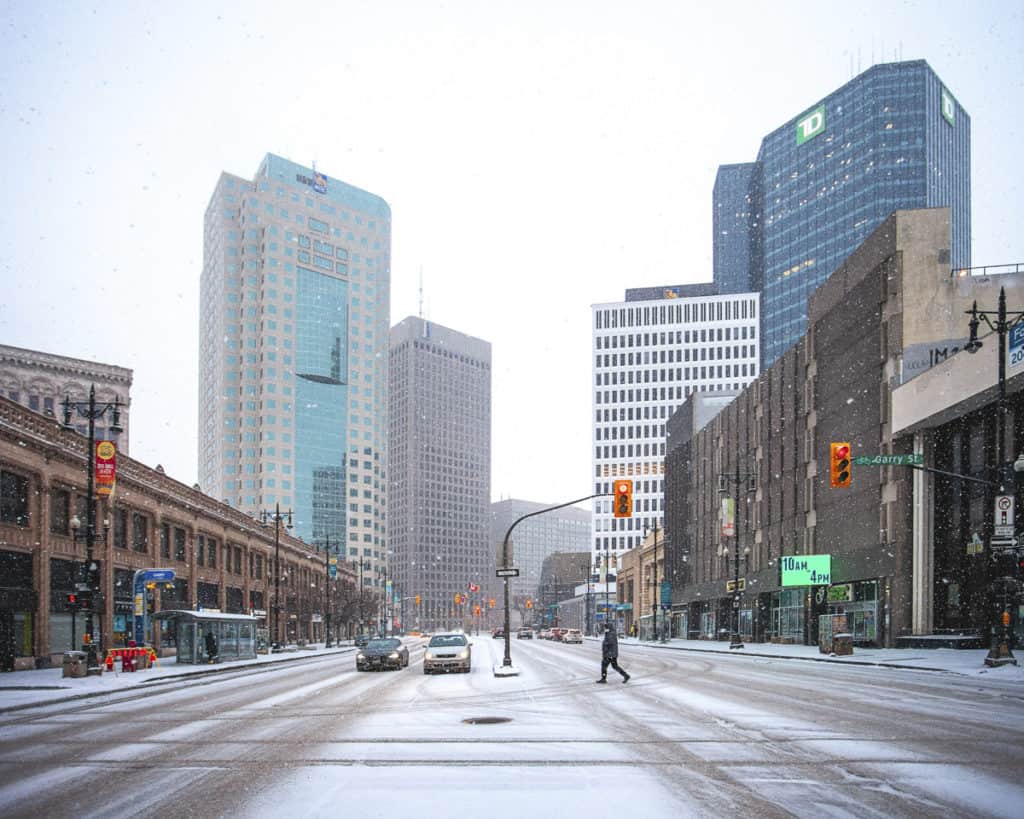 Summer is incredible in Winnipeg, with long, sunny days and warm temperatures. Plan for many days of 25°C or higher. Thankfully, there isn't much humidity in Winnipeg in summer, but you still get some amazing thunderstorms throughout the season.
Autumn is unfortunately short-lived in the city, as the leaves change colour and drop quickly. Expect negative temperatures as early as October.
And finally, winter is – you guessed it – very cold in Winnipeg. However, with the right clothing, you can stay nice and toasty on all of your Manitoba adventures. Expect averages in the -10°C to -20°C, dropping even lower when you factor in windchill.
Getting to Winnipeg
As Winnipeg is an international destination, there are thankfully plenty of ways to get to Winnipeg, whether that be by car, plane, train, or bus.
By Car
Winnipeg is found along the Trans-Canada Highway, or Highway 1, making it extremely accessible from the neighbouring provinces of Ontario to the east and Saskatchewan from the west. There are also plenty of smaller highways that connect Winnipeg to northern towns and cities in Manitoba. From the US, I-29 is a direct route to Winnipeg from North Dakota.
By Plane
The Winnipeg James Armstrong Richardson International Airport (YWG), found only ten minutes from downtown Winnipeg, connects cities all over Canada as well as many international destinations. There are daily direct flights to Toronto, Calgary, Vancouver, and many other Canadian hubs. If you are arriving at the airport and need a rental car use rentalcars.com (this will give you a variety of options to find the best price) or we prefer Hertz.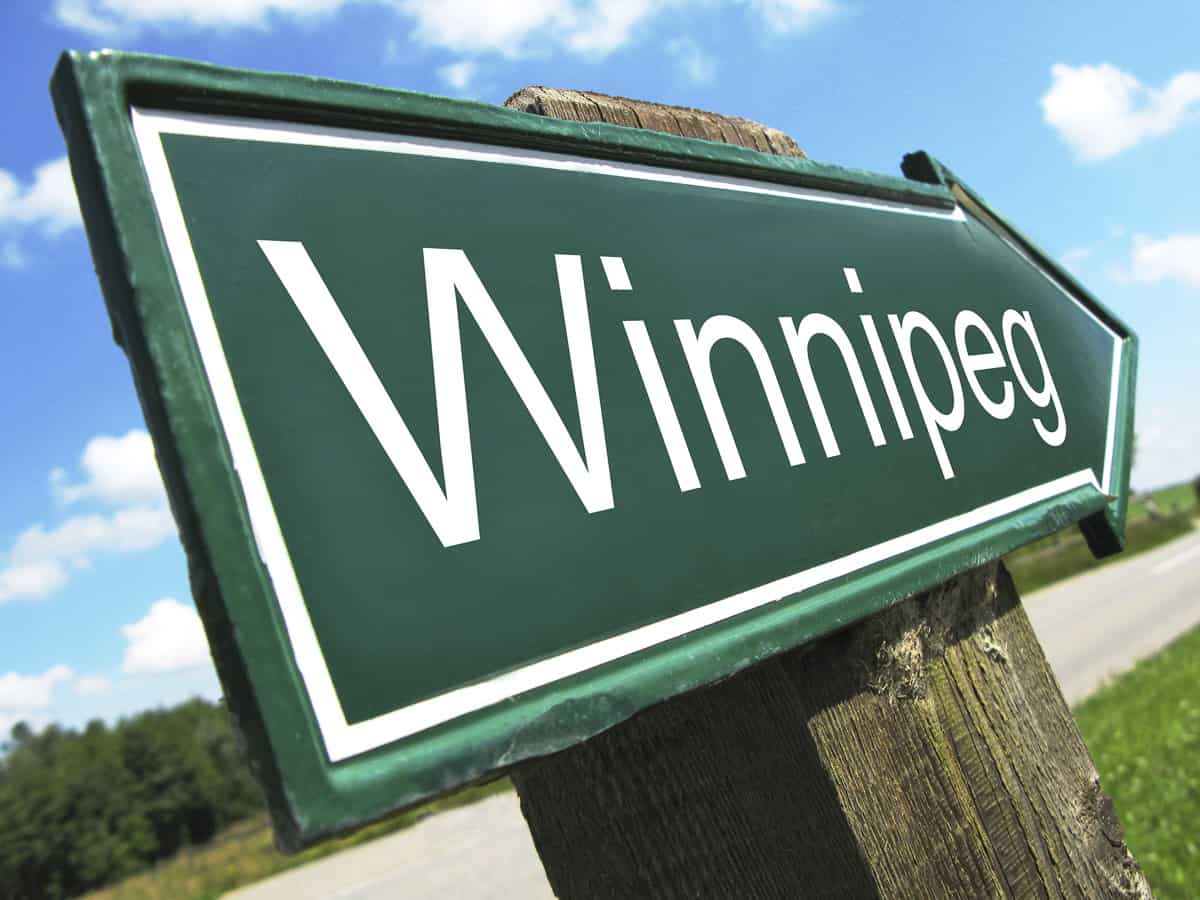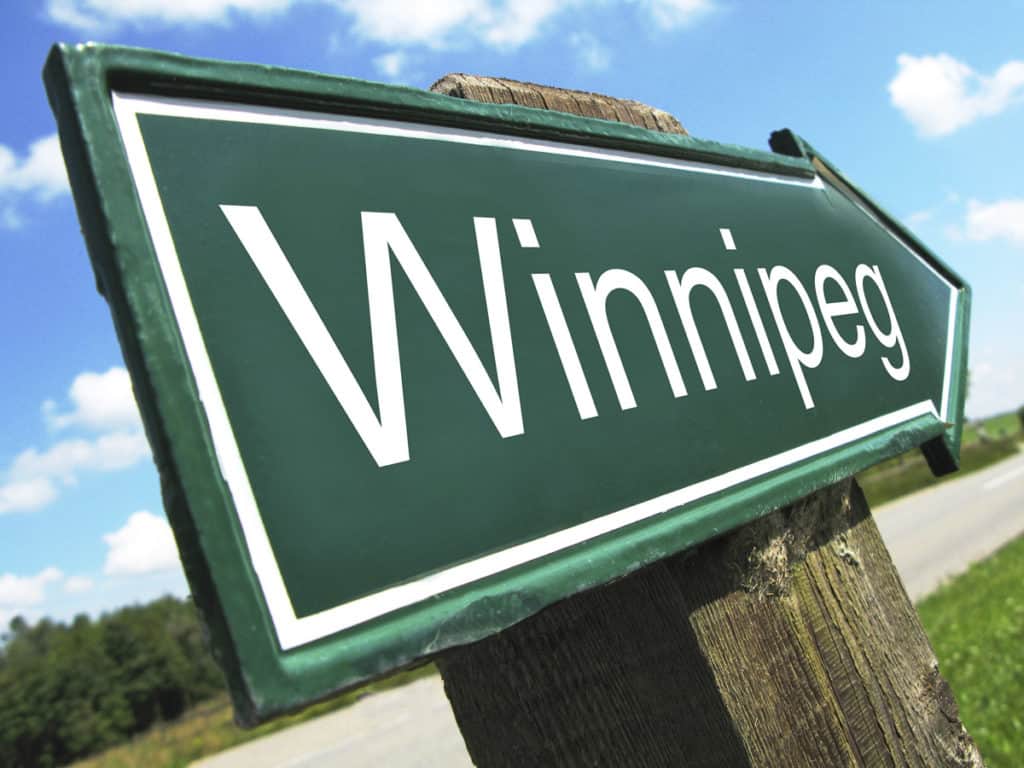 By Train
Travelling to Winnipeg is possible by VIA Rail Canada. With a variety of schedules and prices, you can travel to Winnipeg from cities such as Toronto, Edmonton, Vancouver, Montreal, and more. You can also travel to Winnipeg by train from northern cities in Manitoba, including Churchill and Thompson.
By Bus
There are a few Canadian companies that travel to Winnipeg by bus, although there are very few direct routes from cities like Toronto or Calgary; multiple changes are usually required. Check Busbud to see if there are tickets available. There are also a lot of provincial bus companies that can link other Manitoban locations to Winnipeg, including Maple Bus Lines, Brandon Air Shuttle, Mahihkan Bus Lines, and more.
Practical Essentials
Getting Around
Winnipeg is an extremely drivable city, and even in rush hour, traffic is never that bad. Most locations in the city are within a 15 to 20-minute drive from the heart of downtown. That being said, Winnipeg is also quite spread out, meaning a car is definitely your best way of getting around.
Unfortunately, Winnipeg does not have as many public transportation options as other big cities. However, the Winnipeg Transit bus services have extensive routes all over the city, and reloadable electronic bus cards are available.
There are also numerous taxi companies as well as rideshare options such as Uber. It's best to book ahead if you need a taxi; it's rare to flag a taxi down in the city unless you're downtown or near a large hotel.
If you'd like to rent a car while in Winnipeg, there are a number of rental agencies around the city, including Enterprise, Hertz, and Avis. Your best bet, if you are flying in and out of the city, is to rent a car at the airport.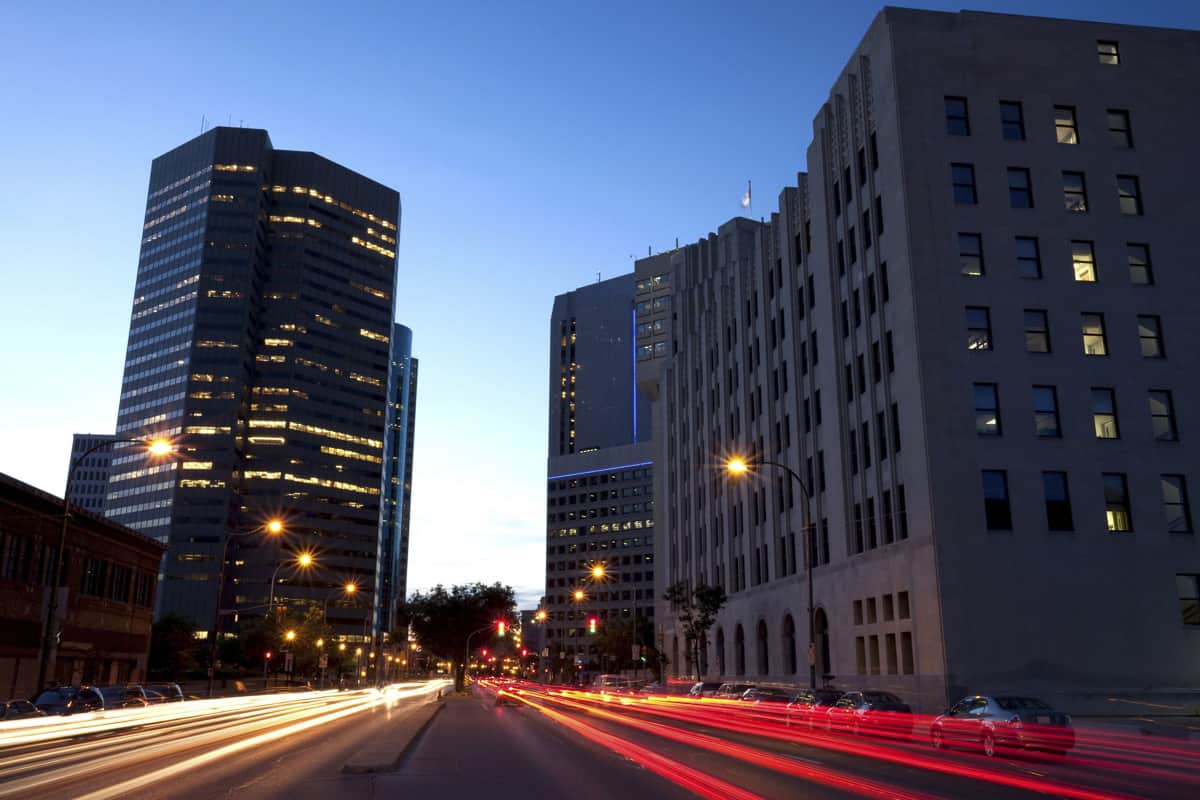 Parking
Thankfully, Winnipeg has a lot of parking options. Most areas of the city have free parking, although it is sometimes limited to two hours during peak times. For everywhere else, especially downtown, there are parking meters or parking lots that take payment by credit card; prices are very reasonable, usually only $2 per hour. There is also an app called PayByPhone that allows you to pay for and update your parking.
Where to Stay in Winnipeg
Most of the city's hotels are located downtown or in the Exchange District. You will however find home rentals and camping sites further out from the city centre. Here are a few of our recommendations on where to stay in Winnipeg.
Luxury Winnipeg Hotels
Fairmont Winnipeg
Found at the infamous corner of Portage Avenue and Main Street, the Fairmont Winnipeg is known as one of the top luxury hotels in the city. Stay here for its excellent location, the indoor saltwater pool, and the highest quality service.
The Fairmont Winnipeg Reviews | Reservations and availability
Inn at the Forks
For one of the best locations in the city, stay at the Inn at the Forks. With close walking proximity to some of the best things to do in Winnipeg, you're also a stone's throw from some of the city's best restaurants.
Inn at the Forks Reviews | Reservations and availability
Fort Garry Hotel
The iconic Fort Garry Hotel is one of the most beautiful buildings in Winnipeg, and is home to the magnificent Ten Spa. It's also within walking distance to the Winnipeg Art Gallery, the Manitoba Legislative Building, The Forks, and so much more.
Fort Garry Hotel Reviews | Reservations and availability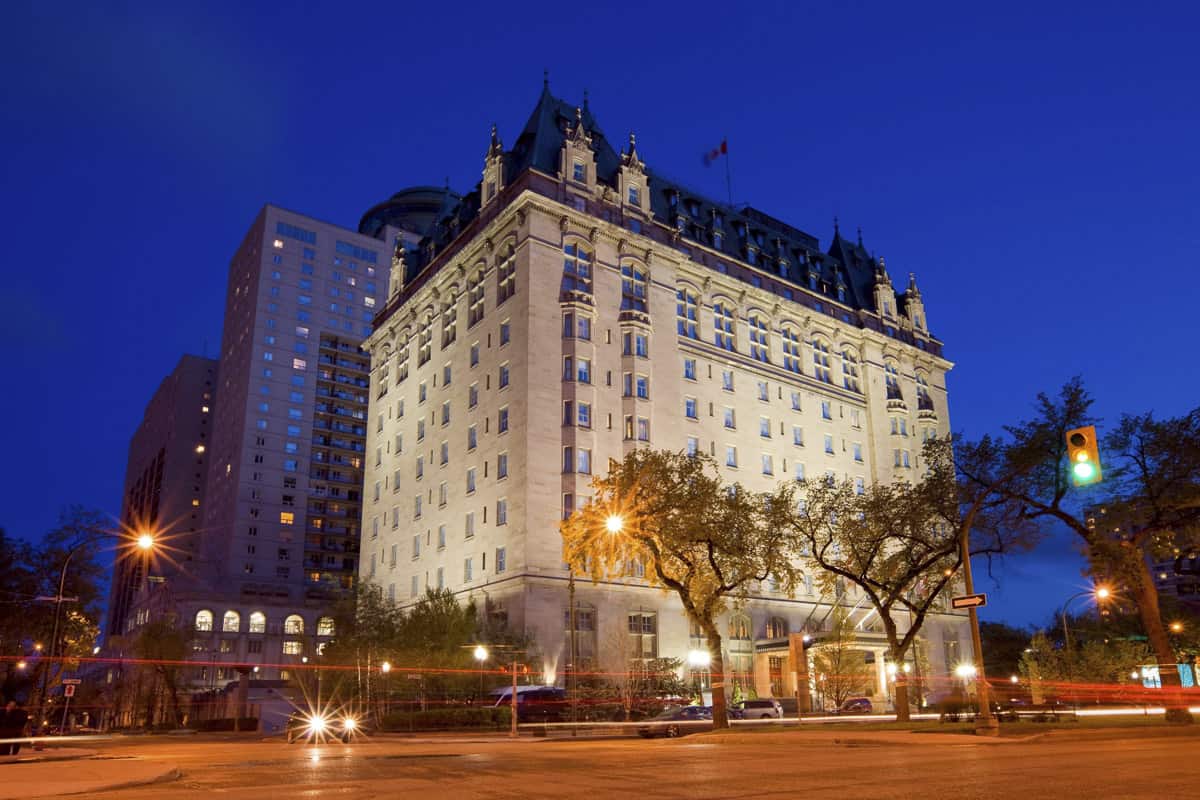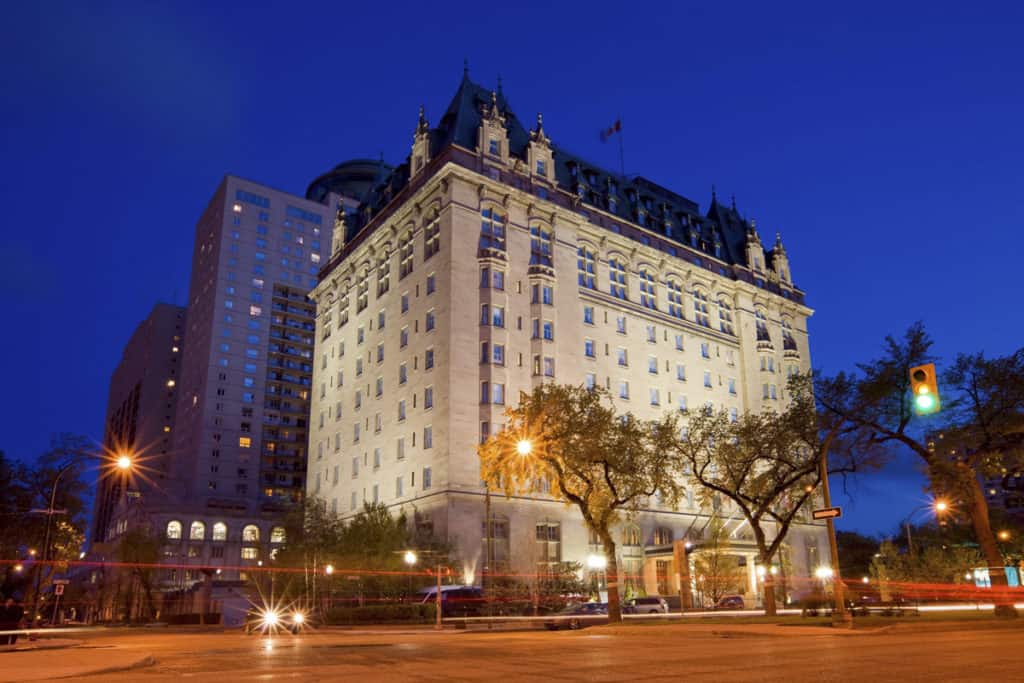 Mid-Range Winnipeg Hotels
Mere Hotel
The Mere is one of Winnipeg's favourite boutique hotels. With elegant rooms and a fantastic location on Waterfront Drive, you're a short walk away from The Forks, the Manitoba Children's Museum, the Canadian Museum for Human Rights, and more.
Mere Hotel Reviews | Reservations and availability
Alt Hotel Winnipeg
Rated as one of the top hotels in Winnipeg, the Alt Hotel is a modern, chic place to stay that is right in the heart of downtown. You're perfectly located for a Jets game, a walk to the Exchange District, and more.
Alt Hotel Reviews | Reservations and availability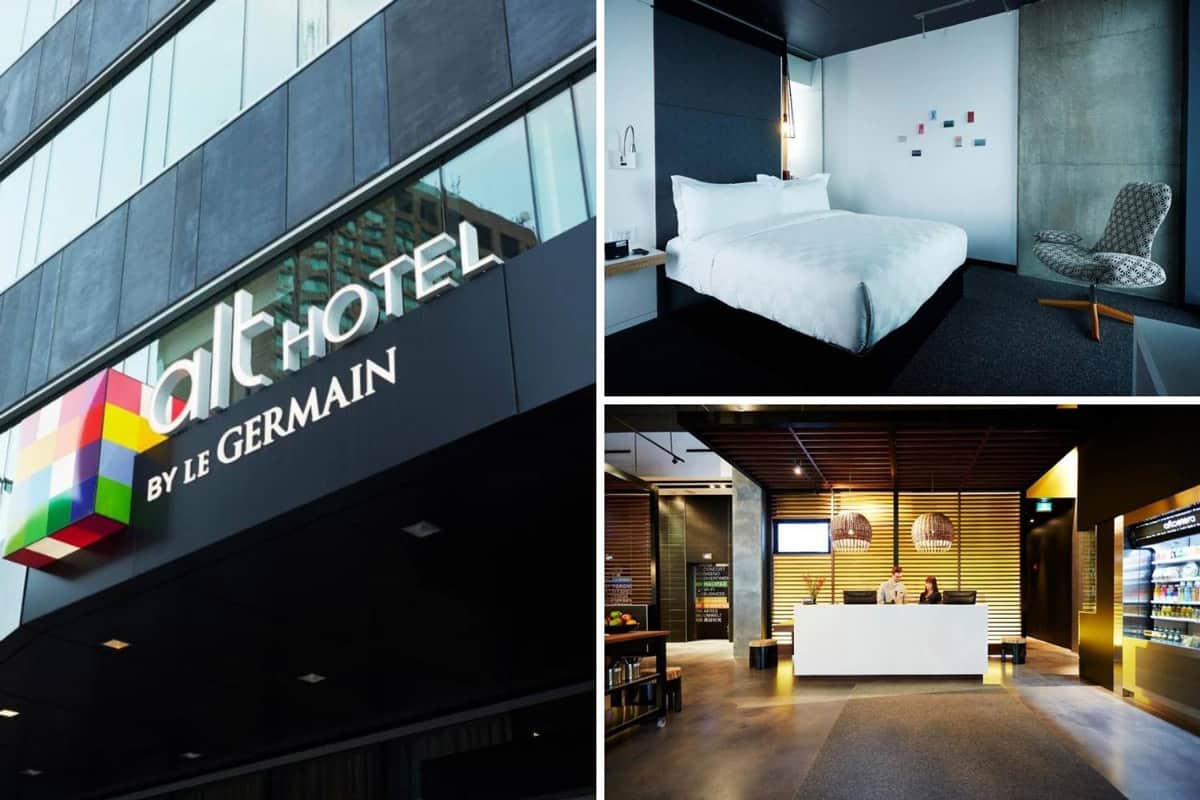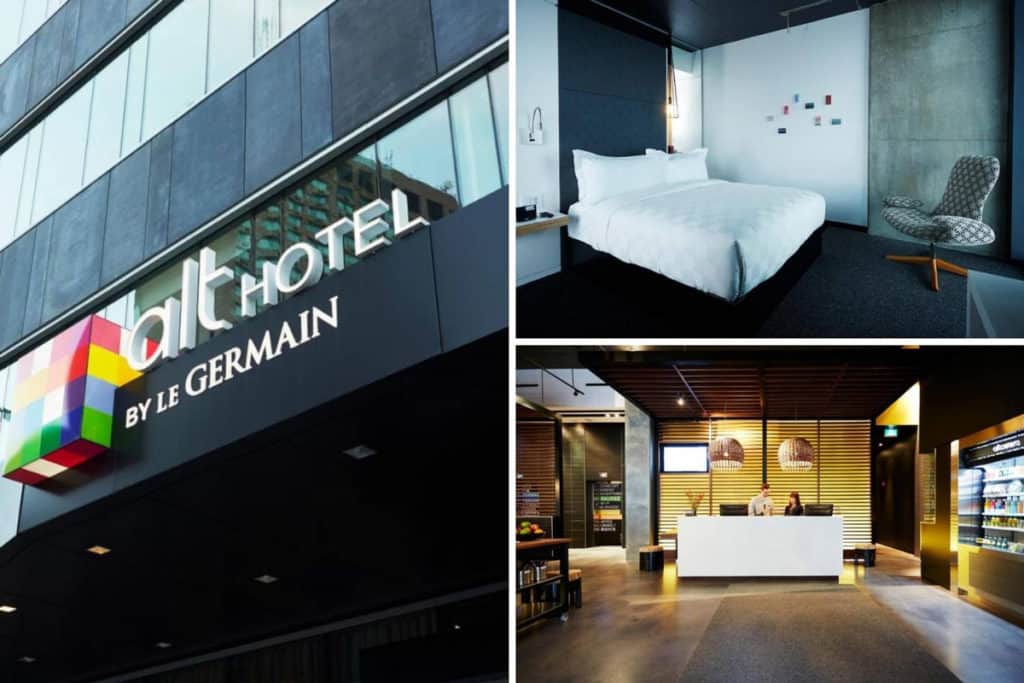 Budget Winnipeg Hotels
Super 8 by Wyndham Winnipeg
Super friendly staff and a reputation for cleanliness, the Super 8 by Wyndham Winnipeg East is located near the Royal Canadian Mint and is only approximately 15 minutes drive from downtown.
Super 8 by Wyndham Winnipeg East Reviews | Reservations and availability
Hampton Inn by Hilton Winnipeg Airport/Polo Park
Located just a few minutes from the airport, the Hampton Inn by Hilton is both comfortable and affordable. With easy access to downtown Winnipeg and a hot breakfast every morning, it makes for a convenient stay in the city.
Hampton Inn Winnipeg Airport Reviews | Reservations and availability
Comfort Inn Winnipeg South
Found in the south of the city, the Comfort Inn is a budget option that's perfect for travelers to Winnipeg. Close to IG Field, home of the Blue Bombers, you're also situated near some of the city's best restaurants and bars.
Comfort Inn Winnipeg South Reviews | Reservations and availability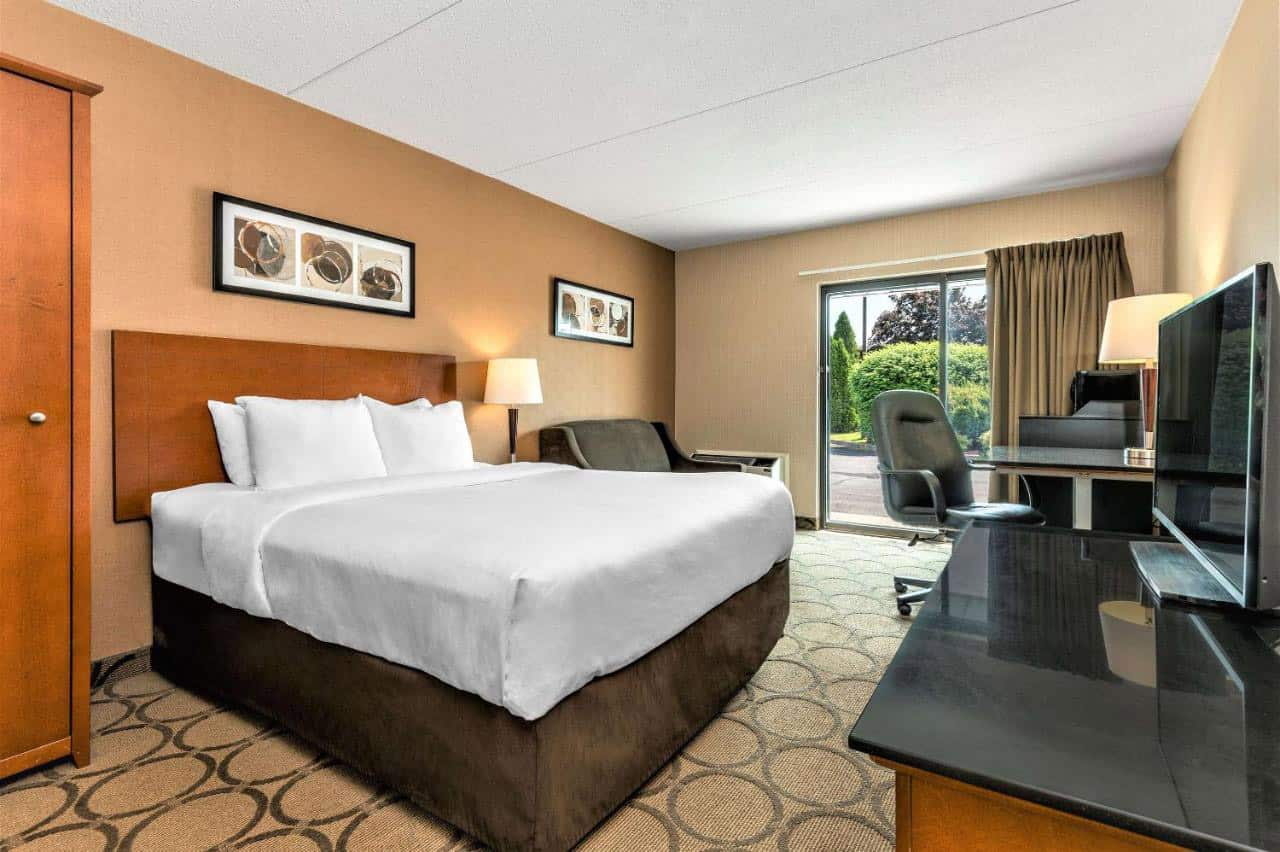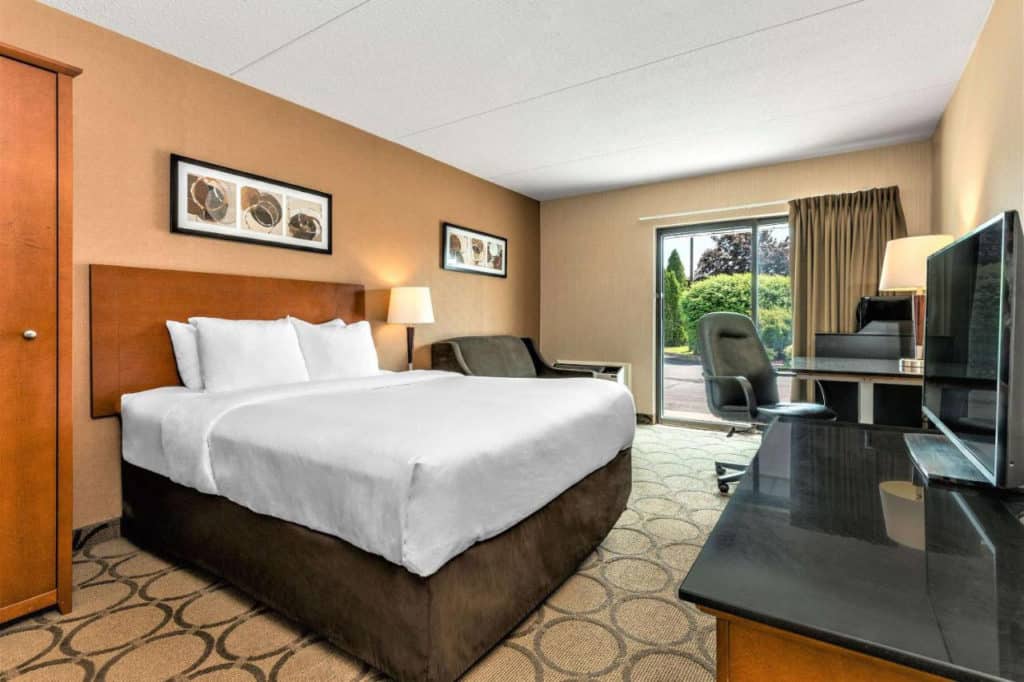 Home Rentals
If you're after a stay that feels like home, we've got an entire guide dedicated to Winnipeg Airbnbs. There are also a bunch of listings on VRBO to find the perfect Winnipeg vacation rental. You'll find a lot of good options in convenient locations, including downtown and in neighbourhoods adjacent to downtown.
Camping
While there is an incredible array of Manitoba campgrounds, most of your camping options for Winnipeg are slightly outside the city. Camping in Winnipeg is still entirely possible, though! Here are a couple of our favourite camping spots near the city.
Birds Hill Provincial Park
Found northeast of Winnipeg, Birds Hill Provincial Park is one of Manitoba's most popular provincial parks and also one of its most beautiful. With a lake for swimming, tons of hiking and biking trails, and access to the much-loved Pine Ridge Hollow restaurant and shop, Birds Hill makes for an amazing place to camp just outside Winnipeg.
With basic and full-service campsites, as well as group camping available, it is best to book ahead in order to secure your spot.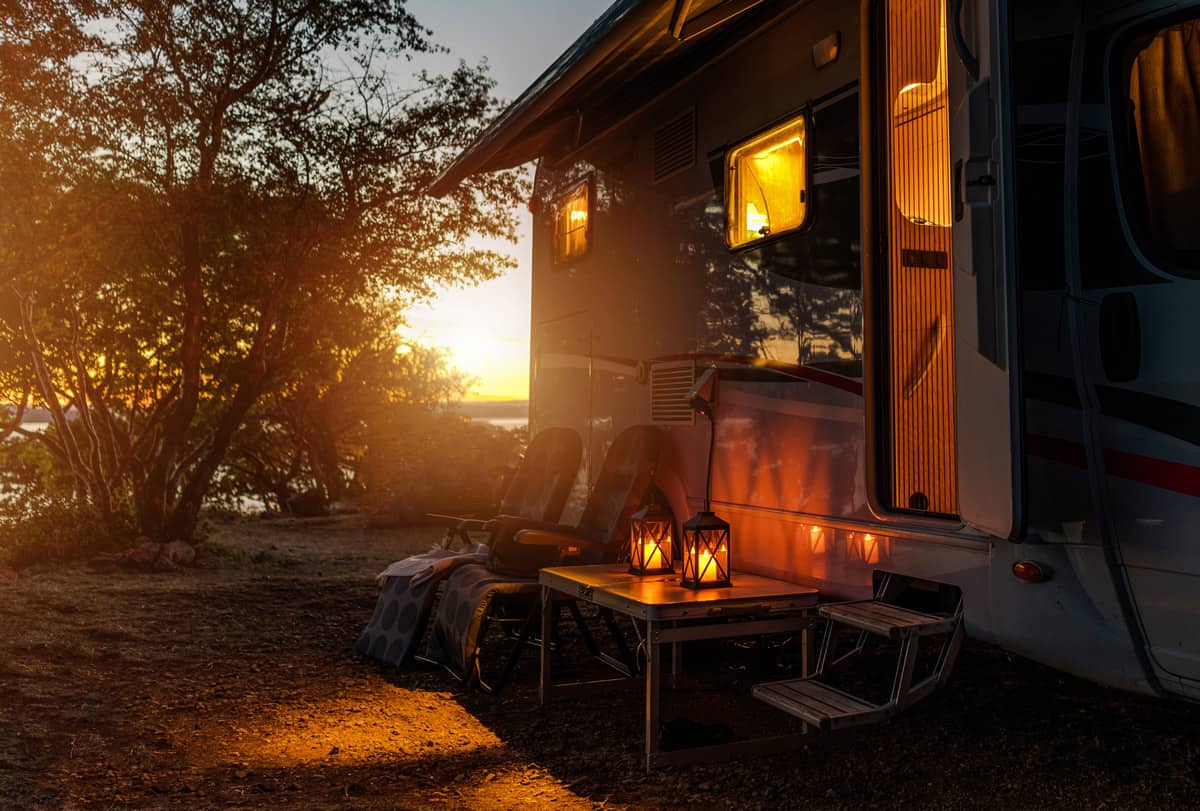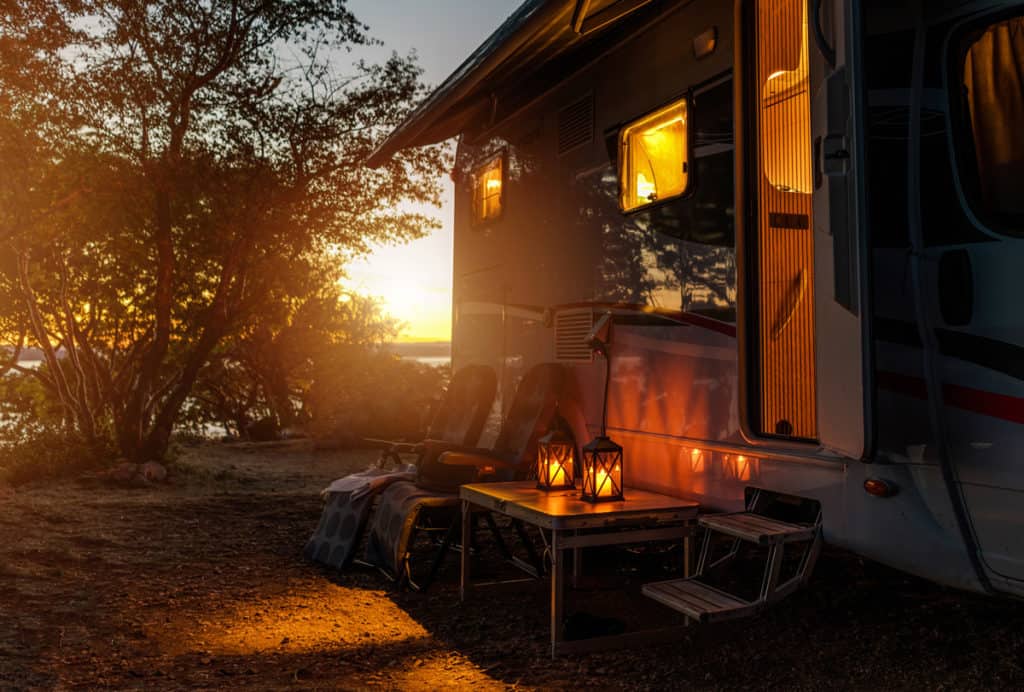 Town and Country Campground
Just east of Winnipeg, you'll find Town and Country Campground. With over 300 sites, 264 of which are full-service sites, you're only a short distance from some of Winnipeg's best spots for family fun: Tinkertown Amusement Park and Fun Mountain Waterslide Park. While this site isn't for tenting, only for RVs and camper vans, it's a great spot to park for a few days (or longer!). Enjoy the many amenities including paid showers, a laundromat, volleyball, basketball, mini-golf, and wifi.
Sights to See in Winnipeg
Winnipeg has no shortage of iconic, noteworthy, or just plain beautiful spots to add to your sightseeing itinerary (are you short on time or do you want some info from a guide? Book this very reasonably priced private city tour). Here are a few of our favourite photogenic things to do in Winnipeg.
Royal Canadian Mint
One of the most famous buildings in Winnipeg, the Royal Canadian Mint produces every single Canadian circulation coin as well as many collector's coins. If seeing the iconic building from the outside isn't enough for you, you can also look into tours to see how the Mint operates.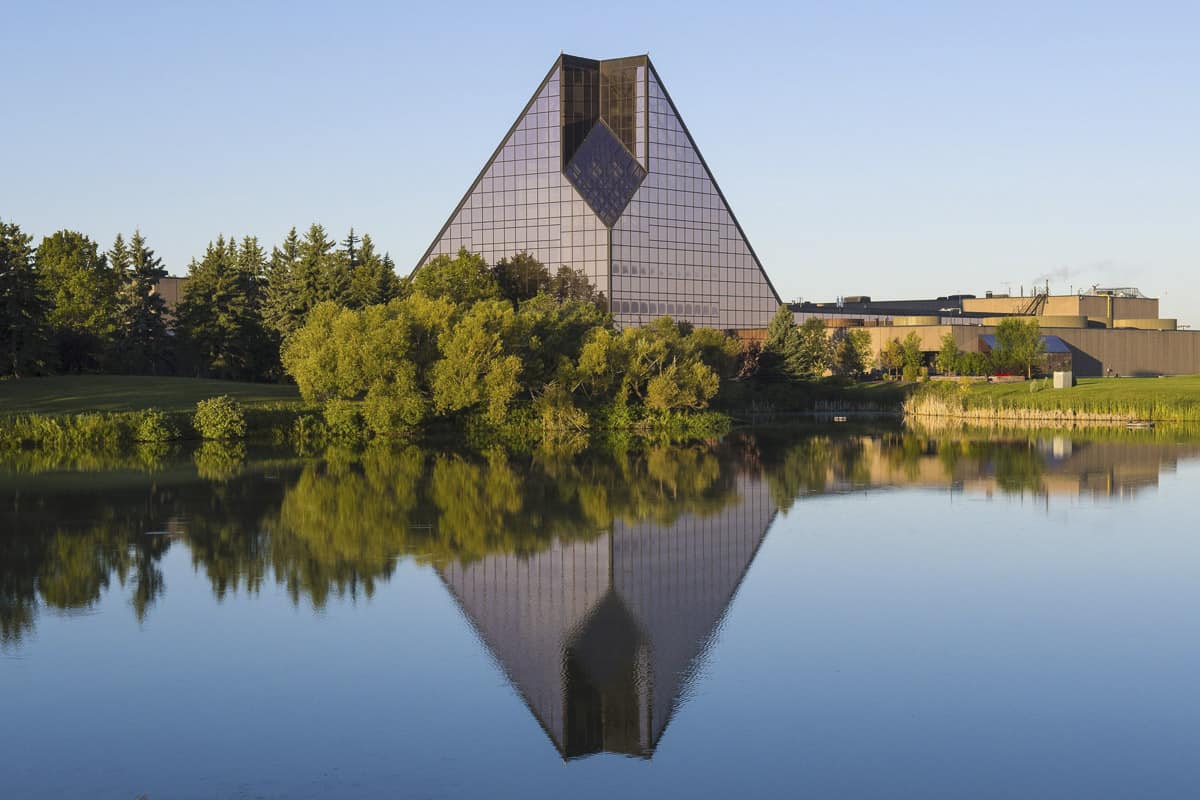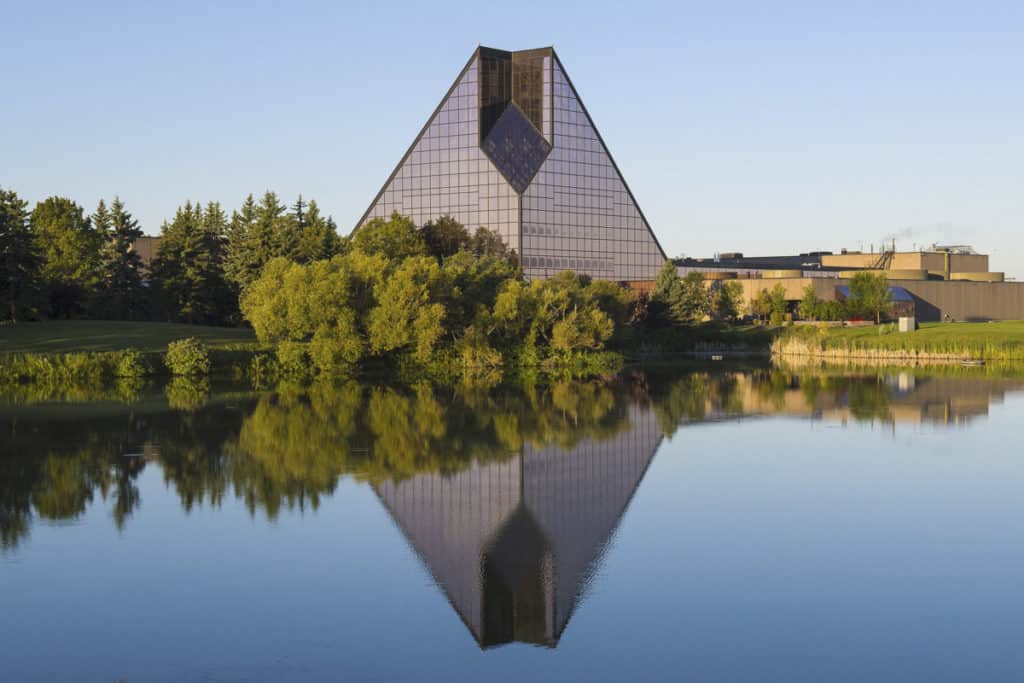 Saint Boniface Cathedral
A gorgeous spot for photography, picnics, and special events, the Saint Boniface Cathedral can be found along the Red River, directly across from The Forks. Beautiful in every season, head here for a memorable (and free) thing to do in Winnipeg.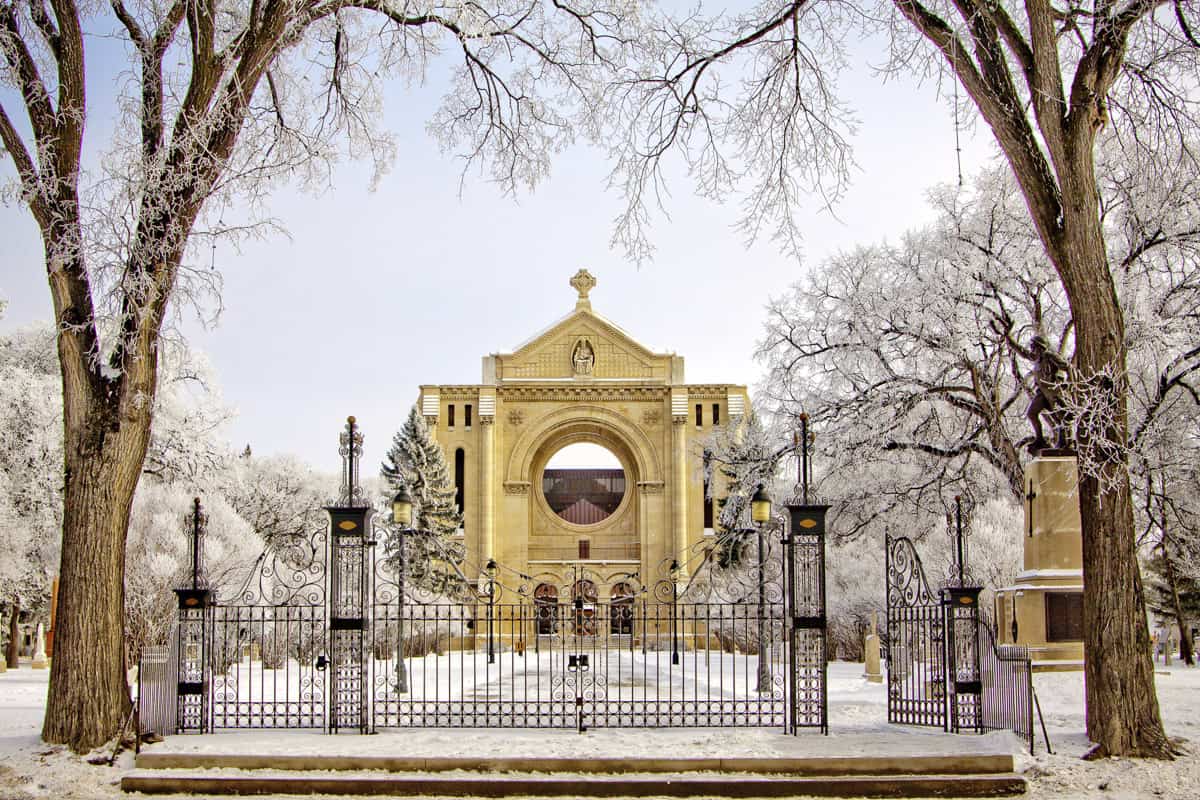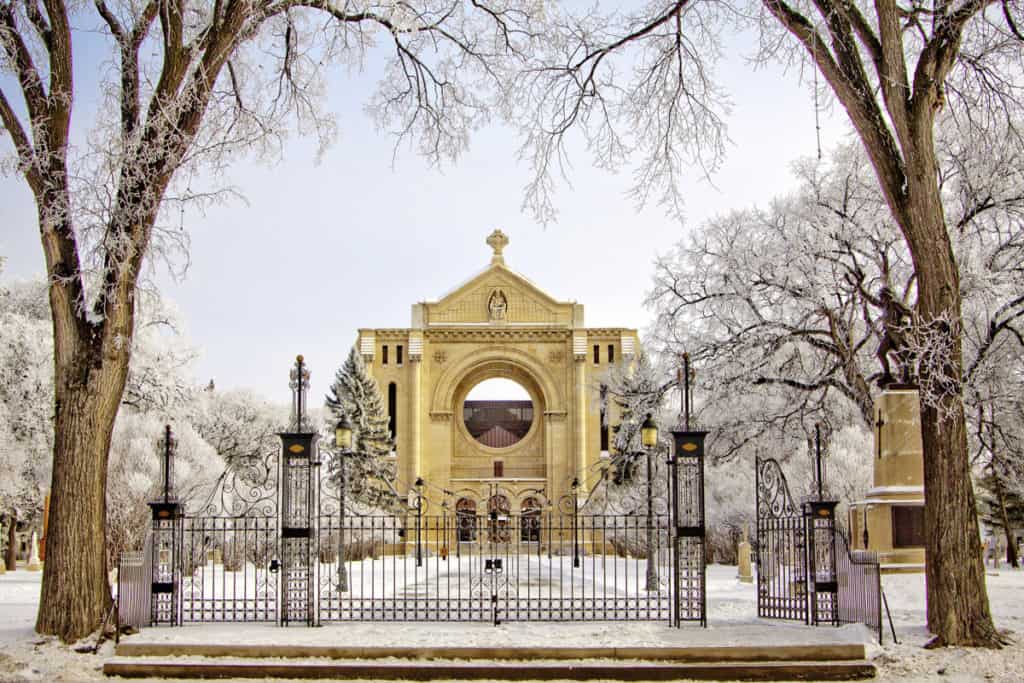 Assiniboine Park
Although there are dozens of parks to visit in Winnipeg, Assiniboine Park is perhaps the most famous and, we'd argue, one of the most photogenic. Here you'll find acres of fields for picnics, dog walks, cricket, soccer, and more, while there are excellent trails to explore all year round.
And brand new, you'll find The Leaf at Assiniboine Park, a multi-season experience with indoor tropical and Mediterranean biomes, horticultural displays, and a butterfly garden. There's even an excellent restaurant inside called Gather Craft Kitchen and Bar.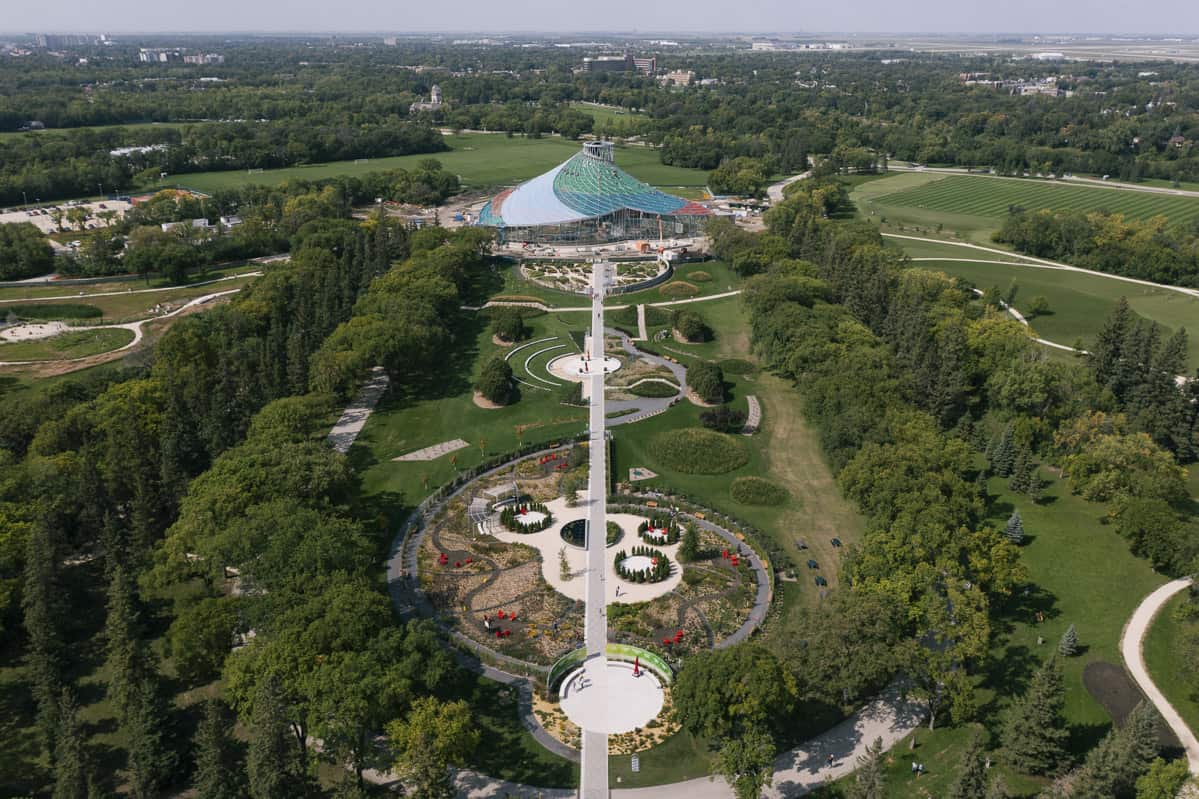 Forever Bicycles
You can't visit The Forks or the Canadian Museum for Human Rights without noticing the magnificent bicycle sculpture by renowned artist Ai Weiwei. Made of 1,254 bicycles, the optical illusion makes for a stunning photograph and a fantastic stop on your tour of things to do in Winnipeg.
Esplanade Riel
Linking downtown Winnipeg with St. Boniface, the Esplanade Riel pedestrian bridge is an instantly recognizable icon of the city's skyline. Located parallel to the Provencher Bridge over the Red River, one of the best walking routes in the city includes walking from The Forks and Canadian Museum for Human Rights over the bridge to the Saint Boniface Cathedral, allowing you to take in multiple Winnipeg landmarks on one walk.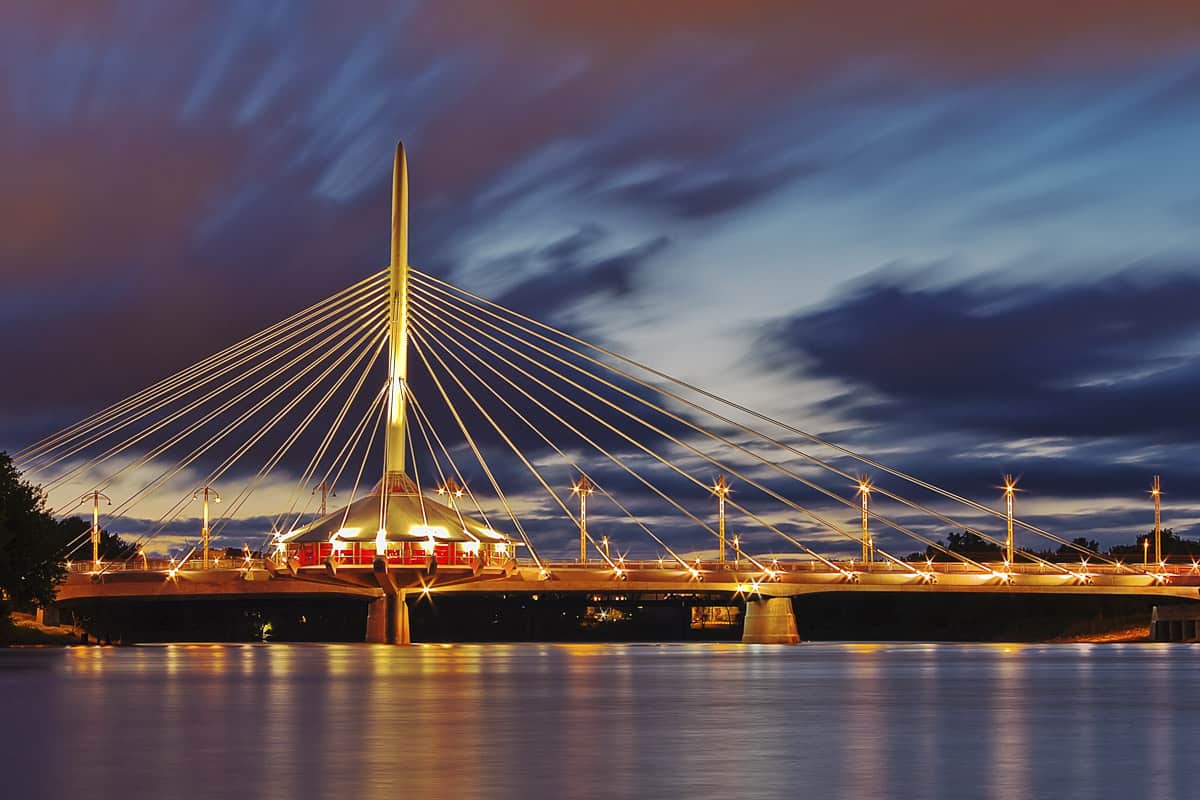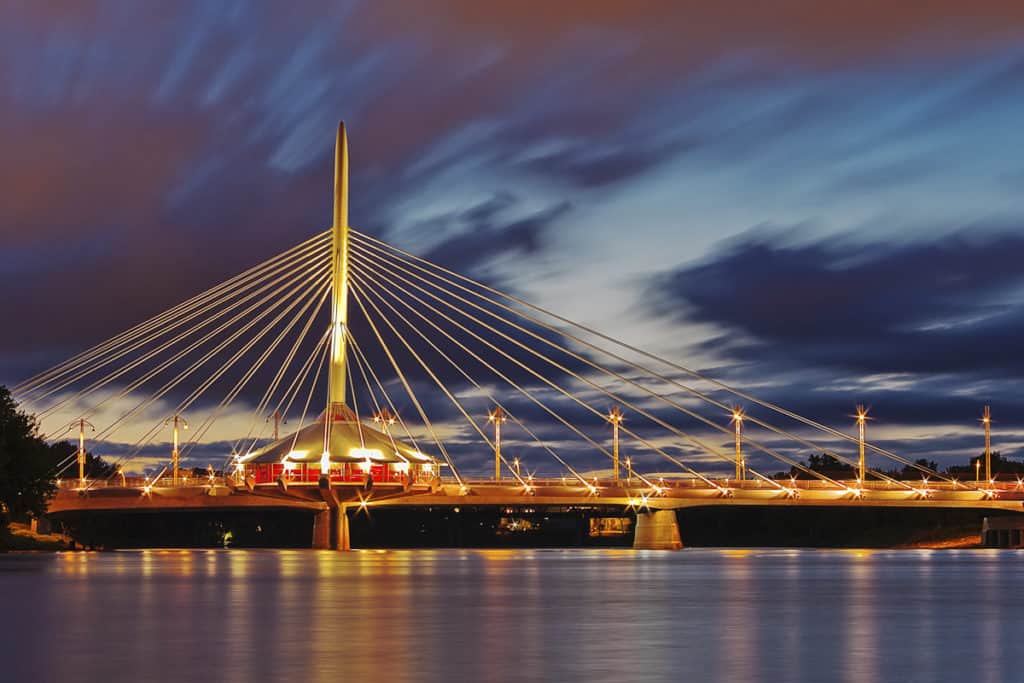 West End Murals
You'll find more and more murals popping up all over Winnipeg, but one of the best areas to explore the talent of local artists is the West End. With over 50 murals in the area, you're sure to find a lot on a walk in the neighbourhood (although there's also an online map to guide you to each one). Find murals showing messages of community, history, hope, and so much more.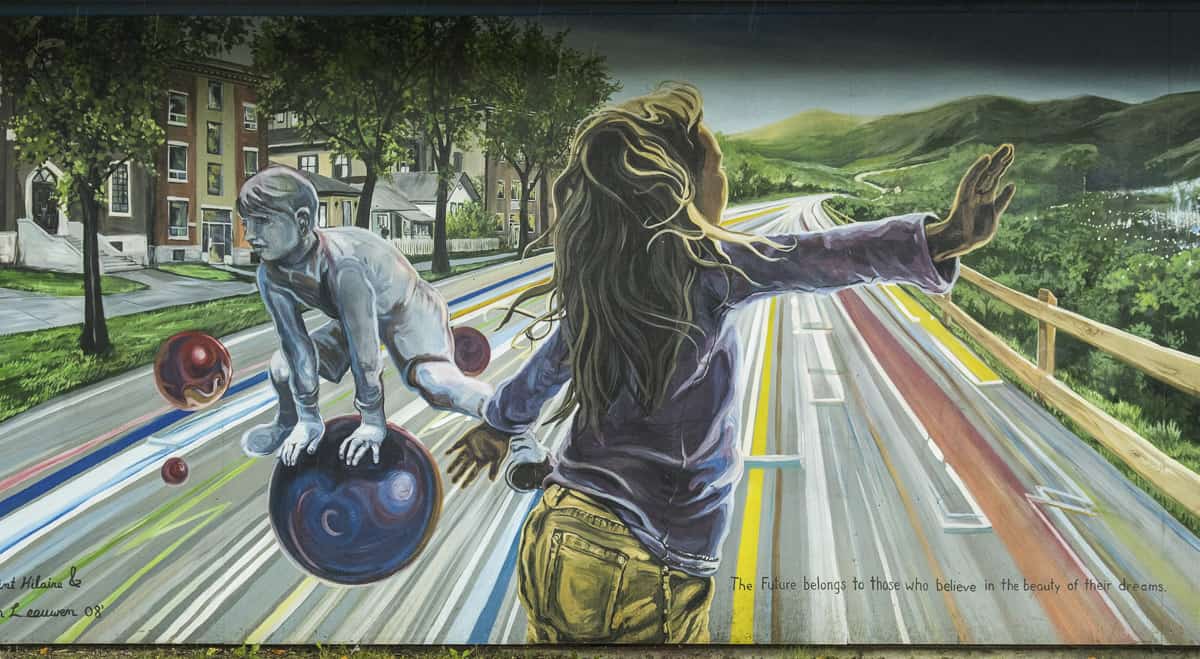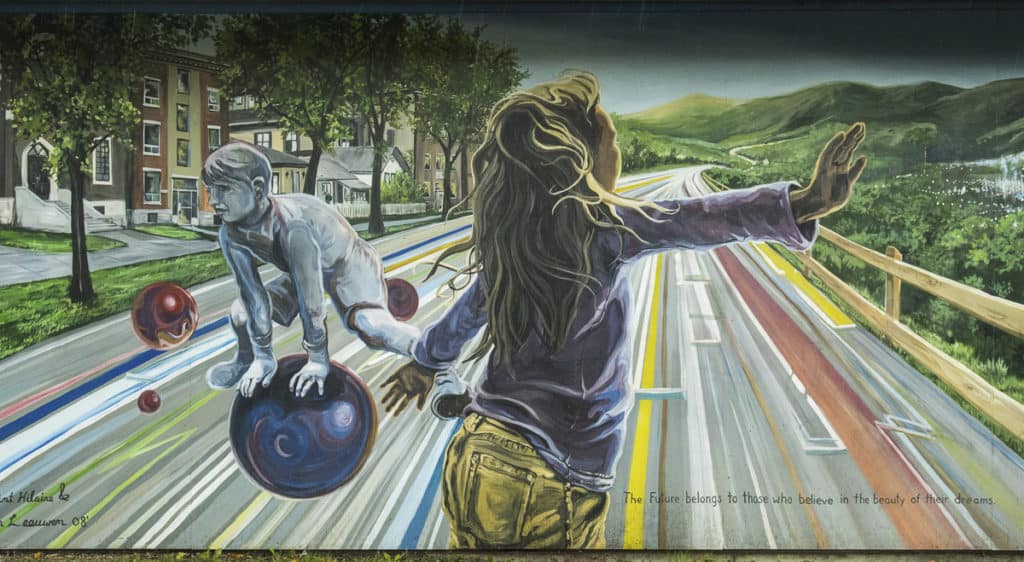 Manitoba Legislative Building
Formally opened in 1920, the Manitoba Legislative Building is the meeting place of the Legislative Assembly of Manitoba. The building is a stunning example of architecture as well as a designated Manitoba Provincial Heritage Site. While guided tours are available – the Hermetic Code Tour is especially a delight – you can't miss looking up at the building from the outside, where you'll see one of Winnipeg's most famous symbols: the Golden Boy.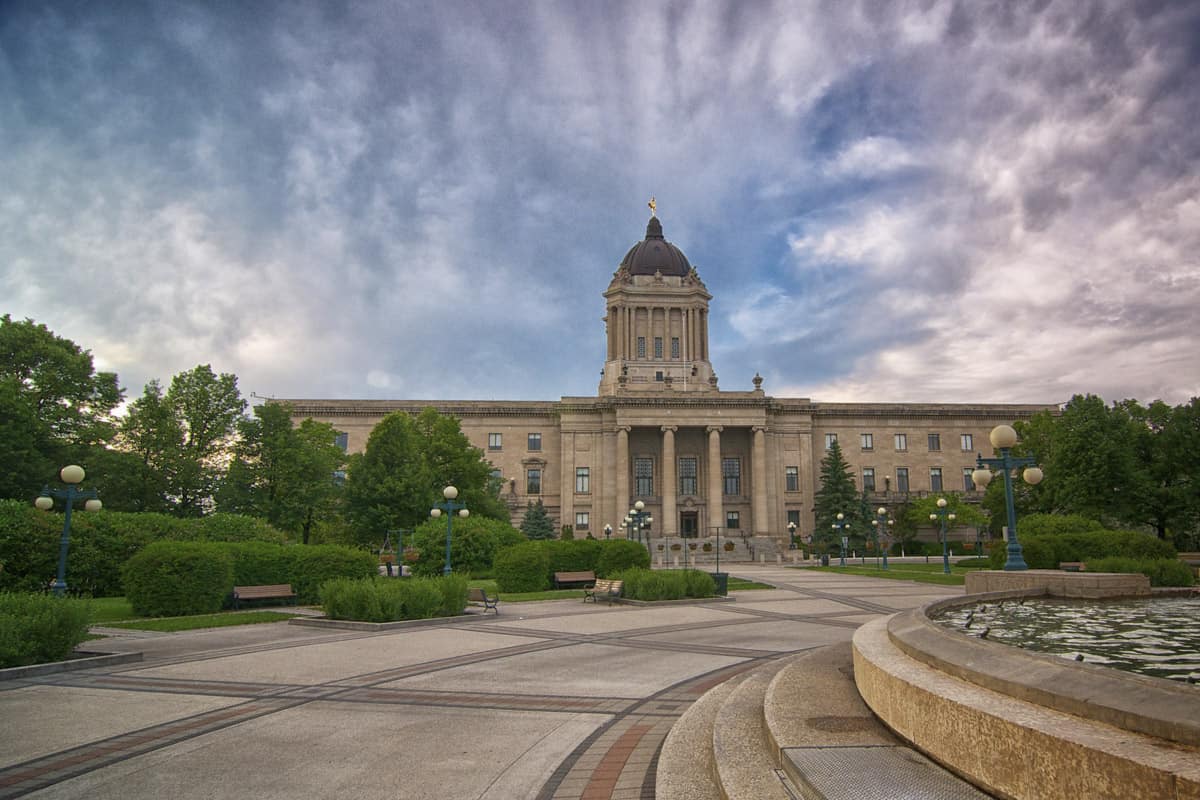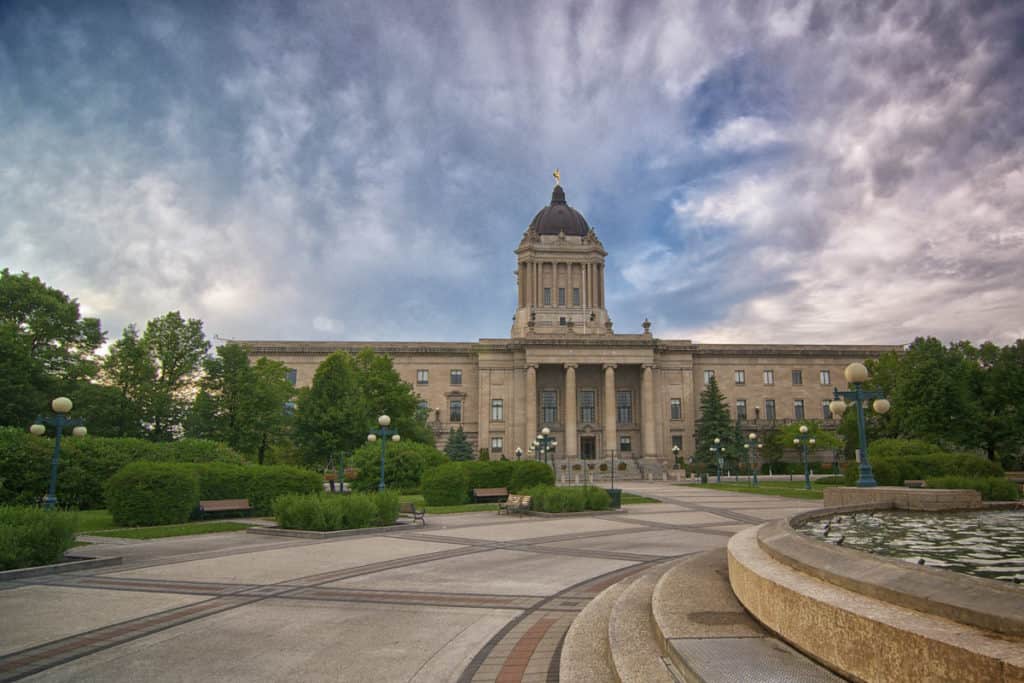 Oodena Celebration Circle
The Oodena Celebration Circle, found at The Forks, gives honour to the 6,000 years of Indigenous peoples who have lived on this land. Oodena means "heart of the community" in Objiwe, and you'll find a sundial, sculptures, a ceremonial fire pit, and more at this culturally significant spot.
Things to do in Winnipeg
Get ready… this prairie city is packed with things to keep you busy! From museums to hockey games to a day with polar bears, here are our favourite things to do in Winnipeg.
Canadian Museum for Human Rights
The Canadian Museum for Human Rights is a must when it comes to things to do in Winnipeg. Opened in 2014, the museum is the product of many years in the making, and of many communities coming together for a common goal. It leads our list of the best museums in Winnipeg to visit.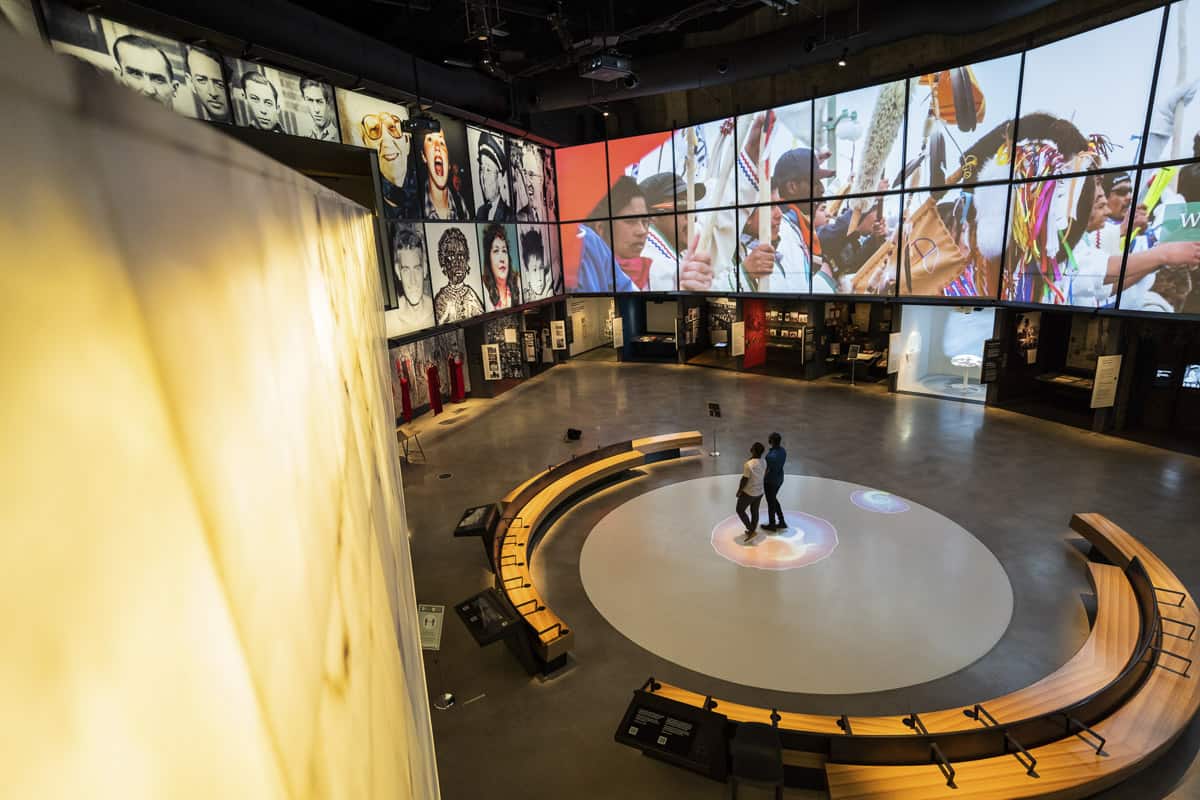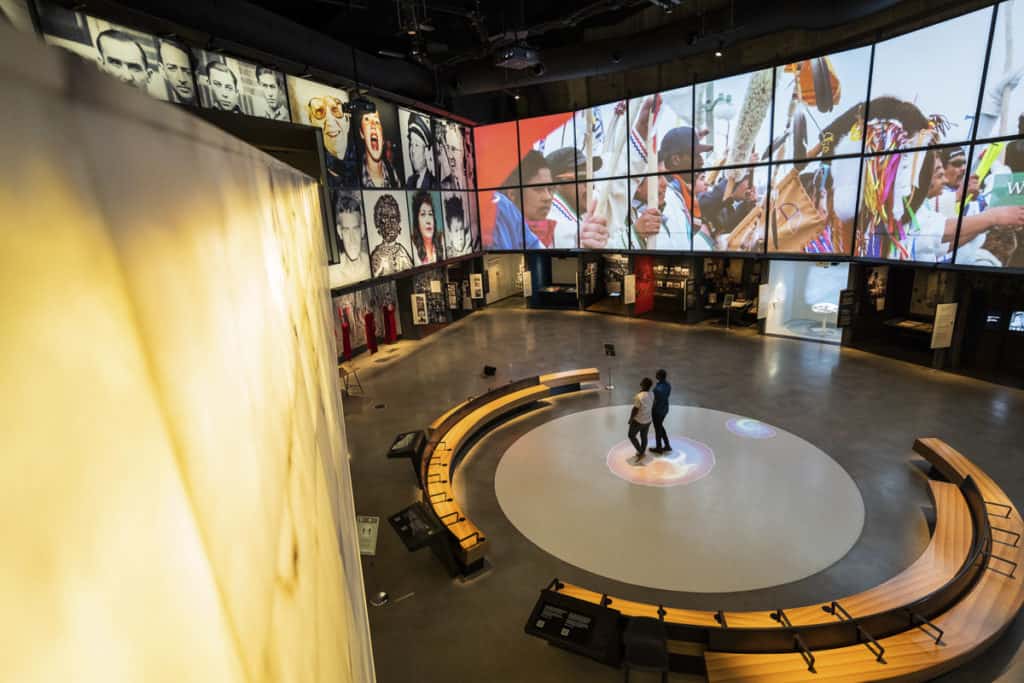 Through reflection and dialogue, the Canadian Museum for Human Rights aims to preserve and promote cultural heritage and contribute to the collective Canadian identity, all through thoughtful and often emotional exhibits. The building itself is stunning, so you'll need at least half a day to truly experience the museum in its entirety.
Manitoba Children's Museum
Found at The Forks, the Manitoba Children's Museum is a wonderful stop for families on holiday in the city and a great addition to your list of Winnipeg activities. Learn, share, laugh, and play at this huge space that kids of all ages will love.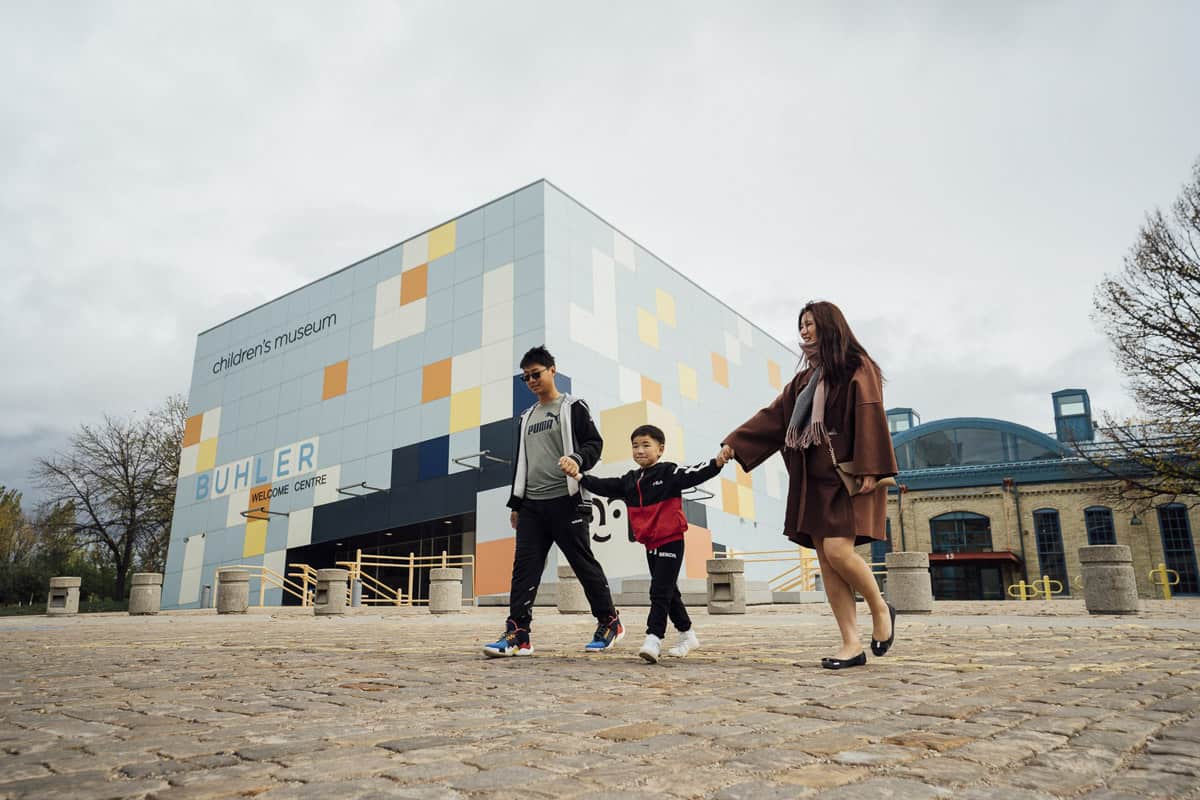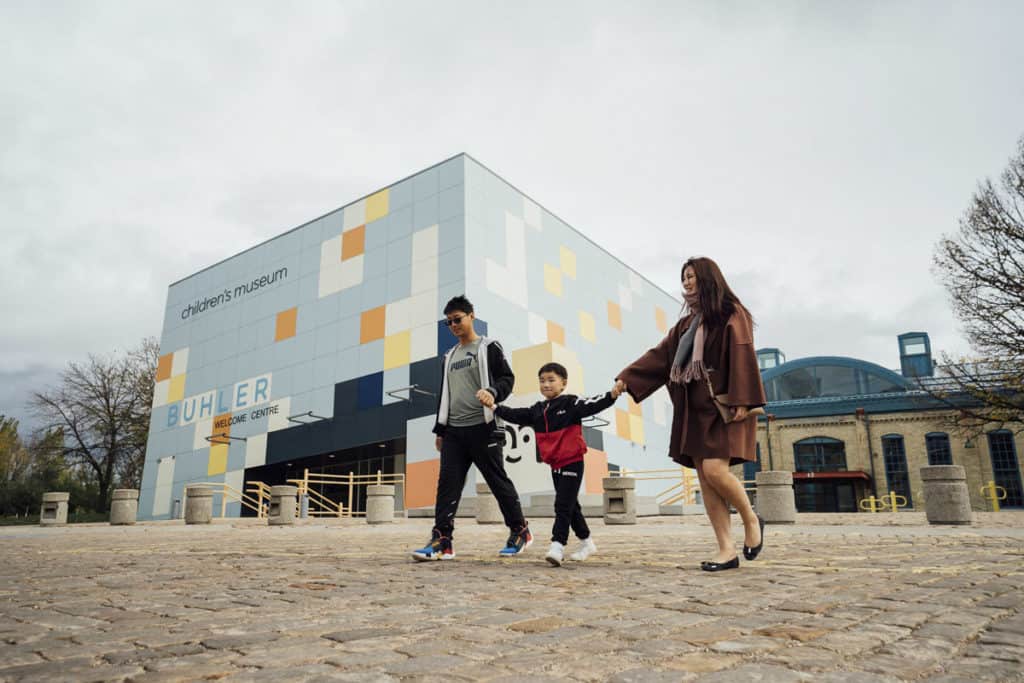 Check out the many permanent exhibits as well as the temporary ones, guaranteeing there's always something new for you and your little ones to explore and discover.
Want some other easy family fun? Try out these Winnipeg escape rooms and fun Winnipeg bowling alleys.
The Forks
Ask any Winnipegger what you should do when you visit the city, and they will most likely tell you to visit The Forks market. With thousands of years of history behind it, The Forks is a place to meet, shop, eat, be entertained, and so much more.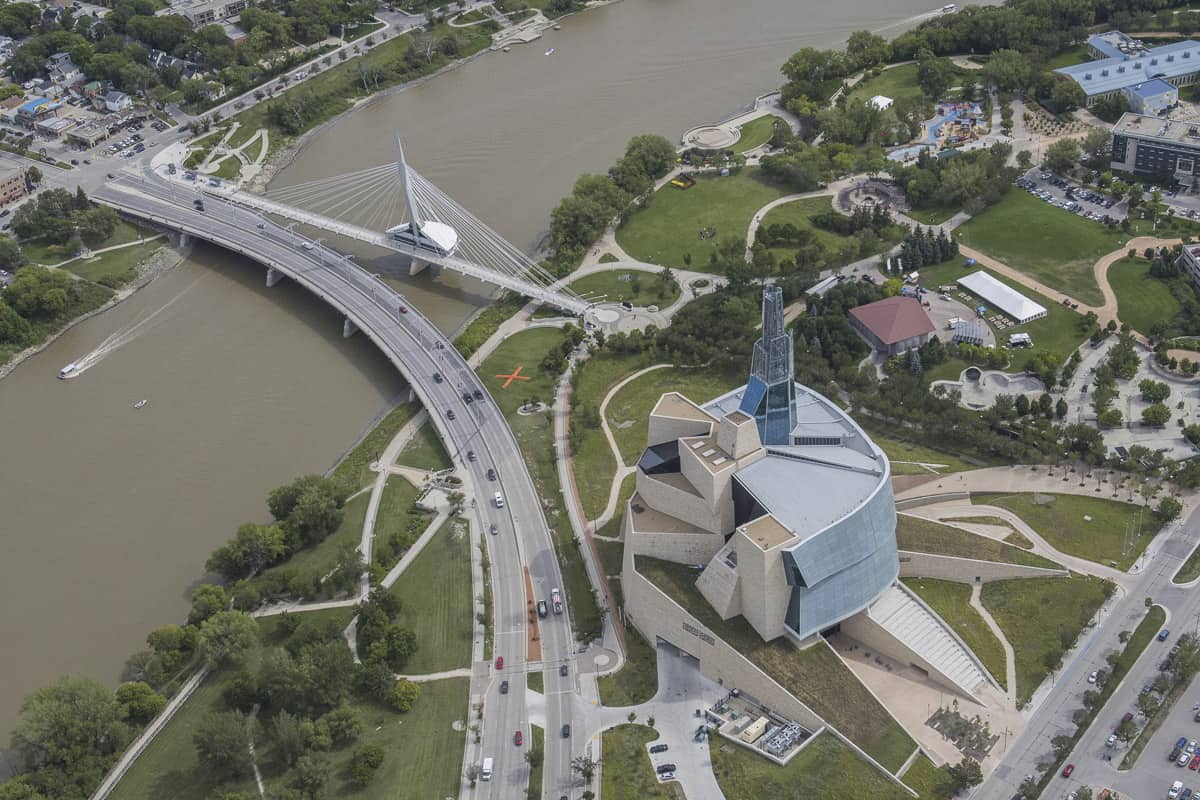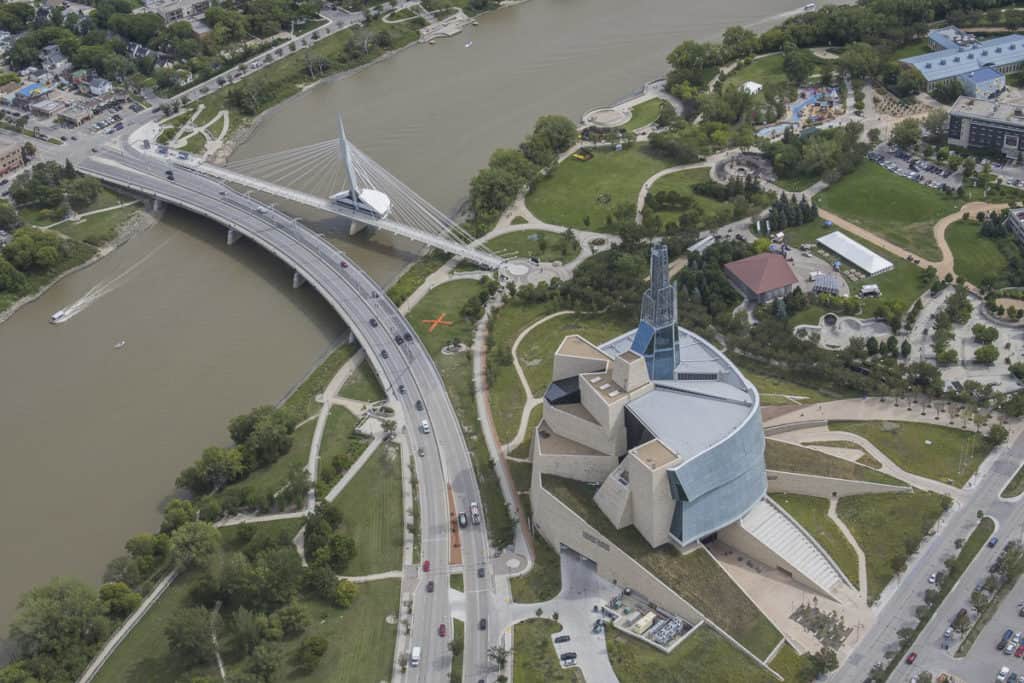 In summer, head here for a local beer or some ice cream in the huge, fully-licensed outdoor area. In winter, grab a sampling of local cuisine and cozy up inside at one of the large common area tables. It's also a perfect jumping-off point for the unbelievable Red River skating trail in the colder months.
Winnipeg Art Gallery and Qaumajuq
While you'll see art from around the world at the Winnipeg Art Gallery, the real highlight is seeing the local Canadian and Indigenous art. The recently opened Qaumajuq is home to the world's largest collection of Inuit art, and should not be missed on a visit to the city; we believe it's one of the top Indigenous experiences in Manitoba in regards to tourism.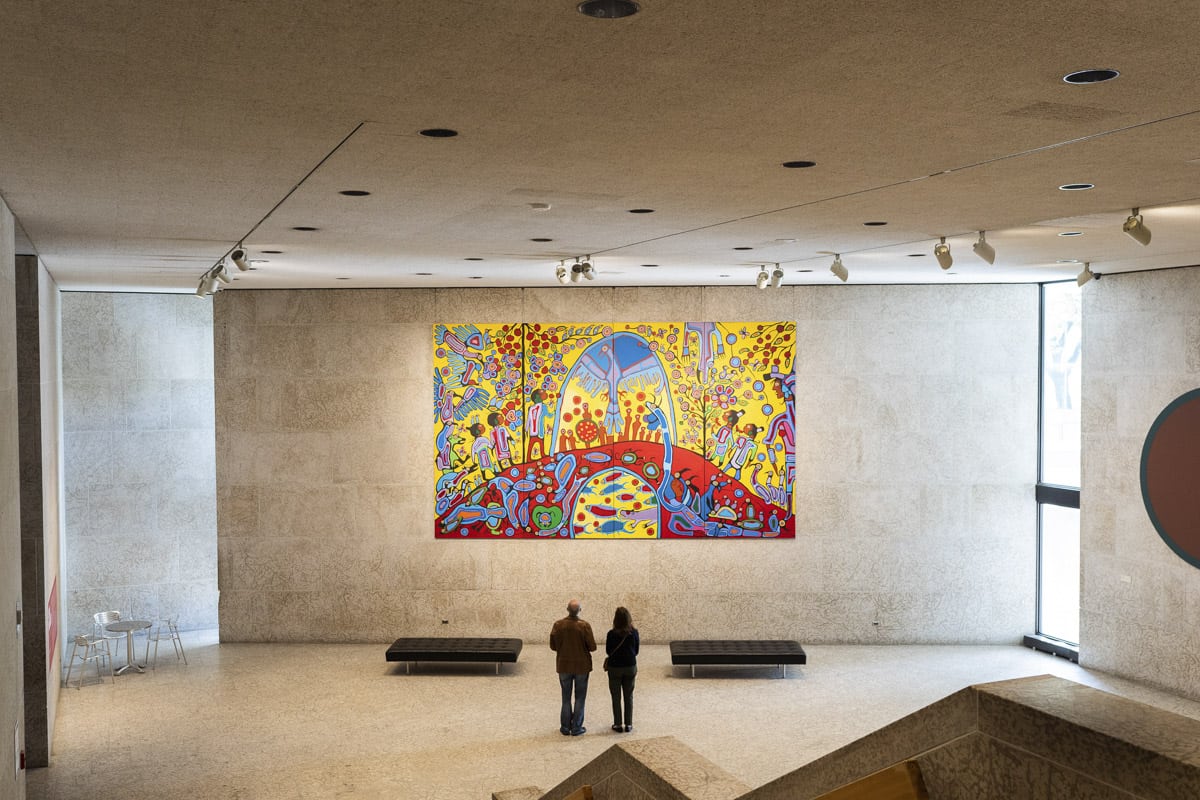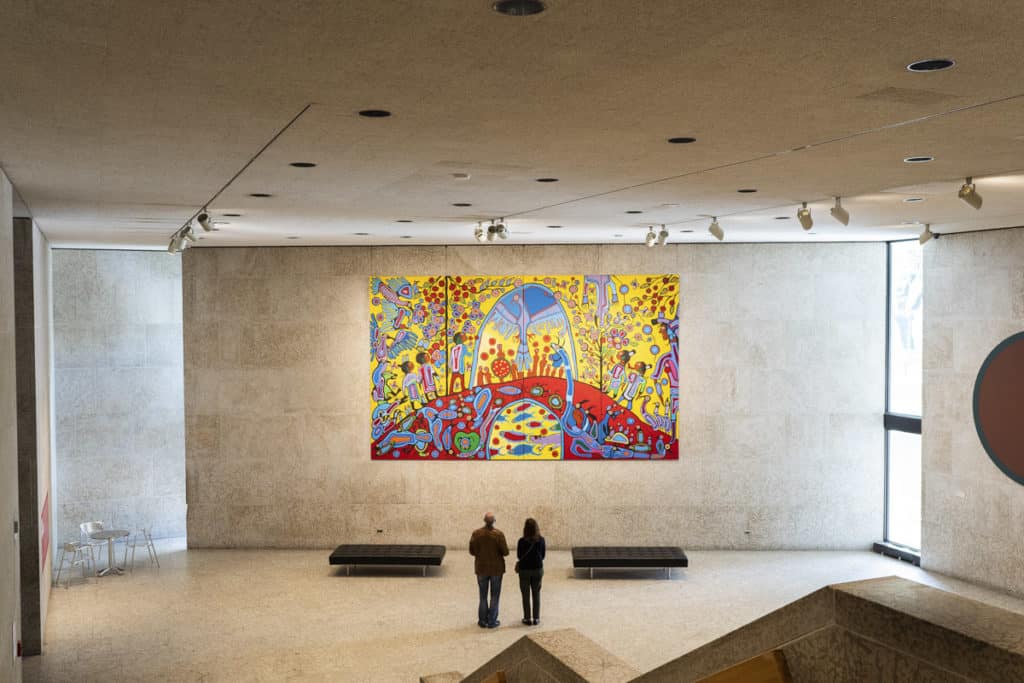 The Winnipeg Art Gallery is also home to many events throughout the year; check out their website to stay on top of what's happening. And don't forget to check out all of the other amazing art galleries in Winnipeg!
Manitoba Museum
One of the most well-known attractions in Winnipeg, the Manitoba Museum is a worthwhile addition to your sightseeing itinerary in the city. Learn about the province's history dating back millions of years through nine interpretive galleries.
One of the highlights of the Manitoba Museum is certainly the Nonsuch, a full-size 17th-century ship, as well as the replica 1920s town you can wander through. Also, visit the Planetarium for multimedia shows as well as the Science Gallery for lots of hands-on fun.
Assiniboine Park Zoo
If you can't get to Churchill to see a polar bear in the wild, why not head to the next best thing: the Assiniboine Park Zoo! Home to an incredible polar bear exhibit, the zoo is open a staggering 364 days a year.
Gateway to the Arctic is the world-renown exhibit that focuses on the conservation and preservation of Manitoba's beautiful northern animals, including the province's iconic polar bear. One of the most exciting times to visit is in winter when the Winnipeg Zoo Lights are displayed.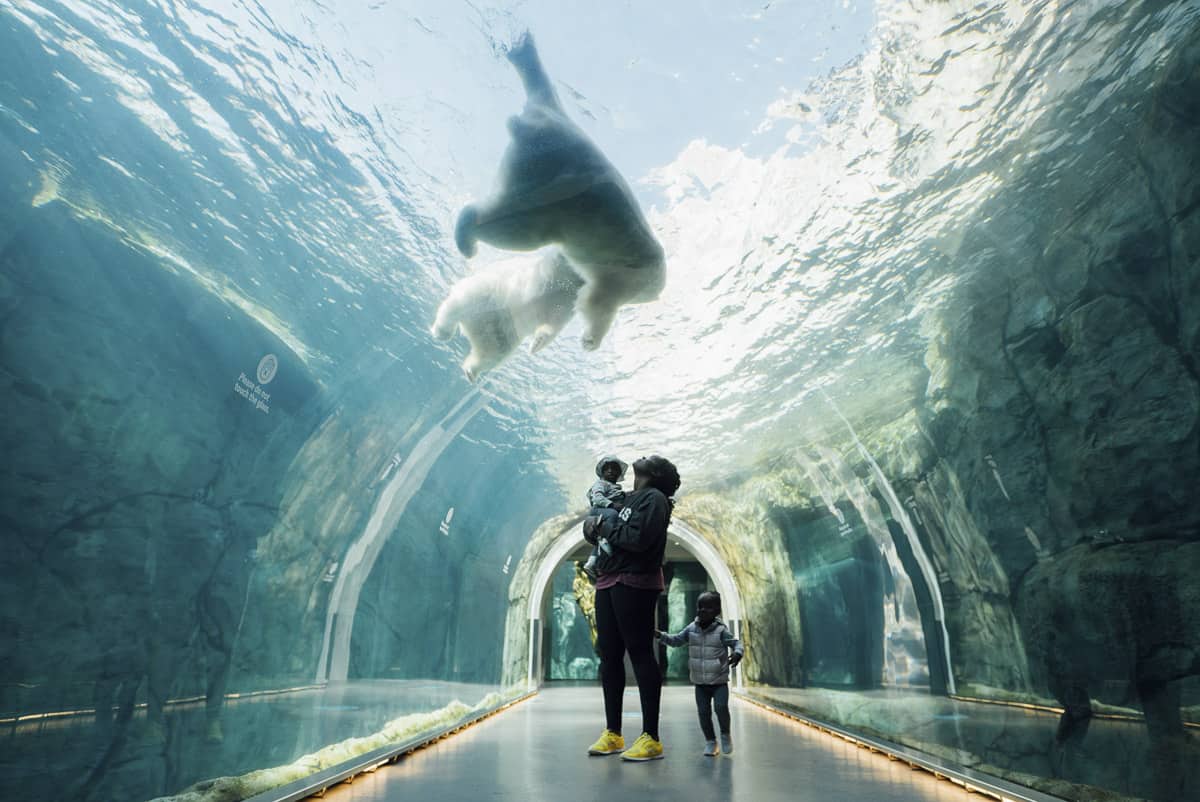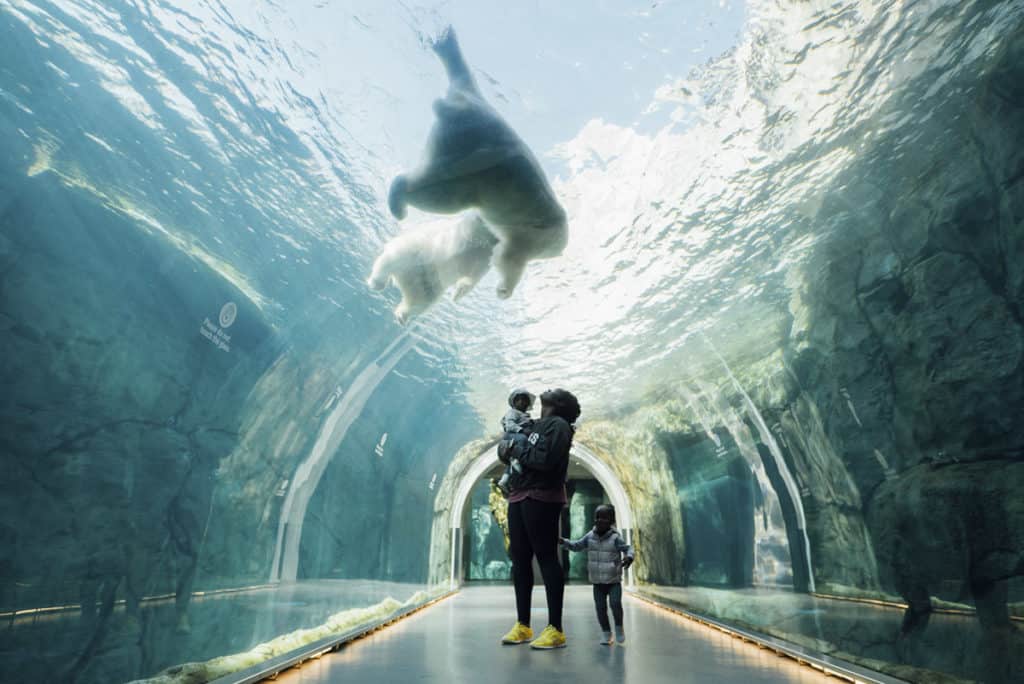 Exchange District
Located in the heart of the city, the Exchange District is one of the most exciting neighbourhoods in Winnipeg. Home to some of the best bars and restaurants in town, the area's architecture is also notable; there's a reason so many movies and television shows have been filmed here.
With summer festivals a near-weekly event, there's an electric energy to the area that shouldn't be missed. There's also a designated urban walking trail called The Loop that takes you around the Exchange District, downtown, and Old St. Boniface.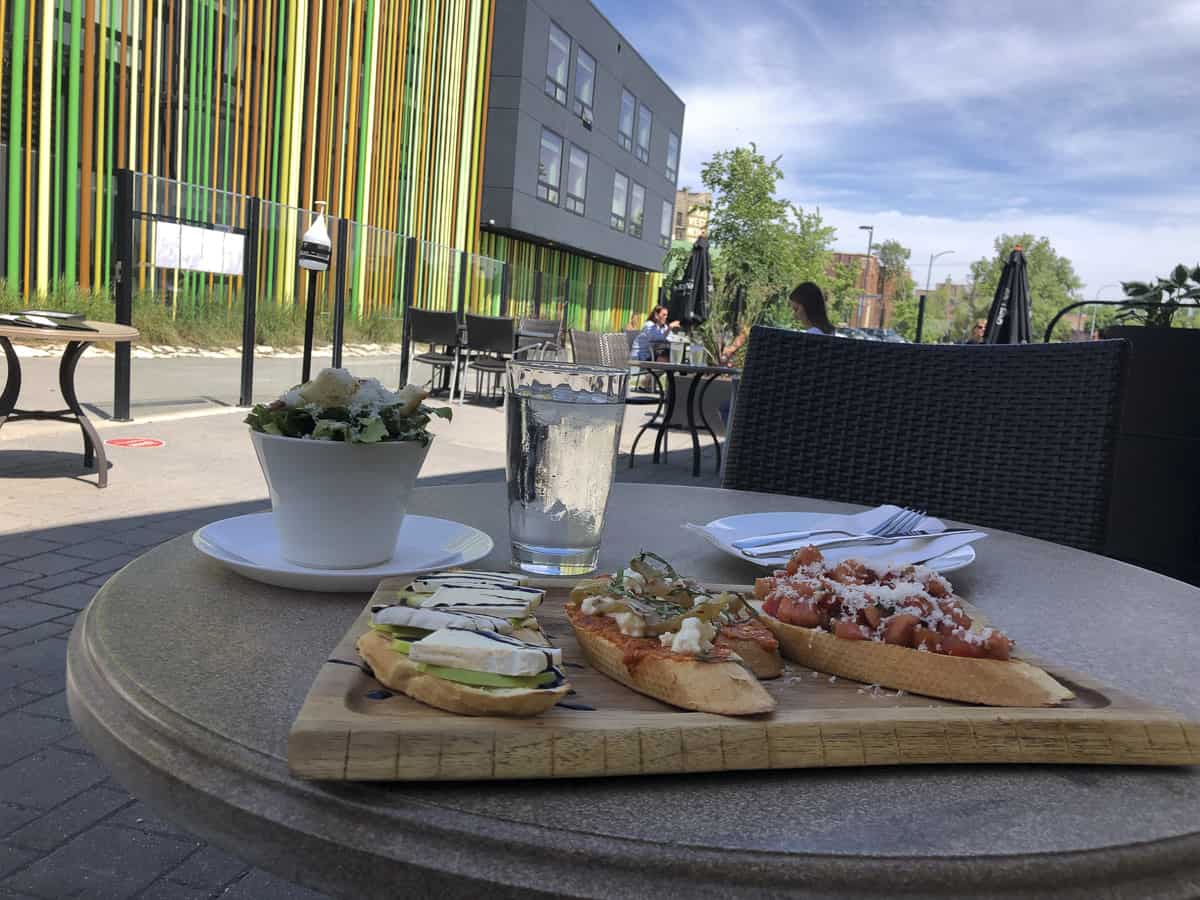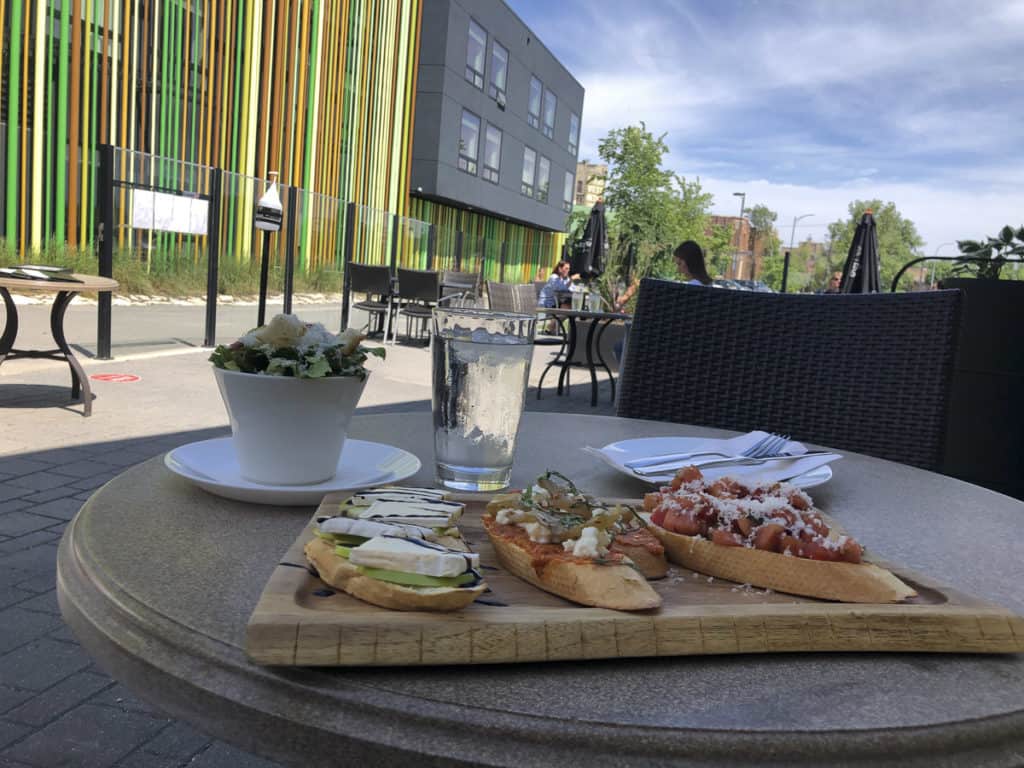 Royal Winnipeg Ballet
One of the most respected ballet companies in the world, the Royal Winnipeg Ballet is the oldest ballet company in Canada and the longest continuously operating ballet company in North America. If you're a fan of ballet, or if you're interested in seeing some of the world's best performers, a night at the RWB is a must-do when in the city.
Thermea Nordik Spa
A Nordic spa? In Winnipeg, Manitoba? You bet! Thermea by Nordik Spa-Nature is found beside beautiful Crescent Drive Park, and it is definitely worth a day (or at least an afternoon or evening) of your time. Explore the outdoor baths, indoor saunas, and an exfoliation room, stopping to take breaks at one of the beautiful outdoor lounging areas or for a delicious meal at their restaurant.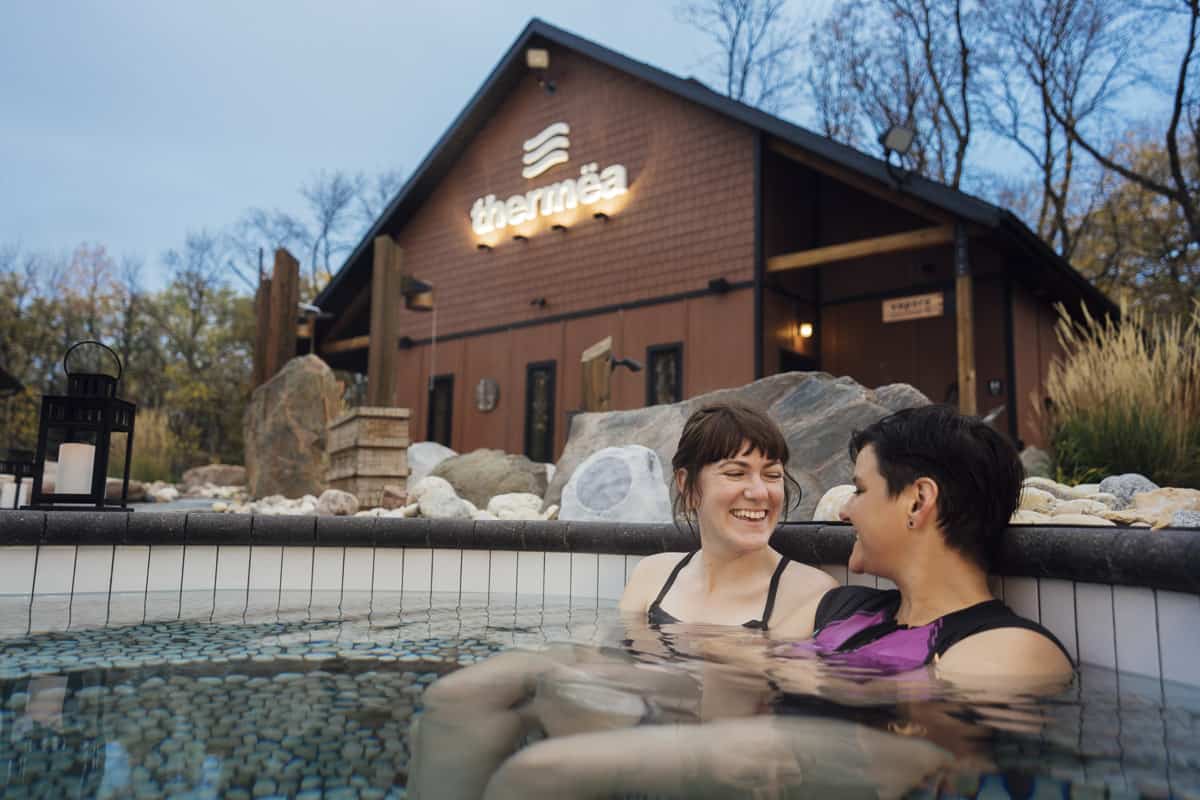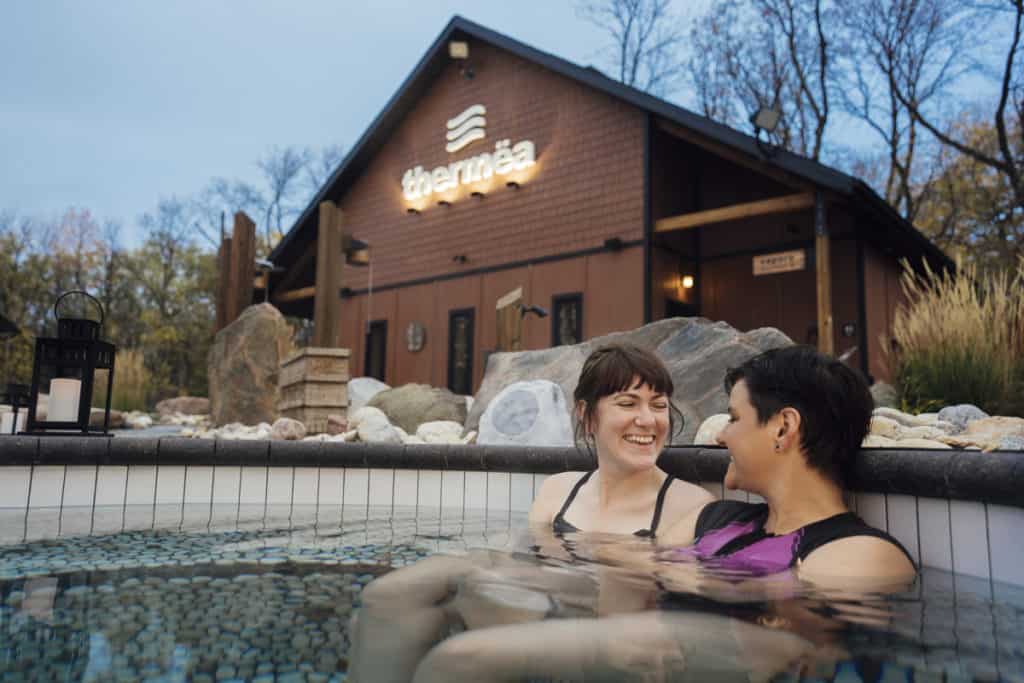 We highly recommend one of the Aufguss (or "infusion") rituals put on by a trained Sauna Meister; follow up the steam-filled experience with a polar bear dip! Massages are also available for an extra rate.
Looking for additional luxurious options? Read our entire guide to Winnipeg spas.
Winnipeg Jets
A chance to attend a Winnipeg Jets game shouldn't be taken lightly… the games almost always sell out, because they're just that exciting! Get ready to cheer for this iconic NHL hockey team while witnessing one of Winnipeg's favourite sports.
A local's tip: pay attention to the way Winnipeggers sing the words "true north" in the Canadian national anthem.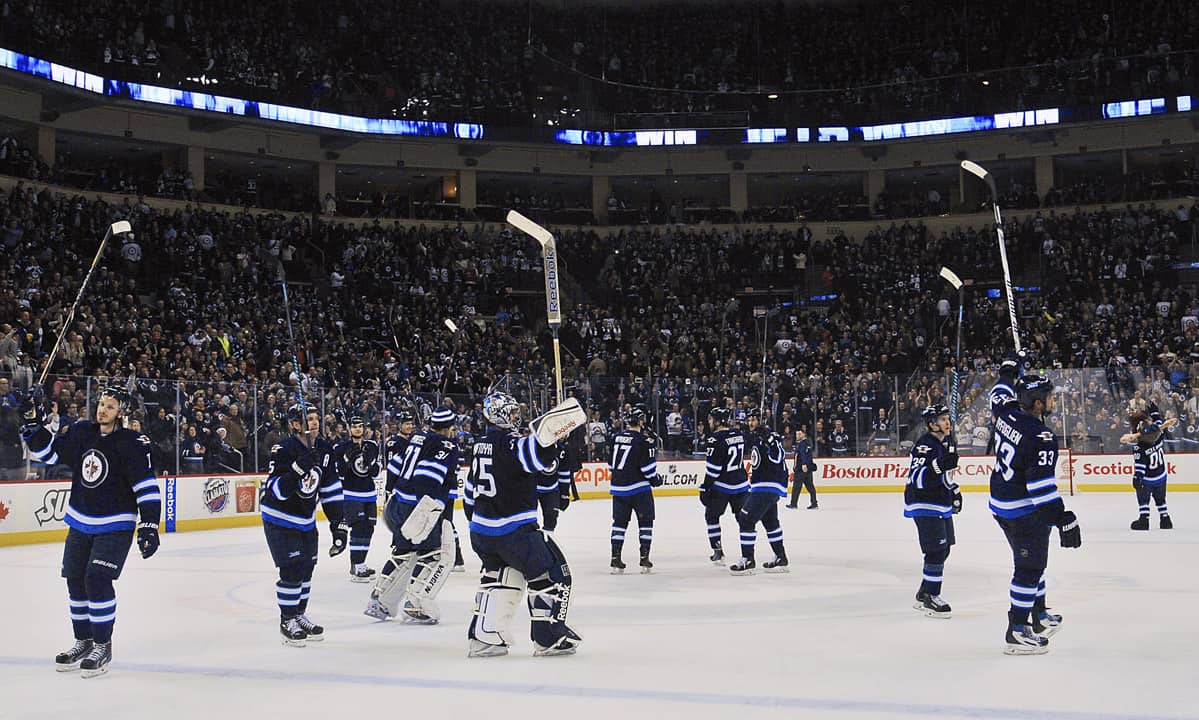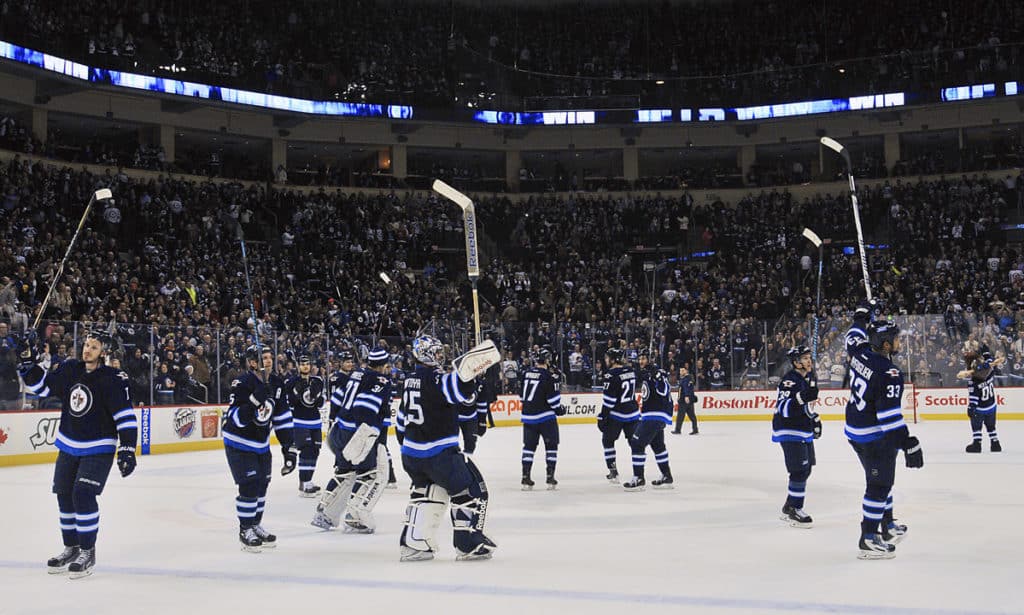 Winnipeg Blue Bombers
If you're in the city for football season, catching a Blue Bombers game at the spectacular IG Field shouldn't be missed! Take in the fanfare, the excitement, and the action-packed game as this top Canadian team shows exactly what the Canadian Football League (CFL) is all about.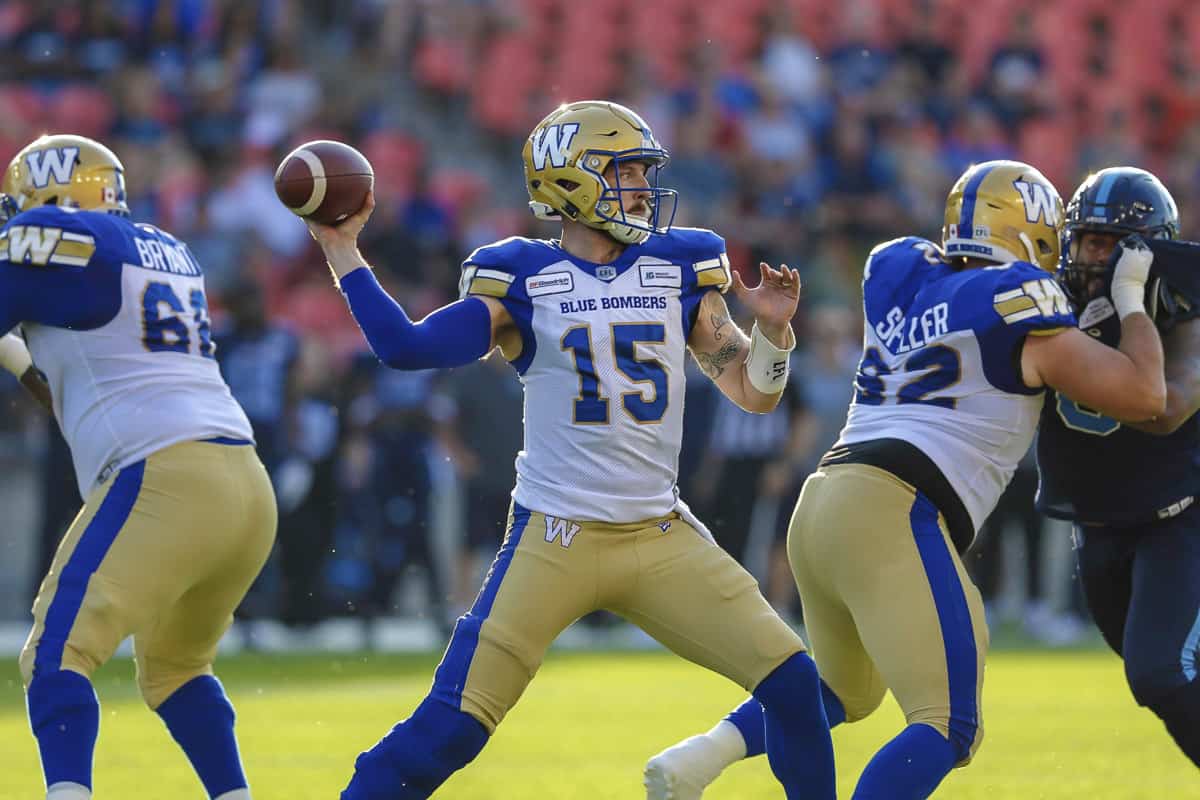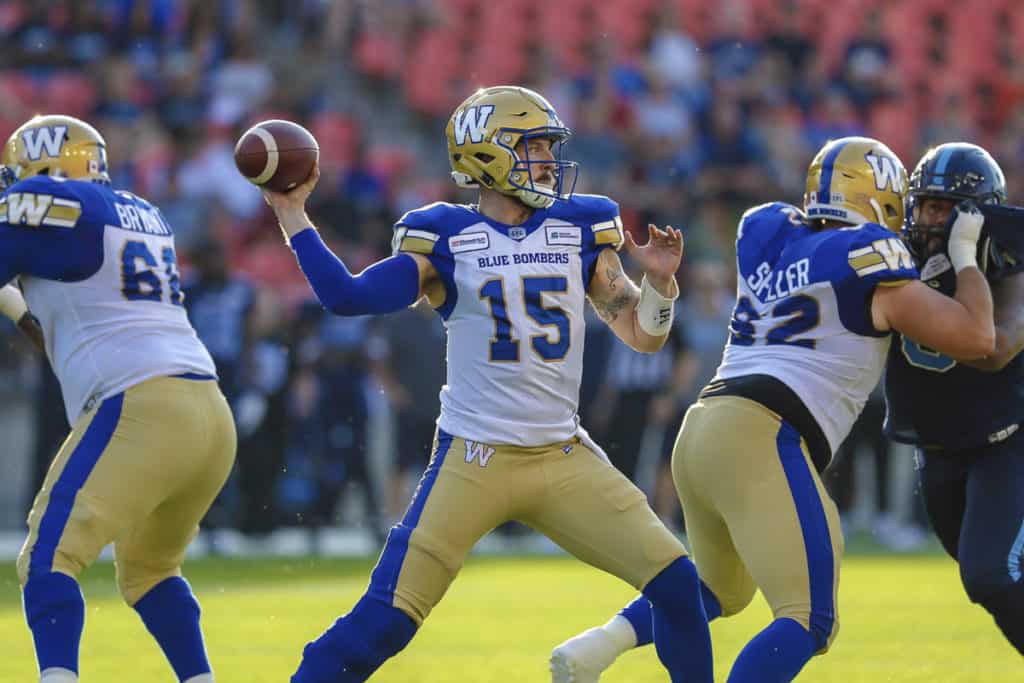 Riel House National Historic Site
One of the most important people in Manitoba's history, Louis Riel fought to protect the cultural, social, and political standing of his fellow Métis. Head to his historic house to learn about the Métis way of life in 1880s and to pay homage to this incredible politician and founder of Manitoba.
Activate Games
We couldn't leave Activate Games off the list! This incredible facility is the perfect place to spend a few hours with friends, especially if you're in a competitive mood. The best way to describe it? Imagine you've stepped into a video game! Push yourself (and others) to make it through a series of mental and physical challenges. Not to be mistaken for virtual reality, this real-life experience will cause you to keep your wits about you (and, trust us, laugh a lot). Now with two locations in Winnipeg!
Festivals and Events in Winnipeg
First Fridays in the Exchange
A big fan of the arts? Head to Winnipeg's Exchange District for First Fridays. On the first Friday evening of every month, multiple art galleries, shops, and art-focused businesses are open to the public for exhibits, talks, and so much more. Always lively and always featuring something new, the monthly event is dedicated to a "greater understanding, appreciation, and promotion of the arts & the further development of a vital Exchange Area community."
Pride Winnipeg
Held every year in early summer, Pride Winnipeg is a celebration of the diversity of the city as well as a show of support for the LGBTQIA2S+ community. With a series of events spread across the city, you can enjoy everything from musical performers to drag queen storytime to artists' workshops. Don't miss the Sunday event, which is a rally at the Manitoba Legislative Building followed by a parade and then a festival at the Forks.
Folklorama
Winnipeg, Manitoba is an amazingly diverse city. Celebrating the multitude of cultures that make up the city's population, Folklorama is an annual festival that allows you to explore the food, music, dance, and culture from around the world… without ever leaving Manitoba! Celebrated over a couple of weeks every summer, learn about The Philippines, Brazil, Ethiopia, Japan, Poland, and so many more cultures from across the globe.
Winnipeg Folk Festival
Did you know that Winnipeg is known for having one of the best folk festivals in the world? Join hundreds of musicians and thousands of festival-goers every summer at Birds Hill Park for a celebration of some of the best of folk music. With everything from local acts on small stages in the forest to Grammy-winning headliners from around the world on the main stage, the only problem you'll have is figuring out which band to see when.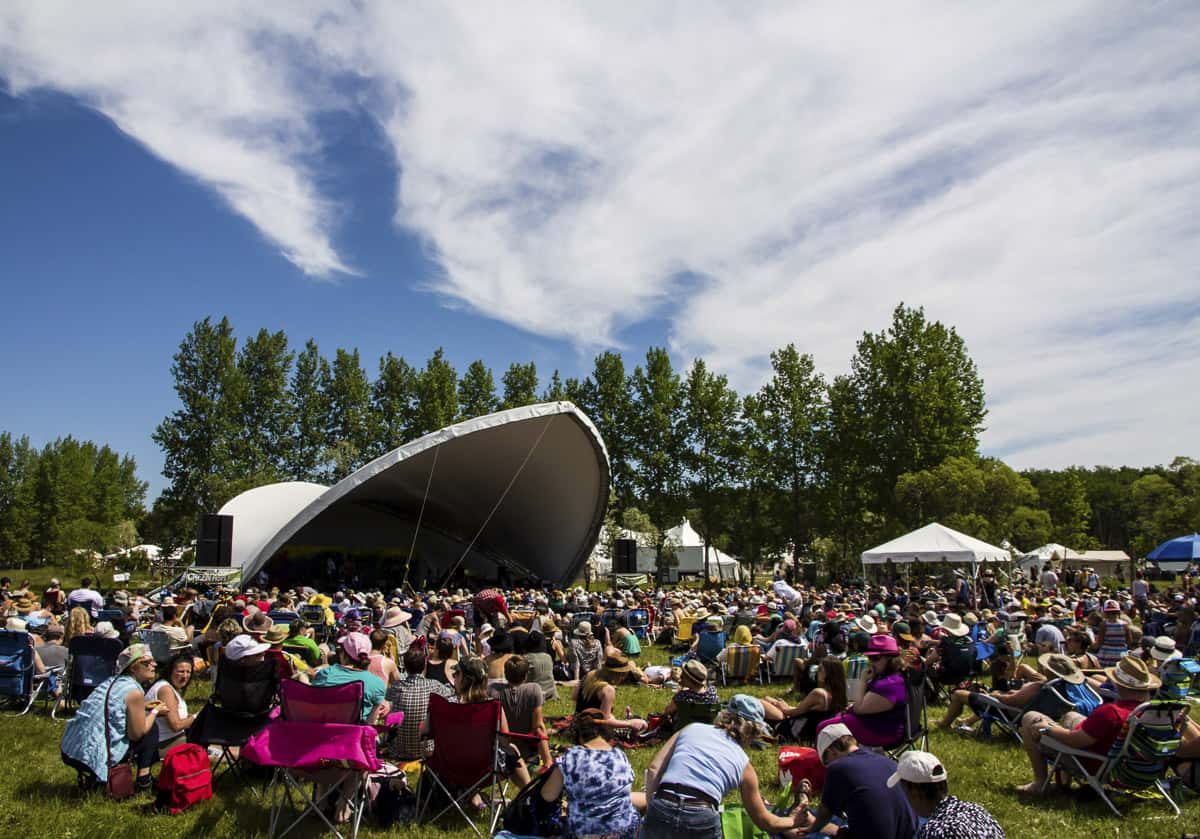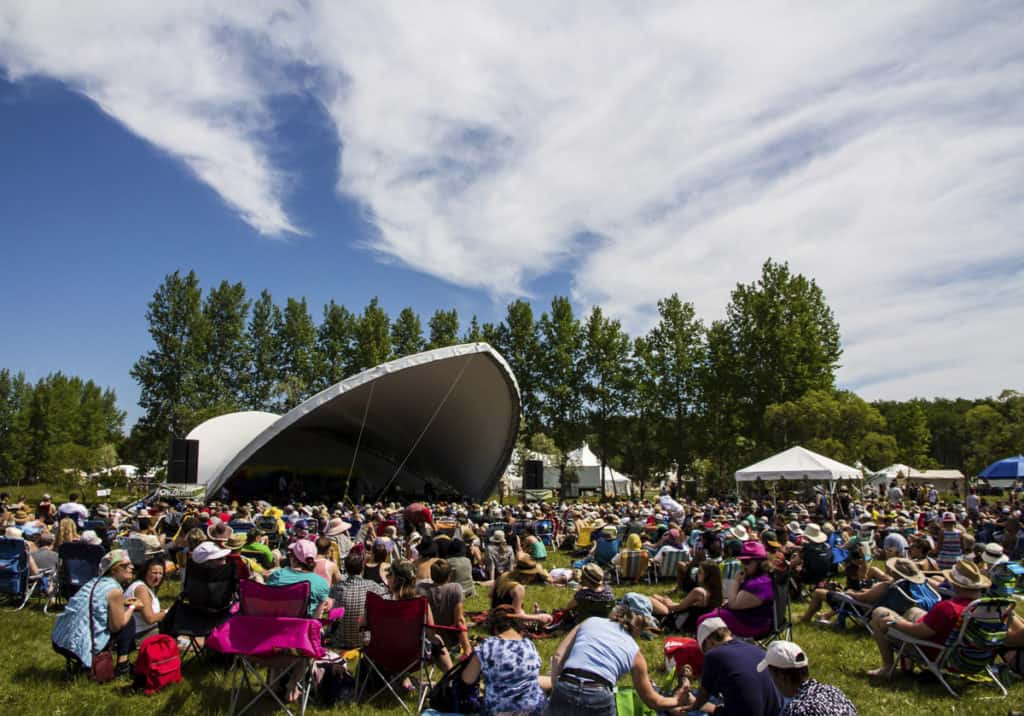 Past performers at the Winnipeg Folk Festival include Brandi Carlile, A Tribe Called Red, Sheryl Crow, City and Colour, Kacey Musgraves, Wilco, Joan Baez, Jose Gonzalez, and so many more.
Winnipeg Fringe Theatre Festival
Held every summer, the Winnipeg Fringe Theatre Festival is a celebration of local and international plays that show at different venues around the city. Make sure to check out the children's program, too, as the Fringe Festival aims to have something for everyone!
Festival du Voyageur
Located in the heart of St. Boniface every winter, Festival du Voyageur is a ten-day festival that celebrates Canada's fur trading past as well as Manitoba's unique French heritage through live music, ice sculptures, reenactments, arts and crafts, displays, and even chainsaw ice carving competitions! Bundle up, because a lot of the action takes place outside, no matter the temperature. Make sure to head inside to one of the tents for a lively jig and a glass of caribou (essentially mulled wine, it's especially fun when served in an ice cup). We believe this is by far one of the most fun things to do in Winnipeg, and would even recommend planning a trip to the city in winter just to experience it!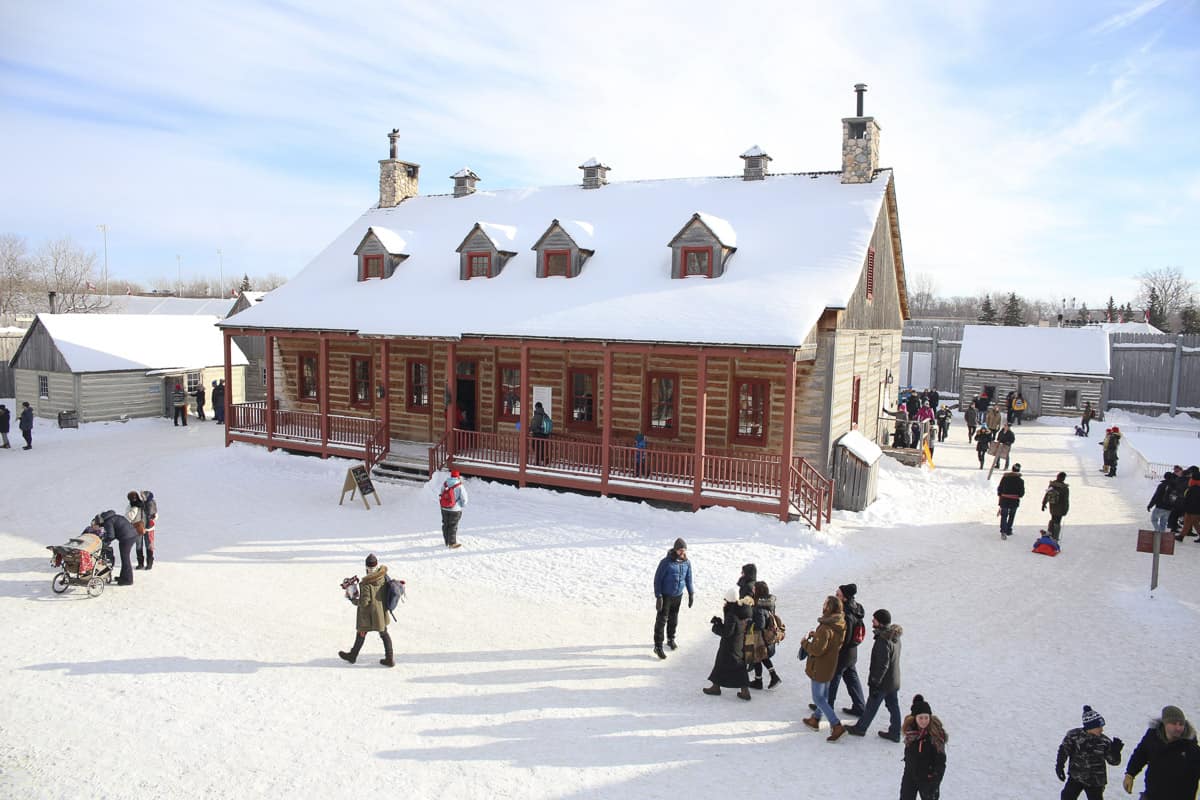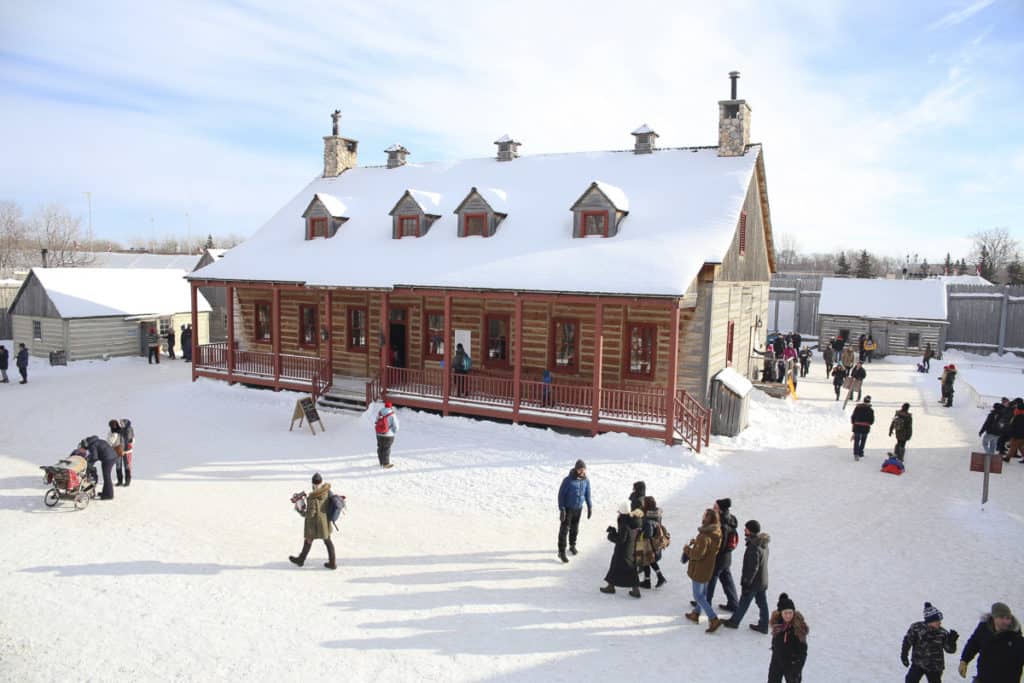 Nuit Blanche
Nuit Blanche is an annual celebration of the beginning of Culture Days Manitoba; it's an outdoor event that promotes art, community, and culture. Wander around downtown, the Exchange District, St. Boniface, The Forks, and the West End to find entertainment, art installations, pop-ups, and more.
Places to Eat in Winnipeg
The city has one of the most innovative and diverse culinary scenes in all of Canada, and that means there are plenty of amazing restaurants in Winnipeg. While it would be impossible to list them all, here are just a few of our favourite places to eat in Winnipeg. And if you're looking for somewhere a little more informal to get a sweet treat and a cuppa joe, check out our post on top Winnipeg coffee shops. We also have a post on where to find the best breakfast and brunch in Winnipeg.
Enoteca
Chef Scott Bagshaw is well-known in Winnipeg, and it's easy to see why: he's created some of the most interesting and delicious menus in the city. Head to Enoteca for fried buttermilk chicken with black garlic ranch sauce, cauliflower baked with gruyere, brown butter, and citrus, and duck breast with sour cherries and a beet reduction. Trust us, you won't be disappointed with Enoteca for a memorable night out.
Also try Bagshaw's other restaurant, Passero. It's one of the most appetizing menus in the city! We recommend making a reservation for both of the restaurants.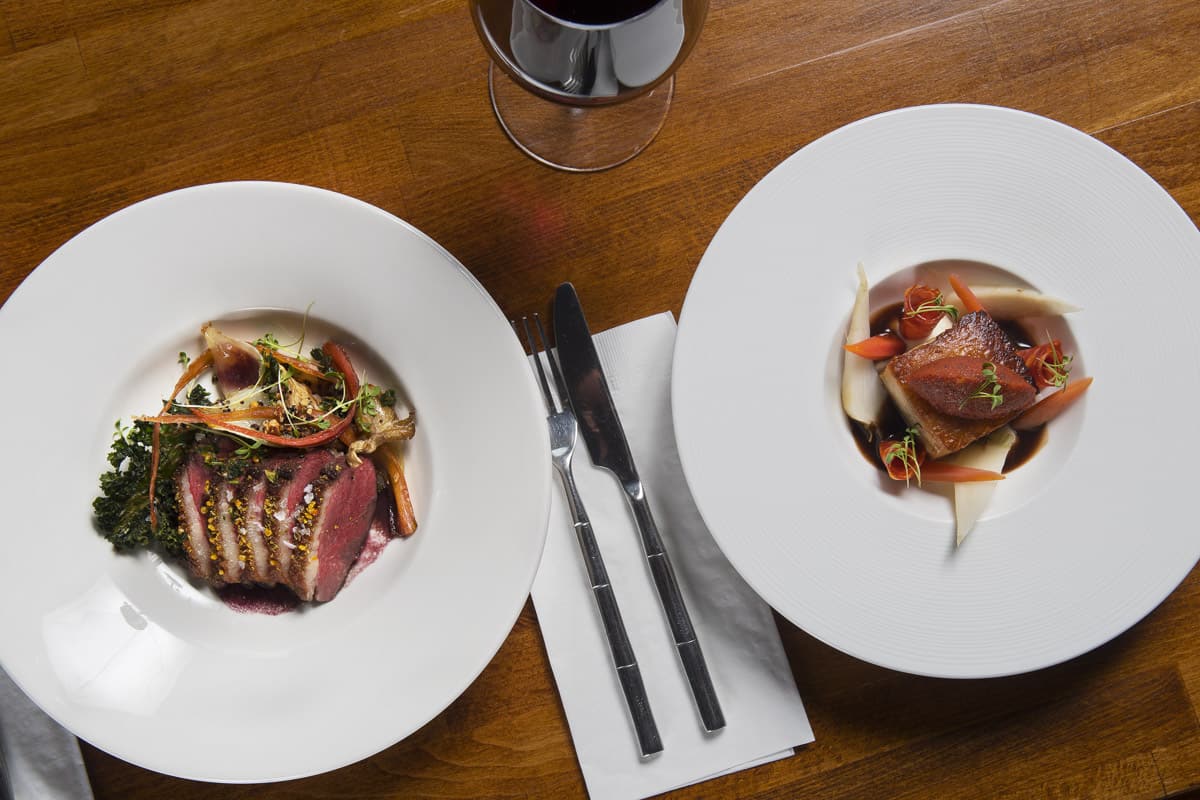 Clementine
Make your way to Clementine for fantastic breakfast and brunch options (as well as some delicious breakfast cocktails). Even the seemingly simple dishes such as porridge and waffles pack a real punch, while we particularly love the Smoked Turkey Chilaquiles, Smoked Arctic Char, and Roasted Mushroom Benedict.
The restaurant itself has a cozy, welcoming vibe, while the staff is known for their friendly Manitoba attitudes.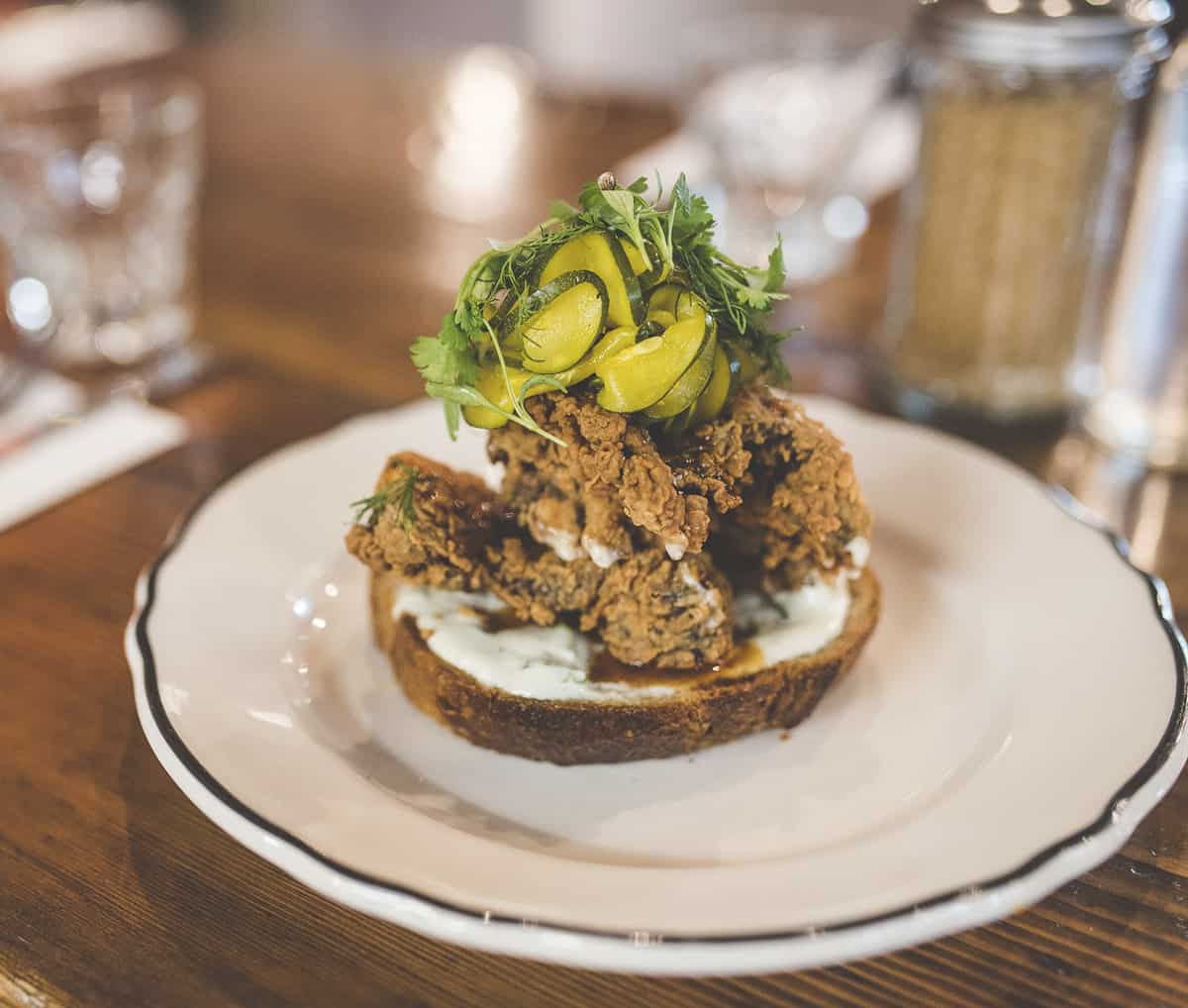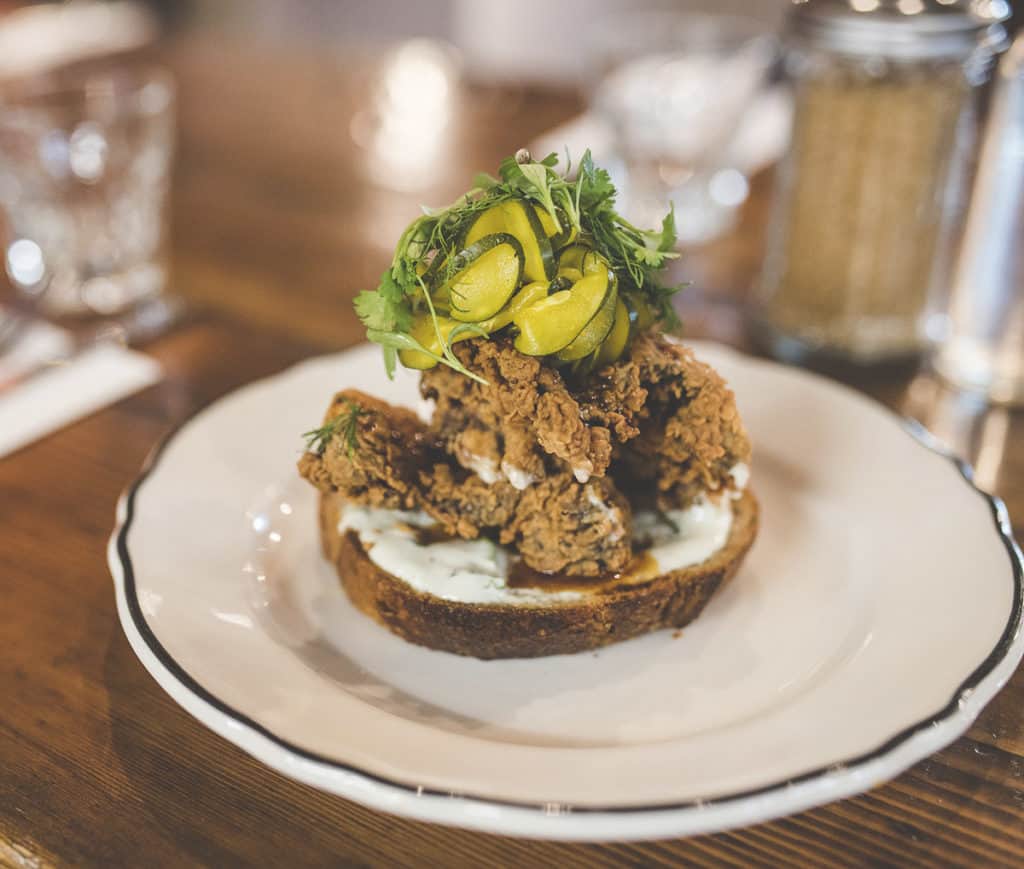 Juneberry
Opened in 2020, Juneberry has quickly become a staple in St. Vital. The restaurant is known for its scrumptious breakfast and lunch menus, serving up classics like Eggs Benedict and Sweet Potato Latkes alongside Honduran Balaedas and a Breakfast Banh Mi. Try one of their fresh squeezed juices or their selection of Wolseley kombucha to wash it all down with.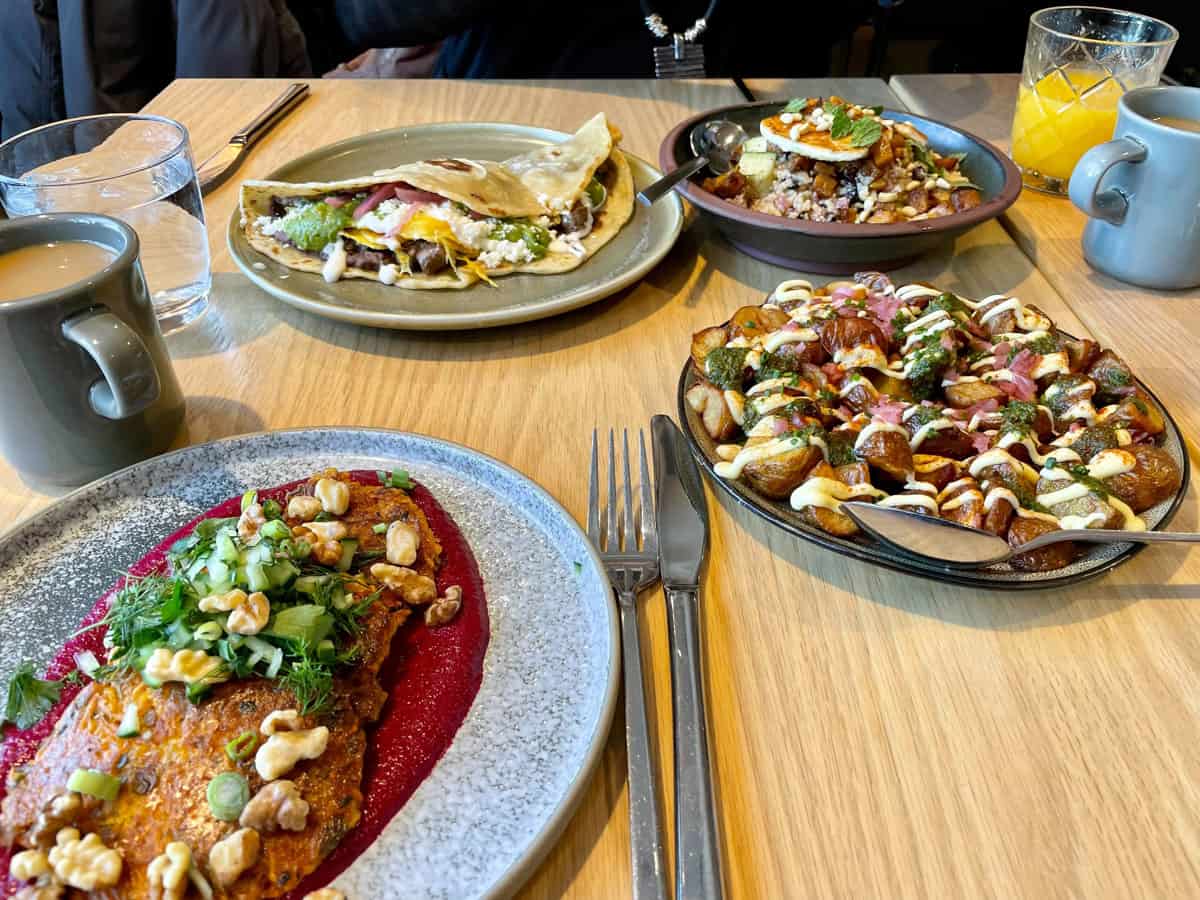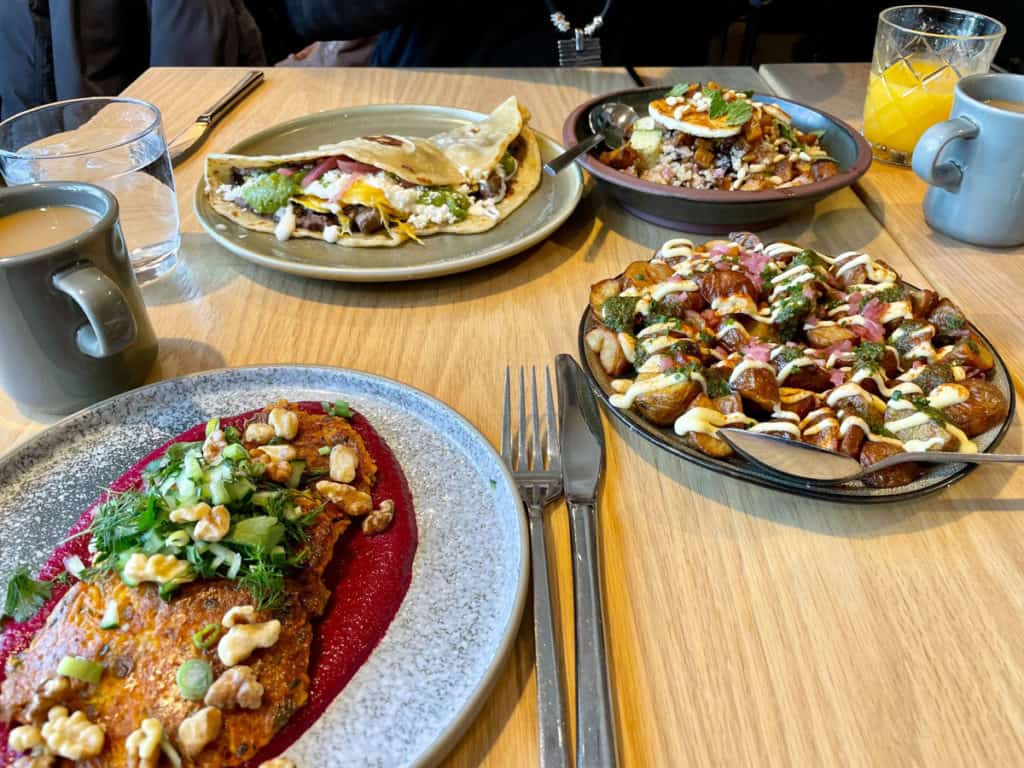 Blufish
Known as one of the premier sushi restaurants in the city, Blufish has a reputation for fresh fish, innovative dishes, and a menu that will make you want to return again and again. Found in the Exchange District, it might just become your favourite sushi place in Winnipeg.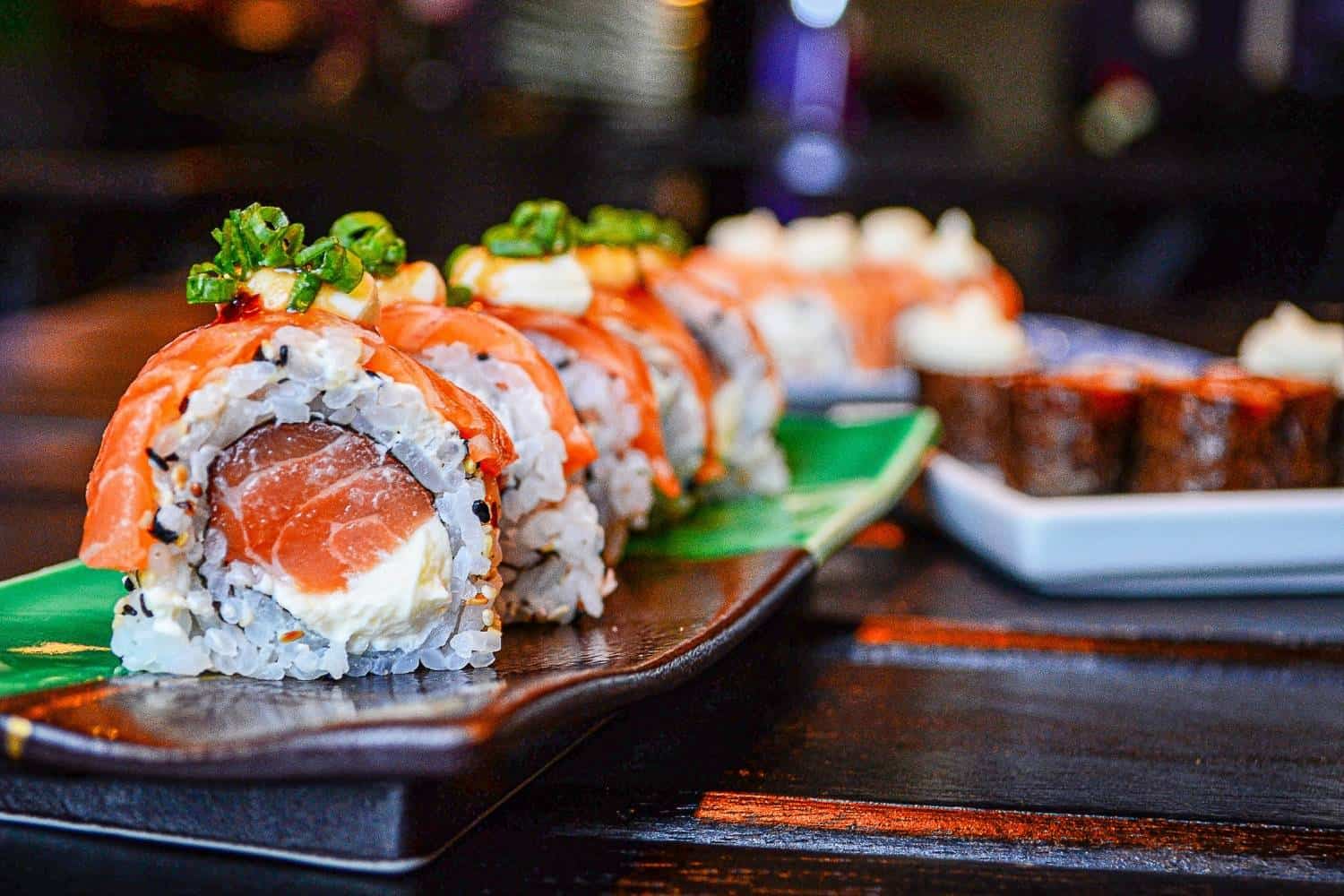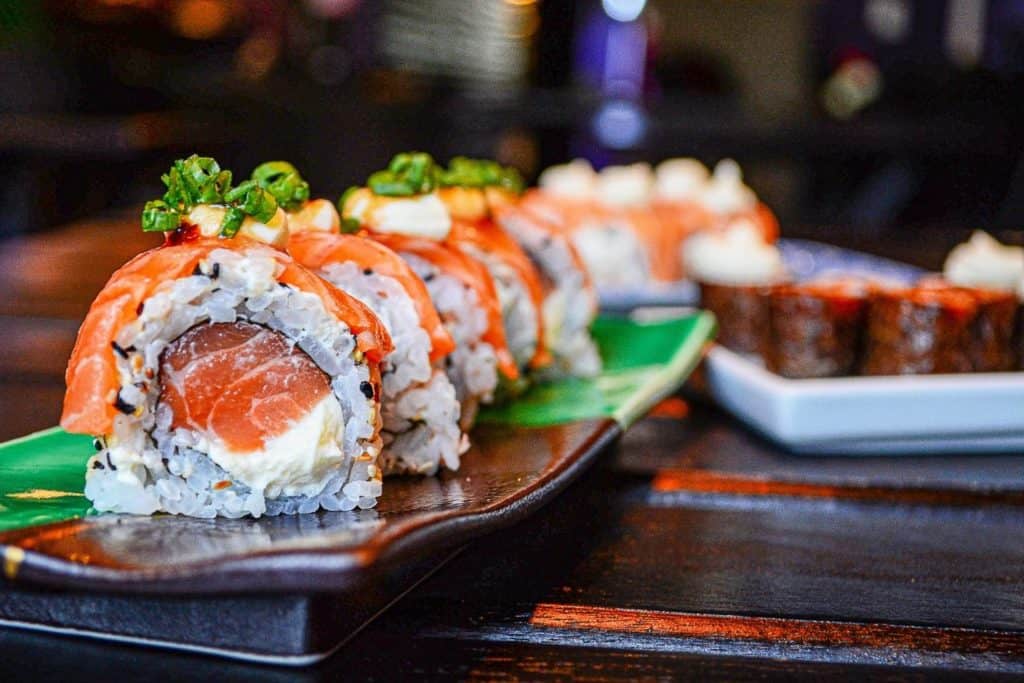 Tommy's Pizzeria
Head to Winnipeg's Little Italy for restaurants that specialize in pizza, pasta, and all things Italian. One of our favourites is Tommy's Pizzeria, a newer addition to the block. With incredible specialty pizzas – try the Tommy's Special for something totally unique and delicious – as well as Detroit style and classic available, there's something for every pizza lover here. We included it in our guide on where to find the best pizza in Winnipeg!
Cafe Carlo
One of Winnipeg's best-reviewed restaurants for many years running, Cafe Carlo is a cozy establishment in Little Italy that is famous for great service, a welcoming atmosphere, and food that warms your soul. Everything on the menu is a winner, but we particularly love the Fett Chile pasta and the beef tenderloin. Reservations are recommended!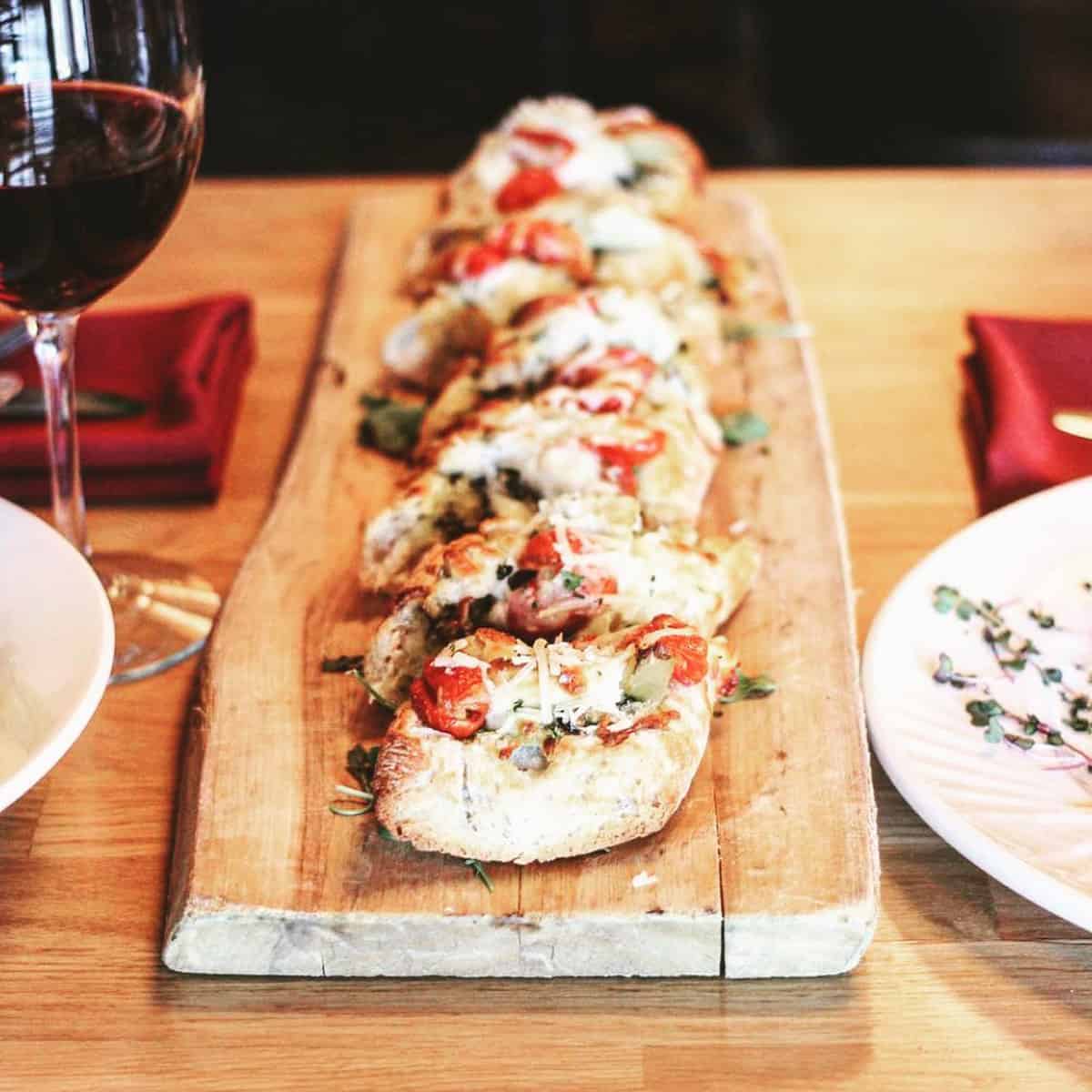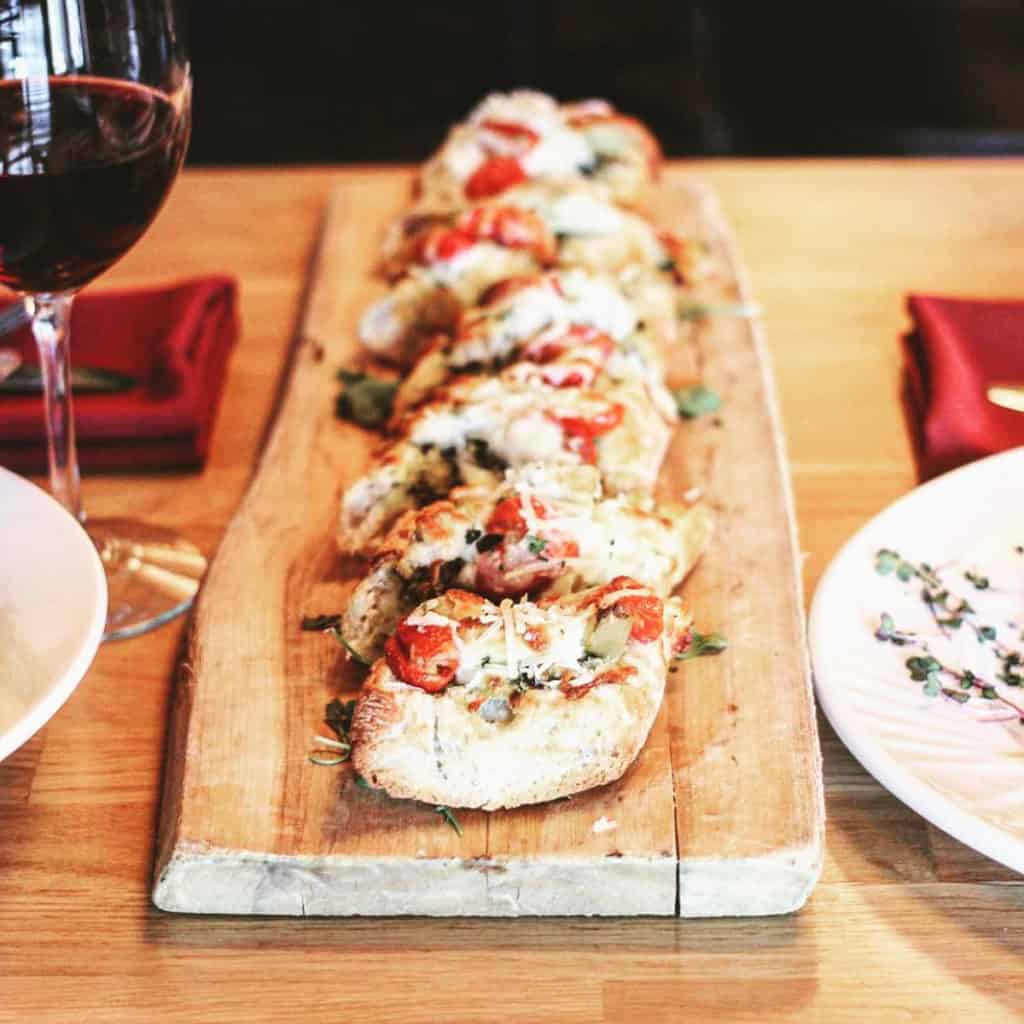 Nola
The newest restaurant on this list, Nola is open for lunch and dinner. Share a few plates with friends as you indulge in Beef and Beet Tartar, Gunpowder Roast Carrots, and Maple-Cured Arctic Char. Forward-thinking and unique, we're sure this restaurant will be a staple in Winnipeg cuisine for years to come. Make sure to reserve your spot, as Nola fills up quickly.
Want more? We have an entire guide dedicated to restaurants in Winnipeg.
Places to Drink in Winnipeg
With so many amazing bars, breweries, and distilleries in Winnipeg, it can be hard to choose which one to visit. Check out the Manitoba Brew Pass for curated spots to visit at a discount; it's well worth the adventure! Otherwise, here are a few of our favourite spots to drink in Winnipeg.
The Roost
This small cocktail bar is a bit of a hidden gem on Corydon Avenue; if you don't know to look up, you might miss it! With unbelievable cocktails and a superb food menu to boot, The Roost fills up quickly, especially when it comes to their summer patio. If you get the chance to visit… run there, don't walk.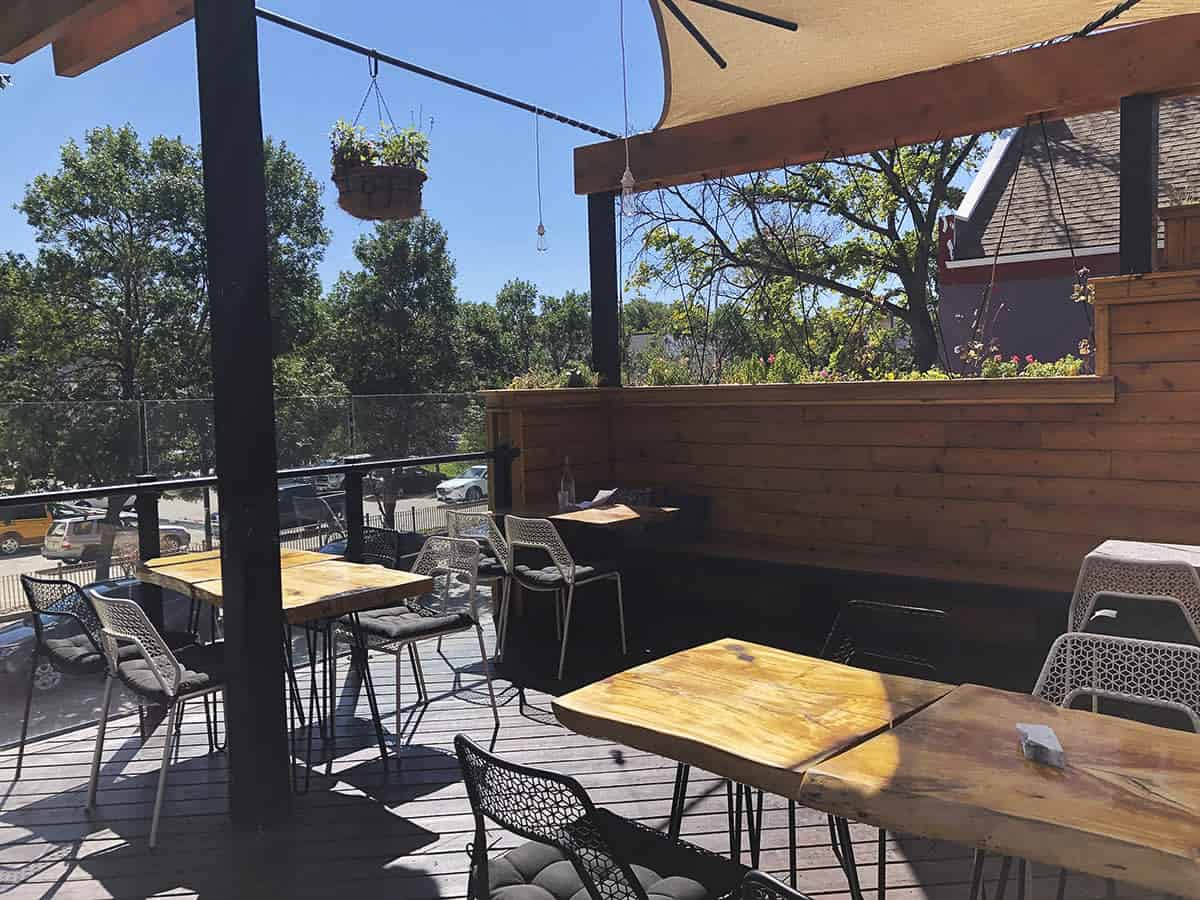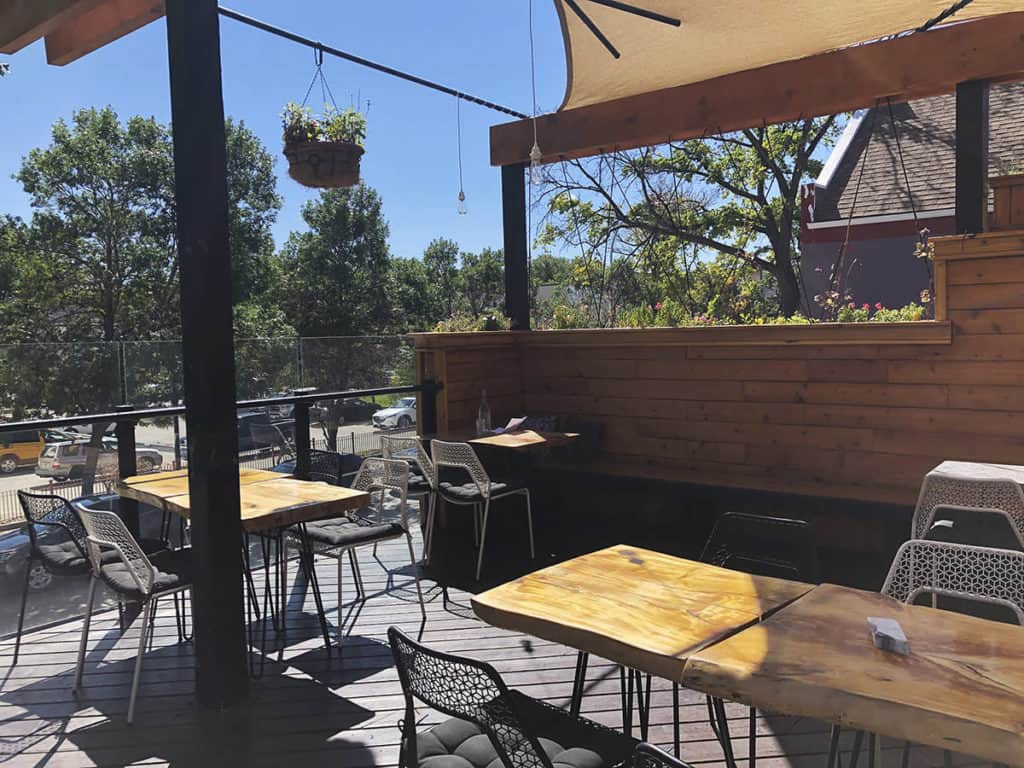 The Beer Can
Found in different locations depending on the year, the Beer Can is a perfect choice for a warm summer's day (or night, of course!). This pop-up beer garden serves lots of local craft beer (past favourites include Good Neighbour Brewing, one of our top craft beer picks in Winnipeg) and food truck fare. Sit at a picnic table, enjoy the DJ, and soak up the fresh air.
The Common at The Forks
As you can tell, we're big fans of The Forks here on Road Trip Manitoba! Alongside all the terrific spots to eat and shop, you can also spend time at The Common, where there are 20 craft beers and 20 wines on tap. Choose your favourites to make up a flight, and enjoy one of two seating locations: at the indoor tables in the main public space, or outdoors overlooking the river.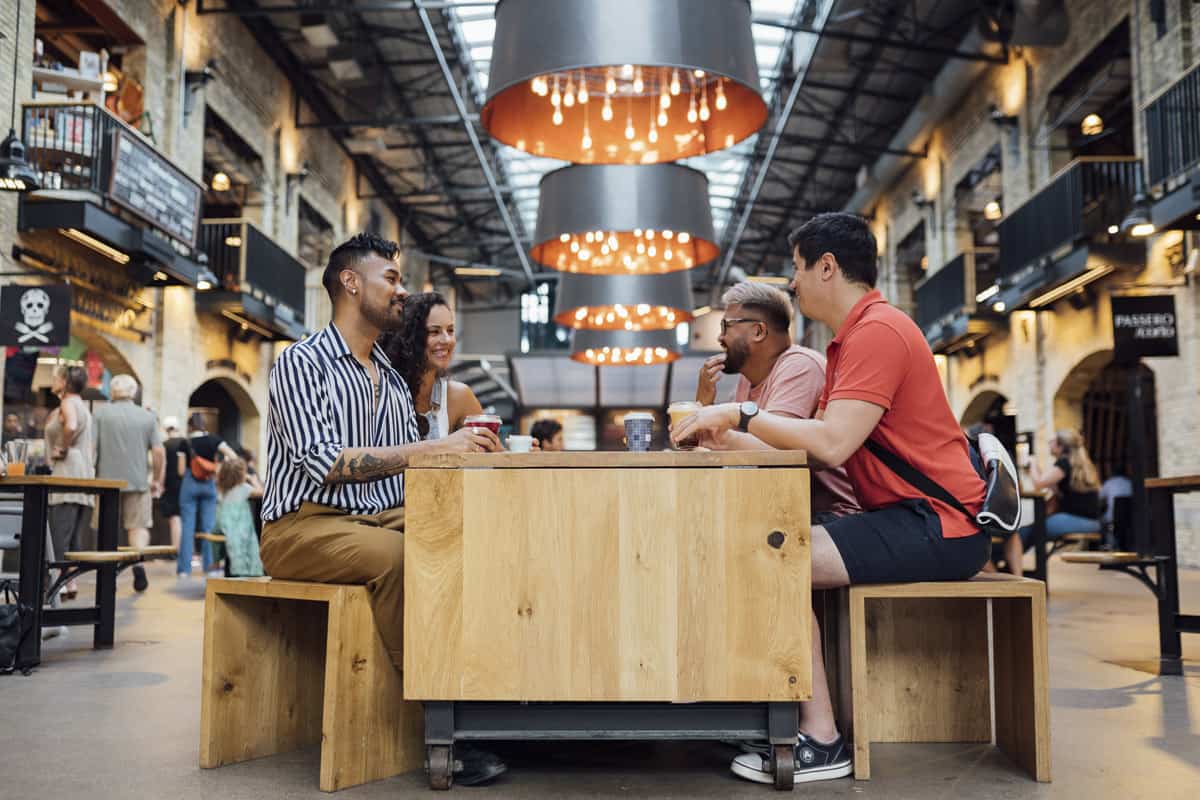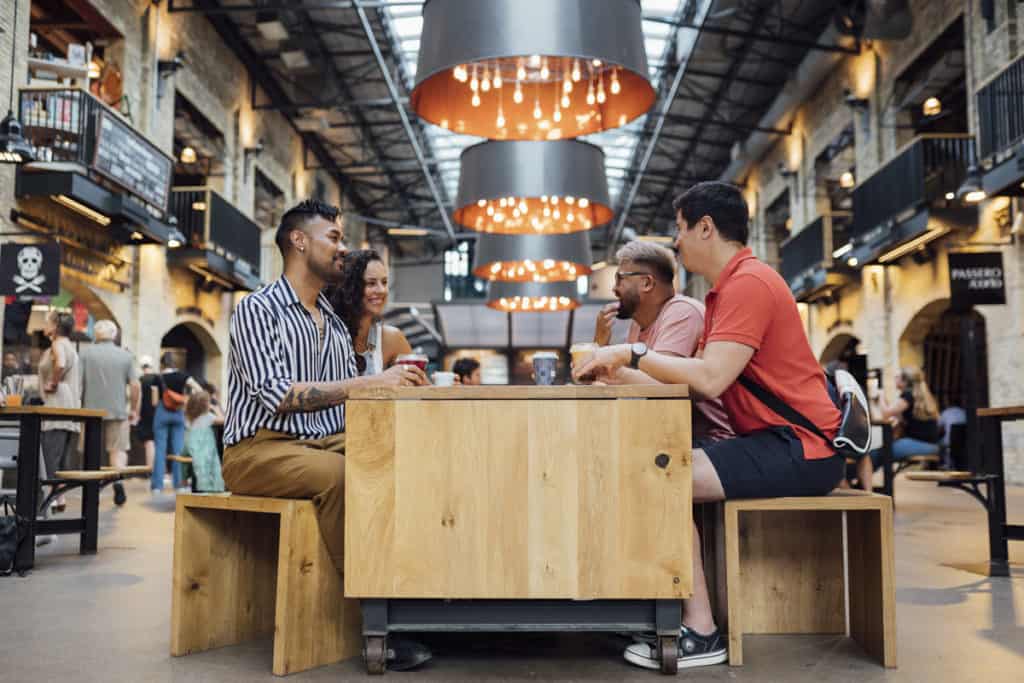 Shrugging Doctor
Head to Manitoba's most beloved winery! That's right, wine is indeed produced in Manitoba. Shrugging Doctor has a tasting room open on weekends for all of their wines, meads, ciders, and more. If you don't know what to start with, we always recommend a flight of their finest selections.
The Grove
This friendly pub is a huge favourite among locals. Head to The Grove for a great pour, a warm atmosphere, and the chance to socialize with people of all ages. Serving lots of fantastic Manitoba beers on tap, they also make a mean burger.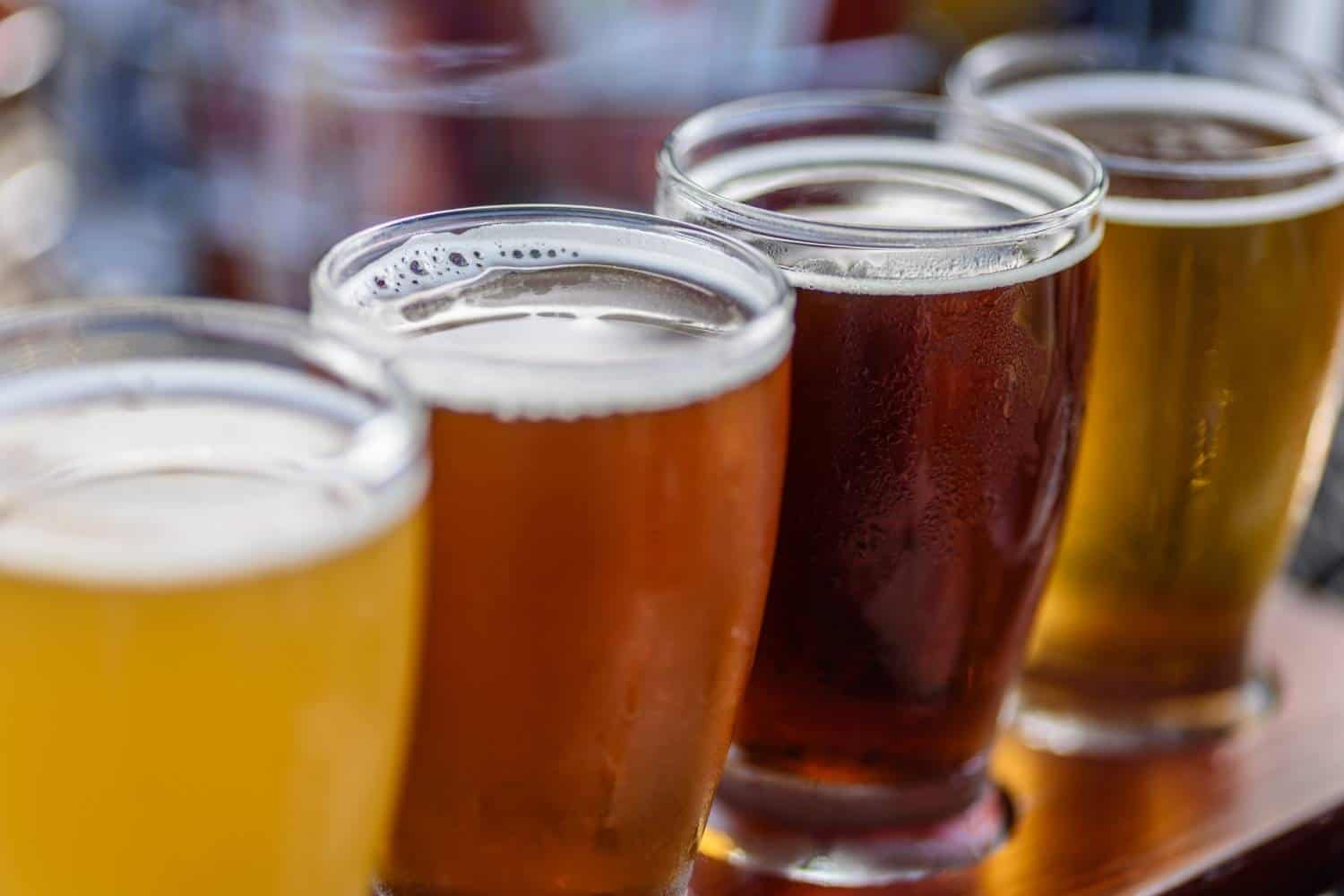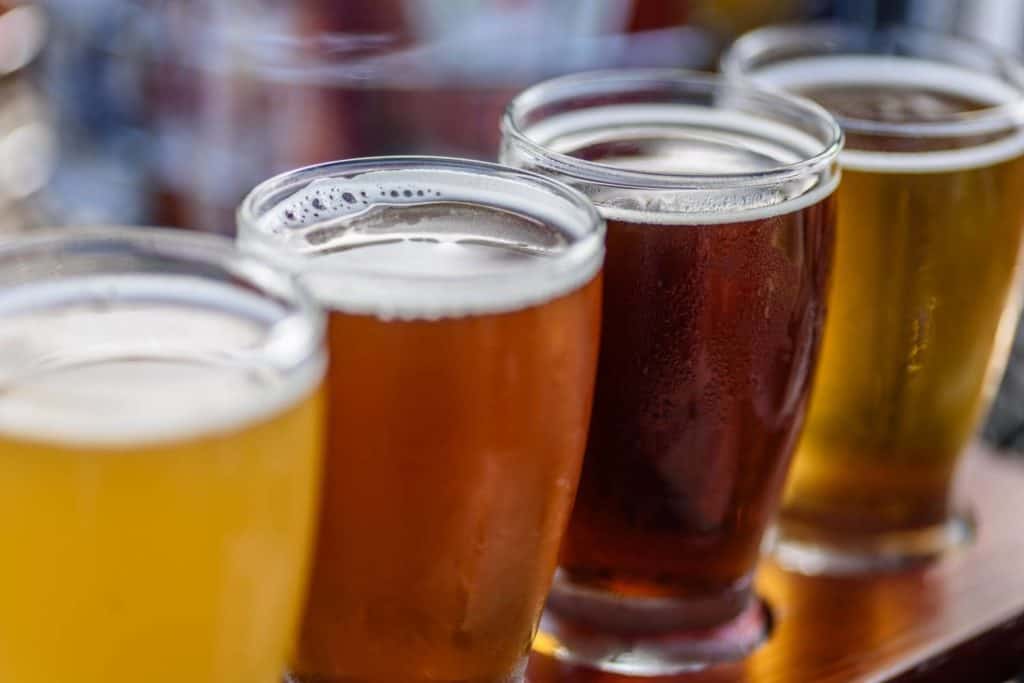 Langside Grocery
Fall in love with Langside Grocery, a trendy yet down-to-earth bar off West Broadway. With highly talented bar staff, the cocktails available will blow your socks off. Pair their libations with one of their quick bites and enjoy the candlelit atmosphere late into the night.
Nonsuch
With so many amazing Winnipeg breweries for craft beer, it can be hard to narrow it down… but Nonsuch has something pretty special. While it can be difficult to secure a table on busy nights (going earlier in the evening is always advised), the wait is worth it to try one of their delicious beers and enjoy their beautiful taproom.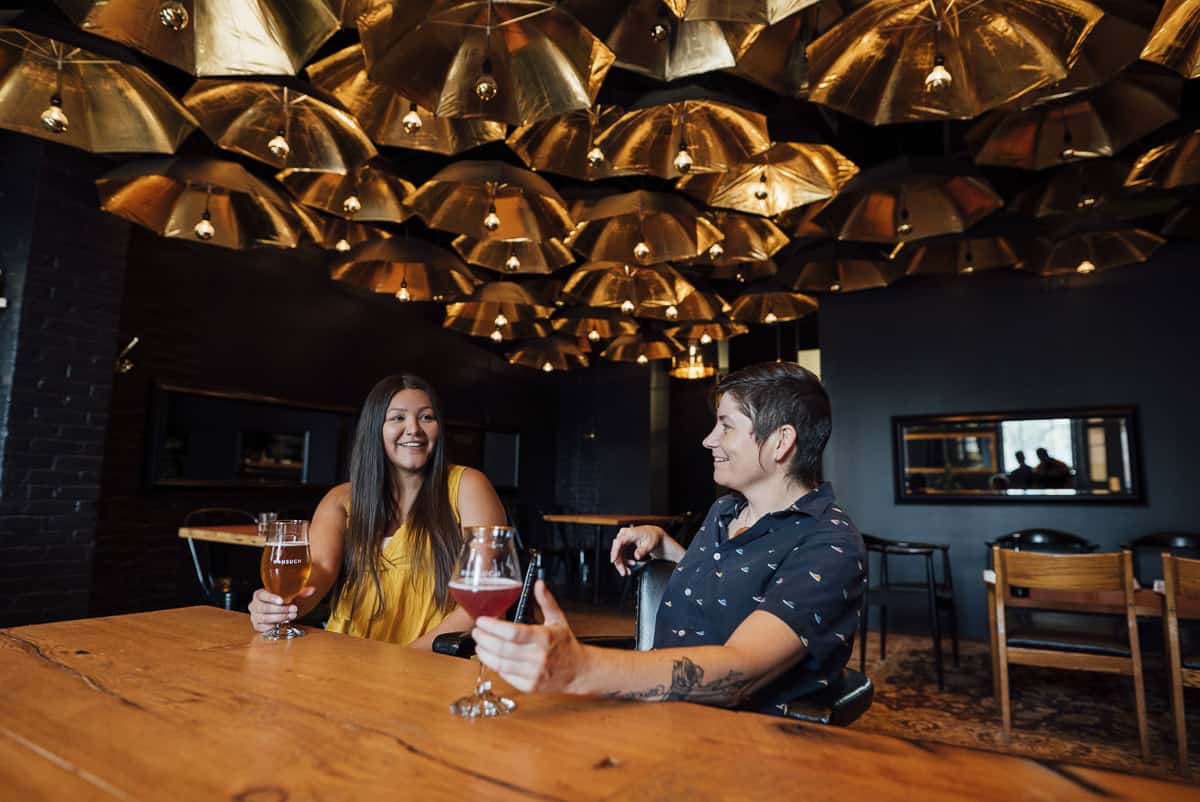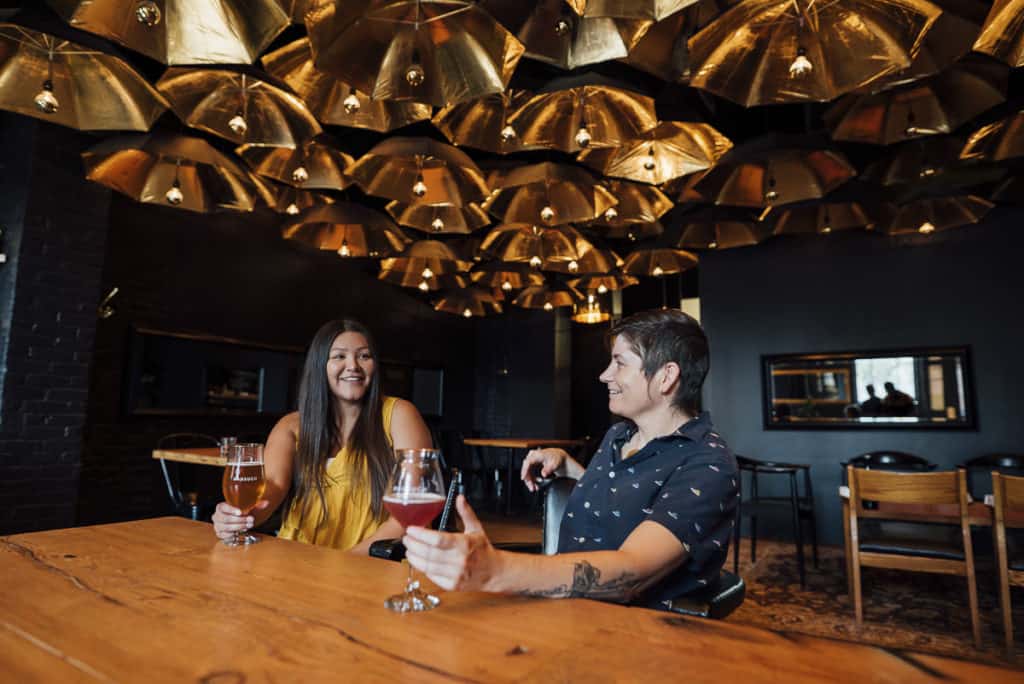 They also have an incredible menu that pairs perfectly with their brewery selections. Bonus: it's within walking distance of many other bars in the Exchange District, including Patent 5 Distillery, so you can easily include it on a bar crawl.
Patent 5 Distillery
Found around the corner from Nonsuch as well as the Manitoba Museum, Patent 5 Distillery offers some of the best spirits made in Manitoba. With a warm, homey vibe in their tasting room, they have a menu with an incredible selection of cocktails that are sure to impress. Going with a few friends? Try one of their punch bowls!
Cafe 22
Make your way to Little Italy on Corydon Avenue, where you'll find a selection of places to eat and drink. Our favourite? Cafe 22, where you'll find stone-fired pizzas to go with your favourite wine or cocktail. With a cozy atmosphere inside, the patio also comes alive in summer.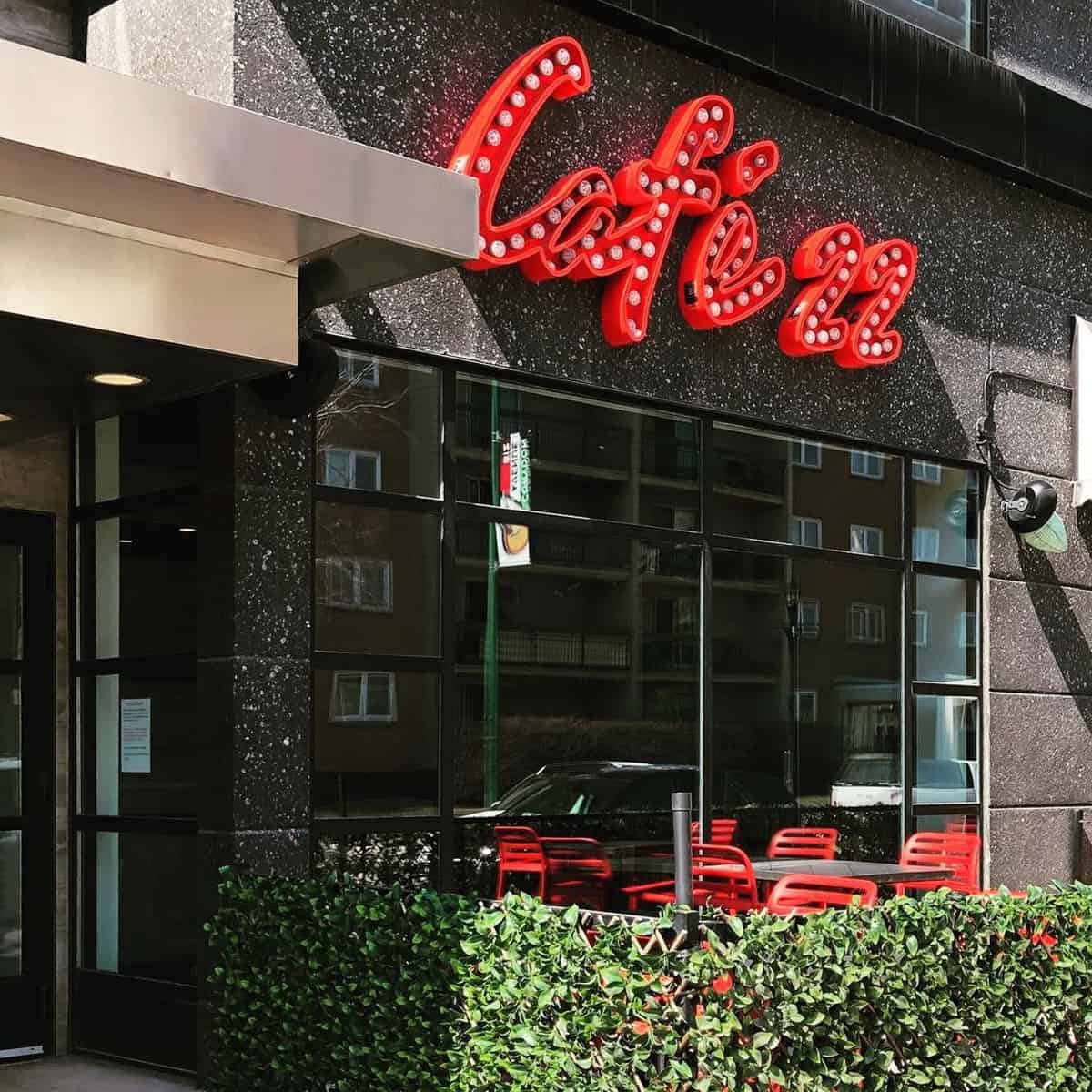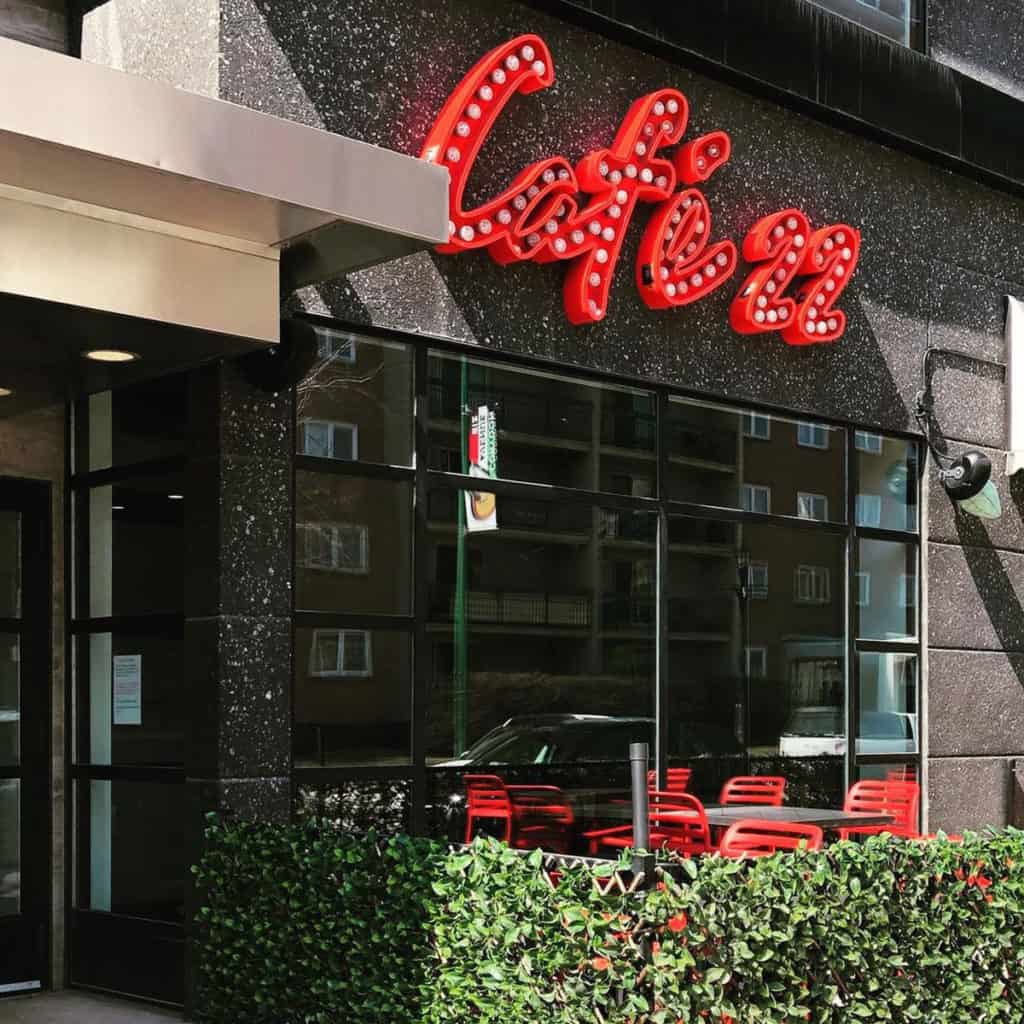 Other Recommended Places in Winnipeg to Have a Drink
Some of our other favourite spots for a drink in Winnipeg include Amsterdam Tea Room, One Sixteen, Little Brown Jug, Kilter Brewing Co., Brazen Hall, Sous Sol, and Smith.
Things to Do Near Winnipeg
Thankfully, Winnipeg makes a great jumping-off point for other amazing spots in Manitoba. Don't think there are enough things to do in Winnipeg? Base yourself in the city and then take day trips to explore other parts of this beautiful prairie province; here are a few of our top picks.
Grand Beach
Found on the eastern shore of Lake Winnipeg, Grand Beach is a local favourite and only an hour's drive from the city. This freshwater beach has some of the nicest sand in North America (seriously!) and is perfect for a day in the sun. Other beaches within an hour's drive of Winnipeg include Patricia Beach, St. Malo Beach, and Birds Hill Park.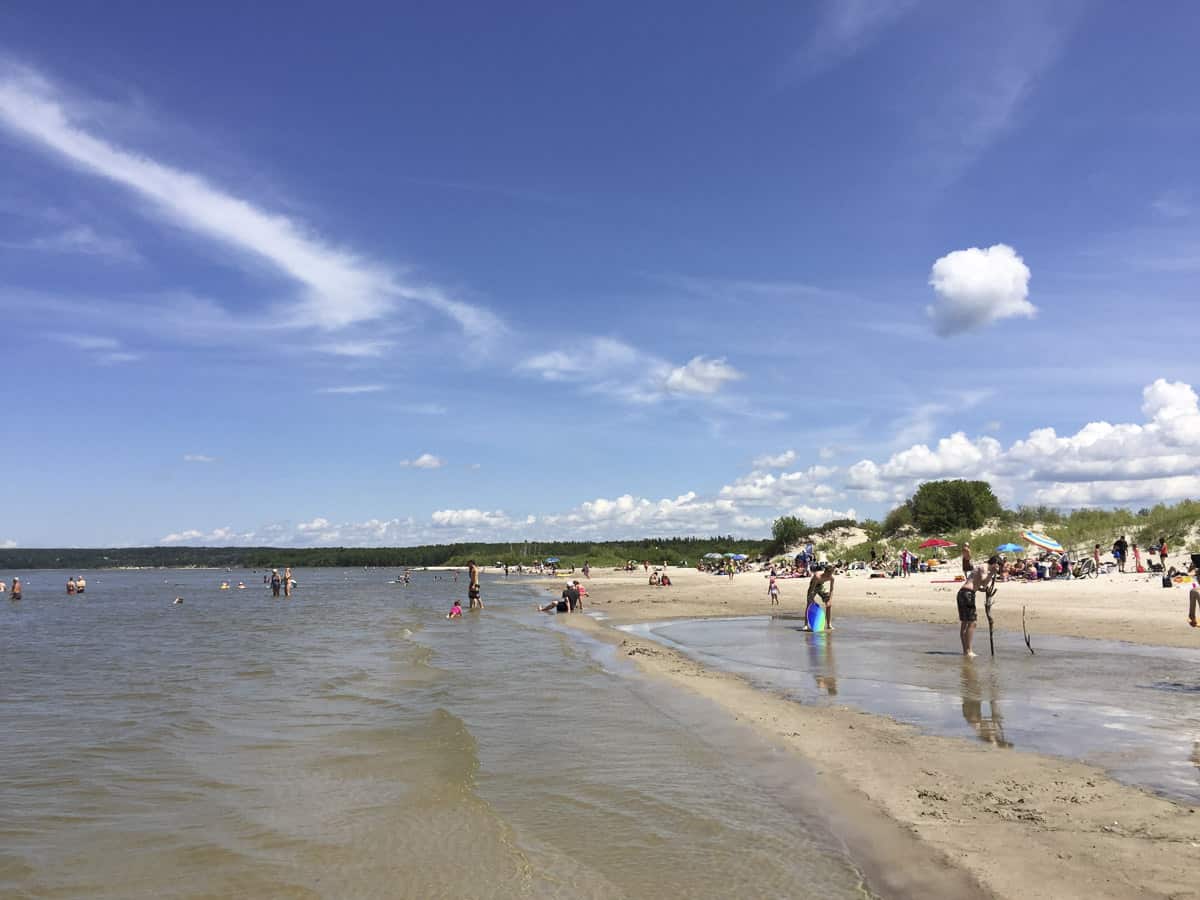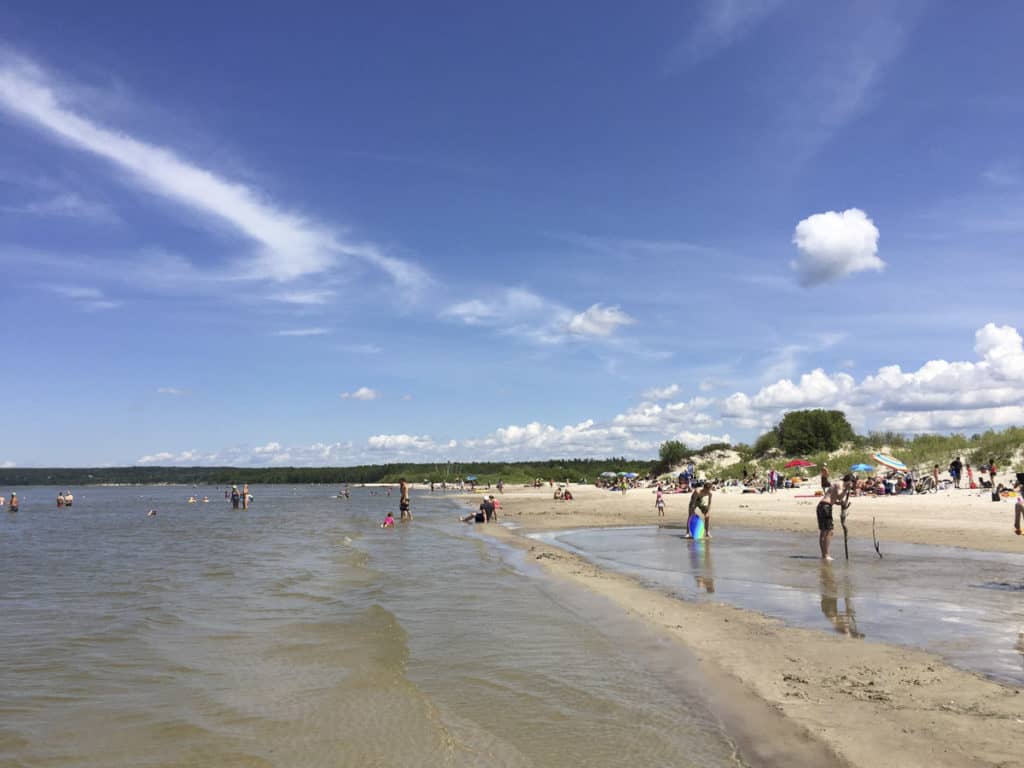 Pinawa
Found about an hour and a half's drive east of Winnipeg, Pinawa makes for an amazing summer day trip, especially when you visit Pinawa Dam Provincial Heritage Park. See the rushing waters, explore the park at your leisure, and bring along a picnic to eat in the sun. You can even go for a swim, or go tubing on the Pinawa Channel!
Gimli
Gimli is a charming community found on the banks of Lake Winnipeg, about an hour's drive north of Winnipeg. Discover the strong Icelandic heritage here by visiting the Viking statue and local museums, some of Gimli's restaurants, and make sure to fill up on fish and chips after a day on the beach. You'll find Winnipeg Beach nearby, which is also worth exploring. Keep your eyes peeled for the annual Icelandic Festival, too!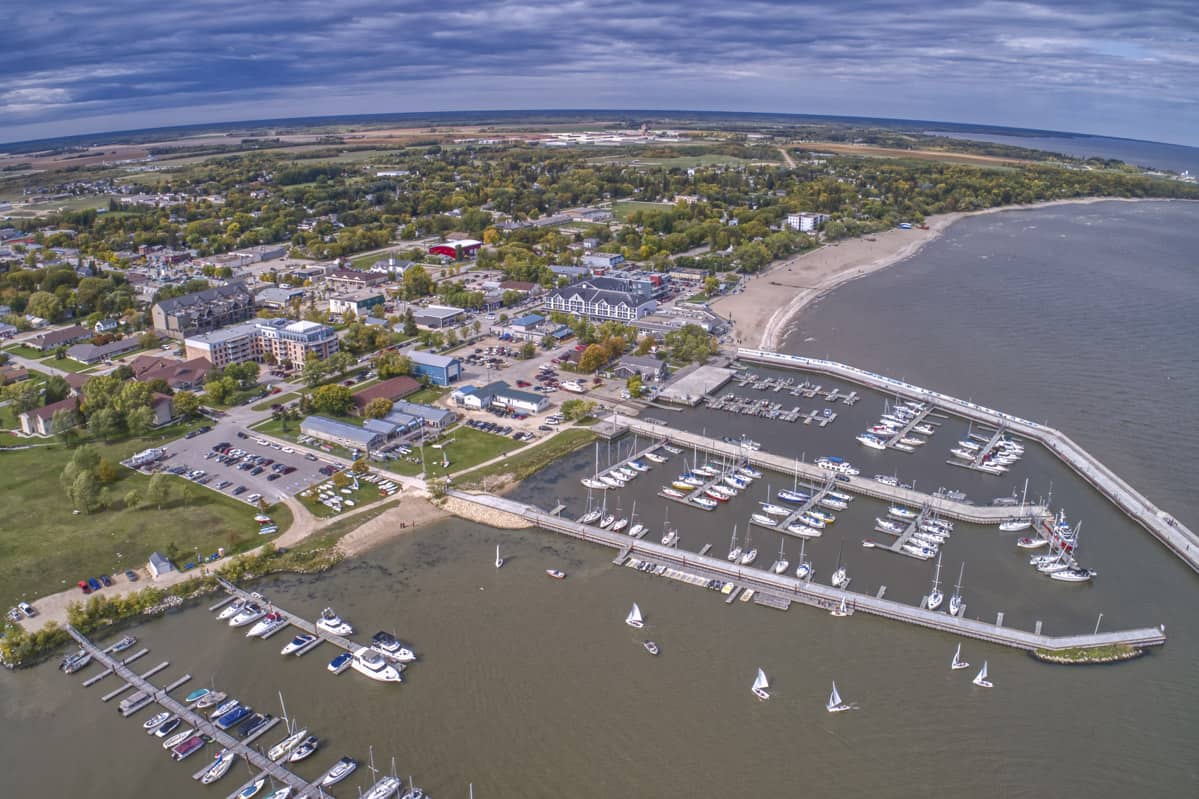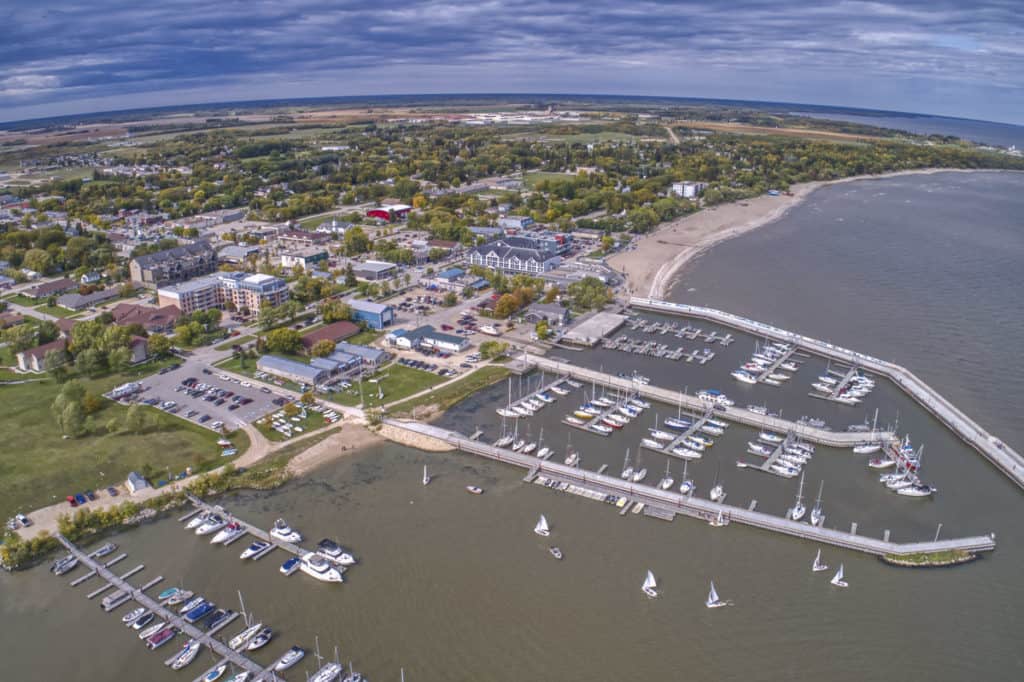 St. Adolphe
Head to St. Adolphe – just outside the city to the south – to visit Amaze in Corn! With a massive corn maze, petting zoo, and sunflower fields in summer, there's also a giant snow maze in winter. Fun for the whole family, as they say.
Lockport
If you're after a quick afternoon out of Winnipeg, make your way to nearby Lockport, only twenty minutes or so outside the city. Eat at one of the many famous diners there (Half Moon, Skinners, and Sonia's are all popular), walk along the river, and make sure to drive along River Road, one of the most beautiful road trips in Manitoba.
One last thing to do in the city – go shopping! Winnipeg has lots of great local producers, and you can likely also find what you need or want at one of many Winnipeg malls, too.
And Don't Forget
Don't forget that while you're on the road, you can download our FREE Road Trip Manitoba bingo cards, to make any trip just that much more fun!