Disclaimer: This page may contain affiliate links. Please review our full Terms and Conditions for more information and our Privacy Policy. Note that any pricing, operating hours, or other such information provided below may have changed since initial publication.
Compiled by the Road Trip Manitoba team
Last updated on August 28, 2023
Churchill, Manitoba, often dubbed "the polar bear capital of the world" (and the best spot to see polar bears in Canada), is one of Manitoba's most incredible locations. There are very few places around the world where you can see so many polar bears and beluga whales in the wild, so it's no wonder that Churchill is such a draw for nature enthusiasts and wildlife lovers. There's also a rich culture and history, Northern Lights viewing, mural tours, art galleries, and so many more things to do in Churchill.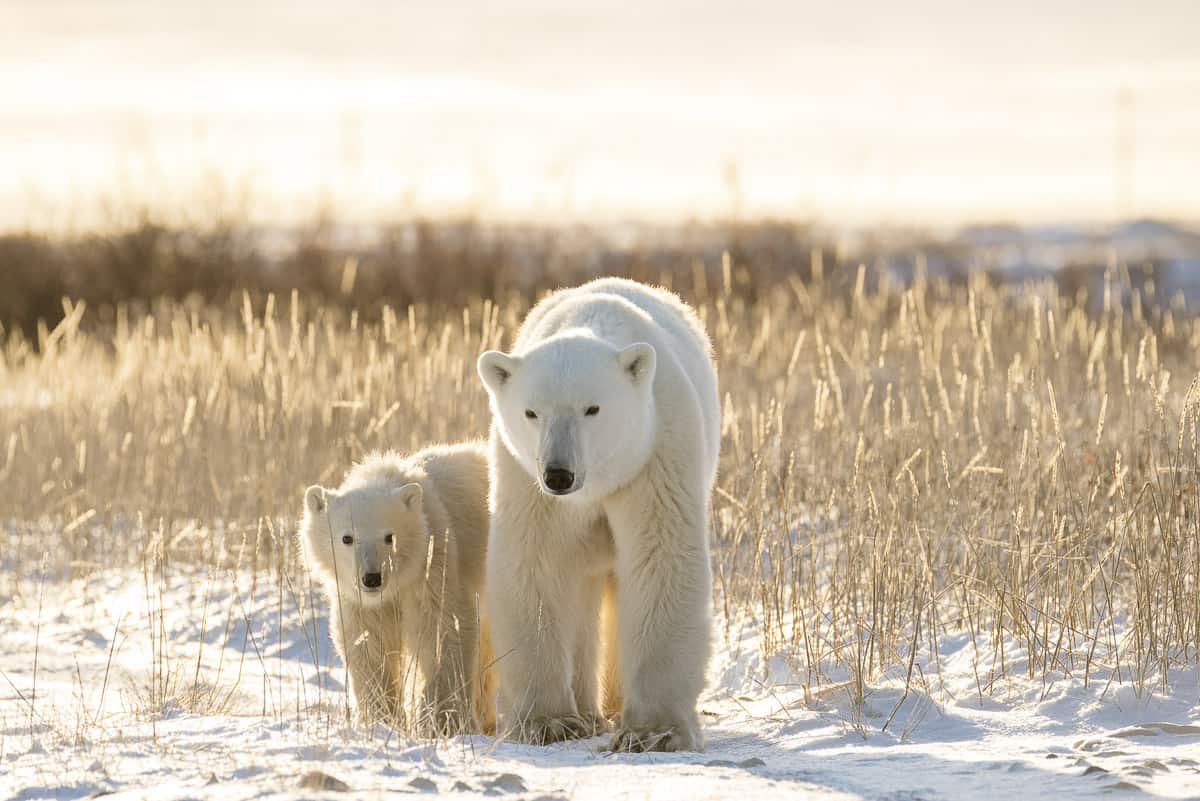 From July to November, many tourists make their way to Churchill in order to see the polar bears, the beluga whales, or both, depending on the season. July, August, and September are known for spotting belugas in Hudson Bay and the Churchill River, although it's still possible to see polar bears during these months, too. October and November are the most popular months for seeing polar bears, as they're often quite easily found on the snowy tundra. January, February, and March are popular for the Northern Lights, which are at their brightest and most visible during the colder and darker months.
Seeing as it's so remote, this tiny community on Hudson Bay has very few options when it comes to actually getting there, but you'll most likely start your trip in Winnipeg, Manitoba's capital city. Thankfully, there are regular plane and train routes from Winnipeg to Churchill during tourist season. Our biggest tip? Book EARLY. Tours, flights, trains, and accommodations all fill up months in advance, especially when it comes to tourist season. Here, then, is everything you need to know about getting from Winnipeg to Churchill.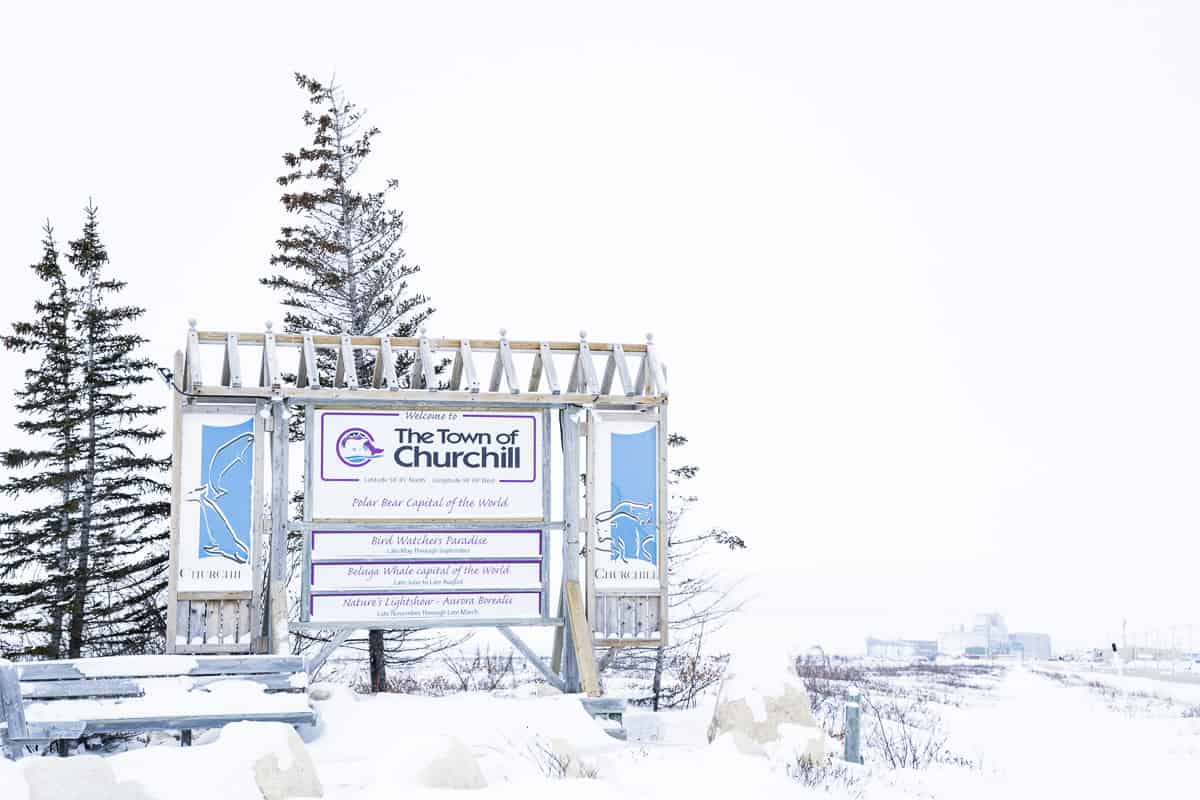 Land Acknowledgments
Manitoba is made up of Treaty 1, 2, 3, 4, and 5 Territory, as well as communities that are signatories to Treaty 6 and Treaty 10. Manitoba is home to the original lands of the Anishinaabe, Anish-Ininiwak, Dakota, Dene, Ininiwak, and Nehethowuk peoples, as well as the homeland of the Métis peoples.
About the Route
Winnipeg to Churchill is approximately 1,000 kilometres as the crow flies, and the two are found at near north and south opposites of one another in Manitoba. However, there are no paved roads that lead directly to Churchill, making this route slightly more complicated than others in the province. If you plan on visiting Churchill, your journey will have to involve a train or a plane at some point; there is currently no way to drive a car or take a bus to Churchill.
If you do want to drive the majority of the way to Churchill, most people drive from Winnipeg to Thompson and then take the train or fly from there. More on that below.
Winnipeg to Churchill by Plane
Without a doubt, the fastest and the most convenient way to get from Winnipeg to Churchill is by plane. Thankfully, there are many flights from Winnipeg to Churchill per week during tourist season, although air service is indeed available all year round. We highly recommend booking your flight well in advance of your trip, because flights fill up quickly, especially in polar bear season.
Calm Air is the best airline to get you from Winnipeg to Churchill (and, often, the only one). Your flight will depart from Winnipeg James Armstrong Richardson International Airport and arrive at Churchill Airport. Flying to Churchill from Winnipeg takes approximately two hours, but be prepared for inclement weather to possibly delay or even cancel your flight; you are travelling to the rugged North, after all!
If you end up booking a tour – we're big fans of Lazy Bear Expeditions here at Road Trip Manitoba – your flight is often included in your package price.
It is also possible to fly to Churchill with Calm Air from either Thompson or Gillam, so another option is to take the train or drive to either location and then fly to Churchill from there.
Winnipeg to Churchill by Train
Feeling adventurous? A fantastic way to see Manitoba is to do so by train. VIA Rail Canada offers trains from Winnipeg to Churchill every Sunday and Tuesday, while the train departs Churchill every Thursday and Saturday for the journey back to Winnipeg. Just as with flying to Churchill, we recommend booking your train tickets well in advance of your journey. Be sure to check prices and book your train tickets via the VIA Rail Canada website.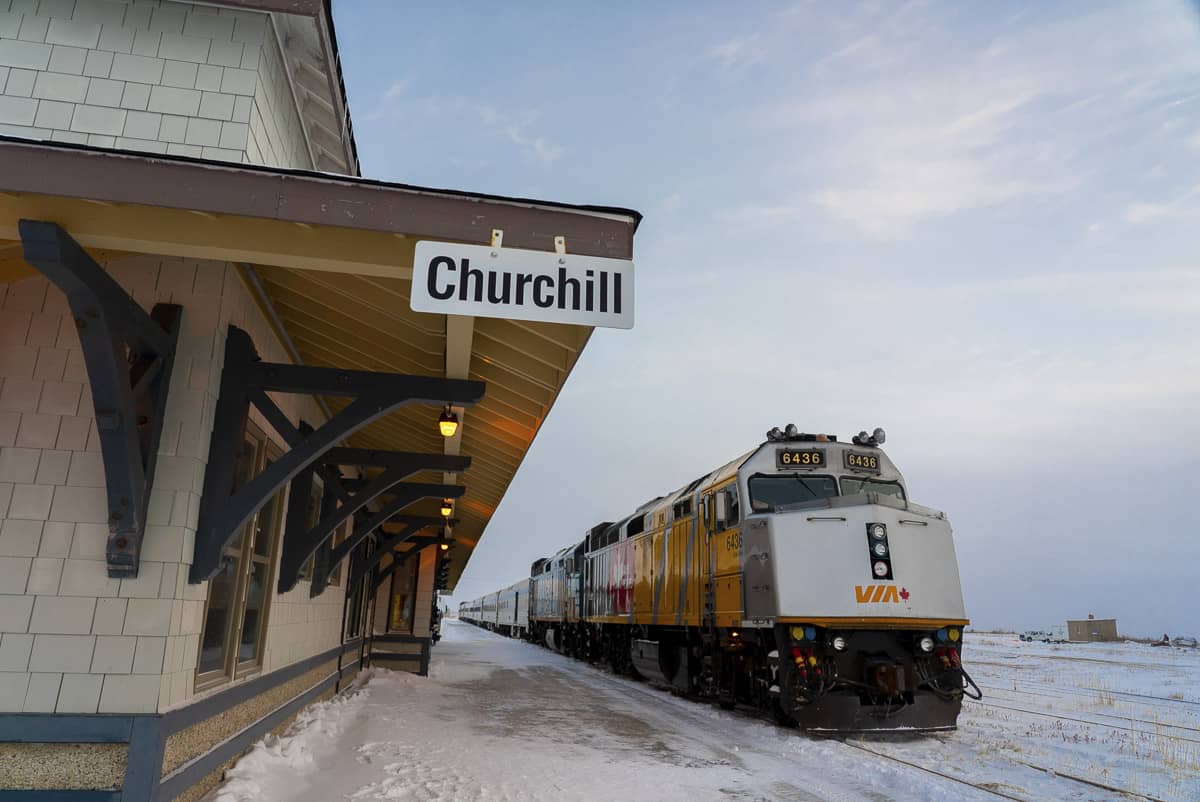 Taking the Churchill train is usually cheaper than flying, but it's always important to compare prices and plan ahead of time in order to find the cheapest way to Churchill. Be prepared to settle in and get cozy: the train from Winnipeg to Churchill takes approximately 48 hours, or two full days. But don't worry… you'll have gorgeous Manitoba scenery out your window to keep you entertained! In fact, you'll cover 1697 kilometres by train to Churchill once you leave Union Station in Winnipeg.
Another option is to take the train from Thompson or Gillam to Churchill. Some people drive or take the bus to either location and then catch the Churchill train from there.
Winnipeg to Churchill by Car
Currently, there are no paved roads that lead all the way to Churchill. However, if you would like to drive for most of the way, many people drive to Thompson or Gillam and then fly or take the train the remainder of the way. Winnipeg to Thompson is approximately 760 kilometres, or around eight hours of driving, while Winnipeg to Gillam is approximately 1,000 kilometres or about 11 hours of driving. It's certainly an amazing way to see Manitoba, and you get to stop wherever you'd like along the way!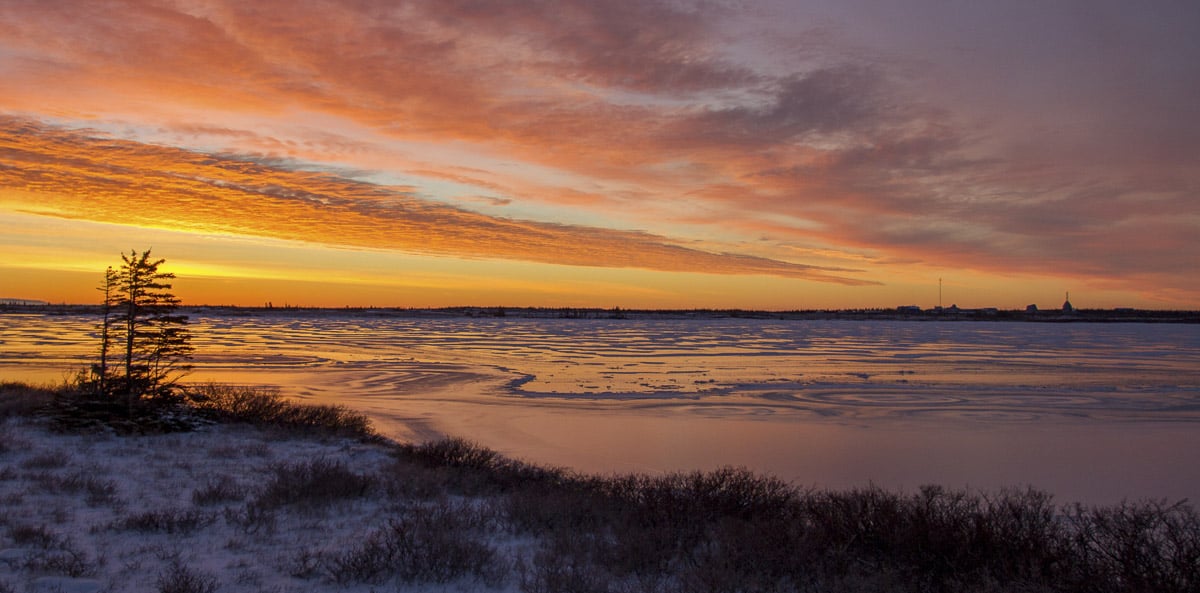 We have an entire guide on getting from Winnipeg to Thompson, including information about renting a car in Winnipeg.
Winnipeg to Churchill by Bus
Currently, there are no paved roads that lead all the way to Churchill, so taking a bus directly to Churchill isn't an option. However, it is possible to take a bus to Thompson or Gillam and then fly or take the train from there.
Thankfully, there are multiple bus routes from Winnipeg to Thompson and Gillam. Prices and journey times will differ depending on the company, the day, and the time of year. We always recommend booking your bus journey ahead of your intended day of travel in order to find the cheapest price and best option for your trip.
The bus lines that run north from Winnipeg include Mahihkan Bus Lines, NCN Thompson Bus Lines, and Maple Bus Lines.
Winnipeg to Churchill by Other Options
It is entirely possible to take a private transfer or tour from Winnipeg to Churchill; you'll have to book a private charter flight in order to do so. Be prepared to pay, though, as it is extremely expensive!
We hesitate to recommend any specific charter companies or private tours, as they can change daily. If this is something that interests you, we recommend reaching out to a travel agent that specializes in travel to Churchill.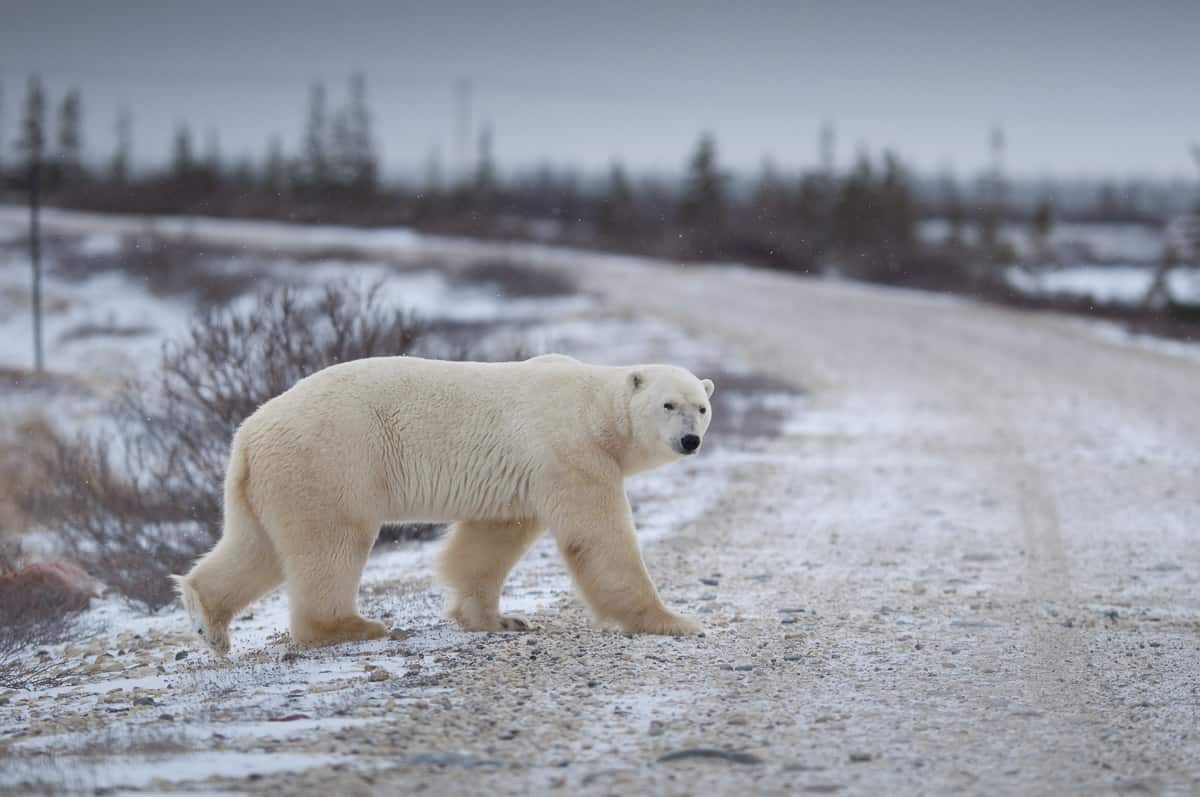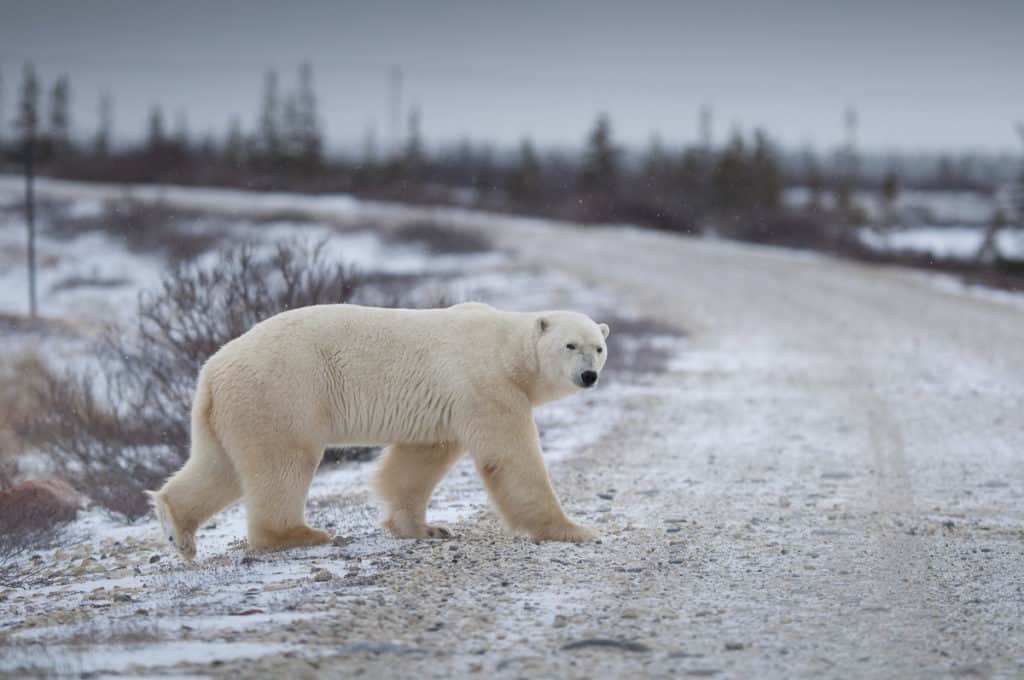 Things to Do Along the Way to Churchill
If you're driving north from Winnipeg to Thompson or Gillam, and you're not in a huge rush, there are tons of spots to explore along the way. After all, you have hundreds of kilometres of Manitoba to drive across! Here are a few of our favourite stops along the way:
As you're driving past so much water on your journey – both Lake Manitoba and Lake Winnipeg are on the route – make sure to stop at one of Manitoba's beaches! One of our favourites is Twin Lakes Beach, about 100 kilometres northwest of Winnipeg.
Head to Steep Rock on the edge of Lake Manitoba, where you'll find one of the province's most popular spots for photography due to its stunning rock formations.
You also pass by many Manitoba provincial parks on your route from Winnipeg to Thompson; you might want to stop for a little adventure, picnic, or hike. Some of the best include Lundar Beach Provincial Park, Little Limestone Lake Provincial Park, and/or Pisew Falls Provincial Park.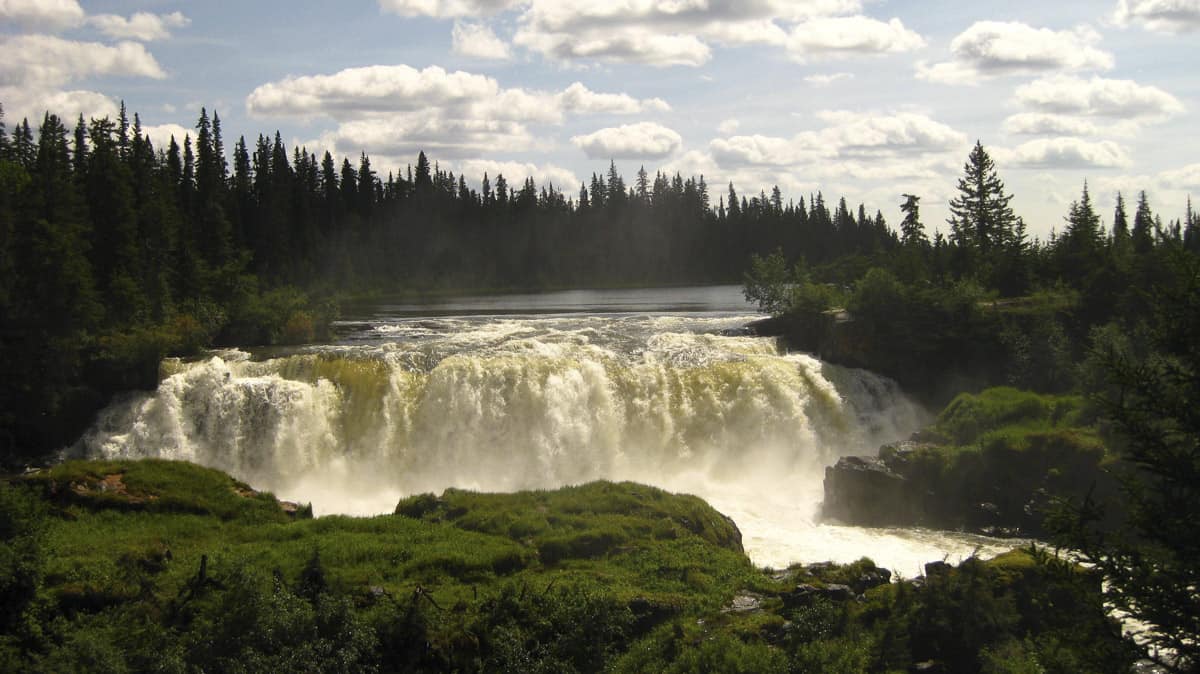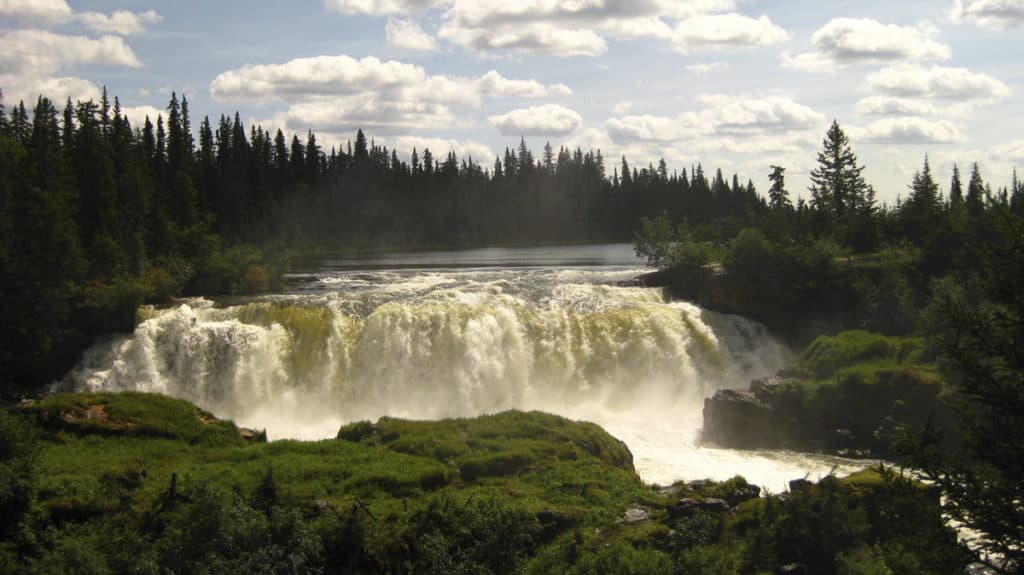 Stay at family-run Paint Lake Lodge in the middle of a boreal forest; Paint Lake Provincial Park is one of our top recommended spots in Northern Manitoba.
While Lake Manitoba and Lake Winnipeg dominate the Manitoba landscape, there are actually over 100,000 lakes in the province… and you'll pass by many of them on your journey to Thompson or Gillam! One of our absolute favourite lakes in Manitoba is Little Limestone Lake, a shimmering turquoise lake that changes colour depending on the light. It's perfect for canoeing or kayaking in summer.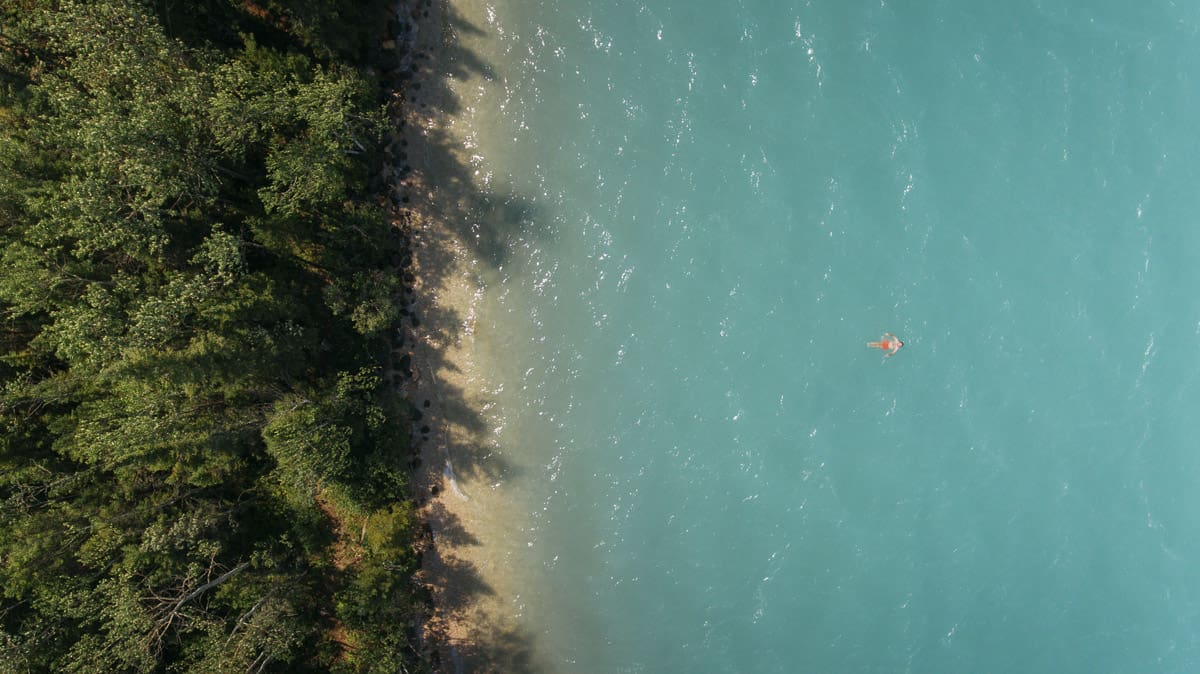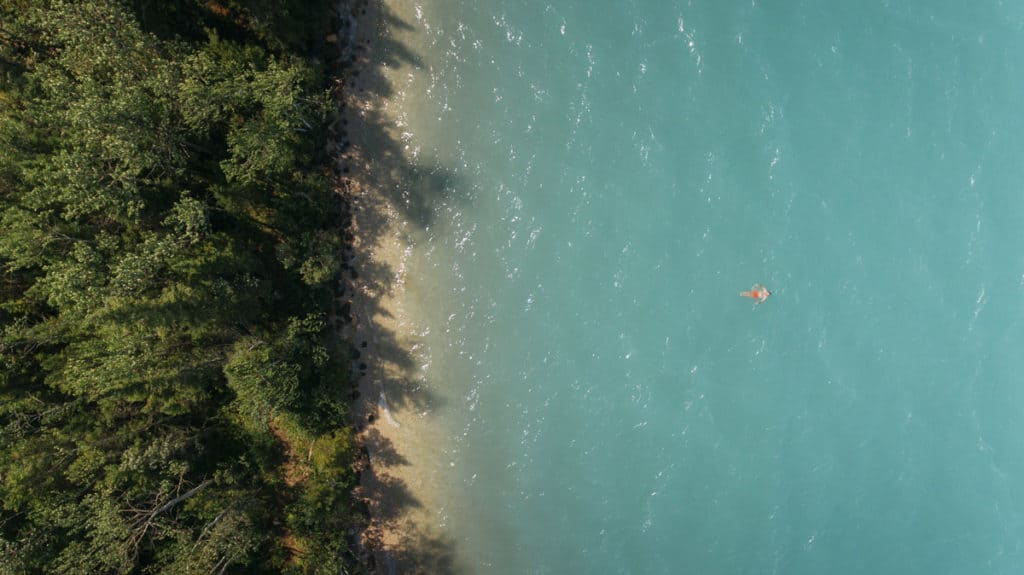 Upon Arrival in Churchill
You made it!
The Churchill Airport is very close to town – if you have a tour booked, they'll arrange your transportation to your accommodation – and the train station is directly in town.
However you've chosen to get from Winnipeg to Churchill, once you arrive in the community, you'll probably want to get something to eat or check in to your accommodation. Also, keep in mind there is also the Town of Churchill website for lots of tourist and travel information and advice on what to do in the "polar bear capital of the world".
Where to Stay in Churchill
For places to stay, we recommend the Iceberg Inn, the Churchill Hotel, or the Bear Country Inn. All of these offer clean and comfortable accommodations, ensuring you a good night's sleep so you can explore Churchill the following day. We have an entire guide on the best Churchill hotels.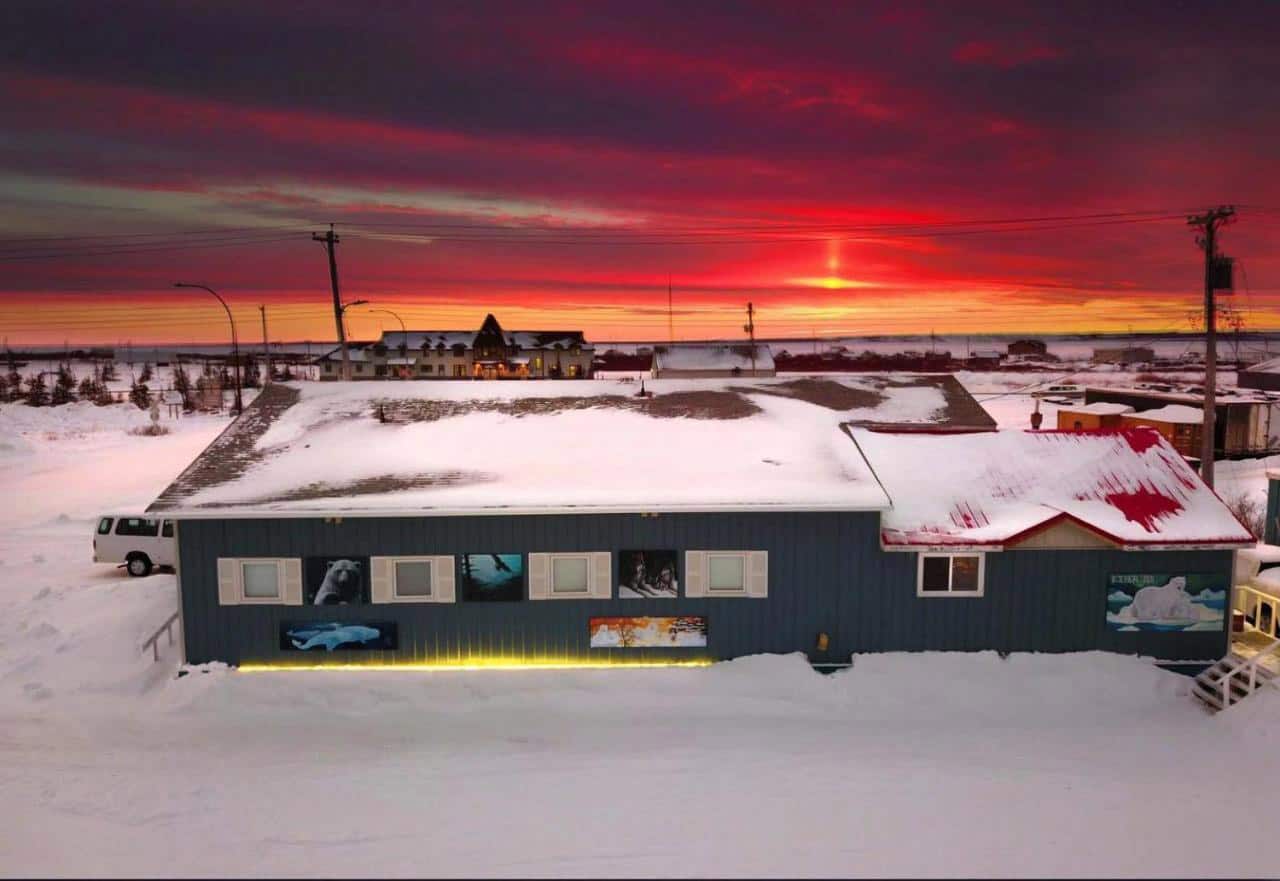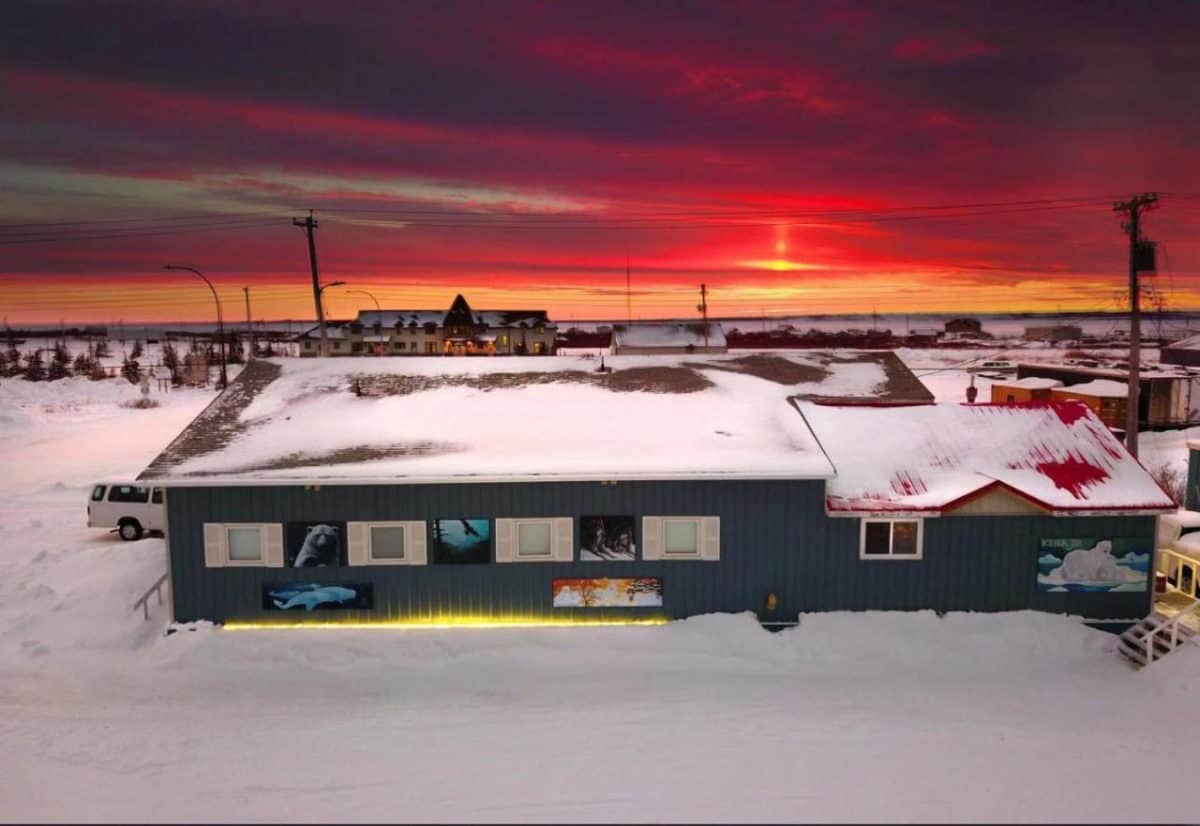 For a more intimate local experience, book a stay at Sarah's Dreamhouse B&B. They offer free pickup and drop-off at the airport, and you'll be treated to breakfast every morning.
There are also lots of specialty accommodation options in Churchill, including the Frontiers North Adventures' Tundra Buggy Lodge, the Nanuk Polar Bear Lodge and the Lazy Bear Lodge – an authentic Arctic log cabin.
Where to Eat in Churchill
There are not many restaurants in Churchill, but there are some options for good quality eats. We recommend eating at the Lazy Bear Café, the Tundra Inn Dining Room and Pub, or the Seaport Hotel, but note that some restaurants are seasonal and not open all year round! And if you want a truly unique dining experience, check out Dan's Diner (a pop-up restaurant in February and March so that you can view the Northern Lights while you dine).