Disclaimer: This page may contain affiliate links. Please review our full Terms and Conditions for more information and our Privacy Policy. Note that any pricing, operating hours, or other such information provided below may have changed since initial publication.
Compiled by the Road Trip Manitoba team
Last updated on October 24, 2023
Perhaps one of the most majestic and fascinating animals in Canada is the polar bear. Despite how cute and adorable they look, they're also some of the most dangerous animals. But they are amazing to see in person here in Canada, and if you want to see polar bears, it's best to arrange a polar bear tour. And seeing as this website is called Road Trip Manitoba, we believe that the very best place to see polar bears in Canada is in Churchill.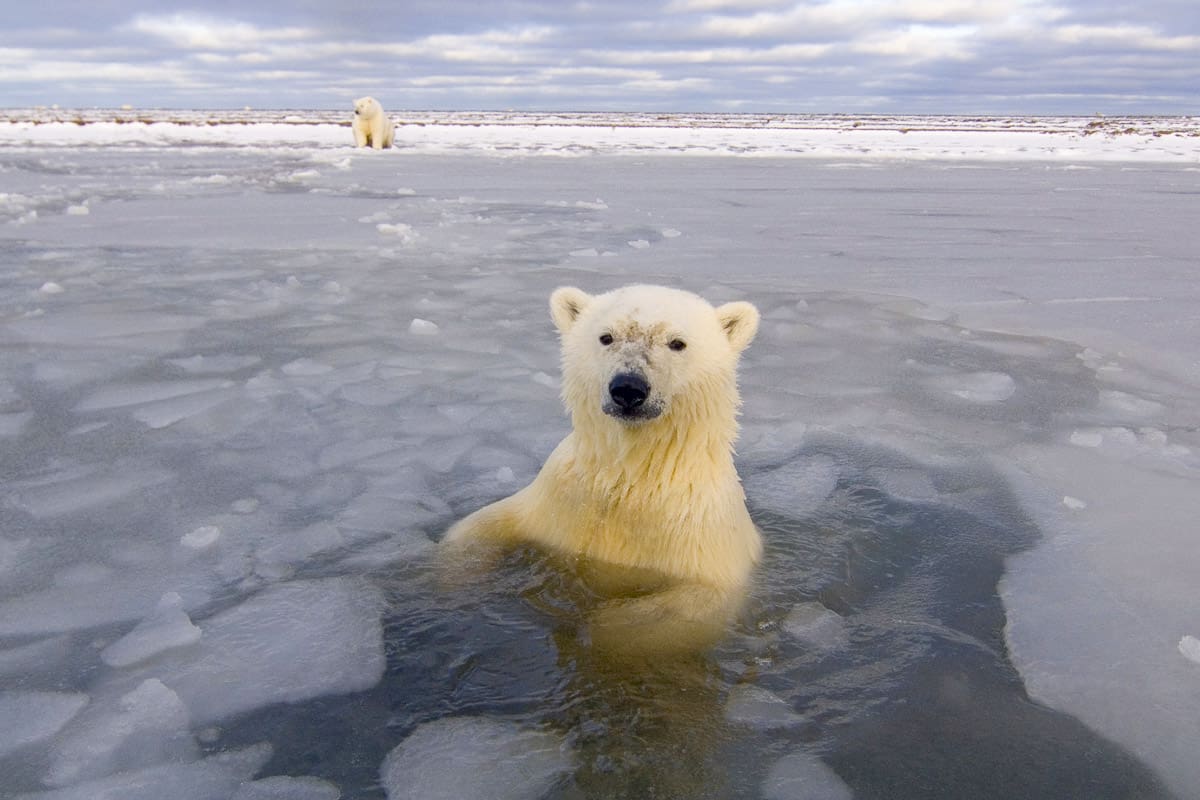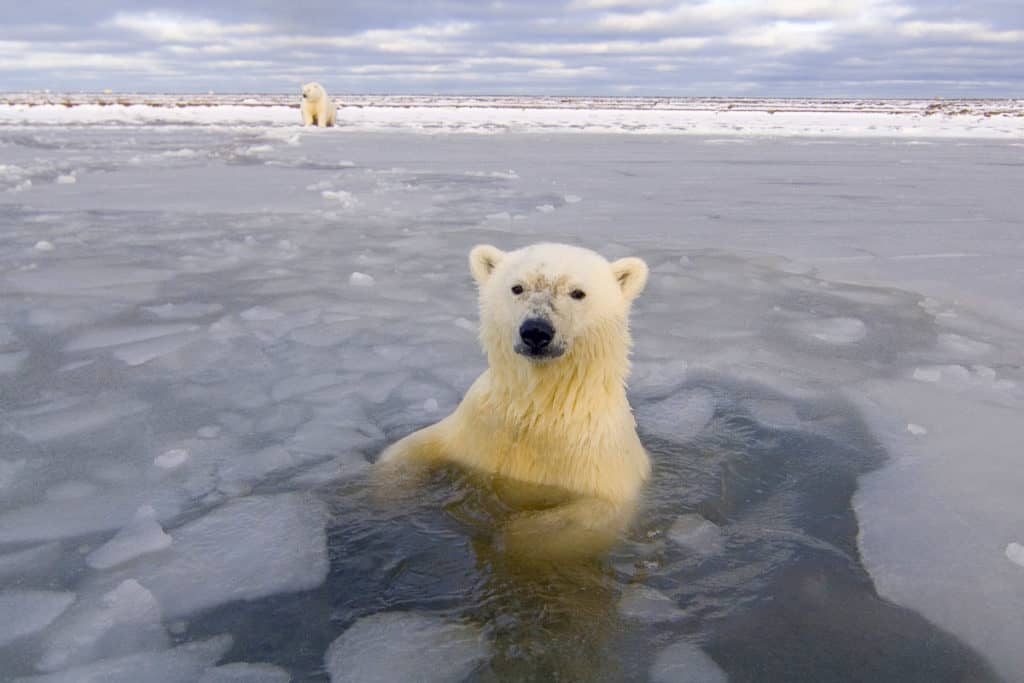 Found in Northern Manitoba, Churchill is often referred to as the "polar bear capital of the world." So keep on reading for the best ways to get up close and personal with polar bears in Canada, especially if you want to see the Churchill polar bears.
How to See Polar Bears in Canada
Where Do Polar Bears Live in Canada?
While there is the highest concentration of polar bear populations in Churchill, Manitoba, you can find polar bears in many parts of Canada. In fact, you can find polar bears in most of Northern Canada, including in the Yukon, Northwest Territories, Nunavut, Manitoba, Ontario, Quebec, and Newfoundland and Labrador. Polar bears need to live near water, as their hunting ground is the sea ice.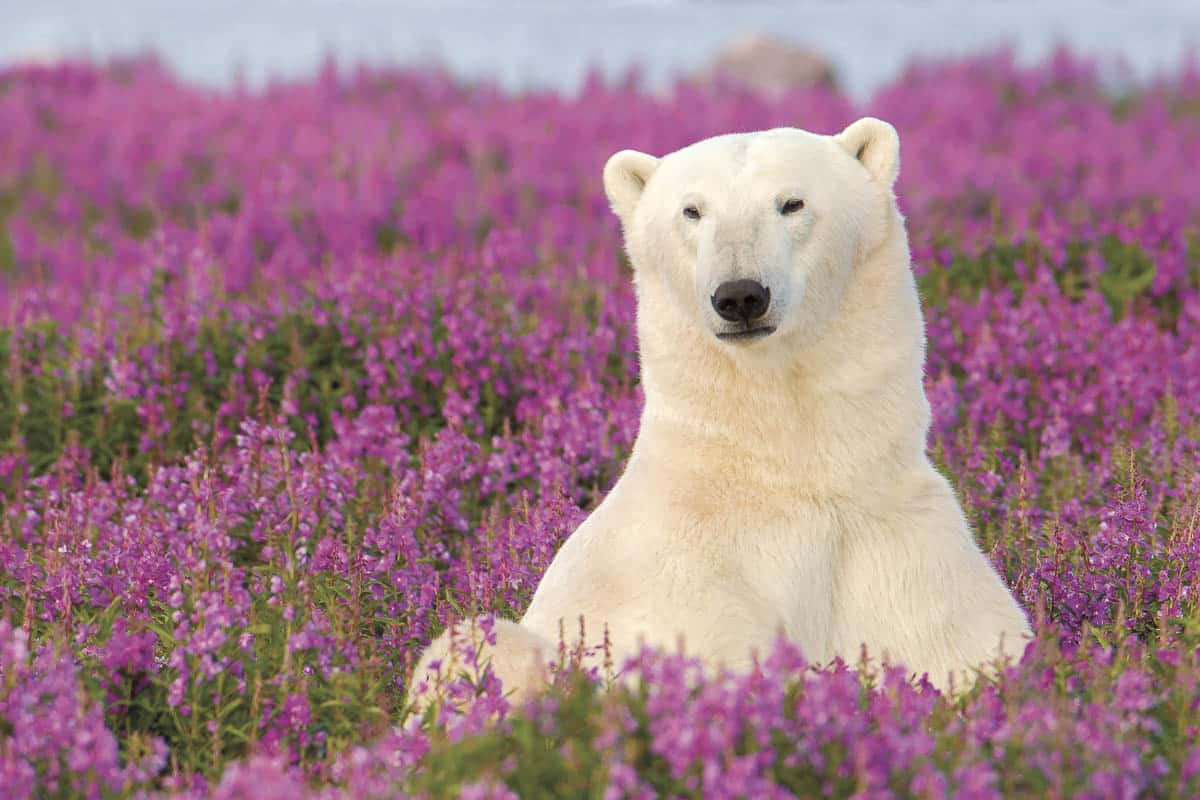 For the best polar bear watching, we highly recommend visiting Churchill in the far north of Manitoba, where you'll find an abundance of tours. It's fairly easy to get from Winnipeg to Churchill for a polar bear tour, especially if you fly or book your transportation through a tour company.
Interesting Facts About Polar Bears in Canada
Polar bears are actually the world's largest land carnivore, even bigger than grizzly bears; males can weigh up to 800 kilograms and measure 2.8 metres in length, while female polar bears can weigh up to 400 kilograms and measure 2.5 metres in length.
There are approximately 16,000 polar bears in Canada, which means Canada has more than 2/3 of the world's population of polar bears.
They are also incredible swimmers, and thus, polar bears are actually considered marine mammals! They can swim at a pace of nearly 10 kilometres per hour. A polar bear's diet consists mostly of ringed and bearded seals, although they also eat animal carcasses, including whales; they can eat nearly 50 kilograms of food in one sitting.
In case you didn't know, polar bears in Canada do not hibernate in winter. In fact, they thrive in the cold! Pregnant females will dig dens in the snow to rest and give birth to their cubs, and they'll often stay in their dens for a few months. One of the best places to see polar bear cubs is in Wapusk National Park, near Churchill, as it's the largest polar bear denning site in the world.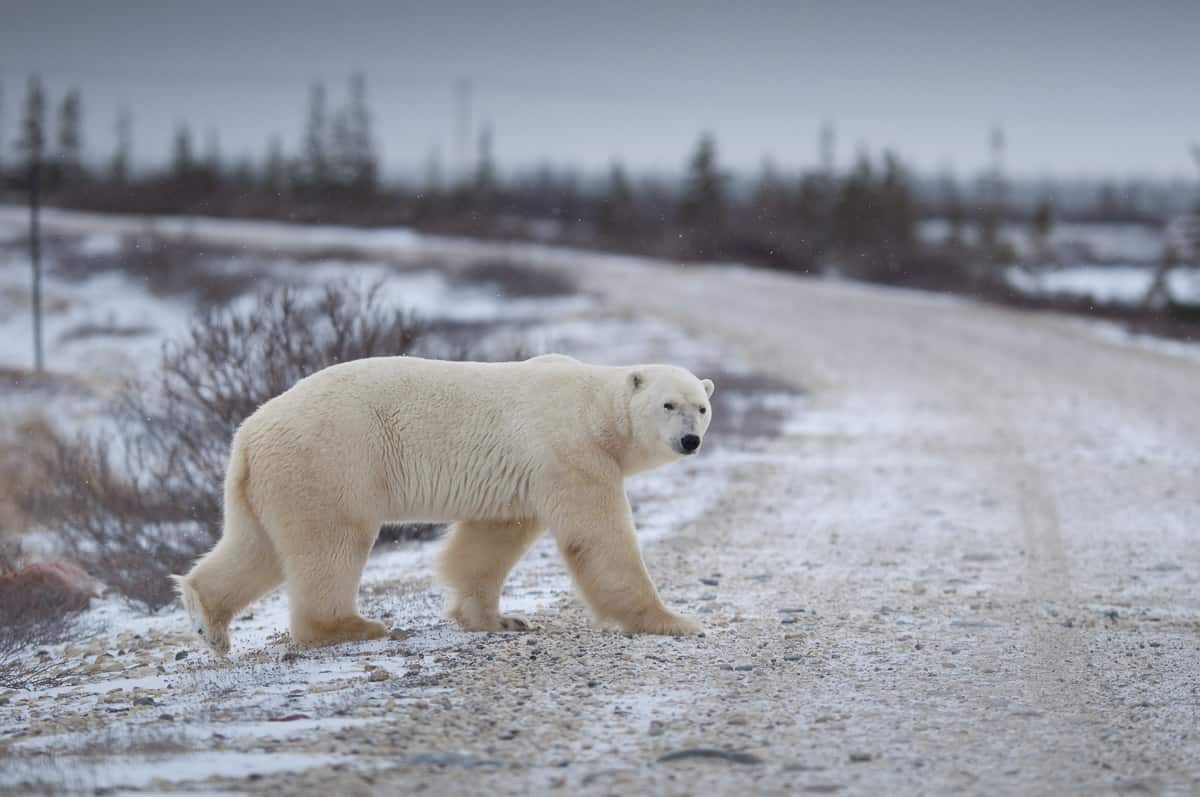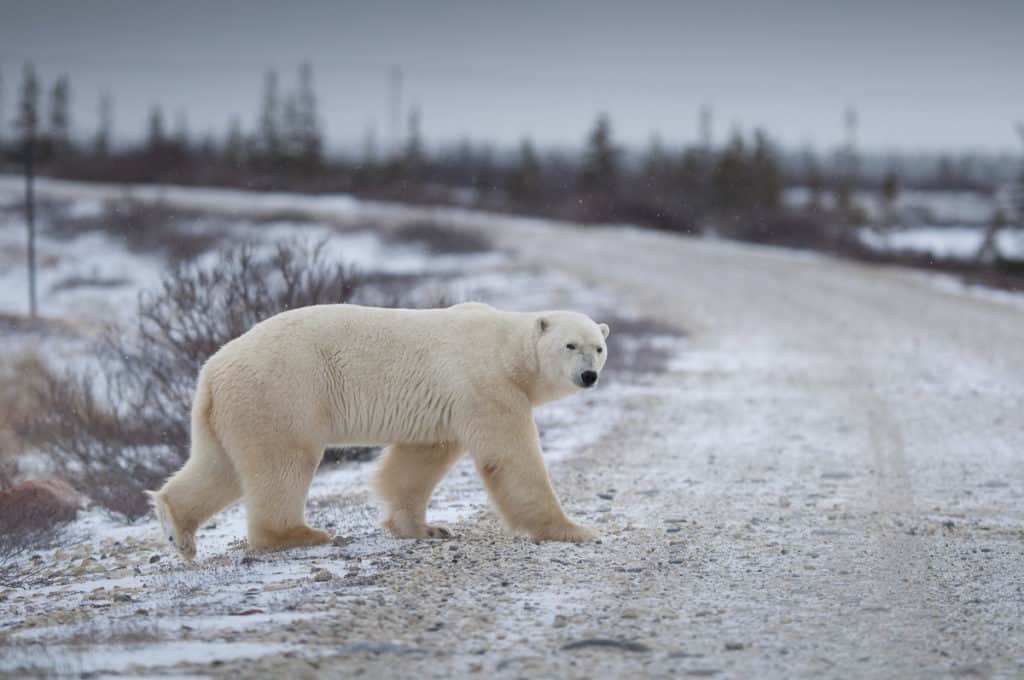 Due to global warming and climate change, Canada's polar bears are now considered a species of special concern. Global warming has drastically changed the thickness and quantity of the sea ice that polar bears rely on to hunt seals, mate, and travel from one destination to another.
Finally, despite appearances, polar bears do not have white fur. A polar bear's skin is black while their fur is transparent with hollow hair shafts; their fur actually reflects the light of the sun, which makes them look white or sometimes pale yellow.
Why is Churchill the Best Place in Canada to See Polar Bears?
Churchill is called the polar bear capital of the world for a reason… and it's definitely the best place to see polar bears in Manitoba! Churchill's location on the Hudson Bay means there's tons of sea ice for the polar bears to explore, as they use the ice for hunting, mating, and travelling. From July until November, over a thousand polar bears migrate to Churchill; they spend the summer months here and then wait for winter, when they can hunt for seals on the now-frozen Hudson Bay.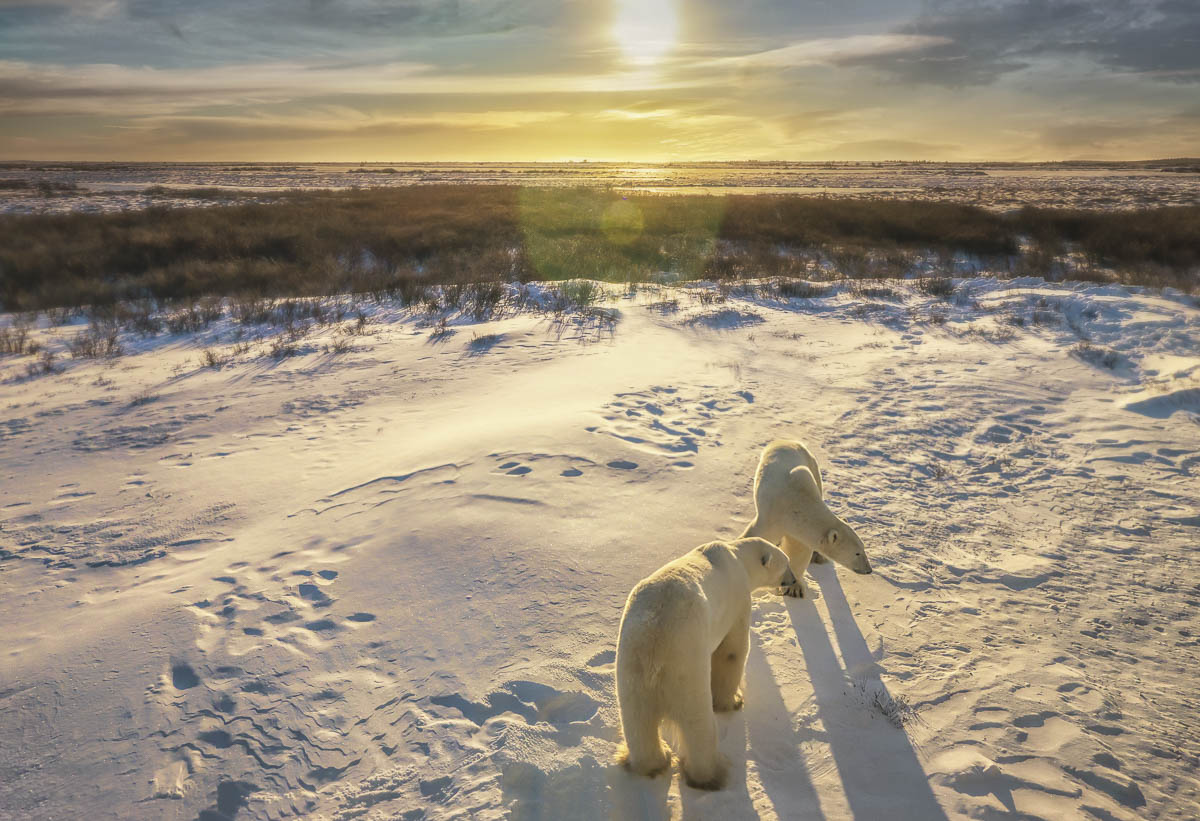 Churchill also has a large number of tour companies, making it easy and accessible to find polar bear-watching tours. We've listed a few of our favourites below under the section on tours.
When is the Best Time to See Polar Bears in Canada?
While you're able to see polar bears in Churchill in the summer months, the best time to see polar bears in Churchill is in October or November, as the polar bears are eagerly awaiting the Hudson Bay to freeze over so they can begin hunting seals.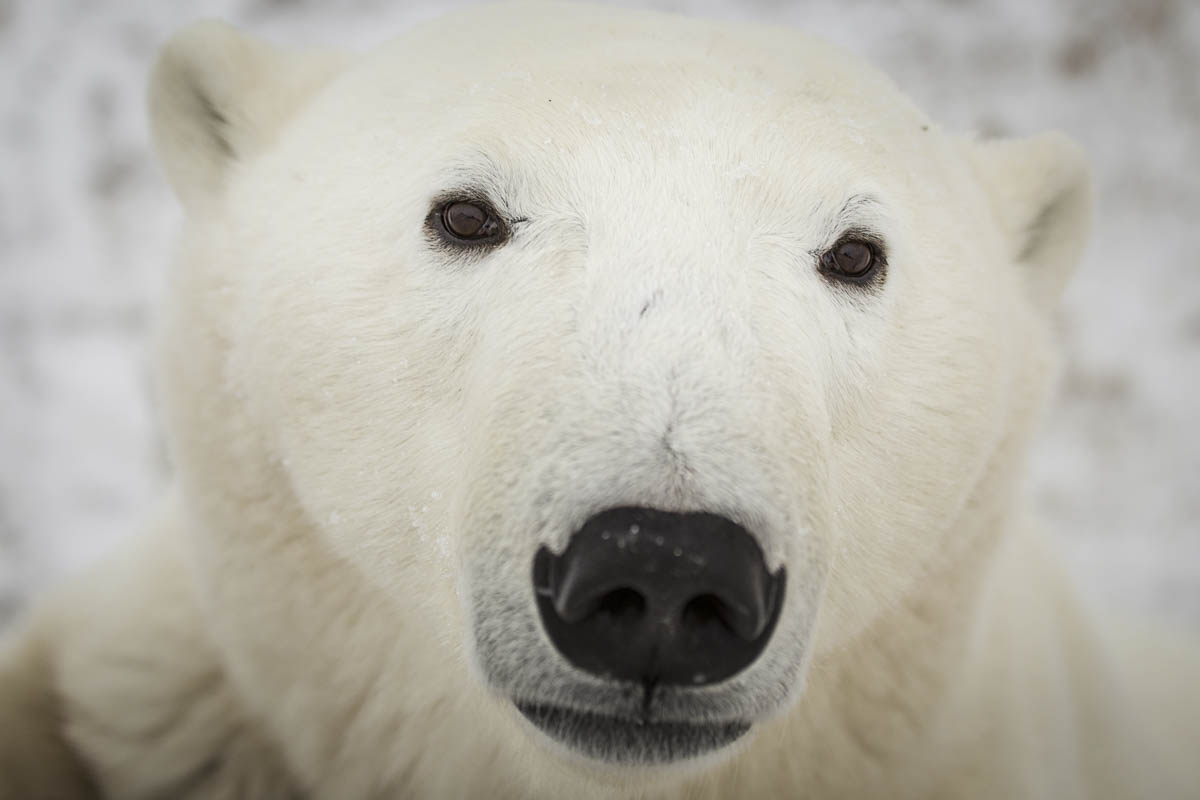 That being said, July and August are also fantastic times to visit Churchill, as you're able to see the tens of thousands of beluga whales that migrate through the Hudson Bay and the Churchill River Estuary to breed. While you won't see as many polar bears at this time, polar bear sightings are still possible, especially if you take a boat tour along the coast.
What are the Best Polar Bear Tours in Churchill?
There are numerous tour companies that can take you to see polar bears in Churchill, most of which will provide transportation from Winnipeg as well as accommodations and food. Unfortunately, these tours are not cheap, but for such a big bucket list item, we believe the prices are worth it.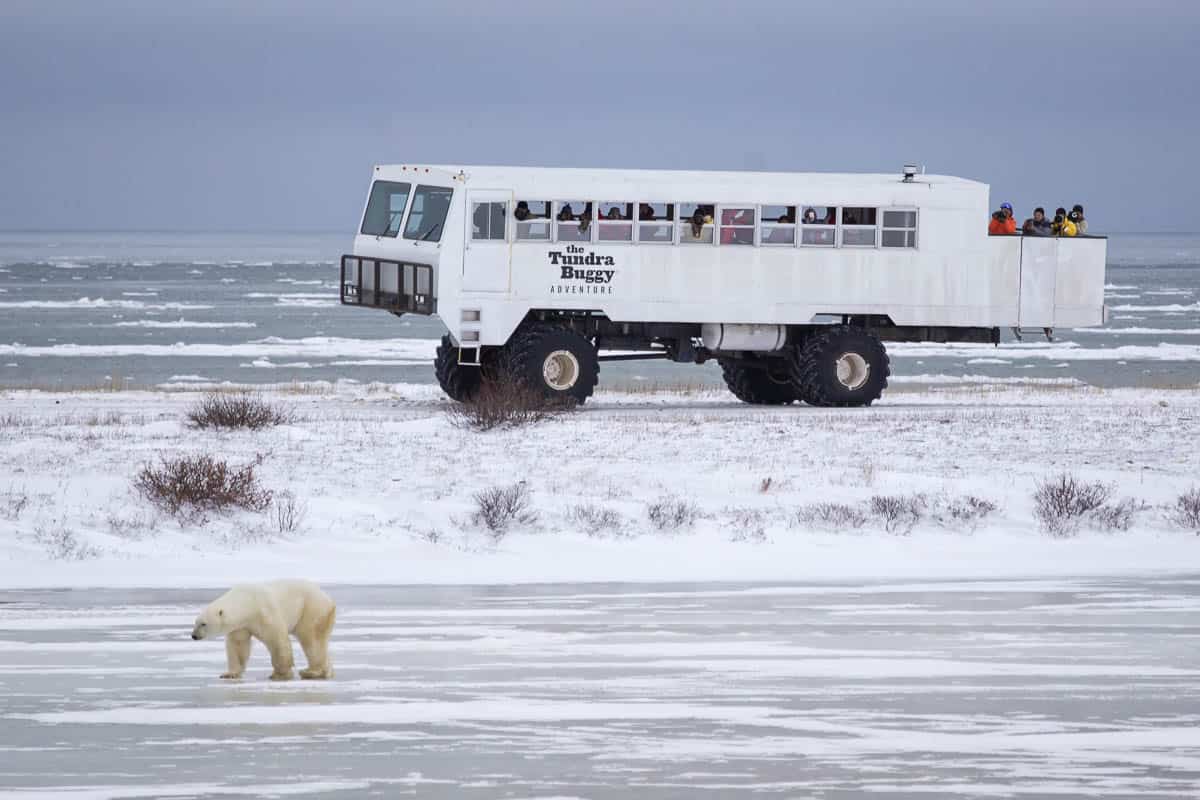 Some of our favourite polar bear tours in Churchill are Frontiers North Adventures, Lazy Bear Expeditions, Wat'chee Expeditions, Great White Bear Tours, Discover Churchill Tours, Churchill Wild, and Iceberg Inn tours. Many of these tour companies will have vehicles (such as Frontiers North Adventures' Tundra Buggy) that will drive directly onto the tundra, and if you're especially lucky, the polar bears will come right up to the vehicle to say hello.
There are several options to book a tour to see the polar bears.
One day (8-hour) Polar Bear Excursion – See the polar bears up close and personal on the Frontiers North Tundra Buggy. Lunch and refreshments are included. Book here
Classic 5-Night Churchill Polar Bear Adventure – This is a 5-night tour where you fly from Winnipeg to Churchill to see polar bears in their natural habitat. Included in the trip are the flights, two full days on the Tundra Buggy to see the polar bears, the Itsanitaq Museum tour, a tour of the town of Churchill and the surrounding area, a dogsledding experience, plus all accommodations for five nights and all meals. It truly is an adventure of a lifetime. Book here
There are also a few ways to actually stay on the tundra overnight, including the Tundra Buggy Lodge, where you can wake up to curious polar bears peering in your window! Make sure to check out our guide to Churchill for all of the information you'll need about visiting the northern town.
Can You See Polar Bears in Churchill Without a Tour Company?
It is certainly possible to see polar bears in Churchill without going on a tour. The bears roam freely around the area and have been known to wander into town. However, it is not recommended to actively seek for the polar bears in Churchill without a professional tour operator.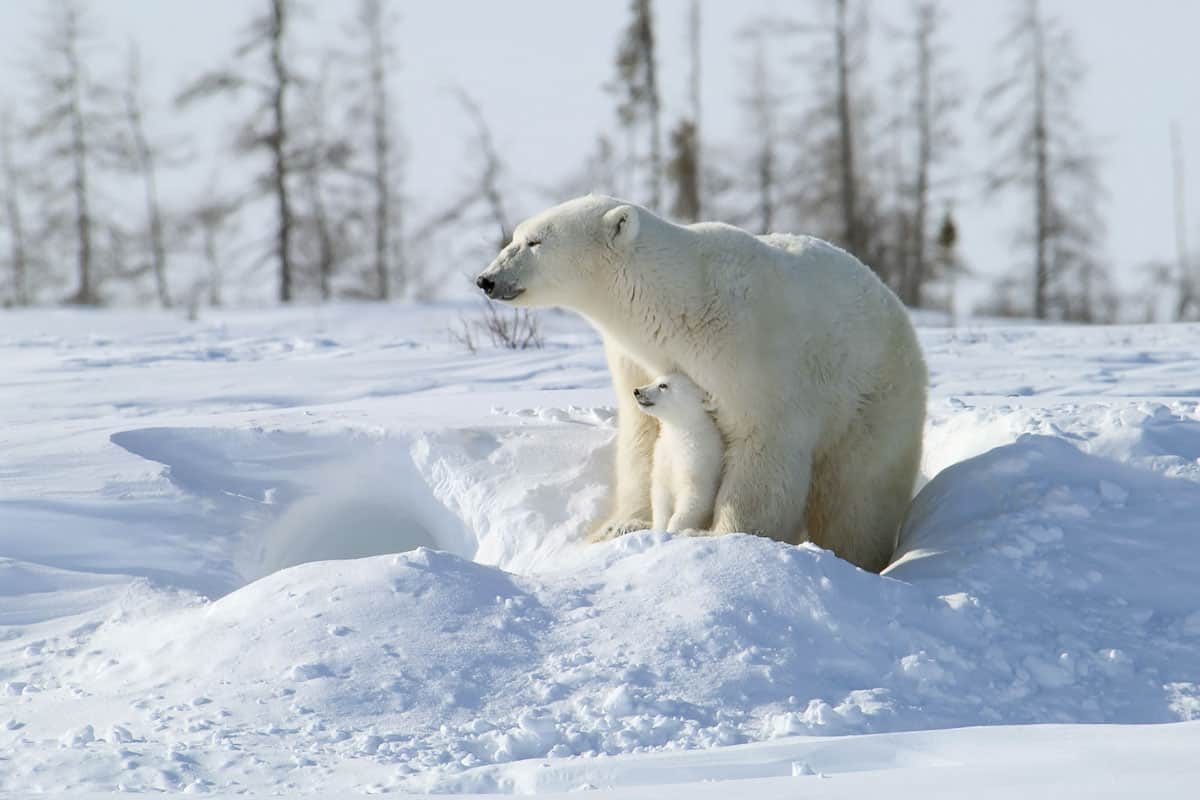 Polar bears in Manitoba are incredibly dangerous animals and can cause serious harm to humans. In fact, there's even a "polar bear jail" in Churchill for bears that come into town; from there, they are safely transported back to the tundra.
Here is more information about Churchill, Manitoba: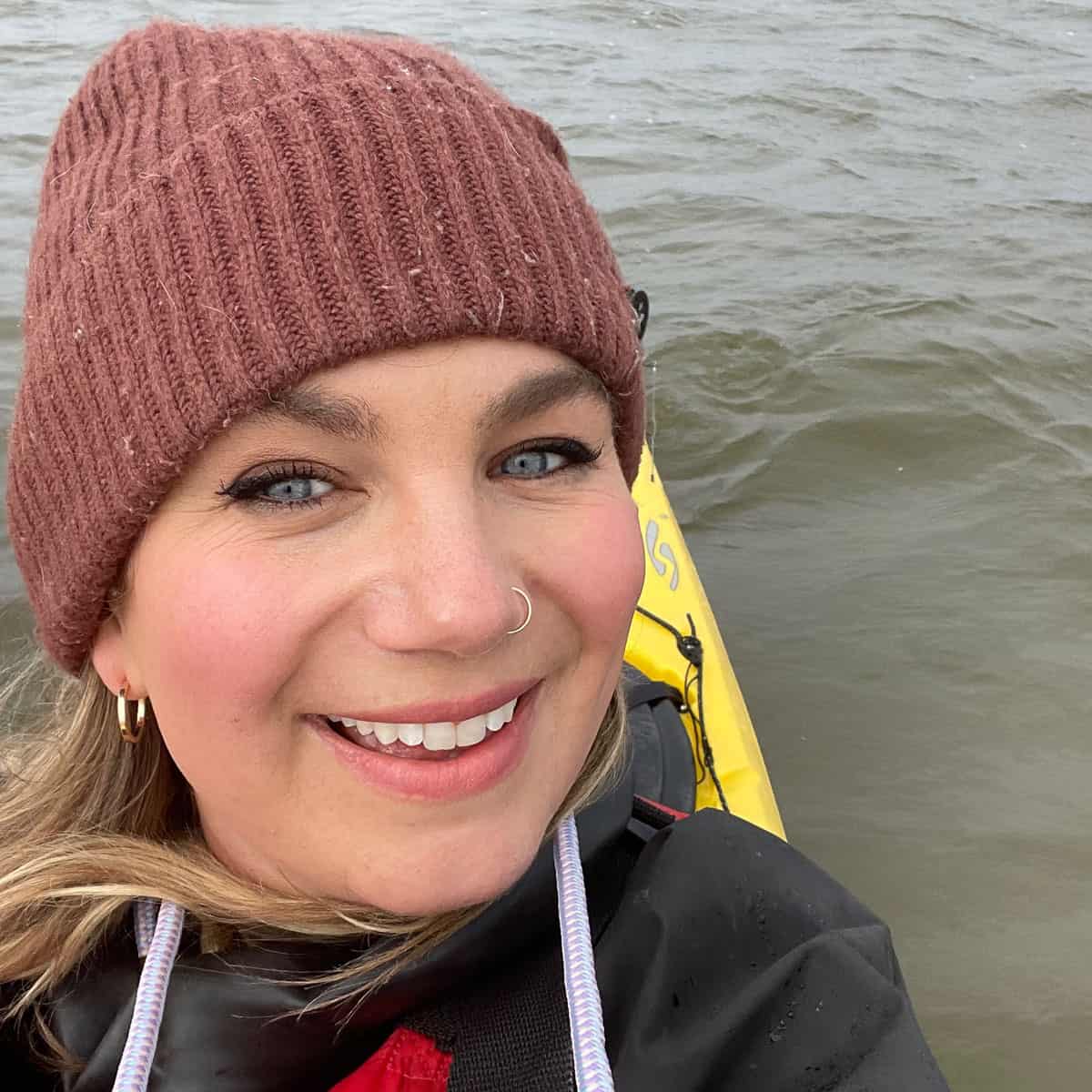 Brenna Holeman (she/her) has adventured to over 100 countries but is incredibly proud to call Winnipeg home. Brenna spent 16 years travelling solo around the world, living in Copenhagen, Edinburgh, Osaka, Antigua, and London, England. As well as being an editor and writer for Expedia UK for over seven years, she runs This Battered Suitcase, one of the most trusted and respected travel blogs in the world.