Disclaimer: This page may contain affiliate links. Please review our full Terms and Conditions for more information and our Privacy Policy. Note that any pricing, operating hours, or other such information provided below may have changed since initial publication.
Compiled by the Road Trip Manitoba team
Last updated on June 5, 2023
One of the most amazing destinations in the province, Churchill, Manitoba is known as the polar bear capital of the world. And while seeing polar bears in the wild is certainly a once-in-a-lifetime experience, there are many other things to do in Churchill, too.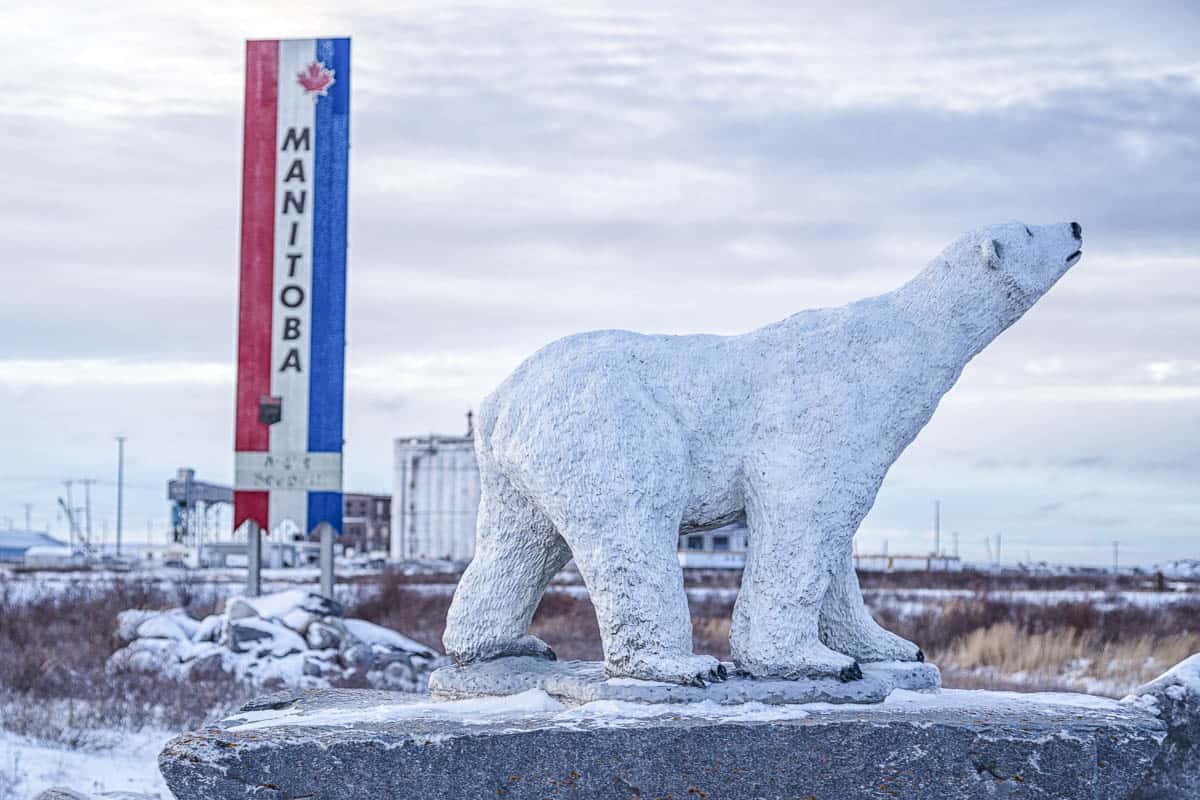 From the Northern Lights to kayaking with belugas to learning about the local Inuit culture, we've put together this guide for you with everything you need to know about Churchill. We've listed tour companies, where to stay, where to eat, and everything there is to do in the small community, no matter the season. Read on for your ultimate guide to visiting Churchill, Manitoba.
Land Acknowledgments
Churchill, Manitoba is located on Treaty 5 territory.
Brief History
Churchill has a history that dates back many centuries; Indigenous peoples established settlements and homes on the land we now call Manitoba thousands of years ago. Artifacts from Pre-Dorset, Dorset, and Inuit peoples have been found in the area, so it has been confirmed that people have been living in the Churchill region for many centuries.
Europeans first arrived in Churchill in the 17th century, and in 1717 the Hudson's Bay Company built their first permanent settlement in the area. The fur trade became a popular industry in Churchill before quickly declining by the end of the 1700s.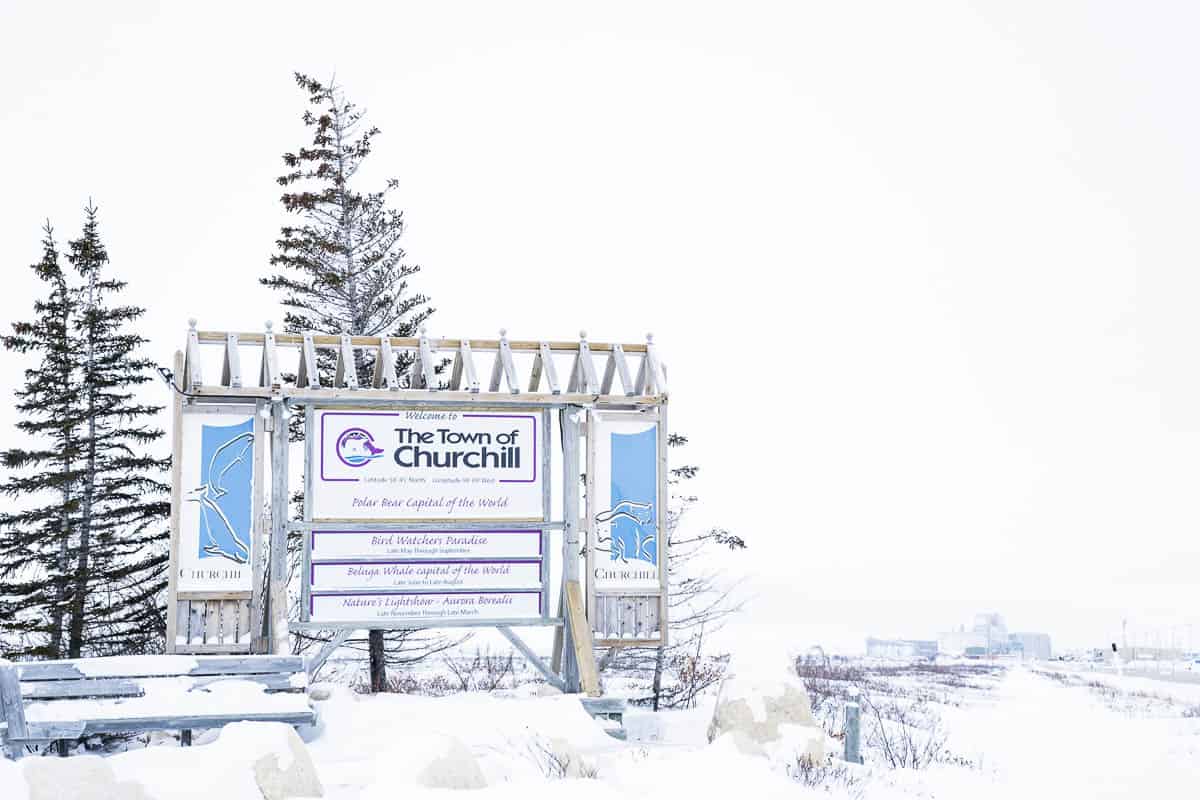 Churchill then became a seaport, and with the completion of the Hudson Bay Railway in 1929, the focus of trading became grain.
Over the past few decades, however, Churchill has become famous as one of Manitoba's biggest tourist attractions thanks to its abundance of polar bears, beluga whales, and Northern Lights. The town with a permanent population of fewer than 1000 people draws hundreds of thousands of tourists every single year.
Where is Churchill, Manitoba?
Churchill is found in Northern Manitoba on the Hudson Bay. As the crow flies, Winnipeg and Churchill are approximately 1,000 kilometres apart. There are no paved roads that lead to Churchill, so you'll have to either fly there or take the train (more on that below).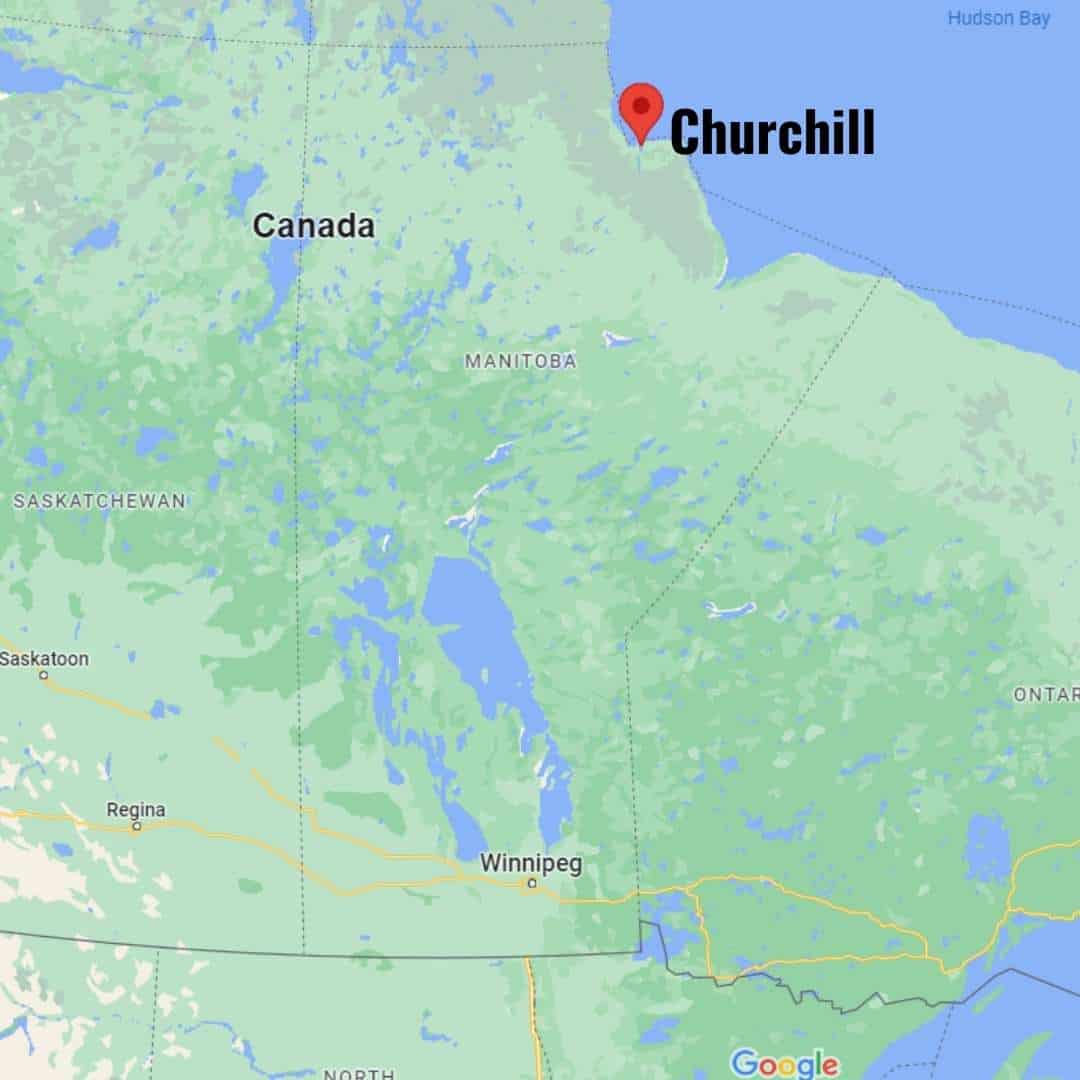 As Manitoba is in Central Canada, you may have to connect to Winnipeg from Toronto or another Canadian city before travelling to Churchill (if you're travelling from another province or country).
Churchill Weather
You guessed it… as an Arctic location, Churchill is very cold!
Churchill is very far north in Manitoba, and you'll want to make sure to take the proper precautions in the winter months, i.e. dressing in lots of warm layers, checking the forecast for weather warnings, and so on. Even in the summer months, it is recommended to bring very warm clothing and to prepare for cold weather, including waterproof clothing, warm hats and mittens, and many layers.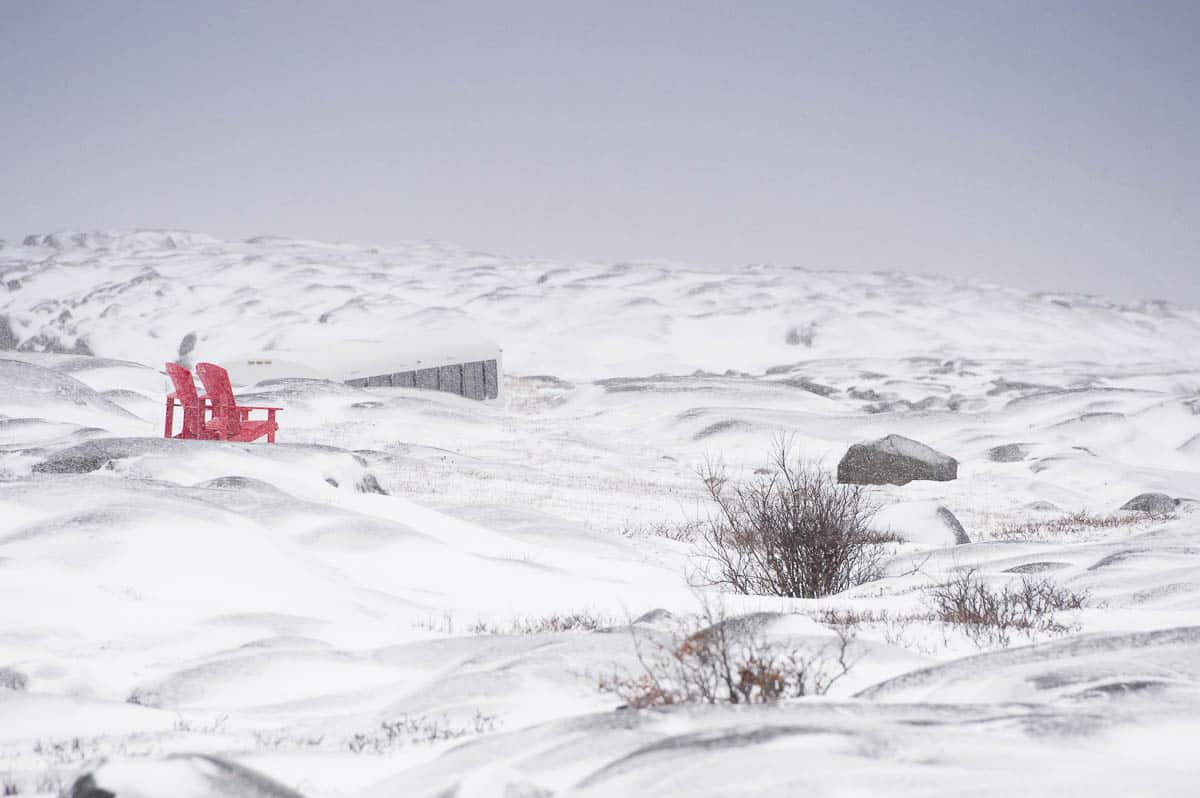 In winter in Churchill, you can expect temperatures to range from a high of -15°C to a low of -24°C (although the windchill can make that feel much colder). If you're photographing the Northern Lights at night, prepare for extremely cold conditions.
Spring in Churchill is quite cold as well, and you can expect anything from highs of 10°C to lows of -15°C.
The summer weather is warmer but can still bring cold and rain, with average highs around 18°C for June, July, and August. If you plan on any boat tours of the coast to see beluga whales in summer, make sure to bring lots of warm clothing.
Autumn (which is polar bear season) brings the same cooler temperatures as spring, but the average high will drop to -3°C by November.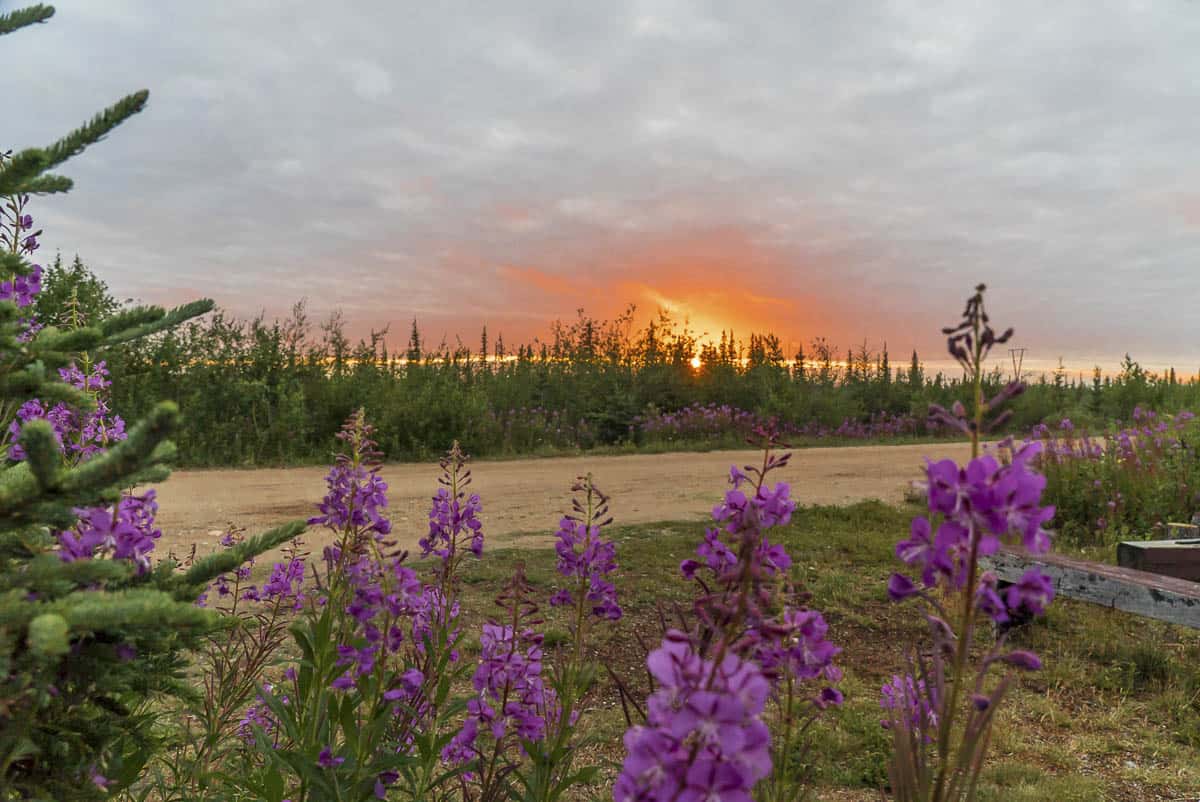 In other words… plan for anything and everything, no matter when you visit Churchill! Always make sure to check the weather forecast for your visit to have a rough idea of the conditions.
And as Churchill is found in Northern Manitoba, it's no surprise that you'll find lots of snow there. While it's extremely rare for it to snow in July or August, you can expect snow between September and June, and definitely from October until May. There are approximately 271 sunny days per year in Churchill, but summer brings an average of 8 rainy days per month.
Getting to Churchill, Manitoba
You're in luck: we have a very detailed route guide on how to get from Winnipeg to Churchill! If you're coming from another province or country, you will most likely have to connect in Winnipeg before beginning your journey to Churchill.
By Plane
The easiest and fastest route to Churchill is by plane. We recommend flying with Calm Air; the most common route flown is Winnipeg to Churchill, which is a two-hour flight. You can also fly to Churchill from Thompson or Gillam, Manitoba.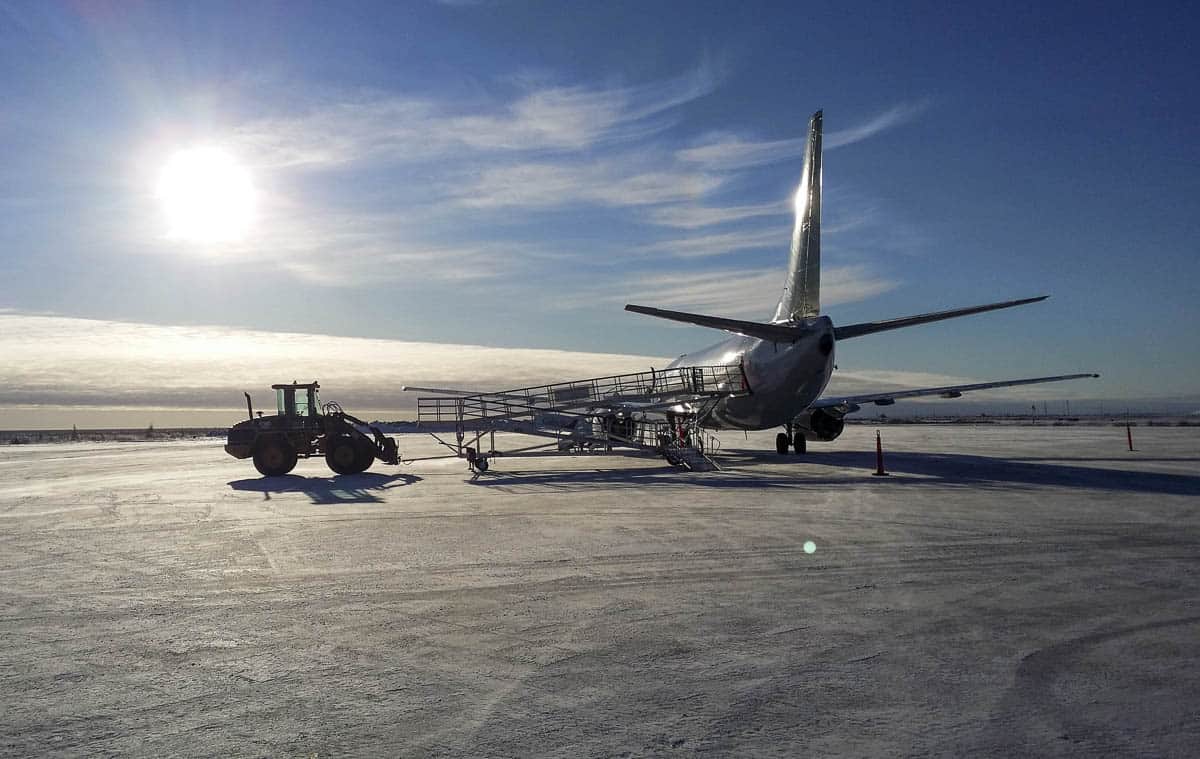 By Train
One of the best ways to see a lot of Manitoba is to travel by train to Churchill. There are multiple stops along the way, but many people start the journey in Winnipeg; trains depart Winnipeg for Churchill every Tuesday and Sunday. While taking the train is usually cheaper than flying, be prepared to travel for at least 48 hours if you're coming from Winnipeg. We recommend booking your train ticket to Churchill with Via Rail well in advance of your trip.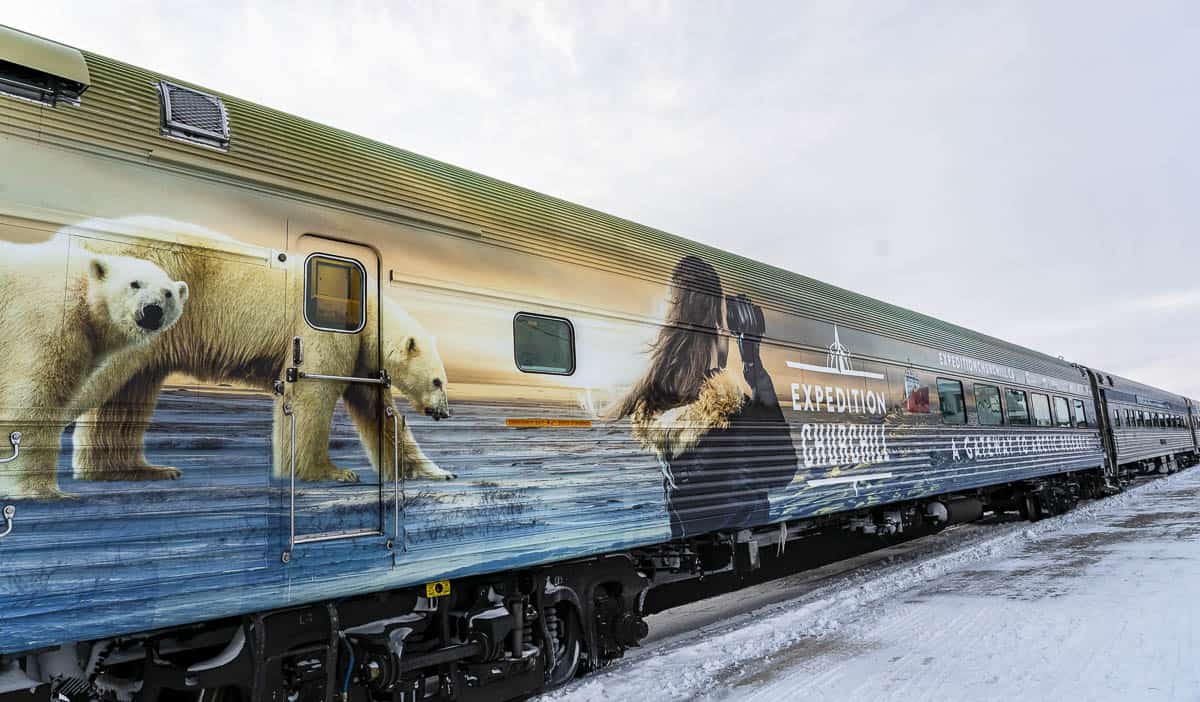 By Car
There is currently no possible way to drive to Churchill, as there are no paved roads that connect Churchill with the rest of the province. You can drive to Thompson or Gillam and then take the train or fly from either location.
By Bus
As there are no paved roads that lead to Churchill, there are no direct bus routes to Churchill. You can take a bus to Thompson or Gillam and then take the train or fly from either location.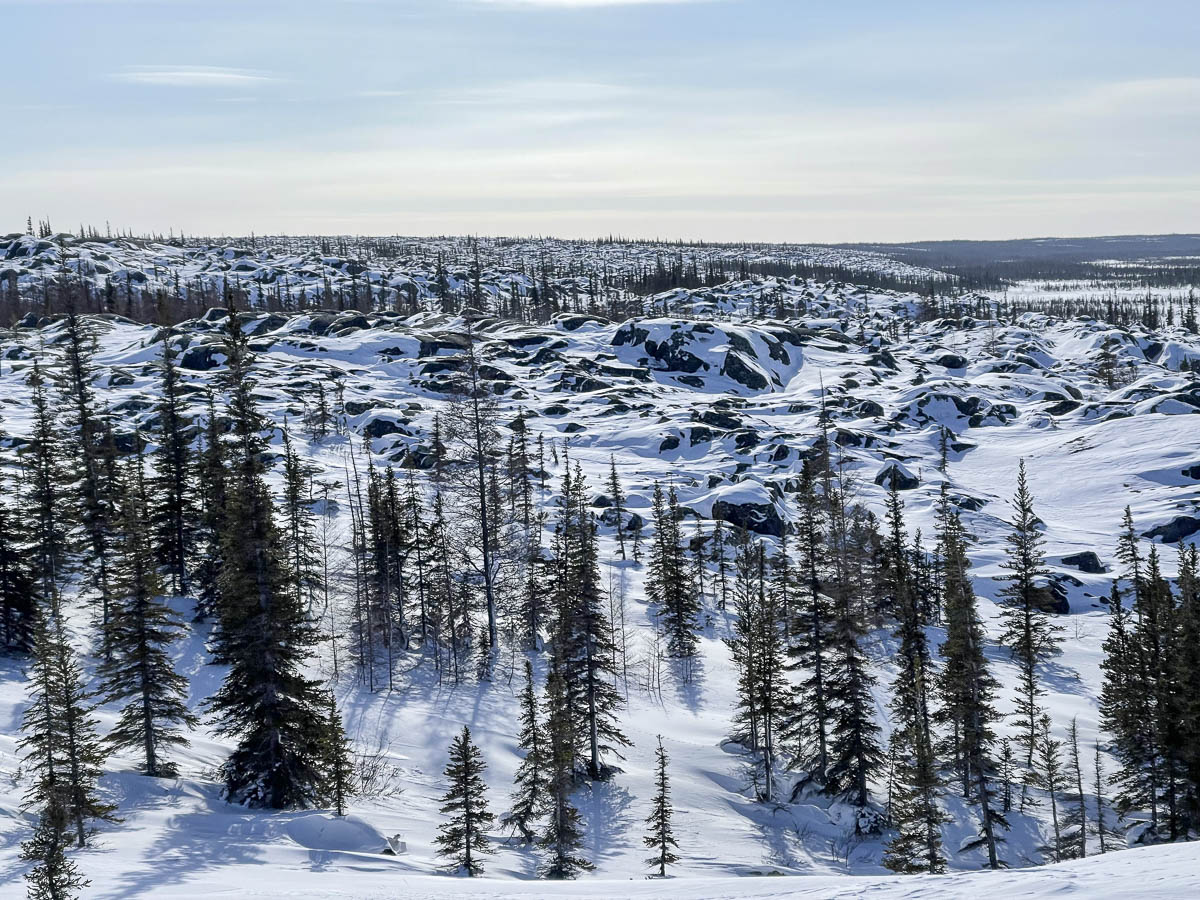 Practical Essentials
Thankfully, downtown Churchill is extremely walkable, and you're never too far from many local restaurants or attractions when in town. It is extremely important to pay attention to the bear warnings, however, and stay far from restricted areas, even if you're visiting outside of polar bear season.
Unfortunately, there isn't any public transportation in Churchill, although there is a taxi service (North Coast Taxi Service/Churchill Taxis, which you can reach by calling 204 675-2345). We recommend always calling ahead to book a taxi; it is rare to flag one down in the small town. Many hotels and tours also provide shuttle transportation to and from the airport and various attractions.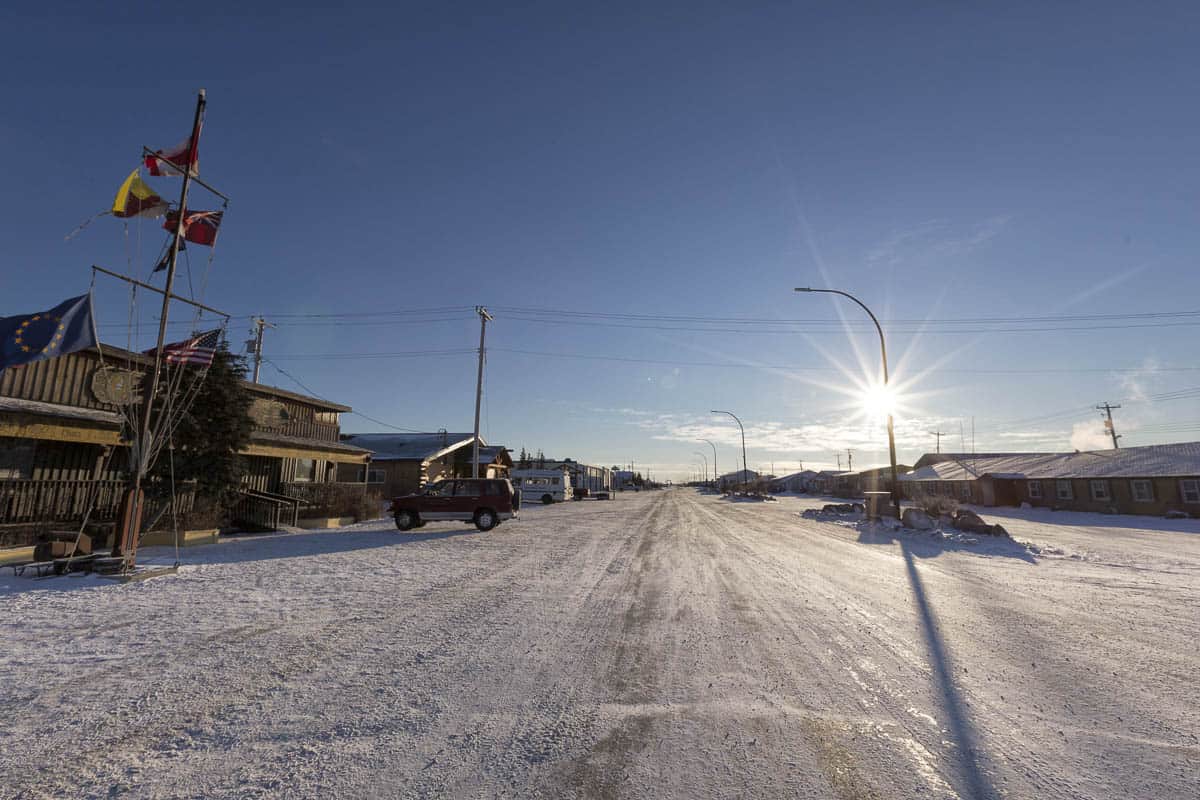 That being said, if you do have access to a car, Churchill and the surrounding area are incredibly easy to drive around. Most locations are within a few minutes' drive from one another, and there is never any traffic. We do not recommend driving on your own to look for polar bears; always do that with an experienced guide (see more below).
If you'd like to rent a car or van while you're in Churchill, Tamarack Rentals can help you out.
Parking
It is very easy to find parking around Churchill, and none of it is paid parking.
Polar Bear Warning
It should go without saying that polar bears are very dangerous animals, and it's absolutely necessary to practice polar bear safety at all times when in Churchill. Polar bear attacks are extremely rare in Churchill, but that is because every precaution is taken to keep humans safe. It is recommended to always travel in a group, always stay near a vehicle or building, never walk at night after 10 pm, and avoid areas along the coastline with poor sightlines. We recommend joining guided tours for the safest way to explore Churchill and the surrounding area.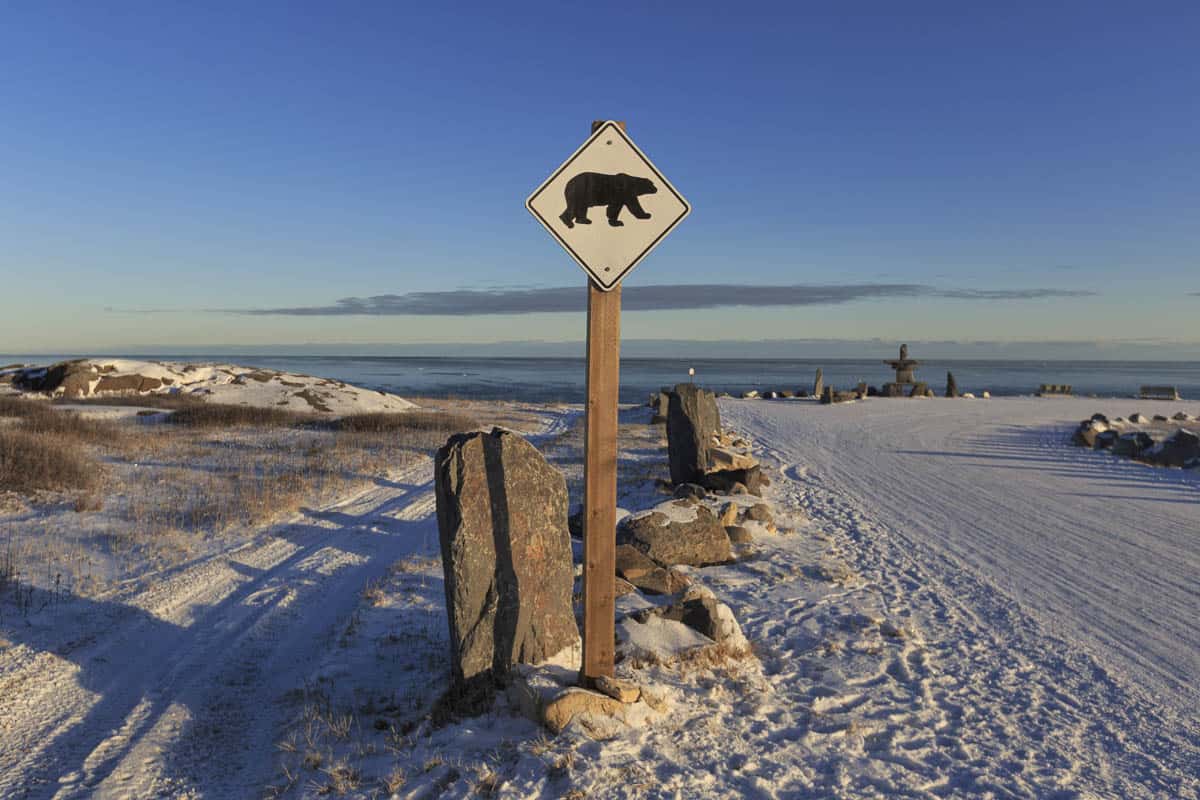 On the rare occasion that polar bears come close to the town of Churchill, they are dealt with swiftly and safely by trained professionals in order to minimize any harm to the bear or the community.
If you see a polar bear when you are in Churchill, do not attempt to approach it. Get inside a vehicle or a building as calmly as you can, and call 204 675-2327.
When to see the polar bears in Churchill
Autumn is polar bear season in Churchill, although you can often spot a few during the summer months as well. Mid-October until mid-November is the very best time to see the polar bears, as that's when the Hudson Bay begins to freeze over and the bears can hunt for seals, bringing them out into the open. Special tours also take you to polar bear denning sites in February and March in order to see polar bear mothers with their cubs.
Fun fact: Polar bears don't hibernate! They can hunt for seals all winter long, so there is no need for them to hibernate.
Tour Operators in Churchill, Manitoba
There are many tour companies in Churchill, all of which come highly recommended. Some are all-inclusive, meaning your tour includes airfare and accommodation. Many also provide transportation to and from the airport or around town.
Lazy Bear Expeditions
Lazy Bear Expeditions is one of the most popular tour companies in Churchill. Tours include the Ultimate Bears and Belugas Summer Adventure, the Ultimate Polar Bear Adventure, and the Bears and Aurora Arctic Adventure, all of which include airfare. The two-day Beluga Whale Dream Tour does not include airfare. There are also tour add-ons, including kayaking and AquaGliding.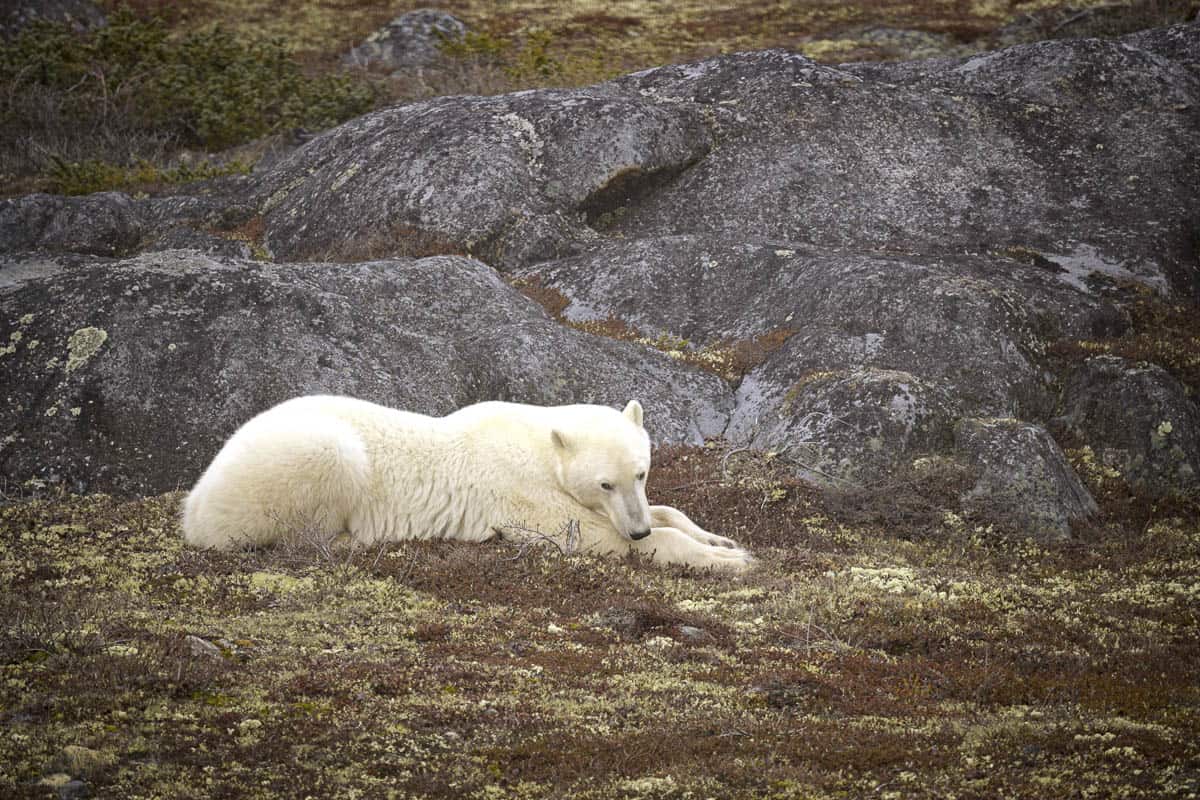 Frontiers North Adventures
Frontiers North Adventures has perhaps the biggest variety of tours in Churchill available, and all offer a fantastic experience. Choose from tours that include polar bears, beluga whales, and/or the Northern Lights, some of which include airfare or train travel (check out this luxury 5-day option). They also have the magnificent Tundra Buggy Lodge, a unique accommodation that allows you to stay overnight right on the tundra, as well as one-day tours to Churchill to see the polar bears from Winnipeg. It's also possible to book summer and autumn day tours with Frontiers North Adventures, including the Tundra Buggy Adventure.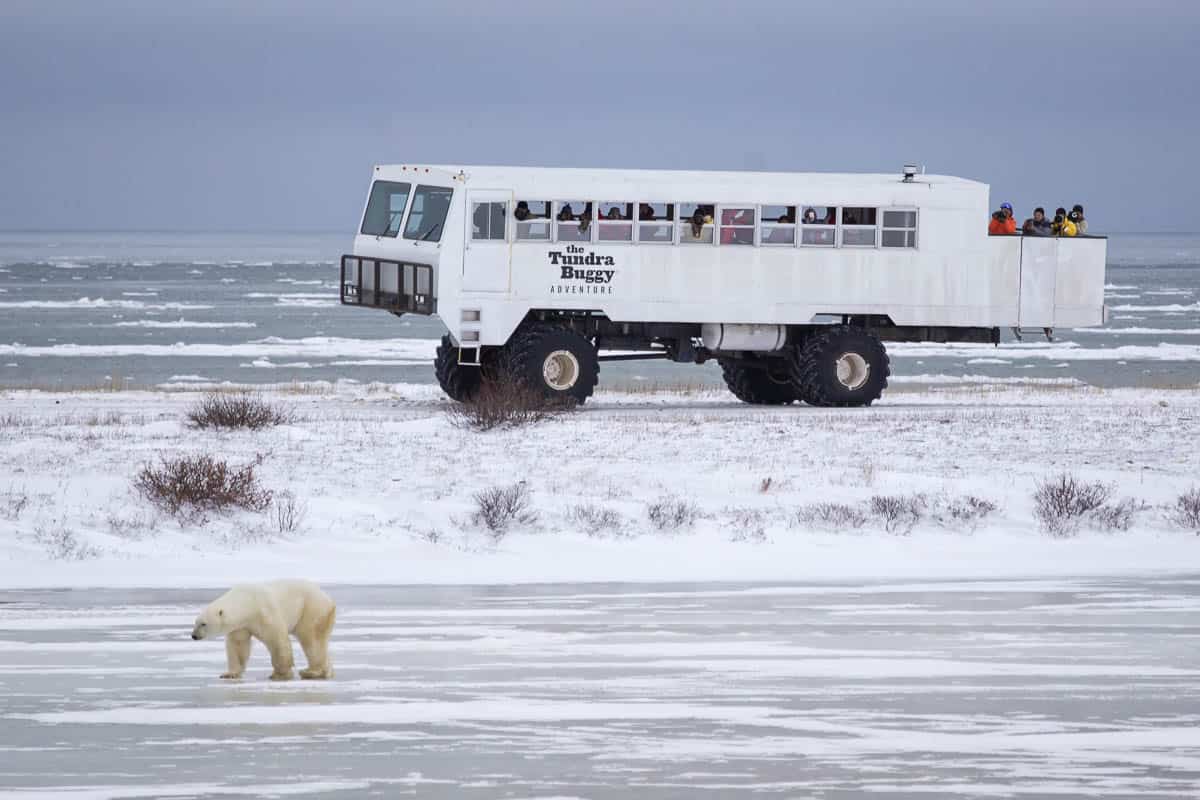 Wat'chee Expeditions
Indigenous-owned and operated, Wat'chee Expeditions is an incredibly respected tour company near Churchill. They are also one of the only tour companies that can take you to Wapusk National Park to see polar bear dens, therefore increasing your chances of seeing polar bear cubs. Their world-renowned lodge is famous among wildlife enthusiasts and nature photographers, and provides a once-in-a-lifetime experience.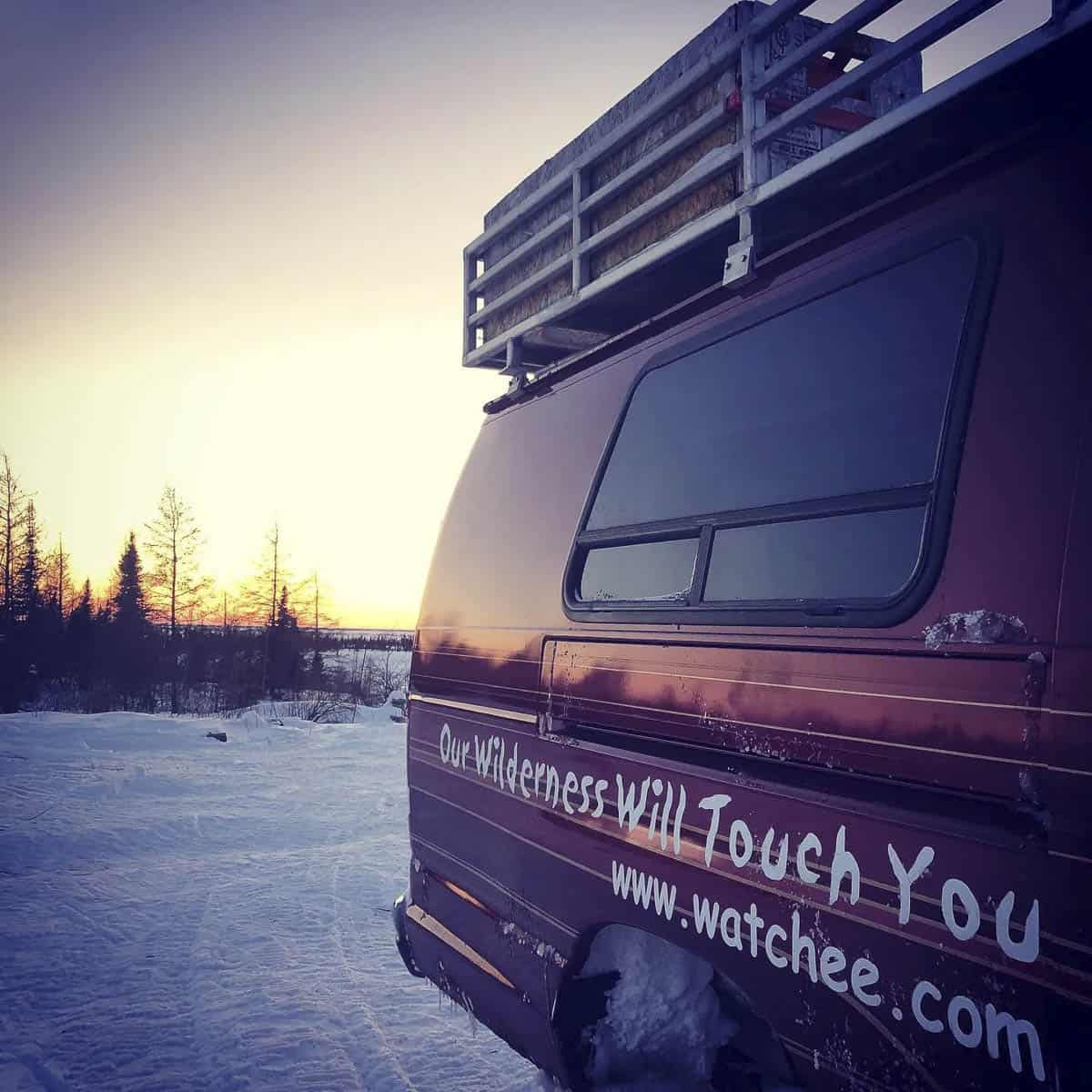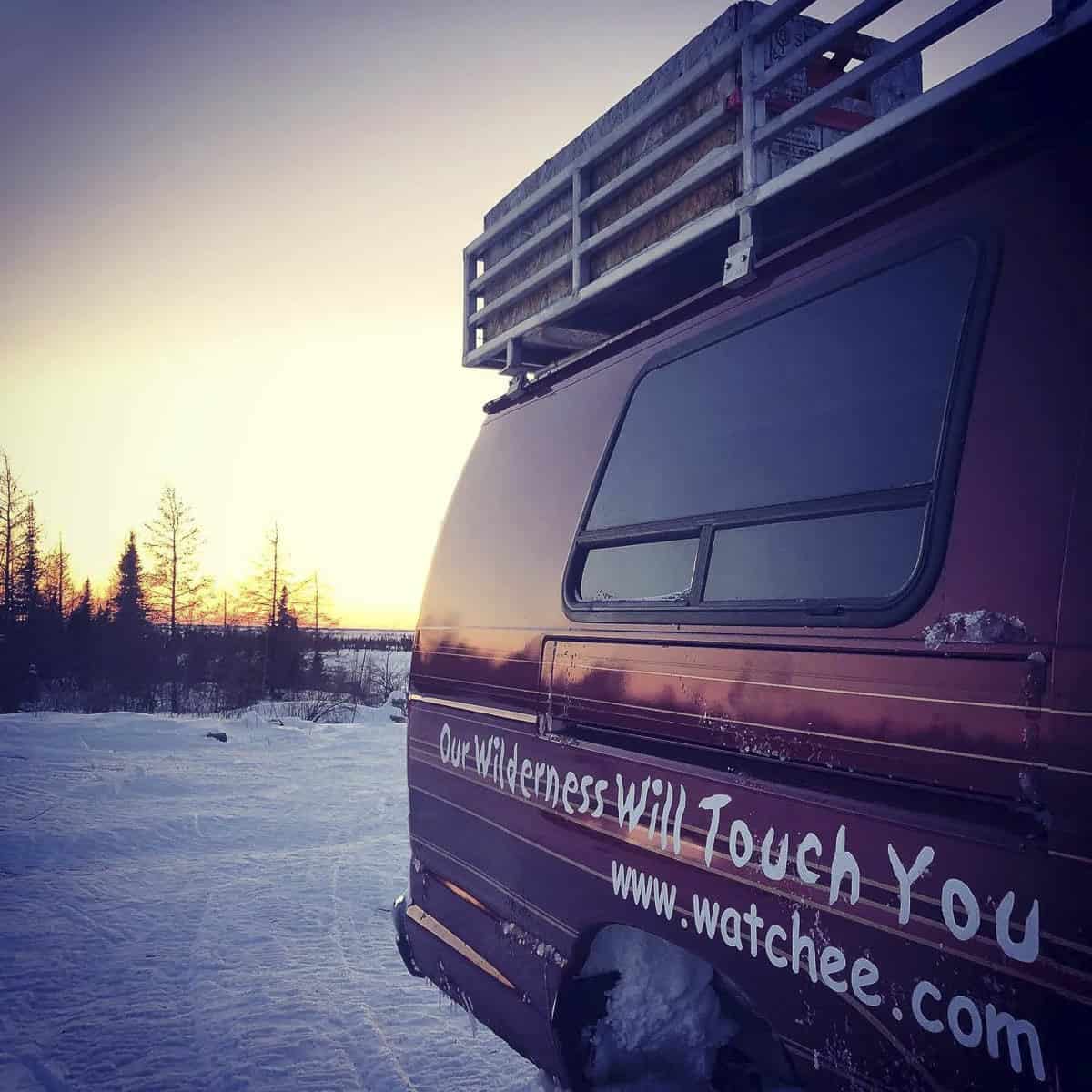 Great White Bear Tours
Great White Bear Tours has a variety of tours that include polar bears, beluga whales, and/or the Northern Lights. Some of their tours include meetings with local mushers who know the land better than anyone. They also have the Tundra Lodge, allowing you to stay directly on the tundra for an amazing experience alongside the polar bears. Want to plan your own tour? They offer individual tours at a price per person, per day. Their tours do not include airfare.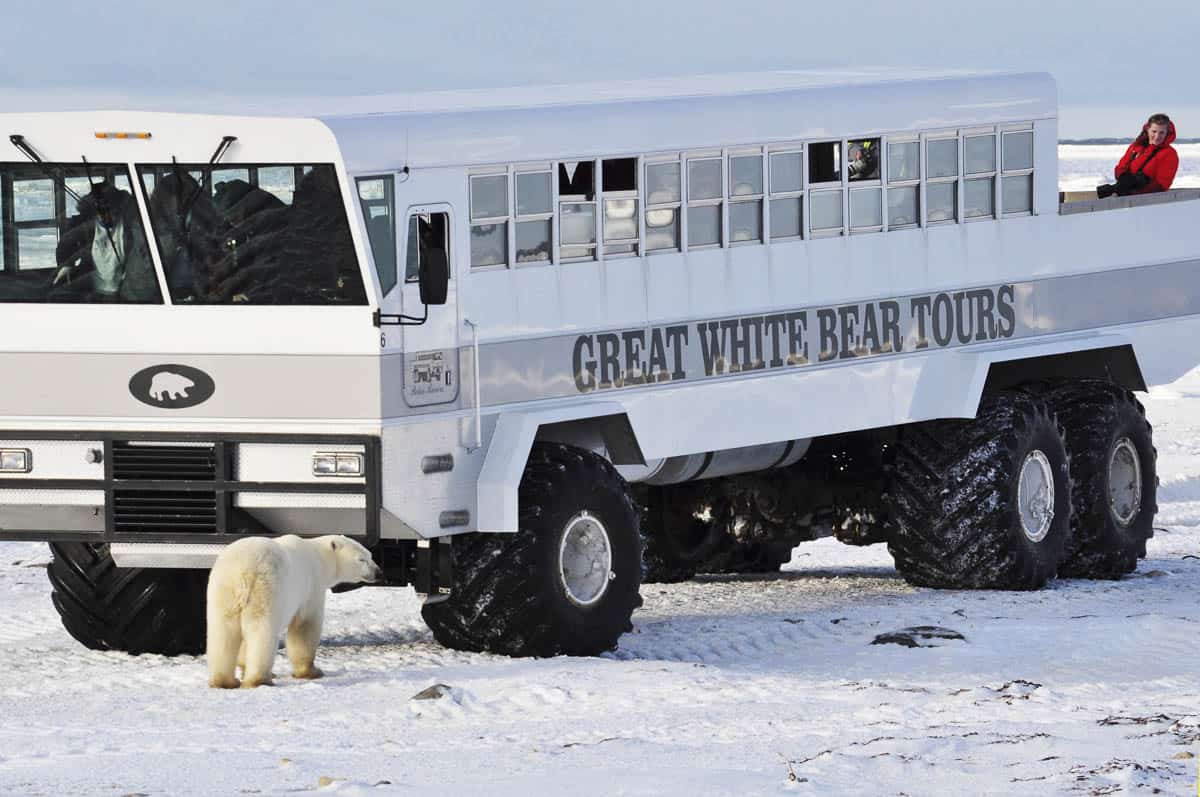 Discover Churchill Tours
Discover Churchill Tours are fantastic for day tours as well as multi-day tours. Whether you want to see the polar bears, Northern Lights, or belugas, there's a tour for you. They also offer incredible photography tours, and are one of the only tour operators that takes you to Wapusk National Park to look for bear cubs (in February and March). They also have excellent town and area tours as well as Ithaka Shipwreck hikes in the low tide.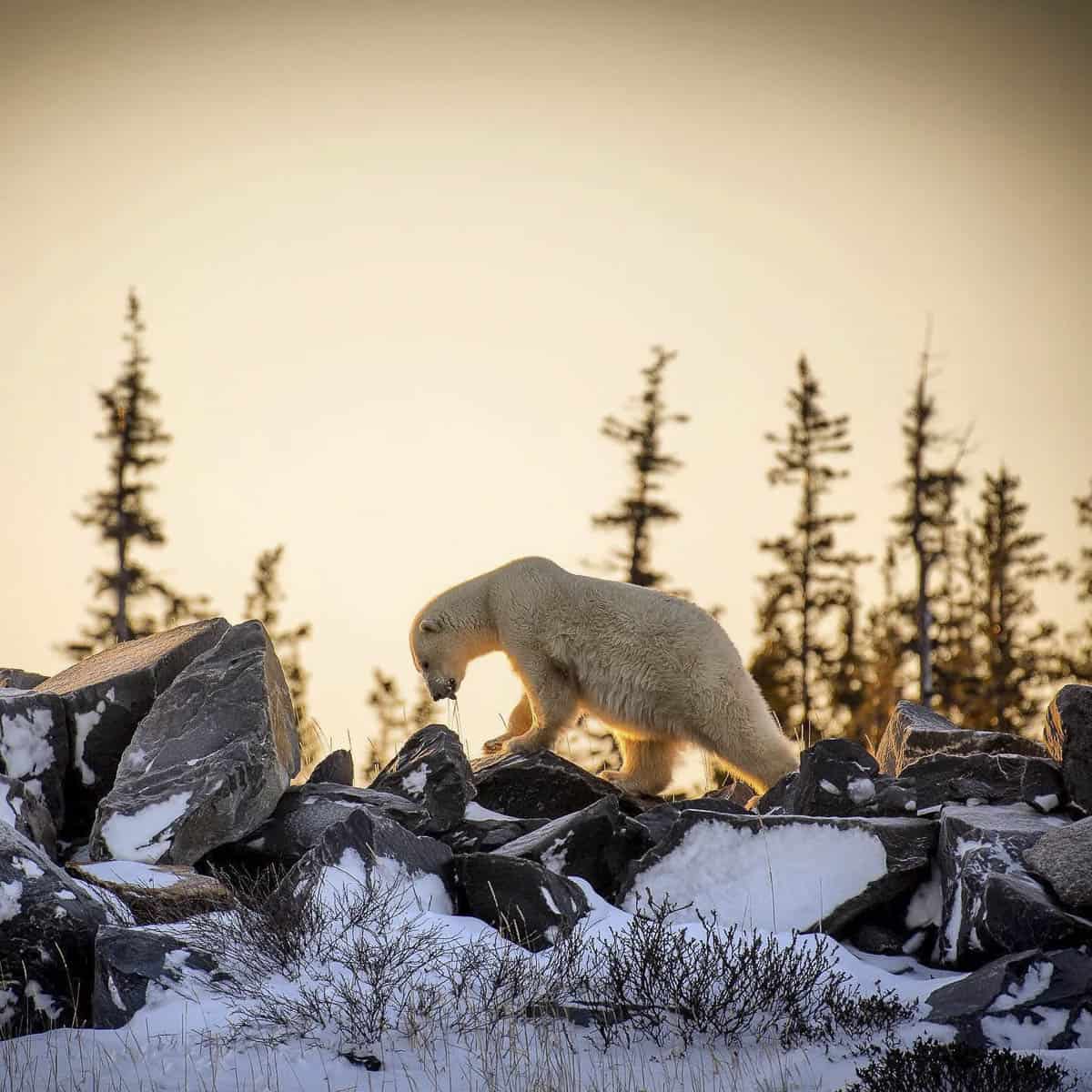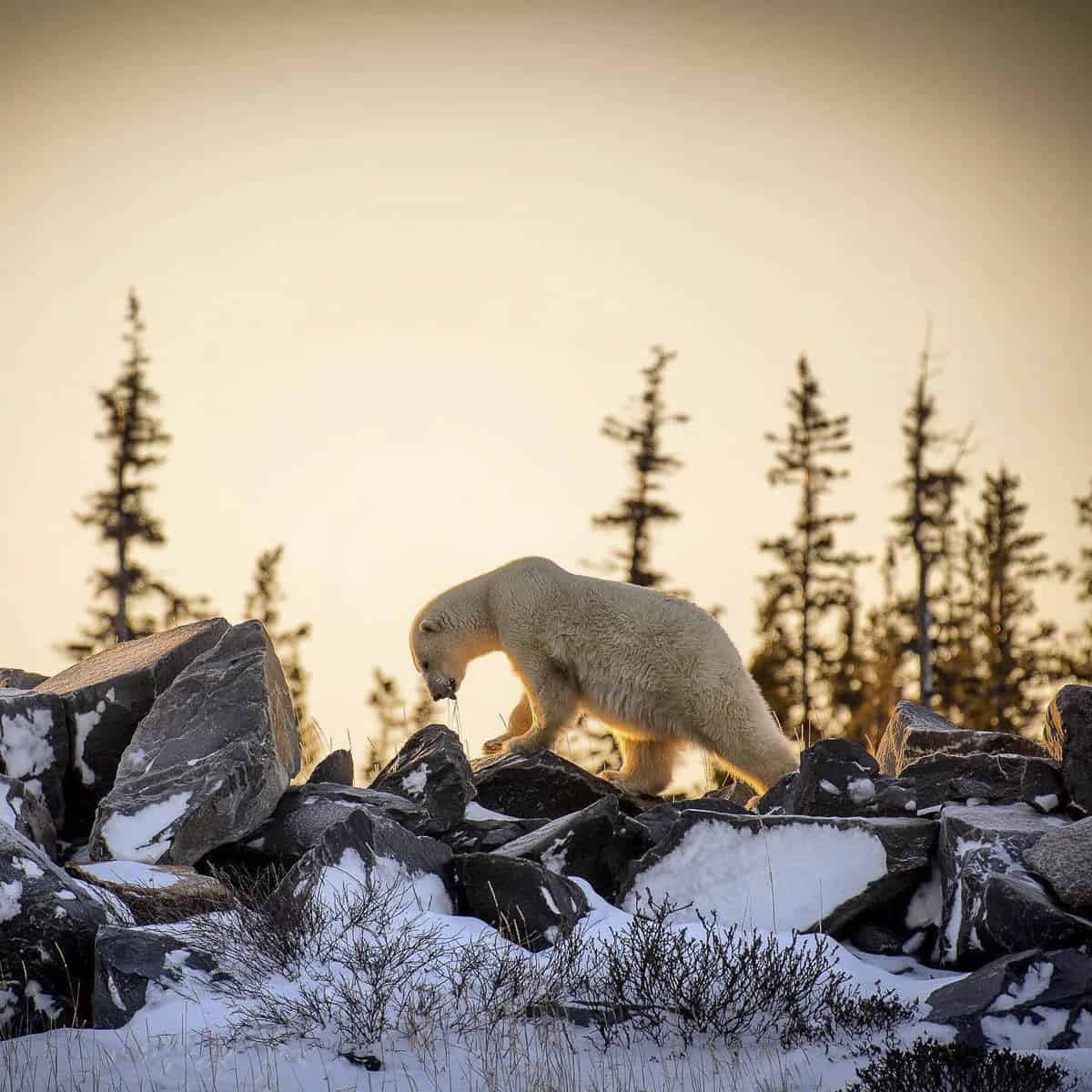 IG – https://www.instagram.com/p/B06SUJ7h50C/
Churchill Wild
One of the pricier tour operators on this list, there's a good reason for that high price tag: Churchill Wild has an incredible selection of ecolodges that allow you to spend a few days in the remote wilderness, far from the tourist crowds of the town of Churchill. Head out on a polar bear safari in order to see the very best of the tundra and its amazing wildlife.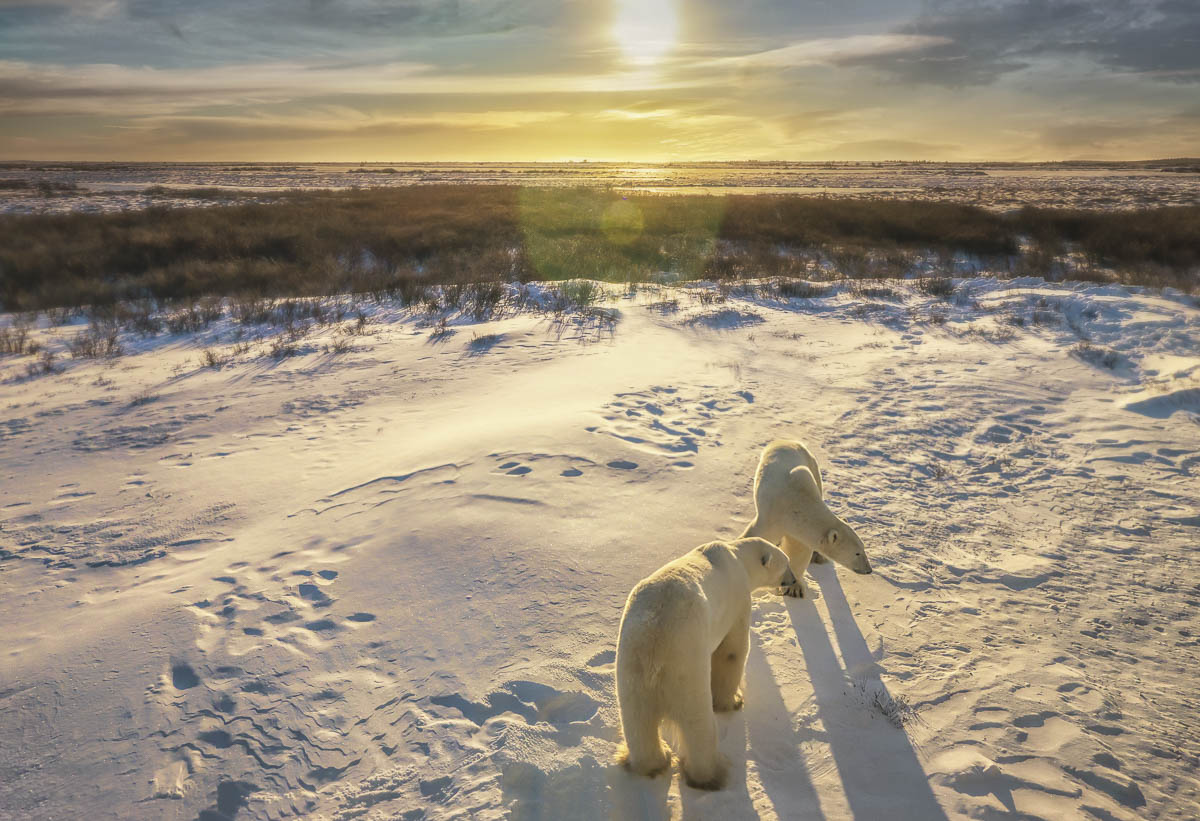 Iceberg Inn
The Iceberg Inn offers polar bear and beluga whale tours, as well as some all-inclusive deals that include the tours, meals, accommodation, and transportation. Respected for their knowledge and for their friendliness, Iceberg Inn is one of the smaller tour operators in Churchill, making them perfect for those looking for a more intimate experience.
Wapusk Adventures
Wapusk Adventures is Indigenous-owned and operated. Run by Dave Daley, a respected dog musher in Canada, tours offered include dog sledding and cultural talks, Northern Lights viewing, snowshoe walks, e-bike tours, and more. You can also custom-build your own tour of Churchill with Wapusk Adventures.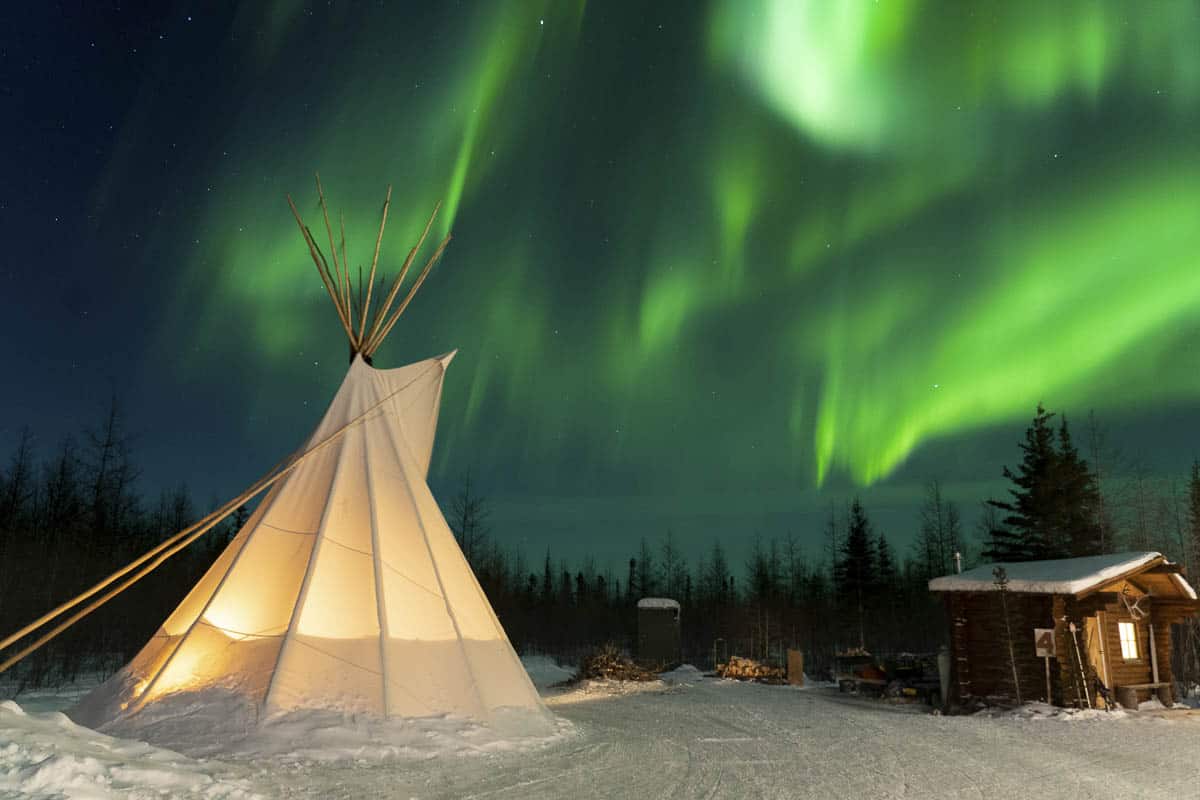 Sea North Tours
Sea North Tours is dedicated to beluga whale conservation and education. Take one of their day tours in order to learn more about the whales and the surrounding land; tours include whale watching on Zodiac boats, a walk around Fort Prince of Wales, floe ice tours, kayaking, paddle boarding, and more. If you plan ahead, you can even book two tours in one day, as most last for two to three hours.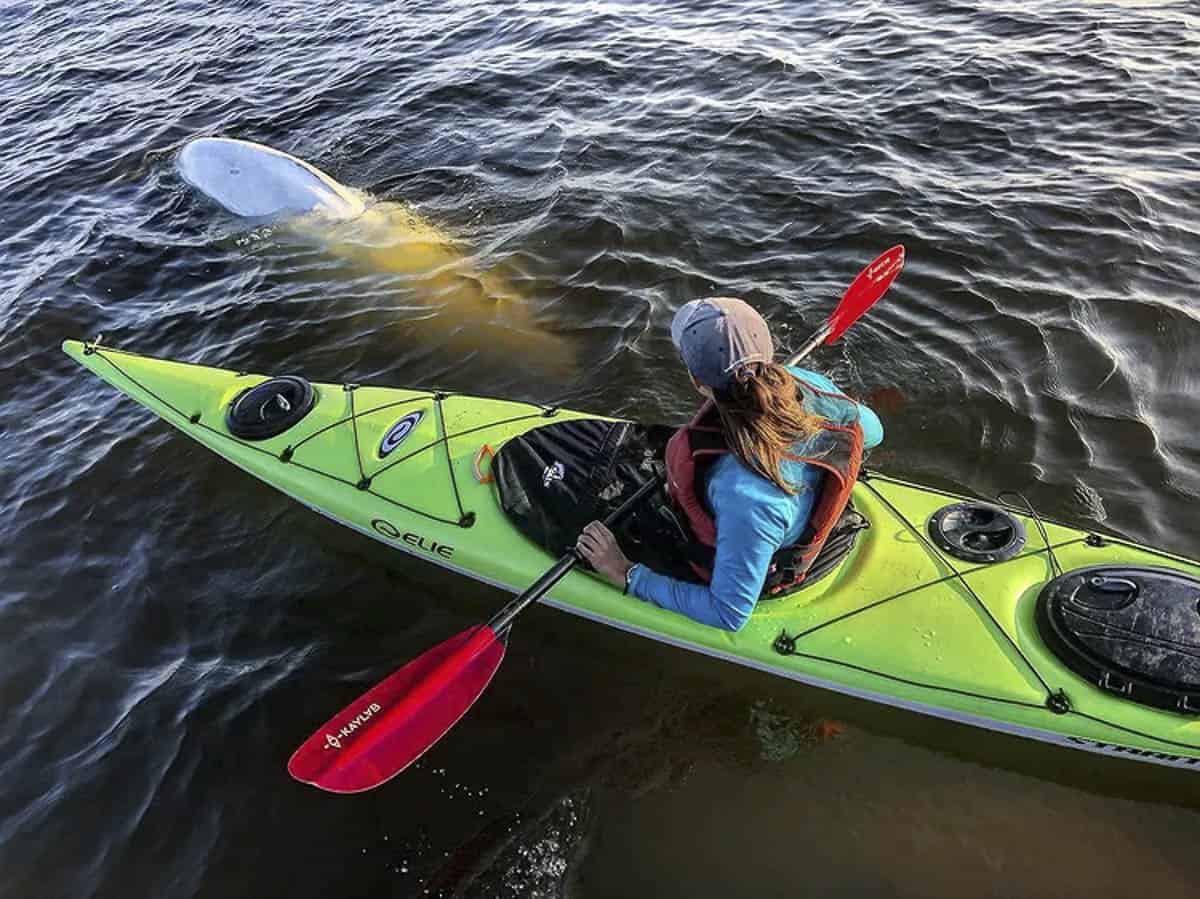 Is it possible to visit Churchill independently or do you have to be on a tour?
It is entirely possible to visit Churchill, Manitoba independently… however, it is not recommended that you try to see polar bears unless you have a professional guide with you.
If you'd like to visit Churchill independently or on a budget, you can certainly fly or take the train there on your own. The cheapest way to get to Churchill is by driving to Thompson or Gillam first before flying or taking the train there, or by taking the train the entire way (there are no paved roads that lead to Churchill).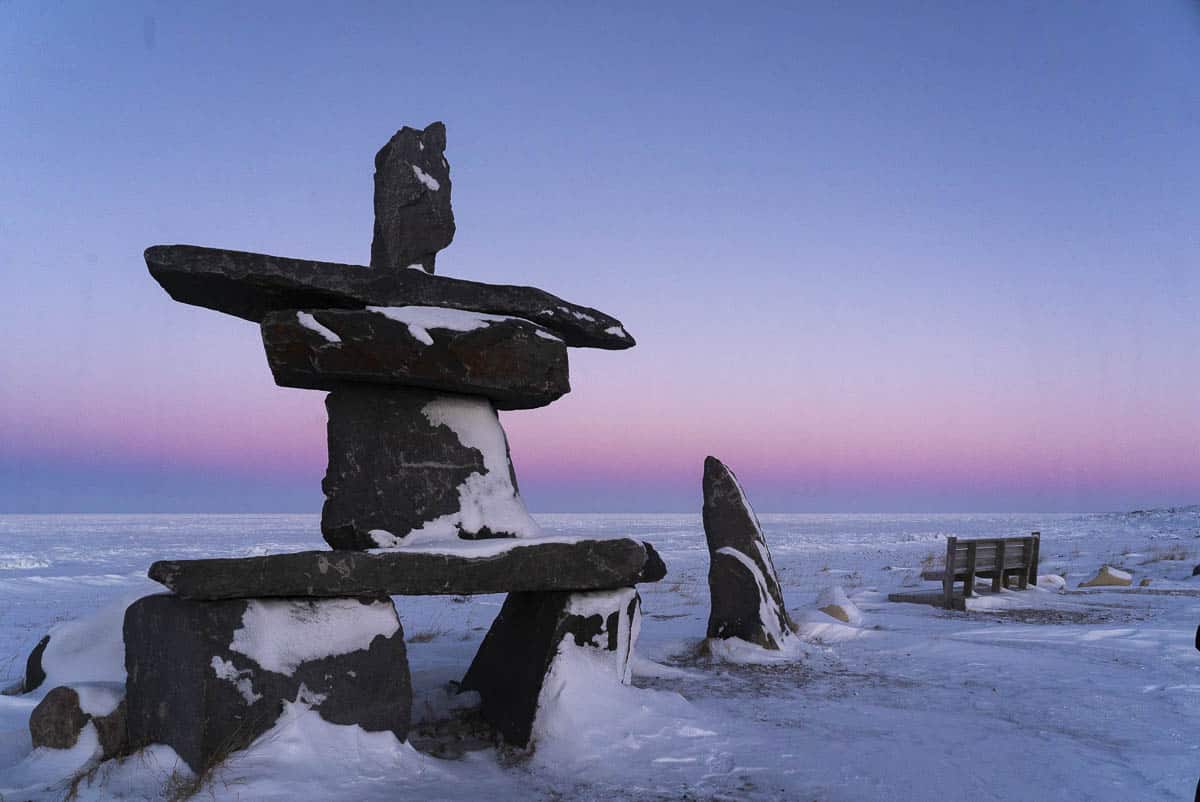 Once in Churchill, there are a few places to stay (see below). Without a tour, you can see the town's attractions, see the Northern Lights at night, and see beluga whales from the shoreline in summer. It's also possible to join half-day or day tours when in Churchill, but we recommend booking these far in advance.
No matter what season you visit Churchill, tours and hotels book up very quickly. If you plan on going to Churchill without a tour company, we recommend booking everything months in advance of your trip.
Where to Stay in Churchill, Manitoba
You have a few options for where to stay in Churchill, and if you book a tour that includes accommodation, you won't have to worry about where to stay. We also have an entire guide on places to stay in Churchill, Manitoba.
Hotels
For such a small town, there are a great variety of Churchill hotels to stay in. Here are a few of our choices for hotels in Churchill, Manitoba.
Lazy Bear Lodge
Lazy Bear Lodge is an excellent choice for a hotel in Churchill whether you're on one of their all-inclusive tours or not. With our favourite restaurant in Churchill as well as clean, cozy rooms, Lazy Bear Lodge is also home to some of the best expeditions in the area. A solid choice for both a group tour and an independent trip when it comes to Churchill hotels.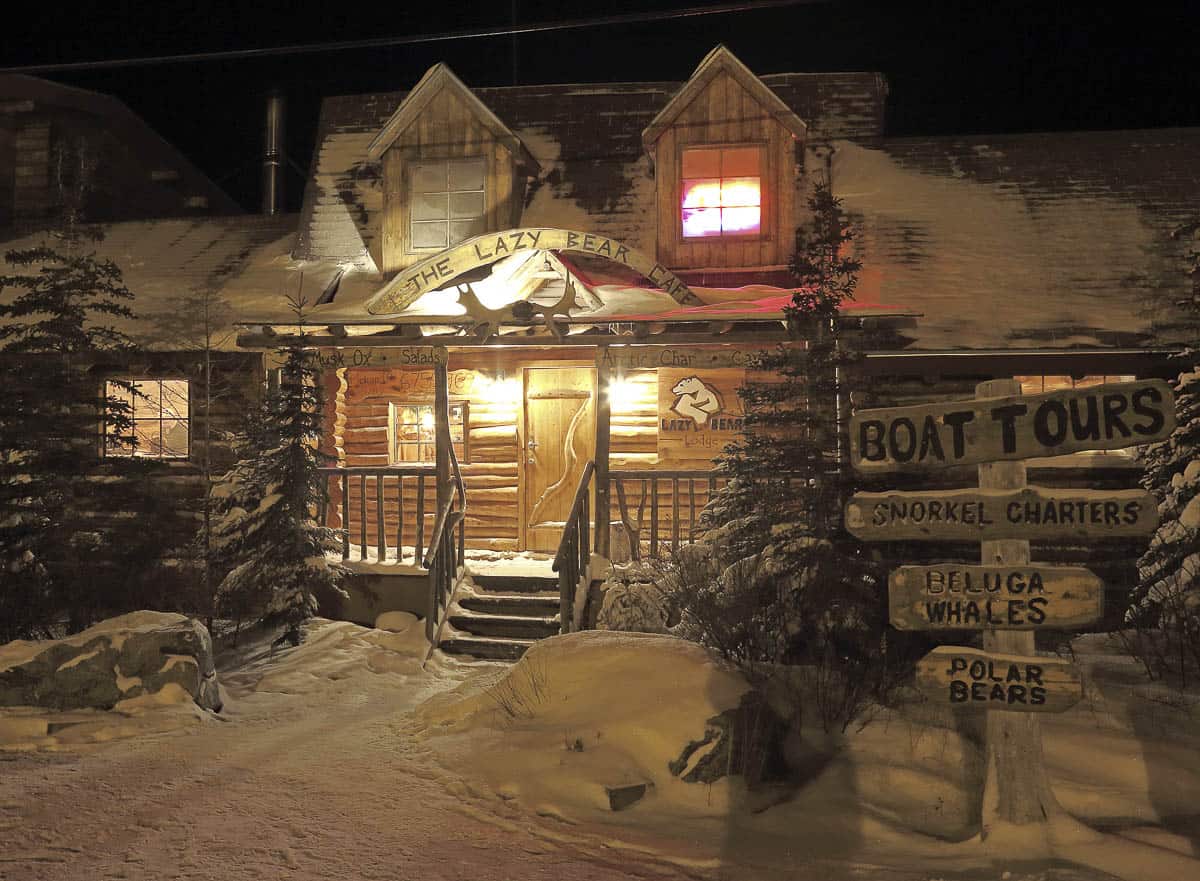 Tundra Inn
Head to the Tundra Inn for a family-run hotel that promises excellent service and comfortable rooms. With 31 rooms available, they're popular for business travellers, tourists, and everyone in between. Also check out the Tundra Pub across the street for dinner and entertainment.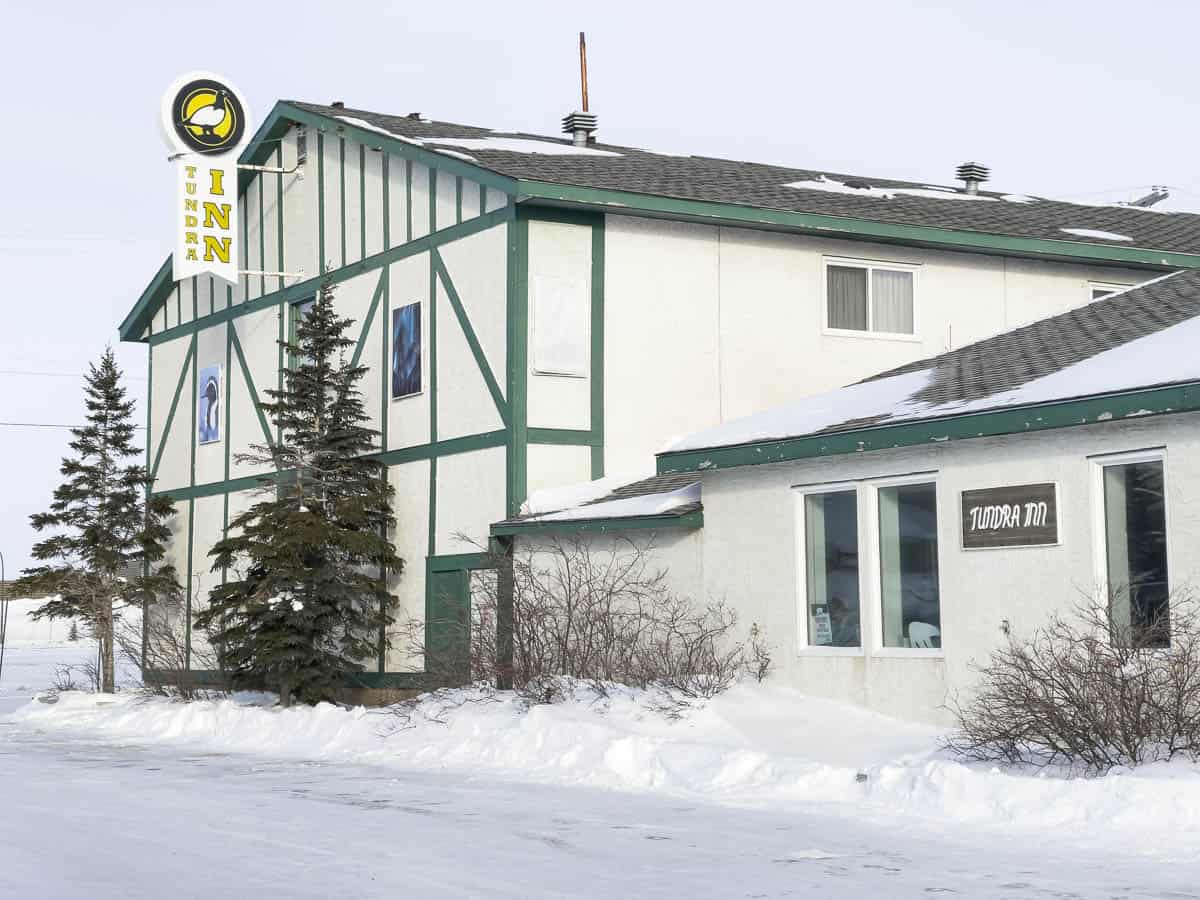 Bed and Breakfasts
Looking for an even more intimate experience? Check out one of these Churchill bed and breakfasts.
Bluesky Bed and Sled
Owned by world-renowned musher Gerald Azure and his wife Jenafor, the Bluesky Bed and Sled is a favourite among tourists. With four rooms to choose from, the homemade breakfasts are divine and the service extraordinary. Join Gerald as you learn about dog sledding and even get out on a sled on the tundra yourself.
Polar Bear B&B
With three guest rooms (each with two single beds) and two shared bathrooms, the Polar Bear B&B is a good budget option in Churchill. Please note that all rooms are on the second floor so require climbing stairs.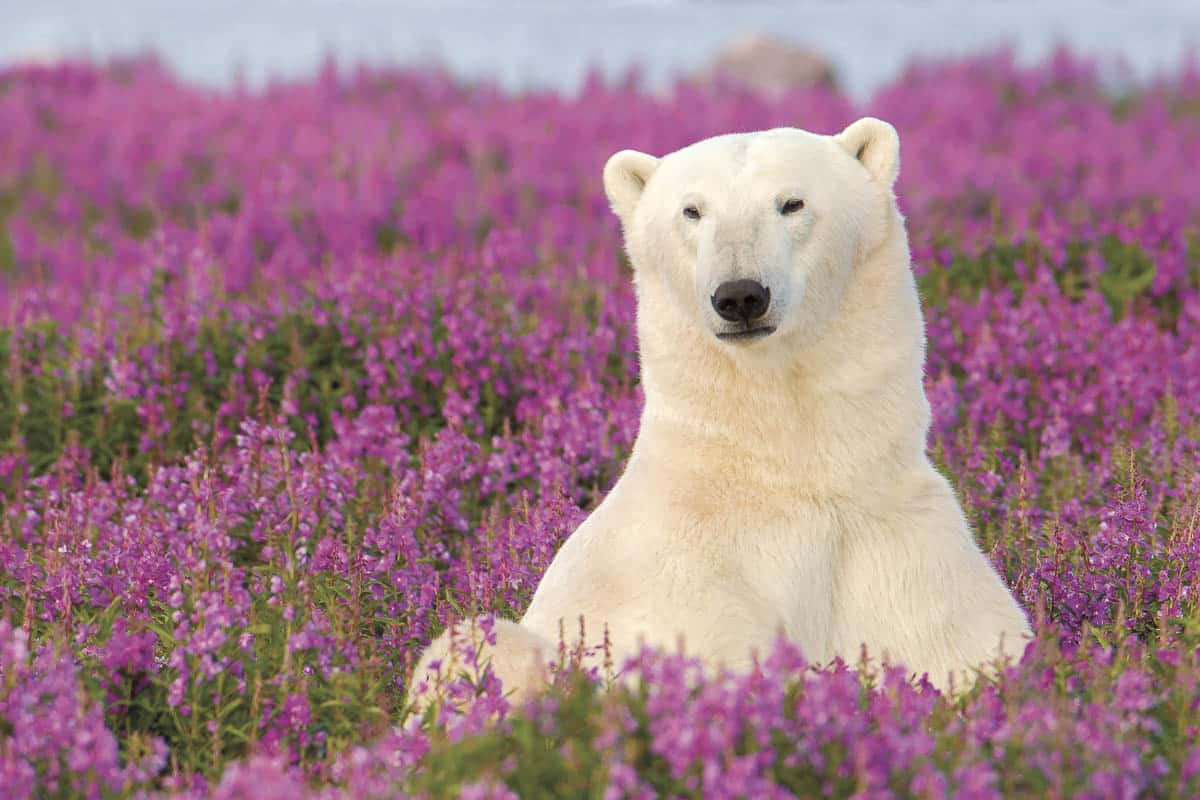 Home Rentals
There are a few places to stay using Airbnb in Churchill. While there are private rooms, shared rooms, and entire homes available for rent, our choice is this entire home for rent. Please note that even shared rooms are quite pricey in Churchill.
Specialty Lodging
There are some amazing options when it comes to specialty lodging in Churchill. If you're looking to splurge on a stay that allows you to be up close and personal with polar bears even as you sleep, check out one of the lodges below. These lodges are found far from Churchill itself, so you're also in a prime position to view the northern lights at night.
Nanuk Polar Bear Lodge by Churchill Wild
Churchill Wild has three luxury wilderness eco-lodges to choose from, and the Nanuk Polar Bear Lodge near Churchill is, in our opinion, one of the most unique accommodations in the world. It's incredibly remote, giving you the best vantage point for wildlife viewing in Canada's north. Other highlights of the lodge include walking tours, photography tours, wellness retreats, and more. Make sure to check out their Seal River Heritage Lodge and Dymond Lake Ecolodge, too!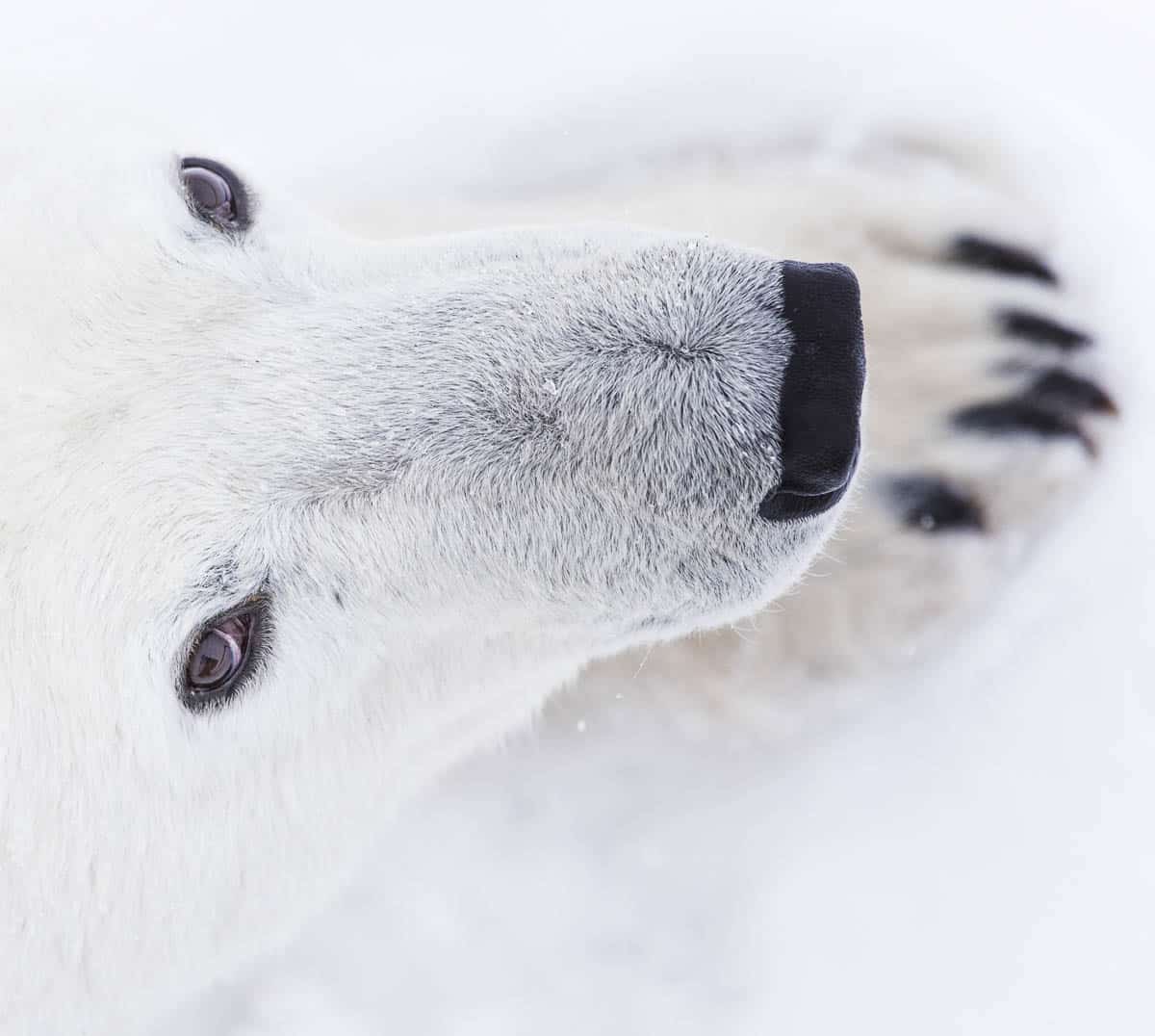 Great White Bear Tundra Lodge
Operated by the Great White Bear Tours company, this tundra lodge on wheels gives you a chance to spend as much time as possible with Churchill's polar bears. Each guest has a private cabin with a sleeping berth, while viewing platforms take your experience to the next level.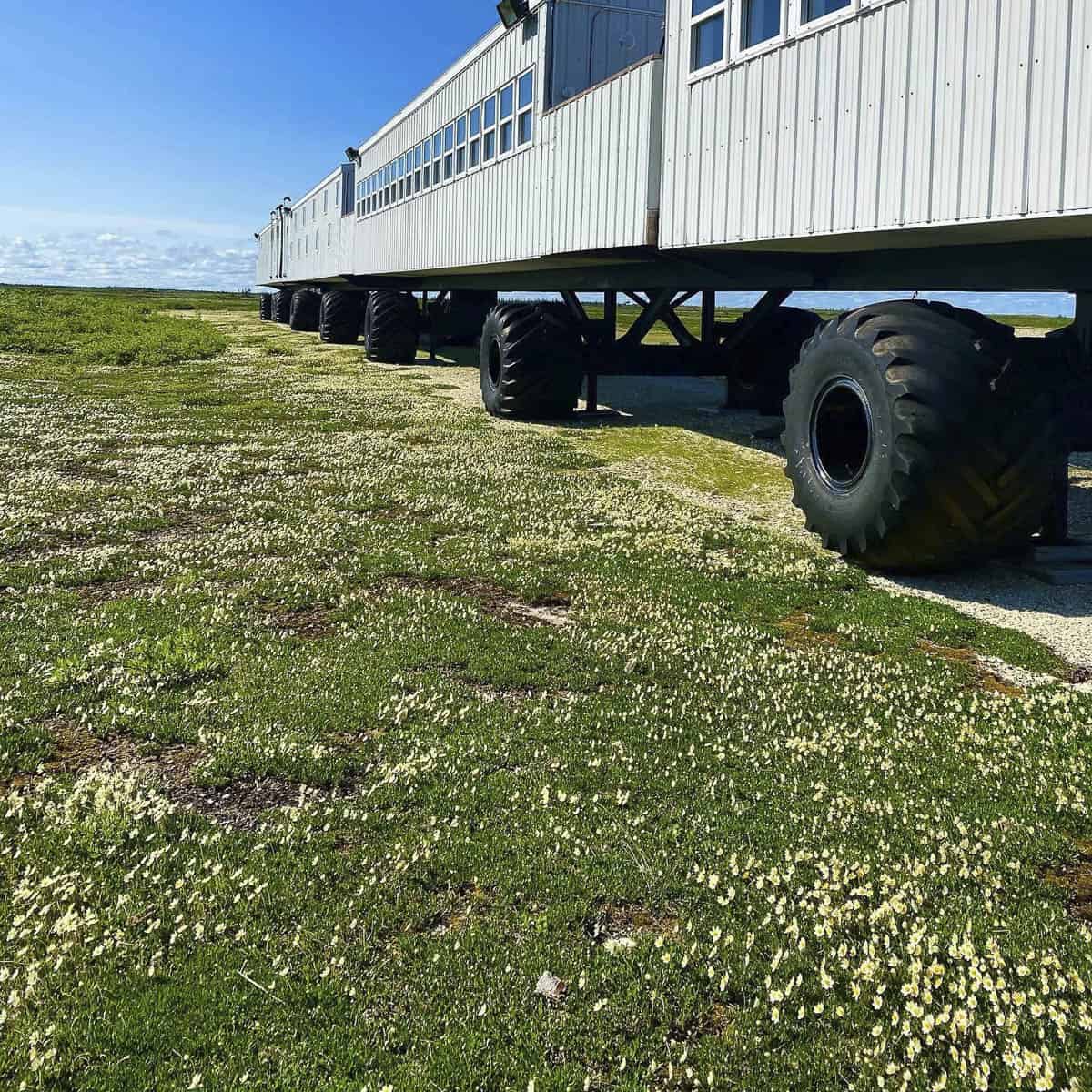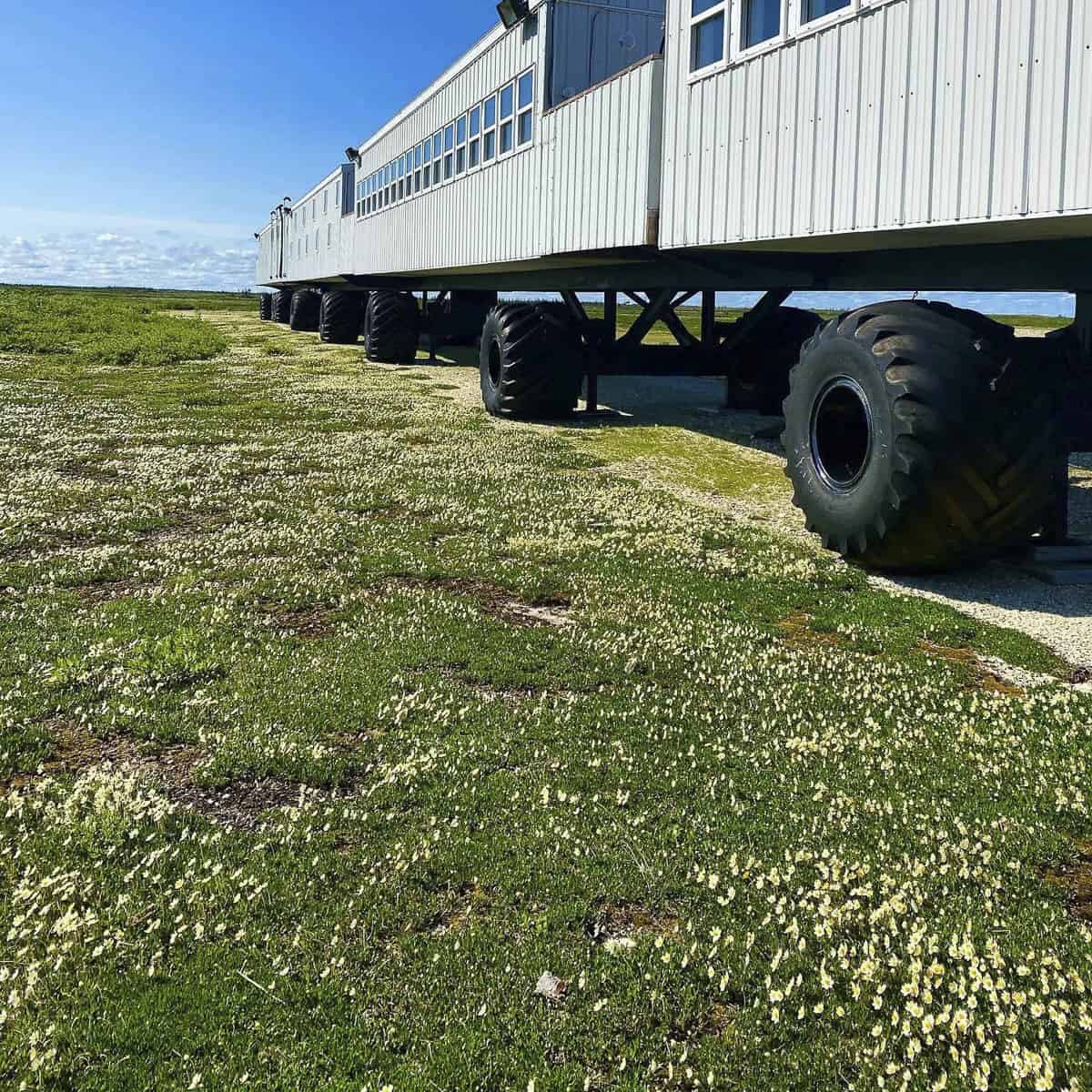 Camping
Due to the danger of polar bears, there is no camping allowed in Churchill, Manitoba.
Things to Do in Churchill, Manitoba
Churchill has a ton of tourist attractions to add to your sightseeing itinerary. You can easily fill a week or more sightseeing in the town and the surrounding area. Here are a few of our favourite things to do in Churchill!
See the Polar Bears
Perhaps the most famous reason to visit Churchill is to see polar bears… it is the polar bear capital of the world, of course! The best time to see polar bears in Churchill is in October and November, when the bears are waiting for the Hudson Bay to freeze. That being said, you can also see polar bears in July, August, and September, though usually in smaller numbers (they'll also be harder to find). You can also see polar bear mothers and their cubs on specialty tours in February and March. Remember, you can't see polar bears independently; you'll have to go on a tour to see them, both for your safety and for theirs!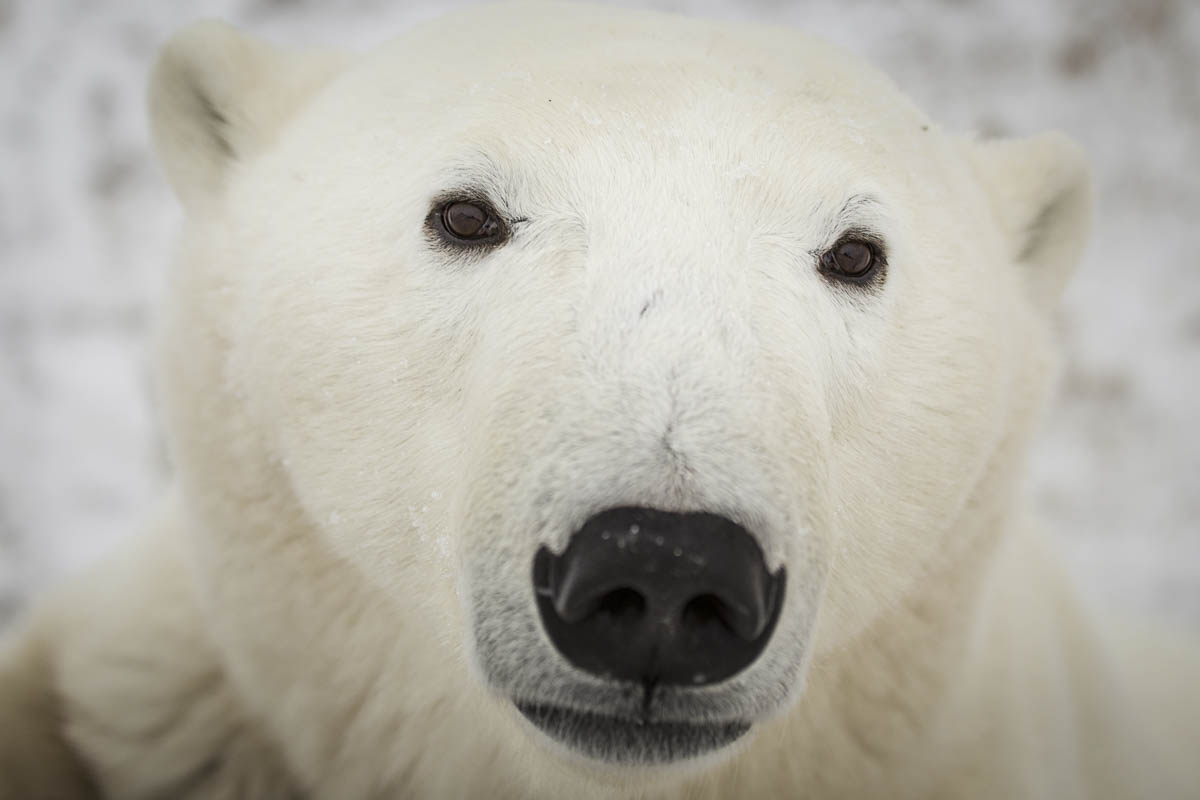 See the Beluga Whales
There are many ways to see the beluga whales in summer in Churchill, whether by watching them from the shoreline or getting out on the water to get a closer look. Over 60,000 beluga whales migrate to the area every summer, and about 3,000 of them make their way to the mouth of the Churchill River. The best time to see beluga whales in Churchill is from mid-June to mid-August.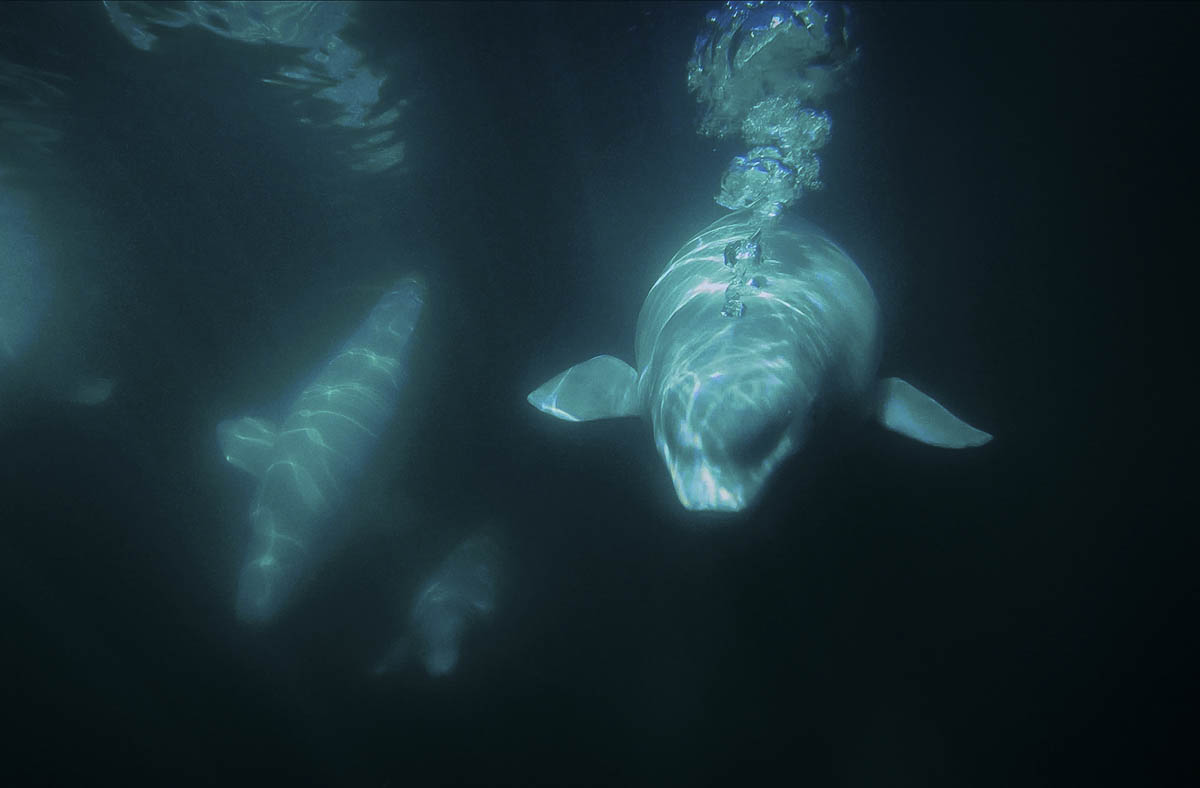 Go Kayaking on the Churchill River
One of the best ways to see beluga whales is to go kayaking on Churchill River during the summer months. Suitable for beginners, the beluga whales are just as curious about us as we are about them, so don't be surprised if they come right up to you!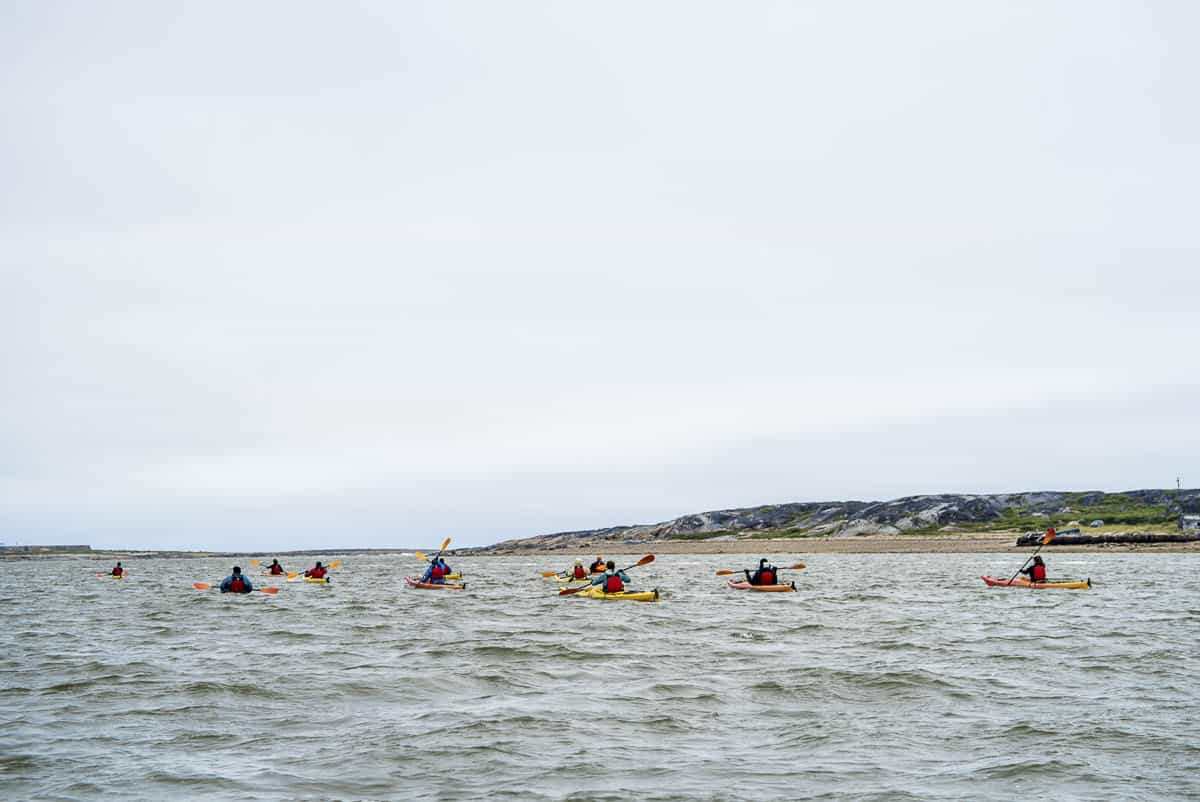 Take a Boat Tour
Take a tour of the Churchill River and Hudson Bay in order to see beluga whales and, if you're lucky, polar bears walking along the shoreline of the bay. Boat tours are only available for a few months of the year, as most of the time the water is frozen!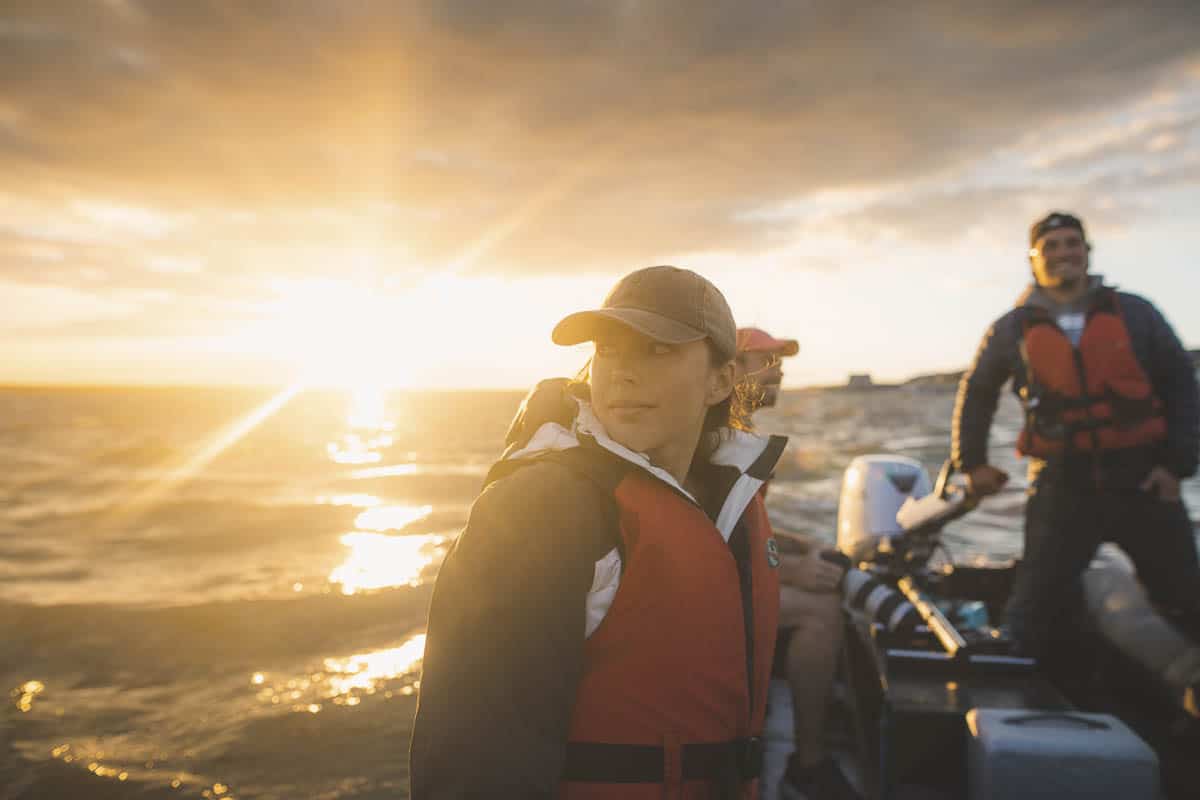 Check out Churchill's Murals
The SeaWalls CHURCHILL murals are a testament to the value and strength of the community of Churchill. Find these incredible murals all over town as well as outside of it; each one is unique, and artists were brought in from all over the world to complete them.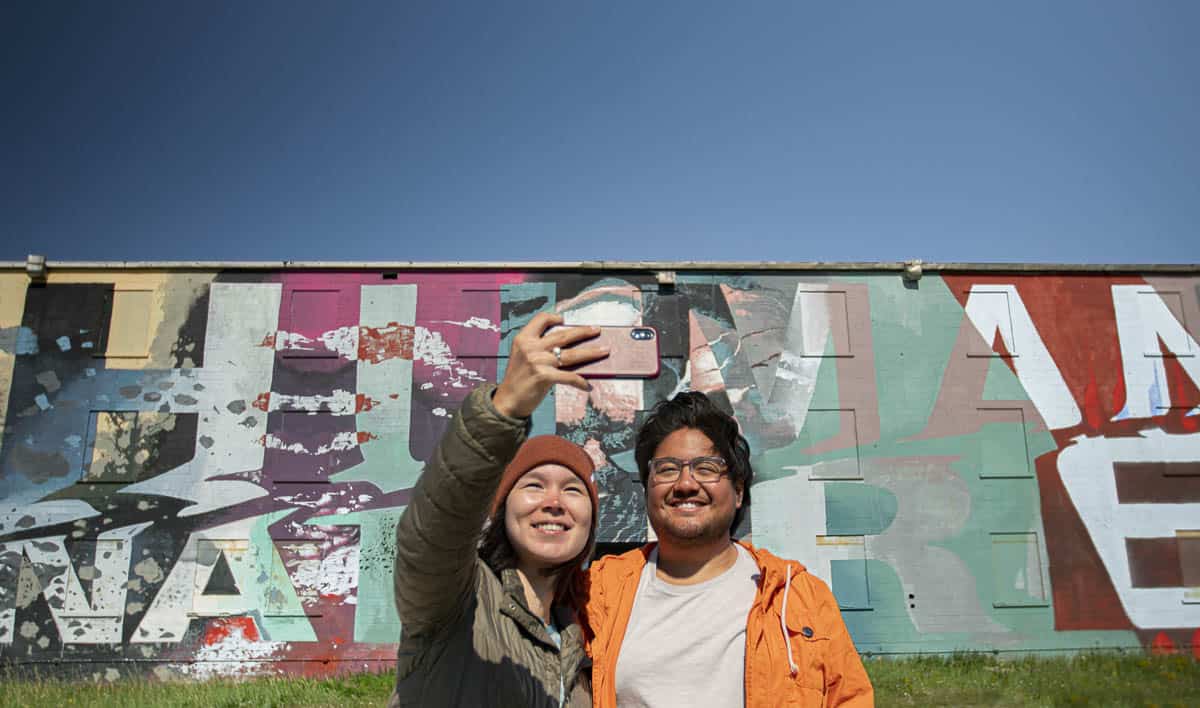 Look for the Northern Lights
It's entirely possible to see aurora borealis year-round in Churchill, although you'll have the best luck in February and March, when the skies are clearest. There are tons of tour companies that take you to see the northern lights, including companies that host photography tours.
Check out the Polar Bear Jail
Polar bears that are considered dangerous or troublesome in Churchill sometimes find themselves in "polar bear jail". They're kept here until they can be safely relocated, sometimes even by helicopter. Plan a short visit here to see the building – it has a beautiful mural on the side – as well as a polar bear trap.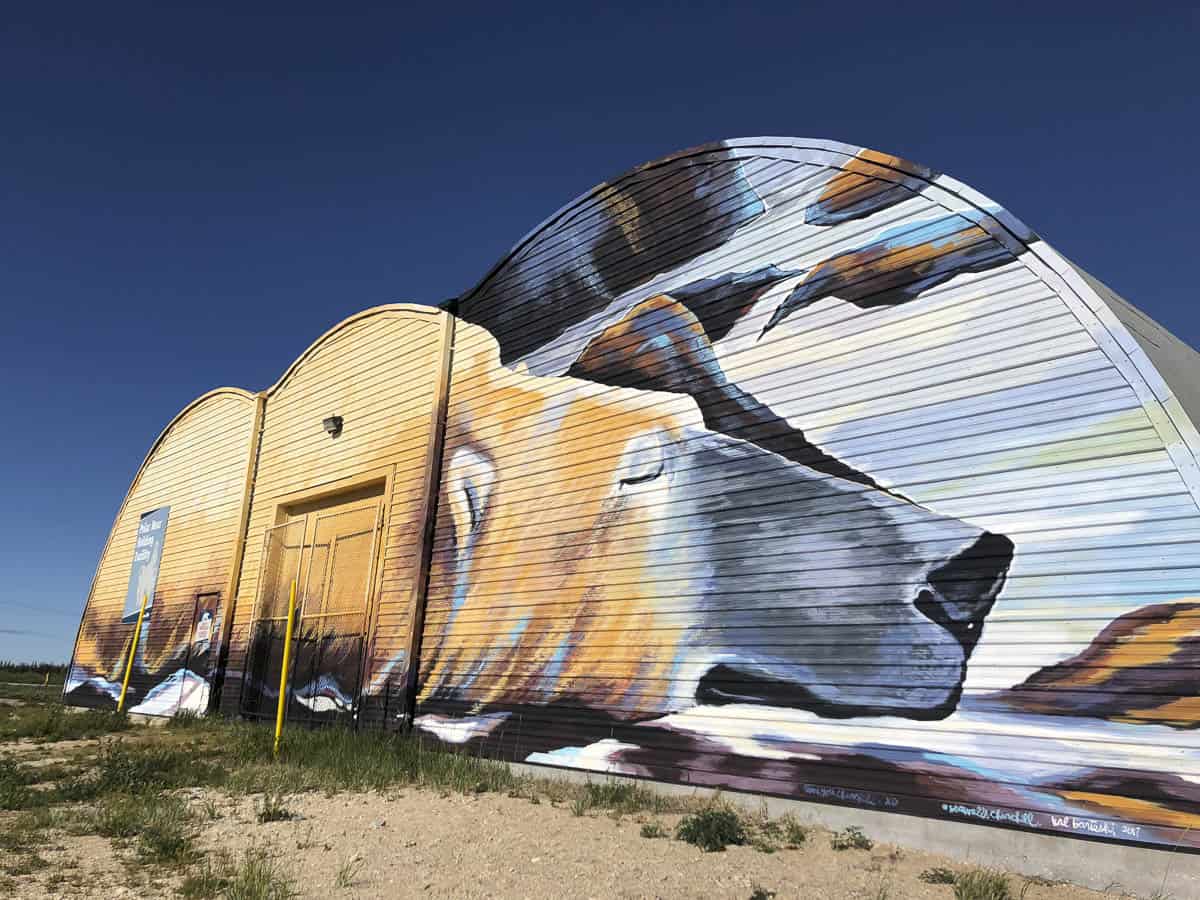 Visit the Prince of Wales Fort National Historic Site
The Prince of Wales Fort is a National Historic Site that is found across the Churchill River from the town. A bastion fort that began as a log fort in 1717 but soon turned into a massive stone structure, it was captured in 1782 by the French but returned to the Hudson's Bay Company the following year. Today, it's possible to walk around the ruins and imagine what life was like for those living there.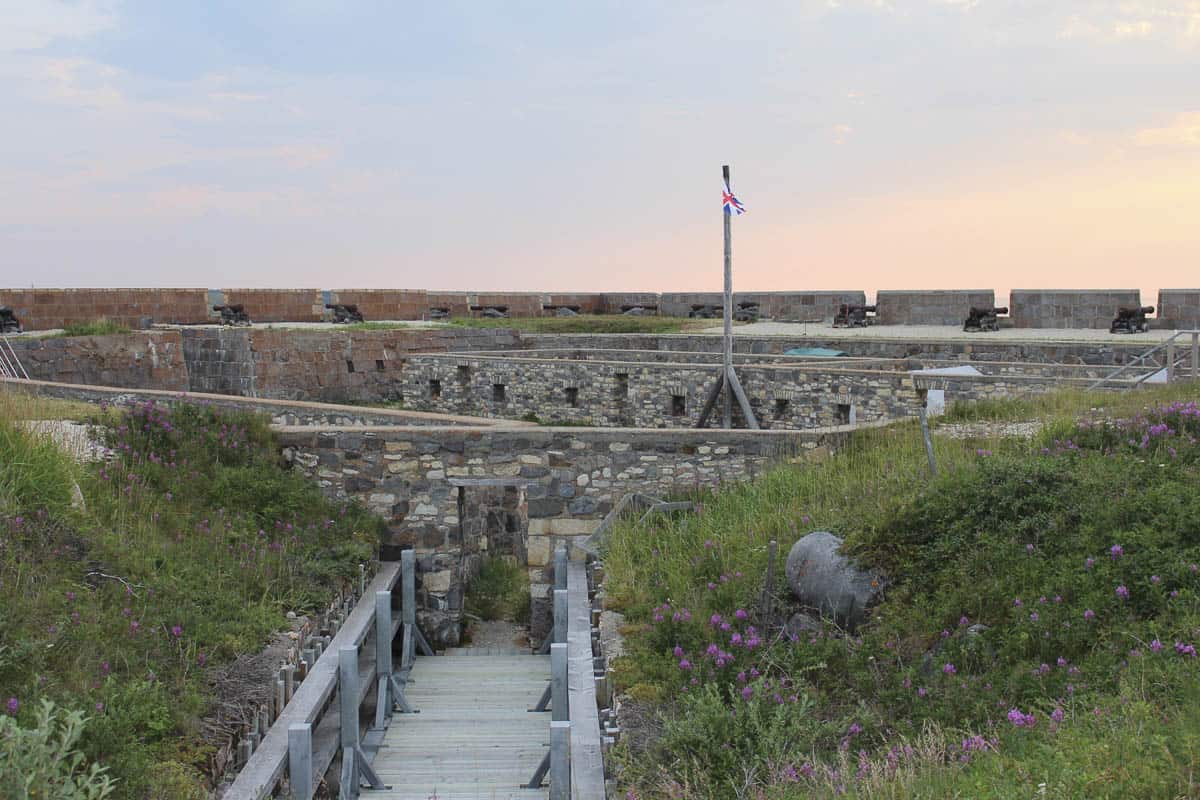 Wander Around the Itsanitaq Museum
The Itsanitaq Museum is a small but important museum found in Churchill, and is one of our top picks for Indigenous experiences in Manitoba. It has an incredible selection of Inuit carvings and artifacts and also has many fantastic local souvenirs for sale. Open year-round (though never on Sundays or holidays), the hours change depending on the season, so always check ahead before visiting.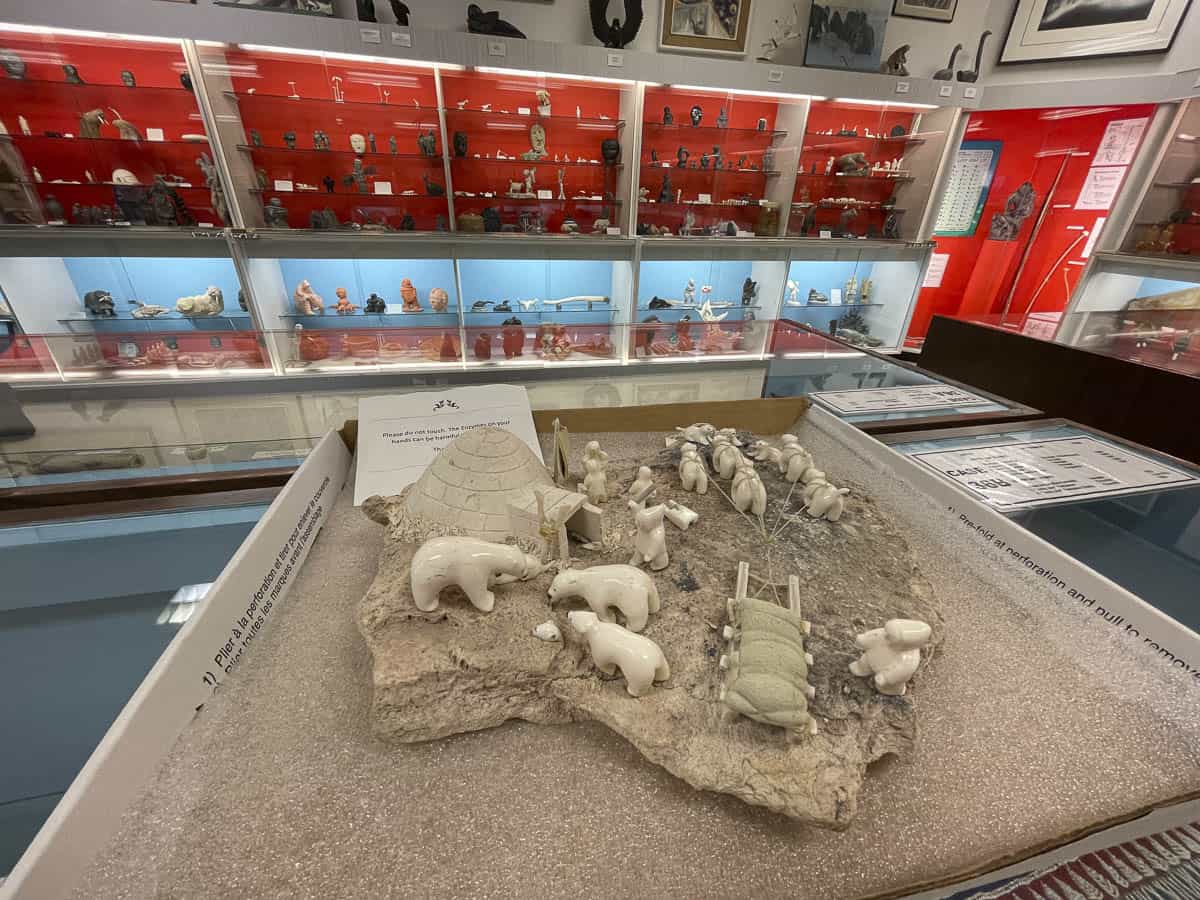 See the Ithaca Shipwreck
Found 12 miles east of Churchill near Bird Cove, the Ithaca Shipwreck took place in 1960 when the ship was run into the gravel bank during a storm. At low tide, it is possible to walk out to the shipwreck (only with a professional guide, do not attempt this on your own).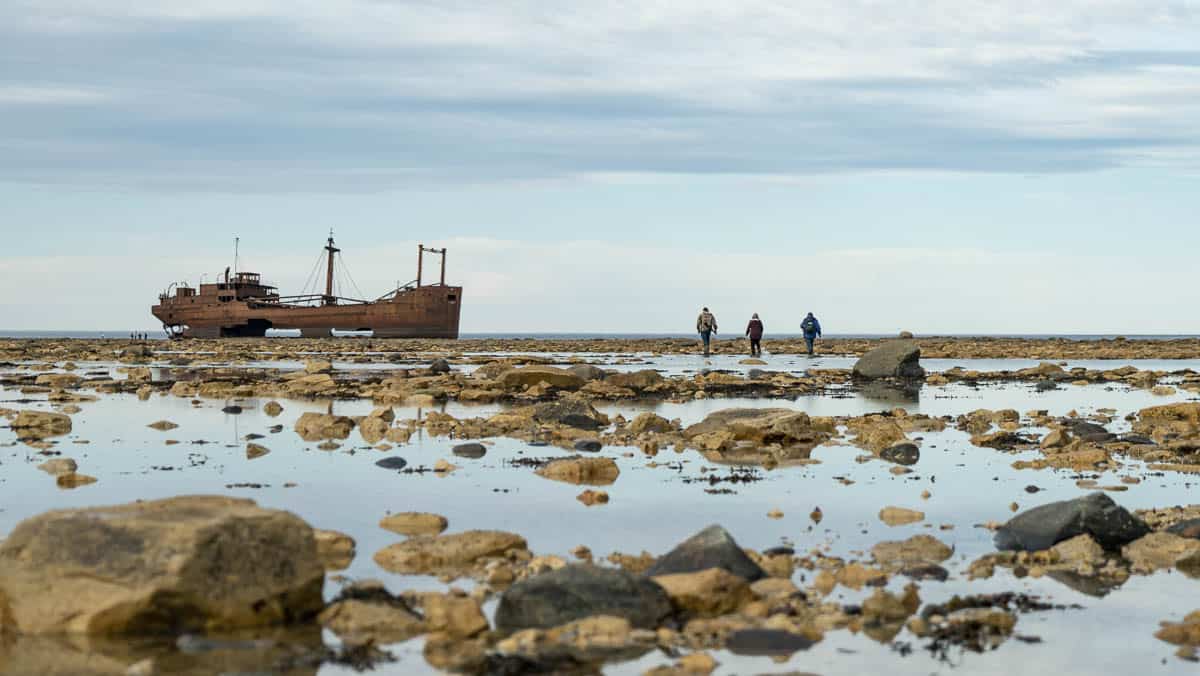 Visit Miss Piggy
Miss Piggy is the nickname for a freight plane that crashed near Churchill in 1979. Thankfully, there were no fatalities, and the plane was left where it landed. Today, it is covered in graffiti and has become a popular photo opportunity.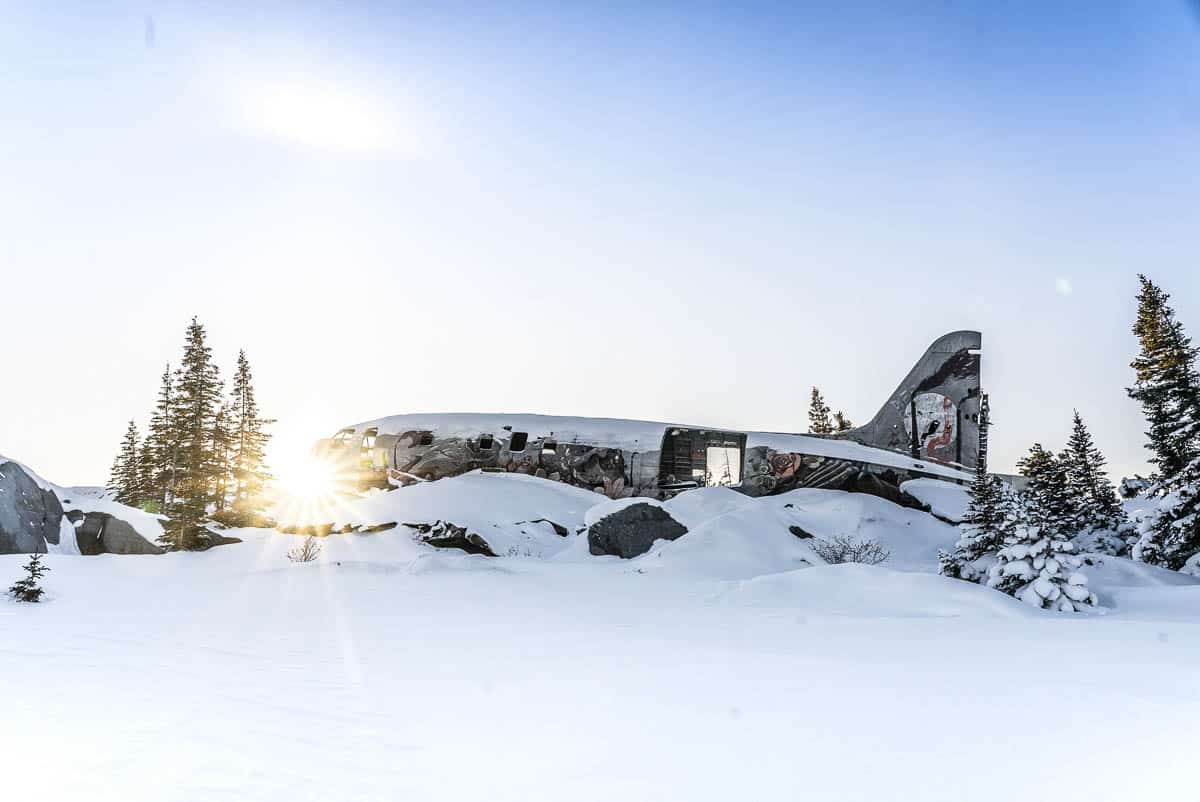 Go Dog Sledding
Dog sledding is an integral part of Churchill's history. Learn about the importance of dog sledding within the Indigenous community by booking a tour with Wapusk Adventures.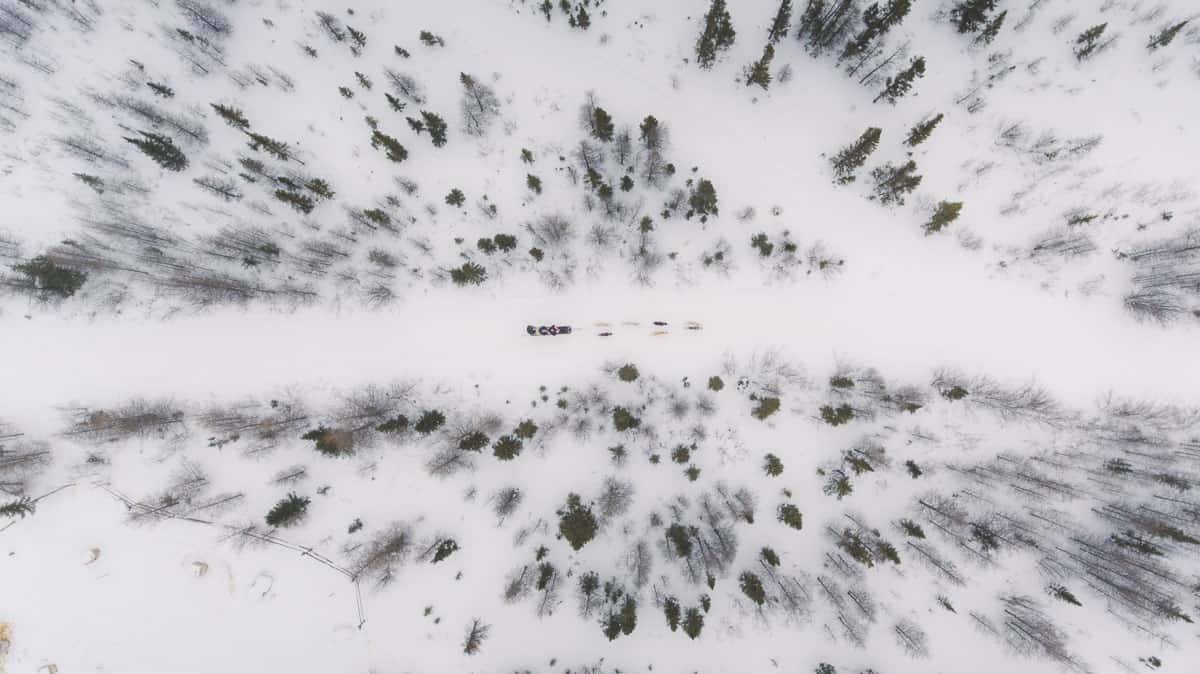 Try AquaGliding
AquaGliding is an activity you can try through Lazy Bear Expeditions. Lie on a floating mat tethered to a zodiac boat and put your face in the water for the ultimate beluga whale experience… if you're lucky they'll swim right up to you to say hello!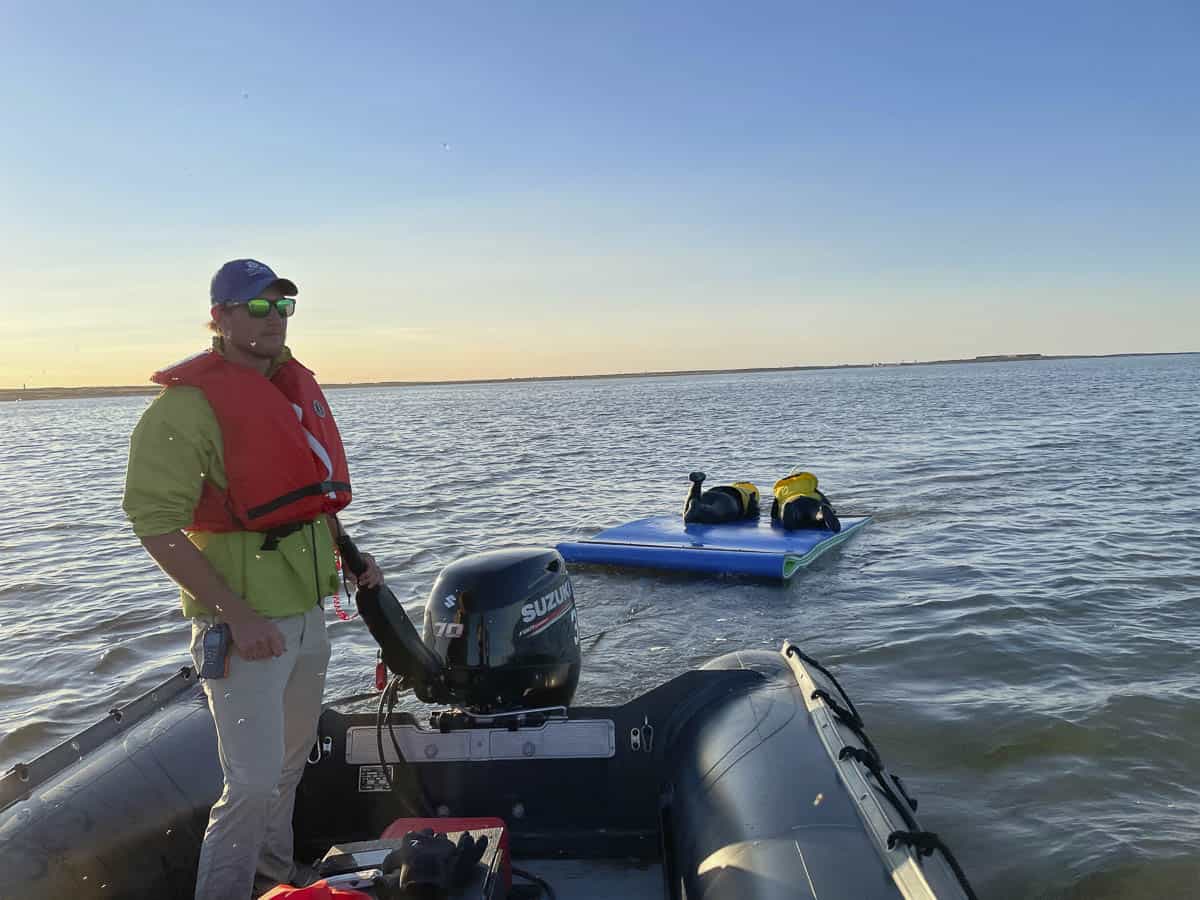 Get a Stamp in Your Passport
For those who love collecting stamps in their passports, head to the Churchill post office to get a special Churchill stamp! It's the cheapest souvenir around.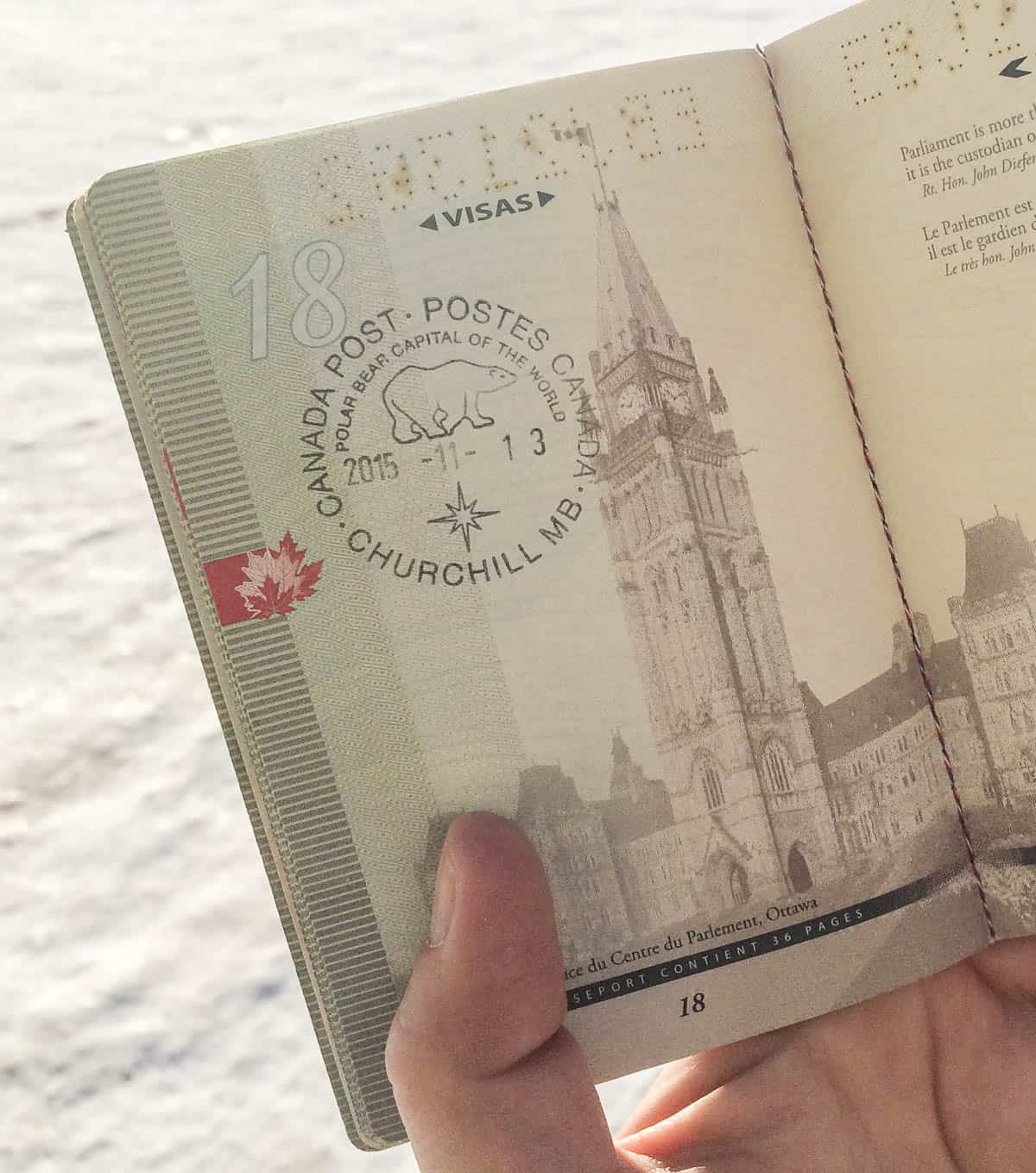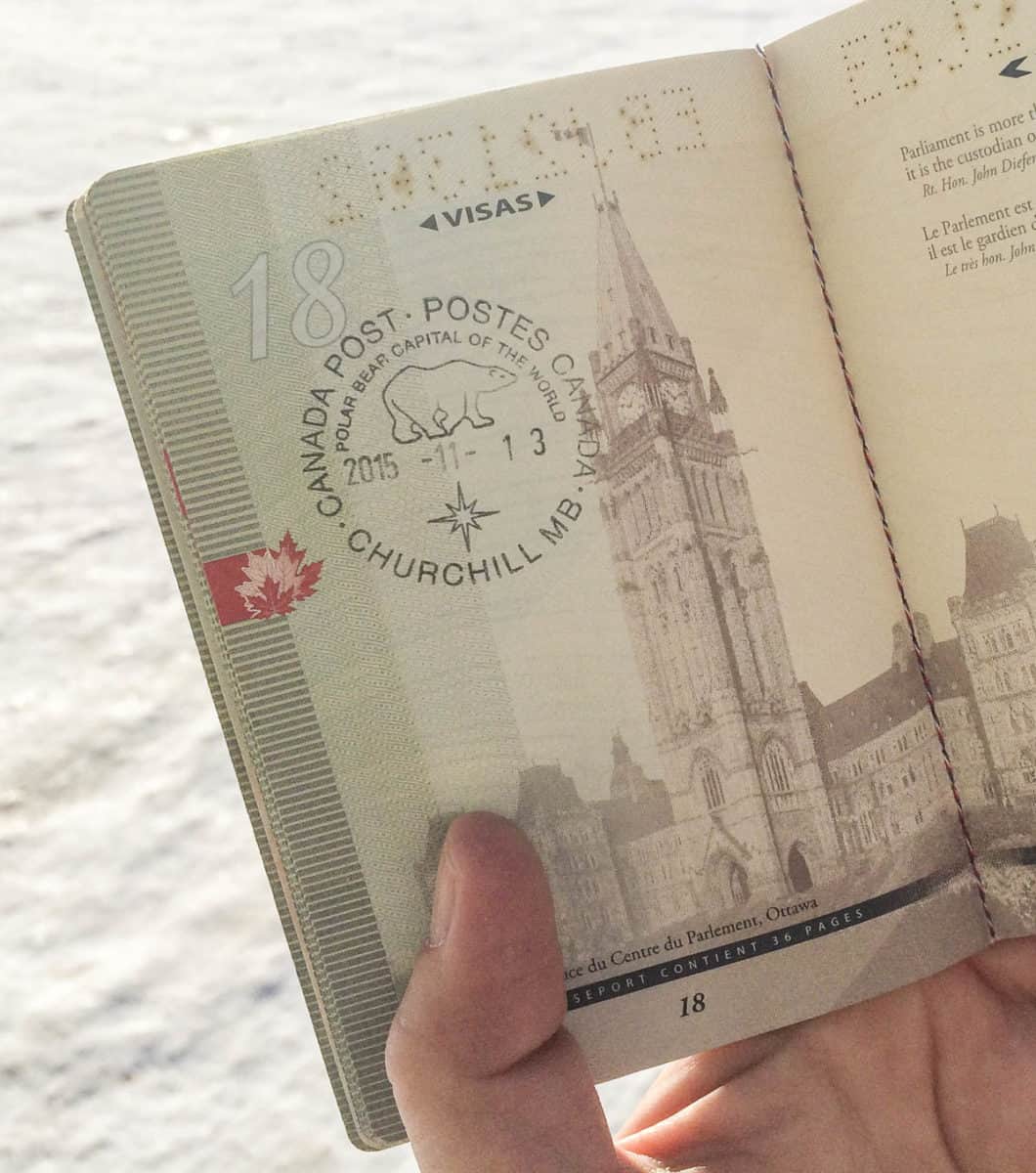 Take to the Sky
For the ultimate sightseeing expedition, try a helicopter tour over Churchill and the surrounding area. Get a unique perspective on the landscape and try to spot as many polar bears as you can.
Festivals and Events in Churchill
Aurora Winterfest
Volunteer-run, Aurora Winterfest regularly hosts events in Churchill, and has a festival every year that includes ice carving, hockey, entertainment, games, food, and more. Check the Aurora Winterfest Facebook page for regular updates about what's happening in Churchill.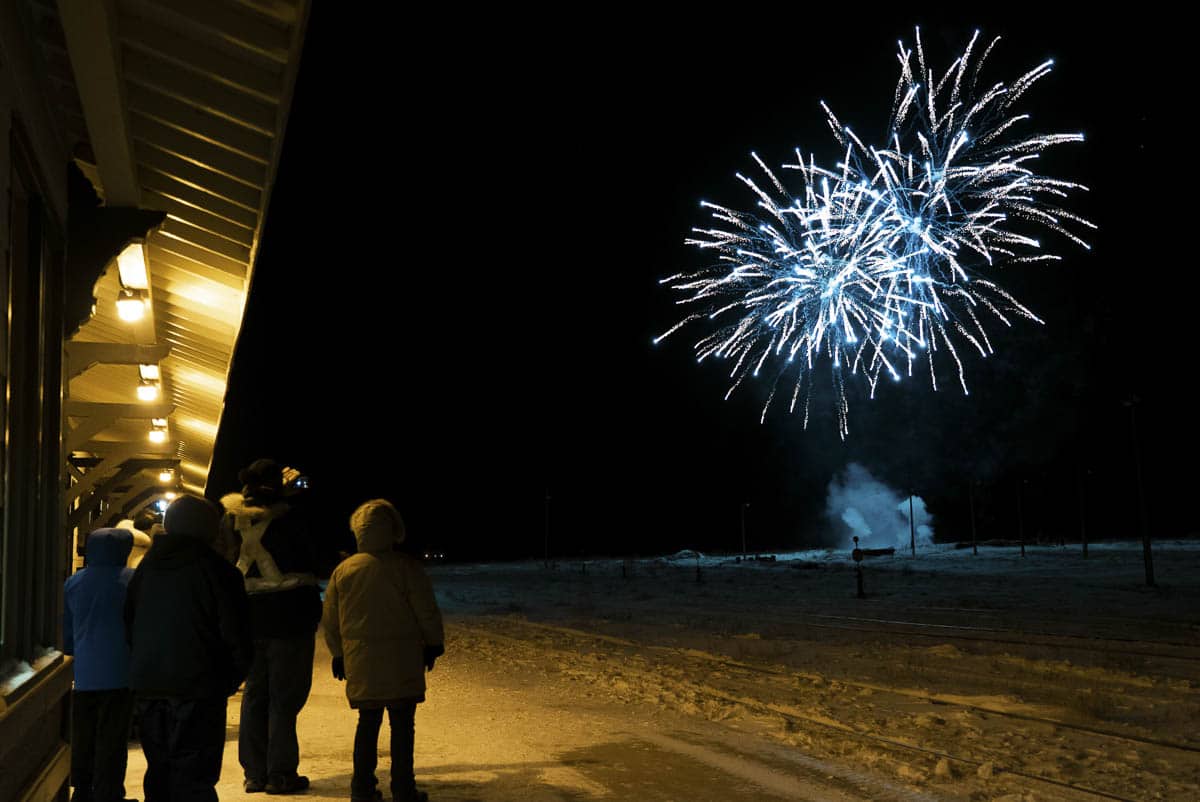 Where to Eat in Churchill
There's a nice selection of restaurants in Churchill, and you always know you'll be supporting a local business when you eat in town. Here are a couple of our favourite places to eat:
Tundra Pub
Location: 23 Franklin Street, across from the Tundra Inn
This cozy hang-out is home to the famous Borealis Burger and consistently serves up home-cooked meals with a regional Arctic twist. Head here for hearty meals, a game of pool, and a lively atmosphere.
Lazy Bear Cafe
Location: 313 Kelsey Blvd, inside Lazy Bear Lodge
Lazy Bear Cafe is known for its excellent service, innovative menu, and warm atmosphere (we love the stone fireplace). Try some of the braised elk, Arctic char, or Manitoba bison.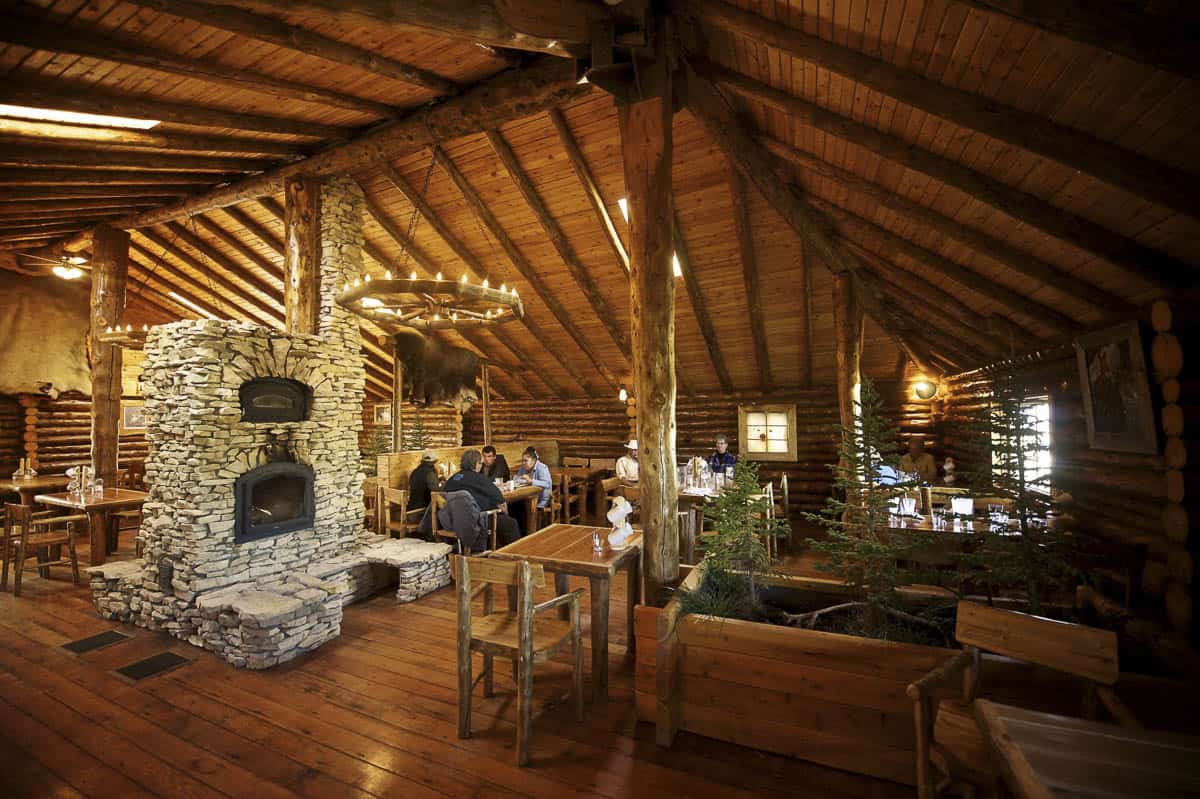 Dan's Diner
Looking for a truly unique dining experience in Churchill? For a few select evenings every February and March, Dan's Diner operates as a pop-up on Churchill's tundra so that you can dine underneath the Northern Lights. It's the kind of meal you'll never forget!
In the Area
Wapusk National Park
One of only two national parks in Manitoba (the other is Riding Mountain National Park), Wapusk National Park is extremely remote and extremely beautiful. As the largest polar bear denning site in the world, it's a popular spot to view baby polar bears in February and March. There are no roads into the park, so you must arrange aircraft transportation with a licensed tour operator; we recommend Wat'chee Expeditions.
Thompson
It feels a bit ridiculous to say that Thompson is "in the area" of Churchill, as they're 400 kilometres apart. But if you're driving part of the way to Churchill or taking the train, you may pass through the small city on your way. Thankfully, there are lots of fun things to do in Thompson, so we recommend spending a day or two exploring if you have the time!