Disclaimer: This page may contain affiliate links. Please review our full Terms and Conditions for more information and our Privacy Policy. Note that any pricing, operating hours, or other such information provided below may have changed since initial publication.
Compiled by the Road Trip Manitoba team
Last updated on August 30, 2023
It should come as no surprise that those of us at Road Trip Manitoba love this province with all our hearts. Why? Because there are just so many things to do in Manitoba! From the 100,000 lakes to the diverse culinary scene, the incredible museums and the challenging hiking trails, we could go on and on about just how much there is to do in this province. Trust us, it was difficult to cut it down to just this list, and we're sure to keep adding to it! As it stands, we have over 120 things for you to choose from. So consider this your ultimate guide of things to do in Manitoba.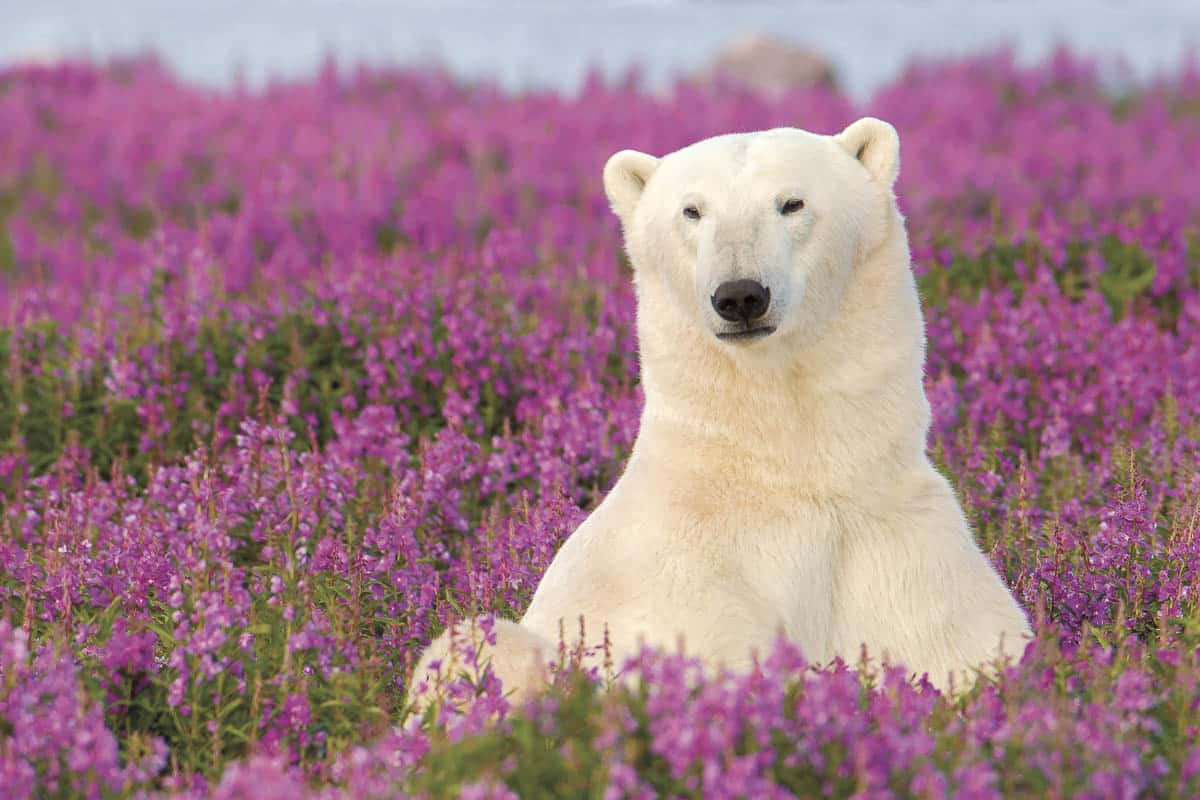 Land Acknowledgements
Road Trip Manitoba covers travel through Manitoba, which is made up of Treaty 1, 2, 3, 4, and 5 Territory, as well as communities that are signatories to Treaty 6 and Treaty 10. Manitoba is home to the original lands of the Anishinaabe, Anish-Ininiwak, Dakota, Dene, Ininiwak, and Nehethowuk peoples, as well as the homeland of the Métis peoples.
The Best Things to Do in Manitoba
We've divided the post up into directions to make it easier to find something to do in every corner of the province; you'll find things to do in Winnipeg, and then east of Winnipeg, south of Winnipeg, west of Winnipeg, and north of Winnipeg. No matter which part of Manitoba you choose to explore, we've got you covered. But whatever you do – don't you dare say you're bored.
Things to Do in Winnipeg
See Inuit Art at Qaumajuq
Home to the world's largest collection of Inuit art in the world, Qaumajuq at the Winnipeg Art Gallery is a must-visit whenever you're in the city and one of our top things to do in Winnipeg. Found in the heart of downtown Winnipeg, there are over 185,000 square feet to explore. (Love it? Then you can also check out these other Winnipeg art galleries!)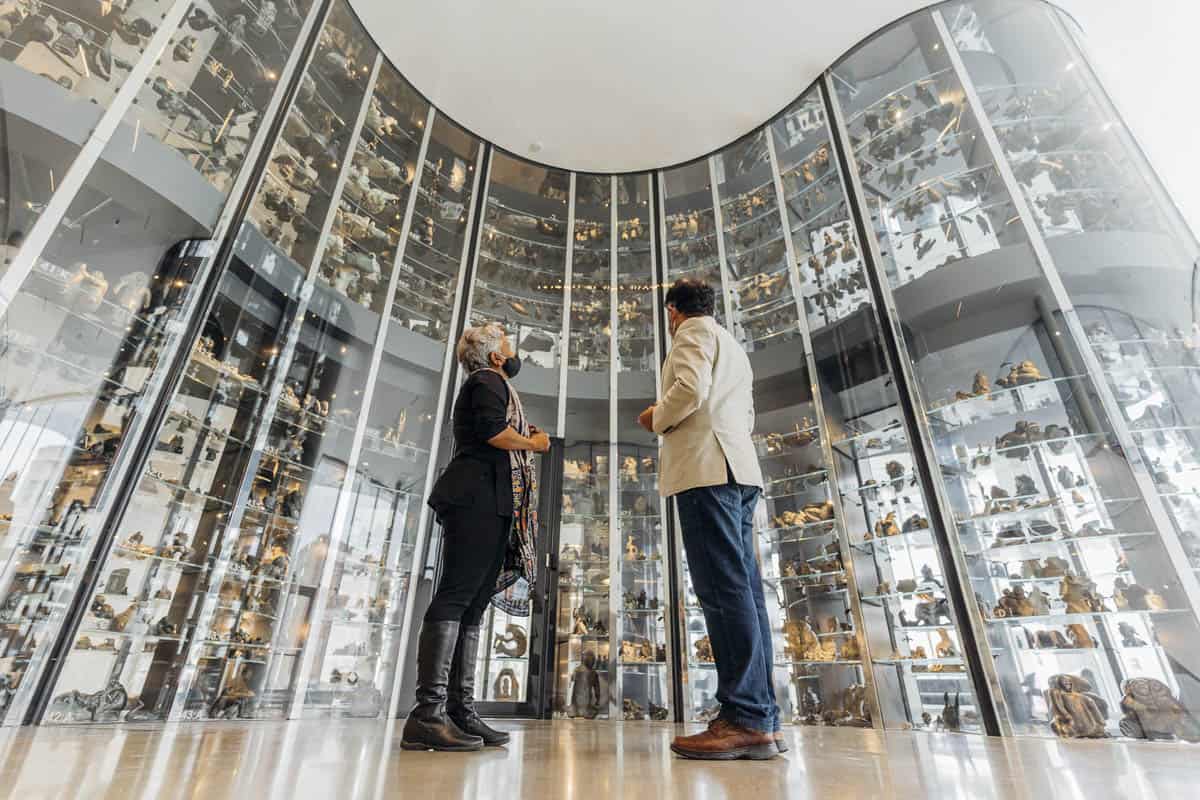 Visit the Louis Riel House
The Riel House National Historic Site is a fantastic place to learn about the daily life of the Métis in the late 1880s as well as Manitoba hero Louis Riel. It's one of the most important attractions in Manitoba and one that can teach us a lot about the history of the province and the people who call it home.
Walk Around the St. Norbert Monastery
The Trappist Monastery Provincial Heritage Park is a hidden gem in Winnipeg. Take some time to visit the architectural ruins of this former monastery; it makes for a beautiful photo opportunity, and it's the perfect place for a quiet walk or picnic.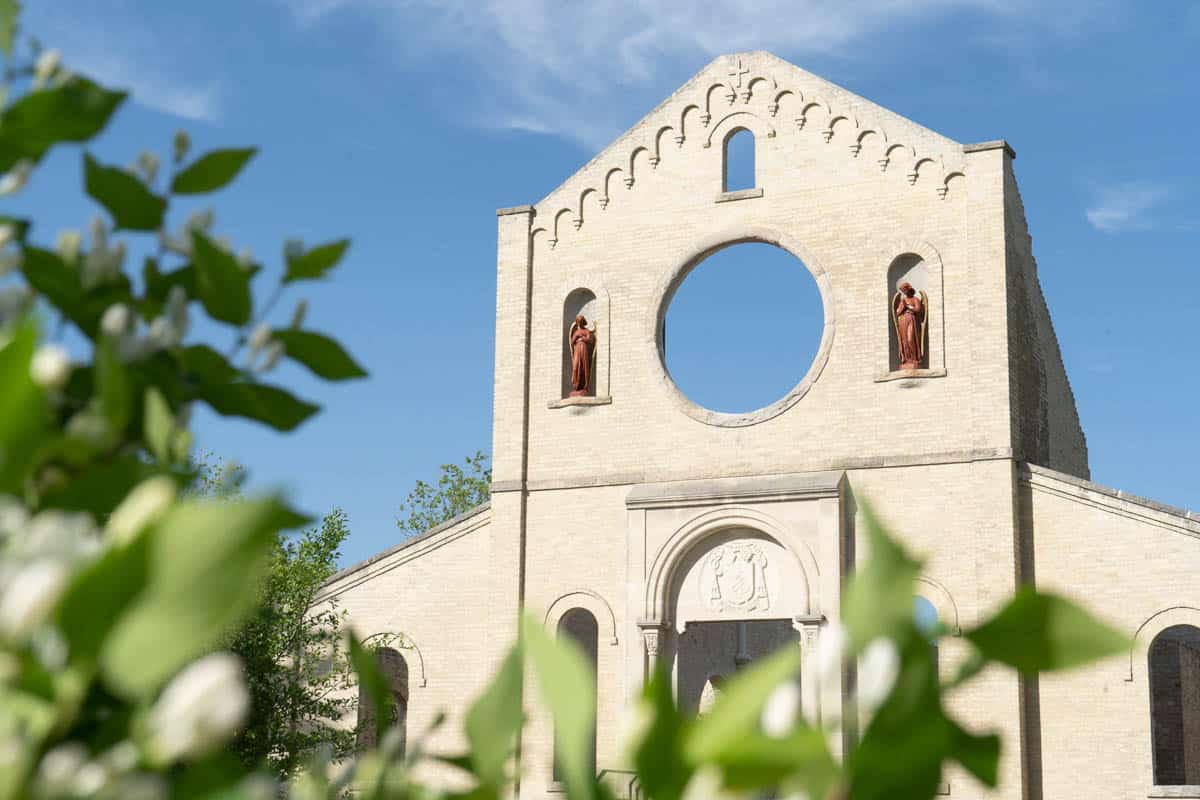 Take in the Fringe Festival
Every summer, the Winnipeg Fringe Theatre Festival takes place primarily in the Exchange District. A celebration of alternative theatre, there's a multitude of plays to take in by local and international playwrights. But book early because the plays always sell out… It's that popular!
Get Your French on at the Festival du Voyageur
One of the most popular festivals in Manitoba, the Festival du Voyageur is held over ten days every February in Winnipeg. Celebrating French Canadian and Métis cultures, the festival is a place to eat, drink, dance, learn, and enjoy the snowy neighbourhood of St. Boniface.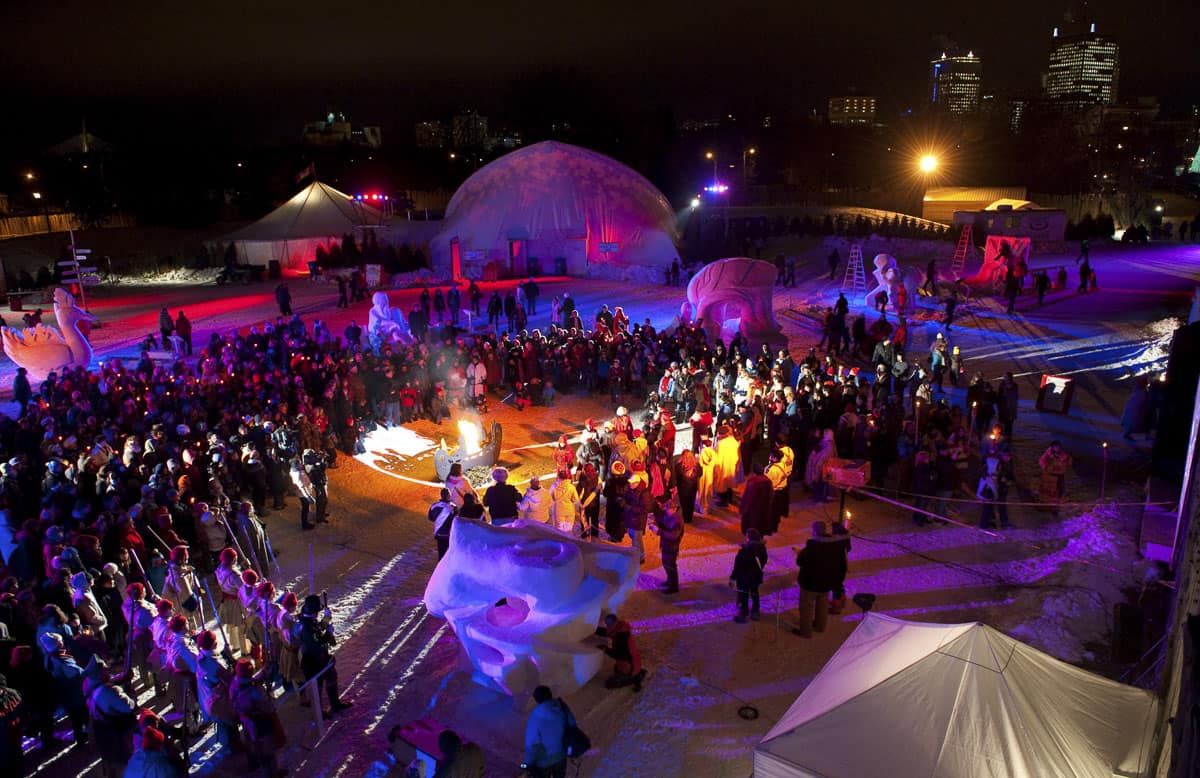 Enjoy the Art World with First Fridays
Do you love to discover all things artistic and/or cultural? Head to Winnipeg's Exchange District for First Fridays. On the first Friday evening of every month, numerous Winnipeg art galleries, shops, and art-focused businesses are open to the public. Always lively and always fun, the monthly event is dedicated to a "greater understanding, appreciation, and promotion of the arts & the further development of a vital Exchange Area community."
Explore the Culinary scene
Winnipeg has some of the best restaurants in Canada. Yeah, we said it. Go to Clementine for brunch or The Grove Pub for burgers or Miss Christine's Kitchen for ackee and saltfish or Enoteca for pasta or Blufish for sushi or Feast Café Bistro for bannock pizza… should we keep going? There are endless restaurants in Winnipeg to try.
Walk "The Loop"
One of the best ways to see the city, The Loop is a curated walking tour in Winnipeg that allows you to explore downtown Winnipeg, the Exchange District, and Old St. Boniface. From the St. Boniface Cathedral to Esplanade Riel to Louis Riel's Tombstone, there are over 60 places of interest to visit along the 9.5-kilometre loop.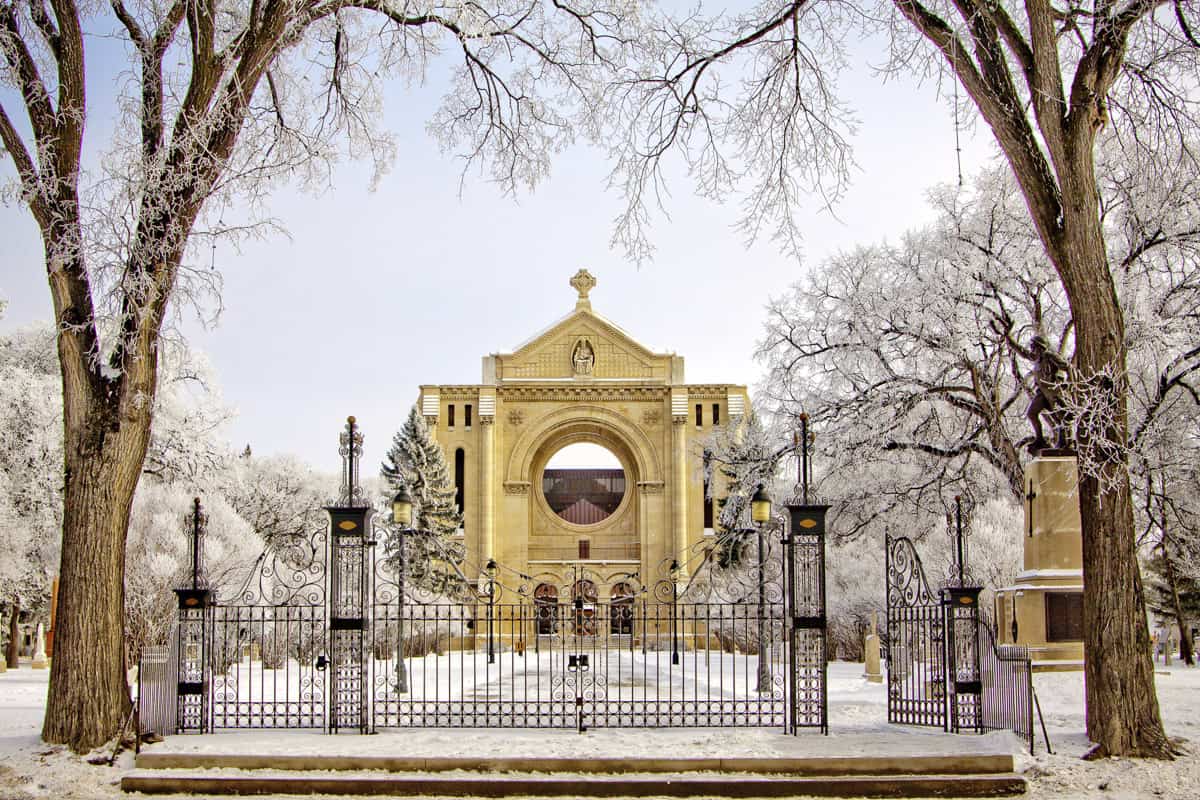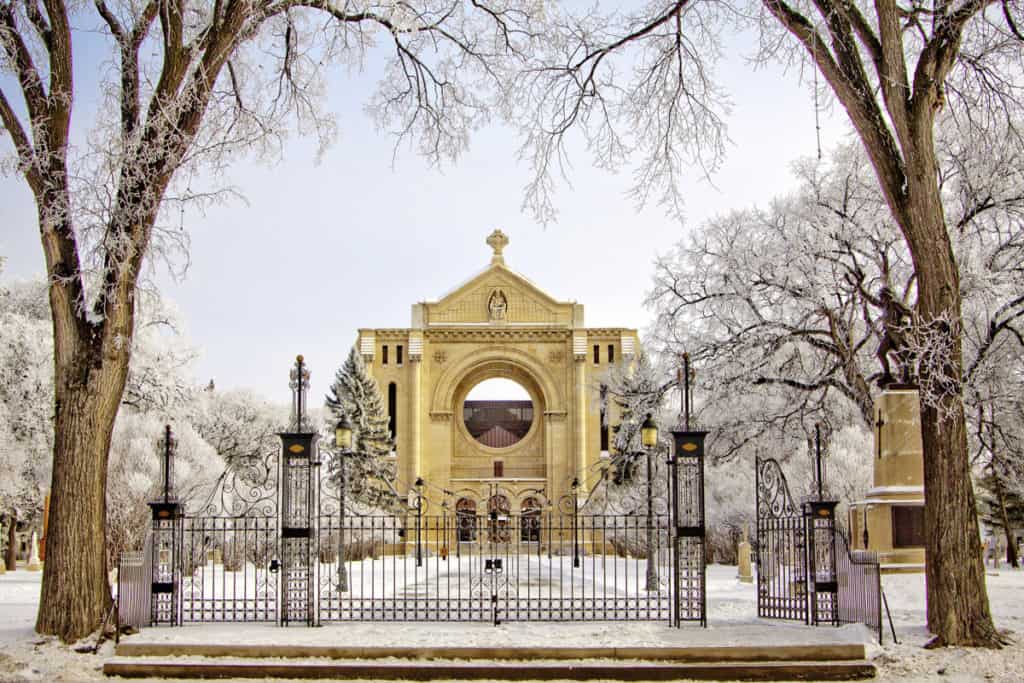 Celebrate at the Pride Festival
Pride Winnipeg Festival is a ten-day summer event that celebrates the 2SLGBTQ+ community through events, rallies, parties, and a wonderful pride parade in downtown Winnipeg. Trust us, it's a blast! Make sure to get out there and celebrate love.
Visit the Forks
The Forks is one of the top things to do in Manitoba and is known as a highlight of visiting the city. A meeting place for over 6,000 years due to its convenient location at the junction of the Red and Assiniboine Rivers, today it's an indoor market with a magnificent array of shops, restaurants, and so much more. Also, check out the Oodena Celebration Circle and the Ai WeiWei "Forever Bicycles" sculpture in the area.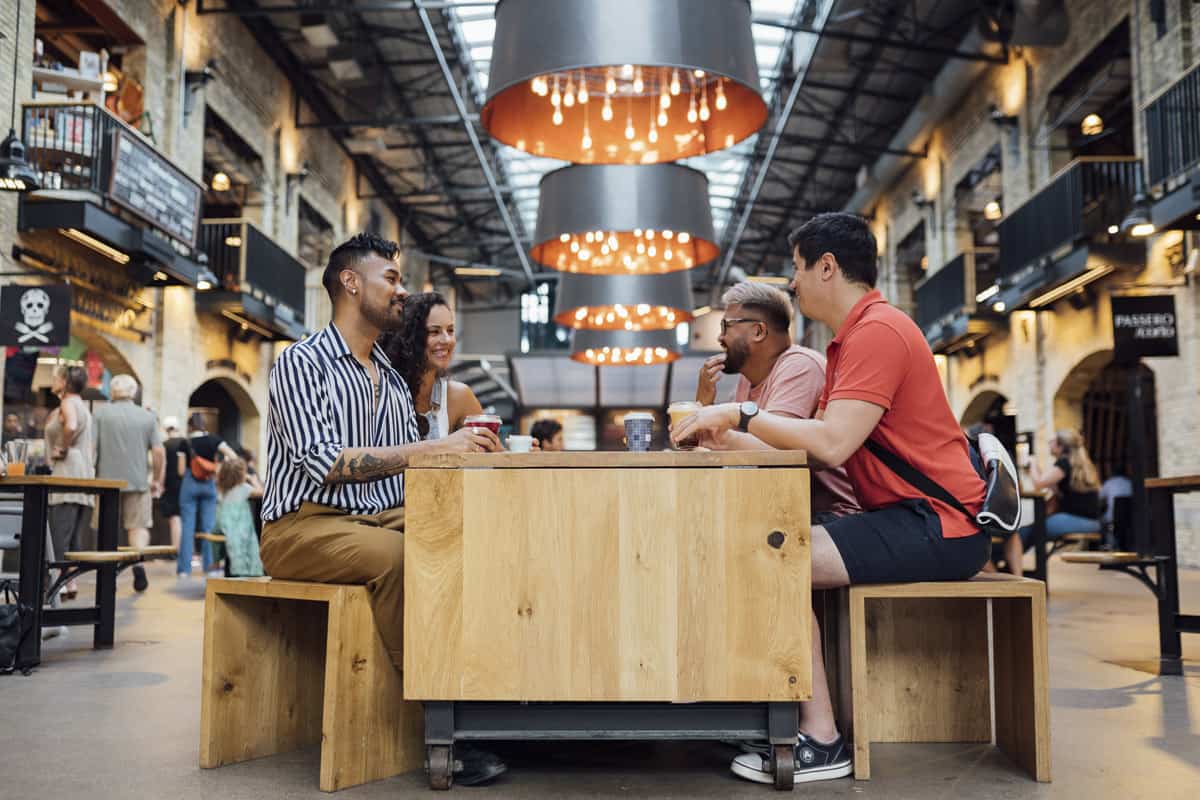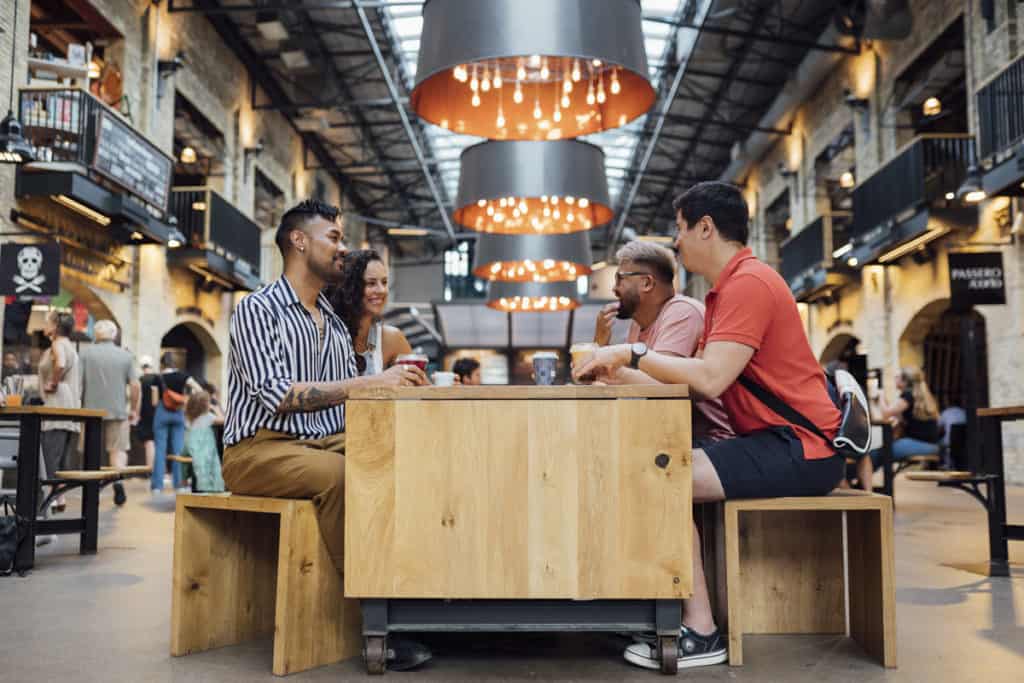 Spend Time at Assiniboine Park
One of the loveliest and most popular parks in Manitoba, Assiniboine Park is a sprawling space for picnics, sports, cycling, walking, and more. With a great café (one of our top picks for breakfast in Winnipeg), the Leo Mol Sculpture Gallery, and the beautiful new Leaf – complete with outdoor gardens and innovative indoor horticultural attractions – there's enough to keep you busy at Assiniboine Park for at least a day or two. Also, keep an eye out for events at the park.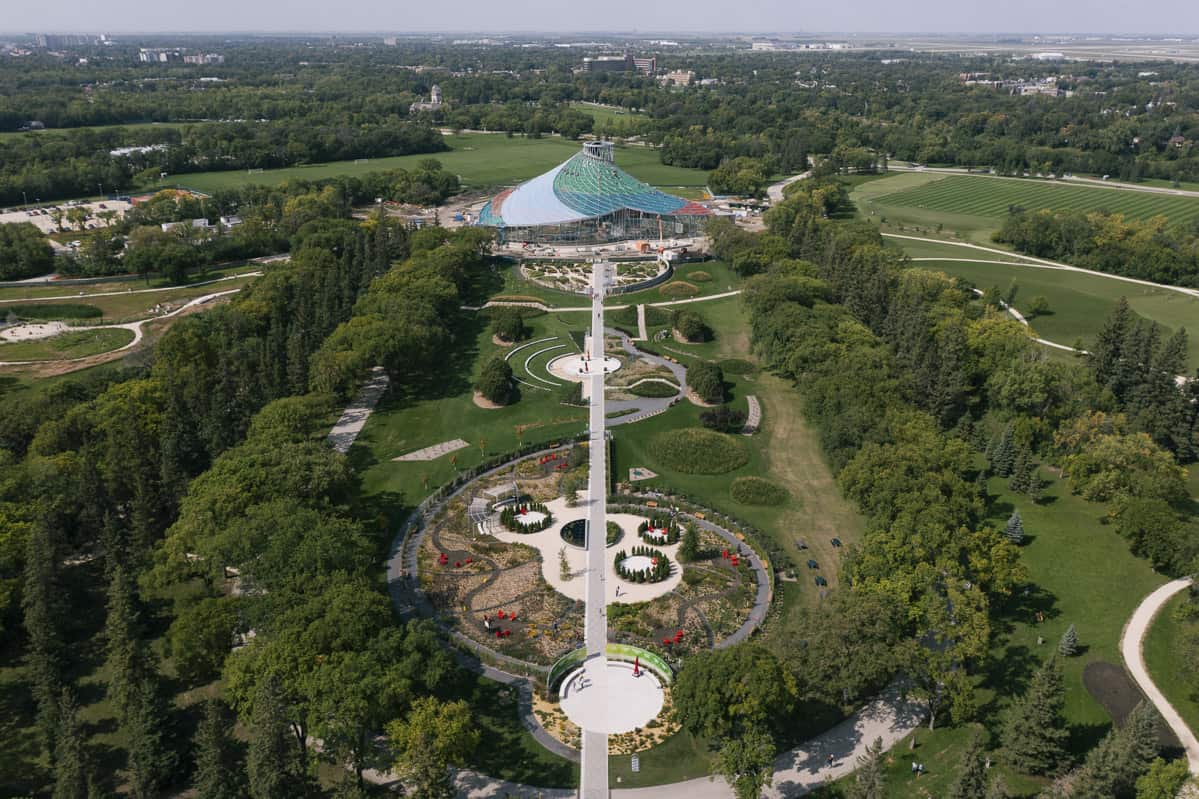 Play at the Children's Museum
One of our top picks for the best museums in Winnipeg, the Children's Museum is a very interactive, hands-on place for kids to laugh, learn, and play. Around for decades, you can expect lots of favourite exhibits alongside plenty of new ones in order to keep every single visit both interesting and fresh.
Go To a Winnipeg Jets Game
Go Jets go! The NHL's Winnipeg Jets had a triumphant return to the city in 2011, and it's quite an experience to actually attend a game. Enjoy the fanfare, the excitement, and of course, the hockey!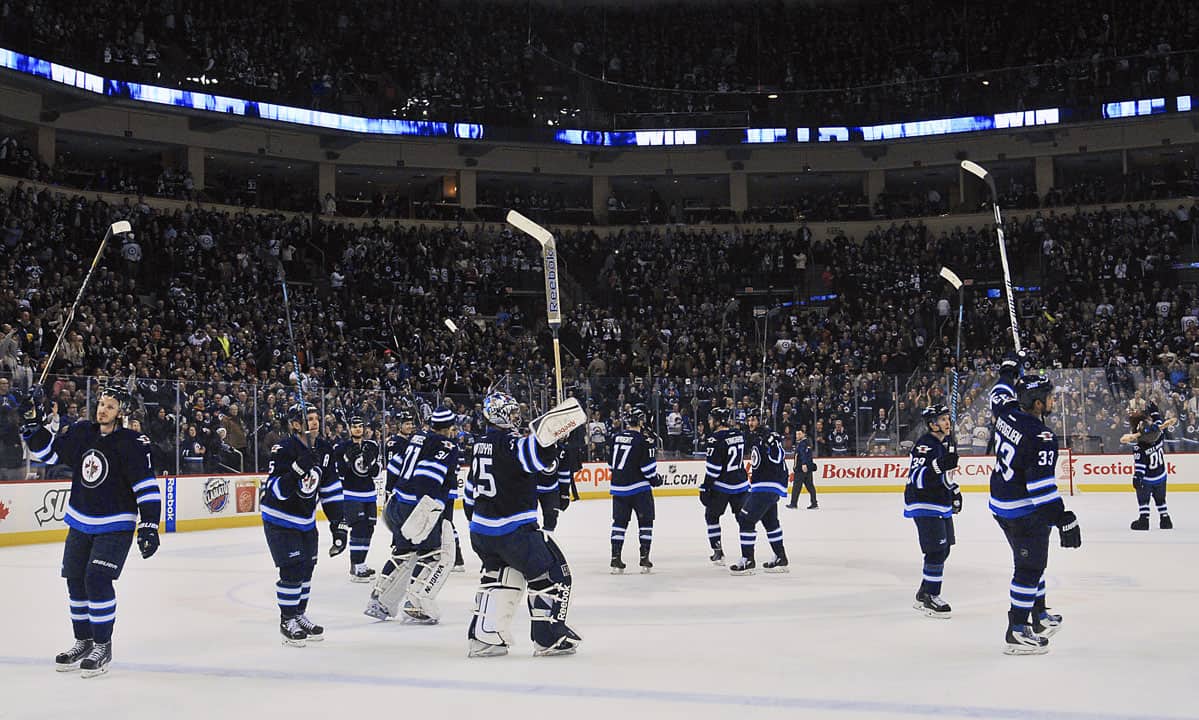 View the Sunset Goose Flights at FortWhyte Alive
One of the most unique things to do in Manitoba in the fall is to catch one of the sunset goose flights at FortWhyte Alive. Surrounded by the colourful trees on a crisp autumn evening, watch as thousands of geese land just as the sun sets beyond the horizon. It's a beautiful sight to behold!
Sample the Local Breweries
There's an outstanding selection of breweries in Winnipeg, and there are plenty of brewery tours you can try in the city. From rich stouts to hoppy IPAs, there's a diverse and delicious beer scene in Manitoba's capital; if you're a fan of beer, you'll absolutely love all of the breweries to explore.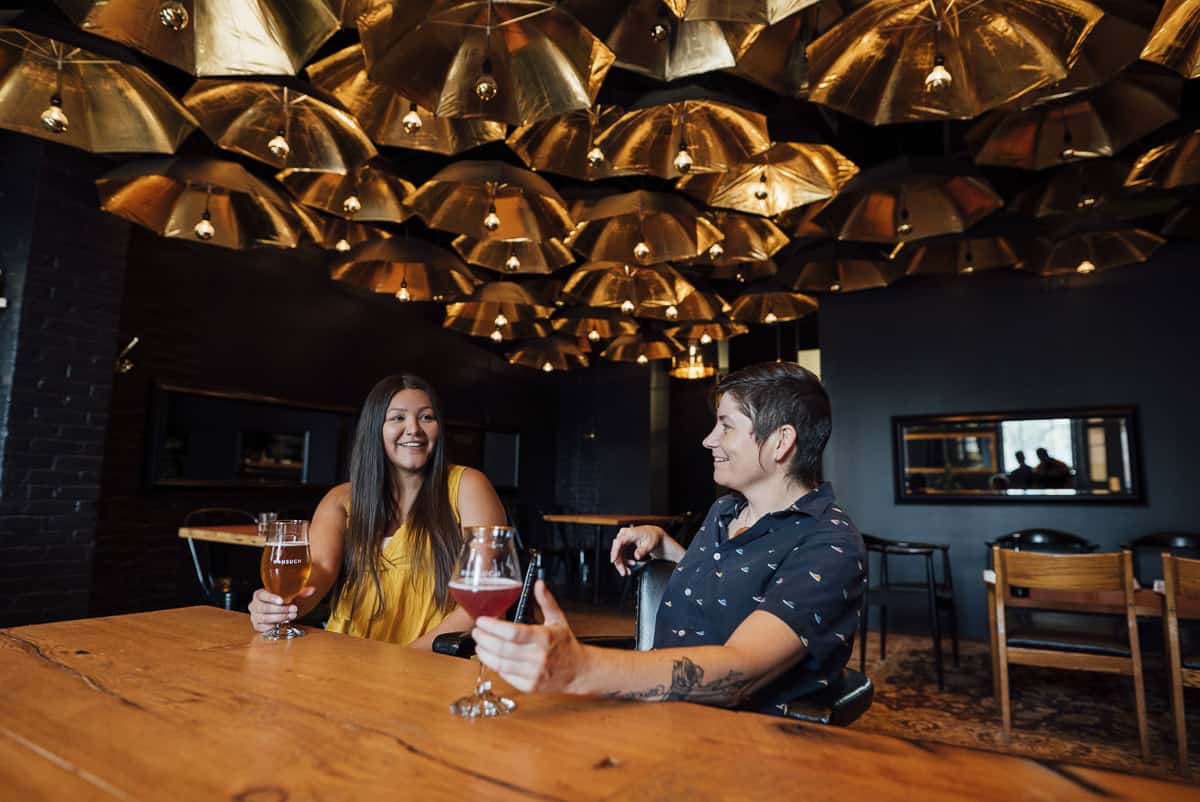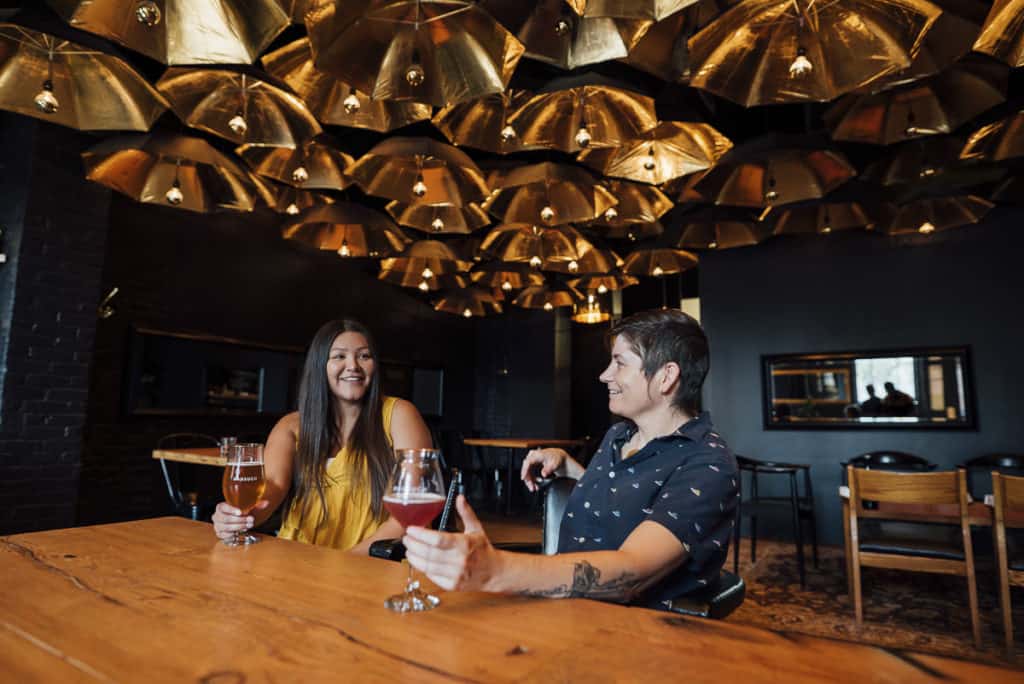 Skate Down the Nestaweya River Trail in Winnipeg
Walk, bike, skate, snowshoe, or cross-country ski down the frozen river on the Nestaweya River Trail. Usually open from January until March, it's an incredible way to see the city and take in some of the art and warming huts along the way. Combine it with a visit to the Forks for a perfect winter's day out! There are thankfully lots of places for skating in Winnipeg.
Attend the Manito Ahbee Festival
One of our top Indigenous experiences in Manitoba, the Manito Ahbee Festival is a celebration of Indigenous arts, culture, and music. Incredibly inspirational as well as educational, the festival takes place over a few days every spring in Winnipeg.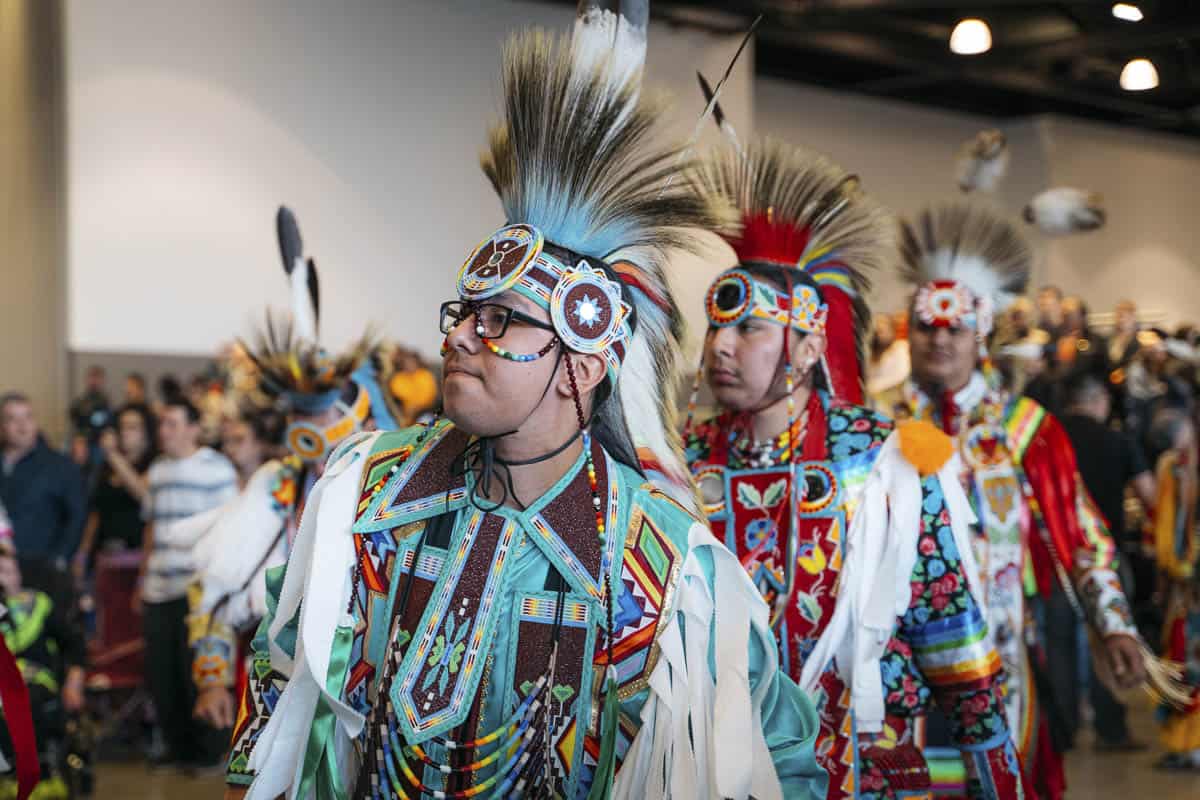 Get Cultural at Folklorama
Every summer during Folklorama, the city of Winnipeg is chock-full of events that allow people to learn and share their cultures. "Travel the world without a passport" as you experience the cuisine, clothing, dancing, music, and so much more of cultures from across the globe.
Walk Around the Winnipeg Zoo (Assiniboine Park Zoo)
Found in Assiniboine Park, the Assiniboine Park Zoo has over 80 acres to traverse. One of the best exhibits is Journey to Churchill, where you can see polar bears swim and play. Also watch for special events at the zoo throughout the year, including the fantastic Winnipeg Zoo Lights every winter.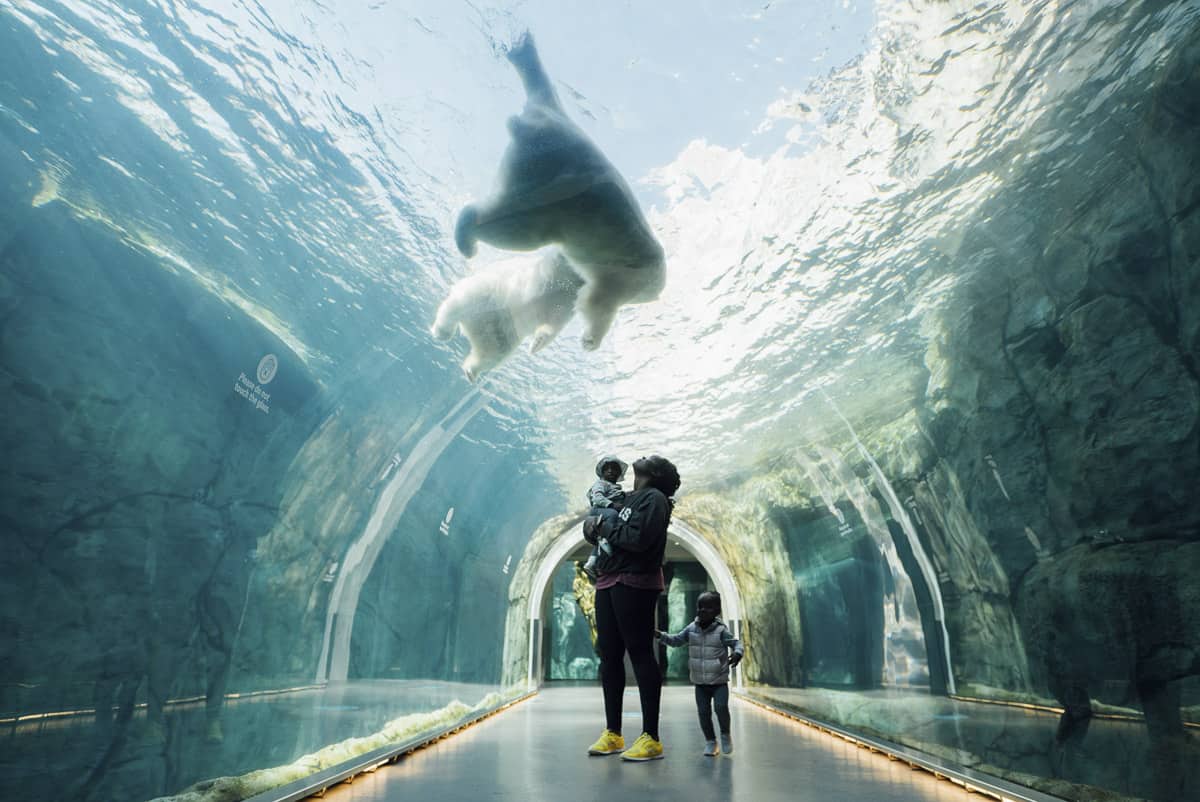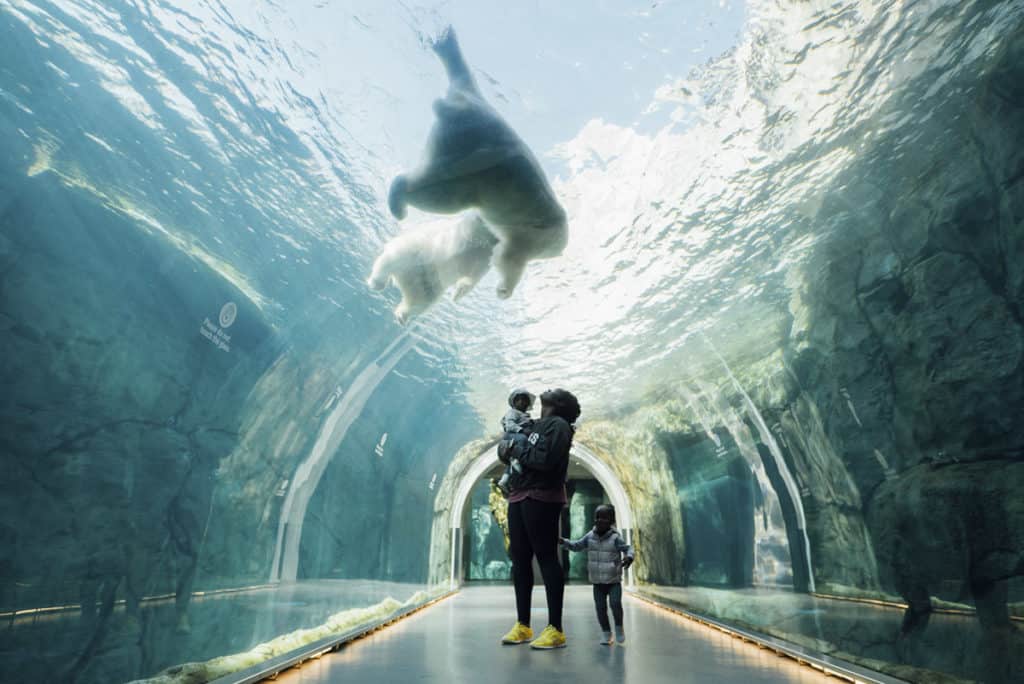 Hang out at Hargrave Street Market
The excellent Hargrave Street Market in downtown Winnipeg is a relatively new addition to the city, and it's been an instant hit. The stylish food hall has a terrific selection of local food vendors, including Yard Burger, Saburo Kitchen, Fools and Horses Coffee, Lake of the Woods Brew Company, and the ever-popular Gusto North. Make sure to check out the grocery as well, home to many local products.
Enjoy Beautiful Birds Hill Park
One of Manitoba's most beautiful provincial parks, Birds Hill Park is extremely popular due to its location near Winnipeg, its wonderful trails (over 100 kilometres of them, in fact), and its manmade lake/beach for swimming. Hike, bike, horseback ride, snowshoe, or cross-country ski your way around the park and don't forget to check out the Winnipeg Folk Festival in the summer.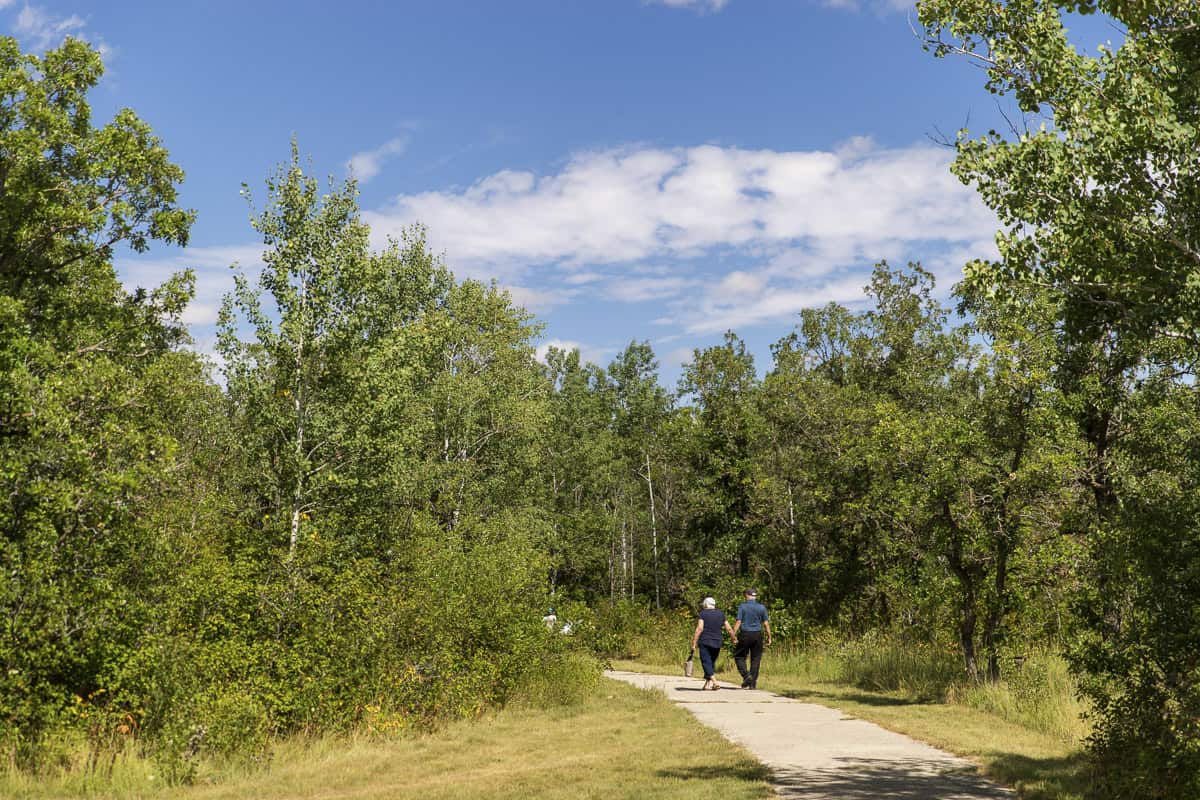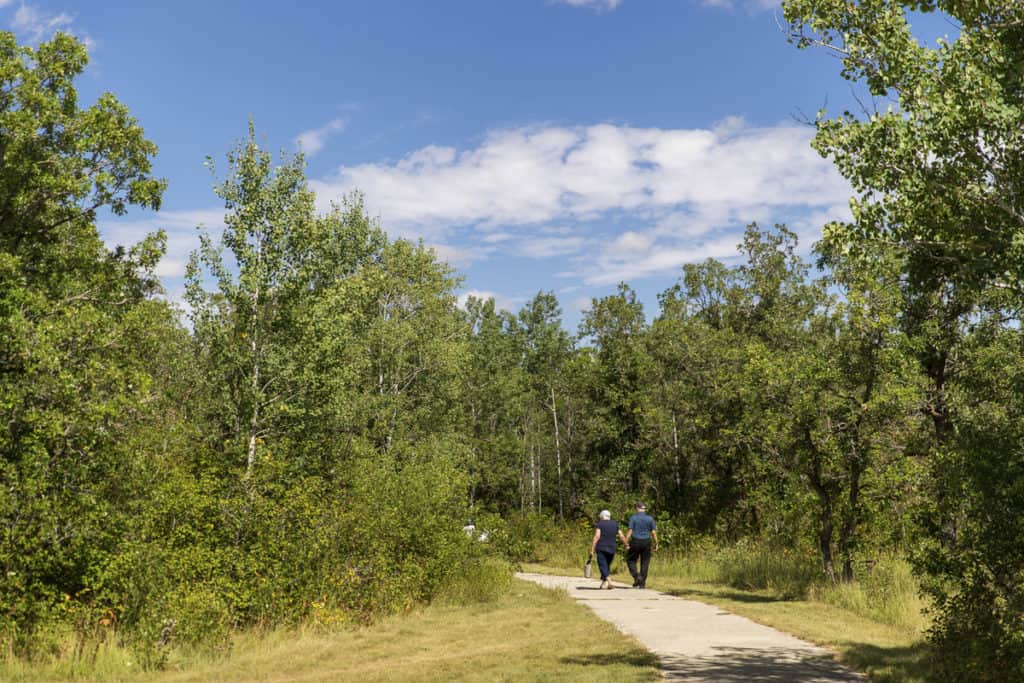 Learn About the Province's History at the Manitoba Museum
With nine interpretive galleries to walk through, you can travel through millions of years as the history of Manitoba is highlighted in the Manitoba Museum. Highlights include the Nonsuch, a full-size 17th-century ship, and the Urban Gallery, where you travel back in time to 1920s Winnipeg. Also at the Manitoba Museum is the Planetarium and the Science Museum, both terrific things to do with kids.
Go to a Winnipeg Blue Bombers Game
Holding the record for the most Grey Cup appearances and winning back-to-back Grey Cups in 2019 and 2021 (the CFL was cancelled for 2020), attending a Winnipeg Blue Bombers game on their home turf at the IG Field is quite a spectacle. Cheer alongside thousands of fans as this top football team is almost guaranteed to dazzle!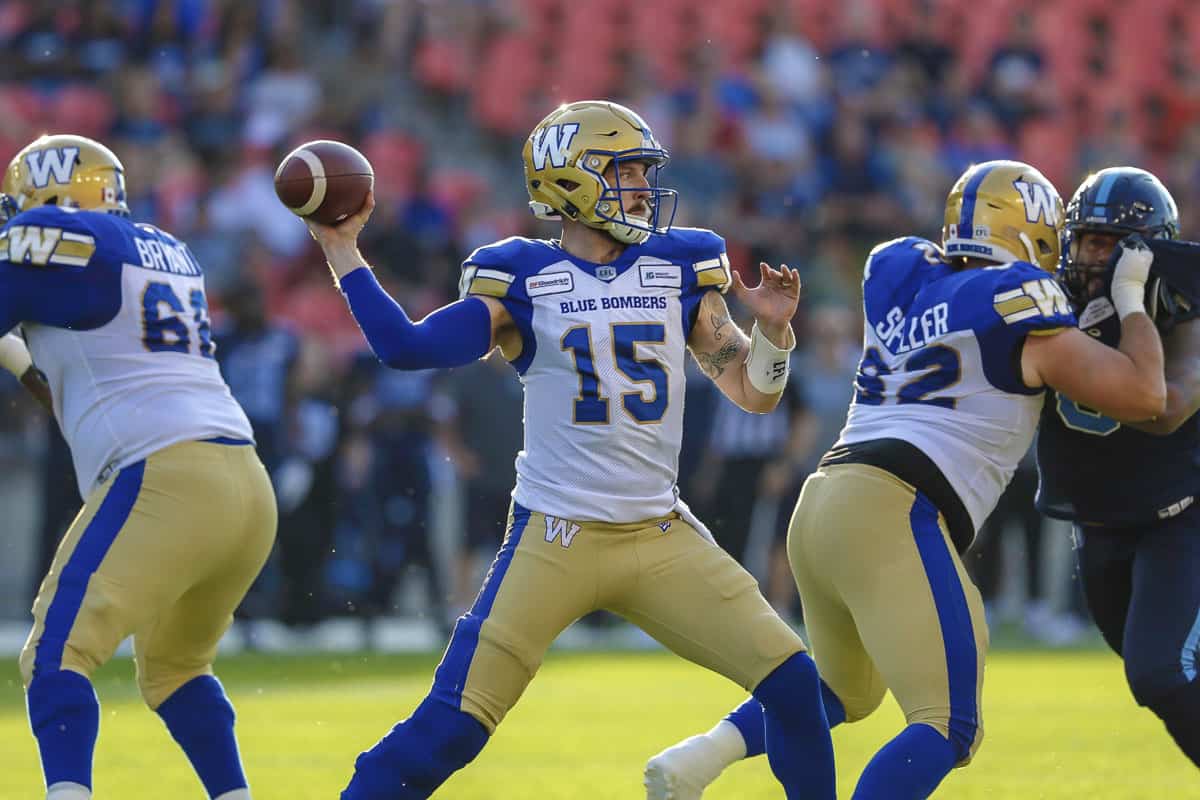 Try Your Luck in an Escape Room
There are plenty of excellent escape rooms in Winnipeg, and they cater to all levels of skill and experience (there are even a few around the city for children!). Try to escape the fictional situation within the hour as you use your wits, logic, and a little luck. It's a fantastic thing to do with a group of friends.
Stop by the Royal Aviation Museum of Western Canada
One of the newest museums in Winnipeg, the Royal Aviation Museum of Western Canada has 14 galleries that include 22 aircraft and hundreds of other artifacts to view. Found at the Winnipeg James Armstrong Richardson International Airport, it highlights the story of aviation in Manitoba and the rest of western and northern Canada.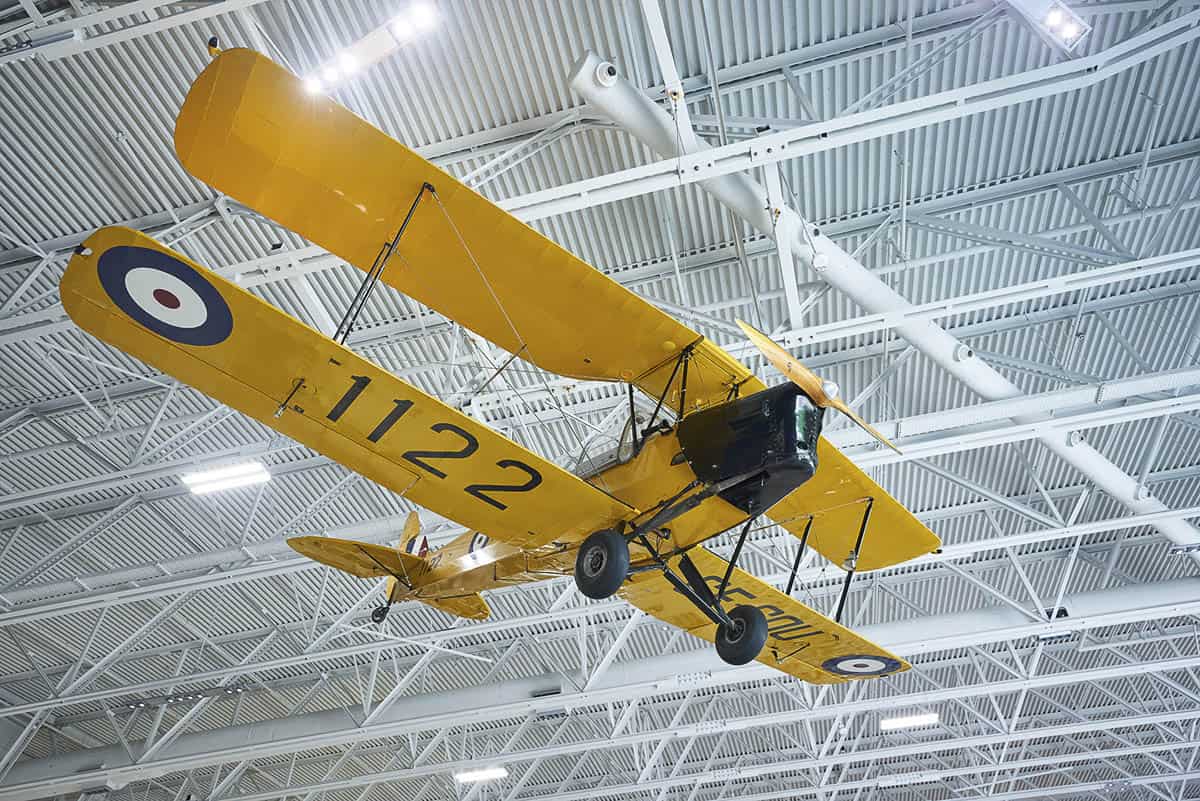 Catch a Winnipeg Goldeyes Game at Shaw Park
You'll find Shaw Park, home of the Winnipeg Goldeyes baseball team, in downtown Winnipeg. Grab a hot dog, root for the home team, and enjoy a beautiful prairie evening while watching a great night of baseball.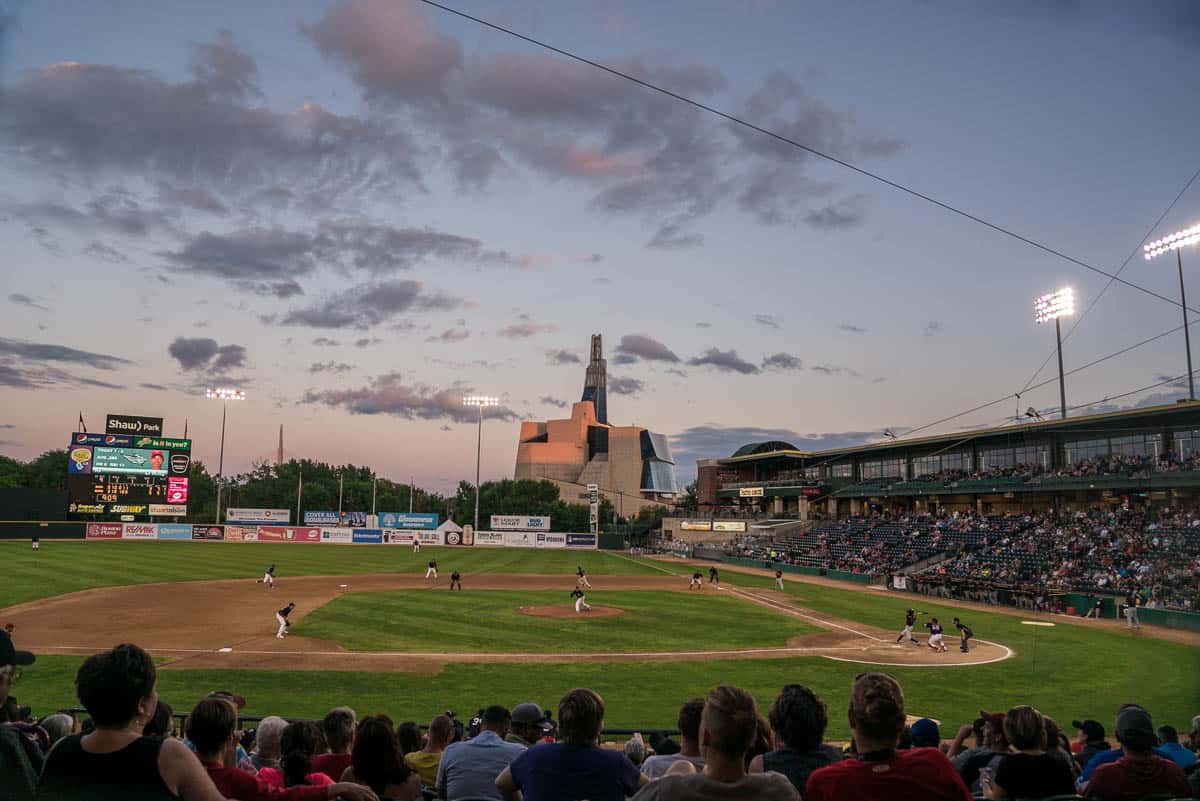 Spend the Morning at Pineridge Hollow
Found near Birds Hill Park, Pineridge Hollow is an amazing spot for a meal that features the best of local ingredients, including Manitoba-grown fruit, vegetables, eggs, dairy, and so much more. With a petting farm, an excellent boutique, and a brand-new village with tons of shops, you can easily spend the morning here (or more).
Relax at Thermea by Nordik Spa-Nature
Thermea by Nordik Spa-Nature is the perfect way to relax and unwind (and is one of the top Winnipeg spas, of course). Open in every season – in fact, winter is our favourite time to go – enjoy a series of saunas, steam rooms, outdoor pools, and more in this Scandinavian-inspired spa. You can also enjoy massages and other treatments, and there's a fantastic restaurant on-site, too.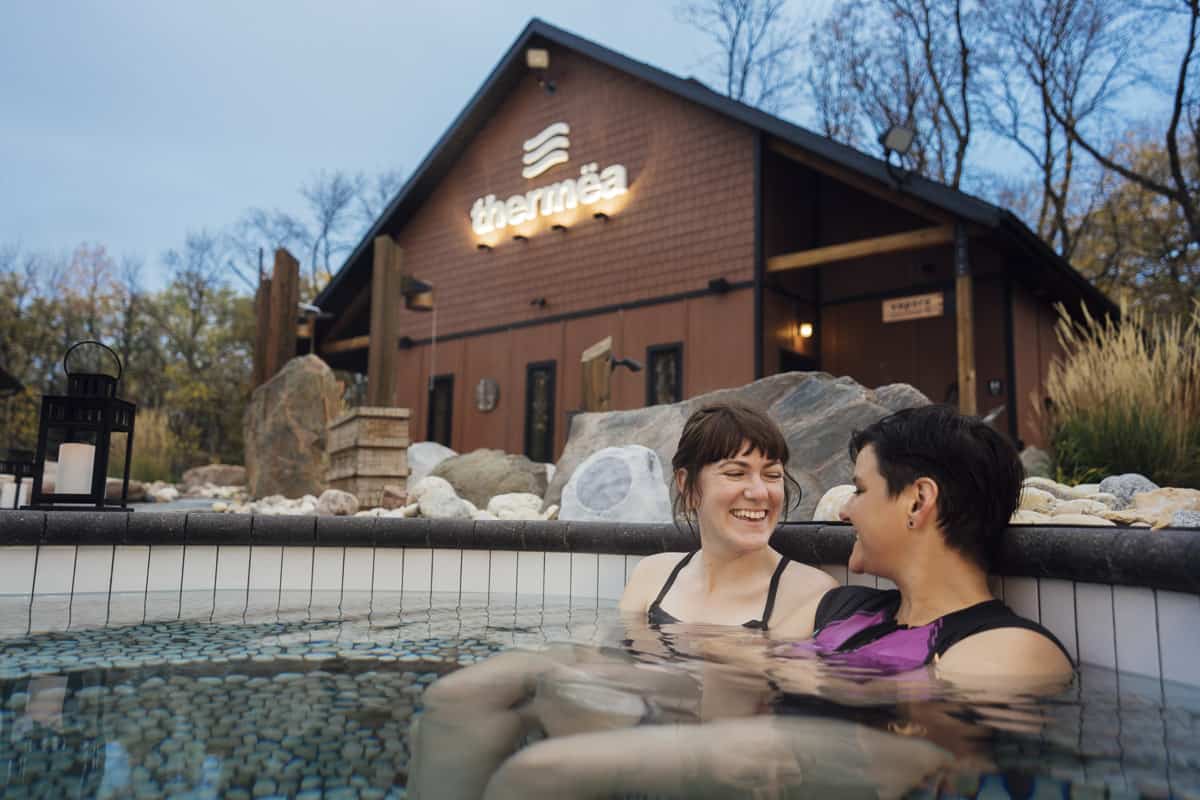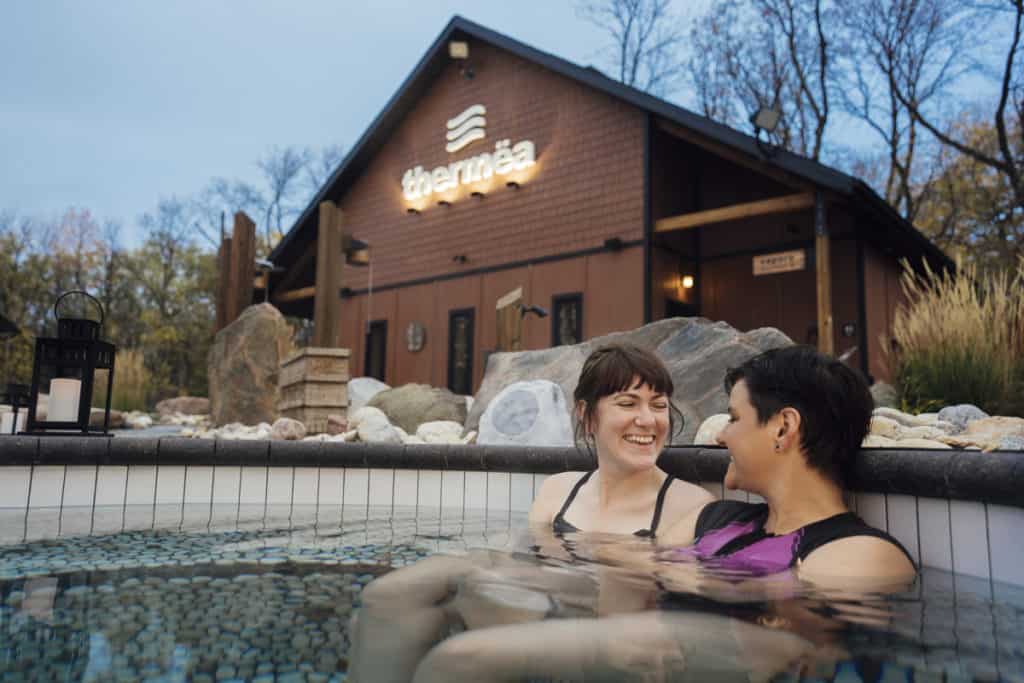 Try a Goog, Schmoo Torte, Flapper Pie, Nips, or a Fat Boy
There are plenty of foods that are fairly unique to Manitoba and/or Winnipeg, and it sure is fun trying them all! Some of the most famous include a BDI Goog, Schmoo Torte, Flapper Pie, Salisbury House Nips, or a Dairi Wip Fat Boy. Just don't forget the honey dill, of course.
Dine on the Ice at RAW: Almond
For a totally unique experience, enjoy the fine dining festival that is RAW: Almond. Held in Winnipeg's coldest months every year, a temporary structure is built right on the ice of the city's frozen rivers. There, you can enjoy a high-quality meal from some of the best chefs in the world. It's not often that you hear about a pop-up restaurant built on ice, but we're lucky to have the chance to try it out in Winnipeg!
Try to Find All of the West End Murals
With perhaps the largest collection of murals in the city, the West End is a perfect place to wander and try to find them all. The West End Murals highlight everything from Manitoba's history to its civil rights to its landscape, and they are well worth a viewing.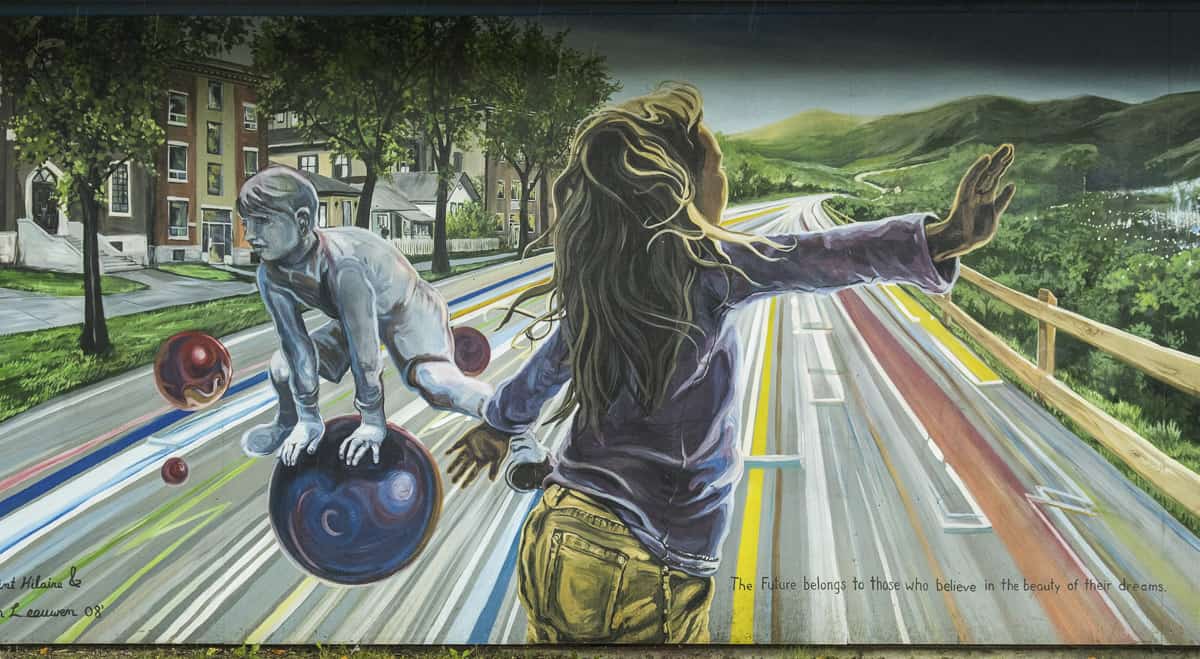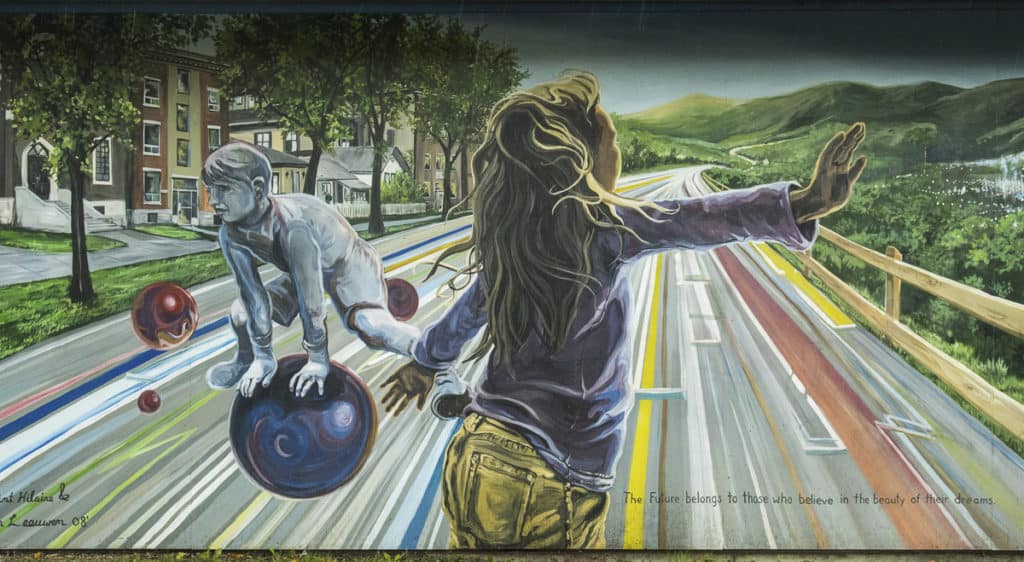 Take in the Winnipeg Ballet
One of the most renowned ballet companies in the world, the Royal Winnipeg Ballet is both the oldest ballet company in Canada and the longest-continuously operating ballet company in North America. Fans of dance and theatre will absolutely love a night out at the ballet here, as it truly is of the highest quality.
Spend Some Time at The Beer Can
In the warmer months, The Beer Can opens up on Granite Way alongside the Assiniboine River. Packed with picnic tables and benches, this family-friendly, dog-friendly outdoor hangout is a great place to enjoy some sun. With a terrific menu of local beer as well as a few food options, our recommendation is to go as early as possible… this place fills up quickly, especially on weekends!
Learn at the Canadian Museum for Human Rights
The Canadian Museum for Human Rights is definitely worth a visit in Manitoba for both its stunning architecture and, most importantly, for its very powerful message of civil rights for all. Explore the many floors and alabaster ramps inside; you'll need at least a few hours to take it all in.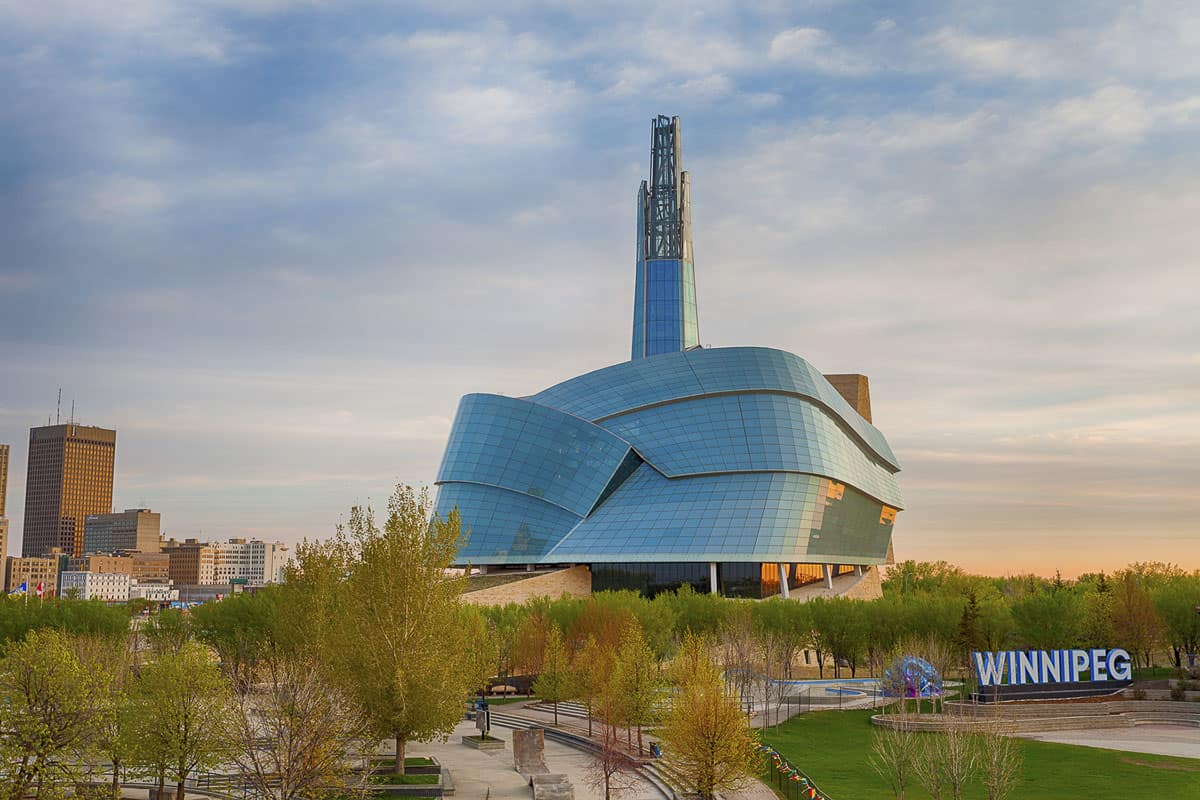 Go Cross-Country Skiing at FortWhyte Alive
There are many fun places to go cross-country skiing or snowshoeing in Winnipeg, but one of our top choices to do so is at FortWhyte Alive. With over six kilometres of trail to explore, there's excellent wildlife viewing as well as plenty of forests and frozen lakes to take advantage of.
Get Inspired at the Winnipeg Folk Festival
The Winnipeg Folk Festival, held in Birds Hill Park, is one of the most famous festivals in the province (if not in all of Western Canada). Winnipeg Folk Festival is a long-running festival that has seen its fair share of incredible acts over the years; whether you camp for the entirety of the festival or go for only a day, it is absolutely worth a visit.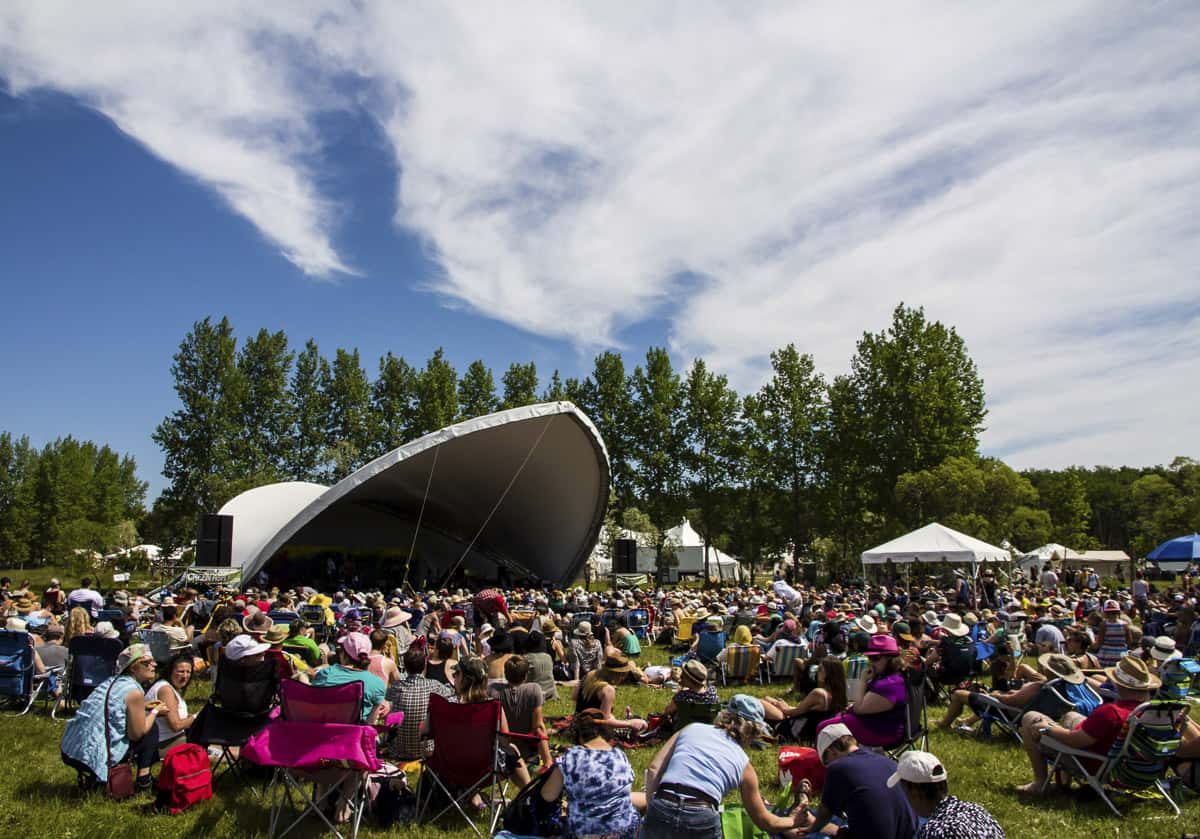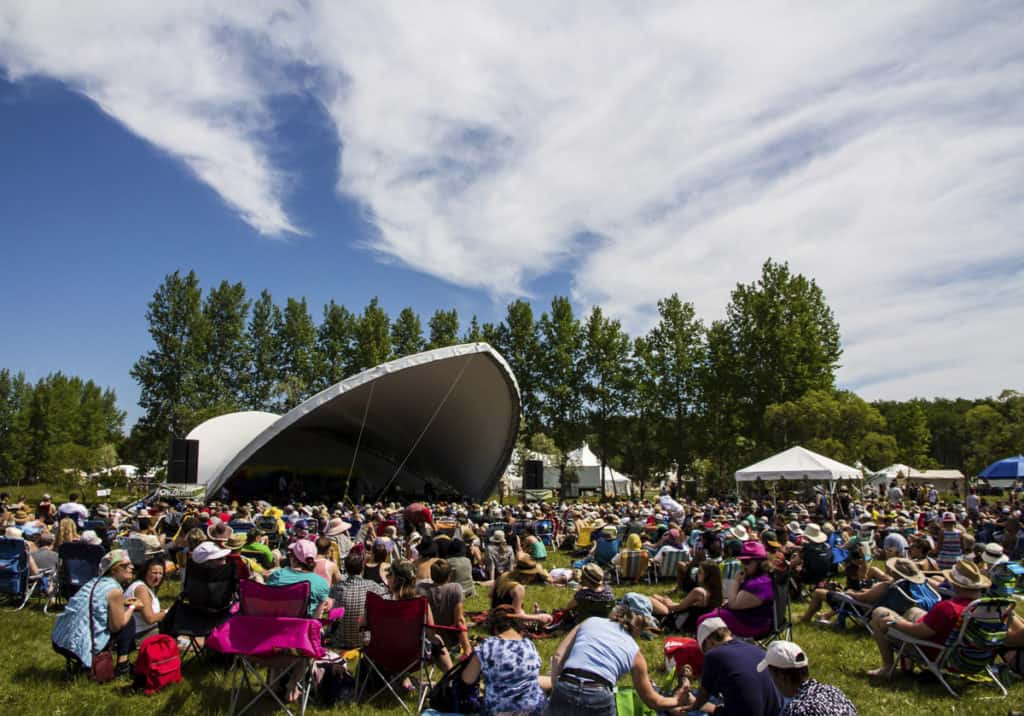 Have fun at Tinkertown Amusements
A long-running amusement park found just east of Winnipeg, Tinkertown Amusements is fun for the whole family. With over 20 rides and attractions, this seasonal park is a great way to spend a day with the kiddos in the summertime.
Dine at Table for 1200 More
Every summer, join 1199 others for dinner. No, seriously! This pop-up experience is in a different outdoor location around the city every year, and you don't find out where it is until the day of. Experience the thrill of eating at one of the world's longest dining tables with 1200 More!
Say Hi to the Golden Boy
Standing on top of the Manitoba Legislative Building, the Golden Boy is a symbol of Winnipeg, and it's worth a wander around the grounds to see the beautiful building and the Golden Boy himself. Want to learn even more? Take the Hermetic Code Tour, one of the best tours in the city.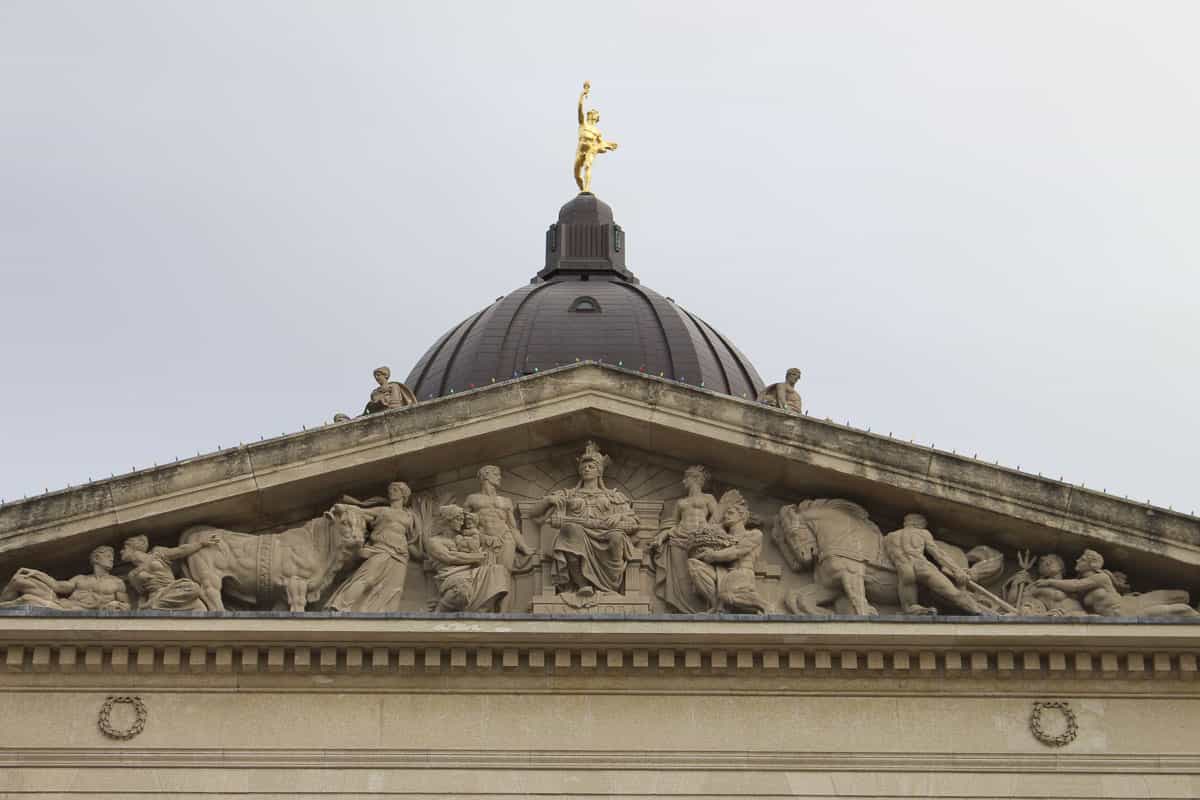 Things to Do East of Winnipeg
Canoe through the Caddy Lake Tunnels
Found in Whiteshell Provincial Park, the Caddy Lake Tunnels are manmade; the granite rock was blasted away for the railway system in the early 20th century. There's an excellent canoe route to take through the tunnels beginning from Caddy Lake, and it can even be done as a day trip from Winnipeg.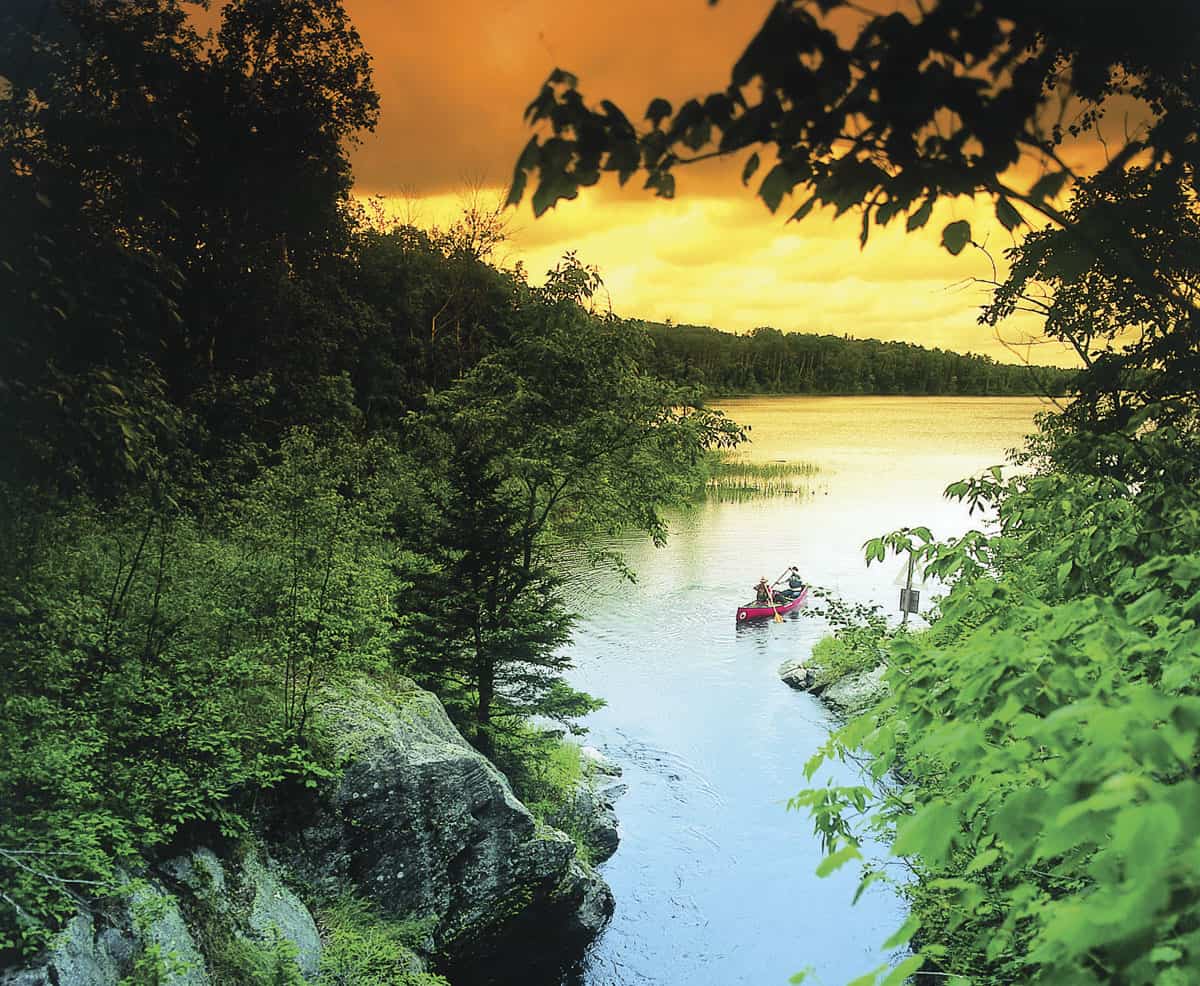 Dance at the Fire and Water Music Festival
Every August long weekend in Lac du Bonnet, the Fire and Water Music Festival showcases multiple acts, including musicians, visual artists, dancers, and more. It's a great opportunity to discover acts that may have been previously unknown to you!
Hike the Pine Point Trail
It's no secret that one of the most beloved provincial parks in Manitoba is Whiteshell Provincial Park; there's simply so much to do there. One of the best hikes in the park is Pine Point, which includes incredible scenic views and a chance to see Pine Point Rapids. A moderate trail of about 7.7 kilometres, there's also great birdwatching along the way.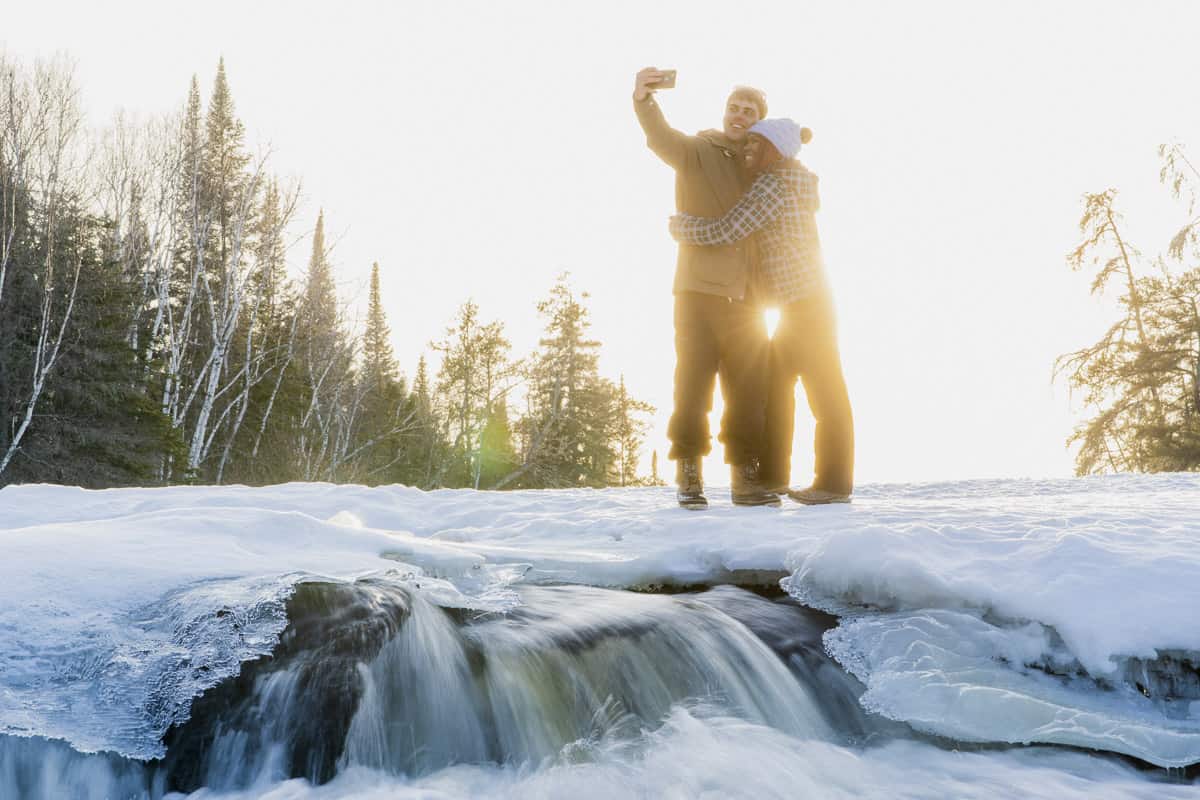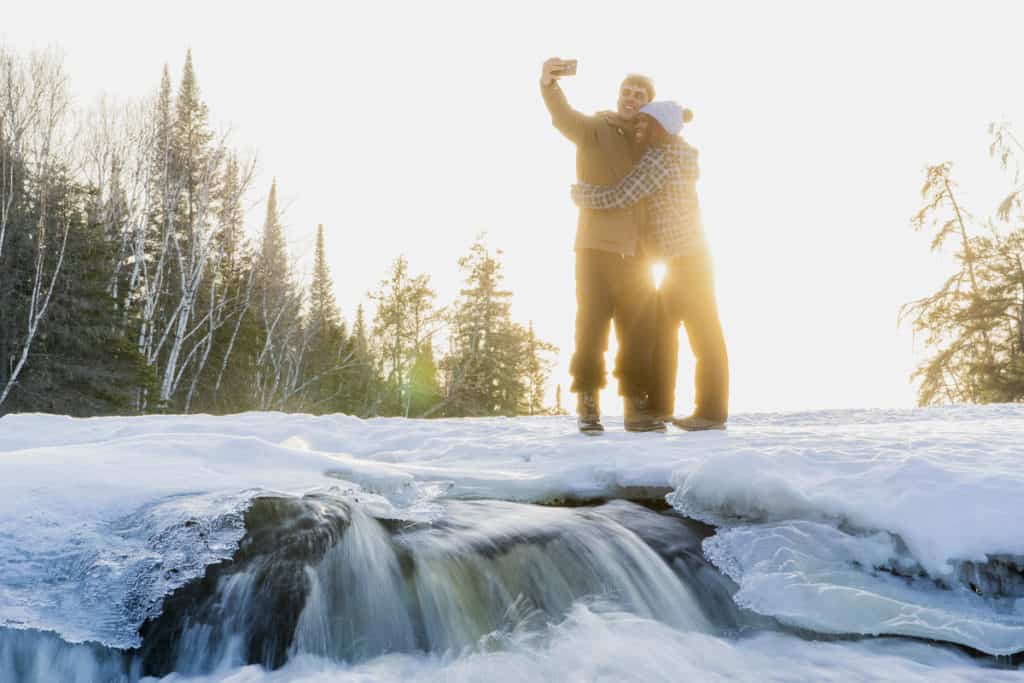 Stay on a Houseboat in the Whiteshell
Did you know that you can rent a houseboat in Whiteshell Provincial Park? Voyageur Houseboats allow you to stay up to seven nights on one of their boats, each of which can sleep up to four people. Your captain will moor you in a beautiful spot in the Whiteshell, and you'll be provided with kayaks and stand-up paddle boards to explore the area. Sleep under the stars, with the water lapping against the boat… what could be more peaceful?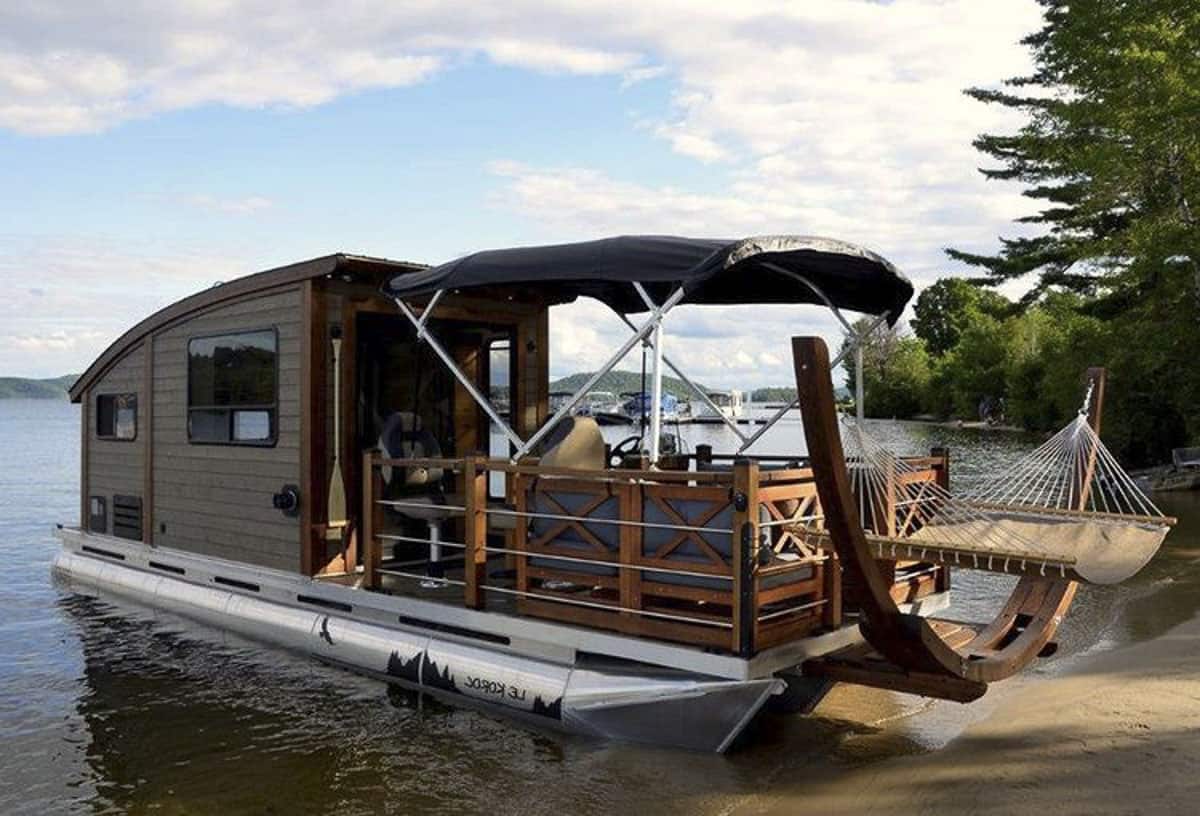 Learn at the Mennonite Heritage Village
Make your way to Steinbach to visit the Mennonite Heritage Village, where you can learn all about the rich Mennonite history in Manitoba. View historic artifacts, see a fully functioning Dutch windmill, and taste traditional Mennonite food, among other fun activities. (While you're there, also check out some great Steinbach restaurants!)
Visit the Bannock Point Petroforms
Found in Whiteshell Provincial Park, the Bannock Point Petroforms are ancient rocks and boulders arranged by Indigenous peoples over thousands of years. Breathe in the fresh air as you appreciate that you are standing on sacred ground. Want to learn more about the Petroforms? You can take a tour of the area.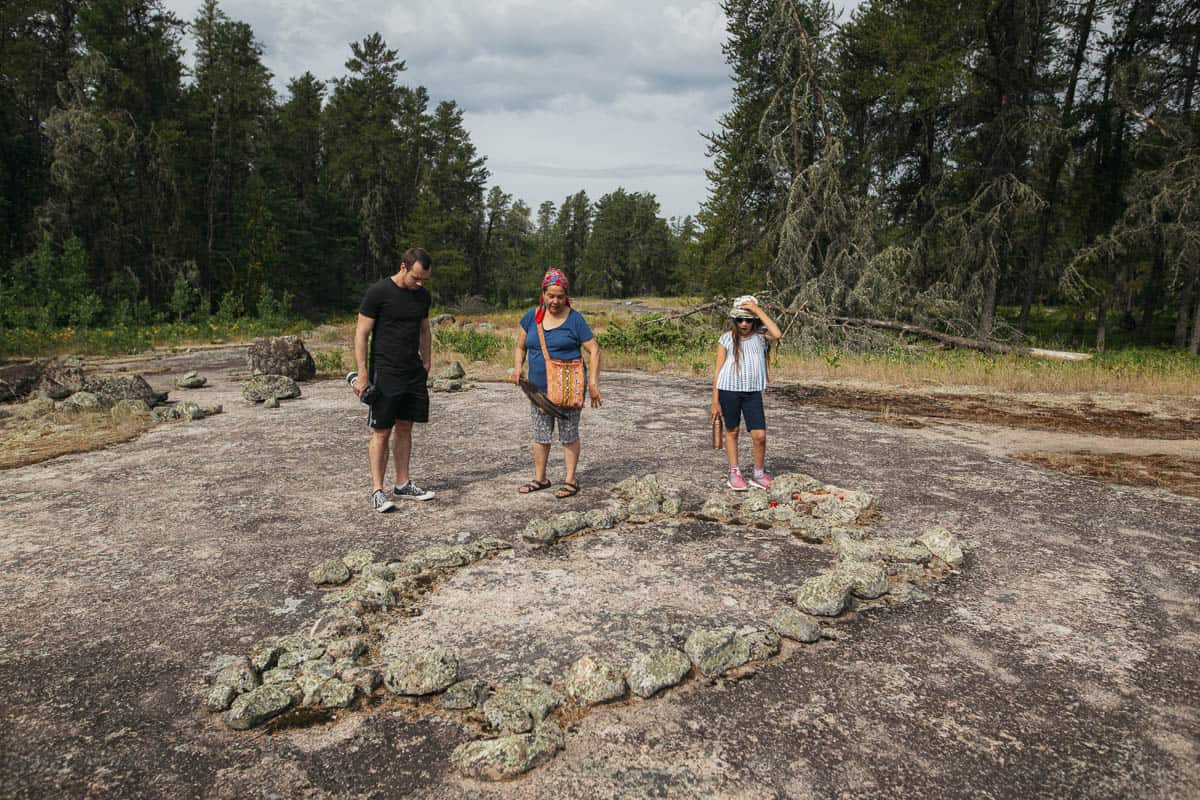 Spend a Day on the Hunt Lake Trail
One of the most well-known Manitoba hiking trails is the Hunt Lake Trail in Whiteshell Provincial Park. Rated as difficult due to its length (12.6 kilometres) and because of its rugged terrain, the trail follows the shore of West Hawk Lake. With stunning views of the provincial park and the lake, avid hikers should scramble – no pun intended – to cross this one off of their list.
View Rainbow Falls
People don't often think of waterfalls when they think of Manitoba, but we definitely have some very pretty falls around the province. Stop by Rainbow Falls near White Lake for a photo op; the walk to the falls is short and is fairly easy even for smaller children. Pro tip: go after a few big rainstorms if you want to see the falls at their peak!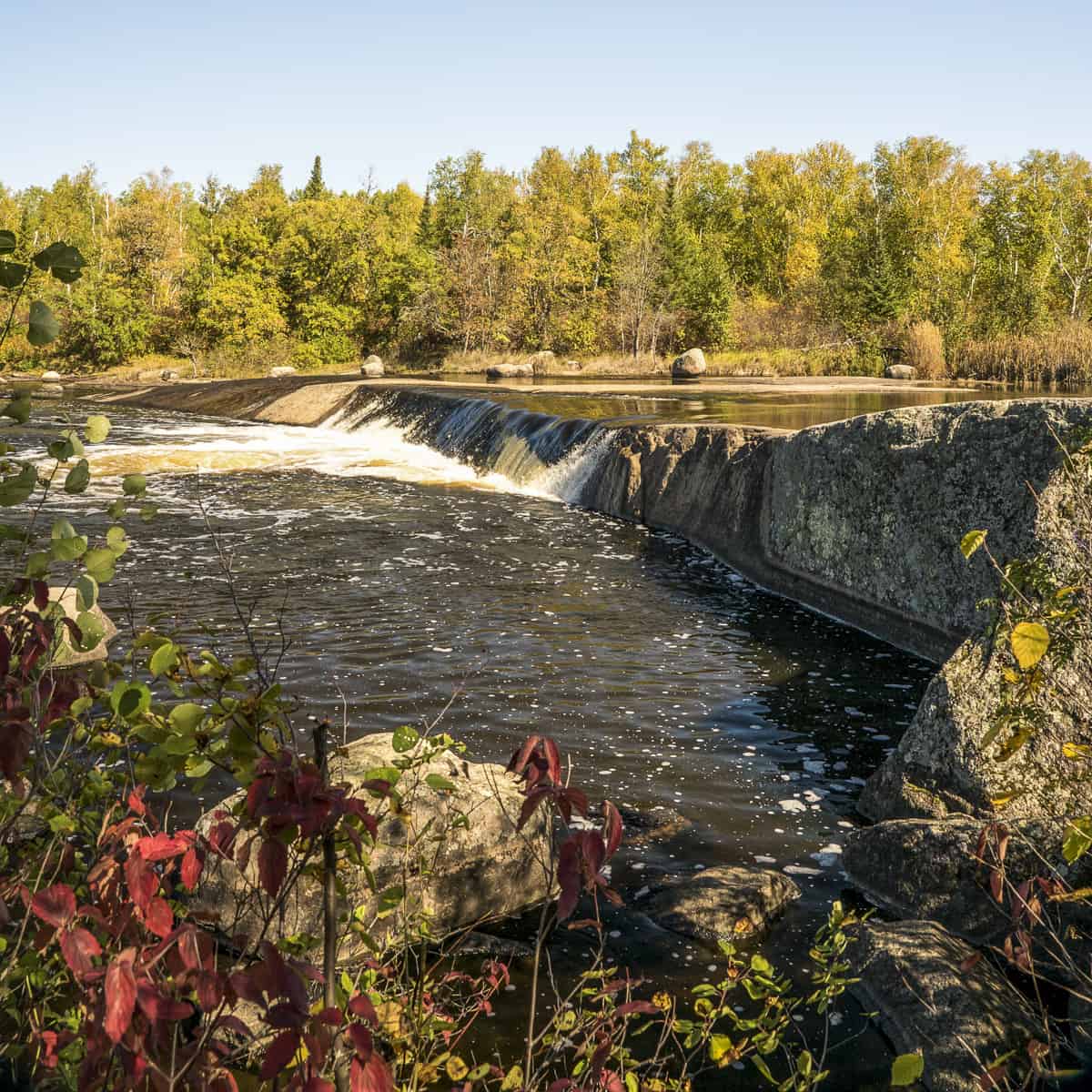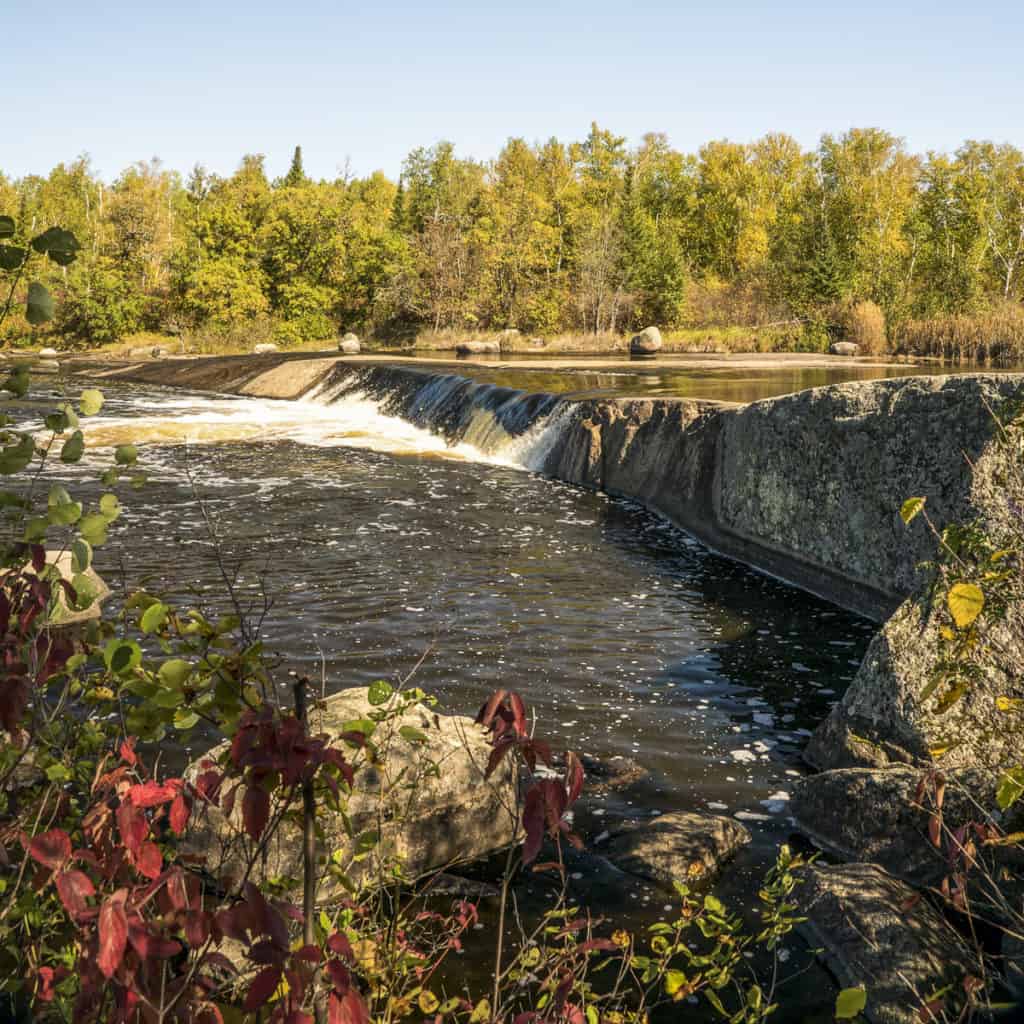 Go Tubing in Pinawa
Is there anything more fun in summer than tubing down the Pinawa Channel? Spend a couple of hours floating down the scenic water route in a single-rider tube or a multi-rider tube. No matter what, you're sure to have tons of laughs.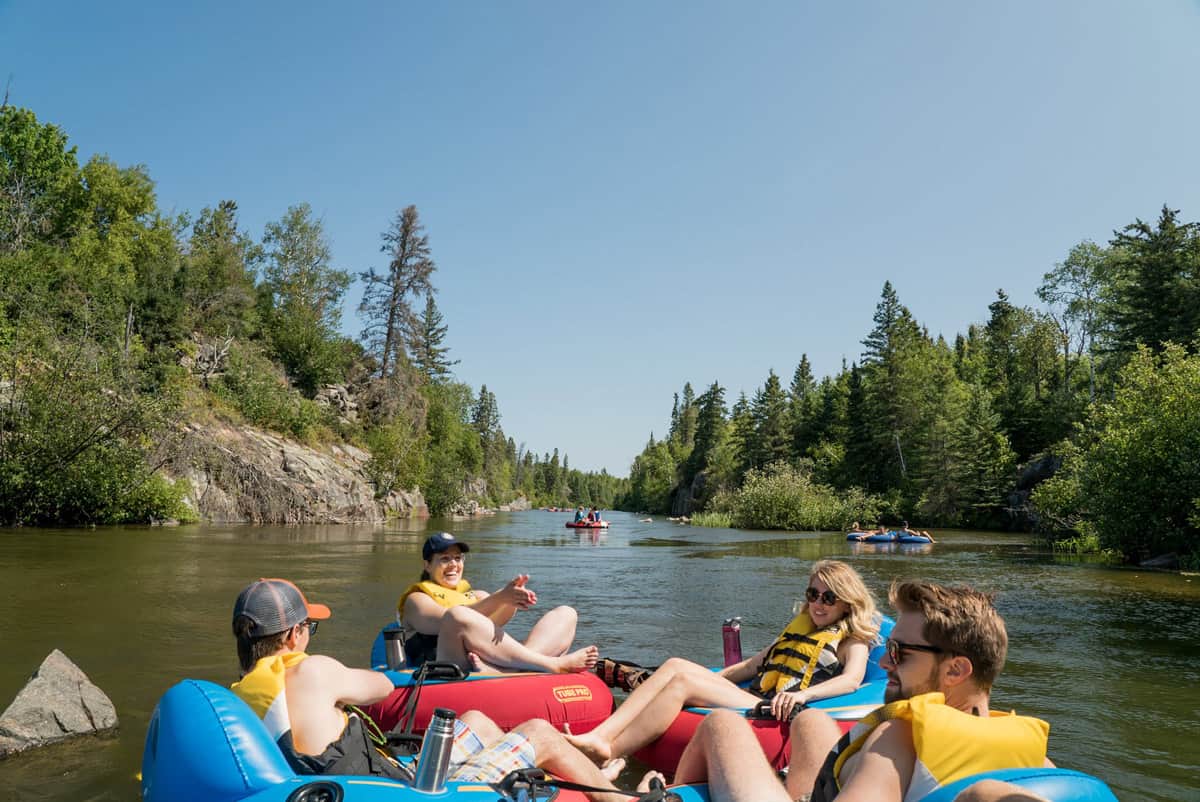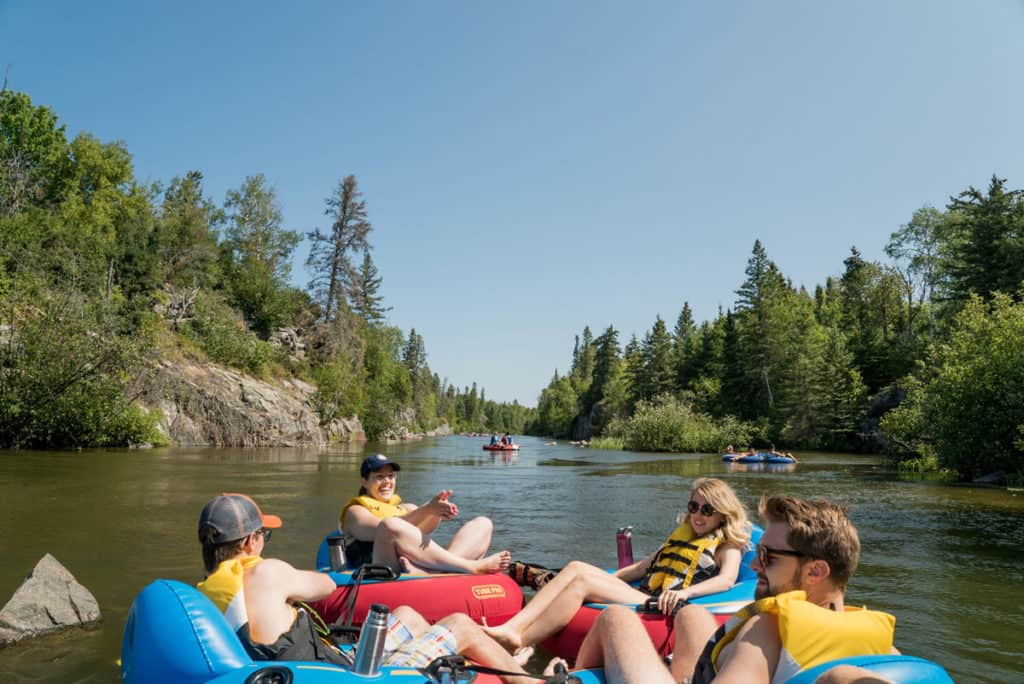 Spend Some Time at West Hawk Lake
The deepest lake in Manitoba, West Hawk Lake was created by a meteor impact millions of years ago. Today, surrounded by granite cliffs, it's one of the most popular lakes in Manitoba. Camp, boat, wakeboard, swim, fish, water ski, scuba dive… the list of things to do at West Hawk Lake is endless, and there are many fantastic cabin rentals in the area.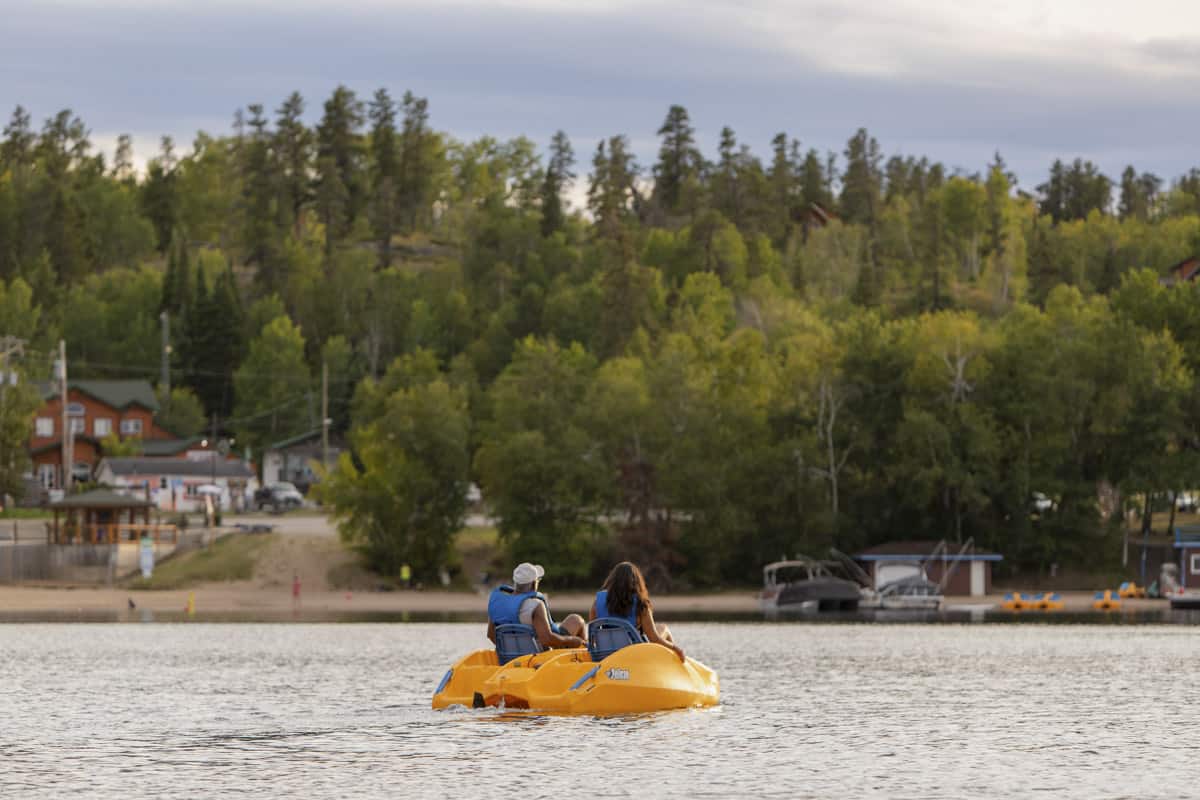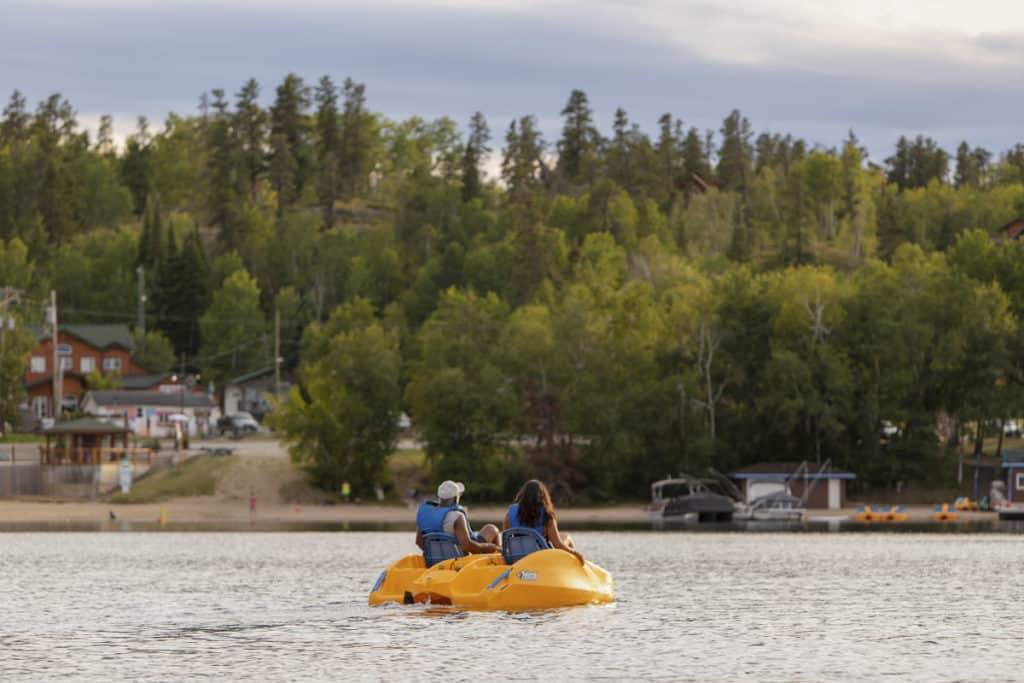 Hike the Mantario Trail
So named because it runs along the border with Ontario, the Mantario Trail is a challenging 60-kilometre (37-mile) hiking trail that many people take multiple days to complete. Enjoy camping, birdwatching, and all of the fun that backcountry hiking brings. Please note: backcountry hiking experience is definitely recommended before attempting the Mantario Trail.
Bask in the View of Tulabi Falls
One of the most famous waterfalls in Manitoba, Tulabi Falls in Nopiming Provincial Park is undoubtedly one of the most gorgeous spots in the province. Enjoy the surrounding nature, stay in one of the yurts available to rent, or camp here for a few days to take full advantage of their beauty. In our opinion, it's one of the best places to go camping in Manitoba.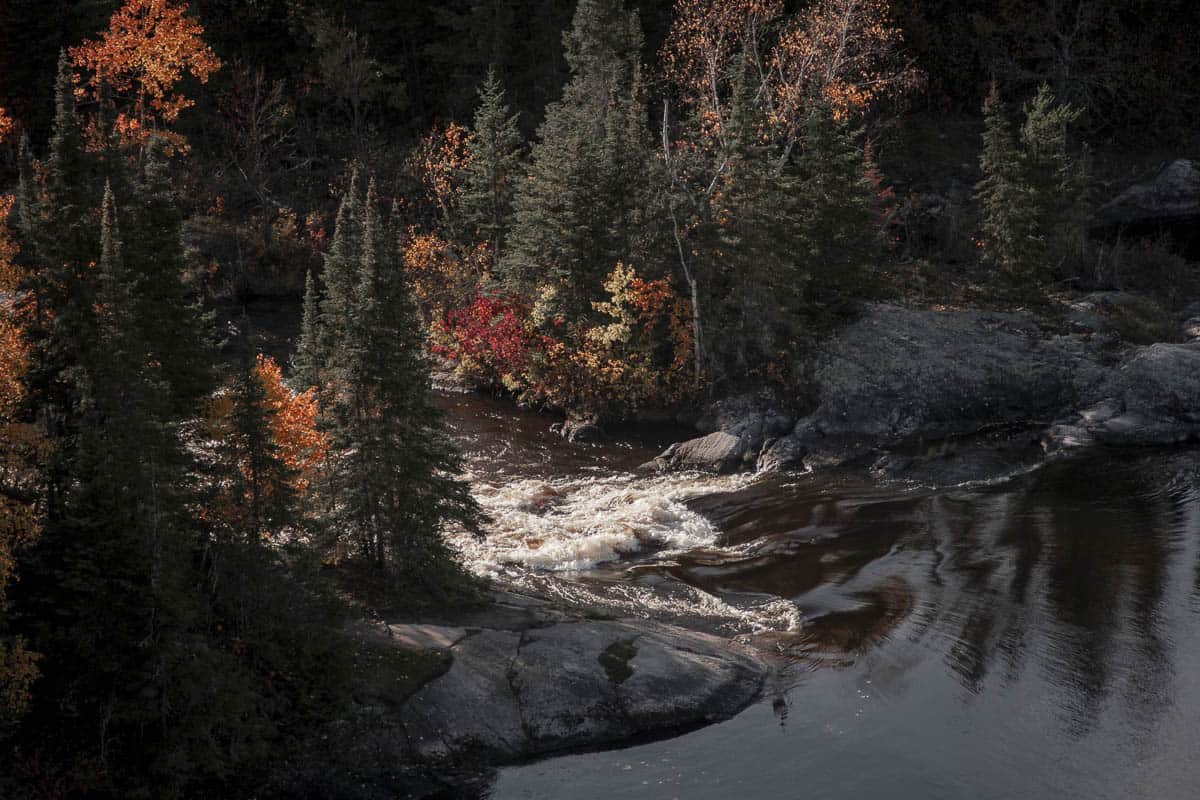 Stand on the Longitudinal Centre of Canada
Travel down the Trans Canada Highway near Lorette to catch a glimpse of the "Longitudinal Centre of Canada" sign. Even better, safely pull over and grab a photo of you standing on the centre line!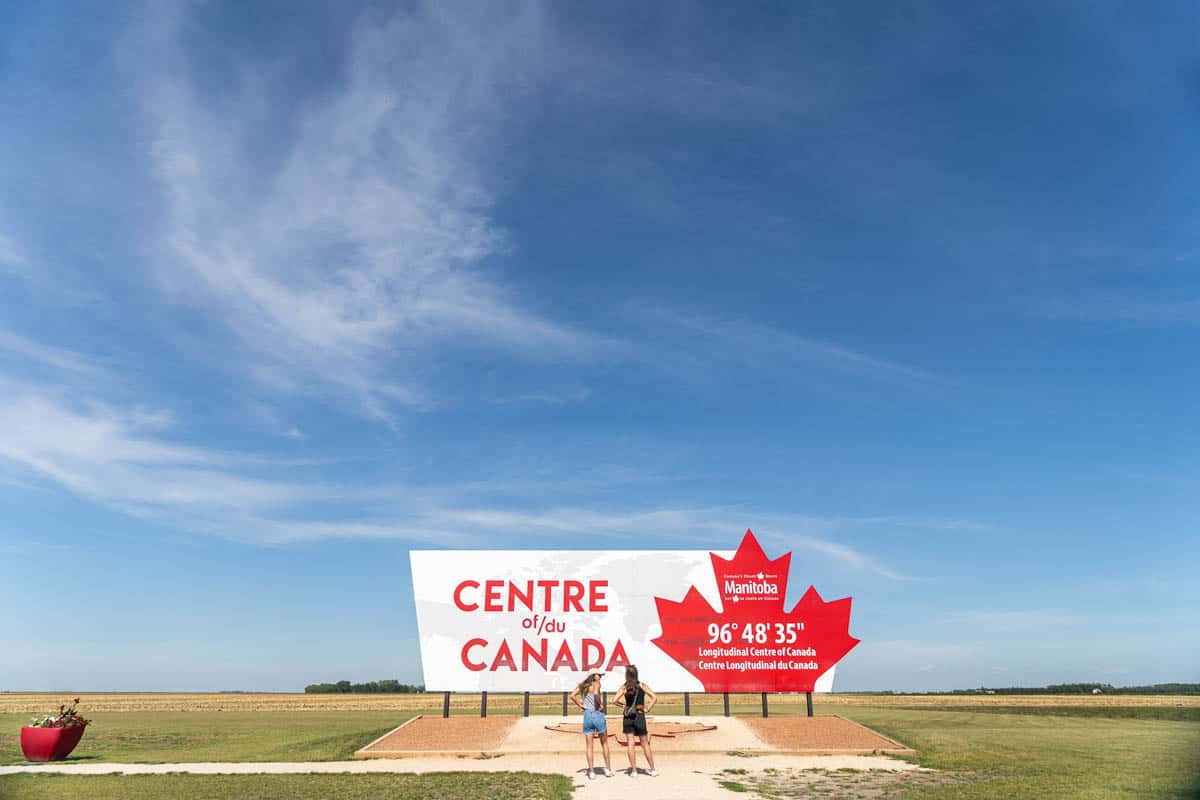 Vacation at Falcon Lake
Falcon Lake has one of the most popular beaches in Manitoba and with so many amenities – think restaurants, shops, snack stands, play structures, picnic tables, a beach boardwalk, tennis courts, and so much more – it's worth it to camp or rent a cabin here for a while. The lake is also extremely popular for boating, waterskiing, swimming, fishing, and more.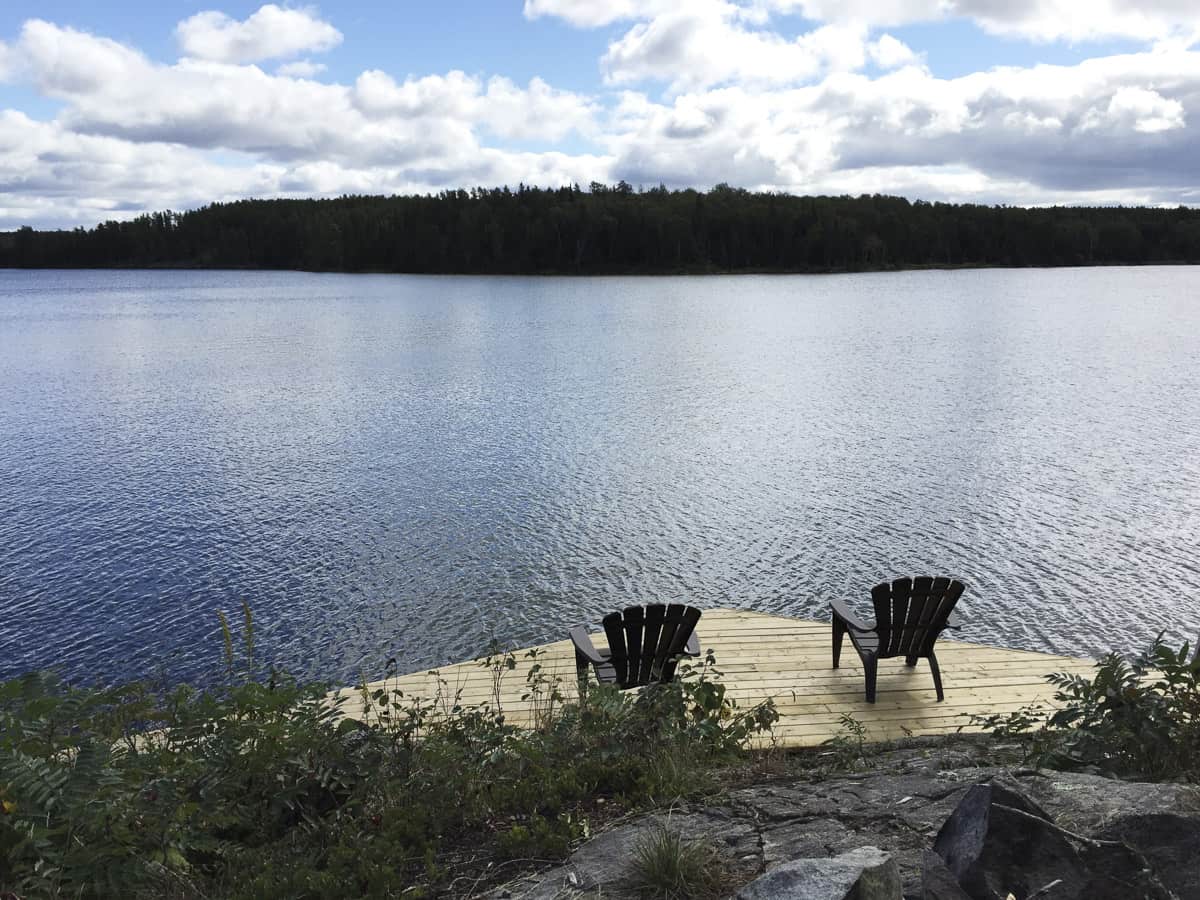 Visit Pinawa Dam
Pinawa Dam Provincial Park is a fantastic place to go to spend the day. Besides the photogenic views of the former dam and the rushing water, there's also a chance to picnic, hike, and fish.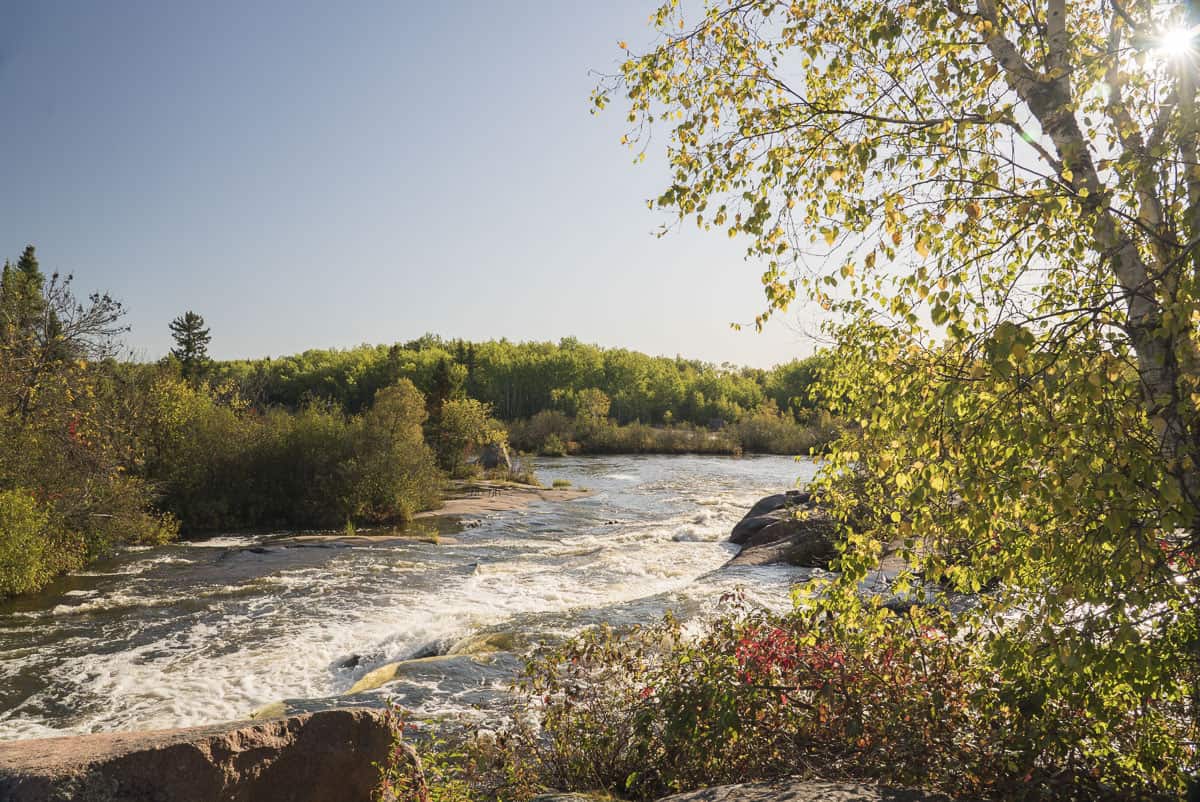 South of Winnipeg
Meet Bruce the Mosasaur in Morden
You'll find the largest publicly displayed Mosasaur (affectionally named "Bruce") at the Canadian Fossil Discovery Centre in Morden, Manitoba. Learn all about what Bruce's life was like 80 million years ago, when Manitoba was actually covered in water!
Sip Some Dead Horse Cider
Make your way to Winkler to visit the Dead Horse Cider taproom and cidery. What a uniquely Manitoban experience, to sip on cider made from local apples while surrounded by gorgeous rolling prairies! It doesn't hurt that the cider is delicious, of course.
Enjoy Stunning Pembina Valley
When you think of Manitoba, you most likely think of the prairies, but Pembina Valley is a gorgeous area of rolling hills. Visit the Pembina Valley Provincial Park for hiking; the best time of year to visit is autumn, when the leaves turn magnificent shades of red, orange, and yellow.
Go Glamping in a Dome
Though there are a few glamping resorts in Manitoba, one of our top picks is Moonlit Canopy in Belmont. These luxury, eco-friendly domes offer amazing views of the surrounding nature, full bathrooms, kitchenettes, gas stoves, and outdoor barbecues and hot tubs. What could be more relaxing or more romantic?!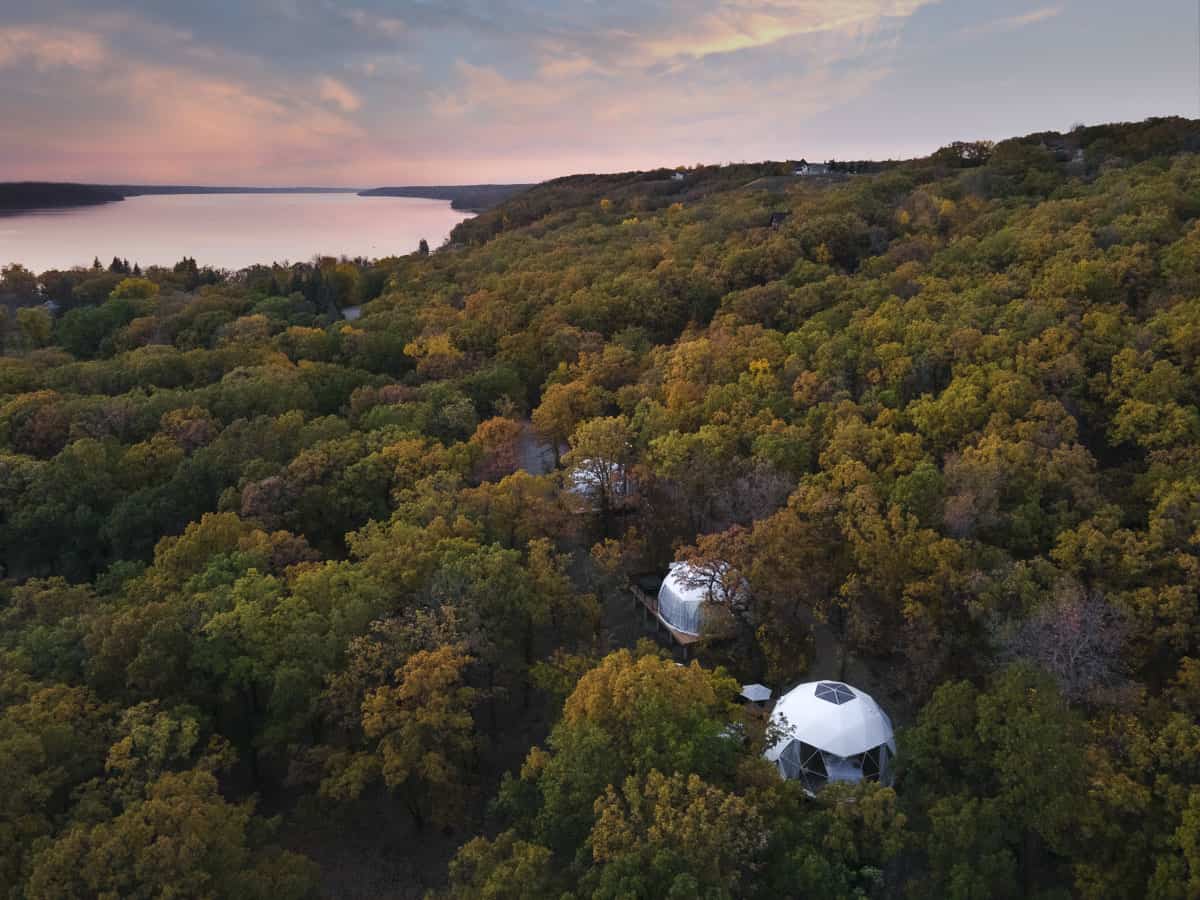 Have Fun at the Corn and Apple Festival (Morden)
The annual Morden Corn and Apple Festival takes place every summer in the Southern Manitoba city, and is described as a weekend of "fun, food, and entertainment for the whole family". Listen to live music, eat your fill of free corn and apple juice, enjoy the rides, and so much more.
Navigate A Maze in Corn in St. Adolphe
One of our favourite things to do in Manitoba, A Maze in Corn in St. Adolphe has a massive corn maze to navigate every autumn. Also check out the petting zoo, the "haunted forest", and the sunflower fields, or take a hay ride. It's the perfect place to celebrate fall.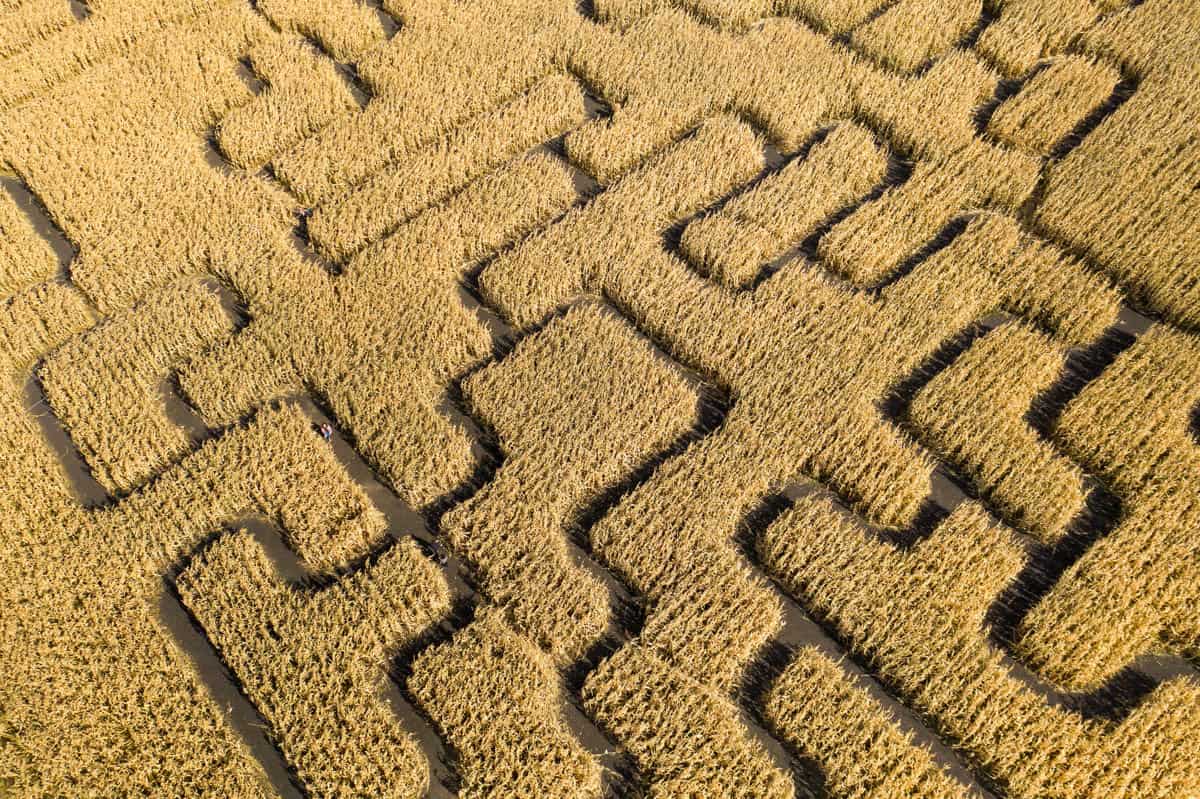 Enjoy the Beach at St. Malo
Drive approximately 70 kilometres south of Winnipeg to find St. Malo Provincial Park. Centred on a reservoir, there are two beaches for relaxing in the sand, swimming, canoeing, and more. It's a lovely little escape from city life when you need it.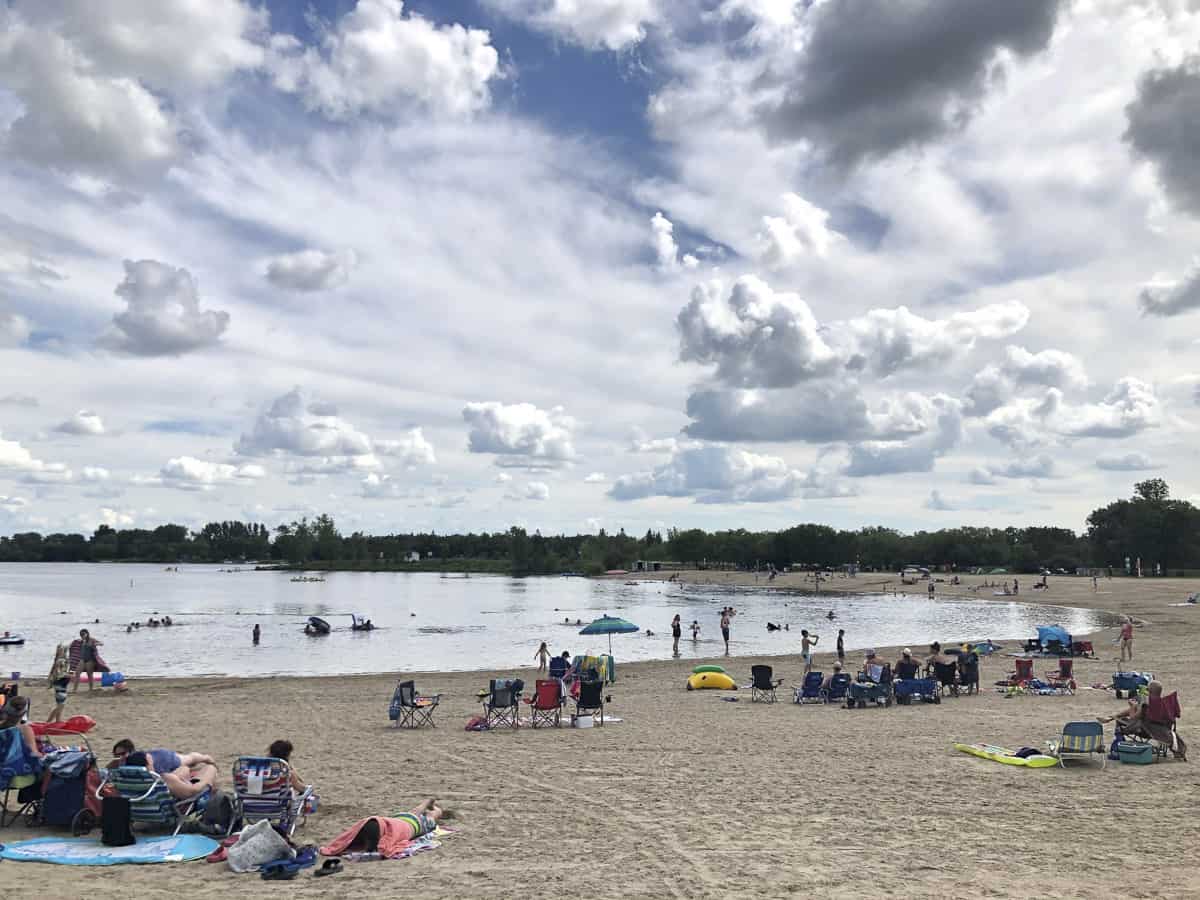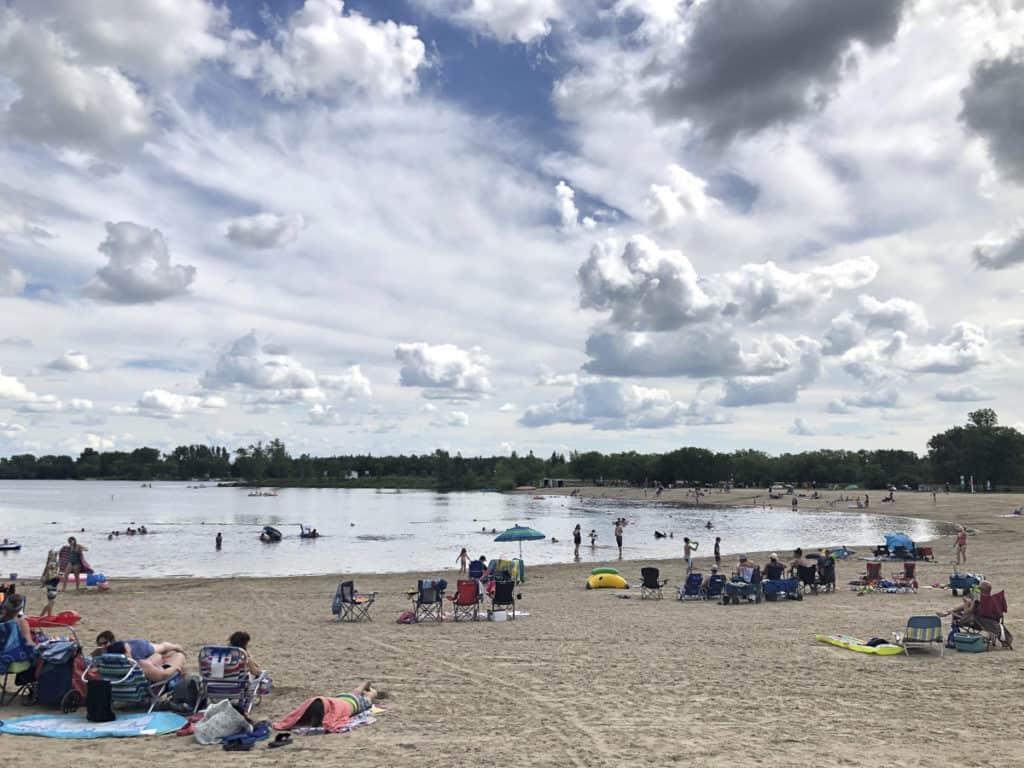 Step Back in Time at the Stardust Drive-in
Everybody loves a drive-in, don't they? Spend an evening at the Stardust Drive-In Theatre in Morden, one of only two operating drive-ins in Manitoba. Check their website for movie times and showings, and don't forget to buy popcorn!
Splash at the Water Park in Morden
Head to Colert Beach just outside of Morden to experience Splish Splash Water Park, a huge water park playground that's the perfect way to cool off on a hot summer's day. Trust us, kids will want to return again and again.
Walk Through the World's Largest Snow Maze
Did you know that the world's largest snow maze is in Manitoba? Head to A Maze in Corn in St. Adolphe to navigate the snowy maze for yourself. There are also snow sculptures, a sled hill, a snow bar, and so much more to enjoy for a fun winter's day.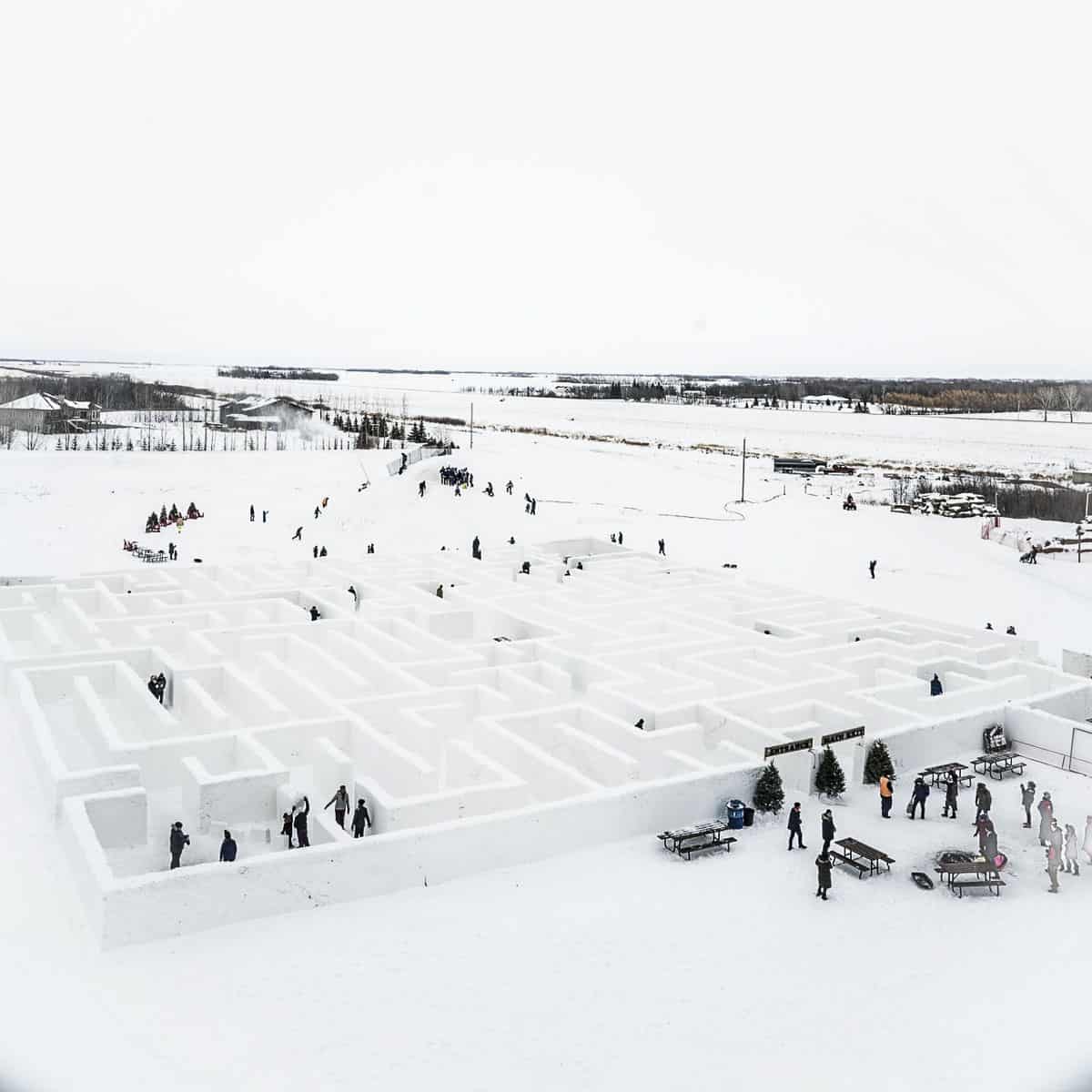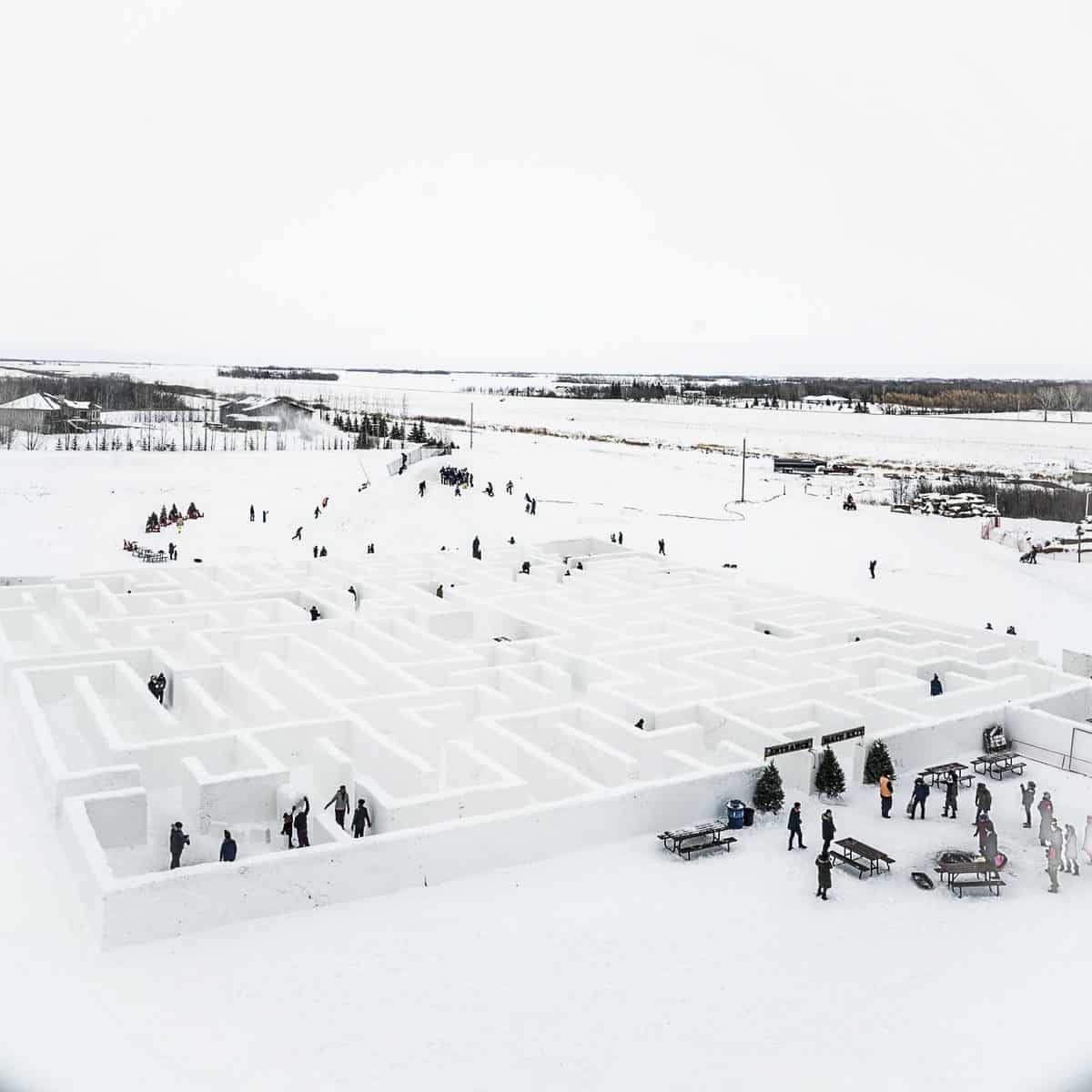 Go Ziplining in Manitou
Head to Manitou (found near Winkler) to try zip-lining through the treetops. It's guaranteed fun! Hy-Wire Zipline Adventures allows you to fly through the trees of Pembina Valley with Manitoba's highest and longest zip lines. There's also a bush maze, hiking trails, and mini golf.
Visit the International Peace Gardens in Boissevain
Found at the US border, the International Peace Gardens in Boissevain includes stunning gardens and sculptures of flowers, cacti, and more. There are guided tours to take of the botanical gardens as well as a café.
Go Winter Camping in Turtle Mountain Provincial Park
Manitobans don't shy away from winter camping! One of the best places to camp in winter is in Turtle Mountain Provincial Park, which has incredible wildlife viewing (think moose, beaver, and deer, to name a few) and cross-country skiing. Also, check out the Turtle Mountain Adventure Huts if tenting is a bit too intense (pun intended) for you in winter.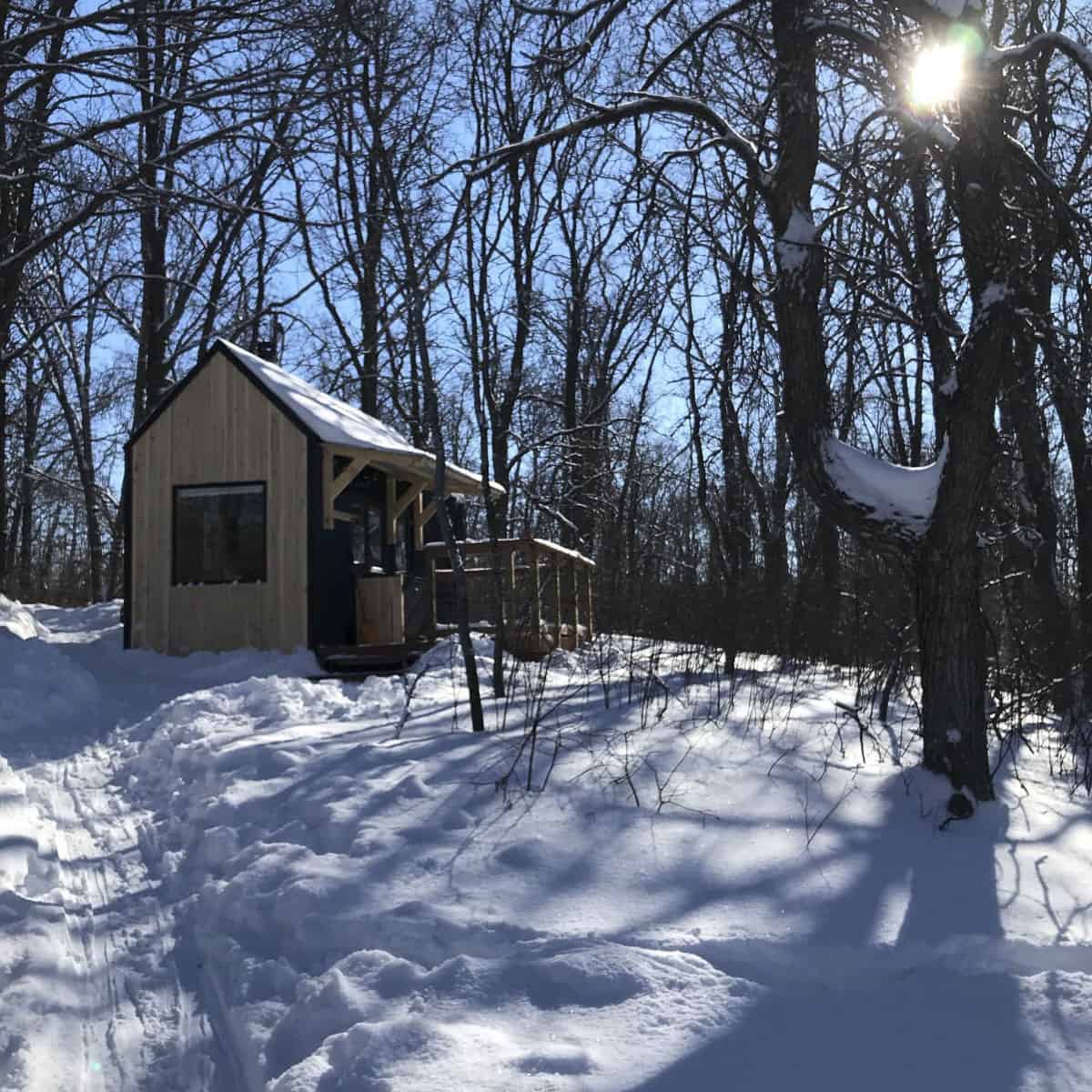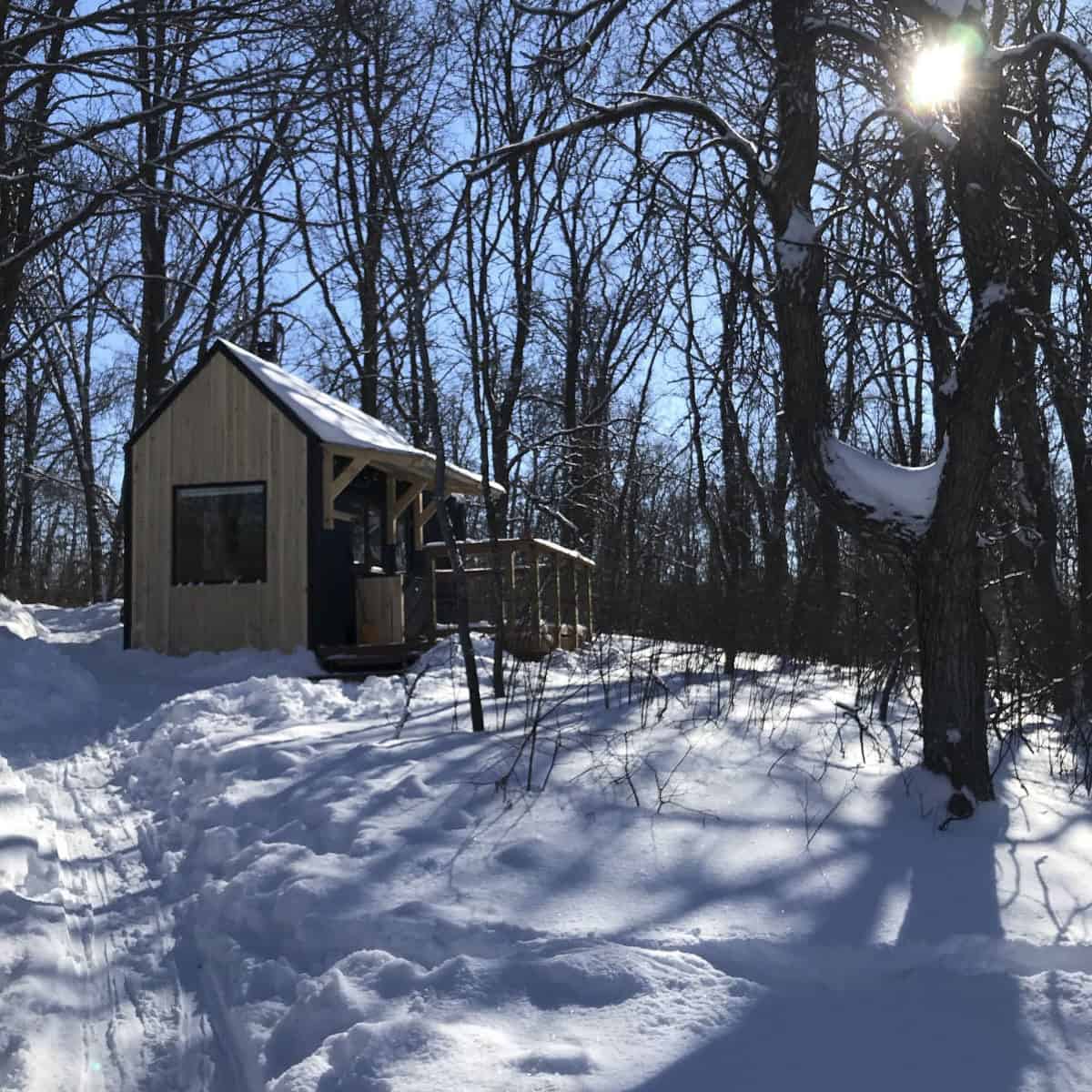 Things to Do West of Winnipeg
See the Bison at Lake Audy
See the beautiful bison that adorn Manitoba's flag in person at the Lake Audy Bison Enclosure in Riding Mountain National Park. The 40 plains bison roam through two sections within the enclosure – north and south sections depending on the season – so make sure you go to the right one in order to catch a glimpse of these majestic creatures!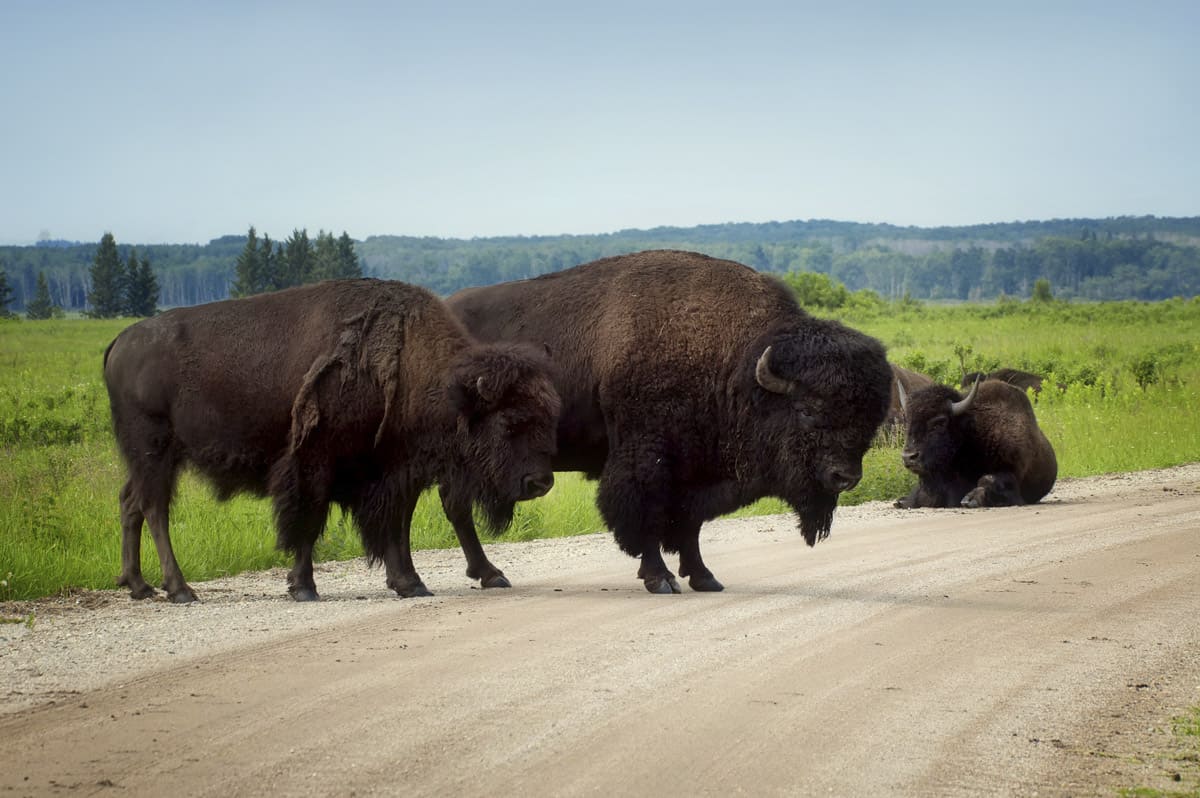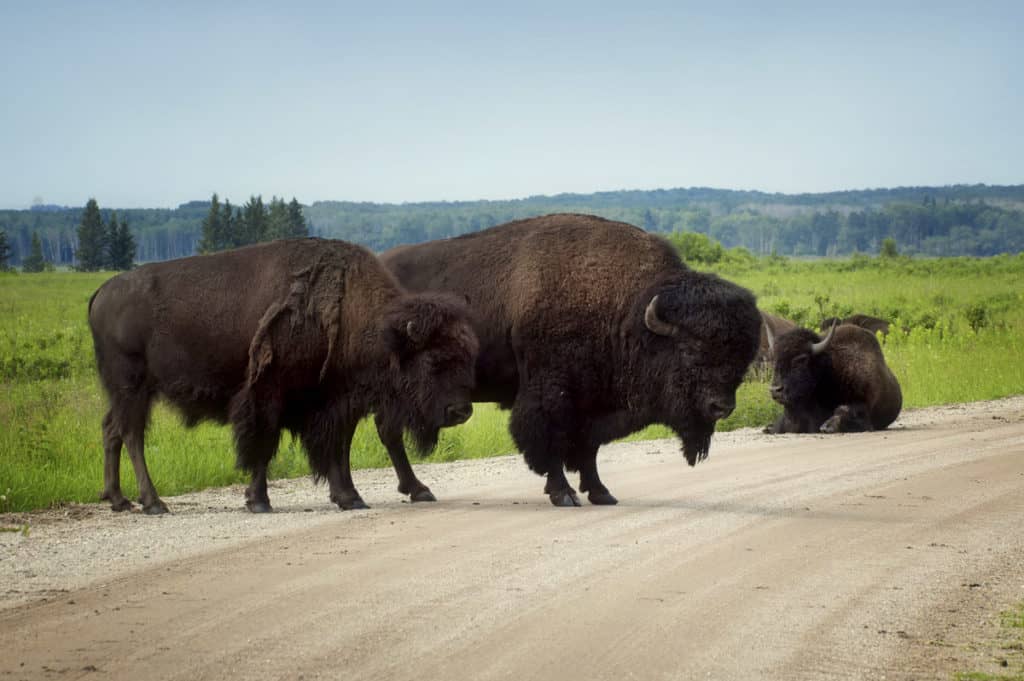 Go Skiing in Asessippi
Wait a second, there's downhill skiing in Manitoba? That's right! This prairie province has some great ski slopes after all. Visit the Asessippi Ski Resort to take advantage of the ski trails, sledding, skating, and so much more. And in summer, bring your mountain bike to get your adrenaline fix.
Take in the Past at the Inglis Grain Elevators
Head to the Inglis Grain Elevators National Historic Site in Inglis to see the last remaining row of standard country grain elevators in Manitoba. Relics of what this prairie province used to look like – there were once thousands of such grain elevators in prairie towns across Manitoba – today they're a terrific photo opportunity and a chance to reflect on our past.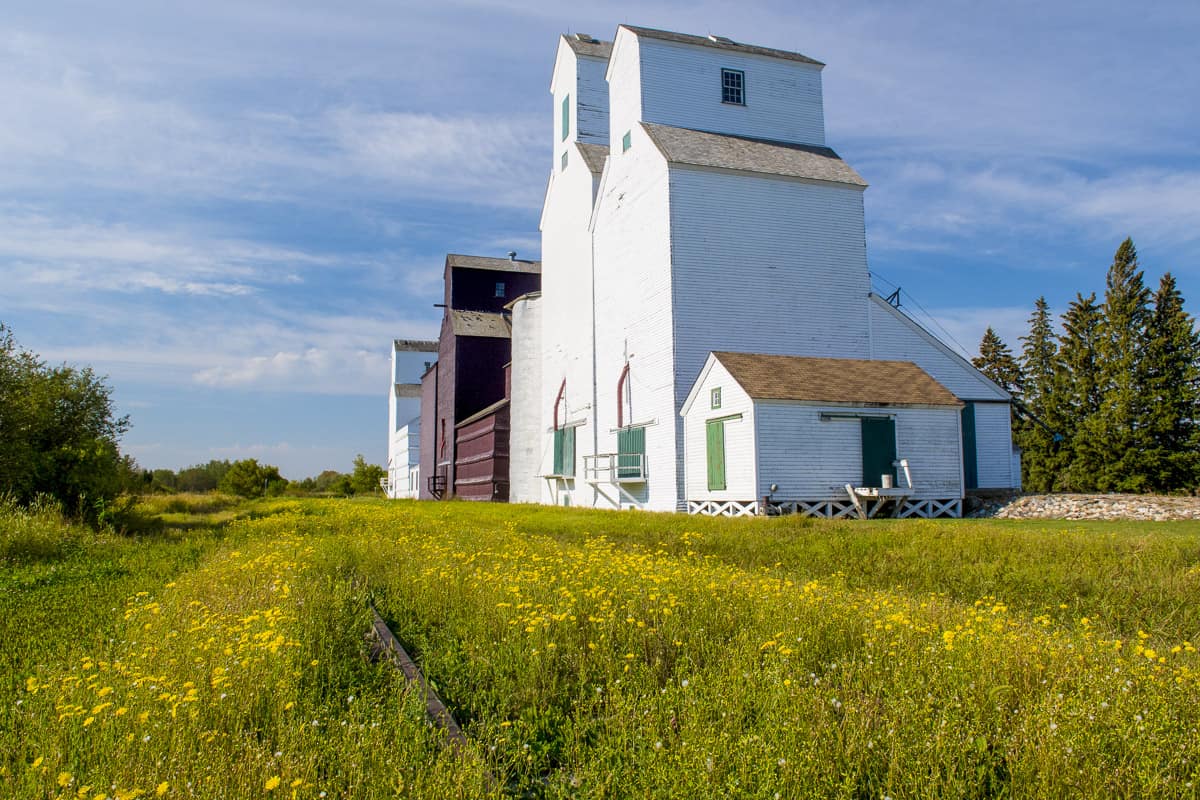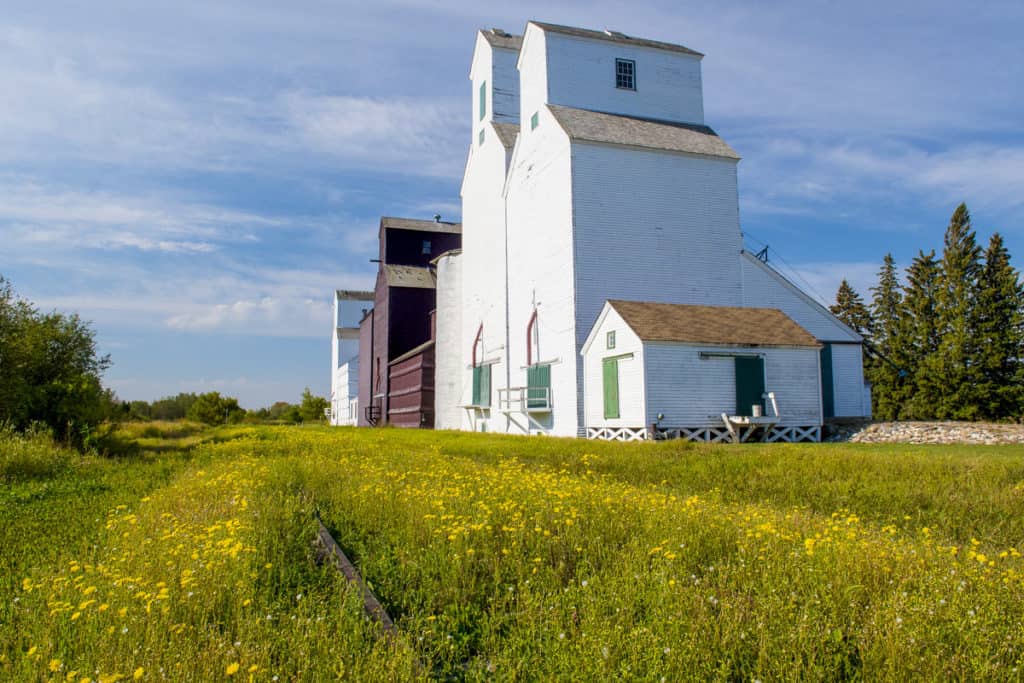 Enjoy Portage la Prairie's Island Park
Island Park is one of the best things to do in Portage la Prairie and is home to some of the city's best events, and festivals, plus so much more. It's also an amazing place to spend some time, whether you take advantage of the many hiking and biking trails, the picnic spots, the tennis courts, the public art, or all of the beautiful nature. There's also Splash Island Waterpark to enjoy in the summer!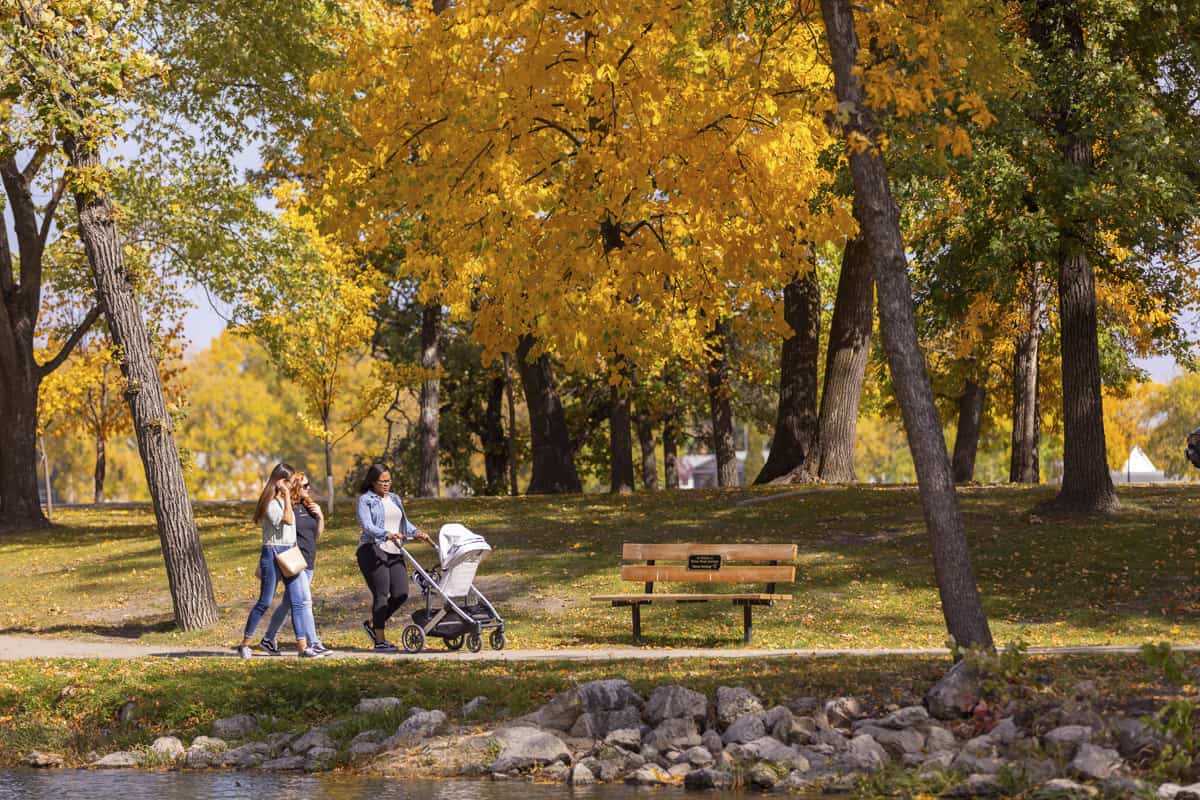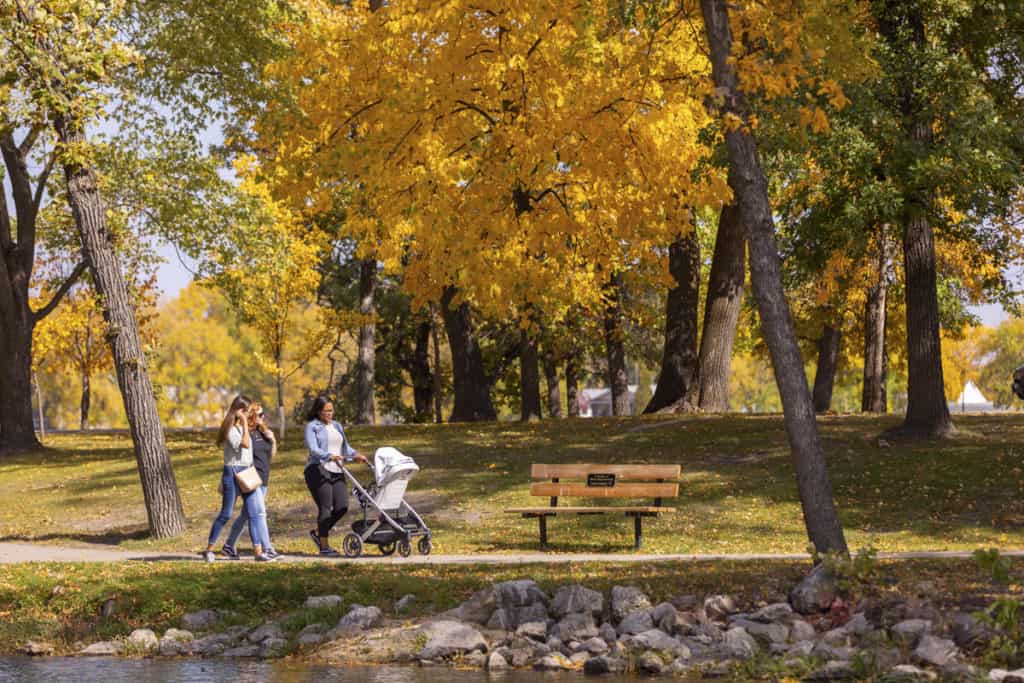 Spot the Arden Crocuses Monument
Drive to the little village of Arden, not far from Neepawa, to see the Arden Crocuses Monument. A lovely photo op, it's a sweet way to commemorate Manitoba's official flower, the prairie crocus.
Traverse Manitoba's Only Desert
You wouldn't think there's a desert in Manitoba, but indeed there is! Make your way to Spruce Woods Provincial Park to experience the wonder that is Spirit Sands. You'll find sand dunes and cacti here, as well as the blue-green waters of Devil's Punch Bowl. It's unlike any other provincial park in Manitoba, and we highly recommend a visit. There's also the excellent Kiche Manitou Campground for you to camp in while there.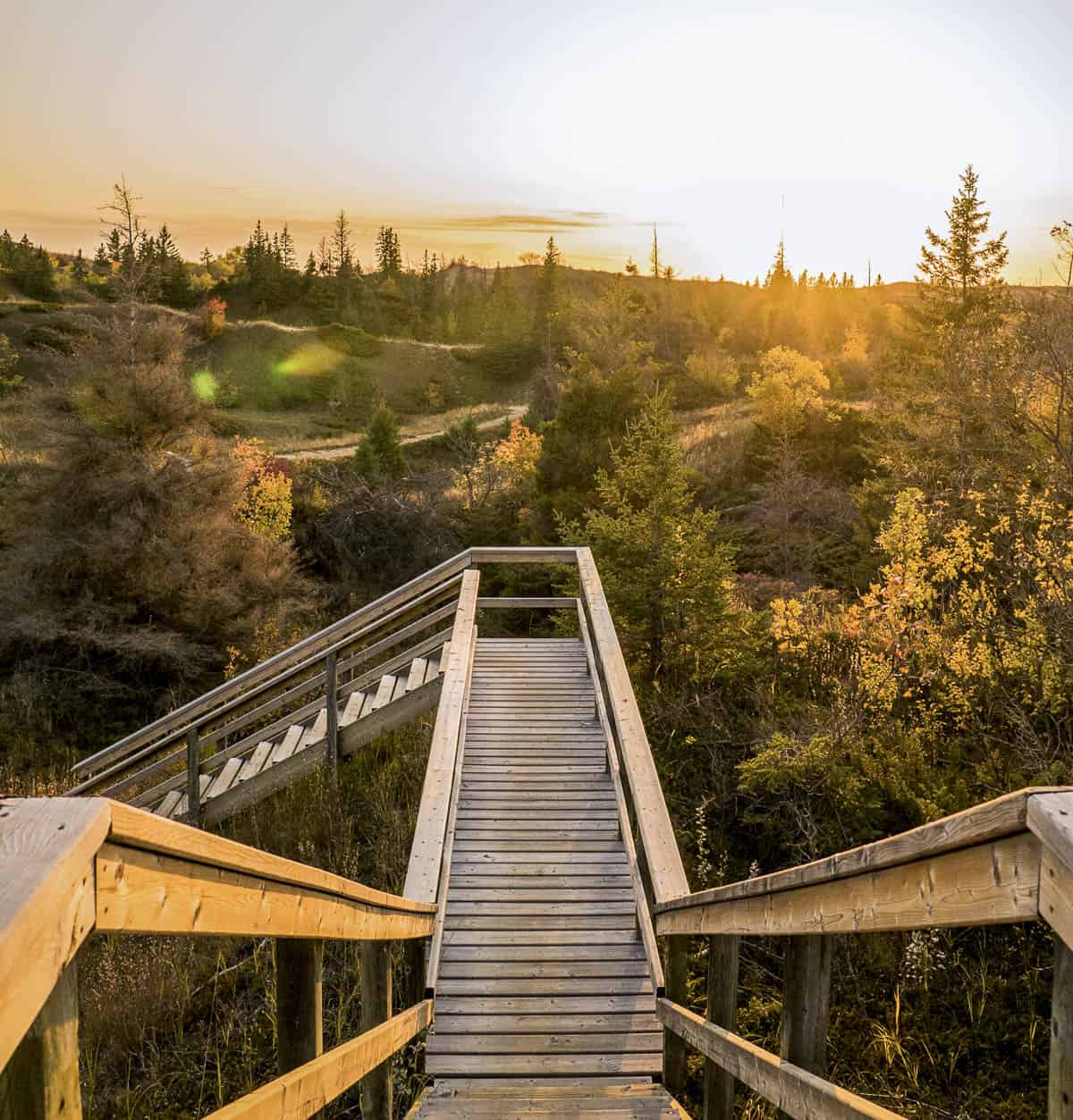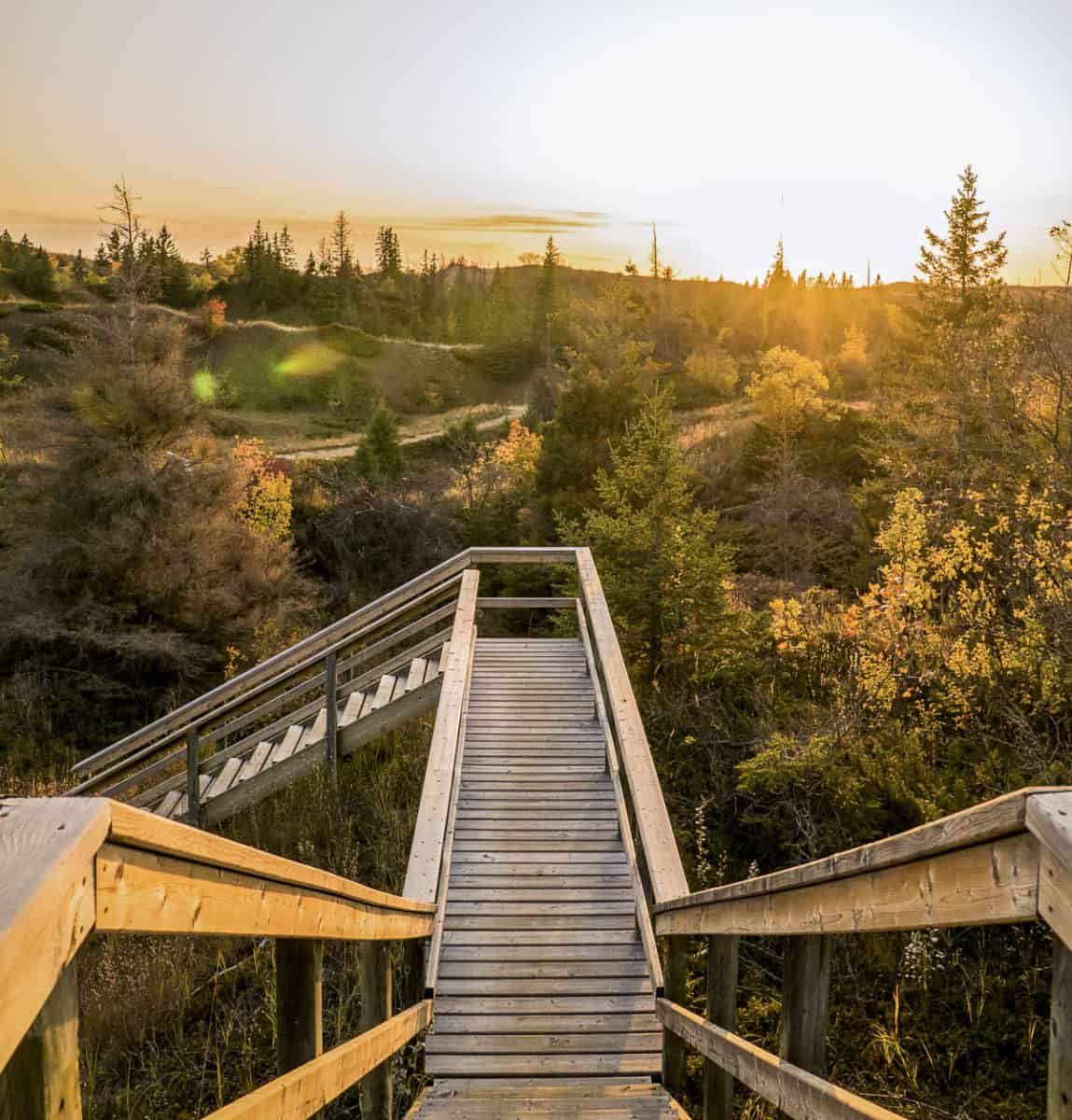 Sample Some Beer at Farmery Estate Brewery
One of the province's coolest breweries is the Farmery Estate Brewery in the charming Western Manitoba town of Neepawa. You're welcome to visit and take a free self-guided tour of the farm, where they grow over ten varieties of hops. Don't forget to pick up a few beers to take home!
Take in Some History at the Commonwealth Air Training Plan Museum
The vintage air hangar at the Commonwealth Air Training Plan Museum in Brandon houses dozens of aircraft and other vehicles from WWII; it's a must for anyone interested in WWII history or for those who'd like to learn. The museum showcases just how much of a role Manitoba played in helping win the war, especially when it came to aviation.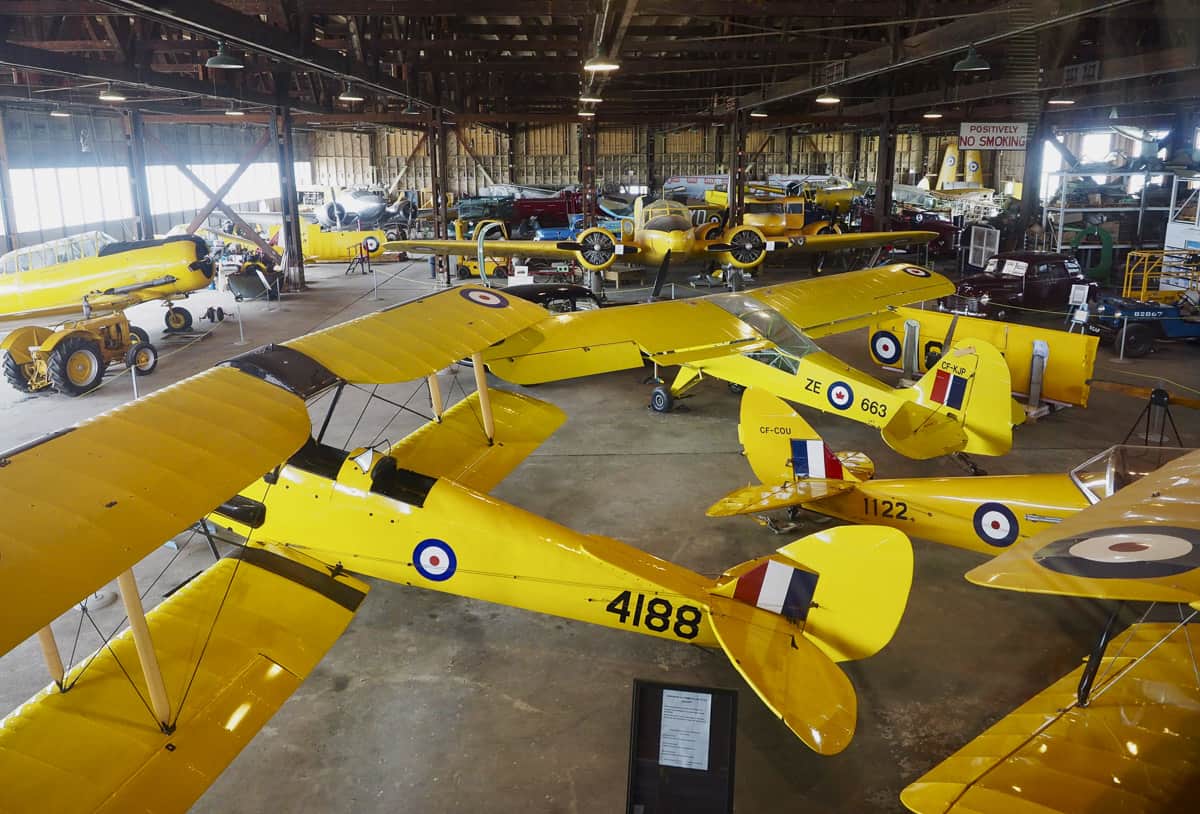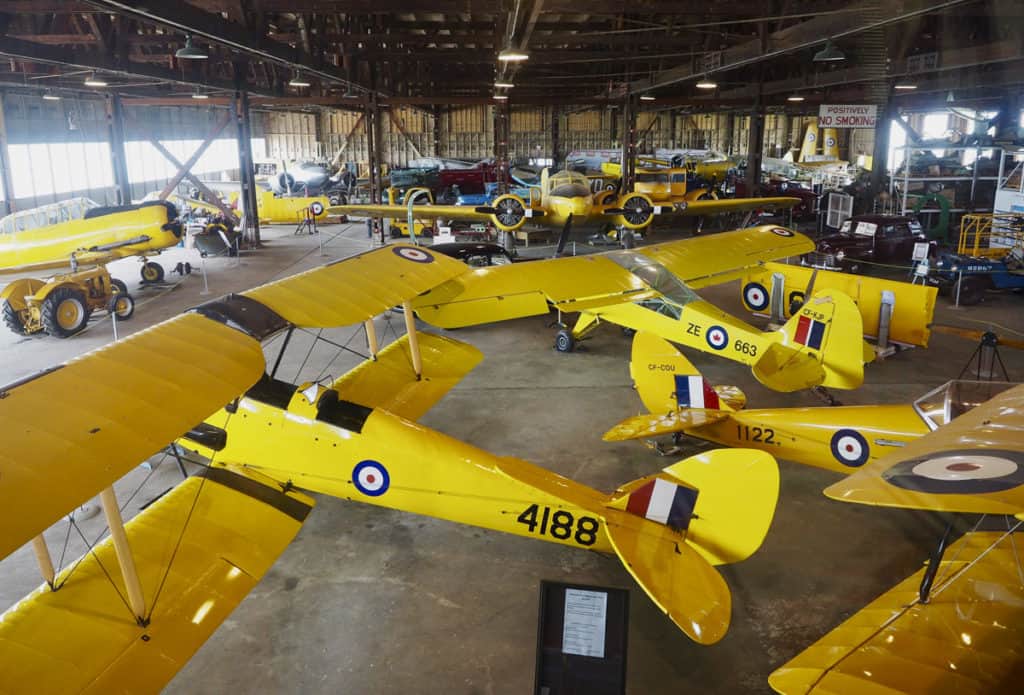 Walk Across the Souris Swinging Bridge
A Manitoba Star Attraction (there are only 60 of them in the province), the Souris Swinging Bridge is well worth a visit. Measuring 184 metres (604 feet), it's actually the longest swinging pedestrian bridge in all of Canada.
Explore Big Valley Park
Found near the town of Birnie, Big Valley Park is a hidden gem in Manitoba that not many people know about. An example of a glacial meltway from the last ice age, there's a beautiful creek that runs through the area. You can also enjoy camping, picnics, hiking trails, tobogganing and skating in winter. The park also makes for an excellent addition to a trip to Riding Mountain National Park, as they're only about a half-hour's drive from one another.
Stay in a Yurt in at Stephenfield Provincial Park
Found along the Boyne River, Stephenfield Provincial Park is a wonderful place to visit, especially if you're travelling with kids. With swimming, fishing, and boating to enjoy on the reservoir, there are also lovely yurts to stay in (away from the main campsite). Although there are multiple provincial parks in Manitoba where you can rent yurts for your holiday, Stephenfield is one of our favourites. Bonus: There are dog-friendly yurts!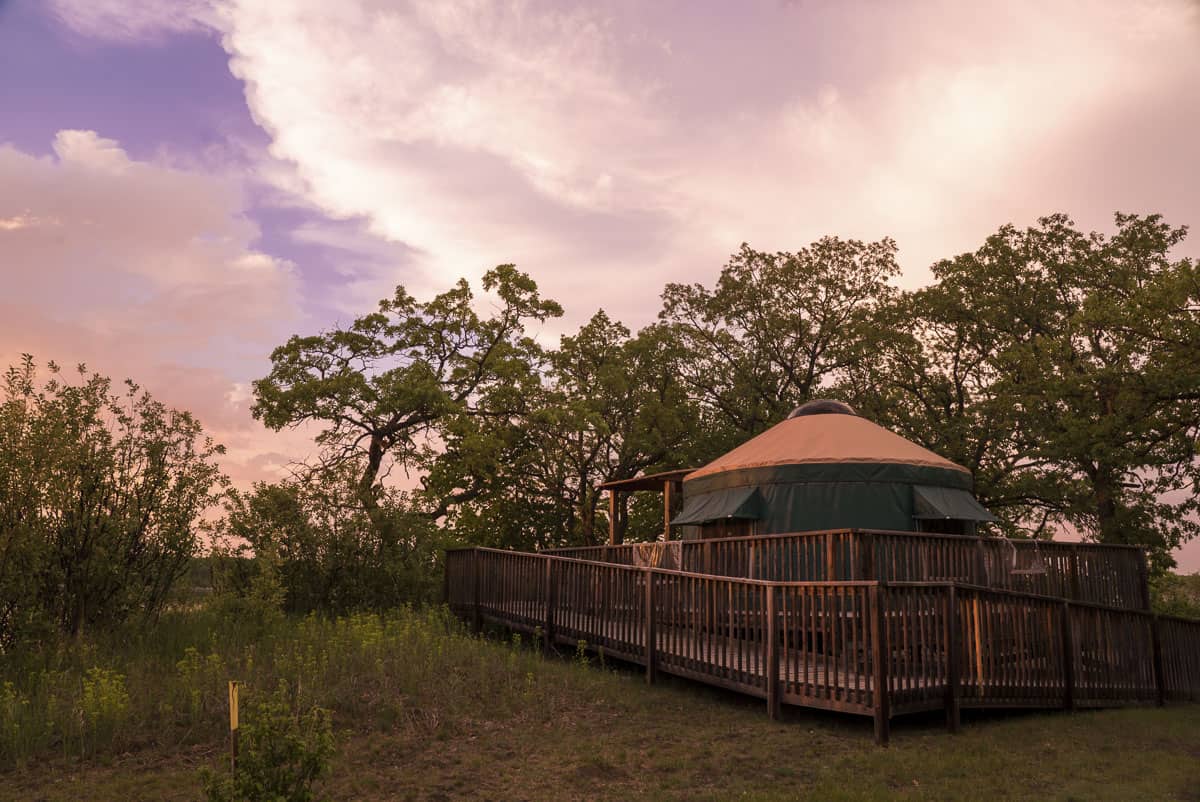 Go Golfing in Riding Mountain National Park
With over 130 golf courses in the province, it was hard to choose just one, but we're partial to the Clear Lake Golf Course due to its picturesque views. Open for play since 1934, the course is open to golfers of all levels of experience, but be warned… as one of Manitoba's most beautiful golf courses, you might have trouble finding others that measure up!
Learn at the Ukrainian Heritage Village in Dauphin
Selo Ukraina, or "Ukrainian Village," is where you'll find Canada's National Ukrainian Festival in Dauphin. It's also the site of the Ukrainian Heritage Village, home to a restored Ukrainian pioneer homestead with a school, church, two authentic homes, village hall, and more, making it a great chance to learn about the Ukrainian way of life on the prairies in the early 20th century.
Visit the Fort La Reine Museum in Portage la Prairie
With 25 historic buildings to explore, the Fort la Reine Museum in PLAP shows you what life was like in the prairies from 1738 until 1950. From the regional Indigenous cultures to the fur trappers to the domestic lives of early pioneers, there's a lot to learn about at this top-rated museum.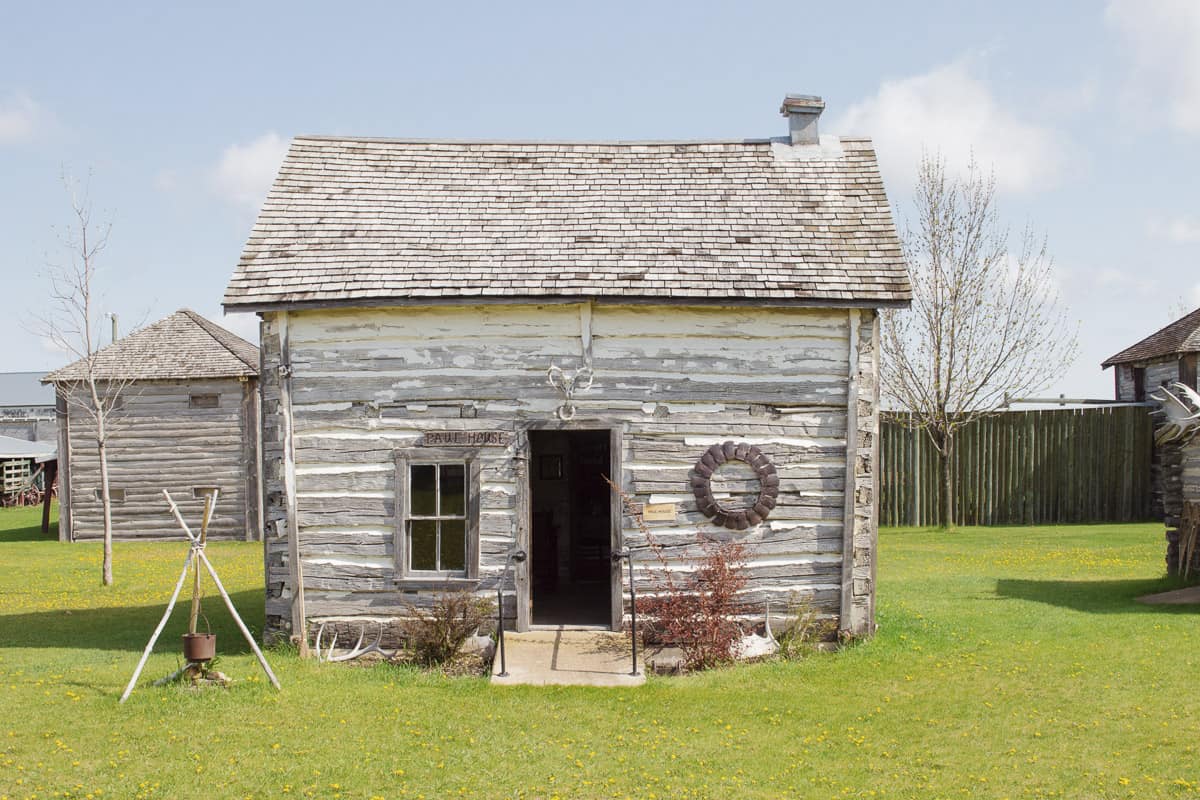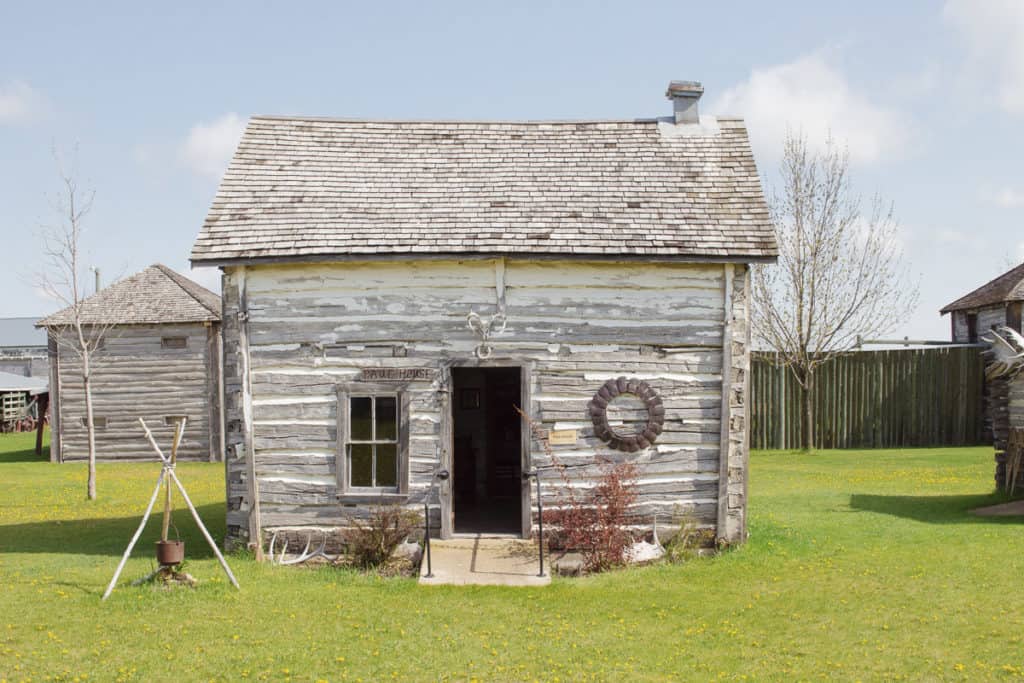 See the Unique Glass Bottle Houses of Treherne
Head to Treherne to see the unique glass bottle structures built by Bob and Dora Cain in the 1980s. Using thousands of glass bottles collected over many years, they built a house, church, and wishing well. It's worth a stop in the little community!
Explore the Hiking Trails in Riding Mountain National Park
It's pretty difficult to narrow down the best things to do in Riding Mountain National Park, but if you only have a couple of days in the park, we recommend checking out some of the trails. Open all year round – in winter, many people snowshoe or go cross-country skiing on the trails – they truly are some of the most beautiful hikes in the province. Don't know where to start? Check out the Kinosao Lake Trail, Boreal Interpretive Trail, Gorge Creek Trail, Brule Trail, Moon Lake Trail, or the Arrowhead Trail.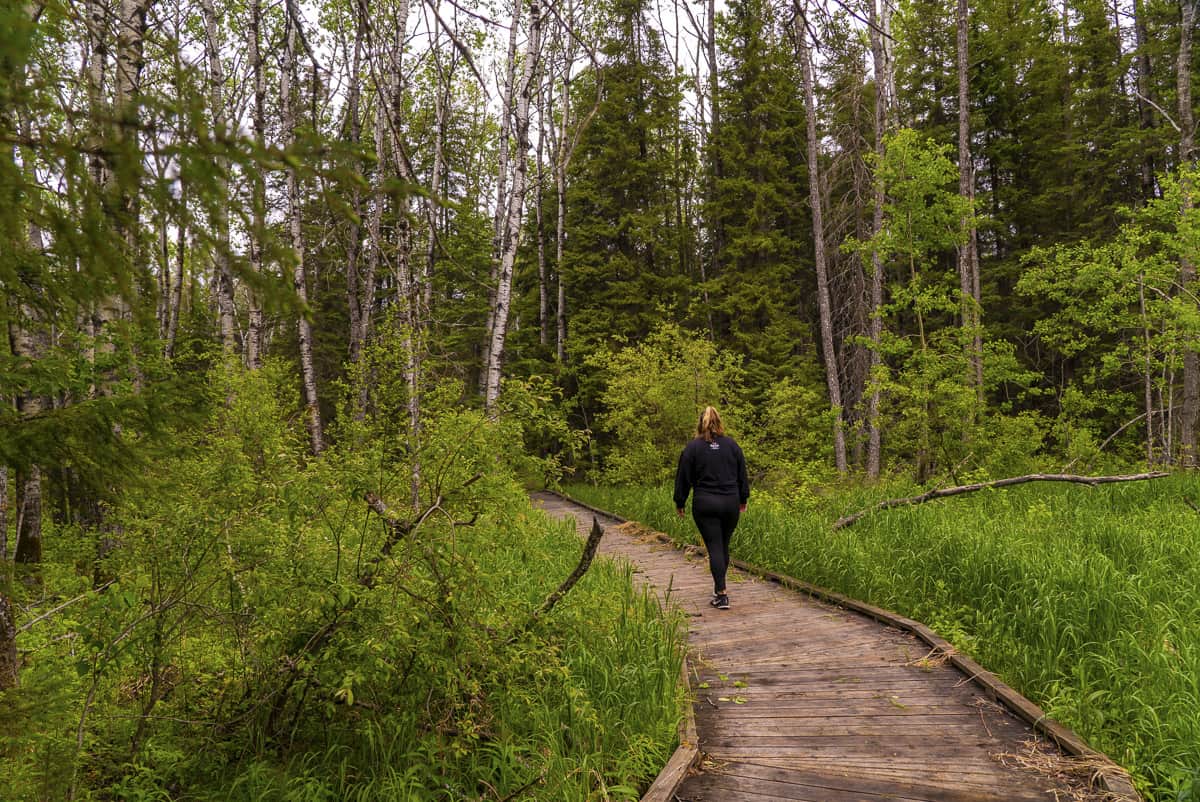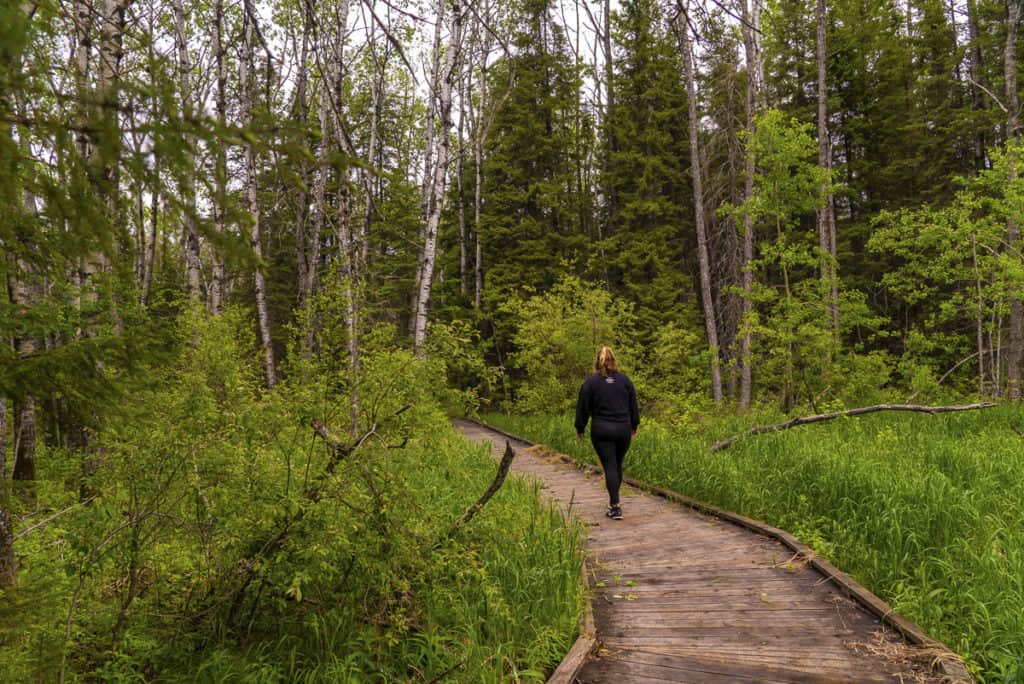 Visit the Cement Cemetery in Rosser
Head to the Cement Cemetery in Rosser, just north of Winnipeg, for an unusual thing to do in Manitoba. Perfect for photography enthusiasts, the cement pillars were built in the 1960s and are of various heights, but here's the cool (creepy?) part… nobody quite knows what they were built for!
See the Magic of the Blue Lakes
Some of the most stunning lakes in all of Manitoba are the Blue Lakes… and that's saying a lot, considering there are over 100,000 lakes in the province! The East Blue and West Blue Lakes in Duck Mountain Provincial Park are gorgeous shades of turquoise, and there are excellent fishing, camping, and hiking opportunities around the lakes.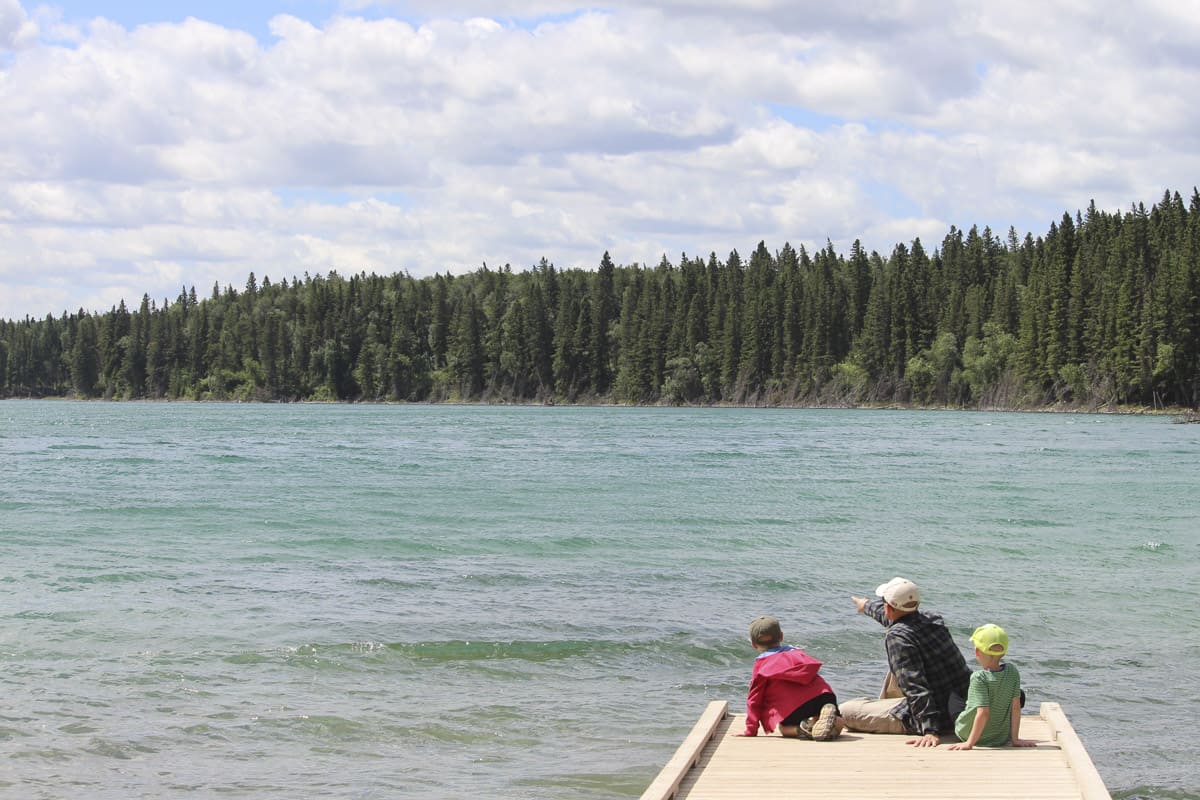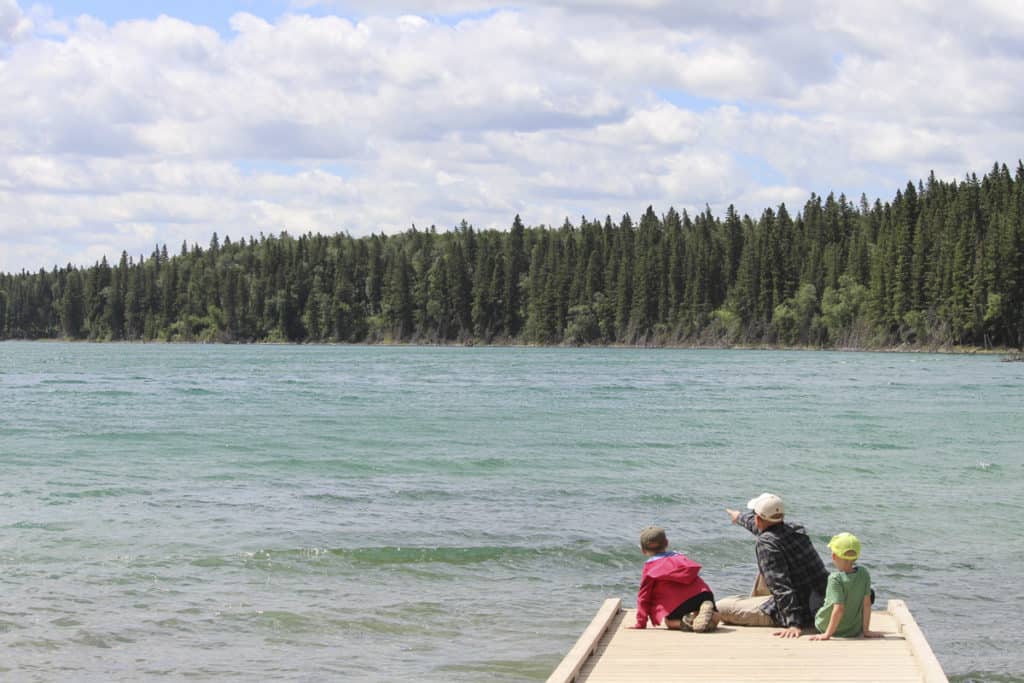 Learn About Manitoba's History at the Manitoba Agricultural Museum
You'll find a collection of vintage machinery, equipment, and buildings from Manitoba life in the 19th century at the Manitoba Agricultural Museum in Austin, Manitoba. With a vision to collect, preserve, interpret, and demonstrate how people once lived on the prairies, it's a fascinating look into what life was like in days long past.
Find all of the Street Art Murals in Brandon
Whether you're a budding photographer or would just like to spot a bit of art, the street art murals in downtown Brandon are very cool. You can easily walk between all of them, and it's especially fun when you turn a corner and realize you've discovered yet another!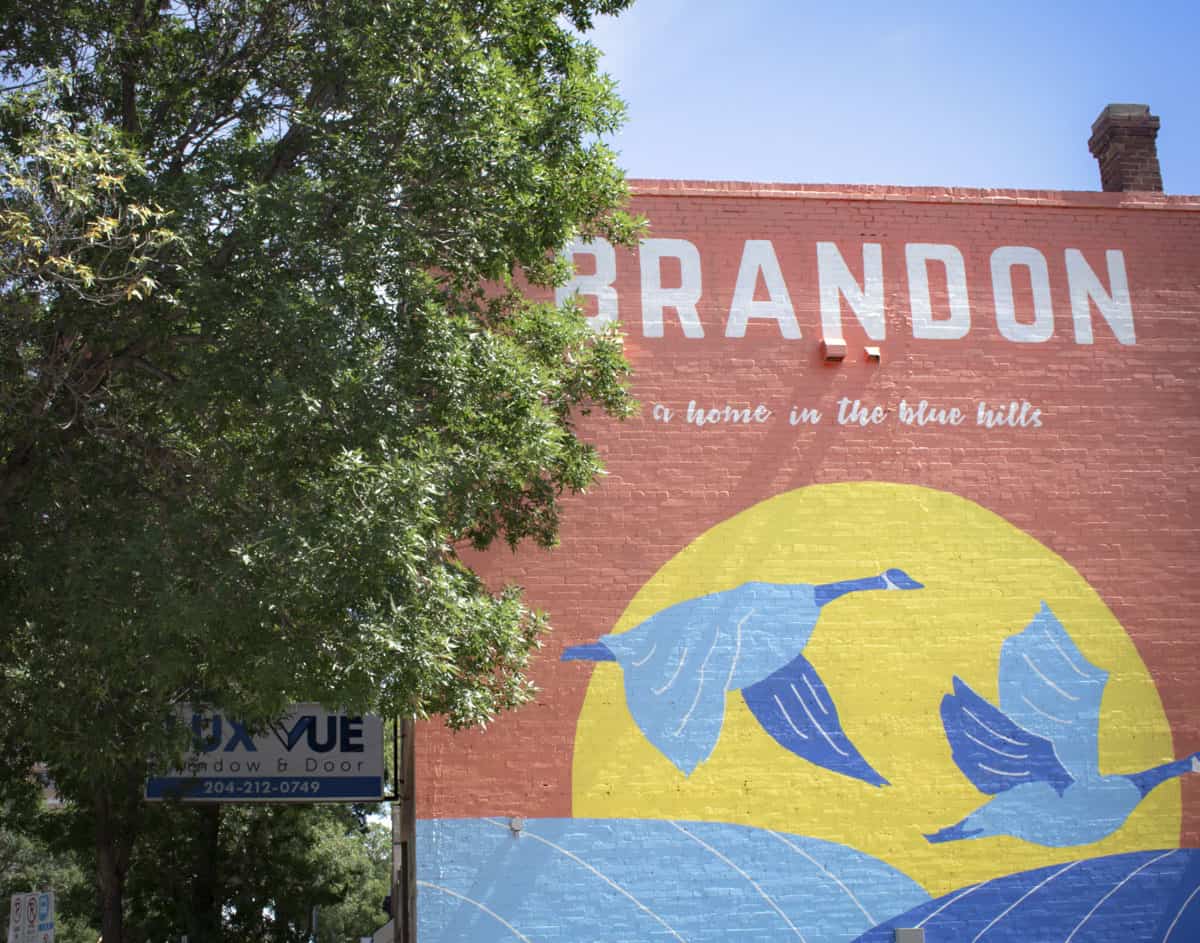 Go Ice Fishing on Lake Athapapuskow
Head to the northwest of Manitoba, near Flin Flon, to visit Lake Athapapuskow. It's known as one of the province's best lakes for trophy ice fishing, and people regularly catch Northern Pike, Lake Trout, and Walleye here. There's tons of great fishing in Manitoba, and this is one of our top spots in winter.
Climb to the Top of Baldy Mountain
Visit Duck Mountain Provincial Park to hike the Baldy Mountain Trail, one of the province's best hiking trails. At 832 metres above sea level, Baldy Mountain is the highest peak in Manitoba.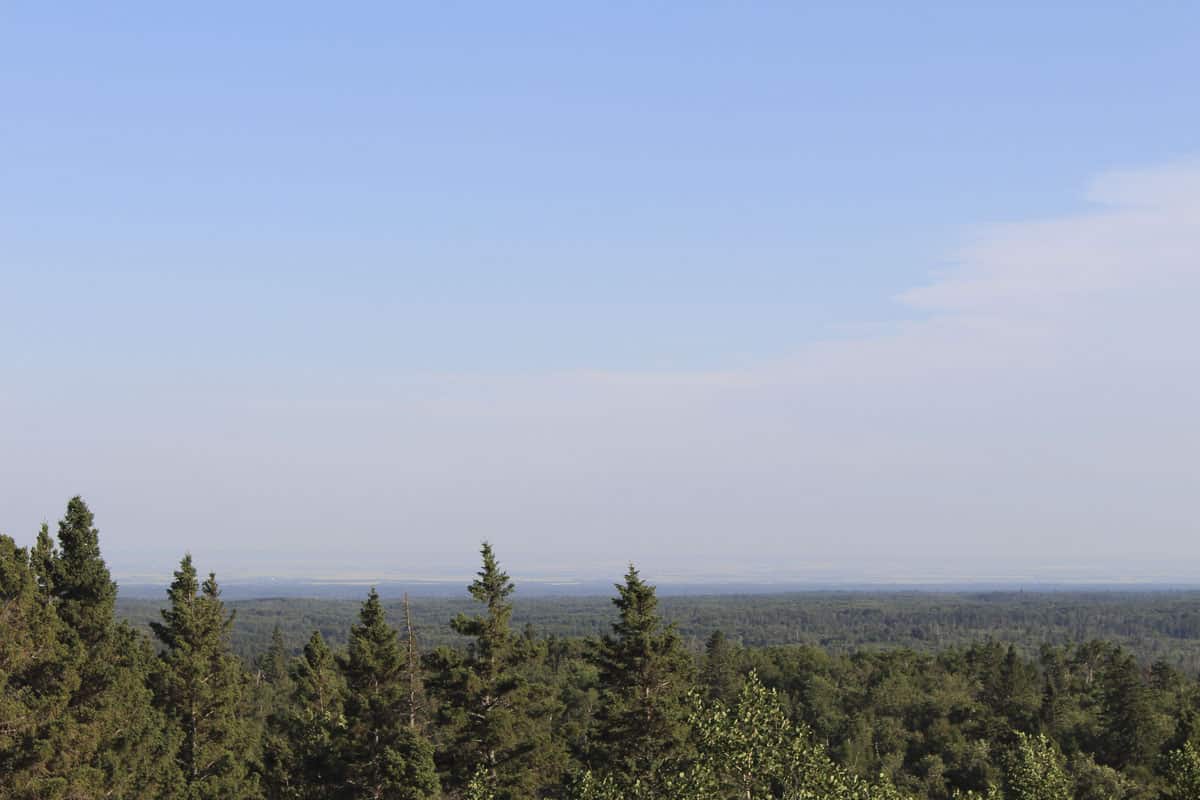 Drive on Magnet Hill in Swan Valley
Even if you know the secret of Magnet Hill in Swan Valley, it's still an incredibly cool thing to do in Manitoba! When you get to the designated spot, stop your car, put it in neutral, take your foot off of the pedals, and… voila! You are magically drawn backward up the hill. You have to try it!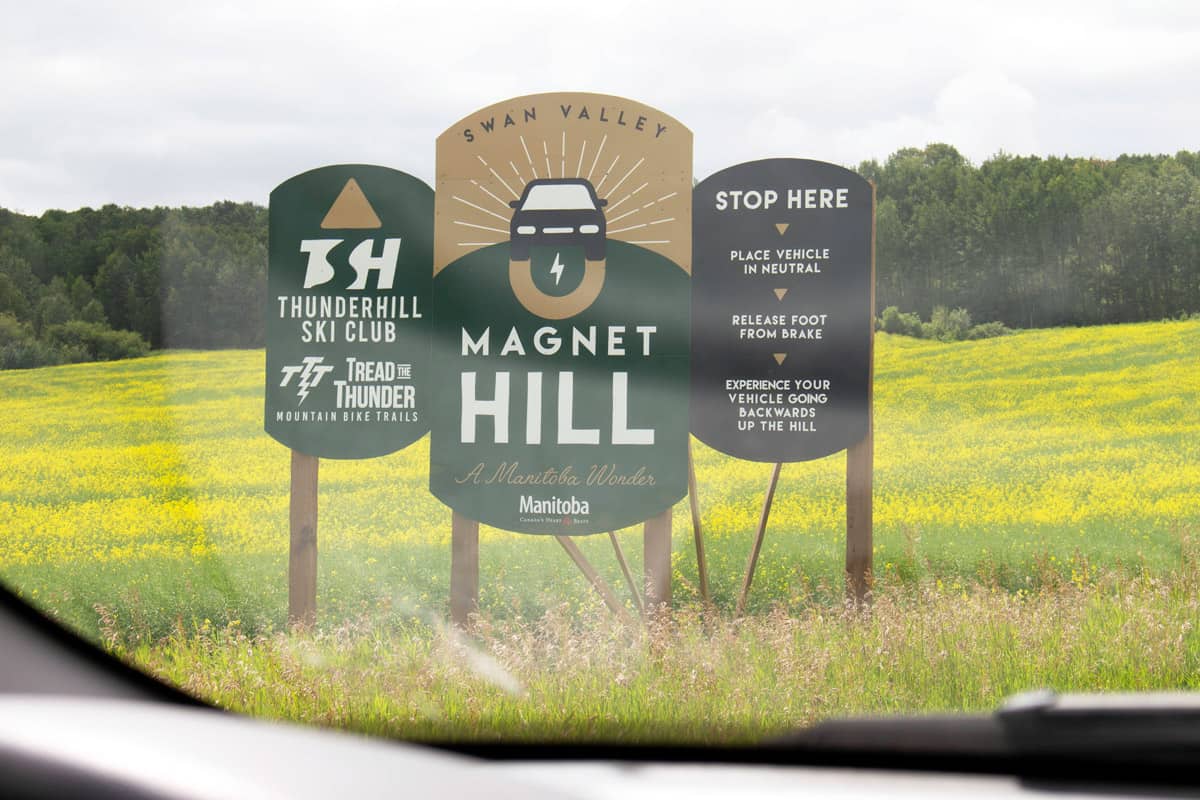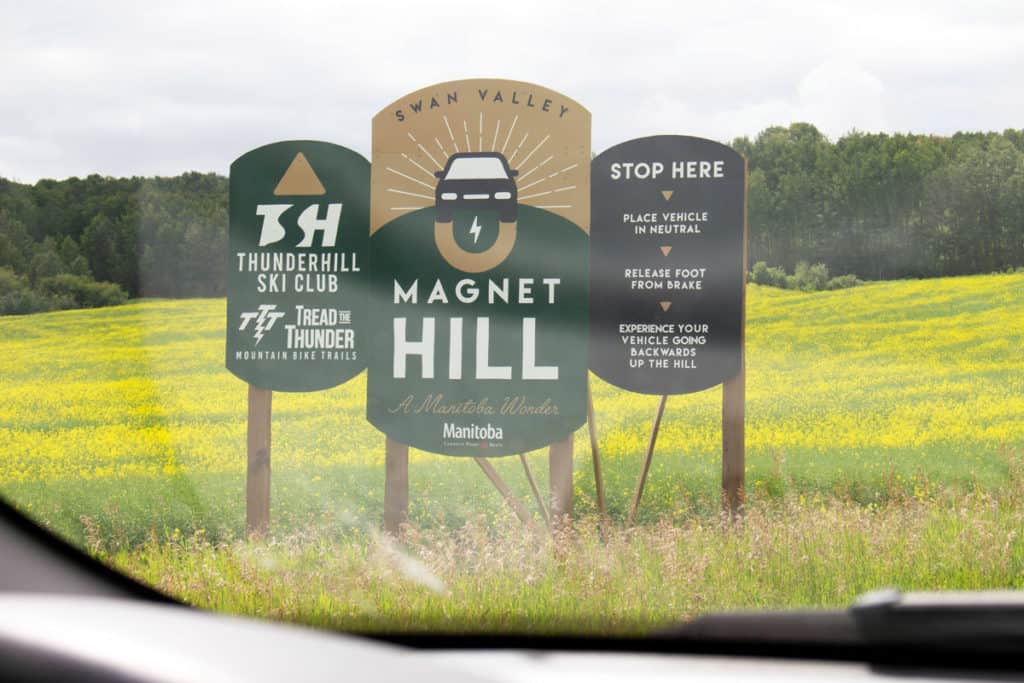 Enjoy the Brandon Riverbank Discovery Centre
Head to the Brandon Riverbank Discovery Centre for an oasis of nature ride inside Manitoba's second-largest city. Explore the marshland, look for birds, walk along the trails, and stop in the Discovery Centre for more information about the area.
Say Hello to Flintabbatey Flonatin Statue in Flin Flon
It sounds made up, but we swear it's true: the town of Flin Flon gets its name from a fictional character named Josiah Fintabbatey Flonatin. When you're in Flin Flon, it only makes sense to stop by the statue of Josiah Flintabbatey Flonatin and say hello!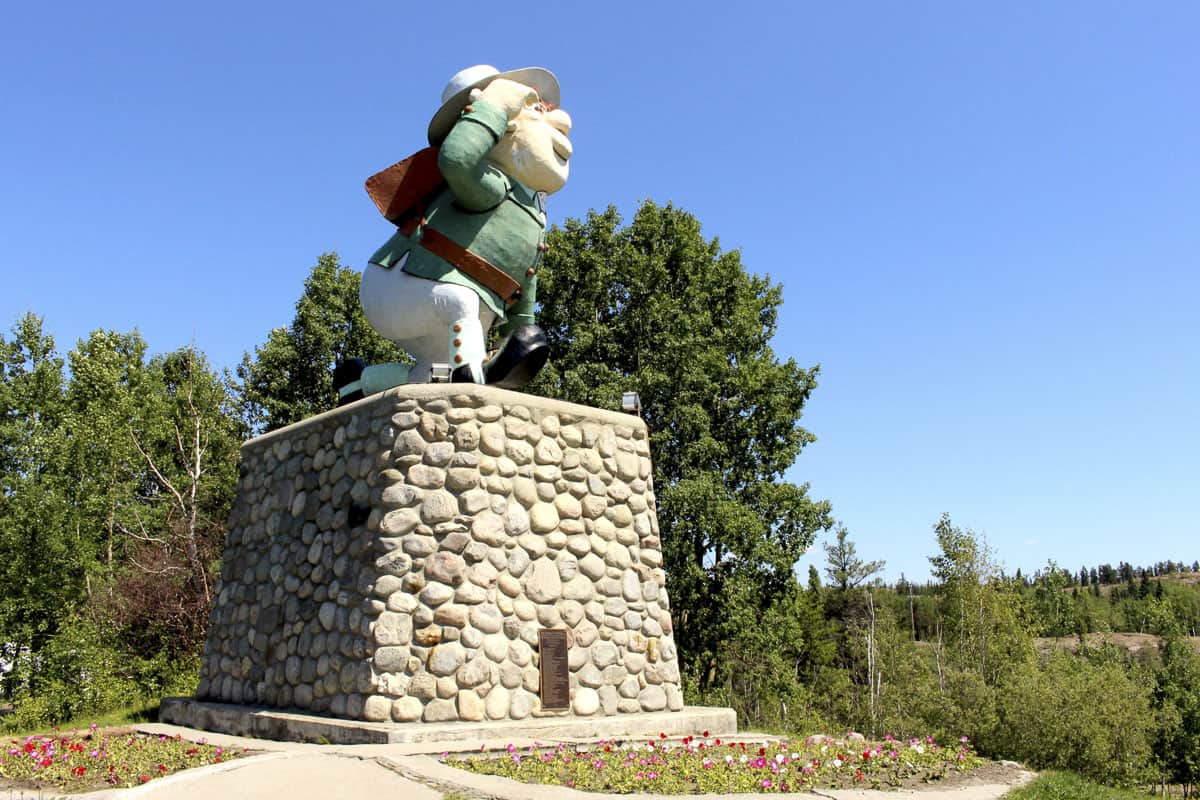 Stay in an oTENTik in Riding Mountain National Park
Named one of our most unique places to stay in Manitoba, an oTENTik is an interesting blend of a cabin and a tent and is perfect for those who don't have their own camping equipment or would like to enjoy a bit more luxury on their outdoor holiday. And what better place to stay in one than in stunning Riding Mountain National Park? Also, check out the park's Micro-Cube for another unusual accommodation option!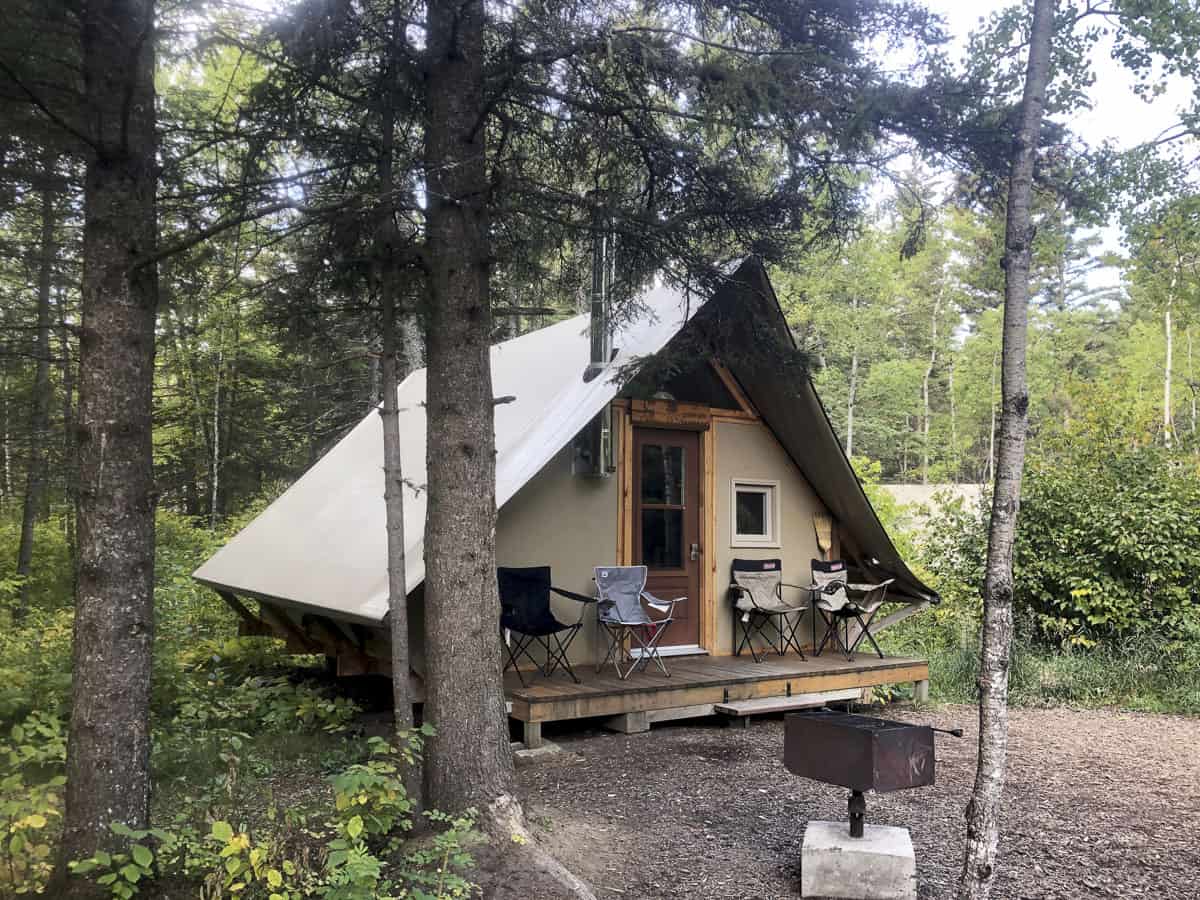 Rock out at Countryfest in Dauphin
Whether you choose to camp for the entire festival or just attend for a day, Dauphin's Countryfest is Canada's longest-running country music festival and is sure to be a great time. With excellent line-ups every summer, country music fans will get to see some of the best performances in the outdoors.
Snap a Selfie in Front of the World's Largest Coca-Cola Can
Go see the world's largest Coca-Cola can in Portage la Prairie because… why not? This fun photo opportunity is sure to make for a good laugh. And it also might make you thirsty! (If you're hungry also, don't miss our post on the best Portage la Prairie restaurants.)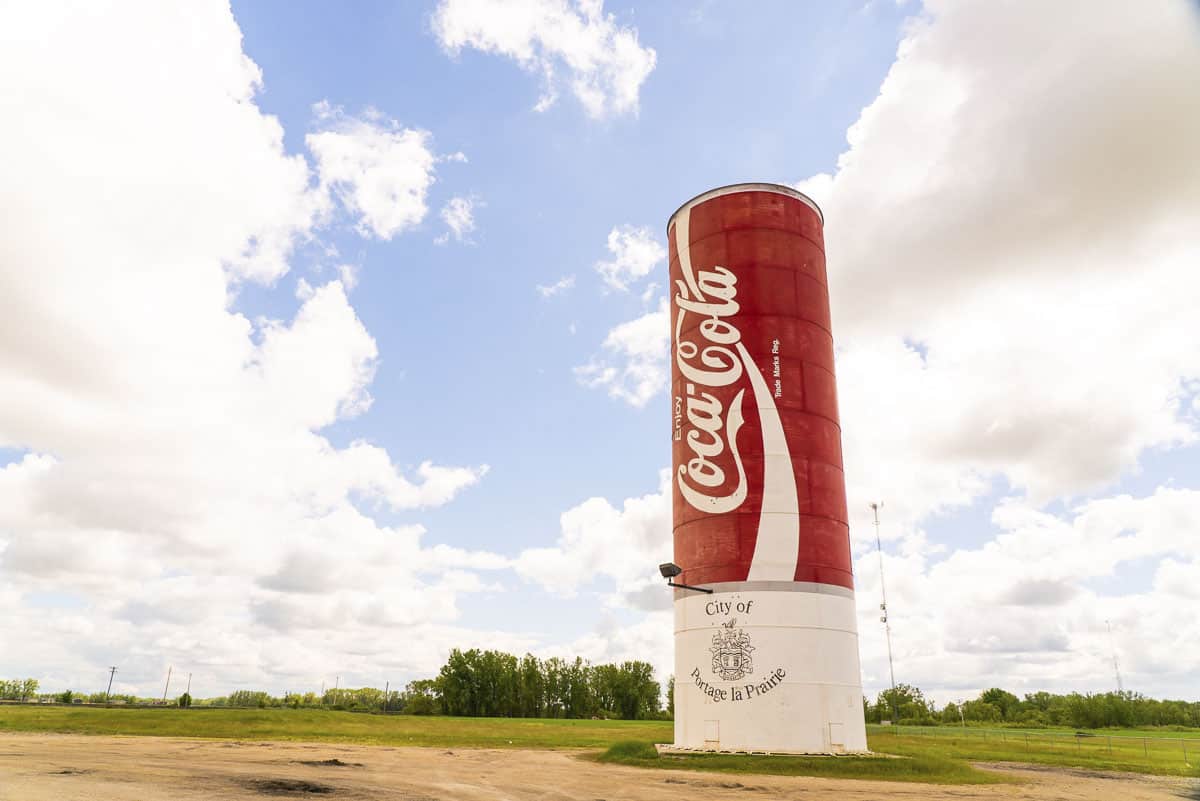 Go Wildlife Viewing at Delta Marsh
One of the biggest marches in Manitoba at 18,000 hectares, Delta Marsh is home to fantastic wildlife viewing and birdwatching, as well as beautiful sunsets. With many viewing platforms with information posted throughout the marsh, you can learn about the area as well as get some wonderful vistas over the area. Also check out Delta Beach nearby, one of the nicest beaches on Lake Manitoba.
Go Swimming in Clear Lake
Perhaps one of Manitoba's most popular outdoor swimming locations, Clear Lake is found in Riding Mountain National Park. With crystal clear waters (it isn't named by accident!), sandy beaches, and excellent facilities nearby, it is definitely the place for one of the most enjoyable beach days in the province. Too busy for you? Check out nearby Moon Lake, Lake Audy, and Lake Katherine.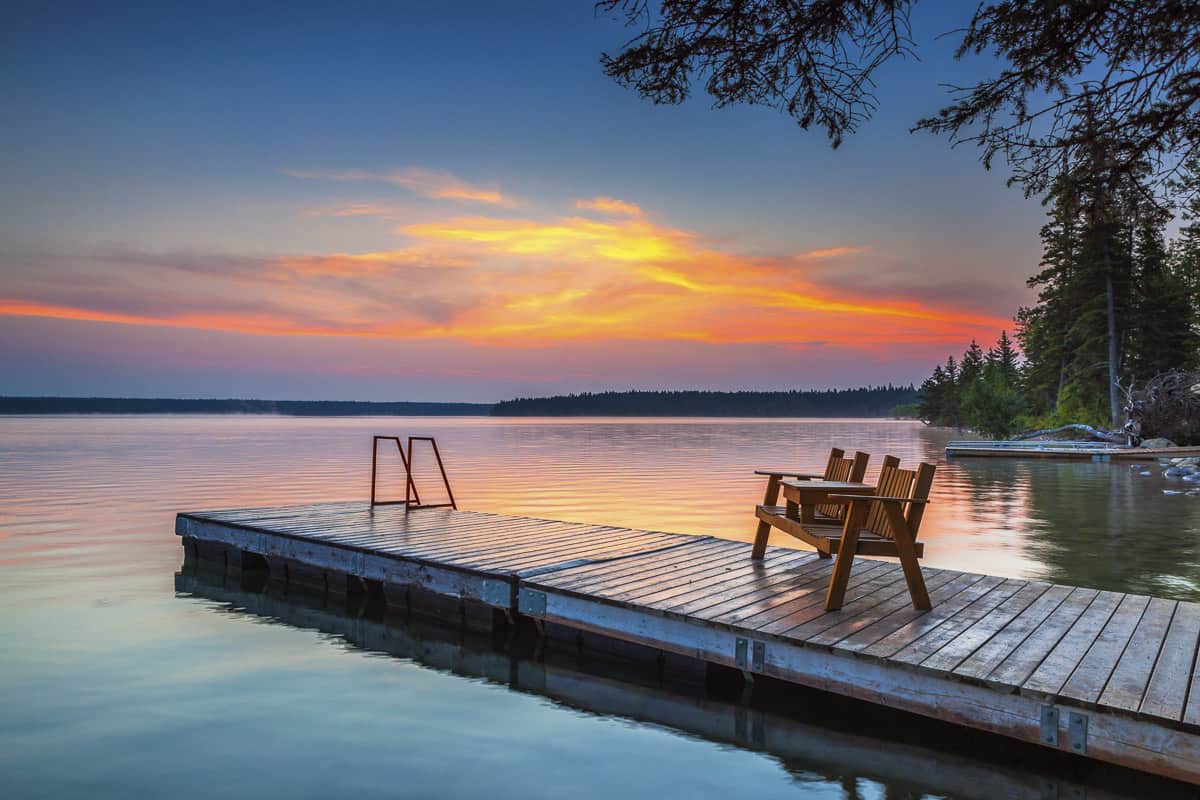 Things to Do North of Winnipeg
See the Polar Bears
Churchill, Manitoba is famously the polar bear capital of the world, and so a visit up north to see polar bears is often at the top of people's list when it comes to things to do in Manitoba. The best time to see polar bears is in autumn, and what makes Churchill unique is that it is one of the only human settlements in the world that shares its land with wild polar bears. Though it can be a pricey endeavour, it is well worth the cost, as this is a truly once-in-a-lifetime experience.
Visit the Beaches of 59
Being a prairie province, many people don't think of Manitoba as having so many incredible beaches. But with so many lakes in the province, you know we have some great ones! The beaches of Highway 59 are those on the east side of Lake Winnipeg and include Lester Beach, Victoria Beach, Patricia Beach, and many more, including the most famous beach in Manitoba, Grand Beach (more on it below). Spend a few days exploring the area to see them all.
Watch Little Limestone Lake Change Colour
The world's largest marl lake, Little Limestone Lake has a unique composition that means that, under certain conditions, the lake changes colour right before your eyes. A lake with water as turquoise as the Caribbean Sea… in Manitoba? Yep, that's Little Limestone Lake for you!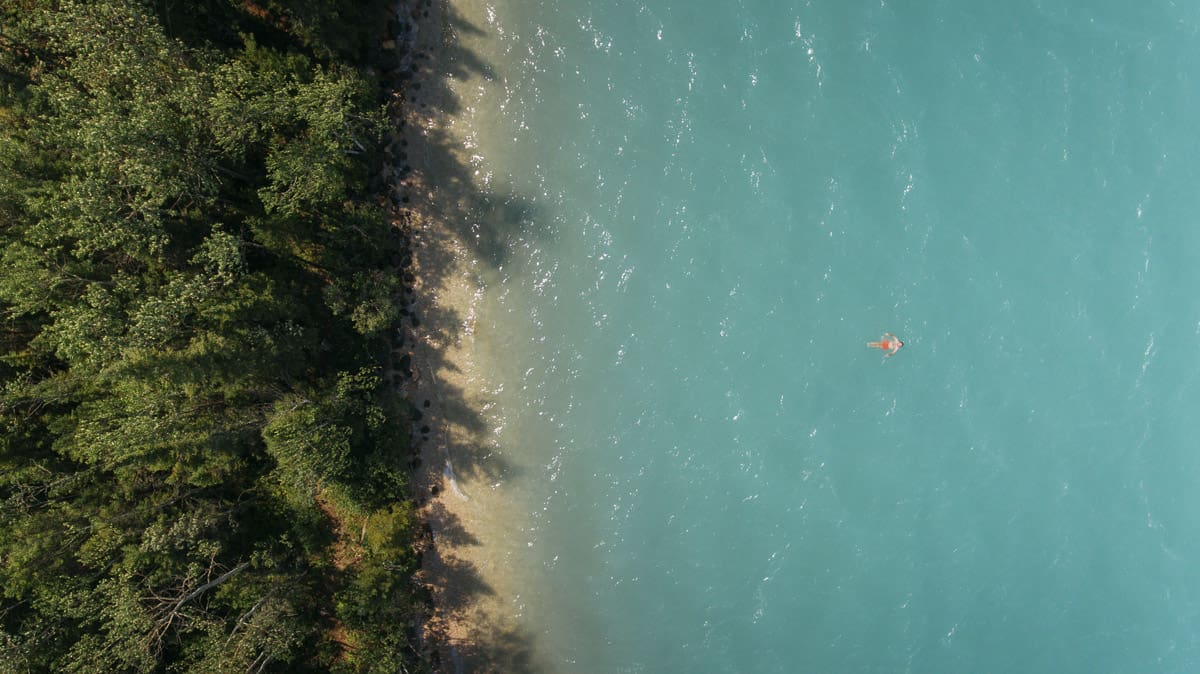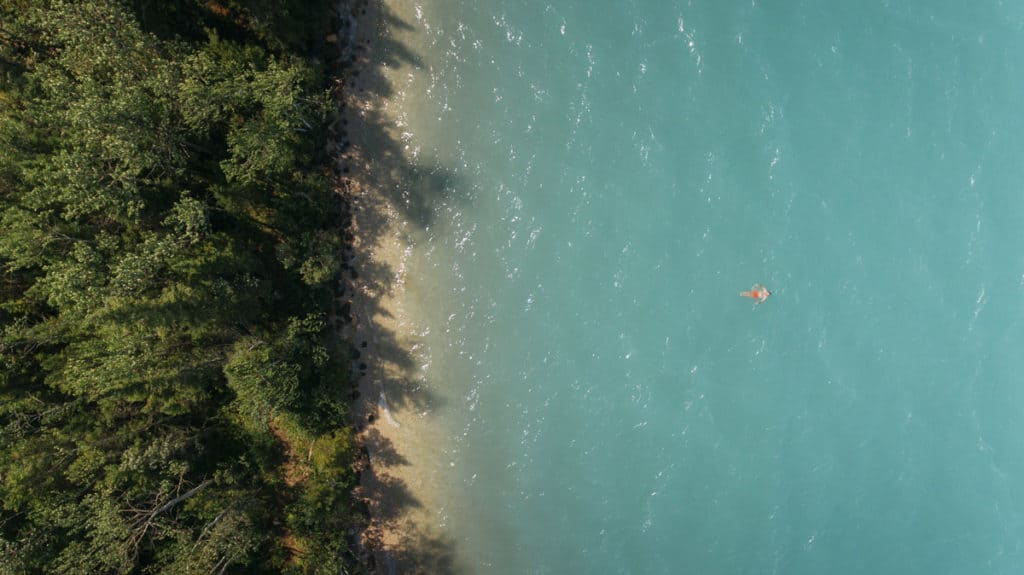 Kayak with Beluga Whales
Many people head to Churchill to see the polar bears, but we think the beluga whales in summer are just as worthy of a trip north. Get the chance to see hundreds (if not thousands!) of belugas in June, July, and August as they make their way into the mouth of the Churchill River to breed. The best way to see them? Go kayaking alongside them! They're wonderfully curious creatures, so don't be surprised if they come right up to your kayak to say hello.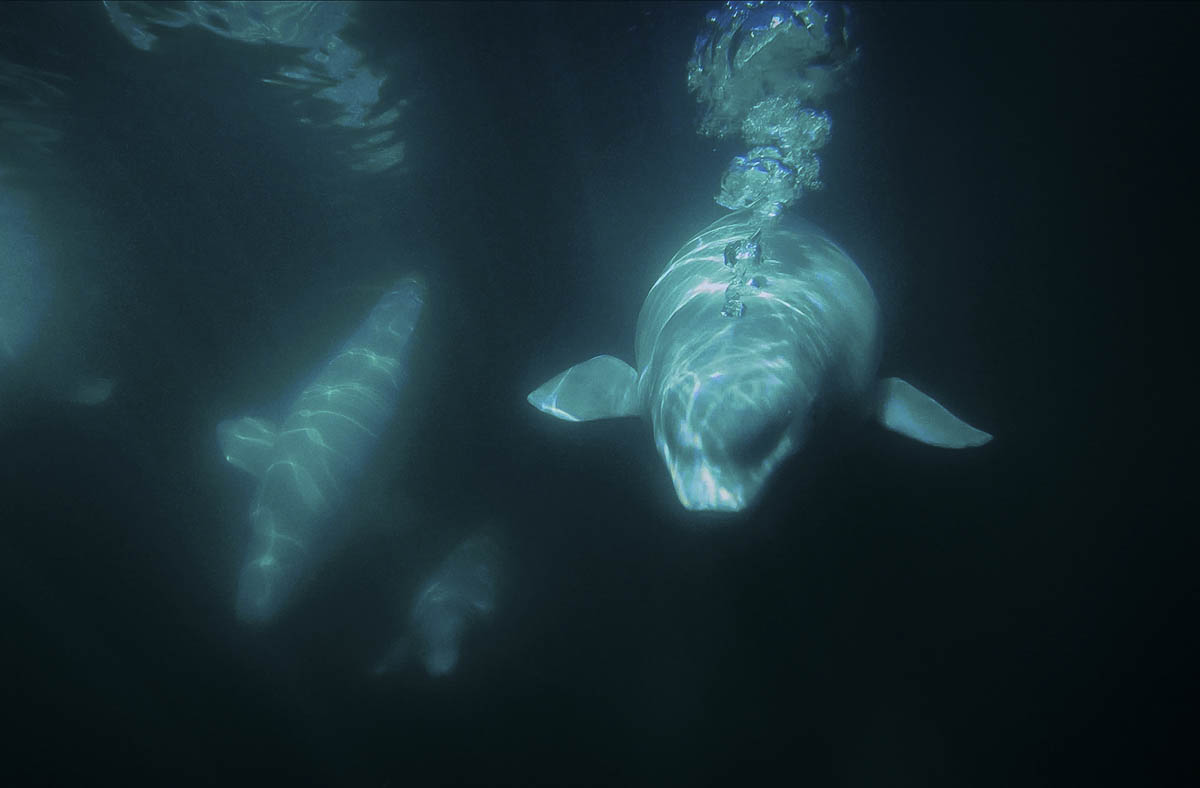 Camp in Wekusko Falls Provincial Park
With so many incredible campgrounds in Manitoba – there are dozens within provincial parks, not to mention all of the amazing backcountry campsites – it's almost impossible to choose just one. But we love Wekusko Fall Campground for its remote location, its peace and serenity, and its unbelievable views of the surrounding nature. And of course, the Weskusko Falls are the star of the show!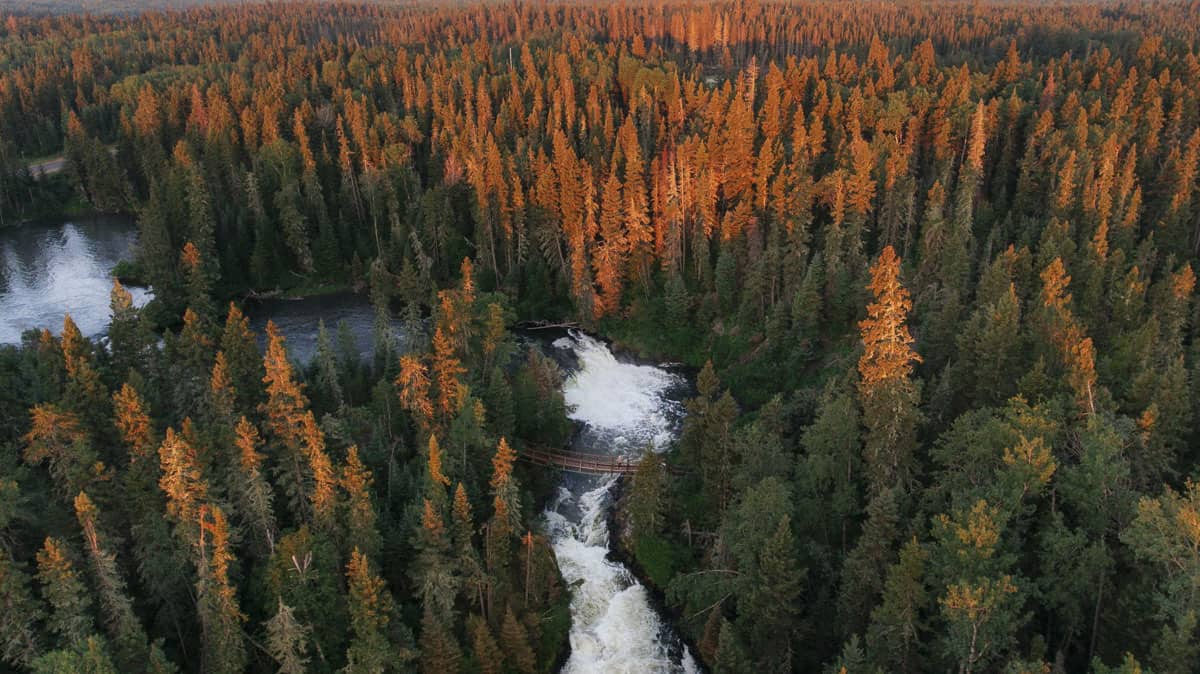 Find the Giant Goose Statue in Lundar
Close to Lundar Beach on Lake Manitoba's east side, you'll find the Giant Goose Statue. Every Manitoban knows that Canadian geese are extremely popular in the province, so spotting this statue is a nice little tribute to the ubiquitous bird.
Walk to the Gull Harbour Lighthouse on Hecla Island
Hecla-Grindstone Provincial Park is absolutely gorgeous and is a fabulous place for birdwatching, wildlife viewing, hiking, swimming, and so much more. Walk the easy trail to the Gull Harbour Lighthouse on Hecla Island to take in the iconic view.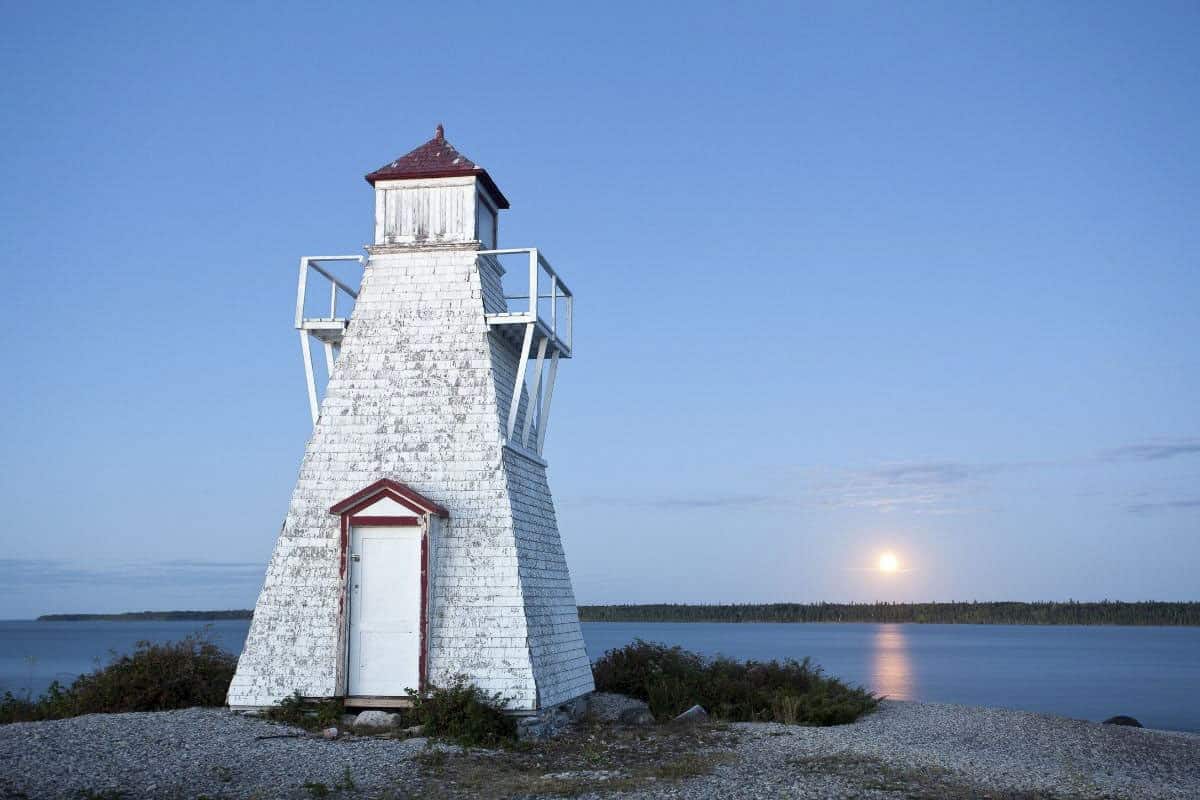 Get to Know Paint Lake
One of our favourite provincial parks in Manitoba, Paint Lake Provincial Park has tons of things to do. With countless islands dotting the lake, every adventure on the water brings something new. With just about every outdoor activity you can imagine – hiking, fishing, swimming, you name it – as well as the charming Paint Lake Lodge to relax in, it's one of our most recommended spots on Road Trip Manitoba.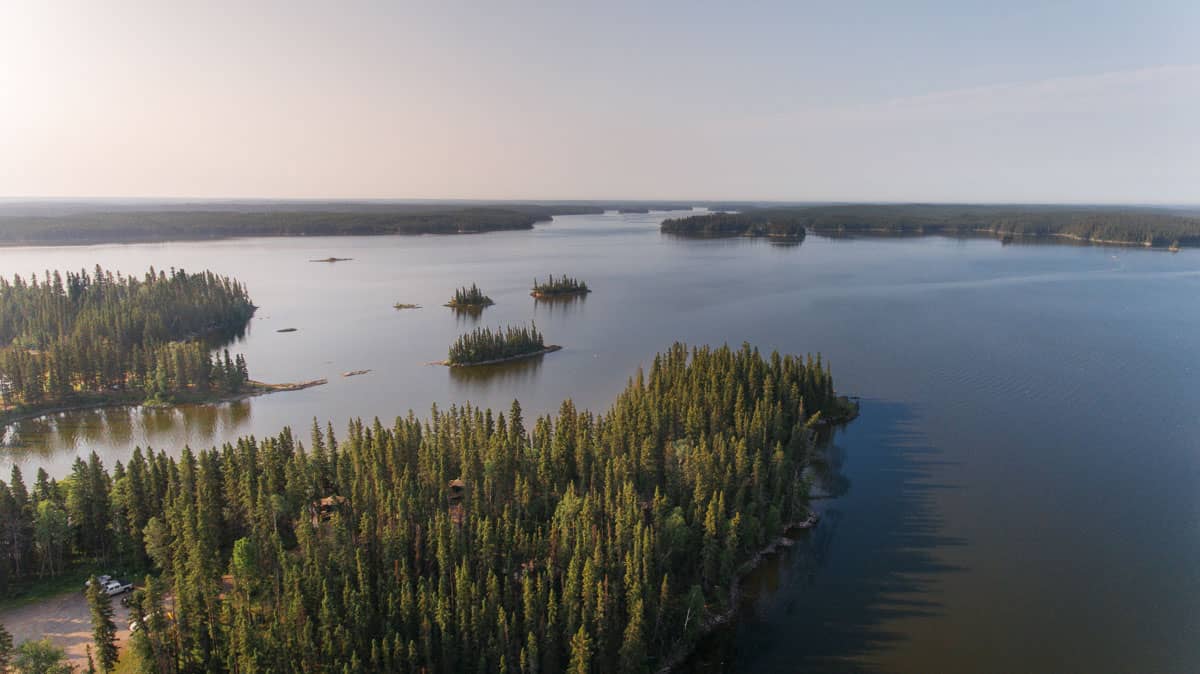 Enjoy South Beach Casino and Resort
Drive northeast from Winnipeg to get to the South Beach Casino and Resort for gambling, gaming, dining, live music, and so much more! A convenient base for exploring the beaches of 59, the retro exterior of the resort and "stay and play" packages make for an enticing holiday.
Discover Icelandic Culture in Gimli
If you've been to Gimli, you know that there's a strong Icelandic culture in the town due to its history of settlers from Iceland. When you're there, then, try a traditional Vinaterta cake, visit the New Iceland Heritage Museum, see the Viking Statue, and try to catch the annual Icelandic Festival of Manitoba.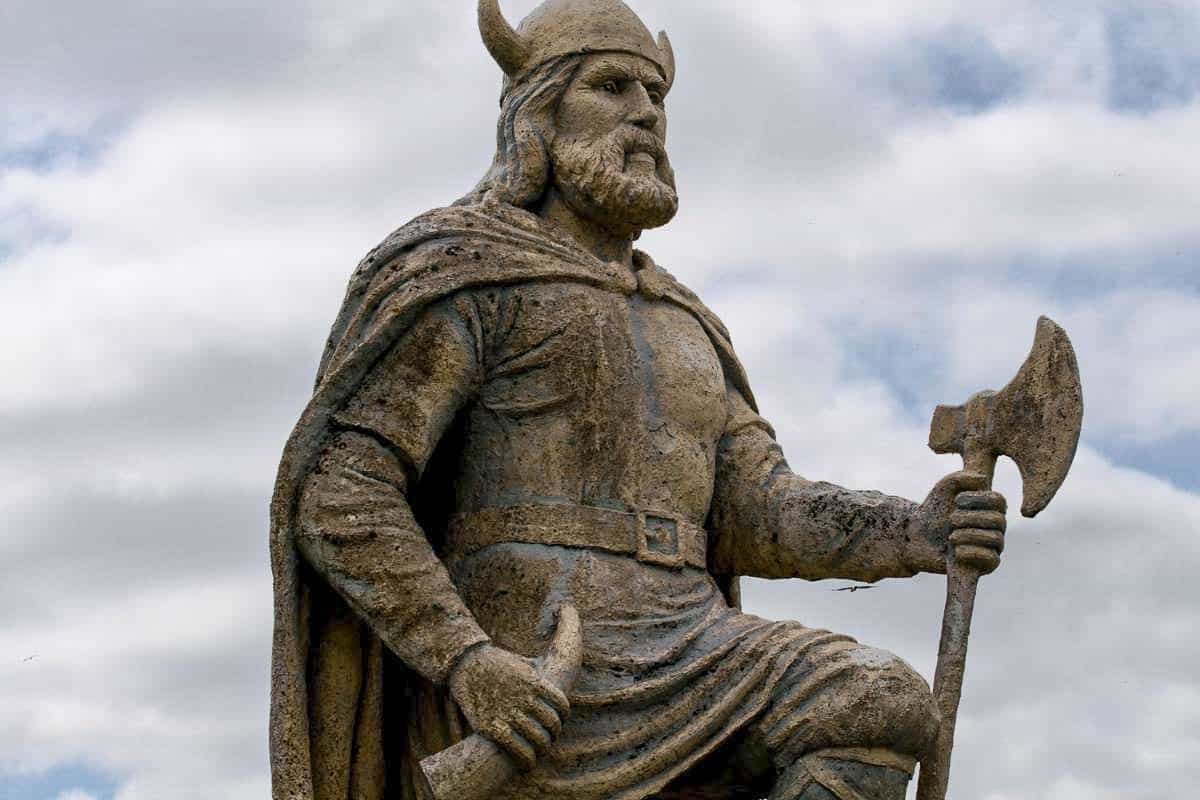 Photograph the World's Largest Curling Rock in Arborg
Head to the small town of Arborg, on the west side of Lake Winnipeg, to see the world's largest curling rock. Actually made of steel, not rock, the impressive structure weighs over 3,000 pounds! While you're there, why not try some curling at the Arborg Curling Club?
Walk the Brokenhead Wetland Interpretive Trail
One of our favourite things to do north of Winnipeg, the Brokenhead Wetland Interpretive Trail is a boardwalk through the forests and wetlands. Both beautiful and educational, we also love that it is wheelchair and stroller-friendly, plus the signage is in English and Ojibway.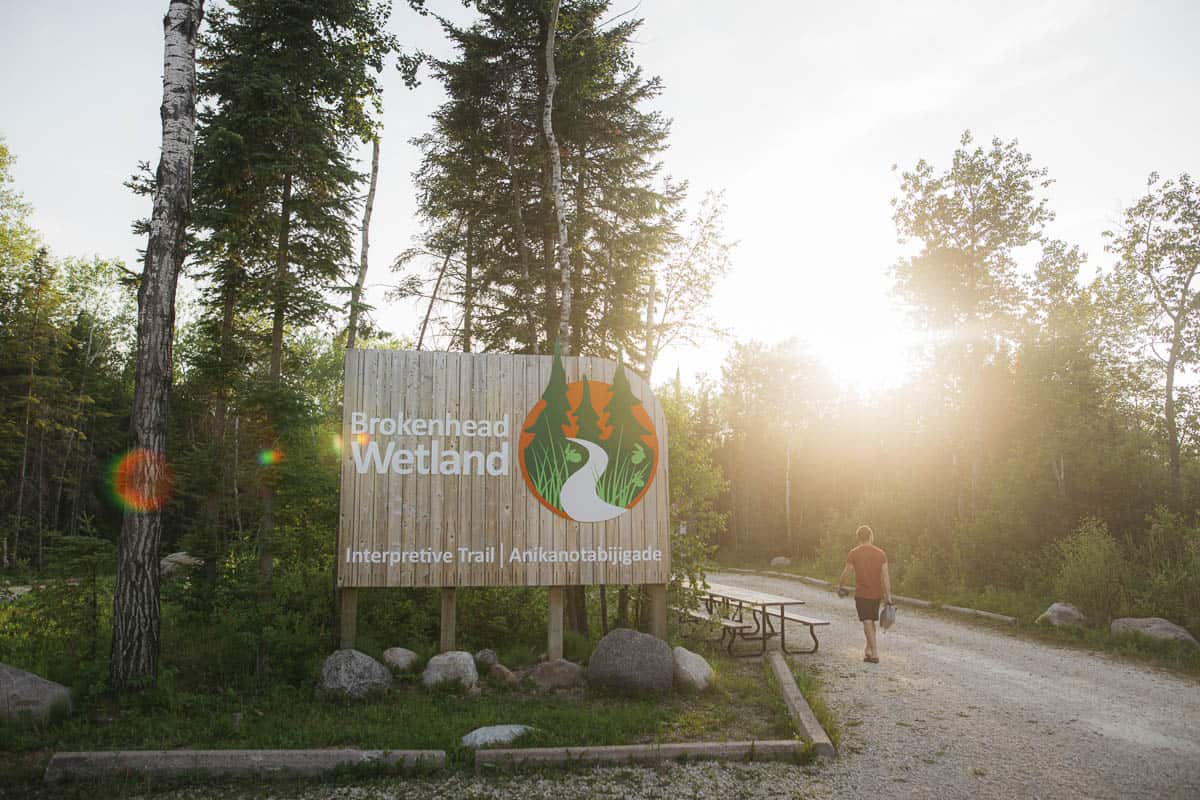 Learn About History at the Prince of Wales Fort in Churchill
The Prince of Wales National Historic Site in Churchill is now a set of ruins, but at one point it was a log fort and then a stone fort. Owned and operated by the Hudson's Bay Company, it's interesting to walk around the ruins and imagine what life was like for those who lived and worked here.
See the Snake Pits in Narcisse
Every spring, the snake dens of Narcisse come alive with wriggling mating balls of red-sided garter snakes (now there's a sentence we never thought we'd write). It's perhaps one of the weirdest things on this list, but we promise you need to see it! In fact, it's the largest known concentration of red-sided garter snakes in the whole world.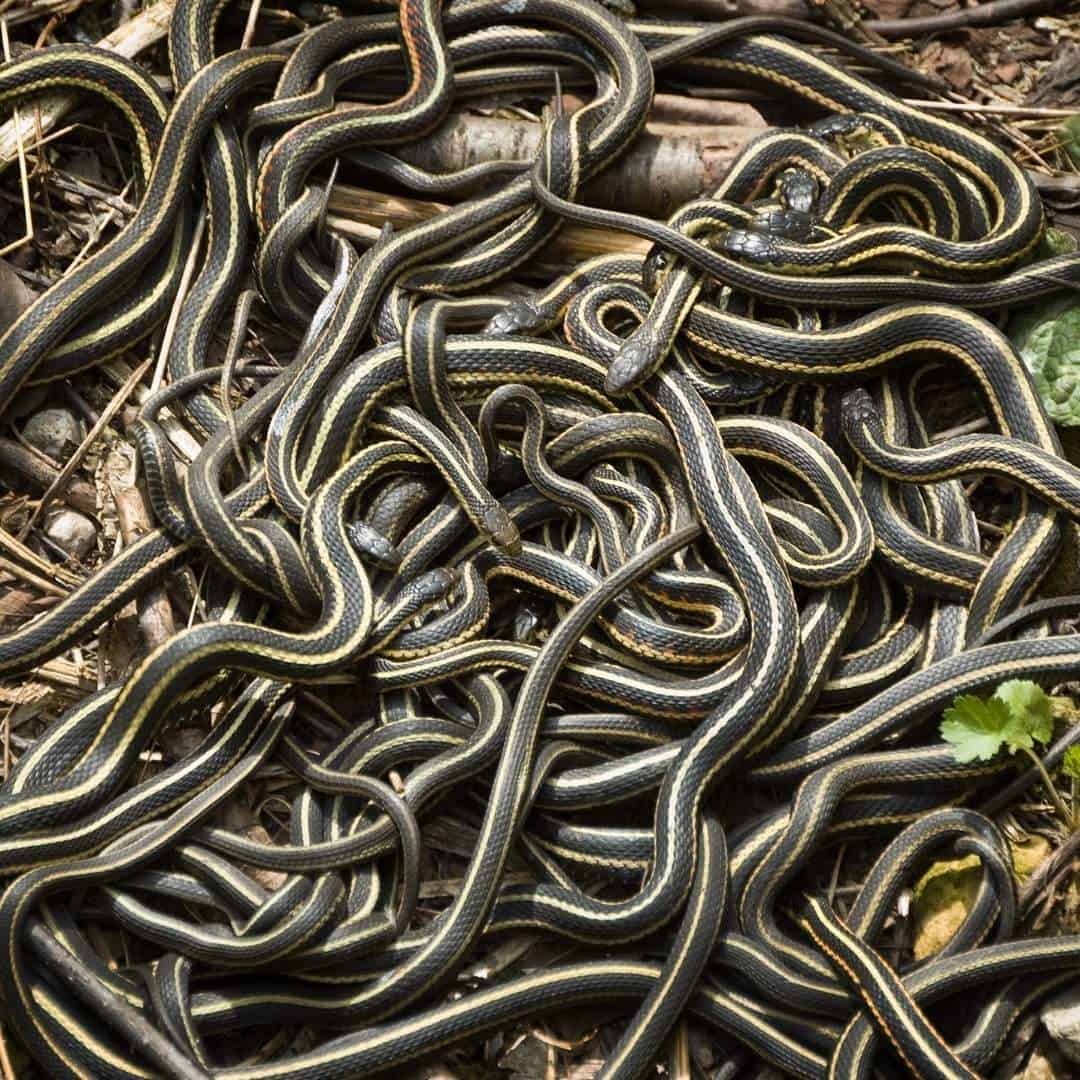 Step Back in Time at Lower Fort Garry
Drive north of Winnipeg to St. Andrews, where you'll find Lower Fort Garry National Historic Site. You can explore some of Canada's oldest fur trade buildings and learn what life was like for the Hudson's Bay Company trappers and traders who lived here in the 1850s. Keep an eye out for the employees, who are all in traditional clothing from the era!
Find Seclusion in Wapusk National Park
One of only two national parks in Manitoba, Wapusk National Park is difficult to get to but absolutely worth the time and money needed. One of the best polar bear denning areas in the world, you can see polar bear cubs here, as well as take in the secluded beauty of the north. We recommend visiting Wapusk with Watchee Expeditions.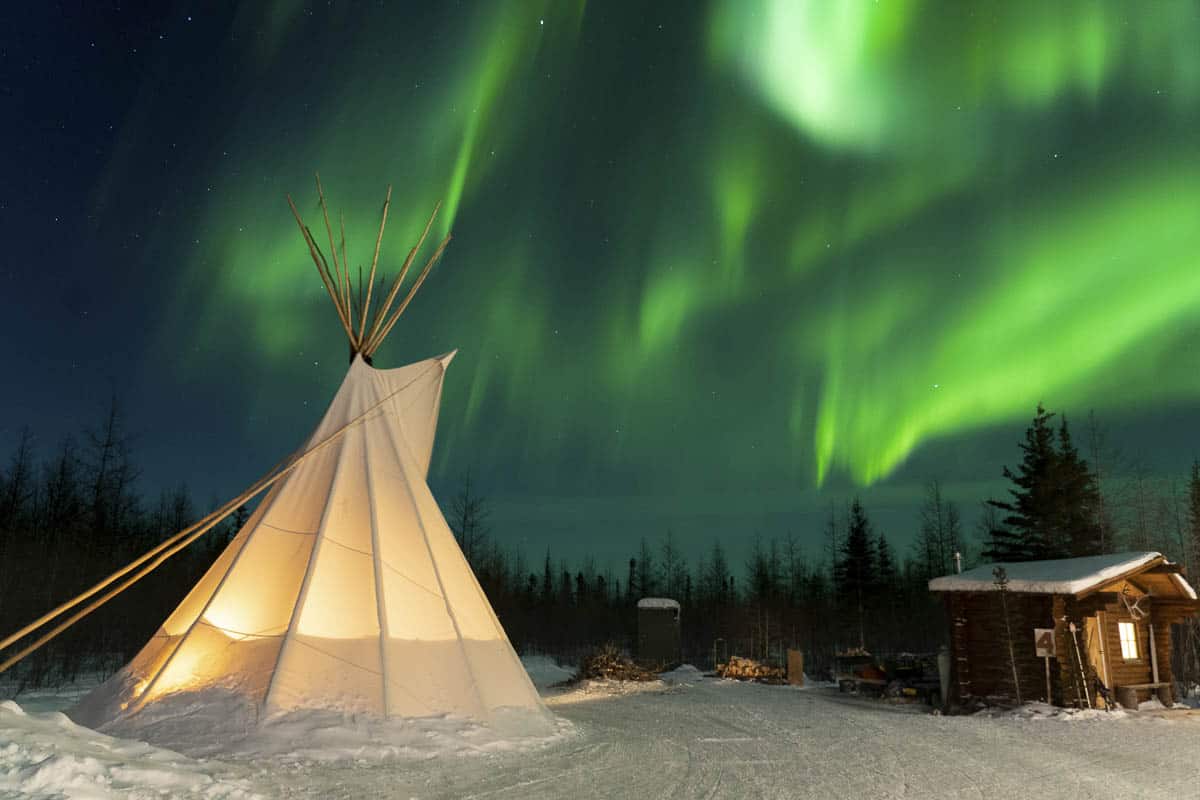 See the Northern Lights
Whether you choose to see the Northern Lights in Churchill, in Thompson, or wherever else you happen to be, you're in for a real show. Manitoba is an excellent place to view the Northern Lights, especially in February and March, so be prepared to see the colours dance and swirl across the night sky.
Spot all of the SeaWalls Churchill Murals
One of the best things to do in Churchill, the SeaWalls CHURCHILL Murals are a series of murals done by artists from around the world. A testament to the strength of the community, this outdoor art gallery of is a lovely way to explore the town. Can you find them all?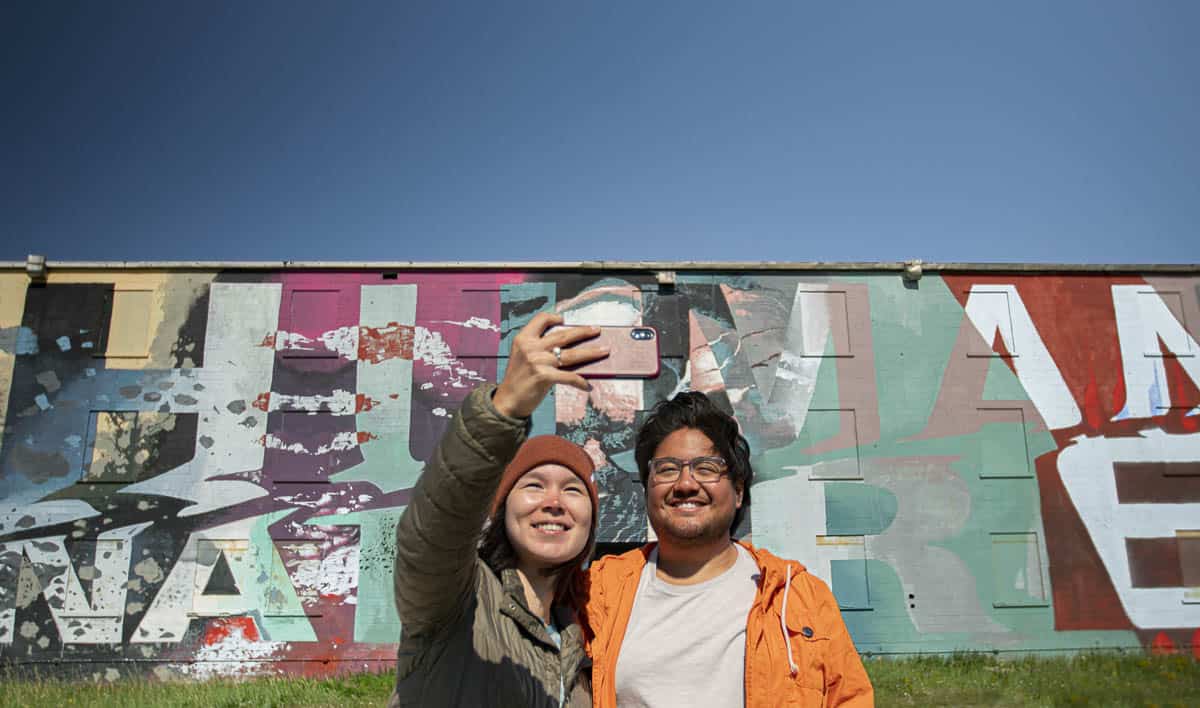 Learn at the Fort Dauphin Museum
The Fort Dauphin Museum looks at what life was like in the region from the prehistoric age until the 19th century. Through artifacts and traditional buildings, learn about the lives of Indigenous peoples on the land, as well as the fur trade, the history of Métis peoples, and the early pioneers who settled in the Dauphin area.
Spend the Day at Grand Beach
One of Manitoba's most popular beaches, Grand Beach is perfect for a day trip from Winnipeg or as a longer holiday. It helps that there are plenty of things to do at Grand Beach! Known for its velvety soft sand, this Lake Winnipeg beach is a real winner.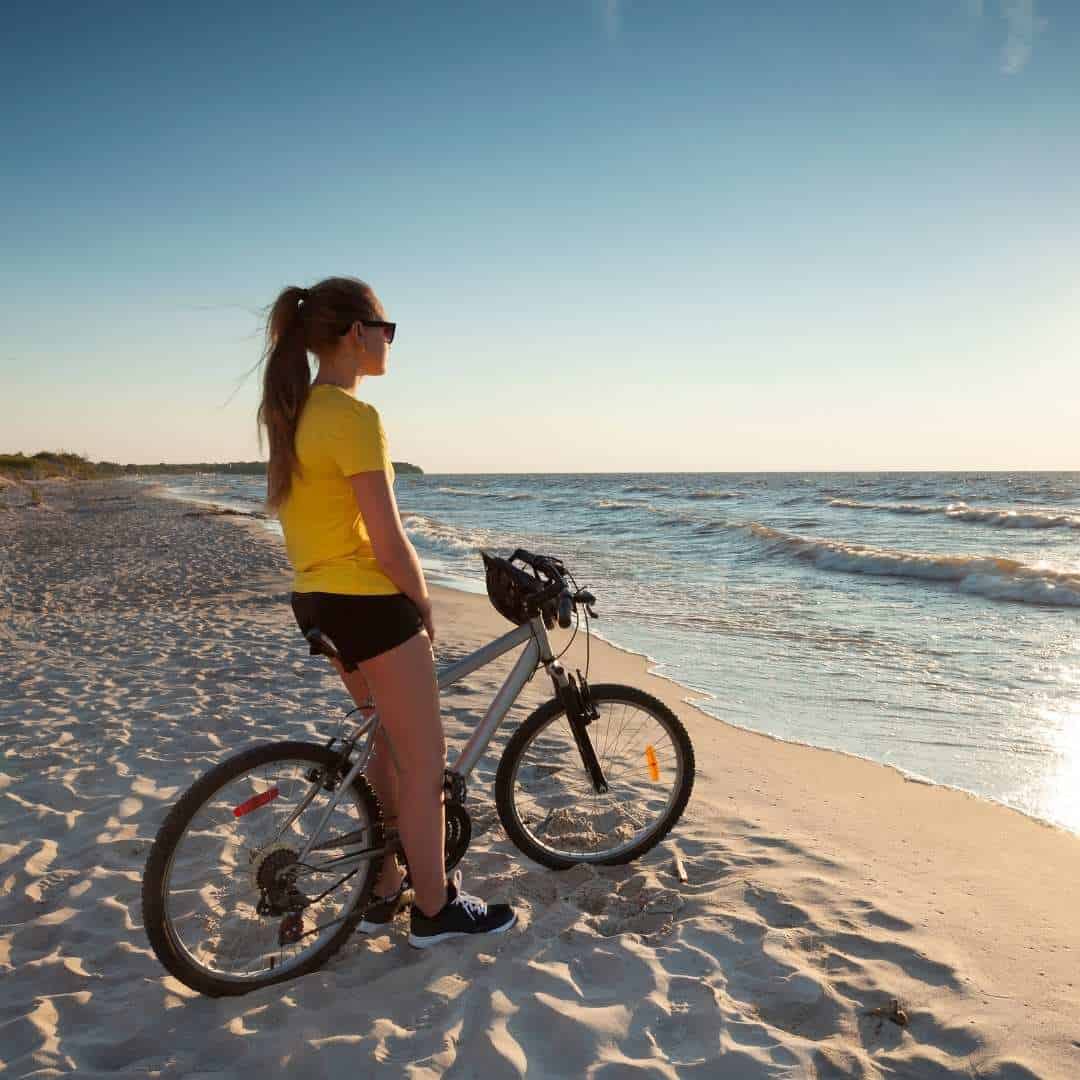 Explore Oak Hammock Marsh
Only about 30 kilometres north of Winnipeg, Oak Hammock Marsh is one of Canada's best birdwatching locations. With plenty of trails, it makes for a great day out in the outdoors. In winter, it's also a wonderful place for snowshoeing; keep your eyes out for white-tail jackrabbits and snowshoe hares.
Go Fishing on a Fly-in Lake
There are plenty of fantastic fly-in lakes for fishing in Manitoba, including Gunisao Lake, God's Lake, Big Sand Lake, and one of our favourites, Nejanilini Lake in Northern Manitoba. If you're after trophy fish, a fly-in lake is the way to go.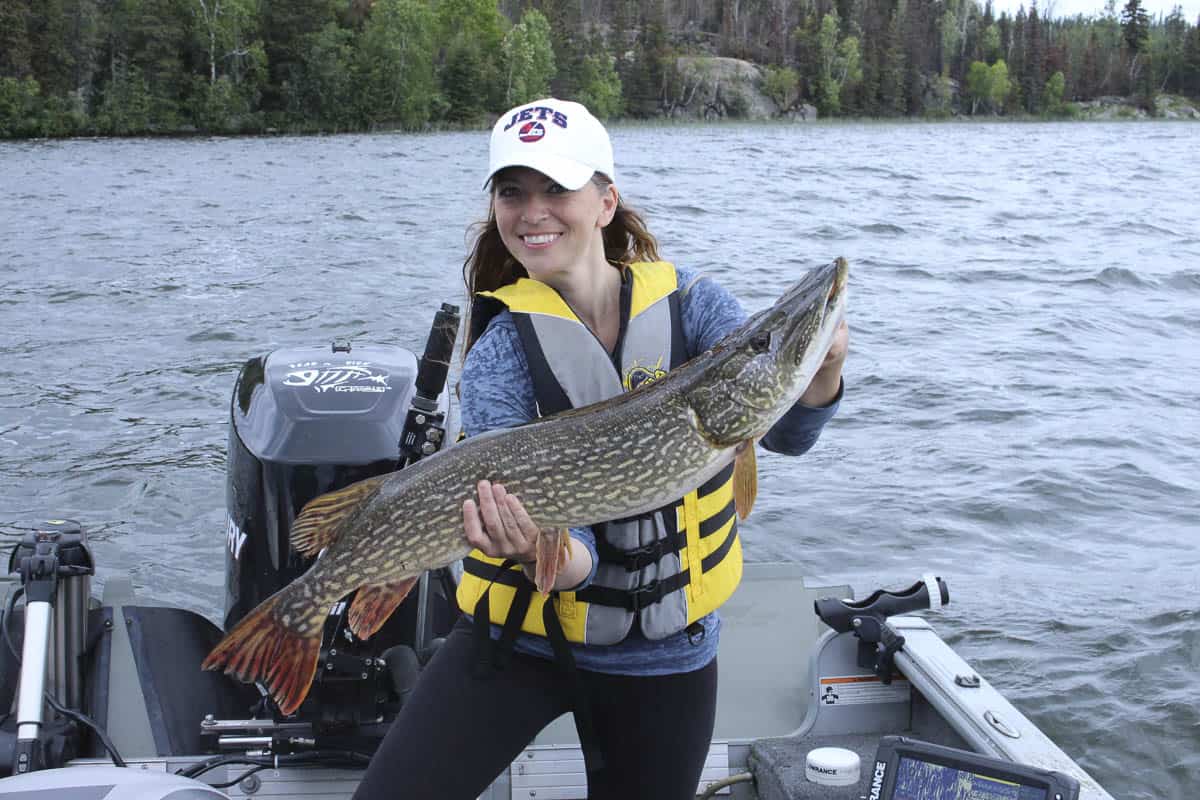 Shop at the Arnes Farmers Market
Arnes Farmers Market, just outside of Gimli, is a popular spot in the Interlake area on weekends. Open seasonally – usually from spring to autumn – you can expect to find local produce, crafts, antiques, soaps, jewellery, clothing, books, and so much more for sale.
Walk the Perimeter of Thompson
Often regarded as one of the best things to do in Thompson, the Thompson Millennium Trail takes you around the city to see some of its most well-known spots. Walk or bike the trail, and keep your eye out for unique birds.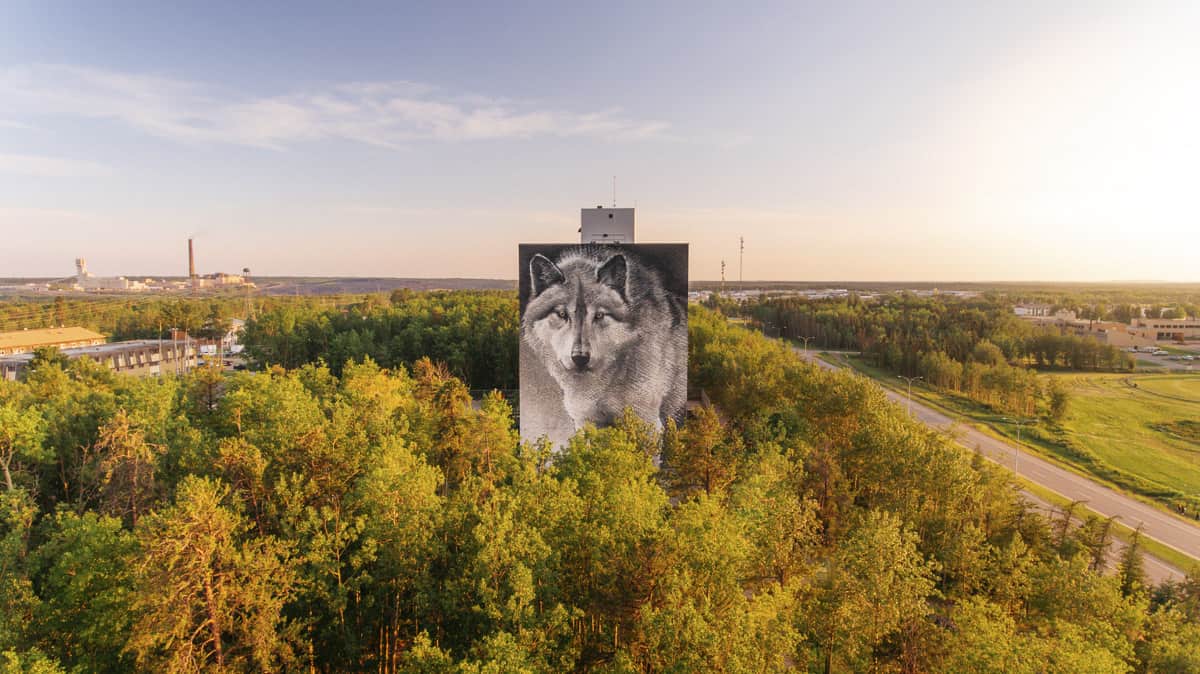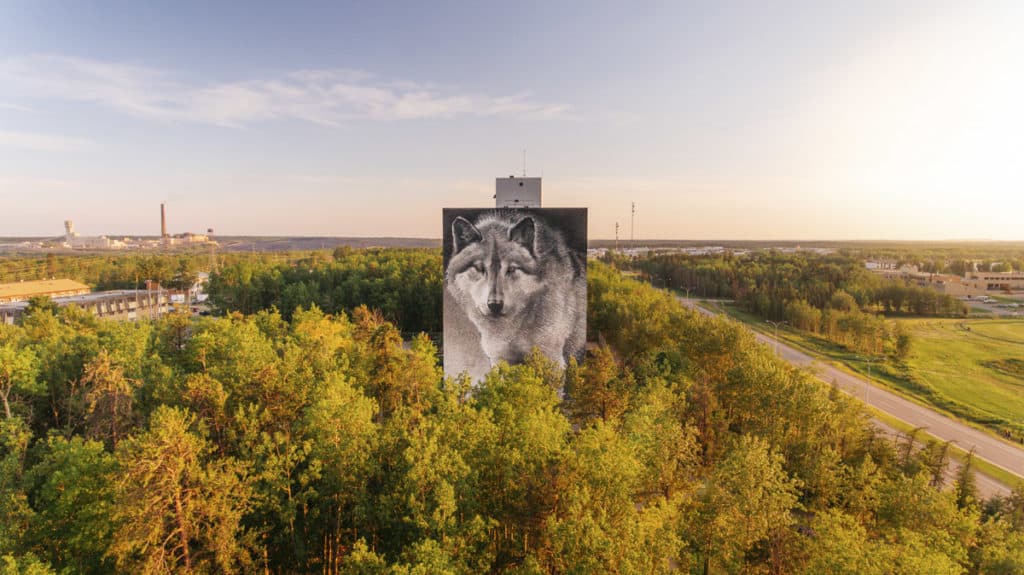 See the Giant Mosquito in Komarno
You know the joke, right? The mosquito is Manitoba's official bird. OK, it's not that bad in summer, but it's still pretty cool to see the statue of the giant mosquito in Komarno, about 20 kilometres west of Winnipeg Beach. Komarno actually means mosquito in Ukrainian!
Pose by the Miss Piggy Plane Wreck in Churchill
Miss Piggy is the nickname for a freight plane that crashed near Churchill in 1979. Fortunately, nobody was injured in the crash, and today the plane is an interesting photo opportunity. It's one of those unique and unusual things to do in Manitoba that makes us realize how much there really is to explore in the province!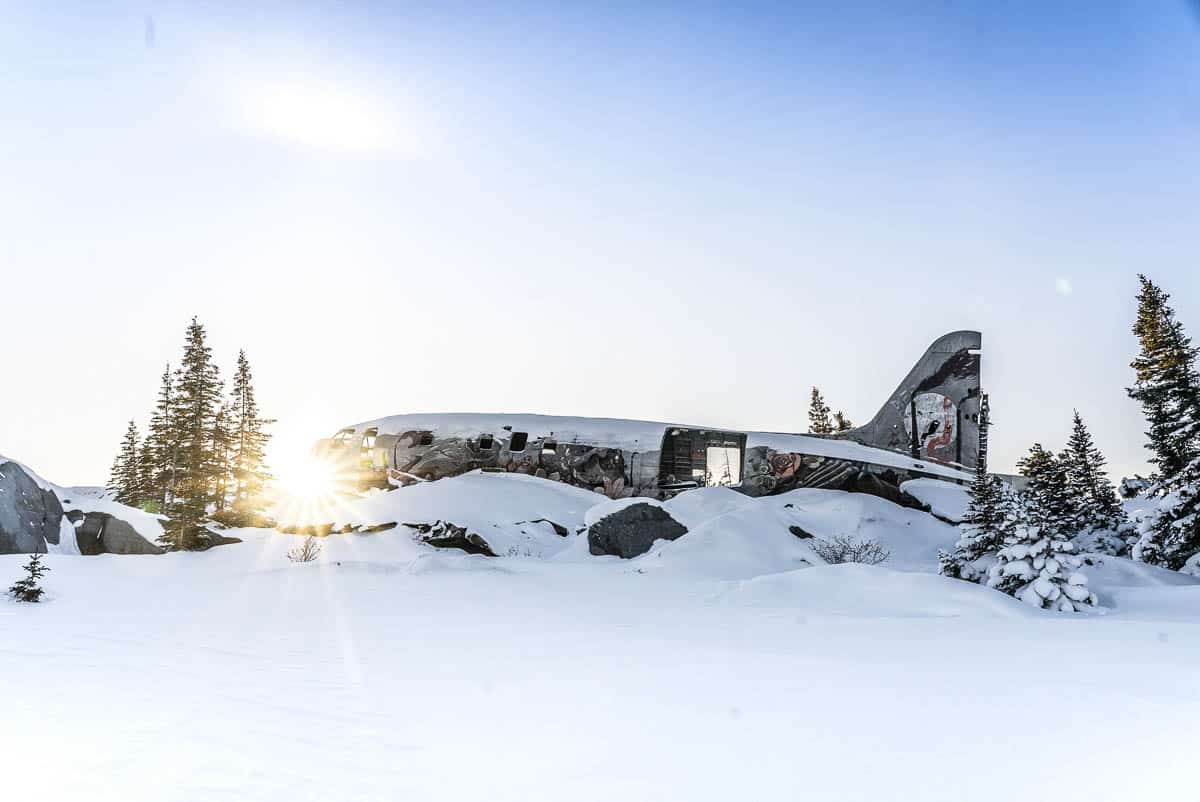 Sleep on the Tundra
Want an incredibly unique way to see the tundra up close? Choose to sleep there! With the Tundra Buggy Lodge, you can fall asleep and wake up with polar bears playing right outside your window. At night, get a front-row seat to the majestic Northern Lights. It's a pricey excursion, but one that will create memories for a lifetime.
Wander Through the Itsanitaq Museum
Small but mighty, the Itsanitaq Museum in Churchill has a terrific collection of Inuit carvings, art, and artifacts to observe. It's also a great place to pick up some souvenirs from your time in the northern community.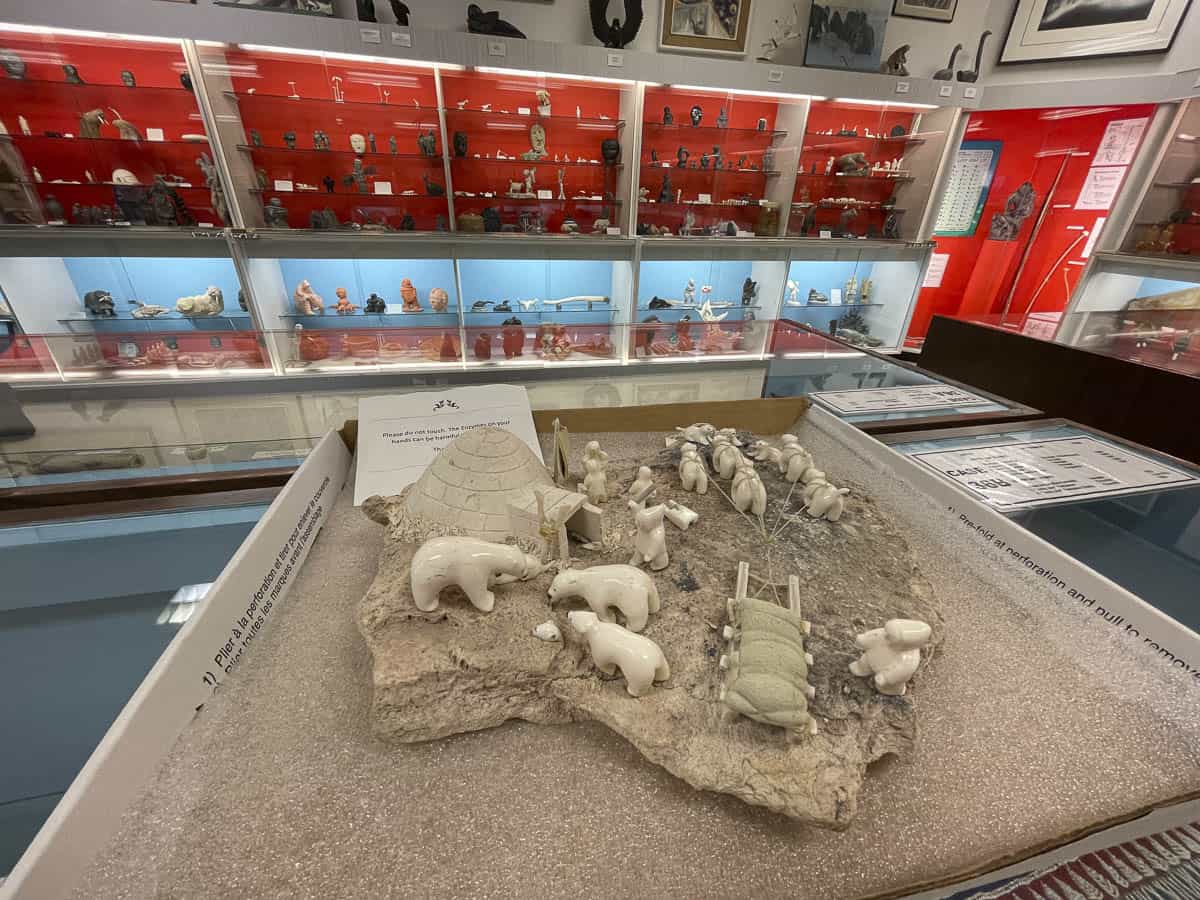 Eat Fish and Chips on Gimli Beach
You can't visit Manitoba without eating some pickerel (walleye); one of the best places to do it is in Gimli! With a good selection of restaurants in Gimli to choose from, we recommend getting fish and chips from Kris' and then eating on the lovely beach along Lake Winnipeg.
Visit Pisew Falls
Pisew Falls is approximately a 45-minute drive south of Thompson and is a fantastic spot to immerse yourself in nature. With magnificent falls as well as gorgeous forests to spend time in, it's also the jumping-off point for one of Manitoba's most challenging (but most rewarding) hikes, the 22-kilometre hike to Kwasitchewan Falls, Manitoba's highest waterfalls.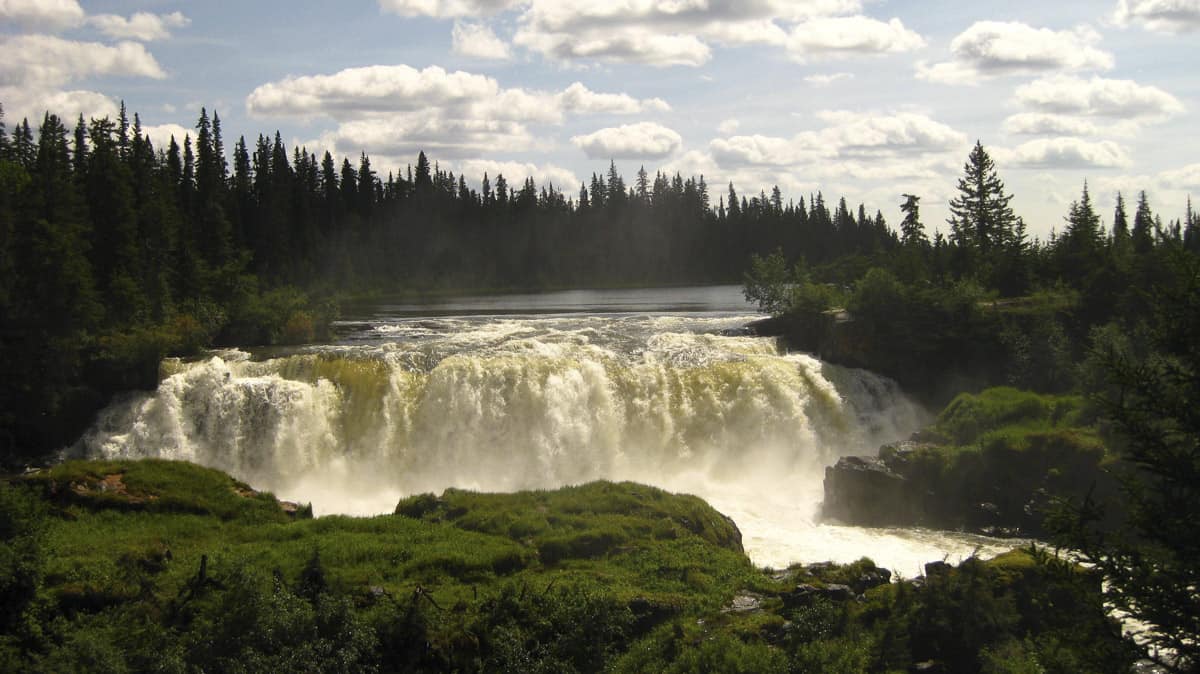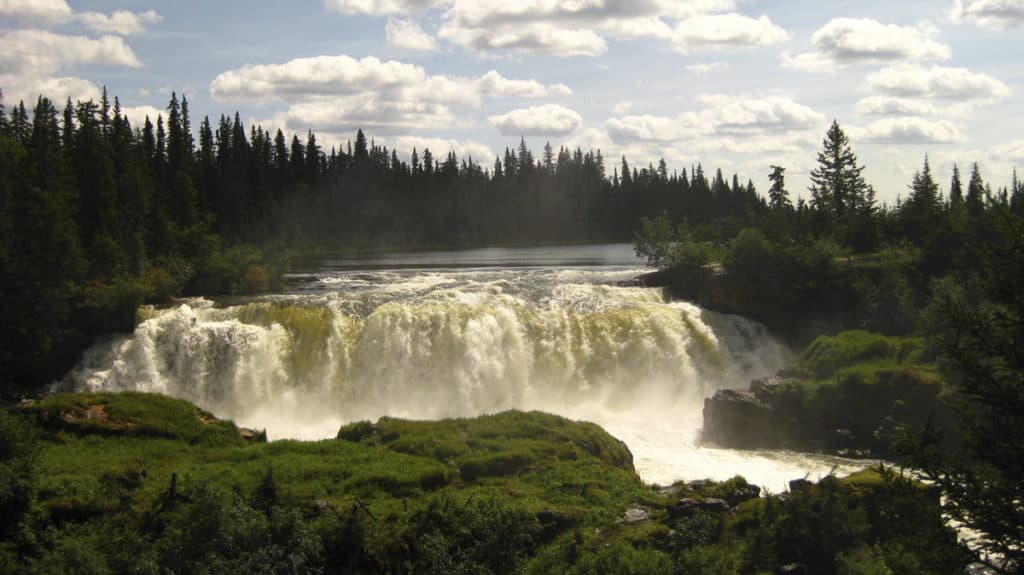 Looking for more Manitoba travel inspiration? Check out these posts: