Disclaimer: This page may contain affiliate links. Please review our full Terms and Conditions for more information and our Privacy Policy. Note that any pricing, operating hours, or other such information provided below may have changed since initial publication.
Compiled by the Road Trip Manitoba team
Last updated on January 12, 2023
When people think of Manitoba, they may think of the prairies. Us? We think of lakes! With over 100,000 lakes in Manitoba, you're never too far from the water. Thankfully, there's a ton to do on the lakes in Manitoba, including fishing, boating, swimming, camping, and even skating and snowshoeing in winter. While it would be impossible to mention every single beautiful lake in the province, we've put together a list of our top picks. Here, then, are the 16 most beautiful Manitoba lakes to visit.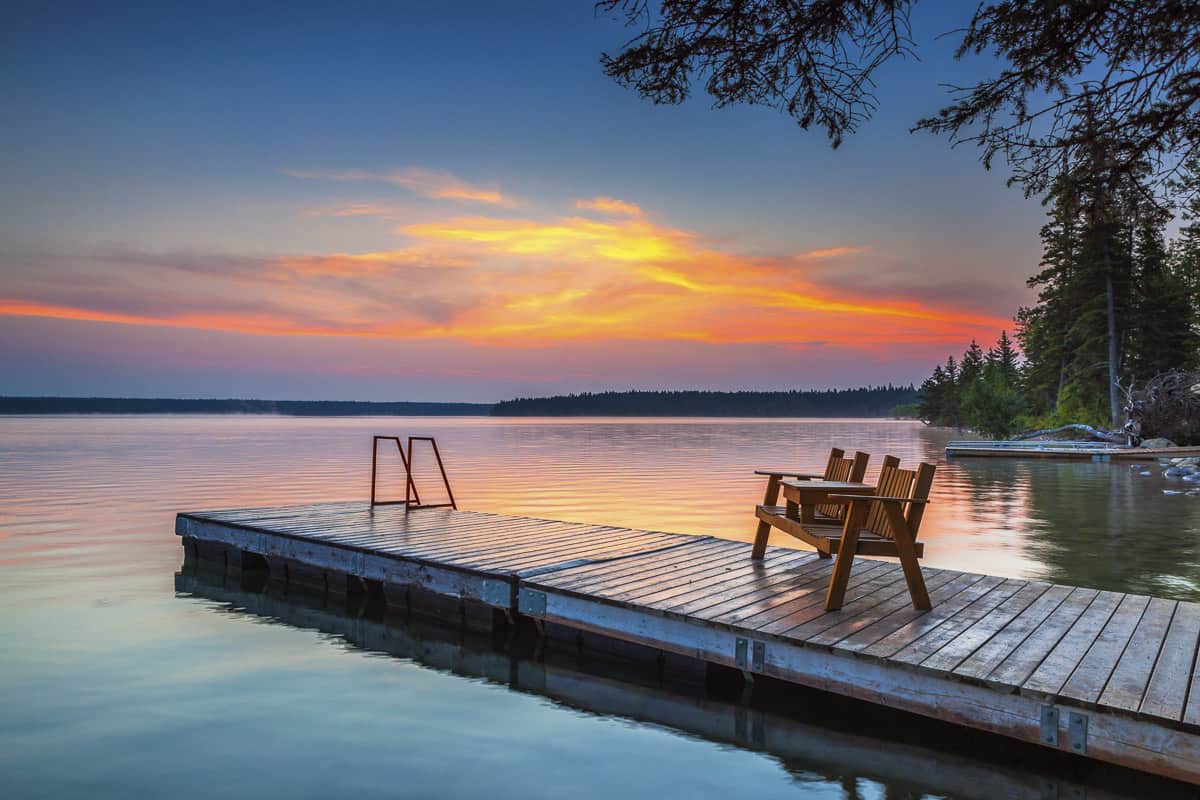 Road Trip Manitoba covers travel through Manitoba, which is made up of Treaty 1, 2, 3, 4, and 5 Territory, as well as communities that are signatories to Treaty 6 and Treaty 10. Manitoba is home to the original lands of the Anishinaabe, Anish-Ininiwak, Dakota, Dene, Ininiwak, and Nehethowuk peoples, as well as the homeland of the Métis peoples.
The Most Beautiful Manitoba Lakes
Lake Winnipeg
We can't write a list of the best lakes in Manitoba and not include the big one, right? Lake Winnipeg is nearly 25,000 square kilometres – for scale, that means that the entire province of PEI could fit inside the lake more than four times! – so you know there's going to be a lot to see and do on the lake. In fact, Lake Winnipeg is the 12th largest lake in the world. While most of the lake is uninhabited by people and is generally inaccessible, there are tons of popular spots to explore along its shoreline.
Some of the most popular Manitoba beaches are along the shores of Lake Winnipeg including Grand Beach, Victoria Beach, and Patricia Beach, while Gimli, Winnipeg Beach, and Hecla Grindstone National Park are fantastic holiday destinations or day trip options as well. The relatively shallow lake means you can often wade out in the water for quite a distance, and many of the beaches along the lake are known for their soft sand and calm swimming waters. Boating, fishing, kayaking, and a host of water sports are all very popular in the summer, while in winter, ice fishing, snowmobiling, and snowshoeing are some of the favourite activities on Lake Winnipeg.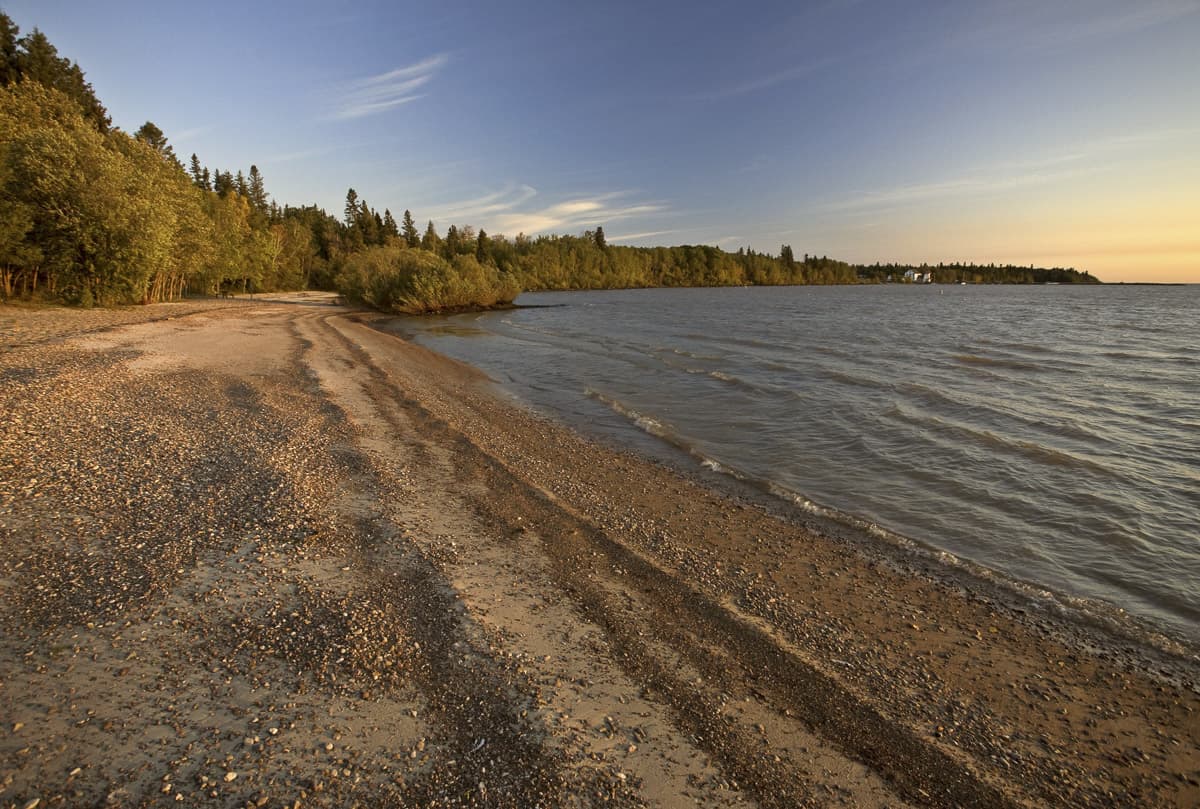 Lake Manitoba
And we can't mention Lake Winnipeg without mentioning its little brother, Lake Manitoba! At just over 4,600 square kilometres, it takes up a significant portion of the province, too. There are plenty of things to do around Lake Manitoba, with Delta Beach, Twin Lakes Beach, and Saint Ambroise Provincial Park being some of the most well-known places to visit along the southern shores of the lake.
Another popular stop on Lake Manitoba is Steep Rock (not to be confused with Steeprock Lake mentioned below), where you can explore walking trails and get a chance to photograph some of the gorgeous rock formations and cliffs. And keep your eyes peeled: Lake Manitoba has a mythical creature much like the Loch Ness monster that has been regularly spotted since 1908. Its name? The Manipogo. Despite the legends, that's not going to put us off from swimming, canoeing, and boating on beautiful Lake Manitoba!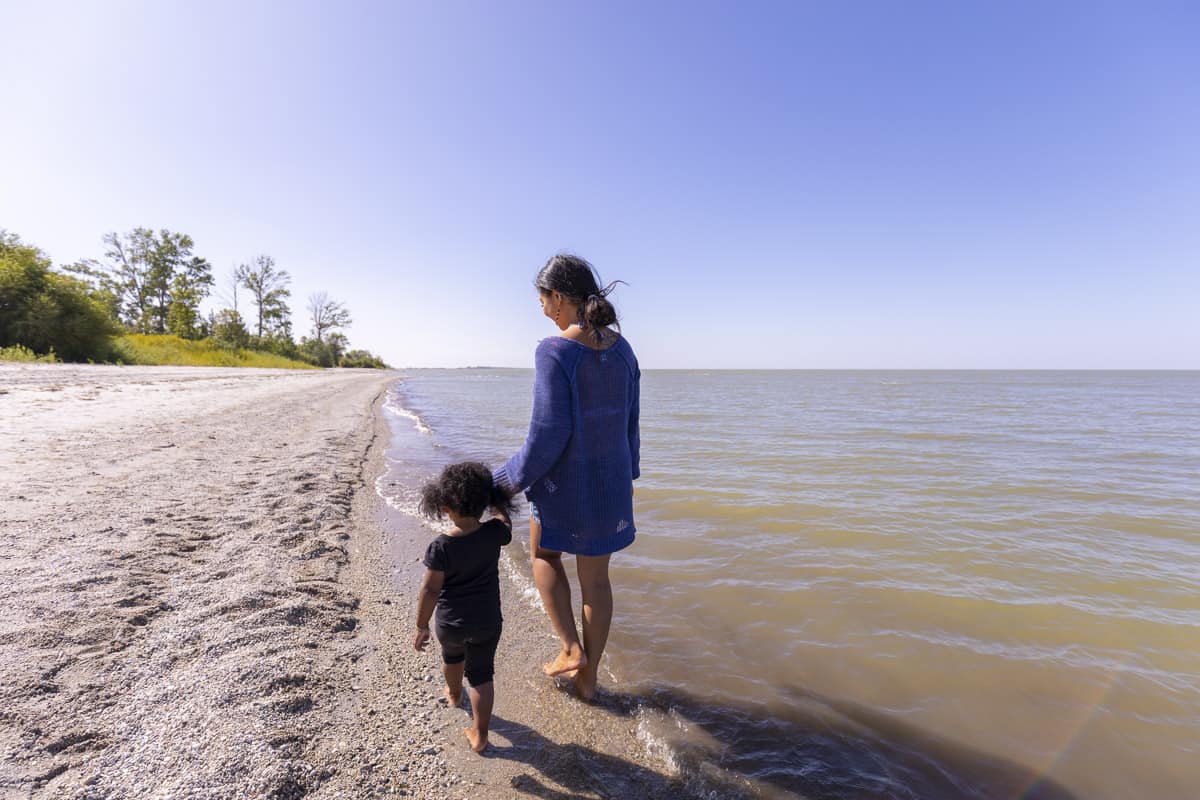 Little Limestone Lake
Little Limestone Lake is a favourite amongst those in the know of the best things to do in Manitoba. One of the most beautiful and photogenic of all the Manitoba lakes, it's known for its incredible colour in the summer months. Gaze out over the sparkling water and let all your worries fade away: that's the power of Mother Nature! Swim, canoe, kayak, or just watch the water from the shore, as it really is quite a unique lake in Manitoba… and it all comes down to the limestone the lake is named for.
That's right, science can explain those gorgeous blue hues. Little Limestone Lake is the world's largest marl lake, and you can actually watch the lake changing colour depending on the time of year. This is because marl lakes change colour in warmer weather due to the release of calcium carbonate into the water from the limestone bedrock below. It's an unbelievable phenomenon to witness, and you can watch the lake turn from turquoise to clear to a milky blue colour, all from the shoreline.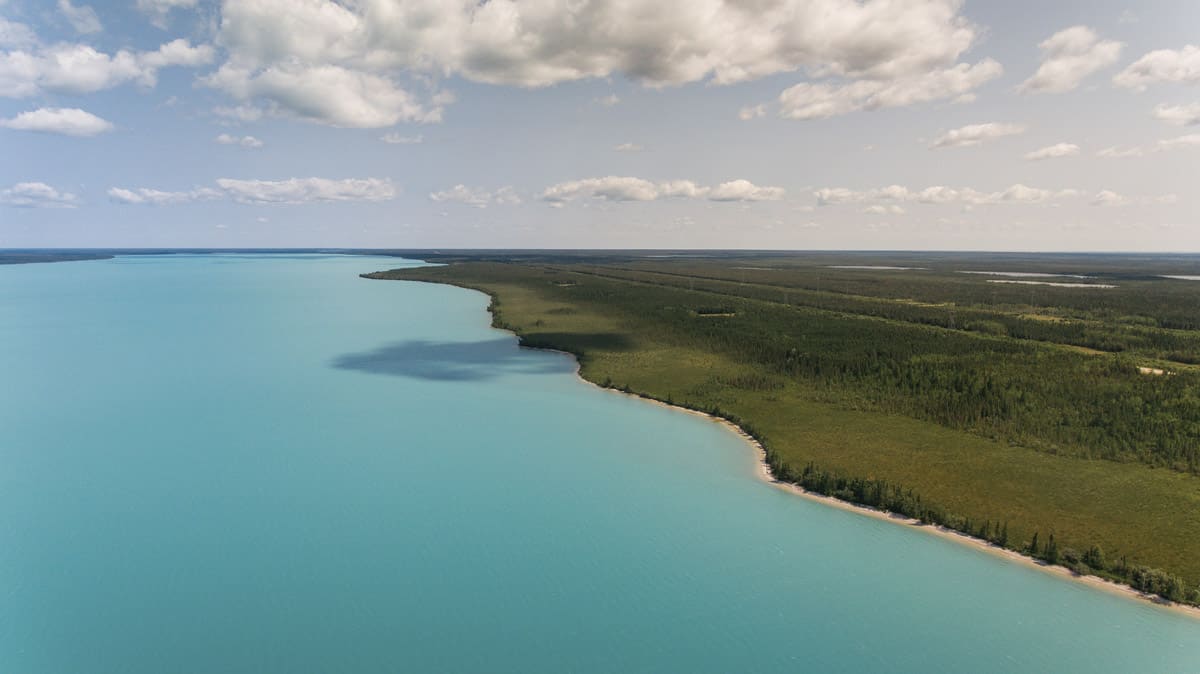 West Hawk Lake
One of the most popular lakes in Manitoba, West Hawk Lake is found in Whiteshell Provincial Park in the southeast of the province. Created when a meteor hit the Earth millions of years ago, today it is the deepest lake in Manitoba at 115 metres (377 feet). Surrounded by the Canadian Shield and granite cliffs, the contrast of the rocky terrain, the green forest, and the shimmering lake makes for a lovely holiday destination.
In summer, West Hawk Lake comes alive with cottage and cabin rentals, camping, boating, wakeboarding, water skiing, and scuba diving (the lake is known for scuba diving due to its depth and clarity). In fact, West Hawk campground is one of our top picks of Manitoba campgrounds for its extensive amenities and access to things to do. Head to Crescent Beach for sandy shores, but be warned… the water here is notoriously chilly! And while you're in the area, visit nearby Falcon Lake, equally as popular with locals and holidaymakers alike.
While the lake is still beautiful in winter, it's one of the last lakes in Manitoba to freeze over due to its depth, so keep that in mind if you're planning on any ice fishing or other winter sports in the area.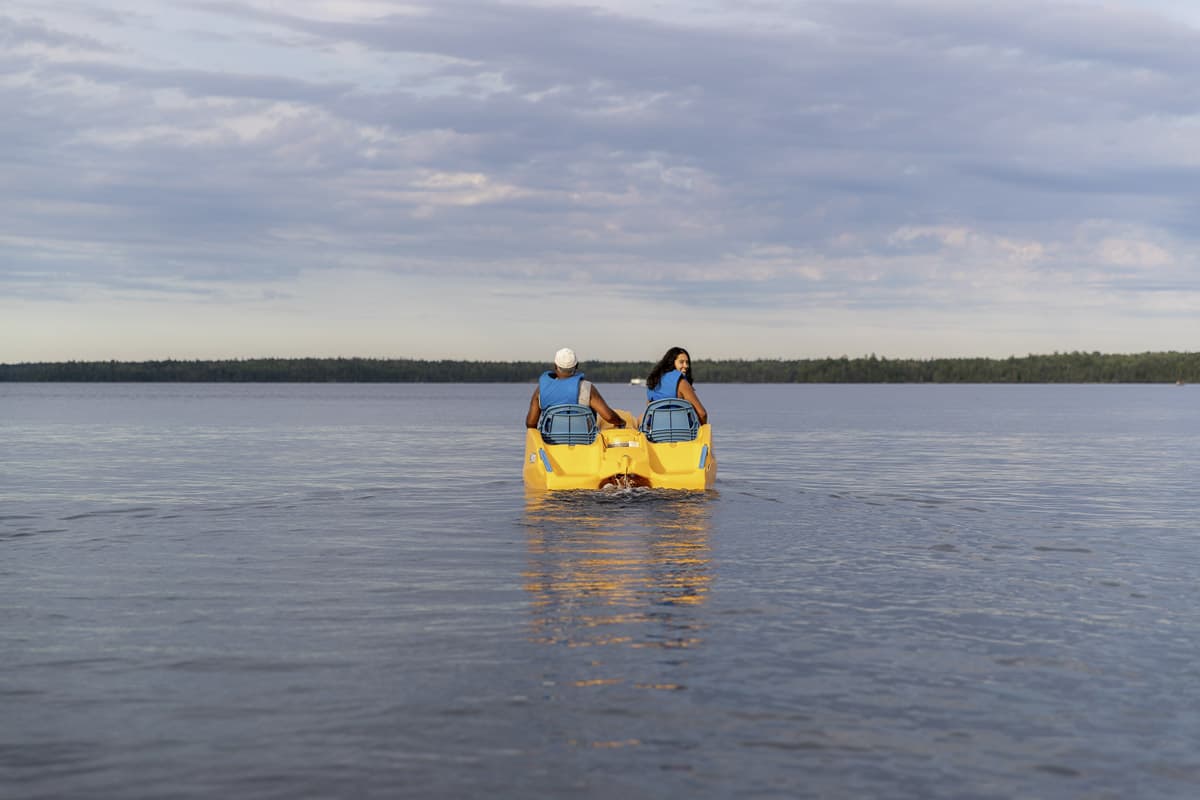 Clear Lake
Ask the average Manitoban to name a lake in the province, and most likely Clear Lake will come up! As one of the most popular (and most beautiful) lakes in Manitoba, it thankfully lives up to its reputation. There's a tremendous amount of things to do in Riding Mountain National Park, and visiting Clear Lake is at the top of that list. Its stunning clear waters not only give it its name, but make it one of the most photogenic spots in Manitoba, too.
An amazing lake to visit in any season, summer brings swimming, fishing, boating, canoeing, and just about every water sport you can think of. People flock to the sandy beach and crystal clear water in peak season. In winter, ice fishing is popular, as is snowshoeing. With the addition of a skating trail in the last few years, there's nearly as much to do on Clear Lake in the cold months as there is during the warmer months!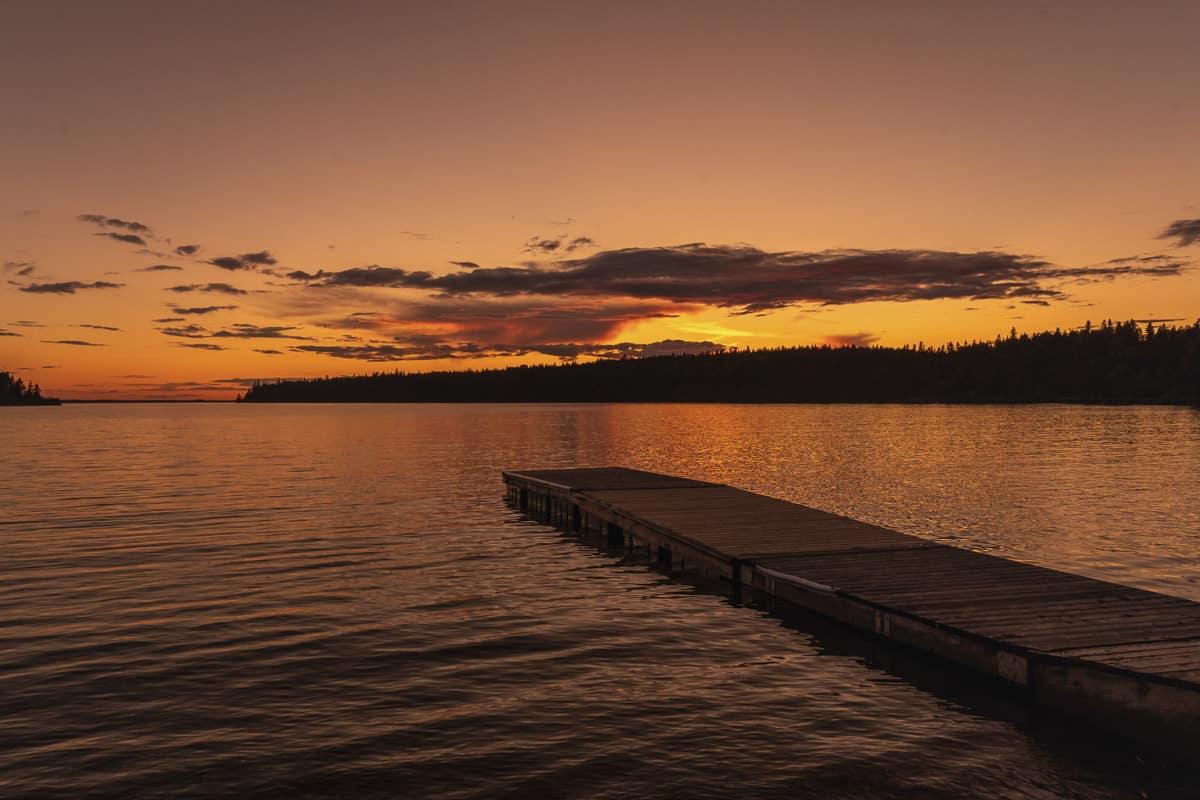 Caddy Lake
Known for excellent fishing and canoeing, Caddy Lake is a fantastic choice when it comes to Manitoba lakes. The real draw for heading to Caddy Lake are the tunnels; with a canoe or a kayak, you can explore the rock tunnels that were left behind from railroad construction many years ago. As you're in the heart of the Canadian Shield, prepare for lots of rocky terrain of beautiful granite as well as thick boreal forest all around you.
Serious canoe enthusiasts will also love Caddy Lake for its 170 kilometre canoe route. Prepare for many days on the water as well as some portaging, but it's an amazing way to see this part of Whiteshell Provincial Park.
Paint Lake
Paint Lake is one of Manitoba's most underrated lakes, and is a favourite here at Road Trip Manitoba. Found in Northern Manitoba, near Thompson, it is well worth a visit due to its beauty, its abundance of things to do, and its relative peace and quiet compared to some of the province's southern lakes that can be heavily populated in the summer months. The lake has numerous islands scattered throughout, meaning there's always something new to see around the corner; the Canadian Shield landscape means you'll experience lots of granite rock formations and lush boreal forest surrounding the lake.
Pisew Falls is one of the main attractions of the area, but there's also a ton of incredible canoeing, hiking, fishing, and other water activities. Paint Lake Lodge is one of the best places to stay in the region, and is known for its huge marina, cozy cabins, and many other amenities (including boat and canoe rentals). The Paint Lake Campground is also one of our top picks in the province.
Childs Lake
Want a lake that's comparatively not as well known as some of the bigger lakes of Manitoba? Head to peaceful Childs Lake in Duck Mountain National Park, found in the western part of the province. With tons of privacy on the lake, even at the campground, you'll love the surrounding greenery of the forest's tall trees and the contrast of the foliage with the clear, smooth water.
There are plenty of native species of fish in Childs Lake, including lake trout, walleye, whitefish, and northern pike, but there are often stocked lake species as well, making this a fantastic fishing destination. There's also a beach, hiking trails, a boat launch, and great accessibility to the rest of the provincial park and the surrounding area.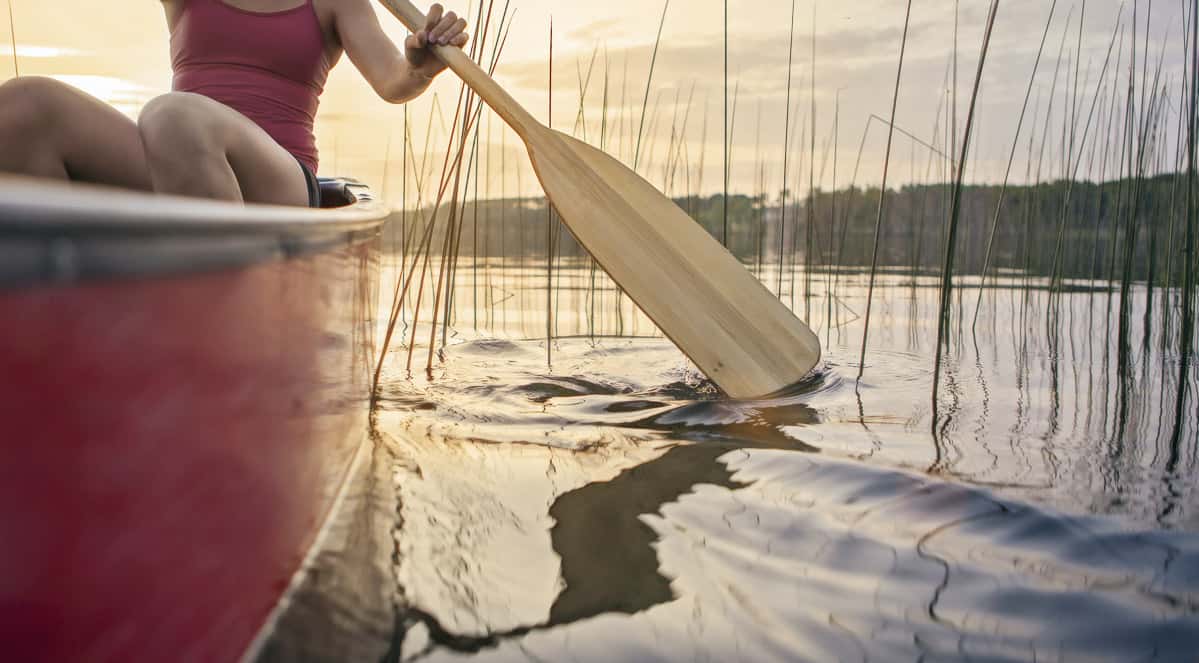 Brereton Lake
Not as well known as some of Whiteshell Provincial Park's other lakes, Brereton Lake is one of our favourite lakes in Eastern Manitoba. With three public beaches, you can have your pick of soft, sandy shores to relax on. The lake is perfect for families, then, especially as there are some excellent play structures on the shoreline as well. Swimming is incredibly popular, as is boating, and the abundance of small islands around the lake means there's always a new picnic spot to explore.
Canoeing and other recreational boating is a popular activity on the lake, and those feeling especially adventurous might want to add to their visit by portaging to nearby Mud Turtle Lake, a fantastic spot for backcountry camping in Manitoba. Camping not your thing? The Brereton Lake Resort makes for an amazing base to explore the area.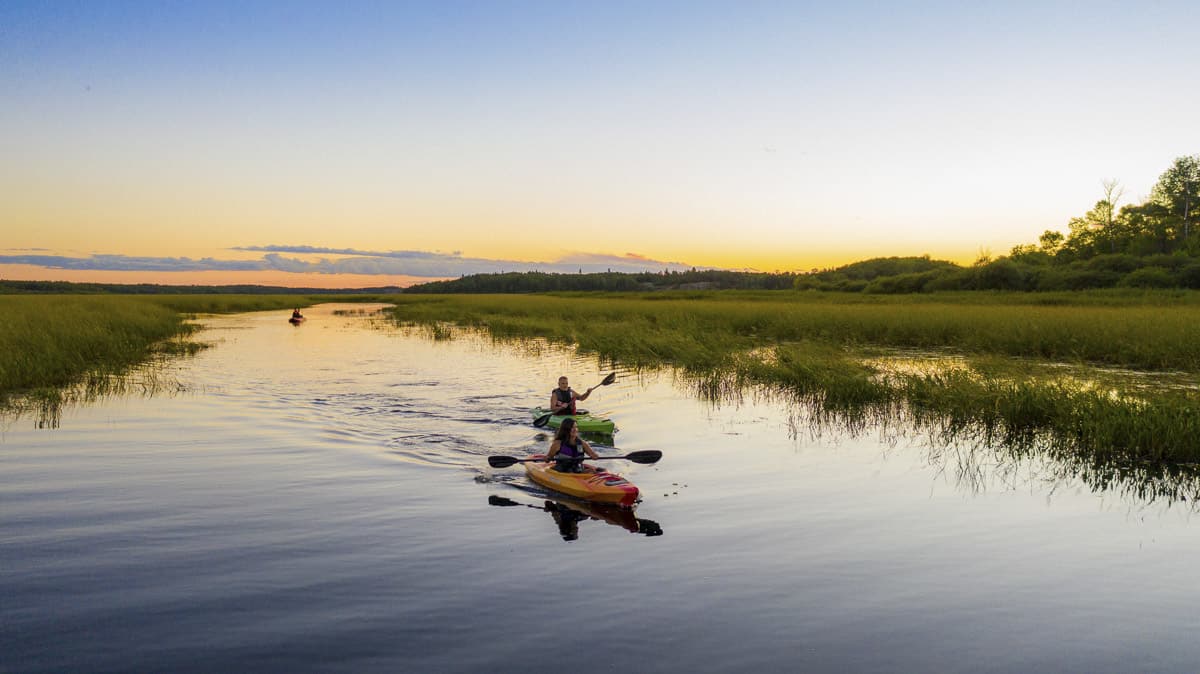 North Steeprock Lake
Not to be confused with Steep Rock on Lake Manitoba, North Steeprock Lake is a true gem in Western Manitoba. Found within the boreal forest of Porcupine Mountain, a visit here is for those who love a more rustic adventure; if you decide to stay at North Steeprock Lake Campground, expect basic facilities (but lots of serenity). It's a wonderful place to escape the crowds and to feel as if you have a little slice of nature all to yourself.
Found about an hour north of Swan River, North Steeprock Lake is surrounded by dense, lush forests, making it a nature lover's dream. Anglers will enjoy fishing for northern pike and walleye, while Vini Lake just a short distance from North Steeprock is known for Arctic char.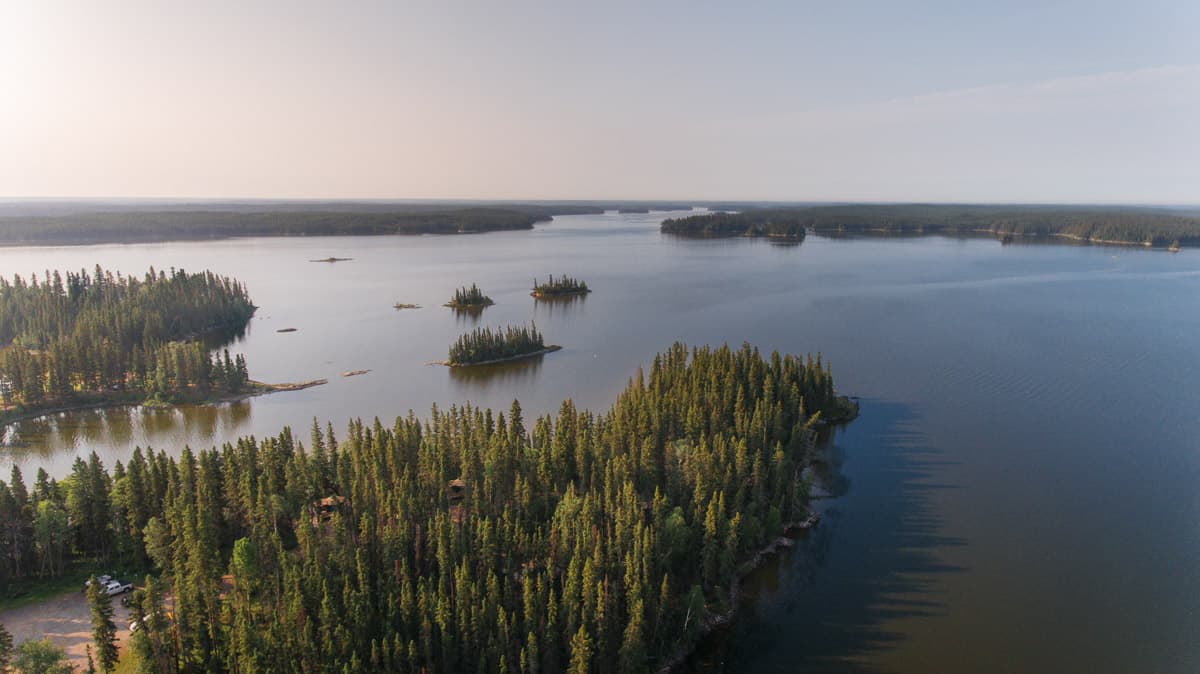 Bird Lake
Bird Lake is included on this list not so much for the lake itself, but for what's directly beside it. Head here to experience the magnificent Tulabi Falls, one of Manitoba's best set of waterfalls, and to experience one of our favourite campgrounds in the province. It's a fantastic area for wildlife viewing, fishing, canoeing, kayaking, and just about every other outdoorsy activity you could hope to do on your trip to this part of Manitoba. Note that there is only swimming in certain designated areas at Bird Lake, Tulabi Falls, and nearby Black Lake.
Surrounded by lush green trees, the contrast between the foliage, the rocks, and the rushing water make Bird Lake an excellent choice for an opportunity to get away from the hustle and bustle of city life.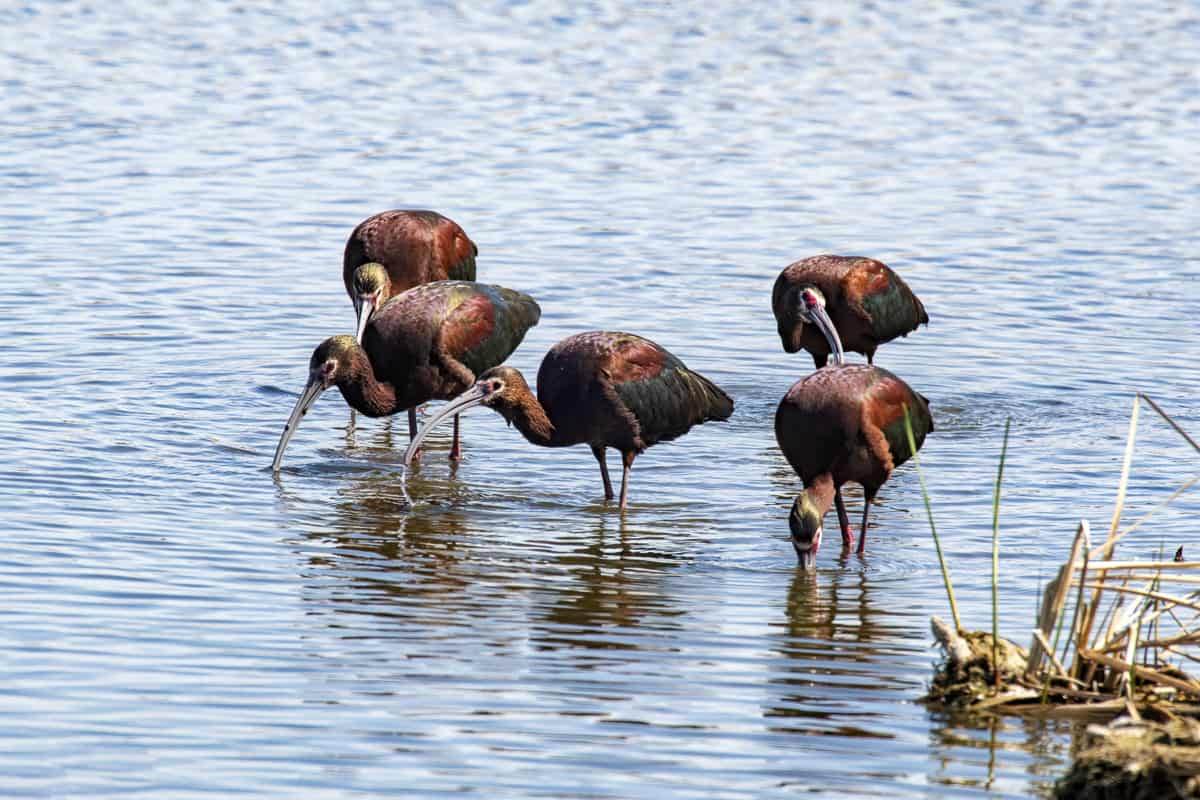 Clearwater Lake
Not to be confused with Clear Lake in Riding Mountain National Park, Clearwater Lake is found in Clearwater Provincial Park near The Pas. True to its name, the lake is filled with gorgeously clear water that's perfect for a refreshing dip in the warmer months; the colour is so vibrant in the sunshine, you might be fooled into thinking you're in the Caribbean, not Northern Manitoba! Also called Atikameg Lake, this northern lake is one of Manitoba's best-hidden gems, and because not many from around the province know about it, you can often have some of it all to yourself.
Go fishing for lake trout and pike, canoe on the turquoise waters, or check out the nearby Caves Hiking Trail. In winter, the lake is known for producing giant trout during ice fishing, so it's a fantastic spot for enthusiastic anglers. It's definitely worth the visit, no matter what the season.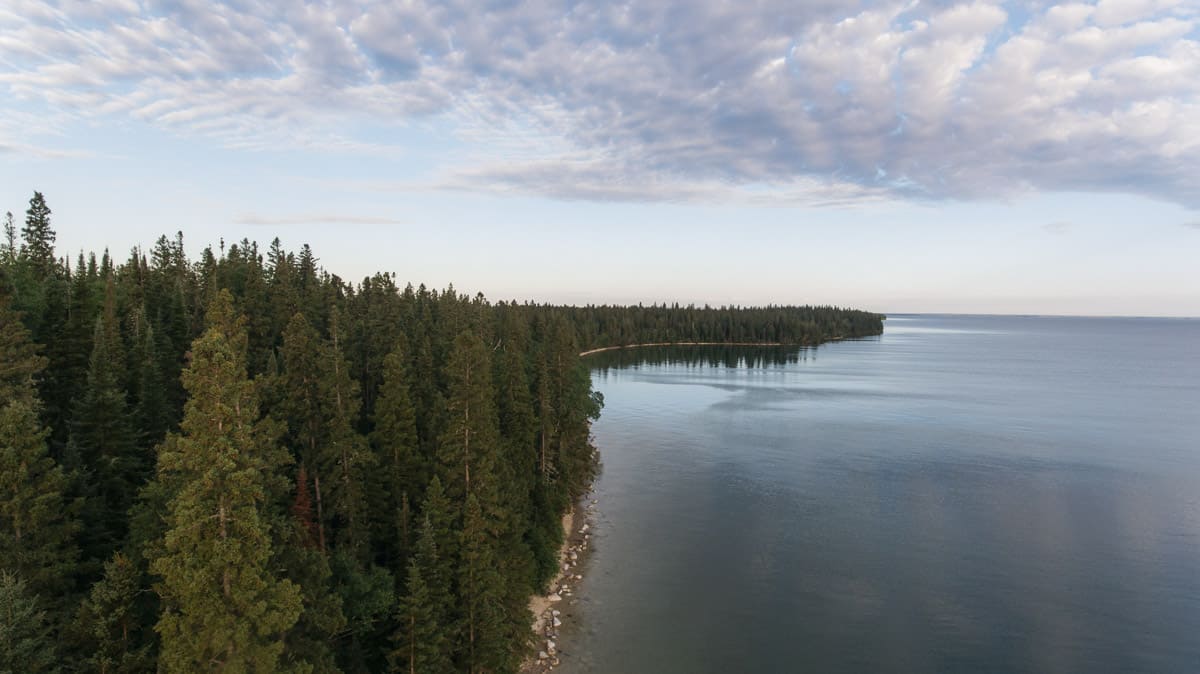 Lake Athapapuskow
Known as one of the best lakes for fishing in Manitoba, Lake Athapapuskow is a glacier-formed lake and is actually comprised of three connected bodies of water. Accessible from many points around Manitoba, including Bakers Narrows and Cranberry Portage, it's also one of the best lakes to visit from Flin Flon. Surrounded by boreal forest, the lake is the epitome of serenity; if you're after quiet mornings fishing, this is the lake for you.
Known for its abundance of walleye, yellow perch, lake trout, northern pike, burbot, and many more species of fish, even amateur anglers will most likely catch a fish or two. But fishing isn't the only thing that Lake Athapapuskow offers; it's a beautiful lake for swimming, kayaking, and a variety of water sports.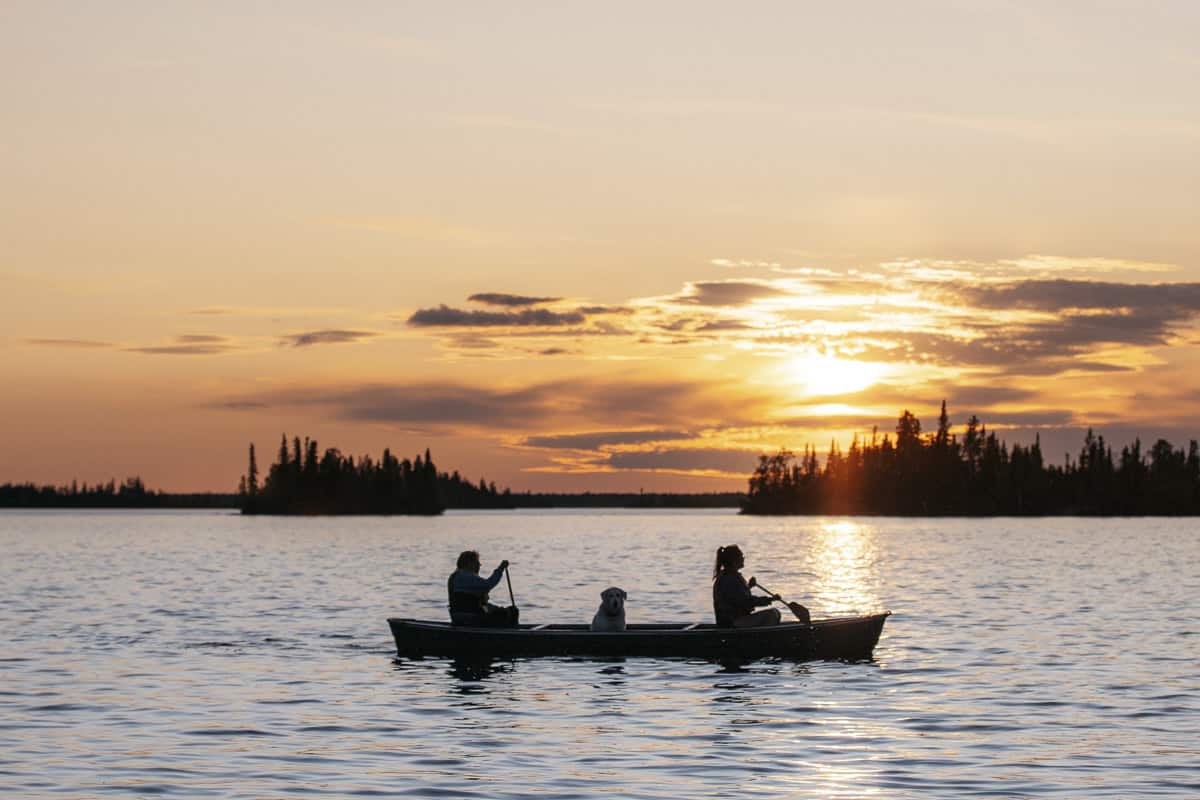 Nutimik Lake
We've mentioned a lot of Whiteshell Provincial Park lakes on this list, but that's because they really are quite spectacular. Nutimik means "up the river" in Cree, so it's fitting that you'll find Nutimik Lake Campground near the Whiteshell River, and it truly is one of the best campgrounds for nature enthusiasts to base themselves. Spend your days canoeing, swimming, and trekking up Blueberry Hill for a beautiful vista of the Winnipeg River and Nutimik Lake itself.
For those who love hiking, the Pine Point Rapids hiking trail near Nutimik Lake is known for its fantastic views. There's also the Whiteshell Natural History Museum to visit, perfect if you'd like to get to know a bit more about the region.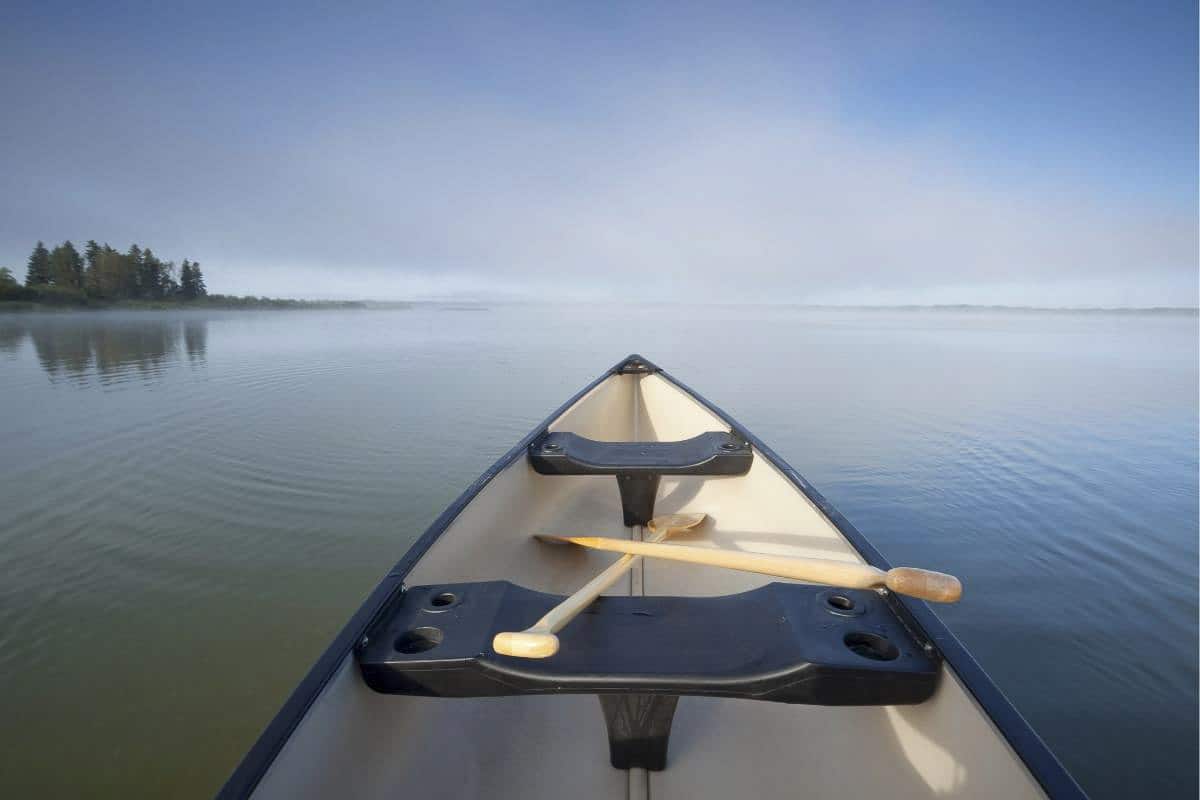 Dauphin Lake
Dauphin Lake is an excellent choice if you're after a relaxing beach with calm waters; options include Ochre Beach, Rainbow Beach, Sifton Beach, and Stony Point Beach. Perfect for a day trip from Dauphin or even Brandon or Swan River, it's also worth it to make a longer holiday in the region to explore all of the beauty of the lake. It's ideal for lazy beach days with the family, and kids will especially love all the sandy beaches, surrounding forest, and all the chance to explore the region. Depending on the day, you might even have one of the beaches to yourself.
With seven major tributaries, there are many shore fishing opportunities along Dauphin Lake, although there's also quite a few public boat launches around the lake, too. Anglers will have a chance to catch walleye, northern pike, burbot, yellow perch, smallmouth bass, freshwater drum, brown bullhead, tullibee, and many more species.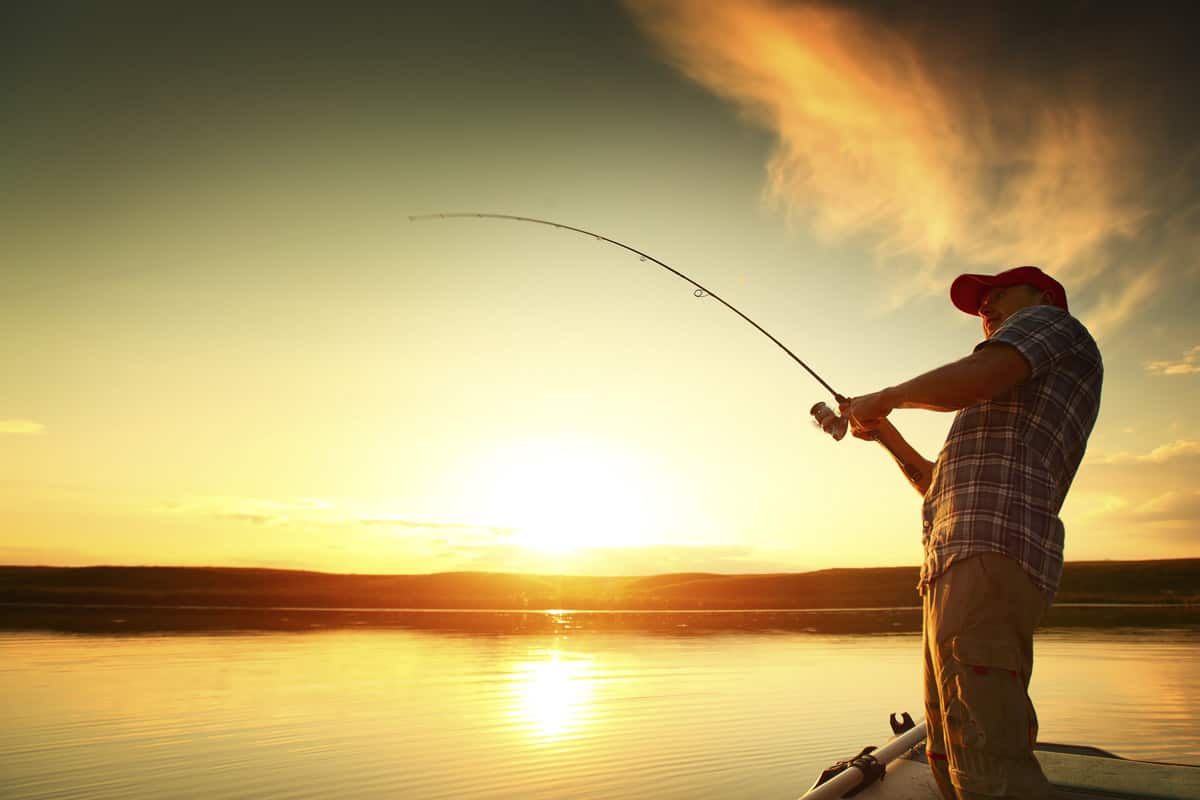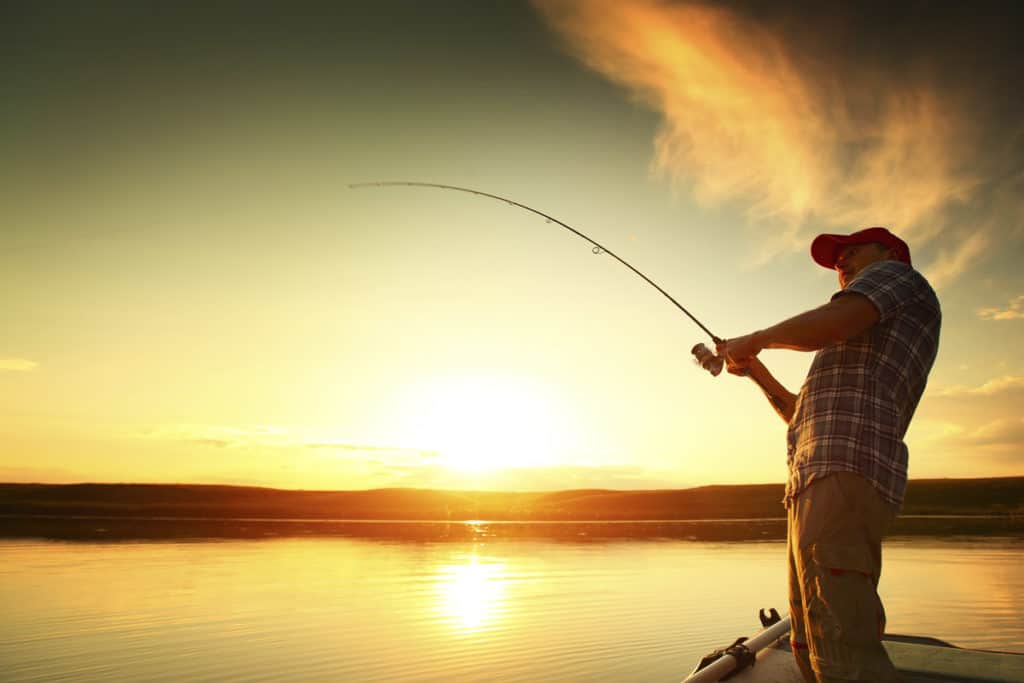 East and West Blue Lakes
We're cheating a little bit as we're combining the two lakes as one here, but East and West Blue Lakes in Duck Mountain Provincial Park both deserve a spot on this list. The colour of the lakes is nearly unmatched in Manitoba; they really are a sight to behold, with summer bringing almost shockingly blue waters. The sparkling lakes are home to excellent hiking trails, boating, swimming, fishing, and canoeing.
One of the best hikes in Manitoba is the Blue Lakes Trail, an excellent way to see both lakes at once. The loop trail takes you between the lakes, along both shorelines, so you can decide whether you prefer the East or the West Blue Lake for yourself. Between the provincial park and the lakes, this is the kind of spot where you can easily spend a week or two exploring and enjoying the surrounding nature, and is one of our favourite holiday spots to recommend in Manitoba.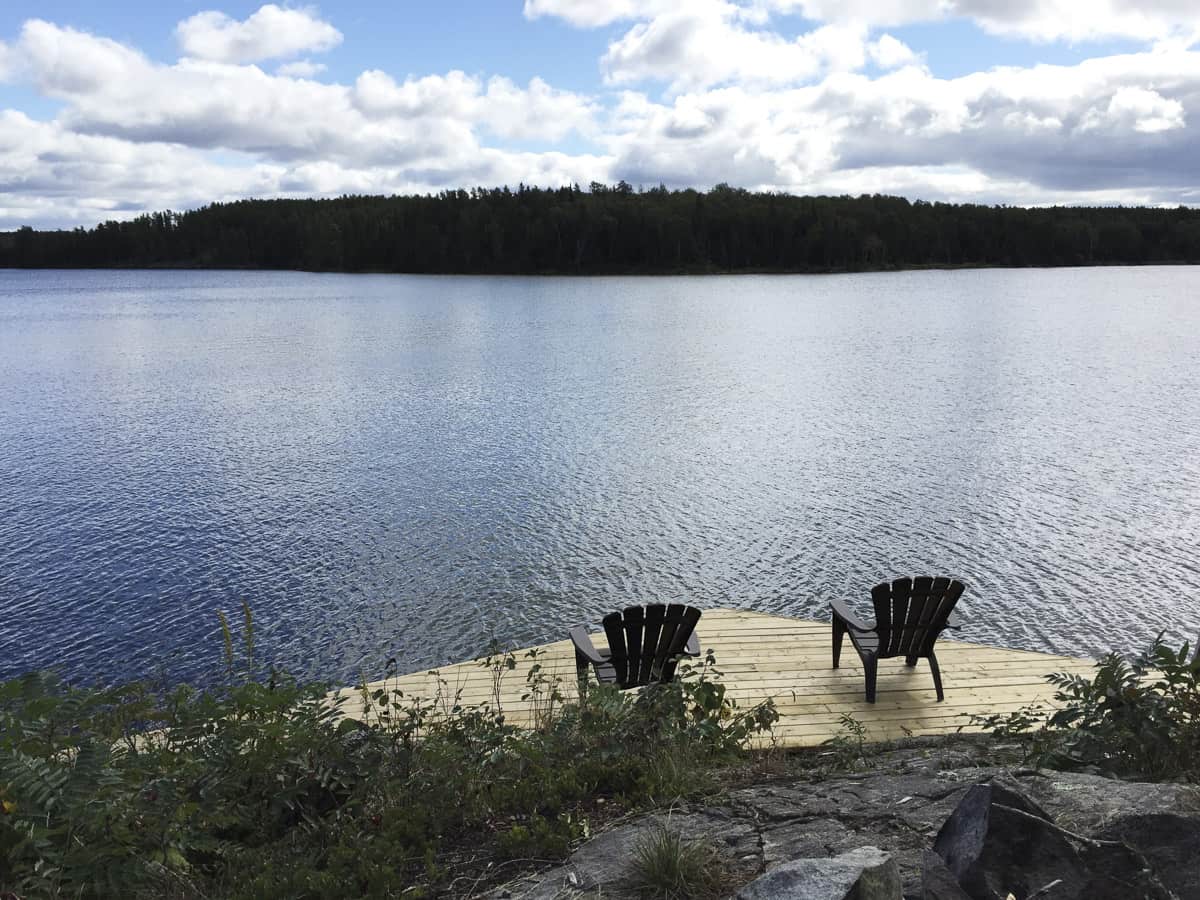 Before you go road-tripping to see these gorgeous Manitoba lakes, don't forget to download our FREE Road Trip Manitoba bingo cards to add to your fun!
If you're going to try to catch your dinner at any of these lakes, start by first reading this extensive guide to fishing in Manitoba.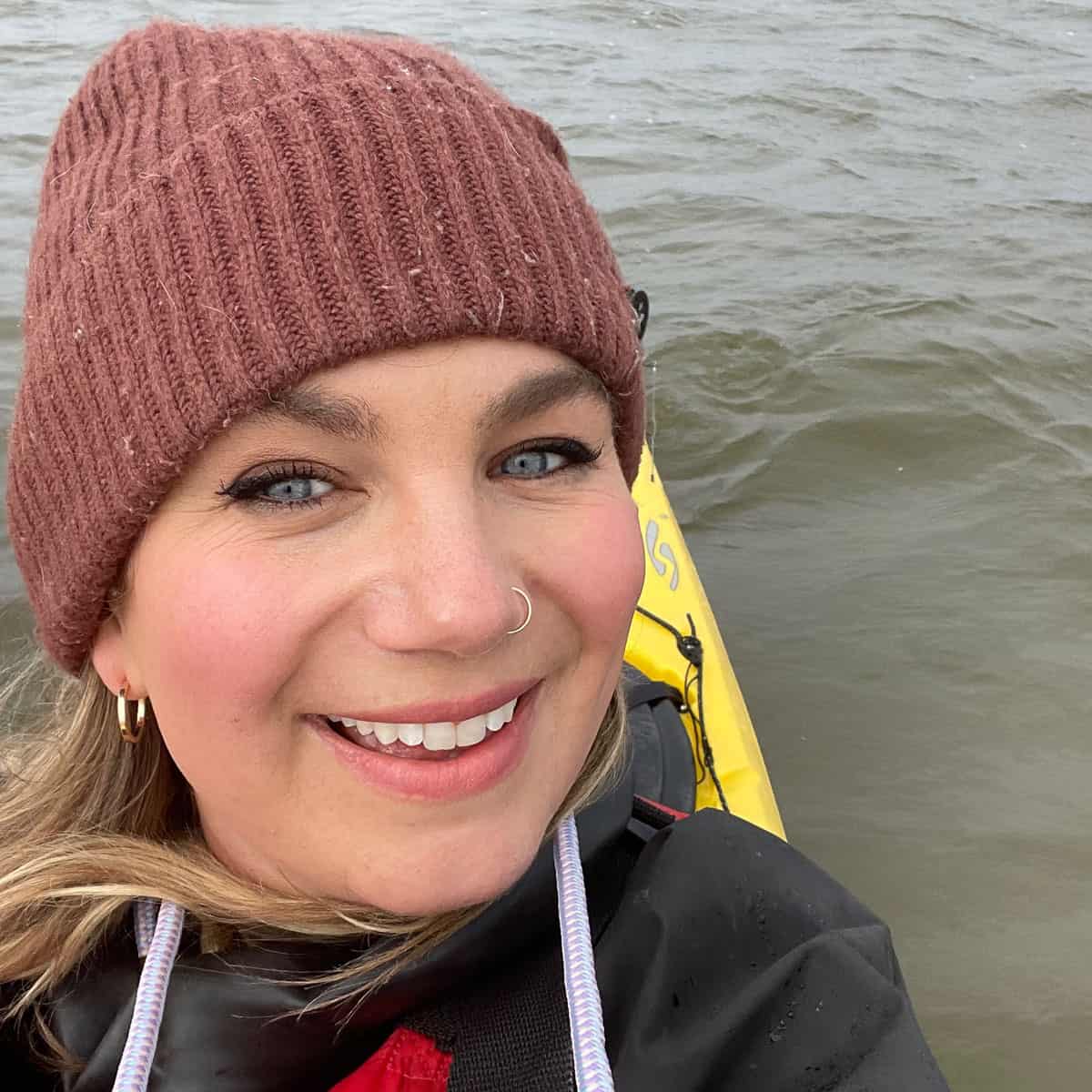 Brenna Holeman (she/her) has adventured to over 100 countries but is incredibly proud to call Winnipeg home. Brenna spent 16 years travelling solo around the world, living in Copenhagen, Edinburgh, Osaka, Antigua, and London, England. As well as being an editor and writer for Expedia UK for over seven years, she runs This Battered Suitcase, one of the most trusted and respected travel blogs in the world.