Disclaimer: This page may contain affiliate links. Please review our full Terms and Conditions for more information and our Privacy Policy. Note that any pricing, operating hours, or other such information provided below may have changed since initial publication.
Compiled by the Road Trip Manitoba team
Last updated on January 10, 2023
Manitoba beaches? That's right! With over 100,000 lakes in the province, it's no surprise that there are so many incredible beaches to choose from. And thankfully, many of them are beautiful to boot, with silky soft sand, calm blue waters, and stunning horizons perfect for watching a sunrise or sunset.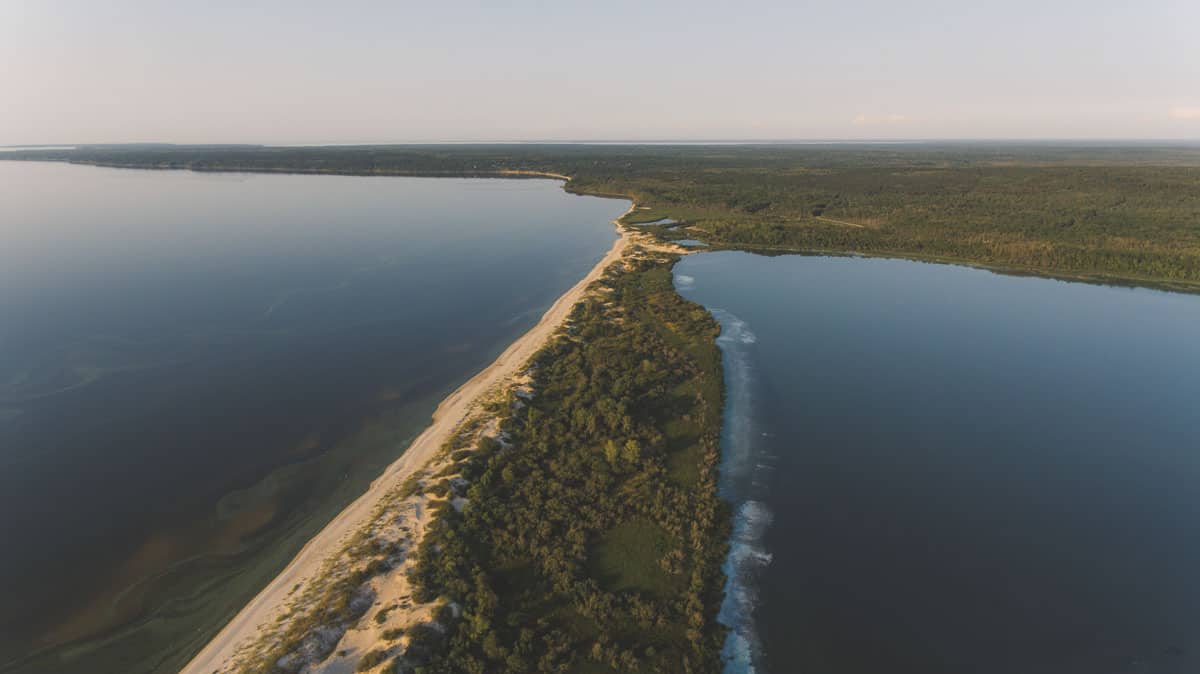 While the water can be chilly even in summer – which explains why so many popular beaches are in Southern Manitoba – there are so many fantastic spots to enjoy for some fun in the sun. While it's almost impossible to narrow it down to only fifteen, here are our recommendations for the best beaches in Manitoba.
Please note: many of Manitoba's beaches are found within provincial parks, so you'll need a provincial park pass to enter and park. If you're spending at least a few days exploring Manitoba, we recommend purchasing an annual park vehicle pass, although there are also day passes and 3-day passes available. Passes can be purchased online and often within the parks themselves.
Road Trip Manitoba covers travel through Manitoba, which is made up of Treaty 1, 2, 3, 4, and 5 Territory, as well as communities that are signatories to Treaty 6 and Treaty 10. Manitoba is home to the original lands of the Anishinaabe, Anish-Ininiwak, Dakota, Dene, Ininiwak, and Nehethowuk peoples, as well as the homeland of the Métis peoples.
Beautiful Beaches in Manitoba
Grand Beach
Grand Beach is perhaps one of the most famous beaches in Manitoba, and it's often included on lists of beaches with the most amazing sand… in the world! That's right, the beautifully soft white sand of Grand Beach Provincial Park is perfect for lazing the day away. Part of the "Beaches of 59" strip along Highway 59, Grand Beach is only about an hour's drive north of Winnipeg; visit nearby Patricia Beach, Beaconia Beach, Lester Beach… your options are endless if you're looking for sun, sand, and splashing in the waters of Lake Winnipeg.
Grand Beach Provincial Park also has plenty of hiking trails, concession stands, playgrounds, tennis courts, picnic tables, and one of our recommendations for the best campgrounds in Manitoba. It does get quite busy in the summer months, but the wide beach that stretches for nearly three kilometres means you're always able to find a spot.
Beaches near Grand Beach: Patricia Beach, Beaconia Beach, Sunset Beach, Albert Beach, Hillside Beach, Lester Beach, Bélair, Victoria Beach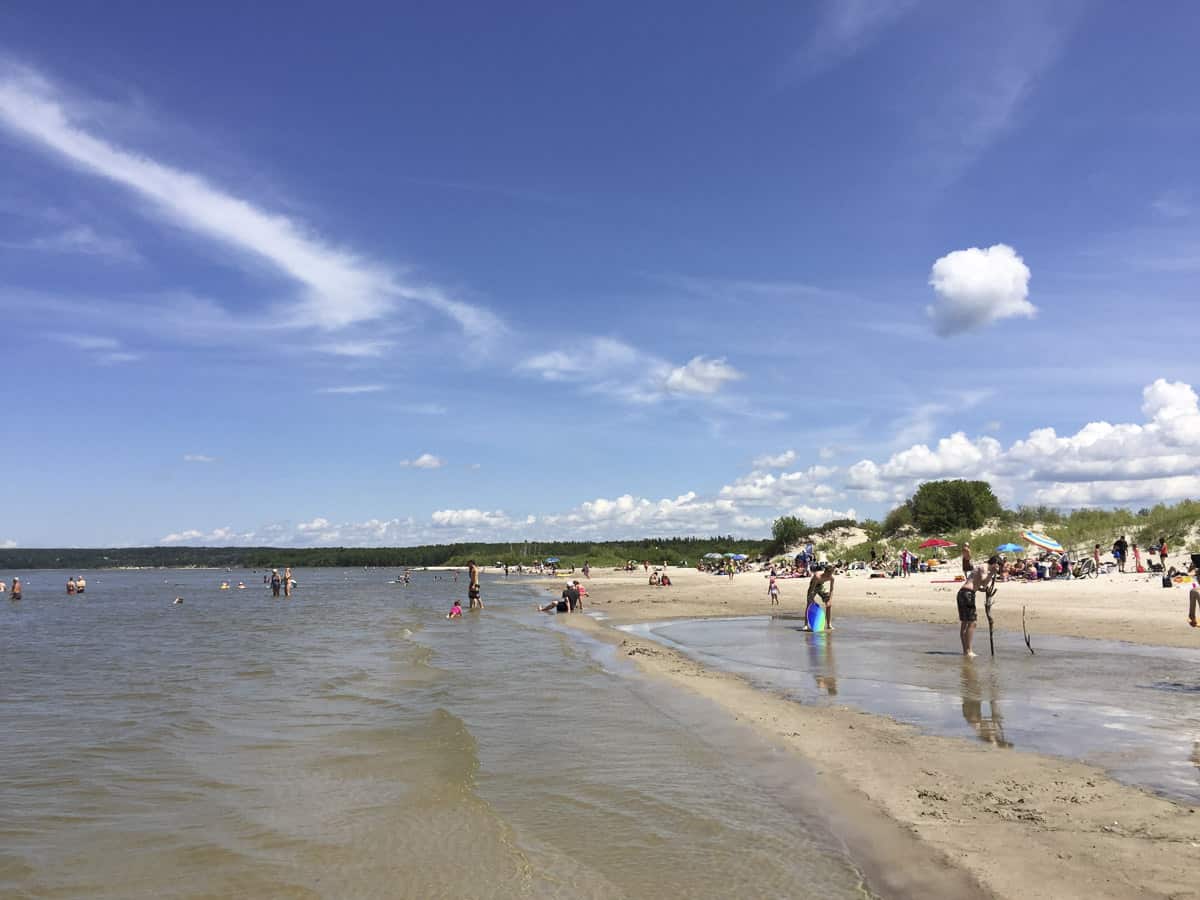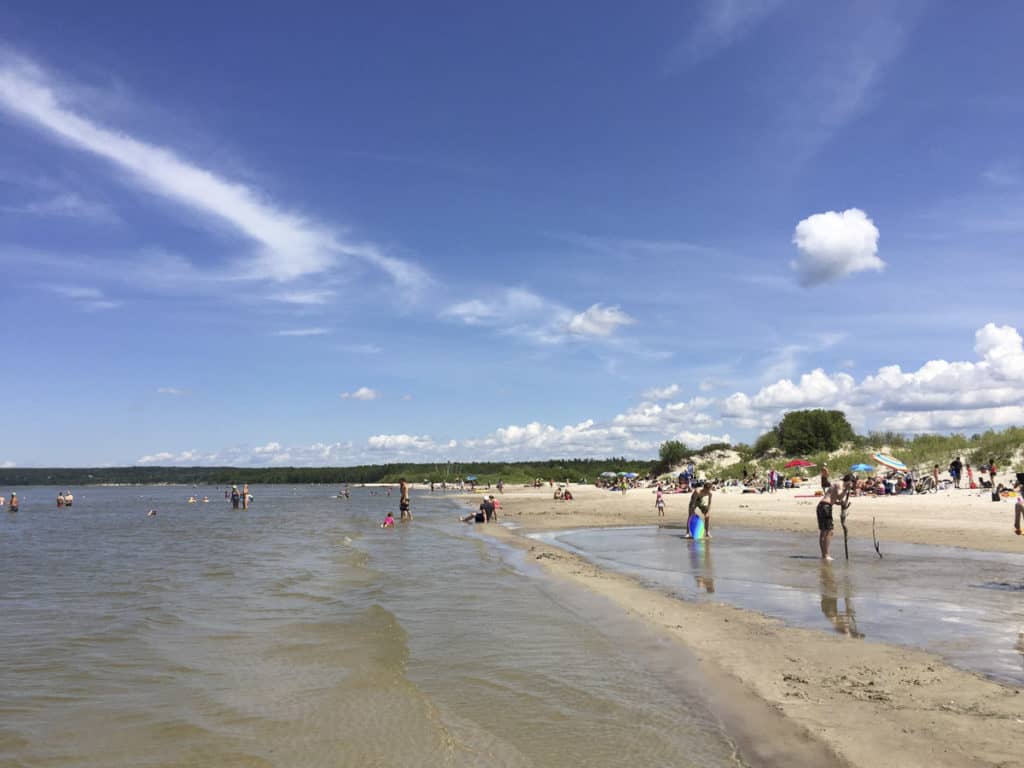 Clear Lake
It's no secret that we're huge fans of Riding Mountain National Park. And one of the best things to do in Riding Mountain in summer? Swim, of course! Clear Lake is one of the most beautiful lakes in Manitoba, and with its crystal clear waters, you can't help but want to jump right in. Thankfully, there are plenty of sandy beaches in the park, the most popular of which is found conveniently in the Wasagaming townsite.
Here you'll find communal change rooms, bathrooms, and picnic facilities. Also nearby? Campgrounds, hotels, restaurants, shops, hiking trails, and tons of opportunities for water sports, including fishing, boating, water skiing, and more. All in all, a visit to Clear Lake in summer should encompass at least a few days.
Other popular spots for swimming in Riding Mountain include Moon Lake, Lake Audy, and Lake Katherine.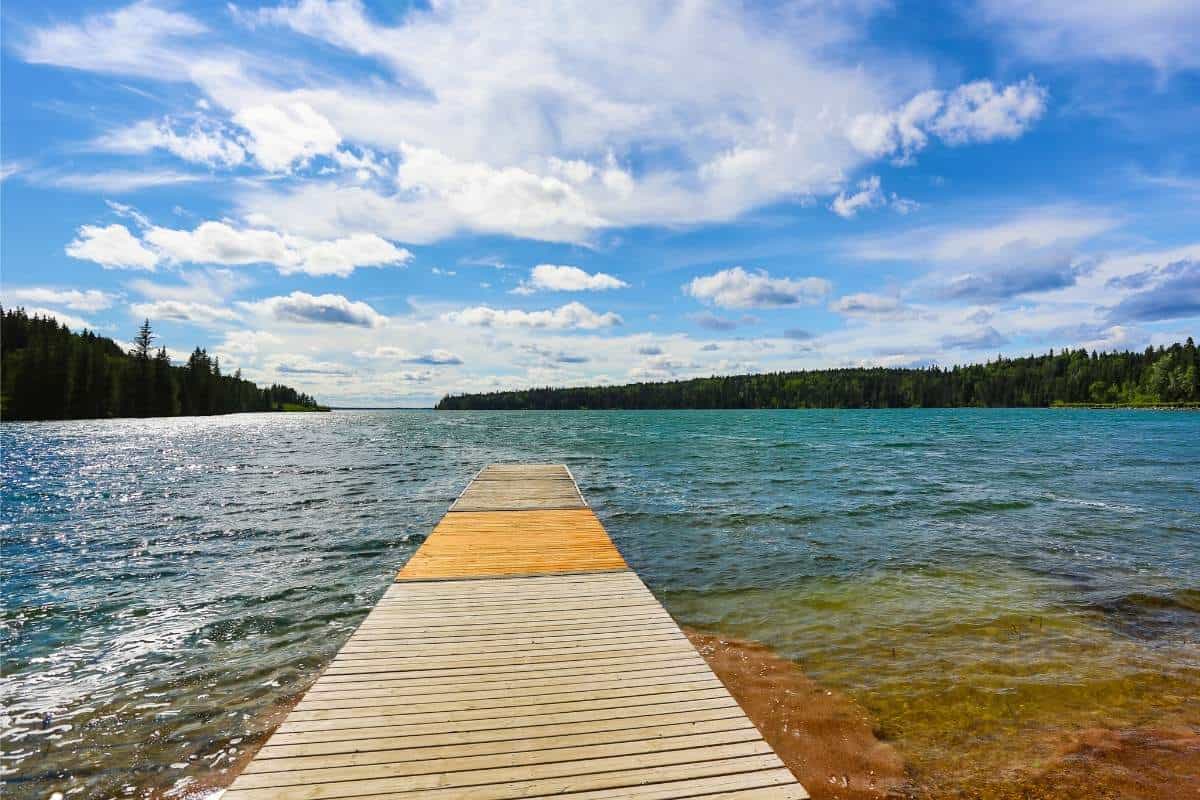 Winnipeg Beach
We couldn't write a list of the best beaches in Manitoba and not include Winnipeg Beach. In fact, it's where Road Trip Manitoba's Brenna spent her summers as a child! With a central location that allows you to explore nearby Gimli, Matlock Beach, and tons of other fun locations along Lake Winnipeg, Winnipeg Beach Provincial Park has a lot to offer.
Explore the little town, where you'll find restaurants, shops, and events, or take advantage of the long boardwalk and sandy shores along the lake. A bonus for dog owners: there's a dog-friendly beach at Winnipeg Beach, too.
Wanting to stay awhile at Winnipeg Beach? There's the Winnipeg Beach Provincial Campground, but there are also plenty of Manitoba cabin rentals in and around the area to choose from.
Beaches near Winnipeg Beach: Matlock Beach, Gimli Beach, Whytewold Beach, Ponemah Beach, Sandy Hook, Pelican Beach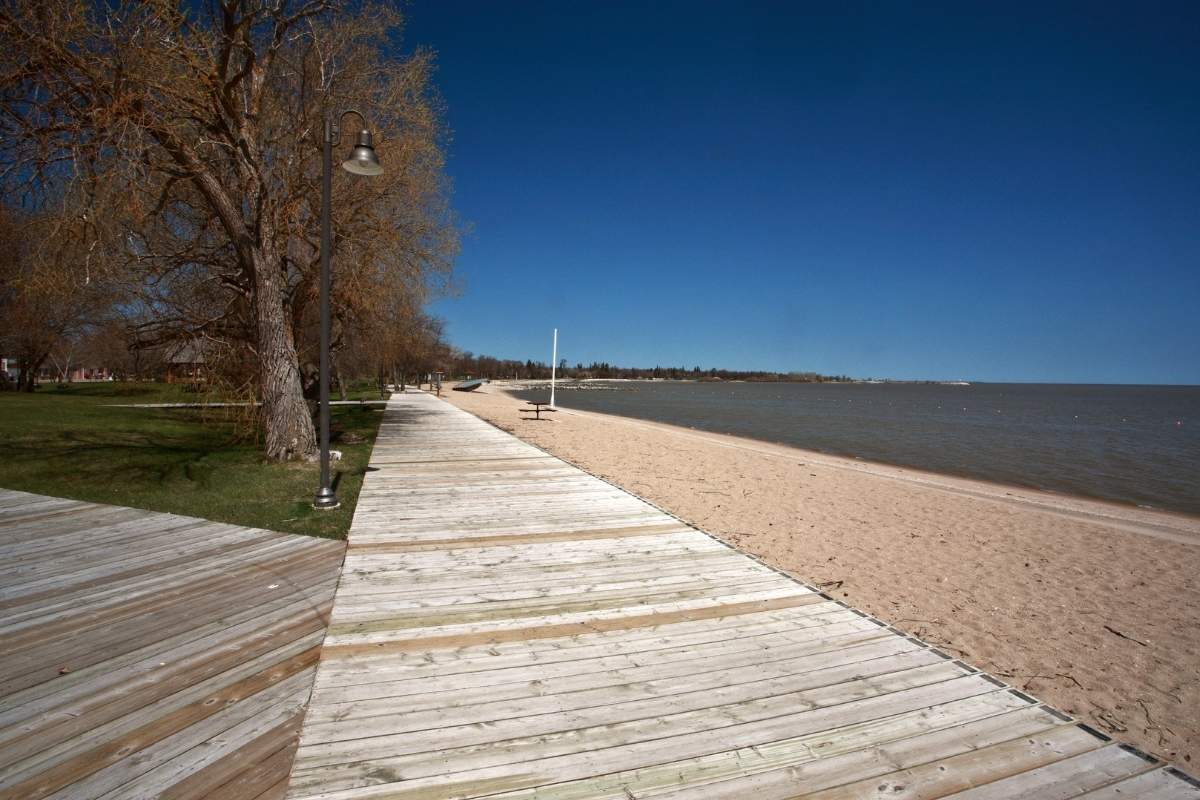 Birds Hill Beach
For one of the closest beaches to Winnipeg, head to Birds Hill Provincial Park. While the beach fills up quickly every summer, the manmade lake and sandy shores are the perfect place if you only have a few hours to soak up some sun or are looking for a beach day trip from the big city.
It's a little bit of a walk from the parking lot to the beach itself, so you'll want to bring a wagon or stroller if you have little ones; the pathway is also wheelchair-friendly. There's a small concession stand, some shady trees nearby, and a good swathe of sand to relax upon, while the water is extremely calm and shallow (making it ideal for families).
Make a day of exploring Birds Hill Provincial Park and try some of the hiking trails, or head to nearby Pineridge Hollow for their excellent restaurant, small petting zoo, and newly opened "Village" filled with shops.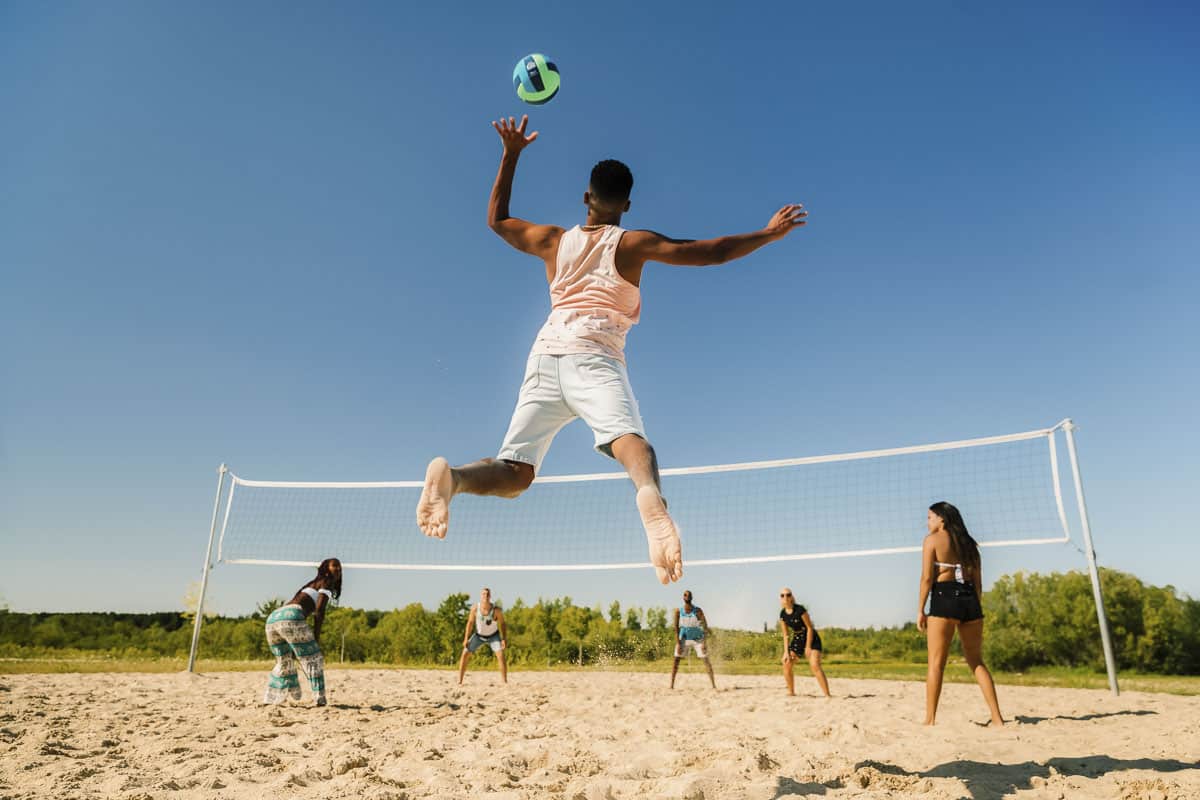 Steep Rock Beach
Not to be confused with North Steeprock Lake near Swan River, Steep Rock Beach is found on Lake Manitoba and is about a two-and-a-half-hour drive northwest of Winnipeg. The highlight of a visit to Steep Rock is the jaw-dropping scenery; take in the unbelievably gorgeous rock formations and cliffs that are among the most photographed locations in all of Manitoba.
Made of limestone, thousands of years of water pressure have formed beautiful cliffs, caves, and other geological wonders. But it's not just about the rocks here… there's also terrific swimming, boating, walking trails, canoeing, kayaking, and much more to enjoy!
The sandy beach at Steep Rock has picnic tables, public washrooms, and a playground, while there's also camping and cabin rentals for longer stays. If you're looking for a beach with a view unlike any other, this is definitely it.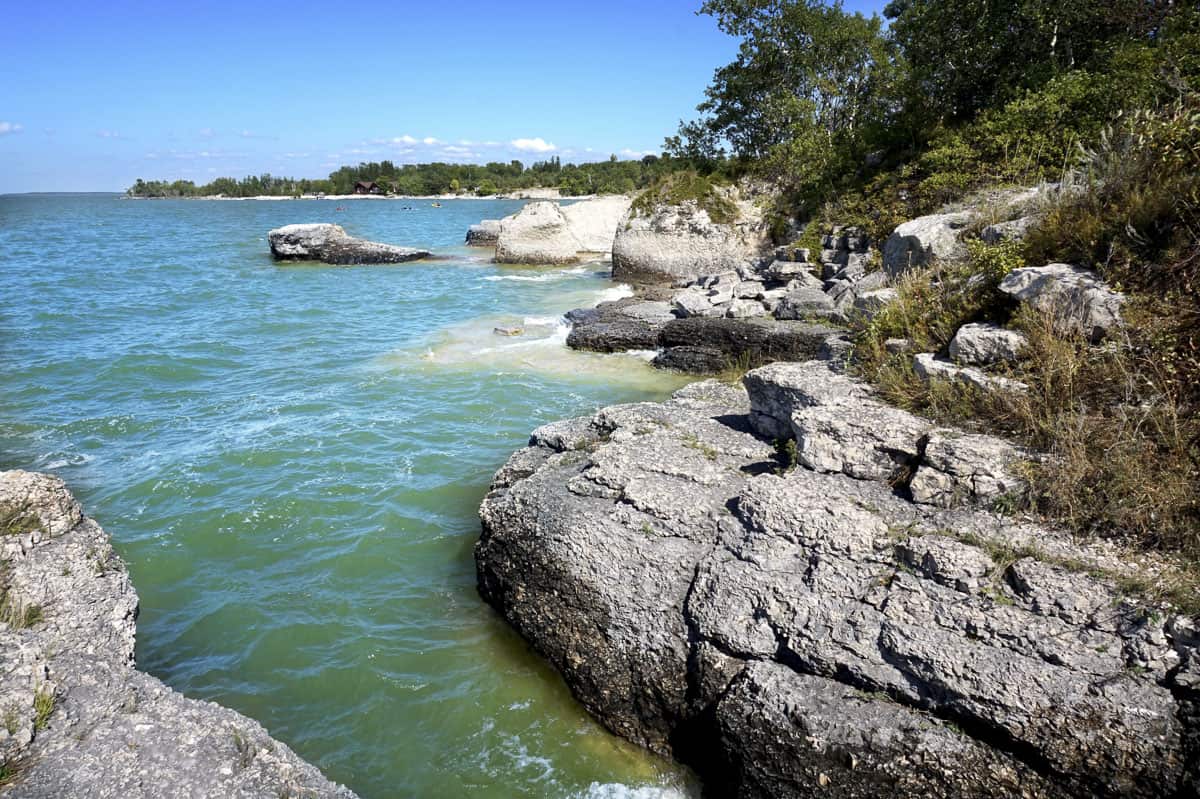 St. Malo
Found less than an hour's drive south of Winnipeg or an hour's drive east of Winkler, St. Malo Provincial Park is an amazing choice for a beach day trip. Swim, play, and relax on St. Malo Lake, where you'll find two beaches.
This manmade reservoir is particularly quiet thanks to its lack of powerboats, but canoeing, kayaking, swimming, fishing, and many other water sports are still totally possible here. There's also a large picnic area, children's playground, and a fantastic campground if you're looking to stay for longer than a day.
There are also lots of events throughout the summer in the town of St. Malo; combine your trip to the beach with the Summer Festival held every September!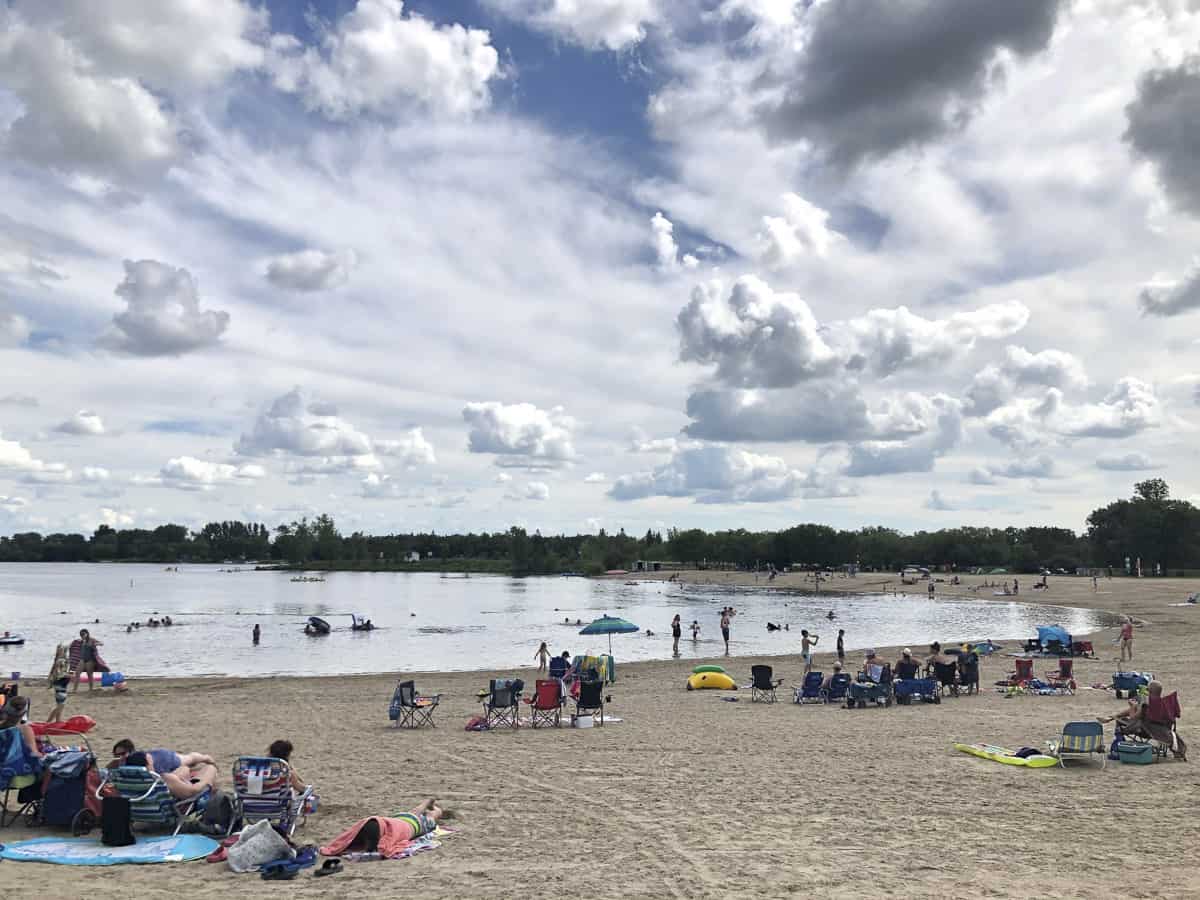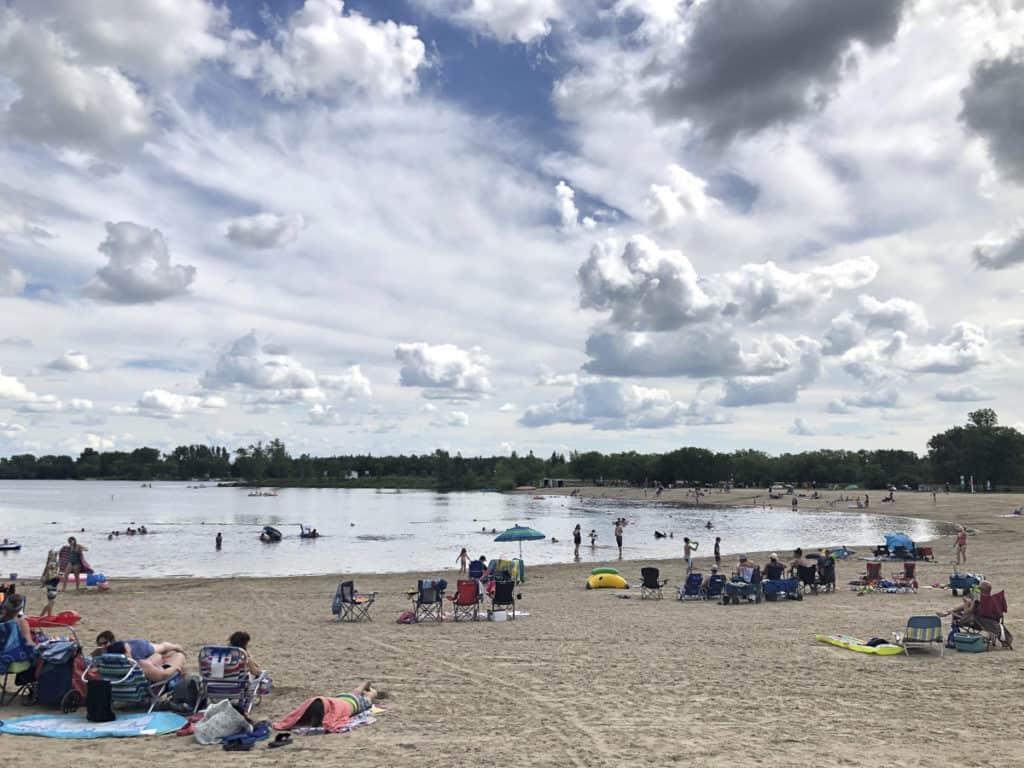 Falcon Lake Main Beach
Falcon Lake is one of the most popular lakes to visit in Manitoba, and so it stands that it has one of the most popular beaches, too! Falcon Lake, found in Whiteshell Provincial Park, is a great choice when it comes to a beach holiday.
The amenities are endless here, with restaurants, shops, snack stands, picnic tables, a beach boardwalk, tennis courts, and so much more near the beach. There's also fantastic camping and cabin rental options galore, so you can happily spend a few days or weeks exploring the area.
There's a huge marina for those looking to use their boat for boating, fishing, water skiing, etc, while there are lots of hiking and biking trails in the area, too. And of course, swimming is extremely popular in Falcon Lake!
Beaches near Falcon Lake: West Hawk Lake, Brereton Lake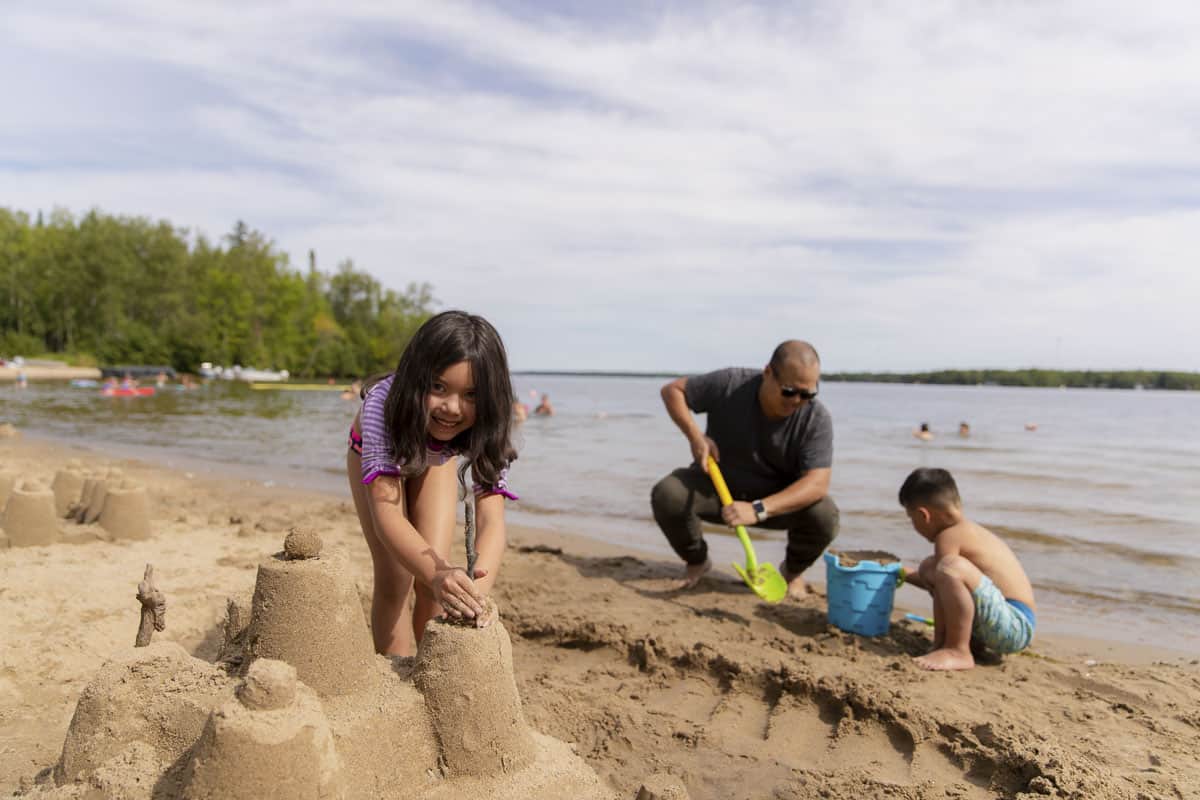 Delta Beach
You didn't think we'd forget about Lake Manitoba, did you? While most of Manitoba's beaches are indeed on Lake Winnipeg, don't count out the beautiful beaches of Lake Manitoba. One of our top picks is Delta Beach, found near Portage la Prairie, where you can experience calm, shallow water, huge stretches of sand, and some of the most unbelievable sunsets in the province.
You're also close to a lot of other great beaches in the area, including St. Ambroise and Twin Lakes, as well as the fascinating Delta Marsh. Delta Beach is a great choice for families as you can combine a fun day out with some education about Manitoba's marshland; kids will love trying to spot the local birds and wildlife!
Want to stay in the area? There's the fantastic Delta Beach Campground with serviced and unserviced sites.
Beaches near Delta Beach: St. Ambroise Beach, Twin Lakes Beach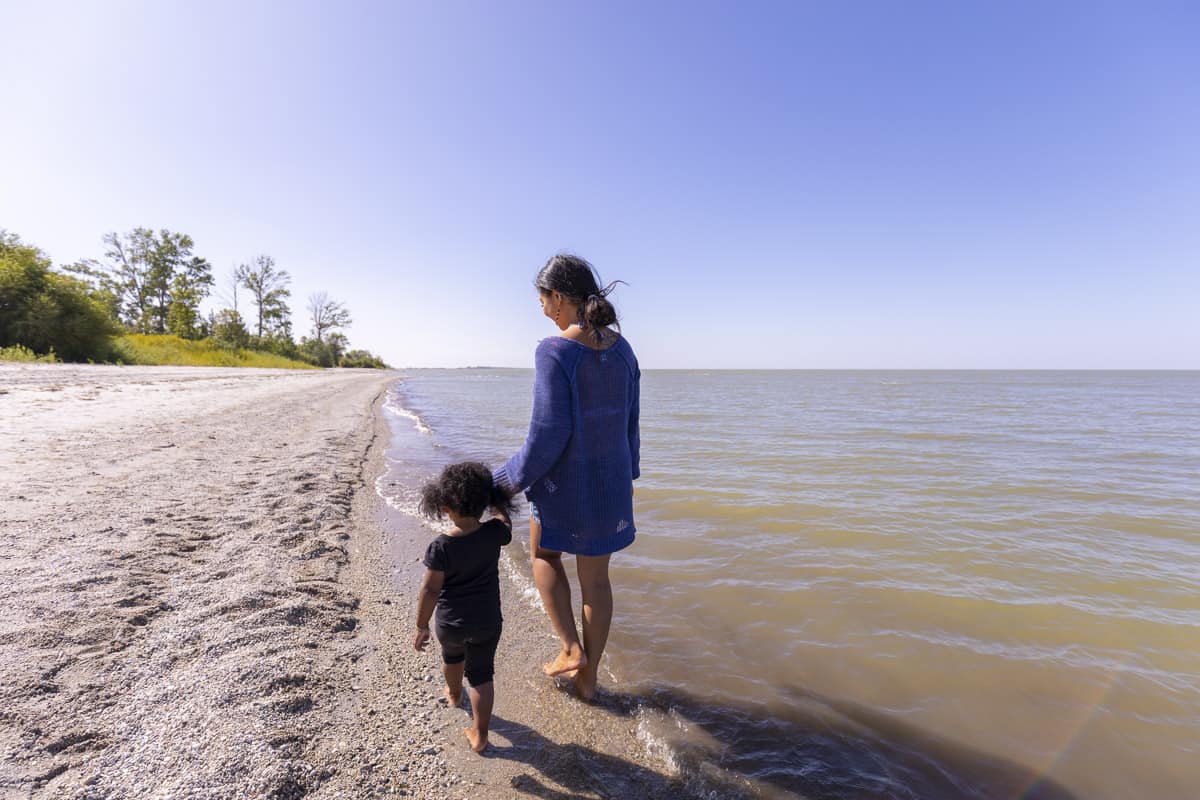 Colert Beach
Colert Beach, found on Lake Minnewasta, is small but mighty, and it makes this list of the best beaches in Manitoba because of its easy access from Morden and Winkler, its hiking trails, and most importantly… its splash park! This is the place to be in summertime if you have kids.
The shallow water and soft sand are great, of course, but the splash park is definitely the star of the show. Splish Splash Water Park is the kind of place your kids will never want to leave; with a slide tower, trampoline, frog jump, and many other features across interlocking modules, kids can play and splash to their hearts' content. Lifejackets are required, and there are lifeguards on duty, so you can rest assured that your little one is safe.
Nearby, explore the lovely cities of Morden and Winkler, where you'll find tons of restaurants, golf courses, and the excellent Canadian Fossil Discovery Centre.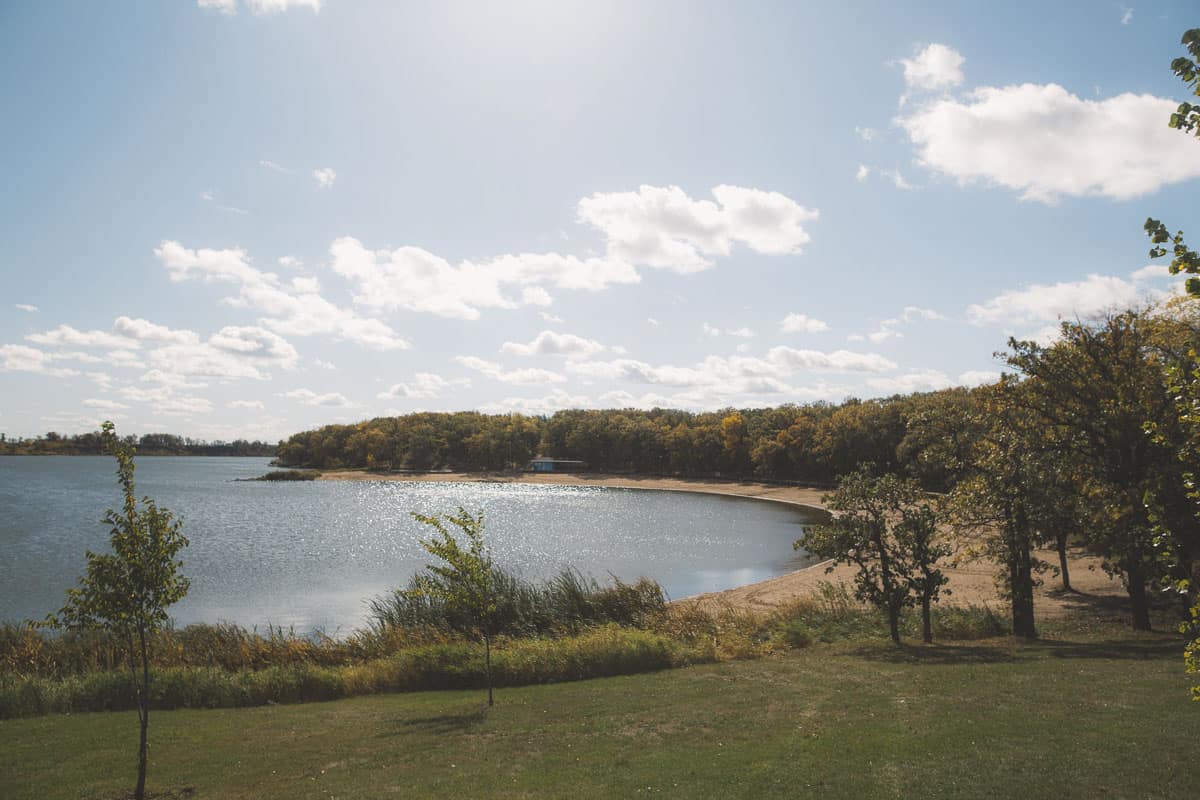 Clearwater Lake
Located just north of The Pas and about an hour's drive south of Flin Flon, Clearwater Lake is a superb choice if you're looking for a beach in Northern Manitoba. While the water is certainly colder than some of its southern counterparts, it's perfect for a refreshing dip on a hot summer's day.
The main draw of Clearwater Lake? The fact that it's so aptly named: the water is so clear that you can even see the bottom of the lake at a depth of over ten metres (thirty feet). With fishing, boating, hiking, and birding in the area, Clearwater Lake makes for so much more than just a day at the beach (although that's pretty fantastic, too).
Surrounded by coniferous forests, enjoy the natural beauty of this stunning area and appreciate the fact that it's much quieter than many of the other beaches in Manitoba.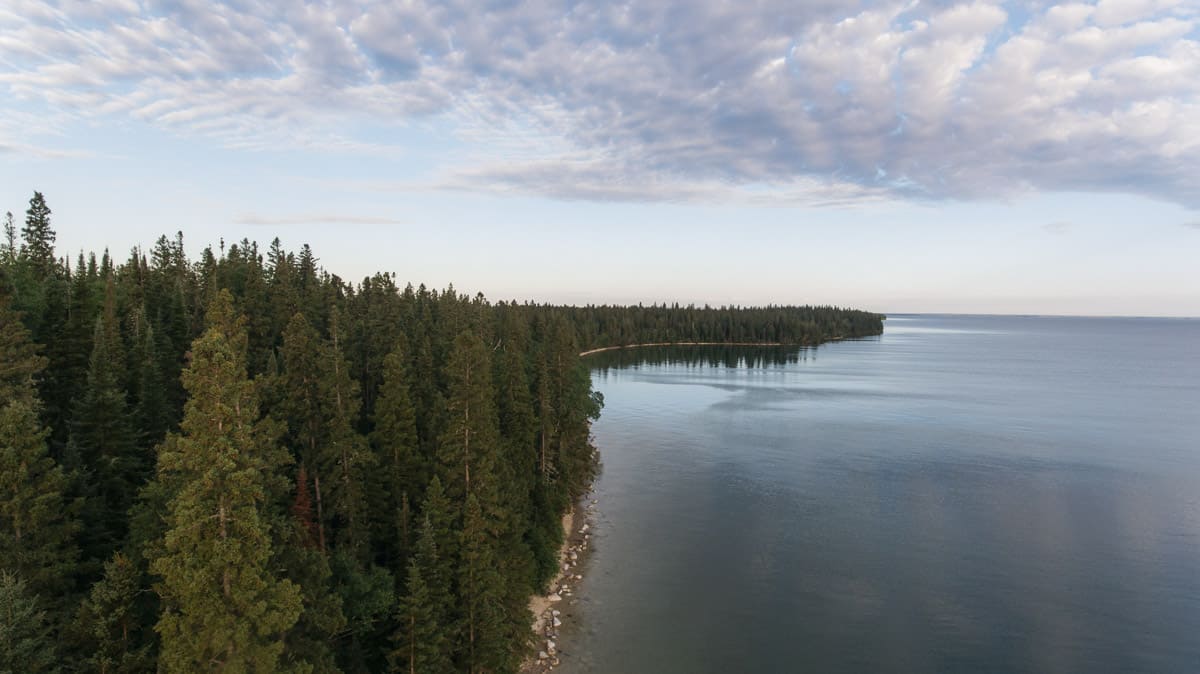 Sunset Beach (Hecla-Grindstone Provincial Park)
One of our favourite places in the entire province, Hecla-Grindstone Provincial Park thankfully has plenty of beaches with gorgeous limestone cobbled shorelines. Near the Lakeview Hecla Resort – one of the best places to stay in the entire province due to its fine dining, spa, golf course, and indoor and outdoor pools – you'll find beautiful Sunset Beach, where you can (no surprises here) catch one of the most incredible sunsets in the prairies and swim in the calm waters. For one of the best hikes in the area, try the Gull Harbour Lighthouse Trail, which takes you along the shoreline and leads you to one of the most iconic spots in Hecla.
While on the island of Hecla, spend some time walking on the nearby boardwalks to take in the beauty and serenity of the marshland that surrounds you.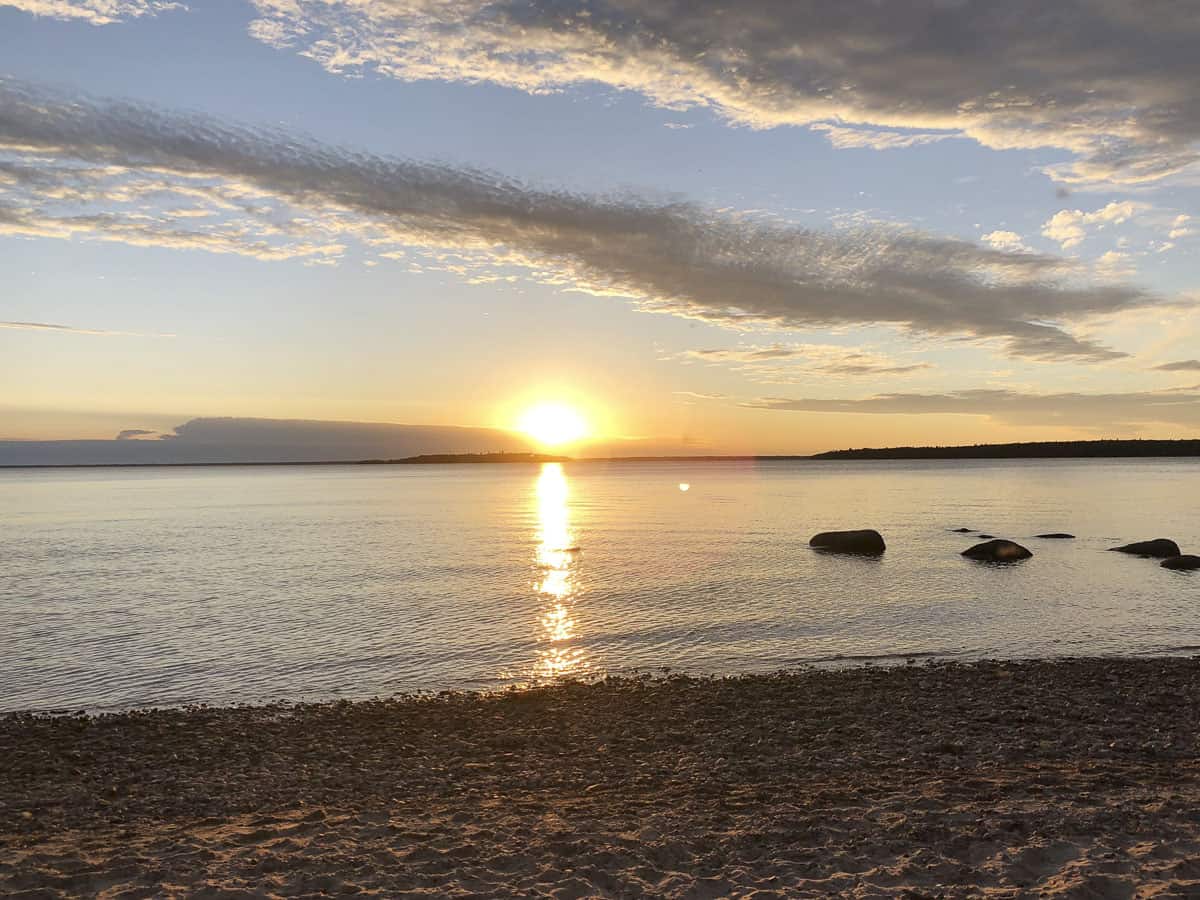 Lundar Beach
Lundar Beach, found on Lake Manitoba, is located about an hour and a half drive north from either Winnipeg or Portage la Prairie. Surrounded by natural marshland, there's fabulous birdwatching in the area; see if you can spot pelicans, songbirds, or the variety of ducks that call this area home.
The beach itself is wide and sandy, with smooth water that makes for leisurely swimming on a hot day. The campground only has a few sites compared to others in the province, so Lundar Beach is ideal for those looking for a quiet, peaceful respite from the hustle and bustle of city life. Of course, it's also a fantastic day trip for those on the search for some sun and sand.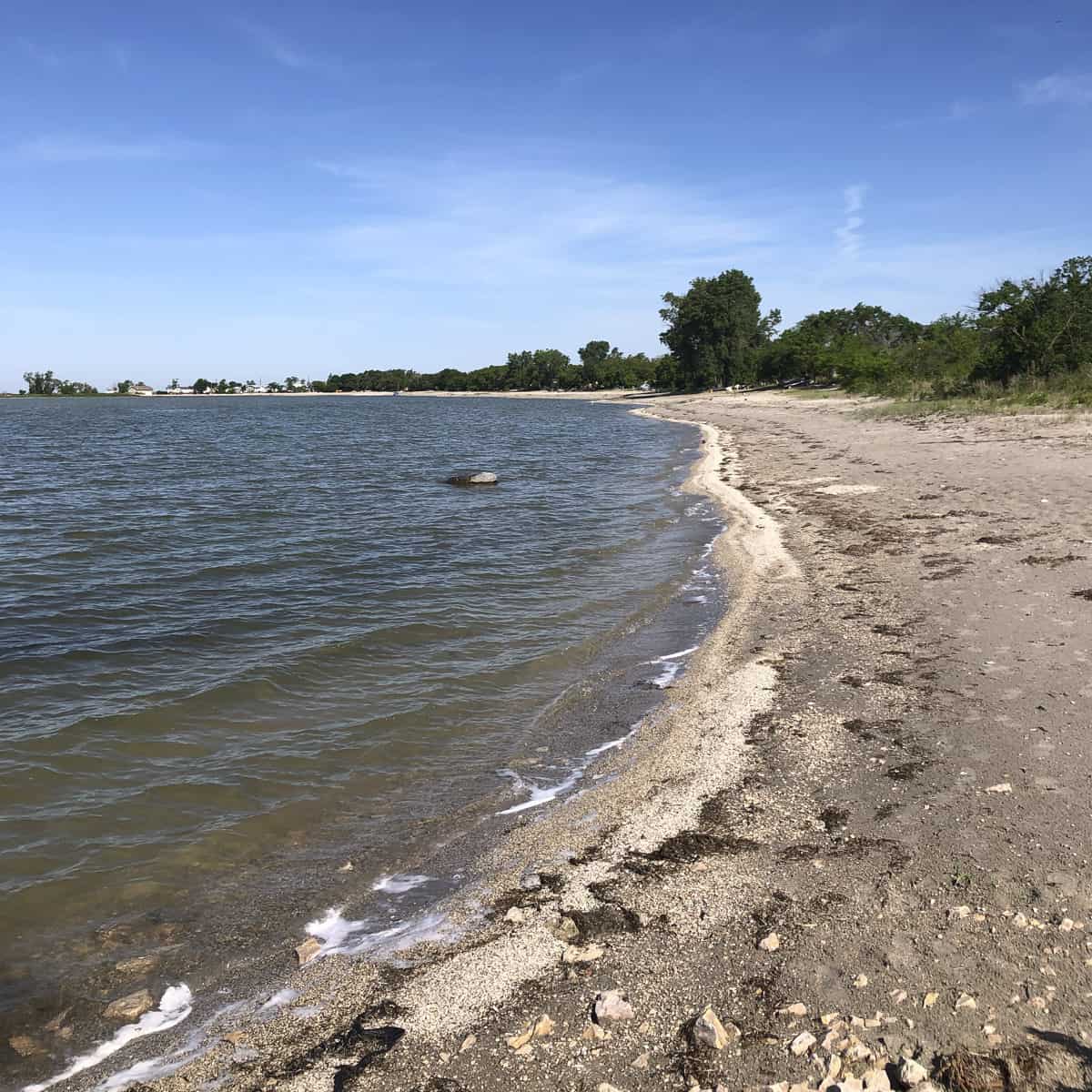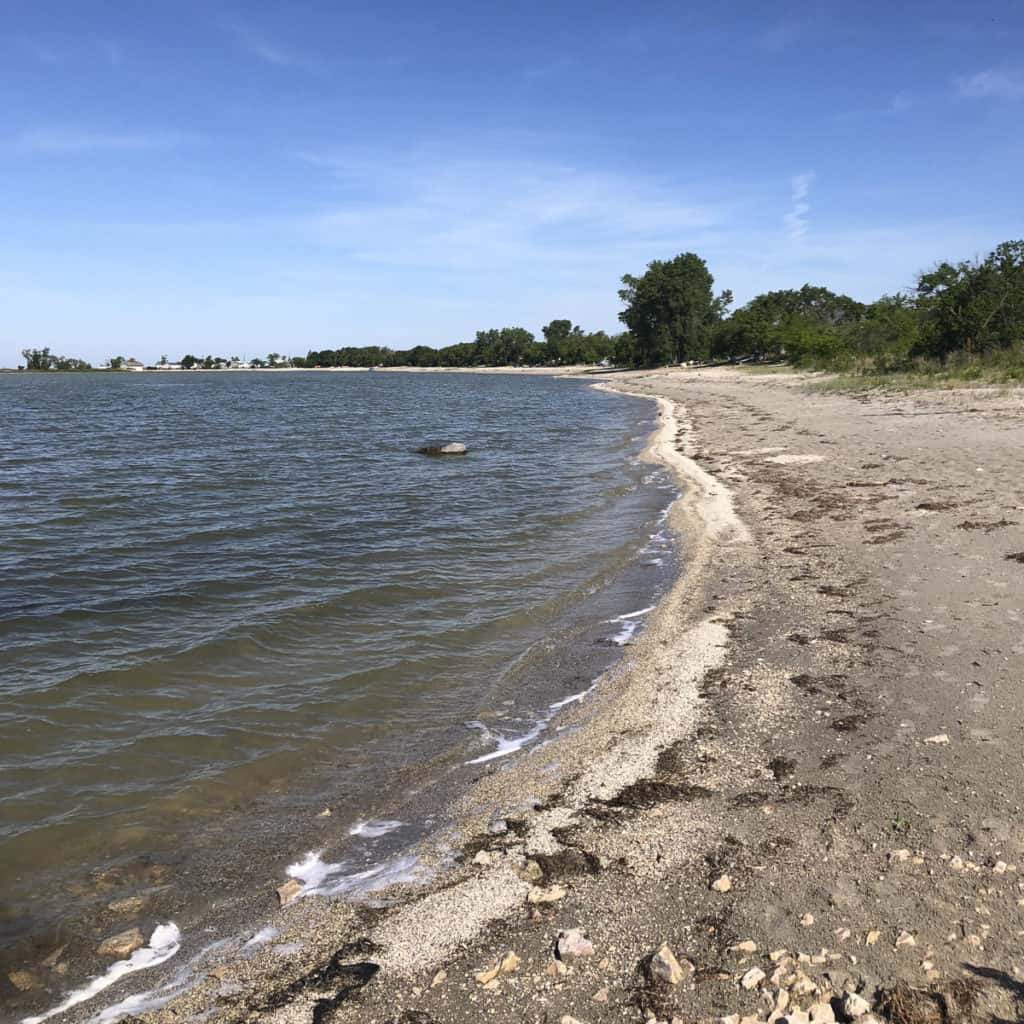 Wellman Lake Beach
While we've featured mostly Southern Manitoban beaches on this list, there are certainly beautiful beaches found elsewhere around the province. One of the best in the Swan Valley area in the west of the province is Wellman Lake, where you can camp, stay at Wellman Lake Lodge, or stay in the surrounding Duck Mountain Provincial Park.
While the beach at Wellman Lake is small and can feel crowded on the hottest weekends of the year, it has lots of perks; Wellman Lake Lodge has a wonderful restaurant and mini golf, the water is perfectly calm for swimming, and there are tons of boating and water sport opportunities in the vicinity.
Nearby, explore Duck Mountain Provincial Park, including the fantastic Blue Lakes Trail (which makes our list of the best hiking trails in Manitoba).
Beaches near Wellman Lake: Blue Lakes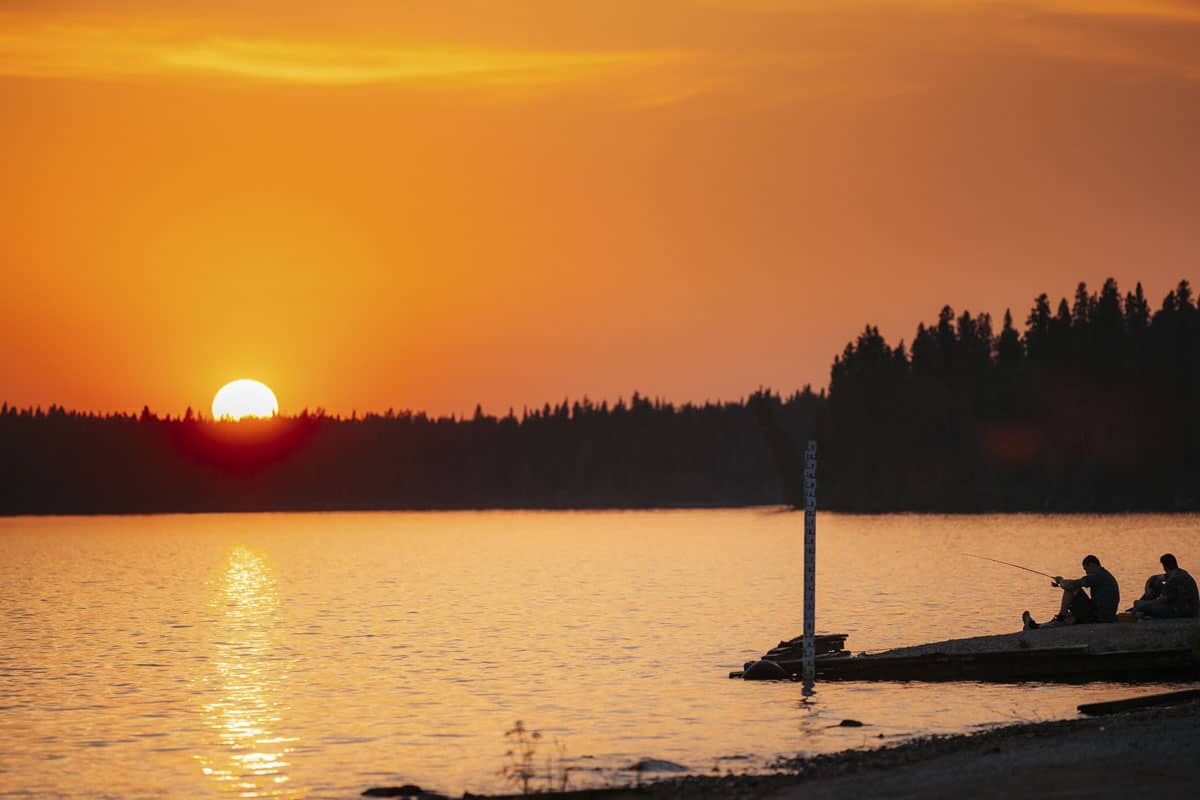 Stephenfield Lake Beach (Stephenfield Provincial Park)
Stephenfield Provincial Park is an excellent choice for a beach family holiday in Manitoba. Although the beach is small, there are tons of camping opportunities nearby, including some of the best yurts in the province.
Make your way to Stephenfield Lake, where you'll find the sandy beach, plenty of calm water for swimming stand-up paddleboarding, canoeing, and boating, and lots of easy hiking trails in the area. There are also playgrounds for kids to enjoy as well as a fantastic takeaway restaurant called Sparks Drive Inn just outside the park's gates.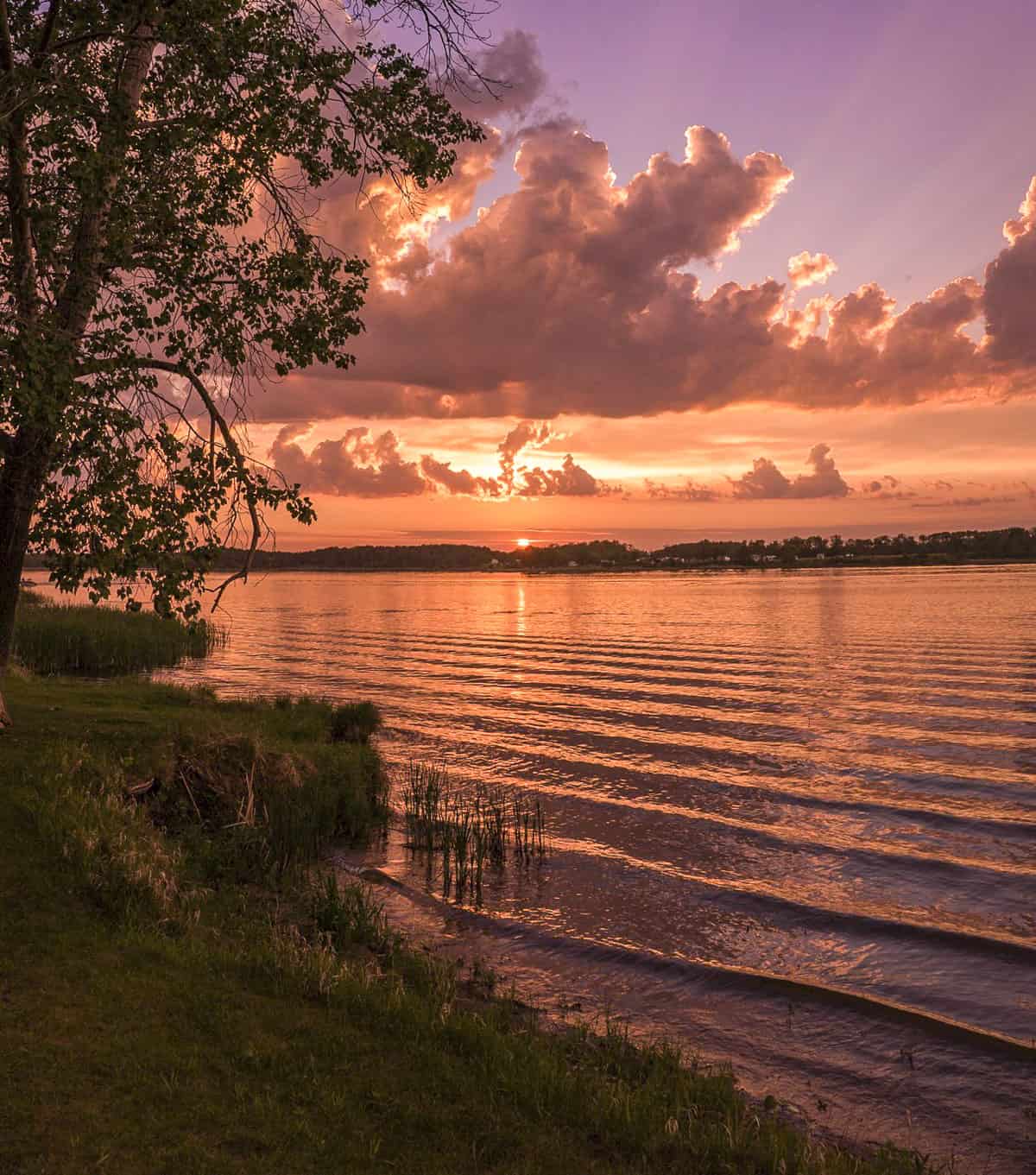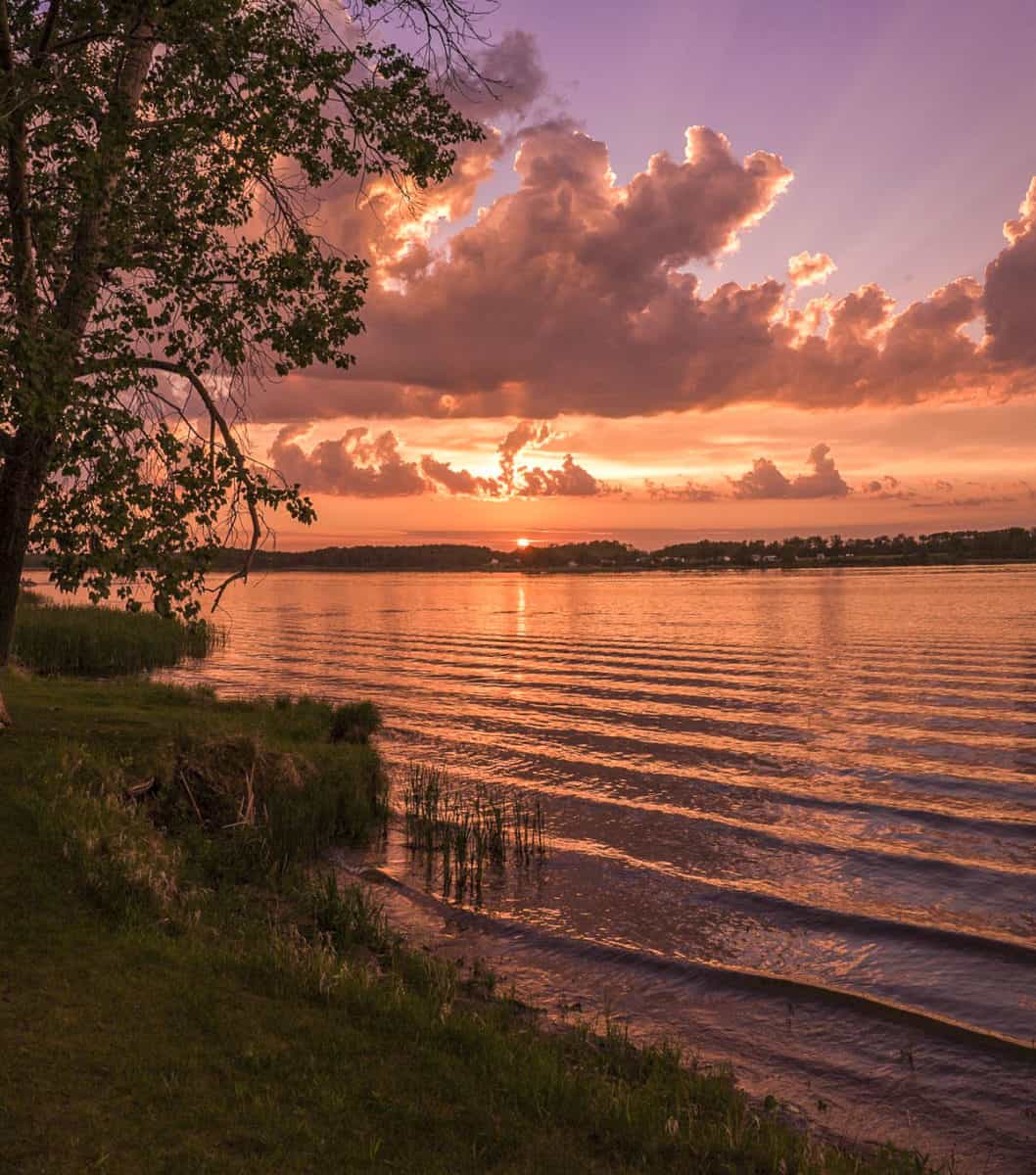 Minnedosa Beach
Found just outside of the town of Minnedosa, Minnedosa Beach is only a forty minutes drive north of Brandon and an hour and a half drive south of Dauphin. Like Colert Beach in Morden, the highlight of Minnedosa Beach is Splash Splash, a massive floating water park that will provide hours of entertainment.
If you've never been launched off of a jumping pillow into the water… now's your chance! A manmade lake, Minnedosa Lake is also a lovely place to swim, relax on the sand, and go boating. There are also kayak rentals on the beach as well as a concession stand, playgrounds, a soccer pitch, picnic tables, and a campground for those looking to stay awhile.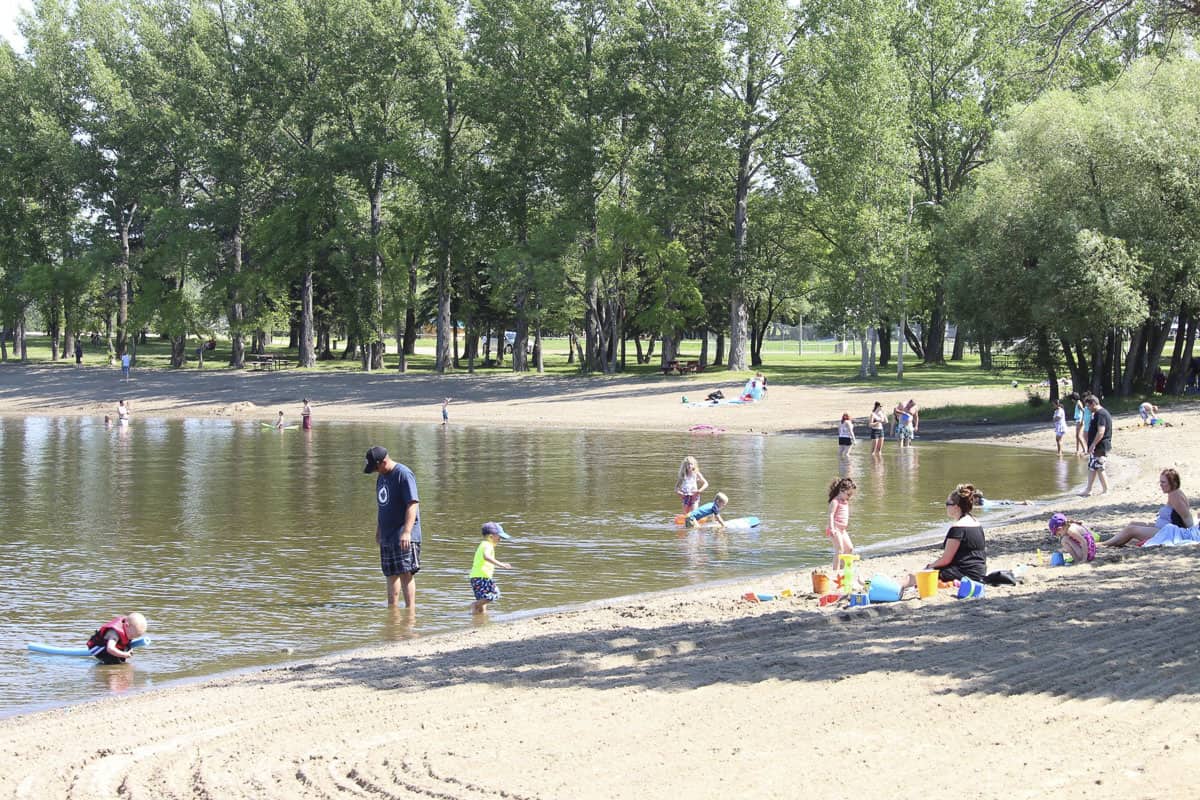 Heading out beach hoppin'? Don't forget to download our FREE Road Trip Manitoba bingo cards to amp up the fun along the way!
And if you also want to cast your rod during your beach visit, don't miss first reading this beginner's guide to fishing in Manitoba.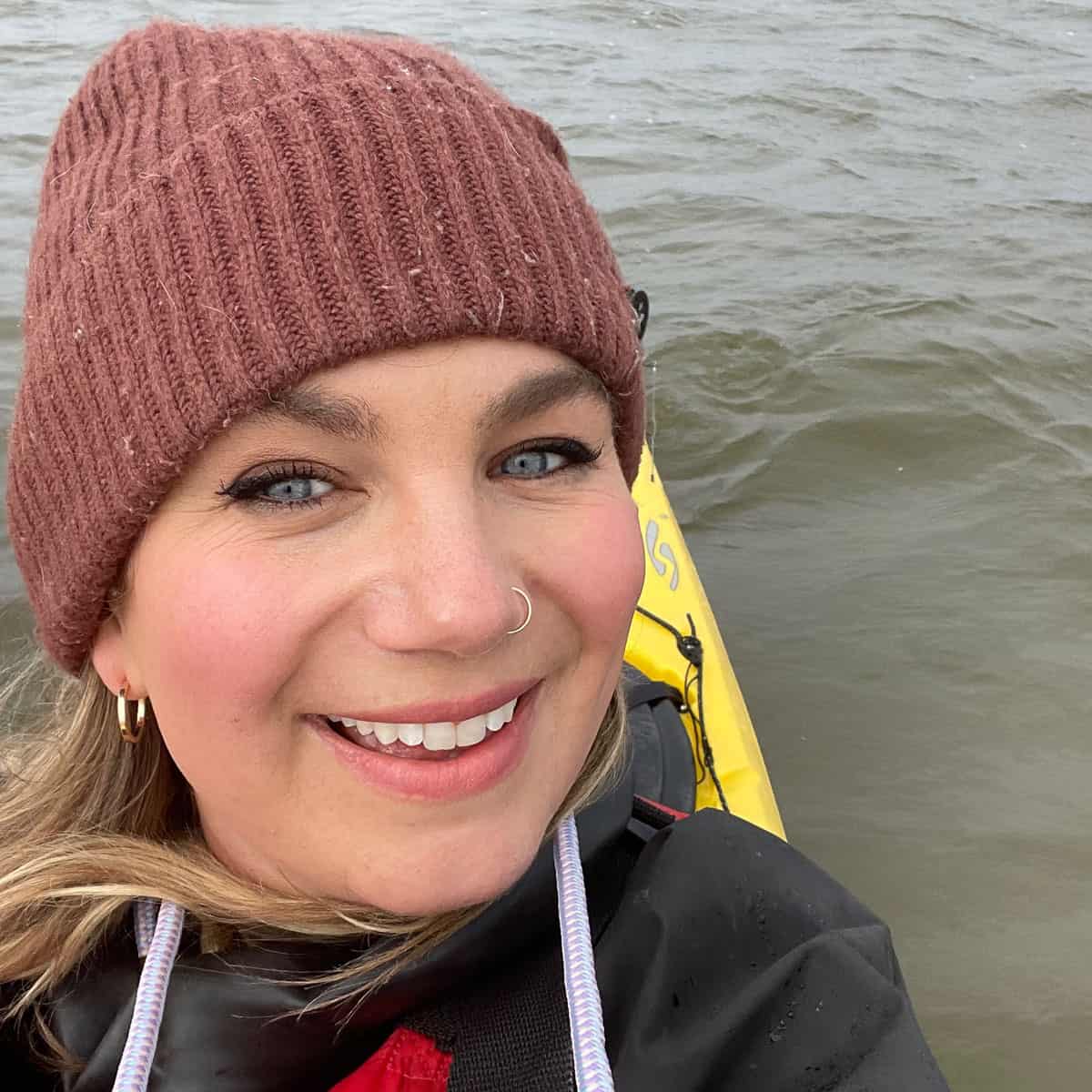 Brenna Holeman (she/her) has adventured to over 100 countries but is incredibly proud to call Winnipeg home. Brenna spent 16 years travelling solo around the world, living in Copenhagen, Edinburgh, Osaka, Antigua, and London, England. As well as being an editor and writer for Expedia UK for over seven years, she runs This Battered Suitcase, one of the most trusted and respected travel blogs in the world.