Disclaimer: This page may contain affiliate links. Please review our full Terms and Conditions for more information and our Privacy Policy. Note that any pricing, operating hours, or other such information provided below may have changed since initial publication.
Compiled by the Road Trip Manitoba team
Last updated on January 16, 2023
If you're looking for a city break or a weekend away, visit Brandon, Manitoba. The second-largest city in Manitoba, it's a fantastic city for shopping, restaurants, and sightseeing, and it's also a great base for the surrounding area (including Riding Mountain National Park). We recommend that you spend at least a few days exploring the city, from its historic museums to its outdoor attractions to its blossoming culinary scene.
Curious about a trip to Brandon? Here are all of our favourite things to do in Brandon, Manitoba.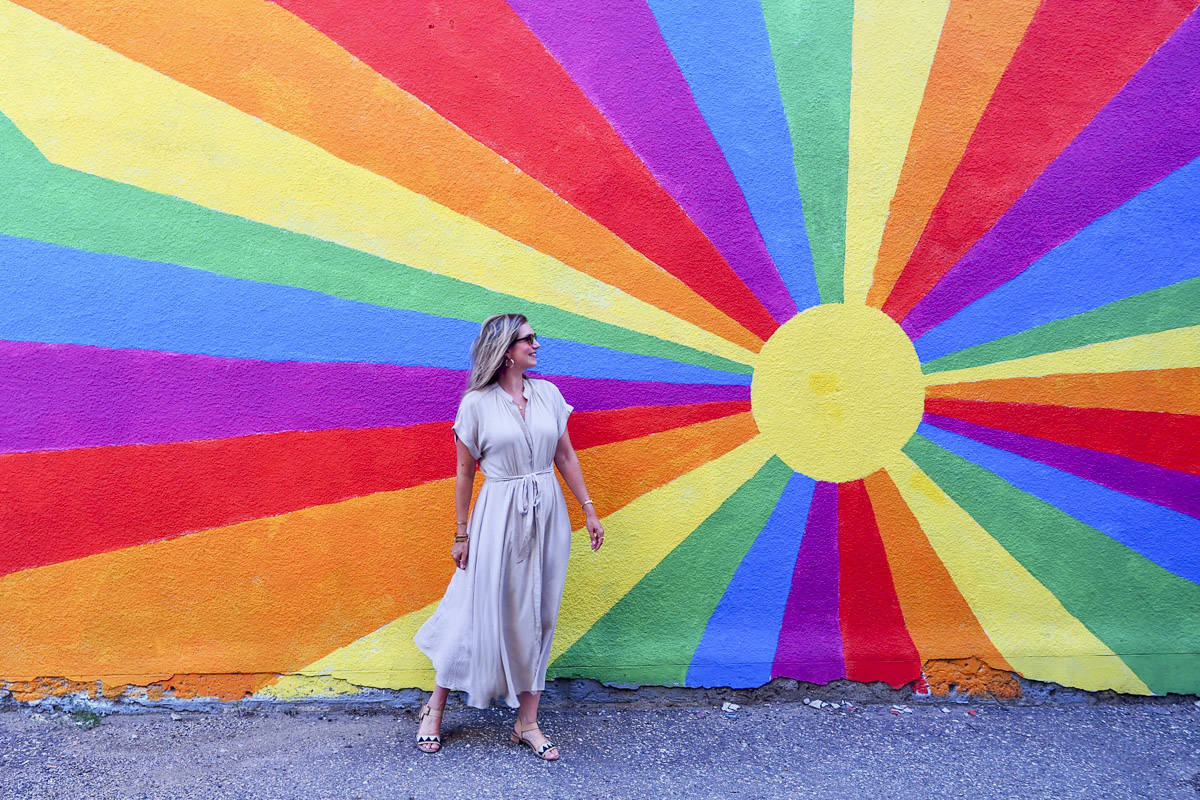 About Brandon
Land Acknowledgments
Brandon is located on Treaty 2, the traditional shared land of Cree, Oji-Cree, Dakota, Anishinaabe, and Dene peoples, as well as the homeland of the Métis Nation.
Brief History
Found on the banks of the Assiniboine River, Brandon has a history that dates back many centuries; Indigenous peoples established settlements and homes on the land we now call Manitoba thousands of years ago. The city was first established in the late 19th century after a need for a trading hub of Western Manitoba emerged. Often called the "Wheat City" because of the quantity of grain produced from the surrounding prairies, Brandon gets its name from the Blue Hills south of the city (which initially got its name from a Hudson's Bay trading post known as Brandon House).
Over the past 140 years, Brandon has grown to be a multicultural place to live and work; education is also a top priority in the city, with many colleges as well as Brandon University calling the city home. With a diversified economy, it continues to attract people from around the world both as a place to live and as a place to visit.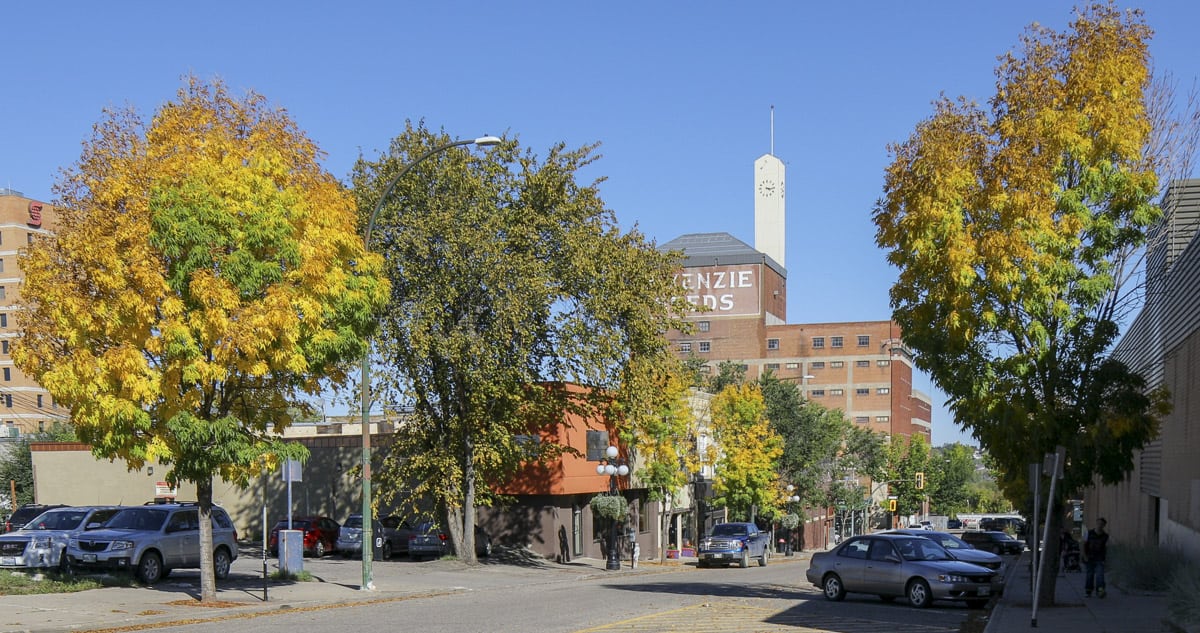 Where is Brandon, Manitoba?
Brandon is located in Southwestern Manitoba, approximately 215 kilometres west of Winnipeg. It is found on the Trans-Canada Highway and is about an hour's drive north of the US border.
Brandon Weather
No matter the season, Manitoba is a very sunny province, with 318 days of sun a year! That being said, winter can still be quite cold in Brandon, and you'll want to make sure to take proper precautions in the colder months, i.e. dressing in lots of warm layers, checking the forecast for weather warnings, and so on.
In winter in Brandon, you can expect temperatures that range from a high of -8°C to a low of -20°C. Spring in Brandon is quite mild, and you can expect warm days that hover around 15°C. Summer is absolutely lovely, with average highs around 25°C for June, July, and August, although it can sometimes get a lot warmer than that! Autumn brings the same mid-temperatures as spring, but the average high will drop to 0°C by November.
You'll see the most rain in the summer, but, as it is in most of Southern Manitoba, the rain usually comes in the form of evening thundershowers. Manitoba is known for its unbelievable sunrises and sunsets – a benefit of the prairie landscape – and there's no shortage of excellent sunrises and sunsets in Brandon.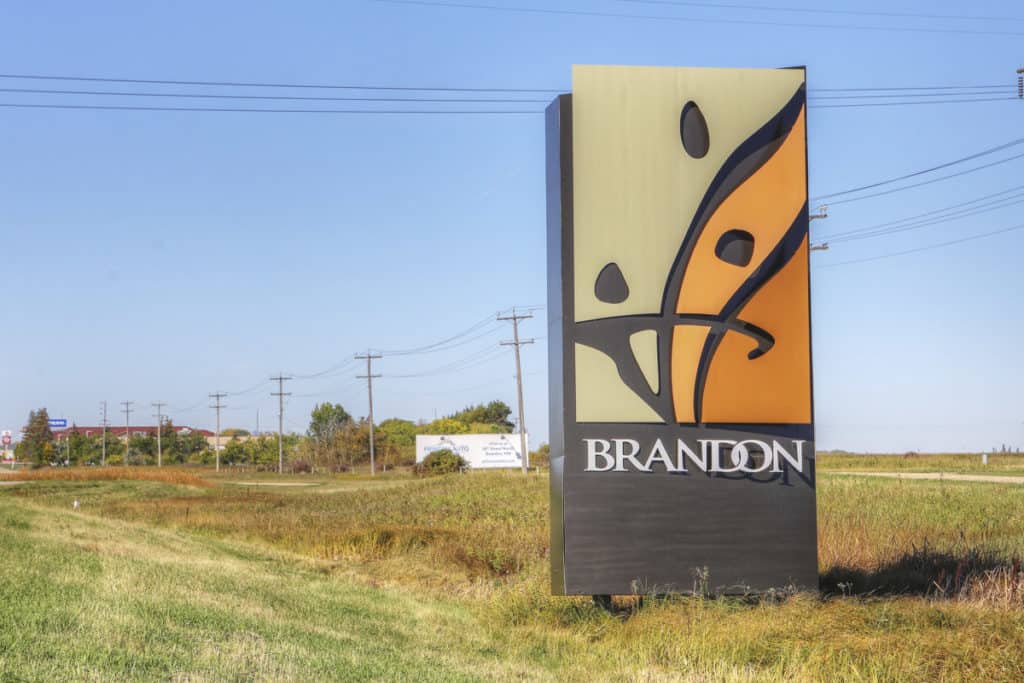 Getting to Brandon
Thankfully, we have an entire guide on getting from Winnipeg to Brandon! As the city is found on the Trans-Canada Highway, Brandon is extremely easy to get to from Winnipeg (or from other major Canadian hubs). Taking the train to Brandon is complicated, and we don't recommend it; you have to take the train to nearby Rivers, Manitoba, and then take a taxi into the city.
By Car
From Winnipeg, you'll need to get on the Trans-Canada Highway going west (MB-1W); this is by far the fastest and most convenient route between Winnipeg and Brandon. Driving on the Trans-Canada Highway going west, you will see very clear road signs directing you toward Brandon. After about 215 kilometres or approximately 2.5 hours of driving, you'll see very obvious signs for the exits for the city of Brandon.
If you're coming from South Winnipeg, another route includes taking the MB-2W, taking you through Oak Bluff and Treherne before heading north on the MB-10 to Brandon. This will be a slightly longer route, but not by much, and you'll avoid having to drive on the Trans-Canada Highway.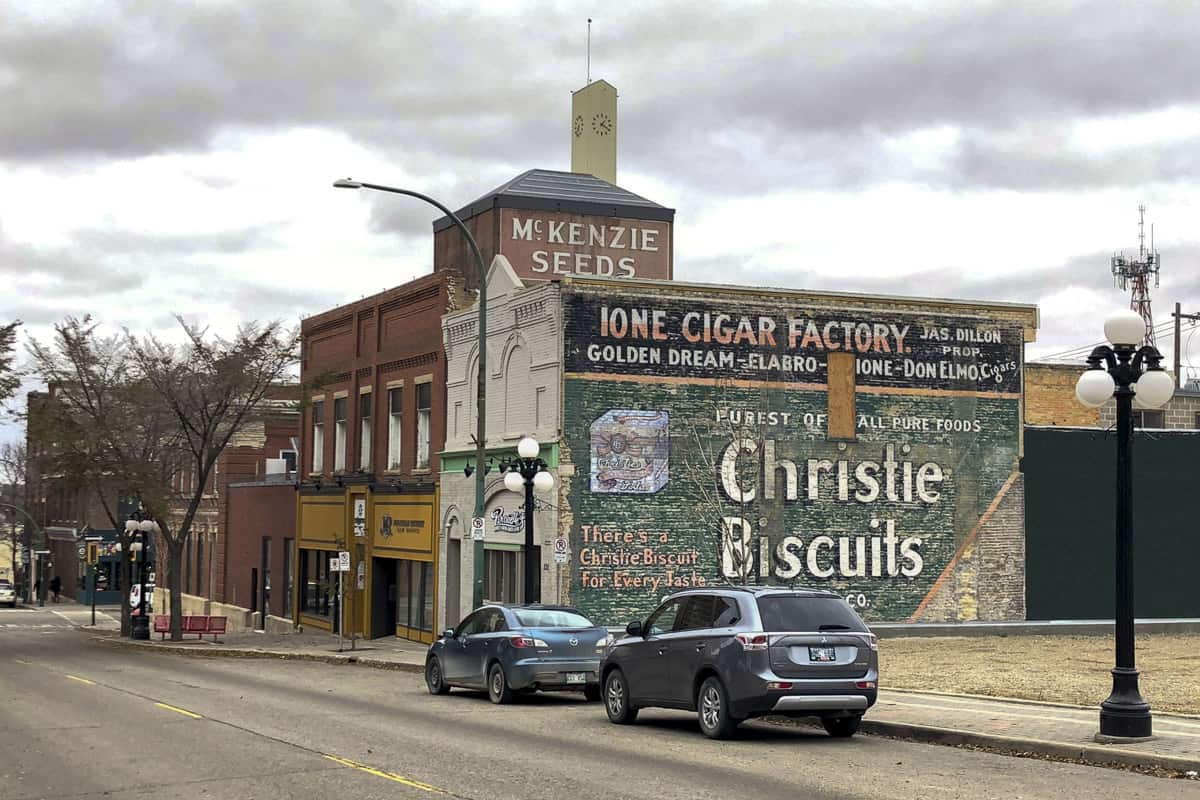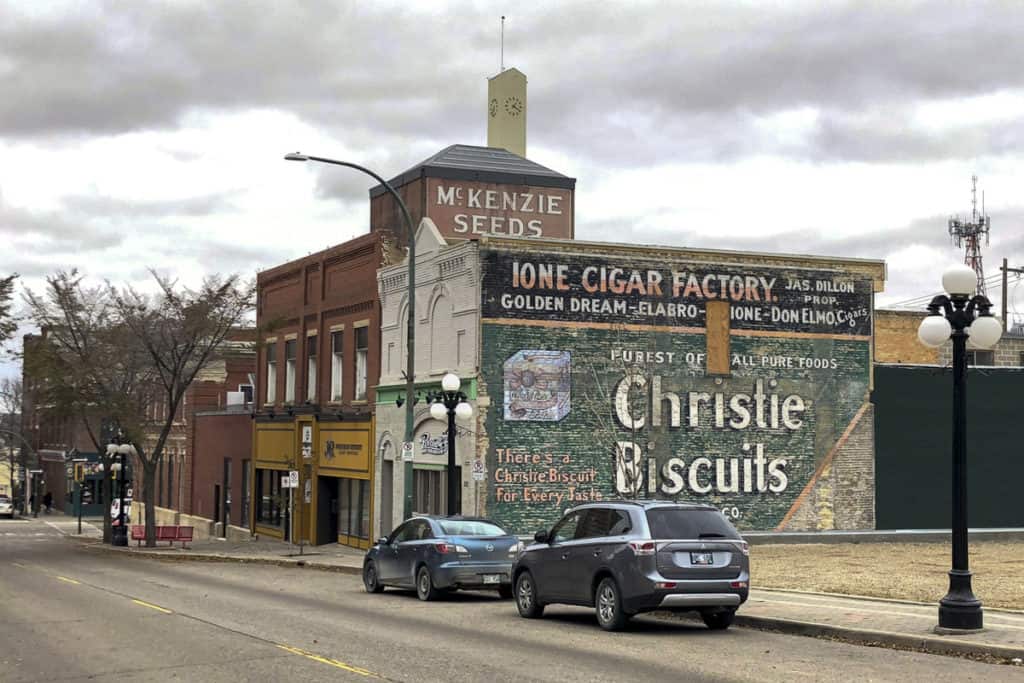 By Bus
Thankfully, there are regular buses between Winnipeg and Brandon. Brandon Air Shuttle runs bus transfers daily between the two cities and has multiple times to choose from. Rider Express has weekly bus trips between Winnipeg and Brandon as well.
By Air
The Brandon Municipal Airport is only serviced by WestJet. There are daily flights to and from Calgary, so you'd have to connect in Calgary if you want to fly to Brandon from any other city.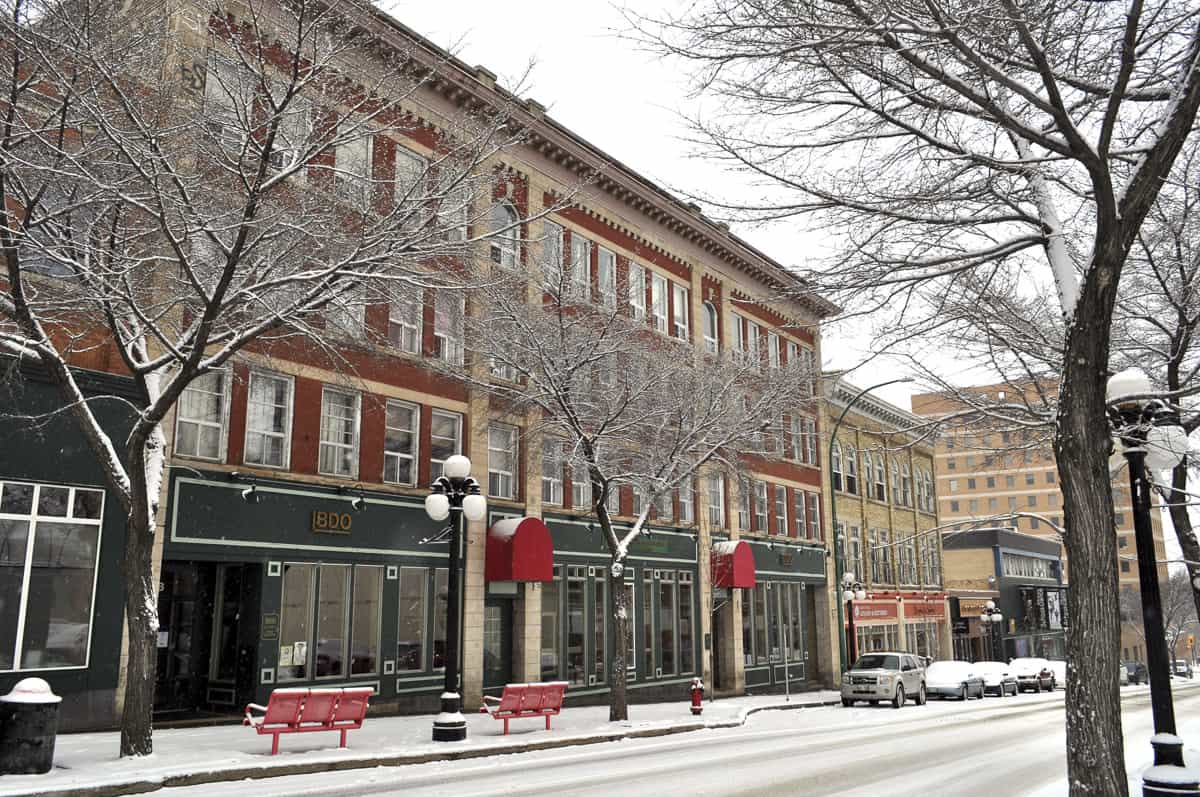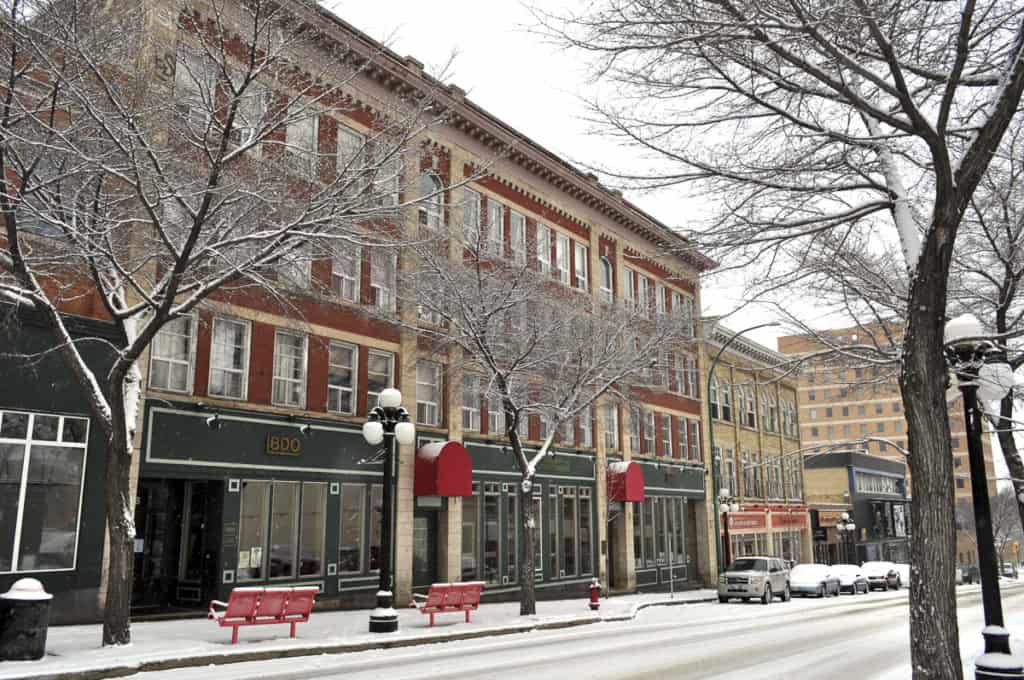 Practical Essentials
Getting Around
Thankfully, downtown Brandon is extremely walkable, and if you base yourself in the city centre you can walk to many attractions and restaurants.
Public transportation is limited to buses in Brandon, but buses run frequently and cover a large area of the city. For more on routes, schedules, bus fares, and SMART Cards that can be loaded with pre-paid rides or time allowances, check out the Brandon Transit website.
That being said, if you do have access to a car, Brandon is a city that is easy to drive around. Most locations are within a 10 to 15 minute drive from one another, and traffic is never that bad.
There are also numerous taxi companies in Brandon. It's best to book ahead if you need a taxi; it's rare to flag a taxi down in the city unless you are near a large hotel.
If you'd like to rent a car while in Brandon, there are a few Enterprise locations around the city. There's also the option of renting a car at the Brandon Municipal Airport.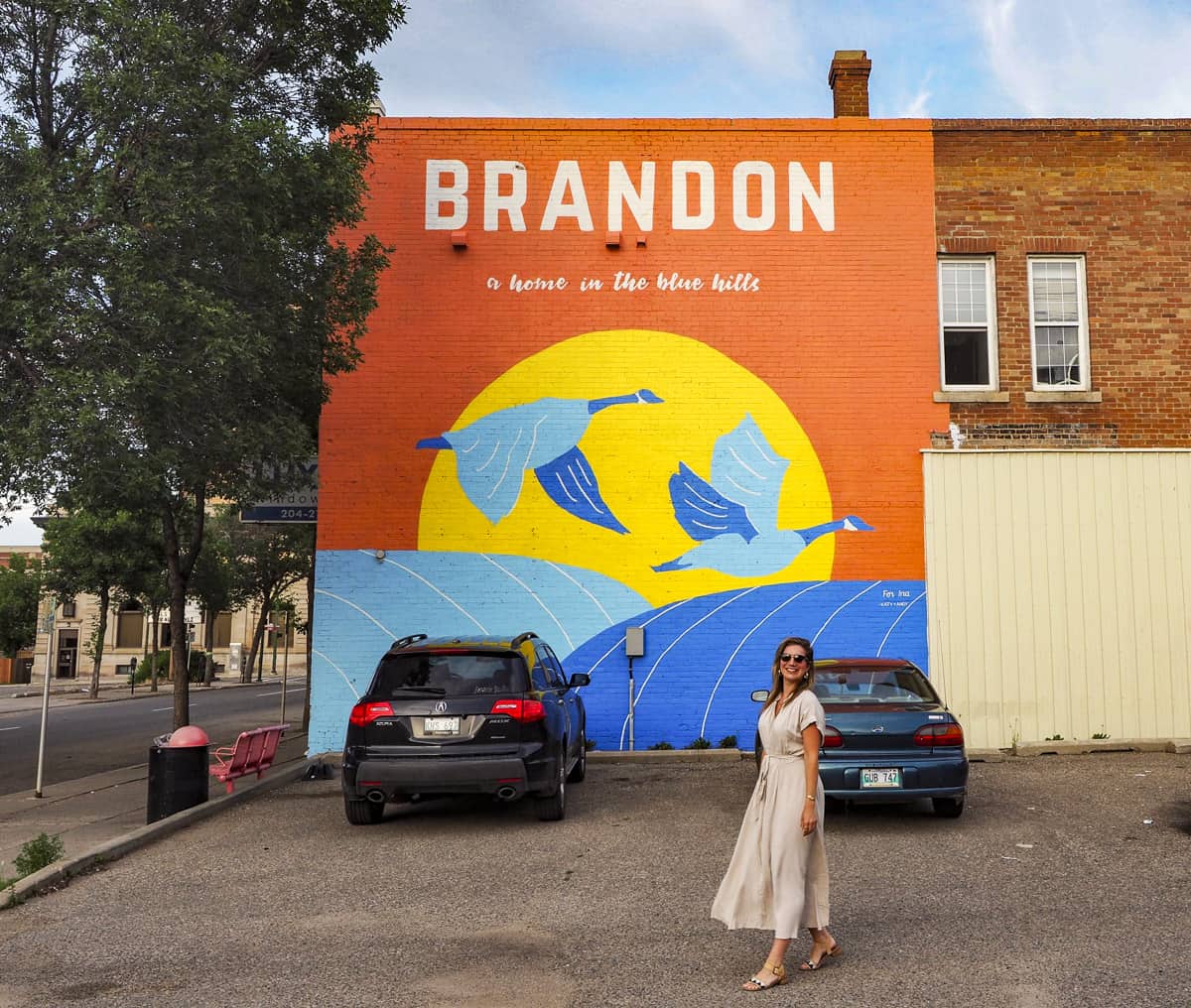 Parking
It is relatively easy to find parking around Brandon, even in the downtown area. From Monday through Friday, it is relatively easy to find parking around Brandon, even in the downtown area. From Monday through Friday, you can park in metered spots in the downtown area; these spots usually have a time limit of one to two hours, and require coins. The spots are free to park in on weekends, however, and there are also some parkades around the city for use all week long.
Where to Stay in Brandon
You have quite a few options for where to stay in Brandon, whether that's at a hotel, a bed and breakfast, a home rental, or even a campsite. Here are a few of our top picks for where to stay in Brandon.
Hotels
Because of its location on the Trans-Canada Highway, Brandon has quite a few places to stay. Check our guide to Brandon hotels for the best options, or choose from those we've listed below.
Super 8 by Wyndham Brandon MB
With 79 rooms, travellers love the Super 8 by Wyndham Brandon. Noted for its friendly service, clean rooms, and amazing location, it makes for a lovely home away from home on your holiday in Brandon. This pet-friendly hotel also has a pool and fitness centre.
Holiday Inn Express & Suites
The Holiday Inn Express Brandon is conveniently located 5 minutes from downtown and directly across the street from the Keystone Centre Arena. It's a popular choice for visitors for the clean rooms, extremely pleasant staff, the large fitness and swimming areas and the daily continental breakfast. It's the top choice in Brandon for lots of good reasons!
Best Western Plus Brandon Inn
Known for its family-friendly atmosphere, the Best Western Plus Brandon Inn has a pool and fitness centre, while rooms have fireplaces and kitchenettes, making sure you can get as comfortable as possible during your time in Brandon.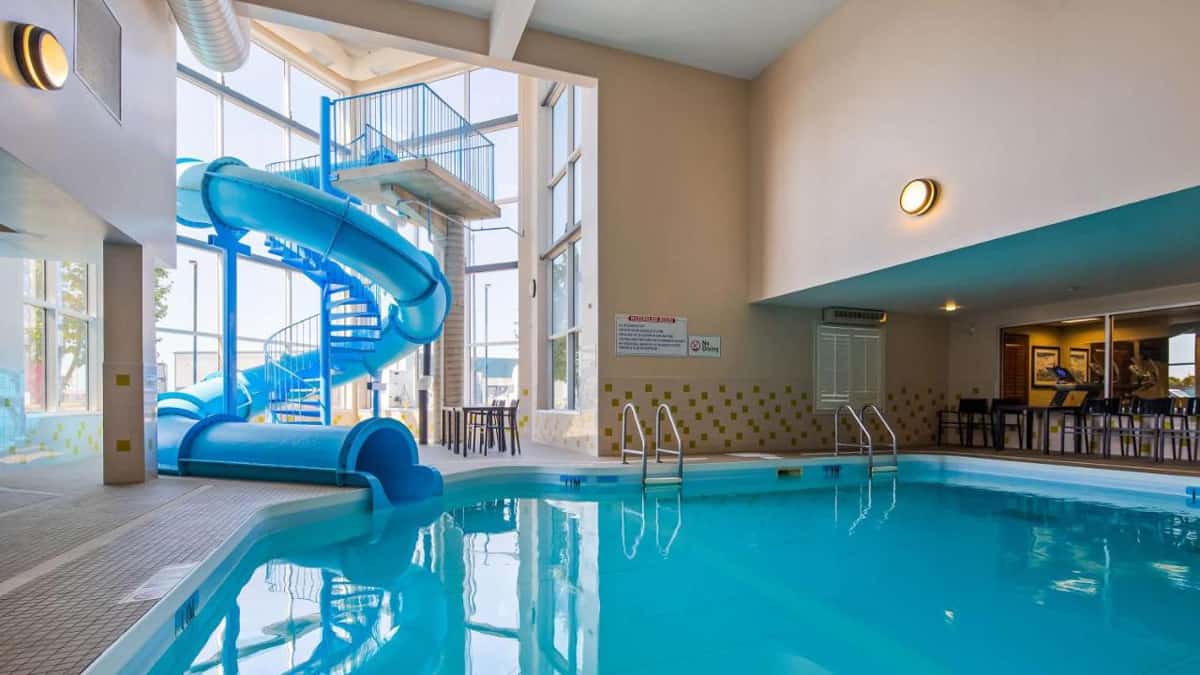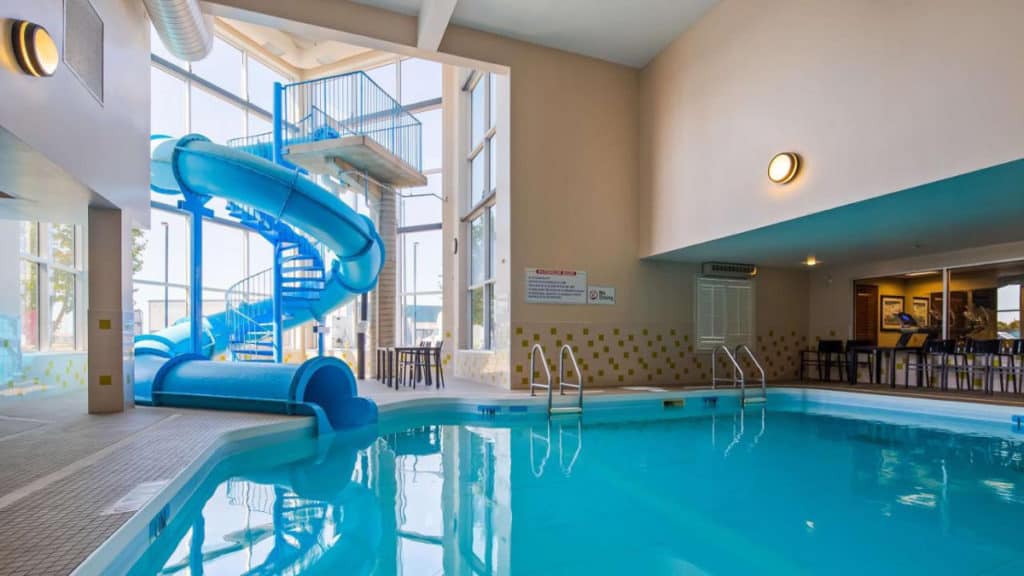 B&B in Brandon
Braeview Bed and Breakfast
If you want to avoid a chain hotel, head to Braeview Bed and Breakfast. With friendly service and a homey vibe, the B&B is the perfect place to stay for some peace and quiet (while still having fantastic accessibility to the city of Brandon!).
Also, there are plenty of places to stay using AirBnB in Brandon! Our choice is this basement apartment that's suitable for up to six people. Trust us, you'll want to extend your stay here; quiet and clean, it's close to all of the action in Brandon while allowing you to kick back and relax at the same time.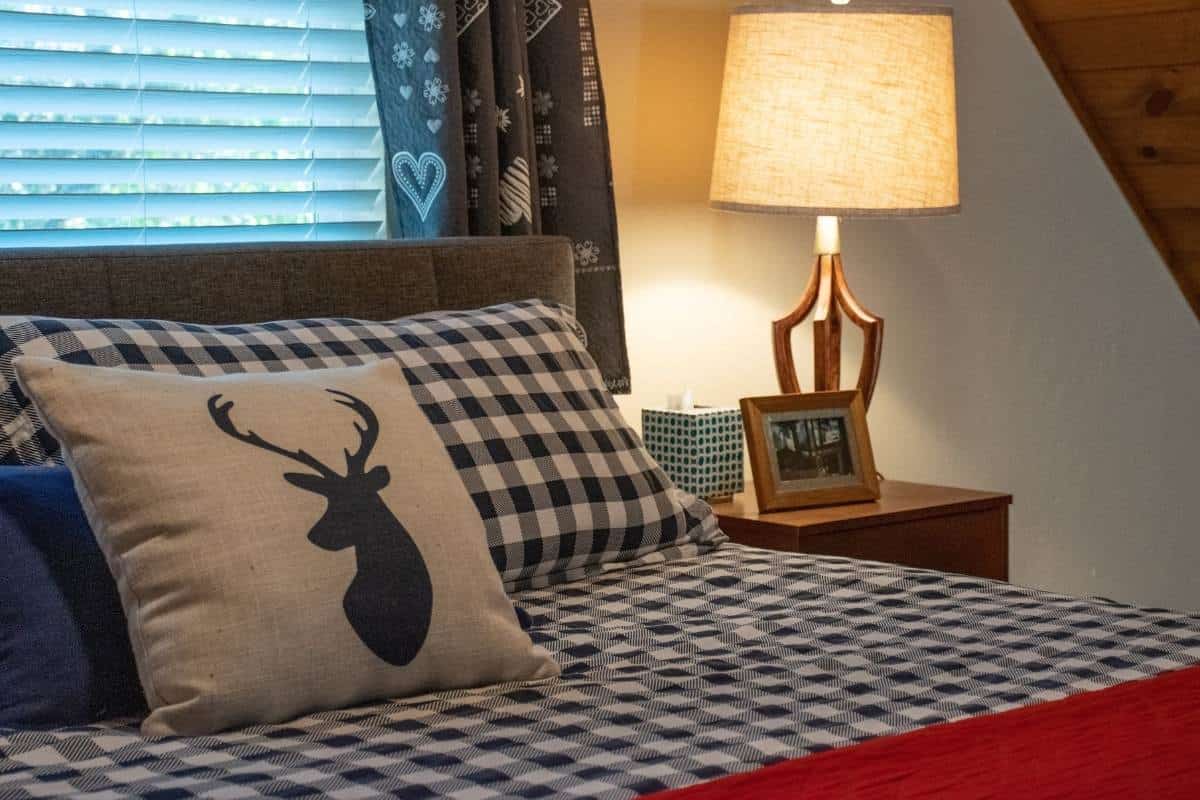 Camping
Turtle Crossing
Turtle Crossing is our choice for camping in Brandon. Only a ten-minute drive from the city centre, there are tons of amenities across the 65-acre campground, including free wifi, free showers, swimming at a manmade lake, mini-golf, hiking trails, and so much more. Nearly all types of vehicle and/or camping equipment are welcome here, whether you have a tent, a fifth wheel, or a motorhome.
Meadowlark Trailer Park
With 66 sites and very easy access along the Trans-Canada Highway from Brandon, Meadowlark Trailer Park is perfect for those with their own RVs. Back-in and pull-through sites are available.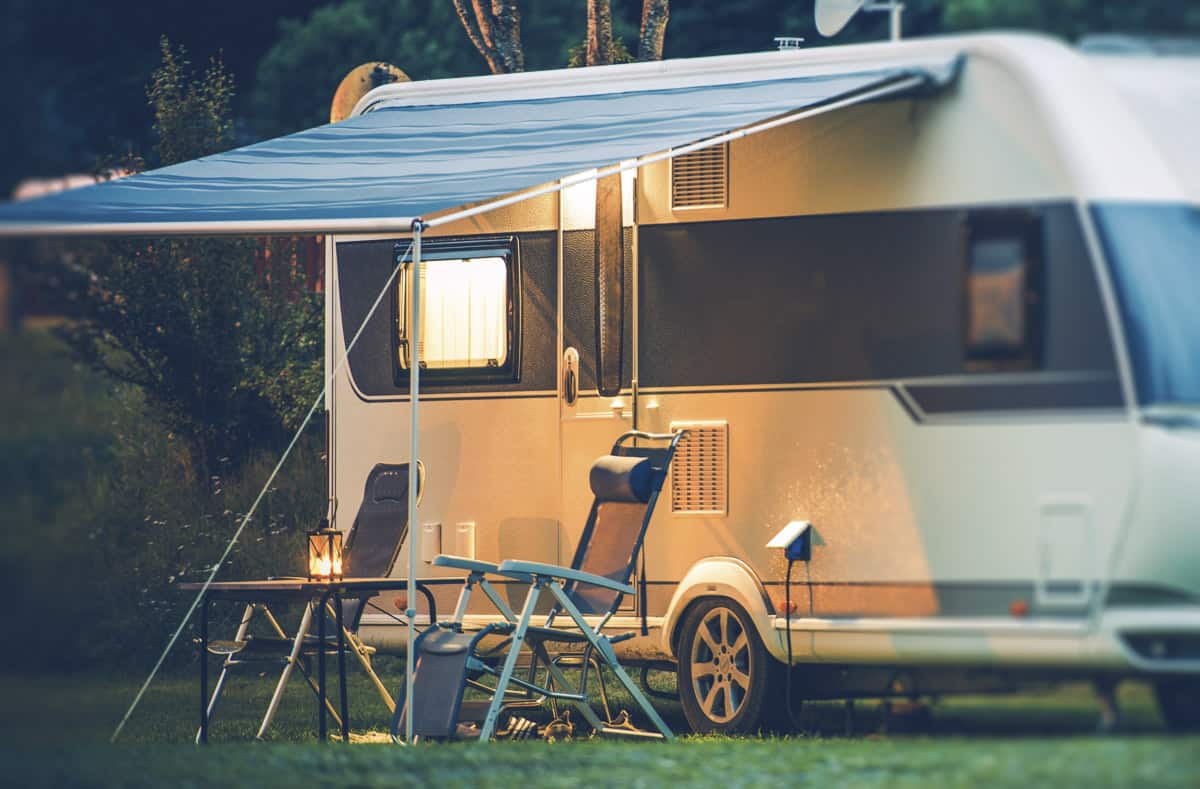 Things to Do in Brandon
Brandon has no shortage of iconic, noteworthy, or just plain beautiful spots to add to your sightseeing itinerary. You can easily fill a few days or a weekend exploring the city. Here are a few of our favourite things to do in Brandon.
Commonwealth Air Training Plan Museum
The Commonwealth Air Training Plan Museum is one of the best things to do in Brandon and is a must-see for anyone interested in war history. The vintage air hangar houses dozens of aircraft and other vehicles from WWII; head here to be wowed, but also to learn a lot.
During the Second World War, thousands of people trained across Canada to join the Air Force, and this museum is dedicated to commemorating those people who trained and fought overseas. Definitely set aside at least three hours of time for the museum, as it's one of the best attractions in Brandon.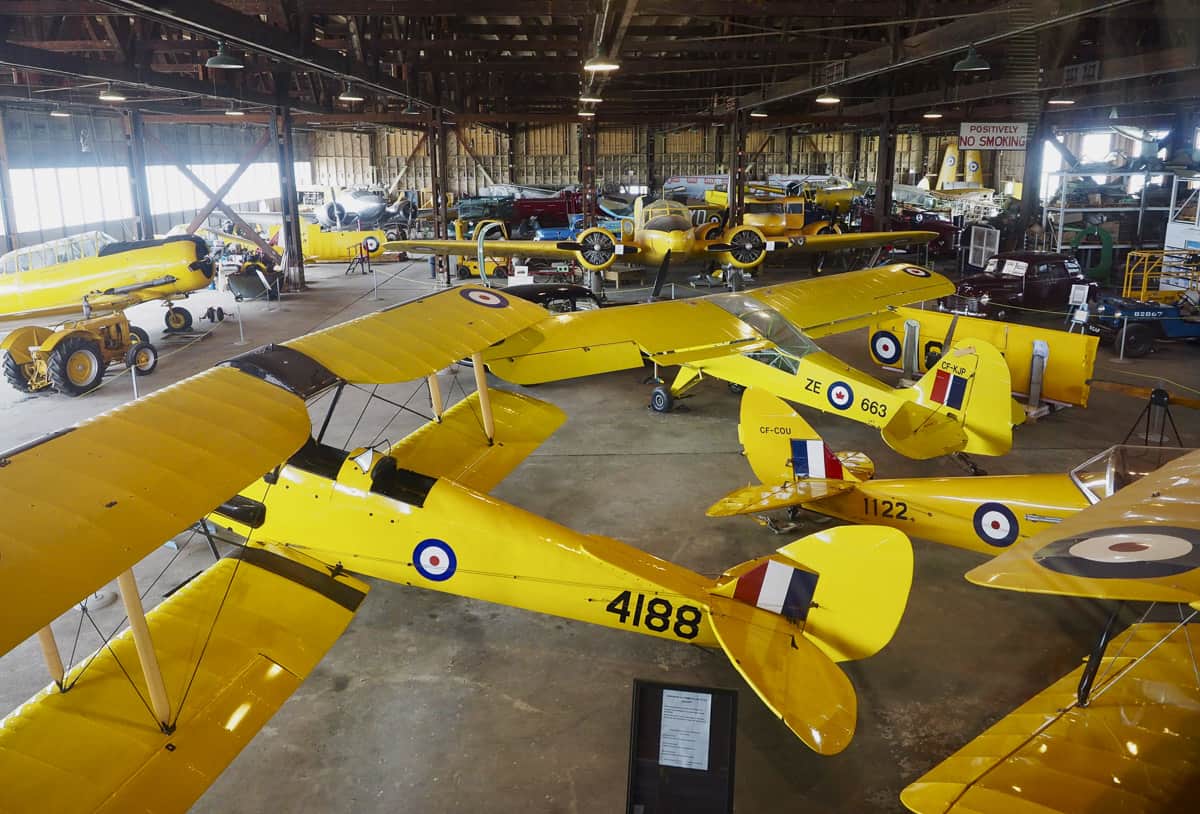 Brandon Riverbank Discovery Centre
The Riverbank Discovery Centre is the place to go if you want to learn about Brandon, and it's a place for the whole family. While you'll find lots of tourist information within the centre, the area has also been referred to as Brandon's "Central Park", as there are beautiful walking trails along the river.
If you're lucky, you'll spot some wildlife, too. Head here in the evening for a beautiful walk through nature; you'll feel as though you're kilometres away from the hustle and bustle of city life, even though you're still firmly in Brandon.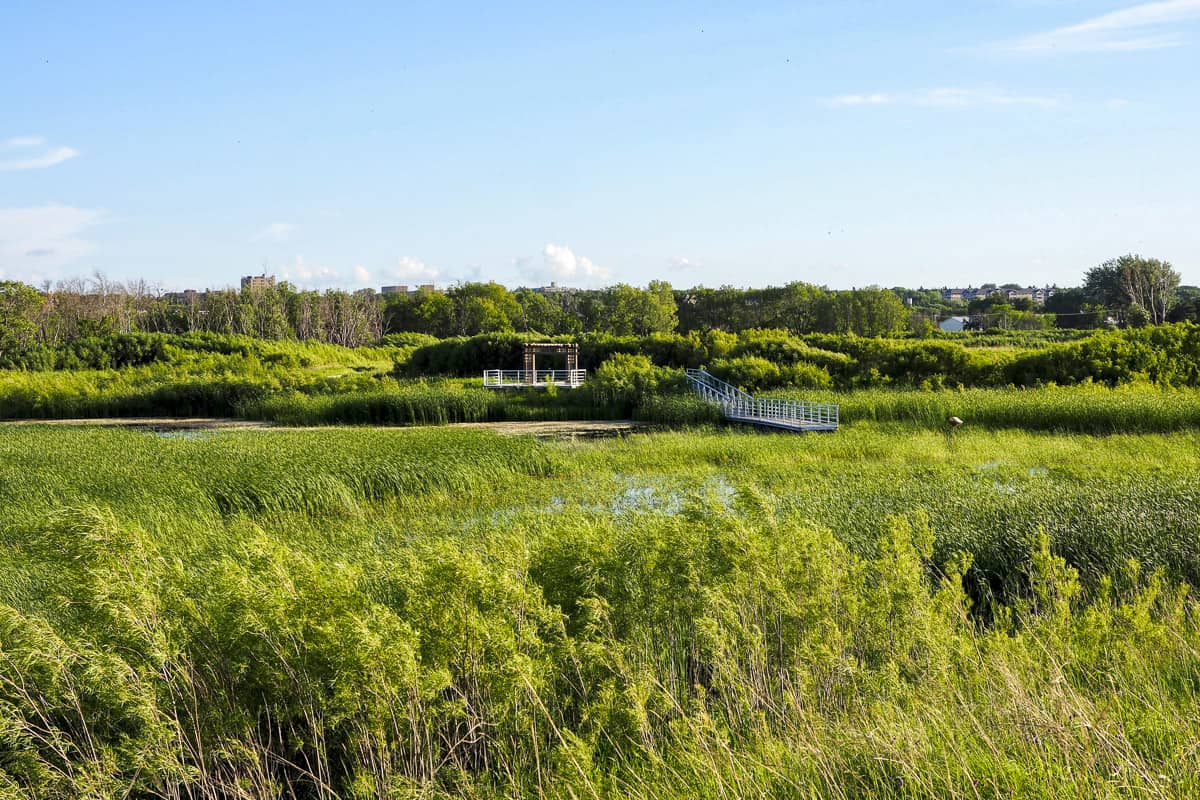 Street Mural Walking Tour
A recent addition to Brandon's city centre, you'll find numerous murals downtown that make for wonderful photo opportunities… it's so much fun to turn a corner and see a new mural. You can find an interactive map of all of the murals to explore here; trying to find all of them could easily take an afternoon of walking (though plenty of Brandon's best restaurants are in the same area as the murals, so you should definitely plan to stop for a meal). Discover the local artists that make Brandon pop!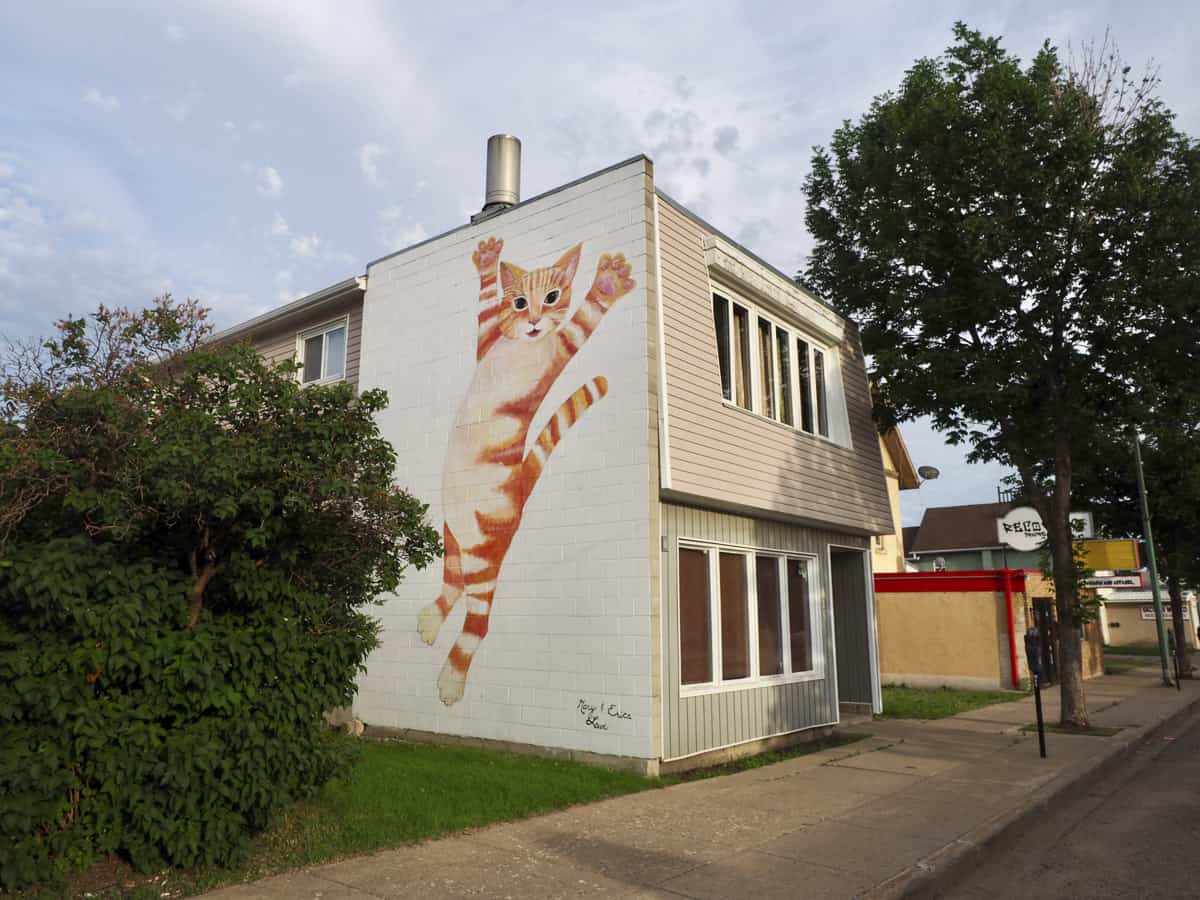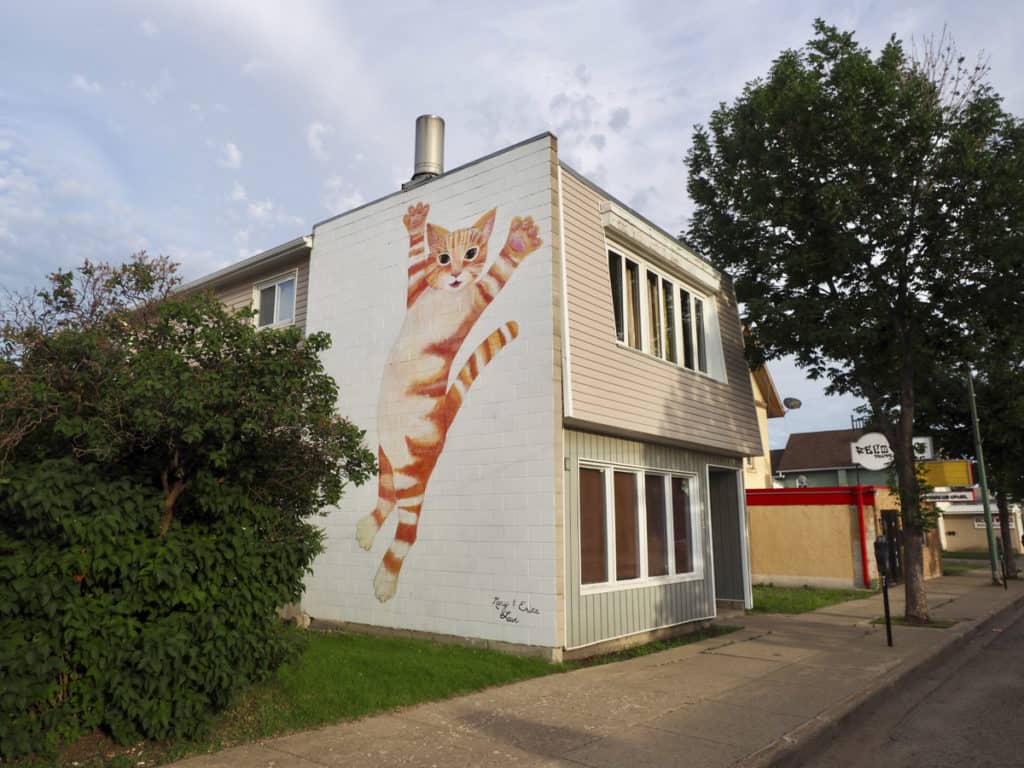 T-Birds
Head to T-Birds for some good old-fashioned fun. The arcade is packed with all the games you know and love, and there's also a bowling alley (with everyone's favourite, glow bowling!). T-Birds is the kind of place the whole family will enjoy, and there's also a lively bar and grill that's great to hang out in after a few hours of arcade games.
Art Gallery of Southwestern Manitoba
The Art Gallery of Southwestern Manitoba is a non-profit, public art gallery in Brandon, and definitely worth an hour or two of your time. With frequently rotating exhibits, many local artists from around the province have been featured at this excellent art gallery, and it makes for a lovely addition to your trip to Brandon.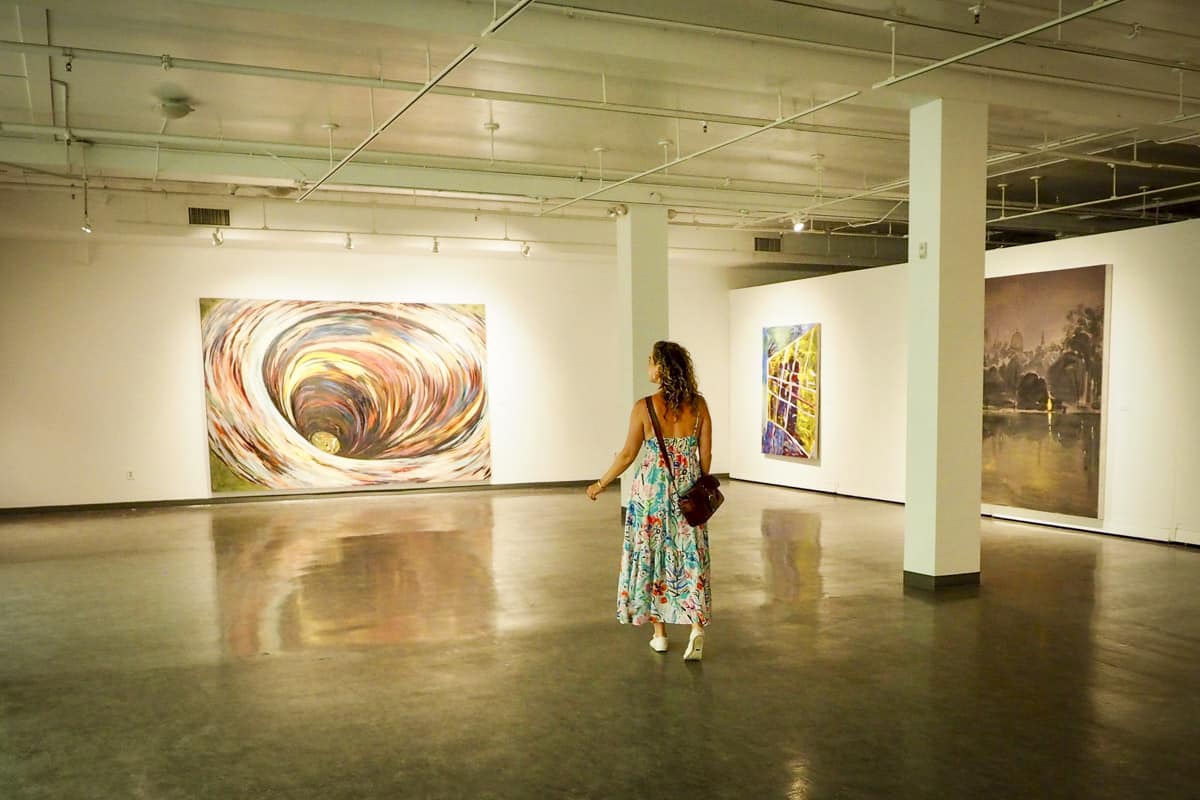 Brandon General Museum and Archives
Visit the Brandon General Museum and Archives to learn about the city's history and importance in the province. The mission of the museum is to "to collect, conserve, study, exhibit, and interpret historic and heritage materials relating to the City of Brandon and its place within the history of Southwestern Manitoba," and in the museum, you'll find both permanent and rotating exhibits that range from the history of the telephone to local art to – if you can believe it – taxidermy. It's a fun and interesting way to spend a few hours.
Daly House Museum
Step back in time at this museum! Another one of Brandon's most popular attractions, the Daly House Museum is a historic home that's full of interesting artifacts. Follow the QR-coded tour around this 1882 house that was originally owned by Thomas Mane Daly, Brandon's first lawyer and mayor. There's also a lovely garden beside the house that's worth a visit (and is free to enter, even if you don't go inside the museum itself).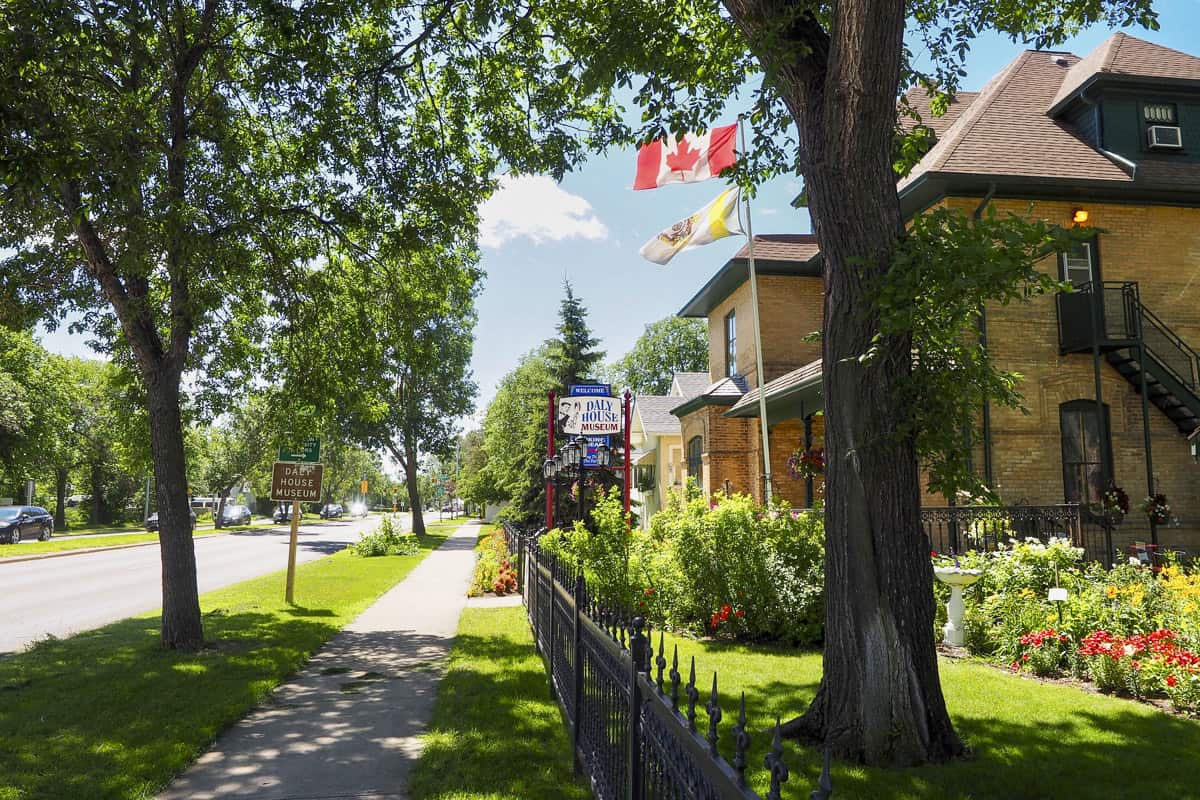 Shop Local
There are a few top-quality boutiques and shops in Brandon, many of which focus on local products and goods for sale. Some of the galleries and museums have excellent gift shops, while we also love It's Charlow, Darling! (for unique candles and Canadian products), Lady of the Lake (for handcrafted and Canadian-made goods), and One and Only Design Studio (for home goods and design).
Though not technically a shop, Crow's General Store is an incredibly fun stop during your visit to Brandon. Head here for some ice cream and photo opportunities; the shop is filled with tchotchkes and signs at every turn.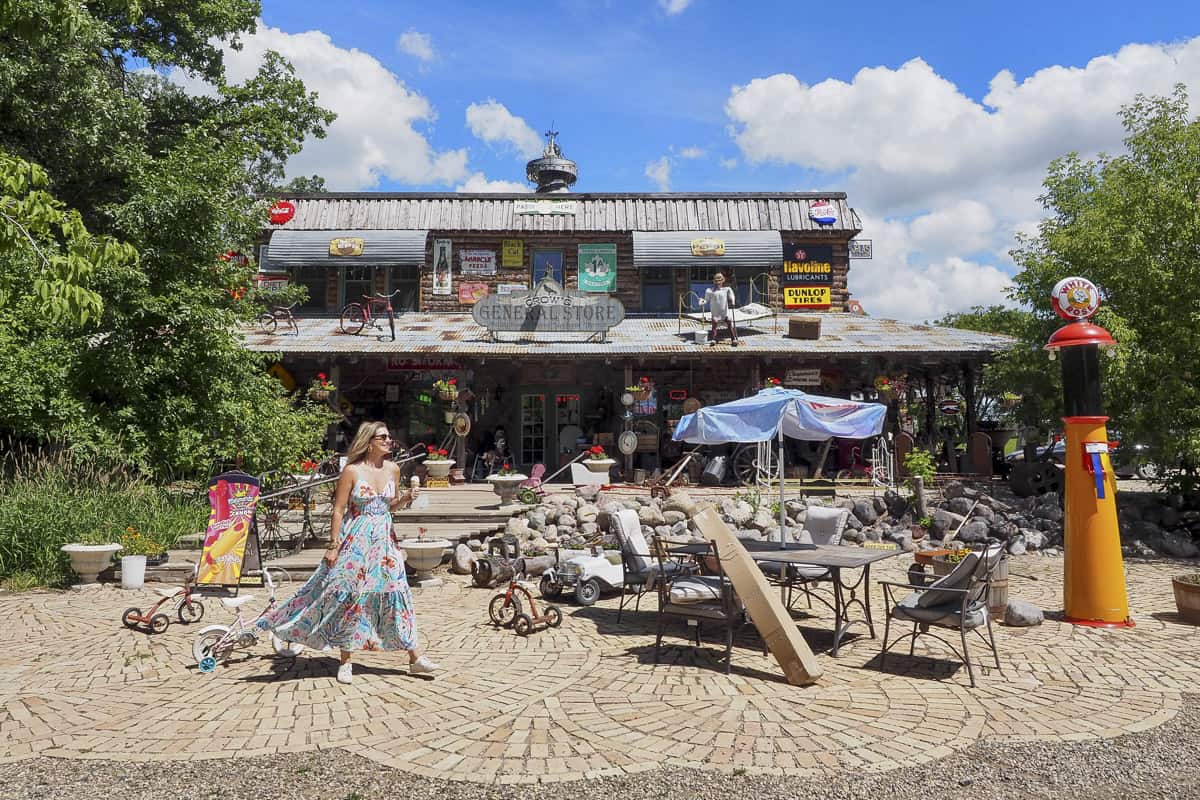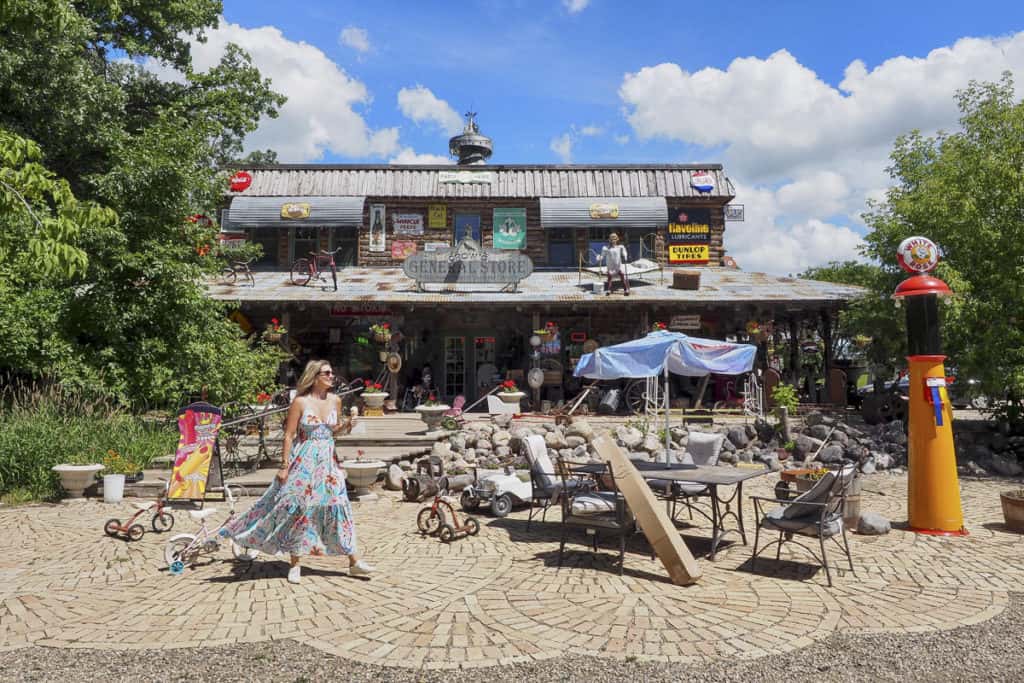 Festivals and Events in Brandon
There are tons of excellent events throughout the year in Brandon! Head to the tourism website for a list of even more annual events.
Brandon Festival of the Arts
Running for approximately four weeks in February and March, the Brandon Festival of the Arts is an event that recognizes the importance of the local performance artists that make up the city's cultural fabric. Enjoy performances by musicians, dancers, choirs, speech artists, and more.
Brandon's Big One Arts and Crafts Sale
There's nothing better than supporting local businesses, and at the Brandon's Big One Arts and Crafts Sale, you can do exactly that. Held over two weekends every October, shop small and support local by browsing through stalls selling food, art, clothing, jewelry, and so much more.
Westman Multicultural Festival
The Westman Multicultural Festival is a wonderful celebration of the many cultures that make up Brandon's population. Each pavilion focuses on the dance, music, and food of a country or culture. If you've ever wanted to try food from Mauritius, listen to music from Ukraine, or learn about Métis culture, head to this festival!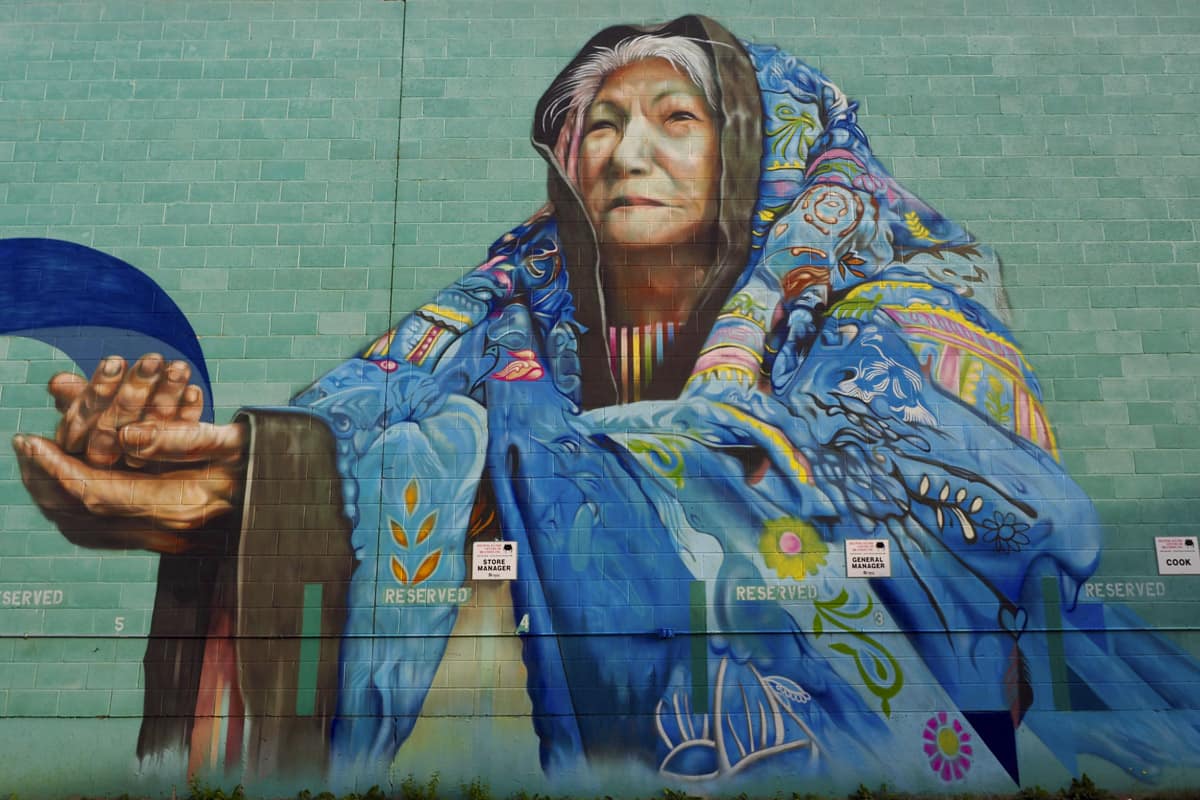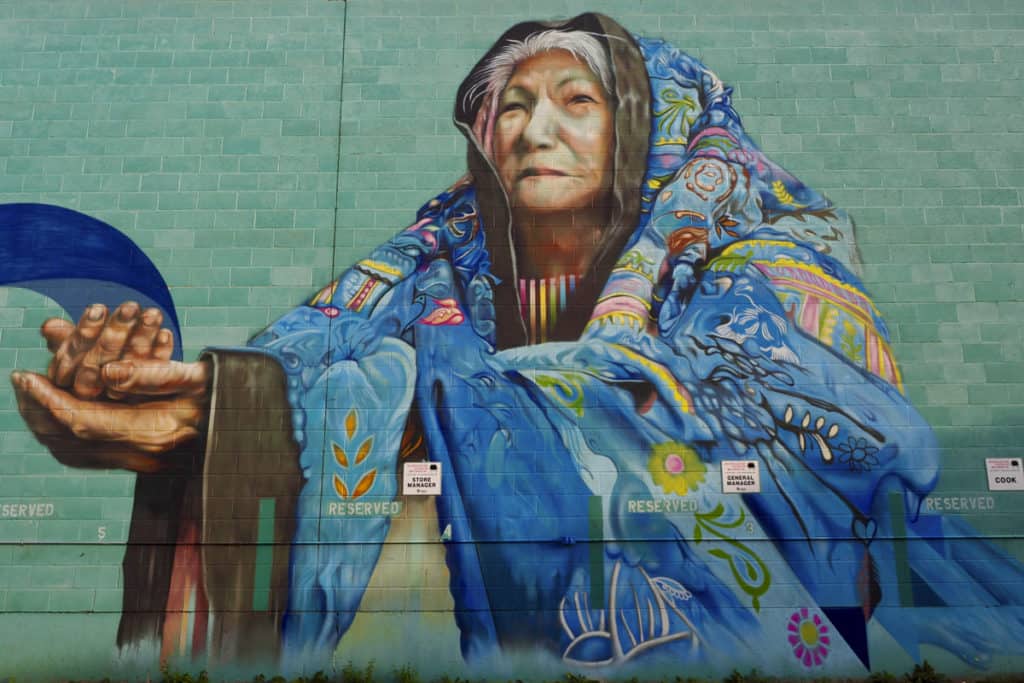 Our Favourite Restaurants in Brandon
Brandon has a wide array of restaurants, from lively pubs serving Canadian cuisine to an excellent range of international food. Here are a few of our top picks for restaurants in Brandon.
Chilli Chutney
One of the best restaurants in Brandon, Chilli Chutney serves authentic, delicious Indian and Asian cuisine, and is known for some of the best Indian food in all of Manitoba. Our favourite dish is the pakora, but all of the curries we've tried have been absolutely amazing, too. Finish off the meal with a mango lassi for the sweet kick after the heat.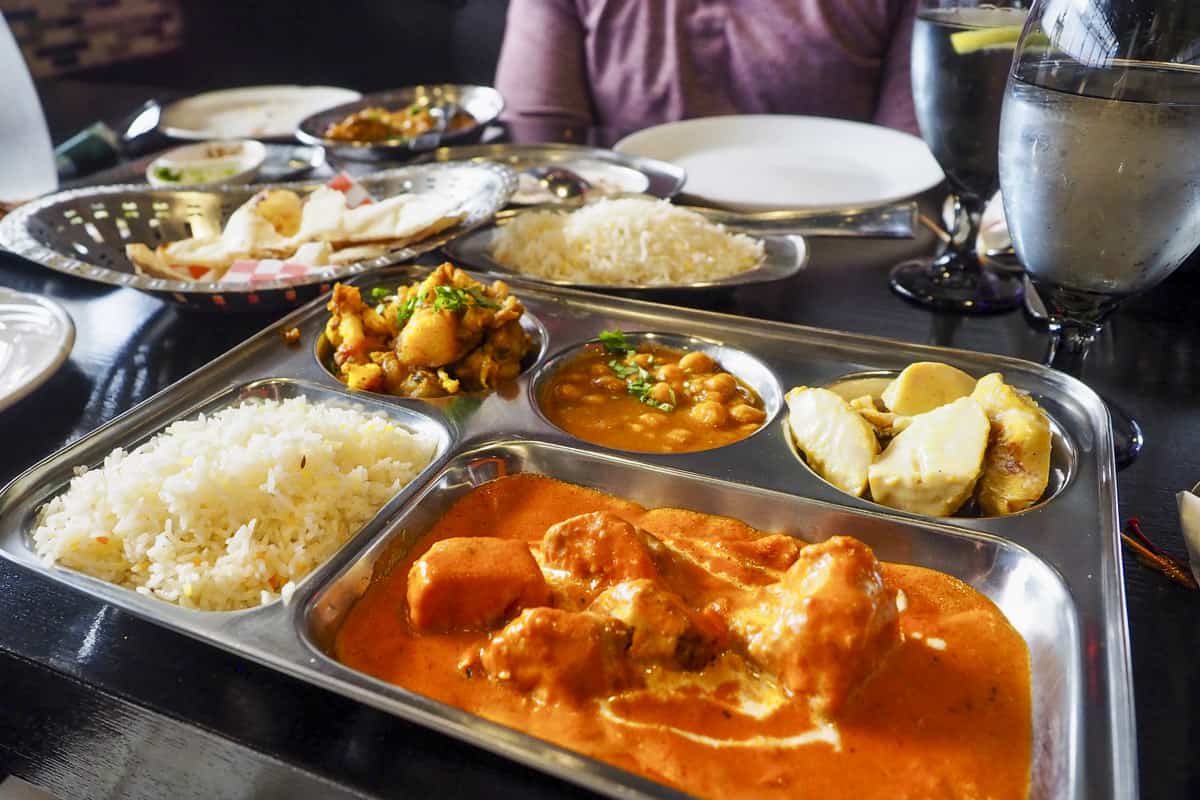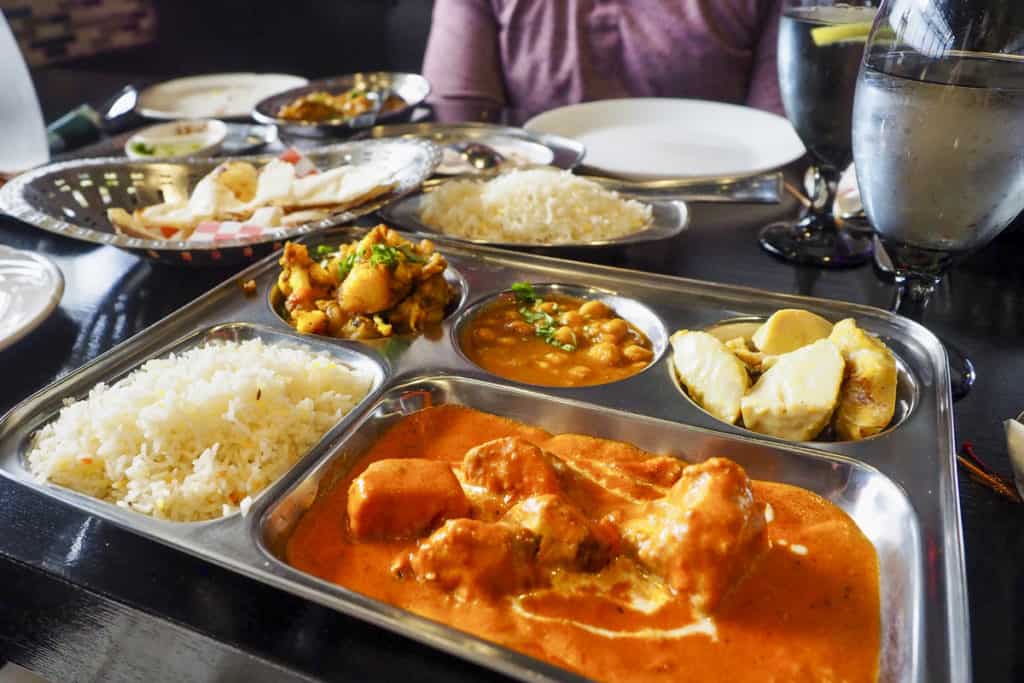 Sabor Latino
Established by a Colombian couple, Sabor Latino serves incredible Latin cuisine in their cozy restaurant in downtown Brandon. No matter what you're after – chilaquiles, fish tacos, pupusas, or quesadillas – Sabor Latino creates a mouthwatering dish. The margaritas are fantastic, too!
The Dock on Princess
Enjoy a huge plate of nachos with some local Manitoba beer… what could be better? The Dock on Princess is one of Brandon's most beloved restaurants, and the warm atmosphere coupled with the hearty food make for an incredible afternoon or evening out. In summer, take advantage of the patio.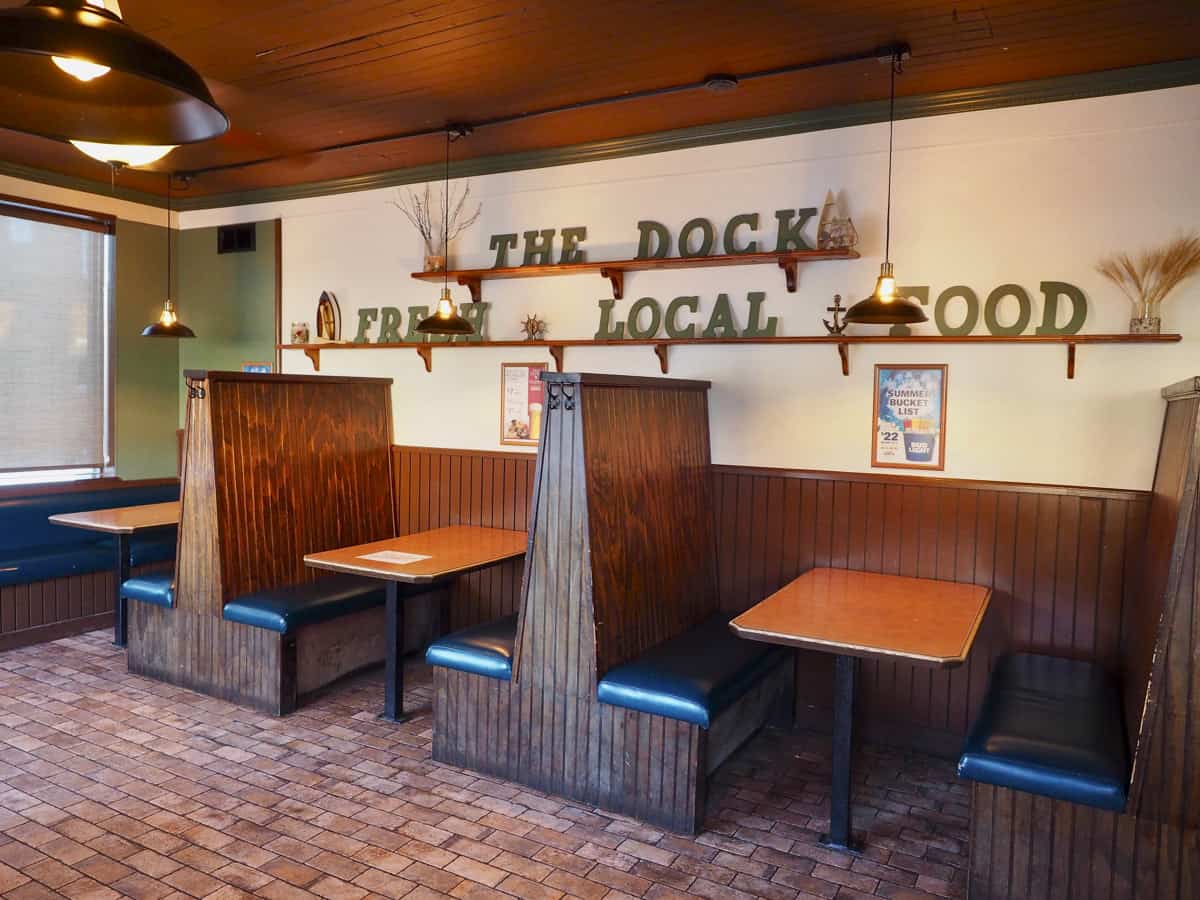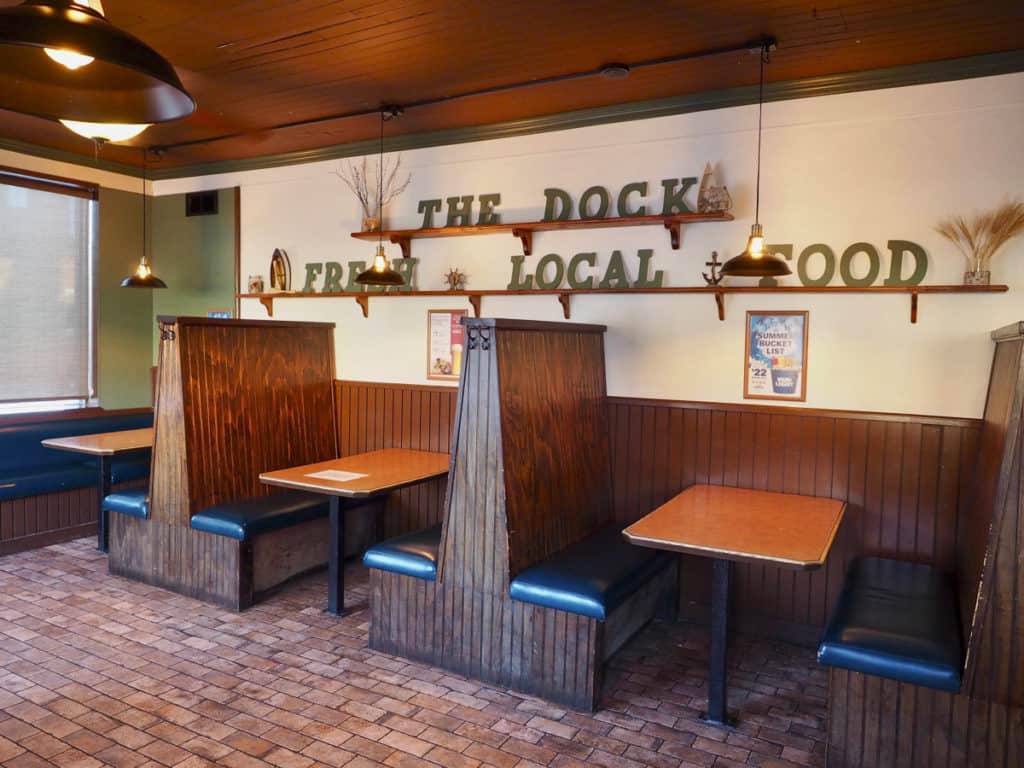 Marino's Pizza
If pizza is what you're after, look no further than Marino's Pizza. With fresh ingredients and traditional recipes, the Italian food at this restaurant has a loyal group of regulars that love the cozy atmosphere, delicious meals, and friendly service. Don't forget to try one of their signature pastas, too.
Lady of the Lake
Also a popular shop in Brandon, Lady of the Lake has an exquisite café that's perfect for lunch. With an extensive menu of locally-grown, organic food, choose from one of their delicious sandwiches, wraps, or the soup of the day. We're also a big fan of their quiche, made daily with farm-fresh eggs.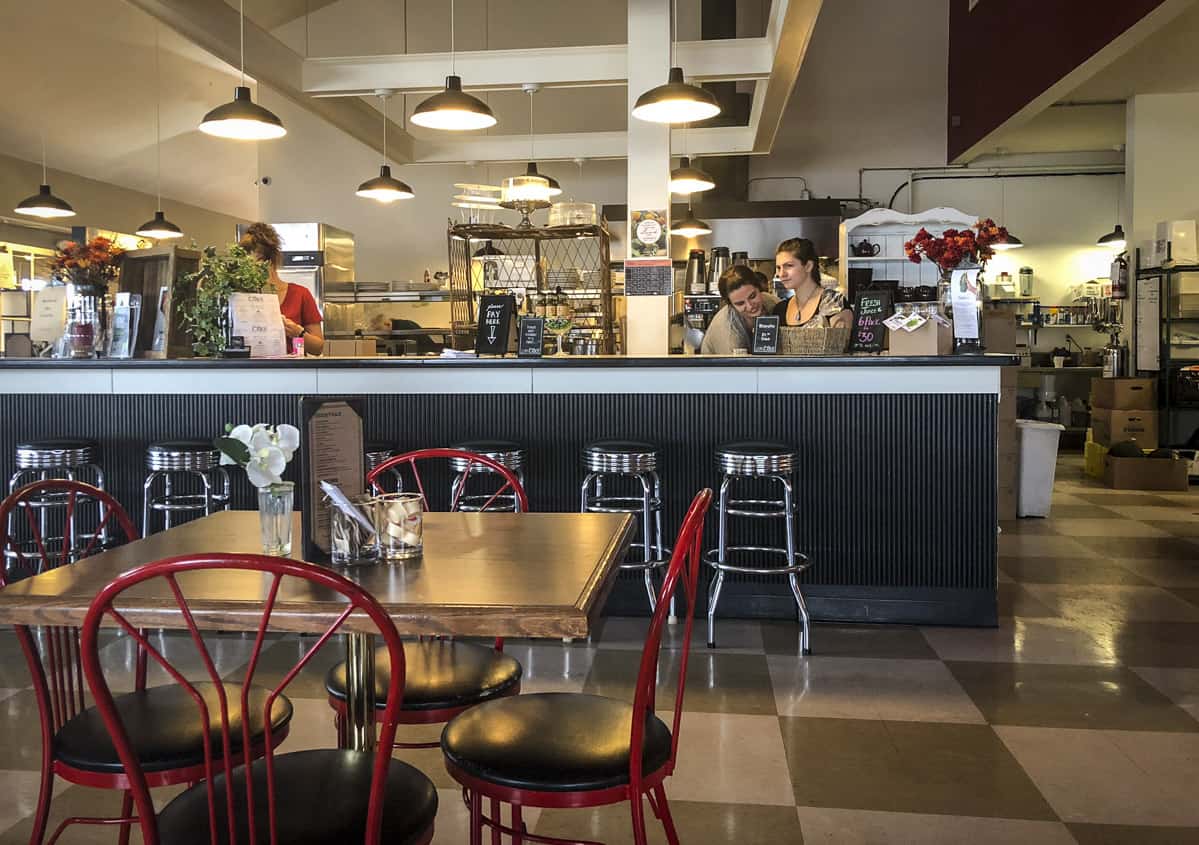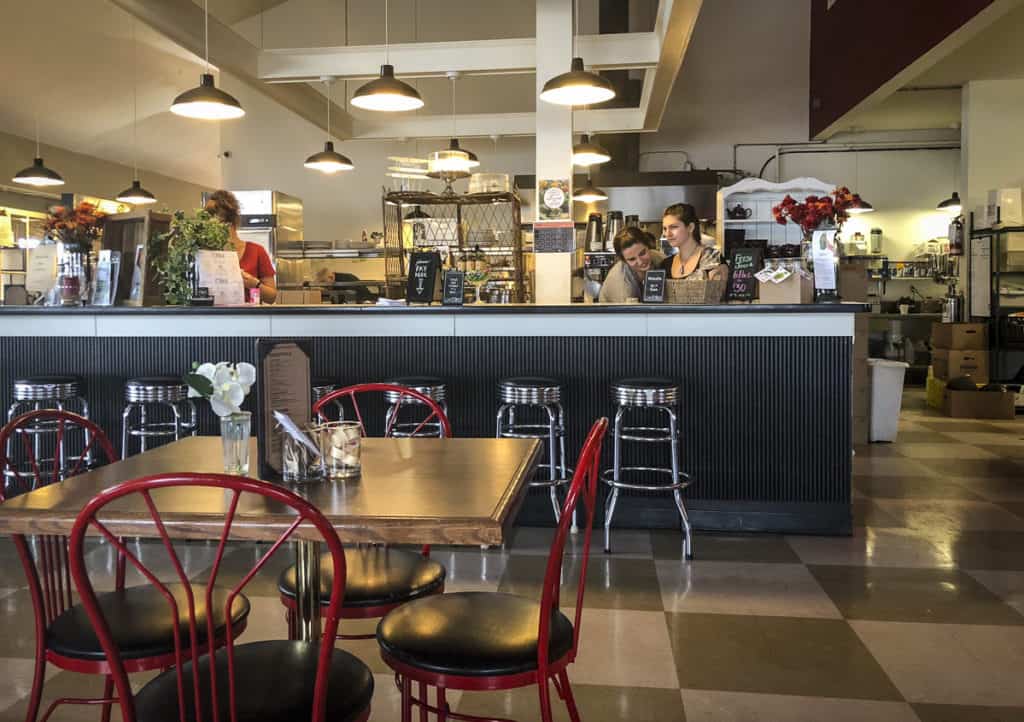 Tana Ethiopian Cuisine
A hot lunch spot in the city, Tana Ethiopian Cuisine serves mouthwatering Ethiopian food that's bound to fill you up. With an all-you-can-eat philosophy, enjoy authentic East African dishes such as lamb tibs, injera, and – our favourite – the full veggie combo platter.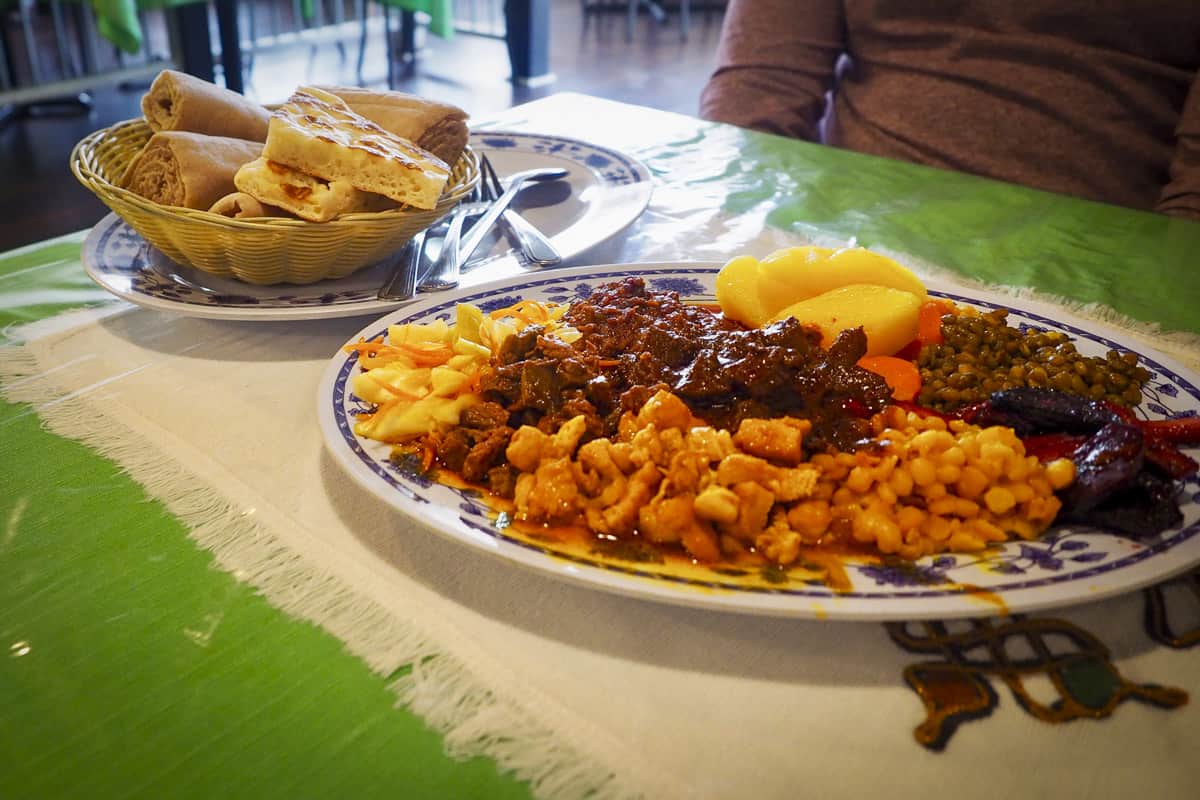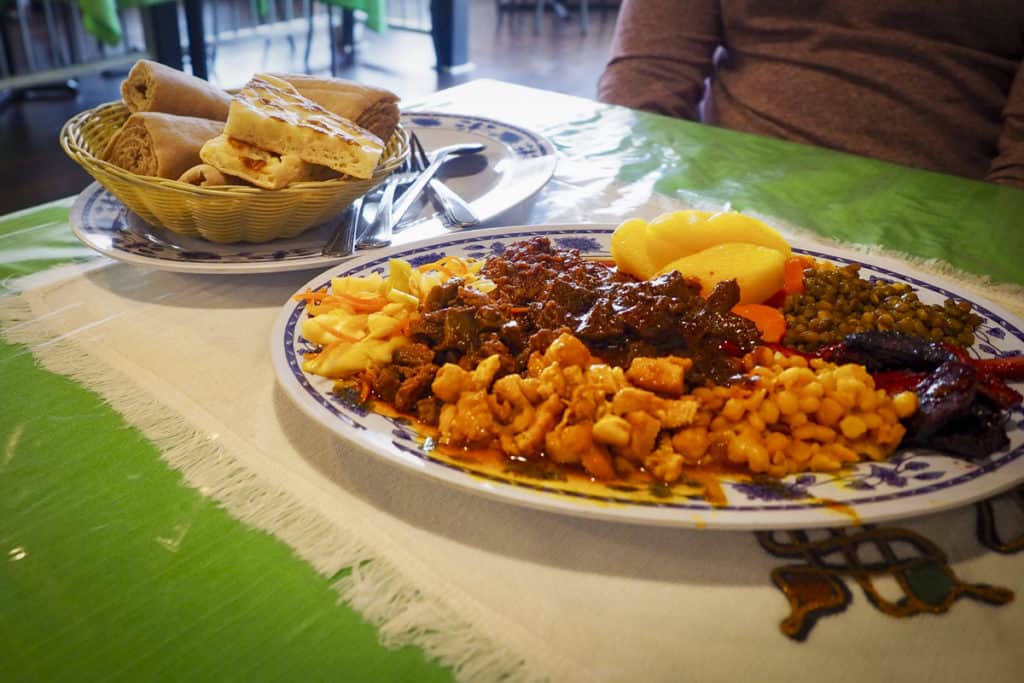 Chez Angela Bakery and Café
Although Chez Angela Bakery and Café isn't open for dining in, it's a fantastic spot to stock up on baked goods and breakfast sandwiches. Pop in here to grab a quick breakfast to go so that you're fuelled up for the day of exploring Brandon ahead.
Komfort Kitchen
Head to Komfort Kitchen for one of the heartiest breakfasts or lunches in town. A local favourite for years, it's known for its home-cooked flavours and family-friendly atmosphere… and even better, breakfast is served all day. The Hunger Platter is sure to fill you up, that's for sure!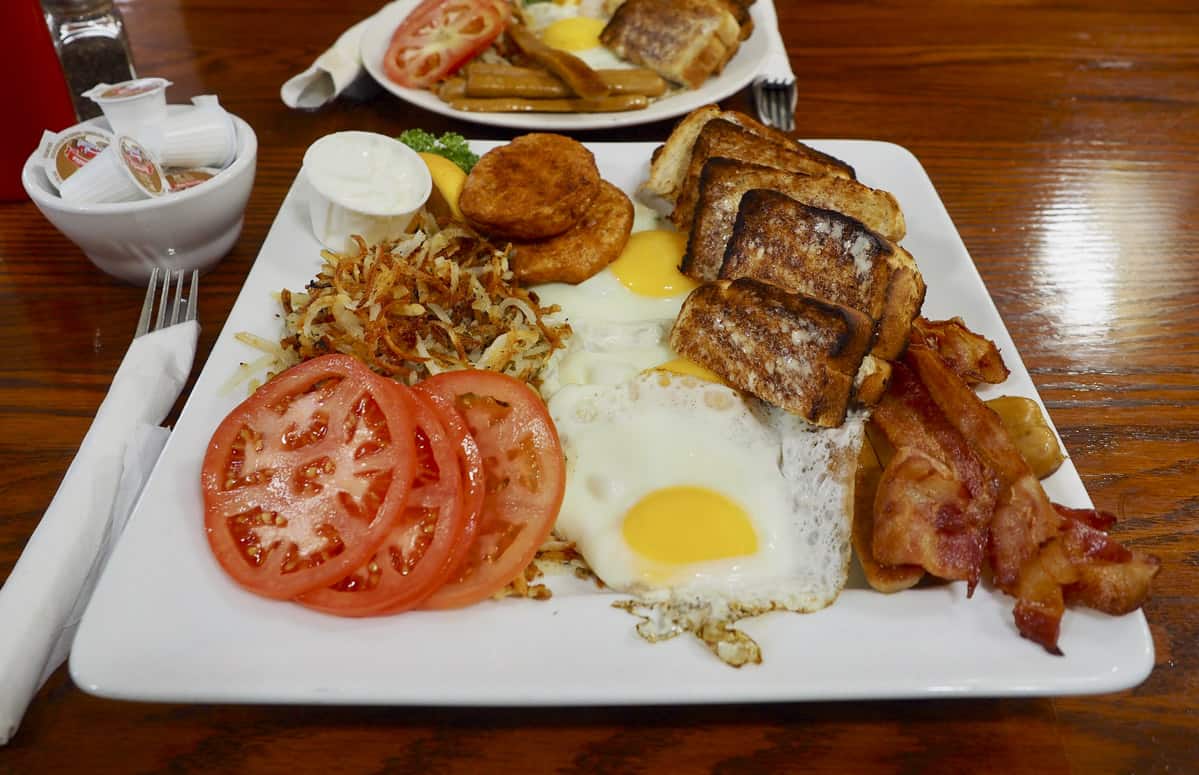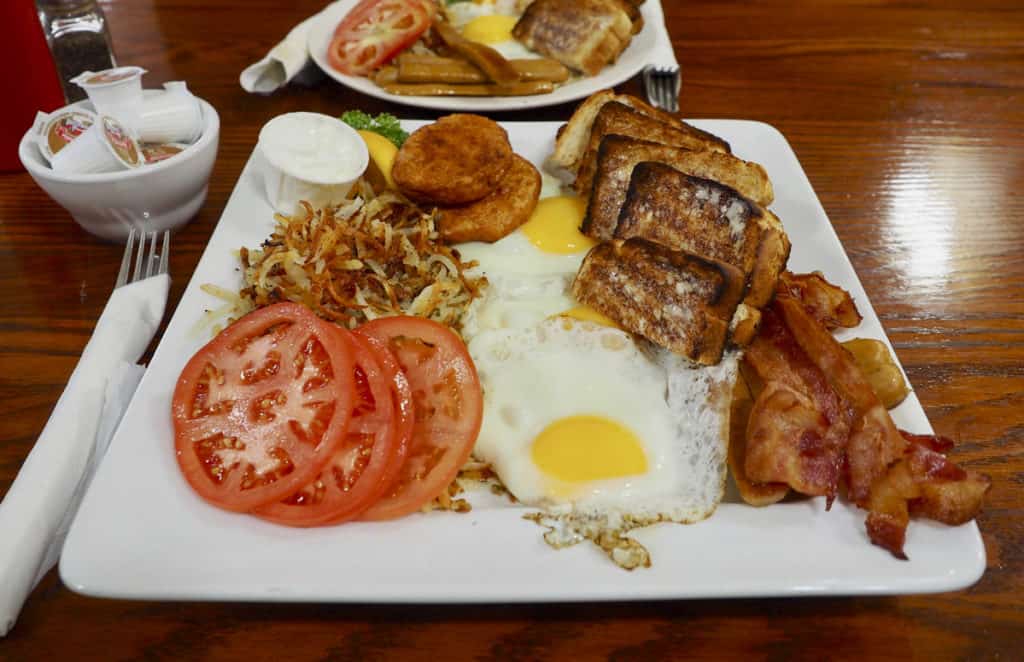 Places to Drink in Brandon
Don't skip out on the nightlife in Brandon! There are a lot of fantastic spots to grab a few drinks with friends or a significant other. Here are a few of our top picks for places to drink in the city.
Black Wheat Brewing
One of the only local breweries in the area, Black Wheat Brewing has a social taproom where you can try all of the local flavours. We're big fans of the Great Scott – a cream ale – as well as the Slam Dunk, a Dunkelweizen with notes of banana and clove. We love supporting local businesses when we travel around Manitoba, and this is one of our favourites to support in Brandon.
Browns Socialhouse
A popular Canadian chain, Brandon's Browns Socialhouse is a laidback spot with a stylish vibe. Their cocktail list is fantastic, and if you head there for "social hour" – daily from 3-6pm and 9pm to close – you'll find a lot of drinks specials. It's a great place for a late-night drink with friends.
Joe Beeverz
Joe Beeverz has a couple of locations in Manitoba – the other is in Riding Mountain National Park – and we're big fans of their fun atmosphere and extensive menu, making it the perfect spot for a few snacks and drinks in the evening. If you like poutine… you'll LOVE Joe Beeverz. It has the most extensive list of poutines we've ever seen in Canada!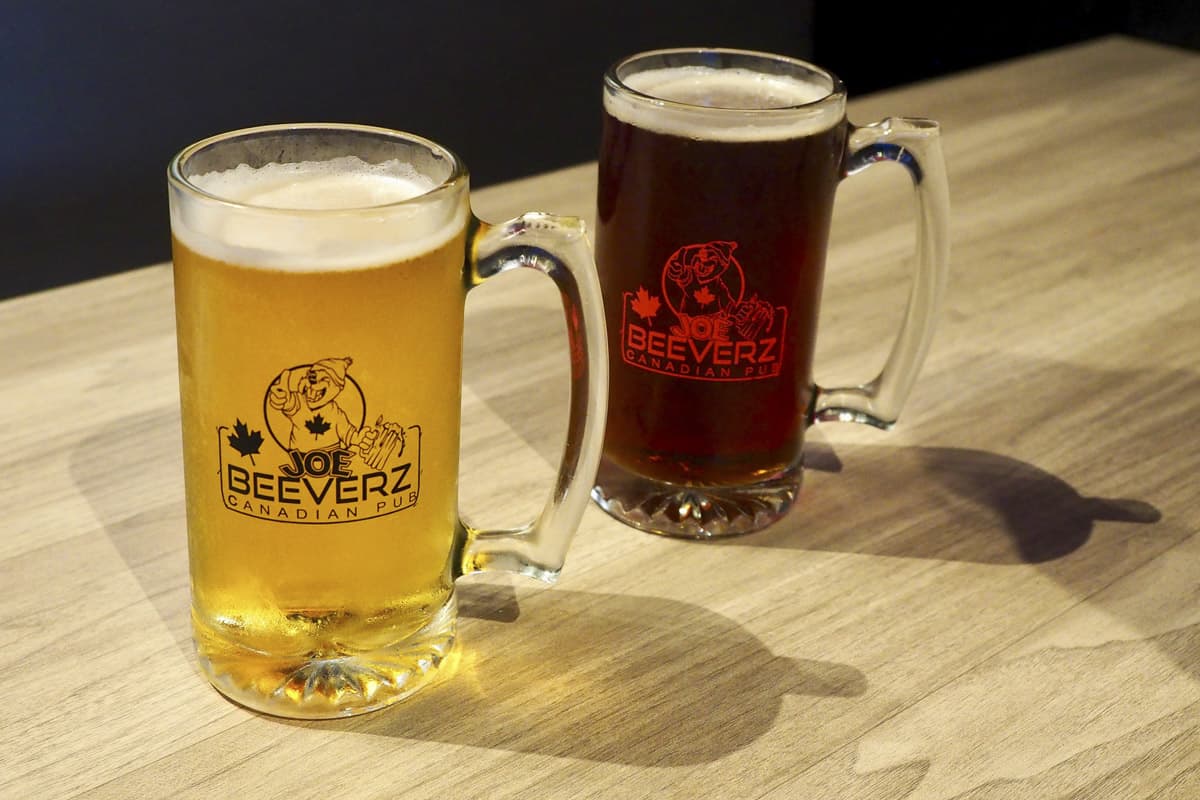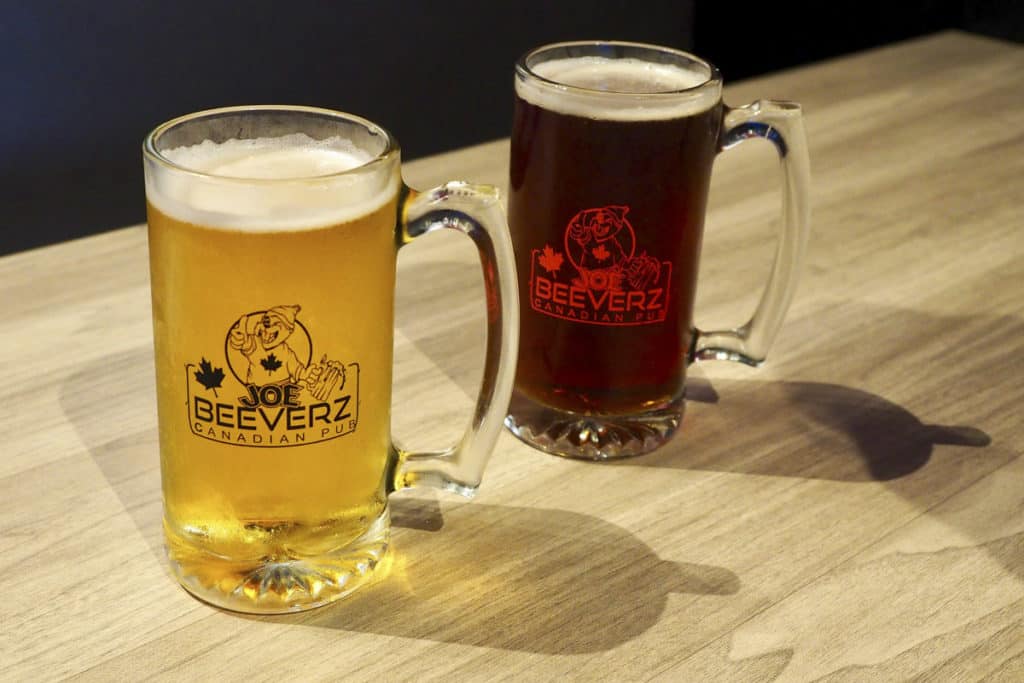 In the Area
There's a lot to do in the area surrounding Brandon, especially if you love to explore the outdoors. Here are a few of our favourite spots near the prairie city.
Riding Mountain National Park
Brandon makes for a wonderful base if you want to explore Riding Mountain National Park. Located only an hour north of the city, RMNP is one of the province's best spots for hiking, outdoor activities, and wildlife viewing. It's an especially great place to take the whole family, as there's something for everyone amongst the long list of activities available within the park. Check out our guide to Riding Mountain National Park.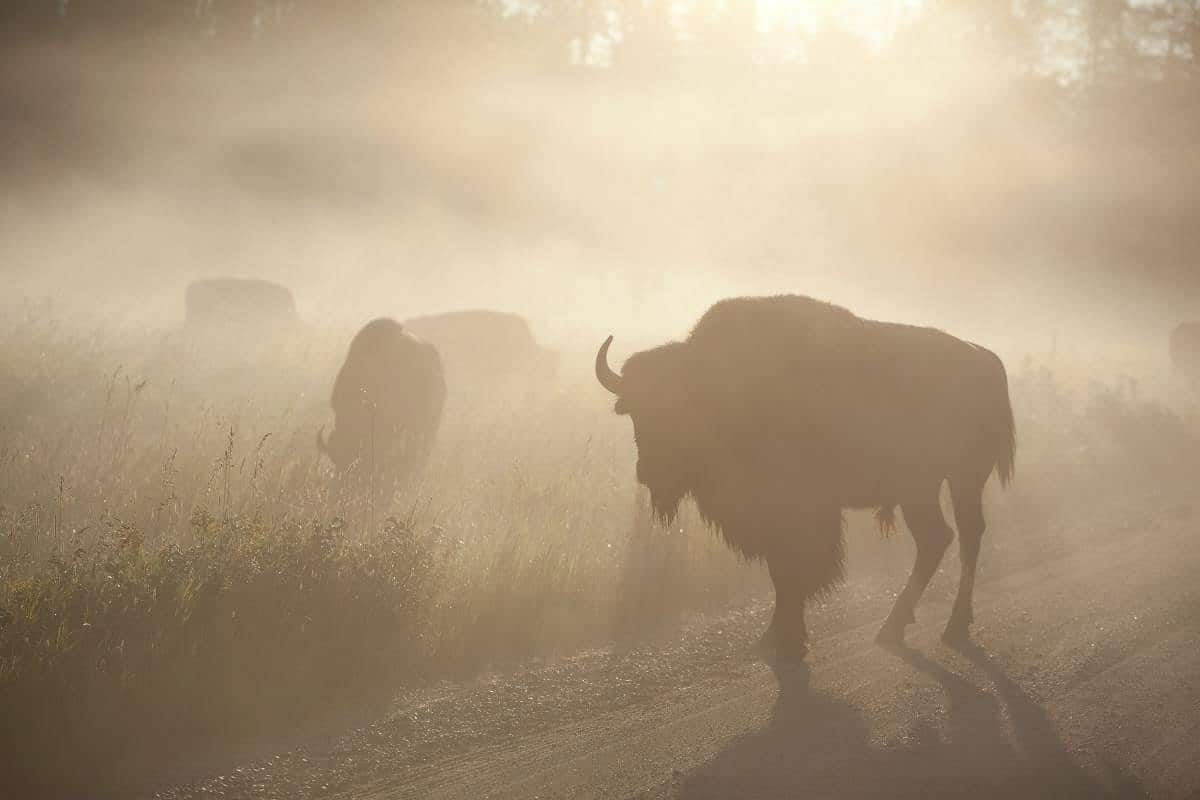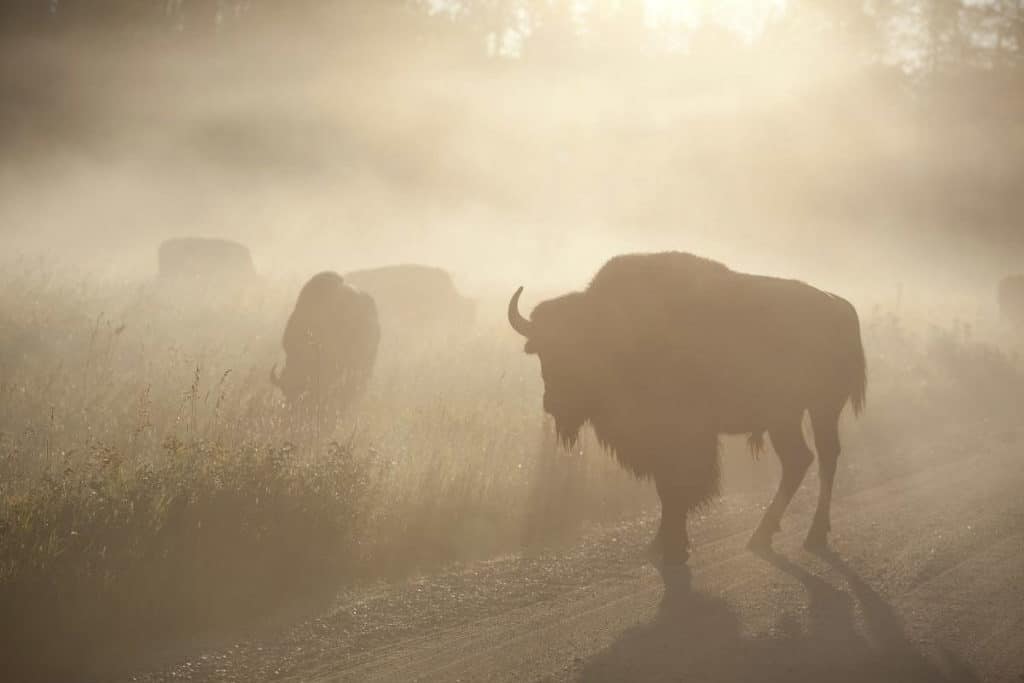 Spruce Woods Provincial Park
Less than an hour's drive away, you'll find one of our favourite provincial parks in Manitoba: Spruce Woods. Spruce Woods is famous for its amazing hiking trails and its unique landscapes, including Spirit Sands and Devils Punchbowl. It really is quite incredible to see a desert… in Manitoba!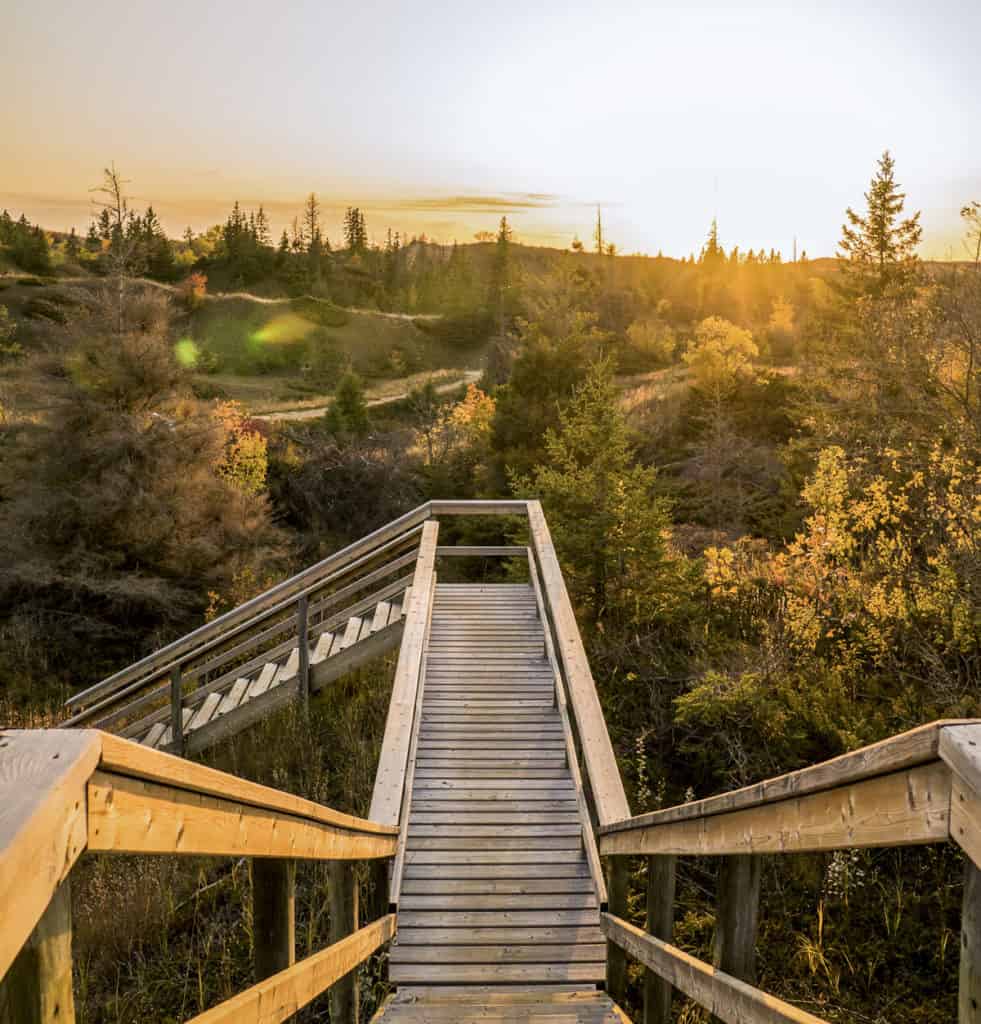 Rivers Provincial Park
For a lesser-known provincial park near Brandon, spend some time in Rivers Provincial Park. With over 38 hectares of prairie and Lake Wahtopanah to explore, there are opportunities to hike, fish, canoe, swim, and so much more. Head here if you want to escape city life and spend some time in nature.