Disclaimer: This page may contain affiliate links. Please review our full Terms and Conditions for more information and our Privacy Policy. Note that any pricing, operating hours, or other such information provided below may have changed since initial publication.
Compiled by the Road Trip Manitoba team
Last updated on April 21, 2023
It comes as no surprise that here at Road Trip Manitoba we love exploring as much of this fascinating province as possible. And one of the things we love most? Finding unique places to stay in Manitoba! There's something about accommodation that's a bit outside the box, whether that's a glass dome, a working farm, or a houseboat, it turns out there are plenty of unusual places to stay in Manitoba. Sometimes, your accommodation can be just as memorable as your surroundings, and we've rounded up a few of our favourites below.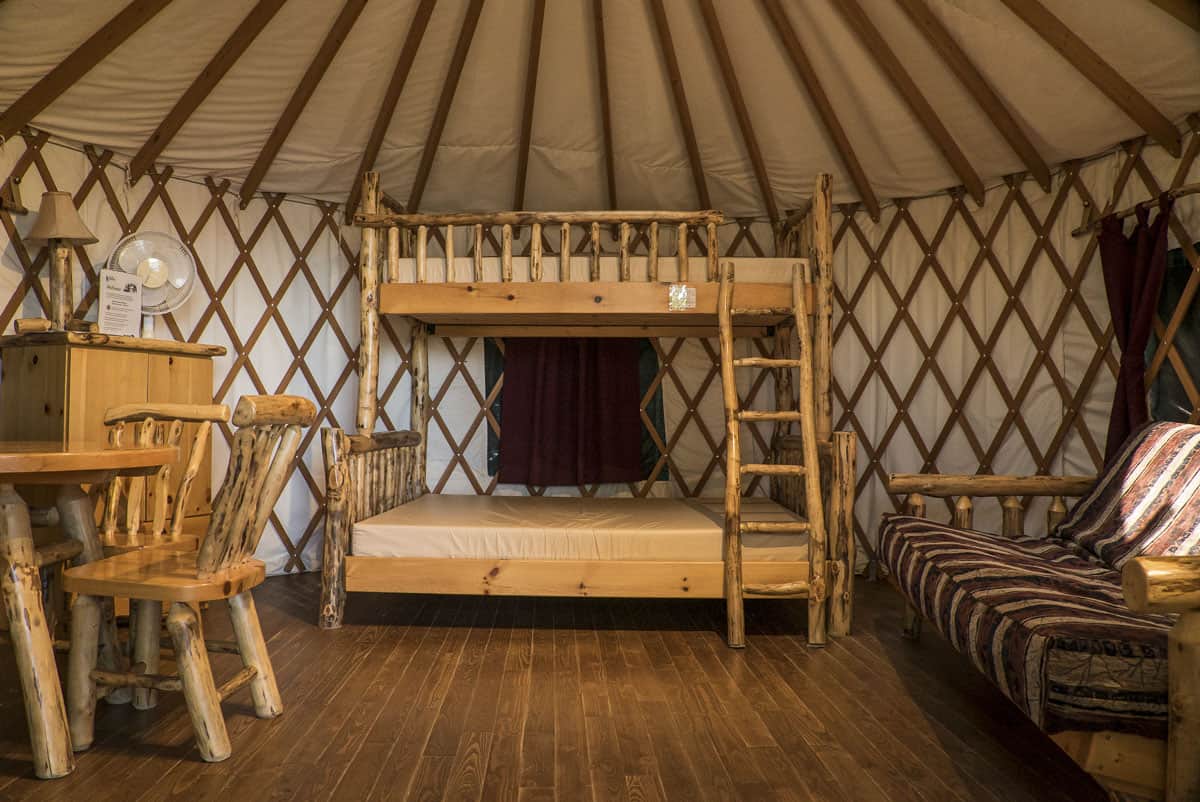 Land Acknowledgements
Road Trip Manitoba covers travel through Manitoba, which is made up of Treaty 1, 2, 3, 4, and 5 Territory, as well as communities that are signatories to Treaty 6 and Treaty 10. Manitoba is home to the original lands of the Anishinaabe, Anish-Ininiwak, Dakota, Dene, Ininiwak, and Nehethowuk peoples, as well as the homeland of the Métis peoples.
The Most Unique Places to Stay in Manitoba
Yurts (Manitoba Parks)
We couldn't write a list of unique places to stay in Manitoba without mentioning the many fantastic yurts spread around the province! A round structure that has its origins in Central Asia, yurts have become a popular place to stay in some of Manitoba's provincial parks as well as Riding Mountain National Park. Thankfully, most have amenities such as wheelchair accessibility, beds and mattresses (though you'll have to bring your own bedding), and outdoor picnic tables and fire pits.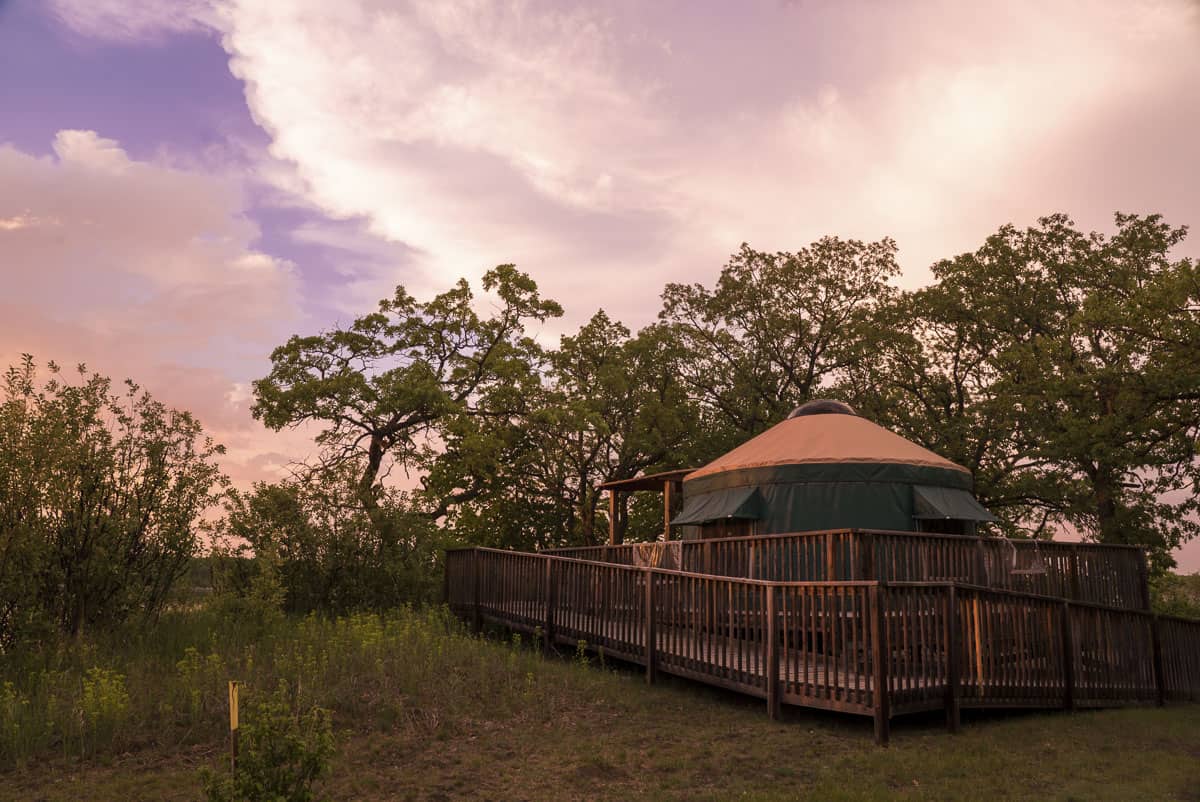 Yurts are available to rent in Riding Mountain National Park as well as Asessippi, Bakers Narrows, Camp Morton, Clearwater Lake (Campers Cove), Whiteshell (Nutimik), Spruce Woods, Nopiming (Tulabi Falls), and Stephenfield Provincial Parks. Some are found right within other campsites, while some are much more secluded and feel quite private; always check the maps of the campgrounds and provincial parks to find out exactly where you're staying. Also great? Some of Manitoba's yurts are dog-friendly! If you're looking to heighten your camping experience and spend some time in nature, we highly recommend staying at a yurt in Manitoba.
MicrOcube (Riding Mountain National Park)
Location: Wasagaming Campground
If you're looking for a unique stay, look no further than the MicrOcube. This one-of-a-kind accommodation in Manitoba is unlike anything we've ever seen before, and it's one of the most fun places to stay in the province! Approximately 10 metres squared, the cube is just big enough for a double bed, two chairs, and a table. Best of all? One entire wall of the cube is a panoramic window, allowing you to feel as though you're sleeping directly amongst the trees. There's nothing like waking up with that view.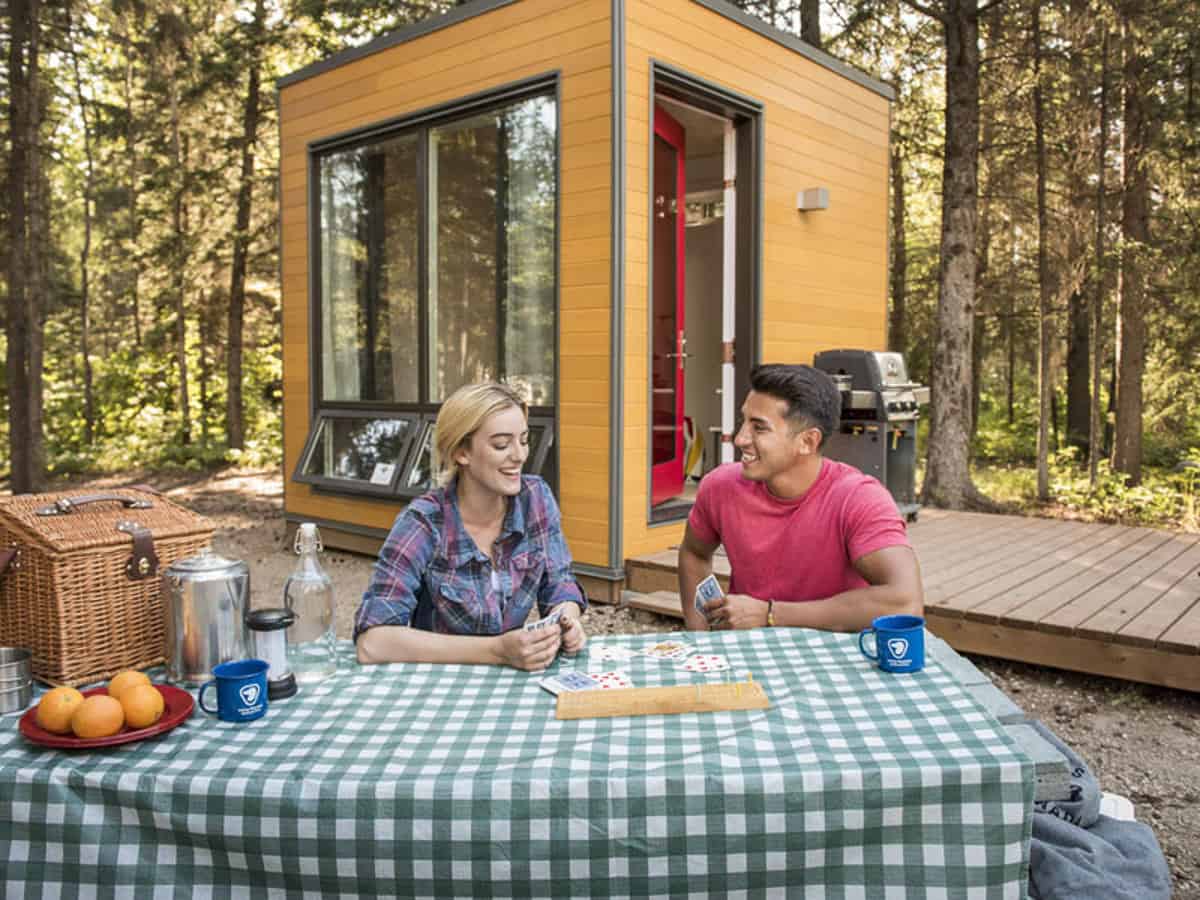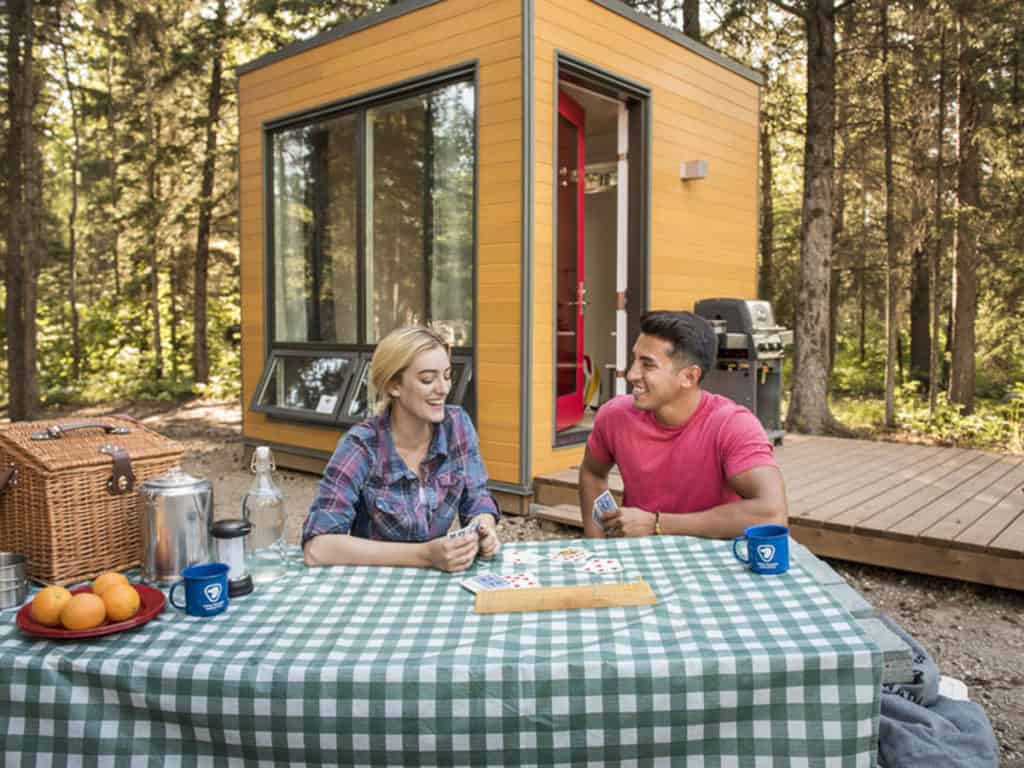 Nestled in the heart of Riding Mountain National Park, the cube isn't heated, and cooking isn't permitted inside. However, you do have access to the amenities found in the regular campground (such as the shared public bathrooms). Cozy, romantic, and definitely unique, the MicrOcube is one of our favourite places to stay in Manitoba.
Modern Viking Cabin (Riverton)
Location: Riverton
When we first found out about this place, we immediately went, "Whoa." The Modern Viking Cabin found on the shores of Lake Winnipeg is totally original, with a beautiful design reminiscent of tents found in Viking encampments from long ago. With ten windows allowing you to see the lake from all angles, there are few experiences this magical in the entire province. The 20-foot high ceiling of the A-frame cabin is just the icing on the cake.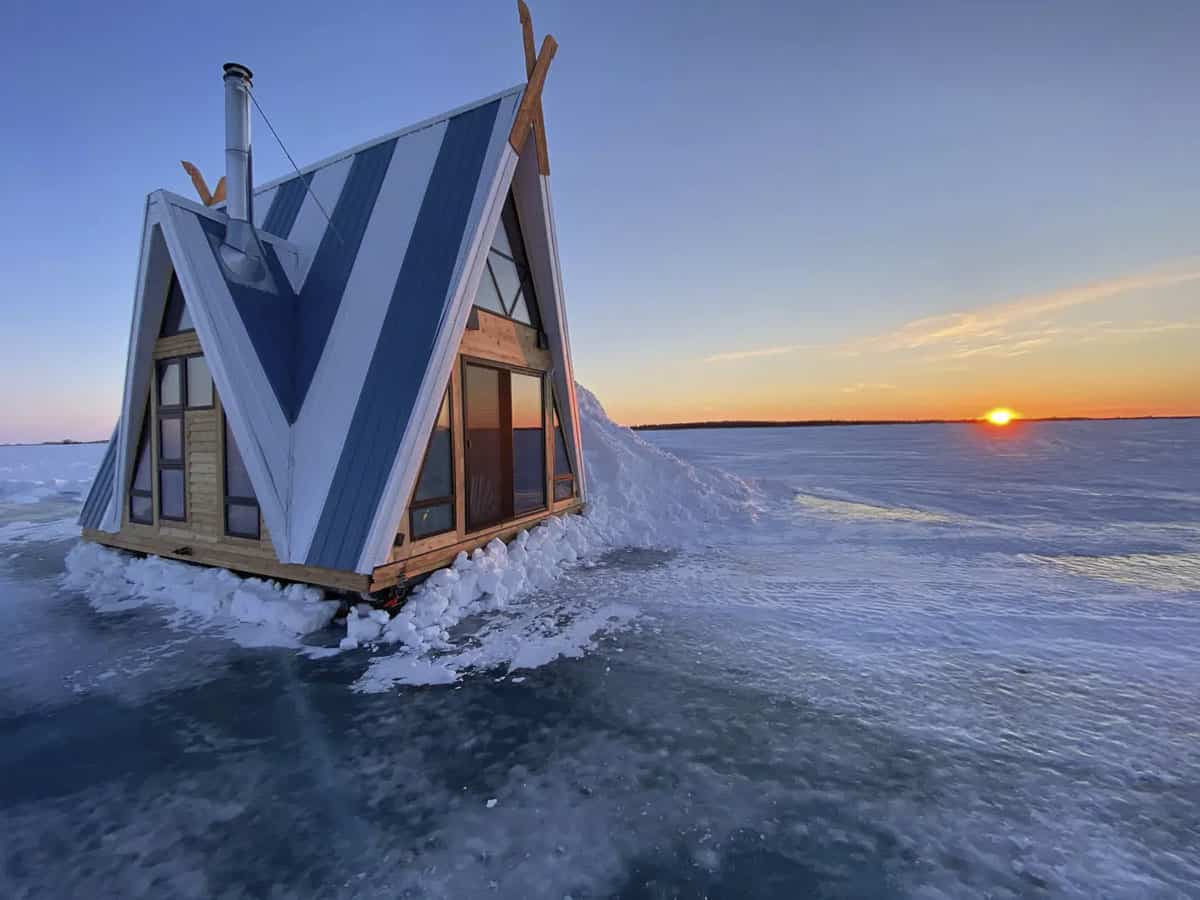 Extremely secluded and off-grid, don't come here expecting wifi or a flat-screen TV. Instead, let nature be your entertainment, as you have the sandy shores of the beach just outside your door. There's also a record player, fire pit, patio, and outdoor heated shower.
Voyageur Houseboats (Pinawa)
Location: Willis Dr
We've been waiting for houseboat rentals in Manitoba, and they're finally here! Enter Voyageur Houseboats in Whiteshell Provincial Park, four-person boats that are available for rent for overnight stays. Beautifully handcrafted by a Canadian woodworker, the houseboats are the perfect place for a memorable stay. With plenty of room to lounge both inside the boat and on the deck, as well as space for cooking and eating, you can choose from having a quiet, peaceful stay or one that the owners will help you fill with local activities.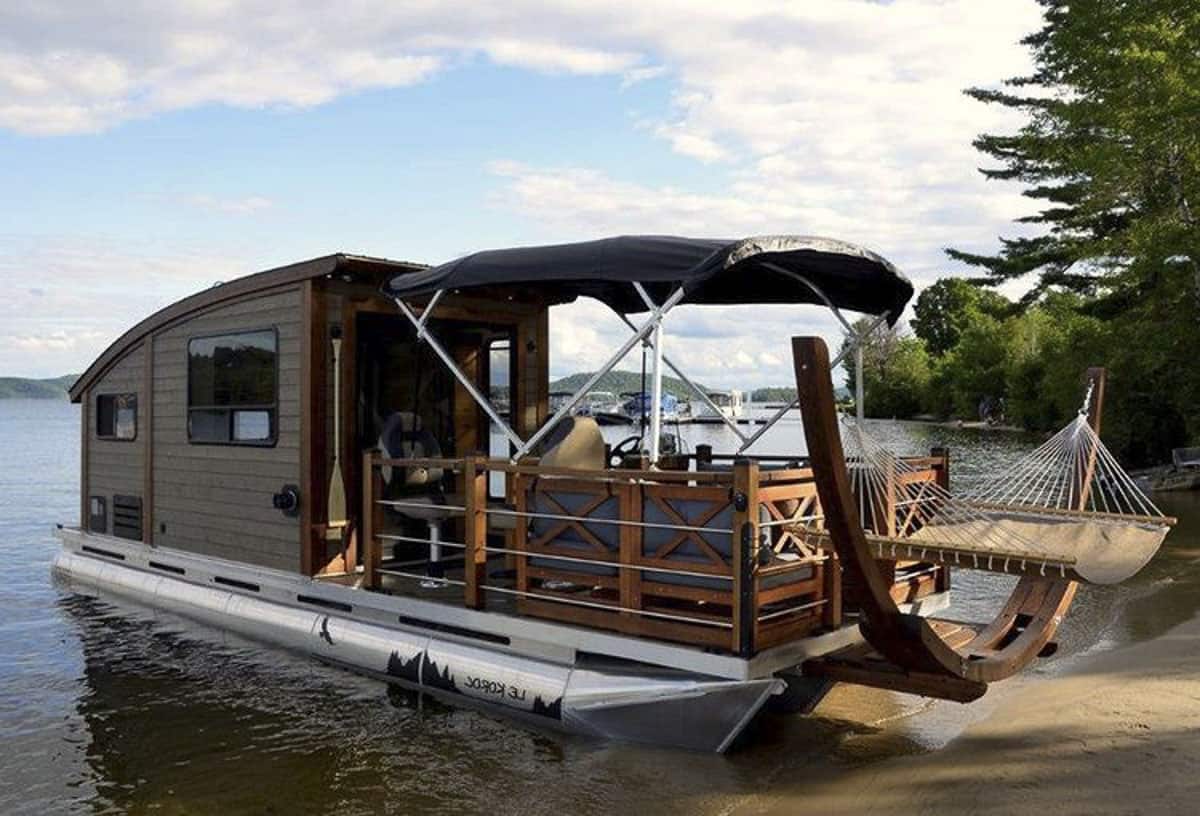 Thankfully, the experience is hassle-free; your captain will ferry your houseboat to a scenic spot in Whiteshell Provincial Park (so no boating license is required on your behalf). There are also kayaks and stand-up paddleboards available for you to use on your holiday. Get ready to get up close and personal with the wildlife and nature that surrounds you… there's nothing like being on the water!
oTENTiks (Riding Mountain National Park)
Location: Wasagaming and Moon Lake
An interesting blend of both a cabin and a tent, Manitoba's oTENTiks are fun, quirky, and utterly unique! Designed and manufactured in Canada, these A-frame accommodations are perfect for families and for people who want a little bit more luxury on their camping holiday. The oTENTiks are found in Wasagaming and Moon Lake and each comes with three sleeping platforms for up to six guests. Also included is a table and chairs and a wood stove. Outside, find a picnic table and an outdoor campfire spot, so you can cozy up with some marshmallows and camp songs under the stars.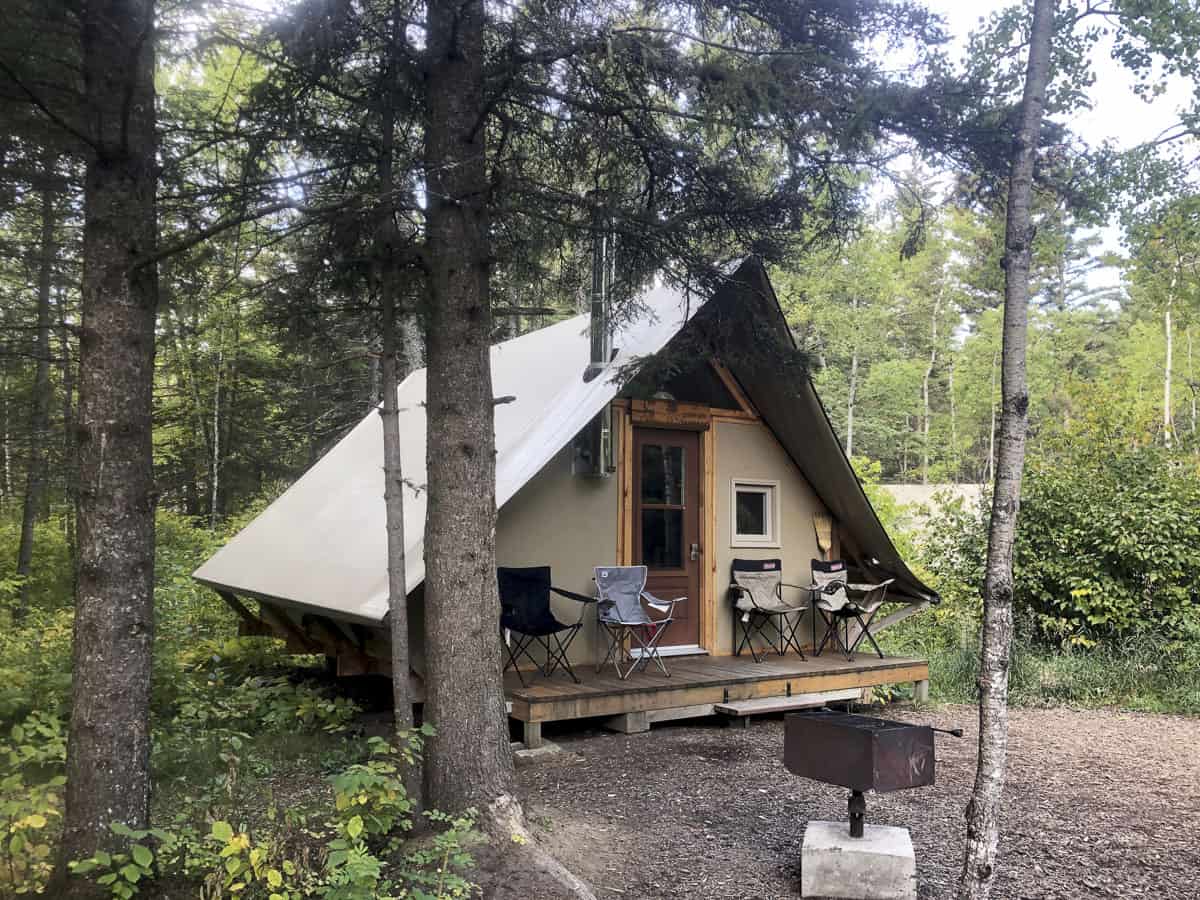 The Wasagaming oTENTiks offer a bit more comfort to its guests including electric heat and lights along with power outlets. The Moon Lake oTENTiks have no electricity but they are equipped with a solar panel for small device charging or small LED lights.
Thankfully, the oTENTiks are open year-round, so you can choose what kind of holiday you'd like to have. In summer, plan for lots of hiking and water sports in the park, while winter brings snowshoeing and skating on Clear Lake. Reservations are highly recommended and be sure to check the website for what to bring with you and the rules.
9 Finger Ranch (Rossburn)
Location: 118107 road, 141 W
Have you ever wanted to stay on a working cattle ranch? Well, here's your chance! 9 Finger Ranch is found near Riding Mountain, about 12 kilometres northeast of Rossburn. With over 60 heads of cattle and 1,120 acres, you can feel like a real-life cowboy when you stay here. The accommodation comes in the form of a cabin rental, although there are also chances for tented camping and bringing your own RV on the land (although always check ahead, as this has changed over the past few years). There's a campfire pit, cross-country skiing trails, and fly fishing nearby.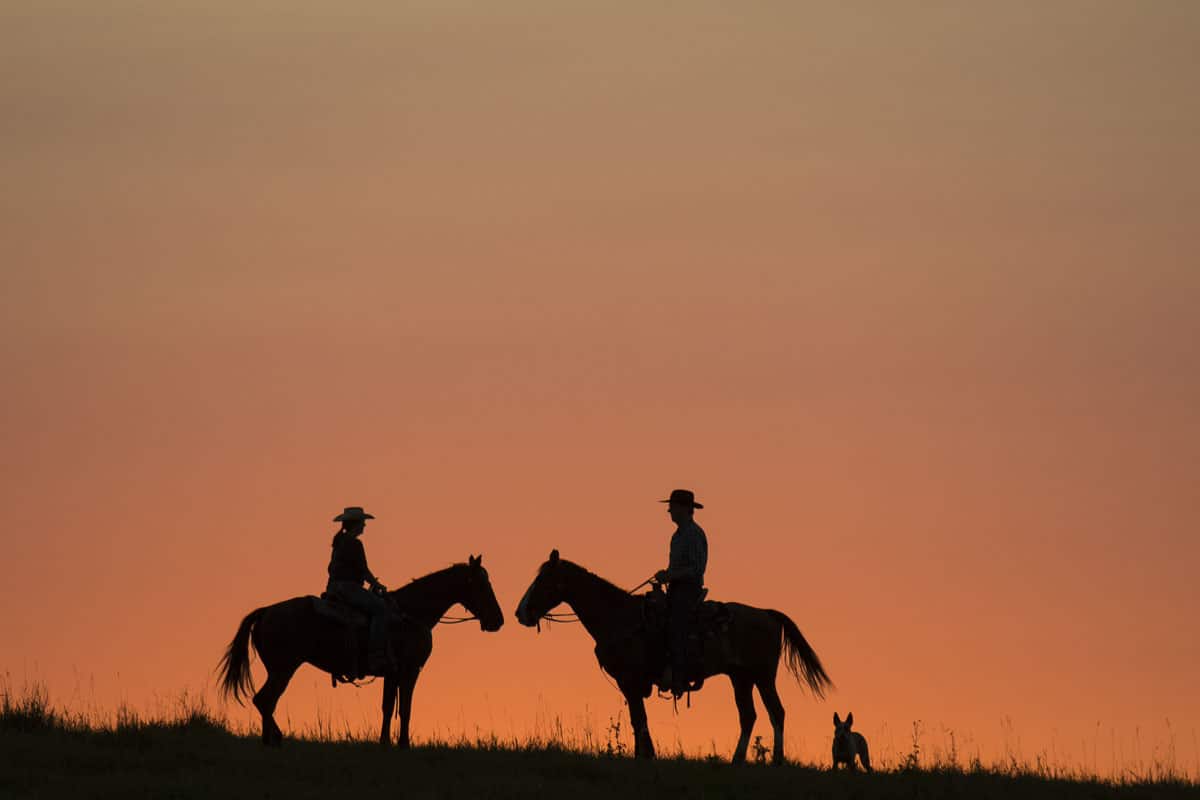 One of the highlights of staying on the ranch are the guided horseback tours. Choose to tour the ranch or the nearby national park by horseback on one of their Tennessee Walking Horses, an experience you'll never forget.
Moonlit Canopy (Belmont)
Location: Pleasant Valley Dr
Found about an hour south of Brandon in the stunning Pembina Valley, Moonlit Canopy is "the perfect blend of luxury and adventure". If you're looking to escape the hustle and bustle of day-to-day life, sleep under a starry night sky, and have all the comforts of home while still feeling solidly on holiday, head to Moonlit Canopy.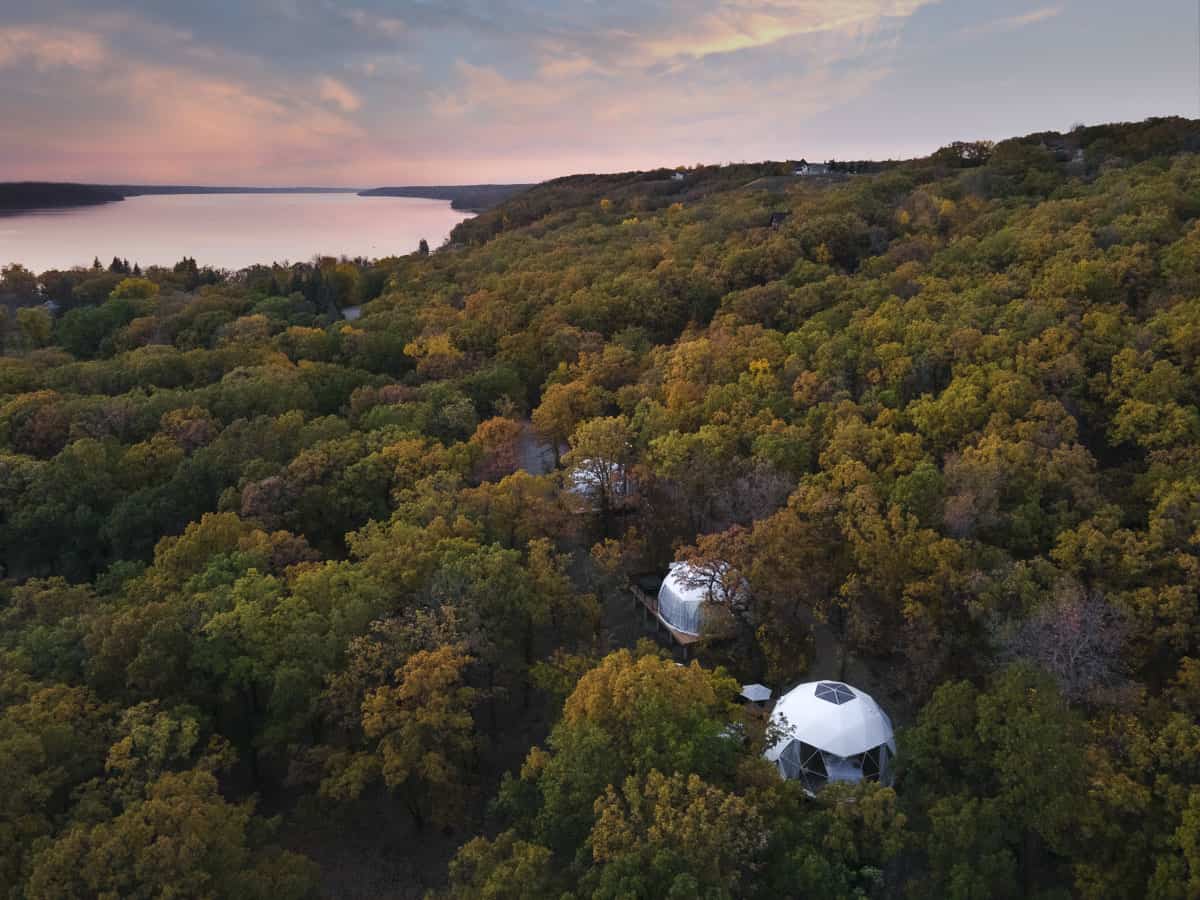 Eco-friendly and unlike anything you've ever experienced before, sleep in one of three geodesic domes on the property, where you'll be immersed in nature from start to finish. Even better? You can stay in the domes year-round, so choose from a summer retreat, a snowy paradise, or anything in between. The gorgeous interiors and jaw-dropping scenery all around you make for an unforgettable stay.
Amenities include kitchenettes, luxury linens, and a private deck with a table, hot tub, barbecue, and space for yoga. Book well in advance in order to ensure a spot, as the domes fill up quickly every year!
Little House in the Country (Springfield)
Location: Springfield
Tiny houses have risen in popularity in the last past few years, and we're big fans of the trend! Stay in this tiny log cabin – dubbed the Little House in the Country – just east of Winnipeg, very close to Birds Hill Provincial Park. With five acres of land to explore, it's the perfect escape from the city without having to drive too far from Winnipeg itself. In only 360 square feet, you'll find a queen-sized bed, a kitchen, and laundry facilities, as well as a beautiful bathtub for long soaks.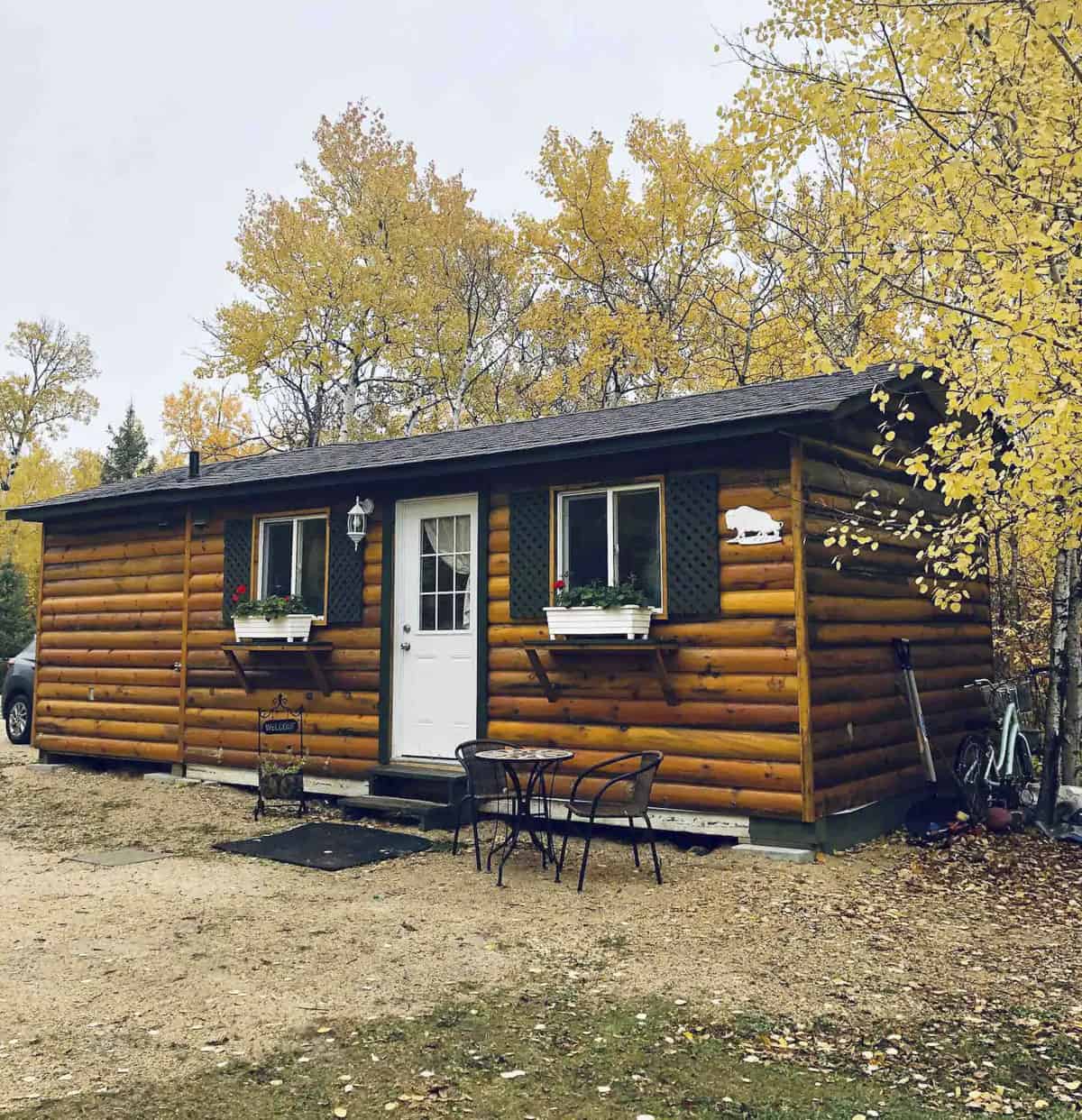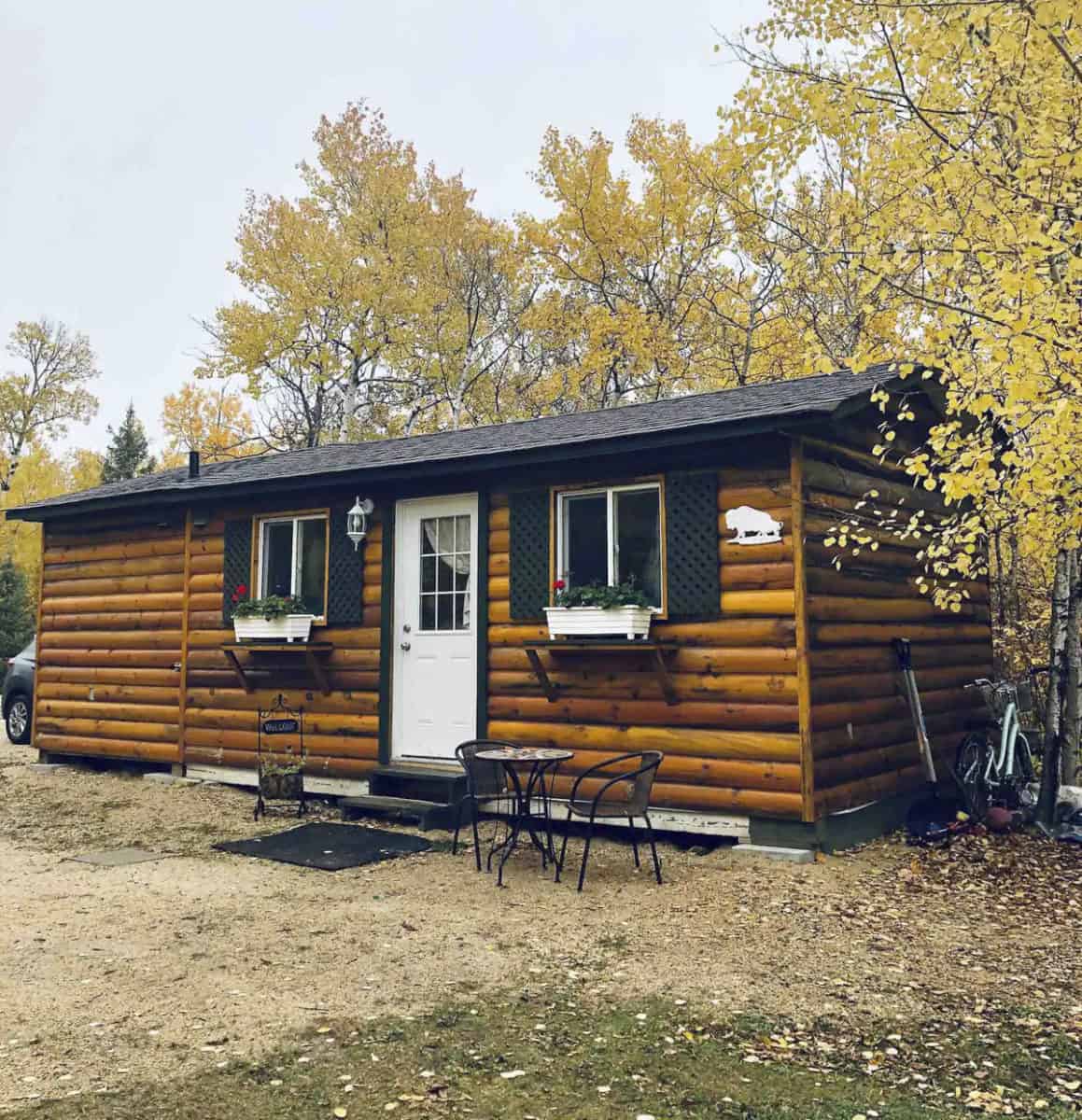 With lots of trails for walking nearby, pets are welcome at the vacation rental. Snowshoeing is also popular in winter, as is snowmobiling. But the real reason you should stay here? Alpacas! That's right, you can visit the alpacas at the adjoining farm. Can you get any better than that?
Turtle Mountain Adventure Huts (Boissevain)
Location: Boissevain
Turtle Mountain Provincial Park, found near the American border, is a natural playground filled with things to do. Thankfully, a stay in one of the Turtle Mountain Adventure Huts is a great way to explore the park! The huts are locally designed, owned, and operated, so they're a true Manitoba gem. The simple and modern design maximizes the space while still allows for lots of comfort and charm; as they're off-grid, expect solar lights, wood burning stoves, and outdoor washrooms, perfect for those who love roughing it a little bit.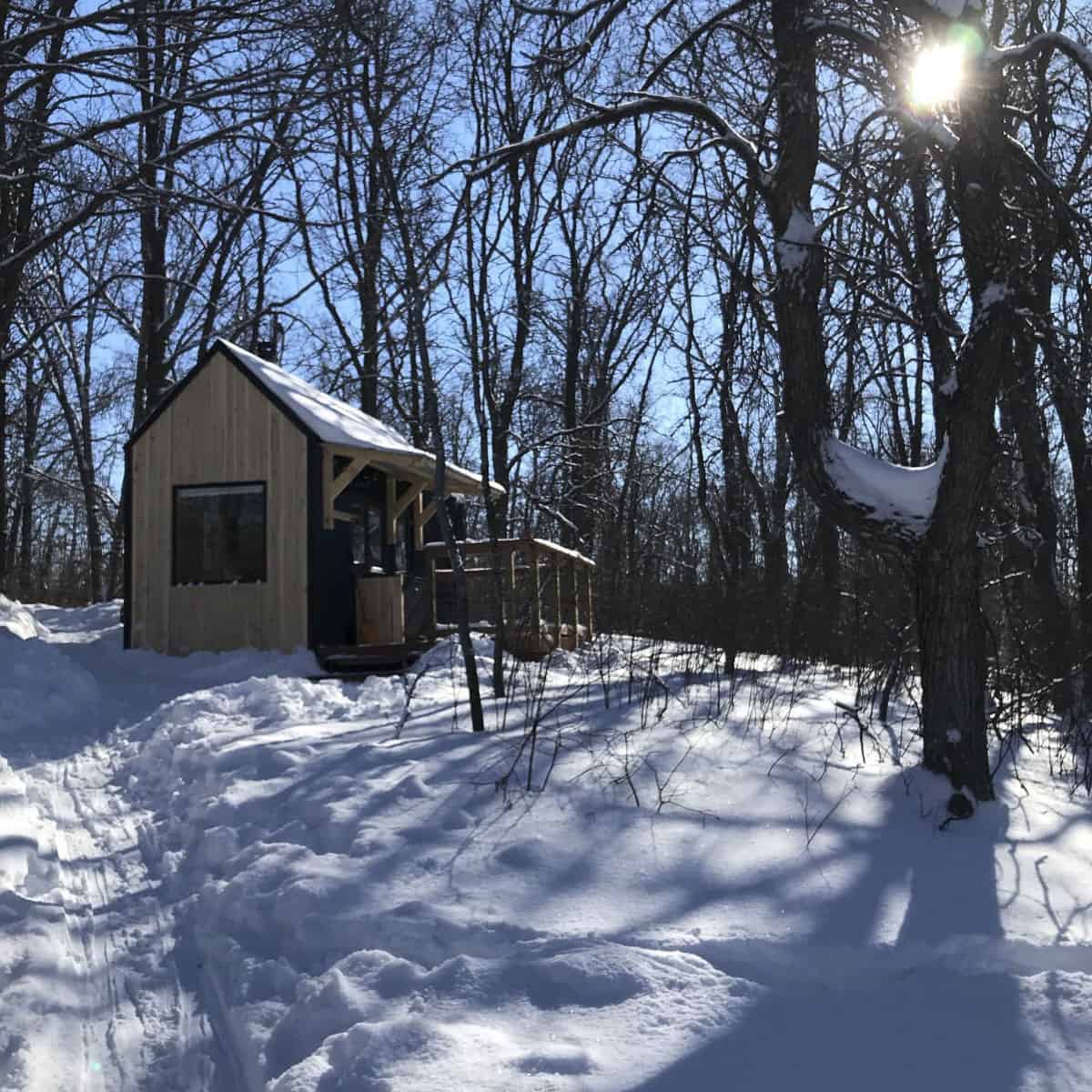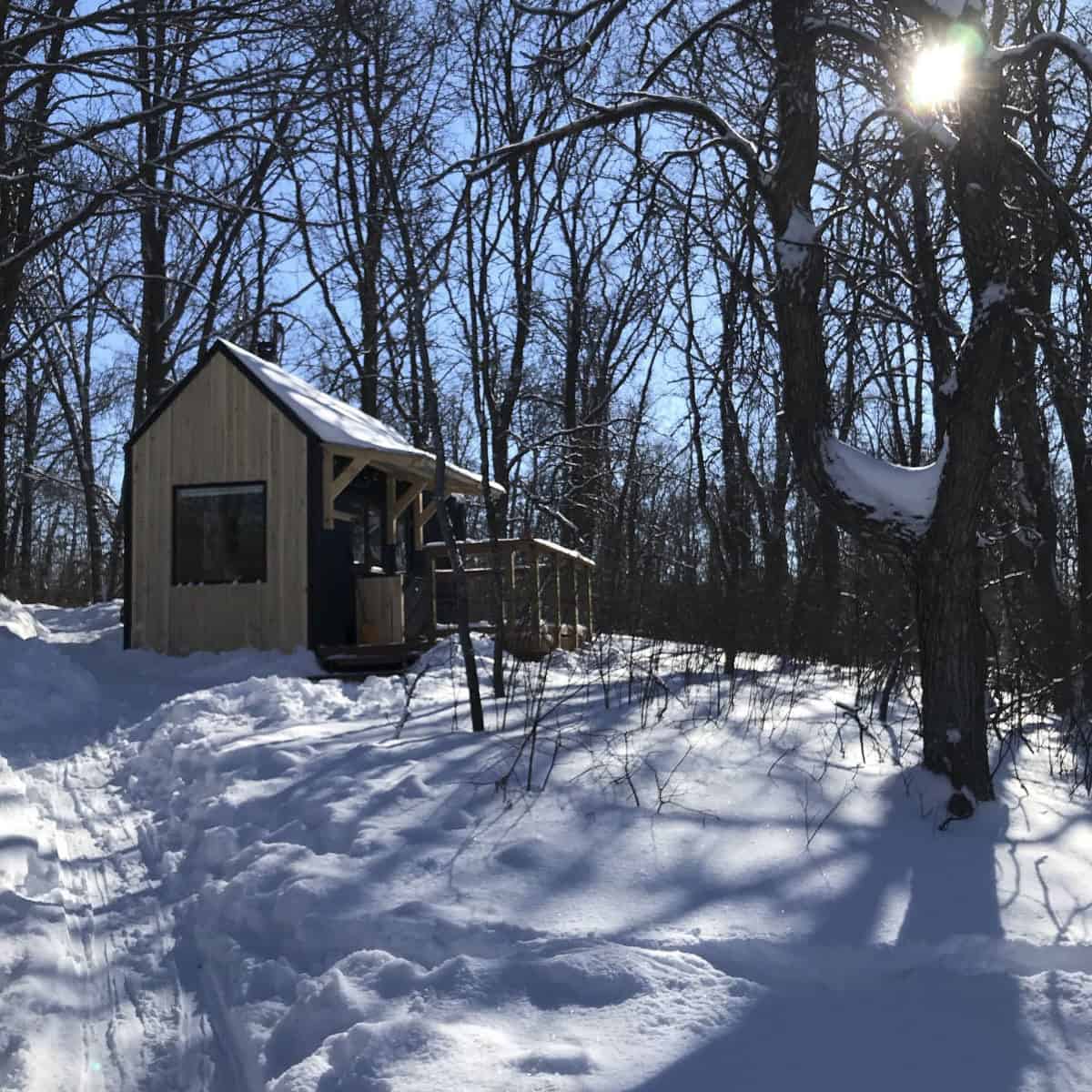 Tucked in the trees, the huts are ideal for those looking for a little escape into nature. If you're here in winter, take advantage of the ski trails (and ski rentals from the nearby Boissevain-Morton Recreation Office). Each hut also has their own outhouse, fire pit, and picnic table.
Birch A-Frame (Woodridge)
Location: Woodridge
This Birch A-Frame is the kind of place you imagine living in one day; it's that homey and comfortable. The small cabin is found on 160 acres of private land, and as it's located in Sandilands Provincial Forest in the southeast corner of the province, there's plenty of nature to take in during your stay. The solar-powered cabin comes equipped with everything you'll need to be cozy, including a fire pit and firewood, potable water, a propane barbecue, and more. Curl up in bed with a coffee from the French press and you might never want to leave!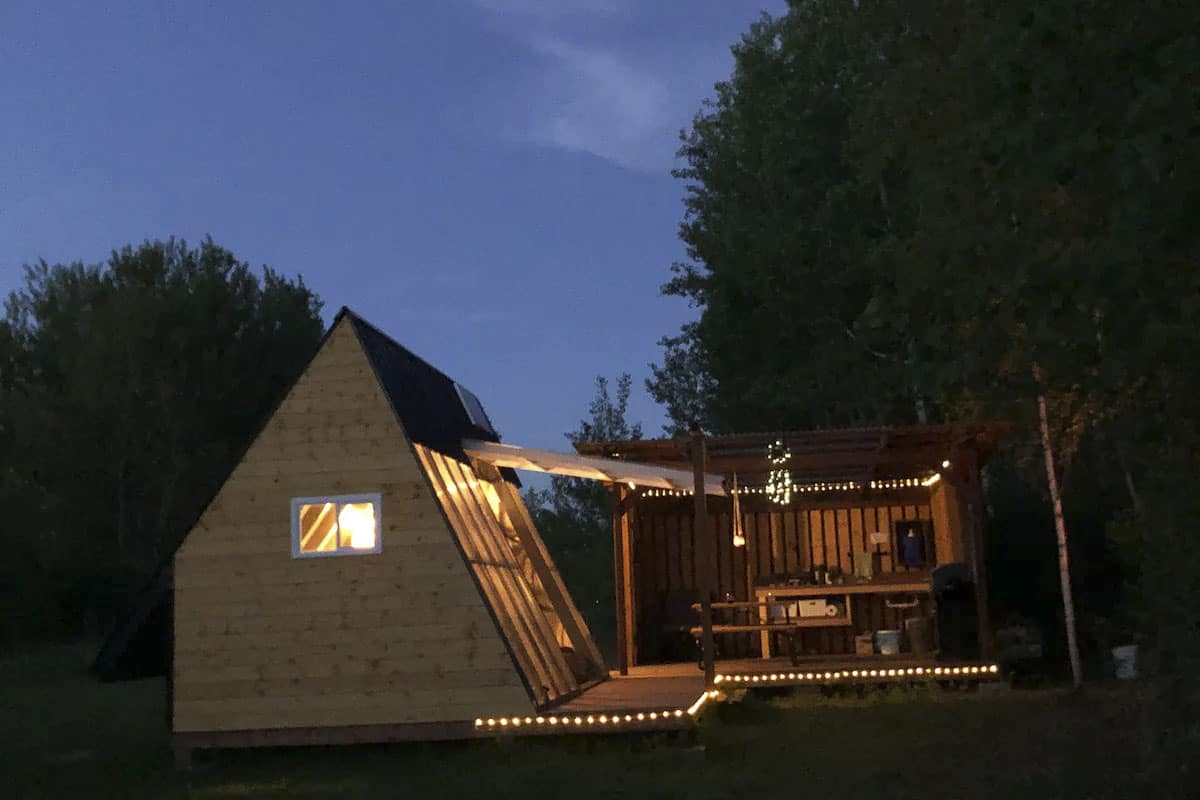 There's also a small porch, walking and biking trails throughout the property, and shared amenities such as a wood-fired barrel sauna, outdoor shower, and a natural swimming pool.
Wild Skies (River Hills)
Location: 71057 Brookfield Rd
Found about an hour's drive east of Winnipeg near Whitemouth Falls Provincial Park, Wild Skies is a relatively new place to stay in Manitoba… and although new, it has emerged onto the scene with a bang. This family-owned resort and wedding venue is perfect for those who'd like to spend some time in nature but would also love a little bit of luxury. Enter glamping, or "glamorous camping", where you don't have to worry about lugging tons of equipment with you or sleeping on the hard ground. The domes, cabins, and canvas tents of Wild Skies are absolutely magnificent, with gorgeous interiors that instantly feel like home.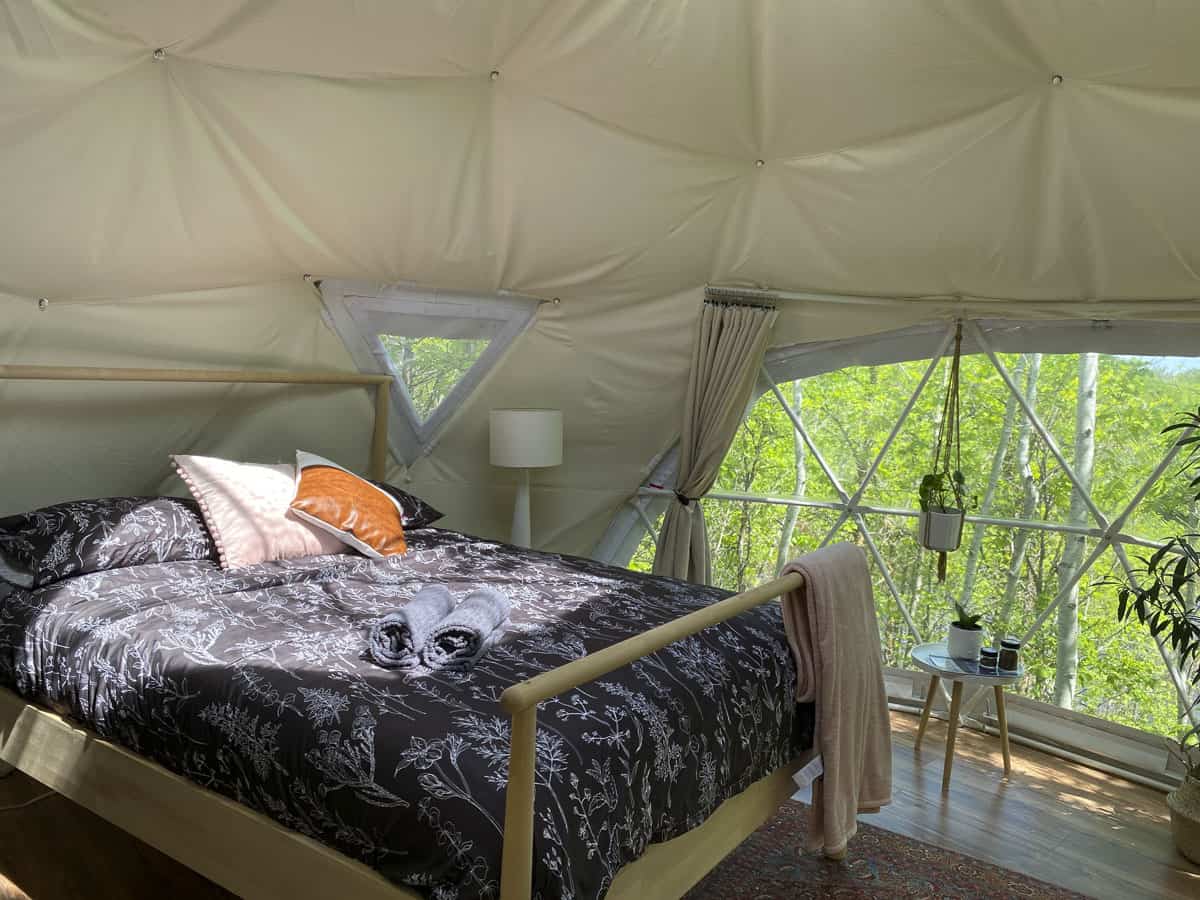 Tucked deep in the trees, wake up with stunning views of the forest and river. With amenities like skylights, wood stoves, solar fans, kitchenettes, and more, stay here with a loved one or as a family. Trust us, this is one unique stay in Manitoba you won't want to miss.
Little Blue Barn on the Prairies (Saint Claude)
Location: Saint Claude
This teeny-tiny barn is as charming as it gets. Found about an hour west of Winnipeg, you're also only about 45 minutes from Delta Beach and many other attractions in the area, including many golf courses. The Little Blue Barn is off-grid, so you can unwind under the surrounding oak trees in peace and quiet. With two lofts and a pullout love seat, the barn comfortably sleeps five people, with the possibility of pitching extra tents or bringing a trailer if you have more than five in your party.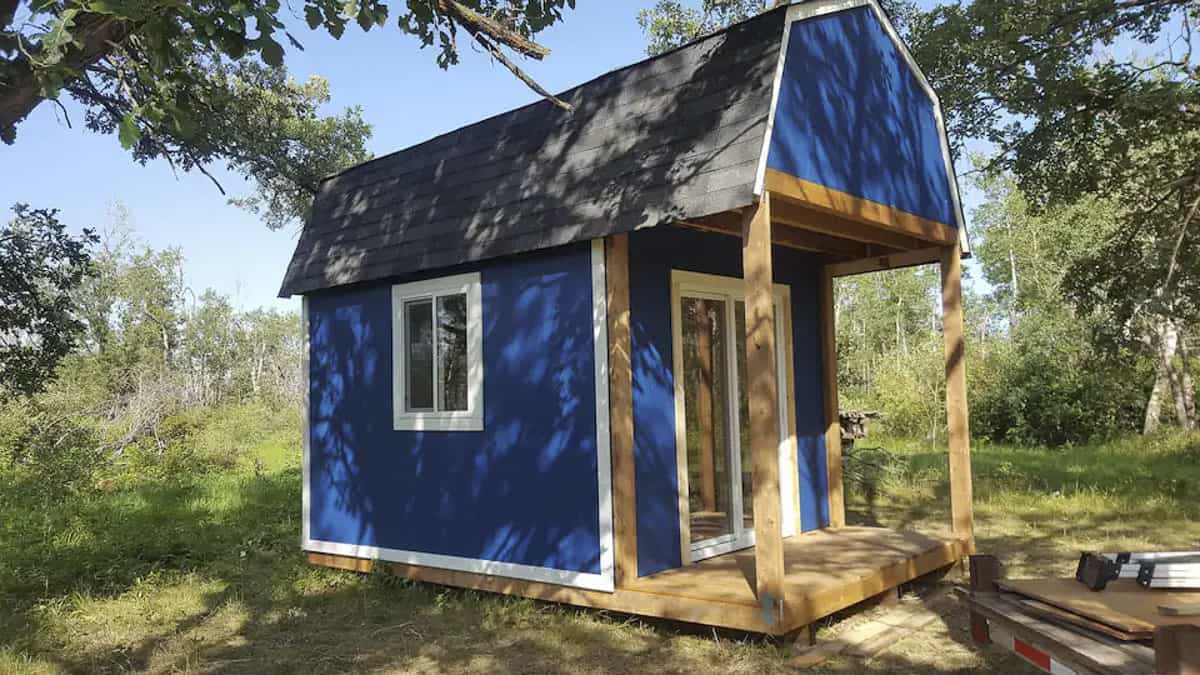 With vintage vehicles and farm equipment around, you'll feel as though you've really stepped back in time on the farm. Adding to that experience is the ability to collect fresh eggs from the nearby chicken coop! Pet-friendly, the barn also has a fire pit, outdoor bar counter, portable barbecue, free firewood, a picnic table, and plenty of board and yard games.
Fiddlehead Cabin (Erickson)
Location: Pacey Lake Road
We included Fiddlehead Cabin in our list of the best cabin rentals in Manitoba, but we needed to include it here, too. Why? Fiddlehead Cabin, found 20 minutes south of Riding Mountain National Park, is considered one of the coolest cabin rentals not only in the province, but in all of Canada! This gorgeously rustic cabin comes equipped with an outdoor sauna, a screened-in deck, 180 degree views of a wildflower meadow, and a huge spruce forest to explore through hiking and biking trails.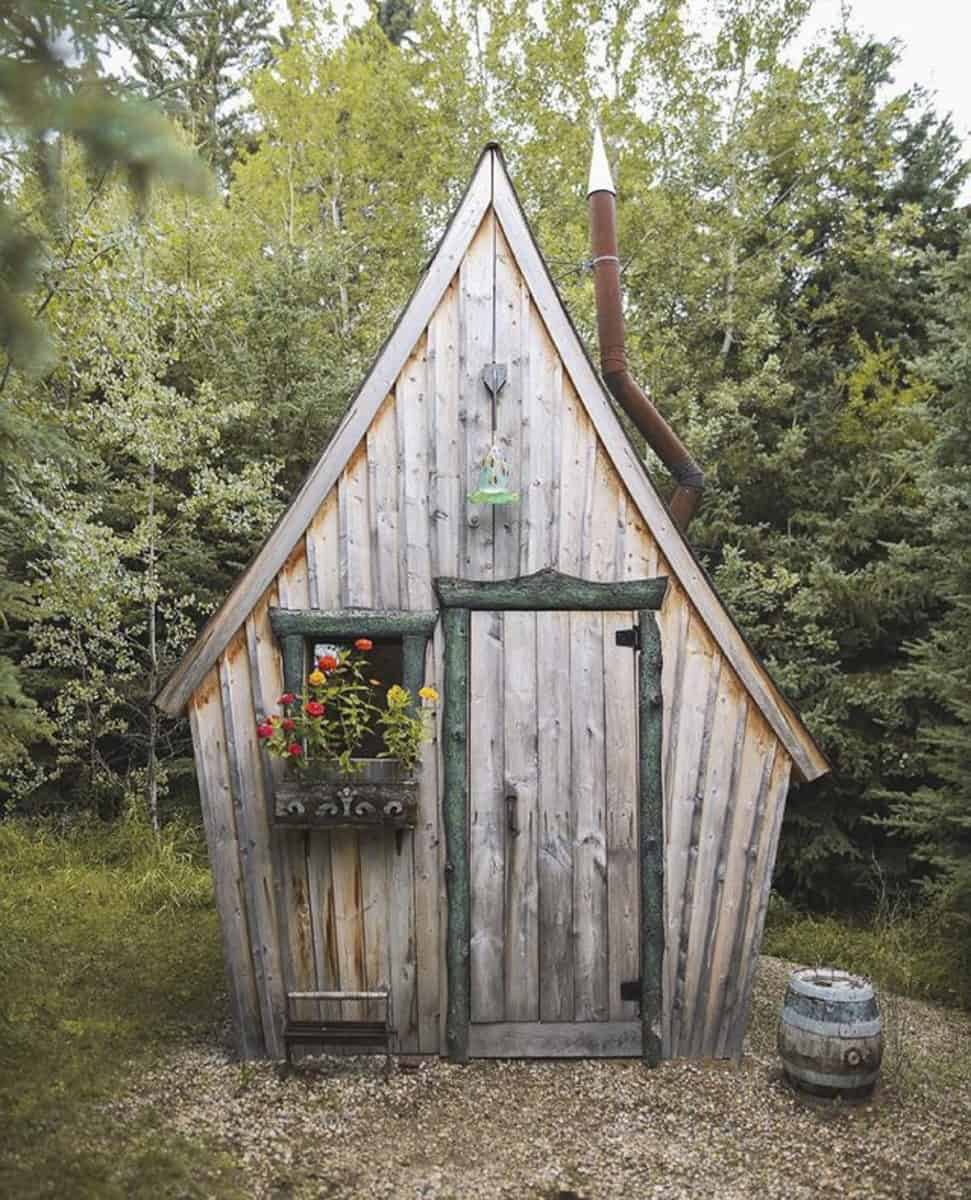 If you're looking to visit Riding Mountain National Park but want to be able to escape the summer crowds of the park, Fiddlehead Cabin is the perfect getaway. With one queen bed in the bedroom and a sofa bed in the living room, you can share the space with up to four guests. Also enjoy the indoor fireplace, wifi, and full kitchen.
Tundra Buggy Lodge (Churchill)
Location: Churchill
Sleep amongst the polar bears at Tundra Buggy Lodge in Churchill. No, really! There's no better way to get up close and personal with Churchill's famed polar bears than to stay in one of the Tundra Buggy Lodges. Operated by Frontiers North Adventures, the lodges are found far from the lights of Churchill, meaning you'll have a much better chance to view the dancing Northern Lights above your head. While everything is shared in this accommodation option, including the lounge, dining hall, and sleeping units, there's truly nothing like having unfiltered viewing access to the tundra. Where else can you watch polar bears outside your bedroom window?
The lodge also comes equipped with exterior field lights so that you can continue to watch the bears' activity long into the night. The newest lounge, Thanadelthur, also has a rooftop viewing deck for 360-degree views over the magnificent landscape of Northern Manitoba. While this is one of the priciest accommodation options on this list, we promise it'll be an experience you'll never forget.
Barn in the Bush (Shellmouth)
Location: Highway 482, 7 kilometres west of Asessippi
Barn in the Bush is a unique vacation rental/motel in Manitoba, and one that undoubtedly leads to some excellent memories (and photos!). Located on the beautiful Lake of the Prairies, about an hour south of Swan River and just west of Asessippi, there are a total of seven rooms in the converted barn. Each room has a queen bed, a kitchenette, and a private bathroom, so you'll have everything you need to feel cozy and comfortable.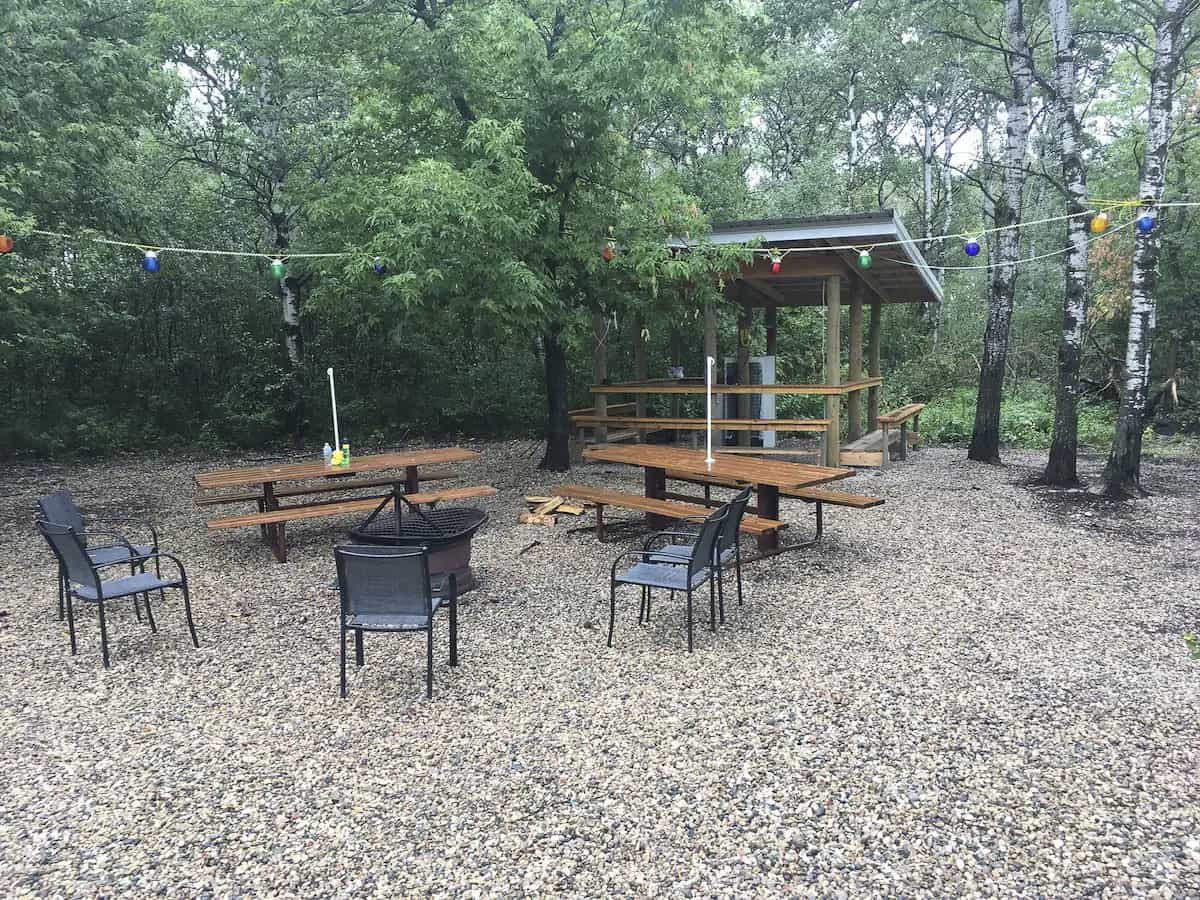 The barn's fantastic location in Manitoba also means there are tons of activities to try nearby. In summer, try fishing, boating, riving tubing, or kayaking, while in winter, head to the nearby ski hills at Asessippi or try snowmobiling or ice fishing. There are also guided fishing trips available through the owner of Barn in the Bush all year round.
Farm Away (Portage la Prairie)
Location: Rd 64N RR 4
Featured in our recommendations for one of the best things to do in Portage la Prairie, Farm Away is a family-run farm found just outside the small city. Owned and operated by two sisters, the farm is the perfect place to experience "a lifestyle that is rooted in the peacefulness and simplicity that rural living offers." Choose from one of the many accommodation options, including a bed and breakfast room stay or a complete farmhouse rental. (For your other meals, check out our article on the best Portage la Prarie restaurants.)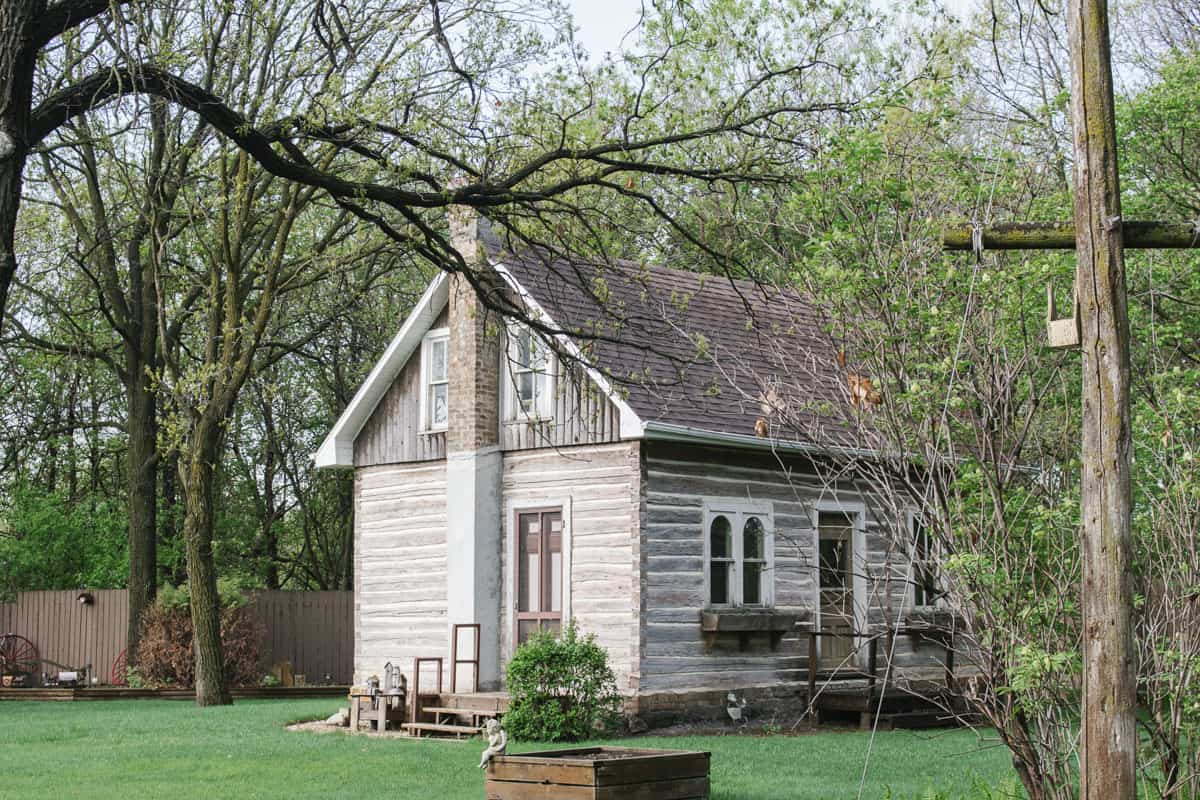 While at Farm Away, learn about the farm through one of their tours, relax by the outdoor swimming pool, or enjoy the common areas where you'll find a fireplace, TV, and games table.
Journey Home Artist Retreat (Waldersee)
Location: Portion of SW 28-18-12 W
Calling all creatives! Head to Journey Home Artist Retreat for your next artistic inspiration. Found 40 minutes east of Riding Mountain National Park on the Big Grass River, this bed and breakfast sees guests staying in traditional Mongolian yurts; choose from one double bed or two, depending on who you'll be travelling with. Also included are delicious home-cooked meals that add to your experience of feeling welcomed.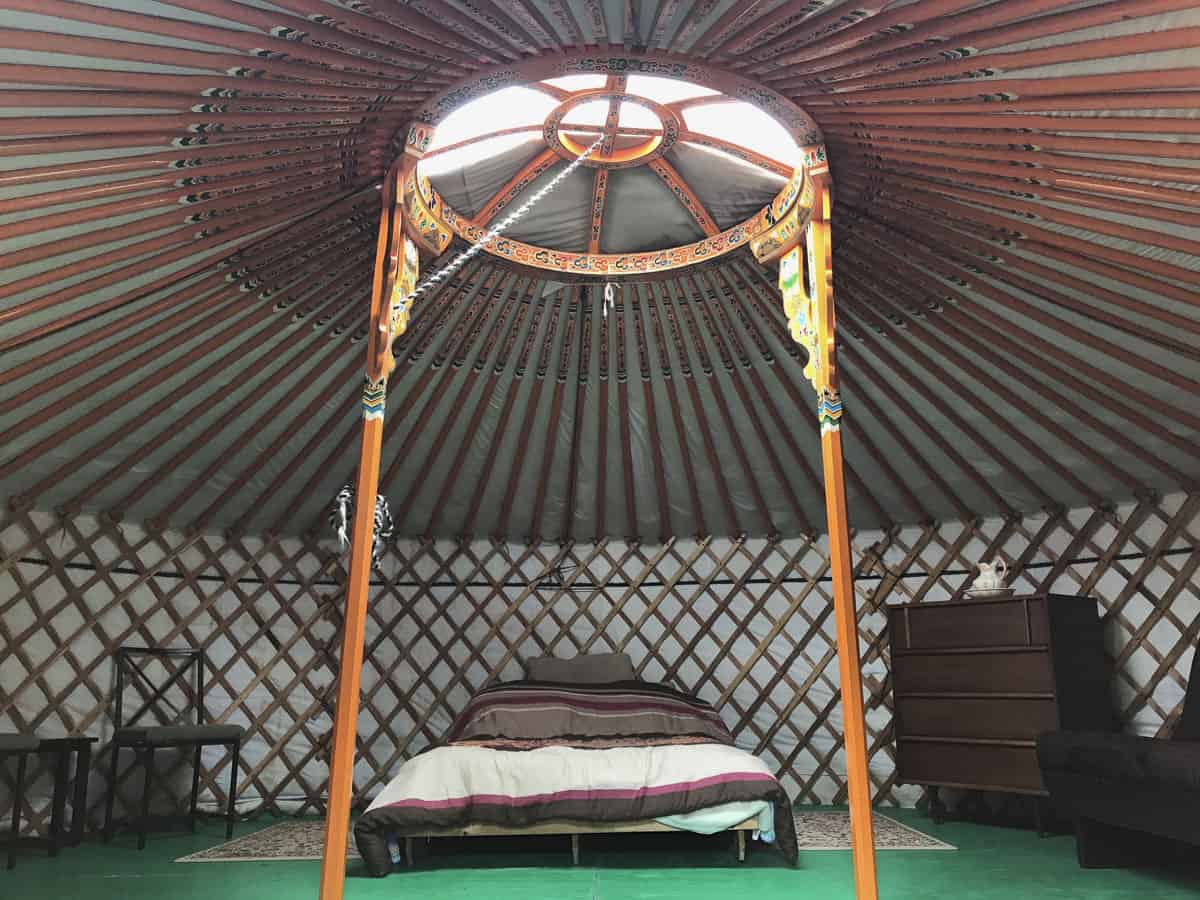 At the heart of Journey Home is the promotion of your creative process. Work with the owners on a variety of experiences to illuminate your creativity, or try one of the many art, cooking, sewing, or health and healing retreats. There really is something for everyone here… all you need is an open mind! Who knows, you might just find your muse.
Mariaggi's Theme Suite Hotel and Spa (Winnipeg)
Location: 231 McDermot Ave
Featured on our round-up of the best hotels in Winnipeg, Mariaggi's Theme Suite Hotel and Spa deserves a spot on our list of unique places to stay in Manitoba, too! This downtown Winnipeg hotel is one of the quirkiest hotels we've ever encountered, as each room is decorated in a different theme pertaining to a different country or city. Choose from rooms with themes like Paris, India, Hawaii, China, Japan, Morocco, Rome, and more. Every detail is meticulous, from the paint colours to the linens to the artwork on the walls!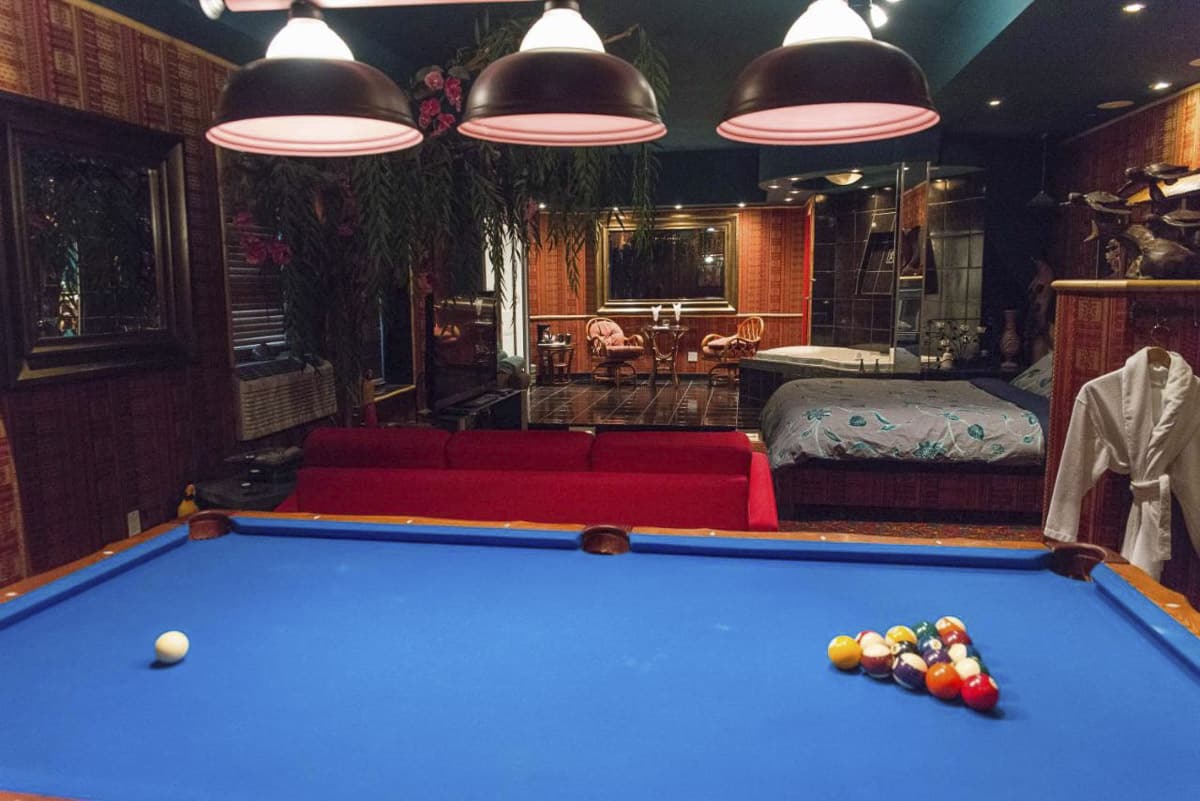 Thankfully, the hotel is also perfect for exploring Winnipeg, as it's only a short drive to the Canadian Museum for Human Rights, the Manitoba Museum, the Winnipeg International Airport, and many other landmarks and restaurants in the city.
Book a room at Mariaggi's Theme Suite Hotel
Blessings at the Creek (Culross)
Location: Culross
Blessings at the Creek is a farm stay experience found about 50 kilometres west of Winnipeg. With 12 acres of farmland to explore, you can rent a private room and guest bathroom in the home (though you'll have full access to the rest of the house, too). This impeccably clean rental also offers home-cooked meals to guests, including a beautiful breakfast buffet every morning. Other amenities include a fire pit, snowmobiling trails nearby, and fresh fruit for picking every summer.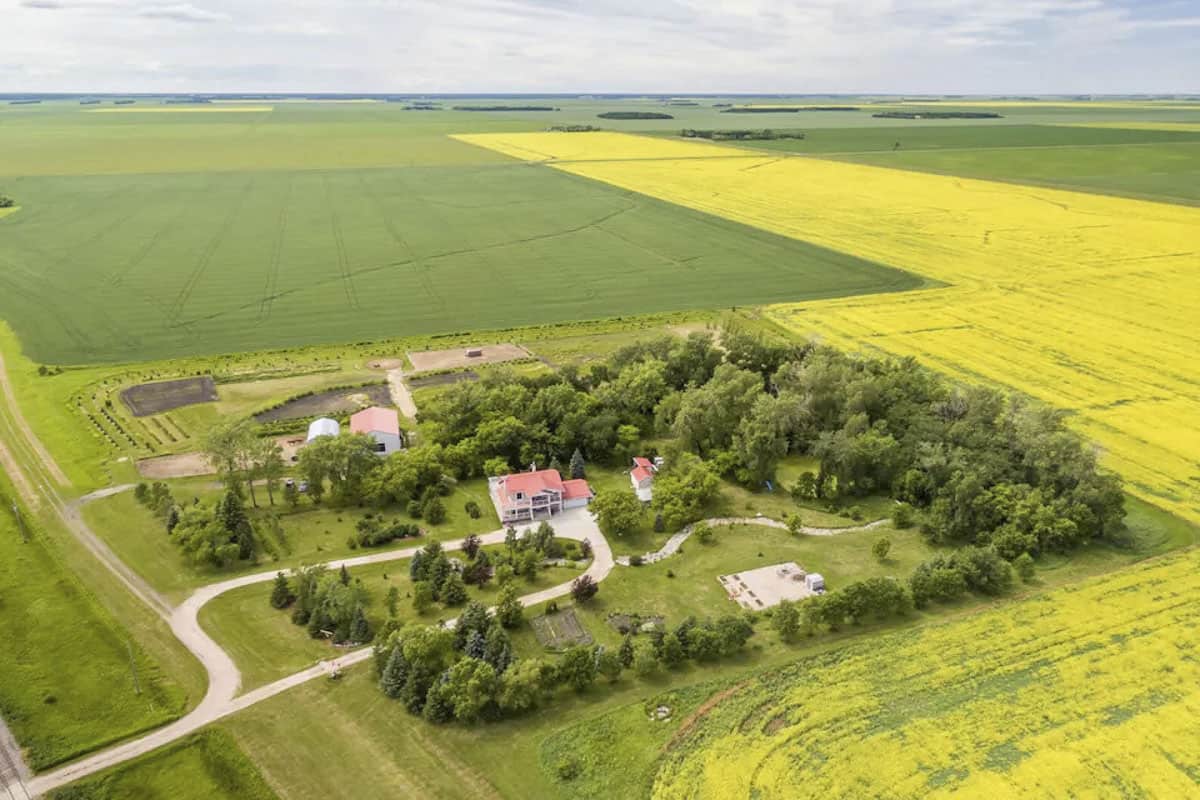 But the real draw is the ability to stay on an actual farm and escape urban life for a bit. And you won't just be sharing your space with your hosts, but with cats, a dog, and two horses making it one of the more unique places to stay in Manitoba! Even cooler? Travellers with horses are welcome, as horses can be kept in the farm's stable for an additional $10 per night per horse.
Moon Gate Guest House (Whitemouth)
Location: Whitemouth
Want to reconnect with Mother Earth? Moon Gate Guest House is the place you want to be. Found on the banks of the Whitemouth River, approximately one hour east of Winnipeg, you're encouraged to disconnect from technology and reconnect with your surroundings, fully embracing the magic and magnificence of nature. Eco-friendly, wheelchair accessible, and Métis owned, your hosts Jenny and Michel will make sure you feel as comfortable and as relaxed as possible during your stay.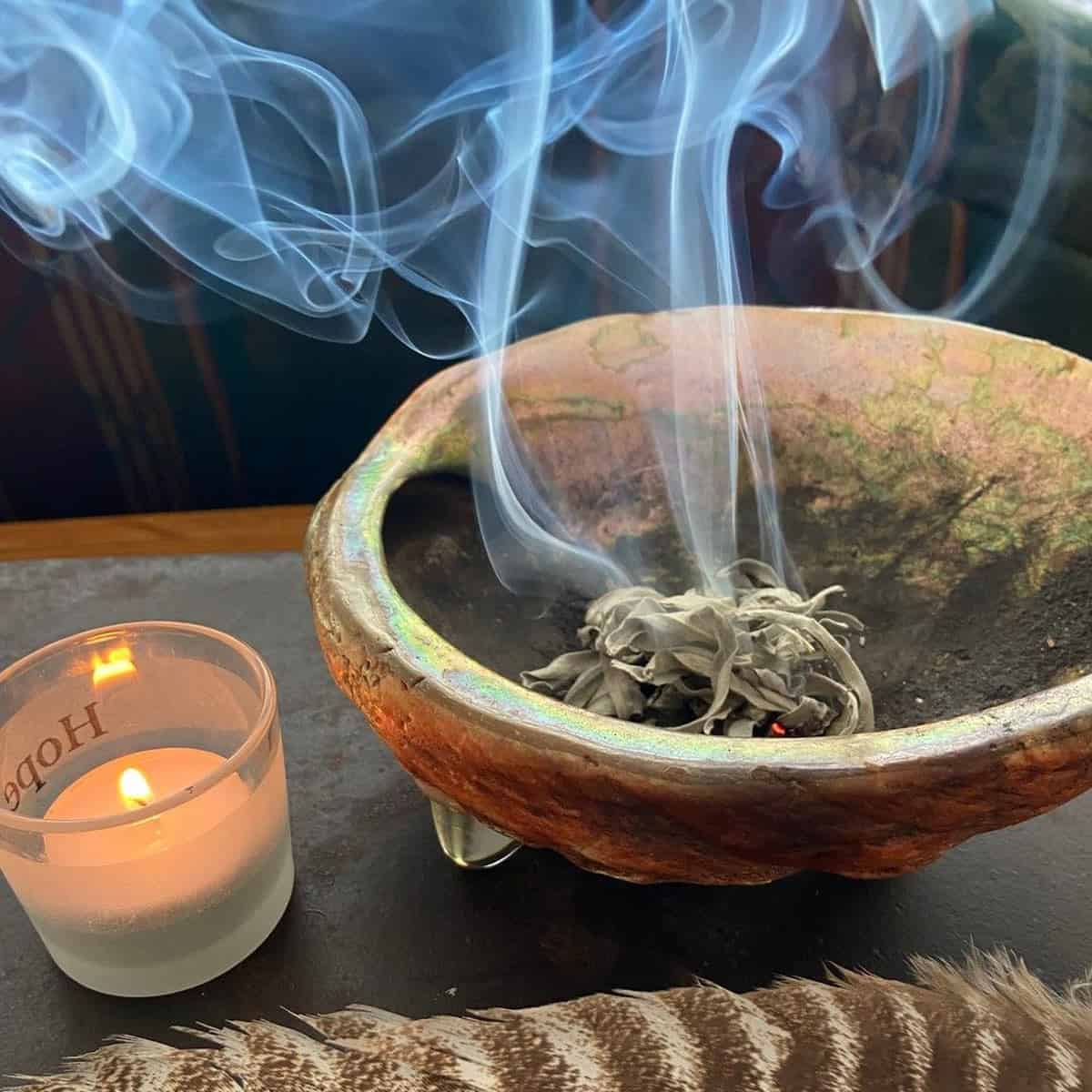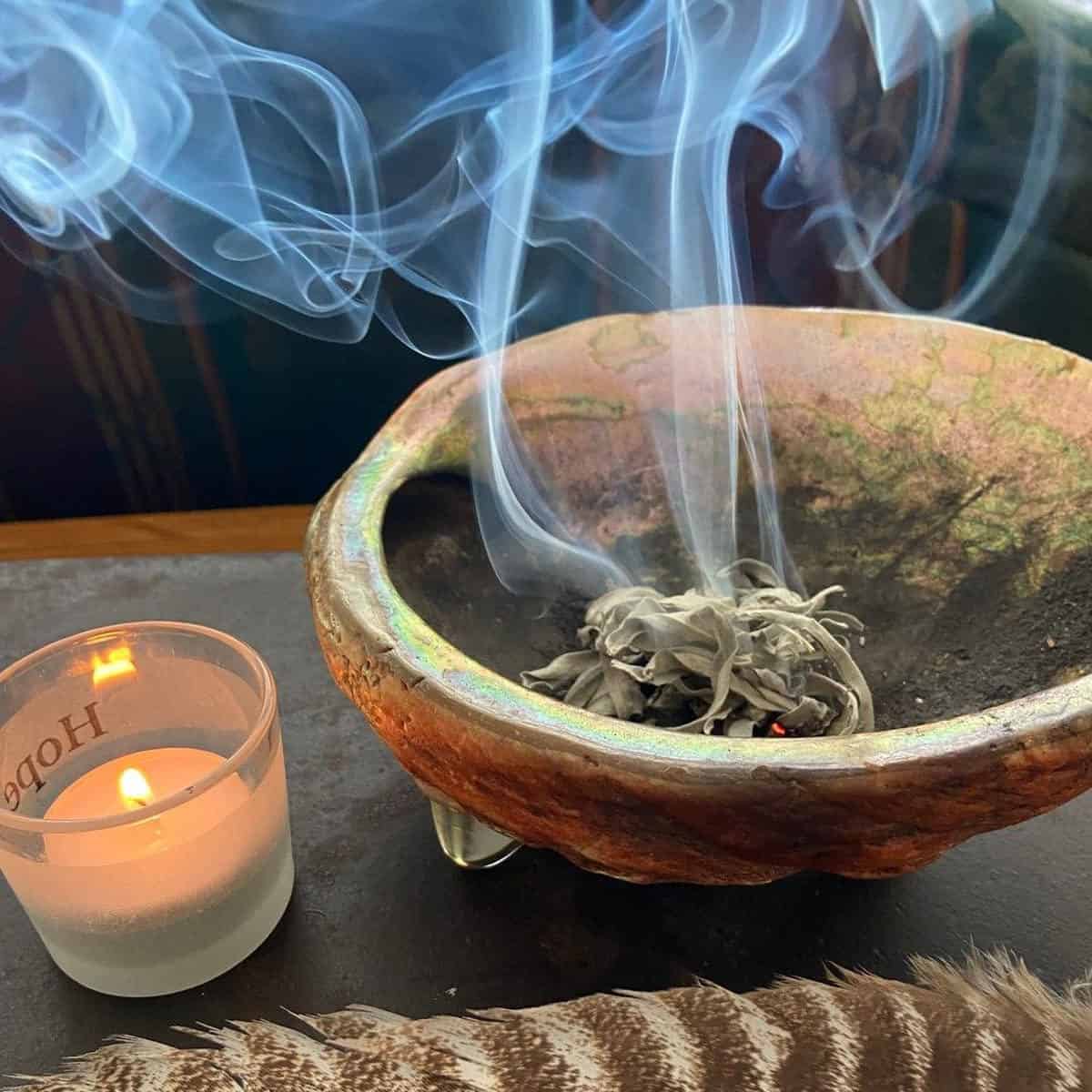 With five rooms to choose from, all with beautiful views of the sunrise or sunset, enjoy the included breakfast with local and organic ingredients, the Finnish sauna, the riverside gazebo, and the fire pit. You can also learn about the local land from your hosts as well as explore the area, whether you go kayaking in summer or snowshoeing in winter. Just make sure not to miss wood-fired pizza night (every Friday in summer)!
Bell Aura Bed and Breakfast (Carman)
Location: 77 2nd Avenue SW, Carman
If you're heading to Southern Manitoba, make sure to check out Bell Aura Bed and Breakfast. One of the most memorable places to stay in Manitoba, the B&B is a former church building originally constructed in 1898. You'll probably first notice the stunning stained glass windows, which are the original windows shipped over from Scotland at the end of the 19th century. Fun fact: the windows were shipped in molasses to prevent them from breaking!

The cheery, bright rooms include a cozy living room, kitchen, and dining room. Guests stay in one of seven rooms, all beautifully decorated to make you feel instantly at home. Barbara, the B&B's owner and host, is known for her amazing hospitality, and she'll help you plan an incredible stay in Carman. Looking to book a retreat or an event with a large group? Bell Aura can accommodate up to 25 guests.
The House That Love Built (St-Pierre-Jolys)
Location: 471 Jolys Ave, St. Pierre Jolys
Located less than an hour south of Winnipeg, The House That Love Built is a charming bed and breakfast that absolutely lives up to its moniker. The house itself is a renovated farmhouse first constructed over a hundred years ago; it got its name because of the sheer amount of hard work and love that was poured into the renovation by owner Fawn, her family, and the community of St-Pierre-Jolys.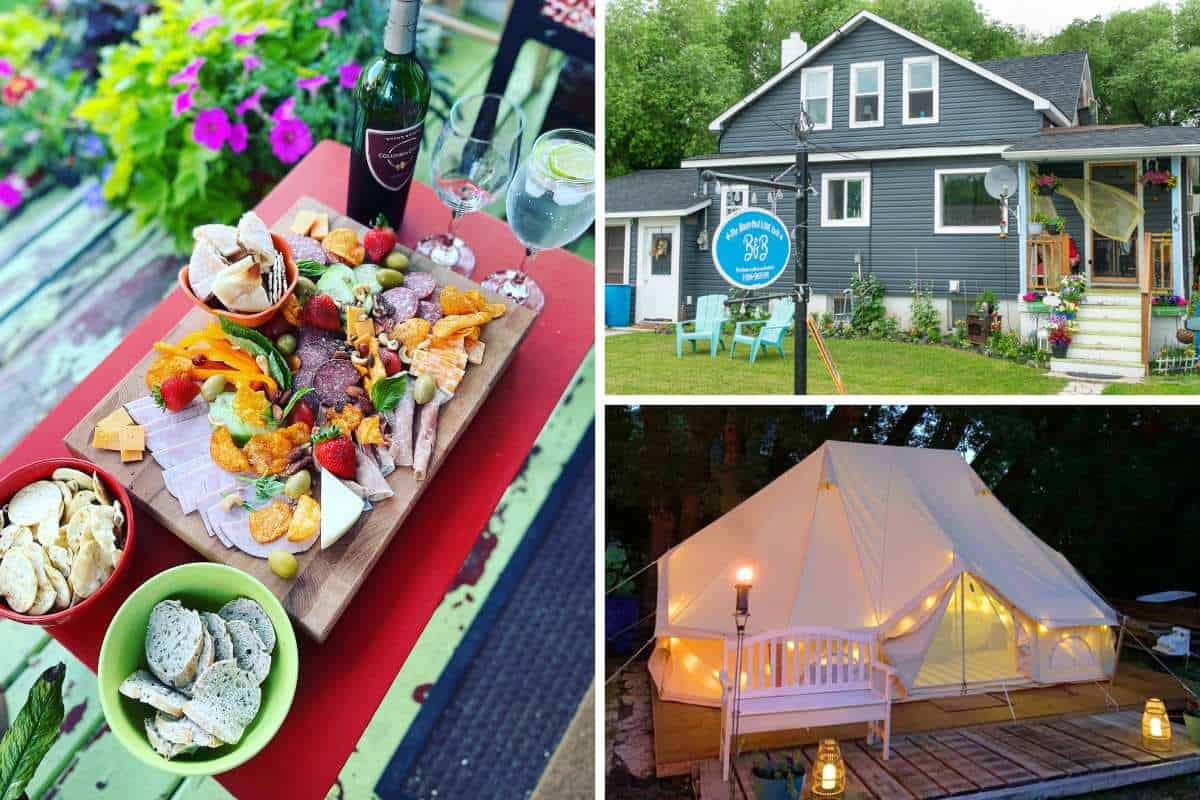 Today, the bed and breakfast is cheerfully decorated in bright colours and welcoming touches. With lots of windows to let the sunshine in, there are three unique guest rooms available throughout the year. Be sure to enjoy the gorgeous gardens, children's play structure, children's pool, fire pit, and outdoor dining area. New for 2023 is the "Glamping" experience, all the experiences of camping without having to bring any gear. It's perfect for families or a romantic getaway with someone special. The tent is a "dreamy escape into nature with all the comfort and glamour of an upscale hotel". And take advantage of the numerous options which they offer including a homemade pizza and wine package, an outdoor movie package, and/or a scrumptious charcuterie board. You'll be so comfortable here, you may never want to leave!
Cabin in Lake of the Prairies (Inglis)
Location: Inglis
If you're after a unique stay in Manitoba, head to Bowerbird Stays. With numerous properties in the province, it can be hard to choose a favourite, but we love the Cabin the Lake of the Prairies. How often do you get to stay in a shipping container?! Designed by Canadian architect David Penner, the cabin is only a ten minute drive from Asessippi Ski Resort, making it a fantastic stay no matter what time of year you visit.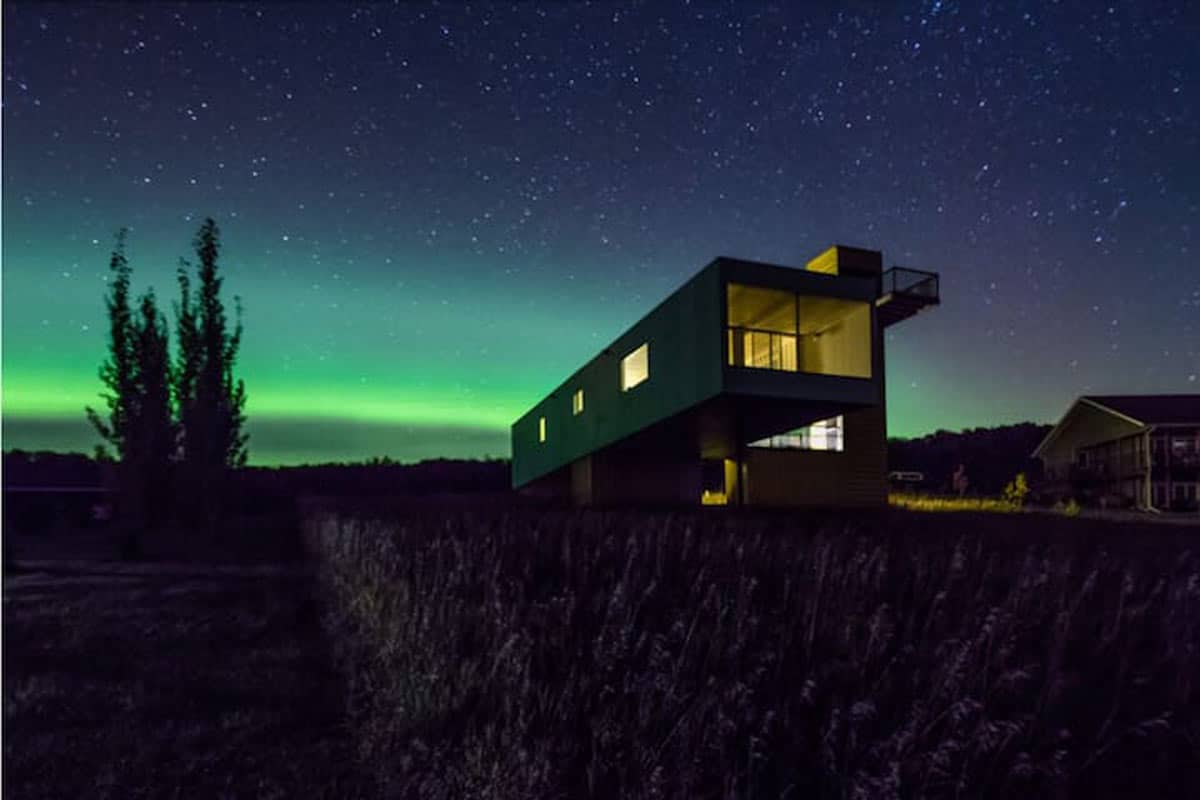 With modern appliances, an open concept, and unbelievable lake views, there's no question that this cabin is unrivalled in Manitoba. After a day of exploring the area, cozy up by the indoor fireplace to truly unwind.
Before you start your road trip to any of these great unique stays in Manitoba, don't forget to download our FREE Road Trip Manitoba bingo cards to amp up the fun along the way!