Disclaimer: This page may contain affiliate links. Please review our full Terms and Conditions for more information and our Privacy Policy. Note that any pricing, operating hours, or other such information provided below may have changed since initial publication.
Compiled by the Road Trip Manitoba team
Last updated on January 9, 2023
Here at Road Trip Manitoba, we believe there are many reasons to crack a beer, be it a celebration with friends, a cozy night in, or a way to quench one's thirst on a hot summer's evening. Thankfully, there is an abundance of fantastic craft breweries in Winnipeg to choose from; head to one of their taprooms or enjoy their beer in the comfort of your own home.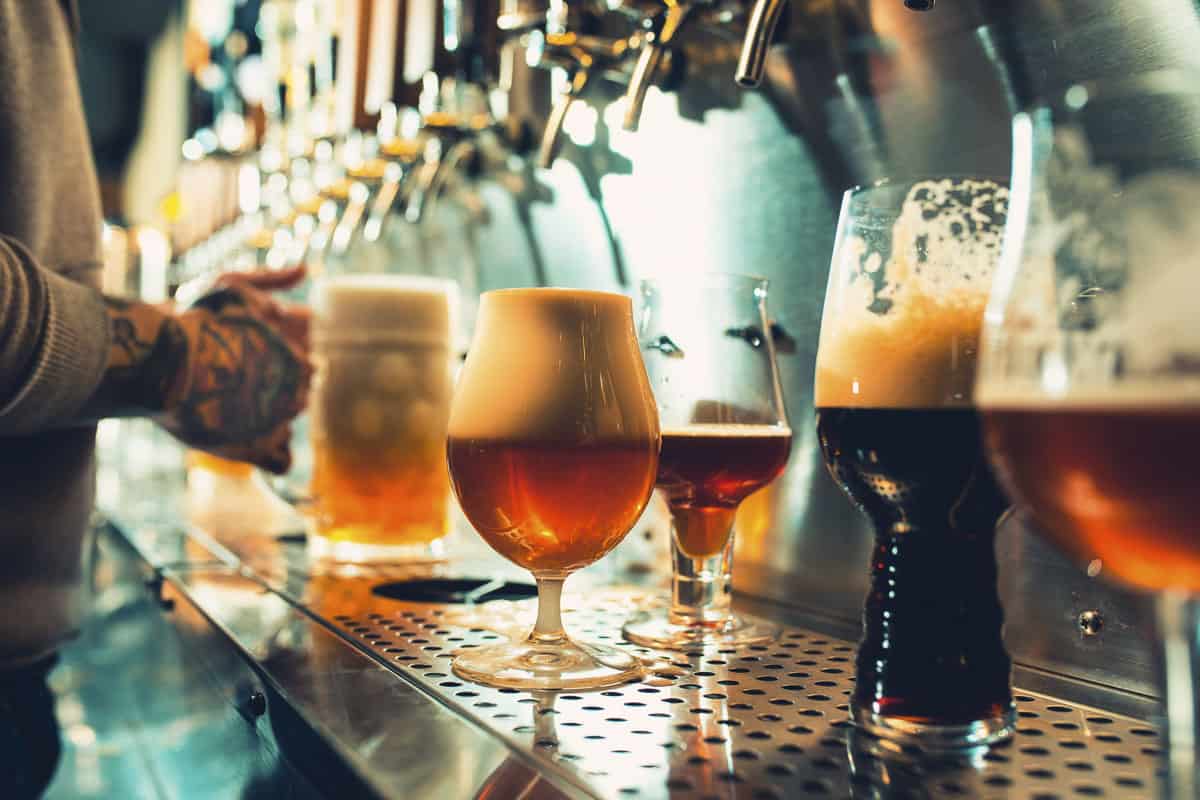 While we could never choose a favourite, we've rounded up the best Winnipeg breweries from around the city, whether you're after a crisp lager, a hoppy IPA, or a chocolatey stout. Please note that many of these beers can be purchased directly from the brewery themselves as well as at Manitoba Liquor Marts. In many cases, you can also find them at local beer vendors around Winnipeg as well!
Winnipeg is located on Treaty No. 1 the original lands and waters of Anishinaabe, Ininiwak, Anishininiwak, Dakota, and Dene peoples, and on the homeland of the Métis Nation.
Breweries in Winnipeg
Nonsuch Brewing Co.
Location: 125 Pacific Ave
Nonsuch Brewing Co. is one of the best known of Winnipeg's breweries, and for good reason: they have an ever-changing roster of delicious craft beers and one of the nicest taprooms in the city. This microbrewery in the heart of Winnipeg's downtown consistently has an impressive lineup of beer to try, and past favourites include the Belgian Blonde, The Tripel, the Raspberry Sour, and the Gose, a tart, salty beer. Also worth a sample are one of their many bottled beers, which change with the seasons; think innovative beer blended with unique flavours to create a drink you won't soon forget.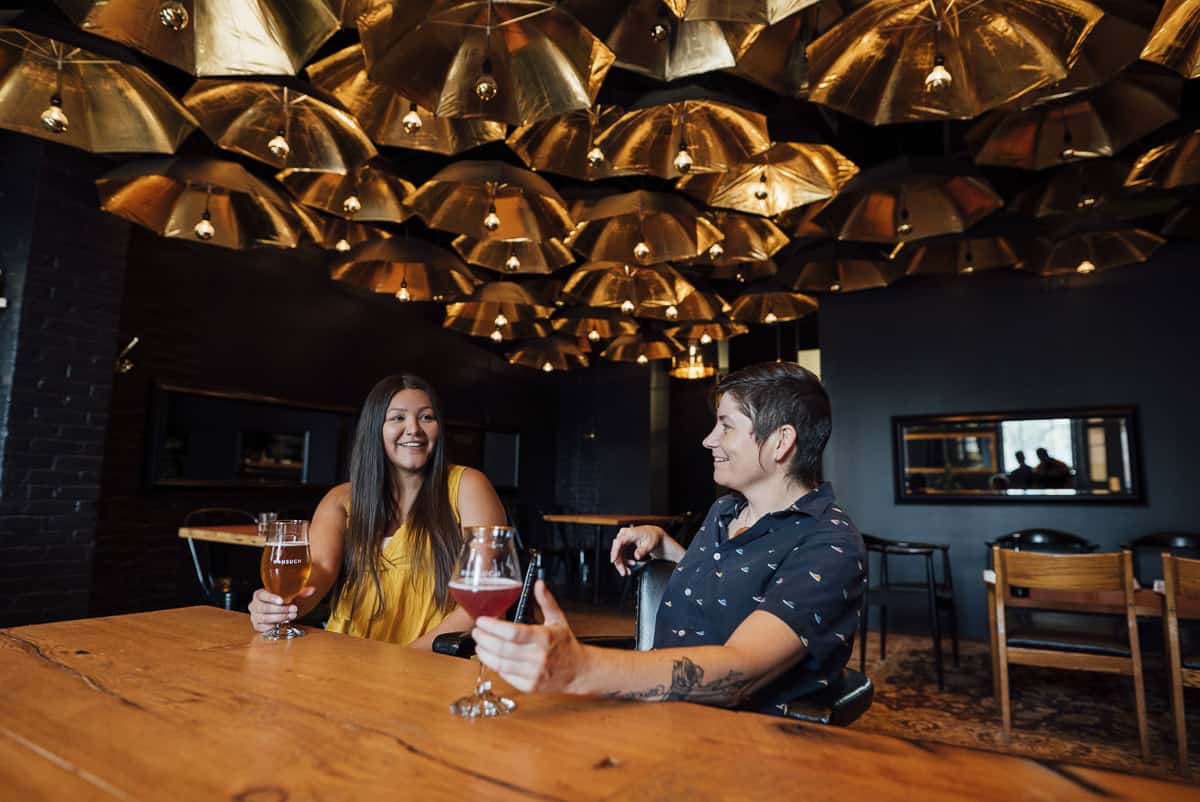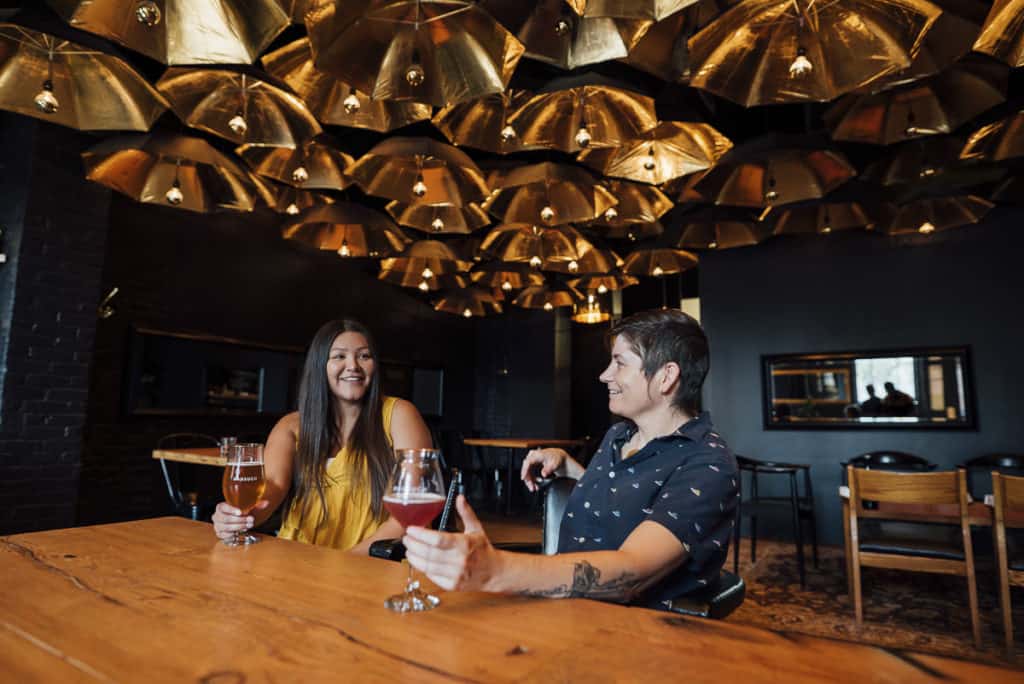 And the taproom? Simply stunning. The modern yet cozy interior is beautiful, and it's the perfect place for a date, a quick drink after work, or an evening with friends. The taproom food menu always has incredible options when it comes to a cheese board or charcuterie, while the burger, named simply "Le Burger" is one of the best in Winnipeg. We said we don't want to play favourites, but Nonsuch Brewing Co. is a must-try when it comes to Winnipeg breweries. Also try Vessel Brewing, which is a niche operation within Nonsuch.
You can also order their beer online or find it in your local Manitoba liquor mart.
Barn Hammer Brewing Company
Location: 595 Wall St
Head to Barn Hammer Brewing Company for an inviting taproom off of Portage Avenue, one that has quickly become popular with those who love a tasty pint. This West End Winnipeg brewery is owned by a husband and wife duo – Sable and Tyler Birch – with a unique background, but with something huge in common: they both love absolutely love beer. That love is fully realized in their delicious craft beers, and their beer has fast become one of Winnipeg's most beloved brands.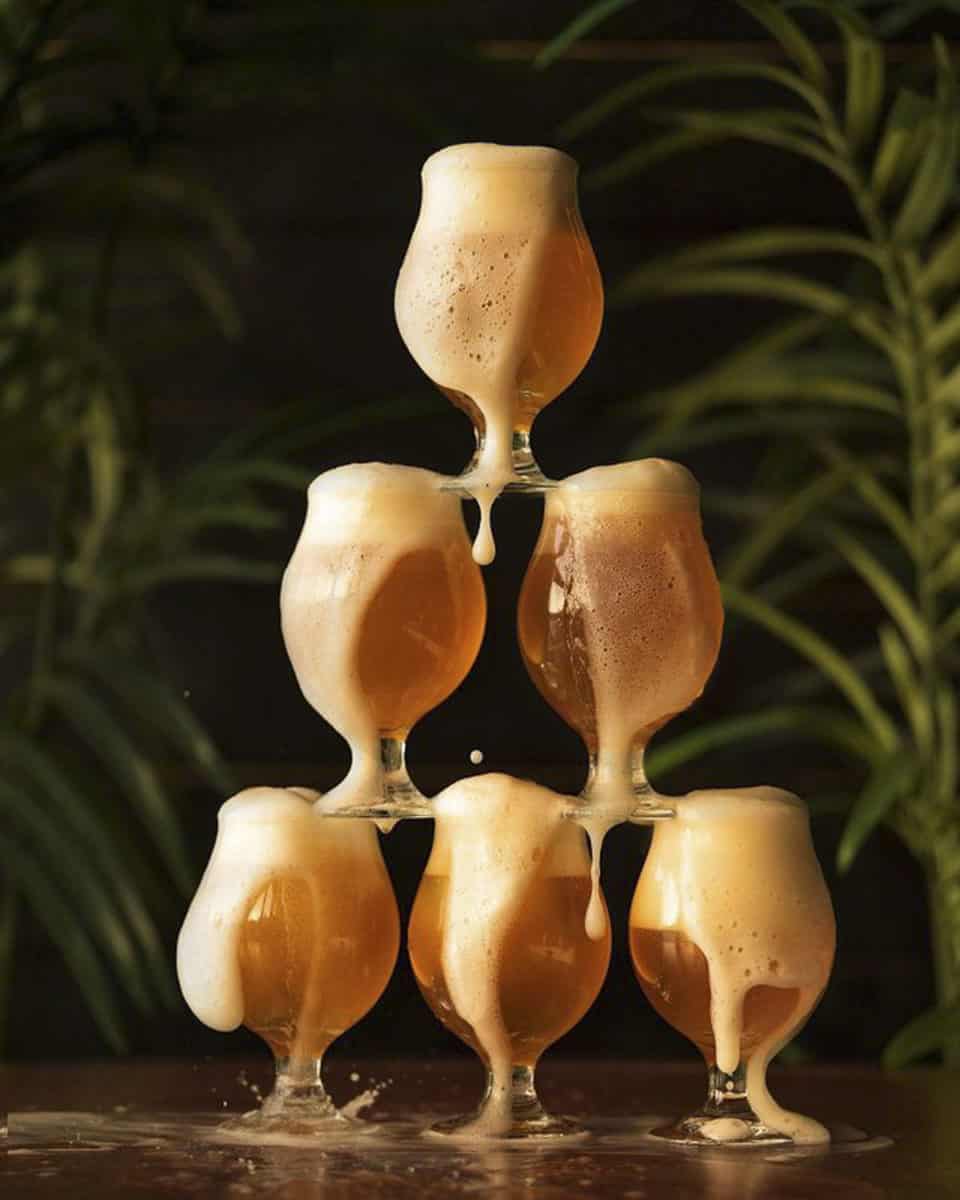 Try interesting beers such as the Guavatron Philly Sour (with notes of – you guessed it – guava), the Saturday Night Lumberjack (a double IPA), or, our favourite, Grandpa's Sweater, a rich oatmeal stout that we'd wager is one of the best stouts in the city.
Purchase their beer directly from the brewery or from your nearby Manitoba Liquor Mart. They also have home delivery available from the brewery itself. Have a big event coming up? Rent a keg of one of their signature beers to guarantee a happy crowd!
Little Brown Jug Brewing Co.
Location: 336 William Ave
Little Brown Jug has been a staple of Winnipeg's Exchange District since 2016, starting off by brewing only one craft beer: the 1919 Belgian Pale Ale, a beer that remains on their menu to this day. Today, however, their lineup of craft beers has grown substantially to include a variety of delectable drinks that will appeal to any beer drinker. With options such as the refreshing Summer Lager (with a floral, lemon, and berry hop aroma), the copper-coloured Dubbel (a dry beer with flavours of raisin, plum, and dried cherry), or the fan favourite Golden Ale (a crisp ale made with local Manitoba honey), Little Brown Jug is constantly thinking outside the box and reinventing what it means to brew truly great beer.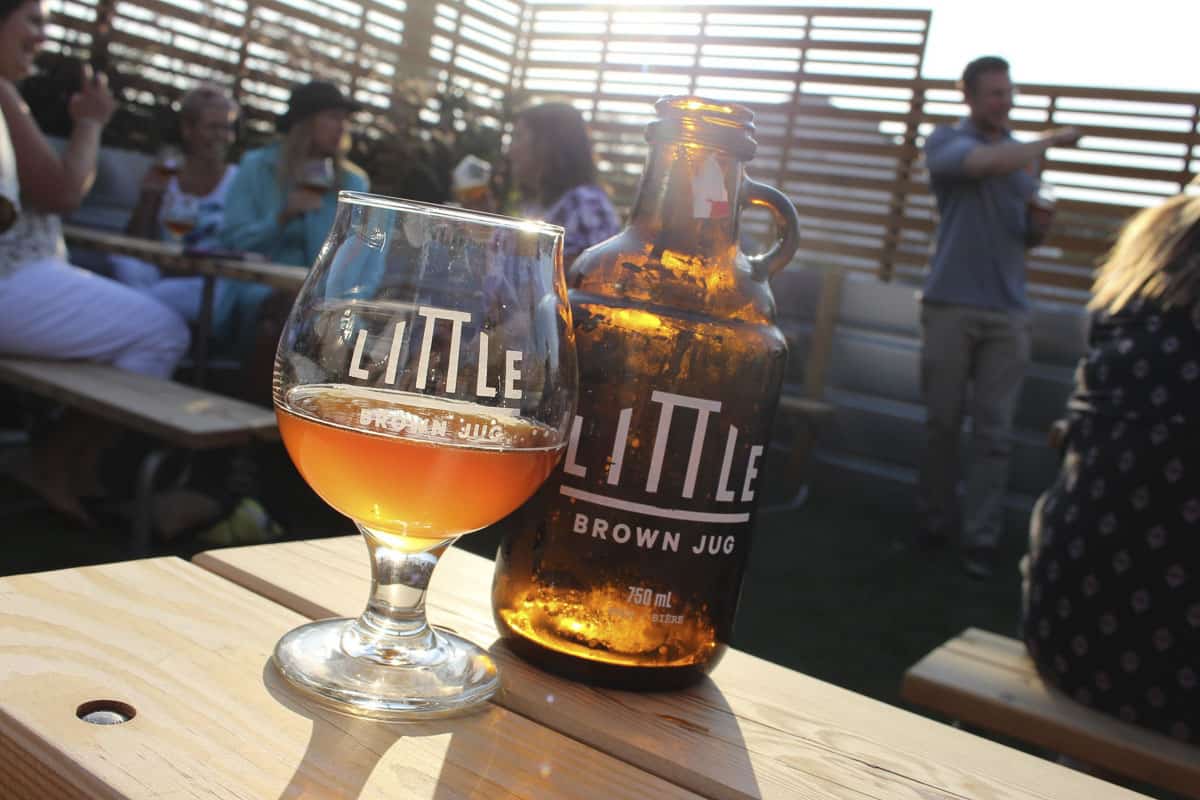 Head to the open concept taproom in the 100+ year building in order to feel a fantastic sense of community. With furniture built out of reclaimed wood and a heating system that is generated by the brewery itself, there are a lot of small details at LBJ that make for an excellent visit. There's also a great patio in summer; head there early on weekends, as it tends to fill up quickly.
Order your beer online (they also provide delivery) or find Little Brown Jug in your local Manitoba liquor mart.
Sookram's
Location: 479-B Warsaw Ave
If you're looking for your next favourite local brewery, look no further than Sookram's. Unassuming but the kind of place you'll instantly fall in love with, it's become one of Fort Rouge's most popular spots for a fun hangout. After multiple awards and years of home brewing, owner Andrew Sookram made his dream of opening a brewery a reality, and today, it's a beloved spot among the breweries in Winnipeg.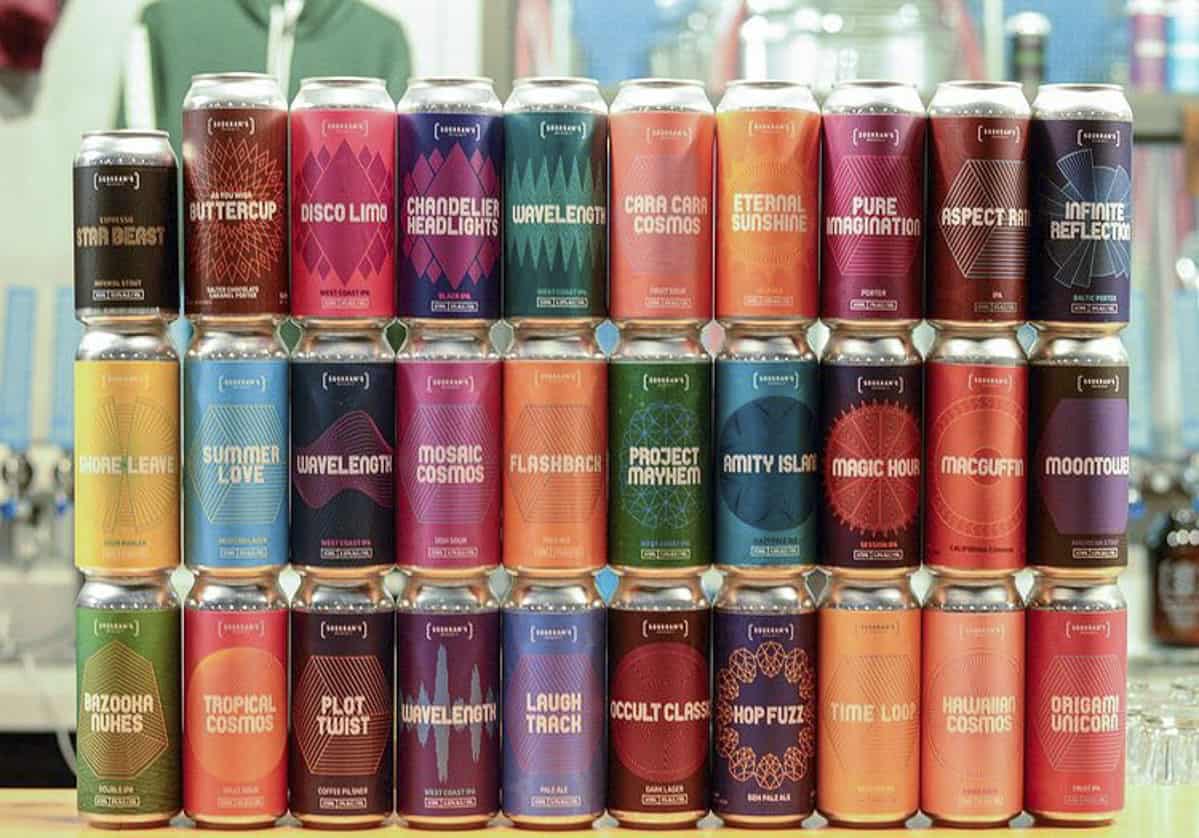 Choose from the refreshing Eternal Sunshine (a pale ale), the Cosmos (a dry hopped sour), or the ever-popular Cult Classic (a pilsner with a crisp finish). Taproom rules state that the goal of Sookram's is to be safe and welcoming to all, so expect a family-friendly place where everyone will instantly feel at home. In summer, the patio always hopping – no pun intended – and is dog-friendly to boot.
Purchase Sookram's beer directly from the brewery or from any Manitoba Liquor Mart. They also offer home delivery!
Good Neighbour Brewing Co.
Location: 116 Sherbrook St
As one of the newest Winnipeg breweries on this list, Good Neighbour Brewing Co. has launched onto the city's craft beer scene with a bang. This brewery is owned by two women with a combined 25+ years in the industry, so you know their beer is going to be out of this world. With a strong emphasis on community, their incredible taproom is a new hit in the Wolseley neighbourhood and has fast become a spot for local hangouts.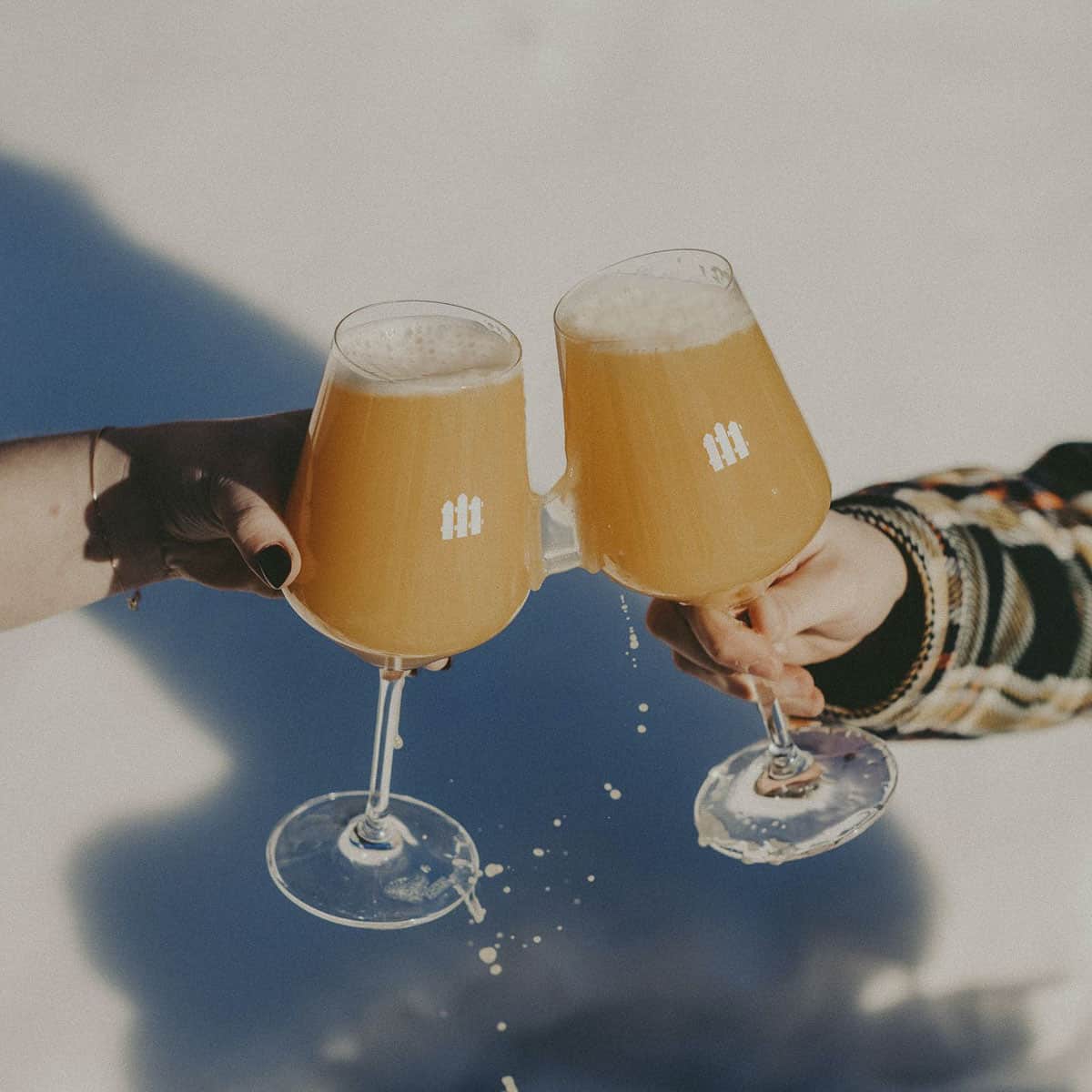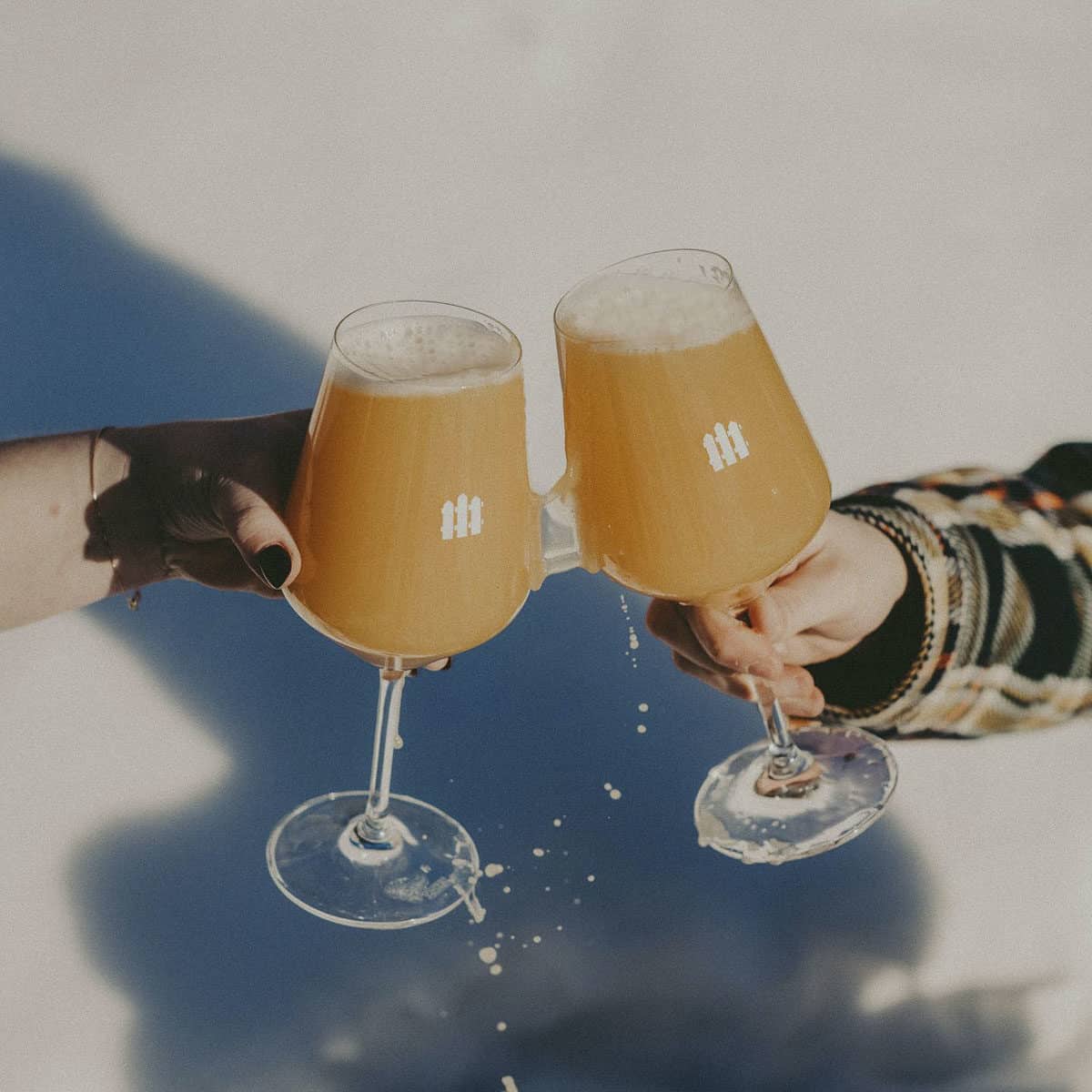 As for the beer itself, think rich, bold flavours; sample their tarty fruited sour ales, their chocolate cherry stout, or the tropical hazy IPA that has notes of sweet stone fruits. They have an extensive list of beers to order from online or to try in the taproom on Sherbrook Street, a bright, airy space with a mouthwatering menu (the fried pickerel burger is so good you might need to order two).
You can also buy Good Neighbour Brewing beer from your local Manitoba Liquor Mart.
Torque Brewing
Location: 330-830 King Edward St
With an impressive 18 taps, Torque Brewing has always been considered one of the best Winnipeg breweries. From their humble beginnings in August of 2016, the brewery is now known for its innovative flavours and dedication to the craft beer community in Manitoba. You can often find their beer on tap in other restaurants in Winnipeg, because Torque is just that delicious!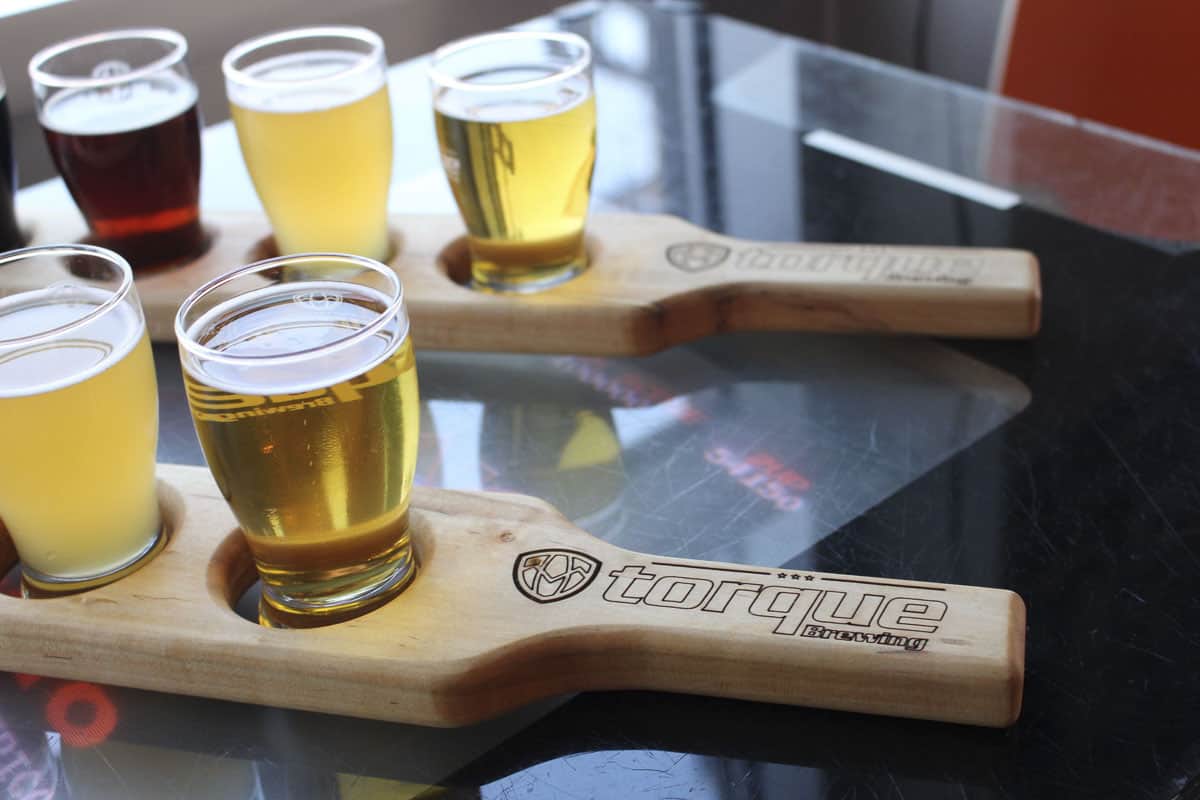 No matter what you're after, Torque has a beer for you. With four "core pours" – the Witty Belgian wheat beer, the Red Line red IPA, the What the Helles lager, and the Torque Blonde ale – there's also a massive selection of seasonals that change frequently and never cease to amaze. Past favourites include Afternoon at Oma's (a coffee cake streusel brown ale), Pepper Don't Preach (a jalapeño lemon gose), and the Bellhop (a vanilla bourbon porter). And yes, we think the names are as fun as the beers are delicious. Also make sure to try La Shoppe Brewery, which is a nice operation within Torque.
Buy Torque Brewing beer directly from their brewery or from any Manitoba Liquor Mart.
Kilter Brewing
Location: 450 Rue Deschambault
One of Winnipeg's newer breweries, Kilter Brewing can be found in the heart of St. Boniface. "Inventive beer brewed with love" is how they describe themselves, and we have to wholeheartedly agree. With a beautifully bright taproom and some of the best beer can designs we've ever seen, it's not just the eye for design and detail that makes Kilter such a fantastic choice when it comes to the craft beer scene in Winnipeg. Thankfully, their beer is pretty amazing, too!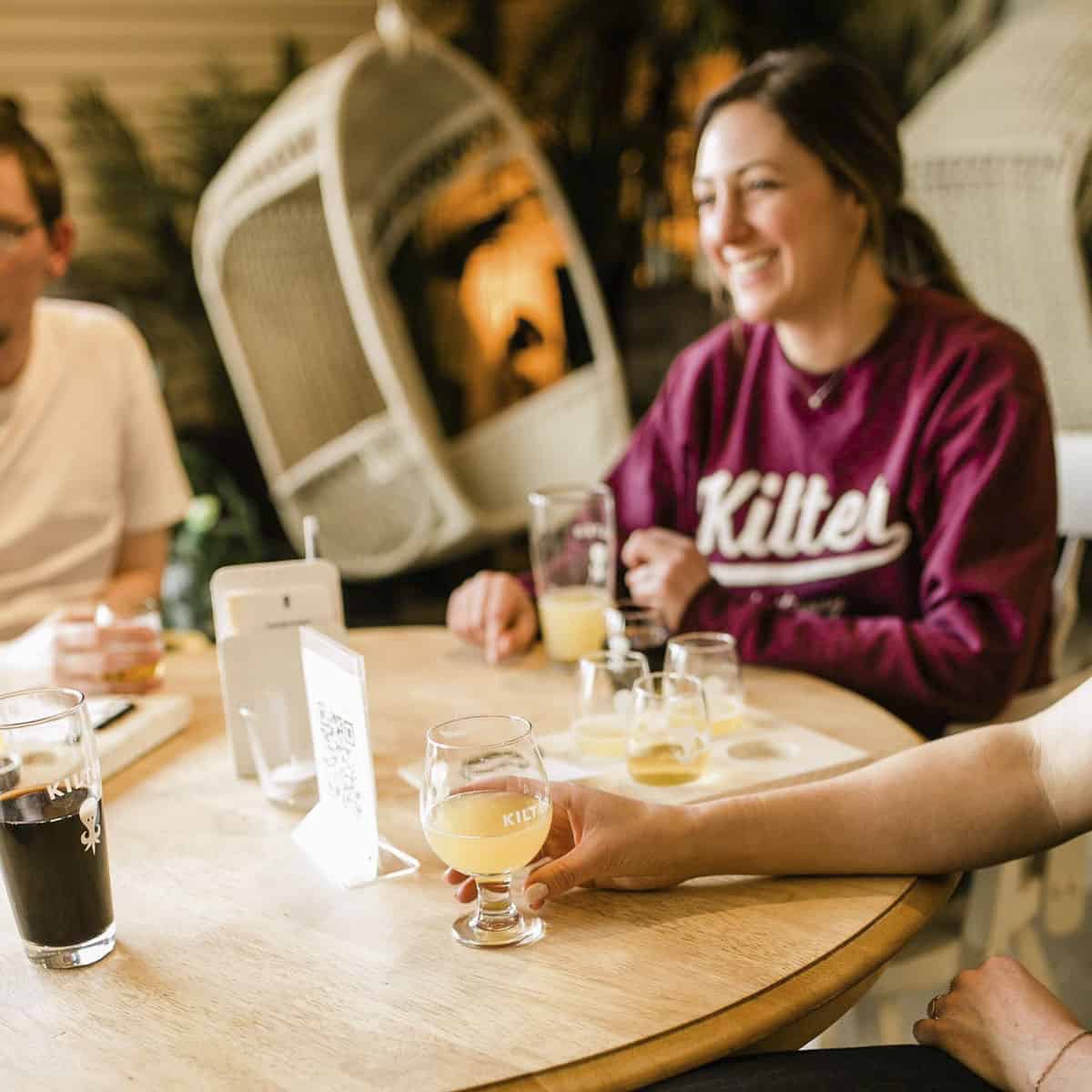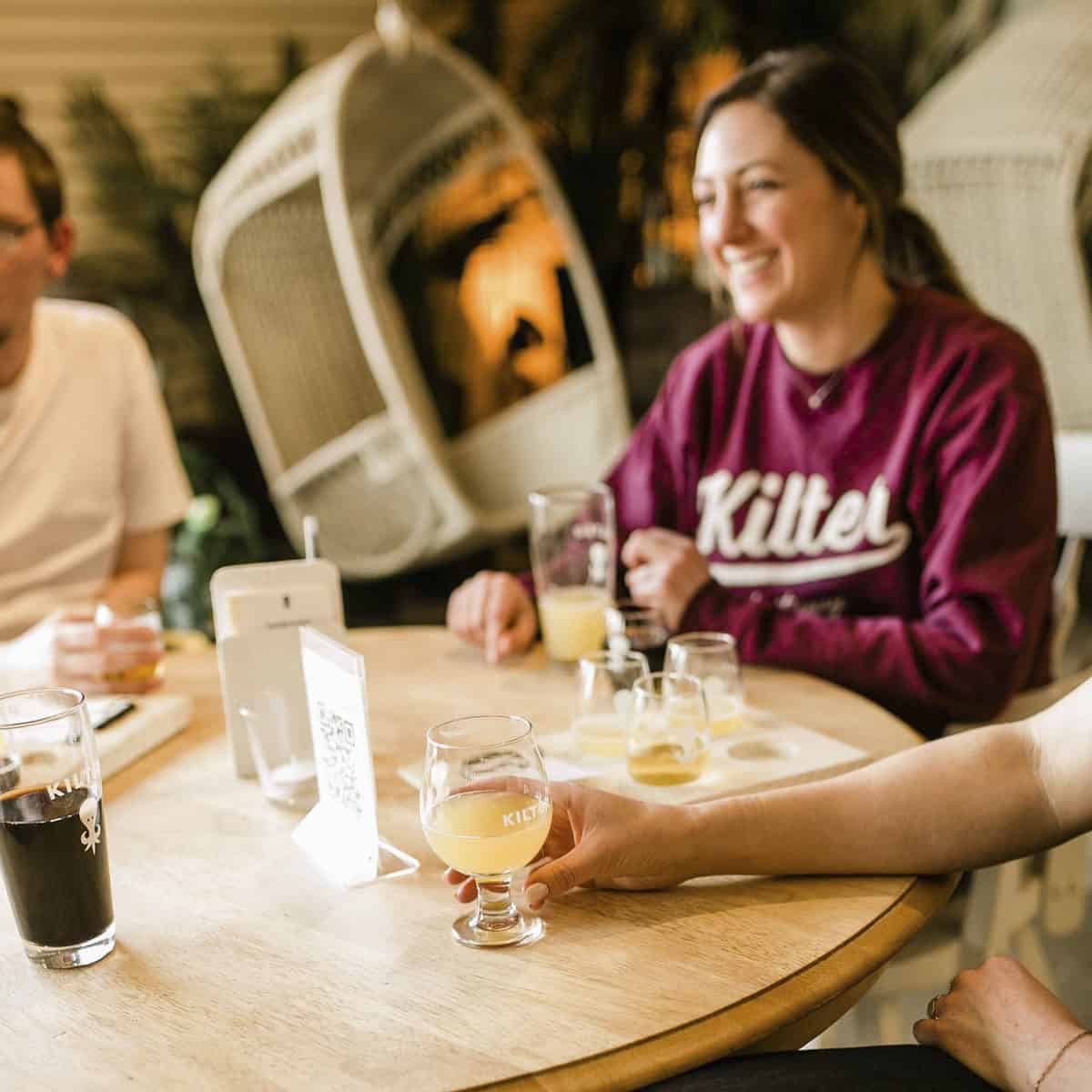 With an ever-changing lineup of craft beers to choose from, you can always expect inventive flavours alongside tried and true classics. Try their staple beers, including the hoppy "Juicii" IPA or the tropical "Waves" pale ale, but make sure to keep an eye out for the new flavours, too; past favourites include the "Tiramisu" Italian Dessert Stout, the "Paradise" Oat Cream IPA, and the "Pulp Fiction" Pulp Fruit Sour.
Purchase Kilter's beer online or from a Manitoba liquor mart. There's also the option for local delivery from the brewery itself.
Trans Canada Brewing Company
Location: 1290 Kenaston Blvd #1
Found on Kenaston Boulevard in the growing southwest corner of Winnipeg, Trans Canada Brewing Company is the perfect place to pop in for a quick business lunch or for an evening out with friends. With a goal to cater "to both casual beer drinkers and seasoned connoisseurs alike", you can expect a wide range of craft beers on tap to choose from. And the pizza in the taproom? Simply divine.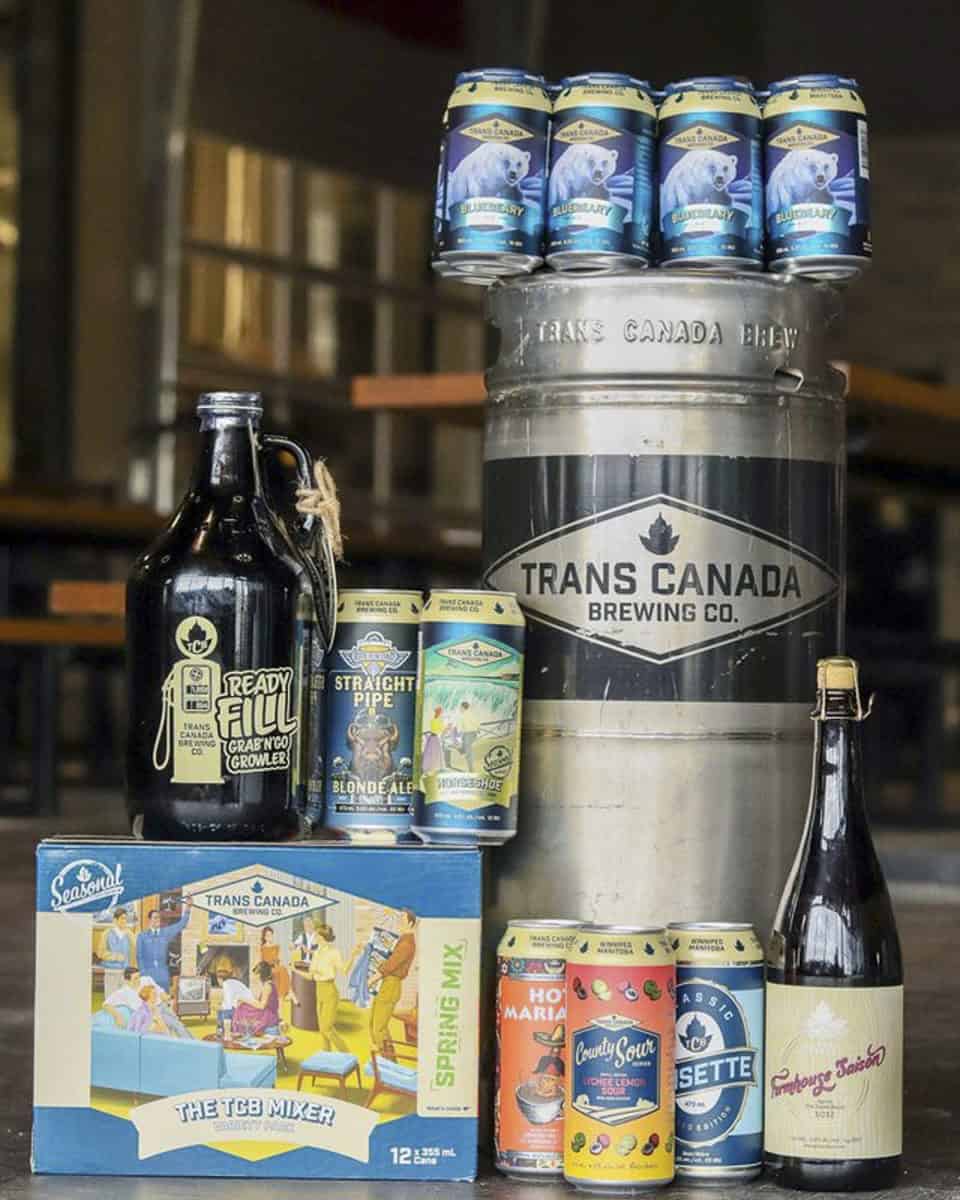 With four beers found permanently year-round – the Bluebeary Ale, the Lamp Lighter Amber Ale, the Portager Bohemian Pilsner, and the Arrow IPA – there's also an amazing selection of seasonal craft beers to choose from. Past small-batch specialty beers include the Harvest Sky (a rye pale ale brewed with ingredients from local Manitoba farms), the Cranberry Stout (found in 750 ml bottles, perfect for gift giving), and the Barkeep Brown Ale (with notes of dark cherry and chocolate).
You can buy their beer directly from the brewery or from a Manitoba Liquor Mart near you.
Lake of the Woods Brewing Company
Location: 221 Carlton St
Wait… does Lake of the Woods count as a Winnipeg brewery? We're going to go ahead and say yes! Even though the name comes from our neighbours to the east (and there is indeed a Lake of the Woods taproom in Kenora, Ontario), the Lake of the Woods Brewing Company has a craft brewery right here in Winnipeg, too. Found in the fantastic Hargrave Street Market in downtown's True North Square, you can watch the brewing action take place through glass walls as you enjoy a pint.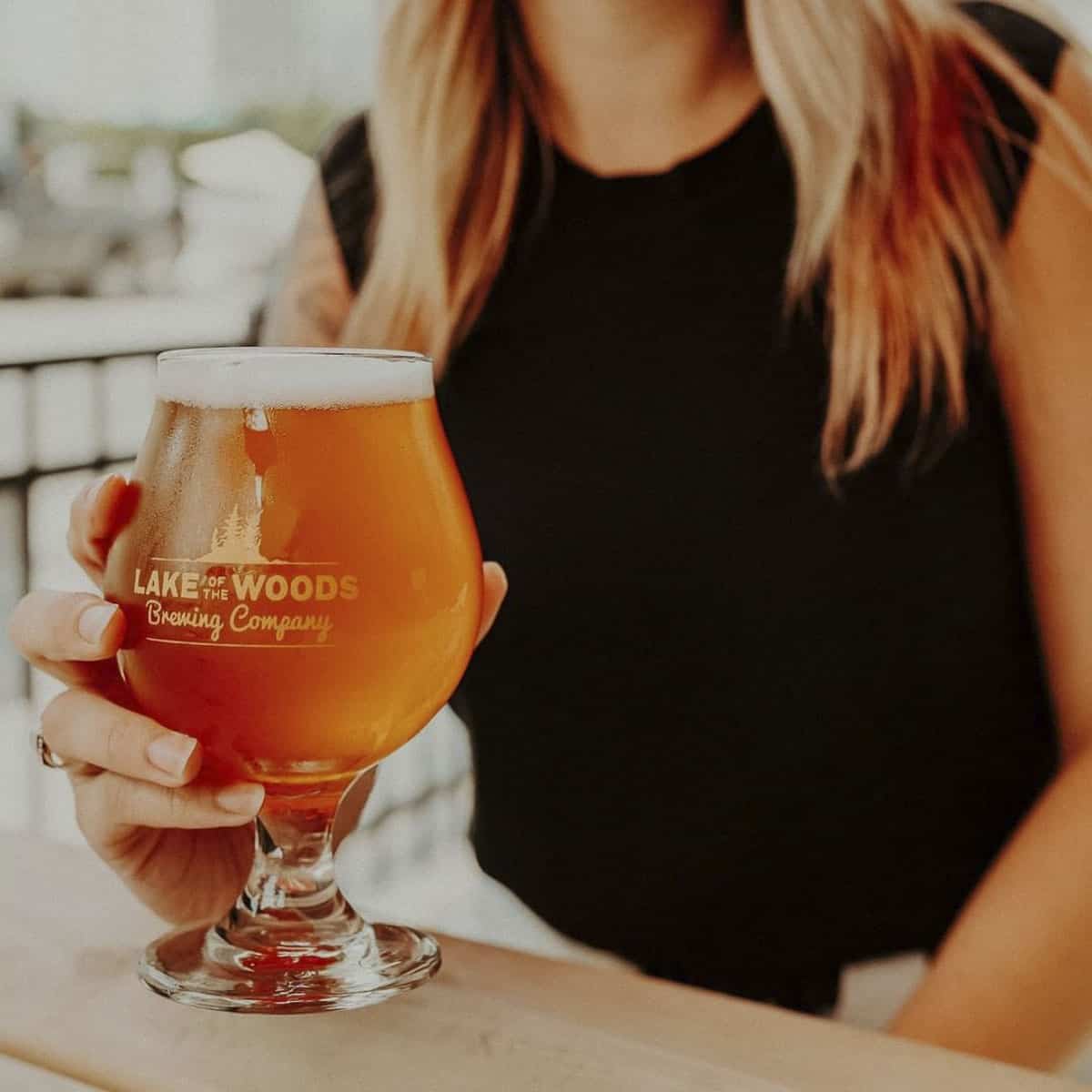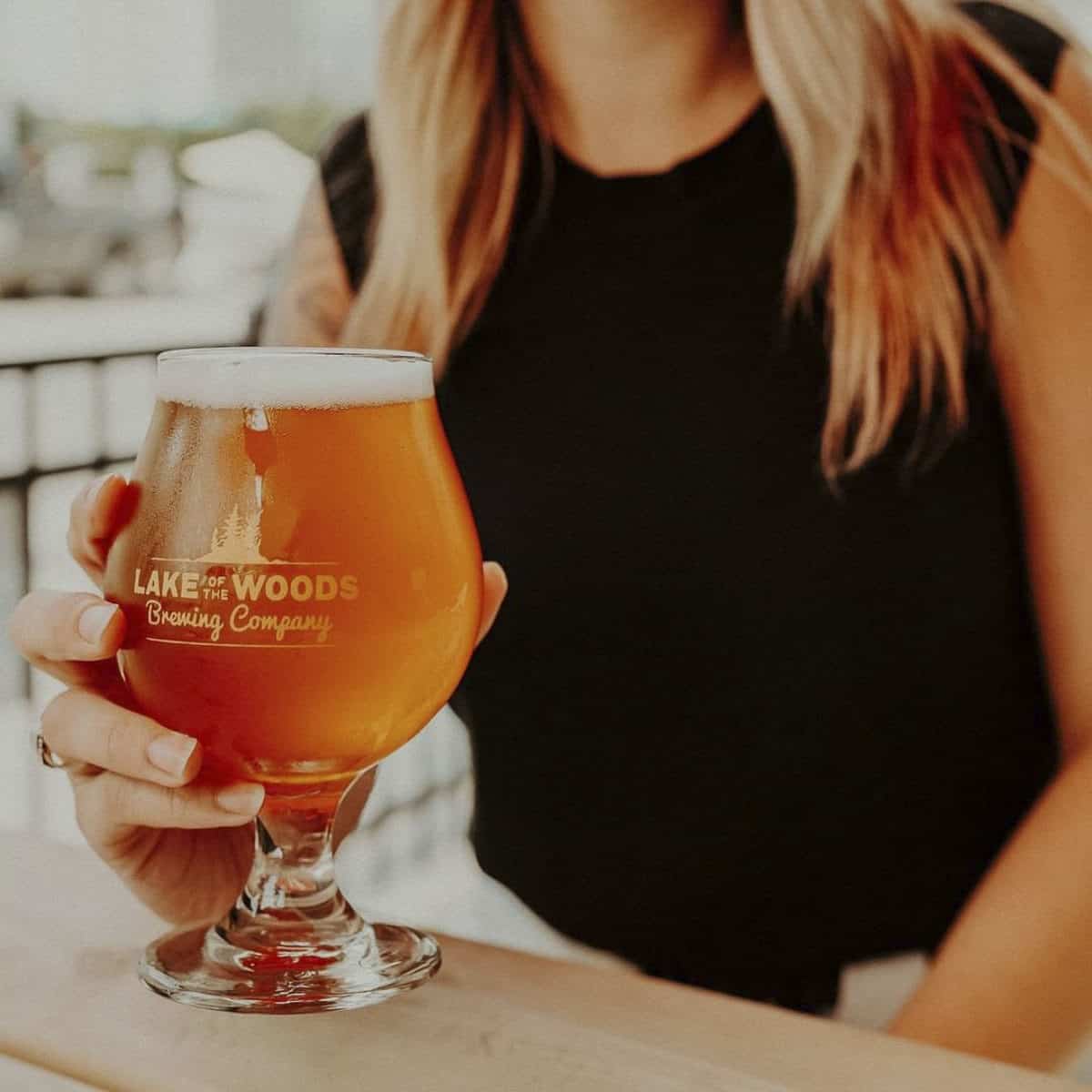 The unique atmosphere of Hargrave Street Market allows you to mix and match what you'd like to eat and drink, so you can pair your beer with a selection of some of Winnipeg's best restaurants, including Yard Burger, Saburo Kitchen, or The Good Fight Taco. Perfect for grabbing a quick drink before a Winnipeg Jets game at the nearby MTS Centre, you can also book a brewery tour if you're so inclined.
You can purchase Lake of the Woods beer from Manitoba Liquor Marts.
Oxus Brewing Company
Location: 1180 Sanford St
With a small but cozy taproom in the West End, Oxus Brewing Company is a fan favourite in Winnipeg. Sharing their taproom with Winnipeg Brew Werks, Bookstore Brewing, and Interlake Brewing Co. (so make sure to try a few of their beers as well!), Oxus is consistently one step ahead of the game when it comes to developing fantastic flavours and thinking outside the box. In fact, they've just launched a new brand of craft beer – Astra – that promises to be just as tasty as past offerings.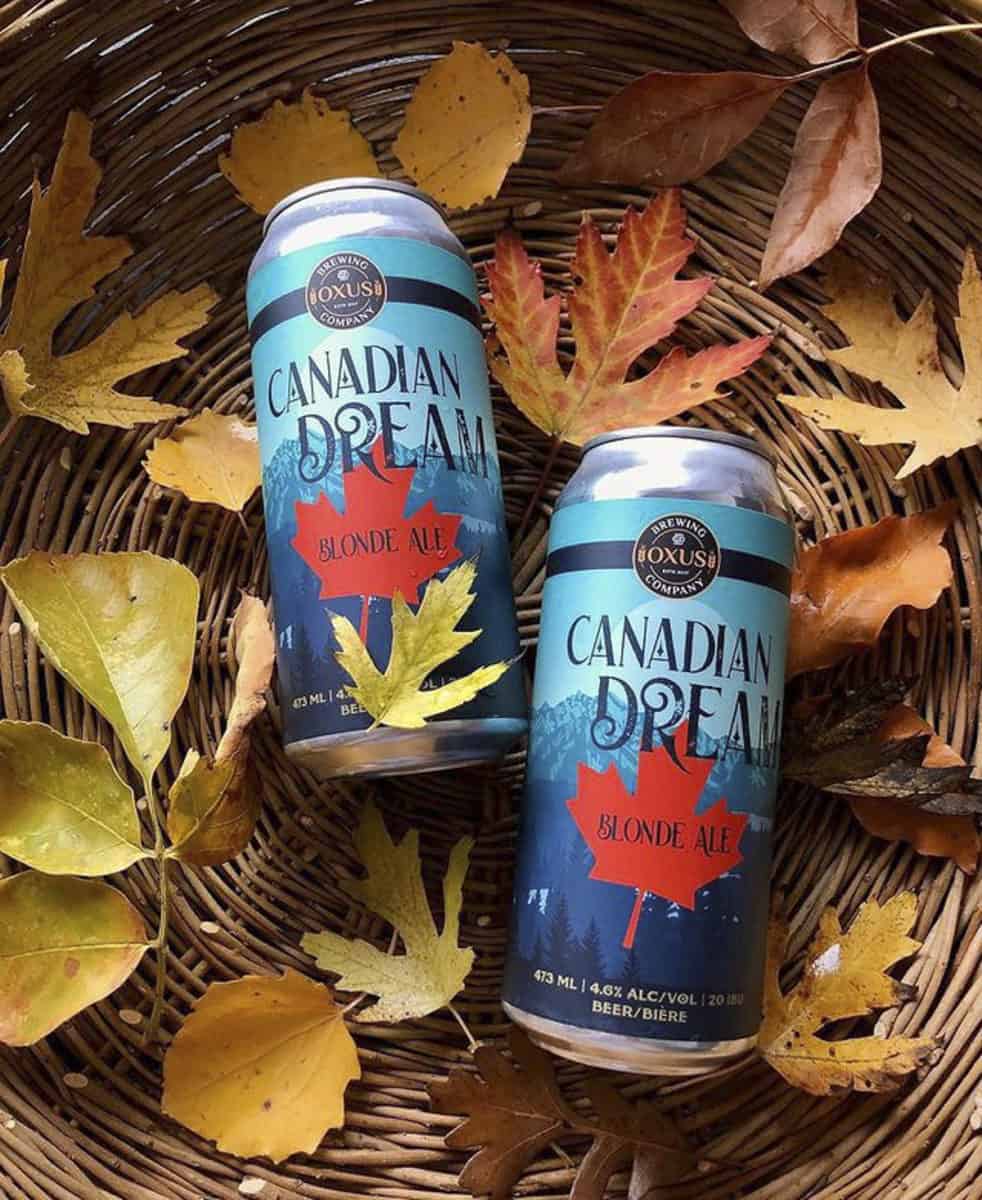 Try the Fermi Italian Pilsner (clean, crisp, and hoppy), the Icarus Raspberry Sour Ale (fruited with organic raspberries, this one is both tart and refreshing), or the Canadian Dream Blonde Ale (a nice, easy-drinking beer with notes of pine and citrus). No matter what you pick, you're sure to be satisfied.
You can pick up Oxus beer from the taproom, have it delivered, or purchase it from Manitoba Liquor Marts.
Devil May Care Brewing
Location: 155 Fort St
"Craft beer loud. Winnipeg proud." Is that not the best tagline? While the Devil May Care taproom is due to open any day now (please check their website before going!), the beer they've been producing so far is a testament to their talent. As their own website says, they aim to provide customers with "the coolest styles, top-quality ingredients, and […] the most innovative brewing techniques in the industry today."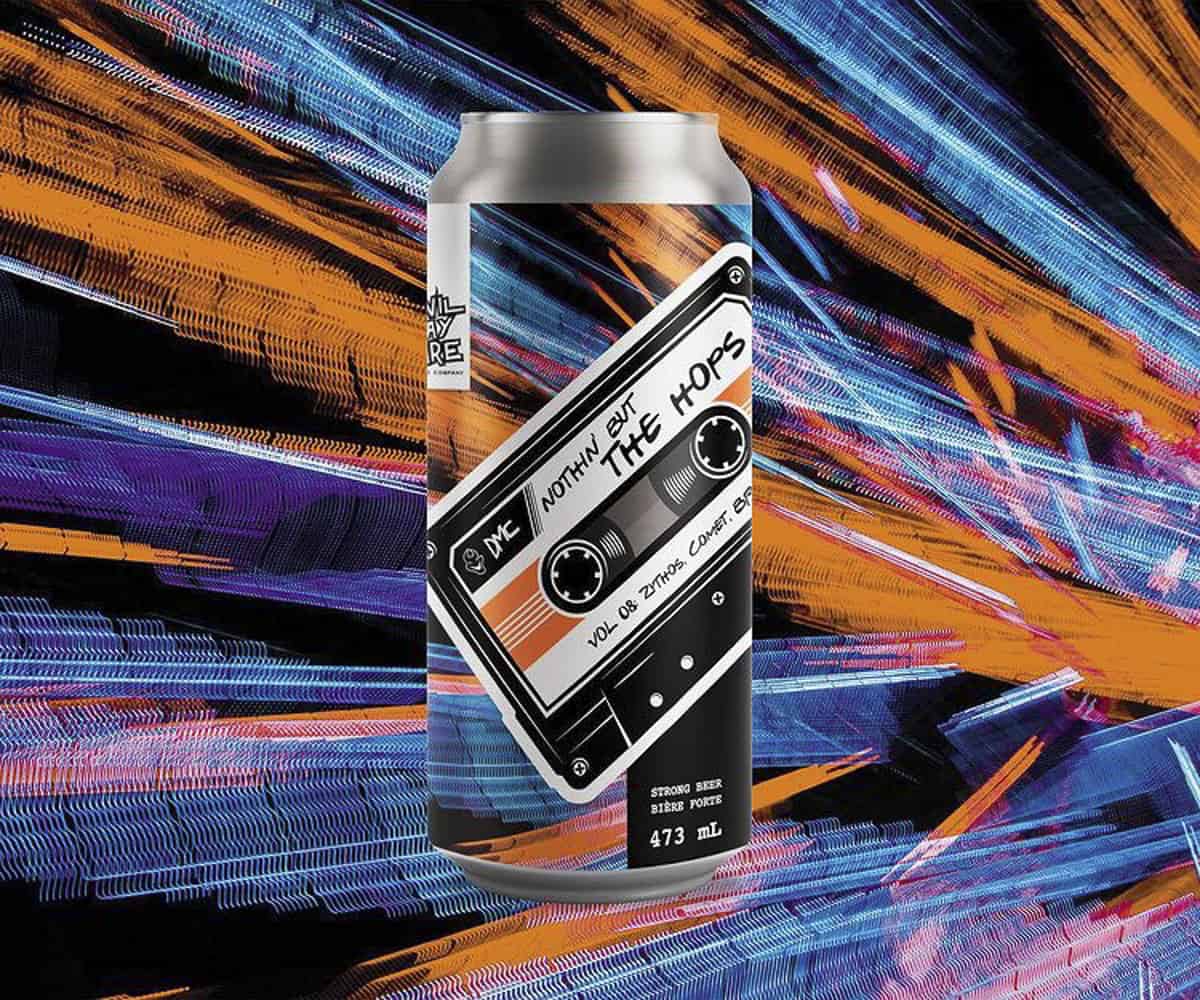 Core beers include Starstuff, an American pale ale that's fruity, hazy, and hoppy, as well as Get Up Offa That Thang, a brown ale that they describe as deep, malty, and soulful. Other seasonals include Beer Lager Smoke Magik (an American lager that's subtly smoky), Synth City (a wheat beer with sour cherry and lemon), and Nothin' But the Hops, a West Coast IPA described as a "hophead's paradise". When it comes to breweries in Winnipeg, you should definitely add Devil May Care to your list of must-trys.
Buy Devil May Care directly from the brewery or from any Manitoba Liquor Mart.
One Great City Brewing Company
Location: 1596 Ness Ave
Describing themselves as a "celebration of the people, the land, and the life that makes Winnipeg a place of which to be proud," One Great City is one of the favourites for Winnipeg breweries. Their brewpub is always is a good choice for a fun hangout. With glass walls separating the restaurant/taproom and brewery from each other, you can watch the beer being made as you enjoy a pint and a delicious meal.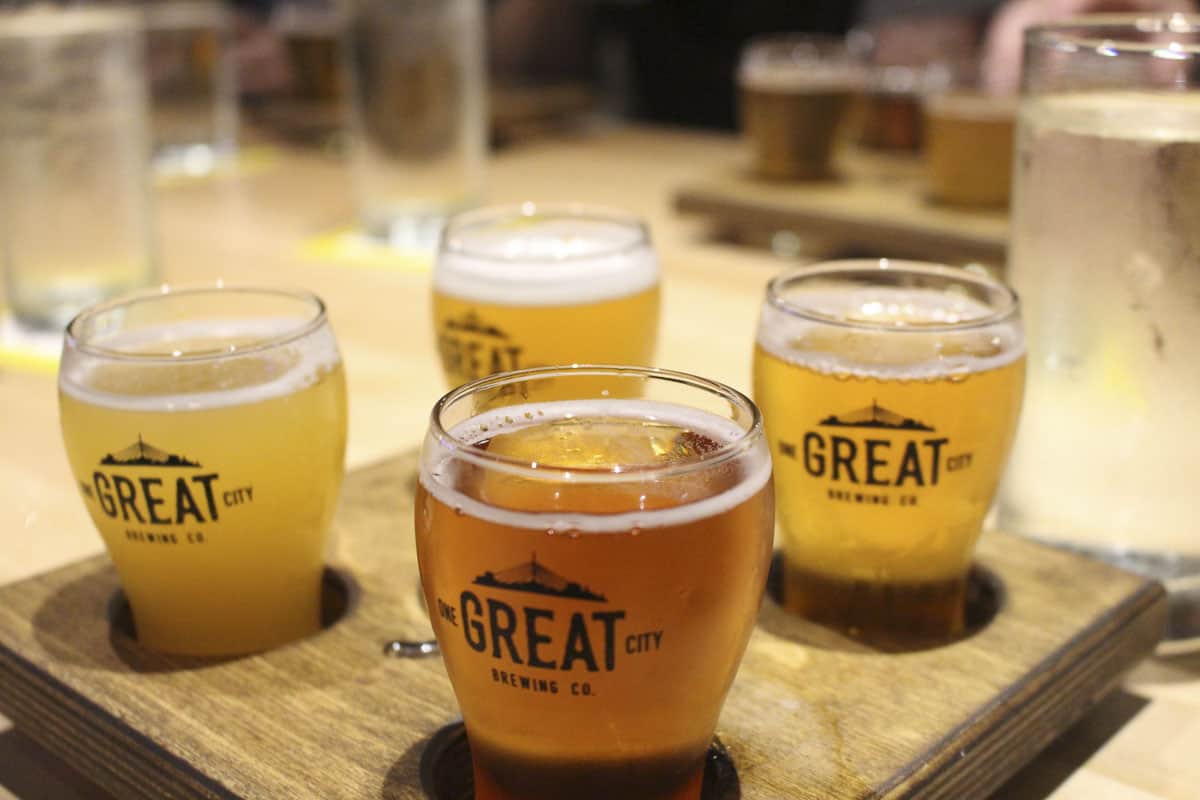 With a fantastic selection of more approachable beers for the hesitant beer drinker – their American Blonde is a great place to start – as well as a list of speciality craft beers that will appeal to even the most seasoned connoisseur, your most difficult decision at One Great City will be choosing which pint to drink. The six core beers have long been a staple on the Winnipeg craft beer scene; their Mad Scientist Eye PA, Tipsy Cow Milk Stout, and Belgian Esprit are often listed as favourites amongst locals. With a food menu that is just as appealing as their beers on tap, the brewery makes for a perfect place for a date, a hangout with friends, or even a casual business lunch.
You can purchase One Great City's beer from the brewery itself, from a Skip the Dishes order, or from Manitoba Liquor Marts.
Stone Angel Brewing Co.
Location: 1875 Pembina Hwy, Unit 9
Head to southern Winnipeg to try Stone Angel Brewing, a solid selection when it comes to breweries in Winnipeg. With a huge taproom and large patio, it's a fantastic place to hang out no matter the season. Make sure to head here for Cider Wednesday, when a small batch cider is released… and when it's gone, it's gone forever! There are also a lot of events, food trucks, and sports showings throughout the months, so make sure to check their calendar.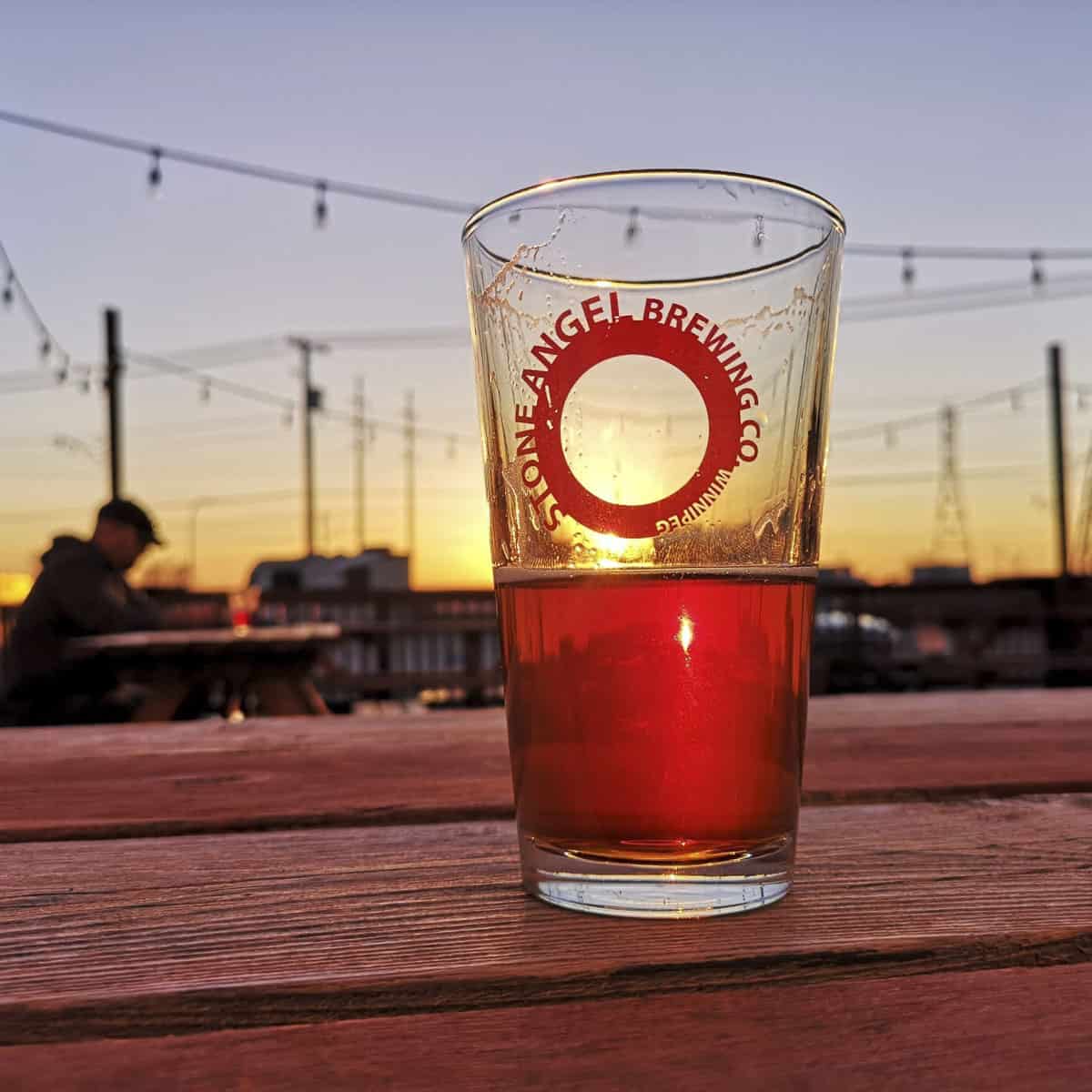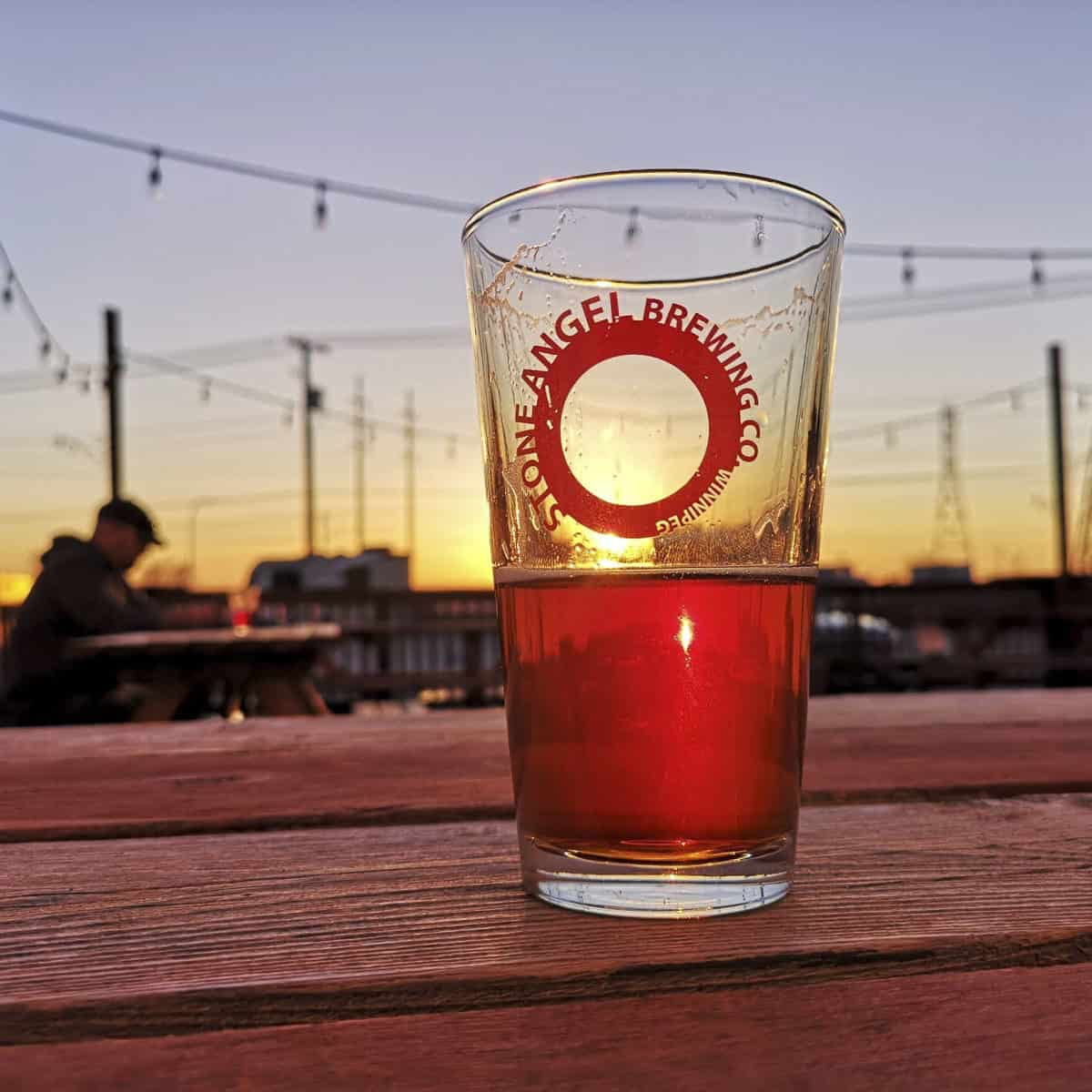 With 15 to 16 beers and ciders on tap at all times, don't be surprised if you have difficulty choosing a favourite. Popular picks include the Marcellus Peanut Butter Milk Stout, the Brennan's Barn Irish Pale Ale, and the Kaiser Bill IPA. Can't decide? Try one of their flights of four beers!
You can buy their beer at Manitoba Liquor Marts, at the brewery itself, or have it delivered through Uber Eats or Skip the Dishes.
Half Pints Brewing Co.
Location: 550 Roseberry St
One of the most recognized brands of beer in Winnipeg, Half Pints Brewing Co. considers themselves "fiercely local", striving to use as many local ingredients in their beer as possible. With a history that dates back to 2006, this brewery has won many awards for its high quality craft beer, focusing on keg-only batches, bottles, and canned beer that's sold throughout Manitoba.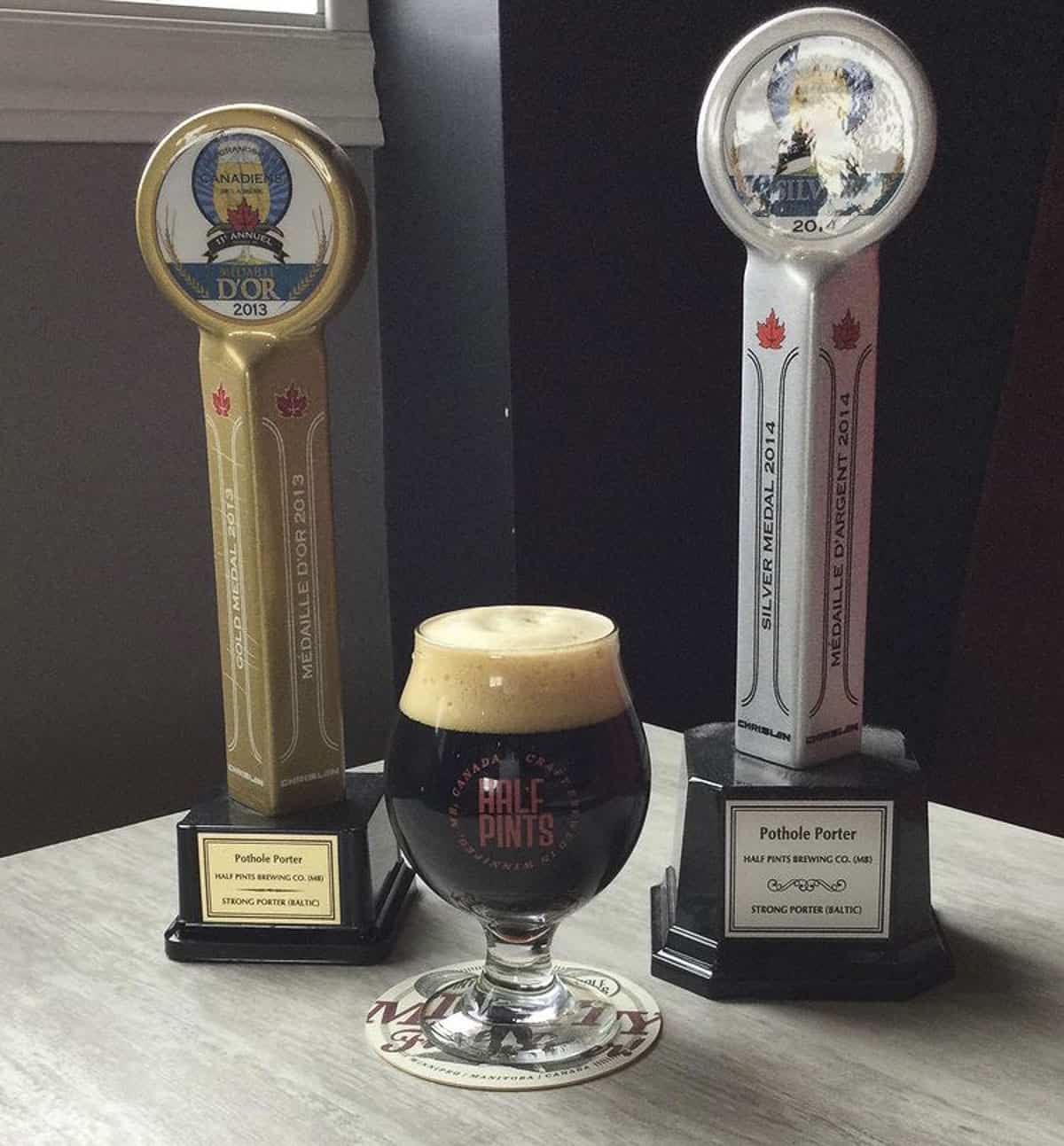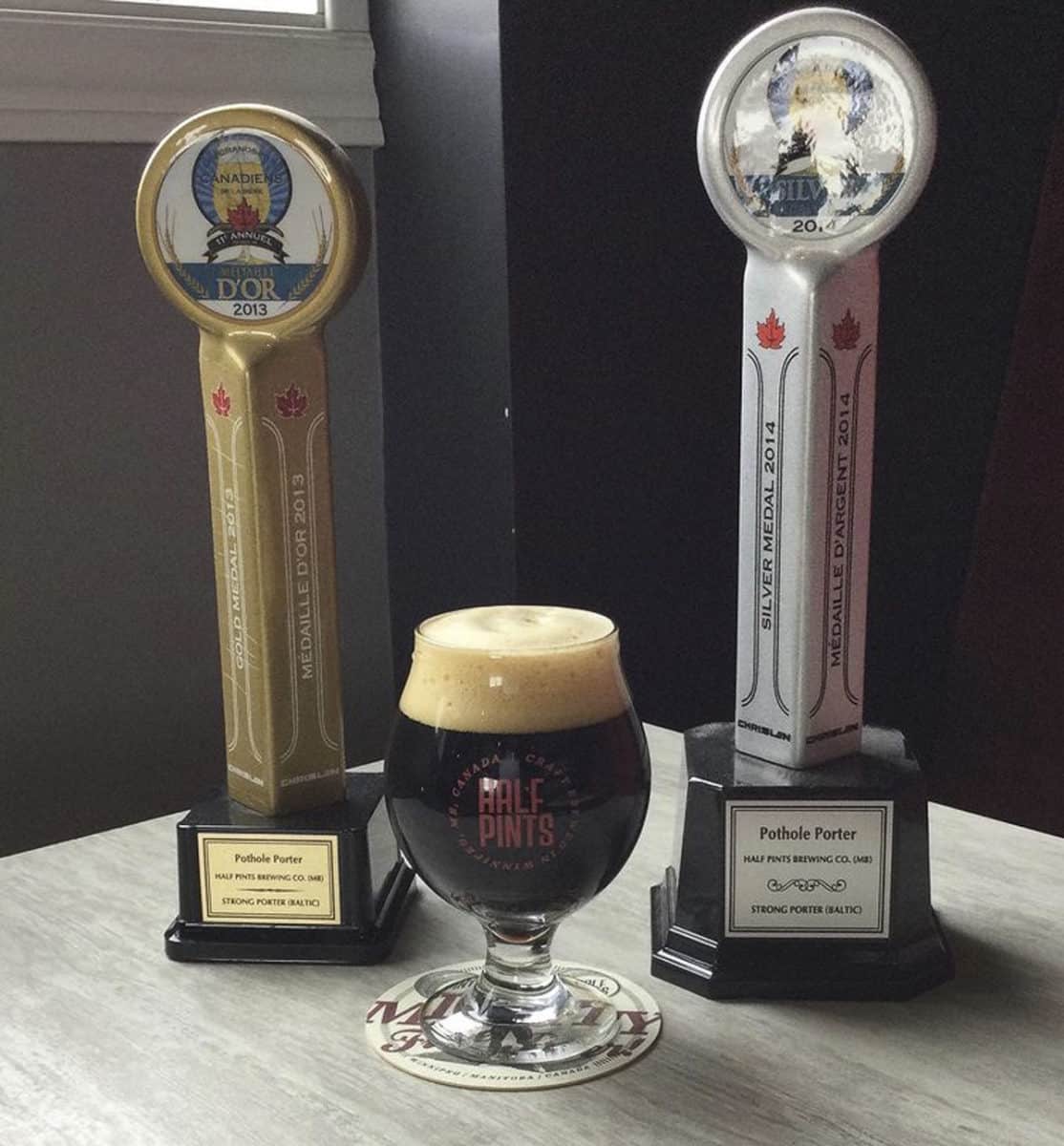 Head to the taproom for a flight of some of their tastiest beers; their flagship beers are the Little Scrapper IPA, the Bulldog Amber Ale, the Stir Stick Stout, and the St. James Pale Ale. There is also home delivery and keg rentals available, so you can enjoy Half Pints in the comfort of your own home if you're looking for a cozy night in. Want to find out how the beer is actually brewed? Join one of their free tours on Saturdays at 2pm.
Purchase their beer from the brewery itself or from any Manitoba Liquor Mart.
Fort Garry Brewing
Location: 130 Lowson Cres.
Another one of the most popular Winnipeg breweries, Fort Garry Brewing is also the oldest in the city; its history dates back to 1930, and has long been an iconic part of Winnipeg's beer scene. Today, it's one of the most popular brands of beer in Winnipeg, and has an extensive roster of craft beer to choose from. They're also known for their kegs, perfect for large events.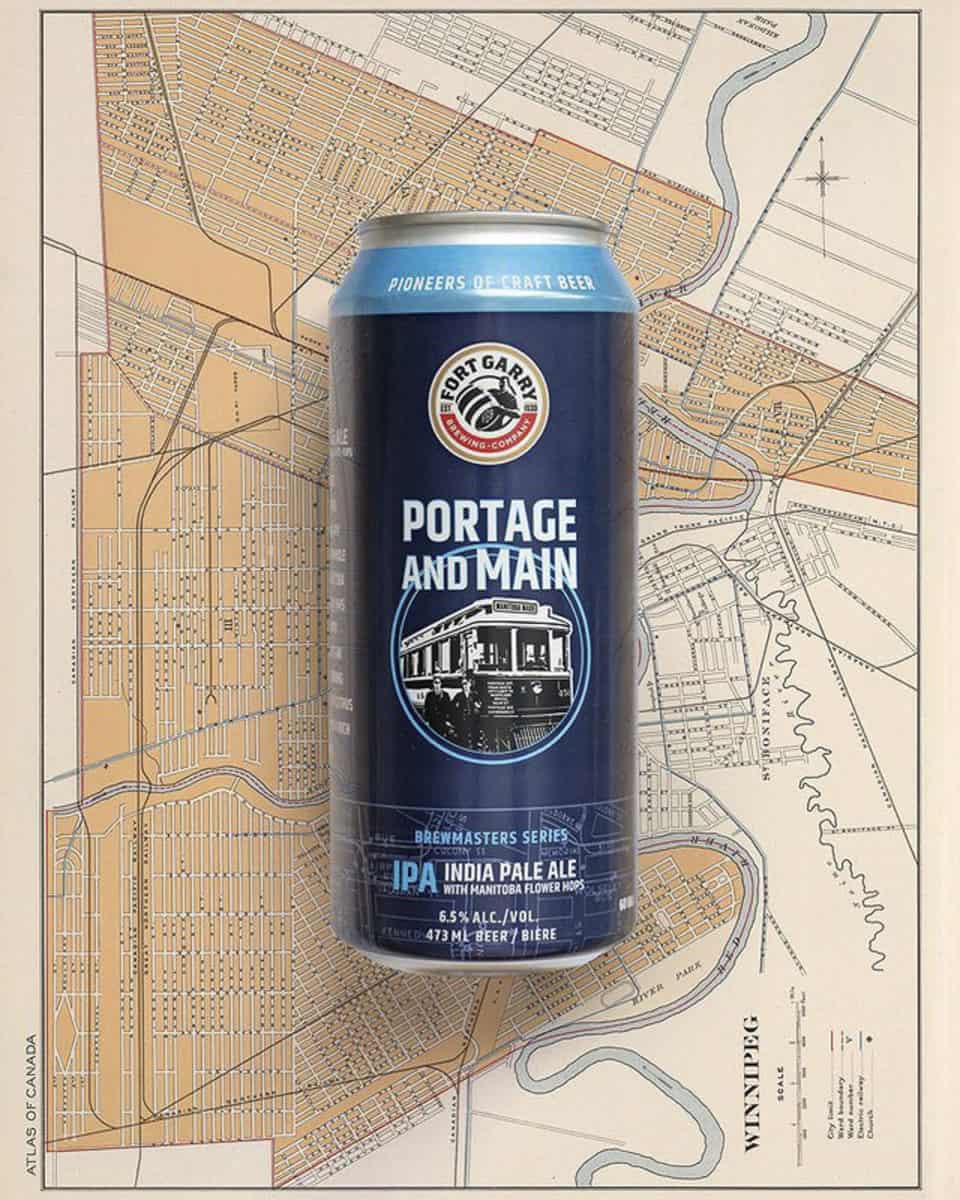 Though they don't have their own taproom, you can find Fort Gary Brewing all over Winnipeg at a variety of bars and restaurants. Try one of their classics, like the Portage and Main IPA or Fort Garry Rouge, or go for one of their newer additions such as the Peanut Butter and Jelly Sour. They also make a variety of seltzers, hard iced teas, and radlers.
Curbside pickup and delivery is available from the brewery (they're on Skip the Dishes), but you can also buy their beer from Manitoba Liquor Marts.
Low Life Barrel House
Location: 398 Daly St N
Low Life Barrel House is one of the newest additions on this list. Calling themselves a lo-fi minimalist brewery, their focus is on foeder aged Brett and sour beers. Not sure what that means? Foeder aged (pronounced "fooder") means the beverage was aged or fermented in an oak barrel (in the case of Low Life Barrel House, their beer is aged in neutral American oak barrels). And brett beer? Short for Brettanomyces, brett is a type of yeast used to ferment beer. All we know is that whatever they're doing, it tastes pretty darn good.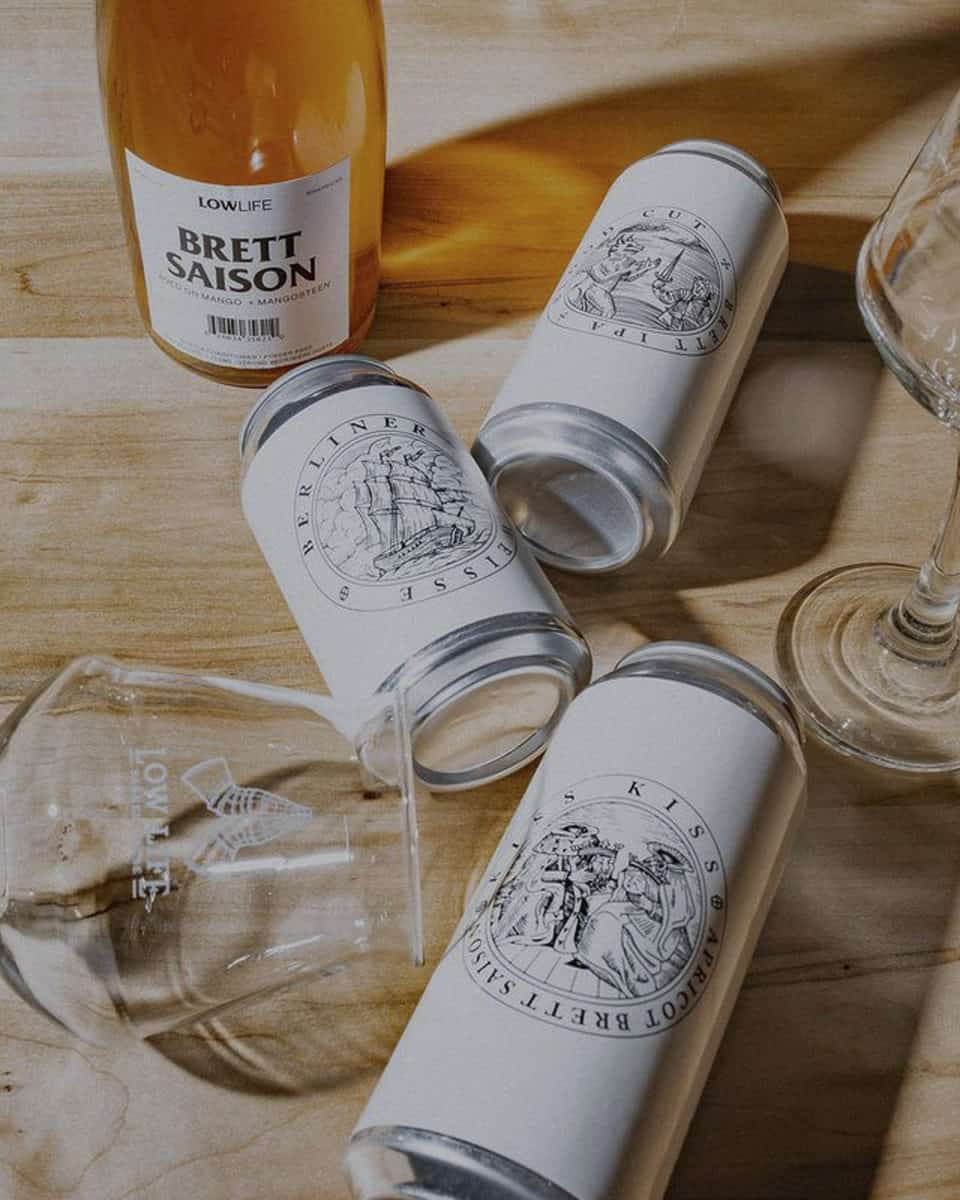 Beers include the Acadia Blanc Piquette, the Kismet, or the Kiss Kiss with Peach, a brett beer aged with flavours of peach. As this brewery is quite new on the Winnipeg scene, we're very excited to see the unique flavours they continue to come up with.
You can purchase their beer directly from the brewery or find it at a Manitoba Liquor Mart.
Brazen Hall
Location: 800 Pembina Hwy
Brazen Hall is so beloved for their food that it's easy to forget it's one of the popular Winnipeg breweries, too! And while they've won many awards for their delicious burgers, it's absolutely worth it to visit for their beer as well. Want to find out how their beer is made? You can book a private brewery tour, a fun option for a group event.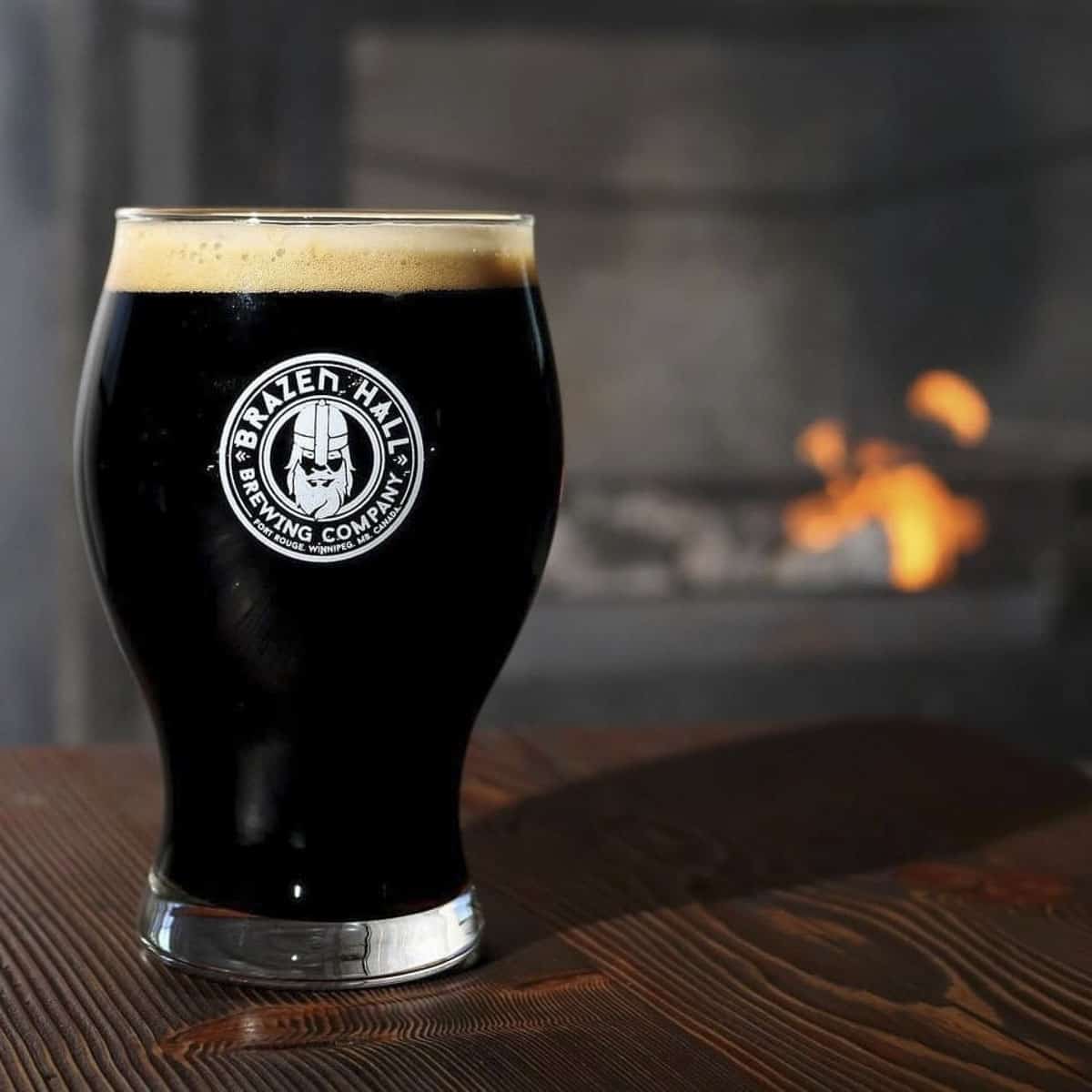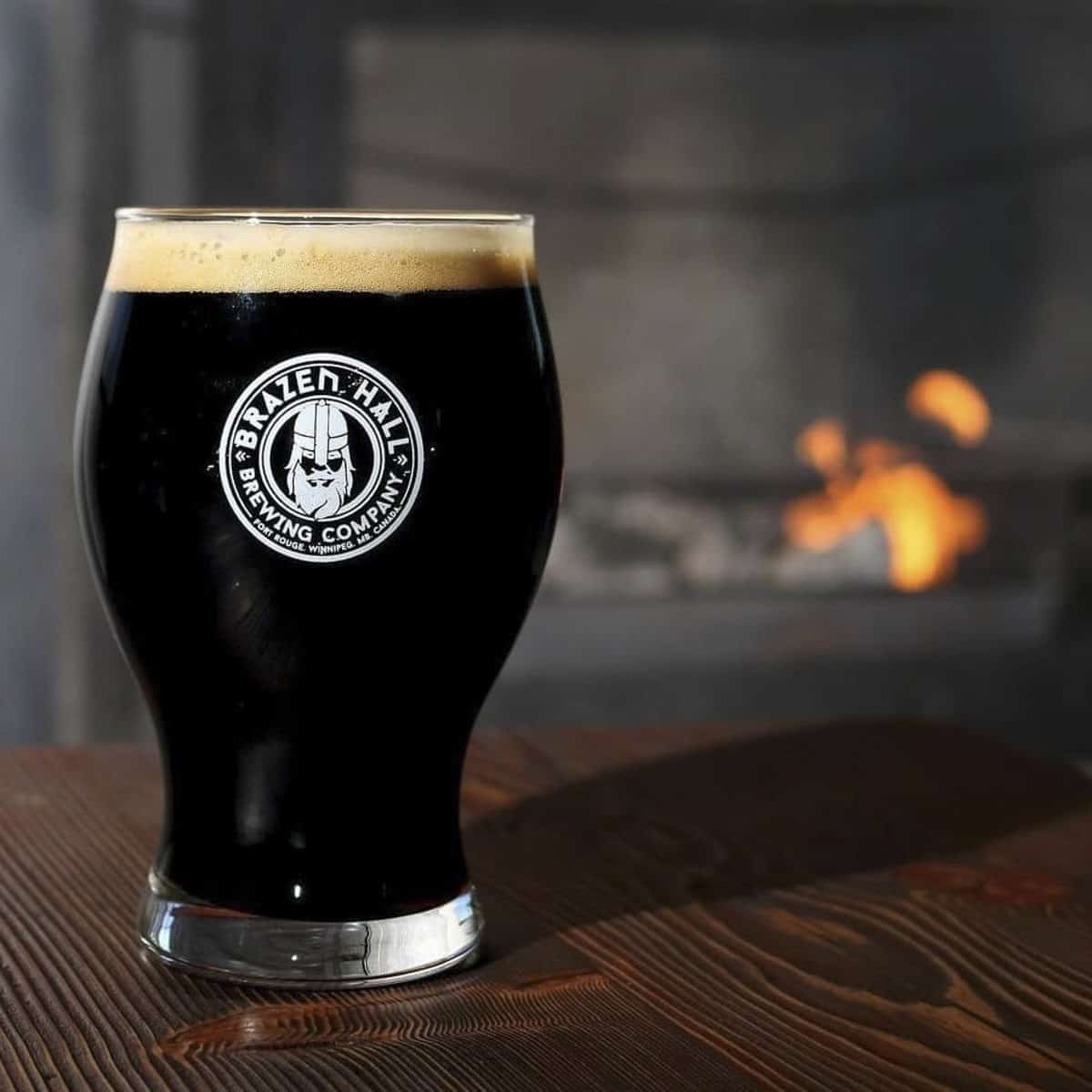 Head to the Fort Rouge brewery for a flight of their best beers, which pair perfectly with the extensive food menu. With a rotating list of beers on tap, favourites have included the Gokstad IPA, the Steel Cut Blonde, and seasonals such as the Philly Sour and the Haze Bomb Juicy Pale Ale. Brazen Hall frequently has live music, and the atmosphere is almost always lively and fun, making it perfect for a well-deserved catch-up with friends, a date, or for those times you crave a great burger and a great pint.
You can purchase Brazen Hall beer directly from the brewery.
Other Winnipeg Breweries
If you've exhausted the above list, then wait! There's more!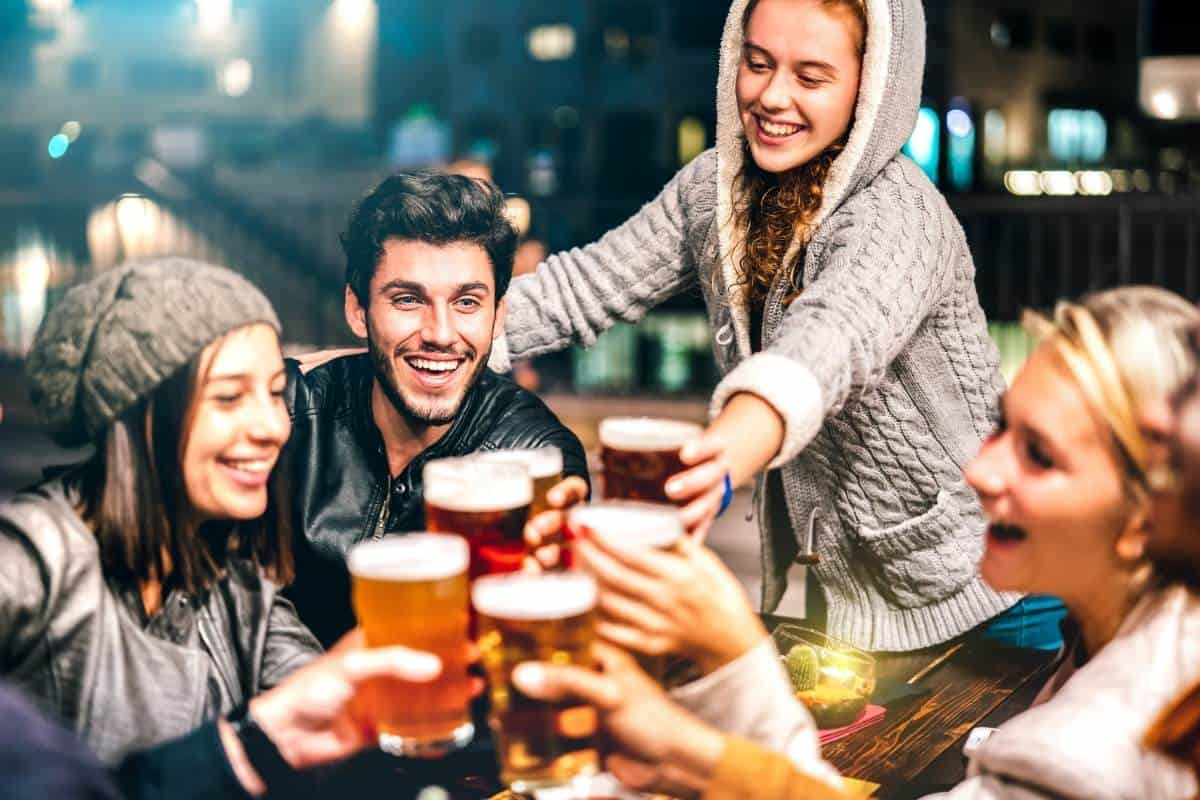 You guessed it, brewery sampling is a fun (and delicious!) activity in Manitoba's capital, but don't miss out on these other great things to do in Winnipeg.
Please don't drink and drive! Park your car at one of these Winnipeg hotels or Winnipeg Airbnbs for the night and trust a professional to take you around the city on a brewery tour.
Beer is best paired with a delicious slice of 'za! So check out our article on the best pizza in Winnipeg to complete this essential coupling.
And if you want to make a night of it sampling all kinds of different brews, check out our article on pubs and bars in Winnipeg. Start with a good and hearty meal by visiting one of the best Italian restaurants in Winnipeg!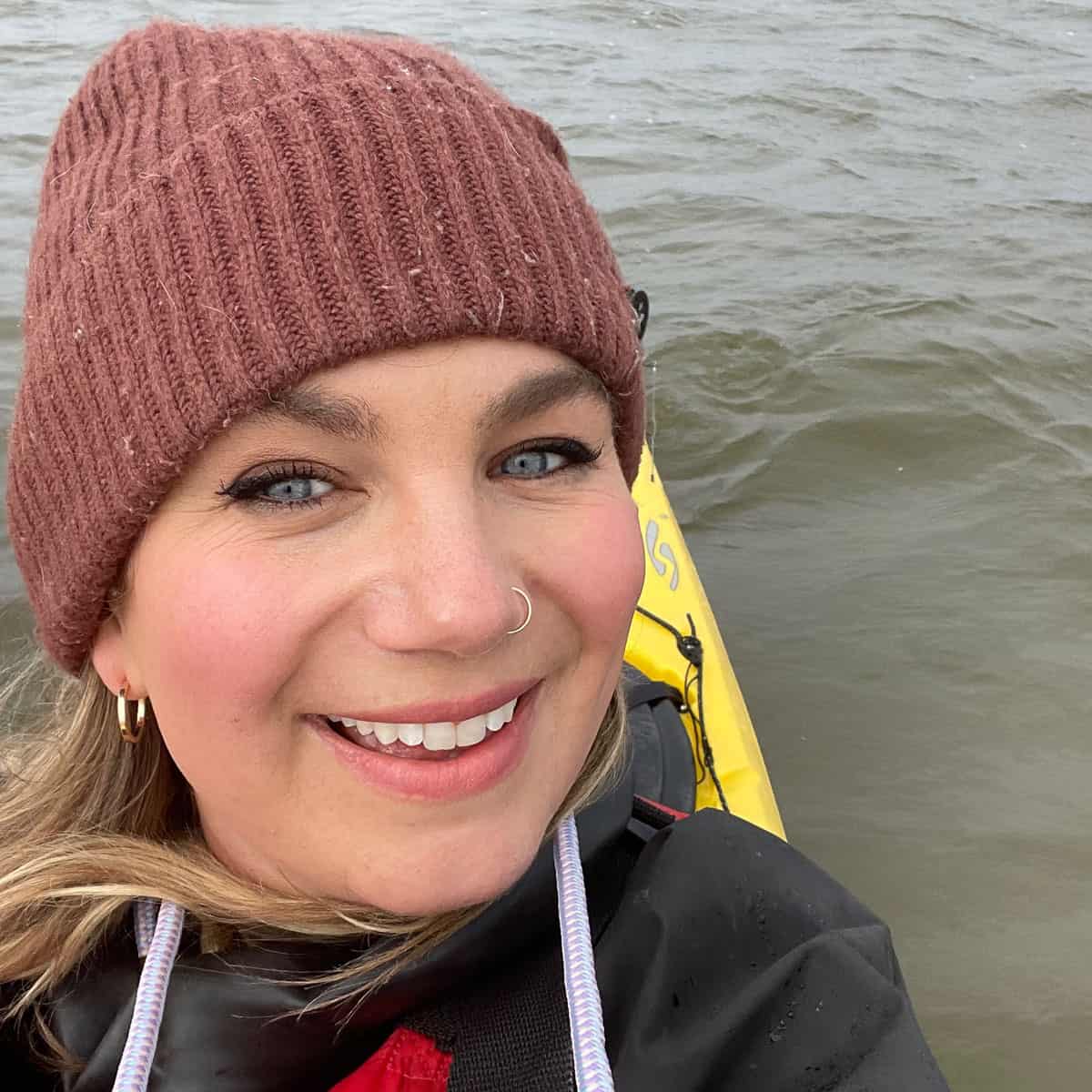 Brenna Holeman (she/her) has adventured to over 100 countries but is incredibly proud to call Winnipeg home. Brenna spent 16 years travelling solo around the world, living in Copenhagen, Edinburgh, Osaka, Antigua, and London, England. As well as being an editor and writer for Expedia UK for over seven years, she runs This Battered Suitcase, one of the most trusted and respected travel blogs in the world.