Disclaimer: This page may contain affiliate links. Please review our full Terms and Conditions for more information and our Privacy Policy. Note that any pricing, operating hours, or other such information provided below may have changed since initial publication.
Compiled by the Road Trip Manitoba team
Last updated on March 28, 2023
Winnipeg is home to so many amazing cocktail bars and pubs. Whether you're after a craft cocktail or a simple pint, there's a place in the city for you! We've rounded up some of our favourite Winnipeg bars and pubs, from the brand-new wine bars to the tried-and-true local haunts. No matter if you're looking for a great spot for a date night, a bar to hang out with friends, or a place to have a celebratory drink, we've got you covered. And don't forget: we have an entire article about the best breweries in Winnipeg, which is why you don't see any of them on the list below!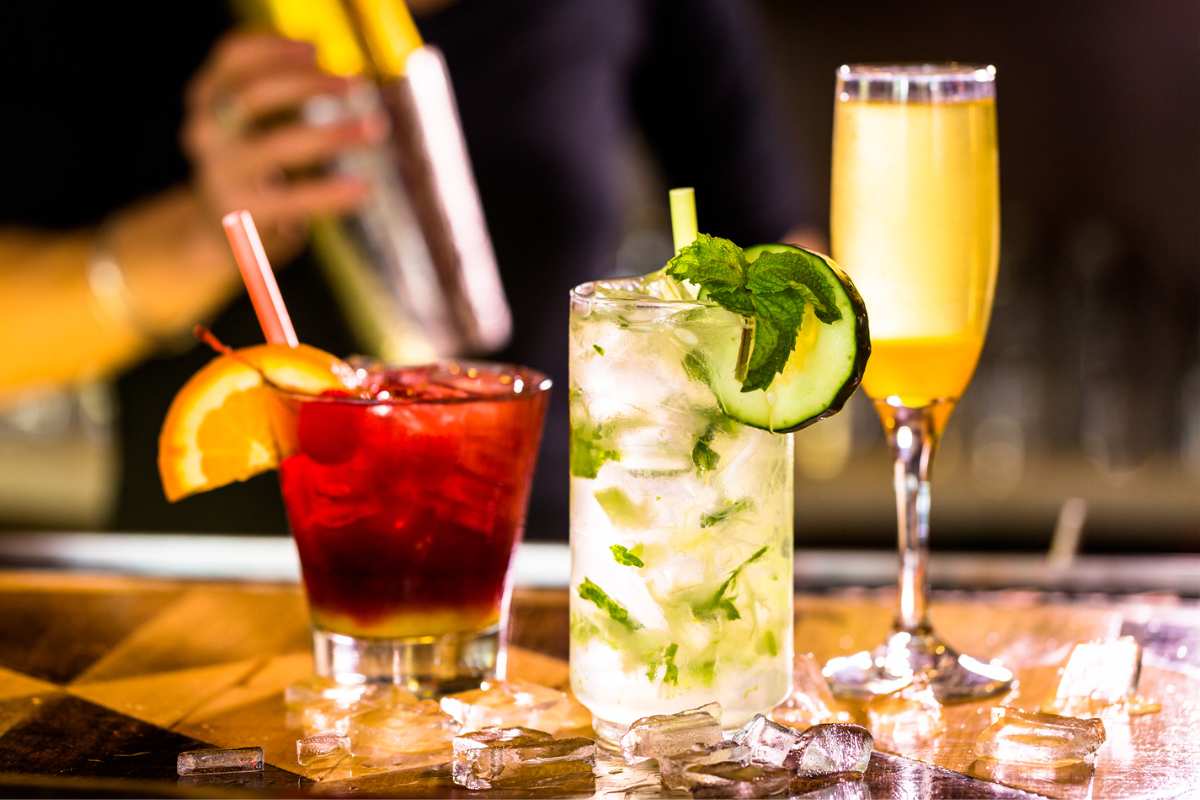 As always, please drink responsibly and never, ever drive after consuming alcohol. With taxis, public buses, and many ride-sharing options in Winnipeg, there's no excuse to drink and drive.
Land Acknowledgements
Winnipeg is located on Treaty No. 1 the original lands and waters of Anishinaabe, Ininiwak, Anishininiwak, Dakota, and Dene peoples, and on the homeland of the Métis Nation.
Cocktail Bars in Winnipeg
Amsterdam Tea Room
Location: 103-211 Bannatyne Ave
Head to the lively Exchange District to visit Amsterdam Tea Room, where almost all the cocktails have a unique twist: they're made with tea! Choose from Earl Grey, Jasmine, Mint, Oolong, Matcha, and more; no matter what, you're going to have something delicious and one-of-a-kind. One of our favourites is the Red Bush, made with Canadian Club rye, Rooibos tea, Maraschino liqueur, Vermouth Rubino, and a boozy cherry. Of course, there are also non-alcoholic cocktails and a massive array of teas if you're after something lighter.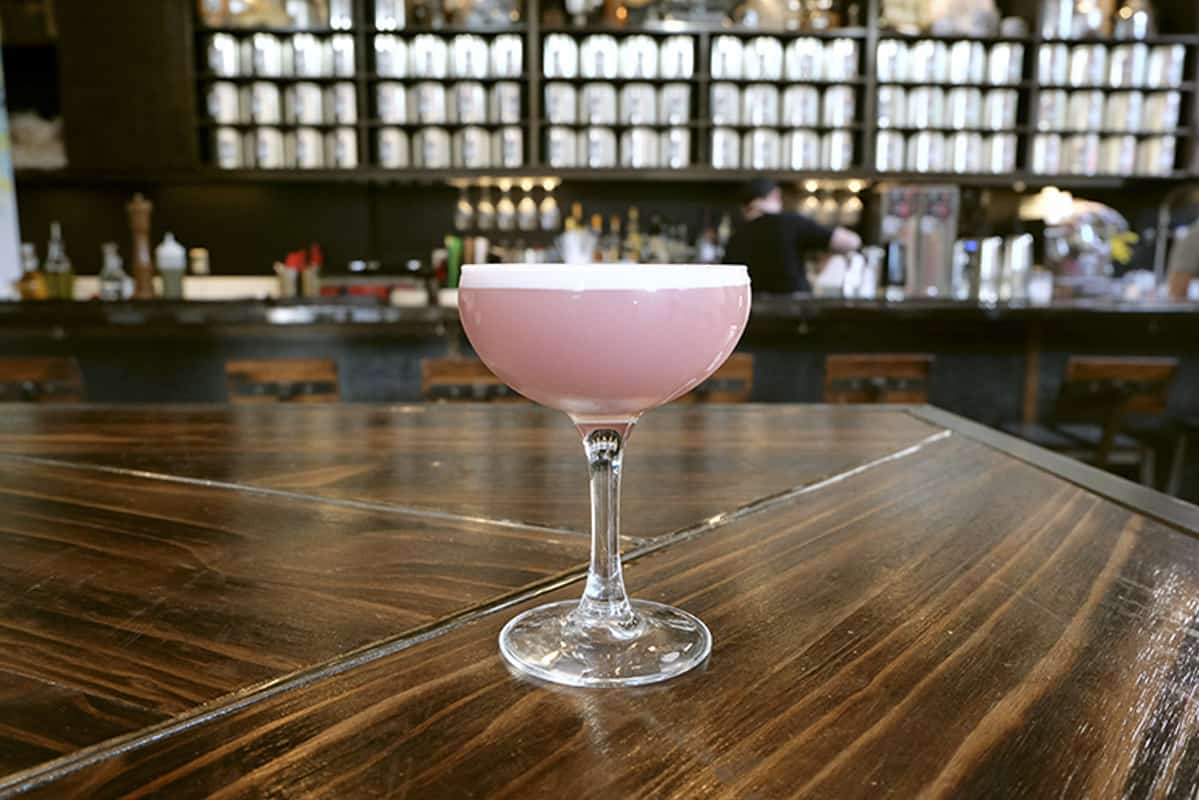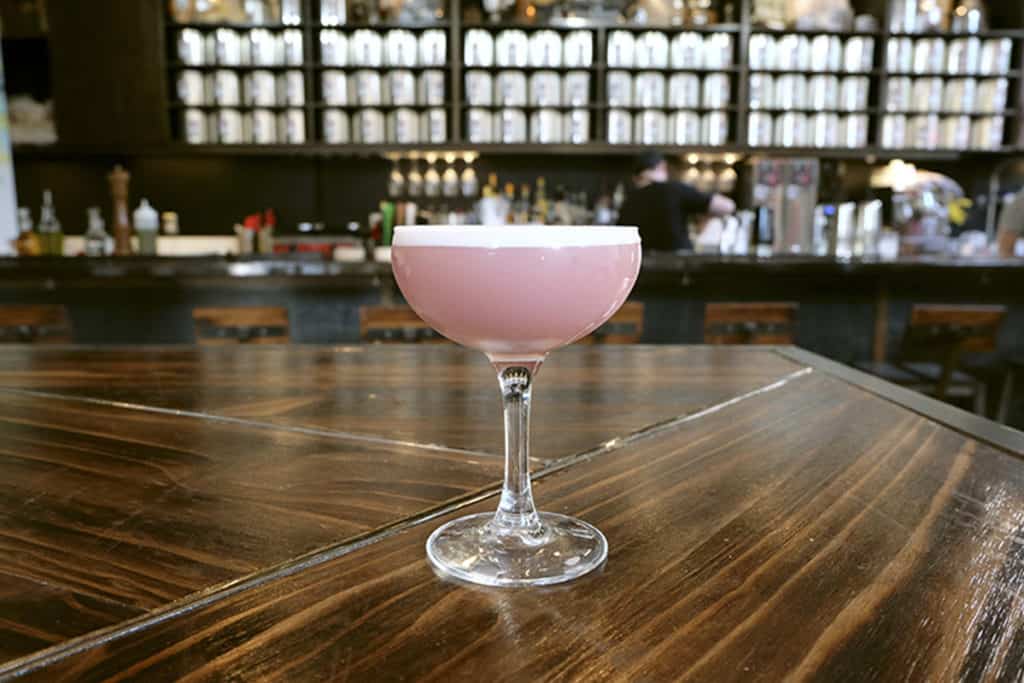 Not sure what to pick? There are Tea Cocktail Flights, which is an amazing way to try many different flavours. The cocktail bar is also home to a fantastic food menu, making it a great spot for lunch, dinner, happy hour, dessert, or snacks. They really do have it all at Amsterdam Tea Room.
The Roost on Corydon
Location: 651-A Corydon Ave
One of our favourite Winnipeg cocktail bars due to its innovative flavours, The Roost on Corydon is home to an ever-changing menu of delightful libations. Although small, it packs a real punch, with the patio coming alive in the summer months. If you were walking down Corydon Avenue, you might even miss it… make sure to look up, as the bar is on the second floor! It's why it's lovingly referred to as a "tree house" by many.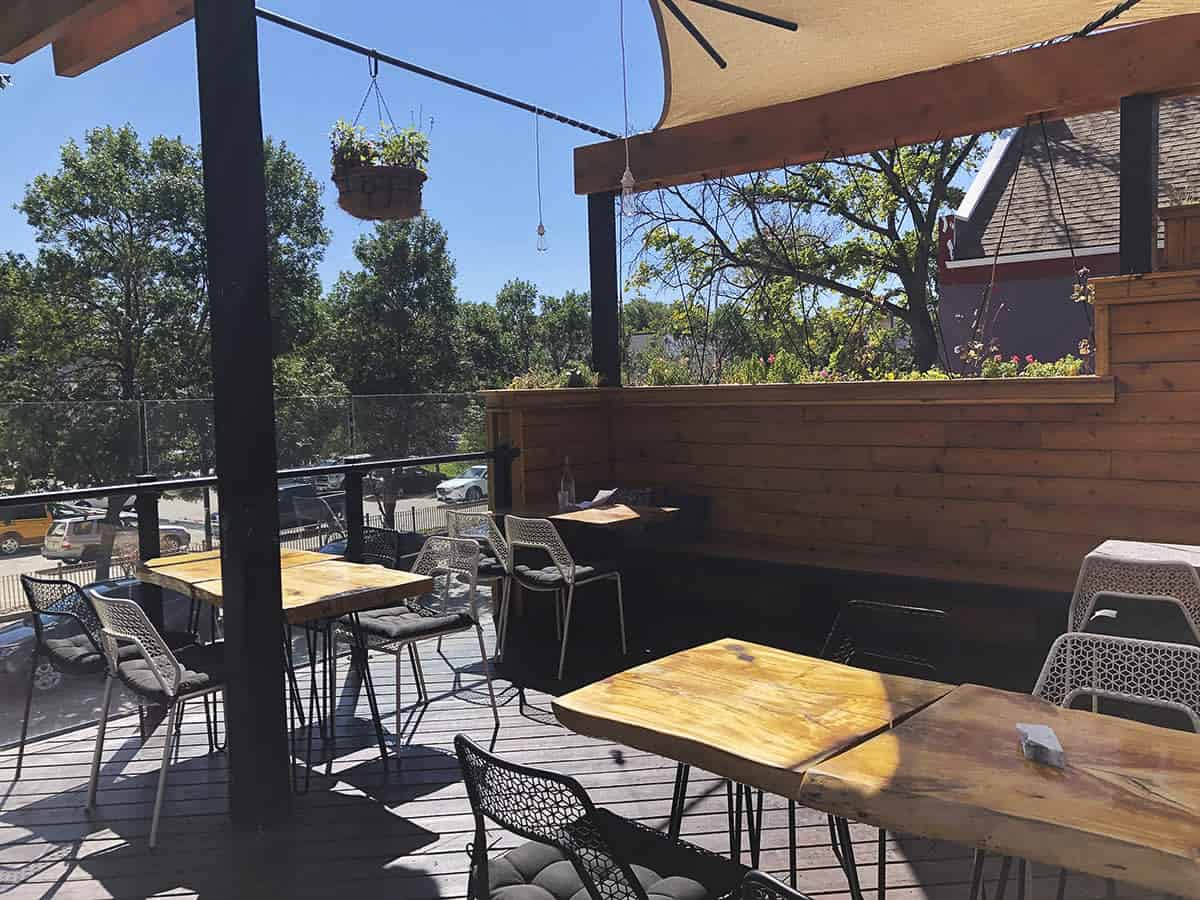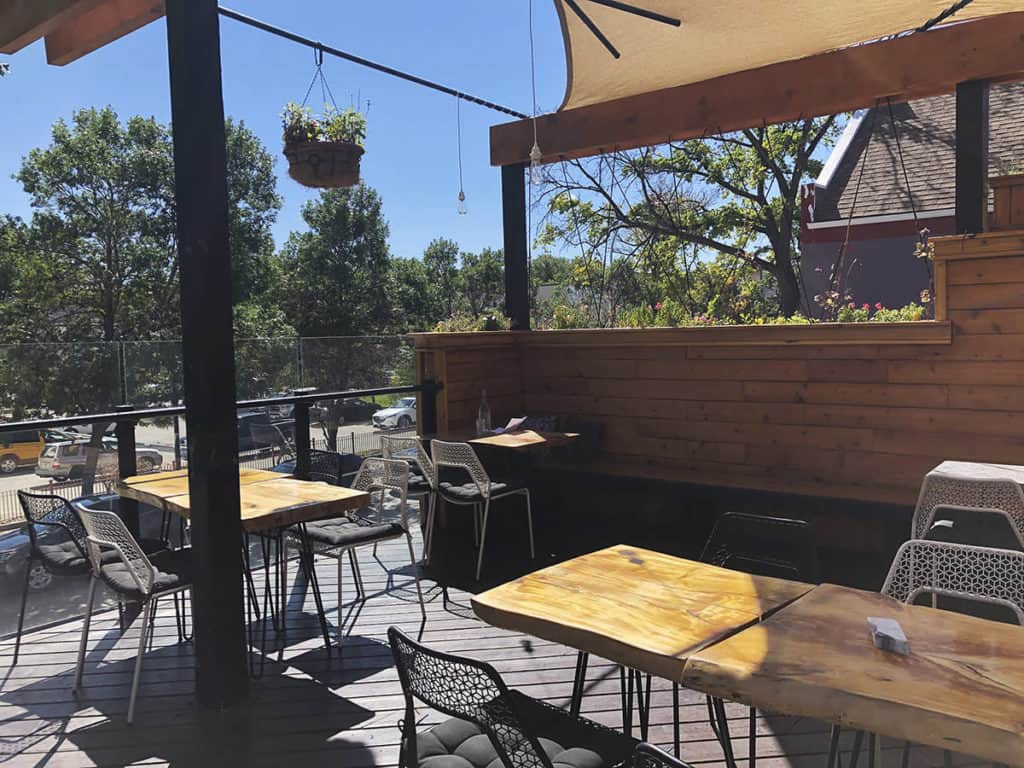 While the cocktails change every season, some of our past favourites have included Winterlands (made with toasted walnut Jim Beam Black, Campari, burnt date syrup, and angostura), Puff the Magic Dragon (with rhubarb tequila, lime, dragonfruit syrup, and a sweet and salty rim), and the Bend and Snap (with bubblegum Brennivin, vegan foamer, lemon, and pomegranate hibiscus syrup). Vegan and gluten-free friendly, the food menu is also exquisite, with favourites being the Pork Belly Bun, the Vegan Dumplings, and the Roost Burger with a shawarma mushroom patty.
Pro tip: make a reservation or go as soon as they open if you want to snag a spot, as this place fills up quickly!
Langside Grocery
Location: 164 Langside St
The relaxed vibe and fantastic atmosphere of Langside Grocery, coupled with their delicious cocktails, make this an easy choice for the best bars in Winnipeg. Head to West Broadway for this popular spot, where you'll find a cozy interior with bar seating and candlelit tables.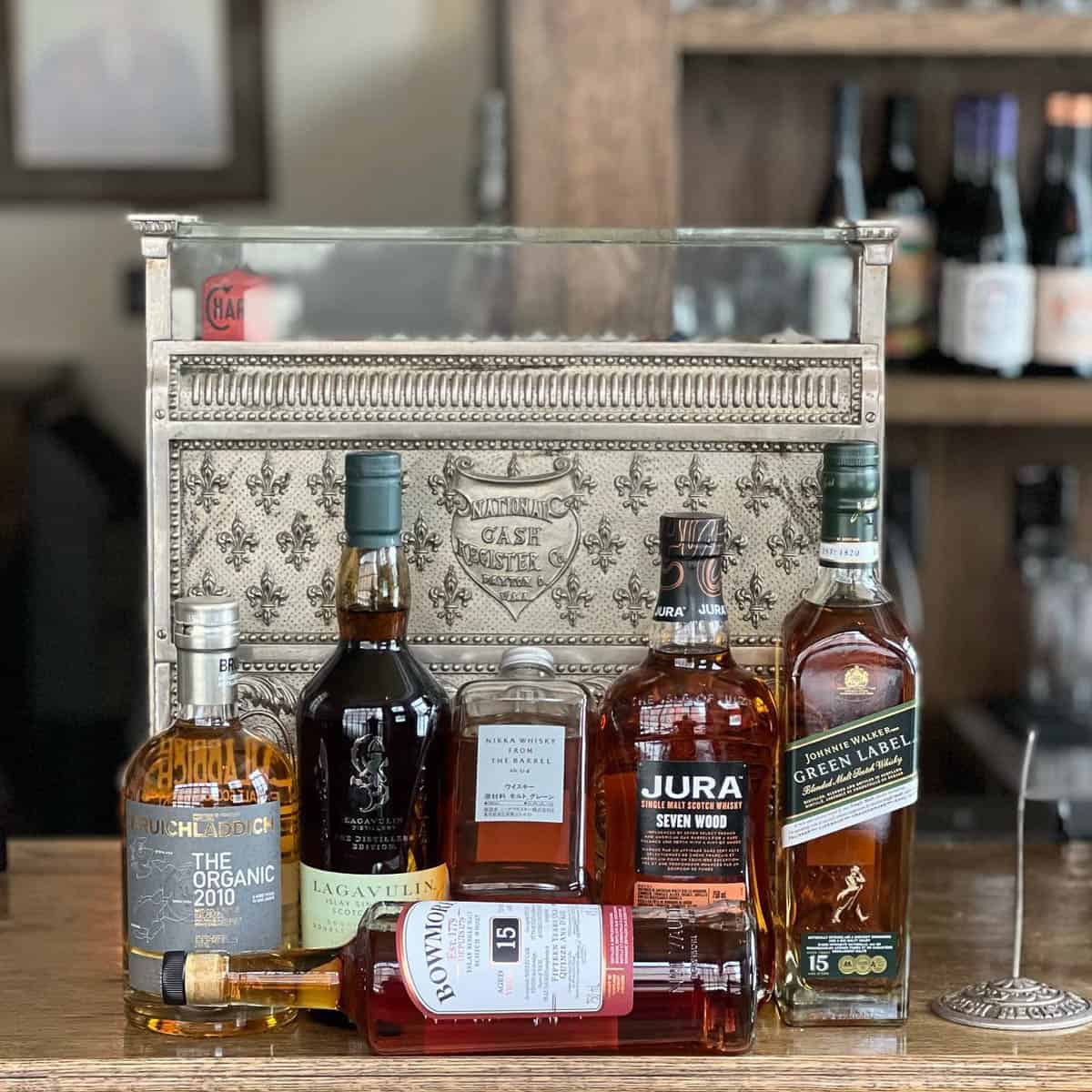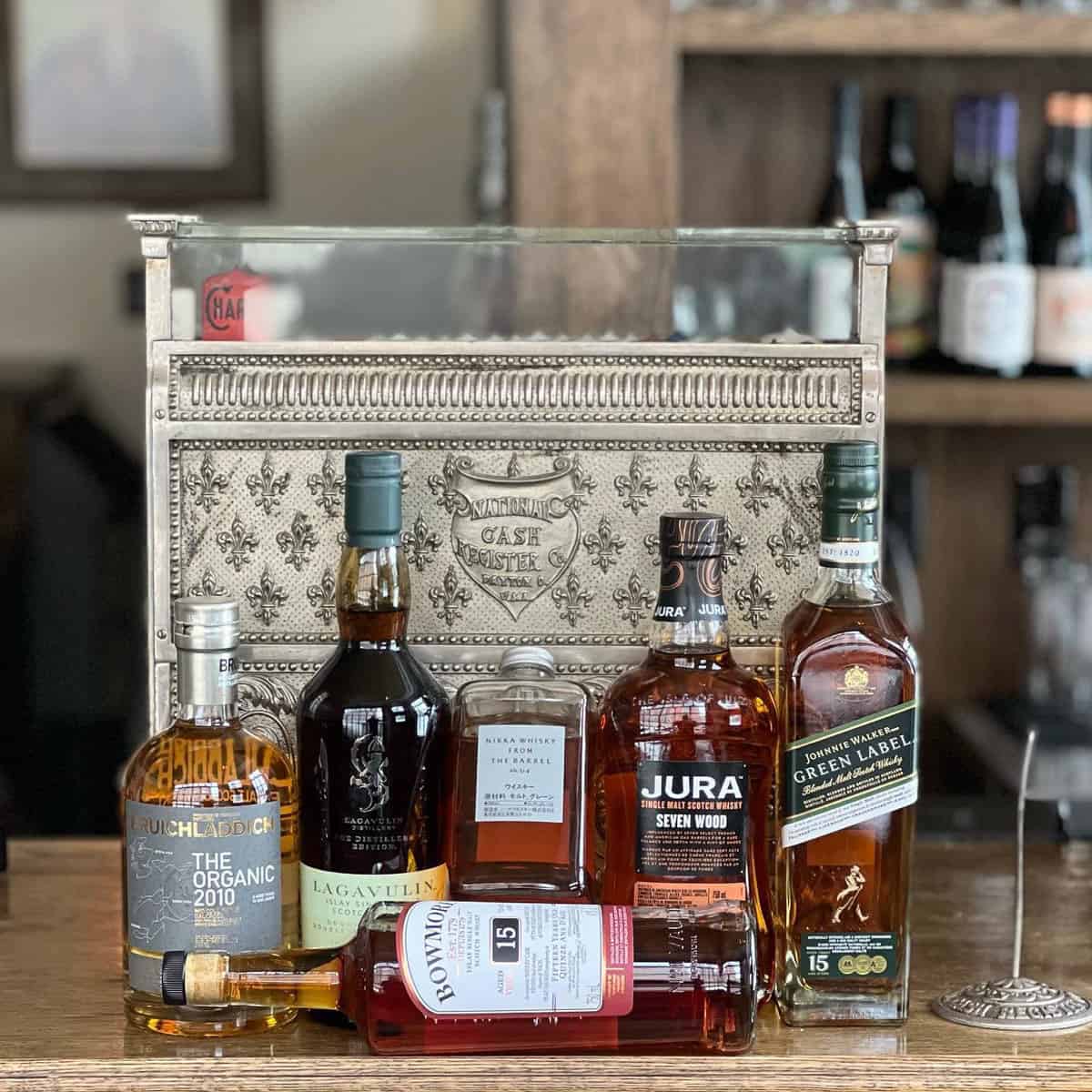 There's a good selection of wines and local beers, but we always go for one of the cocktails… the Clover Club is a favourite, as is the Cary Grant. There's a feeling of stepping back in time when you visit Langside Grocery, as the cocktails all have a hint of vintage to them; even the stemware used is reminiscent of a different era. The food menu perfectly complements the drinks, so you can easily make an evening out of a visit here, and there's no doubt it's one of our favourite cocktail bars in Winnipeg.
Patent 5 Distillery and Tasting Room
Location: 108 Alexander Ave
If you're interested in trying out the best cocktail bars in Winnipeg, you simply have to visit Patent 5 Distillery and Tasting Room. Set in a cool location in downtown Winnipeg, the atmosphere is incredible, especially as you can see through windows into the distillery as you sit in the tasting room. Adding to the atmosphere is the decor, as the cocktail bar is furnished with reclaimed stained glass, wood, and other elements from the historic Oak Room at the St. Regis Hotel.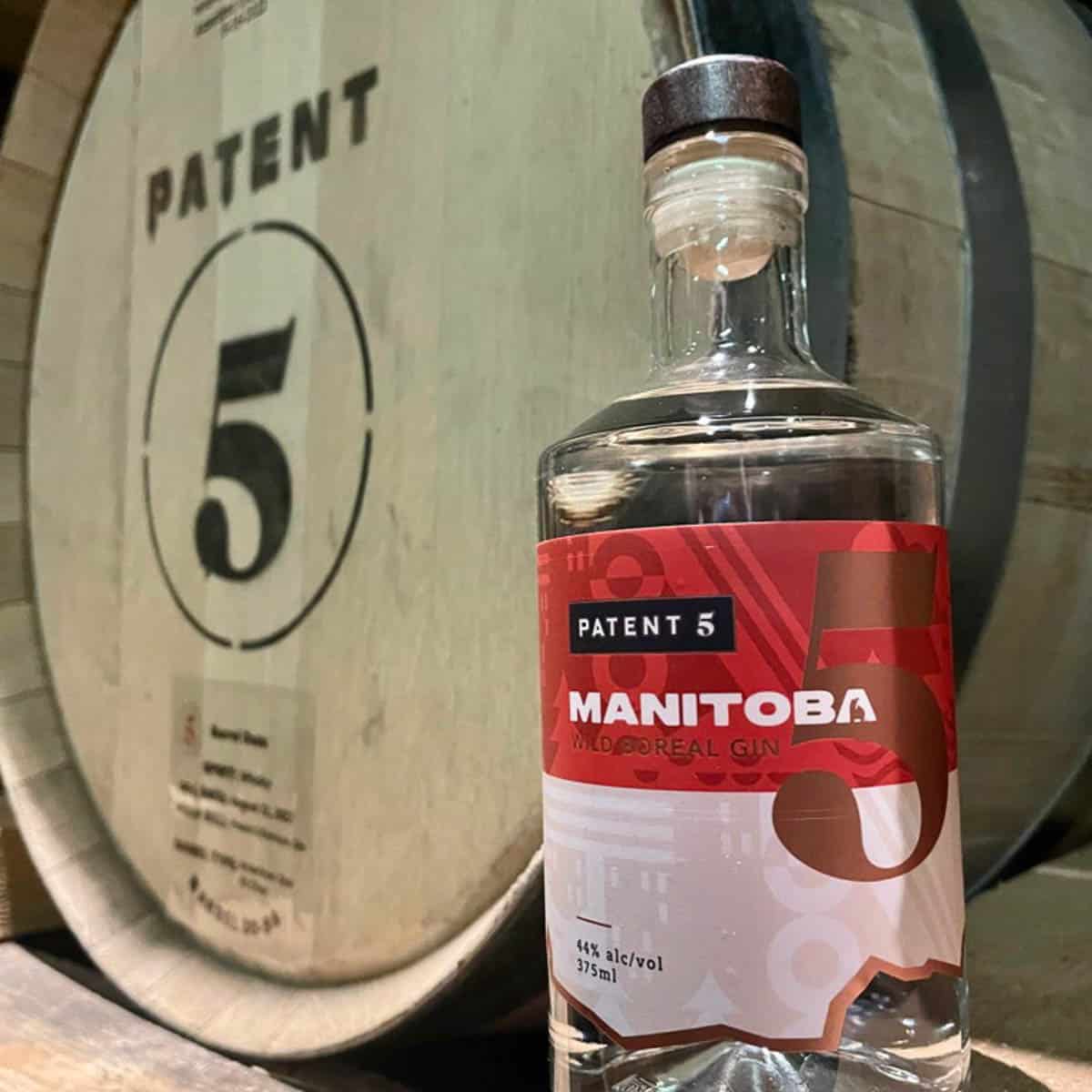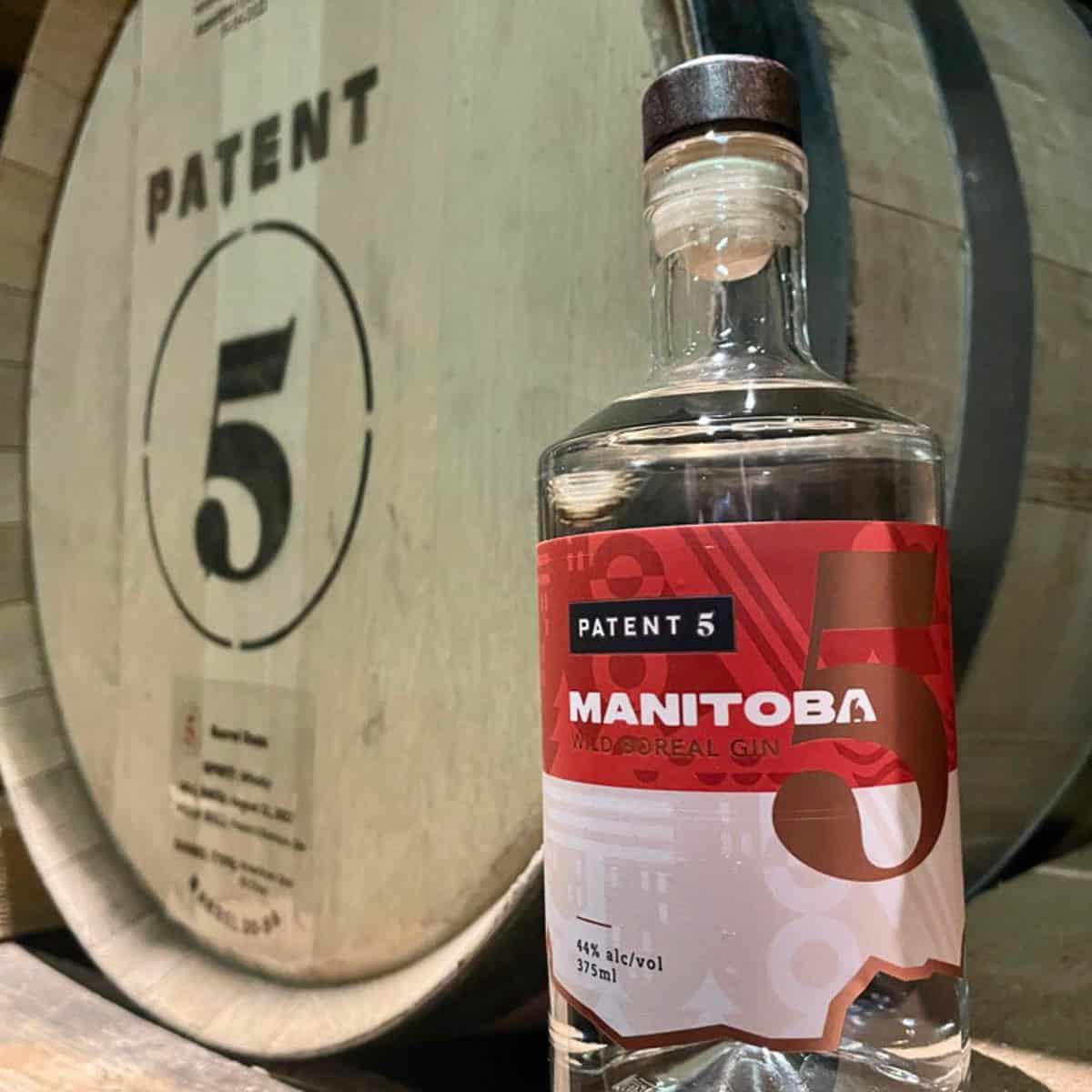 At Patent 5, you'll find "high concept" cocktails made with their spirits, including gin, vodka, and a brand-new whiskey. There's a menu filled with innovative drinks that is forever changing, so each time you visit you may have the chance to try something new. You're also able to have simple serves, like vodka and soda, and there's a zero-proof menu as well. Like what you taste? Make sure to buy a few bottles of their spirits, liqueurs, or ready-to-serve cocktails, or book a tour to see how the distillery works. They also have cocktail-making classes available!
Sous Sol
Location: 22-222 Osborne St
With stunning cocktails and a drool-worthy food menu, Sous Sol is the perfect place to take a date or catch up with a good friend. We're huge fans of this place, even listing it as one of our choices for the best restaurants in Winnipeg! But there's more to Sous Sol than its unbelievable food menu… it's also home to some of the best cocktails in Winnipeg.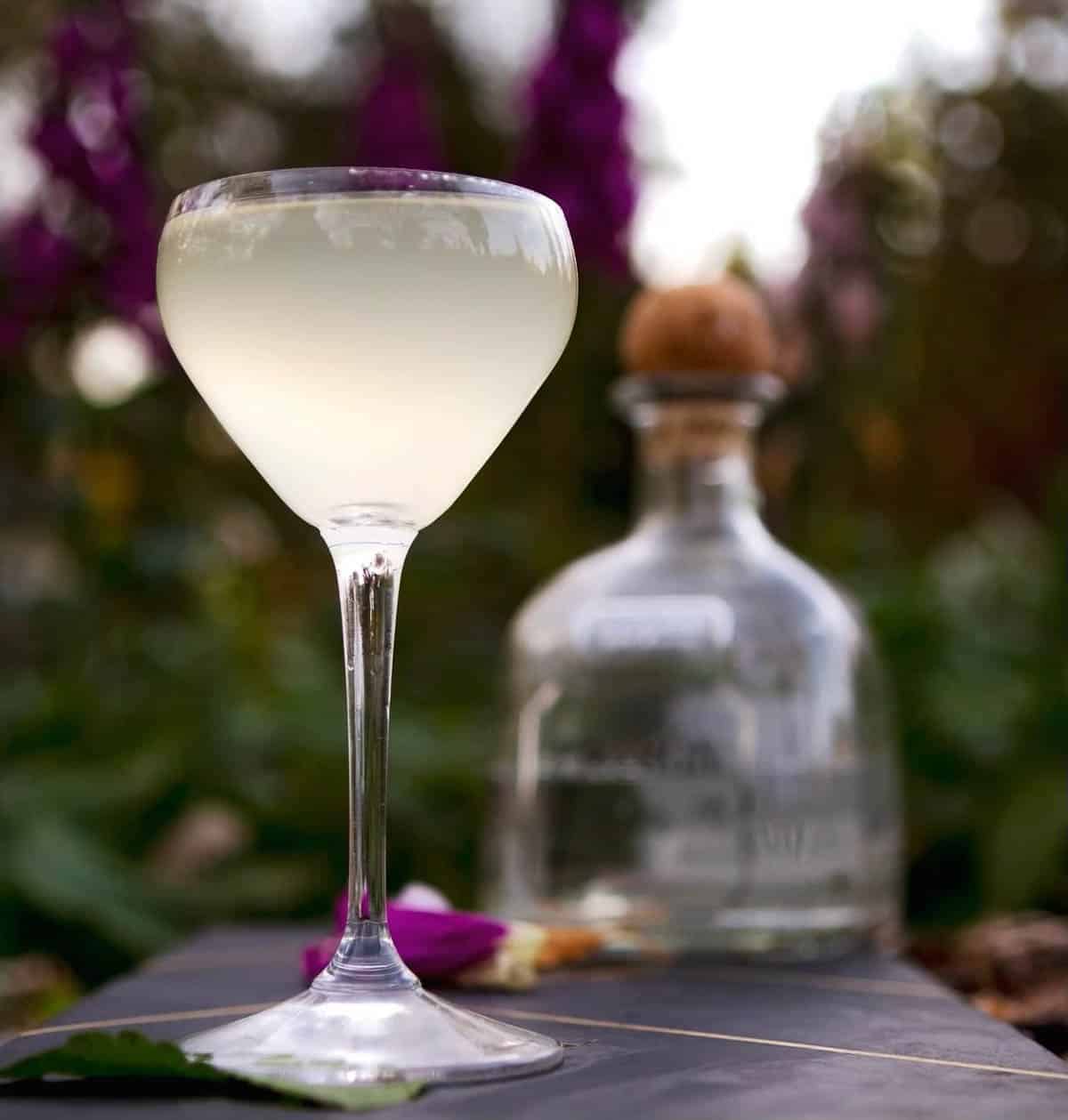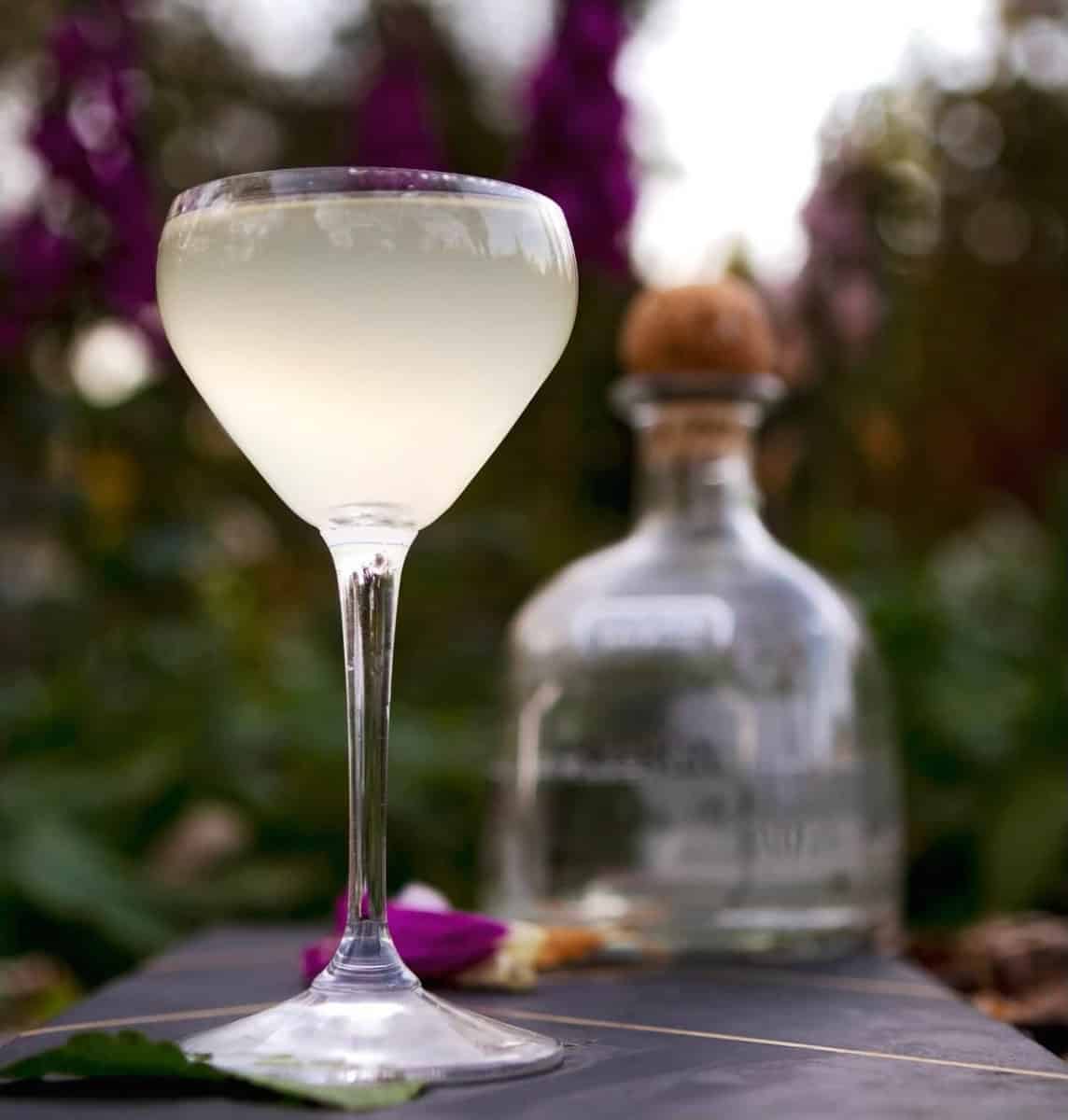 You'd be forgiven for not spotting Sous Sol unless you knew it was there, as it has a "hidden entrance." Once you go "underground" and enter, however, it's clear that the spot has an atmosphere unlike any other in the city. Settle in by the candlelight and enjoy one of the many enticing cocktails; the bar is primarily known for its rum selection, so the S. S. Minnow, made with housemade coconut rum, is a good pick, as is the popular Zombie. There's also a great selection of mocktails for those having a non-alcoholic night out!
We recommend making a reservation at Sous Sol before visiting.
Rosé Coffee and Wine
Location: 474 Main St, Unit B
Not to be confused with Rose Bar (see below), this relatively new bar in Winnipeg is quickly becoming one of the city's most talked-about spots. Sip, taste, and stay a while… that's the motto at Rosé Coffee and Wine, where founder Kieu Nguyen believes in celebrating the history of the Exchange District alongside serving fantastic food and drinks.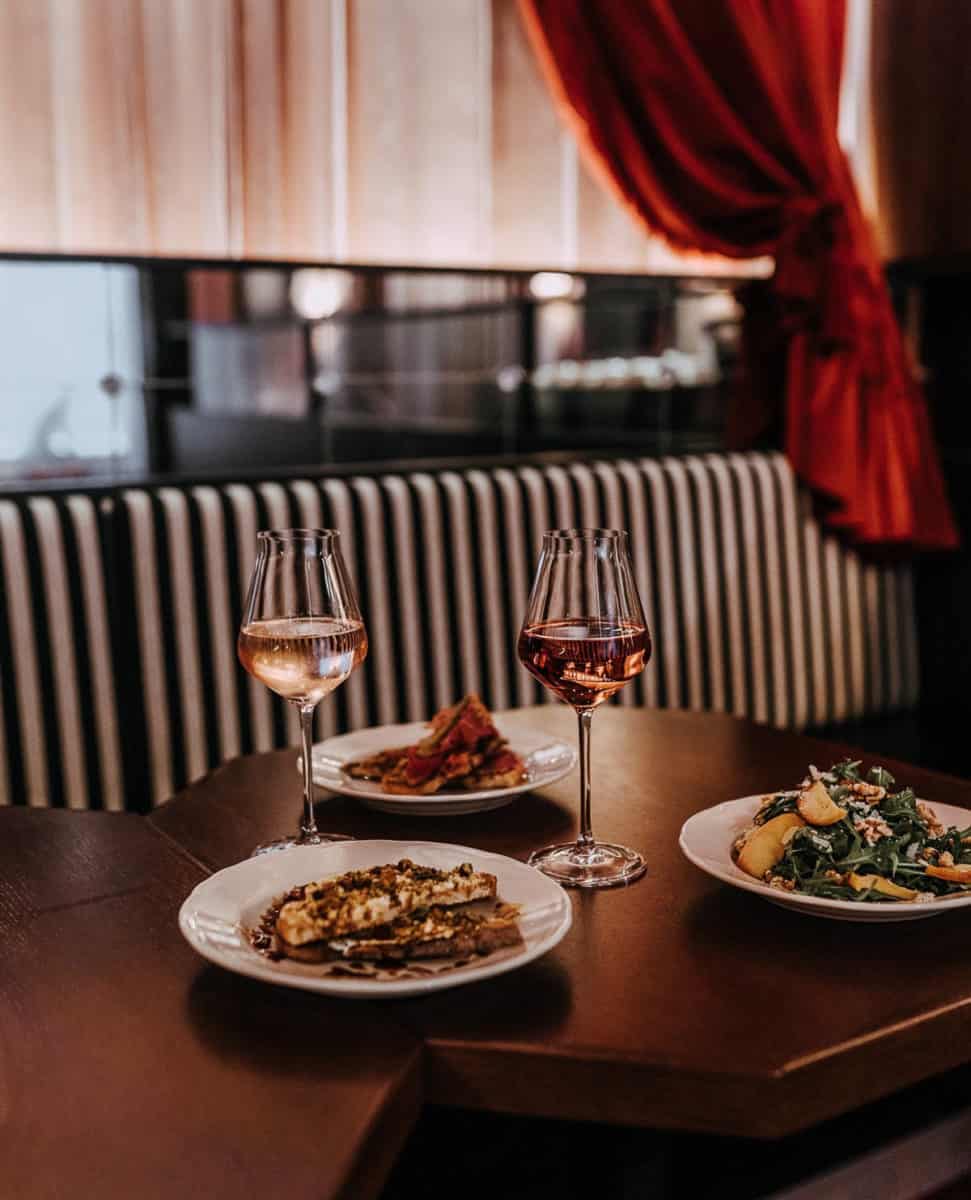 Cozy up in one of the red velvet booths and enjoy one of the many wines on offer; there's also a small menu of gin cocktails, including the Ginger Fig (with gin, vanilla fig syrup, lemon juice, and ginger beer). Enjoy lunch here, or choose from the list of small plates in the evening (we always go for the oysters). There's also an extensive list of tartines, perfect when paired with a glass of – what else? – rosé.
Rose Bar
Location: True North Square, 242 Hargrave St (part of Hargrave Street Market)
Not to be confused with Rosé Coffee and Wine (see above), Rose Bar is found inside the excellent Hargrave Street Market, a place we often mention here at Road Trip Manitoba. Surrounded by a few restaurants, you can head here just for a cocktail or make a meal out of your experience. And with so many options for where to eat in the market, you know the food quality will be high!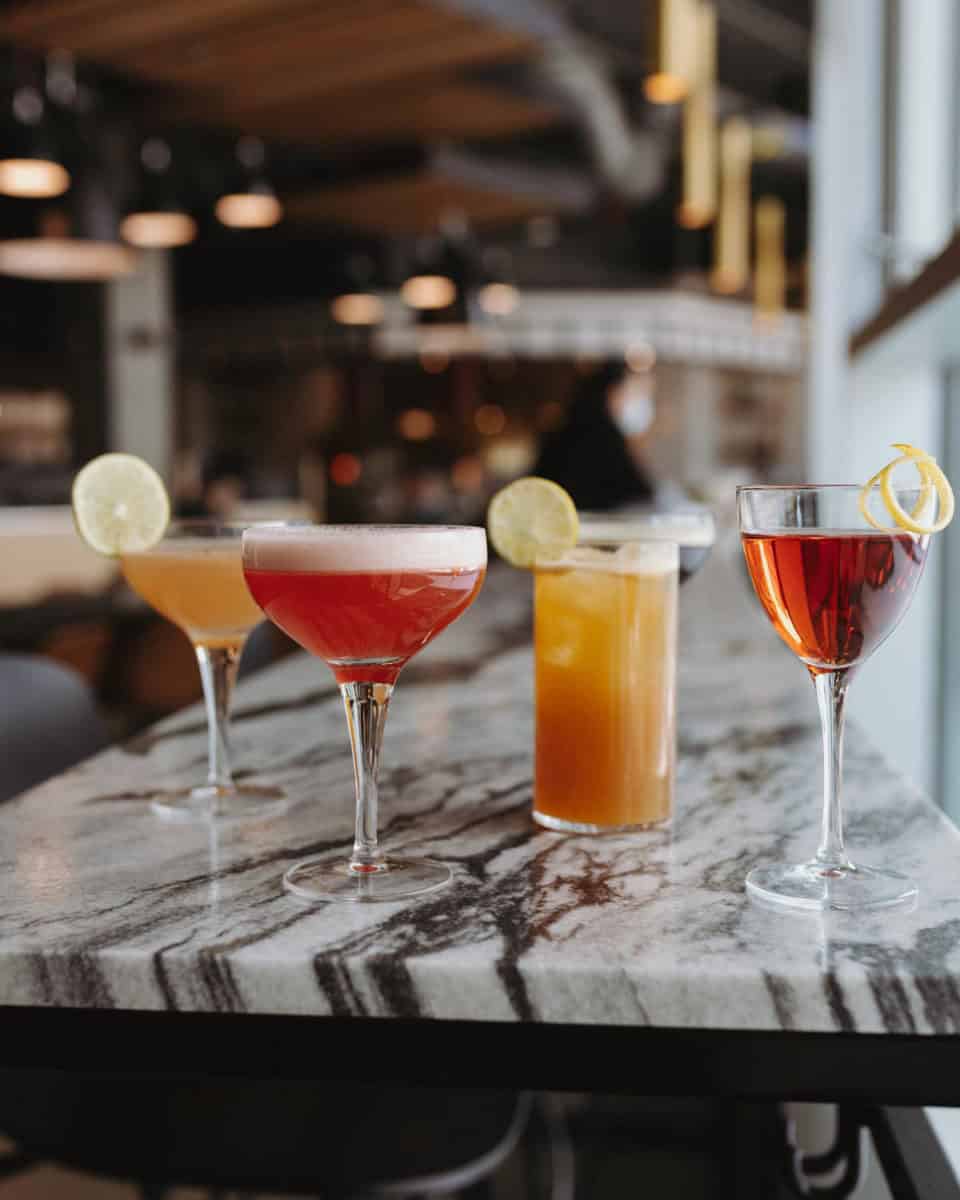 Serving perfectly made craft cocktails as well as a fantastic selection of wine and beer, Rose Bar is incredibly popular before a major event at the Canada Life Centre (for Winnipeg Jets games or concerts, for example). But on an average evening, it's a fun place to stop for a drink after work, meet a few friends for cocktails, or take a first date, especially when you combine a visit with the rest of the market.
Café 22
Location: 823 Corydon Ave Unit #2
When you're after a late-night cocktail, Café 22 on Corydon is the place for you. Open until 3 am on Fridays and Saturdays and 1 am every other night, Café 22 is definitely a popular spot for a drink. With a long bar to sit at, plenty of tables, and even some cozy booths to enjoy, there's a solid menu of wine and mixed drinks to choose from. Having a party? They also cater to large groups of people.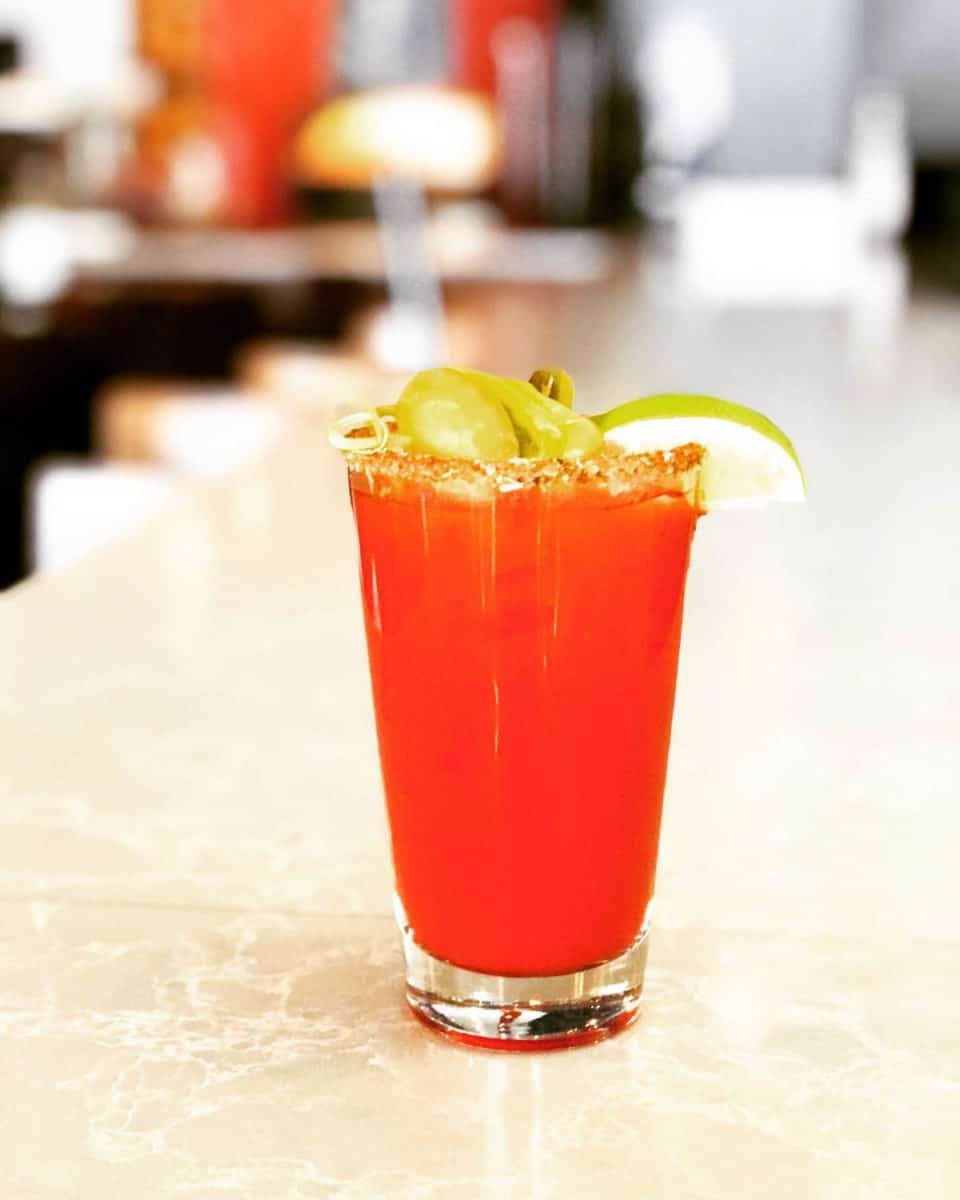 If you're hungry, you're in luck… we included Café 22 on our list of the best pizza in Winnipeg, and the menu has plenty of other options for snacks and meals. If you're sitting closer to the bar, there are TVs where you can watch whatever major game happens to be on (so it's a prime spot to catch the Jets or Blue Bombers when they play). And in summer, the large patio is one of the nicest in the neighbourhood; sit back, relax with a cool drink, and enjoy watching the hustle and bustle of Little Italy as it passes you by!
James Avenue Pumphouse
Location: 2-109 James Ave
Head to downtown Winnipeg to one of the newer bars in Winnipeg, the James Avenue Pumphouse. Whether you're there for dinner or for a few snacks and drinks, the spot is almost always lively; in fact, you may have to wait a while to find a seat if you visit on a weekend or Friday night! Found in Winnipeg's Exchange District along the waterfront, James Avenue Pumphouse has an interesting history – it was the city's first high-pressure water system to help battle any fires that occurred downtown – and you'll find nods to that background in the decor.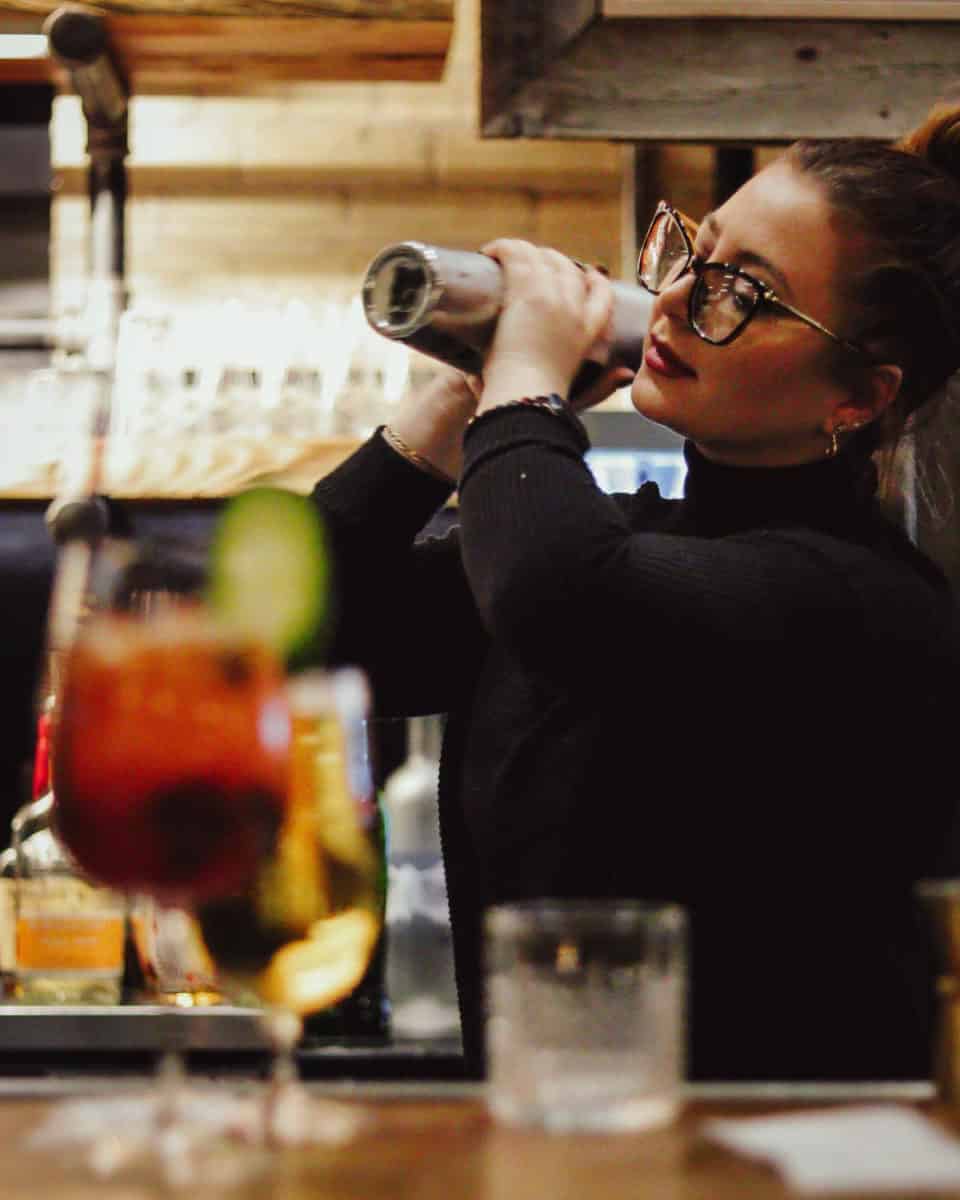 As for the food menu, you'll discover lots of delicious small plates, sandwiches, bowls, and more. But seeing as this is a list of the best bars in Winnipeg, we have to shout out the fabulous cocktails, including classics like a Paper Plane, Old Fashioned, or Espresso Martini, but also some mouthwatering top-shelf spirits and signature cocktails (the "Tropic Like It's Hot" is a winner in our books). Head there for the excellent food, but stay for the drinks.
Thomas Hinds Sampling Room
Location: 185 Carlton St #105
Behind an unmarked blue door on Carlton Street, you'll find Thomas Hinds Sampling Room. While this spot isn't for everyone – it's a tobacconist shop – it's a unique haunt for those who like the occasional cigar with their cocktail. That being said, the spot is also open to those who don't smoke cigars, as there is a top-of-the-line ventilation system that helps purify the air.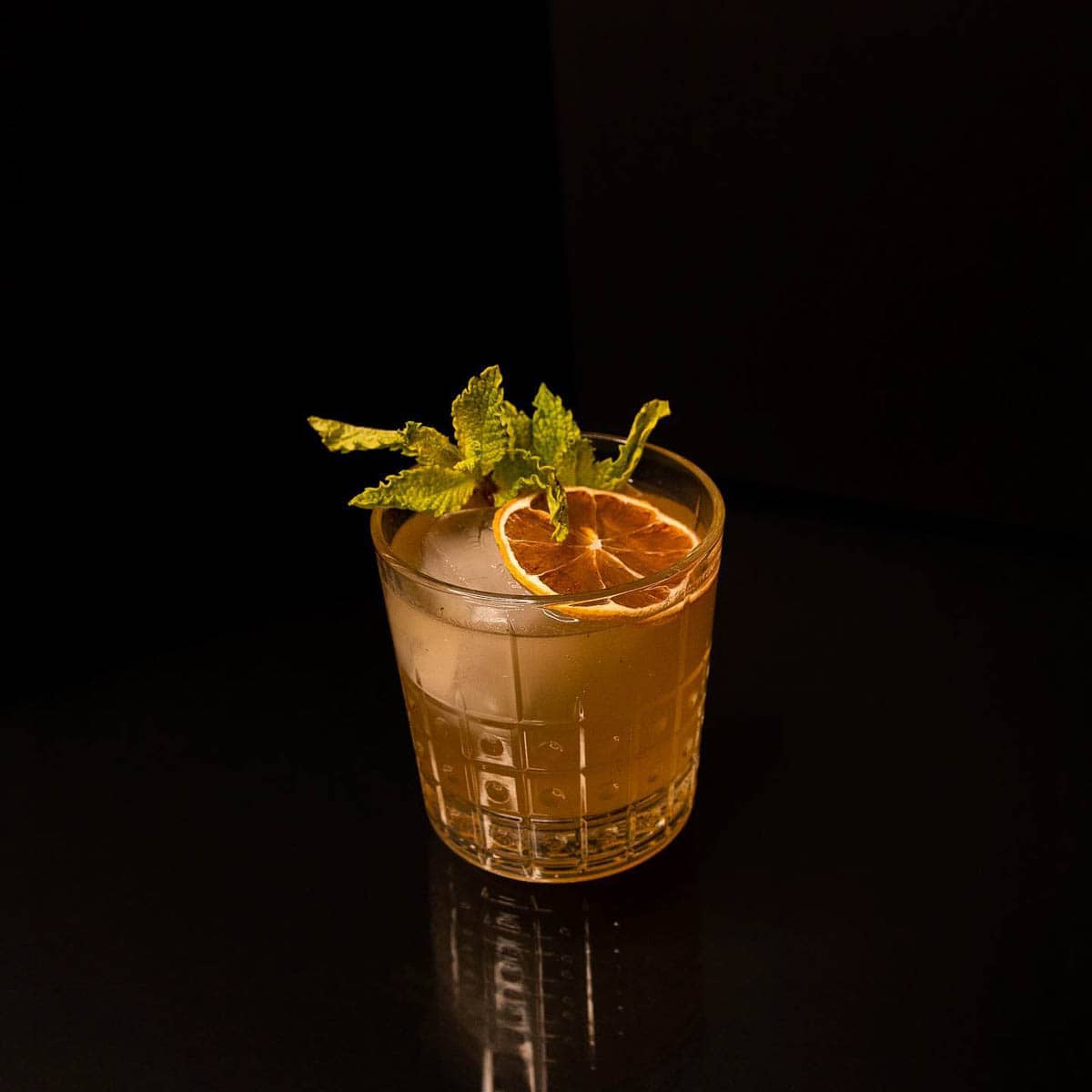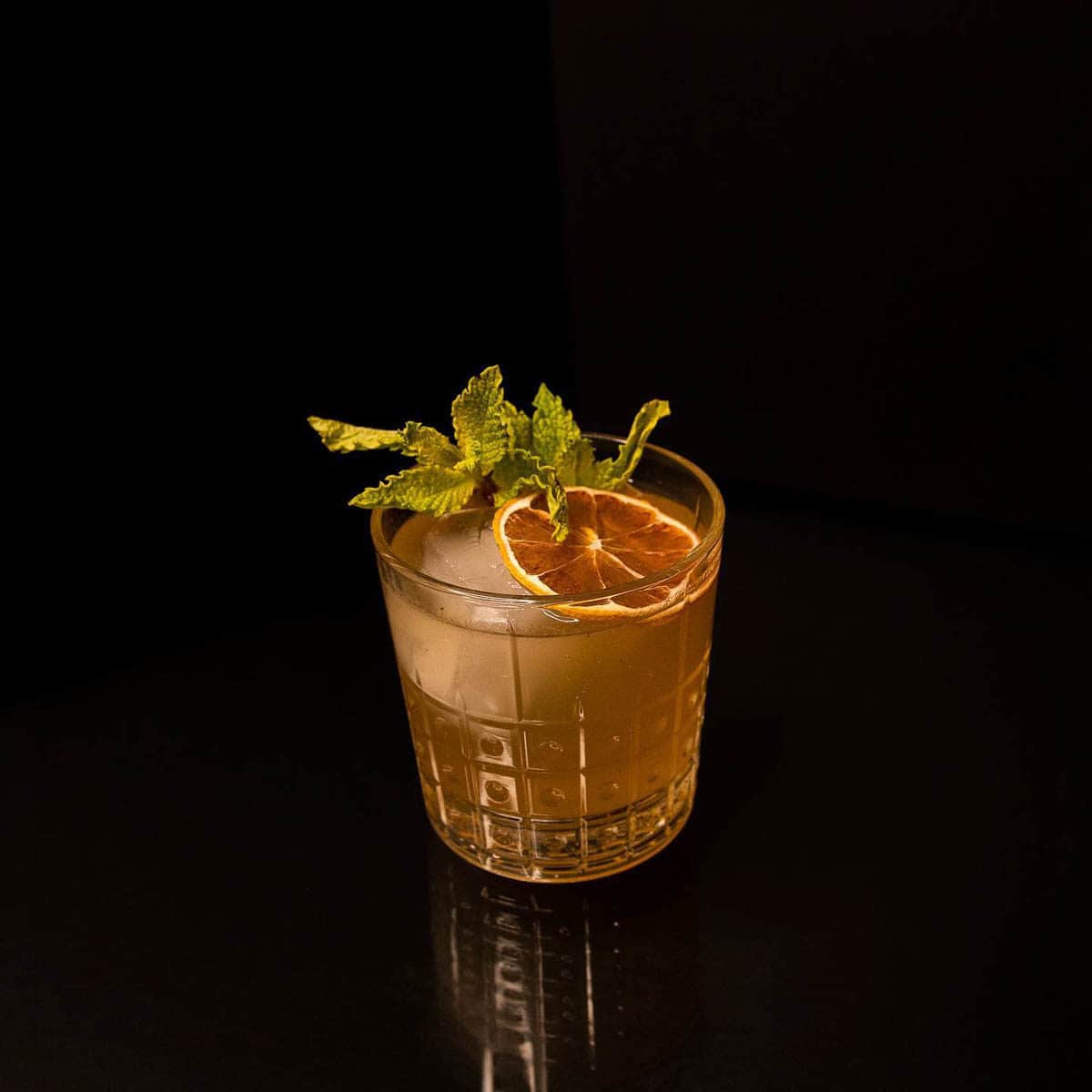 And the cocktails? They're top-notch. There's an amazing list of signature cocktails, including our favourite, the Devil's Breath (with Devil's Cut bourbon, mezcal, Averna, Campari, and simple syrup). There's also a great list of classics (Negroni, anyone?) and an impressive collection of single malt Scotch and other spirits to choose from. No matter what you order, the speakeasy atmosphere and cool vibe of Thomas Hinds Sampling Room are unmatched in Winnipeg.
Earls Kitchen and Bar
Locations: 300 Main Street, 1455 Portage Avenue, 1215 St. Mary's Road
Earls Kitchen and Bar is a Canadian restaurant chain in Winnipeg that is a pretty reliable spot for a cocktail or beverage of choice. With three locations around the city, including one downtown, it's a convenient spot for an after-work drink, meeting up with friends to watch the game or a date night.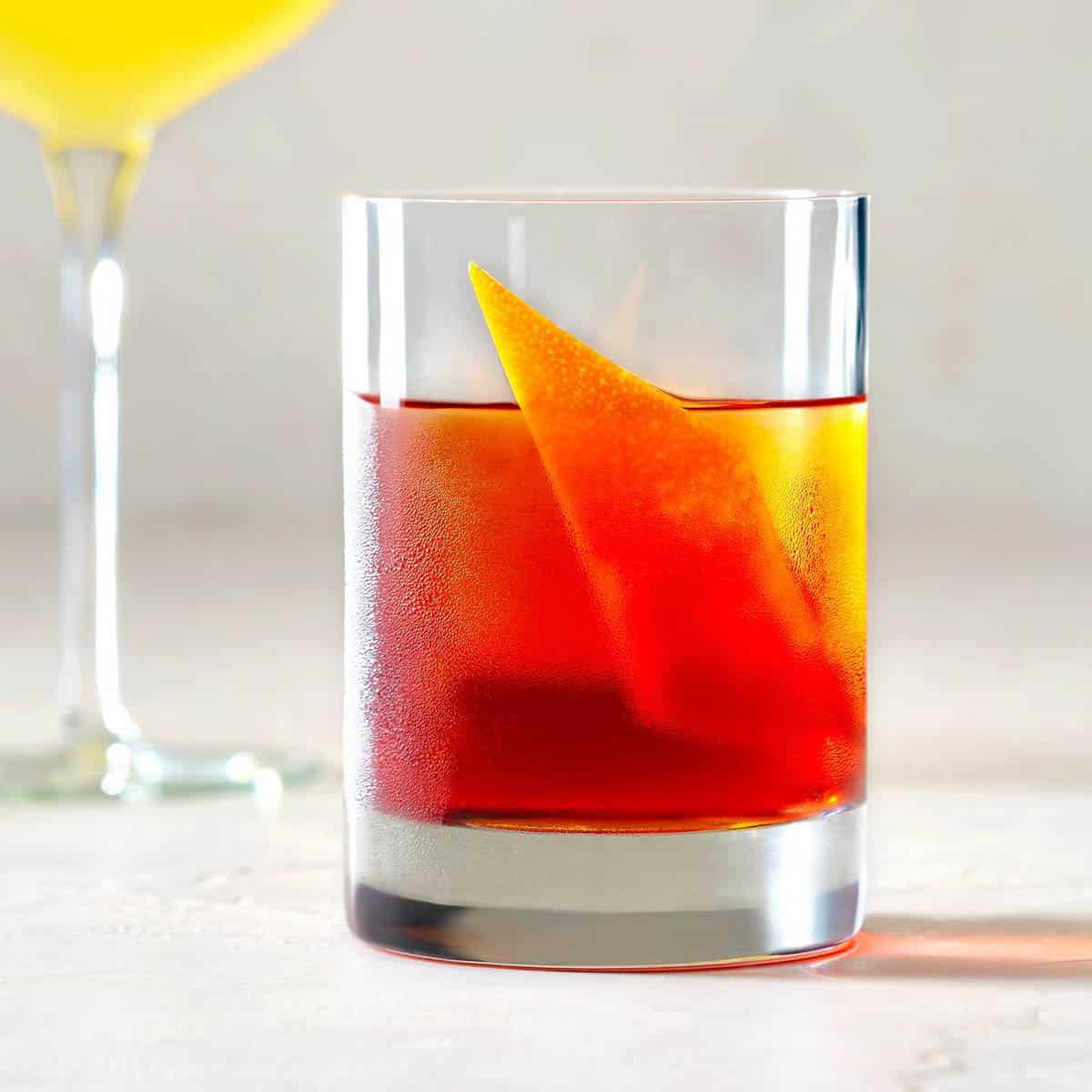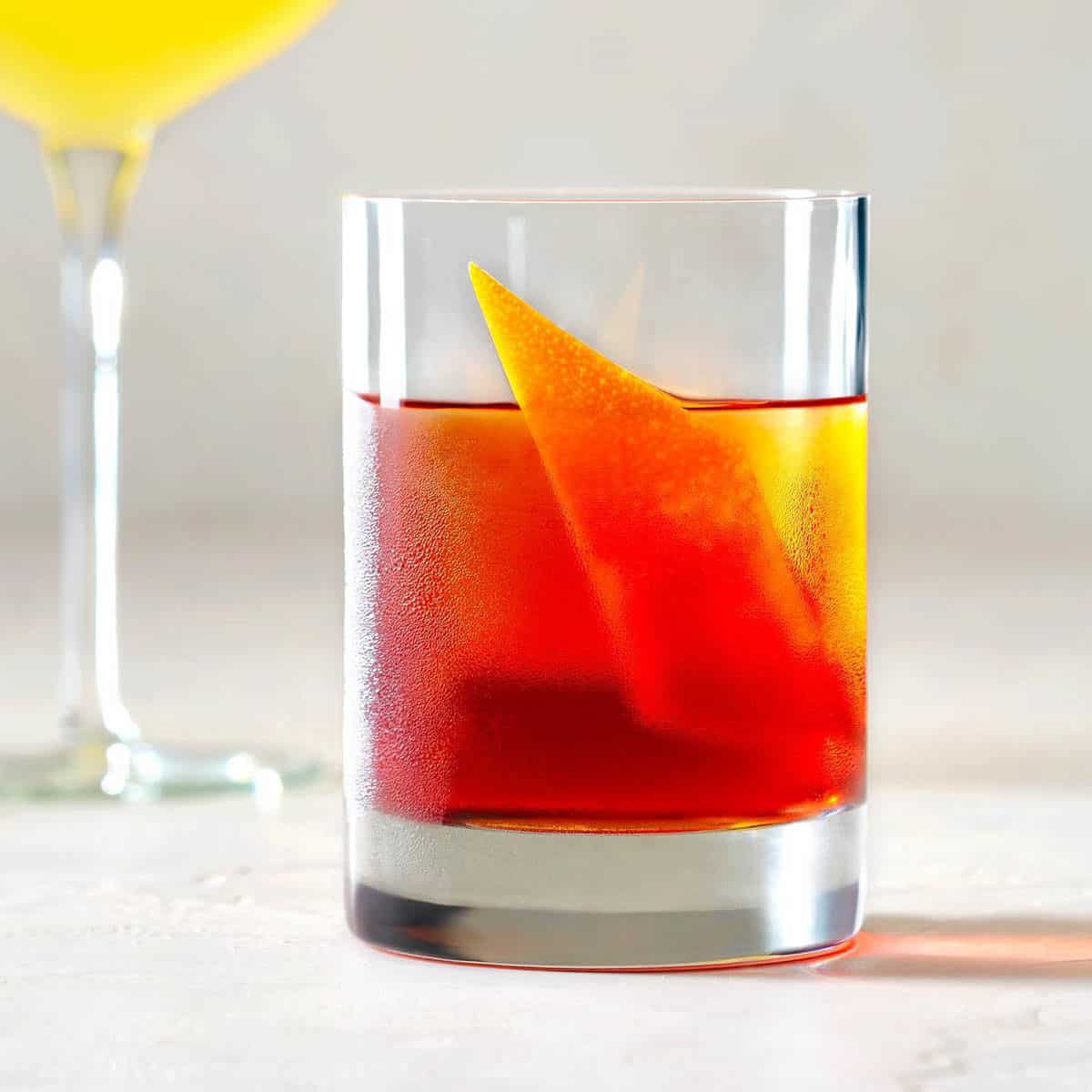 There are a lot of tasty dishes on the food menu, including many with an international twist… think Mexican, Italian, and Indian cuisine. As for the drinks, there's a solid wine list alongside a cocktail menu of a few classics and a few signatures; we love the Spicy Watermelon Margarita, the Limoncello Spritz, and, of course, the Earls Signature Caesar (you can't get much more Canadian than a Caesar!). All three restaurants are usually quite busy, especially on weekends, so you can expect a lively, bustling atmosphere.
Like the vibe of Earl's? Also, check out JOEY, which has two locations in Winnipeg.
Winnipeg Pubs
King's Head Pub
Location: 120 King St
If you're after a chill night, make your way to the King's Head Pub, arguably one of the best pubs in Winnipeg. This watering hole is known for its live music, great selection of draft beer, a tasty menu of both British and Indian food, and its pool tables. We love the King's Head Pub for its relaxed vibe and super-friendly staff; the reasonable prices are fantastic, too, as is the atmosphere that feels straight out of a pub in England.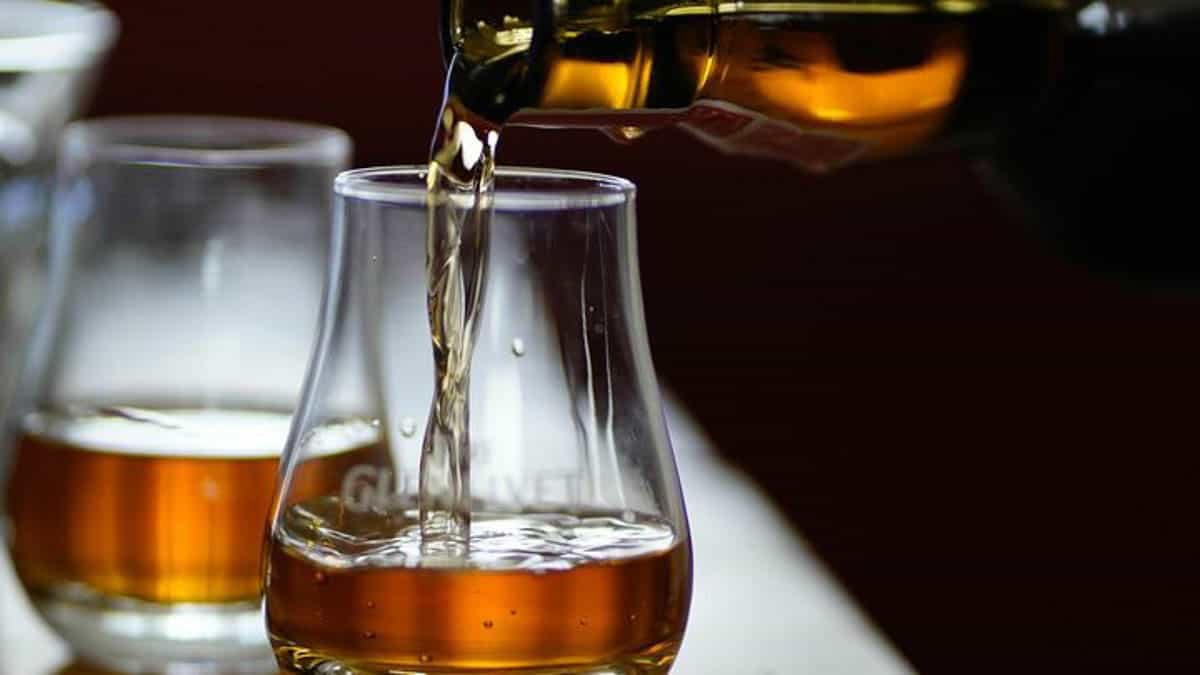 Found in Winnipeg's Exchange District, the pub often gets quite busy on weekends, especially if they're offering live music. What started as a small venture with only 40 seats is now one of the largest pubs in Winnipeg, with a capacity of nearly 400 people if you include the outdoor patio. And with one of the biggest selections of draft beer, happy hour is always a good time here. If you have no idea where to start when it comes to Winnipeg pubs, start at the King's Head.
The Toad in the Hole
Location: 155 Osborne St
When you're talking about Winnipeg pubs, you know that The Toad in the Hole will make the cut. This classic pub broke many hearts when its original location shut down, but it recently opened up in a new spot on Osborne Street not far from its first home. With a history that dates back to 1990, it's one of the most beloved pubs in Winnipeg.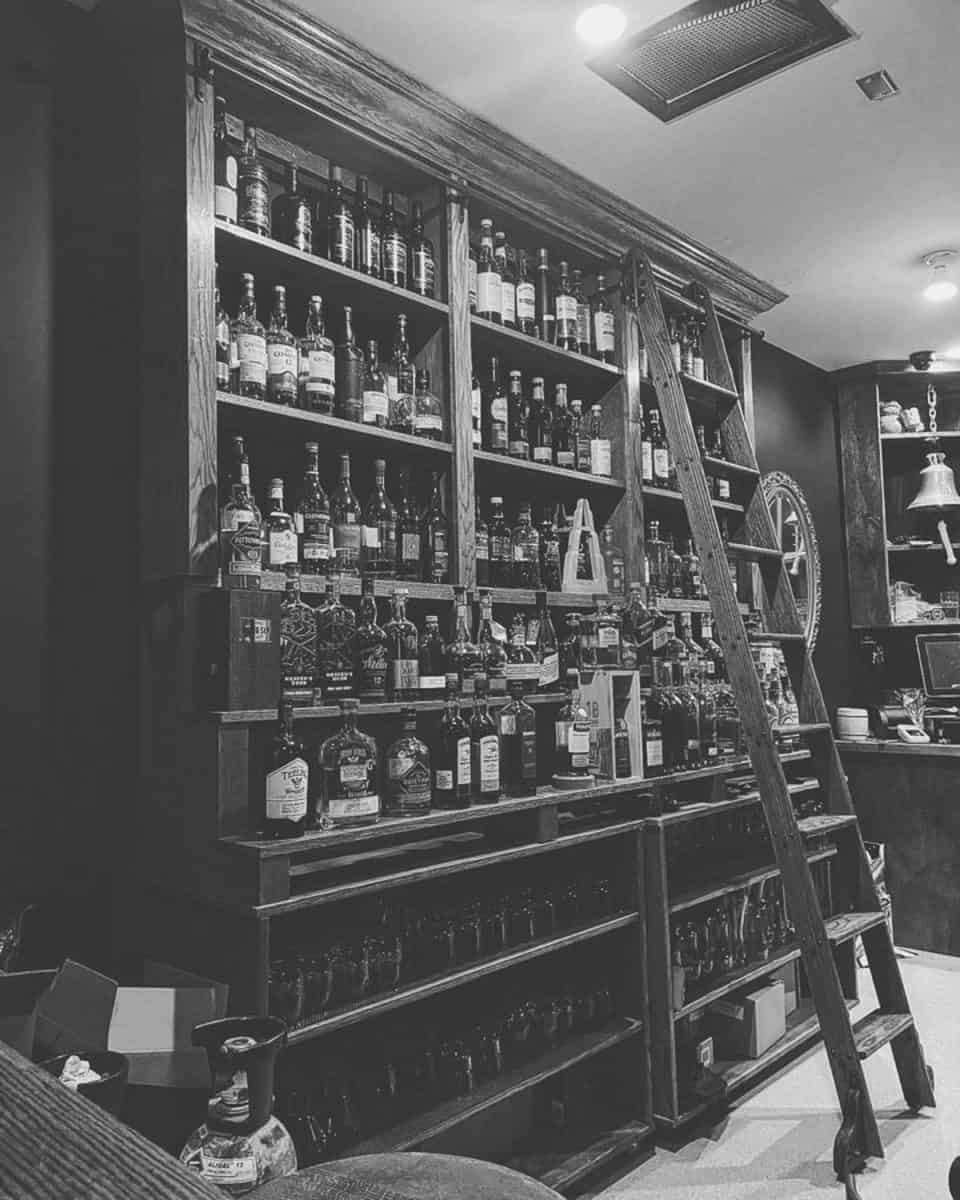 And it's easy to see why we'd name this spot one of our favourites, as there's a marvellous lineup of whiskeys, beer, cocktails, and more on offer. There's also a solid food menu that includes many choices you'd expect to find in an English pub (think fish and chips or Scotch eggs) but with many other options, too, including butter chicken, jalapeno poppers, and fried cauliflower. Keep an eye on their calendar, as they regularly have fun events and live music. No matter what, you're immediately hit with great energy when you walk through the doors of The Toad in the Hole.
The Grove Pub and Restaurant
Location: 164 Stafford St
The Grove Pub is one of our favourite bars in Winnipeg, as it feels like a traditional English-style pub spot in the city. In fact, it's one of the places that regularly shows English football (that's soccer to us Canadians)! This casual spot is perfect for meeting up with friends, having a date, or enjoying a cheeky pint on a sunny afternoon. There's a fantastic list of beers on tap, including a good selection of local beers. The cocktails are also on point, with many British classics on offer… and on a summer's day, there's nothing better than a Pimms!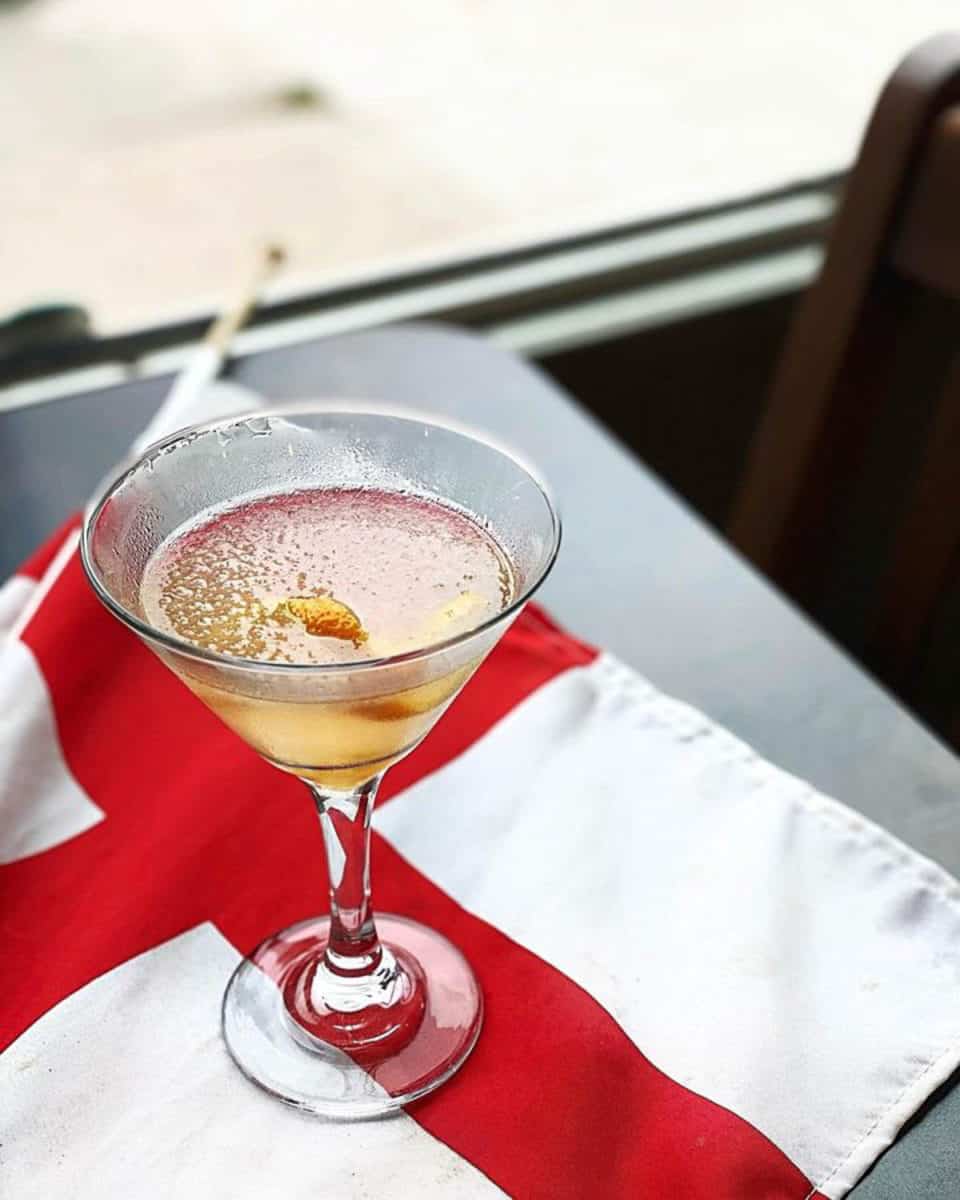 The food menu is also worth checking out, as the Grove's burgers are some of the best in the city. You can also get poutine, pizza, fish and chips, and many other hearty meals that go perfectly with a draught beer. With a friendly neighbourhood vibe and an atmosphere that lends itself to meeting new people, The Grove is one of our favourite pubs in Winnipeg that makes you feel right at home.
Times Change(d) High And Lonesome Club
Location: 234 Main St
One of the most iconic Winnipeg bars, the Times Change(d) High and Lonesome Club is primarily known for its live music, but it's also an amazing spot to have a drink! This cozy spot is perfect for seeing bands up close and personal while enjoying your favourite pint or cocktail. Many incredible musicians have played here over the years, and the decor and atmosphere almost make you feel as though you've stepped back in time to a little honky tonk bar; with great tunes and a cold drink in your hand, what else do you need?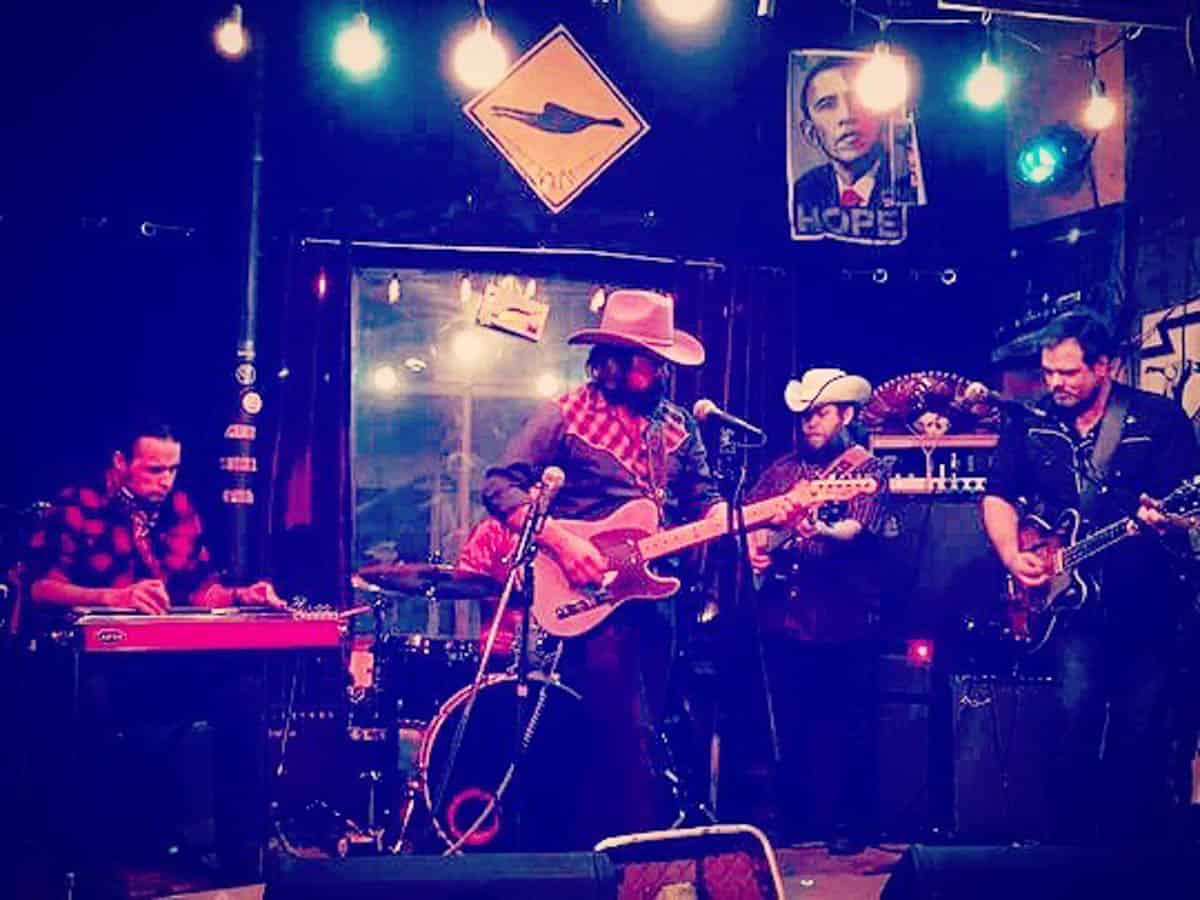 Not sure when to visit? The jam nights are always fun, as there's a wonderful mix of musicians and locals hanging out at the Main Street bar. Intimate and unique, it's no wonder so many people rave about this place; it's the kind of venue that you won't soon forget.
Wee Johnny's Irish Pub
Location: 177 McDermot Ave
Wee Johnny's Irish Pub, found in the Exchange District, is a great place to go for a pint. This Irish pub has a traditional style, with imported whiskeys, pub fare, live music, and some of the city's best comedy nights; there's an open mic night every Wednesday and a booked show every Friday night.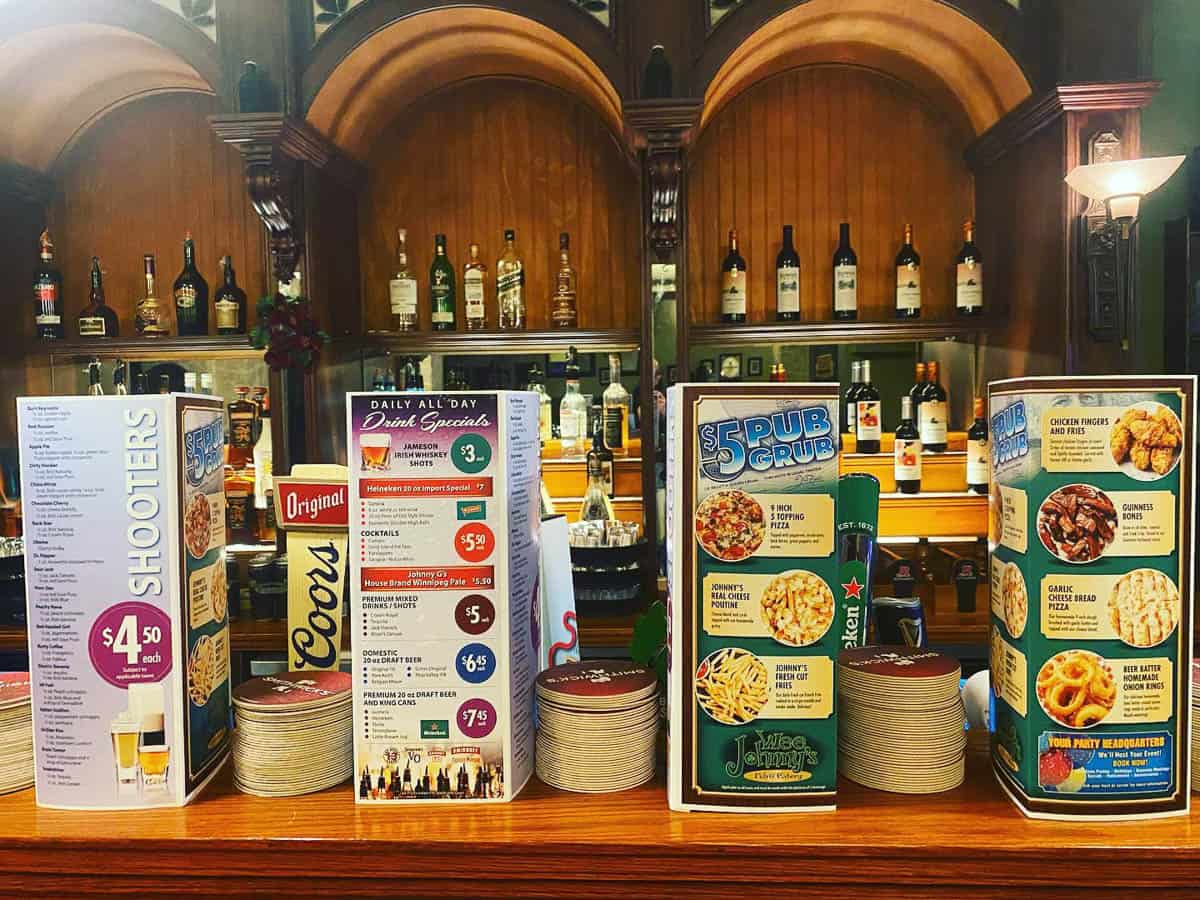 Seemingly always filled with the sound of laughter, it's the kind of place you'll quickly want to become a regular. And despite its size – it's a fairly large pub spread over two levels – it still feels cozy and warm. With its friendly atmosphere and reasonable prices, we consider Wee Johnny's to be one of the best pubs in Winnipeg.
Yellow Dog Tavern
Location: 386 Donald St
The Yellow Dog Tavern is another famous bar in Winnipeg. Nestled in the heart of downtown, Yellow Dog Tavern has a wonderfully welcoming vibe; even though it's surrounded by some of the biggest skyscrapers in the city, you get the sense that it's just a friendly neighbourhood bar. Popular with locals and tourists alike – it's not too far from the Alt Hotel, one of the best hotels in Winnipeg – the tavern is an intimate, charming spot that serves tasty drinks and food.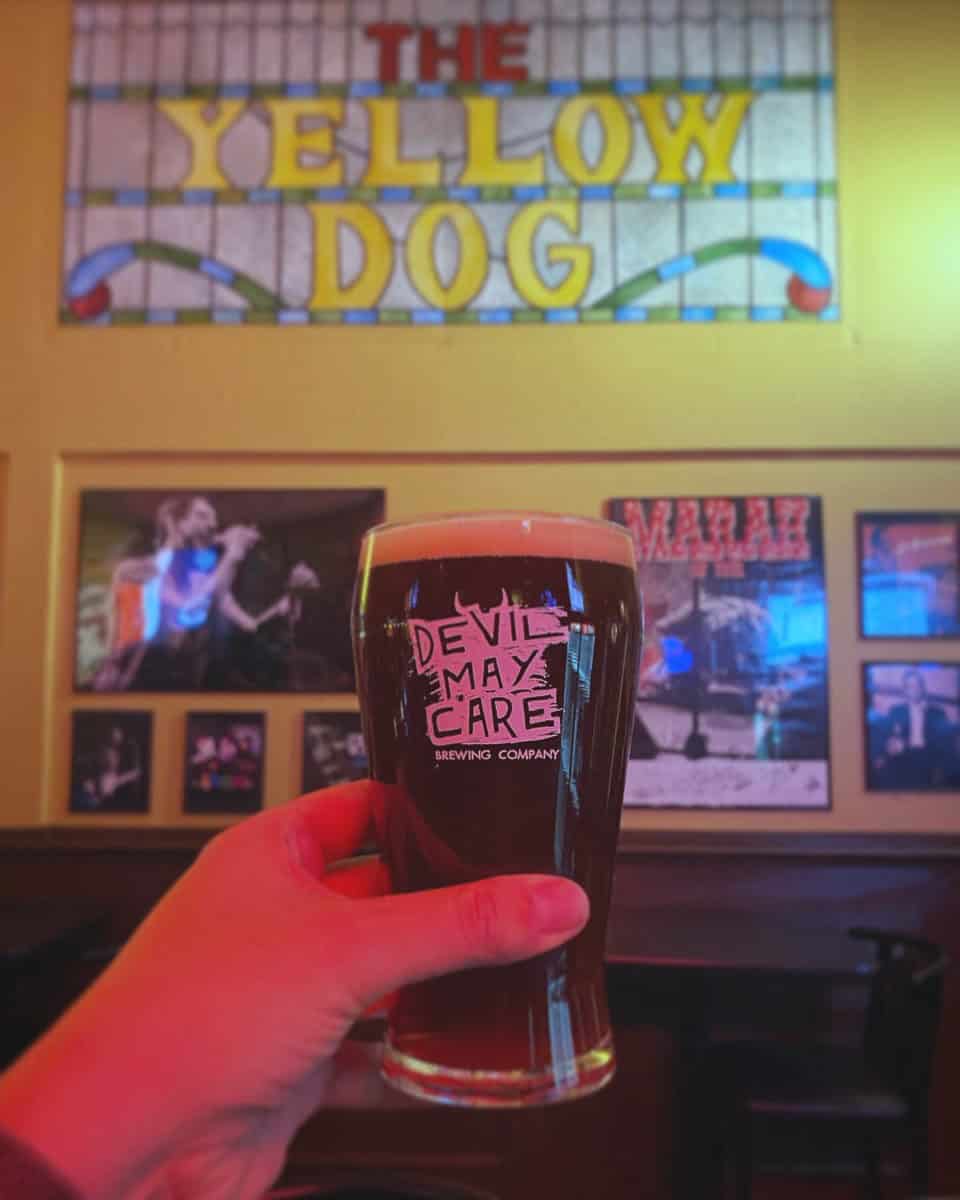 Expect a modest but tasty menu, including burgers, wings, and pizza; as for the drinks, all of your pub favourites are there, including beer, wine, and spirits. The pub also hosts a variety of events, such as trivia nights, live music, and other performances, so stay on top of their schedule for the best nights to visit. Whether you're after a family dinner, a night out with friends, or just a quiet drink, we think that the Yellow Dog Tavern deserves its spot on this list of the best bars in Winnipeg.
Leopold's Tavern
Location: Multiple around the city
With multiple locations in Winnipeg, Leopold's Tavern is one of the most popular bars in the city. And despite it being a chain, there's an authentic feel to every Leopold's Tavern in Winnipeg, especially as its decor is reminiscent of a traditional pub (think walls covered in memorabilia, a lively atmosphere, and a good mix of bartop and table seating).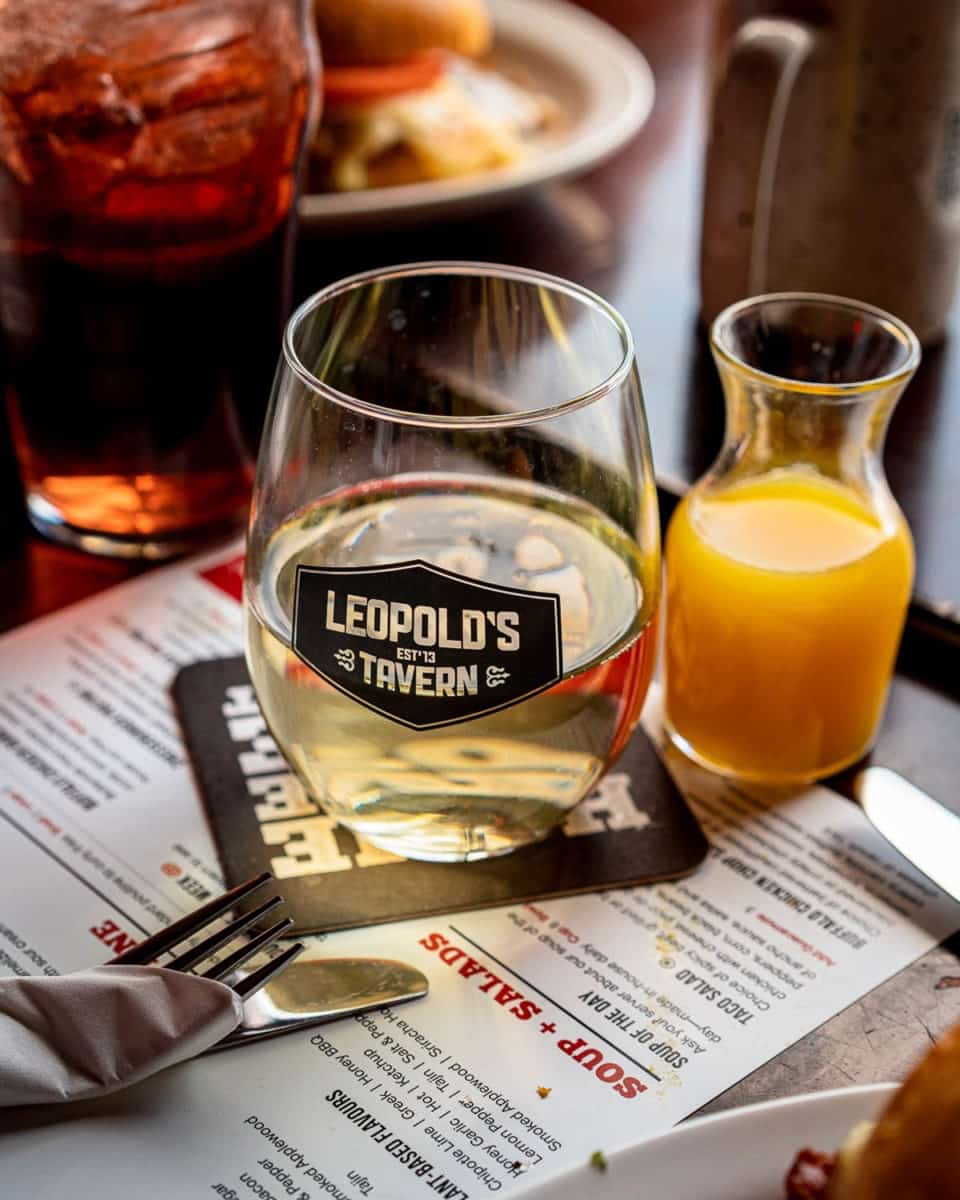 On the food menu, you'll find just about every pub food you could imagine, including wings, poutines, burgers, anytime breakfast, and sandwiches; this isn't even mentioning the snack section, where you'll find pierogies, fried pickles, chicken fingers, nachos, and even a bucket of bacon (yep, you read that correctly). Drinks are standard but tasty, so you can expect all the old familiars, including variations on Caesars, Tom Collins, and Long Island Iced Teas. Whenever you're not sure where to go out for a night on the town in Winnipeg, a Leopold's location is a pretty safe bet.
The Good Will Social club
Location: 625 Portage Ave
Talk about bars in Winnipeg, and chances are someone will bring up The Good Will Social Club. This amazing venue has it all: live music, trivia nights, fantastic food, and, of course, delicious drinks. Beloved by many in Winnipeg, it's one of the coolest bars in the city, one that regularly puts on incredible shows. In the early evening, it also serves as a coffeehouse and is a popular place to meet up for food.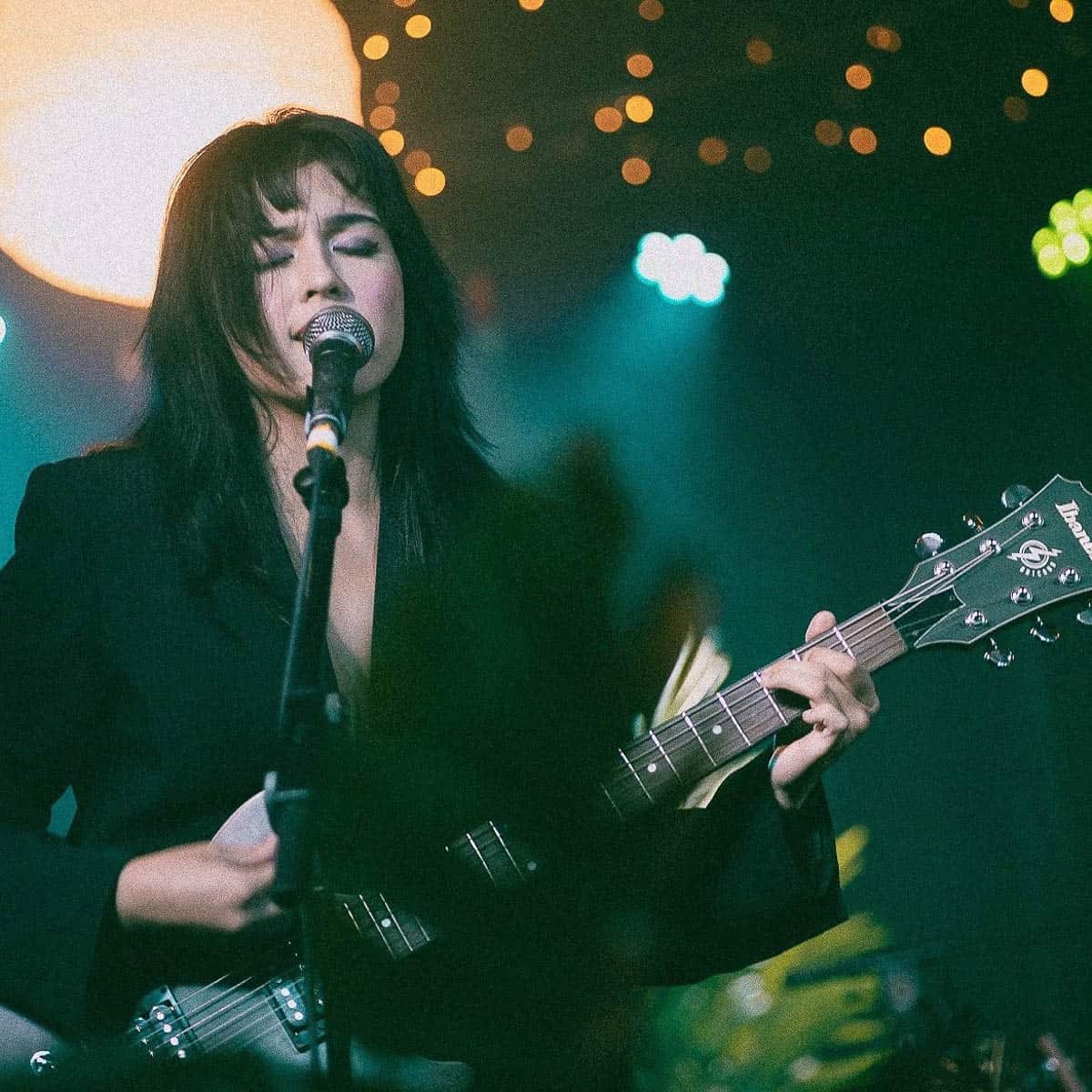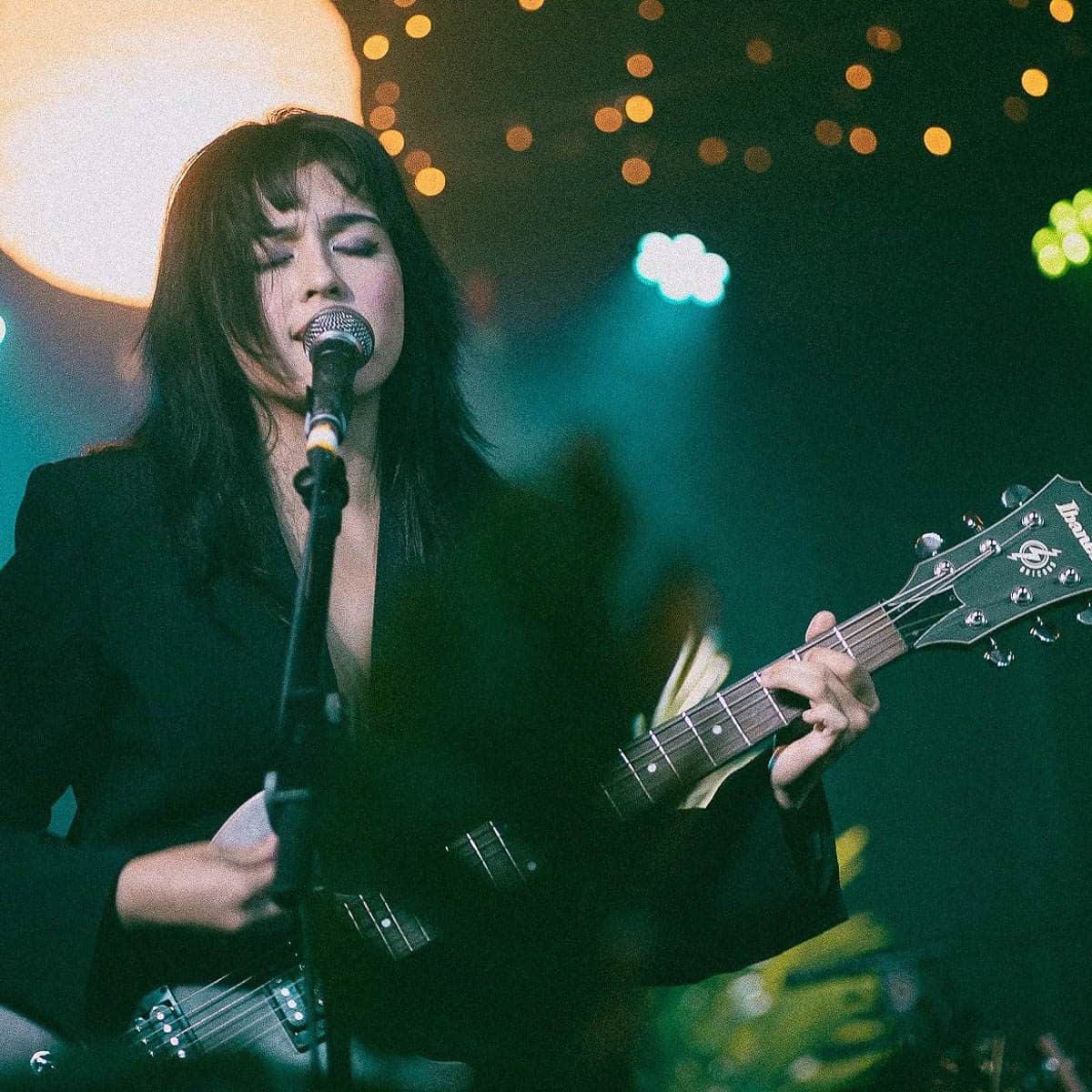 With an aim to always remain community-minded, The Good Will Social Club has a relaxed vibe, reasonable prices, and extremely friendly service. There is a cover charge on some nights, but that price is reasonable as well. The venue is also quite large, so it's easy to feel as though you have a lot of space here… unless there's a popular band playing, in which case you can expect a big crowd!
Shannon's Irish Pub and Eatery
Location: 175 Carlton St
You can't write a list of the best pubs in Winnipeg and not mention a good old Irish pub! Head to Shannon's Irish Pub and Eatery for some comfort food classics and a perfect pour. Considered one of Winnipeg's "best-kept secrets", Shannon's Irish Pub is found "underneath the streets" of downtown. There, you'll find plenty to keep you happy, including 21 beers on tap, numerous whiskeys, and home-style meals.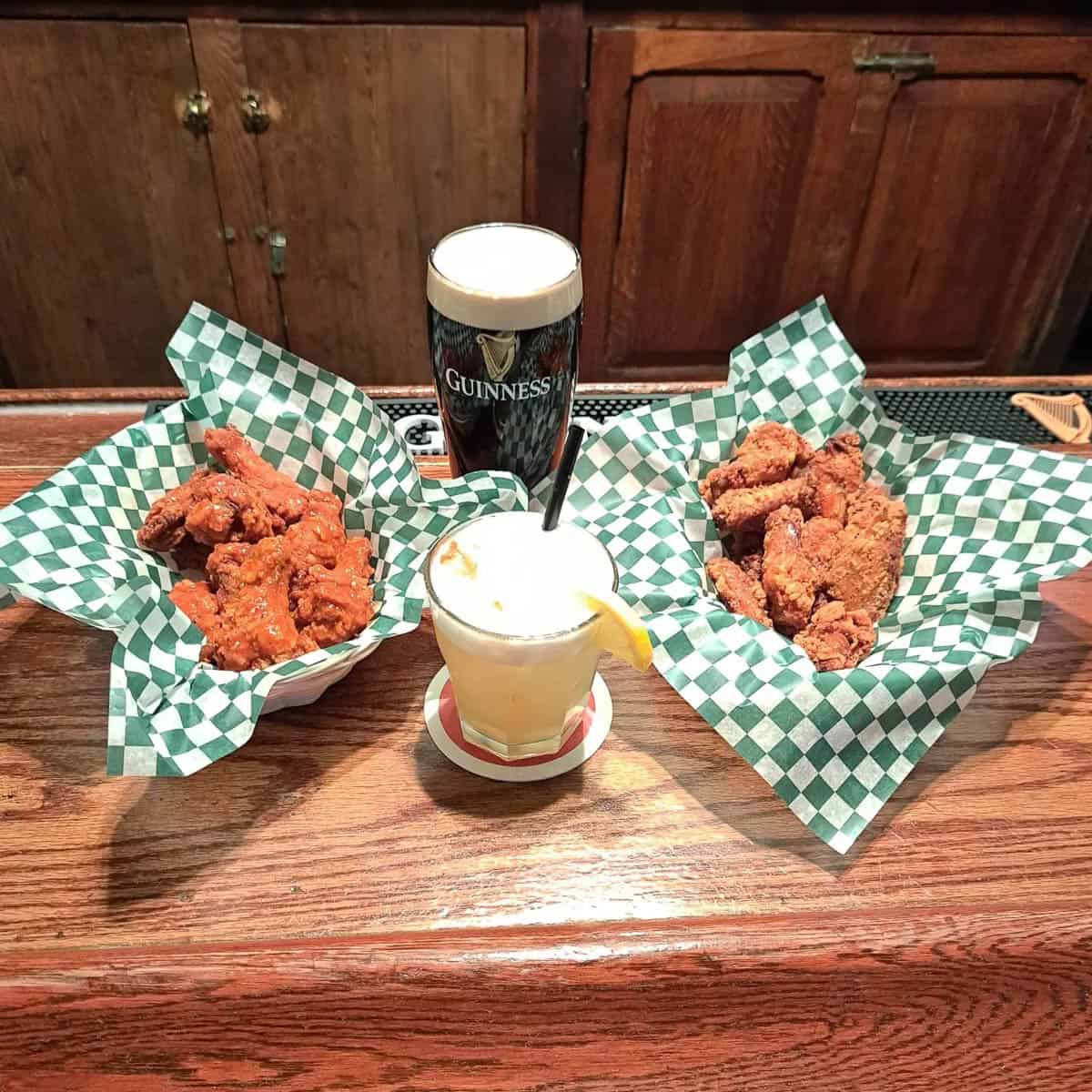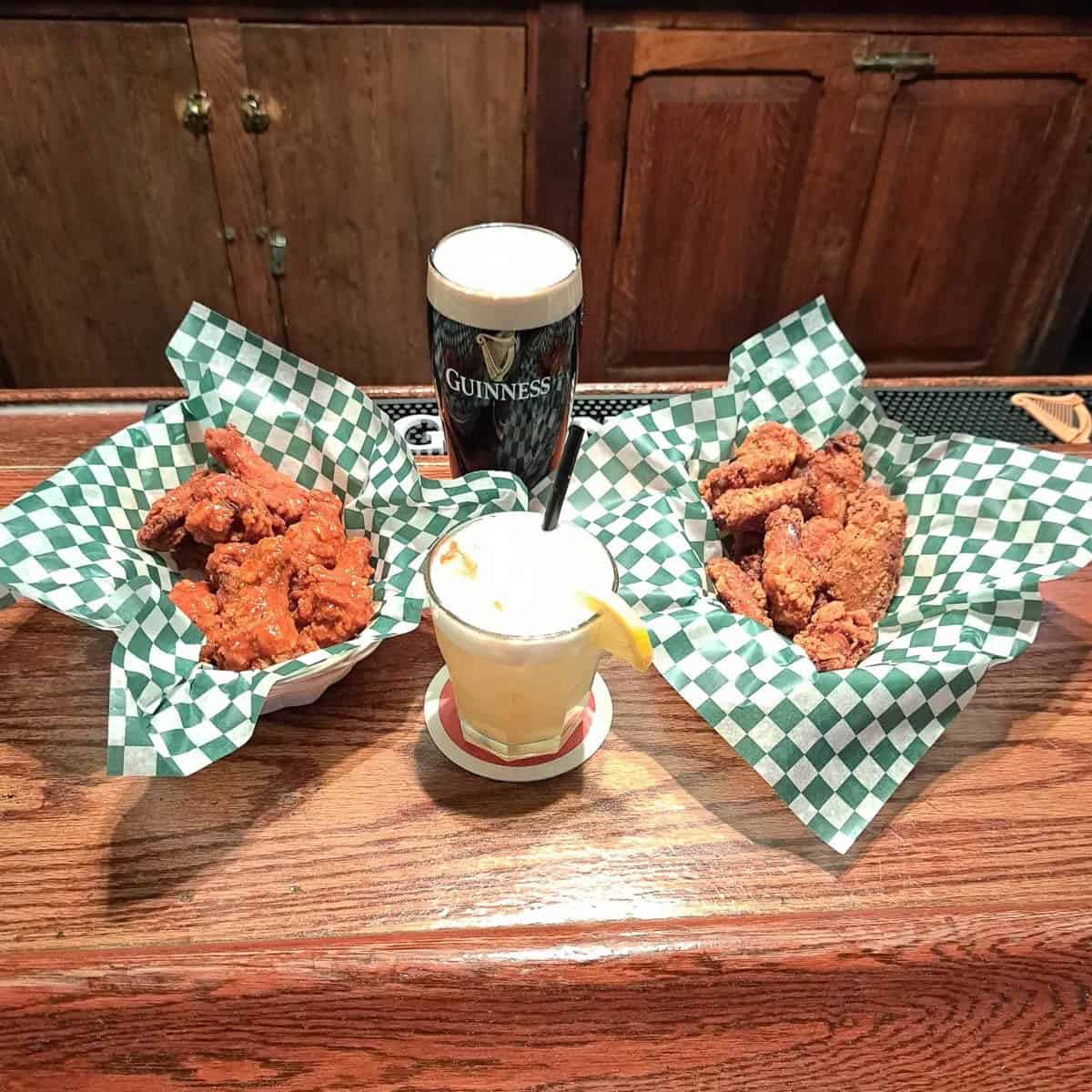 There's also live entertainment every night of the week at Shannon's, including karaoke on Tuesdays and Saturdays, an open mic night every Wednesday, and local musicians throughout the week. Want to feel that true Irish atmosphere? Head here on Saturday afternoons, when there's a Celtic jam.
Thirsty Lion Tavern
Location: 525 Dale Blvd
Founded in 2007, the Thirsty Lion Tavern has a relaxed atmosphere and a traditional pub vibe. With plenty of beers on tap, bar bites, pool tables, and TVs showing current sports games, it's a good place to hang out with a group of friends and unwind. This Charleswood establishment is known for its friendly service and tasty snacks, including wing nights, nacho Mondays, wine Wednesdays, and many more deals throughout the week on both food and drink.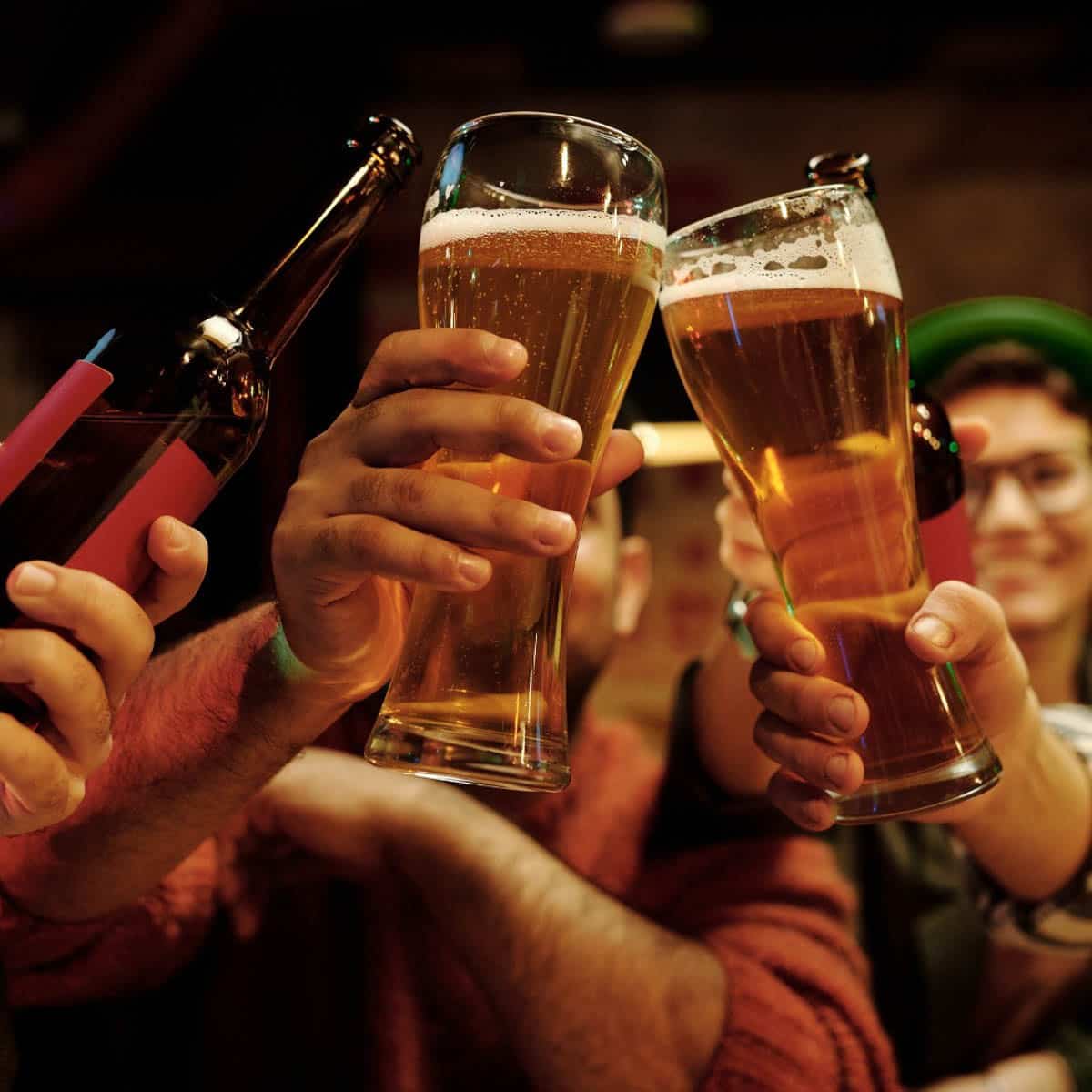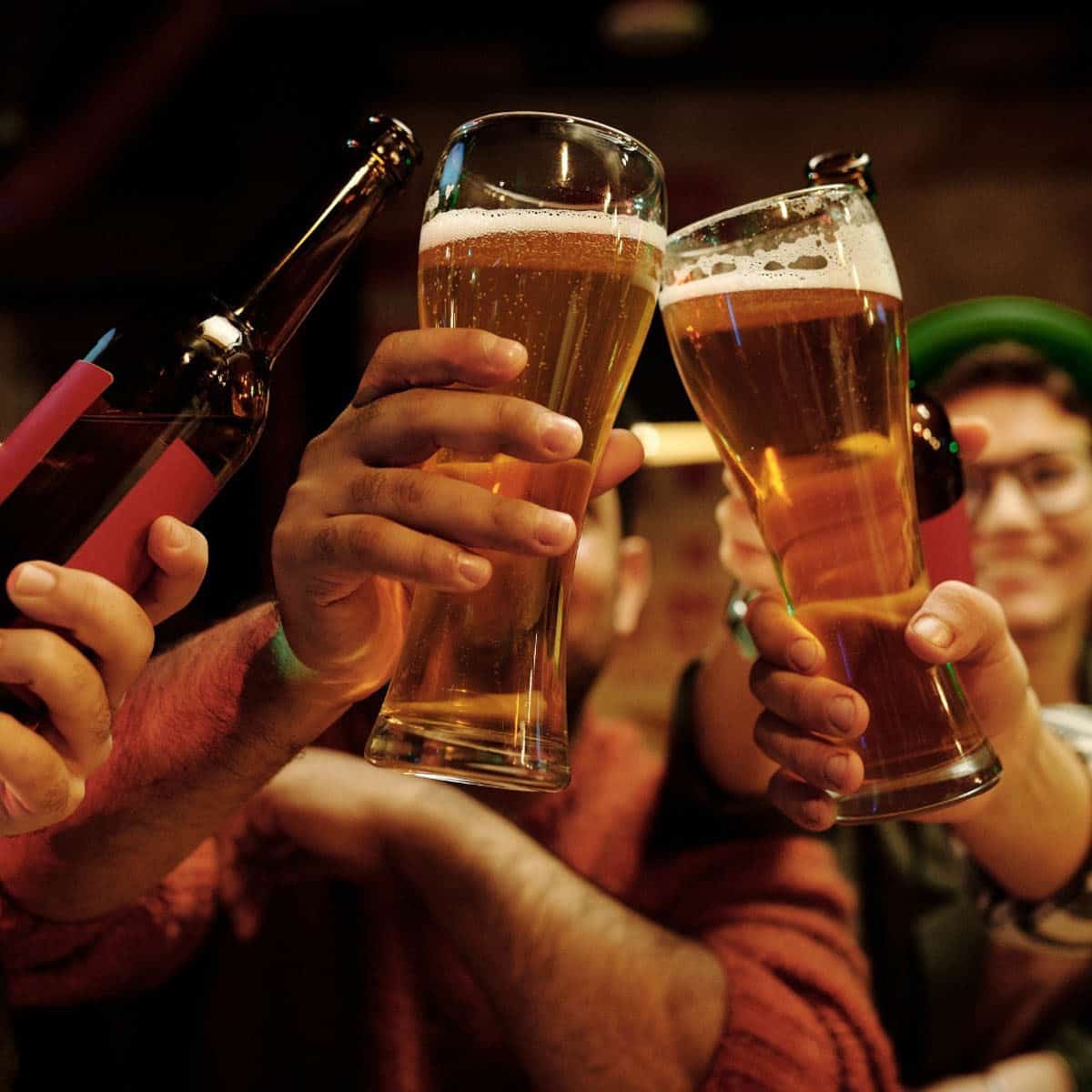 There's another Thirsty Lion Tavern in West St. Paul, just outside Winnipeg, if that location is more convenient for you!
Tapp's Neighbourhood Pub
Location: 1105 St Mary's Rd #1
Open from 9 am until 2 am every single day – you can't beat that! – Tapp's Neighbourhood Pub has long been a favourite of locals in St. Vital and beyond. This casual haunt has tons of space, meaning you can very often get a table or seat at the bar, and is known for its tasty food, friendly staff, and reasonable prices. It's also a good place to watch the game, as there are plenty of TVs that show sports throughout the day and evenings.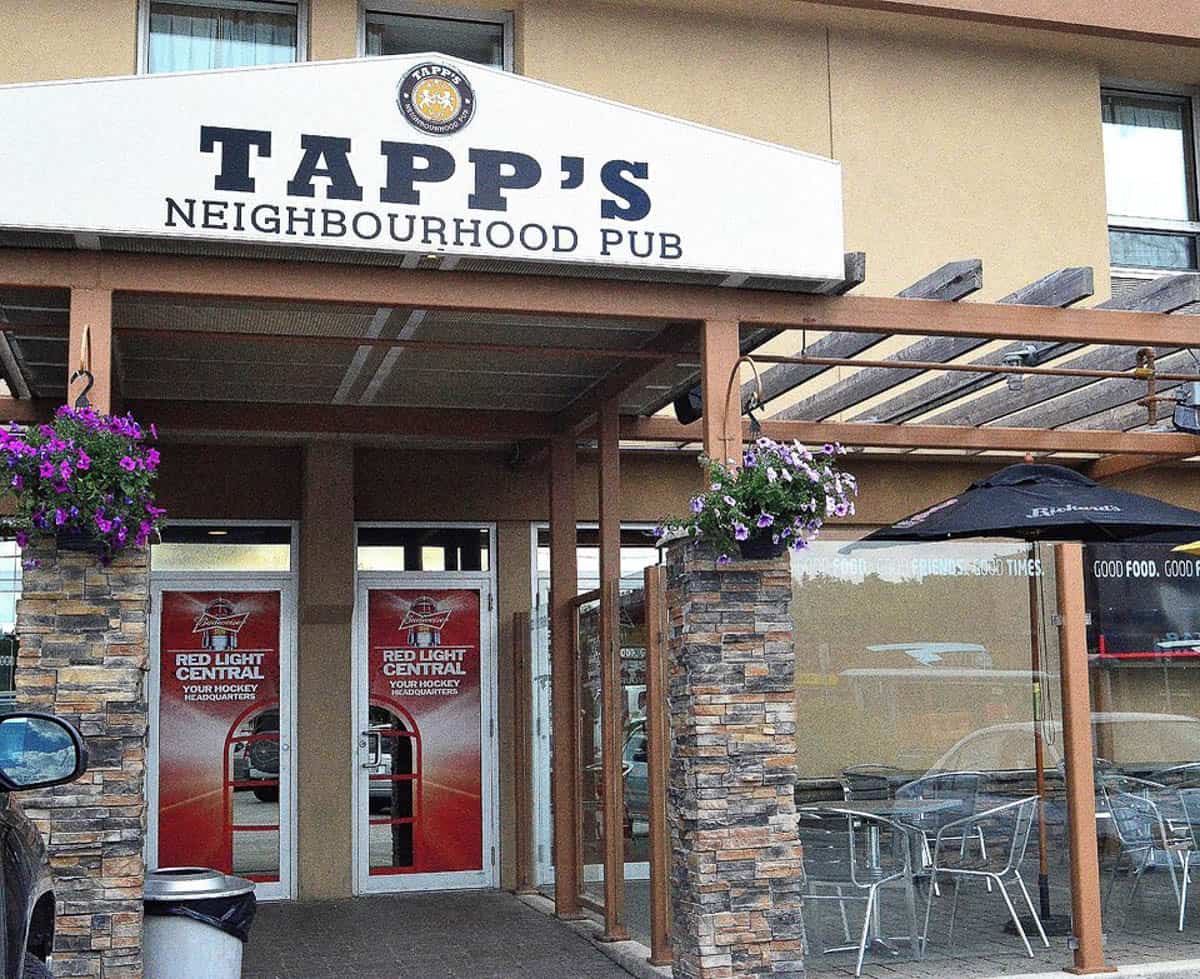 On the menu, expect to find burgers, wings, and just about every other pub fare you're craving. The bar has tons of draft beer, spirits, and other beverages to choose from, making it a popular place to go after work with a few friends or coworkers. If you're looking for a no-frills, cozy bar in Winnipeg, Tapp's just might be the place for you.
Tavern United Downtown
Location: 345 Graham Ave
Although there are a few Tavern Uniteds in the city, including in Transcona, Fort Garry, and St. Boniface, our choice for this list of the best pubs in Winnipeg is the Tavern United Downtown. It's conveniently located, has great pub food, and, on sports nights, is definitely a place to see and be seen (head here early if the Winnipeg Jets are playing!).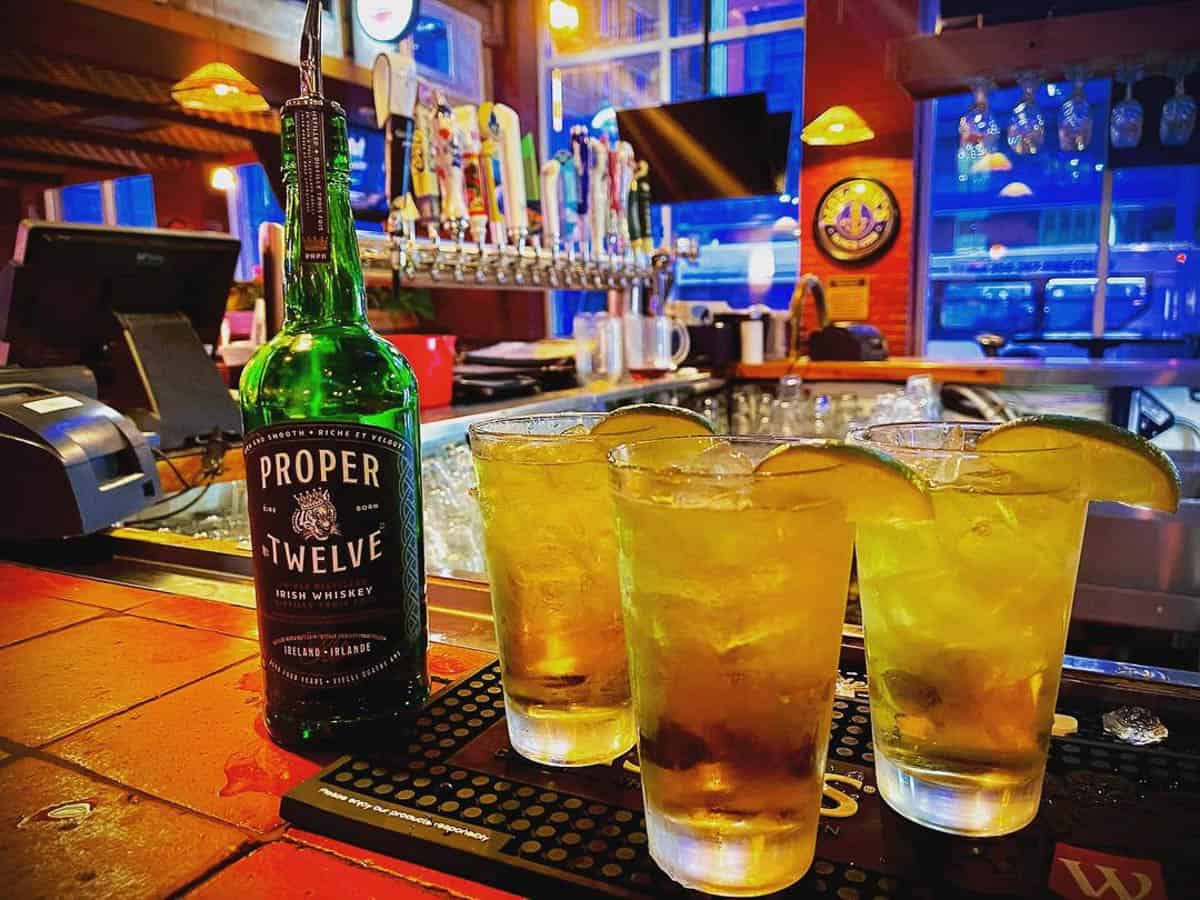 The other bonus of the downtown location? The massive rooftop patio in summer! One of the best patios in the city, the views are absolutely stunning. Relax on the couches here with a few friends, a cold drink, and not a care in the world.
Looking for more things to do in Winnipeg? Here are some ideas: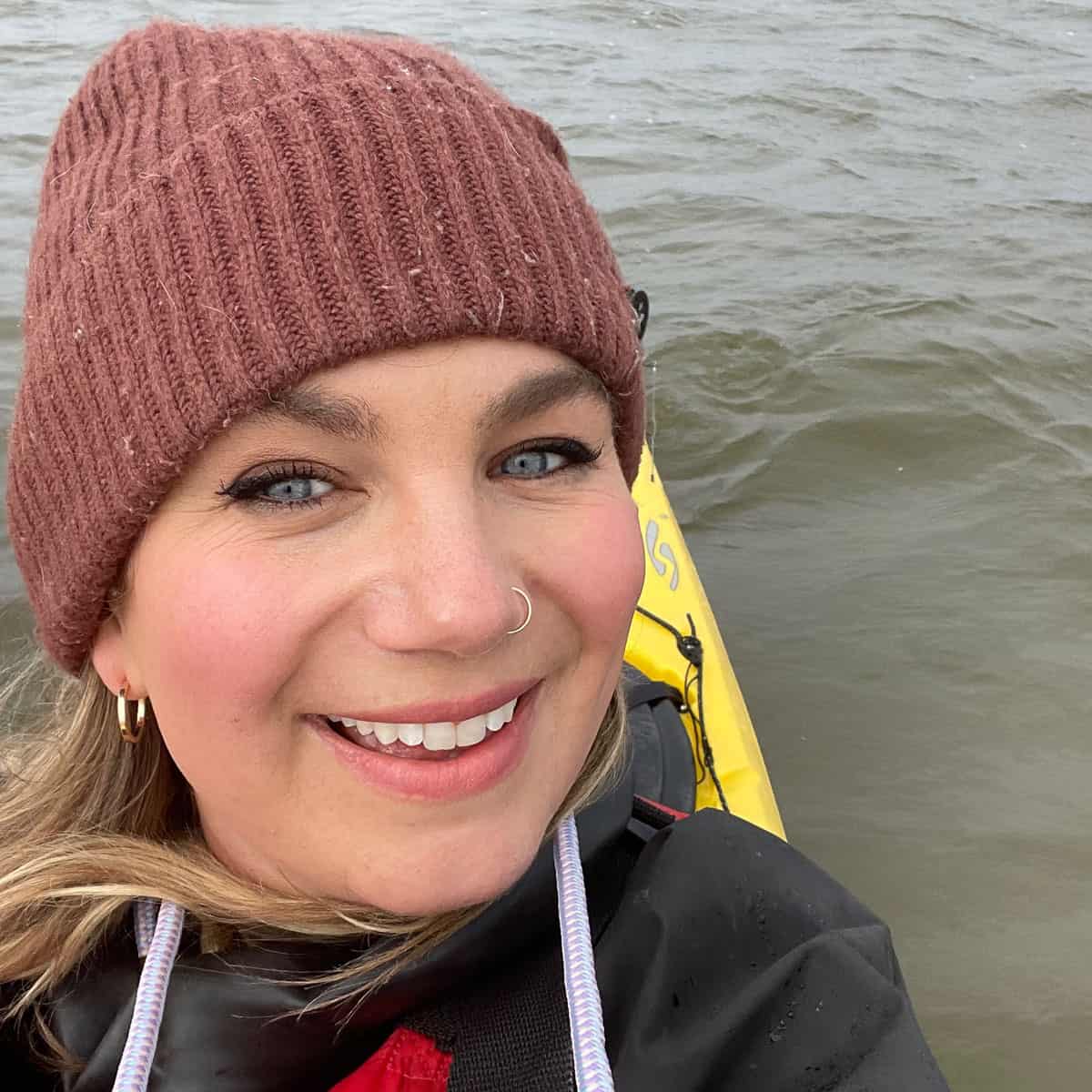 Brenna Holeman (she/her) has adventured to over 100 countries but is incredibly proud to call Winnipeg home. Brenna spent 16 years travelling solo around the world, living in Copenhagen, Edinburgh, Osaka, Antigua, and London, England. As well as being an editor and writer for Expedia UK for over seven years, she runs This Battered Suitcase, one of the most trusted and respected travel blogs in the world.