Disclaimer: This page may contain affiliate links. Please review our full Terms and Conditions for more information and our Privacy Policy. Note that any pricing, operating hours, or other such information provided below may have changed since initial publication.
Compiled by the Road Trip Manitoba team
Last updated on March 12, 2023
Whether you're after a quick espresso to go, a lingering latte with a great book, or a warm tea on a cold winter's day, Winnipeg has some truly incredible coffee shops and cafés. The city is filled with dedicated baristas who love making each cup as perfect as possible, and there's no shortage of amazing spots to try.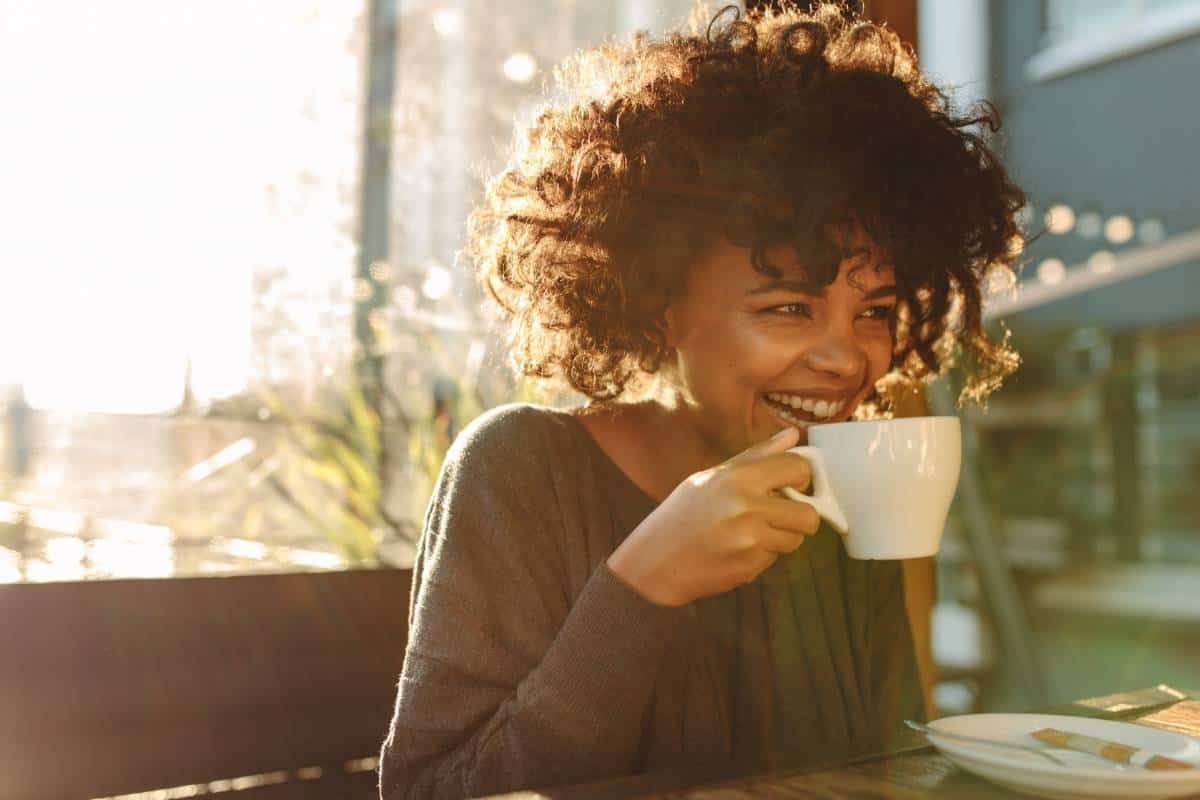 With so many awesome Winnipeg coffee shops, it's difficult to narrow down the best… but we've given it a go! Many of them are also known for their fantastic food menus, and bakery delights as well. Here are our picks for the best coffee shops and cafés in Winnipeg. (And if pastries are more important than you to coffee, check our post on Winnipeg bakeries, too.)
Land Acknowledgments
Winnipeg is located on Treaty No. 1 the original lands and waters of Anishinaabe, Ininiwak, Anishininiwak, Dakota, and Dene peoples, and on the homeland of the Métis Nation.
The Best Winnipeg Coffee Shops and Cafés
Little Sister Coffee Maker
Locations: 470 River Avenue and 539 Osborne Street
Little Sister Coffee Maker is one of Winnipeg's best coffee shops, and it easily makes our list of favourites. With an emphasis on community, togetherness, and delicious, ethically-sourced coffee, Little Sister Coffee Maker has two locations in the city.
Aiming to be a safe, inclusive space for all, we love their friendly atmosphere and their fantastic list of beverages to choose from (the oat milk matcha latte is one of the best in Winnipeg). You can even have their coffee beans and other merchandise delivered in the city; we personally always go for the Stargazer Espresso beans.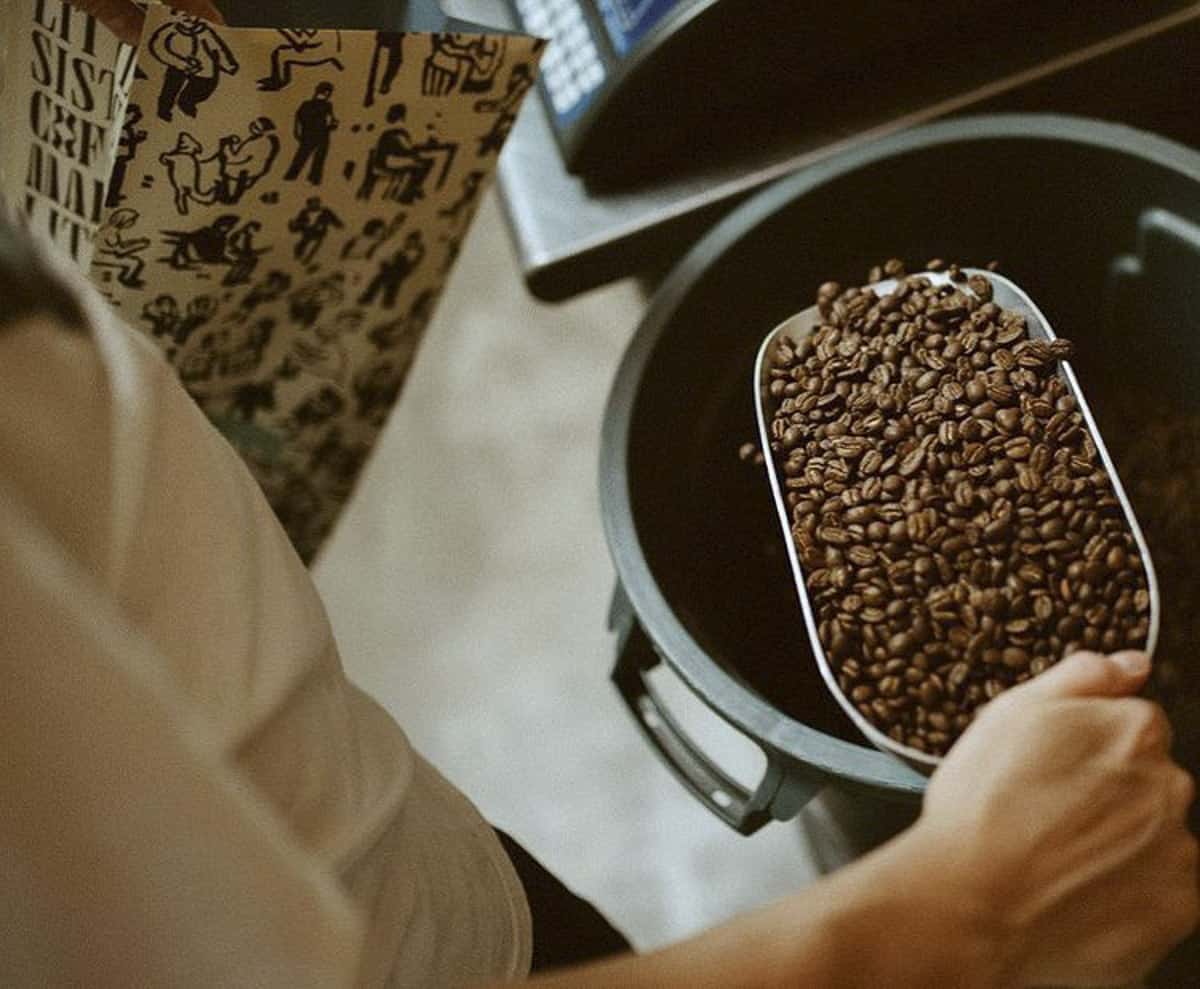 Thom Bargen Coffee Roasters
Locations: 64 Sherbrook Street, 250 Kennedy Street, and 743 Corydon Avenue
With three locations in the city, Thom Bargen Coffee Roasters is one of the best-known coffee shops in Winnipeg. With stunning design at each of their locations – think modern spaces with windows that allow for lots of sunshine – it's always a delight to visit for a coffee. Their newest location on Corydon is already a huge hit within the community!
With an aim to work with farmers around the world to ensure the best coffee is used, Thom Bargen has a reputation in Winnipeg as serving some of the highest quality beans and teas. Love their coffee as much as we do? You can even set up a subscription to have their coffee delivered to your home or business regularly.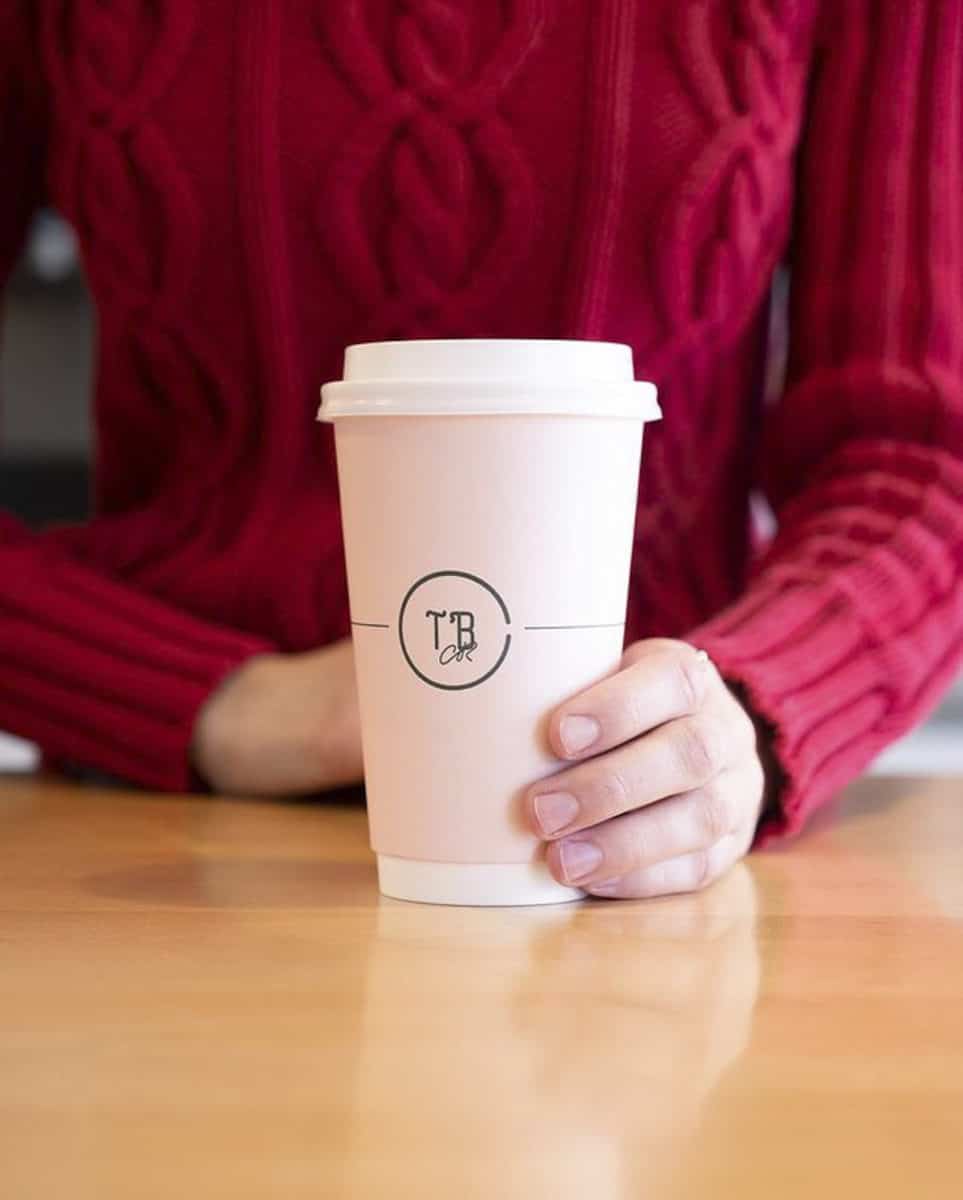 Pauline Bistro
Location: 112 Marion Street
This fairly recent addition to St. Boniface can be found in the renovated Norwood Hotel (one of our picks for best Winnipeg hotels). While Pauline Bistro is known for its breakfast, brunch, and lunch, it also makes for a wonderful spot to grab a coffee or tea.
With gorgeous French decor – you've probably seen it on Instagram – it is one of our top picks for places to go on a quiet morning. Nestle up with a book and one of their delicious warm beverages and we guarantee you'll fall in love with Pauline Bistro as much as we have.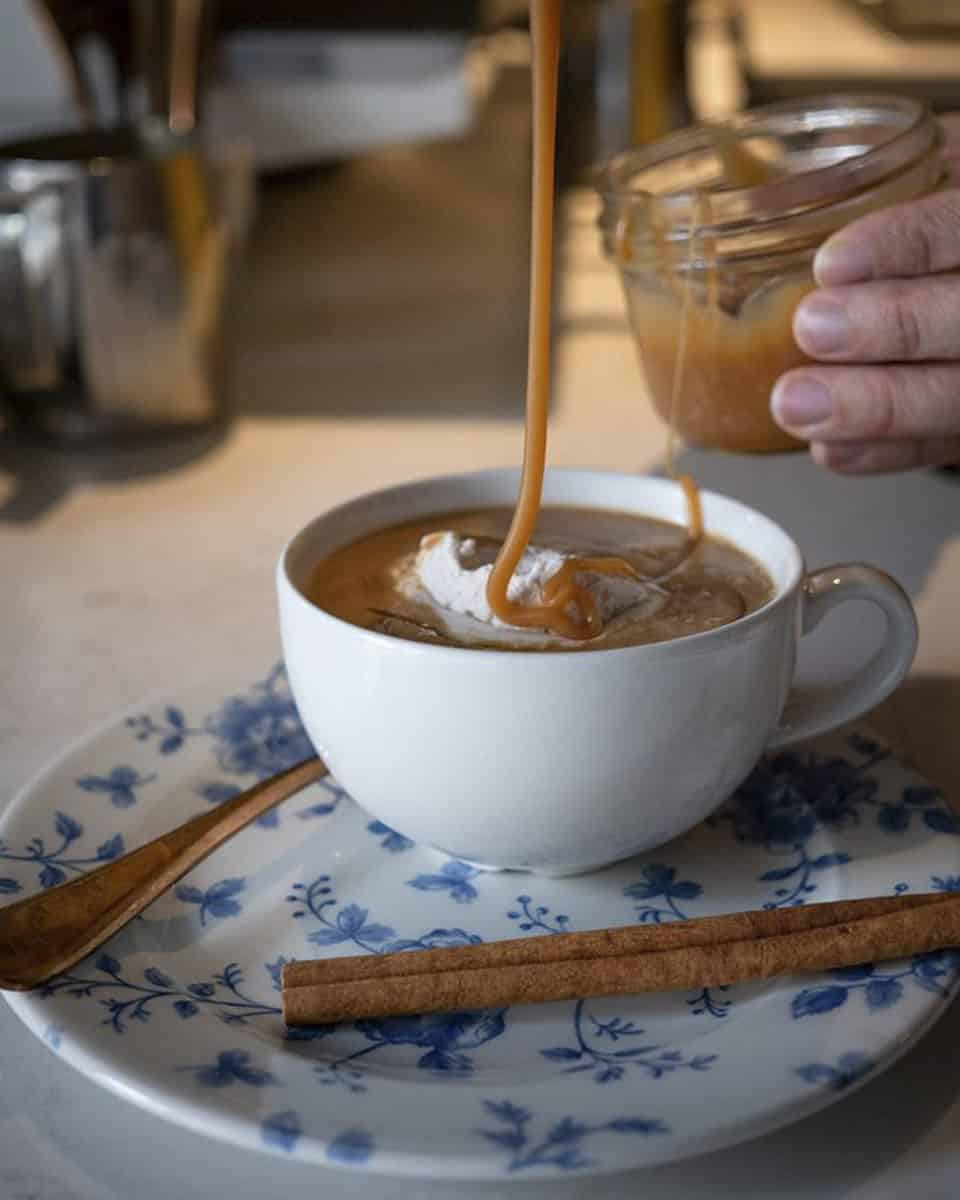 Fools and Horses
Locations: 242 Hargrave Street (inside Hargrave Street Market in True North Square), 1 Forks Market Road (inside The Forks), and 2787 St. Mary's Road (inside Lacoste Garden Centre)
We couldn't make a list of the best Winnipeg coffee shops and forget Fools and Horses! With three amazing locations around the city, their coffee is hard to beat. Whether you're meeting a friend downtown at Hargrave Street Market, stopping into the Forks for some shopping and entertainment, or browsing the flowerbeds at Lacoste, there's a Fools and Horses beverage with your name on it.
We love that there's an emphasis on community collaboration, as you can find pastries and sweets from local businesses such as Hildegard's Bakery, Bronuts, and La Belle Baguette. Try the London Fog; it's one of the best in the city, and it's made using local Boreal Wildcraft Tea.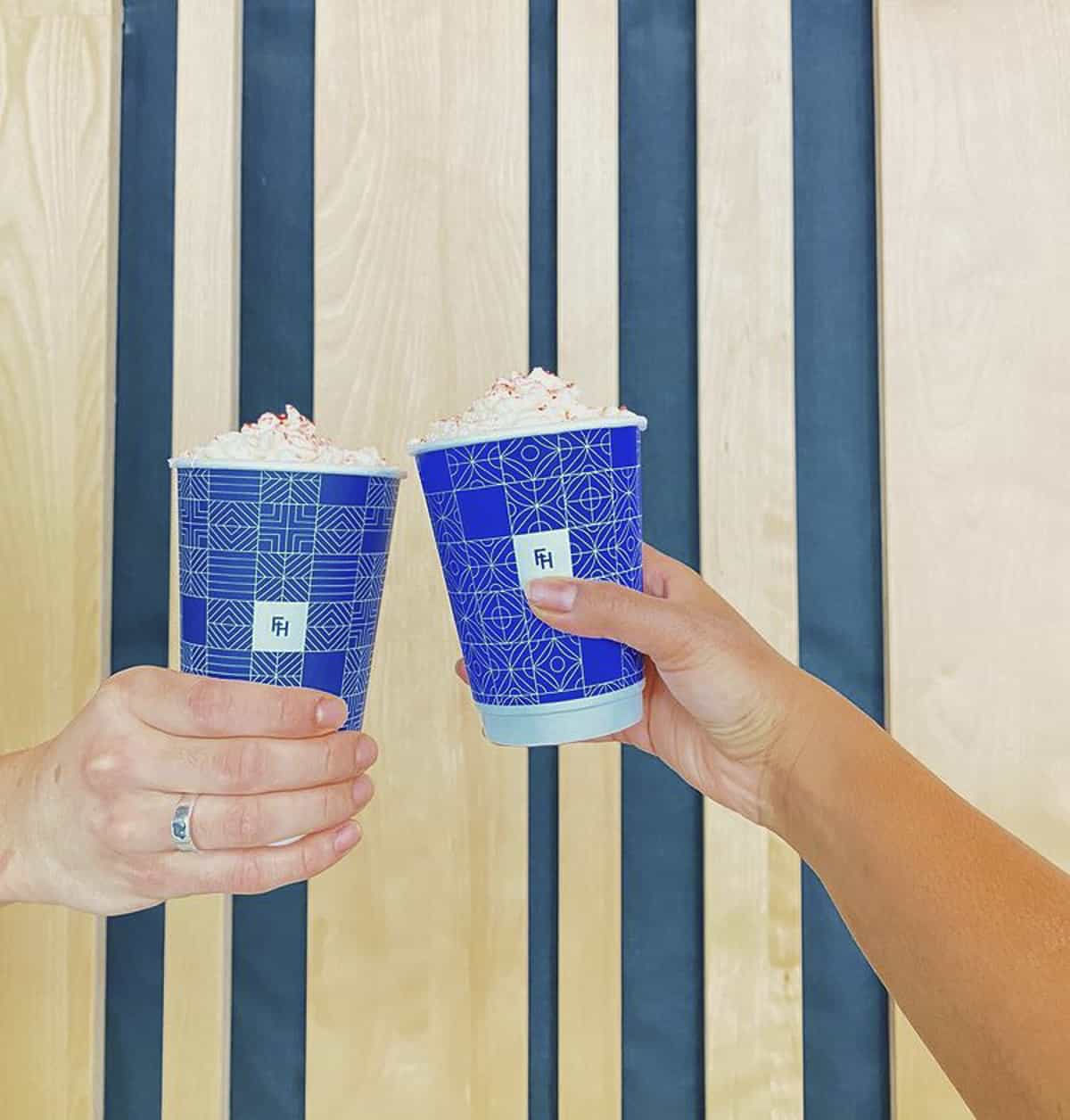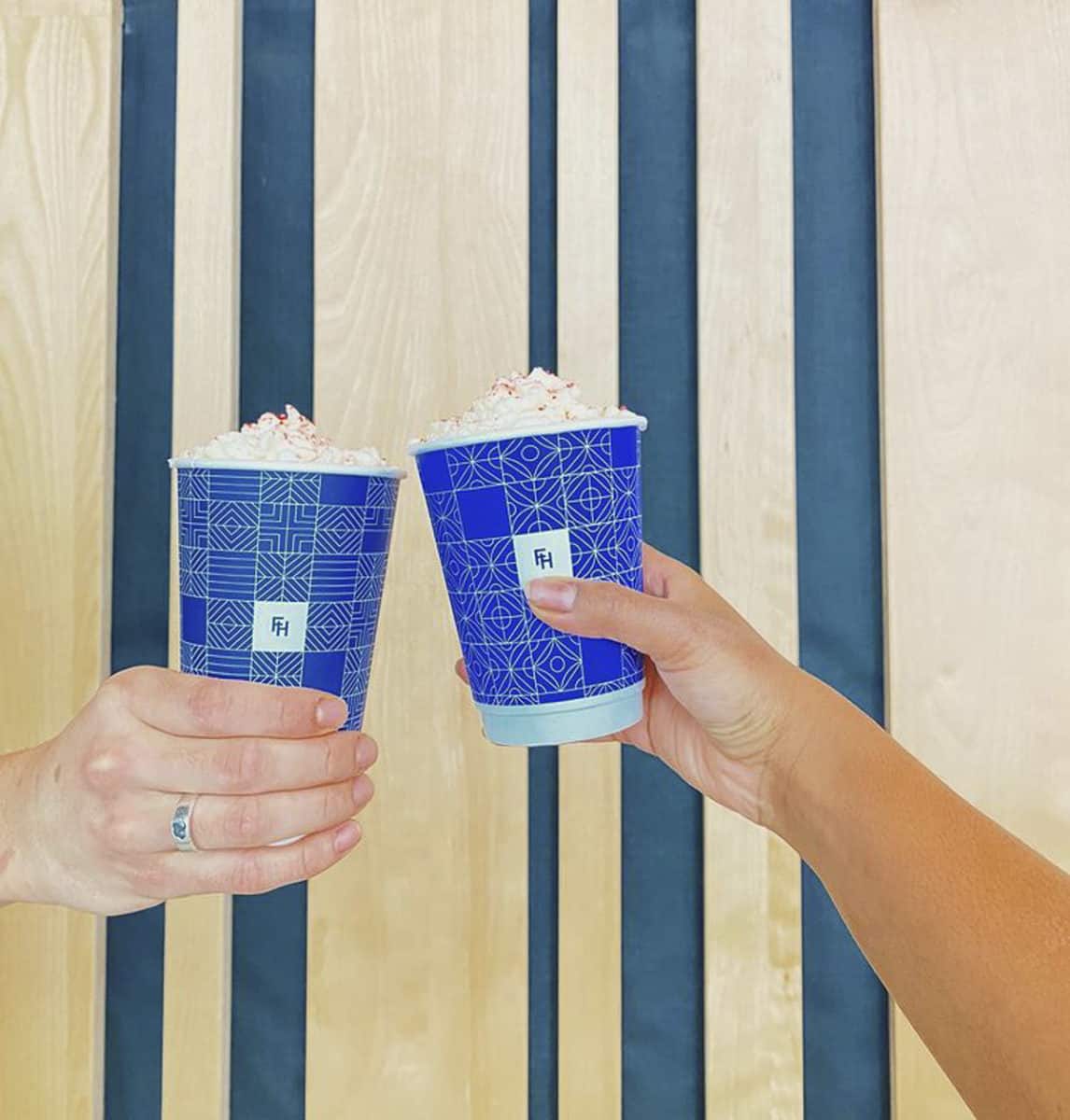 Onishkaan Café
Location: 460 Madison St
Located inside the Wyndham Garden Winnipeg Airport hotel, Onishkaan Café is a new spot in Winnipeg that should soon garner a lot of attention. Open from 6am – perfect for early risers – the location is excellent for those near CF Polo Park shopping mall, Assiniboine Park, and the St. James area. The hotel is found on Winnipeg's first urban reserve (Long Plain Madison Reserve) and Onishkaan Café features some Indigenous ingredients on their menu, including bannock and wild berry jam.
With hot coffee, delicious treats, and a beautiful design within the hotel, even those who aren't staying at the Wyndham Garden will appreciate a visit to the café. And the word Onishkaan? It means "get up" in Ojibwe.
Parlour Coffee
Location: 468 Main Street
Those in the know are big fans of Parlour Coffee, found in the heart of Winnipeg's Exchange District. Open since 2011, it was one of the first of Winnipeg's coffee shops that blended excellent coffee with a beautiful design space, making each visit one to remember.
This modern café is also something of an art gallery, as the walls are adorned with local art and there are unique gifts for purchase. With a rotating menu of fresh and ethically-sourced coffee beans and teas, there's something for everyone at this beloved Winnipeg café.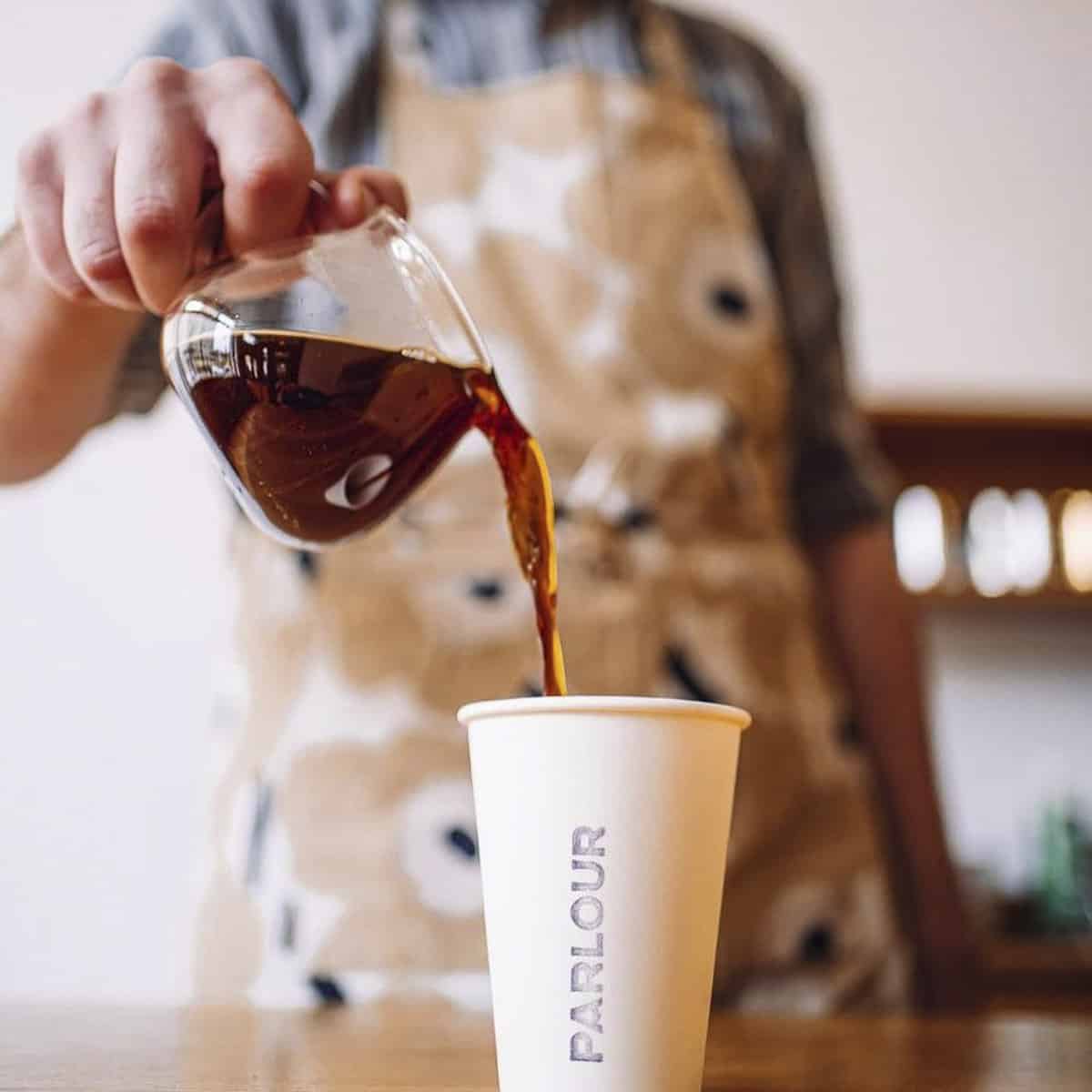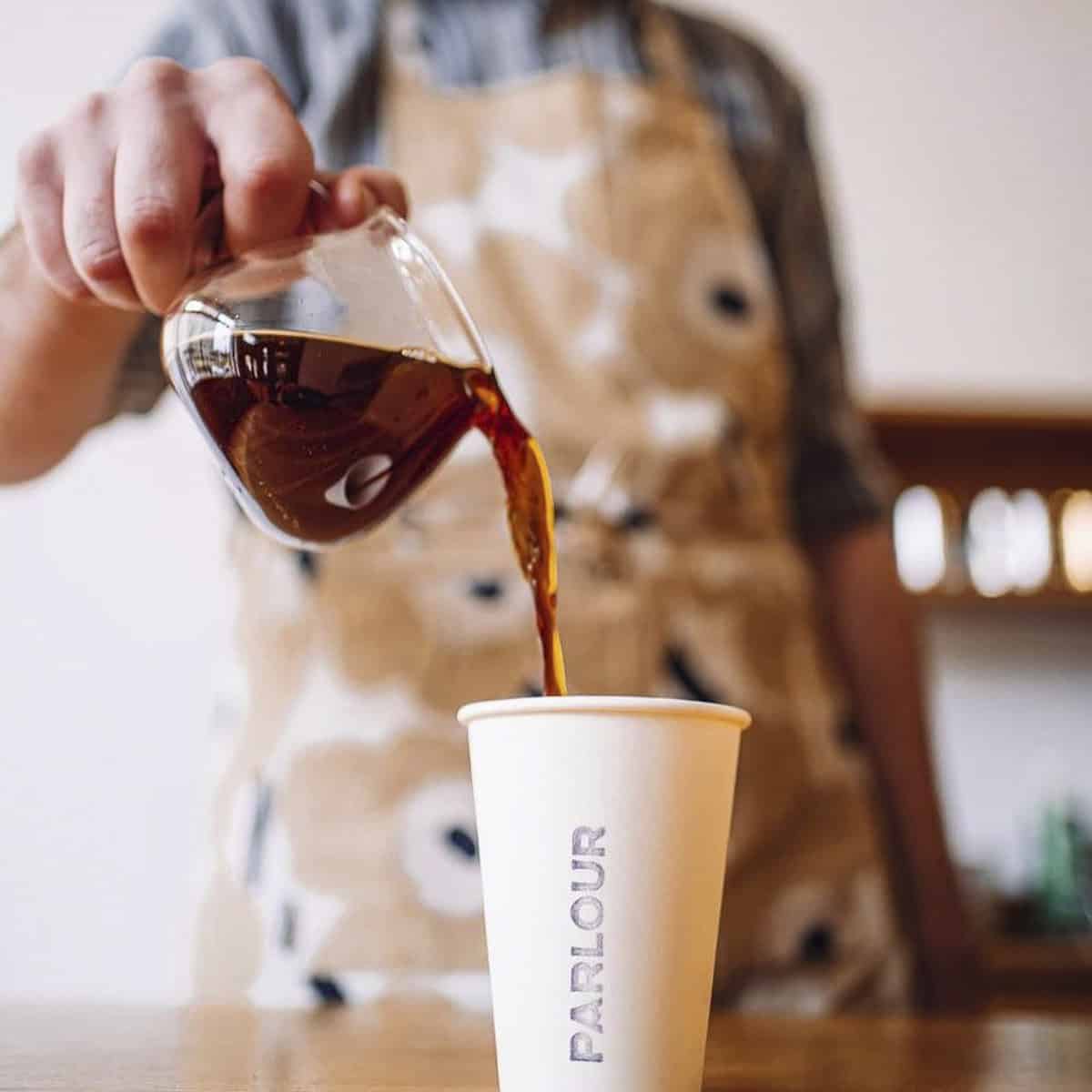 High Tea Bakery
Location: 2103 Portage Avenue
High Tea Bakery is one of our favourite spots in the city for sweet treats and a warm cappuccino or latte to go. Stop in to pick up a dozen of the delectable cookies or cakes (their claim to fame of having the best Imperial cookies in Winnipeg is a legitimate one in our eyes) and don't forget to try one of their beverages to take with you.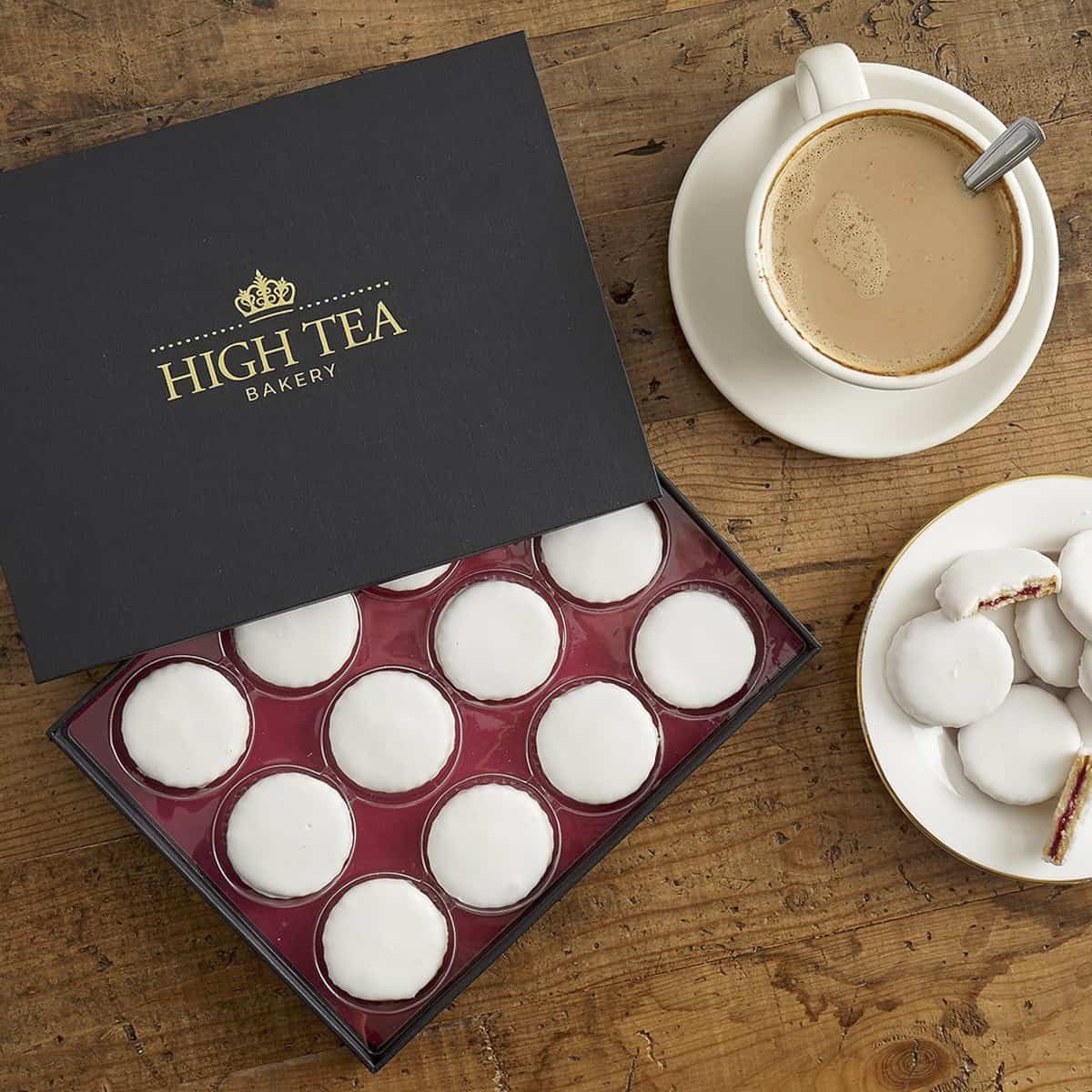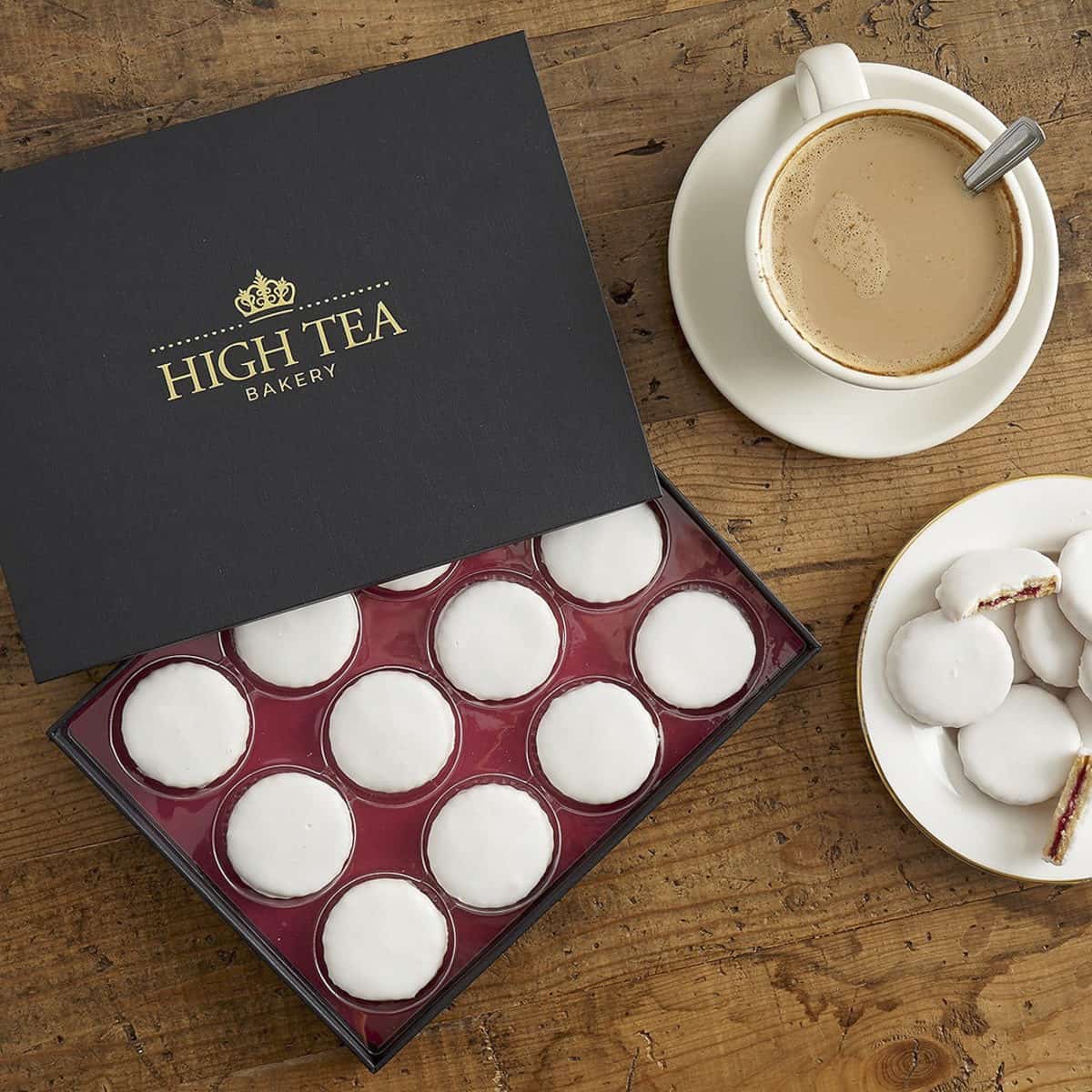 Más Coffee Company
Location: 70 Arthur Street
One of the newest additions to coffee shops in Winnipeg, Más Coffee Company is found in the heart of the Exchange District. Dedicated to producing the highest quality coffee possible, the goal is to make "coffee for all". This burgeoning business is definitely an exciting one to watch, especially as they're setting their sights on becoming a nationally-known entity. Enjoy a latte, matcha, drip coffee, or anything you fancy.
MAKE Coffee + Stuff
Location: 751 Corydon Avenue
Found in the heart of Corydon Village, MAKE Coffee + Stuff is often filled with creative types working on their next project. This cozy and airy space is known for its friendly service, community feel, and excellent coffee. Perfect for meeting a few friends or for a quick pop-in while you stroll along Corydon Avenue, MAKE is one of our top choices for Winnipeg cafés.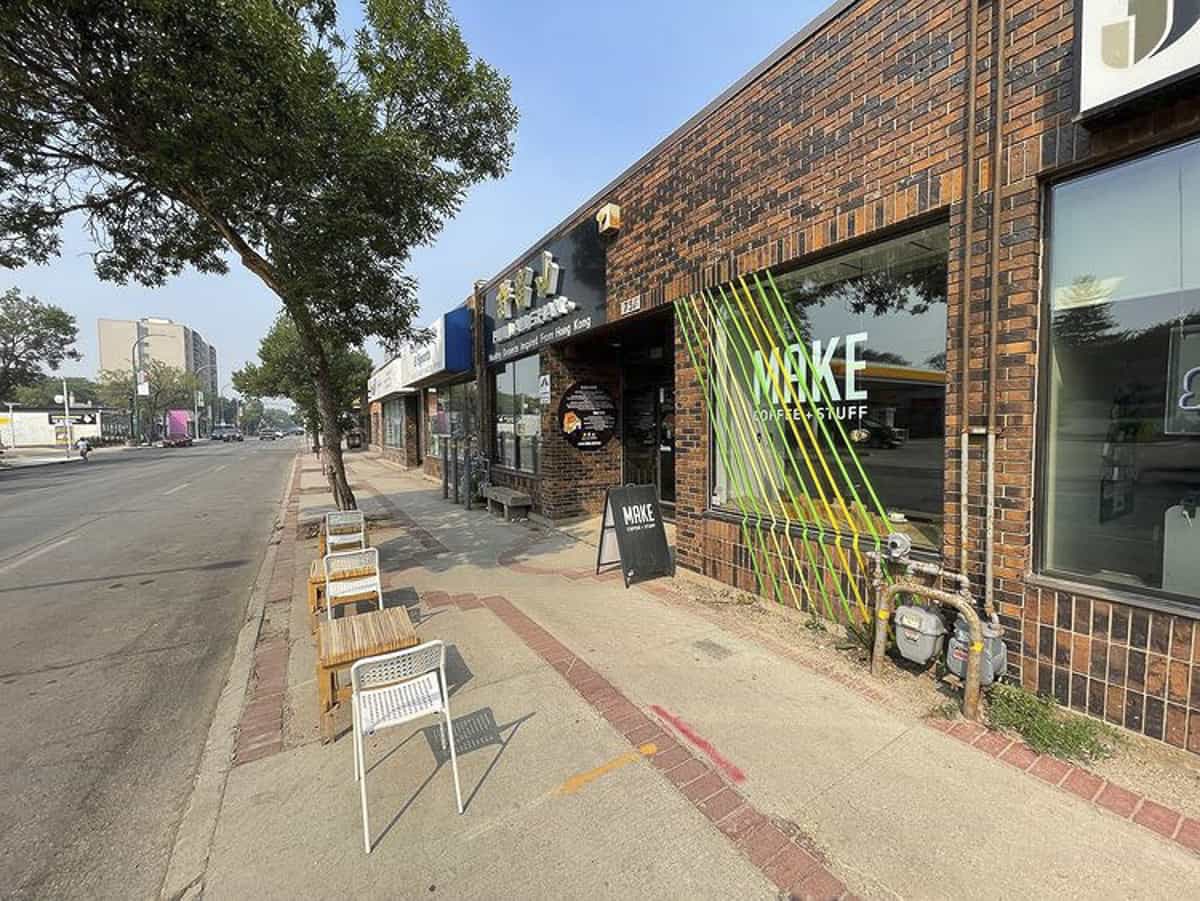 Harrisons Coffee
Locations: 270 Waterfront Drive and Johnston Terminal at The Forks
With excellent locations on Waterfront Drive and at The Forks, Harrisons Coffee is a specialty coffee shop in Winnipeg that focuses on community, kindness, and, of course, fantastic coffee. Stop in to pick up your favourite blend on a walk through downtown Winnipeg, or stay for a while in their bright and sunny space on Waterfront Drive. You can also find their coffee beans at various retailers around the city.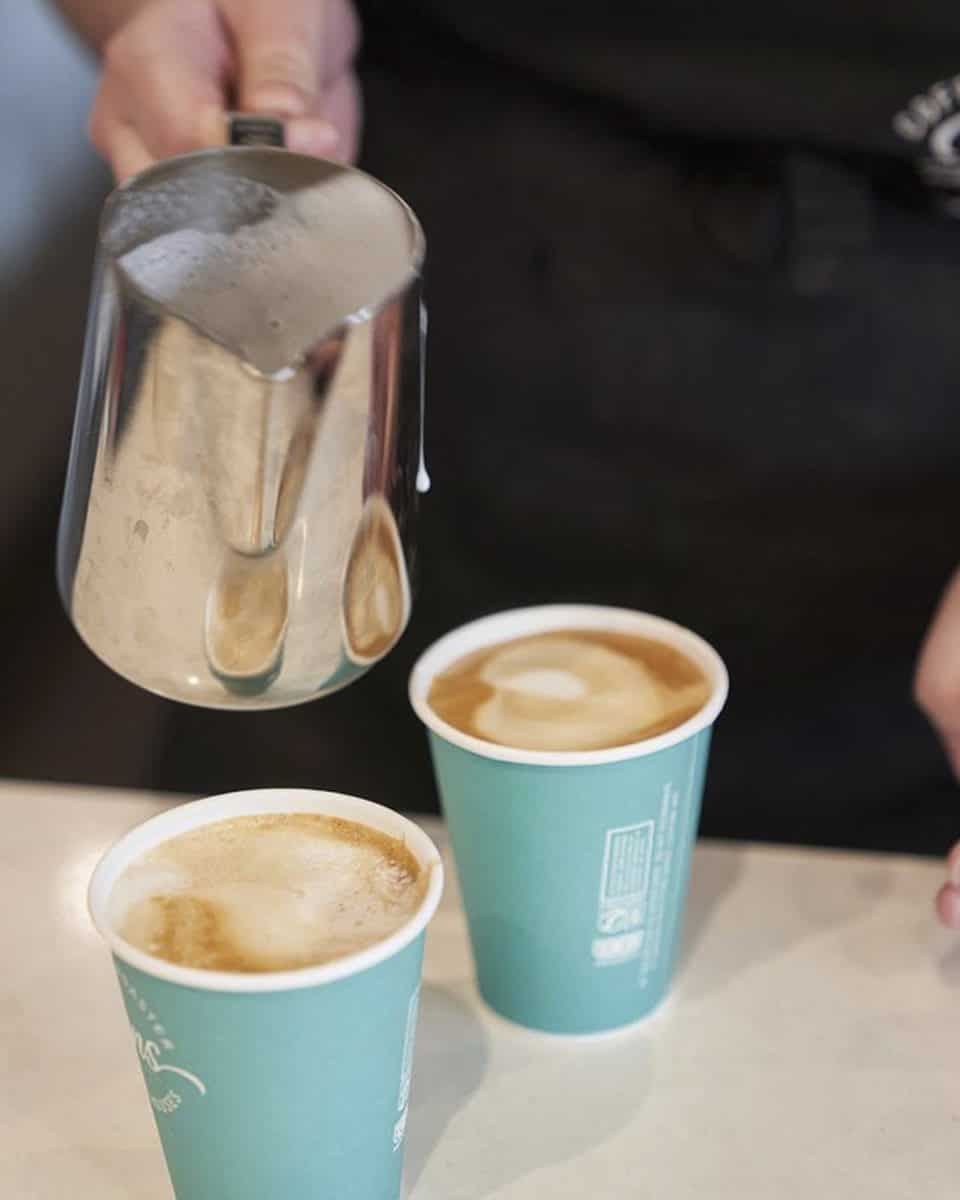 Clementine
Location: 123 Princess Street
While Clementine is famous in Winnipeg for being one of the best spots for breakfast or brunch, we also love stopping in for a coffee with friends or a book. With a terrific location in the Exchange District, we love their menu of coffee and tea beverages. In winter, a drip coffee or chai tea latte is the way to go, while warmer temperatures call for their excellent iced matcha latte.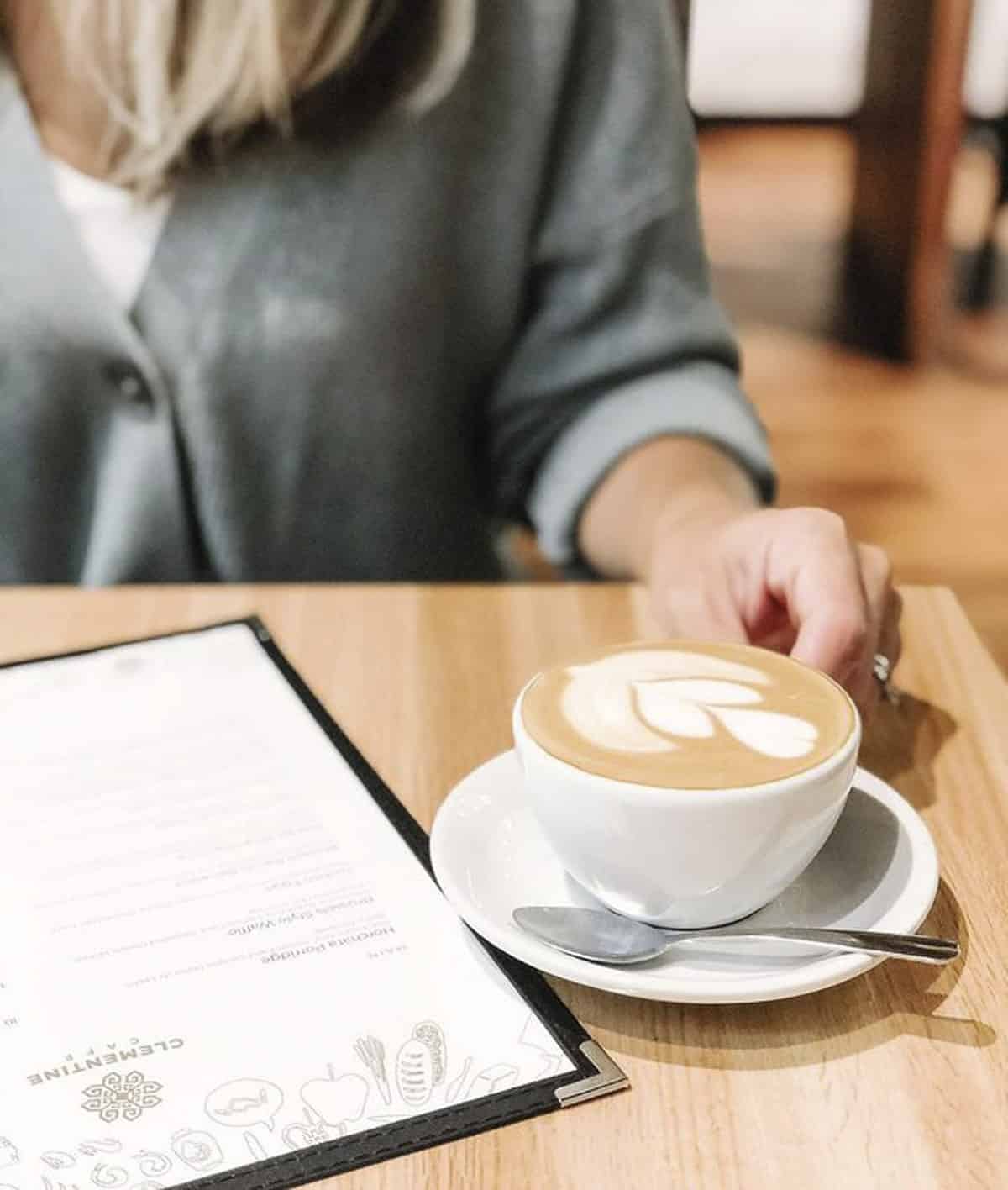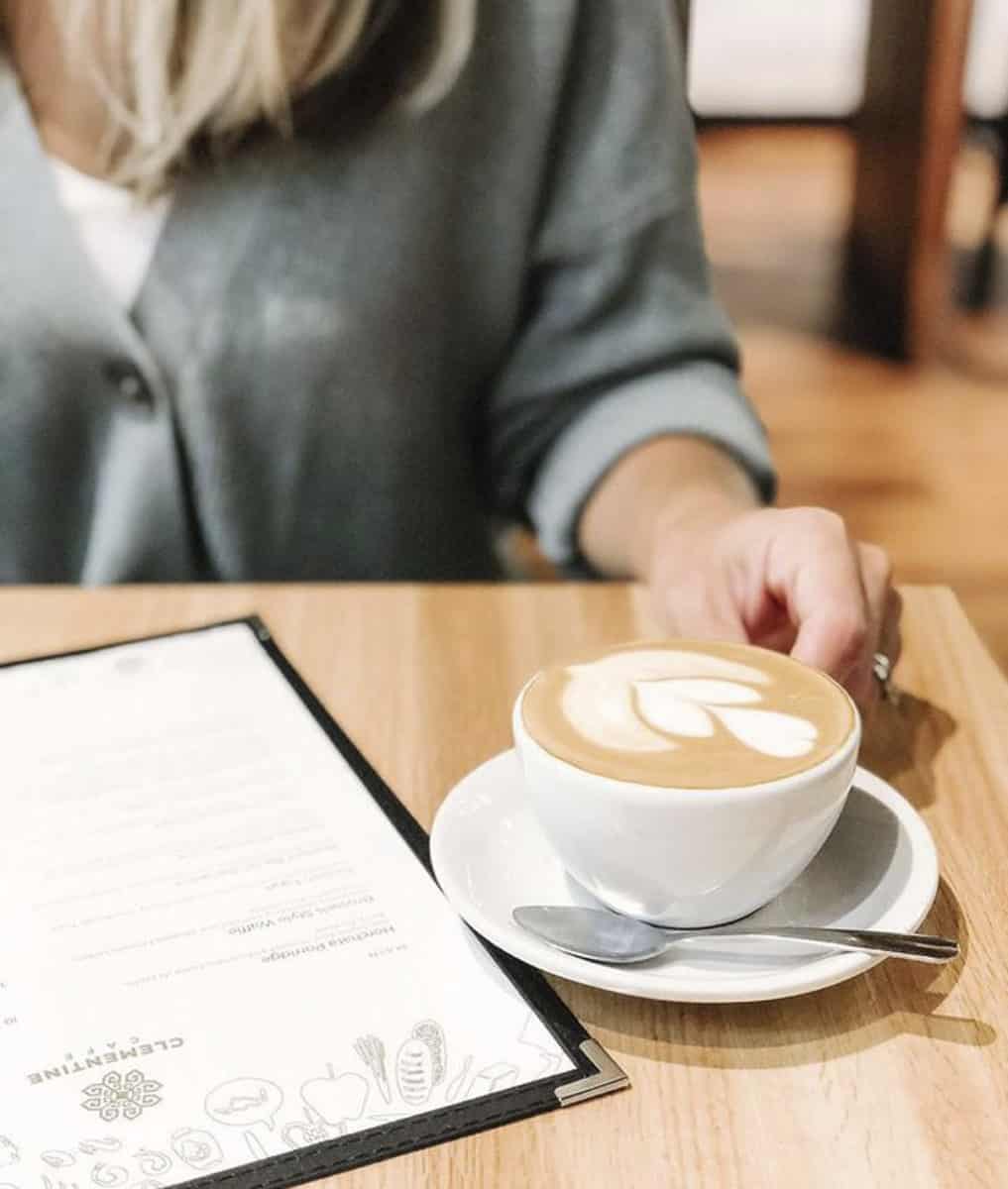 A-OK Cafe
Location: Inside CF Polo Park Shopping Centre, 1485 Portage Ave
If you're looking for a great cup of coffee and a chill place to relax for a bit inside Polo Park mall, head to A-OK Cafe. Adjacent to Canadian clothing retailer Aritzia, the coffee shop is actually run by the clothing store. One of the newest of the Winnipeg cafés, it's almost always busy!
With an extremely stylish vibe – you'd expect it, given the clothing company's style – there's a huge list of coffees, teas, and snacks to choose from.
Fête Ice Cream & Coffee
Location: 300 Assiniboine Avenue Unit B
Don't let the "ice cream" in the name fool you… Fête Ice Cream & Coffee also serves up a mean cup of joe! Found in a perfect location alongside the Assiniboine River, it's a fantastic spot to stop and get a coffee on a walk through the city (and ideal for those who are visiting the dog park next door with their pup).
There's a great selection of drinks on the menu, including all the favourites: drip coffee, hot chocolate, lattes, you name it. There are also scones and other sweets that are baked daily. But yes… their ice cream is really incredible, too!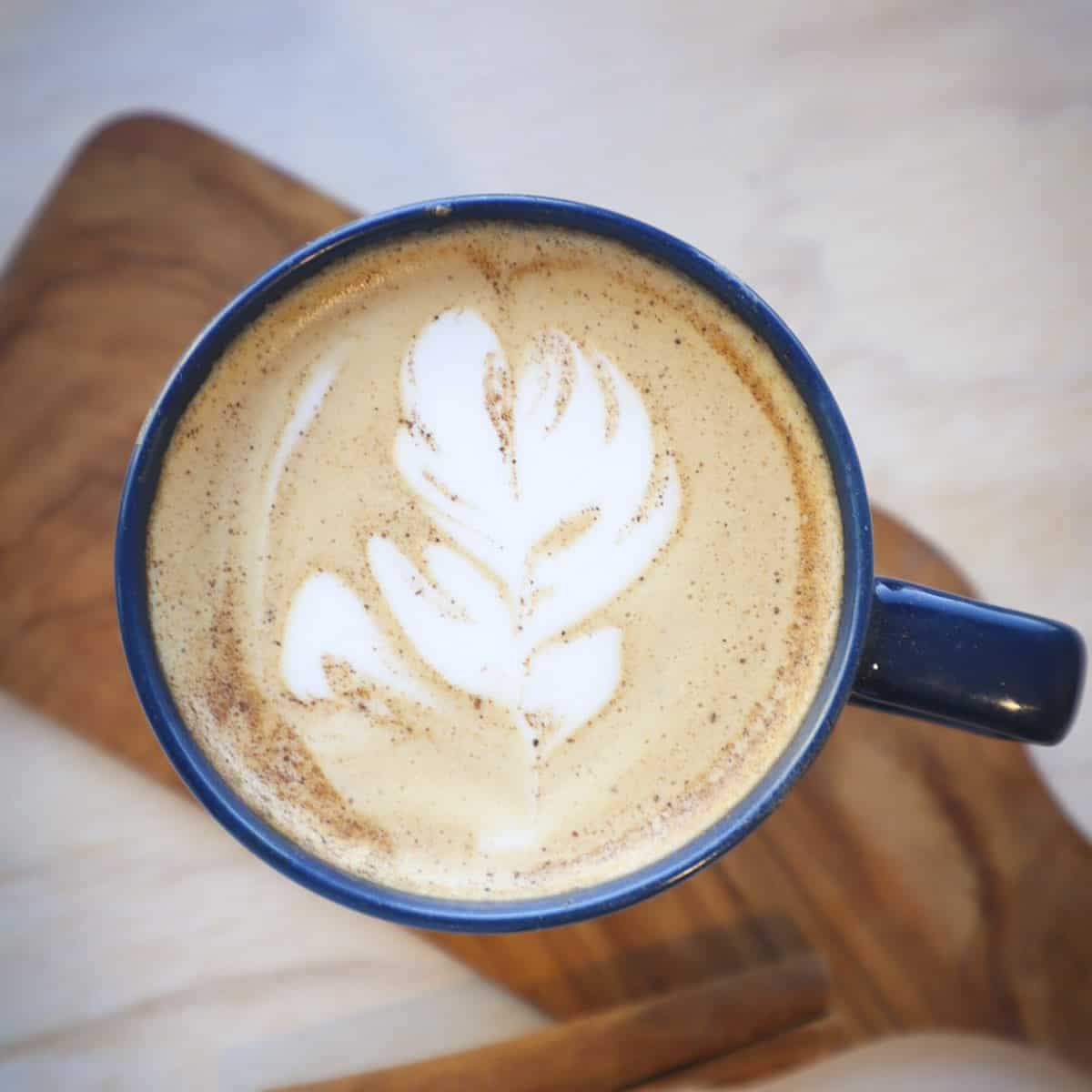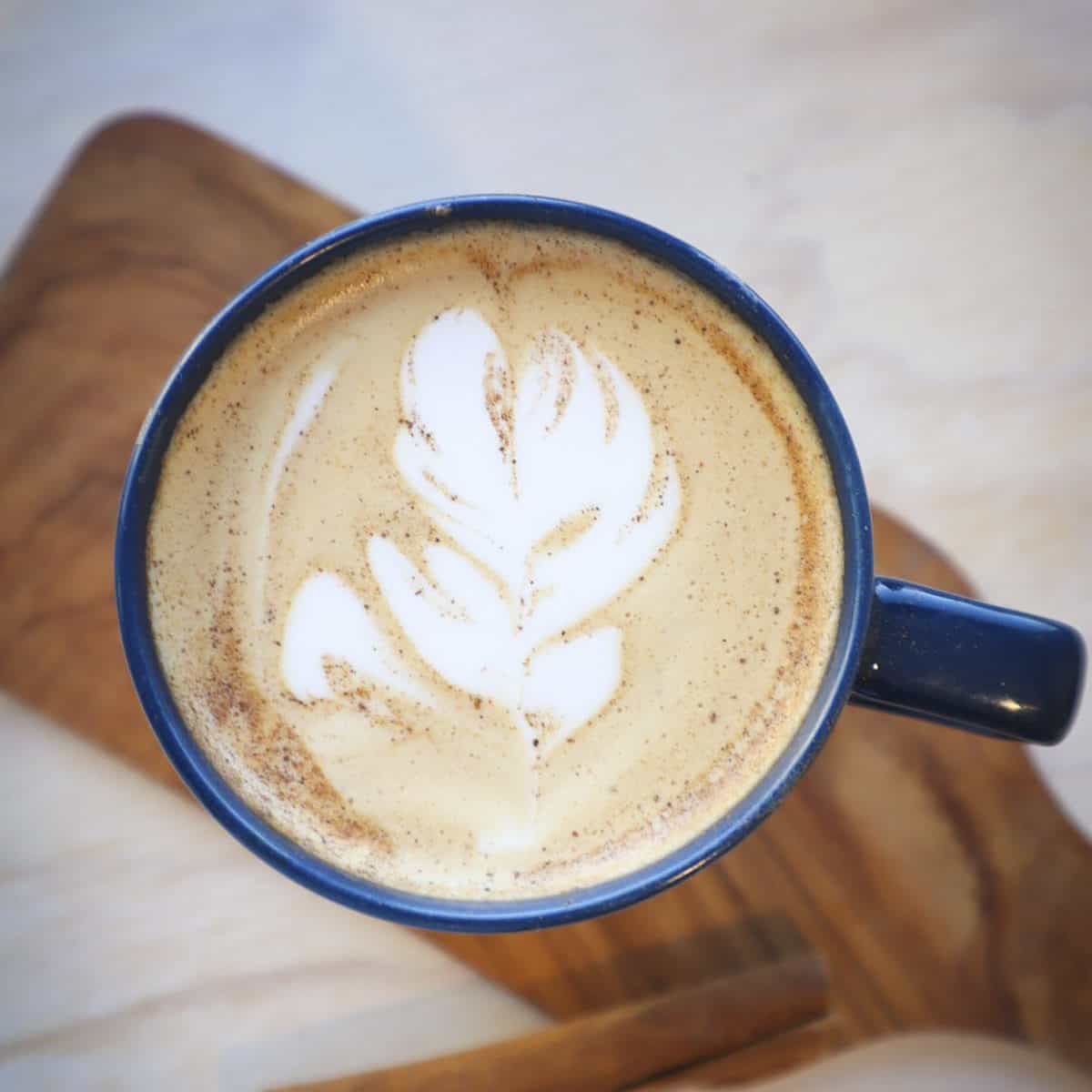 Park Café
Location: 330 Assiniboine Drive, on the banks of the Riley Family Duck Pond
If you're spending any time in Assiniboine Park, a visit to the Park Café is a must. In winter, warm up with a hot chocolate or latte while gazing out at the snow; in summer, try an iced coffee or tea to cool down.
You can grab something to go as you explore the rest of the park or nearby Leo Mol Sculpture Garden, or you can stay for a while and try one of their breakfasts or lunches, which are always tasty. There's also a "Park Treats" window that's open for take-out!
Heading to The Leaf in Assiniboine Park? There's also a coffee shop within the building!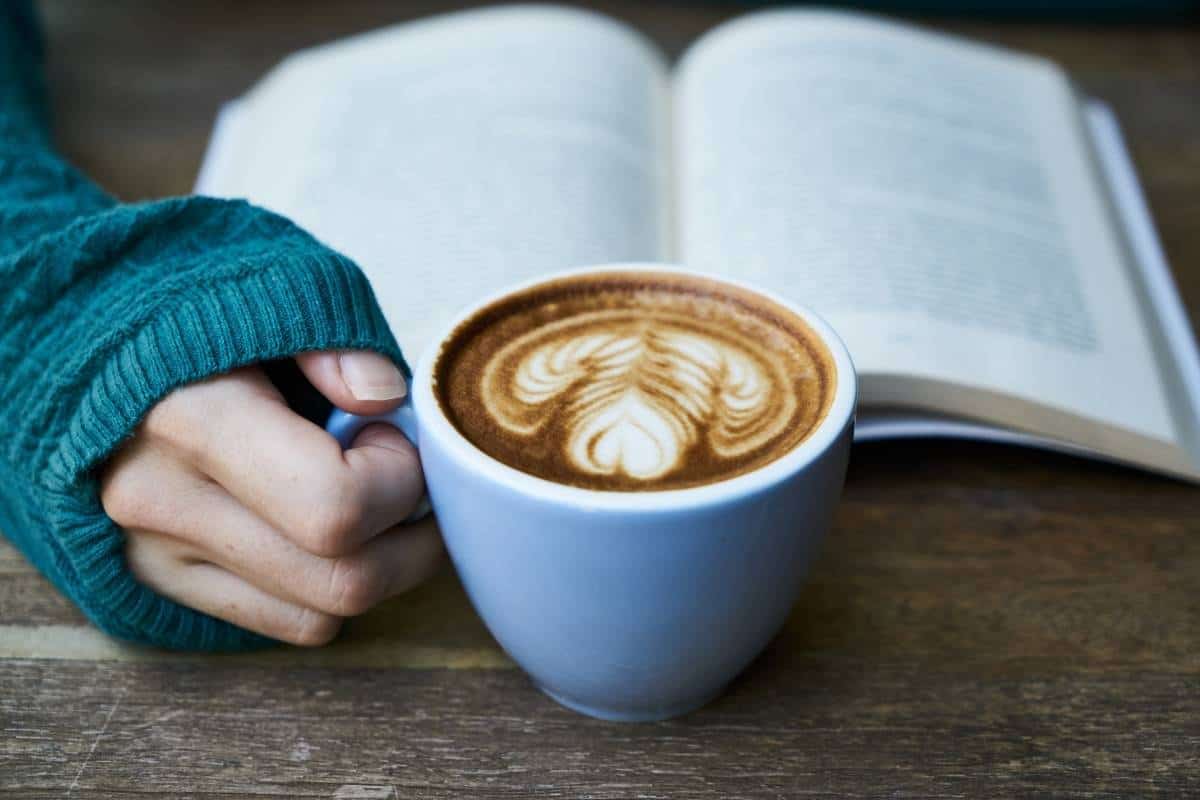 Daily Grind Coffee
Location: 3043 Portage Avenue
Open since 2005, Daily Grind Coffee is a staple in the Winnipeg coffee shop scene. Head to the West End to join, as they say, the Daily Grind family. With a fantastic menu of coffee and tea beverages – check out the toffee crunch, caramel apple cider, or hazelnut hysteria – they also have house-made soups, salads, sandwiches, all-day breakfasts, and a drool-worthy list of desserts to choose from to go alongside your coffee.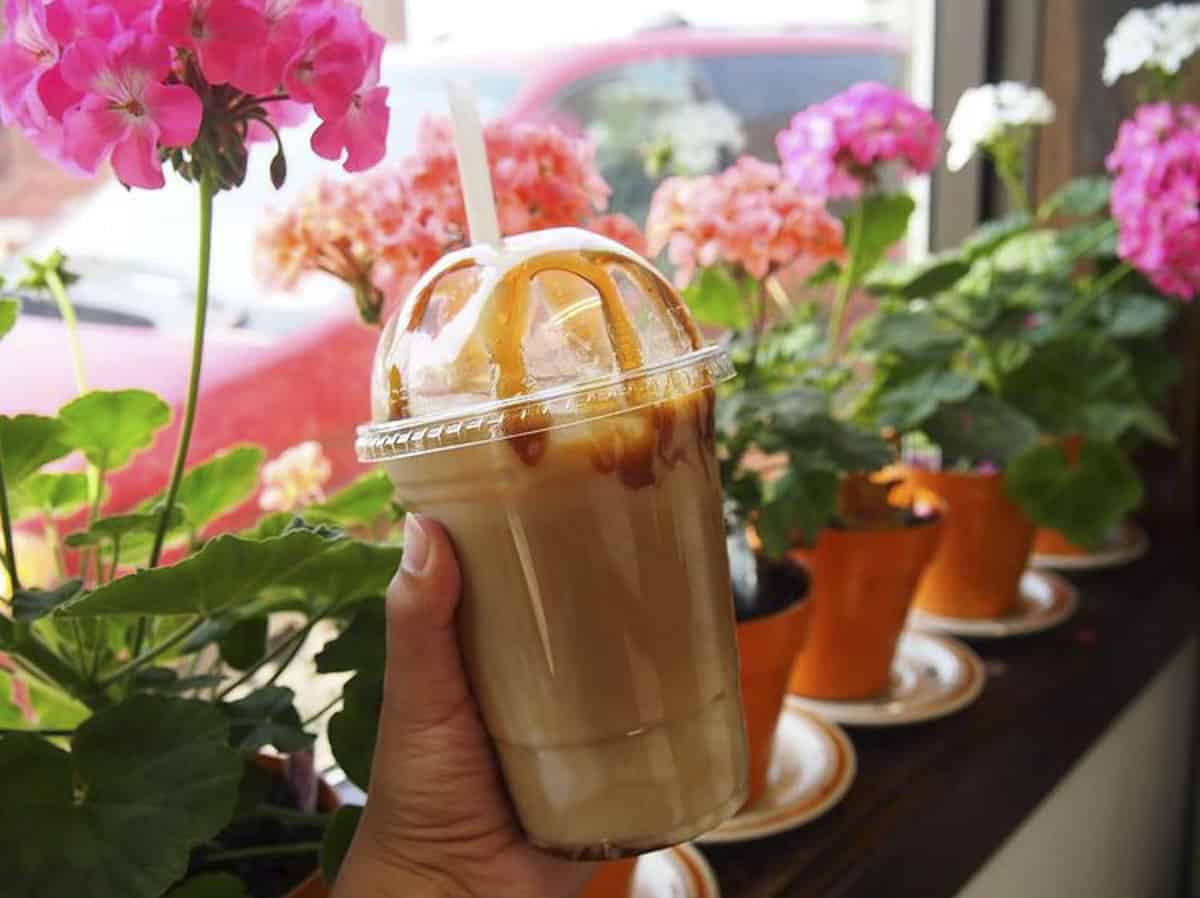 Prairie Ink Restaurant and Bakery
Location: 1120 Grant Avenue
Found inside Winnipeg's beloved independent bookstore, McNally Robinson, Prairie Ink Restaurant and Bakery is a fantastic spot to grab a coffee after purchasing a book or two. There's also an extensive food menu, and all of their baked goods and pastries are made in-house using only the freshest ingredients (we're fans of the almond croissant).
In summer, try their cold brew, while those wanting a warm beverage should try the decadent Red Forest Mocha… even better if you add a liqueur! There's also an excellent selection of loose leaf tea and matcha drinks. Stay up to date on events at Prairie Ink, as there are often book readings in the evenings.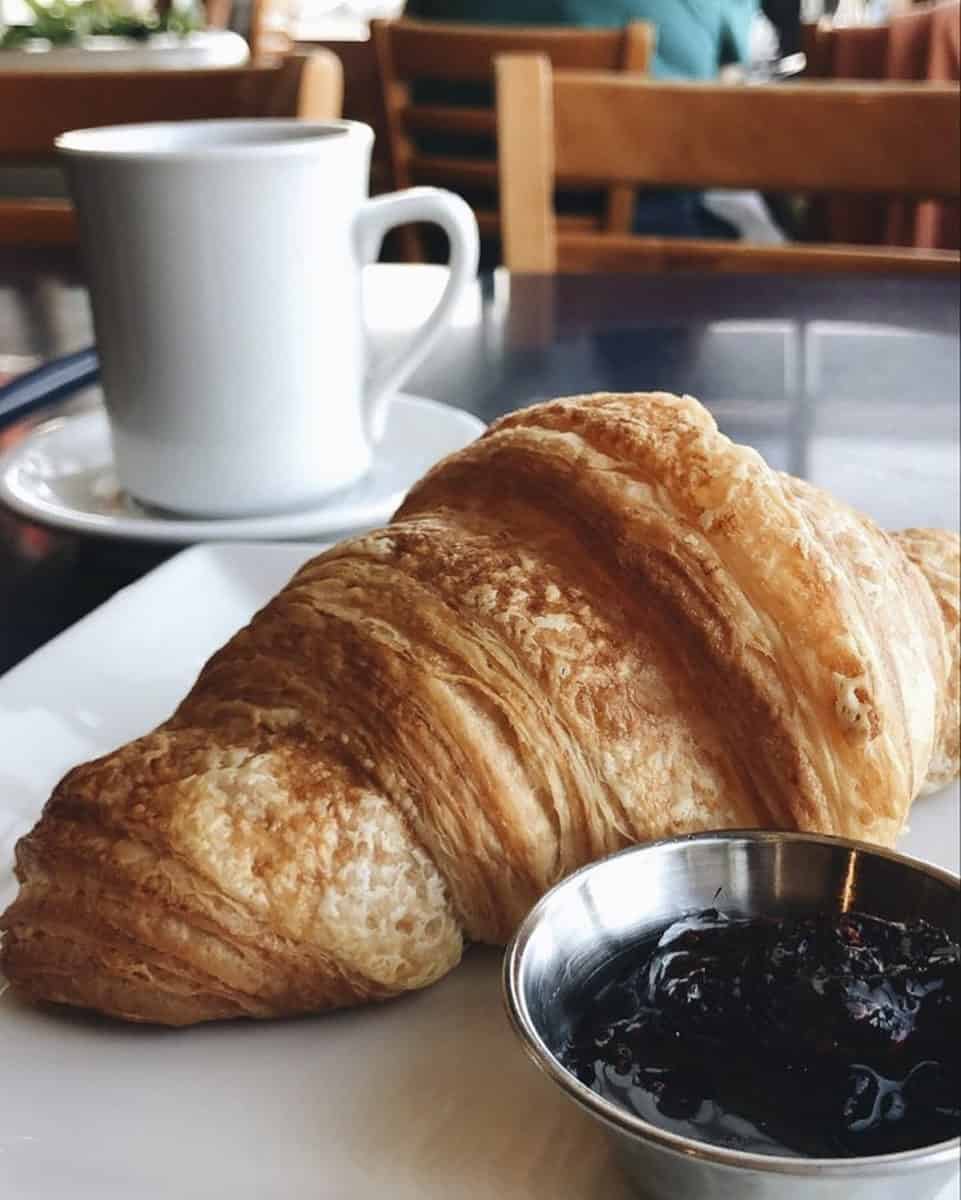 Café Postal
Location: 202 Provencher Boulevard
Found in the heart of St. Boniface, Café Postal has been attracting customers since 2012. And with a tagline that reads, "We care about making good coffee and good friends", how could you not love this Winnipeg coffee shop? With an incredibly diverse list of coffee beans available, you can expect the best of the best at this café.
They serve some truly delicious creations such as the white chocolate peppermint mocha or, during the holiday season, a mouthwatering eggnog latte. There are also coffee subscriptions to choose from if you'd like your coffee beans delivered straight to your door.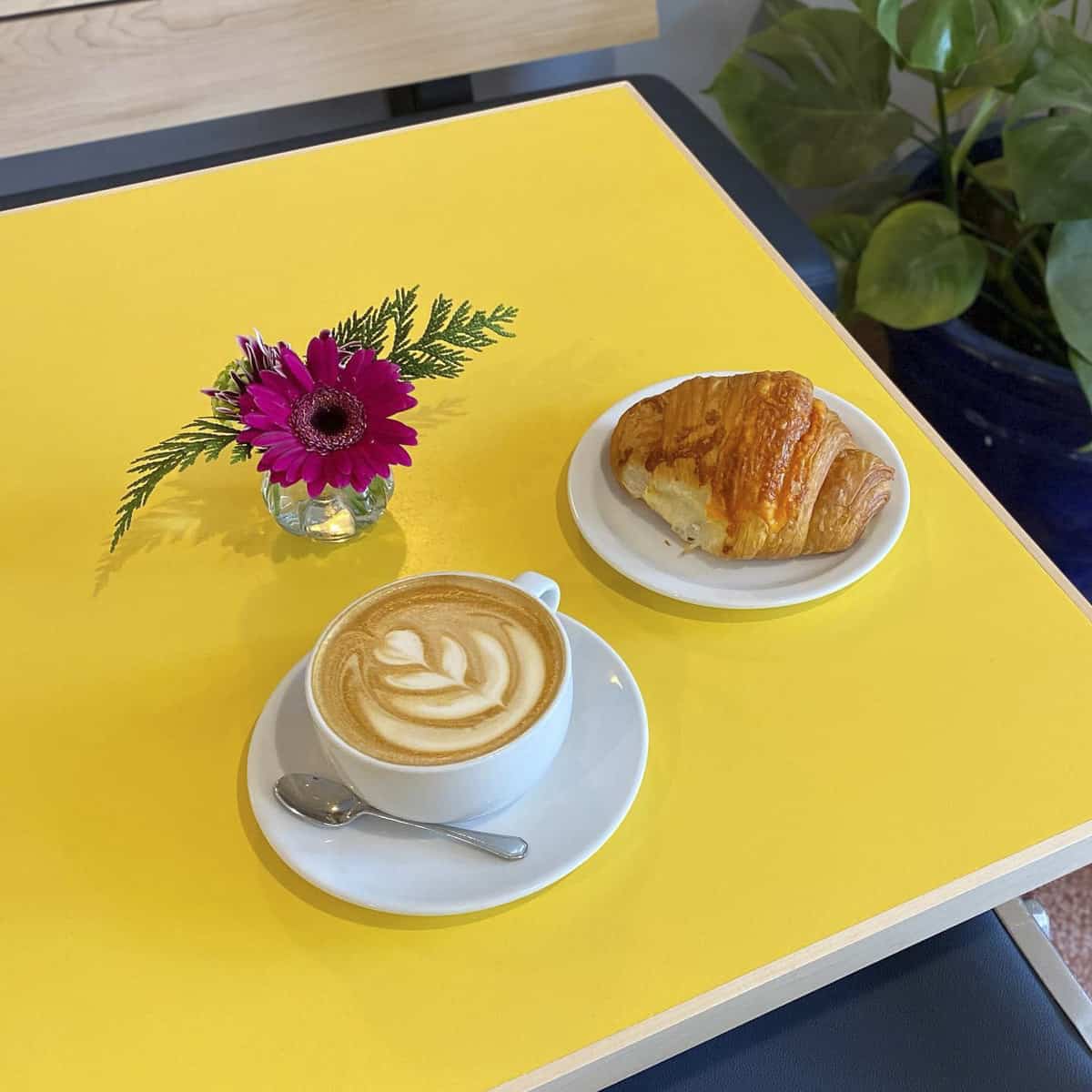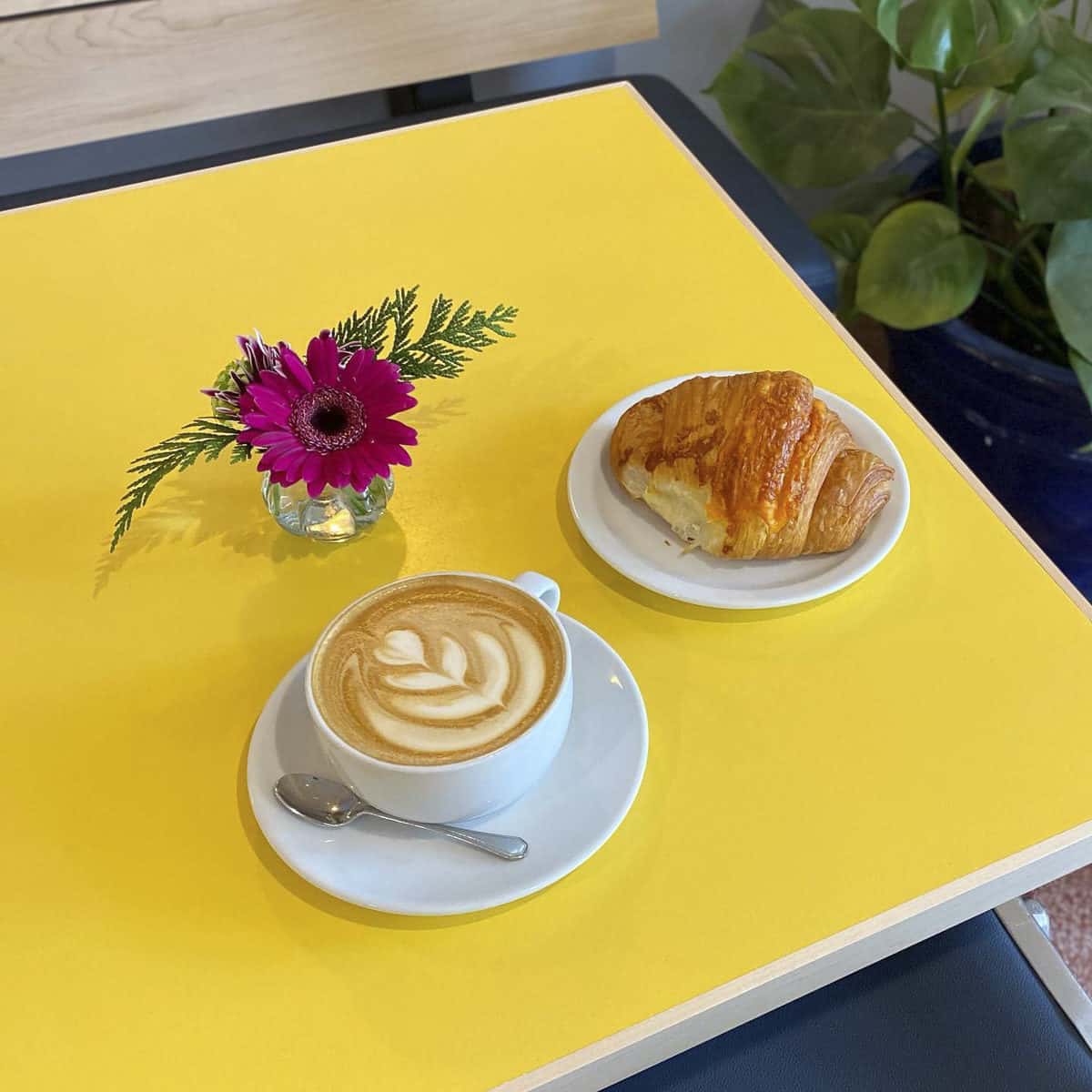 Juneberry
Location: 531 St. Mary's Road
While Juneberry is known primarily for its warm service and incredible food (in fact, it makes our list of the best restaurants in Winnipeg), this St. Vital space is also a great coffee shop if you're only after a cuppa. Their coffee and tea menu is outstanding, with options such as a raspberry matcha latte, a miso caramel latte, and a delicious cardamom spice latte.
You can also add coconut cream to any of their drinks for an extra (and vegan-friendly) treat. Our pick? The Gibraltar, a drink which is equal parts espresso and steamed milk.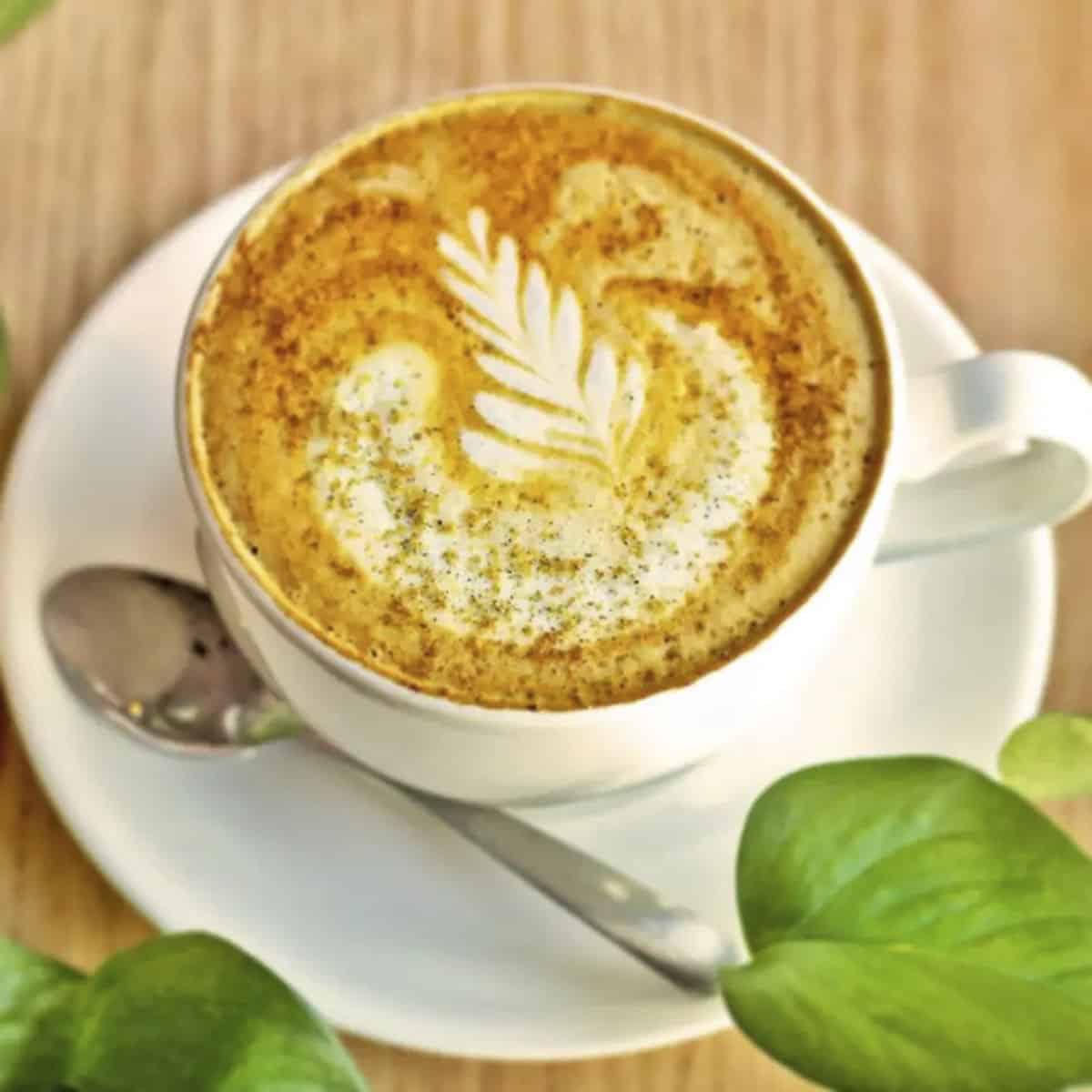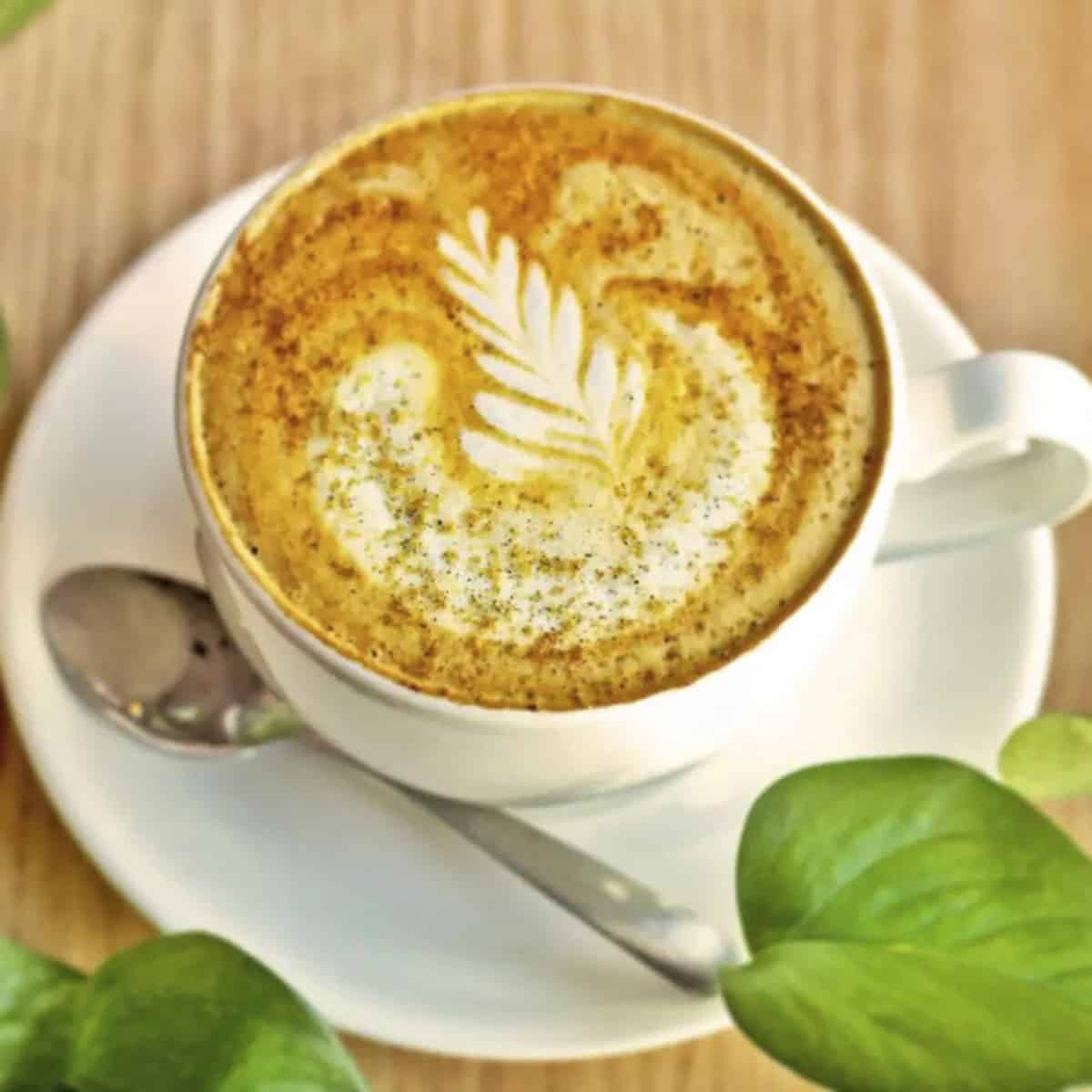 The Crusty Bun
Locations: 1026 st. Mary's Road and 925 Headmaster Row
With two locations in Winnipeg (and one in Steinbach), The Crusty Bun is known for its excellent array of European delicacies and treats, including pretzels, sauerkraut bread, and cherry streusel. While you can certainly head there for lunch – their soup of the day is always a delight – it's also a great spot to grab a coffee.
Even if you're just popping in to pick up your weekly loaf of bread, their coffee is always fresh and delicious earning a spot as one of the popular winnipeg coffee shops.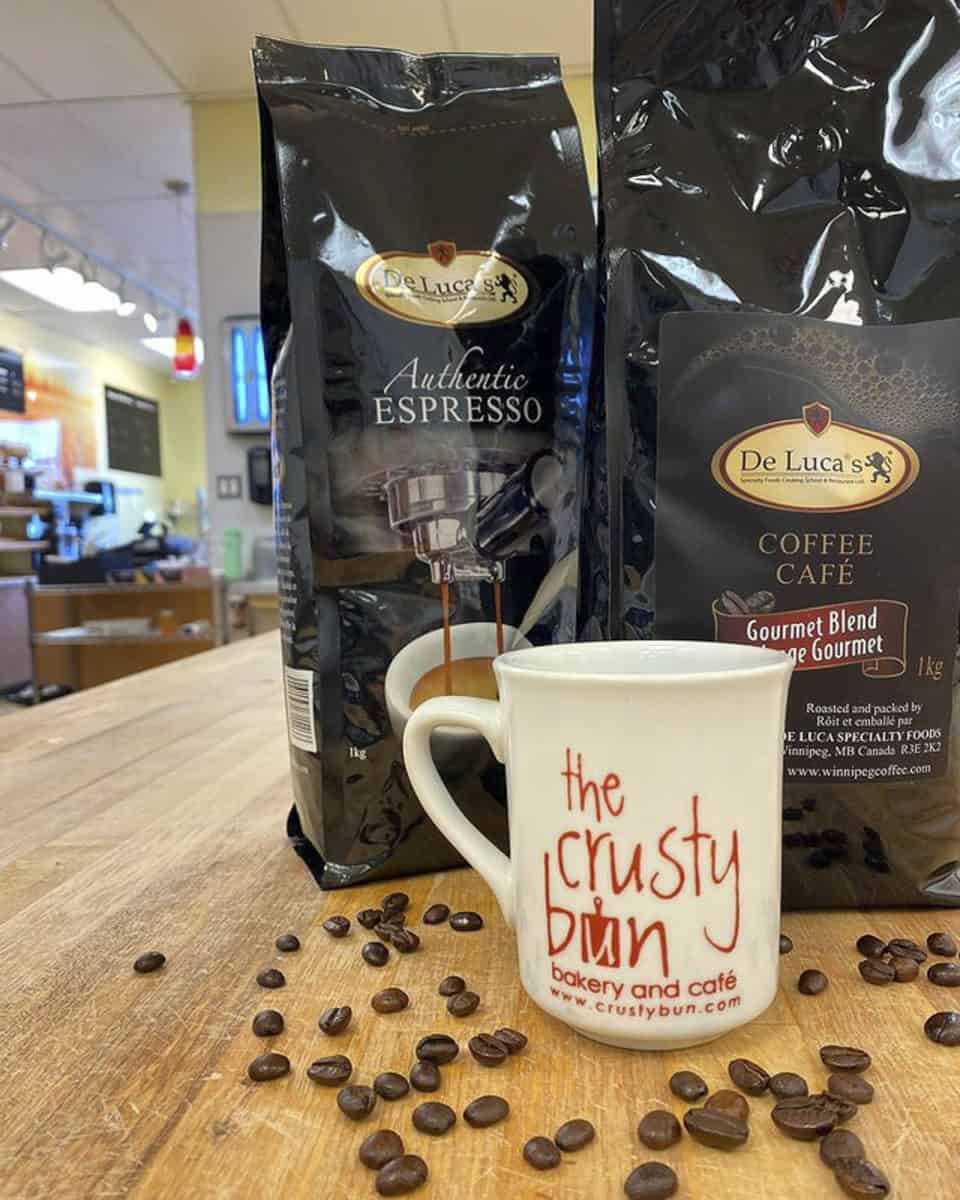 Amsterdam Tea Room
Location: 211 Banatyne Avenue
You may have visited Amsterdam Tea Room in the evening for one of their tasty cocktails, but did you know that it's open during the day for tea? It is in the name, of course! Found in the Exchange District, Amsterdam Tea Room has an amazing menu of teas to choose from; in fact, it might be the most diverse and interesting tea list in the city, and it's the perfect place to stop in after a wander through the district's sights and shops.
Feeling celebratory or in the mood for something a bit stronger? Definitely try one of their cocktails made with tea; the Green Word made with matcha tea is one of our new favourites.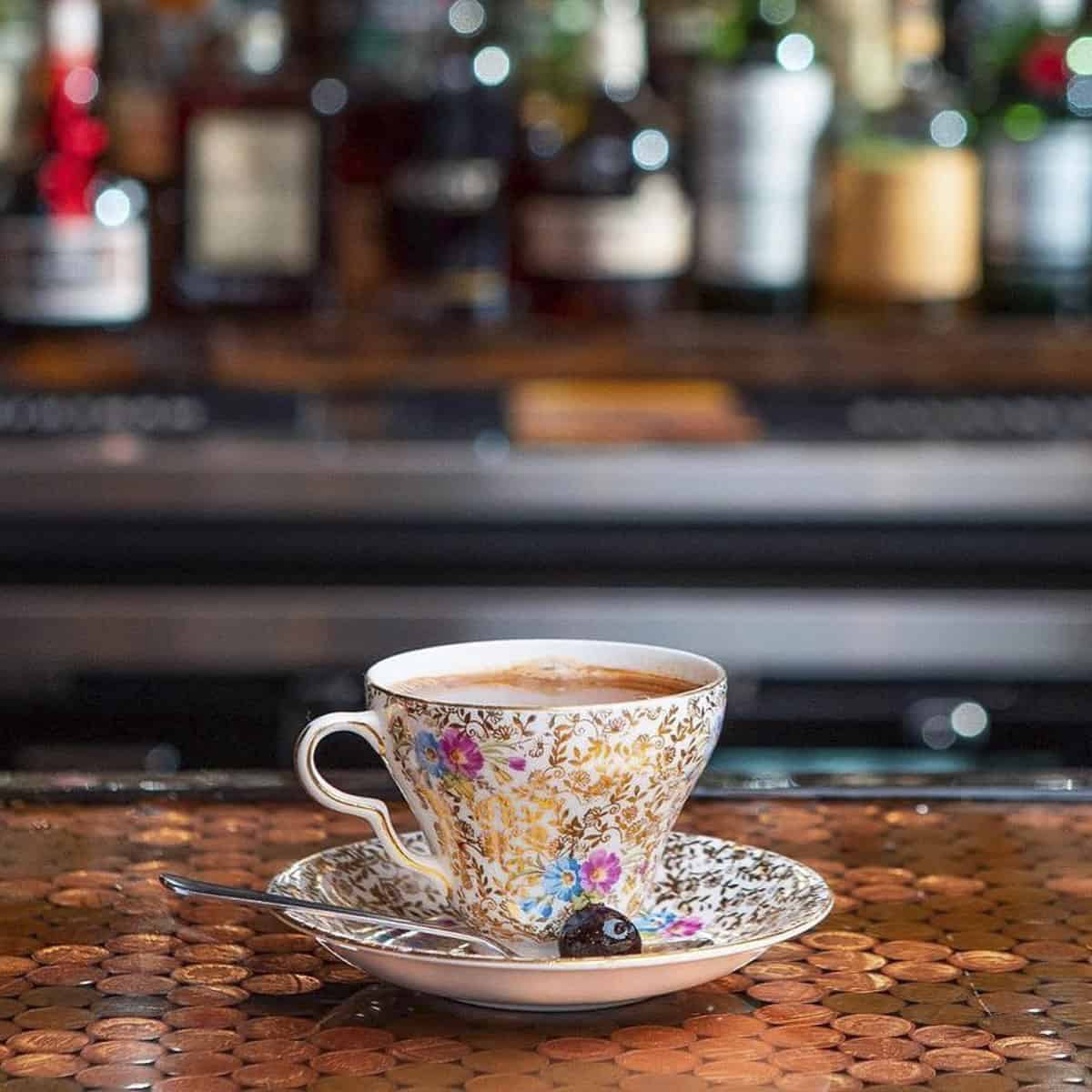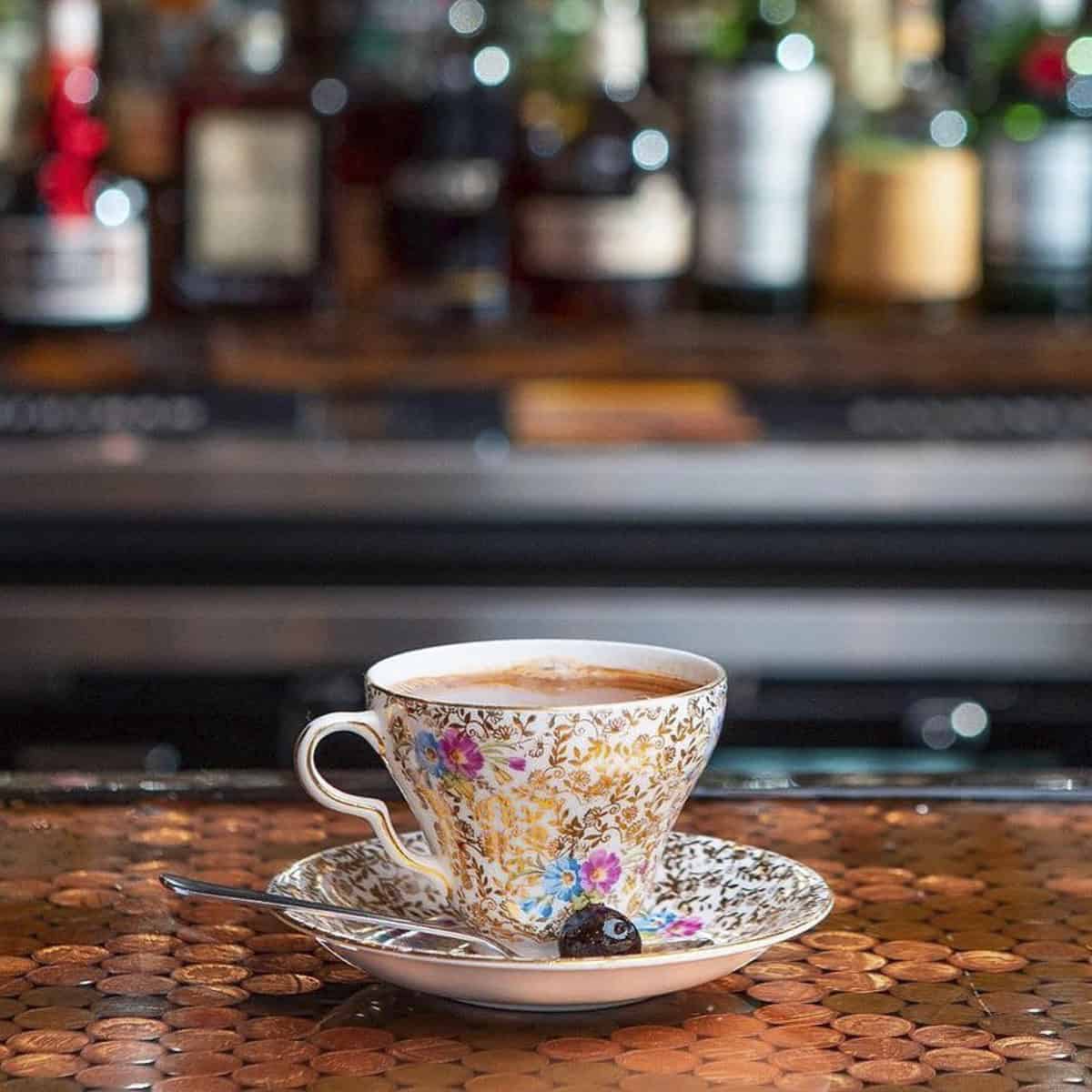 Modern Electric Lunch
Location: 232 Main Street
Stylish, welcoming, and with a delicious menu to boot, Modern Electric Lunch is one of our favourite coffee shops in Winnipeg. Though many come here for the creative breakfast and lunch options, it's also the perfect spot to pop in for a coffee.
With plenty of classics on the menu – think cortados, cold brew coffee, or cappuccinos – you can also mix it up by adding Bailey's or one of their house made syrups to your drink (we're big fans of the bourbon vanilla or the tahini caramel syrups). They also have a great selection of Lemon Lily teas.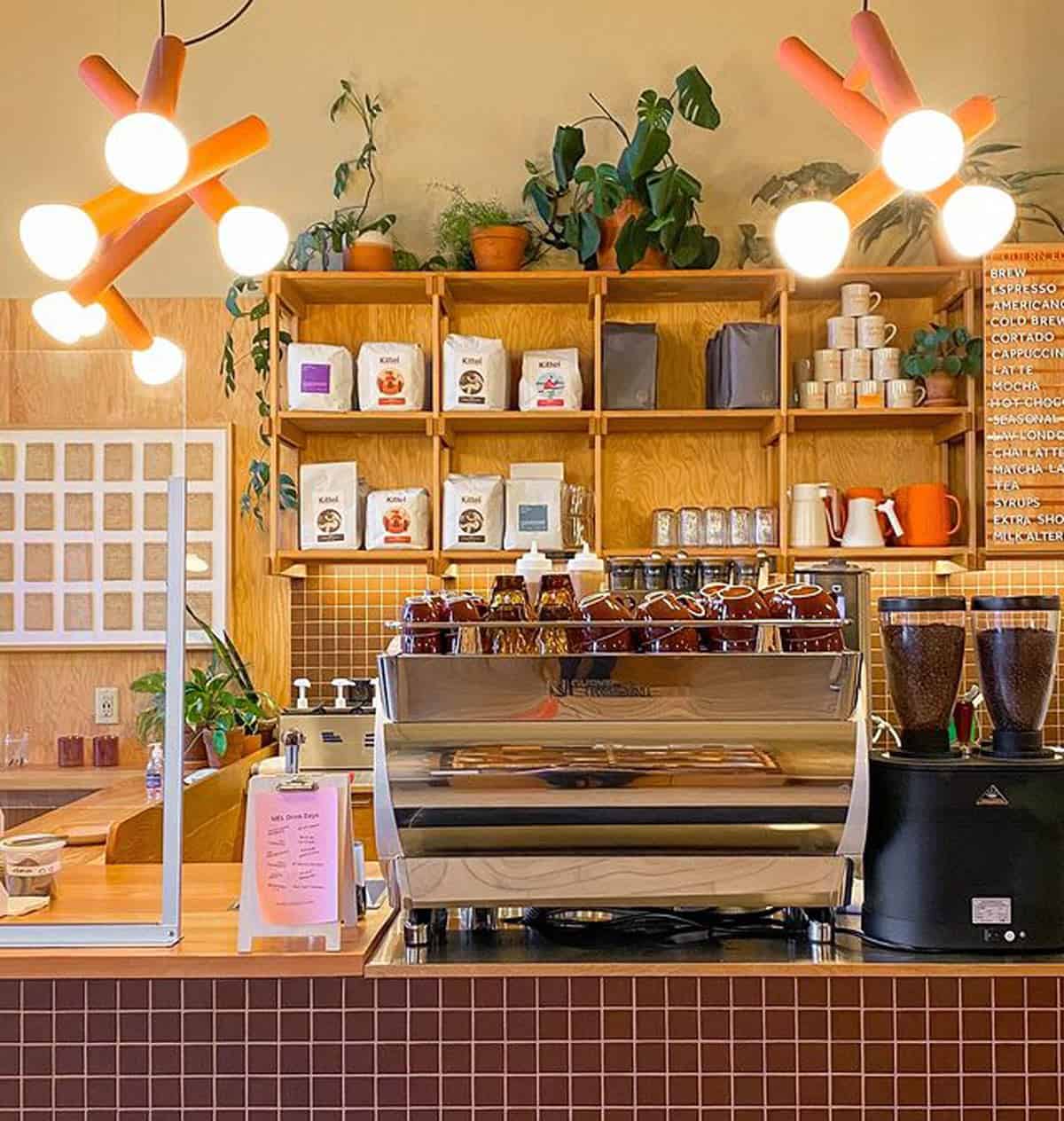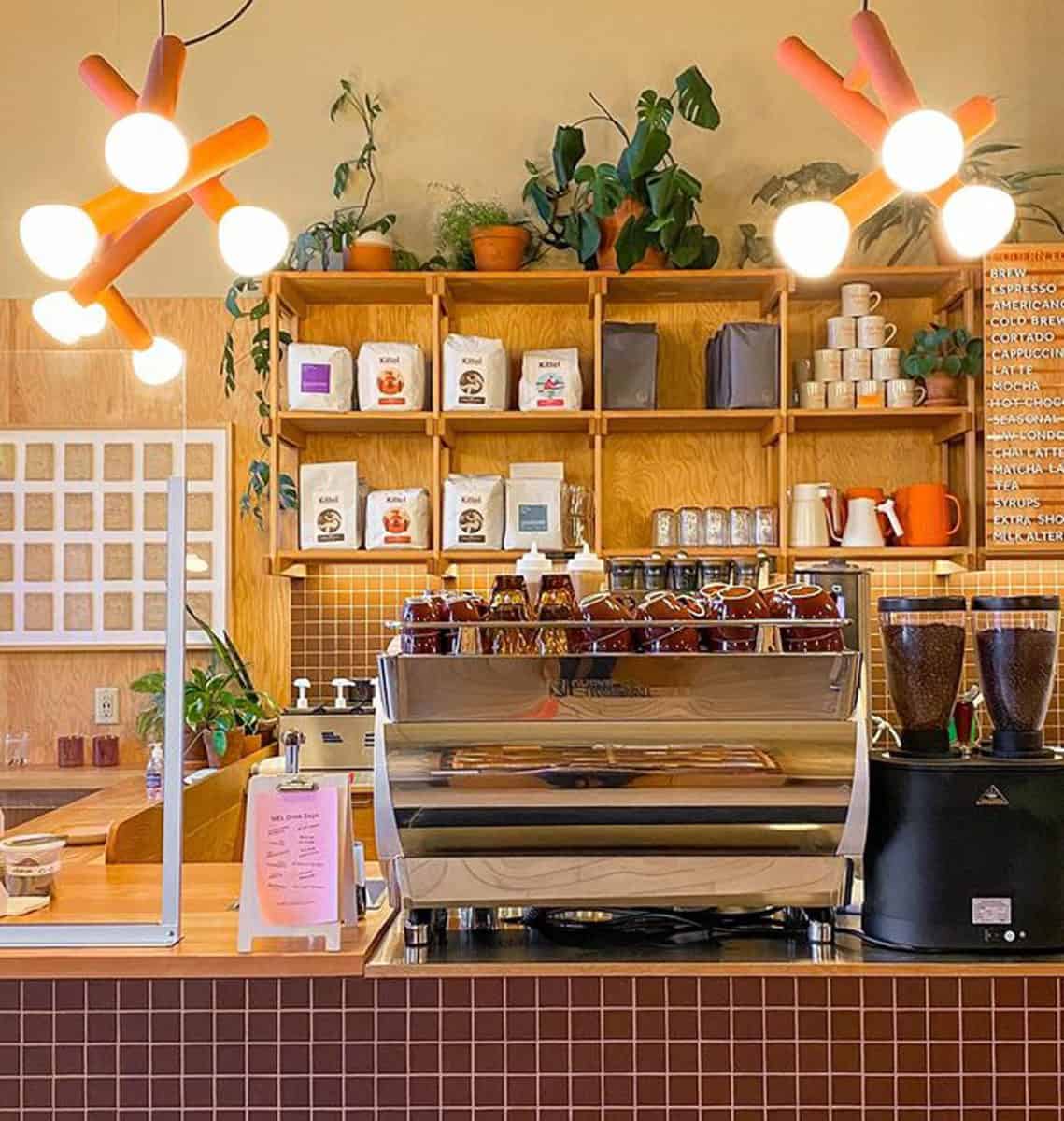 Mountain Bean Café
Location: 2001 Henderson Hwy
If you're in the northeast of Winnipeg, head to the cozy Mountain Bean Coffee Co. With a distinctly homey atmosphere, you'll often find the coffee shop bustling with people of all ages here, from a student working on a paper to a grandmother with her grandchild to a group of friends hanging out. With all the usual suspects when it comes to coffee drinks, also check out their seasonal lattes and fantastic baked goods.
We also love Mountain Bean Coffee Co. for its location near Bunn's Creek Centennial Park. You can easily make a lovely afternoon of a walk through the park and its trails along the creek with a warm coffee or tea from the local coffee shop in hand; we actually listed the Bunn's Creek Trail as one of our best hikes in Manitoba.
Never Better x Bonnie Day Café
Location: 898 Westminster Ave
Head to wonderful Wolseley to experience the brand new café found inside Bonnie Day. Although Bonnie Day is primarily known for its fantastic dinners, the café offers a fun new vibe to one of Winnipeg's most vibrant neighbourhoods. Featuring Never Better coffee, stop in for a quick espresso or stay for a tasty meal.
On the menu, you'll find your typical coffee drinks, including cappuccinos, lattes, and drip coffee. There's also a great choice of snacks and larger meals to try, including banana bread, scones, avocado toast, a breakfast bun, and, our favourite, the Bonnie Sub. Feeling adventurous? Try one of their amazing brunch-inspired cocktails, including an Espresso Old Fashioned!
Looking for something a little "harder"? Don't worry…we also have an article on the many great Winnipeg breweries!
And while you're in Manitoba's capital city, don't forget to review our guide on all the best things to do in Winnipeg. For the history buff, also be sure to check out some of the seriously fantastic museums in Winnipeg.
If you're planning on just grabbing some java to hit the road, don't forget to download our FREE Road Trip Manitoba bingo cards to amp up the fun on your trip!