Disclaimer: This page may contain affiliate links. Please review our full Terms and Conditions for more information and our Privacy Policy. Note that any pricing, operating hours, or other such information provided below may have changed since initial publication.
Compiled by the Road Trip Manitoba team
Last updated on May 24, 2023
Is there anything better than some ice cream on a hot summer's day? Heck, is there anything better than ice cream on any day? If you're like us, you love ice cream. Thankfully, there are plenty of amazing ice cream shops in Winnipeg, many of which are open all year round (although you should always check before visiting, as some of them are seasonal!).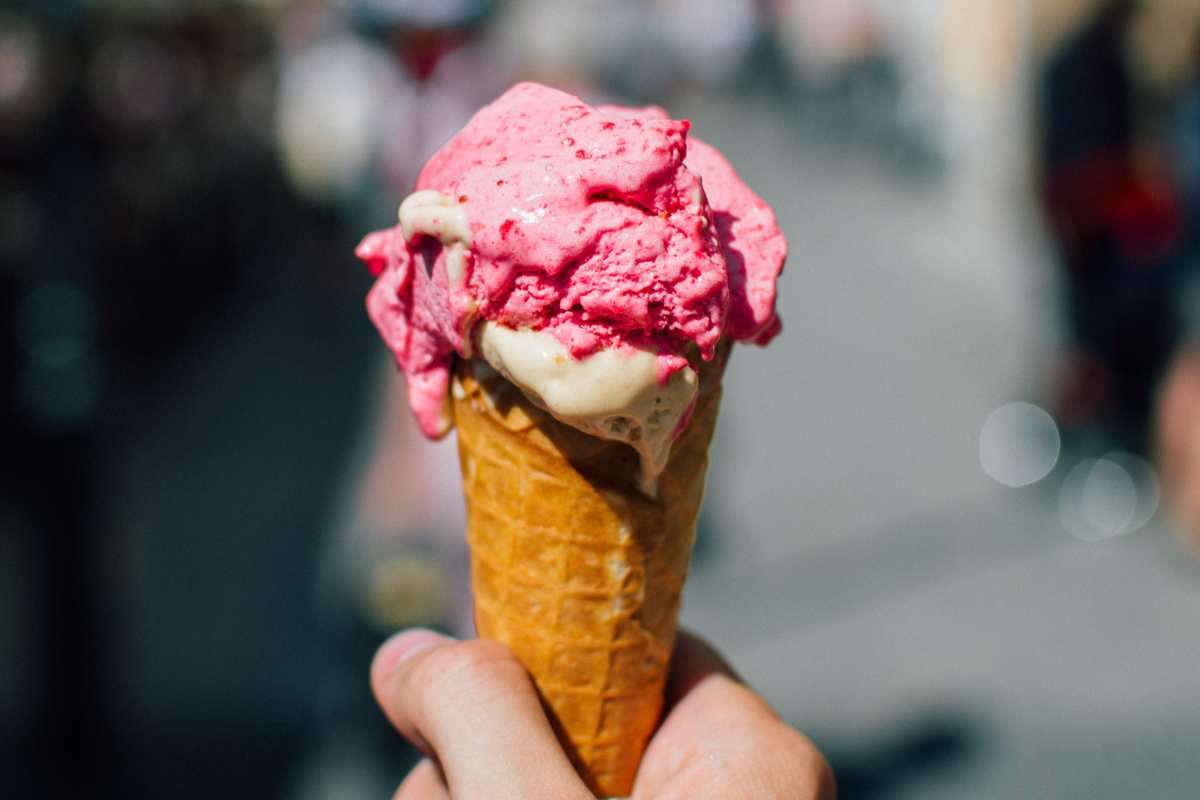 As ice cream aficionados, we diligently tried as many Winnipeg ice cream spots so that we could narrow it down to the very best. It's a tough job, but somebody has to do it! In no particular order, here are our top picks for the best ice cream in Winnipeg.
Land Acknowledgements
Winnipeg is located on Treaty No. 1 the original lands and waters of Anishinaabe, Ininiwak, Anishininiwak, Dakota, and Dene peoples, and on the homeland of the Métis Nation.
The Best Ice Cream Shops in Winnipeg
Dug and Betty's Ice Creamery
Location: 309 Des Meurons St
Head to St. Boniface for Dug and Betty's Ice Creamery, the latest idea from Chef Fern Kirouac (who also owns InFerno's Bistro across the street). Specializing in premium ice cream that is both small batch and housemade, this ice cream shop has quickly become one of the city's most popular since its opening in 2019.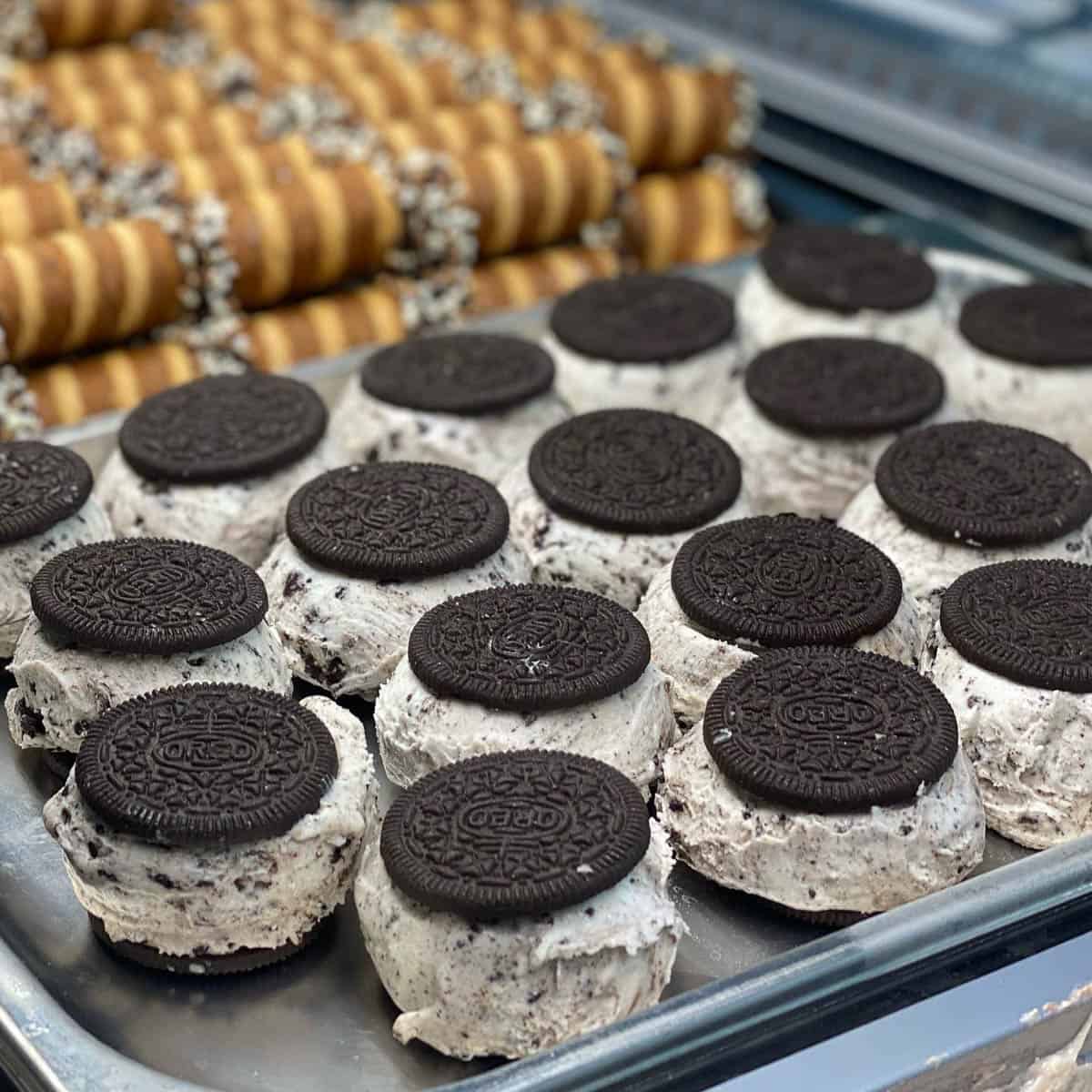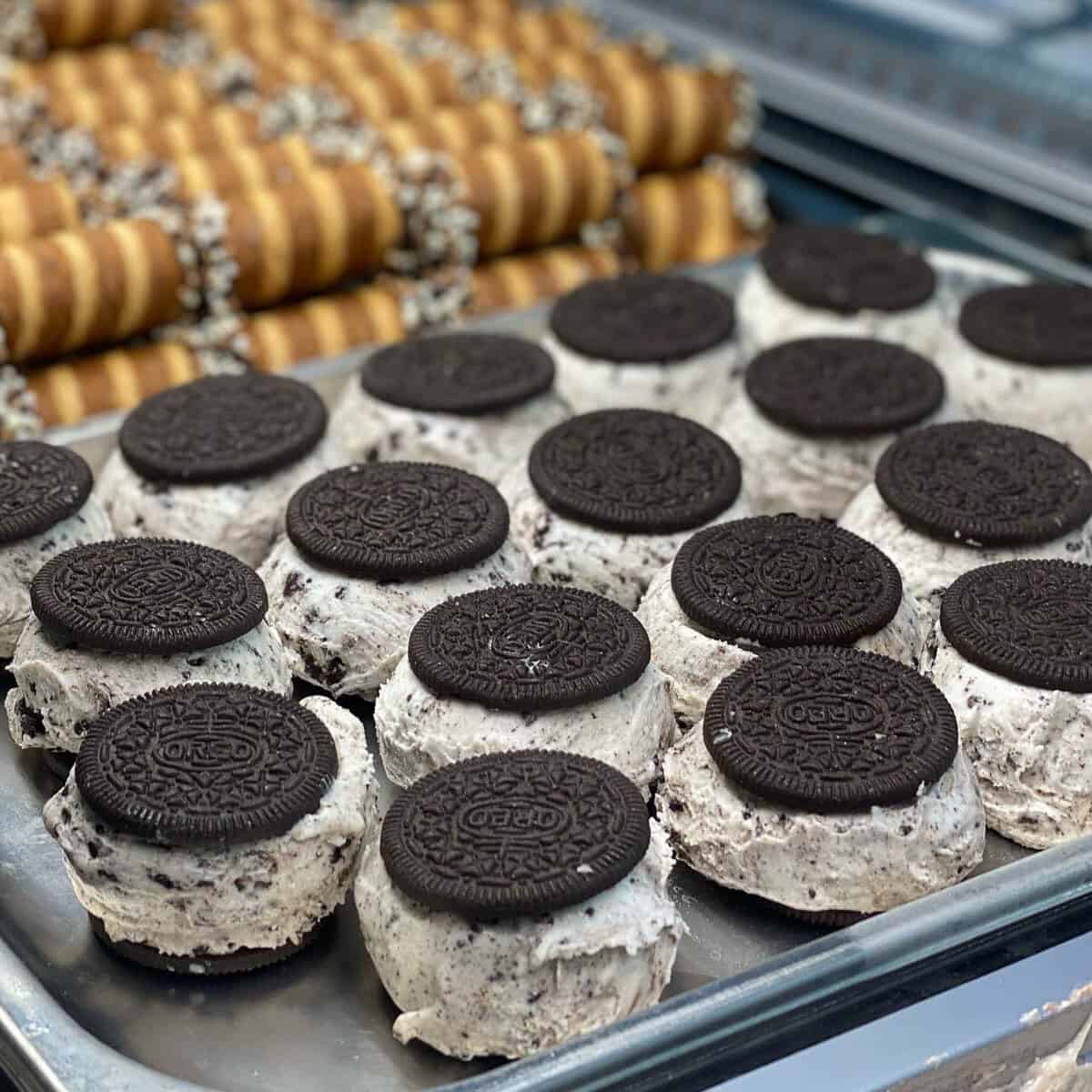 Named after Kirouac's two beloved Basset Hounds, the ice creamery has showcased unique and unusual ice cream flavours such as ube, matcha, coconut chocolate fudge Oreo, sour cherry with dark chocolate, and strawberry honey balsamic pepper. Of course, if you're after plain vanilla, even that is pretty spectacular. Choose from soft ice cream, sorbettos, artisan cookie sandwiches, parfaits, specialty sundaes, milkshakes, and more. With indoor and outdoor seating, Dug and Betty's is one of our favourite places to eat ice cream in Winnipeg.
Fête Ice Cream and Coffee
Location: 300 Assiniboine Ave Unit B
Fête Ice Cream and Coffee is another fairly recent addition to the Winnipeg ice cream scene, and they have certainly established themselves as one of the best ice cream options in the city! Co-owners Élise Page and Teri-Lynn Friesen aim to serve every customer wholesome, real, and delicious ice cream, and they do that by keeping things premium and made from scratch. Also listed as one of our top picks for the best coffee shops in Winnipeg (because yes, they serve coffee, too!), Fête is right beside a dog park, so you can grab a cone while you watch Fido play with his friends. Ice cream and dogs? Consider us sold.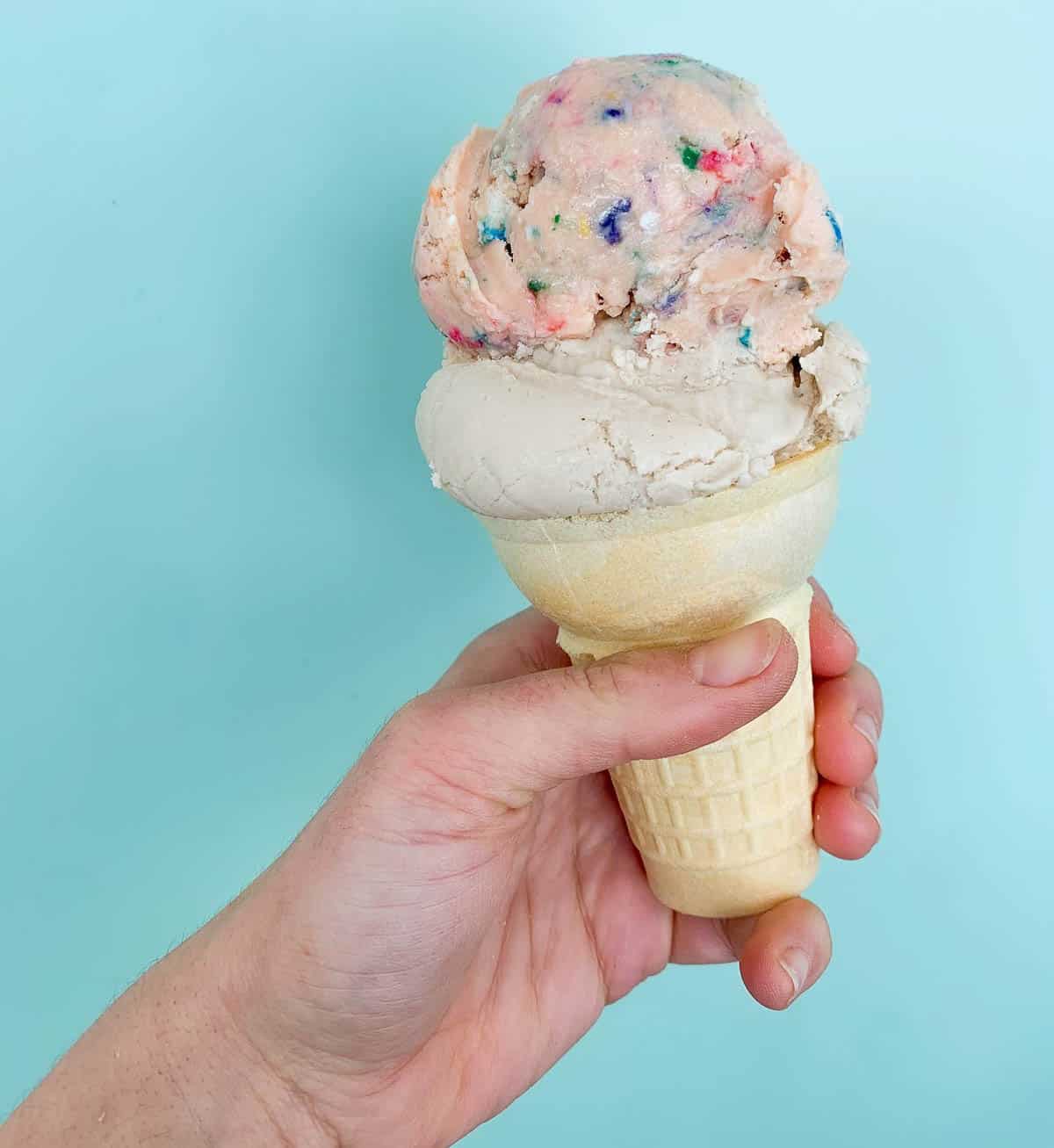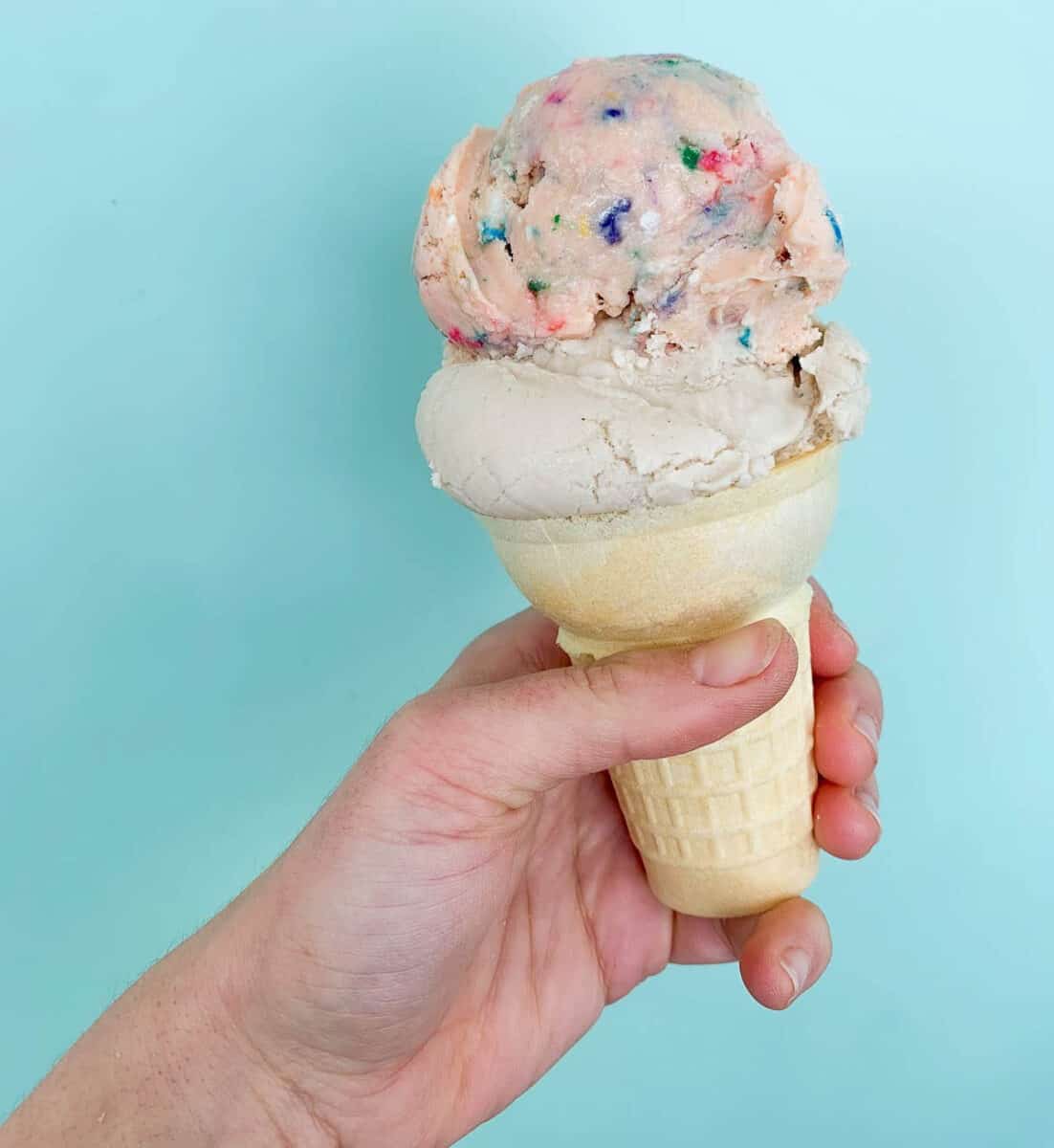 Chaeban Ice Cream
Location: 390 Osborne St
You can't talk about ice cream in Winnipeg and not talk about Chaeban Ice Cream. Found in grocery stores across Manitoba as well as from its shop in South Osborne, Chaeban Ice Cream has actually been named the best ice cream in Canada at the Royal Agricultural Winter Fair!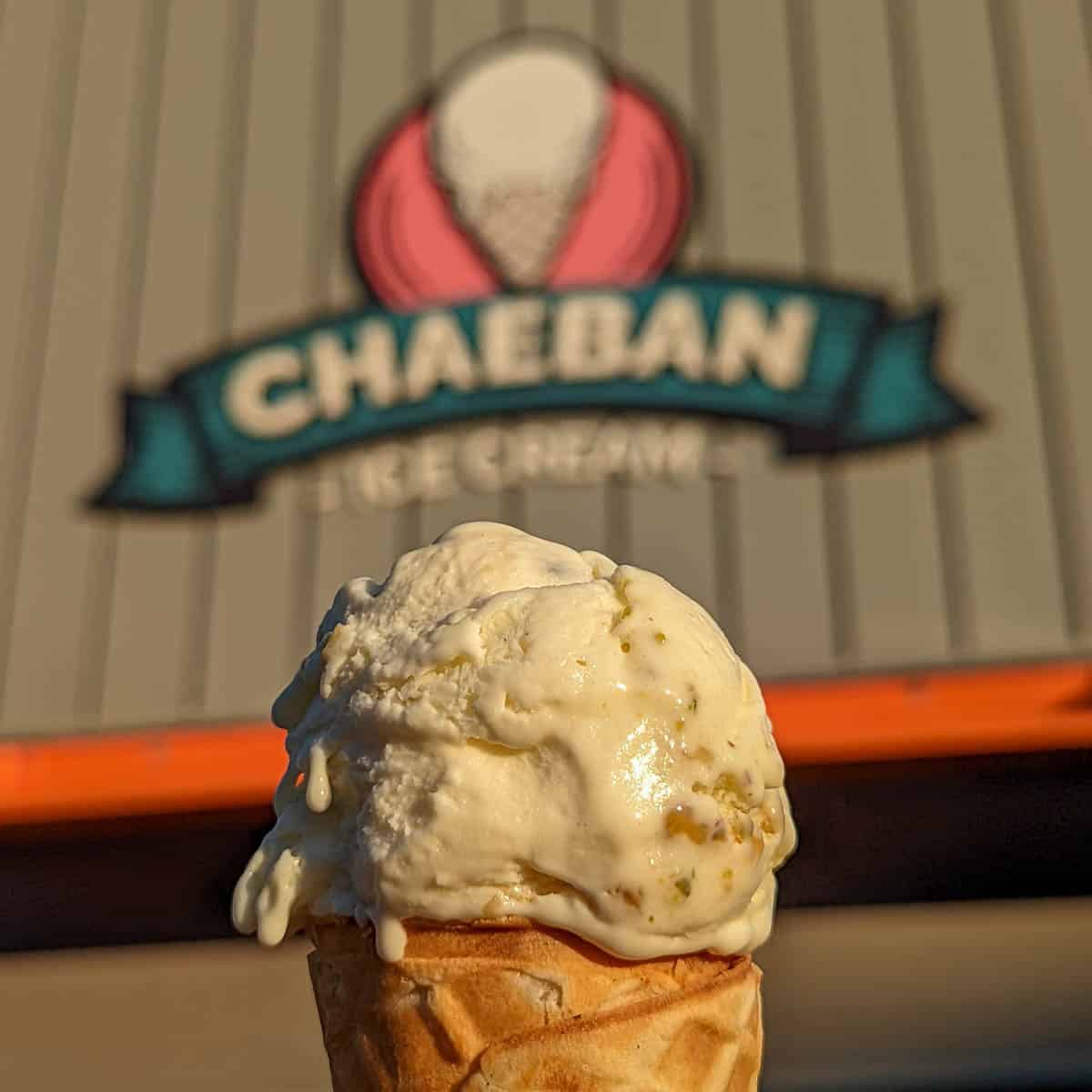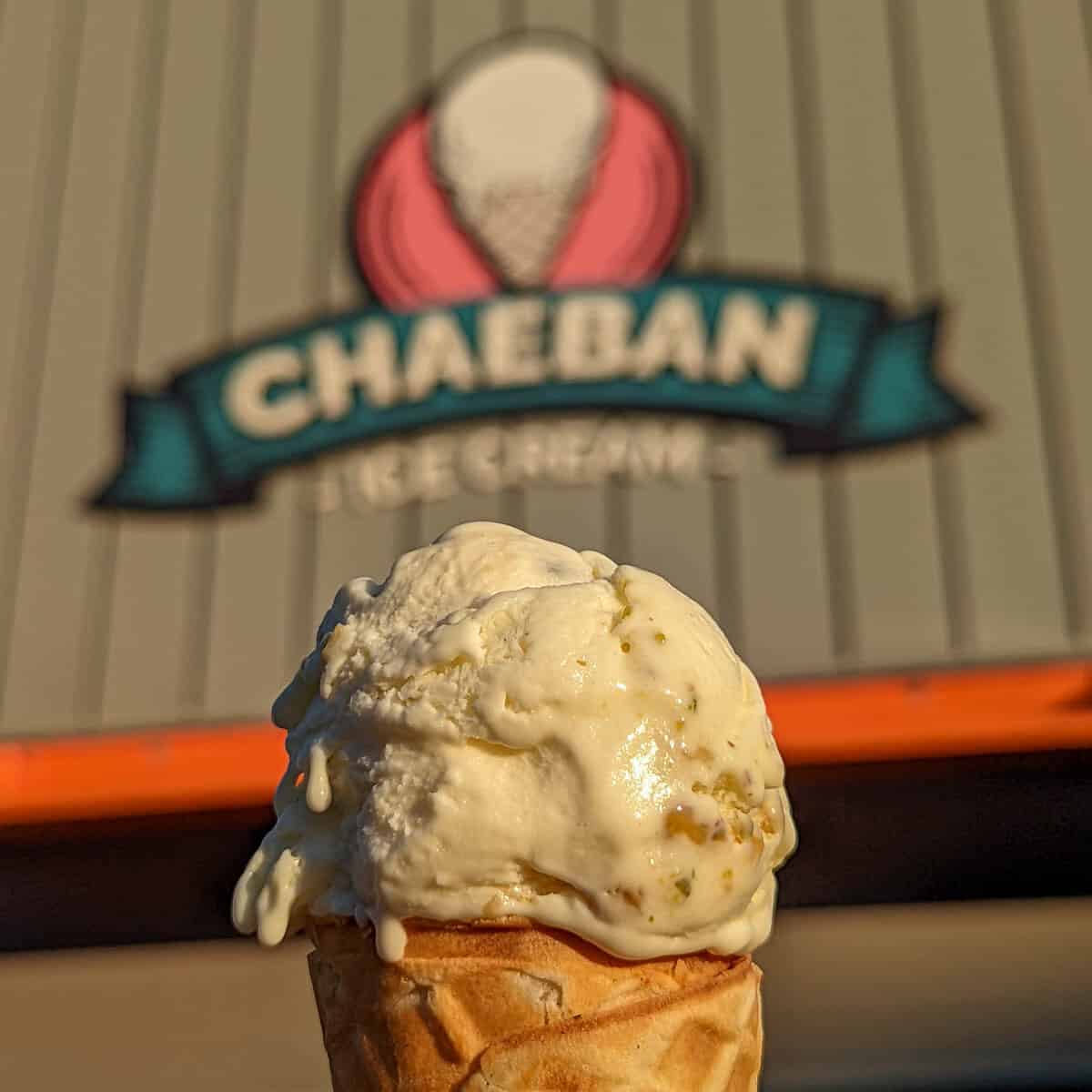 With a fantastic story – Chaeban was started by a Syrian couple who wanted to give back to the community – their ice cream is often named a favourite amongst serious ice cream connoisseurs in the city. Try their super-premium, made-from-scratch hard ice cream with flavours such as LaLa Lemon, Abir Al Sham (a traditional Syrian recipe), and of course, Salty Carl, the prize-winning ice cream that features a handmade salted caramel sauce.
Milksmith
Location: 651 Corydon Ave
Head to Corydon Village to experience Milksmith, a unique spot that offers rolled ice cream (also sometimes called Thai ice cream rolls). Served with your favourite cookies, cereals, or spreads as well as an assortment of toppings, Milksmith is hugely popular (and highly Instagrammable).
Choose from concoctions such as Nutty Monkey Rolled Ice Cream (with chocolate ice cream and peanut butter mix-in then topped with banana, crushed peanut, whipped cream, maraschino cherry, and chocolate drizzle), Never Too Matcha Rolled Ice Cream (with vanilla ice cream and matcha mix-in then topped with fruity pebbles cereal, strawberry Pocky, whipped cream, and condensed milk drizzle), or create your very own!
BDI (Bridge Drive-In)
Location: 766 Jubilee Ave
Bridge Drive-In (or BDI, as locals call it) is one of those Winnipeg ice cream shops that everyone seems to visit at least once a summer! Located at the foot of Elm Bridge, we love getting an ice cream cone or a sundae from BDI and then going for an evening stroll across the bridge.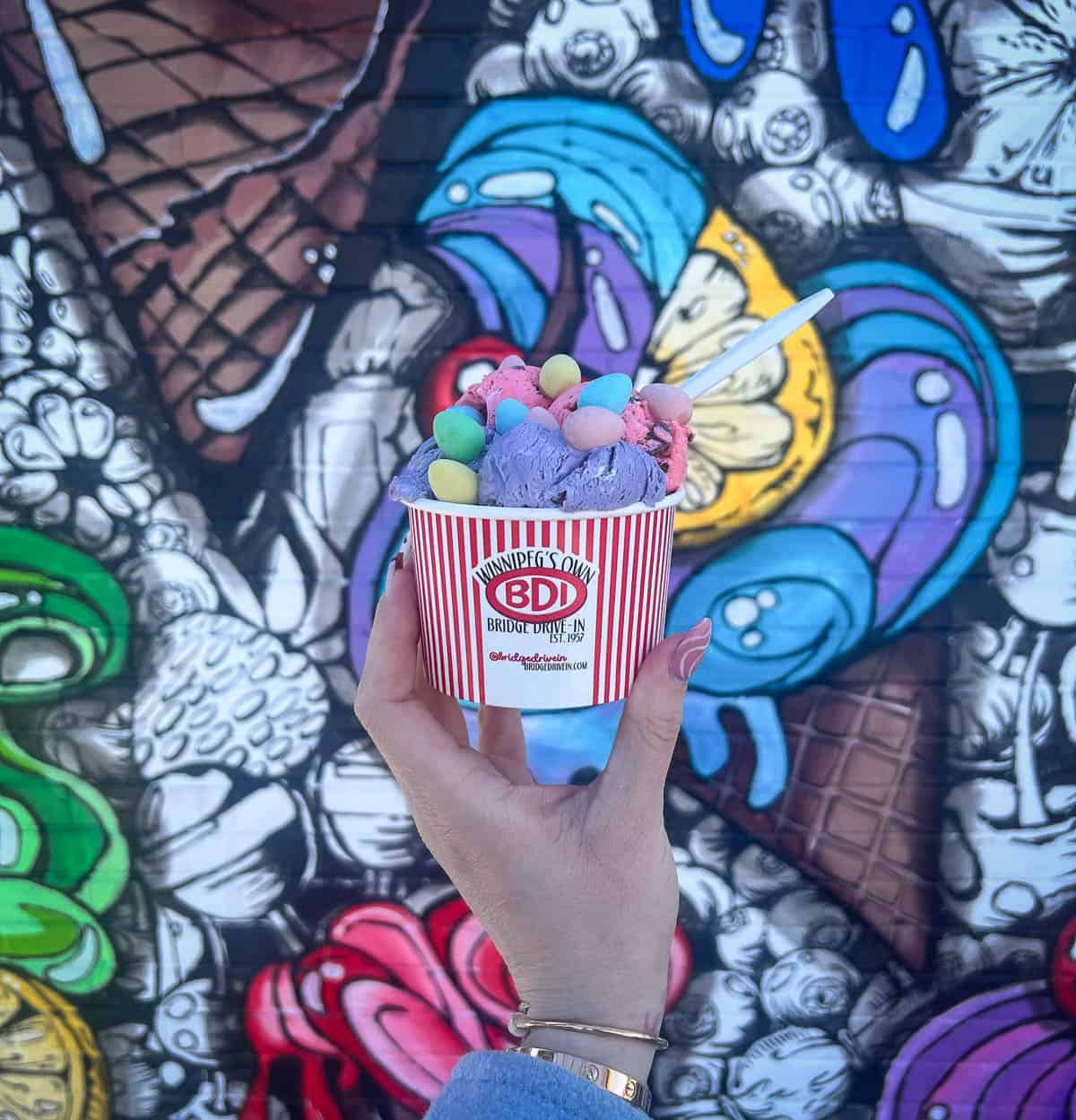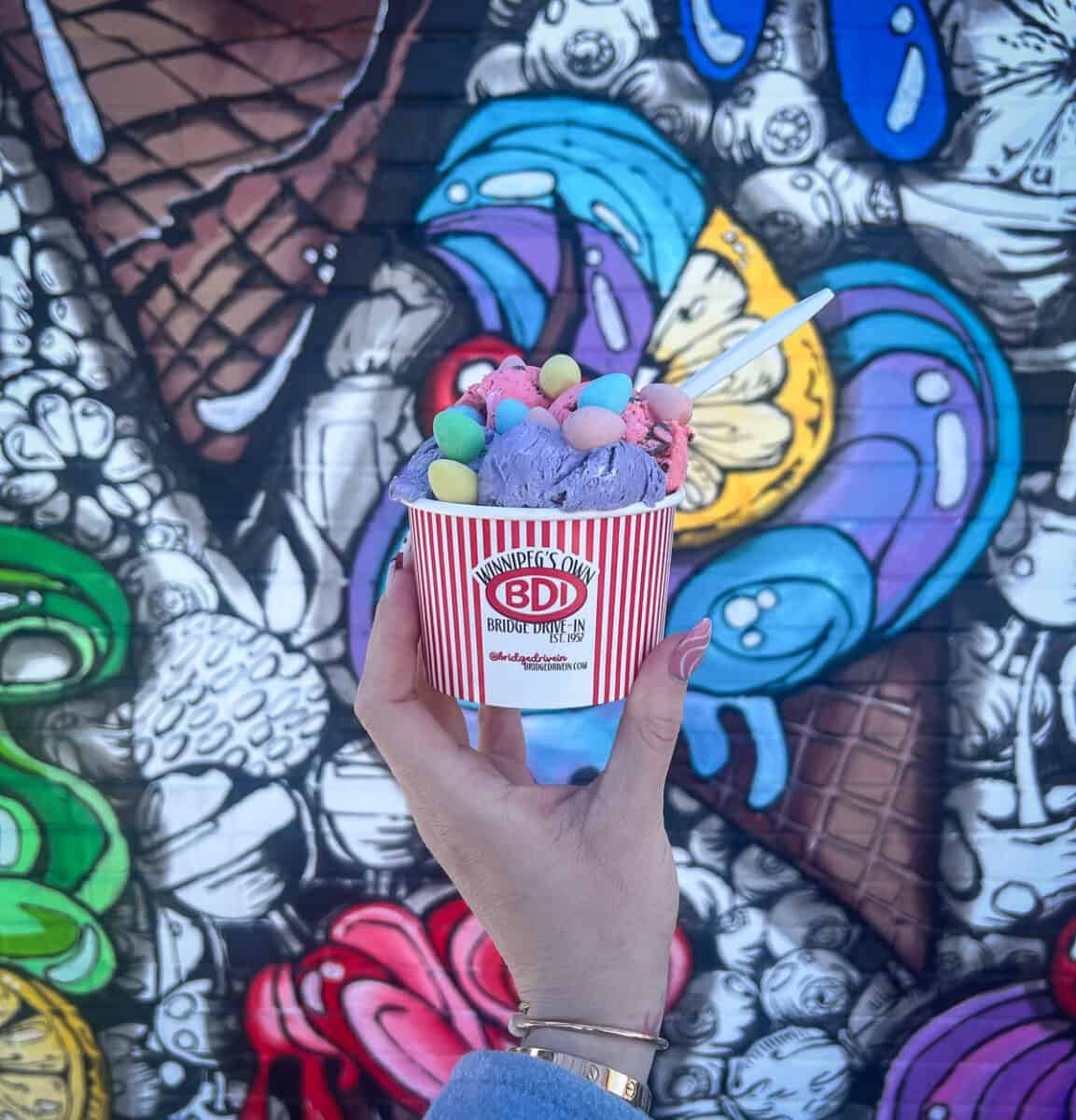 With a history that dates back over 60 years, it's no wonder there's almost always a line at BDI! And the "Goog"? It's an iconic treat in Winnipeg, one you have to try at least once in your life. Choose from soft serve ice cream, shakes, sundaes, ice cream floats, and so much more, but you can rest assured that whatever you're ordering, the same recipe has been used for decades (because why mess with perfection?).
Licks Ice Cream Patio
Location: 20 Britannica Rd
Found in Britannica Square in South Winnipeg, Licks Ice Cream Patio has long been a go-to for locals and families in the area. Known for their exceptionally creamy concoctions, there's a wide array of flavours and styles to choose from, including cones, sundaes, frozen yogurt, parfait, flurries, and more. Choose from classic flavours such as maple walnut, cherry cookie dough, and more, including some of the more polarizing flavours such as black licorice, tiger tiger, and rum raisin.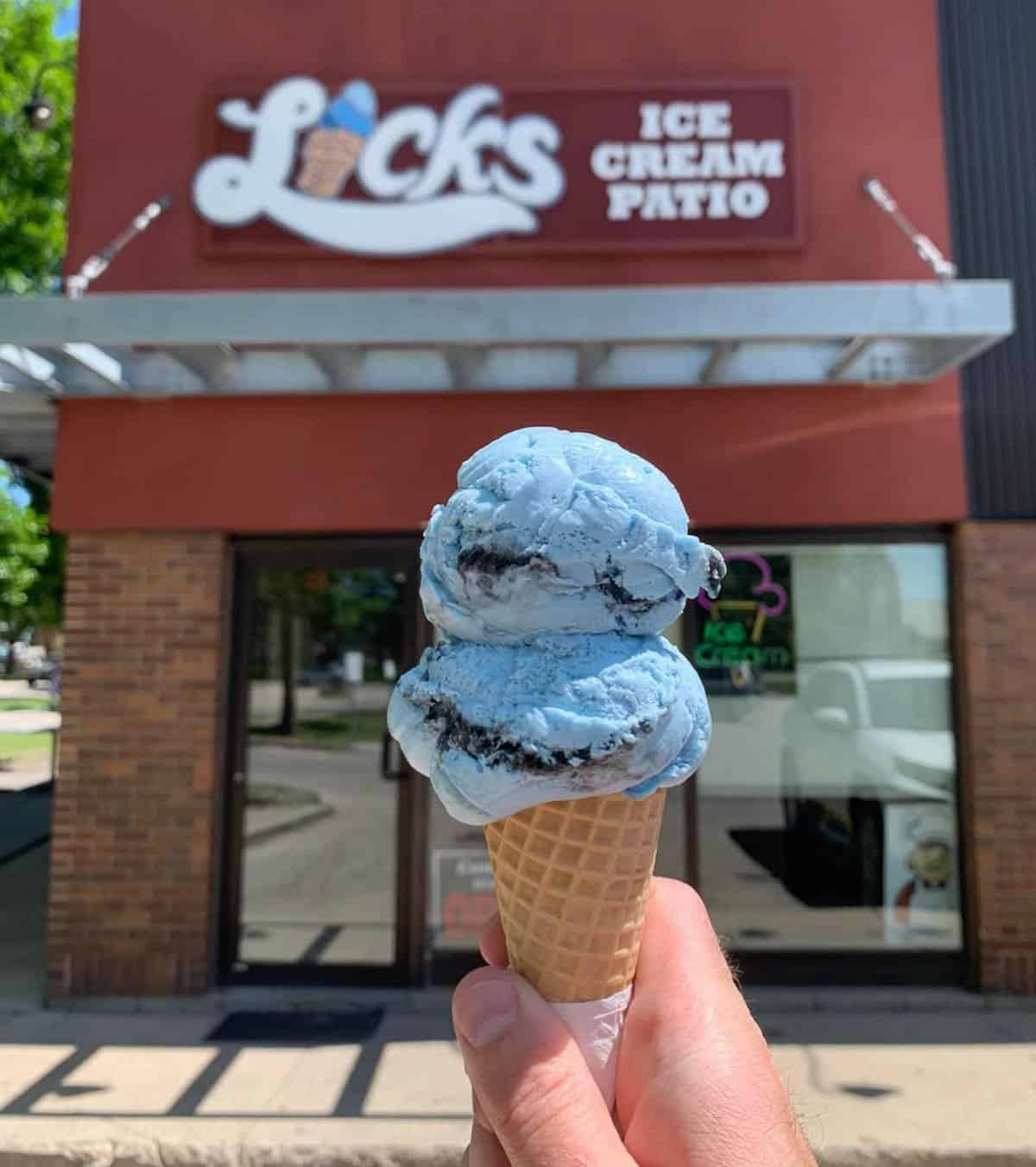 Their toppings are great as well, with options for hot fudge, nuts, sprinkles, whipped cream, and just about anything else you can imagine. Classic and delicious, there's no denying this is one of the best Winnipeg ice cream places.
Sub Zero Ice Cream
Location: 298 Jamison Ave
With a claim that they have Manitoba's largest ice cream menu, you're sure to find at least a few things you absolutely love at Sub Zero Ice Cream! With soft serve, parfaits, flurries, milkshakes, sundaes, and so much more – including a lot of specialties and vegan options – one of our favourite features at Sub Zero is the "parfait flight". Why stick with only one flavour of parfait when you can have three?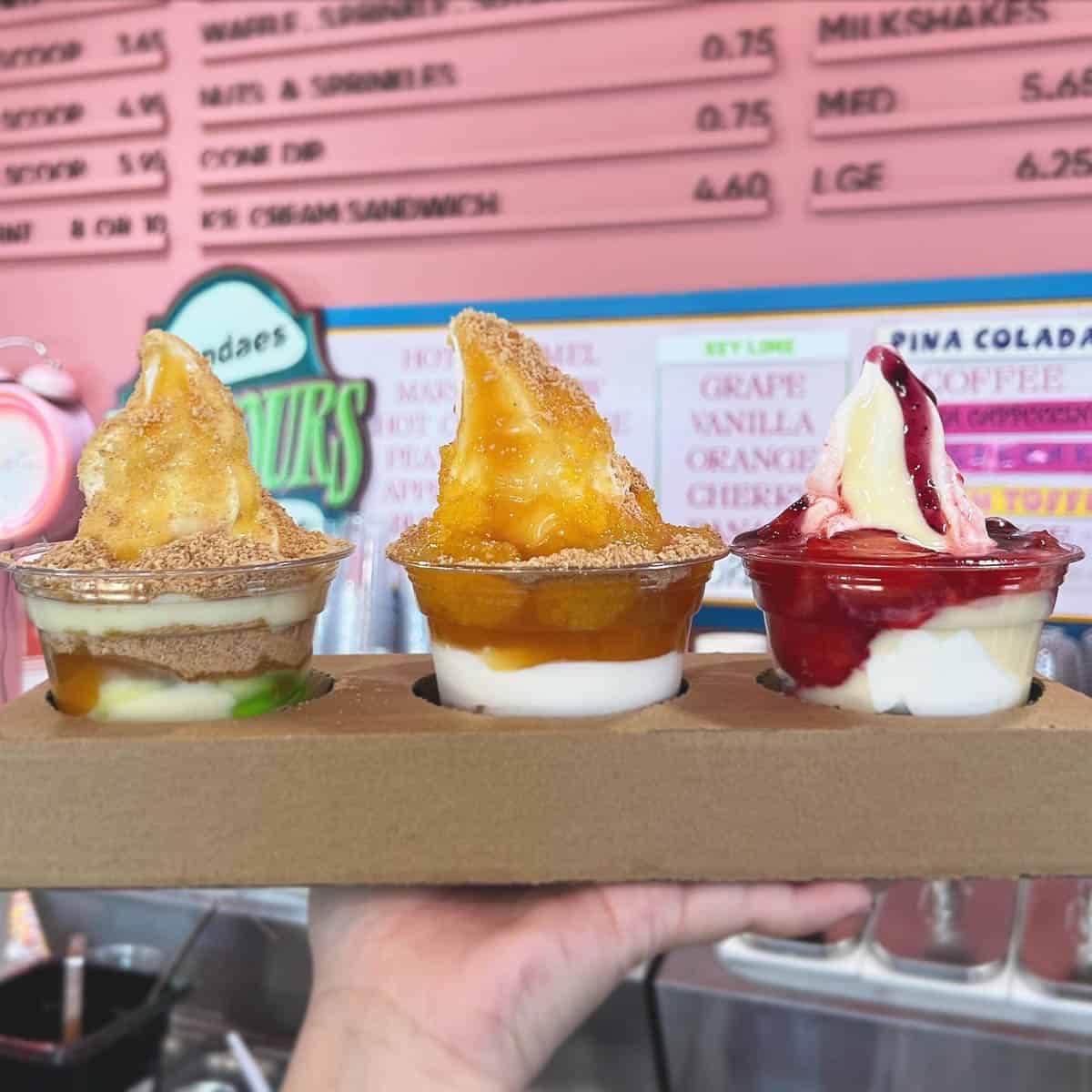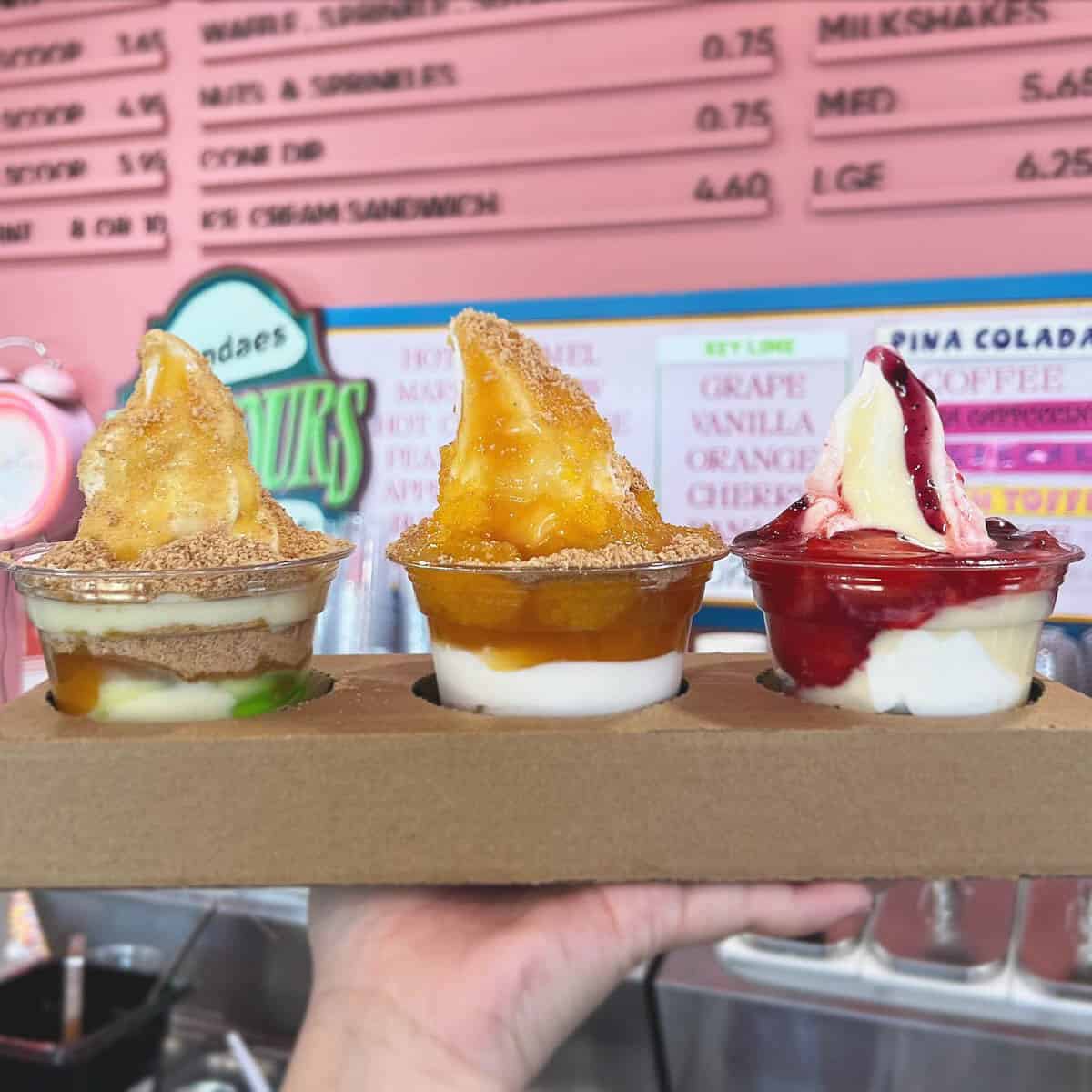 Their ice cream sandwiches are also divine, as they are always made fresh with vanilla soft serve. There's often a line at Sub Zero Ice Cream, but it's easy to see why… they have some of the very best ice cream in Winnipeg.
Neon Cone
Location: 1 Forks Market Rd #164 (inside the Forks Market)
It's no secret that we love visiting the Forks regularly; this indoor marketplace is one of our top things to do in Winnipeg! Thankfully, the market has one of the best ice cream shops in Winnipeg, too: Neon Cone. Serving handmade hard and soft ice cream, flurries, shakes, sundaes, slush, and more, you can also purchase some of their small batch ice cream in pints so that you can enjoy the icy treats at home.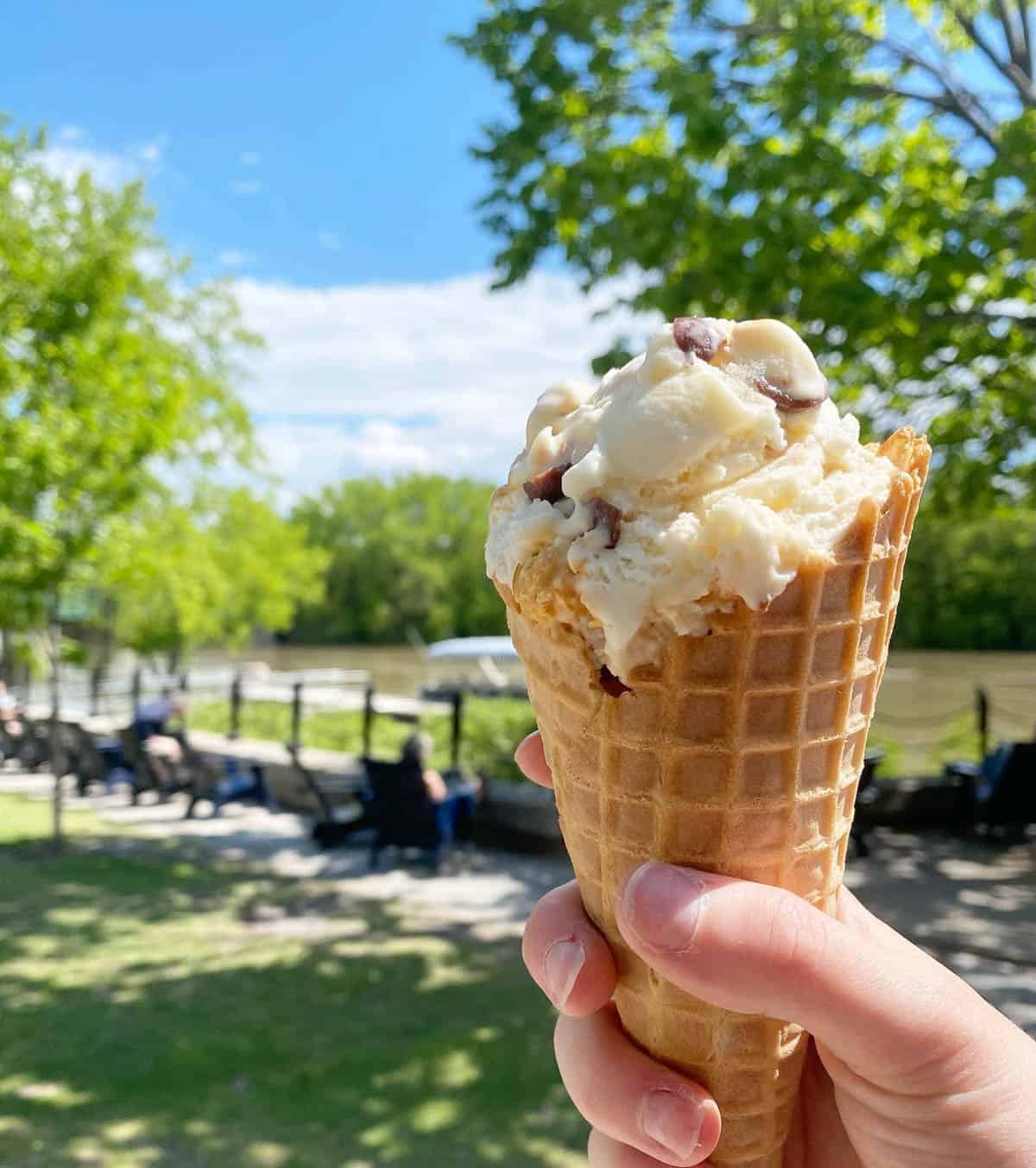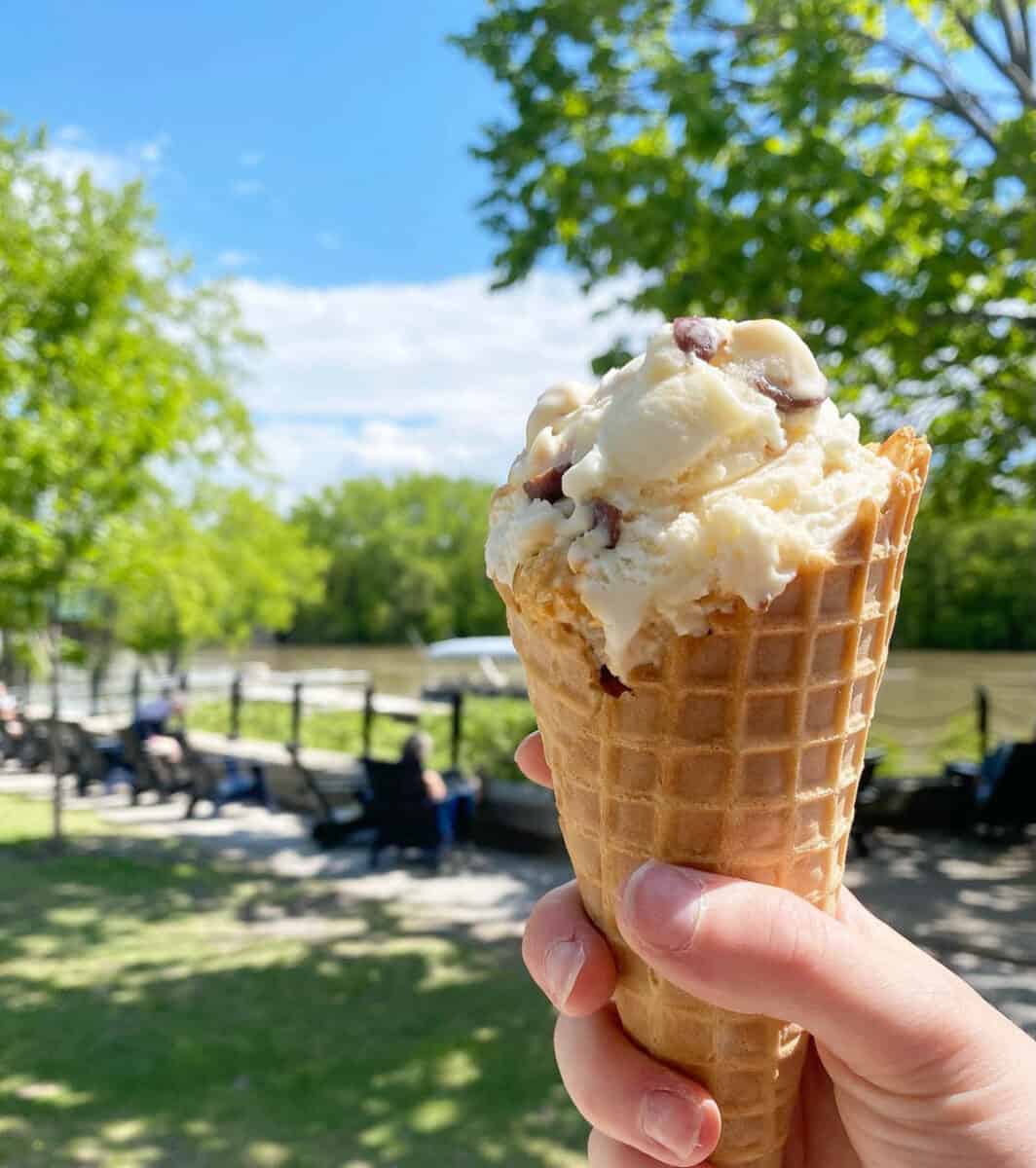 We're big fans of mixing and matching their scoops; past flavours have included maple whiskey salted pecan, raspberry lemon curd cheesecake, and fresh mint chip. Perfect for a hot summer's day spent at the Forks!
Not a Waffle
Location: 2-709 Corydon Ave
If you're on the search for something a little different, make your way to Not a Waffle in Corydon Village, a spot serving all of the best Japanese snacks. Bringing a traditional Japanese treat to Winnipeg, Not a Waffle serves "Taiyaki Ice Cream", which is a fish-shaped waffle cone topped with their featured Asian ice cream. As all of the waffle cones are baked fresh and all of the ice cream is made using only the highest-quality ingredients, this unique treat might just become your new favourite!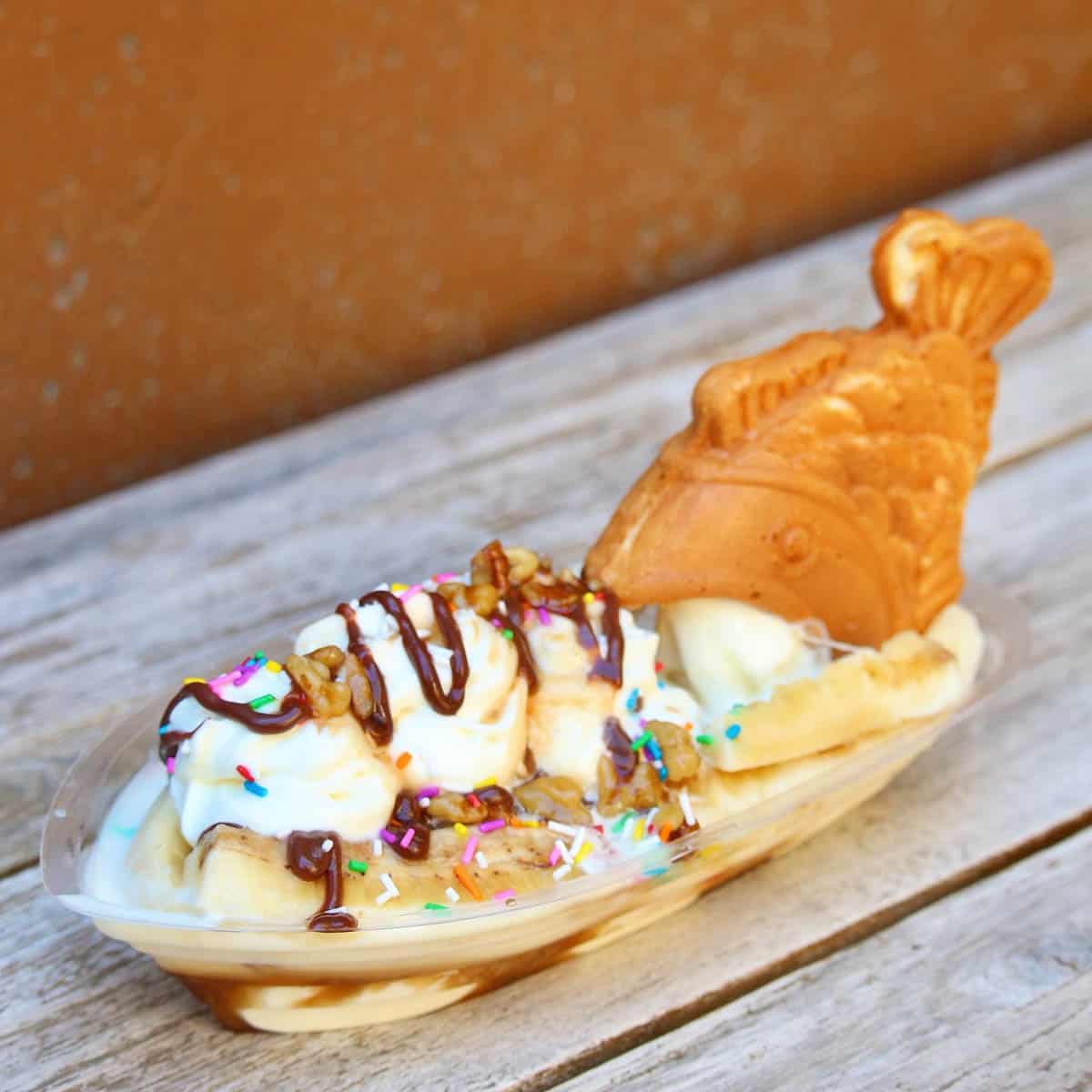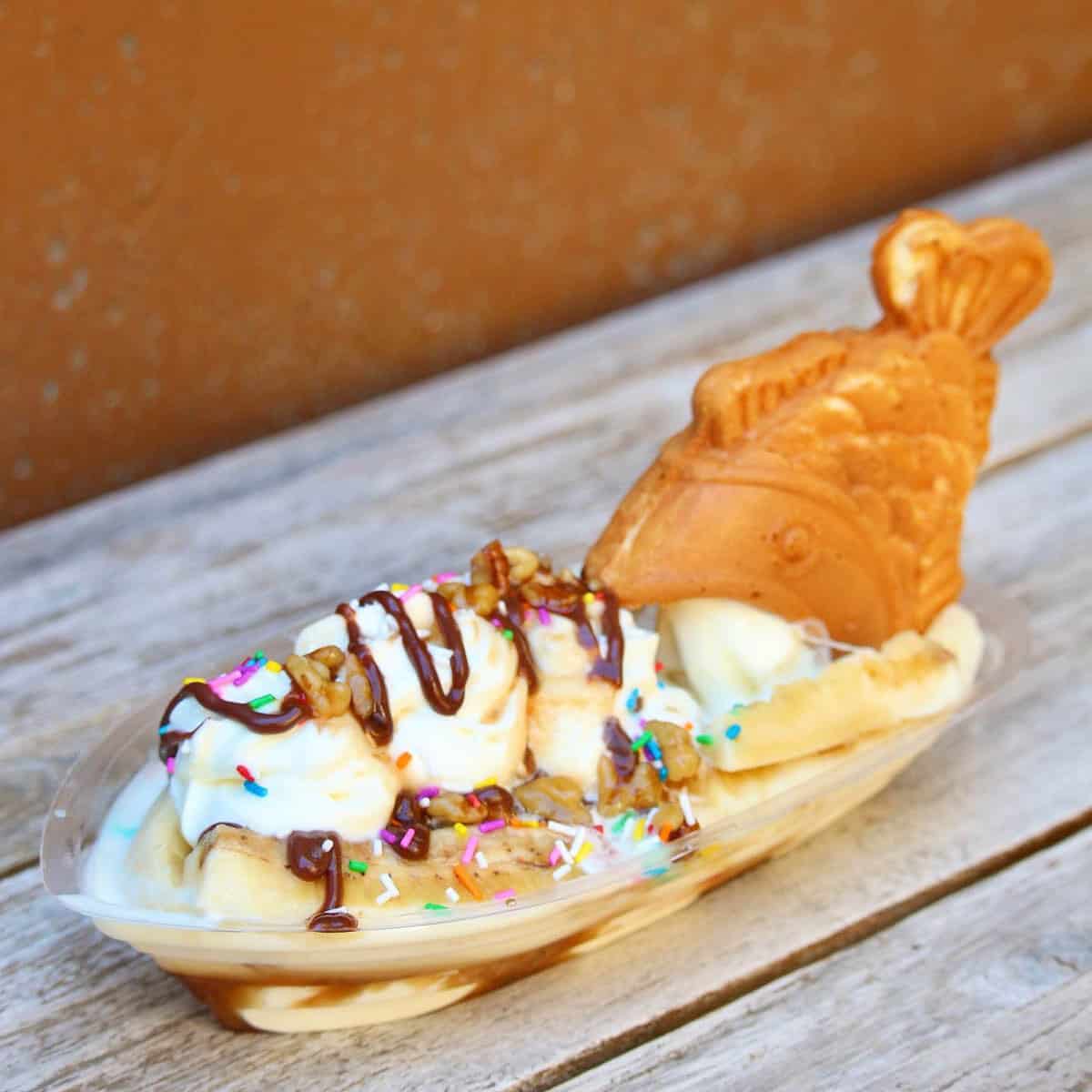 Flavours include matcha, cherry blossom, ube, black sesame, sea salt, and hojicha, to name a few. Also try the amazing Hong Kong Bubble Waffle cone, which is equally tasty (and fun to eat), or some of their mochi donuts, bubble tea, milk tea, yogurt shakes, or fresh green tea.
G. G. Gelati
Location: 705 Corydon Ave
You can't go to Little Italy and not get some gelati! G. G. Gelati on Corydon Avenue uses only the finest and freshest ingredients for their Italian ice cream. Established in 1995, G. G.'s has long been a favourite spot for people to go for an icy treat after dinner (or any time of day, really).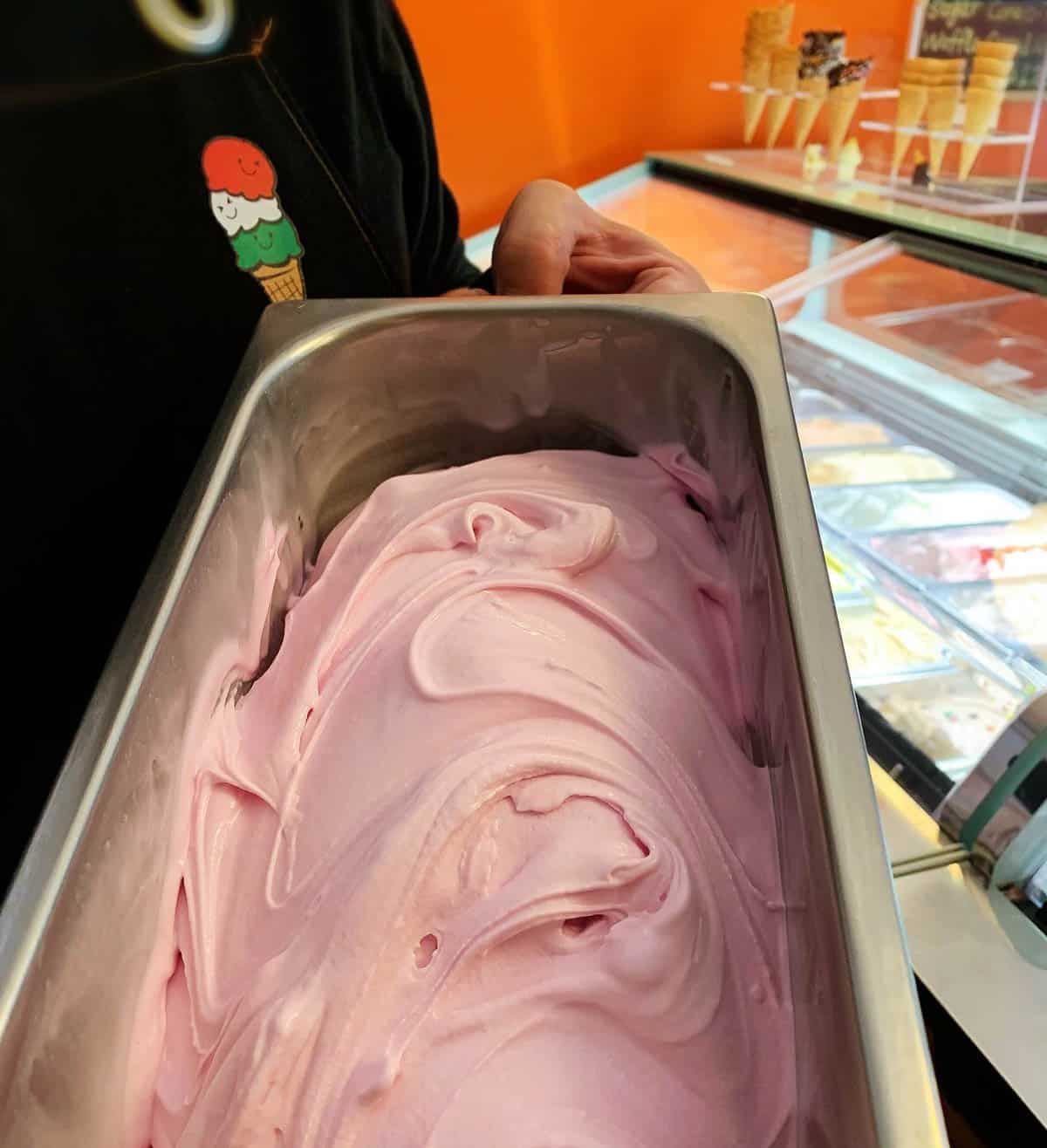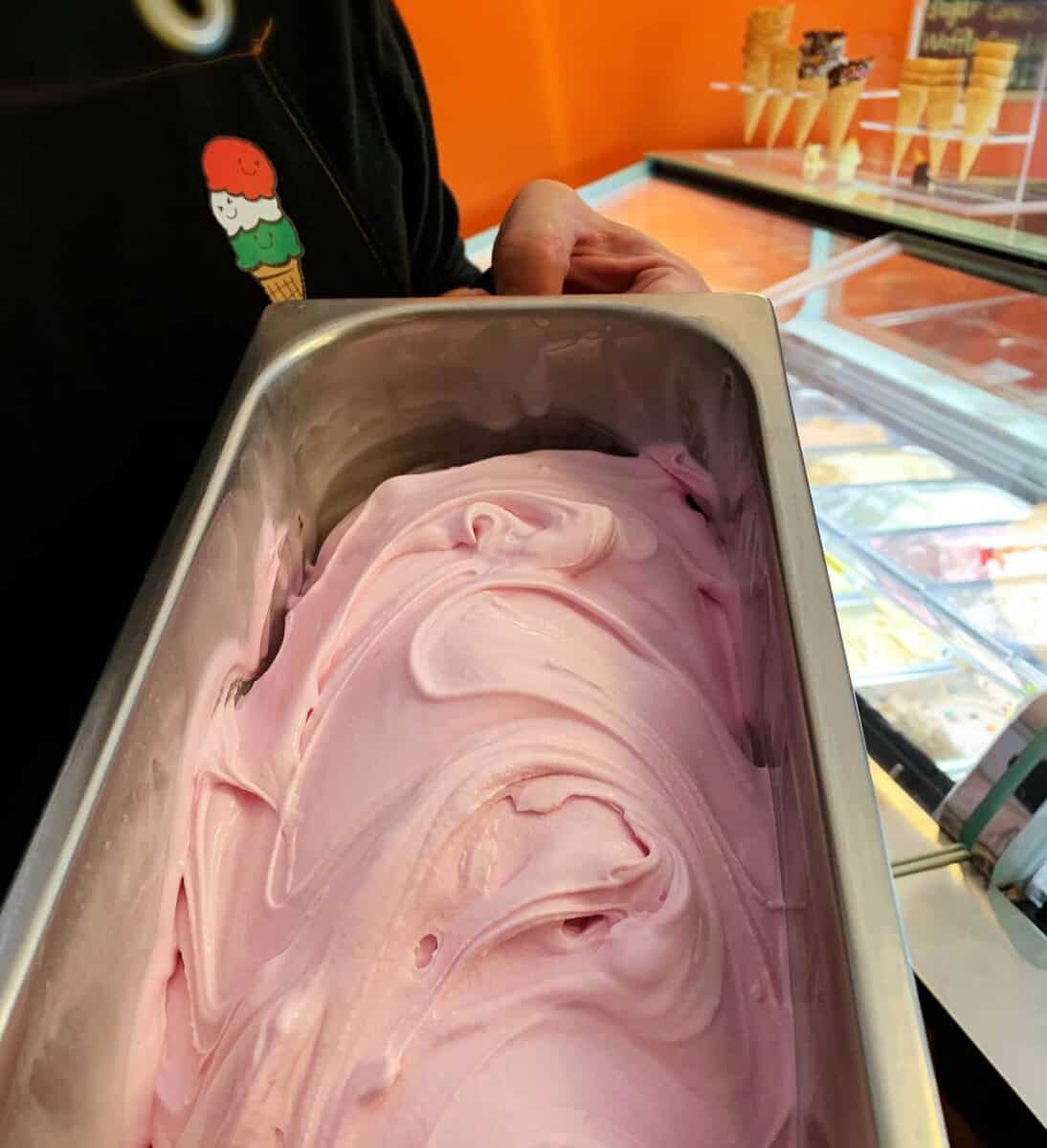 Made fresh every day, you can choose from flavours such as mango, pistachio, chocolate, strawberry, and so much more. There's also dairy-free sorbetto in flavours like blood orange, kiwi, pomegranate, and cherry. If you're after something a bit lighter than ice cream – but still just as tasty – head to G. G. Gelati.
Sweet Tops Ice Cream
Location: 949 Henderson Hwy,
Head to the North End of Winnipeg to visit Sweet Tops Ice Cream, where you'll find hard ice cream, soft serve, sundaes, twisters, and just about every other icy sweet treat you might be craving. Locally owned and operated, we love heading here for an ice cream cone and then taking a nice long walk around Fraser's Grove Park and Kildonan Drive (it's beautiful in summer).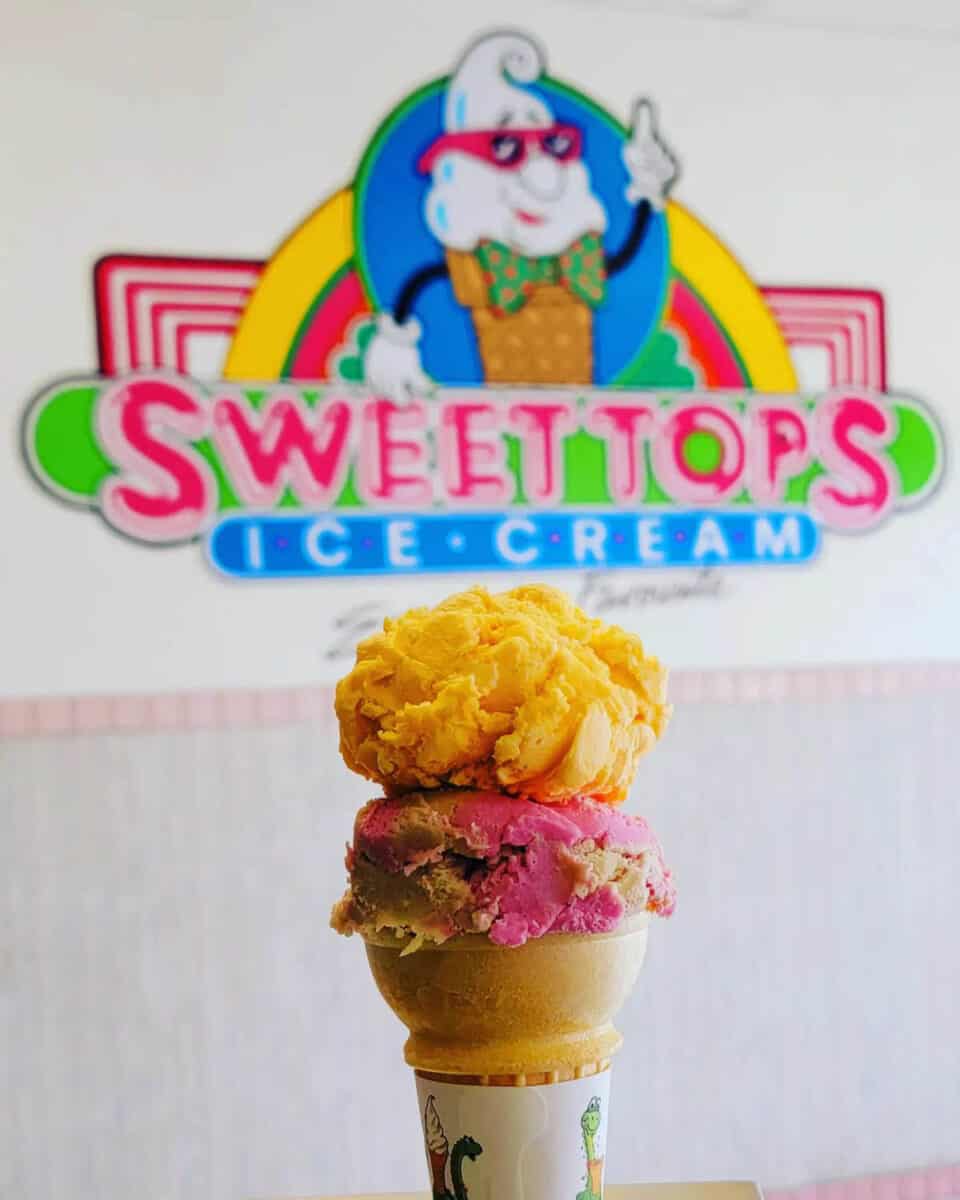 We love the classic vibe of Sweet Tops; there's something nostalgic about the flavours, the cones, and even the cups! Pro tip: they also make ice cream cakes, so you can order one for your next special event.
Eva's Gelato and Coffee Bar
Location: 1001 Corydon Ave #101
Found on popular Corydon Avenue, Eva's Gelato and Coffee Bar is a fantastic spot when you're in the mood for gelato. Boasting the best housemade Argentian gelato in Winnipeg, Eva's has an amazing array of flavours to choose from, including Brownie Temptation, Cappucino, and Coconut Extreme.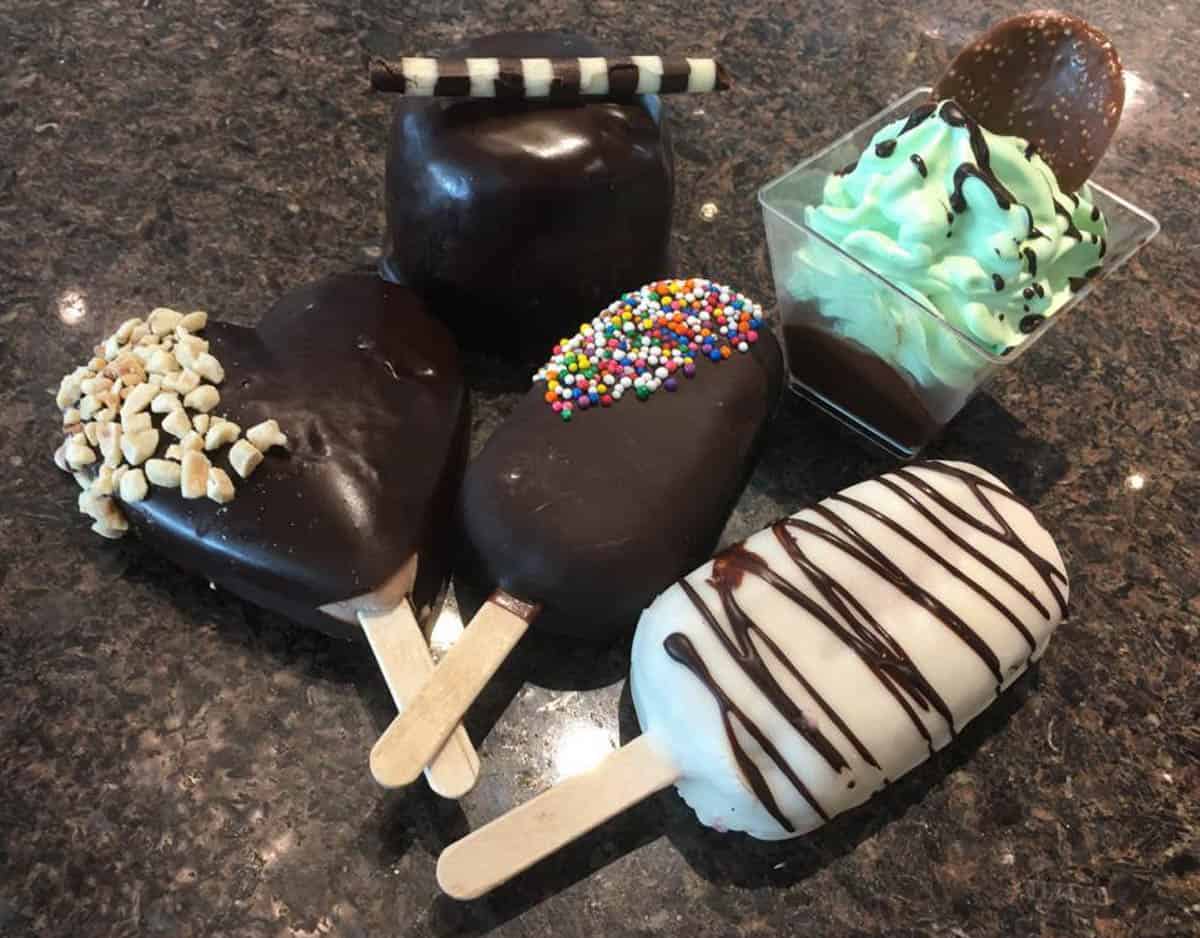 There are also plenty of new seasonal flavours that pop up in spring and summer, as well as some specialties (you simply must try the Dulce de Leche for the true Argentinian experience). You can even sign up for a subscription service and have your favourite gelato delivered to you every month!
Sargent Sundae
Location: 2053 Portage Ave
You'll often see a lineup outside Sargent Sundae on a summer's day, which only proves just how good the ice cream is! With hard and soft ice cream in all sorts of delicious flavours, the family-run ice cream shop is well-known in the city for its classic concoctions. And their homemade fudge?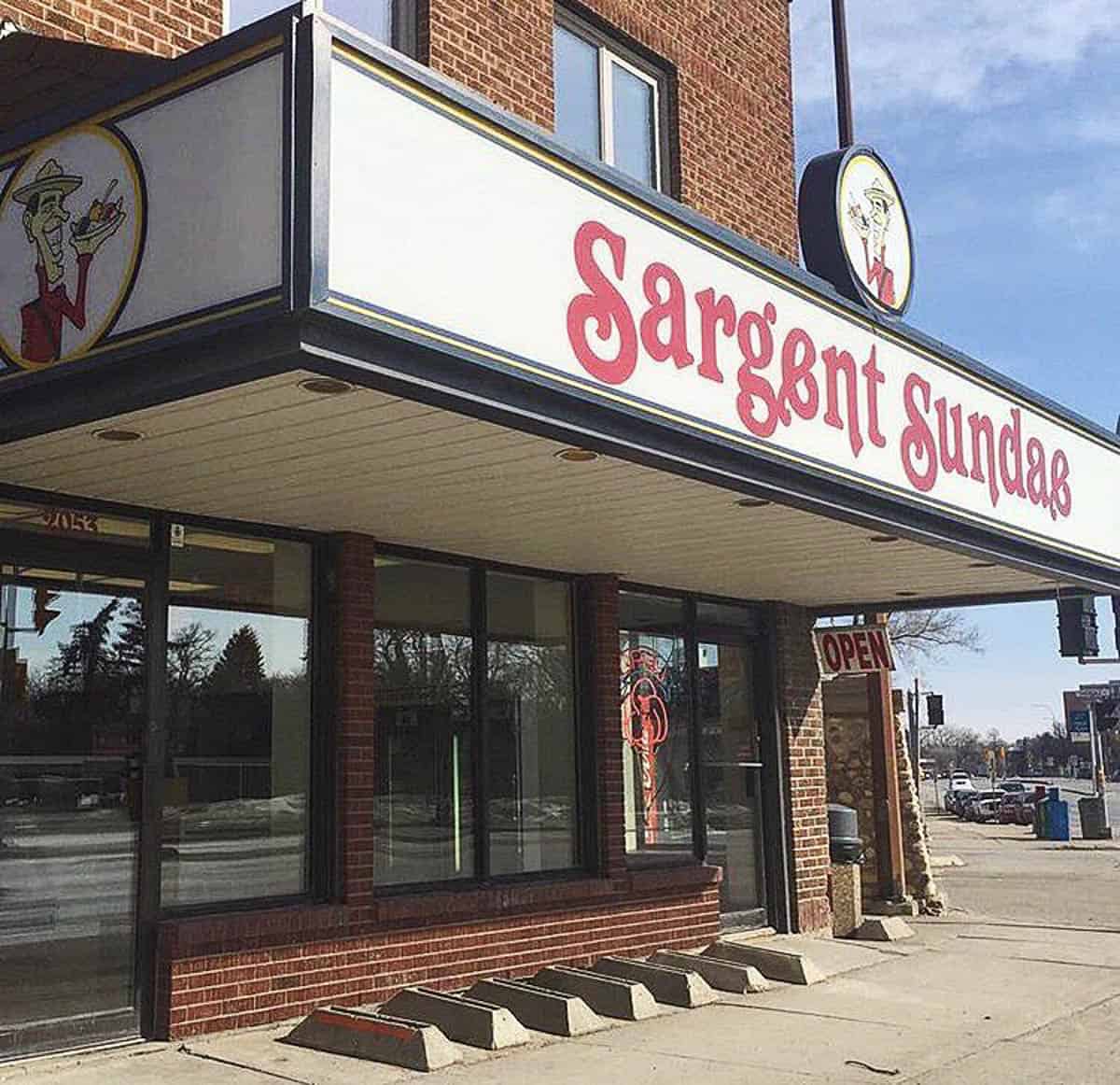 IG https://www.instagram.com/p/BRr7e6sBMdx/ @sargentsundae
It's a must-try! Our local's tip? Grab a sweet treat here and then take the pedestrian bridge across the street to spend some time in beautiful Assiniboine Park. Sargent Sunday is an easy pick for this list of the best Winnipeg ice cream parlours.
9 Below
Location: 2494 Main St
Sharing its space with Charlie Burgers, 9 Below has an assortment of hard and soft serve, milkshakes, and more… but we always go for the classic banana split! There's also the option of building your own treat, so you can choose from your favourite ice cream, toppings, sauces, and any extras you're craving. Found in the North End of Winnipeg, you can also take your treat to go and walk around Kildonan Park, one of the most beautiful parks in the city.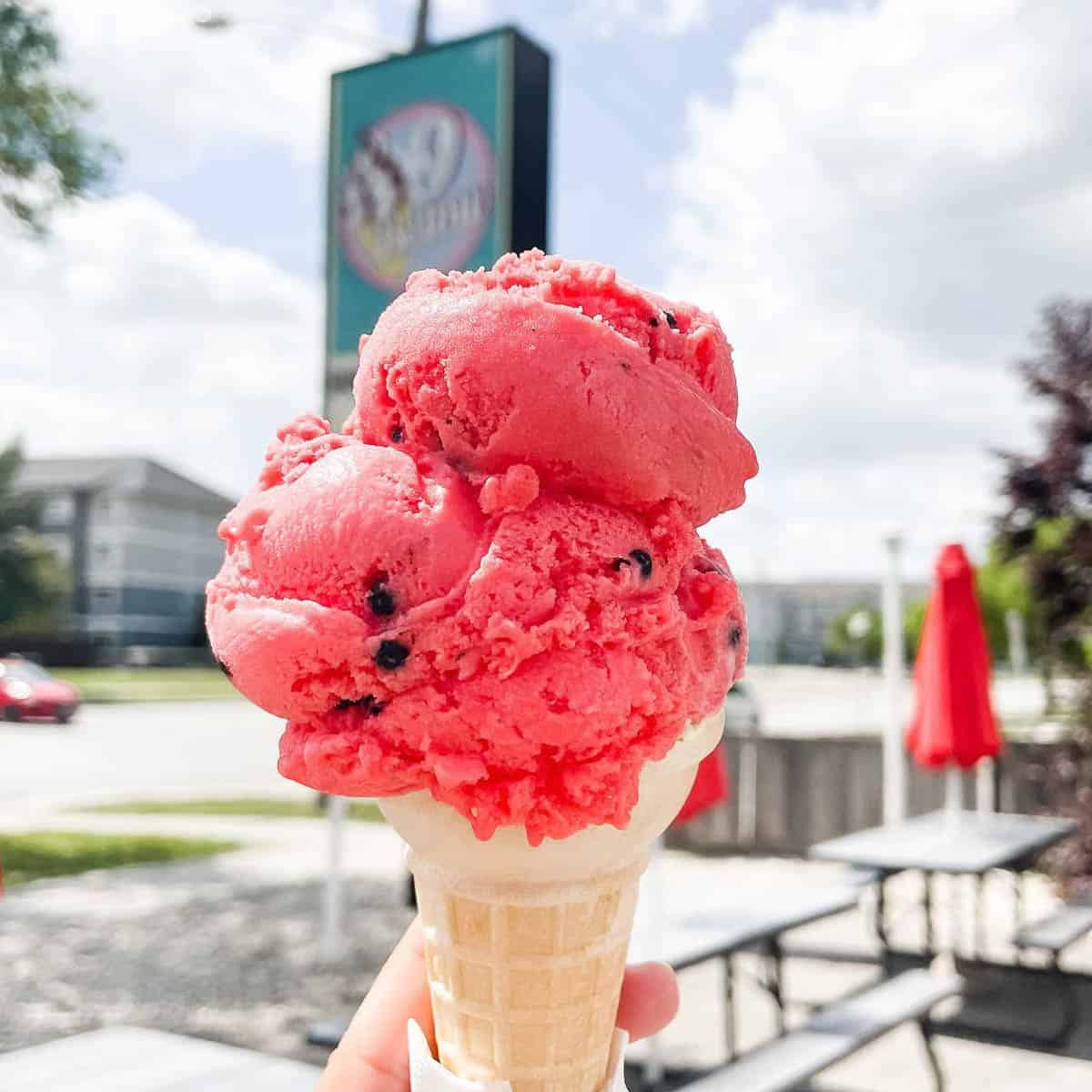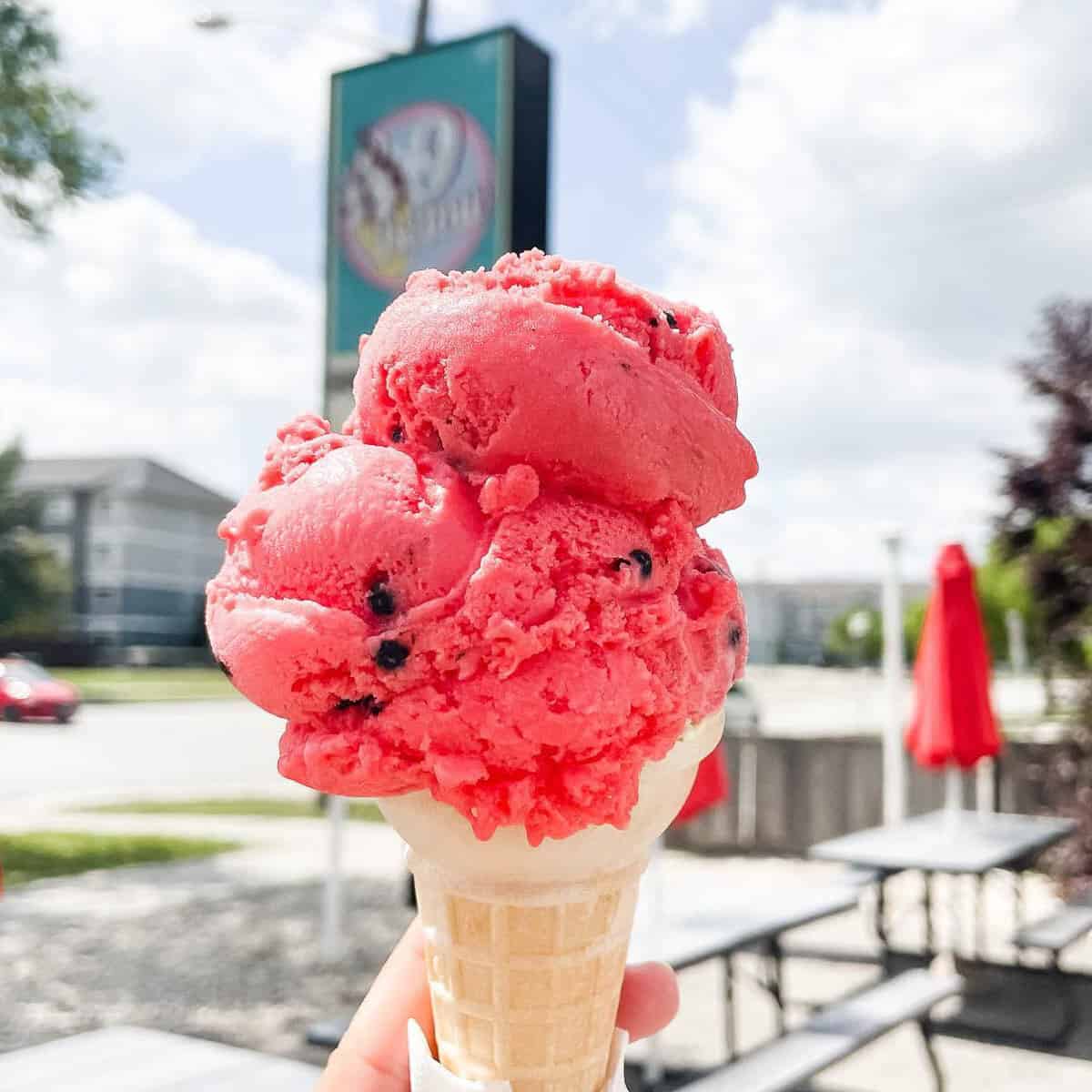 IG https://www.instagram.com/p/CgNo-YvPaMe/ @9belowicecream
Rollesque
Location: 117 Osborne St and 6-794 Sargent Ave
Head to Rollesque for rolled ice cream, sometimes referred to as "Thai ice cream". With two locations in the city, you can choose from fruit creations, house creations, or Asian fusion. Some highlights include Mango Madness (made with fresh mango rolled ice cream topped with chunks of fresh mango, chocolate wafer rolls, whipped cream, and a smooth chocolate drizzle) Campfire Favourite (with graham cracker, chocolate, and melted marshmallow rolled into ice cream, then topped with a Hershey chocolate bar, Lotus biscuit, whipped cream, a full roasted marshmallow, and velvety Nutella drizzle).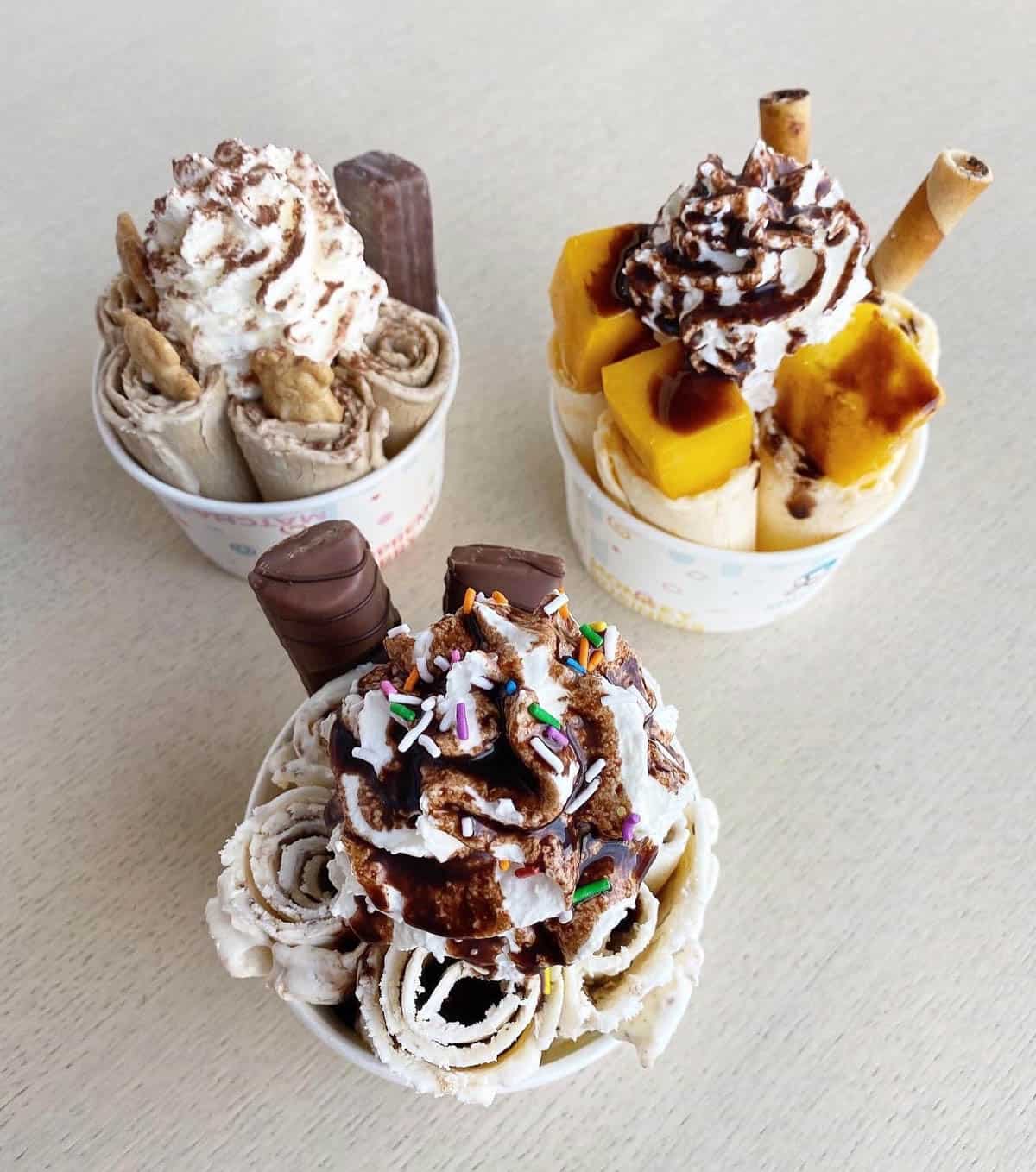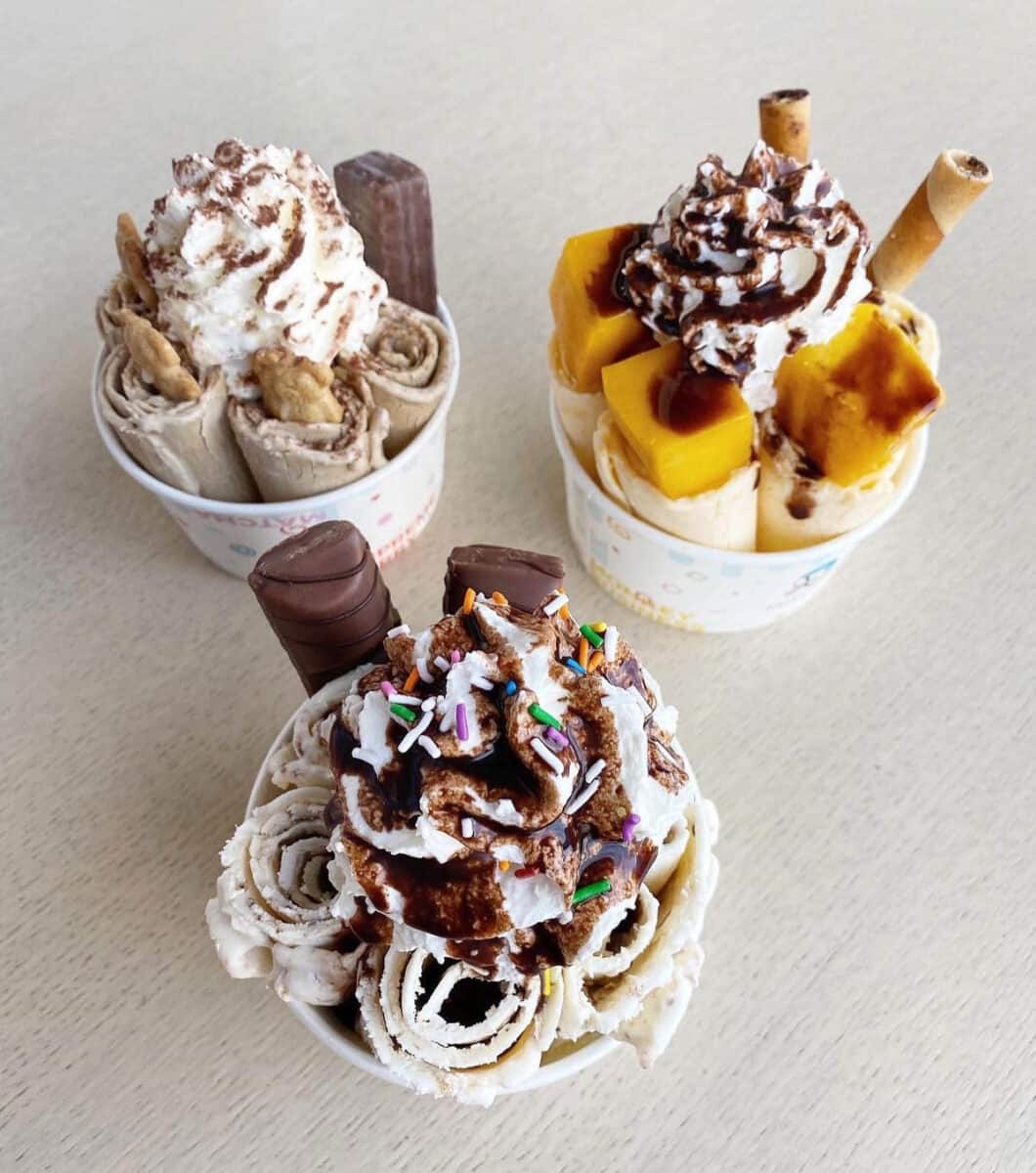 Although, our favourite, is the Asia Summer Trip (with fresh durian rolled into ice cream, then topped with mochi, coconut flakes, vanilla wafer roll and a sweet condensed milk drizzle).
Scoops on Jefferson
Location: 1680 Main St
Also referred to as Scoops on Main, Scoops on Jefferson has long been a favourite spot for ice cream in Winnipeg. With plenty of classic flavours and a few unique ones, too, you have the option of soft serve or hard ice cream, as well as a variety of other sweet treats.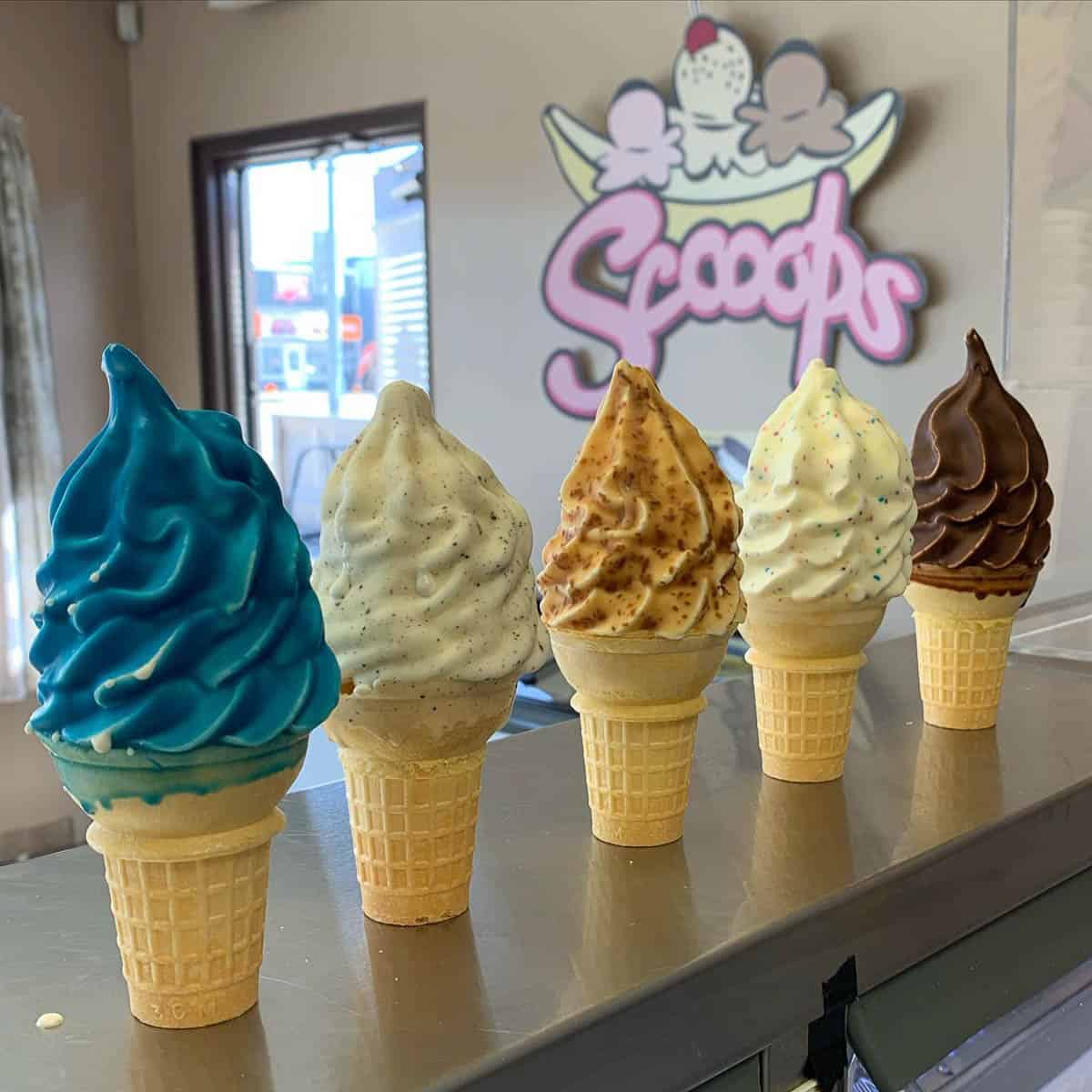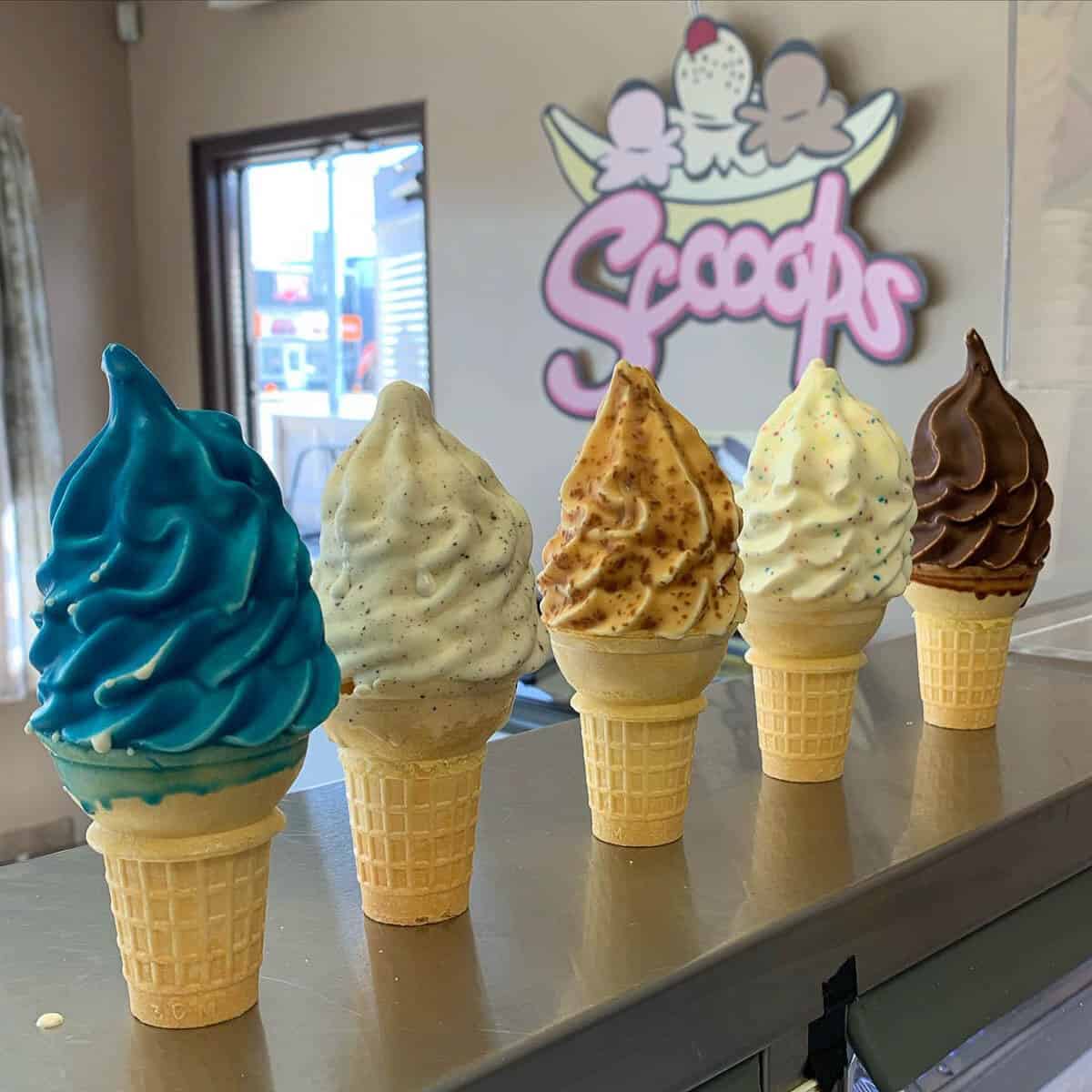 There's lots of outdoor seating, so you're able to hang out for a while to enjoy your dessert. Our favourites include their ice cream floats or one of their old-fashioned ice cream malts, which always hit the spot on a warm summer's day!
Sweet Annie's
Location: 414 Westmount Dr
Found in East Winnipeg (near the Royal Canadian Mint), Sweet Annie's is a perennial favourite in the city for its desserts, ice cream, and so much more. Known for their friendly staff and great service, the ice cream is top-notch, too! And for those with different dietary needs, they offer up a lot of vegan options, meaning the whole family can find something to enjoy here.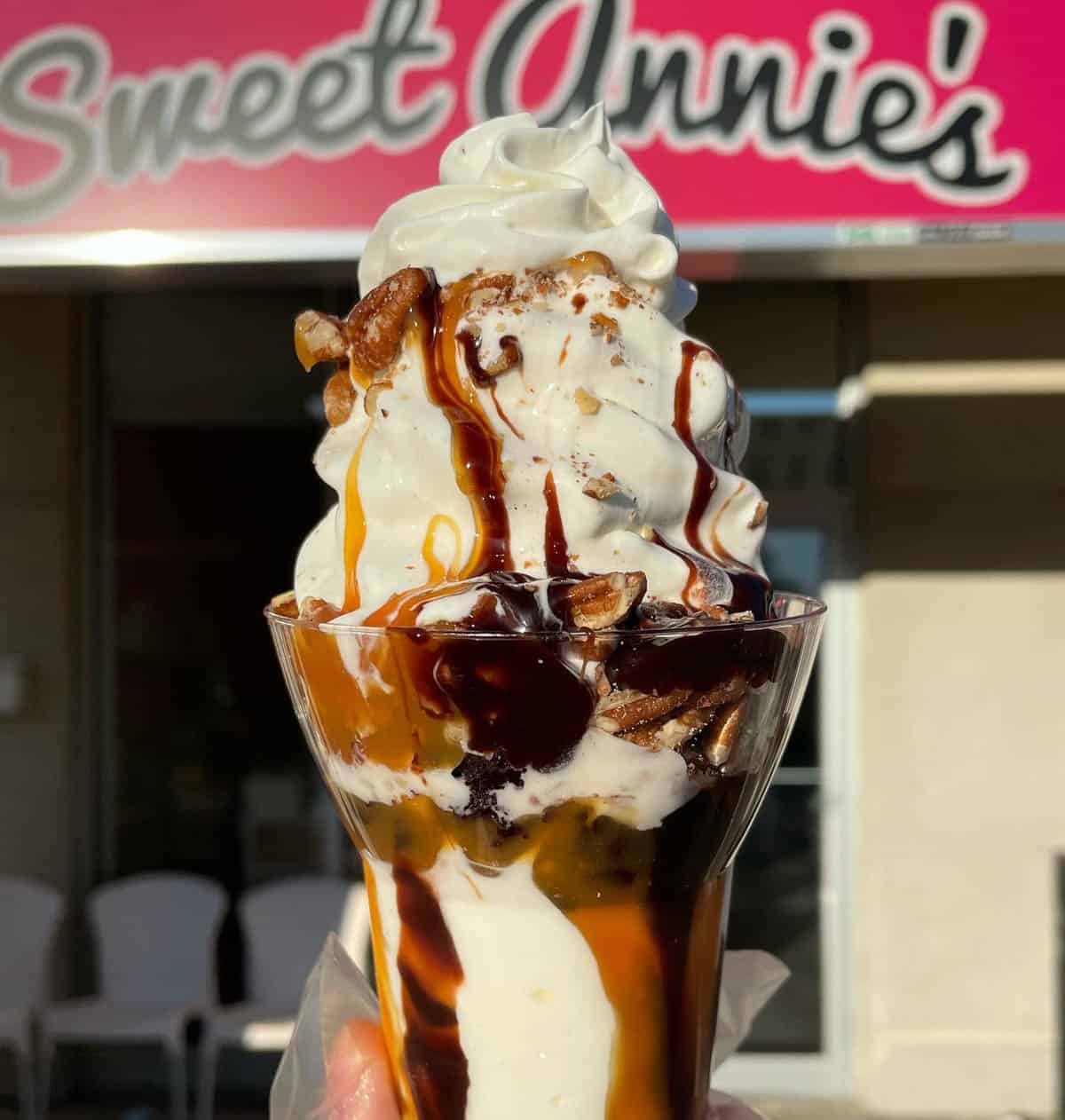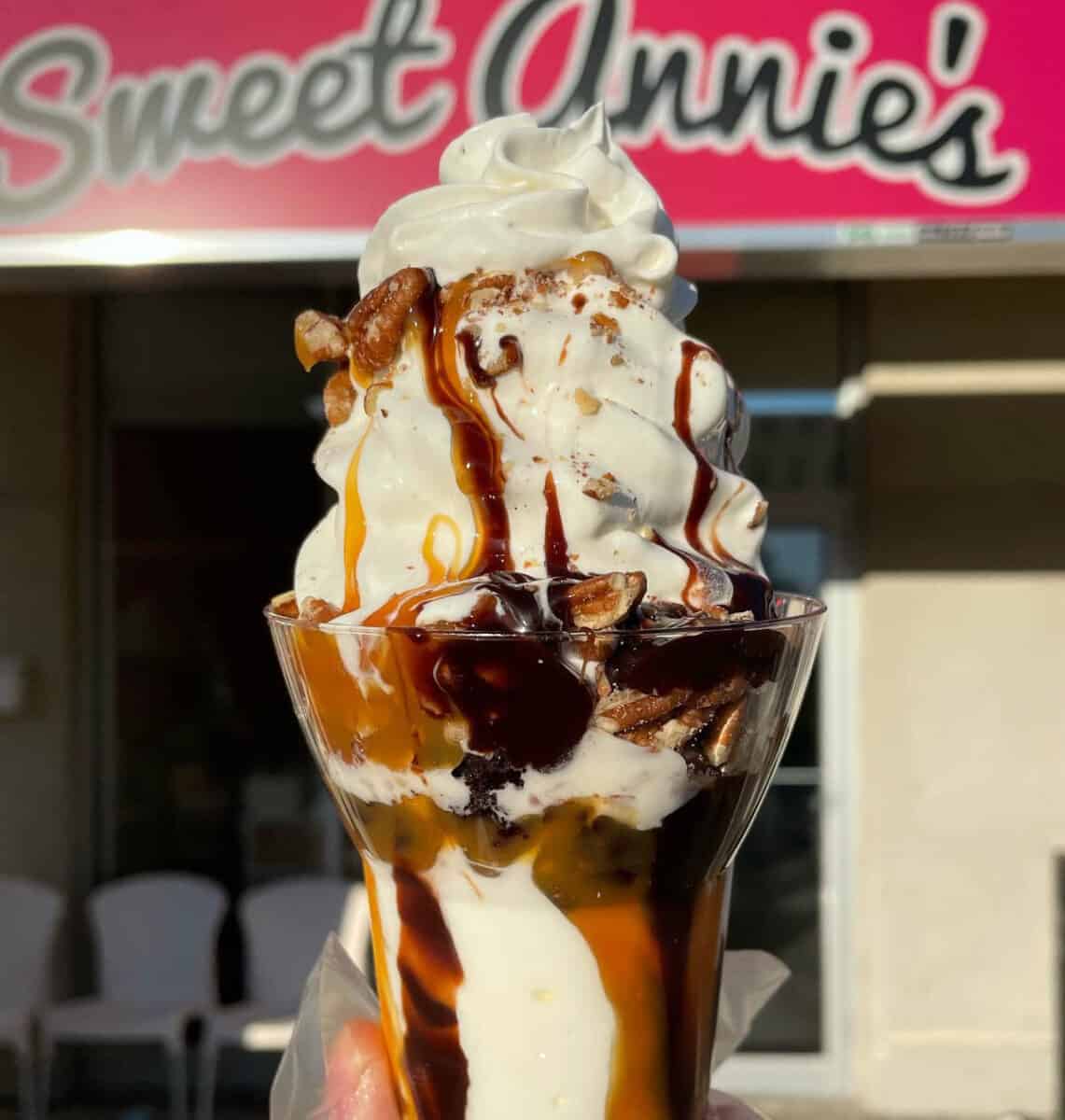 IG https://www.instagram.com/p/Ce9Tw6vAkNz/ @sweetanniesbakeshop
With tons of new creations made in-house, you can always go for one of their sundaes or splits; a recent favourite is the "Totally Baked Boat" made with hot fudge and caramel, vanilla ice cream, and chocolate dip, then covered in rippled potato chips, peanuts, crushed pretzels, Oreo pieces and their housemade edible cookie dough. How good does that sound?!
Nucci's Gelati
Location: 643 Corydon Ave
If you've ever been in Little Italy and walked down Corydon Avenue in summer, you've surely seen people enjoying some gelato from Nucci's Gelati. A staple of the area, the servings are generous and the flavours deliciously authentic; thankfully, they offer sugar-free and dairy-free options, too, so there's something for everyone.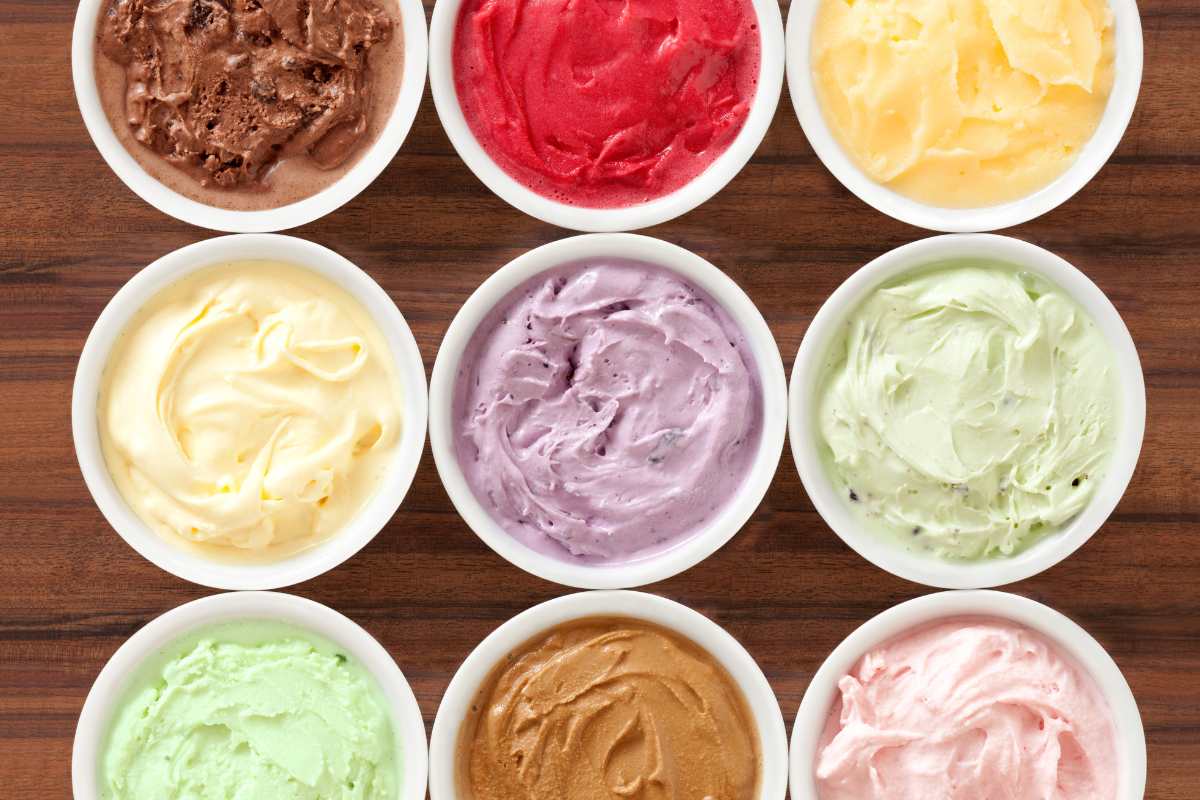 A popular Italian restaurant, Nucci's has a lot more on the menu than just gelati, but we absolutely love stopping in for a refreshing treat on a hot day. And with decades of experience, you know that you're in for some of the best gelati in the city.
Le Monkey Bar
Location: 50 Provencher Boulevard Kiosk #3
If you're walking across the Esplanade Riel between downtown Winnipeg and St. Boniface, you should stop at Le Monkey Bar! 100% vegan, they're known for their sundaes, handmade popsicles, shakes, smoothies, and so much more.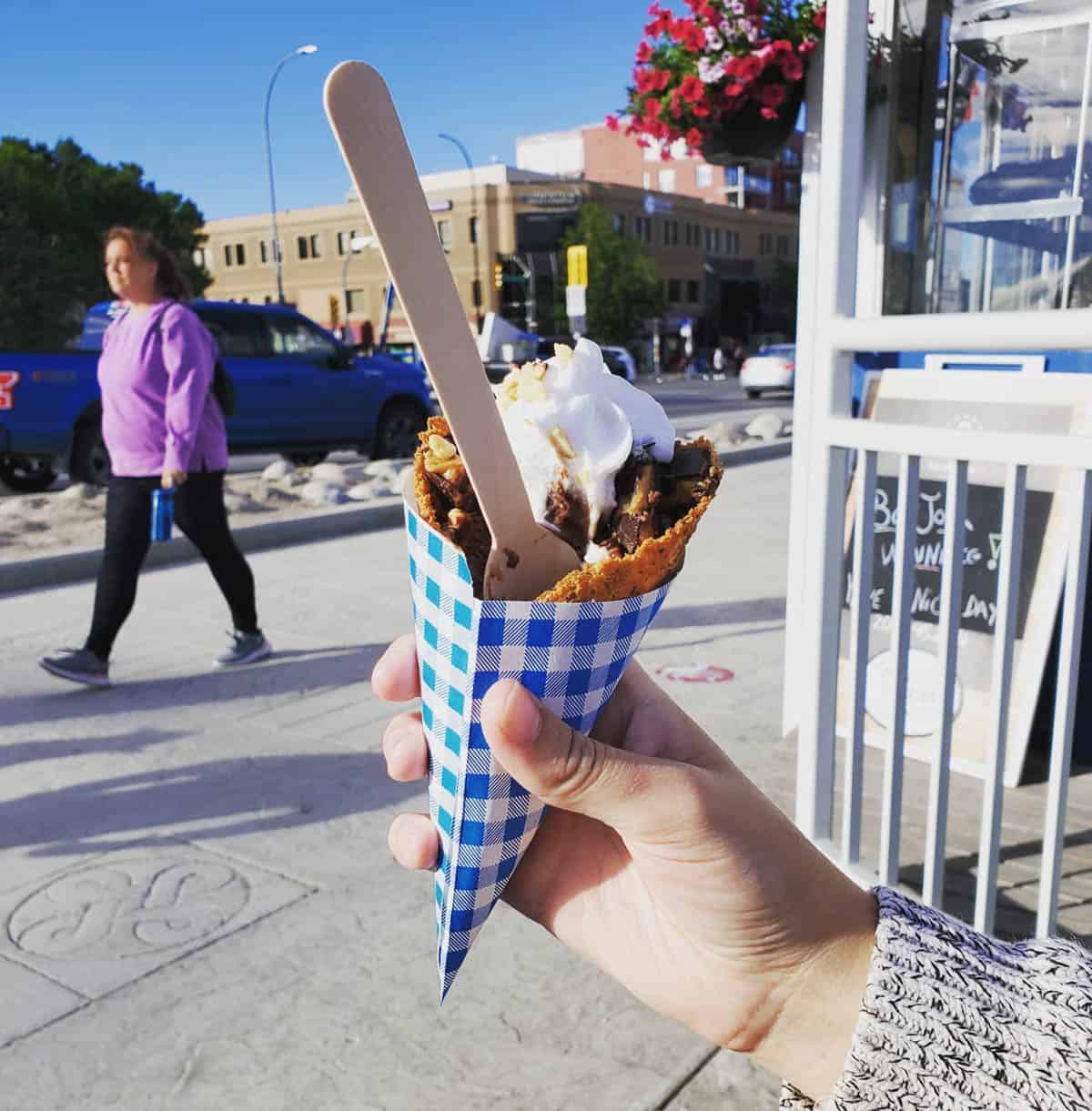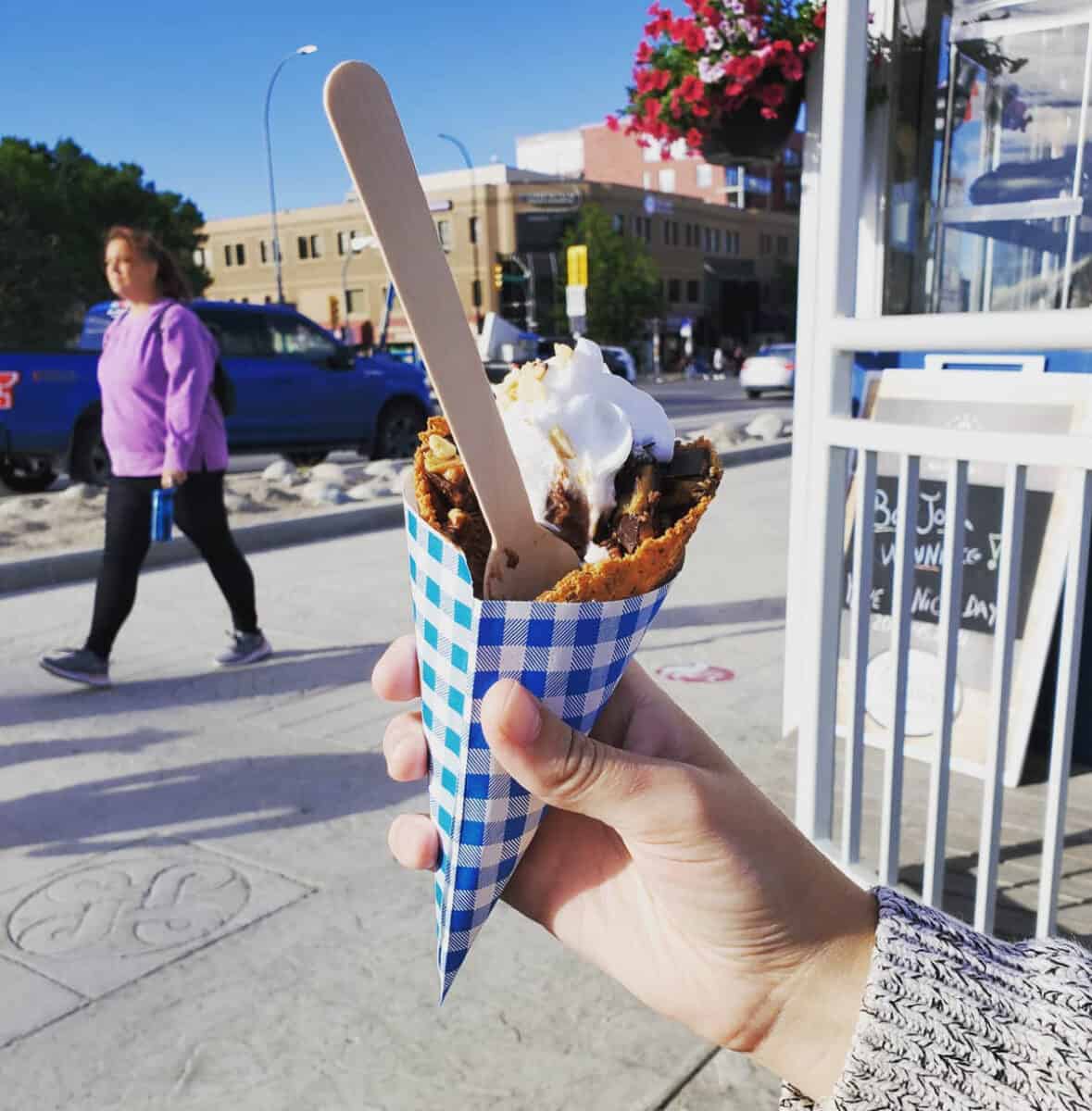 Our favourite? The quick and simple – yet definitely delicious – chocolate-dipped banana, with your option for sprinkles, almonds, coconut, or peanuts. It's the perfect stop when you're exploring the city and all of the best things to do in Winnipeg, as it's so centrally located.
*Note that Le Monkey Bar is seasonal, so only open in the warmer months!
Looking for more things to eat and drink in Winnipeg? Here are some ideas: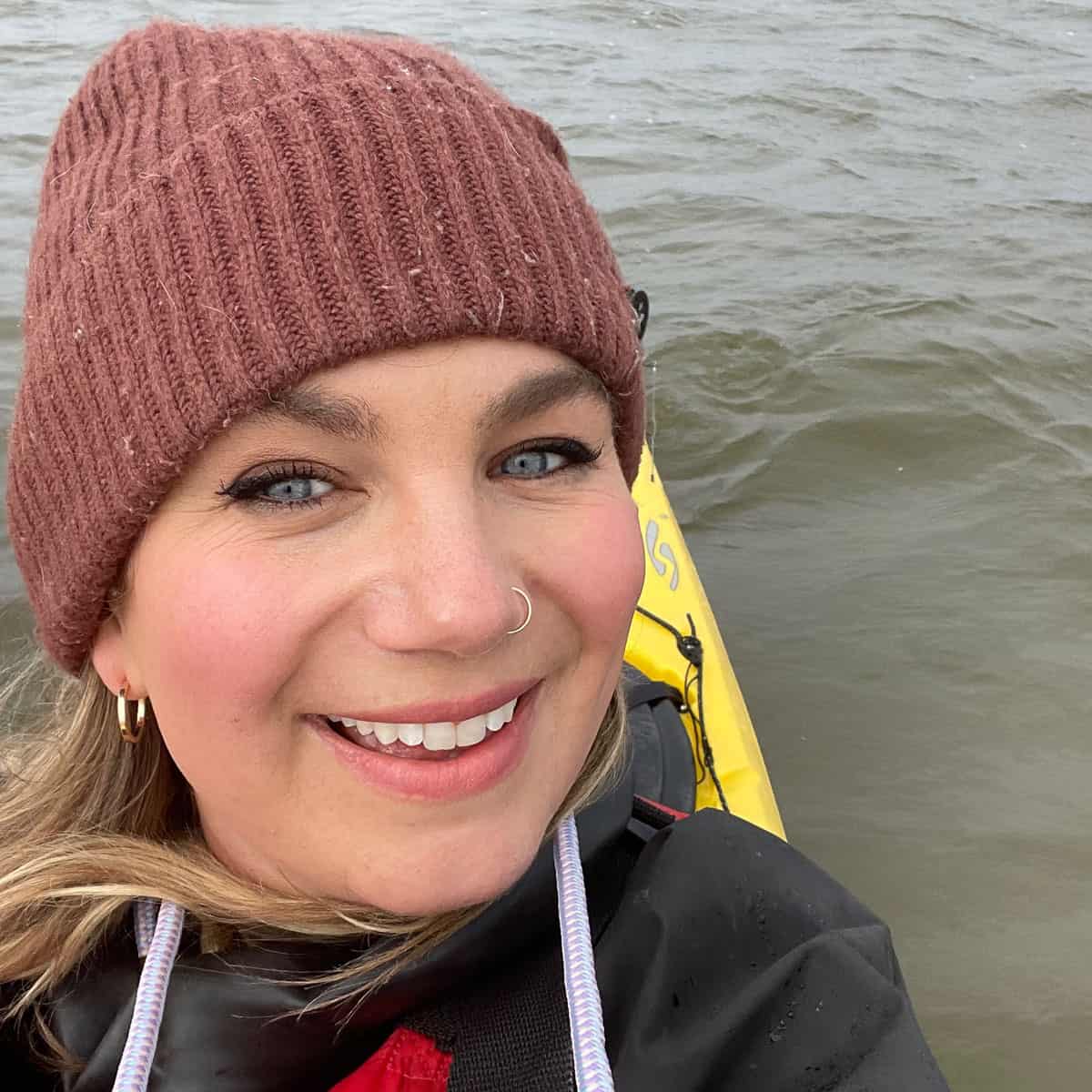 Brenna Holeman (she/her) has adventured to over 100 countries but is incredibly proud to call Winnipeg home. Brenna spent 16 years travelling solo around the world, living in Copenhagen, Edinburgh, Osaka, Antigua, and London, England. As well as being an editor and writer for Expedia UK for over seven years, she runs This Battered Suitcase, one of the most trusted and respected travel blogs in the world.