Disclaimer: This page may contain affiliate links. Please review our full Terms and Conditions for more information and our Privacy Policy. Note that any pricing, operating hours, or other such information provided below may have changed since initial publication.
Compiled by the Road Trip Manitoba team
Last updated on September 18, 2023
Recognized as a world-class establishment and one of the best museums in Canada, a visit to Winnipeg's Canadian Museum for Human Rights (CMHR) is a must when you're in the city. With stunning architecture, powerful exhibits, and an incredible gift shop that features local artists, you can easily make a day out of visiting the museum. It's no wonder it's consistently ranked as one of the best things to do in Winnipeg!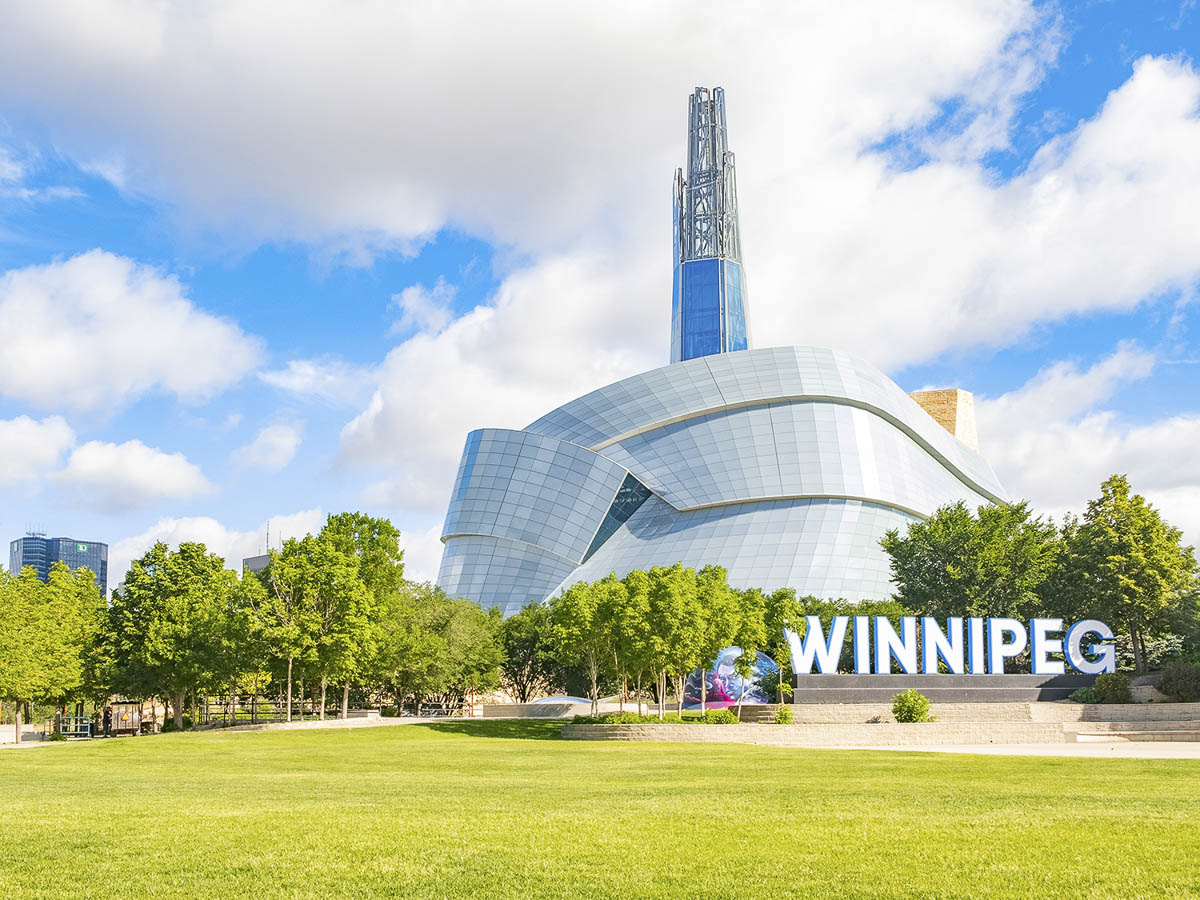 With exhibits that explore human rights issues such as Indigenous rights, disability rights, 2SLGBTQ+ rights, and more, including stories of war, genocide, and other adversities that people continue to face, the museum is entirely devoted to human rights for all. While it is often a moving and emotional experience, there are also many stories of triumph, courage, and the human ability to overcome the worst.
Even if you are only in Winnipeg for a day or two, we recommend putting the Canadian Museum for Human Rights at the top of your sightseeing list. Here, then, is your ultimate guide for visiting the Canadian Museum for Human Rights.
Land Acknowledgements
Winnipeg is located on Treaty No. 1 the original lands and waters of Anishinaabe, Ininiwak, Anishininiwak, Dakota, and Dene peoples, and on the homeland of the Métis Nation.
Visiting the Canadian Museum of Human Rights
History of the Museum
The Canadian Museum for Human Rights is located at The Forks, an area that holds a deep significance in Winnipeg's history as Indigenous peoples have lived on this land for over 6,000 years. The Forks is where the Assiniboine and the Red Rivers meet, which was once an incredibly important location for trading.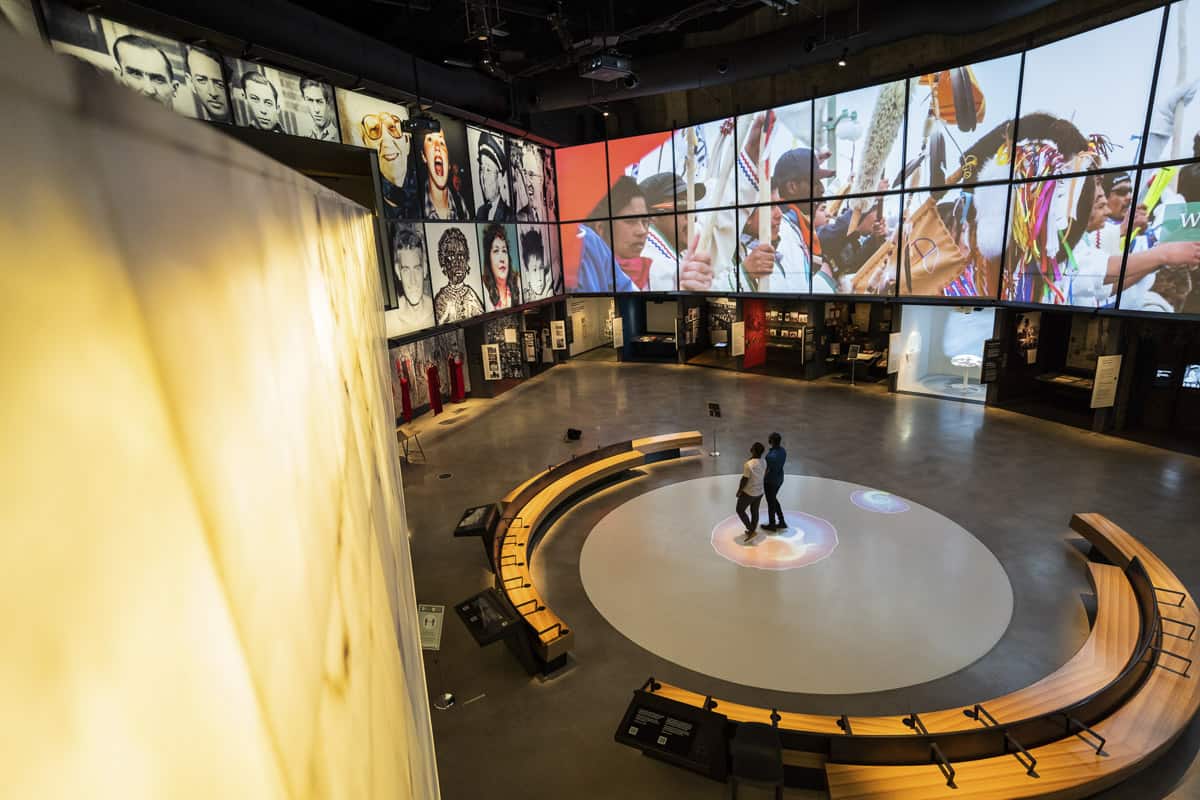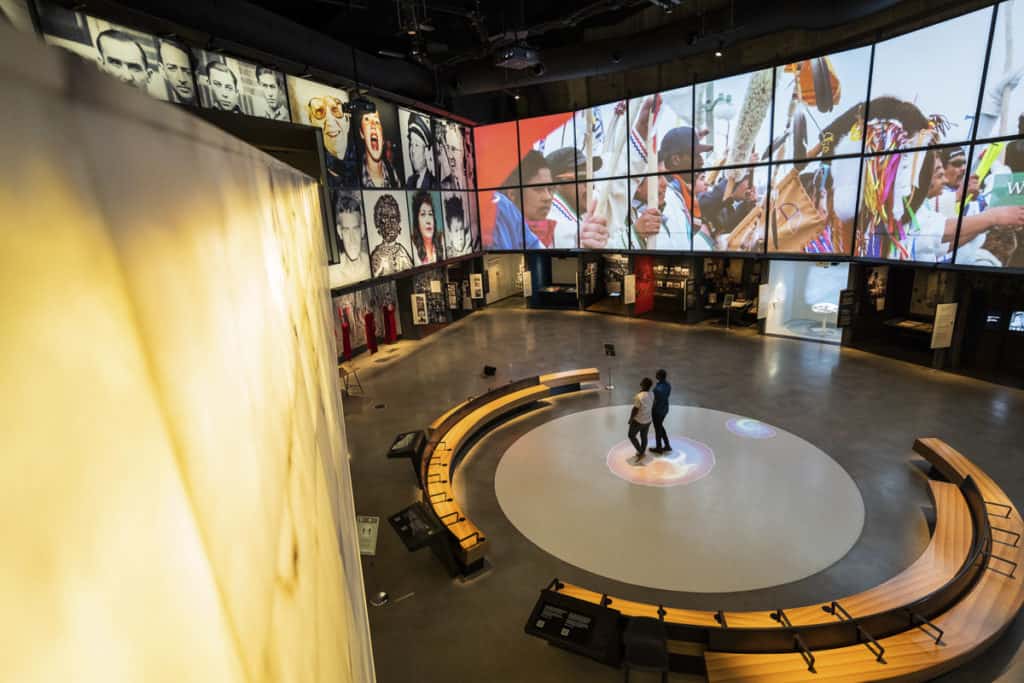 Notable businessman and politician Israel Asper had the idea for a human rights museum in Winnipeg in 2000, and in 2003, plans were announced to build the museum. After an extensive process, architect Antoine Predock was chosen to design it. In 2008, the Government of Canada's Museums Act was changed to include the new museum, making it the first national museum built in 40 years and the first national museum to be located outside of Ottawa.
Construction of the museum took place from 2008 to 2012, and it officially opened to the public on September 20, 2014.
Getting to the Museum and Parking
The Canadian Museum for Human Rights is located at 85 Israel Asper Way in Winnipeg, right beside The Forks.
There are hundreds of parking spots around the museum (including directly across from the museum) and the same parking lots are often used to visit The Forks. Note that these spots are paid parking; you can pay via debit or credit card at one of the many parking metres around the lots. The cost of parking is approximately $2 per hour.
There are also more than 30 bus routes that serve the museum and The Forks. You can find the best public transportation route for you by using the Winnipeg Transit site.
Opening Hours
The museum is open from 10 a.m. until 5 p.m. Tuesday through Sunday, and there are extended hours on Friday when the museum stays open until 9 p.m. Note that the museum is always closed on Mondays.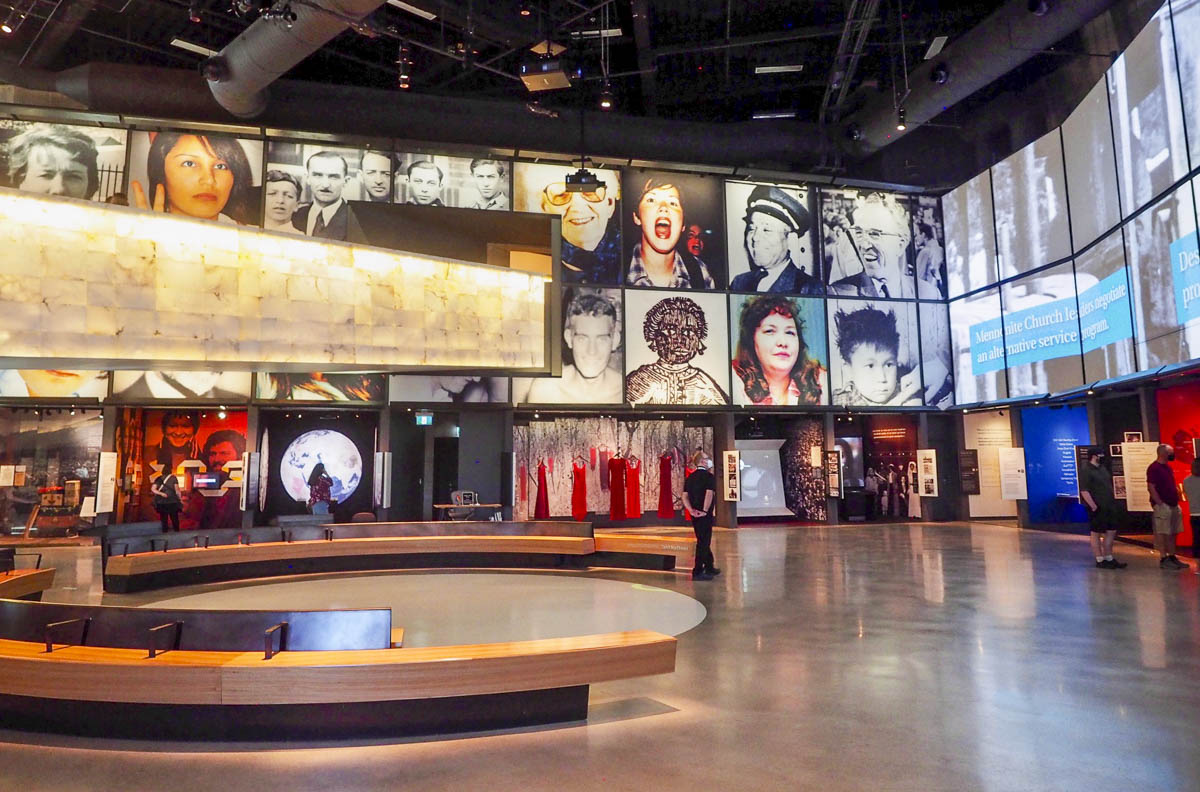 We recommend checking if the museum is open before you visit, especially if you plan to visit on a holiday or special day. For example, the museum is closed on Canadian Thanksgiving, Christmas Eve, Christmas Day, and Boxing Day every year, with differing hours on days such as Truth and Reconciliation Day, Remembrance Day, and more.
Finally, there are occasional closures due to museum maintenance, making it important to check before visiting.
Admission
General admission tickets to the museum provide same-day, unlimited access to the galleries. The museum is free for Indigenous Peoples, children aged six and under, members, and those accompanying someone with special needs. The museum has free entry for everyone on Fridays after 5:00 p.m. There are also days throughout the year when there is free entry all day, including Human Rights Day (December 10th).
Admission prices (as of September 2023) are:
Adult (18-64 years): $18
Youth (7-17 years) $8
Children (6 and under): Free
Post-Secondary Student (with ID): $14
Senior (65+ with ID): $14
Family groups (up to 2 adults and 4 youth): $47
Indigenous Peoples – Free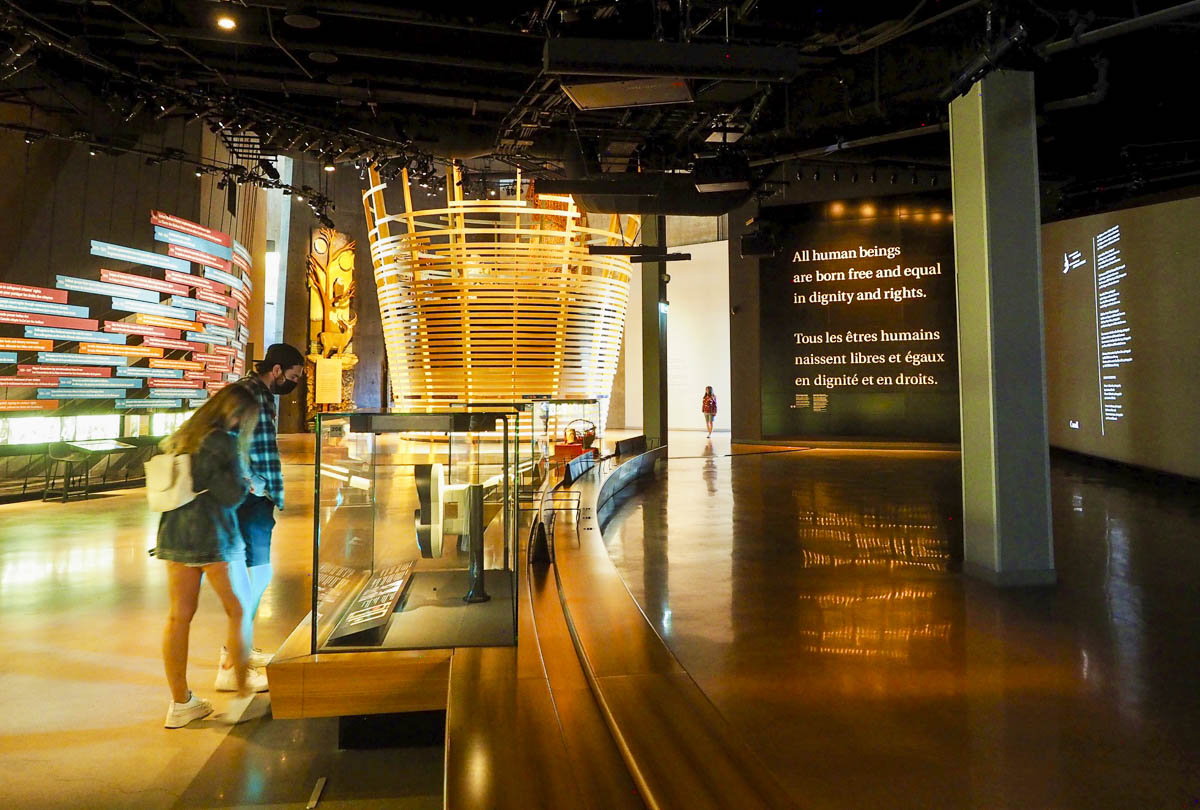 The CMHR is also a member of Canoo, a mobile app that helps new Canadian citizens learn more about and celebrate their citizenship. To learn more, head to the Institute for Canadian Citizenship website.
Tours at the Museum
There are many types of tours to take of the museum, including those from the comfort of your own home. Group reservations are also available. It is recommended to download the mobile app for a self-guided experience that includes audio, augmented reality, and so much more. Inquire at the front desk, call 204–289‑2000, or email tours@humanrights.ca for more information on tours.
Accessibility
Thankfully, the CMHR is very accessible to all people.
This includes:
Elevators and ramps throughout the entire museum.
Free wheelchair and stroller rental (on a first-come, first-served basis; photo ID is required) as well as free cane seats for rent.
Free admission for a support person accompanying someone with special needs.
An accessible drop-off entrance and parking.
Gender-inclusive washrooms throughout.
Large, accessible, individual bathrooms on six levels, including a washroom on Level 1 that has an adult-sized change table and motorized transfer lift.
Service animals are welcome.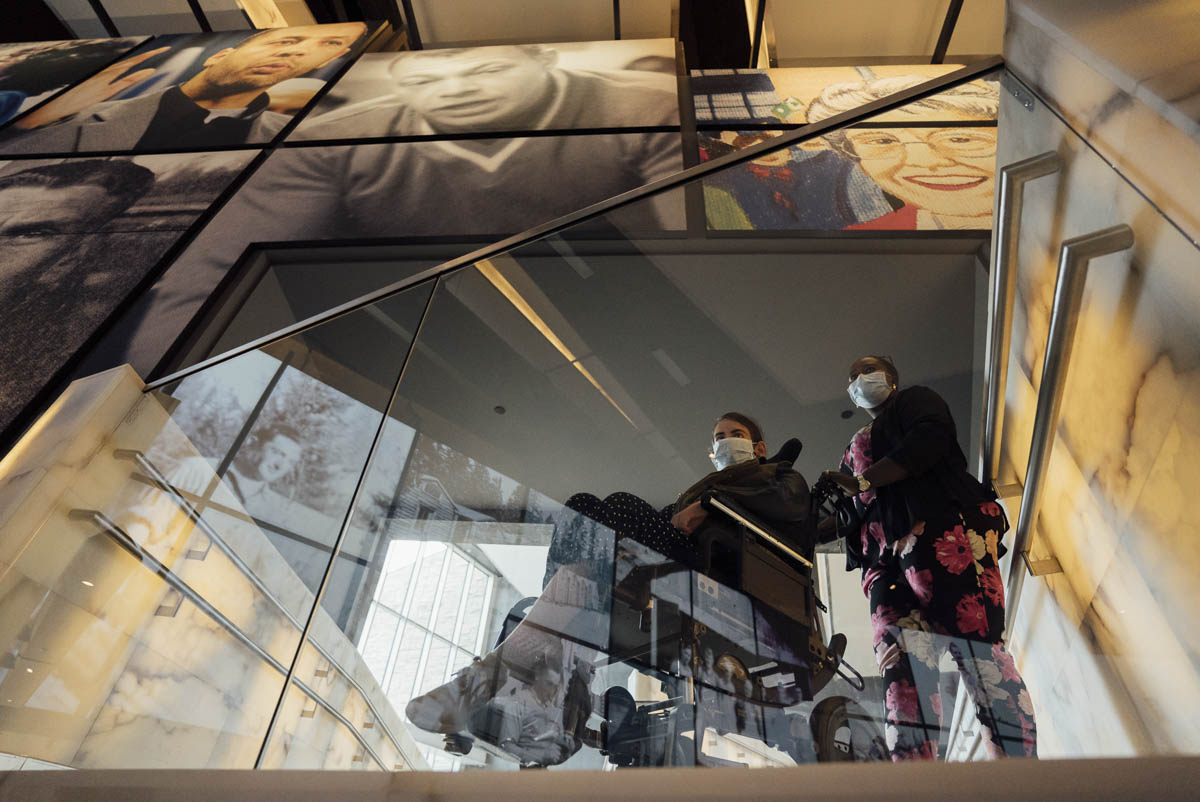 Another fantastic feature of the CMHR is the free mobile app. The app is available in English, French, American Sign Language, and Langue des signes québécoise. The app also has an audio guide which describes each gallery as well as a "near me" mode that connects to Universal Access Points (ideal for those who are blind or who have low vision). Braille gallery guides are also available upon request at the ticket and information desk.
Finally, there is a lot of seating throughout the museum, so you're never far from somewhere you can rest.
Experience the Canadian Museum for Human Rights
Galleries
Spread across seven floors, there are ten core galleries inside the museum, including: What are human rights? Indigenous perspectives, Canadian journeys, Protecting rights in Canada, Examining the Holocaust, Turning points for humanity, Breaking the silence, Actions count, Rights today, and Inspiring change. You can expect lots of photography, audio, video, written accounts, interactive displays, and more.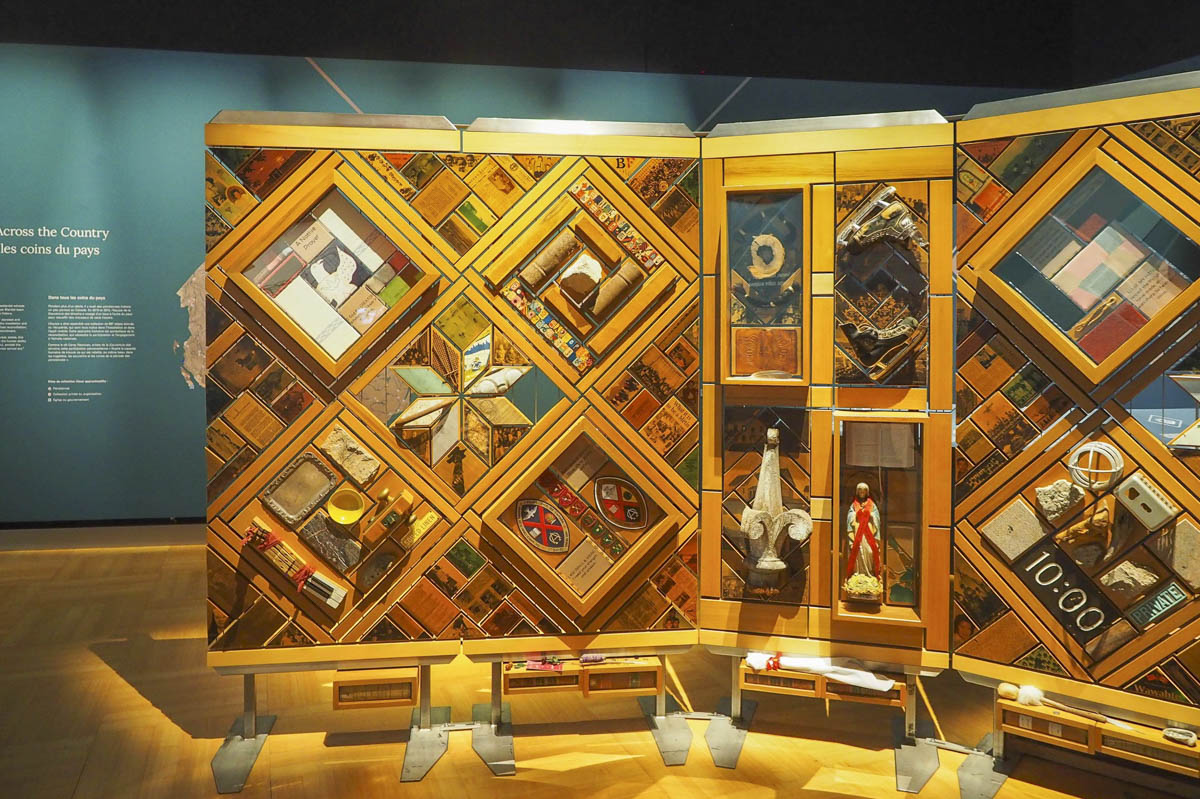 While the thousands of stories you'll encounter across the ten galleries can be overwhelming to take in, they can also be extremely inspiring, bringing a message of hope and of triumph. And, of course, through learning about our past, we can strive to do much better in the future. Ultimately, as the museum's website states, the CMHR strives "to build understanding, promote respect, and encourage reflection."
Exhibitions
At any given moment, there are a few temporary exhibitions within the museum. These have included Métis Memories of Residential Schools: A Testament to the Strength of the Métis, Behind Racism: Challenging the Way We Think, Ododo Wa: Stories of Girls in War, Time to Act: Rohingya Voices, Mandela: Struggle for Freedom, and many more. Make sure to check out the current exhibitions on your visit to the museum, as they are always excellent.
Right now, open until August 22nd, you can visit Awasisuk; held in the Community Corridor in the museum, this event is free to enter. An important look at intergenerational healing and the process of moving forward, it's definitely worth a visit.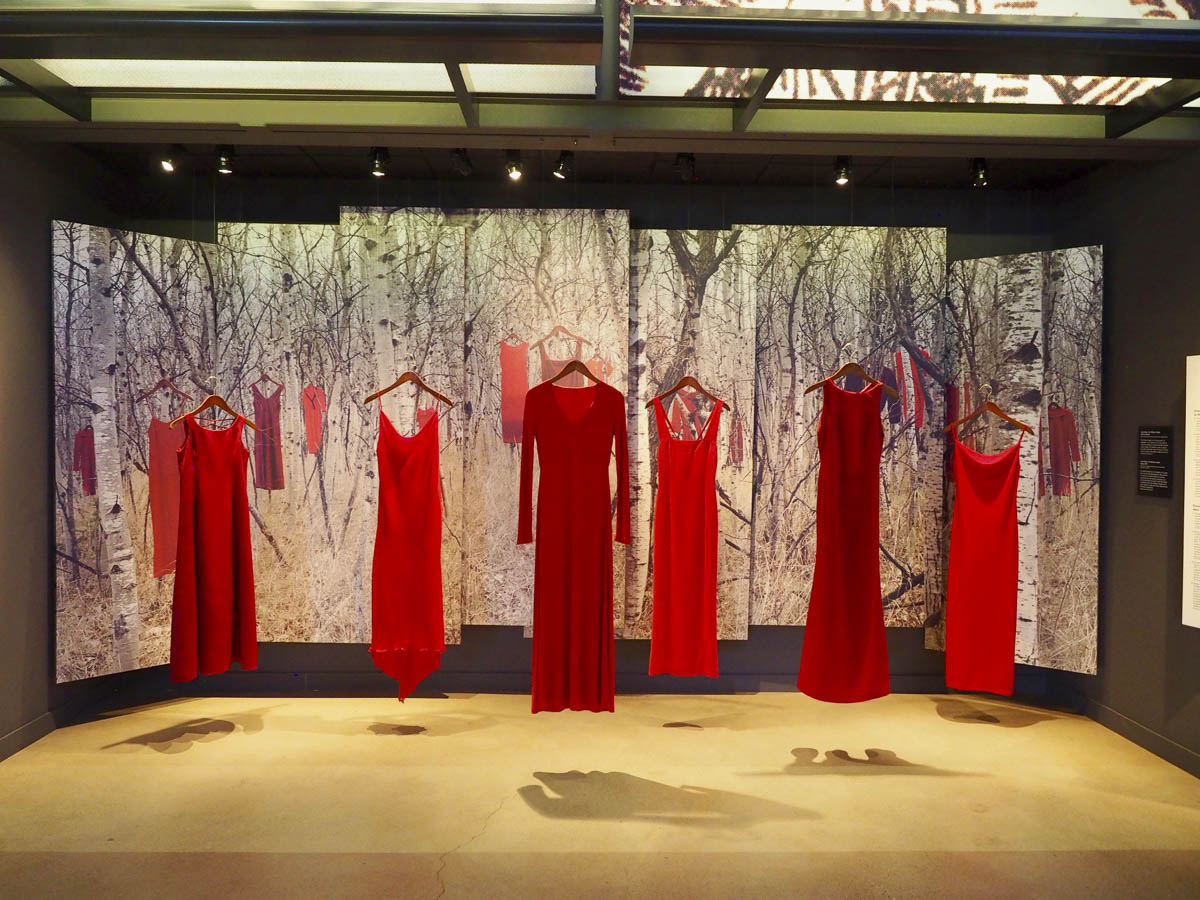 Another current exhibition is Ododo Wa: Stories of Girls in War (on until November of this year). The exhibit follows two girls from Uganda – Evelyn Amony and Grace Acan – who were abducted and held captive for years by a rebel group. Evelyn and Grace have now discovered "the power of using their voices to find healing and seek justice for women who survived captivity with the LRA."
Finally, another temporary exhibit to see is Climate Justice, which explores "the connections between human rights and climate change that are at the heart of the climate justice movement."
Ramps
One of the most unique and beautiful aspects of the museum's architecture are the alabaster ramps that are lit up with LED lights; they make up nearly a kilometre in collective length. Criss-crossing through the heart of the museum to connect the galleries, they are a literal display of creating a path of light through the dark.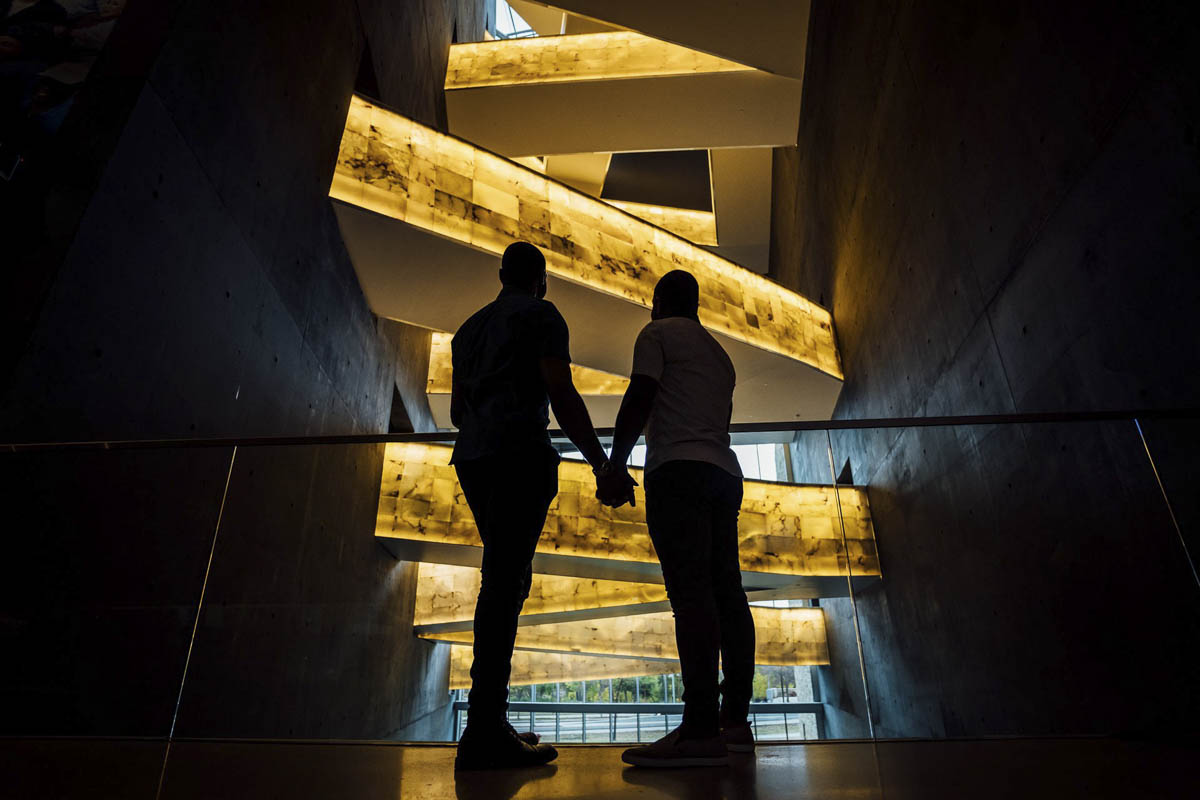 Israel Asper Tower of Hope
Soaring over 100 metres into the air, the Israel Asper Tower of Hope has an indoor observation platform that lends itself to incredible views over Winnipeg, including downtown Winnipeg, The Forks, St. Boniface, the Esplanade Riel Footbridge, and the Red and Assiniboine Rivers.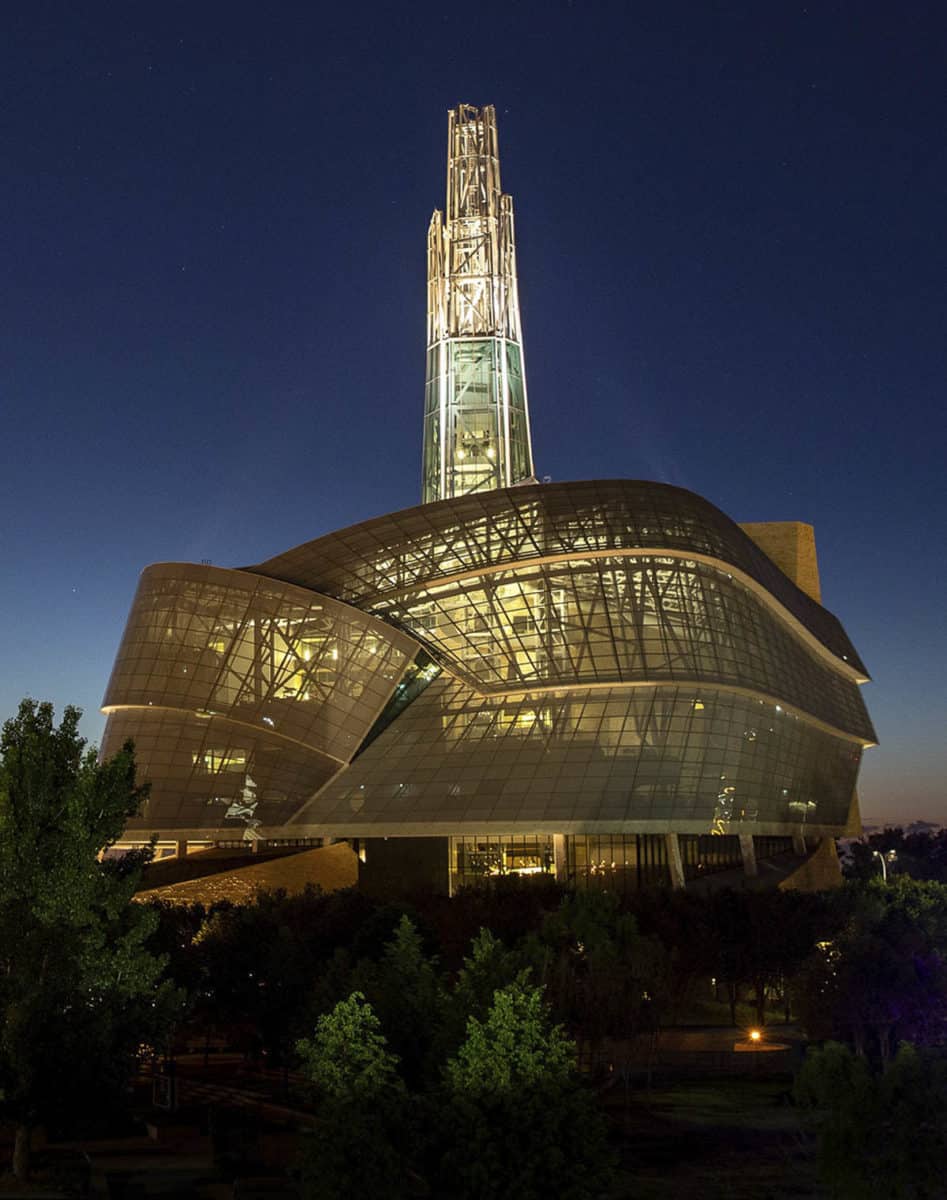 Events at the Museum
Stay up to date with all of the museum's events here, including new installations, film screenings, community gatherings, lectures, galas, and more. There is also a multitude of programs to join through the museum.
Exploring the Gift Shop
Make sure to head to the museum gift shop boutique for a unique array of socially conscious items for purchase. Many of the items are locally made in Winnipeg and in Canada, and there is a beautiful selection of art, jewellery, clothing, books, toys, gifts, and so much more to choose from.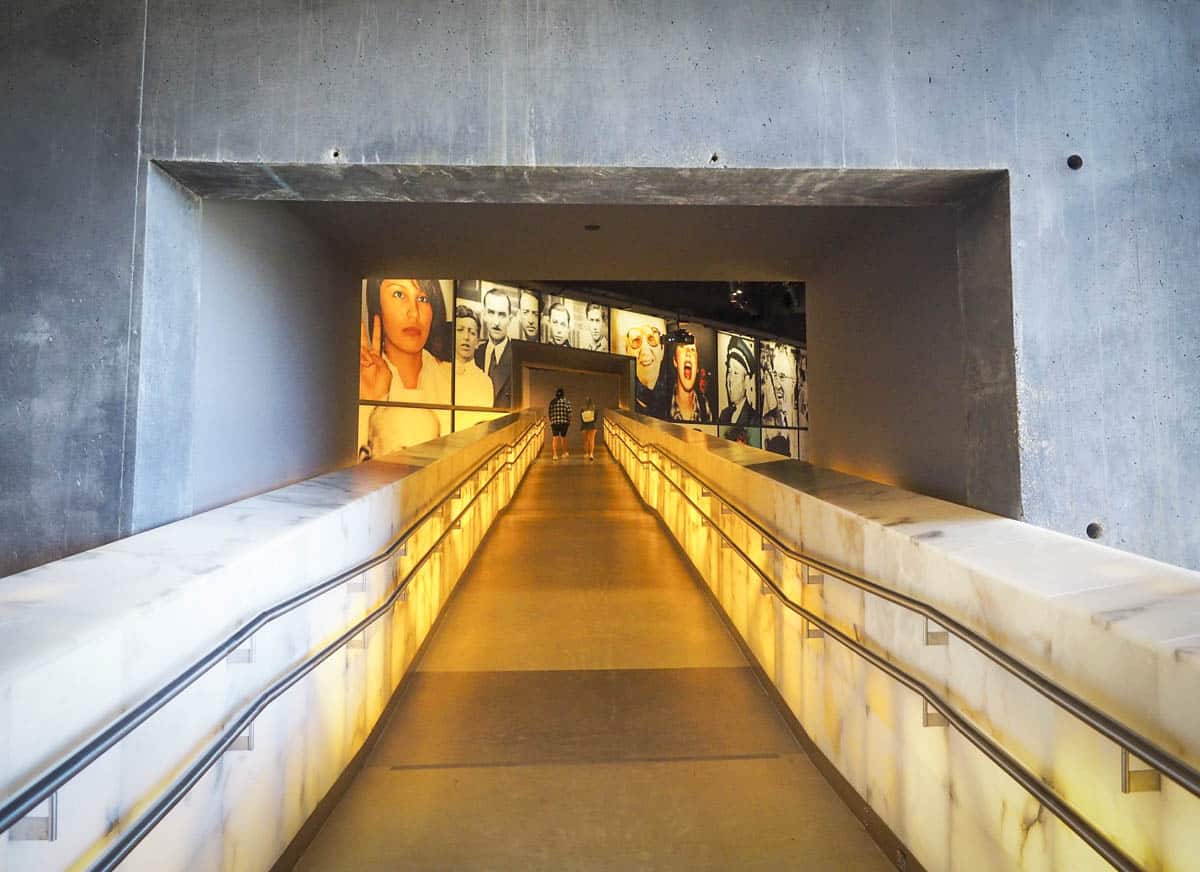 Can you eat at the Canadian Museum for Human Rights?
At one time, there was the ERA Bistro in the CMHR, but that is now closed. You are able to eat and drink in designated spots in the museum, including the Bonnie & John Buhler Hall. Please note that you cannot eat or drink in any of the galleries or on ramps and that the entire building is a nut-free establishment.
If you'd like to make a day out of visiting the Canadian Museum for Human Rights, we highly recommend including a visit to The Forks nearby, where you can find plenty of amazing local food vendors (we even included The Forks on our list for the best restaurants in Winnipeg).
How can you support the Canadian Museum for Human Rights?
There are many ways to support the Canadian Museum for Human Rights in Winnipeg. You can donate, you can become a volunteer, or you can become a member (which includes free admission to the galleries, a discount at the gift shop, and more). You can also support the human rights museum by purchasing something at the gift shop.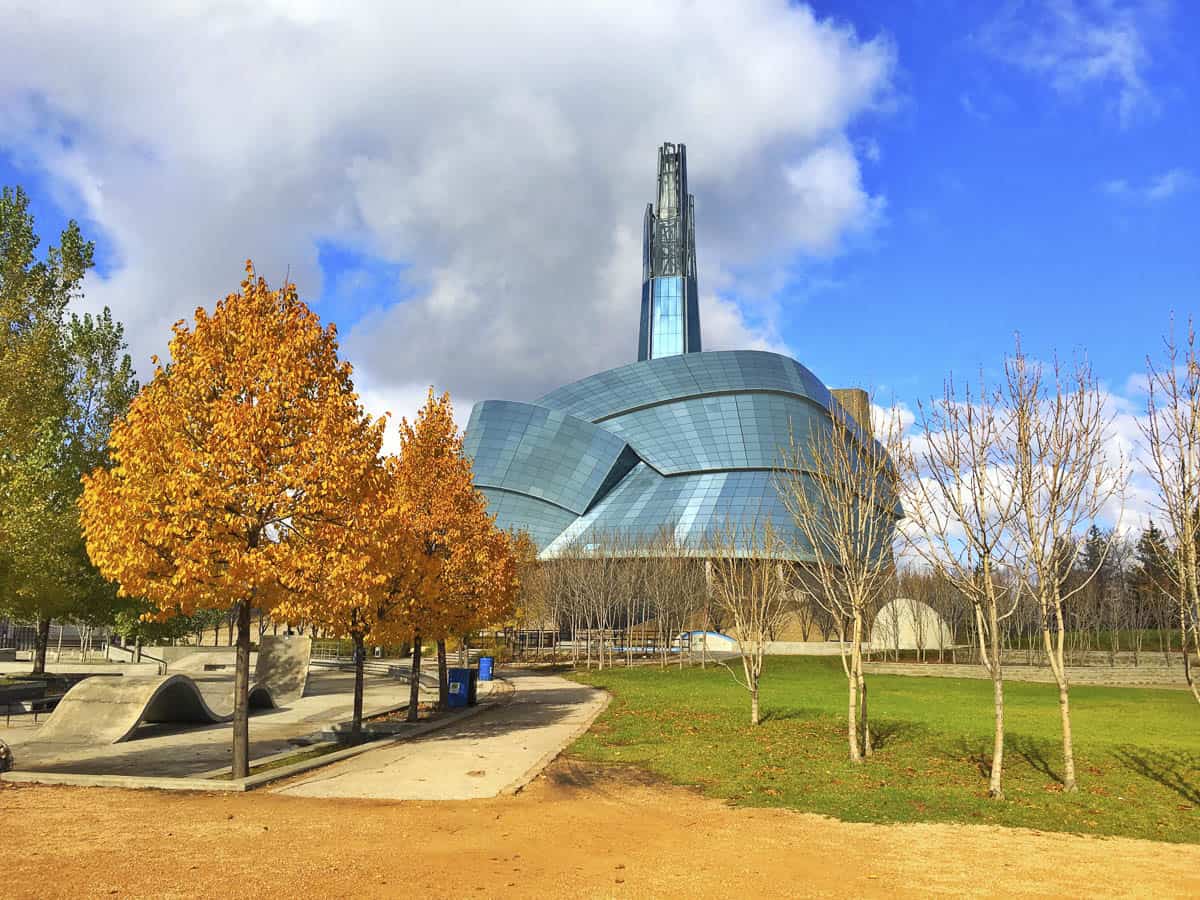 Controversy surrounding the CMHR
We didn't feel we could write a guide to the Canadian Museum for Human Rights without including that there has been some controversy surrounding the museum. The museum has been criticized for its approach to Indigenous history and has also had employees come forward with stories of discrimination. For more on the controversies surrounding the CMHR, you can click here.
Looking for more to do in Winnipeg? Here are some suggestions: