Disclaimer: This page may contain affiliate links. Please review our full Terms and Conditions for more information and our Privacy Policy. Note that any pricing, operating hours, or other such information provided below may have changed since initial publication.
Compiled by the Road Trip Manitoba team
Last updated on September 12, 2023
Ask the average person about their favourite cuisine, and you're guaranteed to hear "Italian" over and over again! Here at Road Trip Manitoba, Italian food is one of our favourites, too. Thankfully, we have a ton of Italian restaurants in Winnipeg to choose from. If you're looking for authentic Italian food, you're never too far from an Italian restaurant in Winnipeg where you can find your perfect pasta, pizza, and everything in between.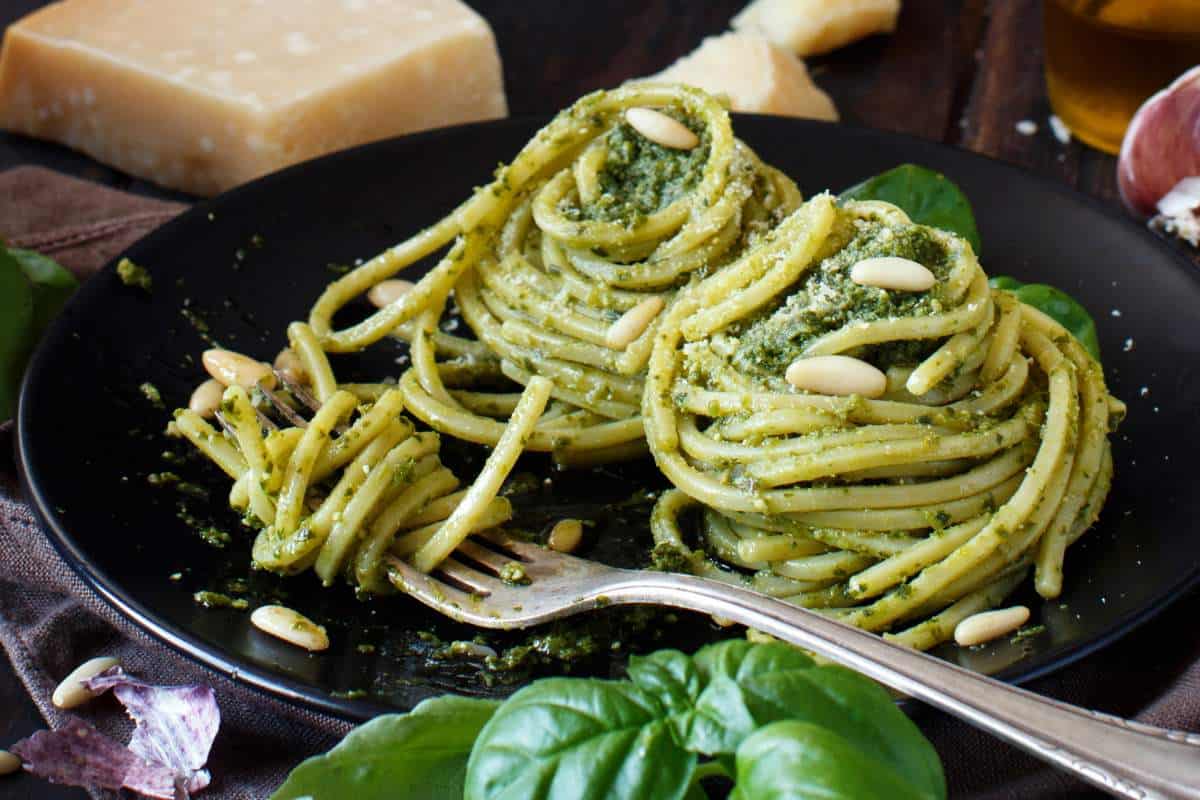 And heads up – we didn't include any chain restaurants in our recommendations, so don't expect to see the Old Spaghetti Factory or Olive Garden on the list! Are you looking specifically for pizza? Check out our article on the best pizza in Winnipeg, too.
One last note: We didn't include some of the Italian markets on this list, even though they are very popular for picking up Italian food and ingredients. For ready-made Italian food to bring home, check out Piazza de Nardi, Calabria Market and Wine, and De Luca's in Winnipeg.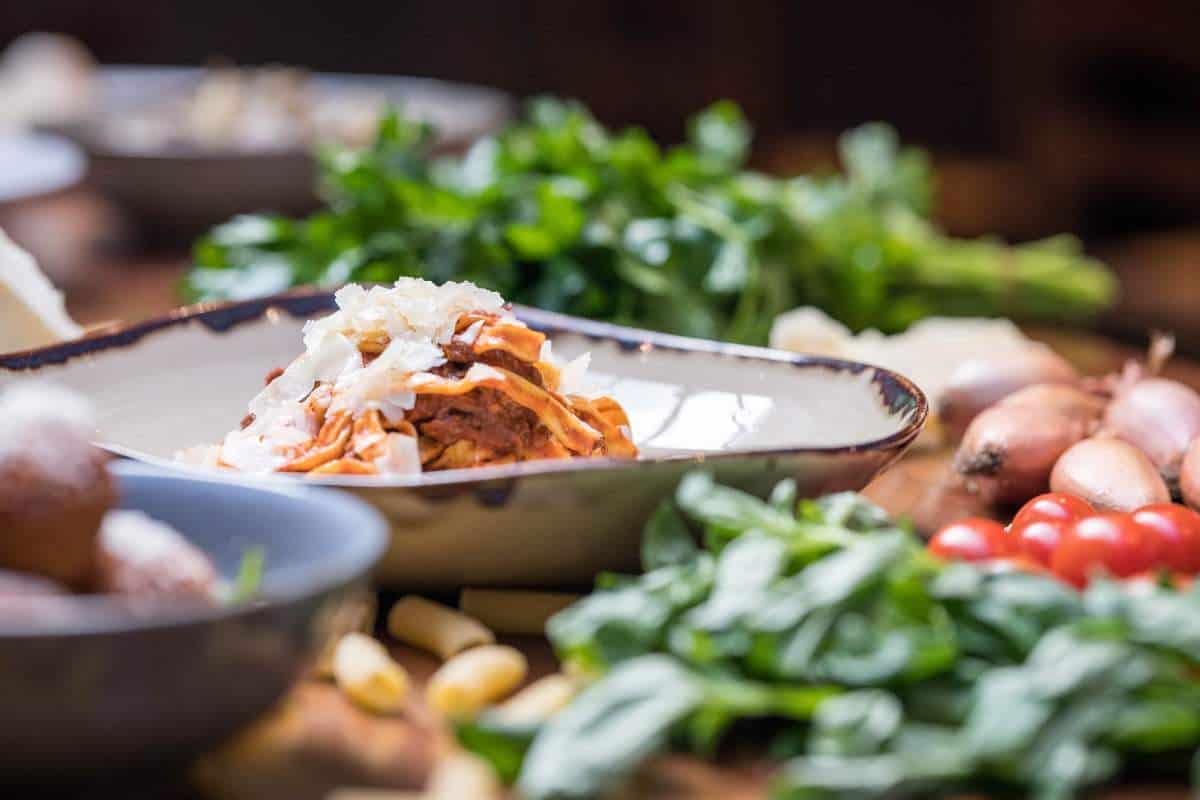 Without further ado, here are the best restaurants for Italian food in Winnipeg.
Land Acknowledgements
Winnipeg is located on Treaty No. 1 the original lands and waters of Anishinaabe, Ininiwak, Anishininiwak, Dakota, and Dene peoples, and on the homeland of the Métis Nation.
The Best Italian Restaurants in Winnipeg
Bellissimo Restaurant and Lounge
Location: 877 Waverley St
One of the most popular Italian restaurants in Winnipeg, Bellissimo Restaurant and Lounge, is a lovely spot for a delicious meal. With a warm and welcoming atmosphere as well as outdoor seating, Bellissimo is also known for their incredibly authentic Italian food; as a small owner/operated establishment, you instantly get the sense of "family" when you walk in the door.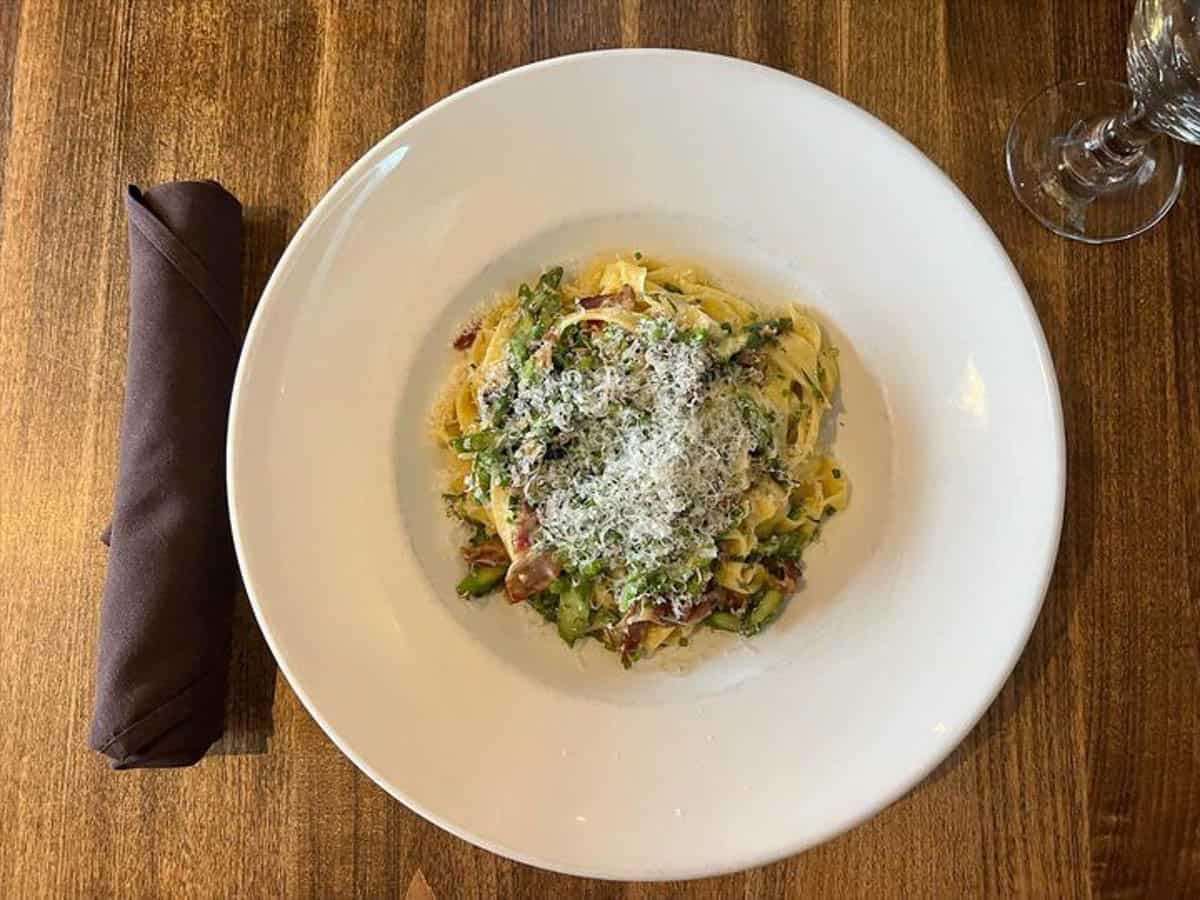 On the menu, select items from the antipasto, insalata, pasta, pizza, and entrees; the "Fatto In Casa" is especially divine, as it is all made from scratch in-house. We love the Agnello, which is a slow-roasted lamb shank on top of handmade gnocchi with a wild mushroom and lamb au jus, as well as the Agnolotti, which is a pasta with butternut squash and mascarpone, brown butter sage, toasted walnuts, and aged balsamic. But really, every dish on the menu is worthy of a try, as it's just that good.
Mona Lisa Ristorante Italiano
Location: 1697 Corydon Ave
Found on Corydon Avenue (although west of Corydon's Little Italy), Mona Lisa Ristorante Italiano is yet another one of Winnipeg's best Italian restaurants. With one of the best patios in summer, the restaurant is home to tons of authentic Italian dishes and wines. It's also family-owned and operated, which is the kind of place we're always happy to support!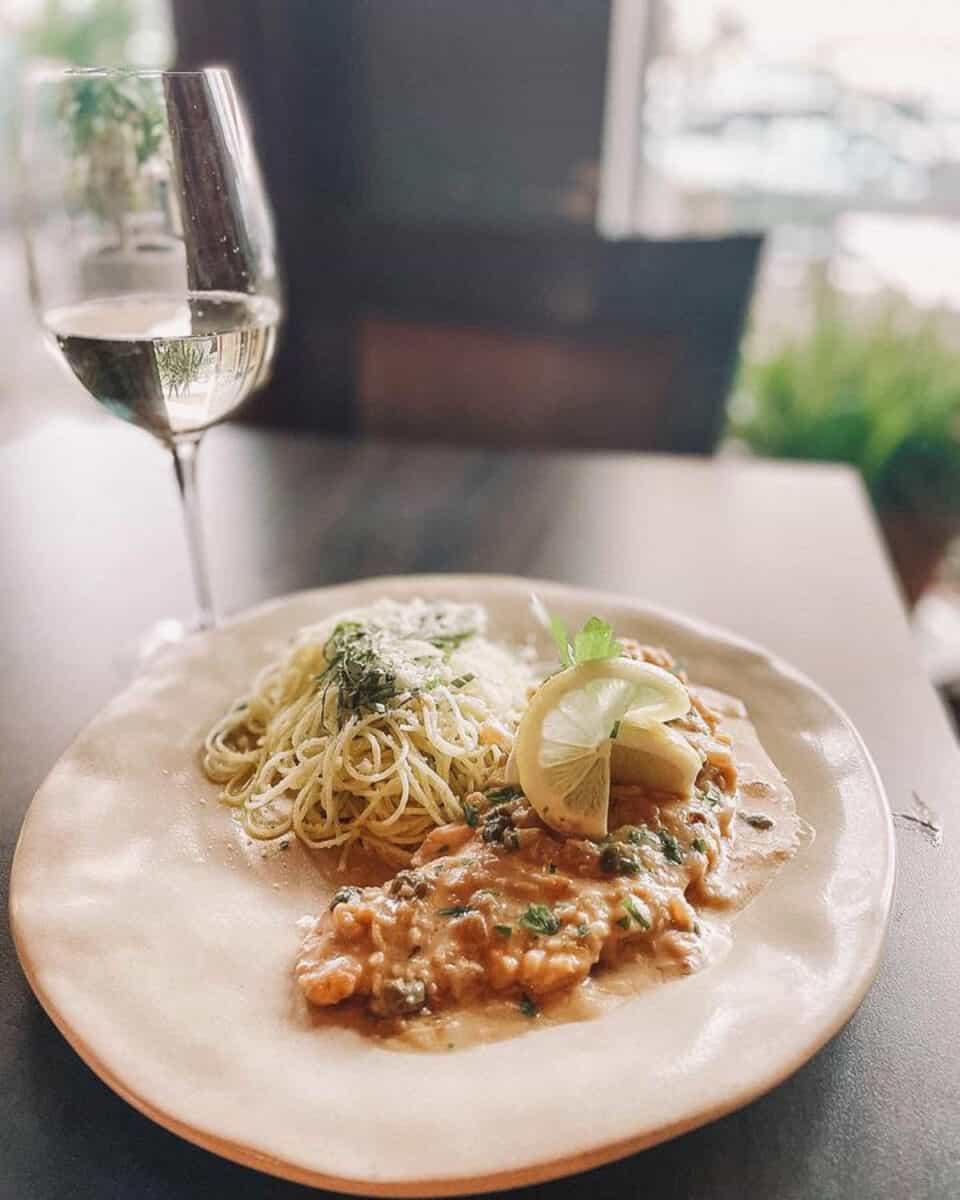 Try the Gamberi on the antipasto menu, as these giant tiger prawns are some of the best in the city, and we love building our own pizza using their top-quality Italian ingredients. Other standouts at Mona Lisa Ristorante Italiano include the Salsiccia Calabrese (which is in-house made Calabrese sausage sauteed with bell peppers, potatoes, and onions), the Pescatore pasta (fresh Manila clams, Atlantic mussels, calamari, shrimp, scallops, and fresh linguine in your choice of plum tomato or white wine cream sauce), the Vitello Capriola (tender veal scallopini served with a goat cheese reduction sauce, seasonal grilled vegetables, and portabello mushrooms accompanied by homemade linguini), and, of course, the Affogato, which is a scoop of gelato with a shot of espresso poured on top.
Colosseo Ristorante Italiano
Location: 670 Corydon Ave
Head to Little Italy in Corydon Village to experience Colosseo Ristorante Italiano, one of the most well-known Italian restaurants in Winnipeg (and one of its best, too!). With a huge patio in summer and a warm, cozy vibe indoors that will make even the coldest winter seem not so bad, Colosseo serves beautifully authentic Italian food that feels like it's prepared with a lot of love.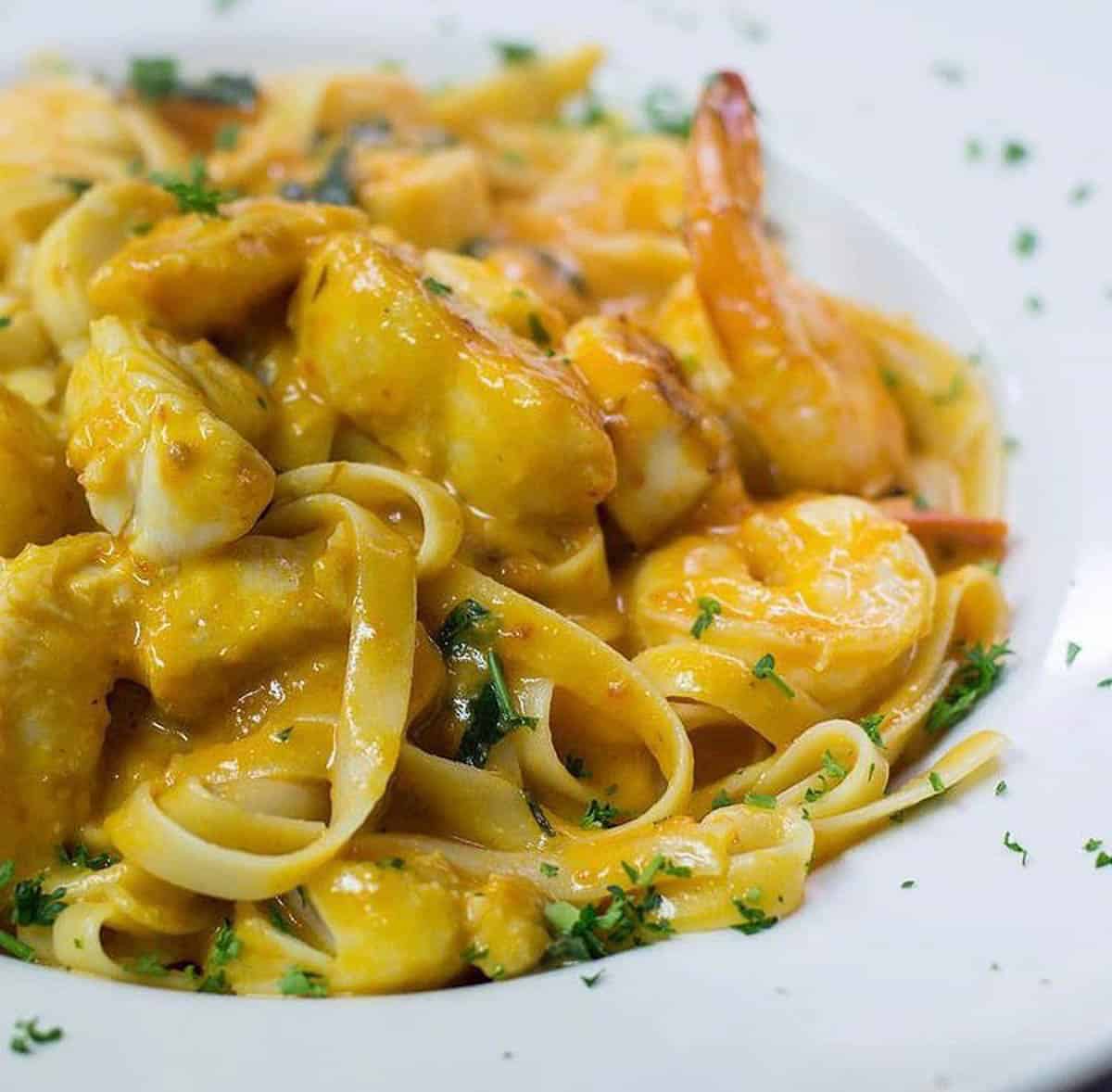 With perfectly cooked pasta and a huge range of dishes to choose from, there are too many favourites of ours to recommend; however, we almost always go for the Gamberi Della Casa (a shrimp starter with herbed butter sauce), the Cozze Pepate (spicy mussels), the Gnocchi Alla Sorrentina (gnocchi in a rose sauce which is then baked with mozzarella and Parmigiano cheese), and the lasagne, which as they say, is "just as mamma makes." No matter which meal you choose, it's sure to be memorable at Colosseo.
Harth Mozza & Wine Bar
Location: 980 St Anne's Rd #1
When you dine at Harth Mozza and Wine Bar, you'll feel as though you're stepping back in time to Old World Italy. With a gorgeous dining room draped in warm colours and rustic decor, you can choose from sitting at the bar top, larger tables, or cozy booths. Using simple, time-honoured Italian recipes, the restaurant uses as many local ingredients as possible.
The pasta is all housemade, the pizzas are wood-fired, and the wine list is meticulously curated; choose from amazing antipasti, pasta, entrees, pizzas, and more, all of which are prepared with the utmost authenticity and care. Some of our favourites at Harth Mozza and Wine Bar include the Burrata, Tomato, and Peach Panzanella, the Tagliatelle (with duck confit, wild mushrooms, brown butter, and mascarpone), and the Salsiccia pizza (with sausage, roasted peppers, provolone, and basil).
Pizzeria Gusto
Location: 404 Academy Rd
We've featured Pizzeria Gusto a lot on Road Trip Manitoba, and for a good reason: it never disappoints. When you're looking for a special night out, the River Heights restaurant is always a good choice; we've even included it on our list of the best restaurants in Winnipeg. From the cozy atmosphere to the roaring pizza oven to the excellent cocktails, the menu changes frequently enough that there's always something new to try.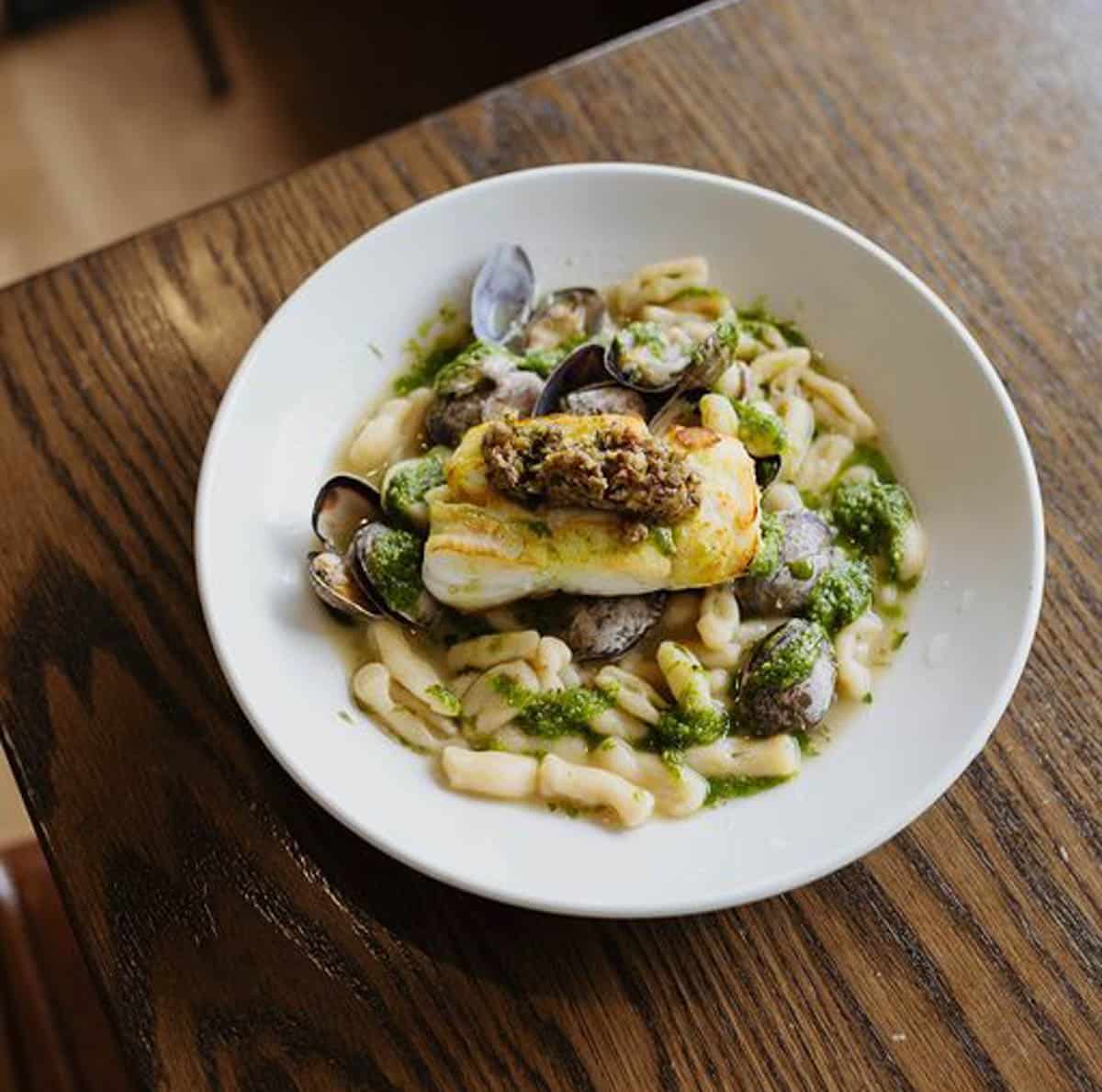 Open for lunch and dinner, some of the standouts include the meatballs, the risotto, and the Ryall or the Don pizzas (although we change our mind just about every week on which is the best pizza on the menu). Also, check out the photographs around the restaurant, which are of the owner's relatives in Italy.
We recommend making a reservation for Pizzeria Gusto, and in summer, try to sit on the patio if possible.
Gusto North
Location: True North Square, 242 Hargrave Street
We can't mention Pizzeria Gusto and not mention its secondary restaurant, Gusto North. Located within Hargrave Street Market, this downtown Winnipeg Italian restaurant has just as dynamic and exciting a menu as Pizzeria Gusto. The atmosphere is fantastic, especially if you're lucky enough to snag a seat on the large patio at sunset in the summertime.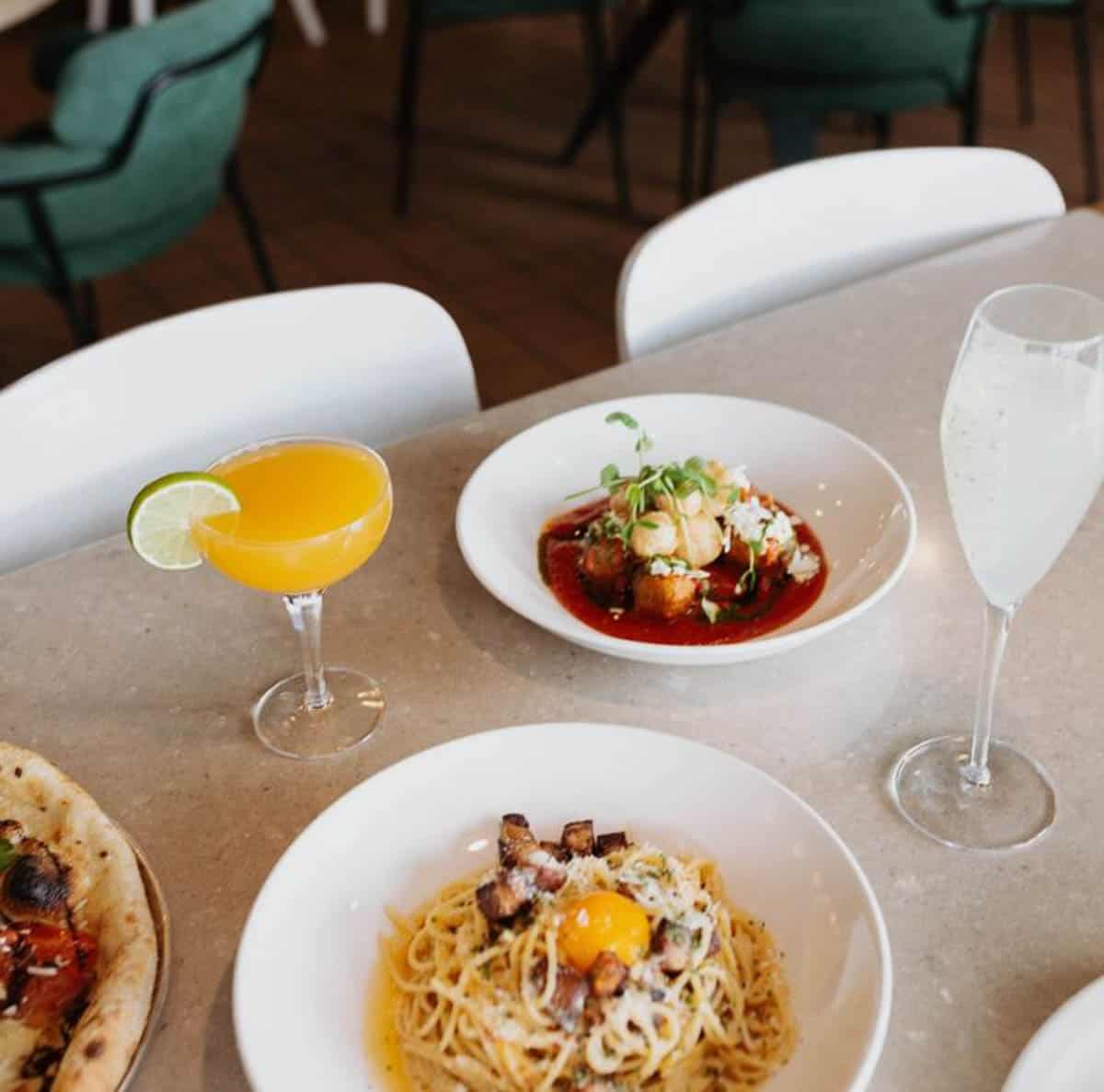 Choose from a range of dishes from their menu of salads, paninis, pasta, pizza, and so much more. With authentic Italian food of the highest quality, we love that you can also spend some time wandering around the market before or after your meal.
Cafe Carlo
Location: 243 Lilac St
One of Winnipeg's best Italian restaurants and one of its most respected, Cafe Carlo has been a staple of Corydon Village for decades. This friendly, welcoming restaurant is the perfect place for both a laidback meal or a fun celebration, and as it's in the heart of Winnipeg's Little Italy, you know the Italian food is going to be top-notch.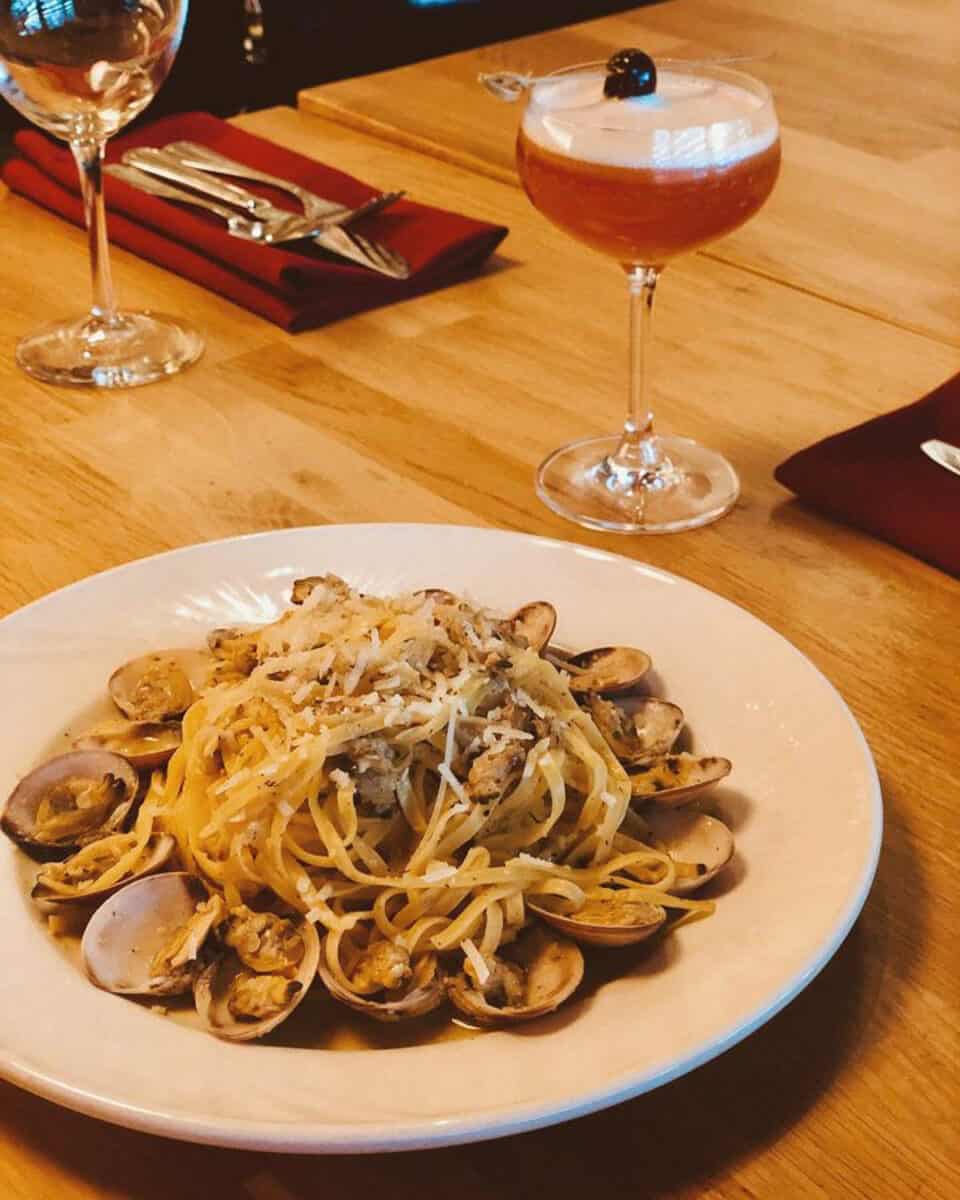 Open for dinner seven days a week and lunch on Fridays, there's an excellent menu to choose from, all of it with a little twist on Italian food; most famous is perhaps the Fett Chile pasta, which is fettuccine with chicken, chorizo, cashews, and roasted red peppers in chile cream sauce. Other standouts on the menu include the Seafood Cannelloni (filled with crab, prawn, and ricotta in lobster and bay scallop rosé), the Ravioli (filled with butternut squash and ricotta in mushroom-hazelnut brown butter), and the Pappardelle (with chicken, broccoli, almonds, apple, and raisins in a mild curry cream sauce). One of our favourite spots in Winnipeg to eat, the food at Cafe Carlo is always inventive and fun.
Bonfire Bistro
Location: 1433 Corydon Ave
Bonfire Bistro is consistently ranked as one of the best restaurants in the city, so it's no wonder we had to list it as one of our favourite Italian restaurants in Winnipeg, too! This cozy little spot on Corydon Avenue promises to "ignite your passion for food," and we love their fresh ingredients, tried-and-true recipes, and the ability to serve up the exact comfort food we're craving. The salads are excellent, and we love the Baby Kale and Mixed Greens salad with roasted butternut squash, granny smith apple, pickled red onion, feta, mint, toasted pumpkin seeds, honey lemon vinaigrette, and tahini drizzle.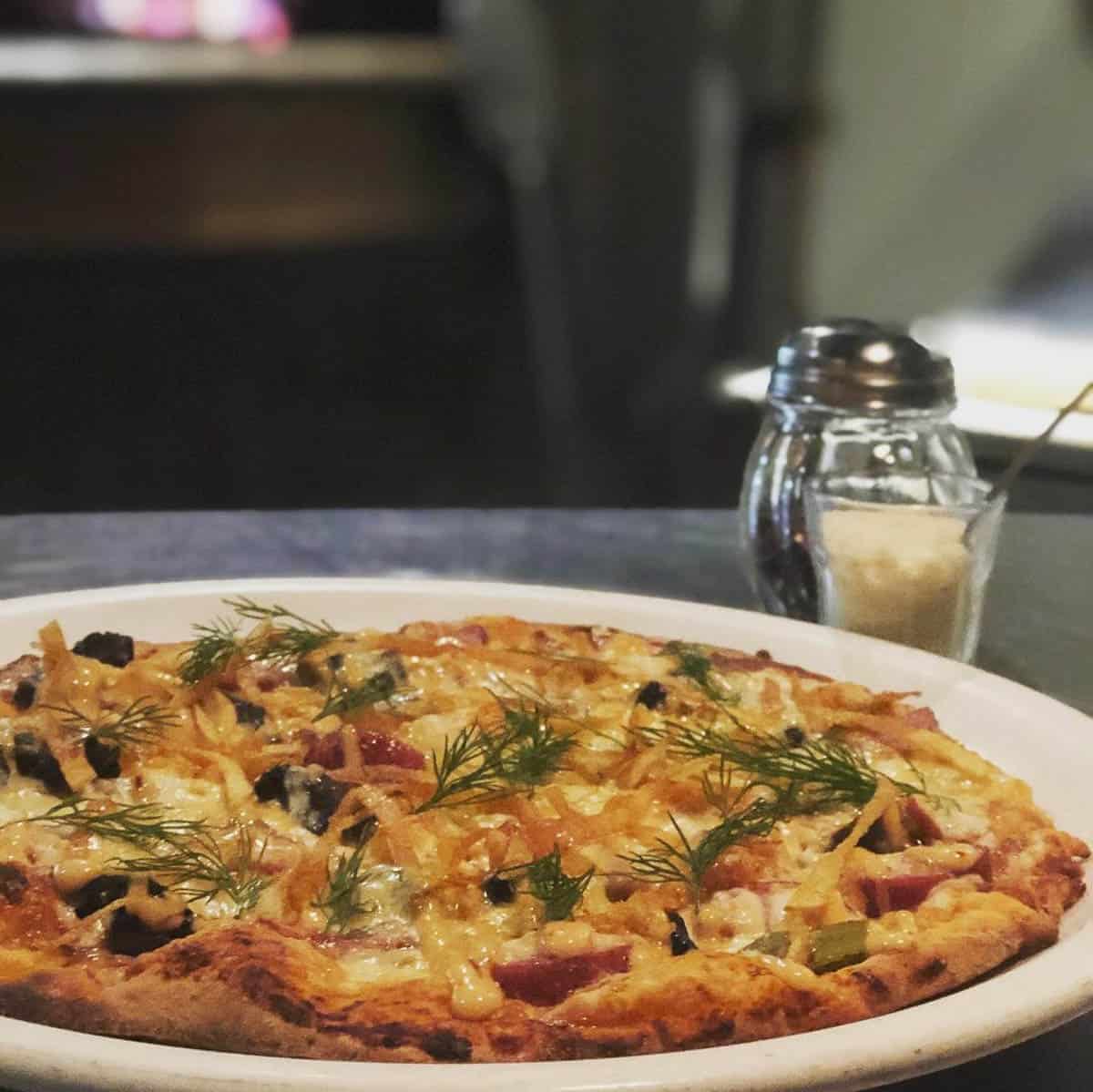 Other favourites include the Proscuitto and Pear pizza with arugula, mozzarella, blue Castello cheese, fig sauce, and balsamic glaze, as well as the Cioppino Mediterranean Soup with prawns, fish, mussels, fennel, spicy saffron tomato broth, and grilled bread. There's also a fantastic list of pasta, including the to-die-for Wood Fire Baked Mac n Cheese with chorizo sausage, tomato, red onion, spinach, zesty paprika béchamel sauce, a house-smoked cheese blend, and herbed bread crumbs.
Passero
Location: 774 Corydon Ave
With its brand-new location in the heart of Little Italy, Passero is sure to impress just as much as it did when it was a mainstay at the Forks. Mixing classic dishes with inventive flavours, Passero is a bit of a darling of the Winnipeg culinary scene; it helps that the restaurant itself is so stylish and atmospheric, making it a perfect choice for a night out on the town. On the menu, you'll find starters such as arancini, warm olives, and toasted sourdough bread, while one of their most popular salads is made with local tomatoes and cucumbers, avocado, grapefruit, and mascarpone.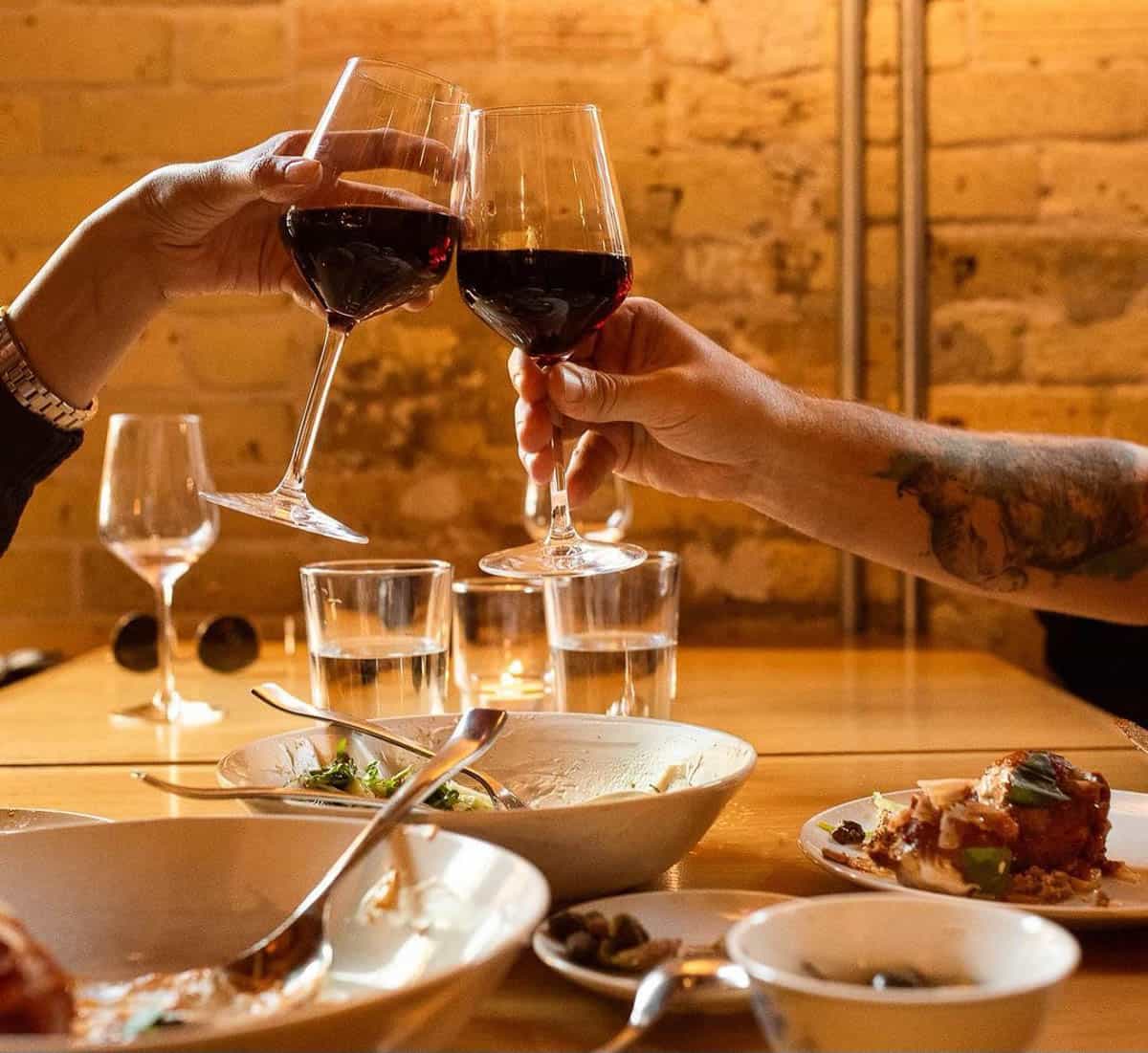 As for the mains, we love the Spaghetti Carbonara made with pancetta, garbanzo cream, egg yolk, and parmesan, while the Calamari Fritti with arrabbiata, roasted garlic aioli, and charred lemon is another winner. Make sure to save room for "dolce," as the Dark Chocolate Tart and the Lemon Mascarpone Cheesecake are superb.
Santa Ana Pizzeria
Location: 1631 St Mary's Rd Unit F
Also included as one of our top pizza places in the city, Santa Ana Pizzeria is a laidback spot for wood-fired pizzas, gourmet pasta, and a host of other Mediterranean dishes. Found in St. Vital, the restaurant proves especially popular for dinner on weekends. There's a great list of starters, salads, and mains, and the choice of pizzas is incredible.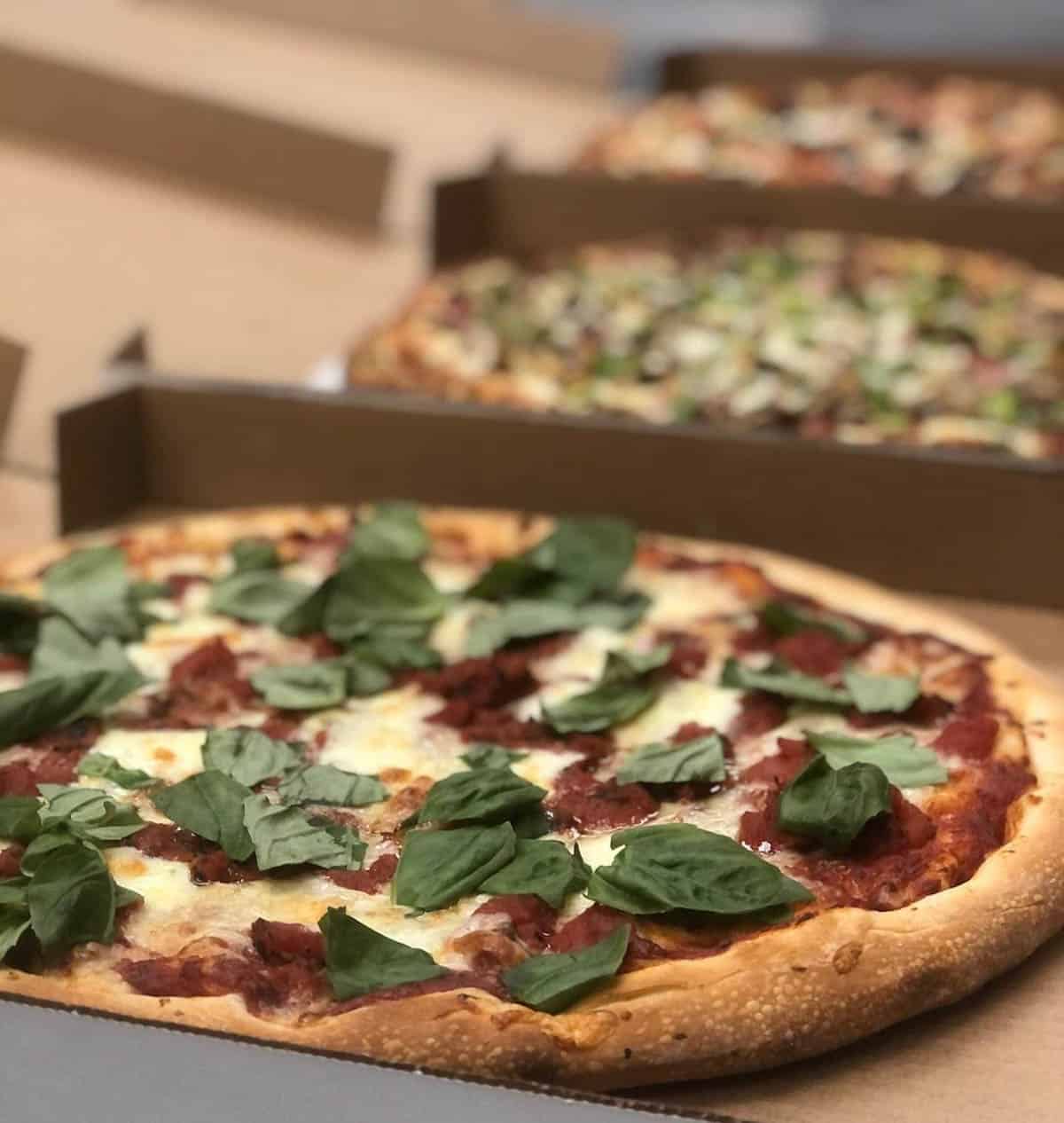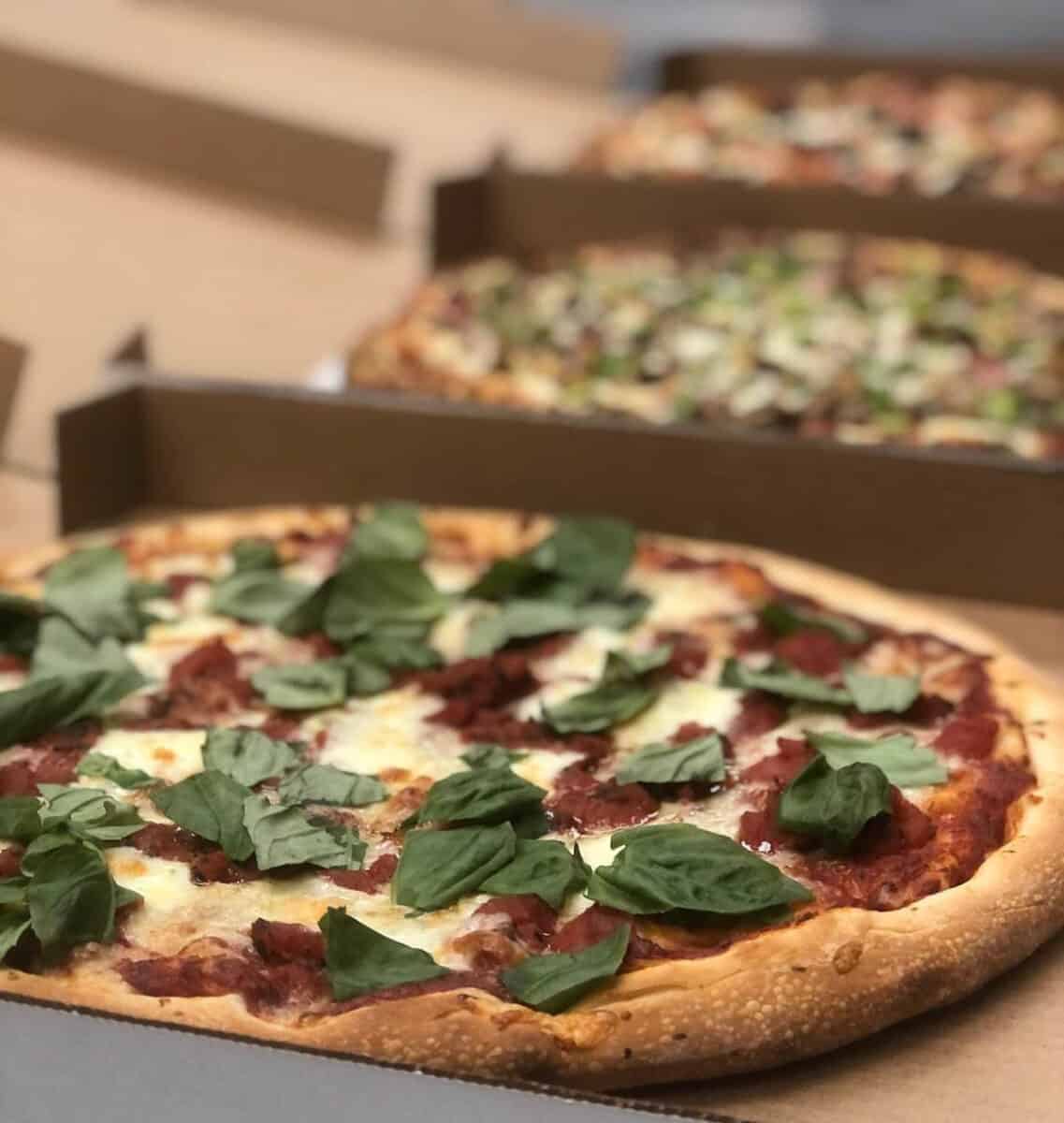 We always order the Crispy Artichoke Hearts (primed with extra virgin olive oil, flour, romano, roasted red peppers, and fresh parsley) as well as the Neapolitan Sausage (wood-fired sausage with homemade marinara sauce and asiago cheese) to start, while the Tuscan Ravioli and Mediterranean Linguine are both fantastic. As for the pizza, we're big fans of the classic Santa Ana, which is topped with prosciutto di parma, cauliflower, asparagus, and asiago. And with gluten-free and vegan choices available for their pizzas, it's also a good spot for groups with varying dietary needs.
Tre Visi Cafe
Location: 926 Grosvenor Ave
Touting themselves as "a taste of Italy in Winnipeg," Tre Visi Cafe is known for its friendly staff, generous portions, and extremely authentic Italian flavours. Even better? You can choose half orders of many dishes, meaning you can try a variety of meals every time you visit! We love Tre Visi Cafe's food because it makes even the most simple ingredients sing; there's no need for lots of bells and whistles when the recipe speaks for itself.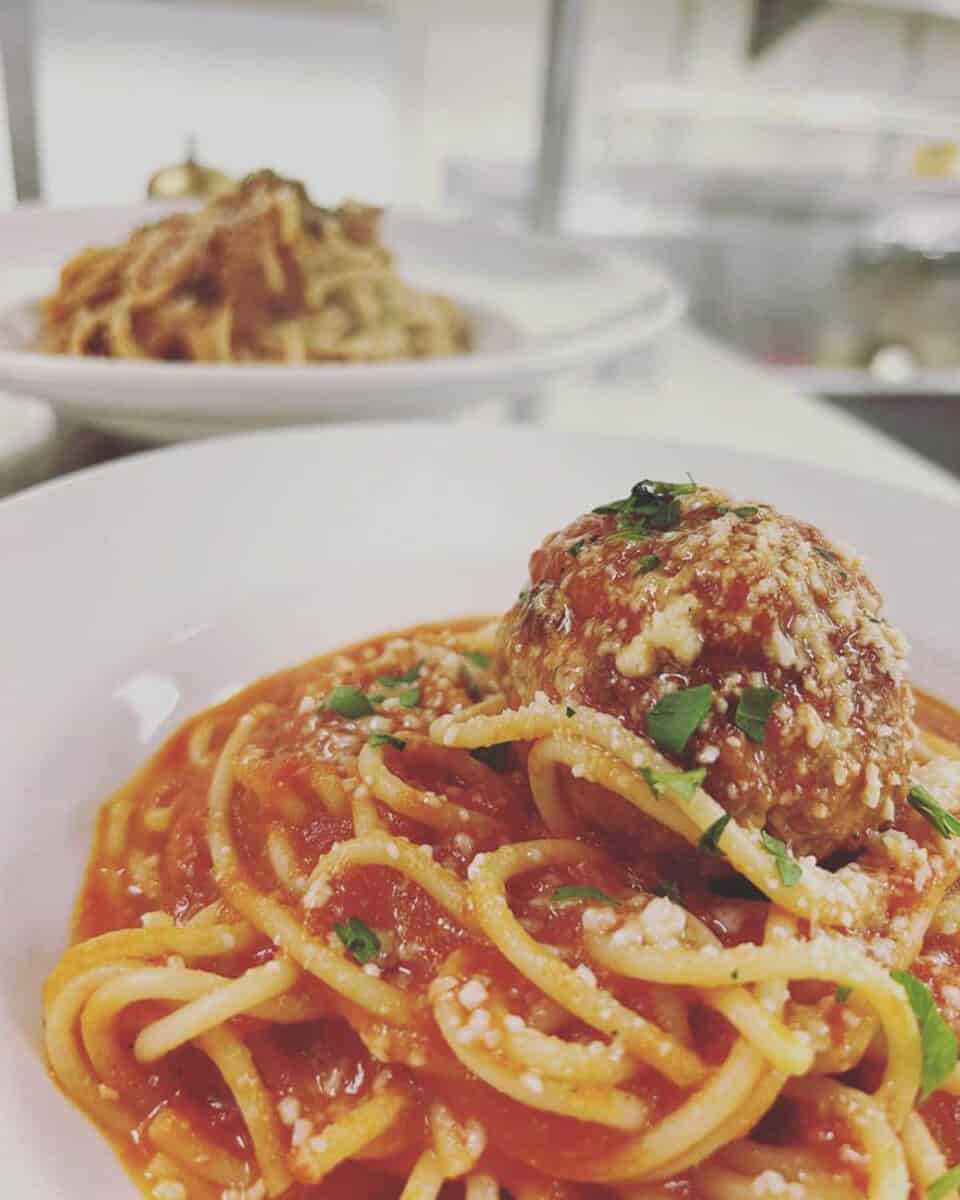 Try the Farfalle Tre Visi (with spicy crumbled sausage, red pepper, and tomato), the Stinco Di Agnello (a red wine braised lamb shank with risotto Milanese), the Polpette (beef, veal and pork meatballs in a tomato sauce), and the Ortolana pizza (with zucchini, asparagus, peppers, goat cheese, and pesto). You must also try some of their homemade bread, including focaccia and ciabatta, but everything you order from Tre Visi Cafe is sure to delight.
Nicolino's
Location: 2077 Pembina Hwy
With wonderful online reviews as well as many dedicated regulars, Nicolino's is a highly-regarded Italian restaurant in Winnipeg. With over 30 years in business, you'll find many traditions and recipes from the owners' hometown of Muro Lucano, Italy; all of this shines through in the food, as you can tell every dish is prepared with love. As they say at Nicolino's, "People who love to eat are always the best people,"… and we can get on board with that!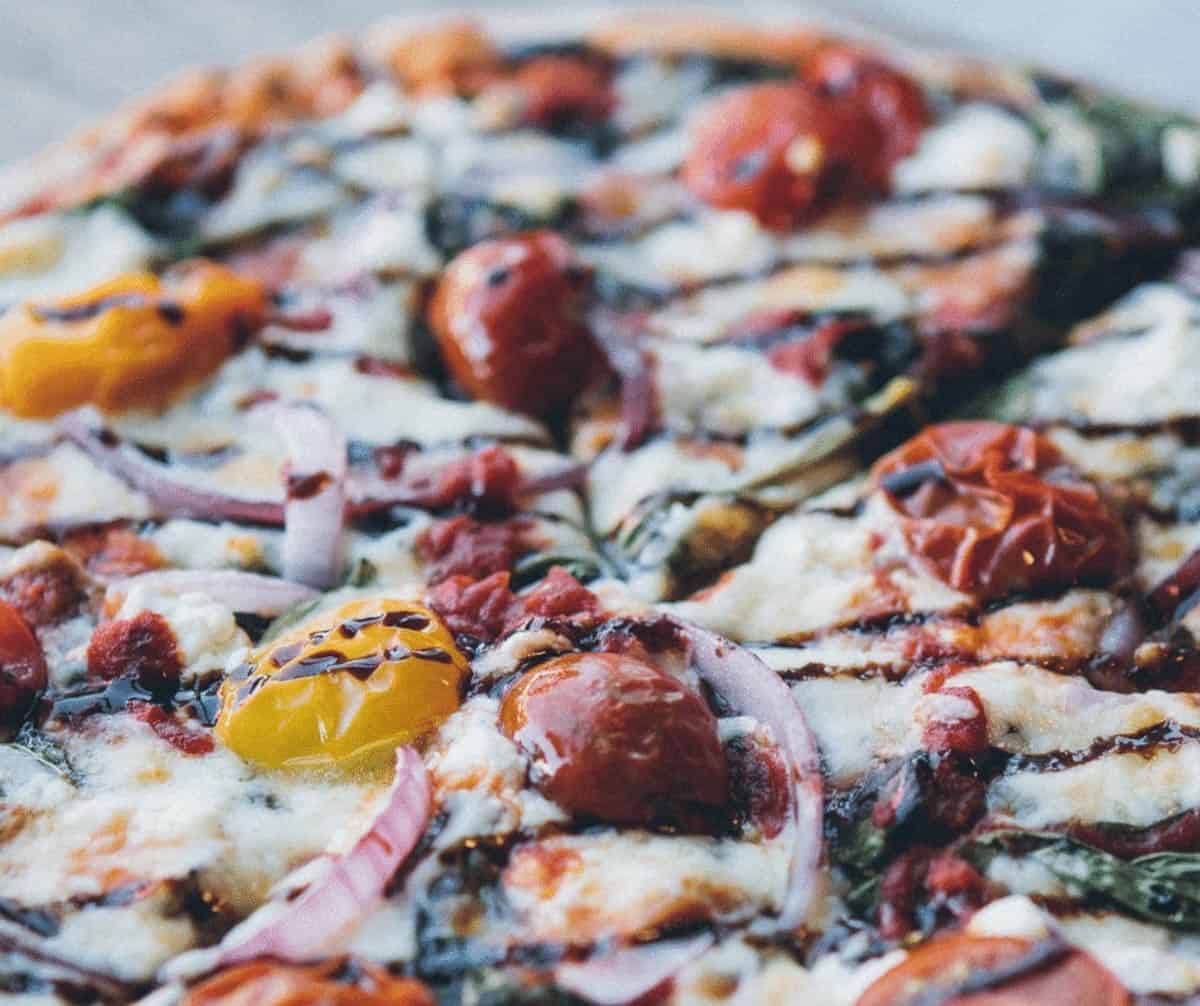 The lunch menu has many amazing salads and sandwiches on offer, including the mouthwatering Parmigiana sandwich, while the pasta, pizza, and dinner entrees are fantastic. Try the Calamari (fresh calamari perfectly cooked and served with citrus aioli), the Lorenzo Pizza (with pepperoni, mushrooms, spicy pickled eggplant, and feta), and one of their classics, the Lasagne Emiliana (with spinach pasta, bolognese ragu, pomodoro, bechamel, romano, and Parmigiano D.O.P.)
Pasquale's Italian Ristorante
Location: 109 Marion St
Head to Pasquale's Italian Ristorante for some of the most authentic Italian food in Winnipeg. Open since 1977, Pasquale's has been a staple of the city's culinary scene for decades, and it's proof that they're one of the best! In summer, make sure to enjoy their rooftop patio, while the restaurant makes for a cozy spot the rest of the year. Even better? There are lots of vegan and gluten-free options at Pasquale's, which means everyone can find something they like!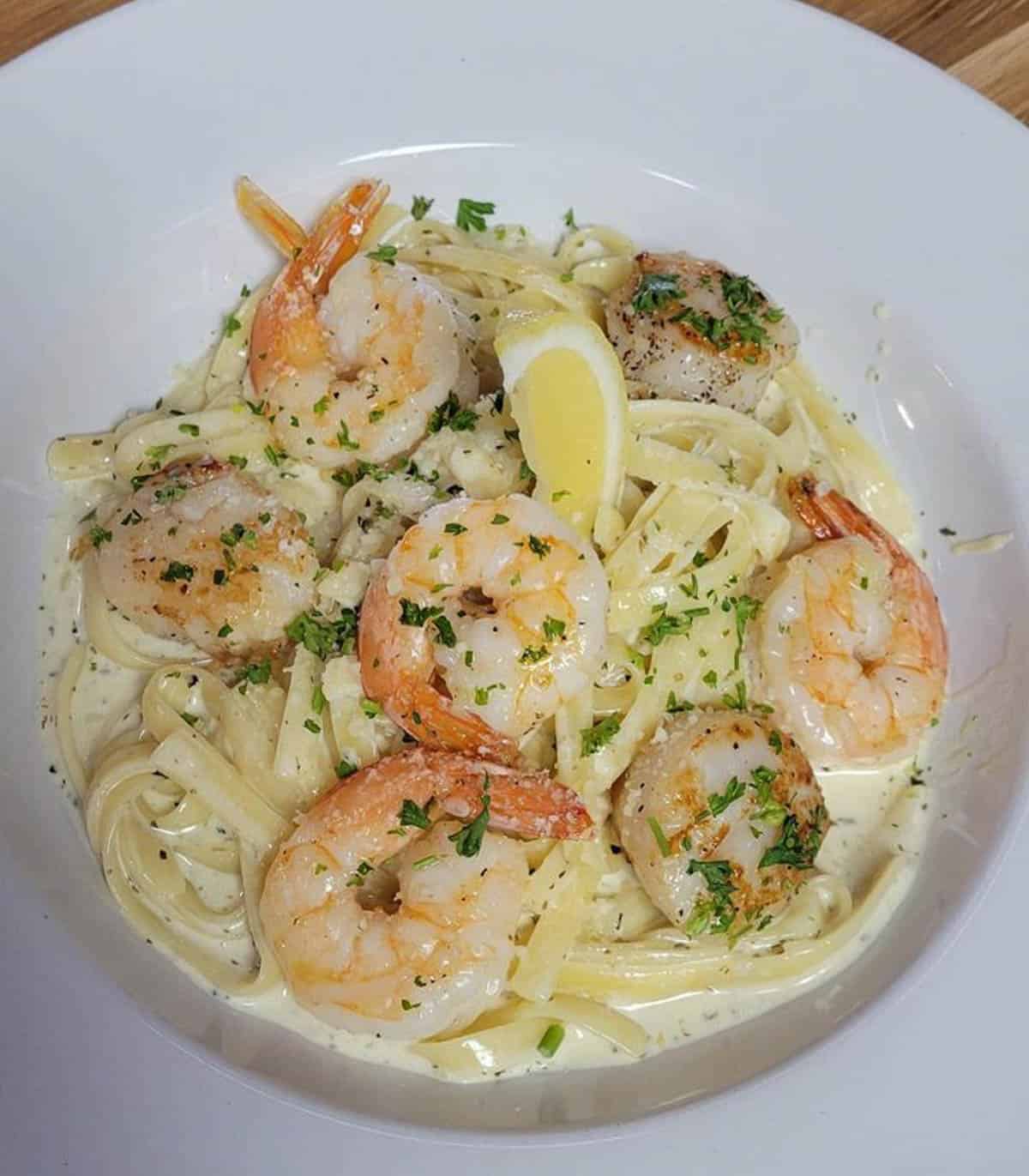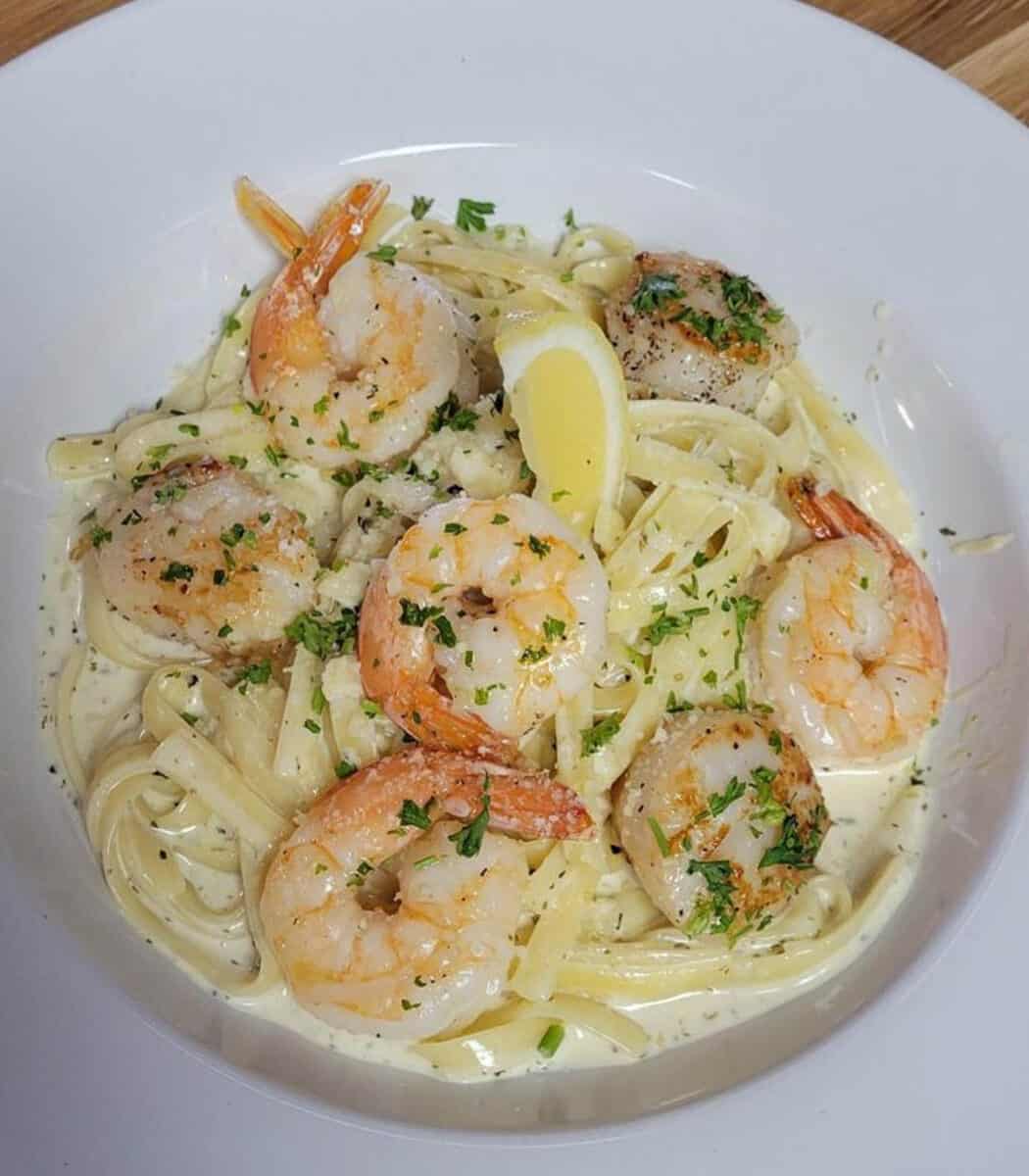 Open for lunch and dinner, some of the standouts on the menu include the Slow Roasted Italian Beef Sandwich, the Eggplant Parmigiana, the Sambuca Chili Cream Shrimp fettuccine, and the Louis Primavera pizza (with sweet peas, caramelized onion, roasted red peppers, zucchini, feta, mozzarella, and vegetable pesto). We also love the "Forgetaboutit," which is pasta-filled panzerotti with meat sauce, chopped meatballs, and mozzarella. Also, make sure to check out their Family Meal Deals for pickup and delivery when you're craving a little bit of Italian food at home.
Monticchio Ristorante Italiano
Location: 684 Osborne St
Found on South Osborne, Monticchio Ristorante Italiano is a favourite amongst those who love Italian food in Winnipeg. Wonderfully fresh and authentic, choose from soup, starters, salads, pasta, pizza, and a huge list of entrees.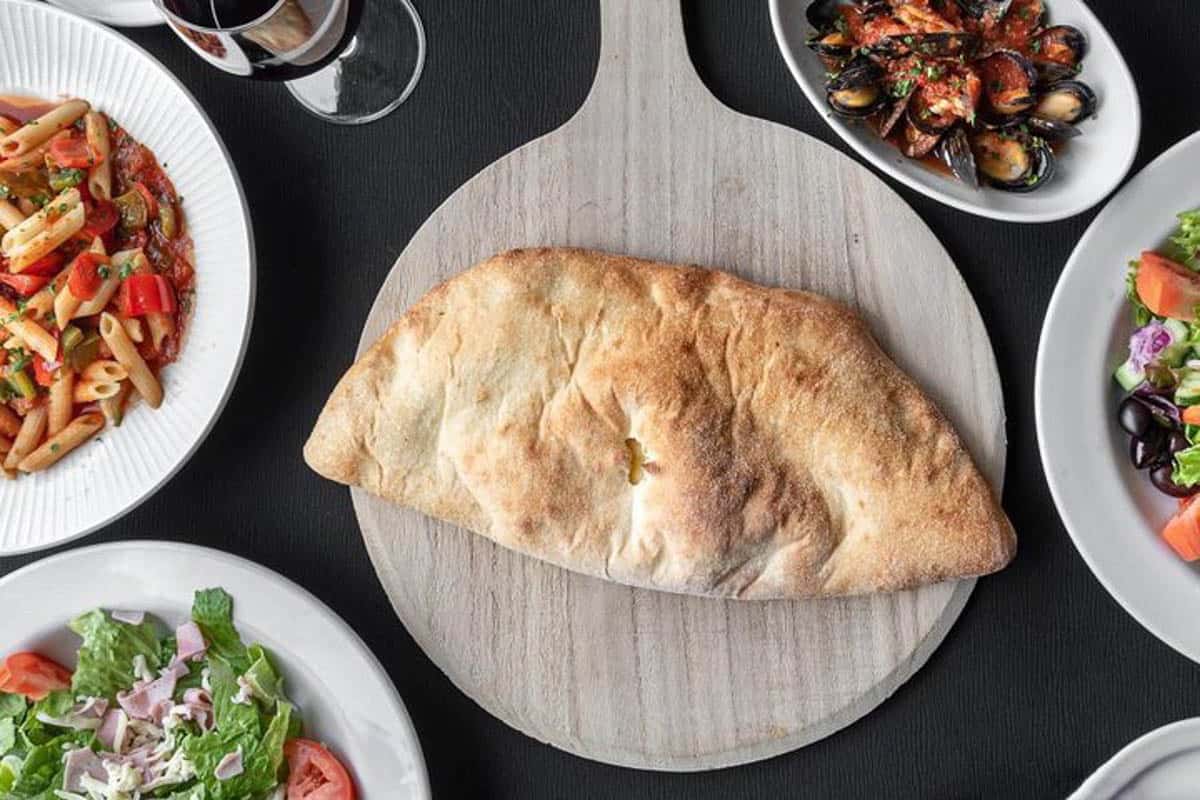 One of the best things to order at Monticchio is the Stromboli, which is a 14-inch Italian bread stuffed with cheese, sausage, ham, salami, capicollo, pepperoni, and garlic, and served with a meat sauce (trust us, this can easily feed two people!). Notable for both their portion sizes and their reasonable prices, the food at Monticchio is both filling and delicious… what else could you ask for?
Frankie's Italian Kitchen
Location: 505 Sterling Lyon Pkwy
One of the newest Italian restaurants in Winnipeg, Frankie's Italian Kitchen is a casual eatery that's known for its tasty dishes and laid-back vibe. Conveniently located at Seasons of Tuxedo, one of the best shopping malls in Winnipeg, it's also perfect for a bite after completing some errands or shopping. One of our favourite features at Frankie's Italian Kitchen is their "aperitivo hour," which offers lots of great little snacks as well as affordable wine and drinks.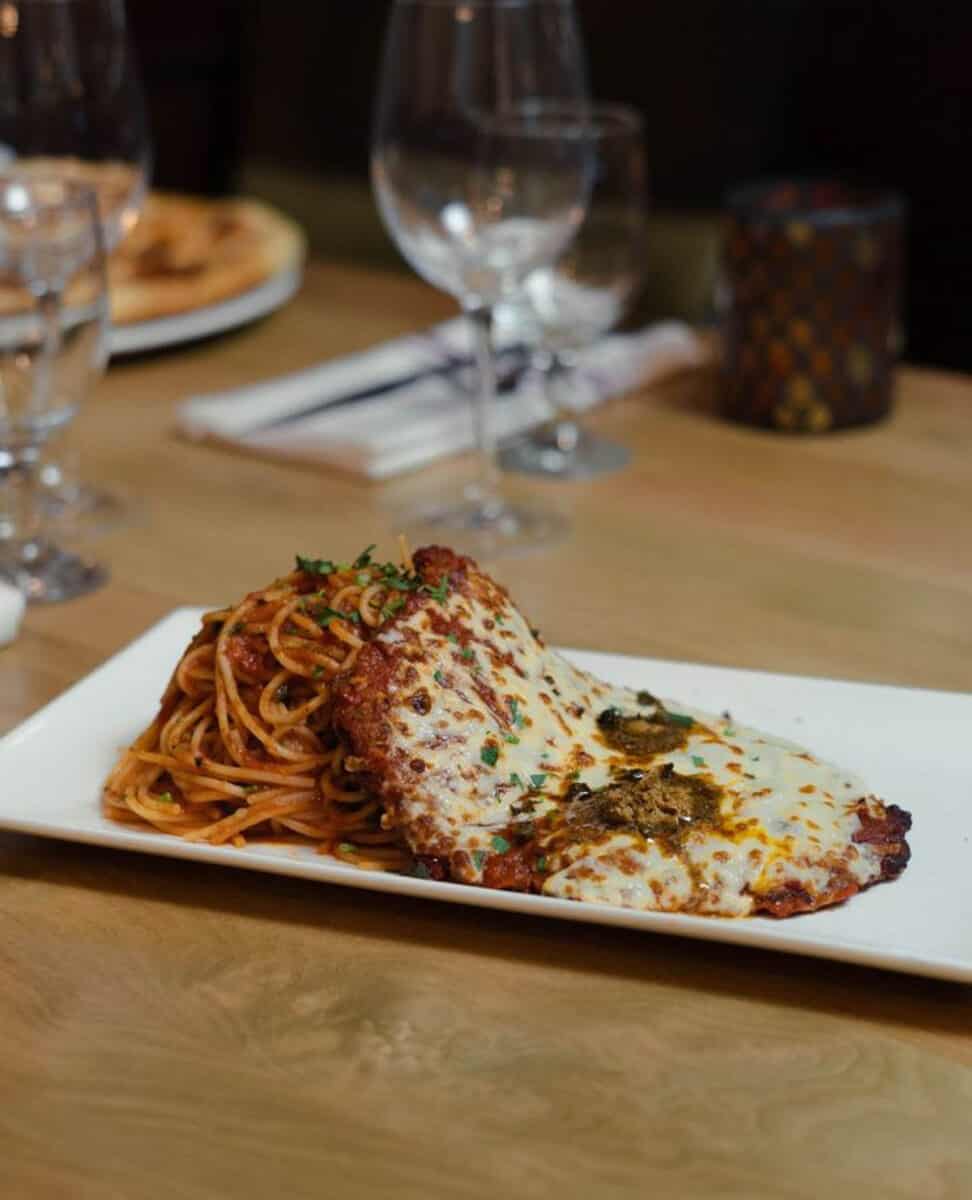 On the menu, you'll find dishes such as an Antipasto Platter, a Salmon Salad, Seafood Linguini, Shrimp Tagliatelle, Chicken Parmigiana, and the drool-worthy Old World Pepperoni Pizza. With homemade pasta and pizza dough, it's a great choice when it comes to Italian restaurants in Winnipeg.