Disclaimer: This page may contain affiliate links. Please review our full Terms and Conditions for more information and our Privacy Policy. Note that any pricing, operating hours, or other such information provided below may have changed since initial publication.
Compiled by the Road Trip Manitoba team
Last updated on December 3, 2022
When you live in a city known for its winter – hello, Winter-peg – you take advantage of it by participating in as many winter sports as possible! One of the best of said activities? Ice skating, of course! Thankfully, there are many amazing spots for outdoor ice skating in Winnipeg, whether you're after a river trail, rink, or frozen duck pond. Is there anything better than skating in the fresh winter air, the soft snow coming down all around you, and following it up with a hot chocolate?! We've rounded up the best places to ice skate in Winnipeg below.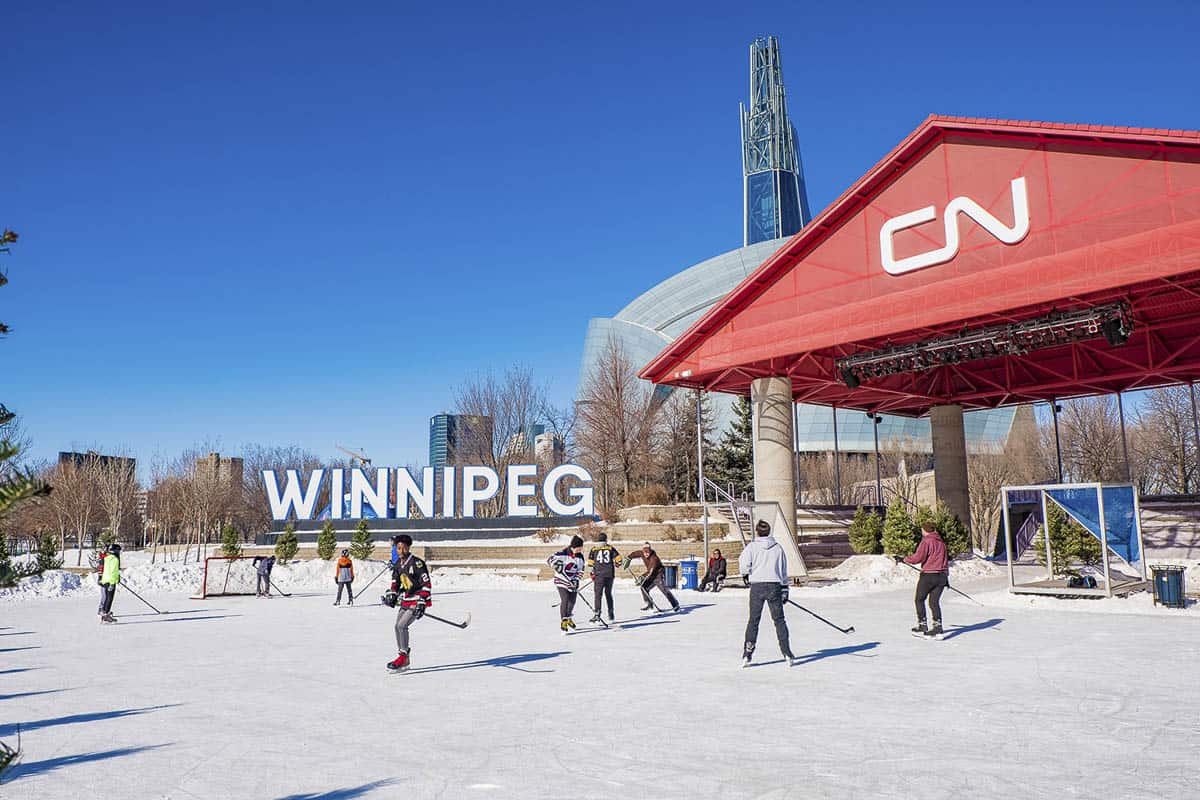 Land Acknowledgements
Winnipeg is located on Treaty No. 1 the original lands and waters of Anishinaabe, Ininiwak, Anishininiwak, Dakota, and Dene peoples, and on the homeland of the Métis Nation.
The Best Places to Go Ice Skating in Winnipeg
Keep in mind that the opening and closing of each of these spots depends on the weather. For example, the river trails usually don't open until mid-December or January, after a long enough period for the ice to freeze. Never skate on any body of water unless it has been deemed safe to do so.
Don't have your own skates? You can rent some from Iceland Skate Rentals at the Forks.
Nestaweya River Trail
Location: On both the Red and the Assiniboine Rivers
The Nestaweya River Trail, presented by the Winnipeg Foundation, is by far one of the coolest things to do in Winnipeg in winter (no pun intended). This beautiful trail, stretching down parts of both the Assiniboine and the Red Rivers in Winnipeg, is perfect for skating, walking, cross-country skiing, snowshoeing, and even winter biking. In past years, the trail has connected the Forks to Hugo dock on the Assiniboine River and to Churchill Drive along the Red River. The trail's length is all dependent on conditions but in some years, it has been longer than 10 km. Skaters should always use the designated access points along the trail, as other areas may not be safe (and keep up with the trail's conditions here).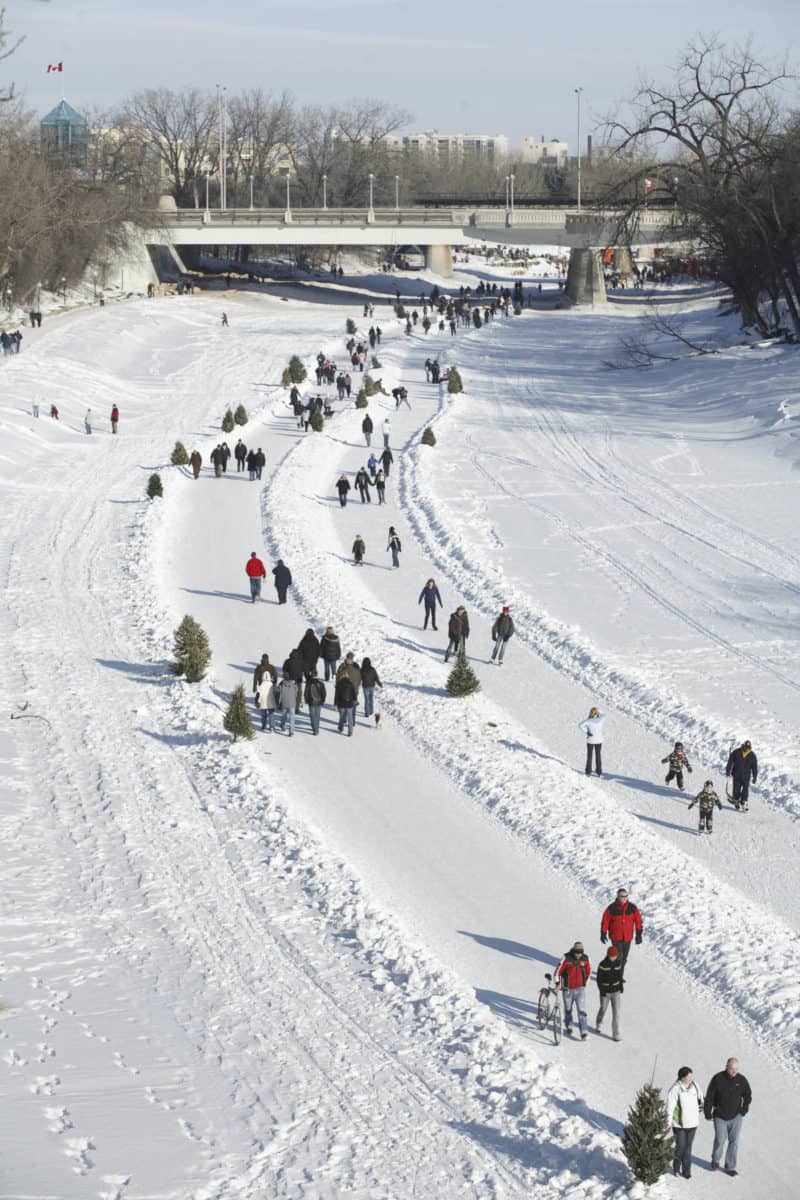 Take advantage of the warming huts, the amazing views (you'll skate by the Manitoba Legislative Building, for example… make sure to wave hello to the Golden Boy!), and the many points of interest along the way. Usually reaching around six kilometres in total, there's plenty to keep you occupied for the better half of a day, especially if you include a visit to the Forks. And so you know: nestaweya translates to "three points" in Cree, and it was the name used for the site of the Forks and the broader area now known as the city of Winnipeg.
St. Vital Park Duck Pond
Location: 190 River Rd
One of the best places to skate in Winnipeg, the St. Vital Park Duck Pond is much beloved in the city. While you'll be skating in a loop or a figure eight, the surrounding trees and peaceful atmosphere make you feel as though you're in an enchanted forest. And St. Vital Park is home to one of our other favourite winter pastimes… tobogganing! With an awesome structure that includes a lookout point over the park and two toboggan runs, you can happily spend a few hours skating and tobogganing in St. Vital.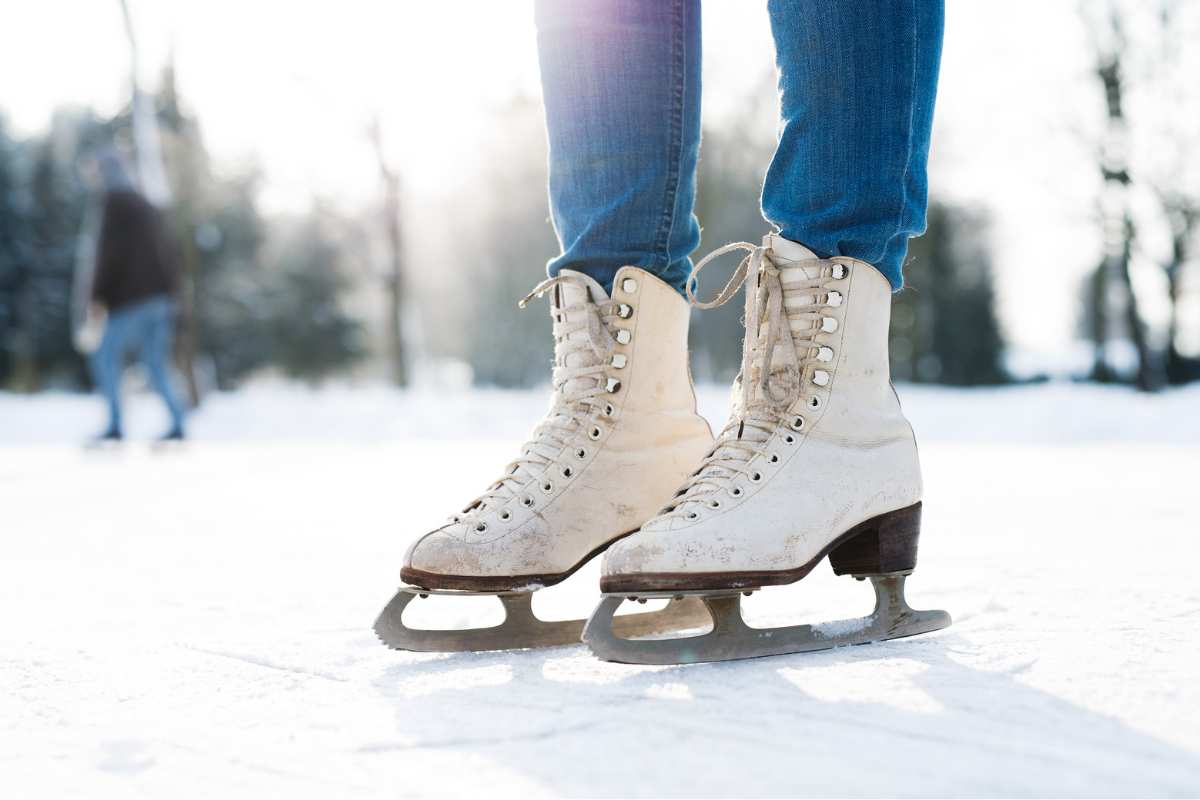 Assiniboine Park Duck Pond and River Trail
Location: 55 Pavilion Crescent
Skating in Winnipeg might actually make you enjoy winter, we promise! Assiniboine Park is a perfect example of how lovely and relaxing Winnipeg skating can be, as you're surrounded by one of the most beautiful parks in the city; nothing beats the evening view of the Pavilion as you're surrounded by twinkly lights. There's also a heated shelter, which is a nice bonus. If you're after a more serious skate, head to the Portage Avenue entrance of the park and try the skating trails on the Assiniboine River.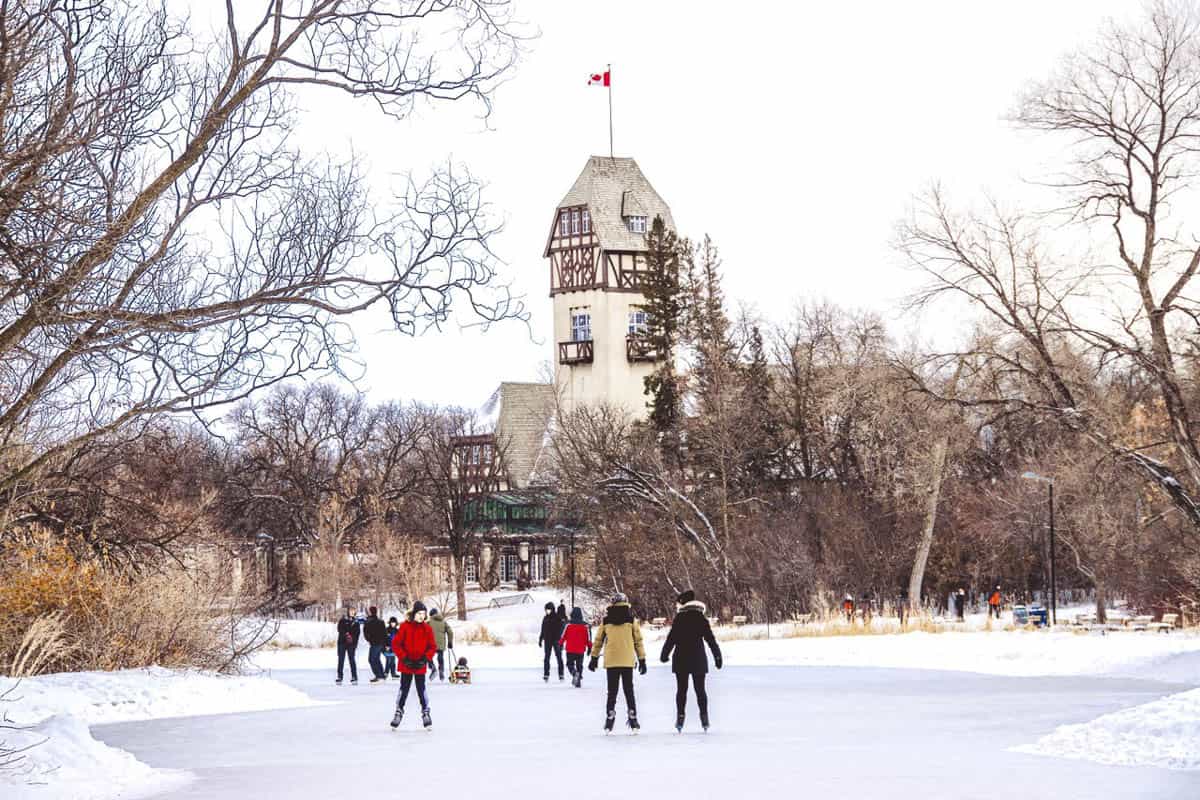 Bunn's Creek Centennial Park
Location: 365 McIvor Ave
We're big fans of Bunn's Creek Centennial Park here at Road Trip Manitoba – it's included in our list of the best Manitoba hiking trails – and so we're excited to include it here, too! Head to Bunn's Creek in North Kildonan for one of the prettiest outdoor skating rinks in Winnipeg, and take advantage of the park's toboggan run, walking trails, and stunning natural setting, too. You'll feel as though you're in the countryside, not smack dab in the middle of a big city.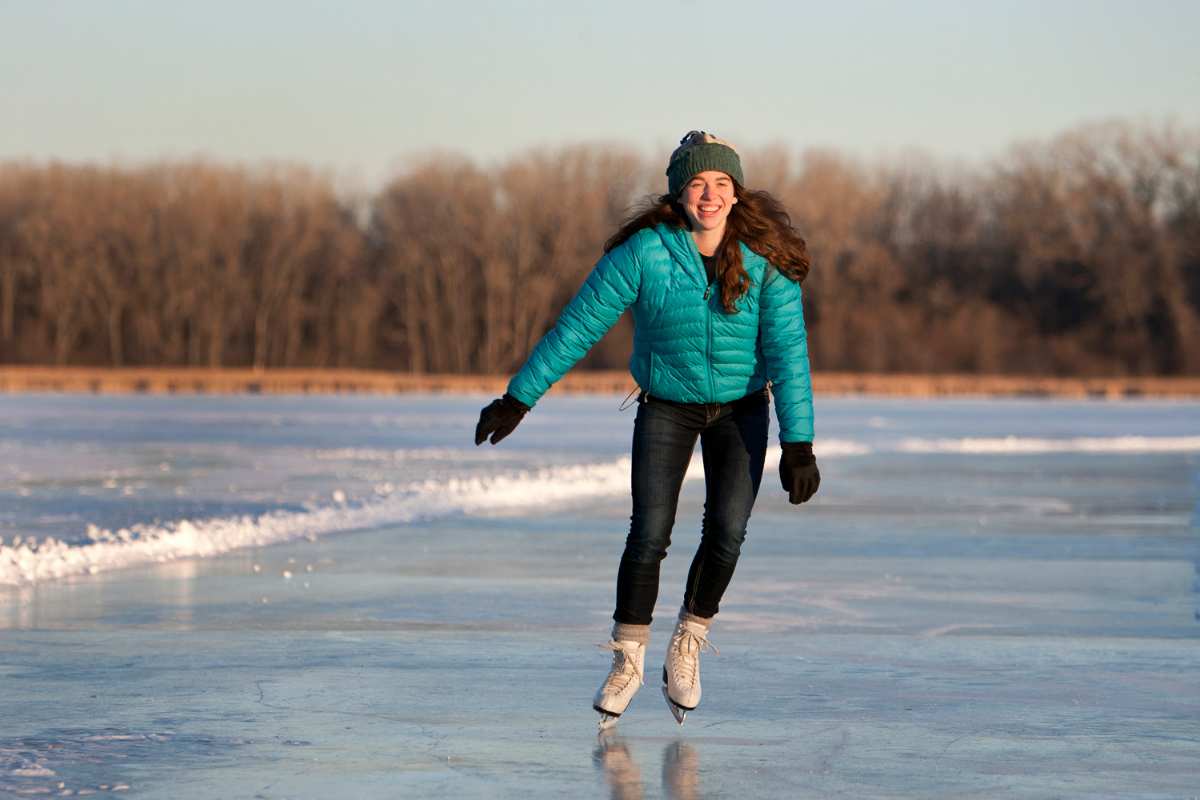 Kildonan Park
Location: 2015 Main St
Kildonan Park is known for its colourfully designed lights by Takashi Iwasaki, and there's no better way to appreciate them than a skate around the duck pond! One of the nicest spots in Winnipeg to skate, Kildonan Park also has good tobogganing and cross-country skiing, making it a one-stop shop for all of your winter activities.
FortWhyte Alive
Location: 1961 McCreary Rd
FortWhyte Alive is known for being an outdoor enthusiast's dream in winter, with its extensive cross-country skiing trails, snowshoeing, toboggan run, and more. So it's only fitting that there's good skating, too! While the skating is on a natural ice lake rink – meaning the ice surface can be a bit pebbly or bumpy in places – it's a fantastic addition to your FortWhyte Alive visit. Please note that this is one of the only spots on this list that isn't public, so you do have to pay to visit (the skating rink is included in the price of admission to FortWhyte Alive).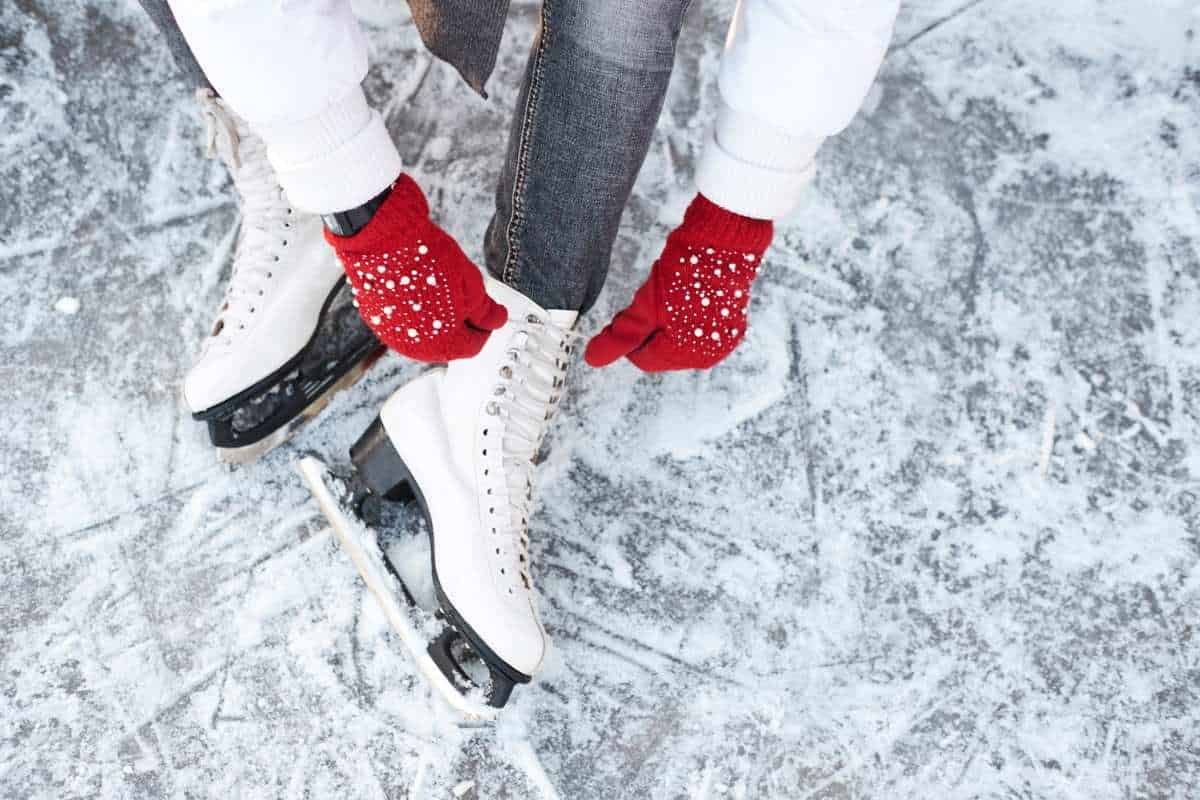 Harbourview Recreation Complex
Location: 1867 Springfield Rd
While many dog owners in Winnipeg may know Kilcona Park for its off-leash dog area (it's one of the best in the city!), in winter the park is home to skating at the Harbourview Recreation Complex. Enjoy the well-maintained outdoor skating rink and then take in the surrounding walking and/or cross-country skiing trails, complete with a frozen pond. It's one of the most serene spots in the city to really escape the hustle and bustle of everyday life.
La Barriere Park River Trail
Location: 4403 Waverley St, La Salle
One of our favourite parks in Winnipeg – La Salle River is actually one of our top spots for fishing in Manitoba – La Barriere Park is a beautiful area just south of the city. With extensive cross-country ski trails in the snowy months, there's also the opportunity to skate along the small river on a volunteer-made skating trail. It truly is one of the most peaceful spots to skate in Winnipeg, as you'll feel far, far from city life here amongst the trees.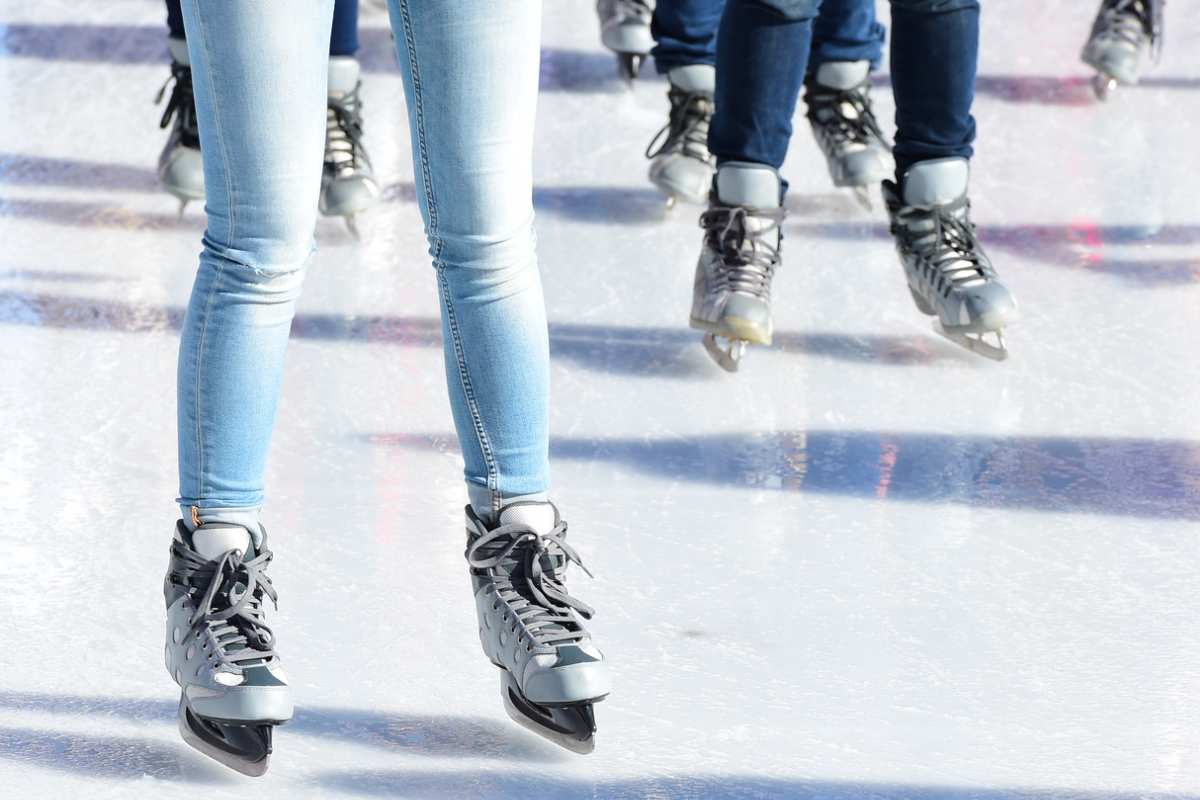 Arctic Glacier Winter Park
Location: 1 Forks Market Rd
We believe that a visit to the Forks is one of the best things to do in Winnipeg, and that doesn't change in winter! On top of the Nestaweya River Trail (see above), you also have the Arctic Glacier Winter Park to explore during your time at the Forks market. Skaters will love the romantic vibe of the two rinks available (including the rink under the canopy and the rink near the CN Stage) as well as the fantastic system of skating trails in and around the Forks. And don't forget to warm up in the Common at the Forks afterward, whether that be with a hot chocolate or a glass of red wine!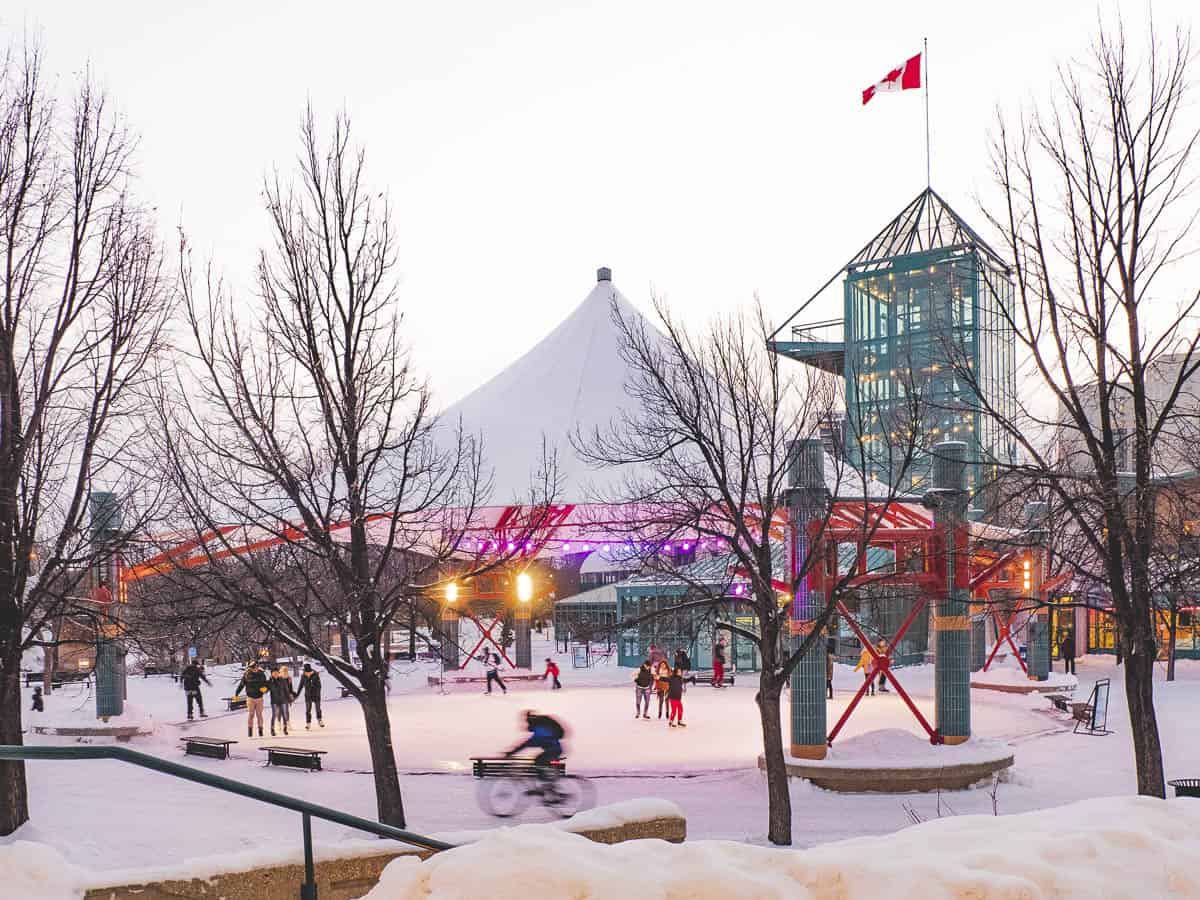 Roblin Park Community Centre Skating Loop
Location: 640 Pepperloaf Crescent
Fun fact: people claim that the ice at Roblin Park Community Centre is the best ice in town, thanks to its expertly maintained rinks and trails (if you're lucky, you might even see the "Ice Man" himself if you visit). The Charleswood community centre is home to a fun skating loop as well as an outdoor rink that can be booked in advance.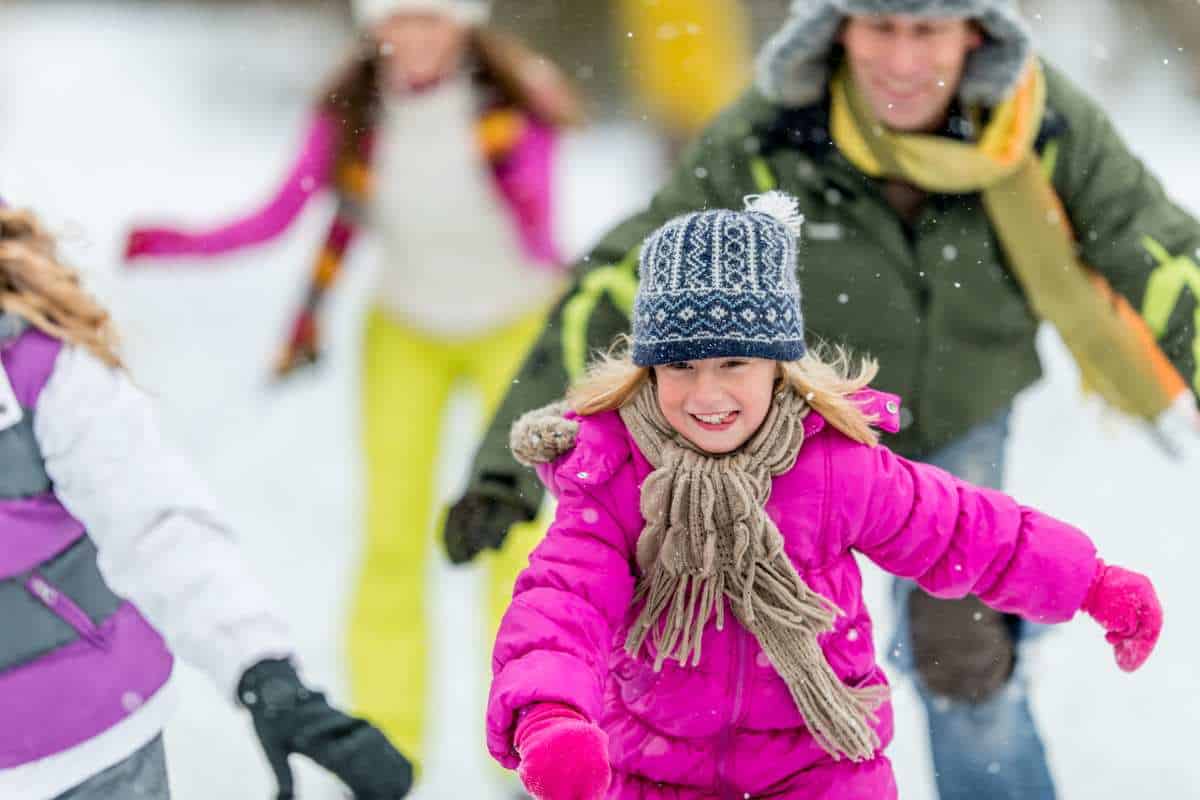 Susan Auch Speed Skating Oval
Location: 999 Sargent Ave
For the more serious speed skaters, the Susan Auch Speed Skating Oval in Sargent Park (named after Winnipeg Olympic athlete Susan Auch) is the place to be in the colder months. Found at the Cindy Klassen Recreation Complex, it's the only outdoor long-track speed skating oval in Winnipeg, and it has some of the smoothest ice in town. While there is public skating available on the 1/4 mile oval, there are also daily time slots for speed skaters to practice. Who knows? Maybe you'll be headed to the Olympics soon, too.
Pleasure Rinks (around the city)
Thankfully, there are plenty of outdoor skating rinks in Winnipeg that you can enjoy throughout the winter, found in parks, school grounds, and community centres. From Vimy Ridge Memorial Park to Bridgwater Lakes to Crescent Drive Park to Elmwood Park, you'll find dozens of "pleasure rinks" that make for a nice skate. While there's no organized hockey allowed on these rinks, they are particularly good for people learning to skate or those who'd like to skate with kids. Technically maintained by the City of Winnipeg, conditions will vary… so you'll probably find a favourite or two that you'll continue to visit!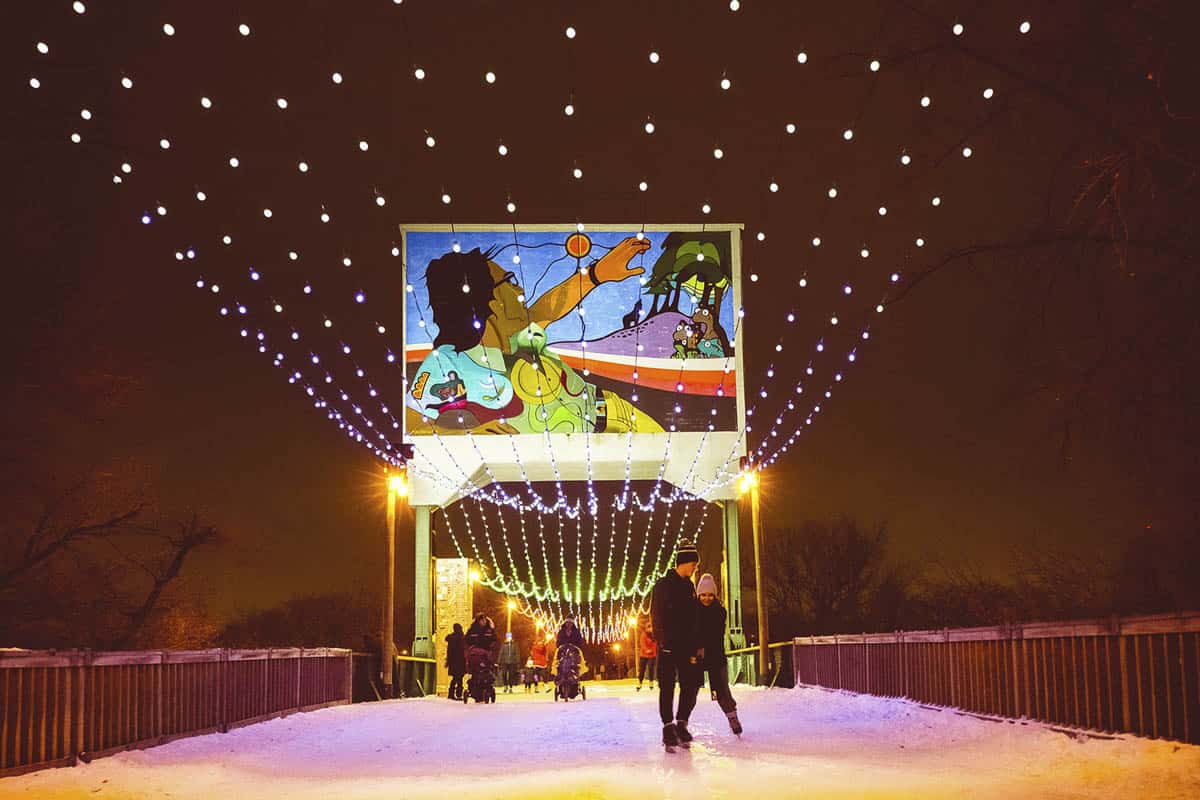 Looking for more to do in Winnipeg? Here you go!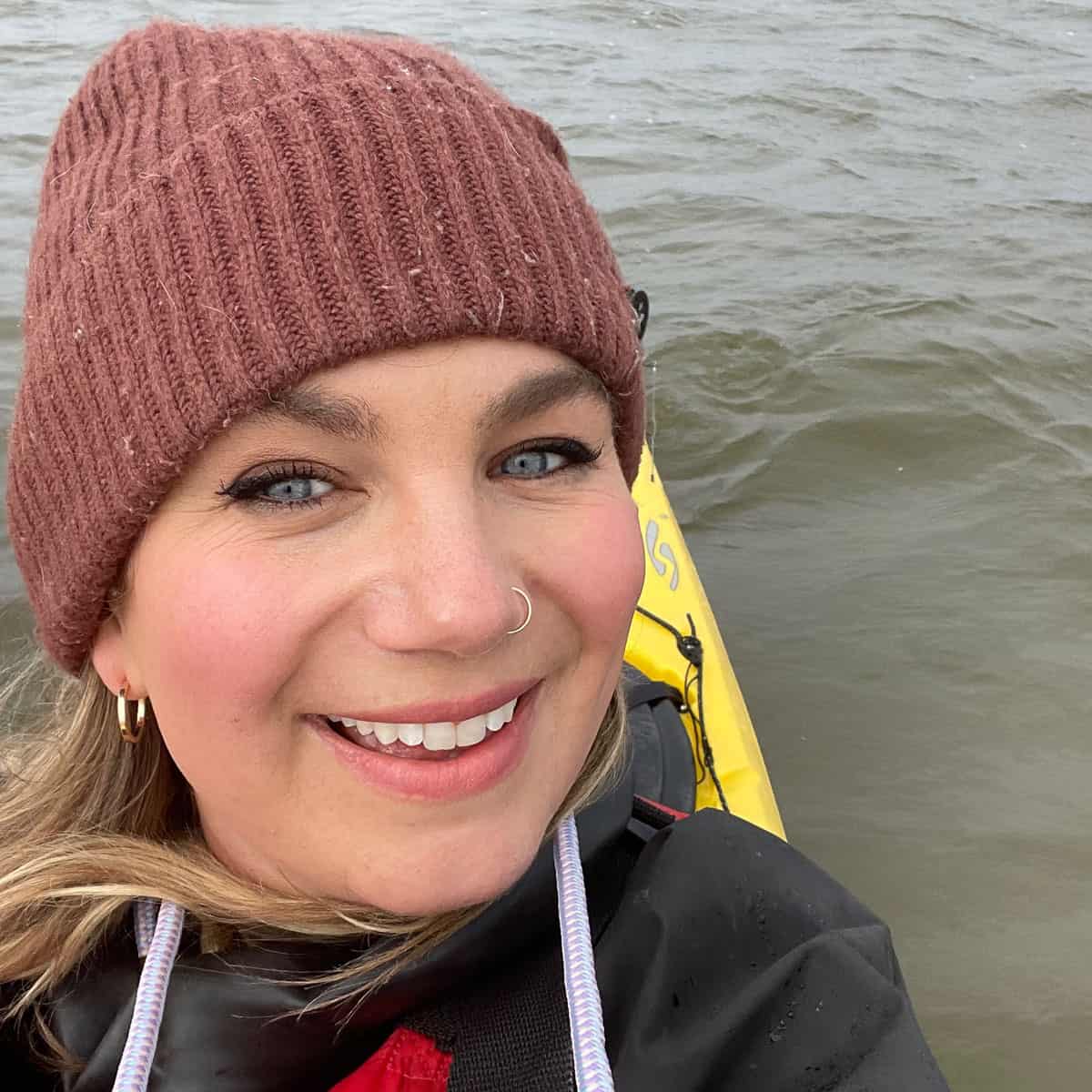 Brenna Holeman (she/her) has adventured to over 100 countries but is incredibly proud to call Winnipeg home. Brenna spent 16 years travelling solo around the world, living in Copenhagen, Edinburgh, Osaka, Antigua, and London, England. As well as being an editor and writer for Expedia UK for over seven years, she runs This Battered Suitcase, one of the most trusted and respected travel blogs in the world.